Started a chilly winter evening with an authentic Chinese dinner paired with some Chilean Wine, what more can one ask for. With a very warm staff and we chose to sit next to the pool, The China Kitchen at Hyatt Regency, Delhi gave a perfect location for a romantic date type of a dinner (just saying, we were there to EAT). The evening started with beautifully rolled menu with a pretty red ribbon stating the special creation in the menu by Master Chef Dong Long and poured in some Chilean Wine for the lady and Glenfiddich for the gentleman.
We chose to ask the manager to serve whatever was the Chef's recommendation for us to try. And trust me; a master chef can never go wrong with it. Not even a single thing that was served to us disappointed us in any way, neither the presentation nor not the taste. Everything was just perfect.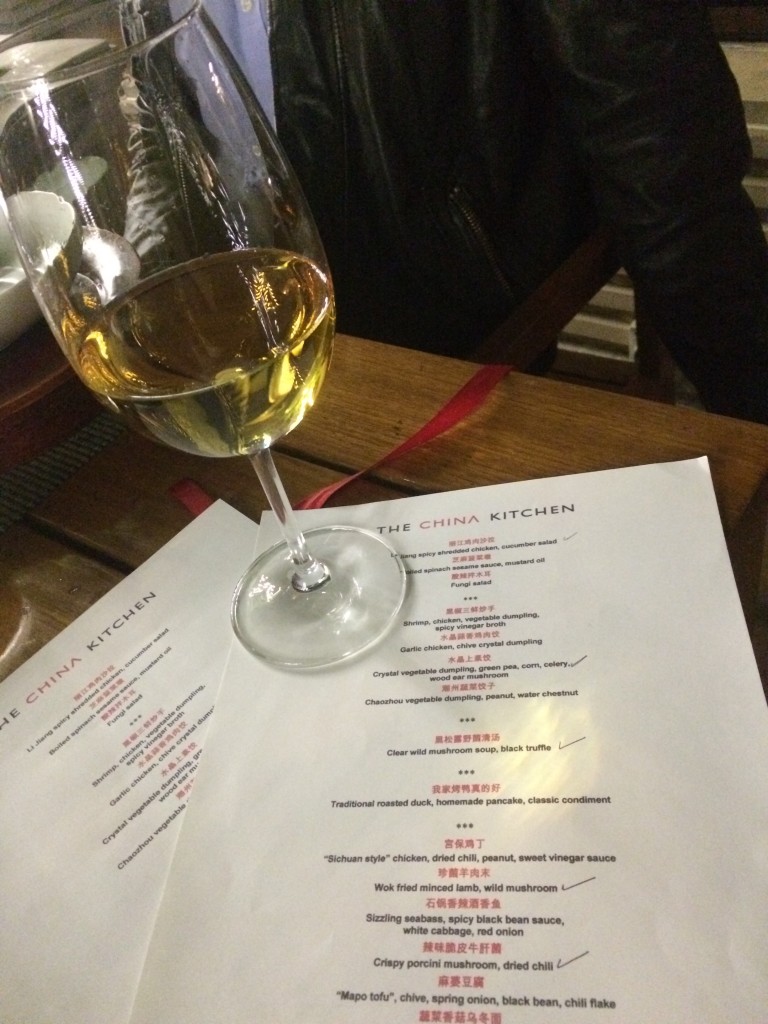 After a glass of wine they started our food. We were served small portions of everything to satiate our taste buds from every corner. Li Jiang spicy shredded chicken, cucumber salad was the first one to start with. The cool and tender chicken bode well with the salad and the ingredients complimented each other beautifully. Though it was very cold to have this salad but the aroma couldn't stop us from trying it which we ended up loving. Then came the Boiled spinach sesame sauce, mustard oil which happened to be freshly boiled spinach rolled with the ingredients inside it  gave a fresh  taste in the mouth. Joining the salad trail, came our dumplings, shrimp, chicken and vegetable dumpling. The shrimp dumpling as served to us with a spicy vinegar broth. The dumpling itself was sumptuous with the combination of shrimp and chicken going very well. The broth happened to be an added incentive and was prepared to perfection. The crystal vegetable dumpling, green pea, corn, celery, wood ear mushroom was absolutely a new combination of ingredients to be put in a dumpling but the end result yielded. No complaints whatsoever, brilliant innovation!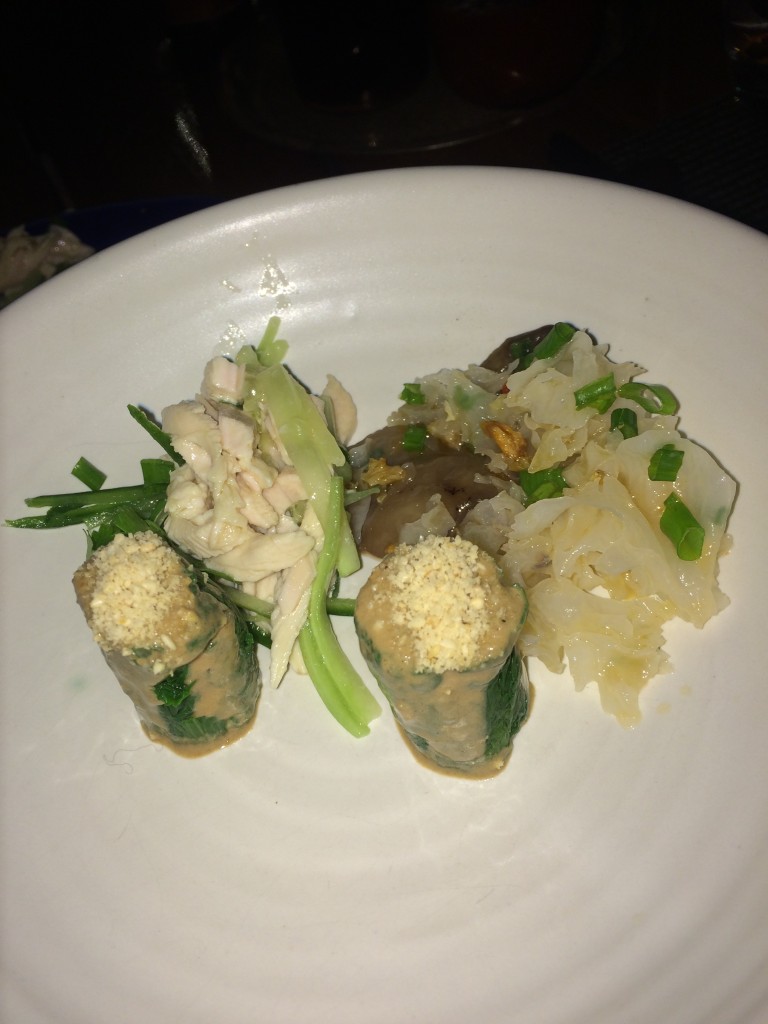 Not a very much soup person and that too when wine is on the table, we still happened to try their clear vegetable soup that was specially sent to us. And to our surprise, we left wine for that and wanted to finish the soup first. It was that delicious.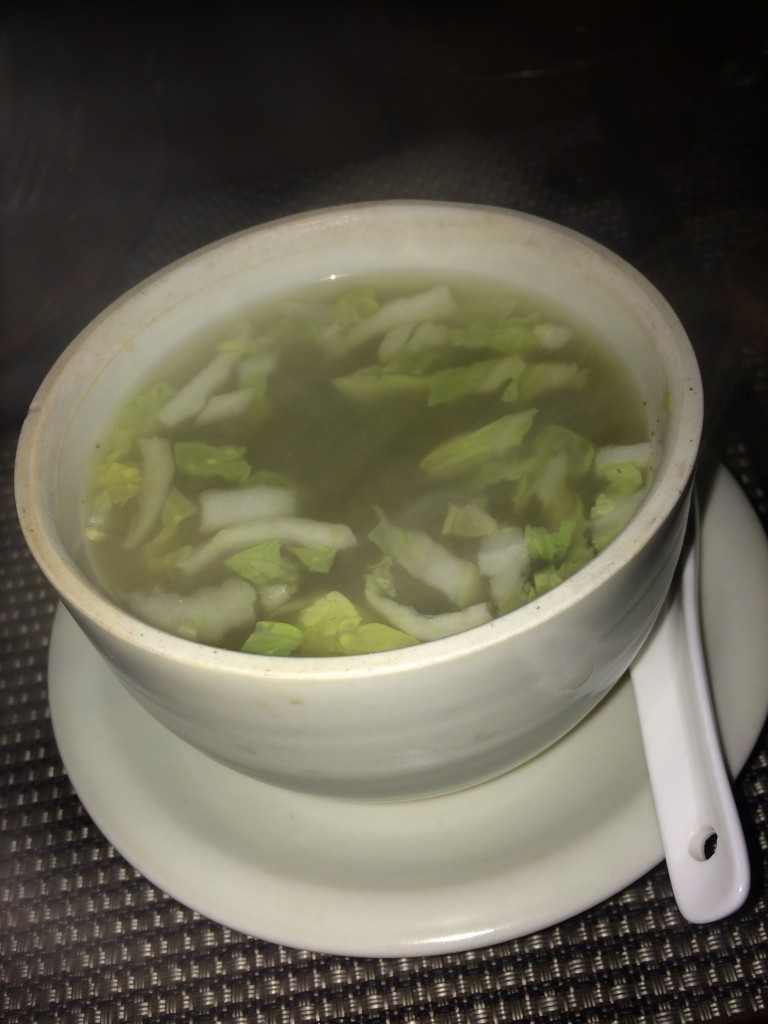 And then was plated the star of the evening, the duck. The traditional roasted duck, homemade pancake, classic condiment (as the menu said). So the first thing you'd notice about it is the presentation and serving style which, without any doubts, for our first. Having the roasted duck brought out in front of us and then cut into pieces was a treat to watch in itself. The duck was absolutely delicious and served alongside with plum sauce was amazing. The duck skins and bones later on were served separately and were cooked exactly the way they should and we've seen on the Discovery and Nat Geo's. It was cooked perfectly from the inside and the beautiful color from the outside left no doubt in the mind that there would be any problems in flavor and crunch. The duck was served in homemade pancake rolls which came along with sliced cucumber and went well with the plum sauce.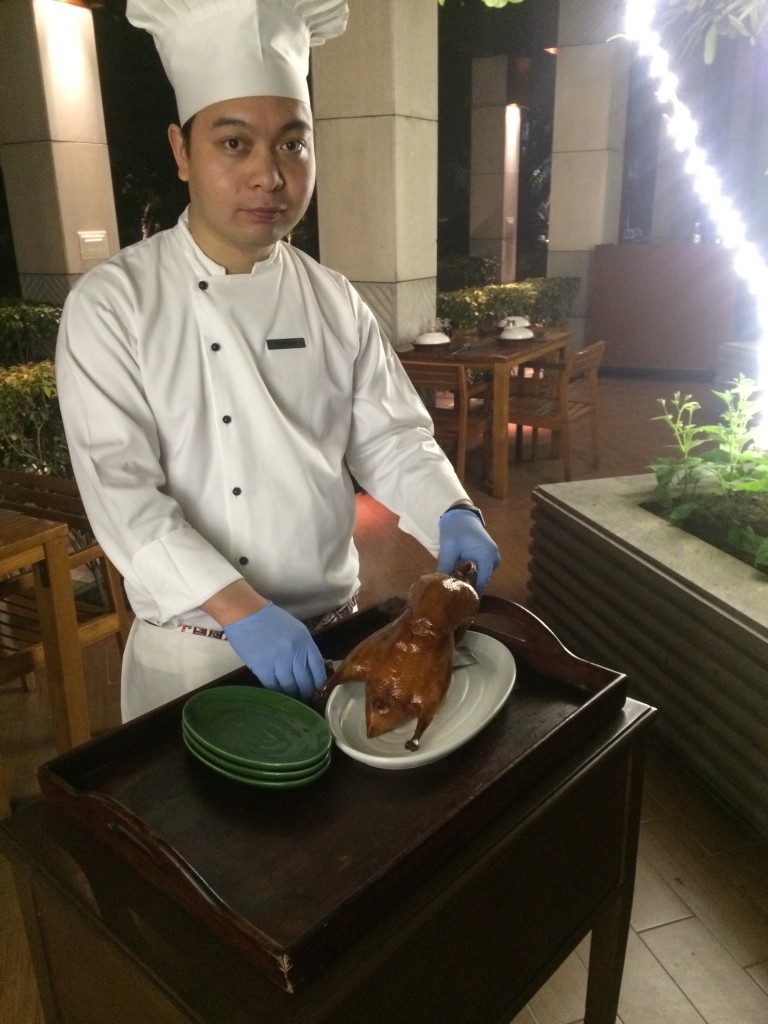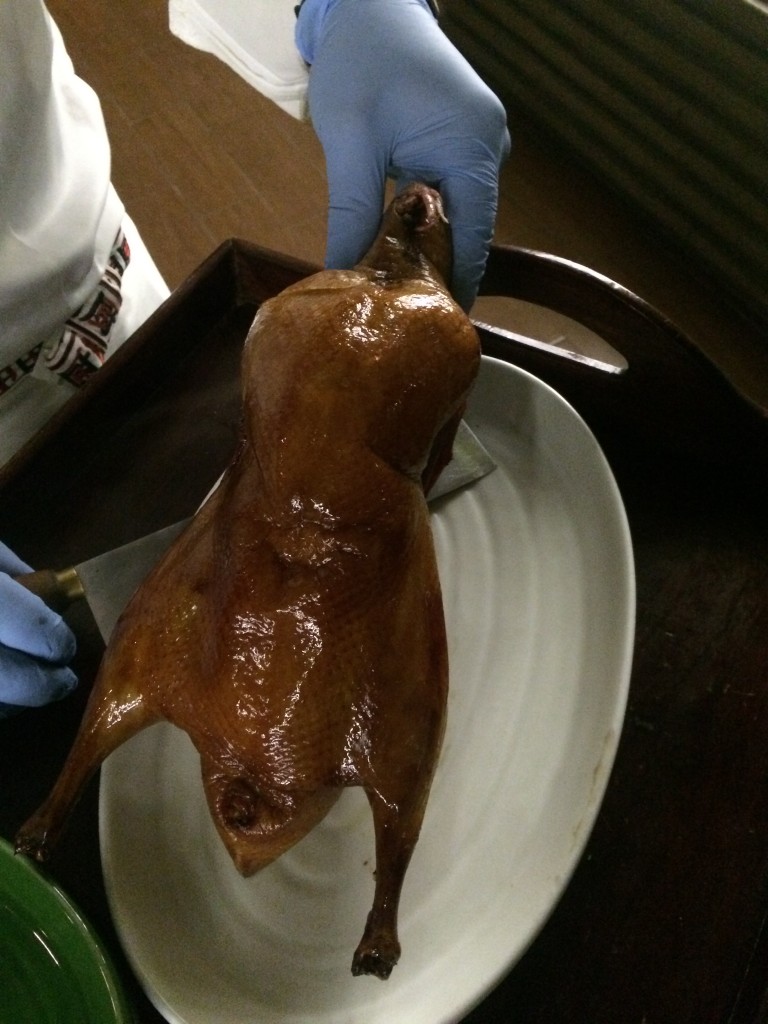 By now, we did want to eat more but in even smaller portions. The duck was huge and filling. And moreover, we got to try fried duck bones too. Sumptuous was the word.
As we already knew that lamb being exceptionally soft has to be cooked perfectly. If not, it can cause the meat to be chewy and rough. Having bad experience stories with lamb we were a bit skeptical about having it along with question answer round with the manager of the cooking technique. After being assured by the manager, we decided to try. We were now served wok fried minced lamb, wild mushrooms. To our surprise it was absolutely perfect. Needless to say the dish was good in taste as it looked. Kudos to the chef on that and gives us a place to boast about, where we get perfect lamb.
This was paired with stir fried noodles, vegetable, mushroom, sizzling seabass, spicy black bean sauce, white cabbage, red onion and chicken. The dish went well with the seabass and tasted zingy in the mouth. The chicken was as perfect as the lamb. The fish melted in the mouth and tasted just heavenly. Was easy to cut into and the broth bode well with the fried rice.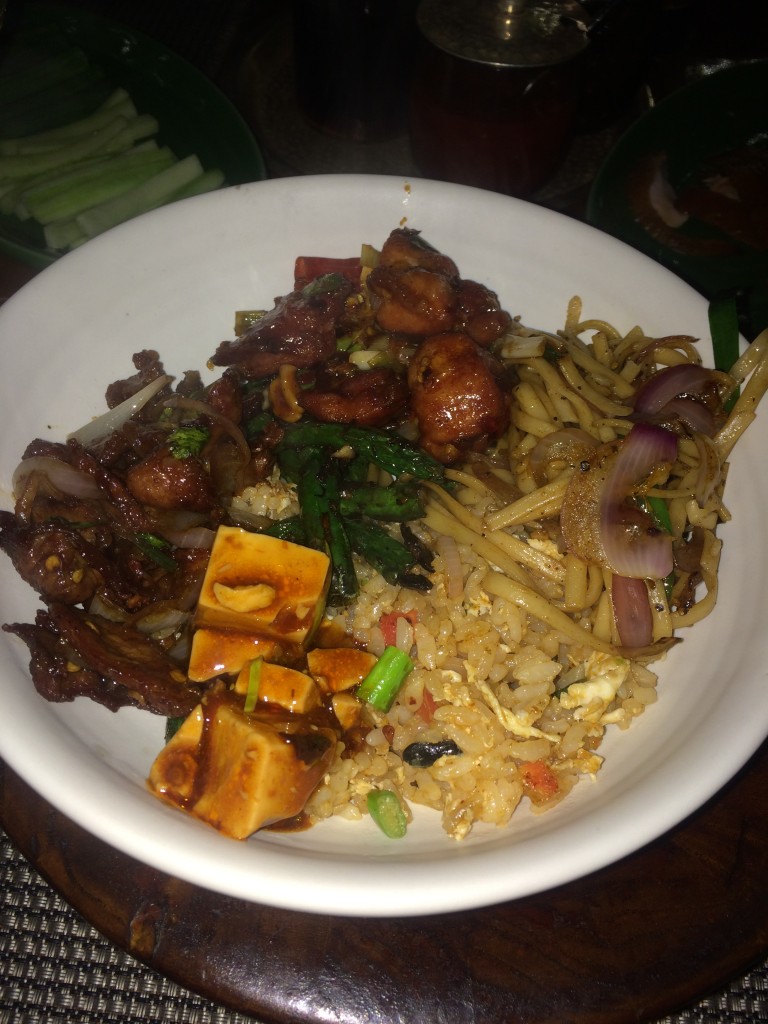 Okay! So by now, not kidding at all, we were more than full. But then the dessert tray couldn't help us resisting ourselves and letting the sweet beauty go untouched. We were served a variety of desserts on a tray (Duh! Dessert Tray). A bowl of mix fruit (the tradition come straight from China of serving hydrating fruits after dinner), Tiramisu, Mango pulp, Banana Rolls and a three flavoured ice-cream (Coconut, Cashew and Chocolate). How can one not try this!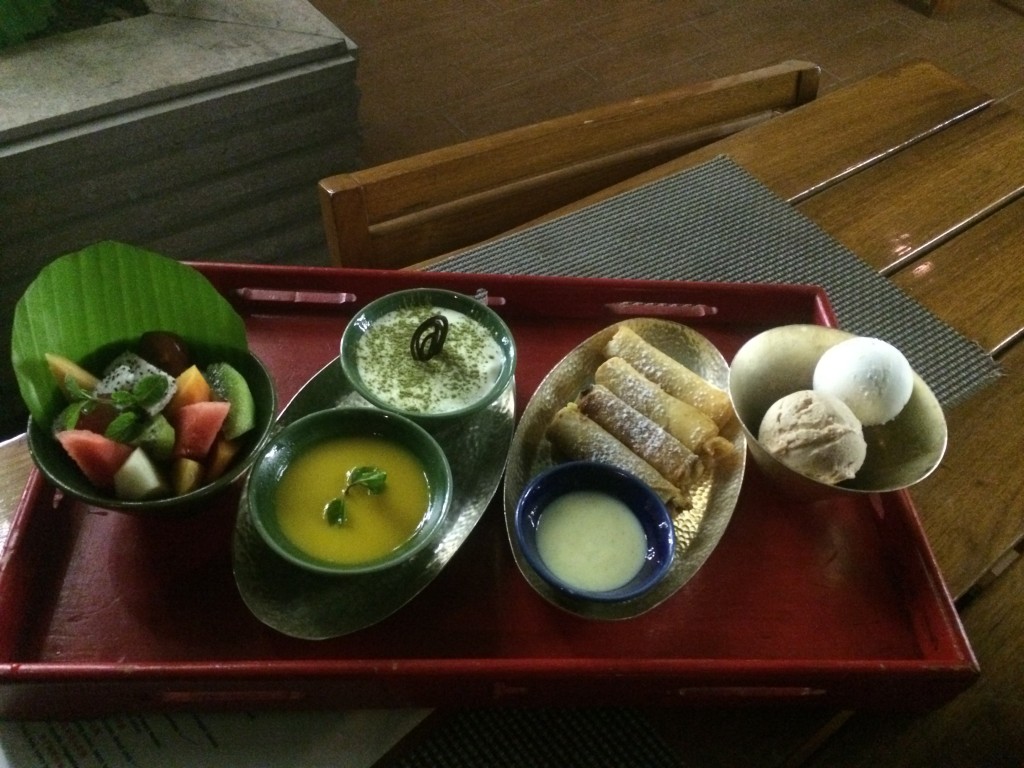 After this perfect dinner time, it was more than important to personally thank the Master Chef behind curating this idea and getting it on the menu. We met Chef Dong Long and thanked him for this beautiful time. Not understanding the language, he gave us a greeting in their bow down China style which we did try to reciprocate but all of us ended up laughing.
Let us wait now for the Master Chef Dong Long to create another magic in the space and by then we'll learn how to bow down and say "Ni Hao Ma".
Review Credit: Pushpmeet Nanda