If there is a magician in the restaurant world, it is Varun Puri! He turns around something we have on an everyday basis look so inspirational. We have already told you about his earlier venture Imly where he made street food look so inviting making sure its affordable too and this time it is Too Indian. Most of the dishes that we ate here were not what we would have eaten for the first time but the twists that he added and the presentation made all the difference. Let us give you a download of the yummy things!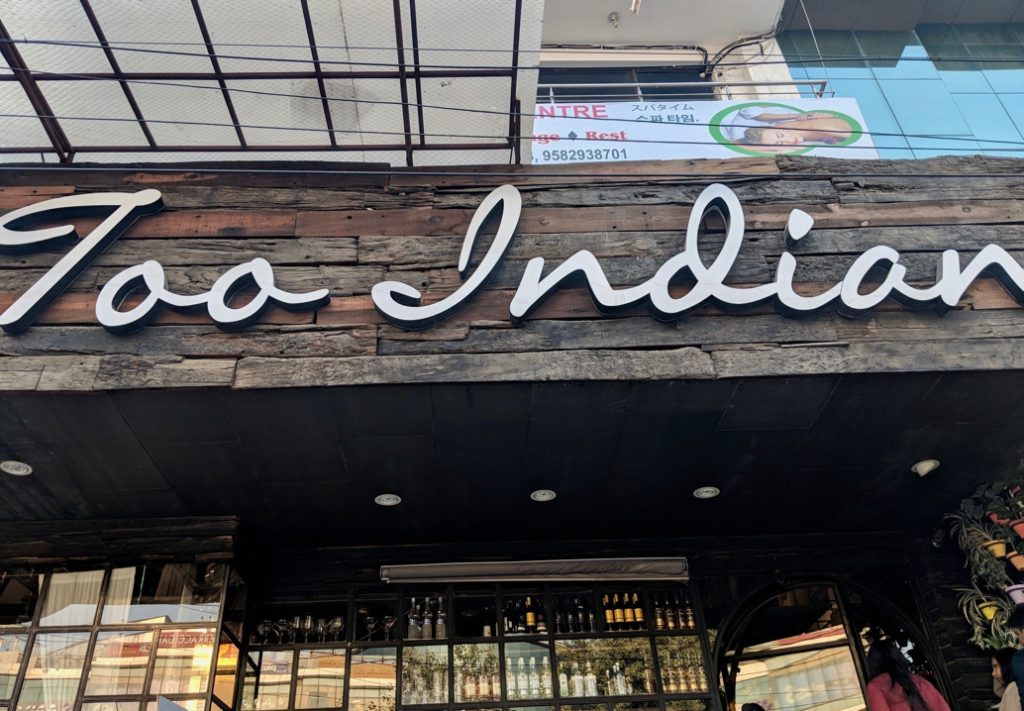 Our lunch started with the complimentary welcome drink which came in a beautiful garden style set up with a swing. To my surprise, it was Pumpkin Shorba which tasted great. We had never imagined we would love pumpkin soup ever. If this was our welcome, our expectations were raised many folds.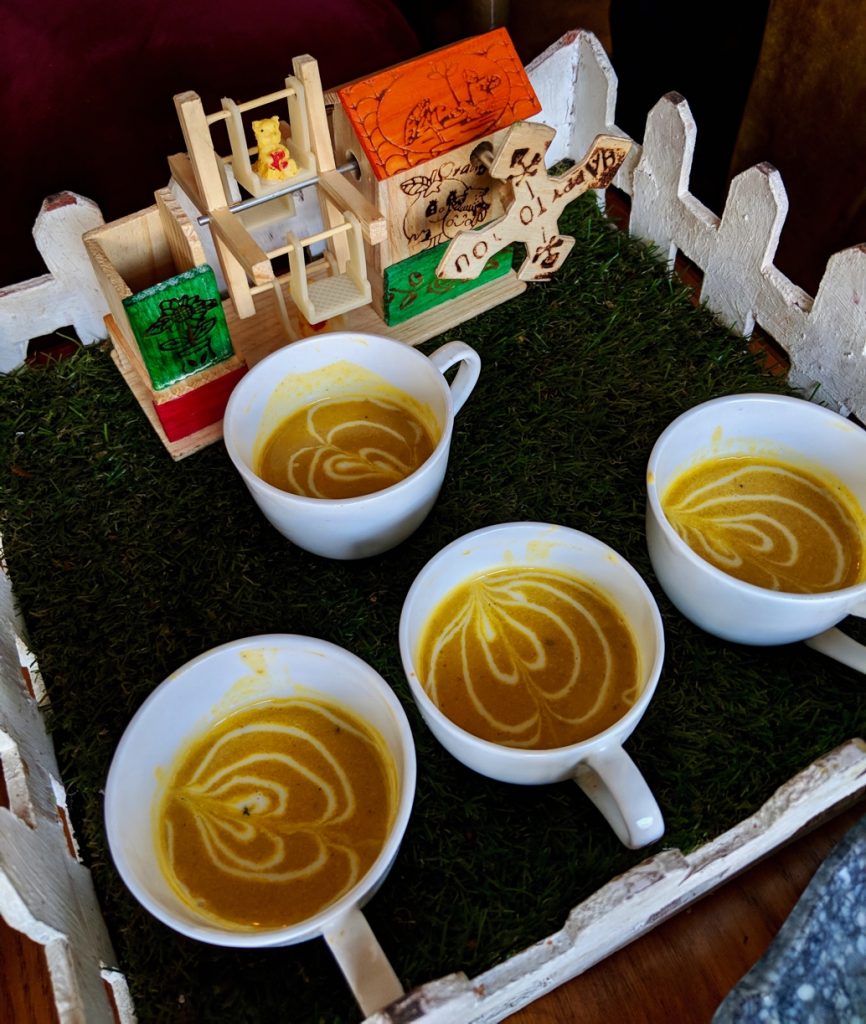 We were served food in a grey stone plate which was an added attraction and made our dining experience unique.
Being true Punjabis, our love for Tandoori Chicken is immense so we ordered Kukkad Kamaal Da. Neatly presented pieces of chicken served over Zafrani Paratha was what we witnessed. Not to be missed was the Pudina Chutney served in a small cooker with onions on the side. The chicken was soft and juicy and the paratha was perfectly layered and was a great combination.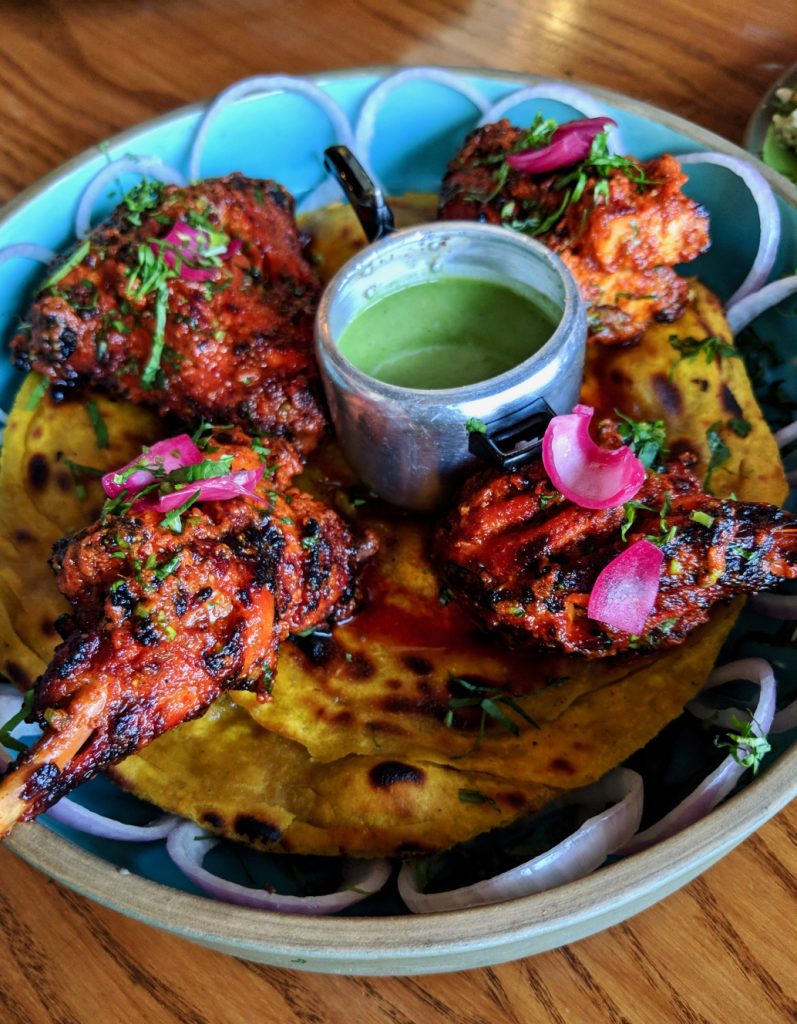 One of the recommended dishes by the server was Bao Chicken. We aren't a fan of bao so thought of skipping it but we are glad we didn't. What was presented to us was completely opposite of what we had thought. We got a kulcha shell with a nice stuffing of bell pepper, carrot, zucchini and chicken. Relished it completely!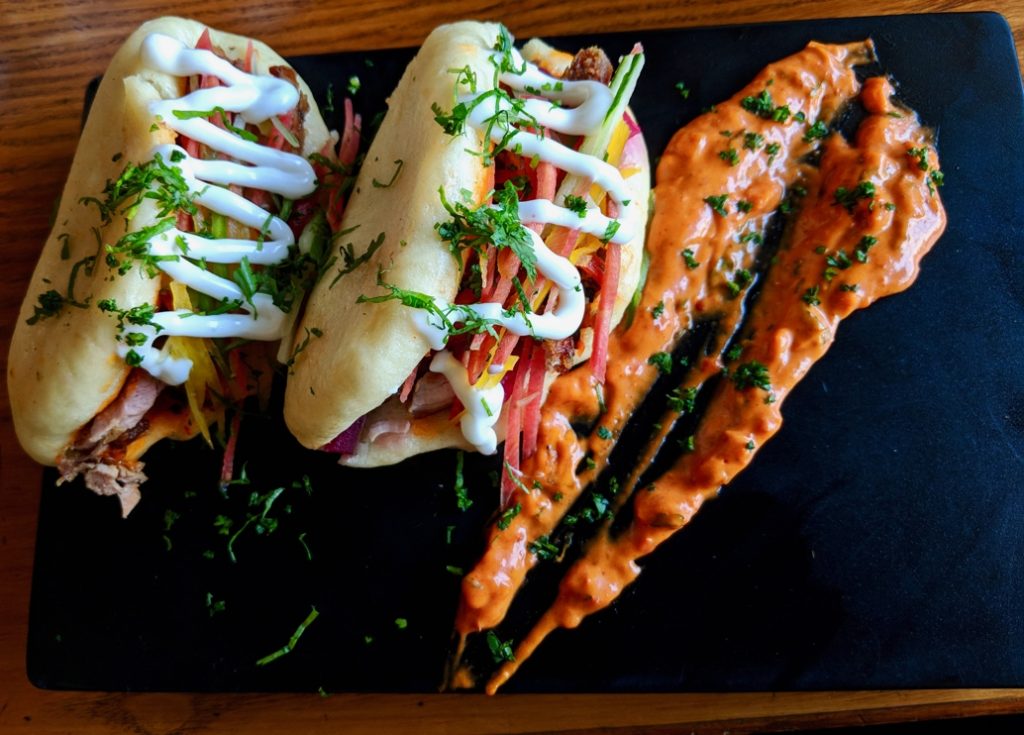 Next were Dhinchak Momos which were momos topped with cream. Though they got a little soggy but the overall flavour was nice. A garnishing of onions and coriander added the Indian-ness to the western dish.
Taco Veg were one of the cutest things! Eating taco out of a cone was a different experience all together. They came with a stuffing of Paneer Khurchan and Makhani gravy presented in mini cooker with rice grains to hold the cone. We loved the flavour and the ease with which we could eat it!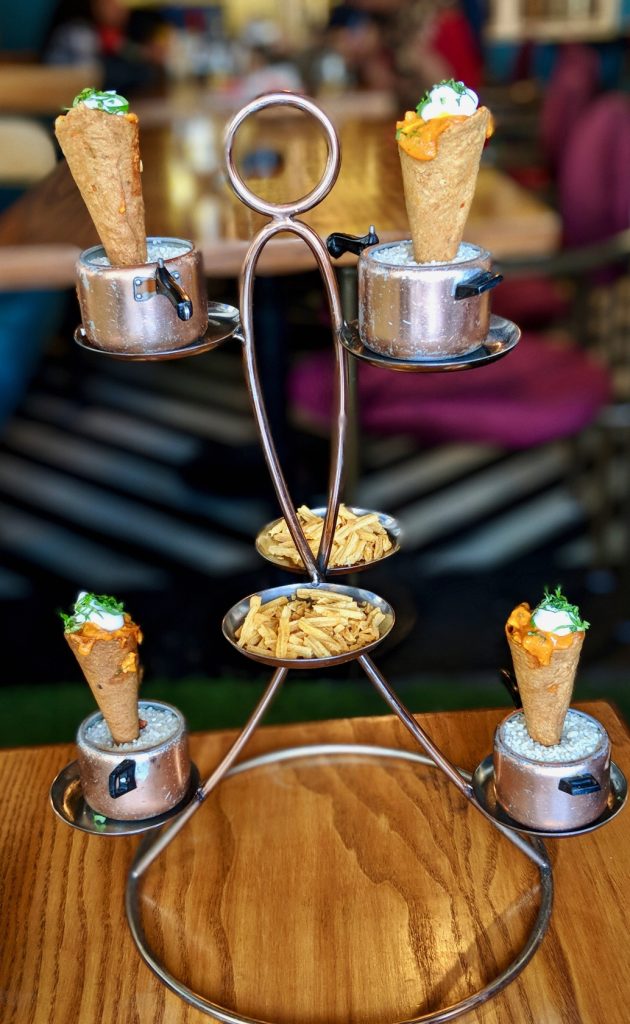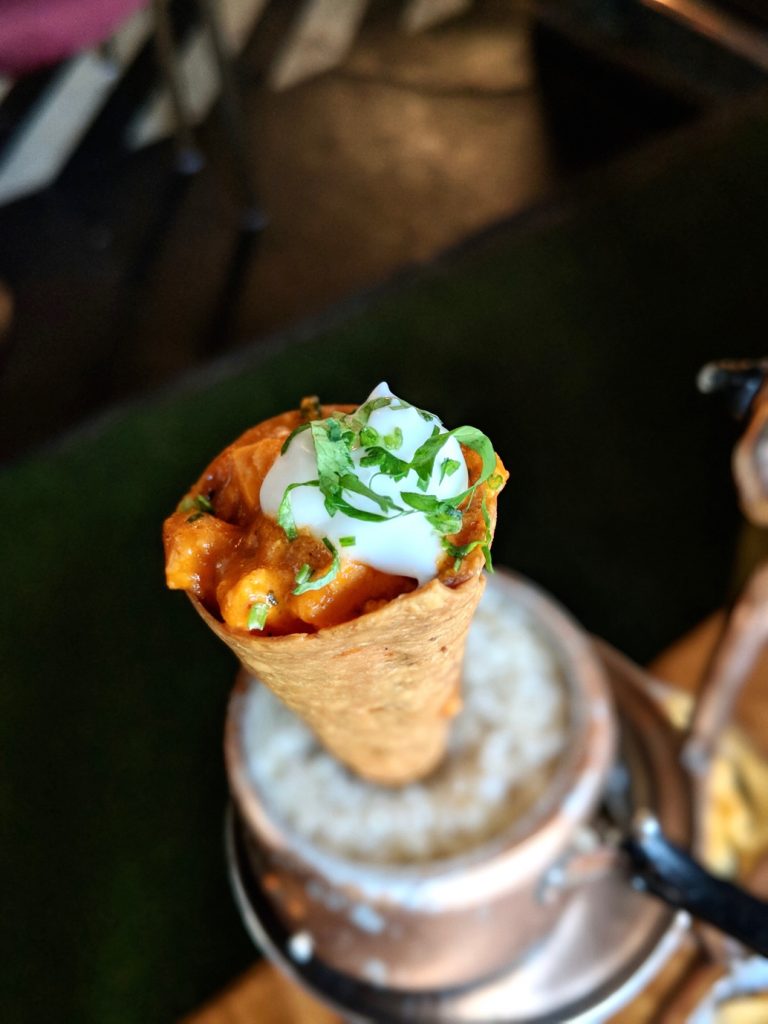 Another delight was the Painter's Canvas. We had never imagined holding a paintbrush while eating fish. Yes, that's what we experienced! Loved the way a painter's imagination has been portrayed. 5 paintbrushes with Panko fried Amritsari fish and different flavoured dips in a variety of colours were presented.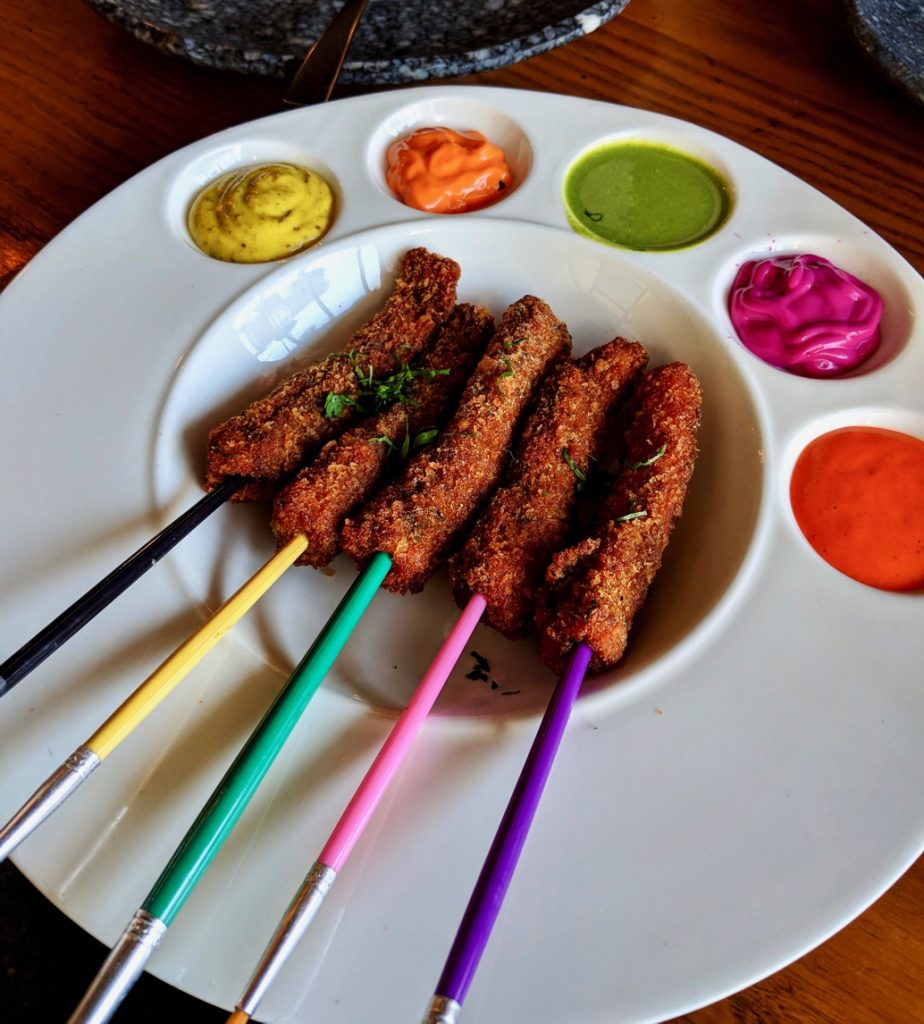 Next, we loved each & every element of Arabian Delights. The huge platter had dips in small steel vessels with fattoush salad, pickled vegetables, shish taouk, falafel, samosas, indo-persian kebabs and zatar paratha. Loved the whole presentation and the taste of each dish. So fulfilling! Next time we think we would only order this and would love to relish the amazing platter.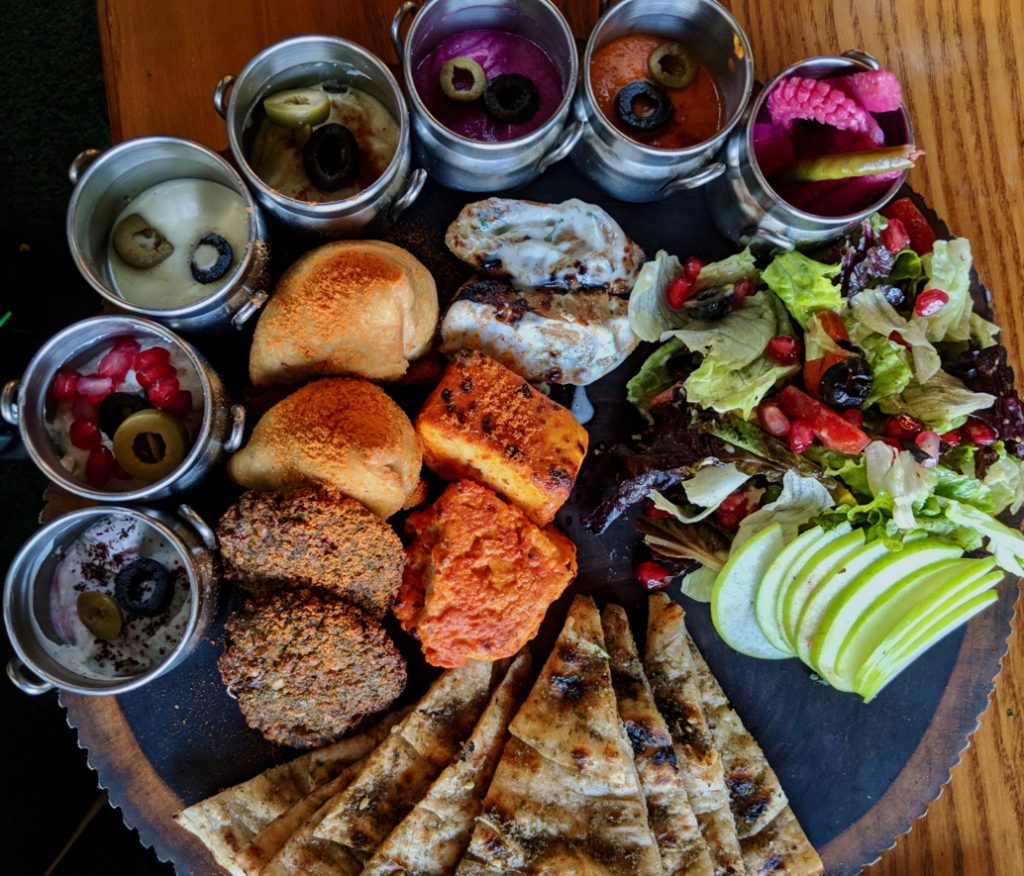 An attraction on the menu was 'What is there in the name'. Though this is a famous phrase, but the dish was really unique. It was actually Dahi Bhalla with a twist! Rather than normal yoghurt, here they had used flavoured yoghurt. Each bhalla was covered in different yoghurts- strawberry, blueberry, mishti doi and the last one was the normal desi version. Though we enjoyed the twist but we would like to stick to our desi version of bhalla with normal dahi and imly chutney.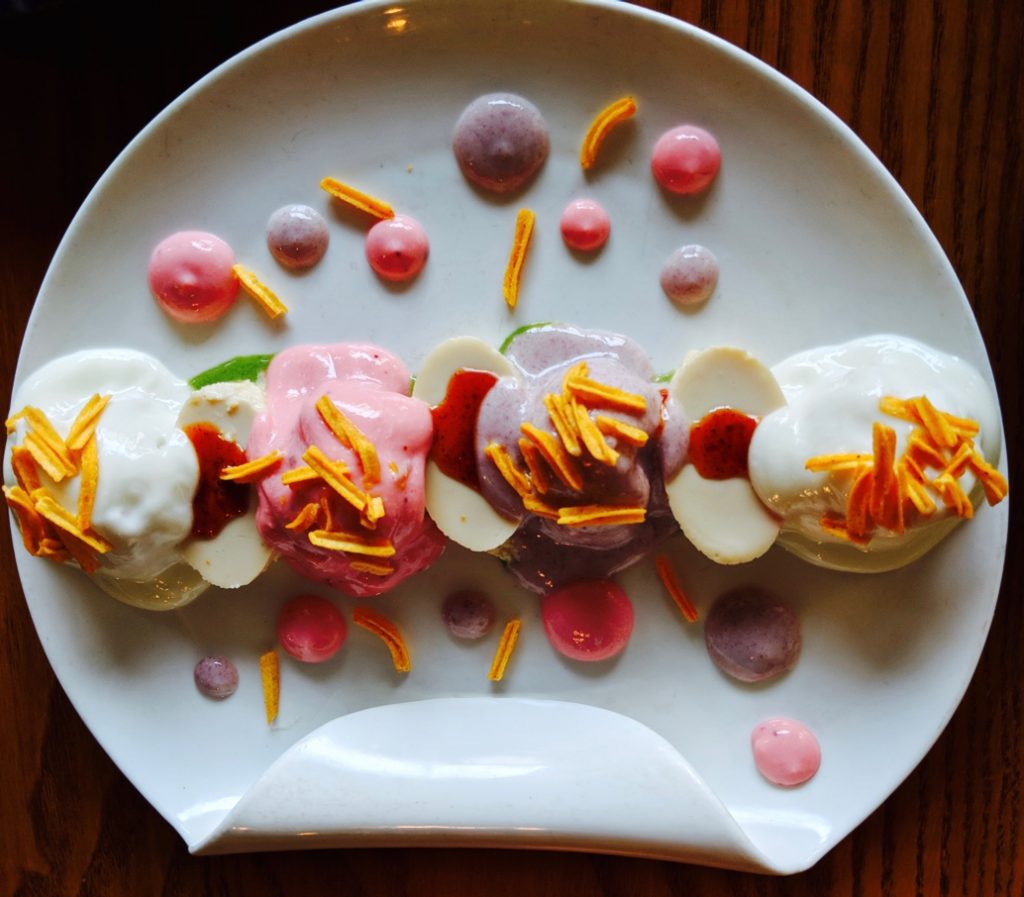 In the Kulcha Basket, we ordered Corn and Cheese in the veg option and Butter Chicken in the non-veg one. Both of them were presented with a line of onions on top and were soft, yum, fresh and just melted in the mouth. Our preference went to the veg version which delighted our tastebuds more with the unique taste.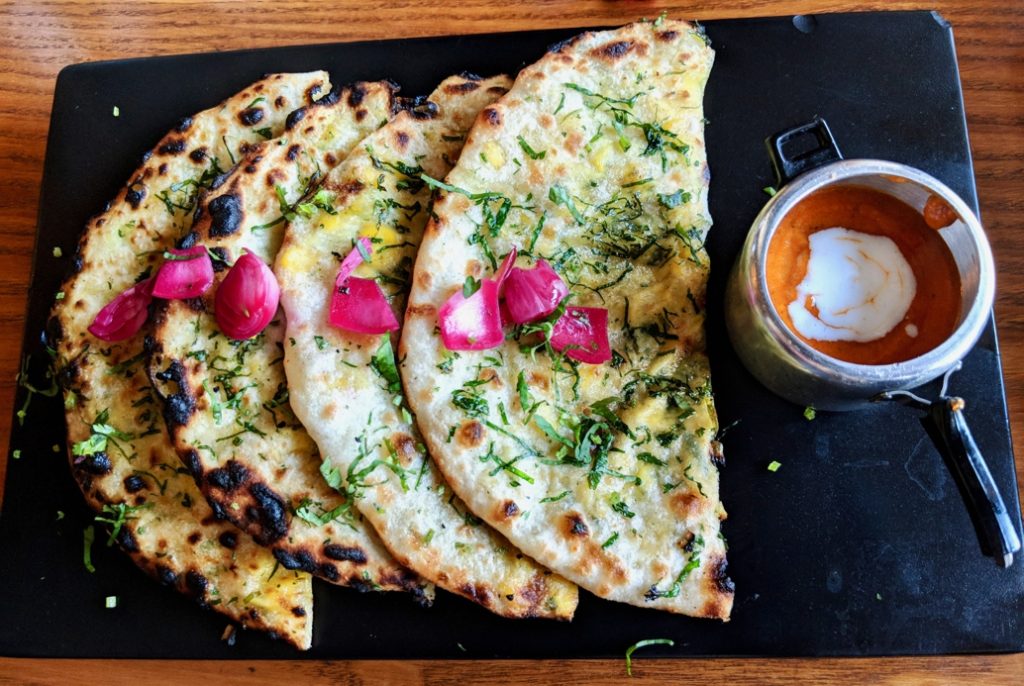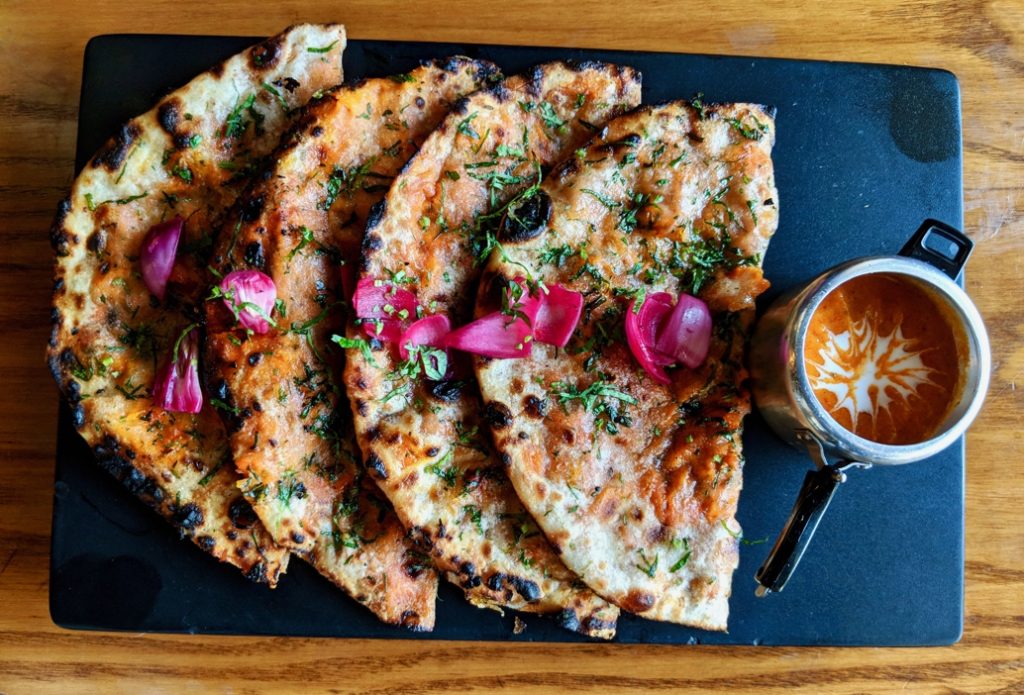 One thing which we absolutely loved was the Nutella Shake. It looked like a kid's fascination turned true. A Nutella jar filled with yummy shake overloaded with cream, sprinklers, melted chocolate and kitkat chocolate bars. Isn't that such a fancy way to put everything together!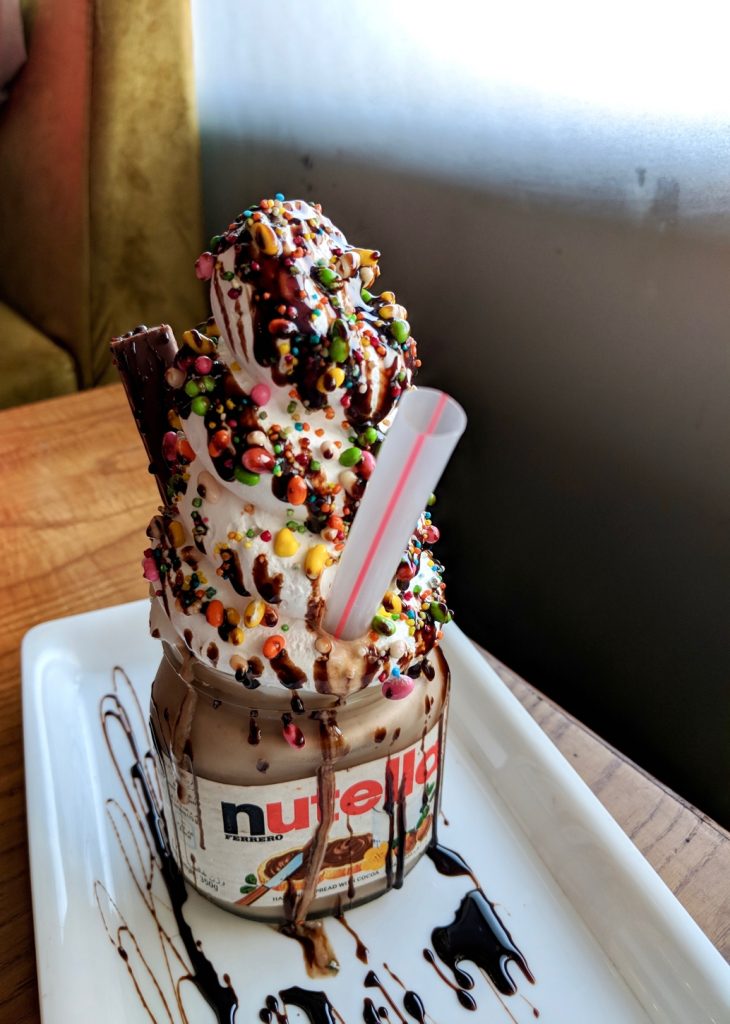 We also tried a few other mocktails. Anarkali was a perfect mix of basil leaf, green apple, apple juice and fresh pomegranate which was served in a tall glass and garnished with fine slices of green apple and mint leaves. We also liked the inclusion of pomegranate pieces in the drink which extended a great flavor and made it refreshing too. Laila was a mix of lemon grass, apple juice and roohafza. Roohafza in this avatar was an absolute delight!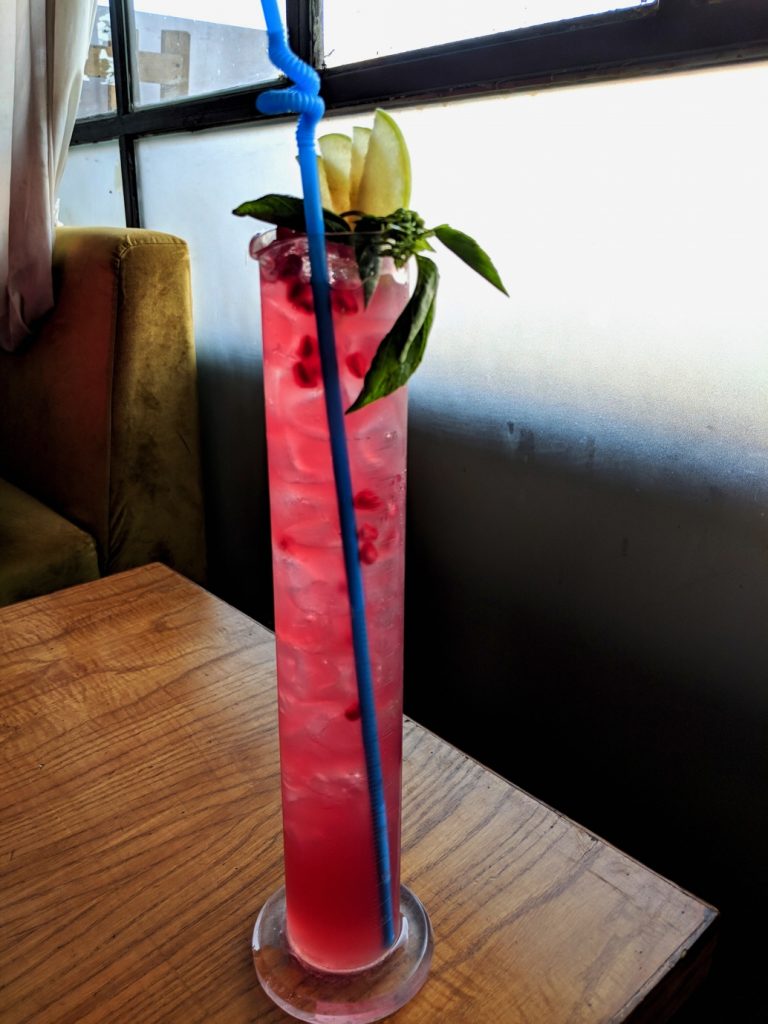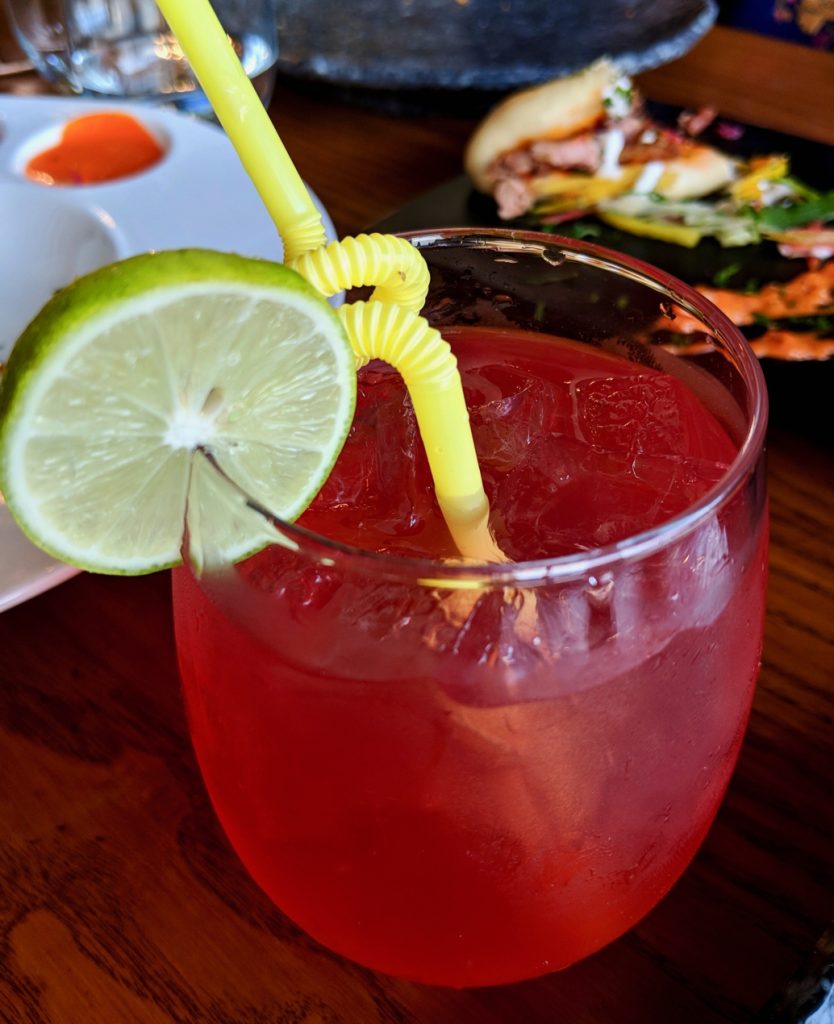 In main course, we ordered Palak Paneer Ravioli which was indeed an interesting combination. Ravioli filled with paneer bhurji and served in palak was not what we would have thought of and we loved the blend. Palak was made in a nice homely style and we relished it with Naan and Tandoori Roti.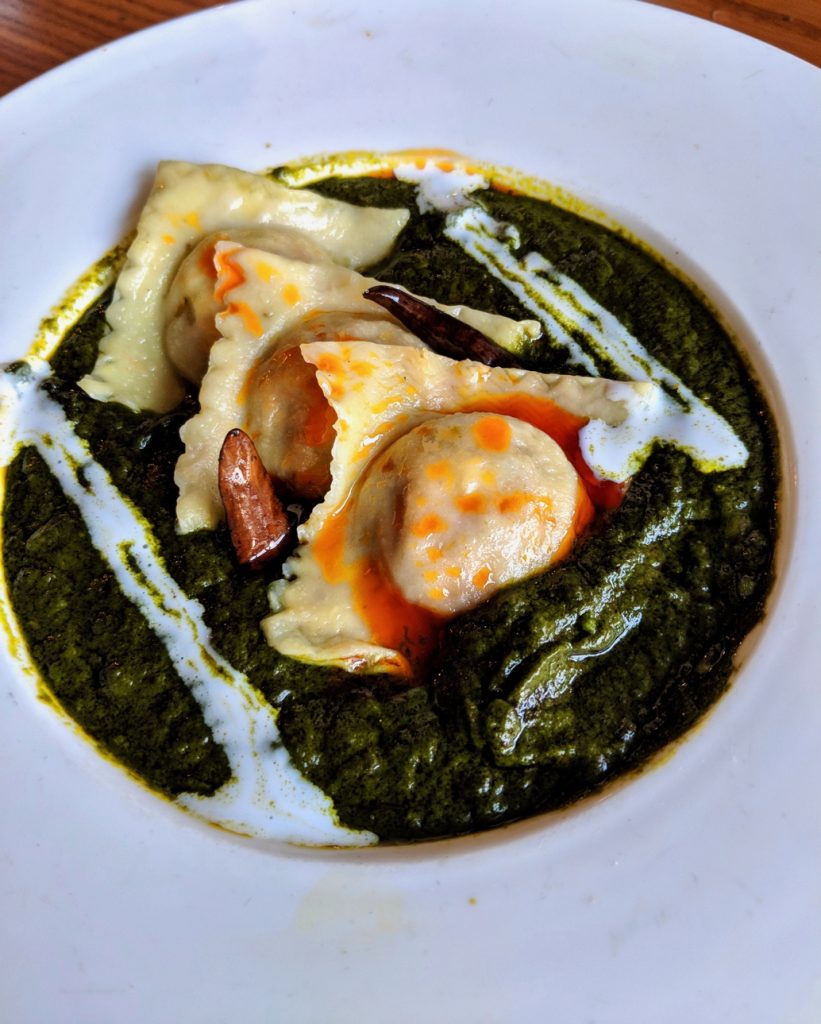 For desserts, we had the famous Daulat Ki Chaat. With such a neat presentation, it was foamy with a great yummy flavour. We were honestly short of words for this one as you need to try this to know what we felt. Milk Cake Pie was warm with melt-in-mouth texture. It was presented beautifully with a chocolate tree topped with sprinklers.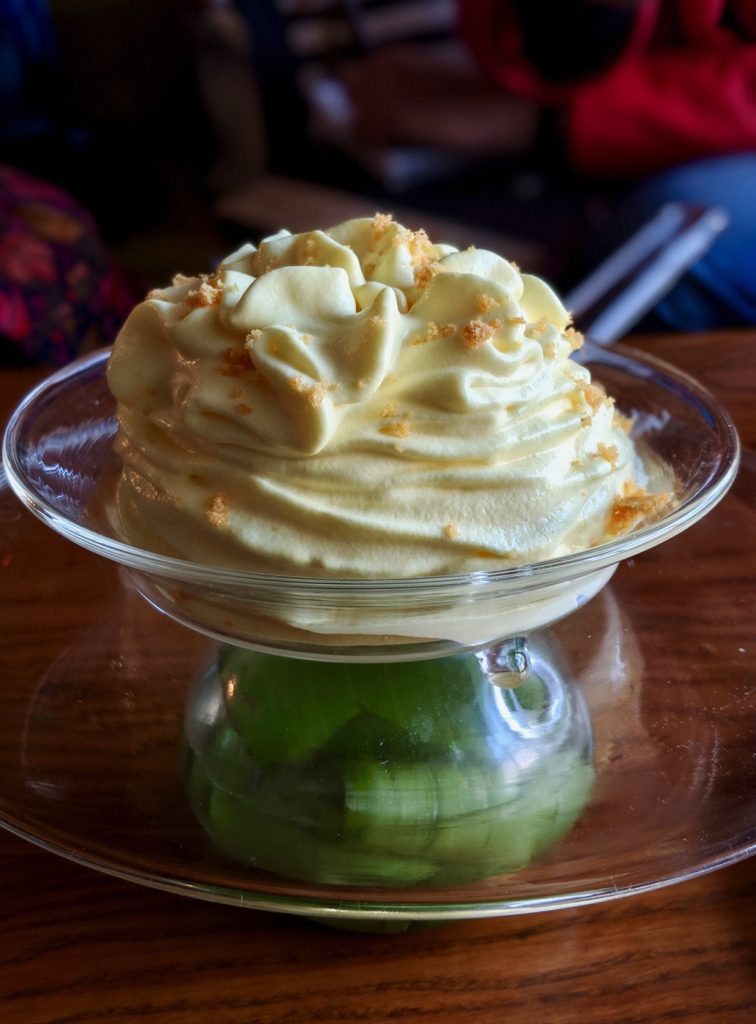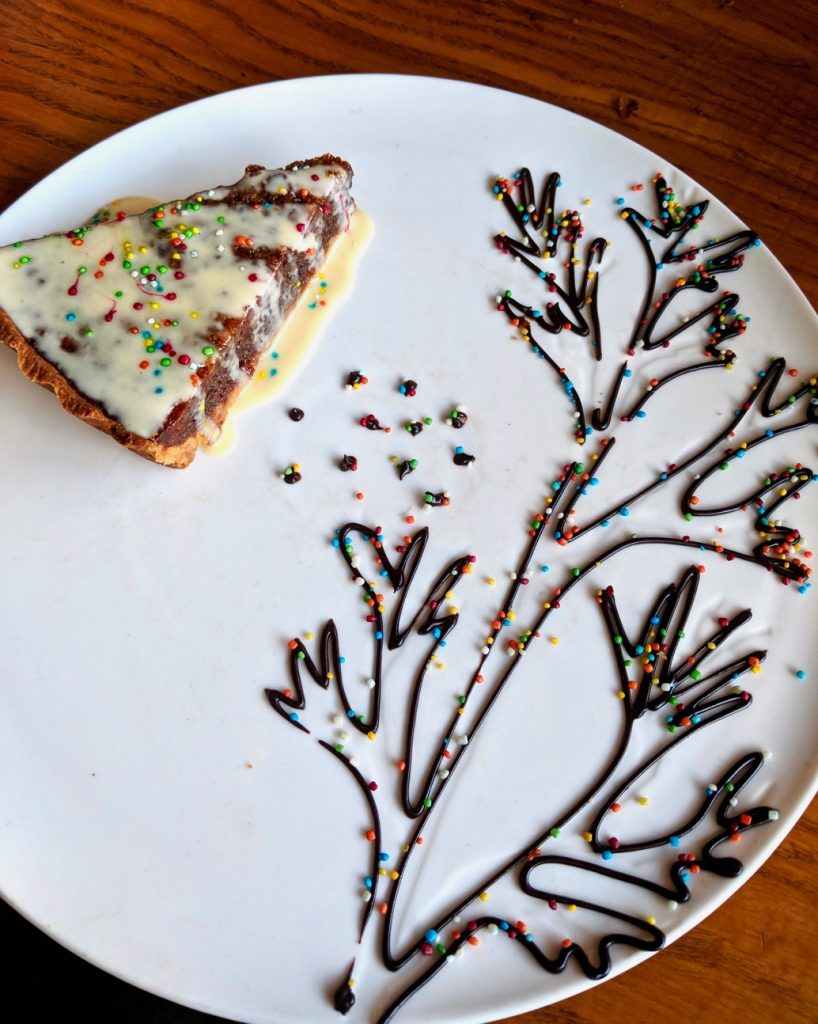 Comfortable couches and sofas made for a great cozy seating. The background music was primarily of a mix of Hindi and English numbers. Too Indian is a revolution in Food and Nightlife. It is the first restaurant where food, retail, bar, motion and music comes under one roof.  If you look around the restaurant, you would find a lot of interesting things to buy.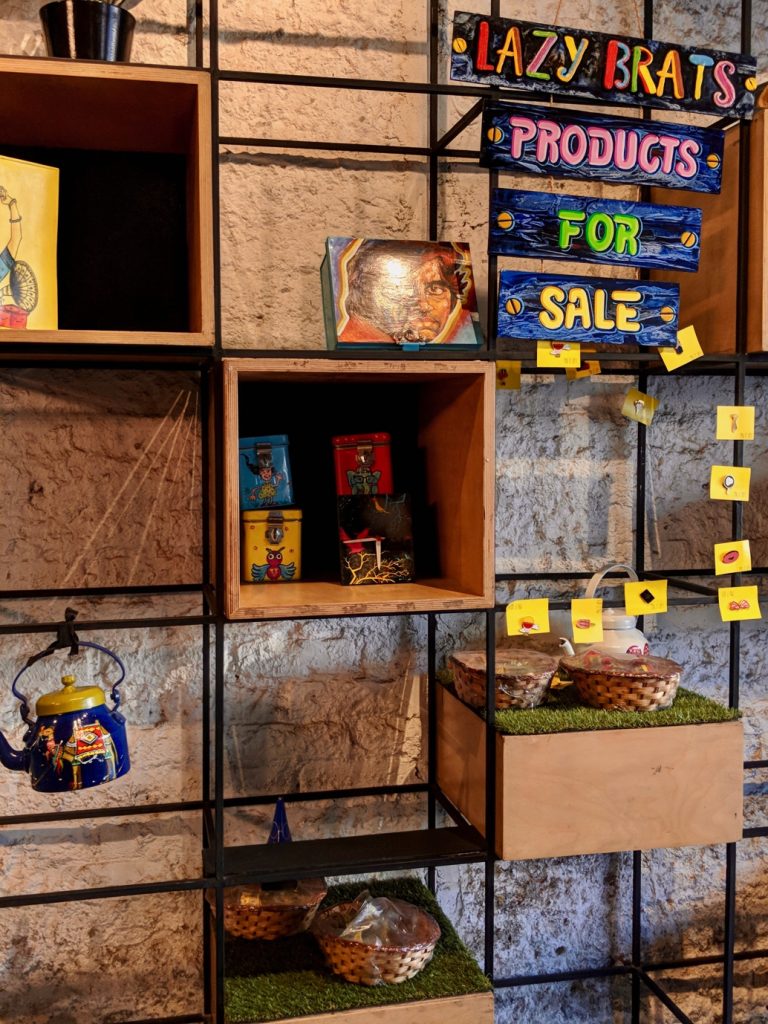 Too Indian as the very name suggest is a paragon that would showcase 'too much of India, not only in terms or food but will highlight some forgotten facts about India being most creative, eccentric and effortlessly royal'. So don't just wait, celebrate the Indian-ness at Too Indian!
PS: All pictures are shot with Google's gadget- Google Pixel 2 XL! #TeamPixel #ShotOnPixel