I am sure you are no alien to the concept of Junkyard Café. Team ChicLifeByte did tell you about the outlets located in Connaught Place and Rajouri Garden. This time its good news for South Delhiites as the latest funk place is now open at Saket. Junkyard Café made out of junk but I would call it funk junk coz its so funky that no one can figure out that its made of junk!
The big steel door behind Select Citywalk opens up to the world of Junkyard Café and to greet us are two statues…no brownie points on how they are made…yes, they were made of junk! The luxurious and spacious cafe showcases how can junk be utilized that too in the most beautiful way. Junkyard Cafe is one of those places in India which is concept driven. It brings out the raw junk world which is grungy, contemporary and at the same time very exclusive.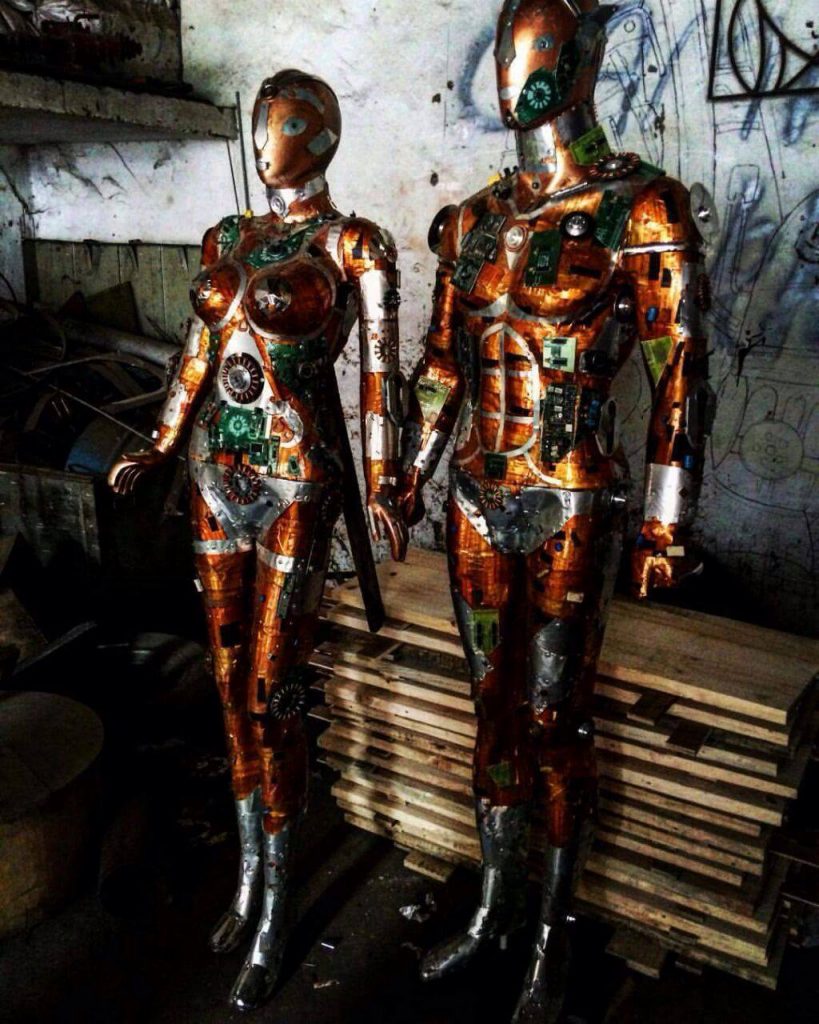 This outlet is bigger and better. There are a lot of further innovations here, the most exciting is the wall dedicated to Michael Jackson with his art work made with junk again. We told you about the Mona Lisa portrait at the other outlets! Right from first of Its kind interiors and art installations which are made using junk materials like tyres, barrels, parts of car and trucks, old radios, TVs, beer bottles, old junky speakers gives The Junkyard café, junkyard look in every possible manner.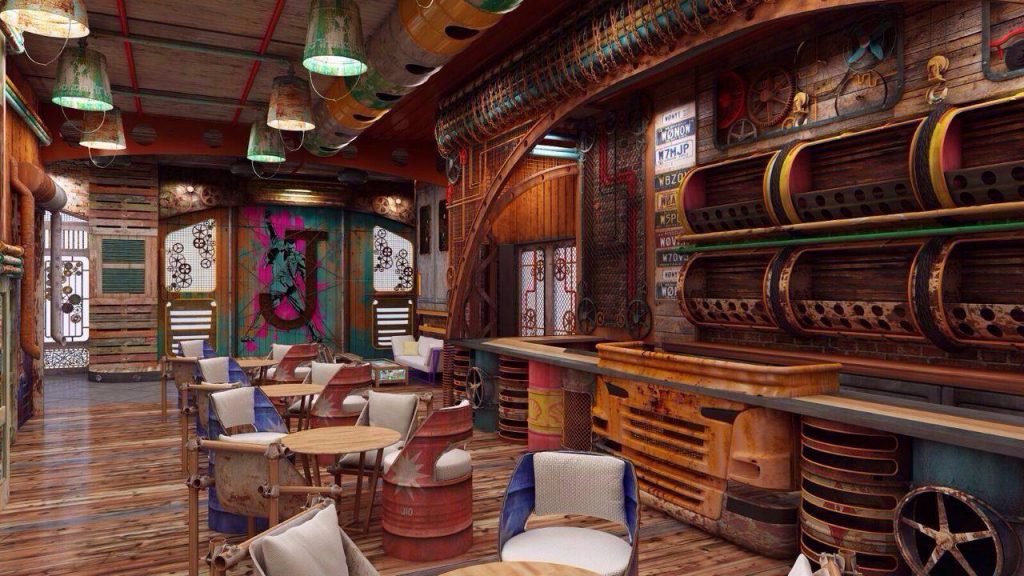 The USP's does not end here. The food menu is an ode to all health conscious people who like to indulge in nutritious meals. Umang Tewari, the owner of Junkyard Cafe believes that entertainment should be guilt free, says the offerings would be nutritious, healthy and at the same are priced very reasonably. It's also for who enjoy keeping it casual and going out for a good satiating meal in funky environment.
So we made our way on a busy Sunday night and were greeted by waiters wearing orange dungarees. Through a wide choice of differential seating made of different materials of junk, we settled for a plush sofa made out of a car cut out! It was time to grab food and we started with a Salad – Grilled Chicken & Spinach Salad with Spicy Pineapple Dressing made of seasoned chicken, crunchy jicama, red pepper and onion. A nice crunchy start to the meal! Next was time for a starter and we tried Pita Bread Mini Brochettes which had mini pita bread topped with crushed falafel and hummus. I was delighted to see the form in which it was presented which made the starter convenient to eat! Served with salad of chilli, bell pepper, cauliflower and lettuce along with hummus, Tofu Bites were our next starter which were basically crispy fried silken tofu served with homemade sweet chilly sauce. Sweet and crisp is how I would like to describe it! The tofu was soft and just melted in the mouth. Juliennes of bell pepper, carrots, zucchini, onion and a flower made of beetroot made it a visual delight!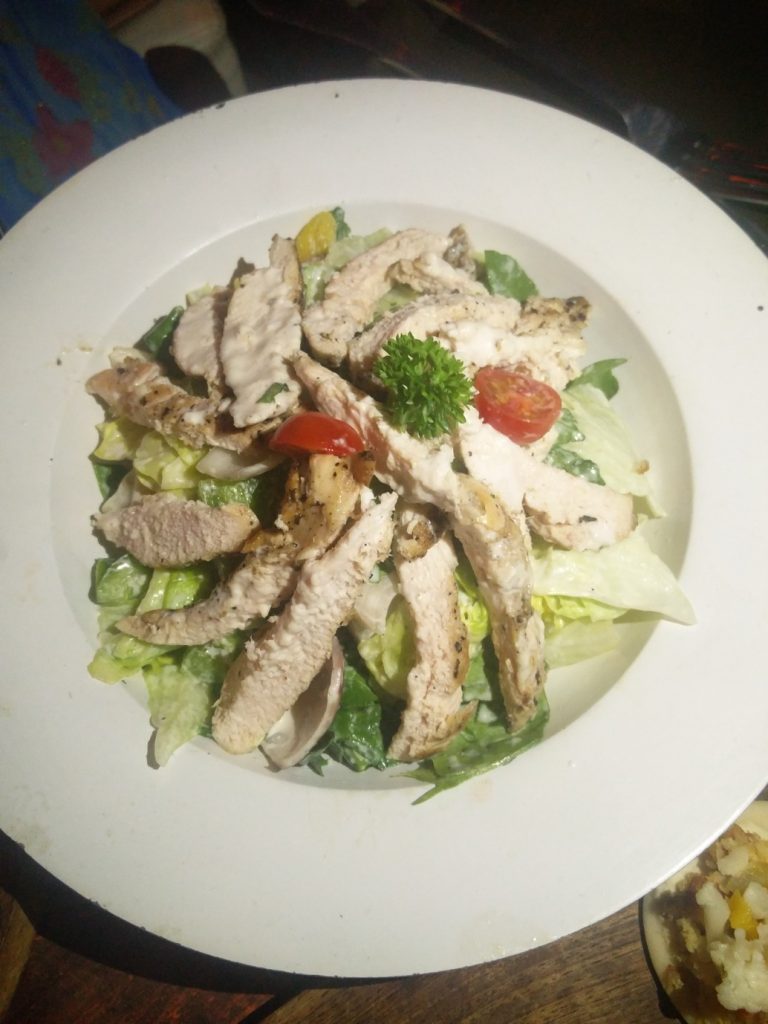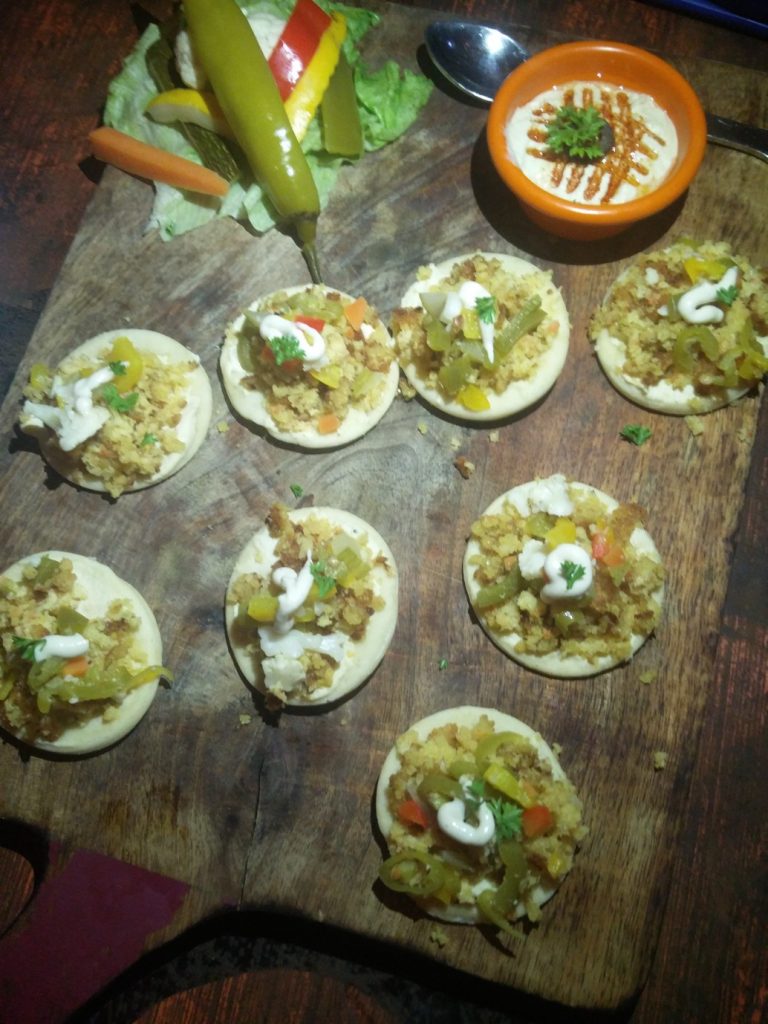 Sweet Corn Soup (Soup of the Day) was served in blue bowls on a blue metal tray with three different dips. Delicious and nutritious, at times I like the fact that a low calorie food can be so yum and comforting! Palak Patta Chaat, our next appetizer is what any true Delhiite would swear by! The chaat with a twist of palak was crispy owing to its base with the bhel sprinklers. The pomegranate topping made it even more delicious! Must try!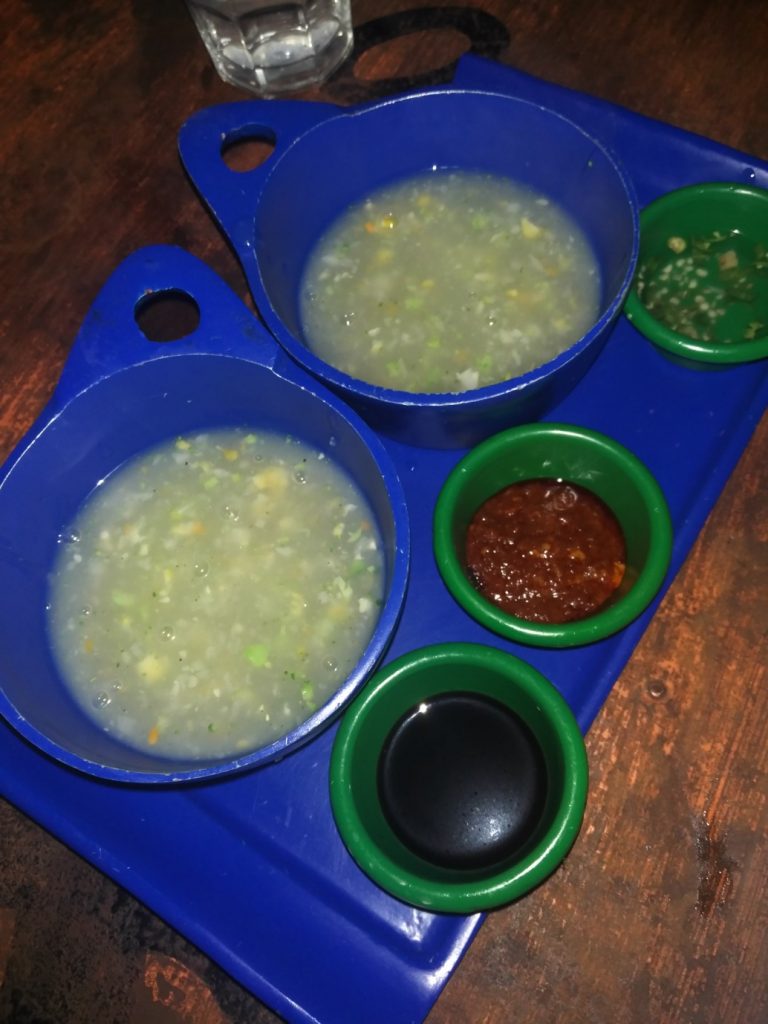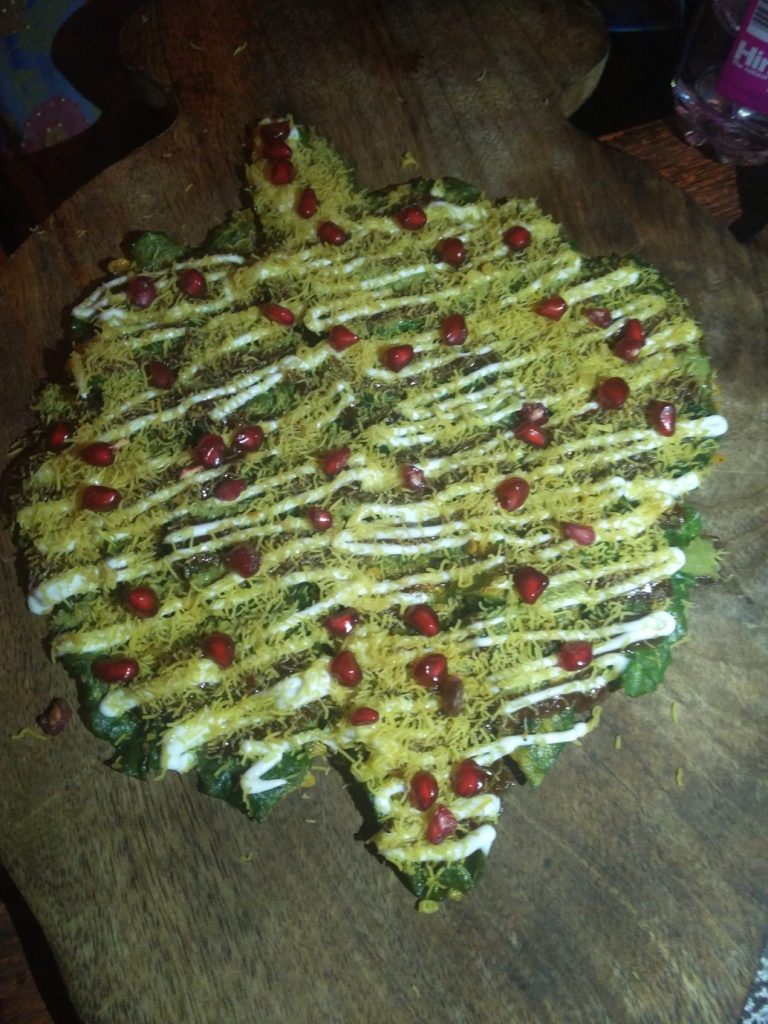 Bhatti ka Murg Tikka is again another recommended dish! The perfectly marinated dish served with sliced onions with garlic and mint sauce gave pleasure in each bite. The Thai spring roll was full of mixed vegetables and thai herbs. Very neat presentation served on a blue tray! Crispy and well stuffed which gave a great flavor!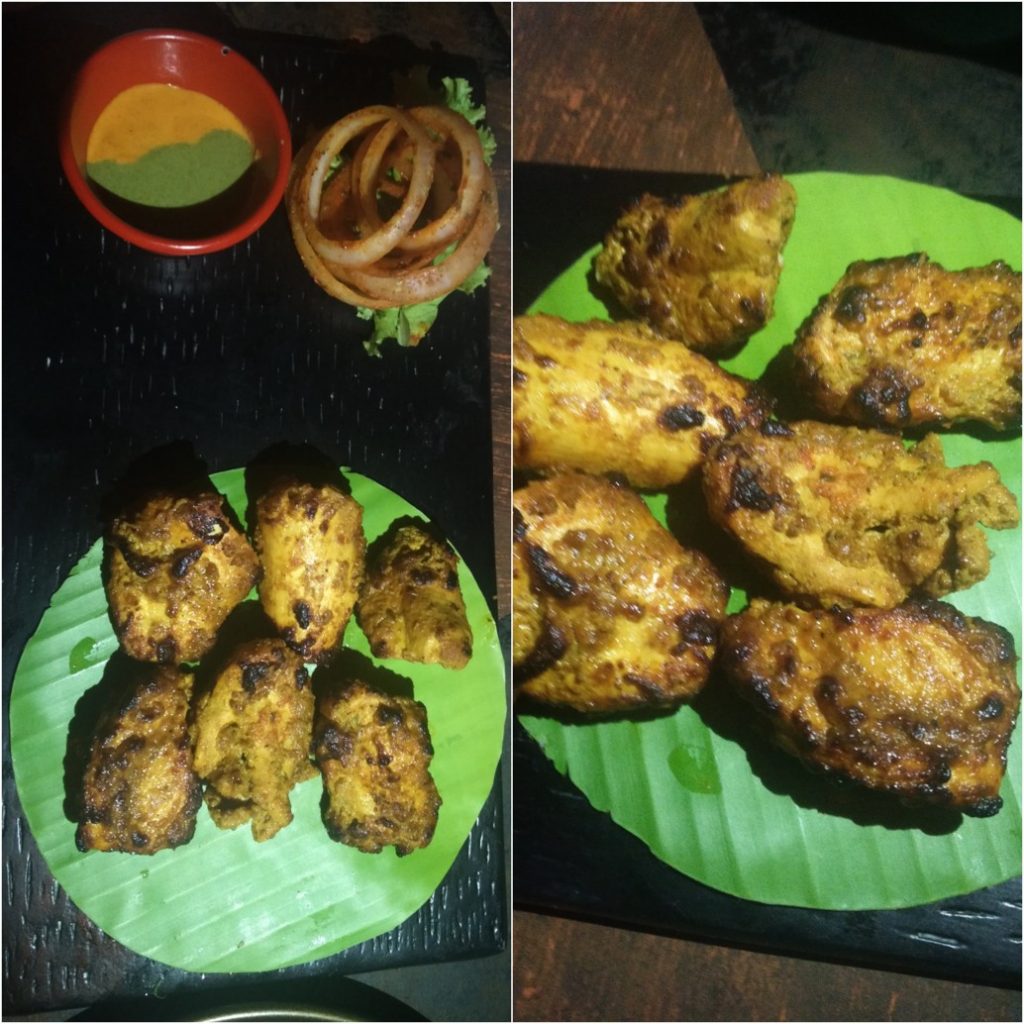 For pizza we could not decide from wide variety, and we were quite full already so we requested if a half n half is possible and to our delight, it was so we went for an ideal mix of veg and non-veg- Half Thai Spice Chicken Pizza and Paneer Tikka Pizza. I would recommend the pizzas only if you are cheese lover as the thin crust pizza was loaded with mozzarella!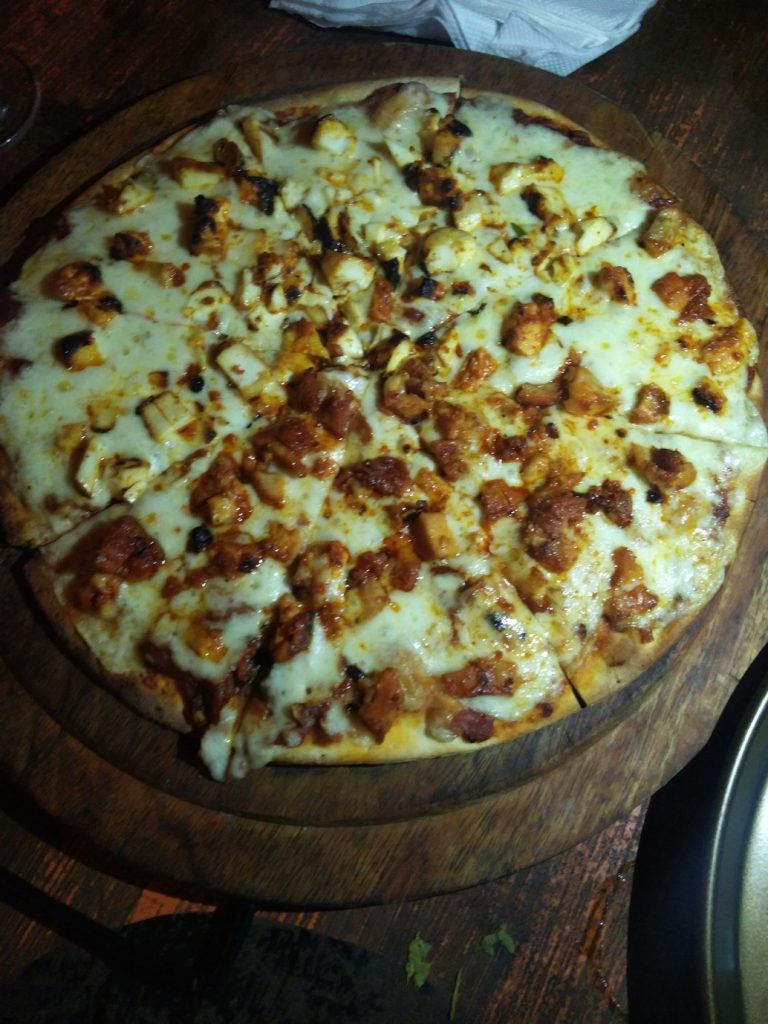 For drinks we ordered Gardino which was a blend of watermelon, celery, mint and beetroot. Served in a stylish glass, it was a little sweet but refreshing. Minto Plus was a blend of watermelon, fresh mint and kaffir lime. Different colour tones with a watermelon slice made it look so appealing. The drink had mixed flavour just like the colour tones. The Citrus Mart was a blend of orange, lime, pomegranate with a splash of ginger. Quite tangy! A high dose of Vitamin C for sure!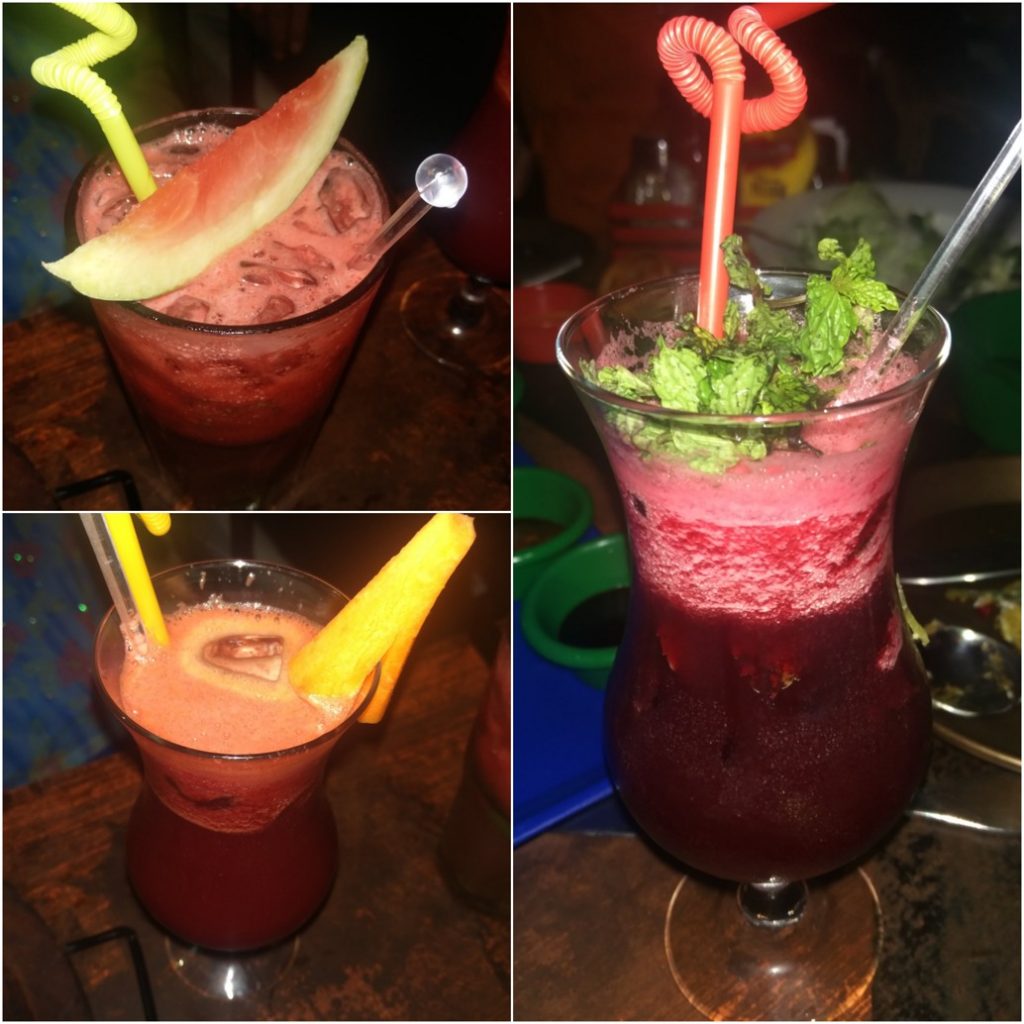 Time for main course, and we requested for small portions. Dal Makhani was creamy and great! Kadhai Paneer was mildly sliced, well cooked and well garnished. Butter Chicken is what I would recommend in the main course. The small boneless pieces cooked in creamy tomato gravy were delectable and yum! For breads we ordered Tandoori roti, lacha paratha and butter naan which were soft and amazing with the gravy dishes.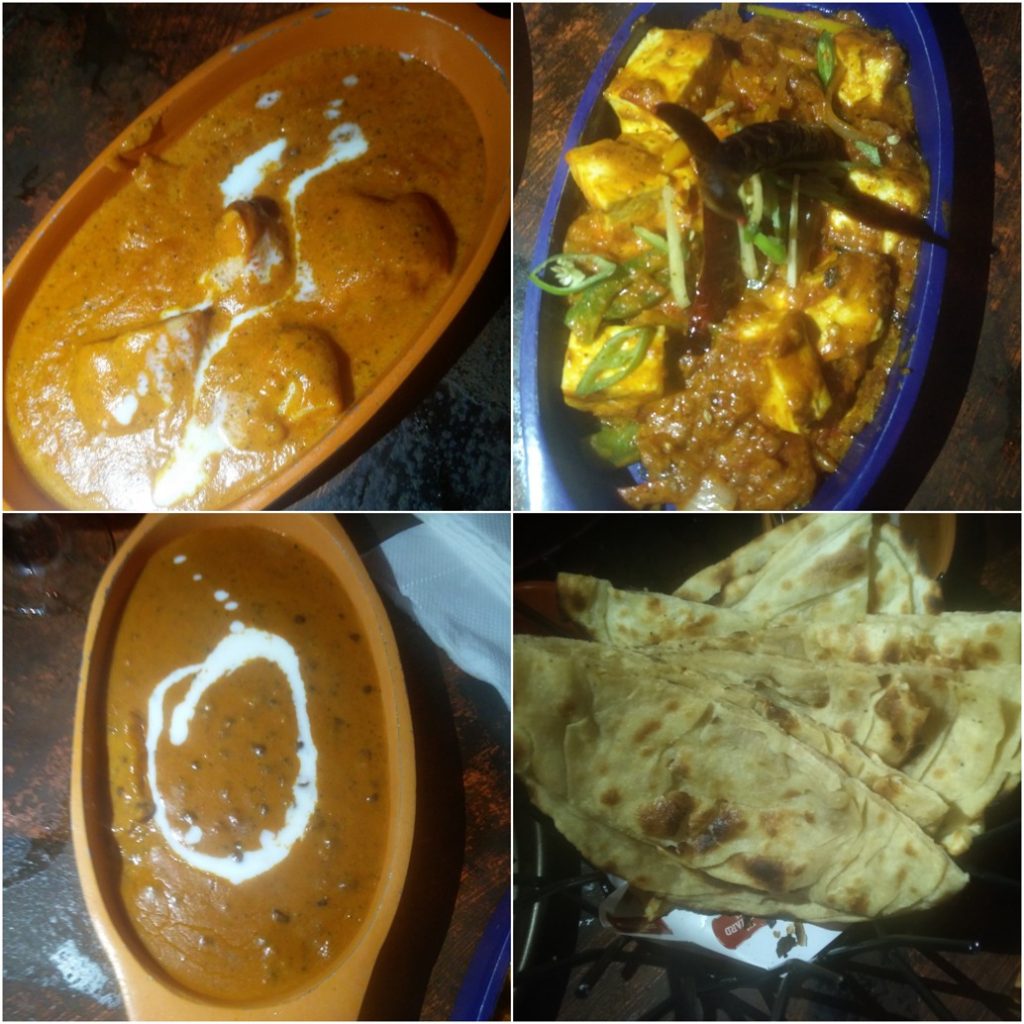 How can we leave the sweet ending. There is always a special place for it. The Brownie with ice-cream was luscious and went down our throat in no time!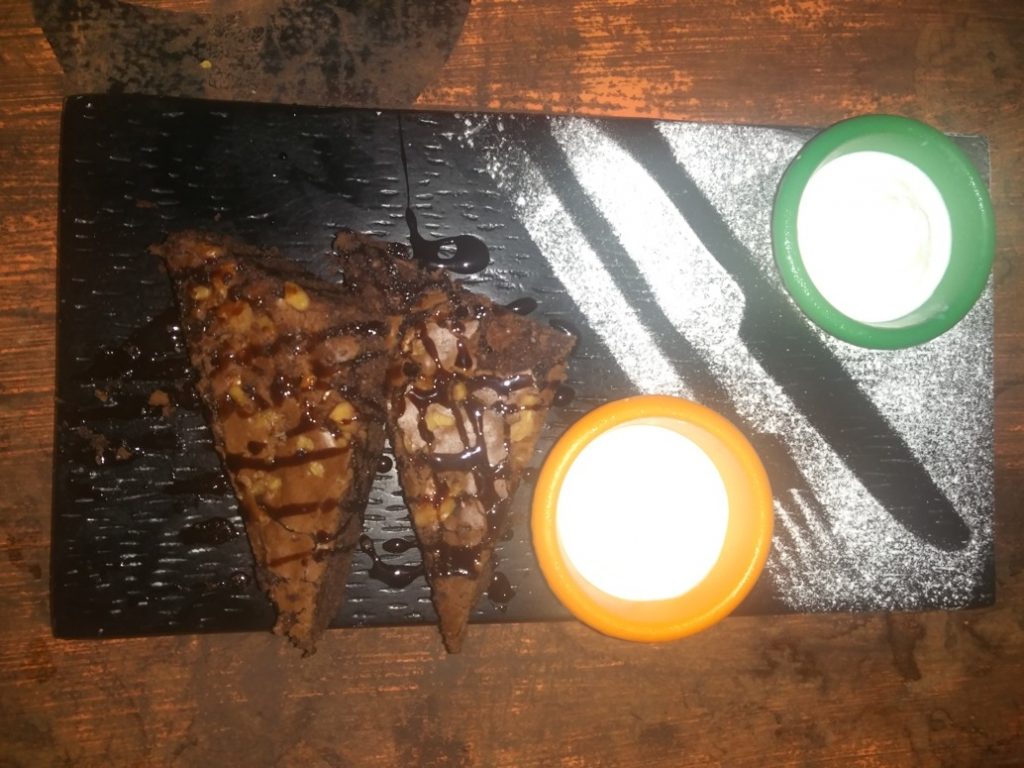 So go ahead South Delhiites and enjoy the funk with the junk!