Imly junction, the vegetarian food train that is when you take a trip down the train. Now let's get started with Varun Puri's & Vivek Bhargava's imlyicious delicious vegetarian train journey which is a yet another dream concept called Imly. I loved the logo & the Imly drawing outside the huge 250 ft. long food train full of sweet surprises & street food at Rajendra Place specially made & designed by Varun Puri. It has a unique & chapata concept of street food of India. His dream & nostalgia came alive of following culinary traditions & habits of every country of India- the train journeys & the delicious delicacies being made available that one is born up eating the street food. I saw the glasses & plates beaming with colourful hues and the window day light & the decor that I loved with all the lovely colours on the table and the interiors done so aesthetically… so warm & welcoming, coming from the inventor & creator of a lovely idea that is direct from his heart & soul i.e. Imly. So lets see what the brainchild of Varun Puri has to offer for us food addicts.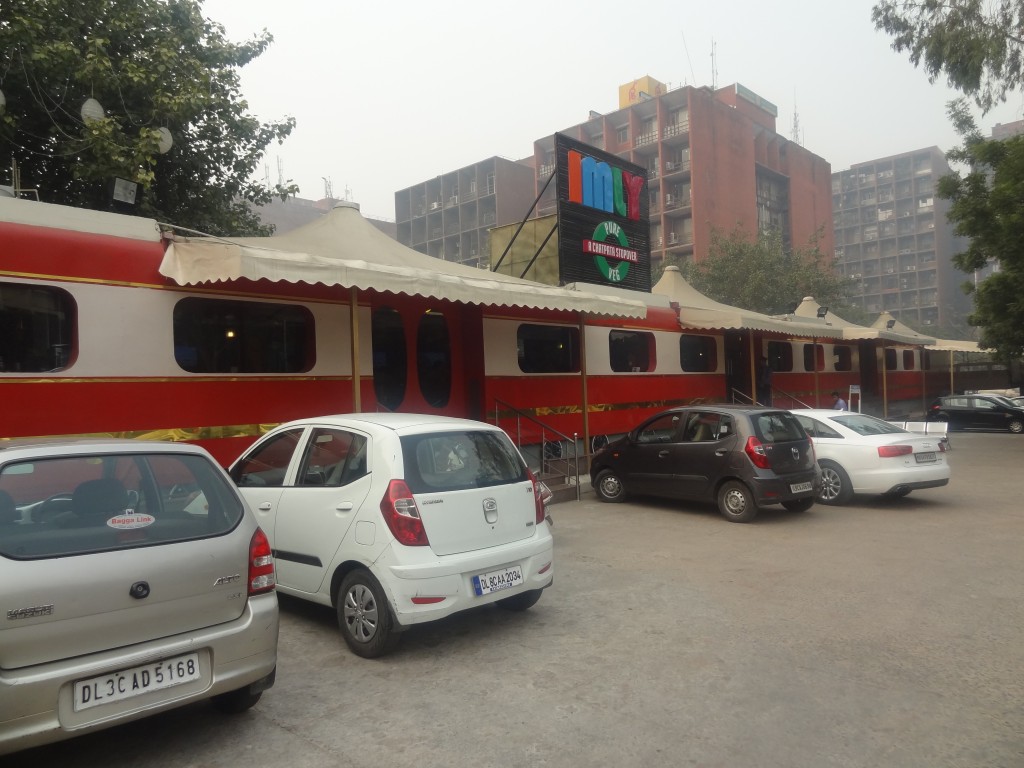 The menu reads Bombay & Pune Junction, Videshi Junction with food items like Idli & Imlycious combos like Dal Baati Churma, Amritsar Kulcha Chole etc., Rajasthan & Gujarat Terminal with items like Khandvi roll and Delhi Terminal with items like Samosa Chaat.
They have very interesting items in the menu to choose from as it's the first ever food train made in a sprawling area of 250 ft. With a different concept like this, I am sure Delhi food lovers will have a rollicking time trying different varieties of street food that Imly has to offer. The prices are extremely reasonable and it's an experience not worth missing but to try, taste & get the feel of eating at the best junction i.e. the Train.
First came the complimentary Dahi Golgappas. They were very innovatively rocking in a leaf and swing full of dahi, anaar, masala & chutney. I loved it! It was a fresh start to the street food journey. I must say the beautiful golgappa melted & disappeared like a ball of desire in my mouth making me crave for more and have some more of the delicious food offerings.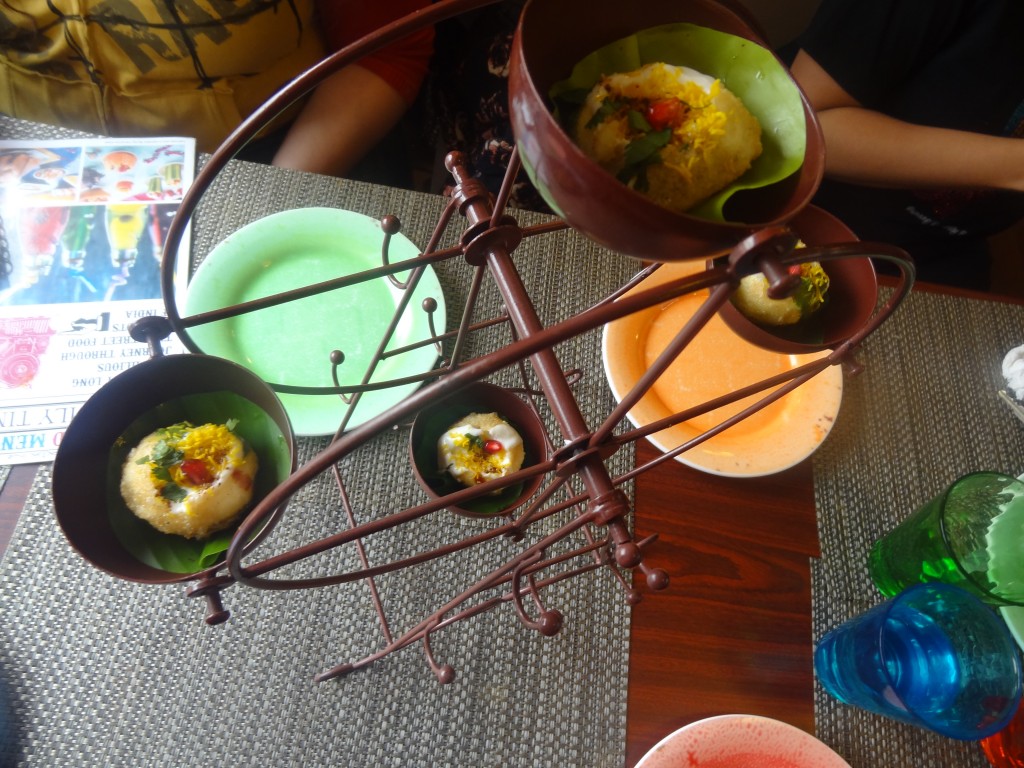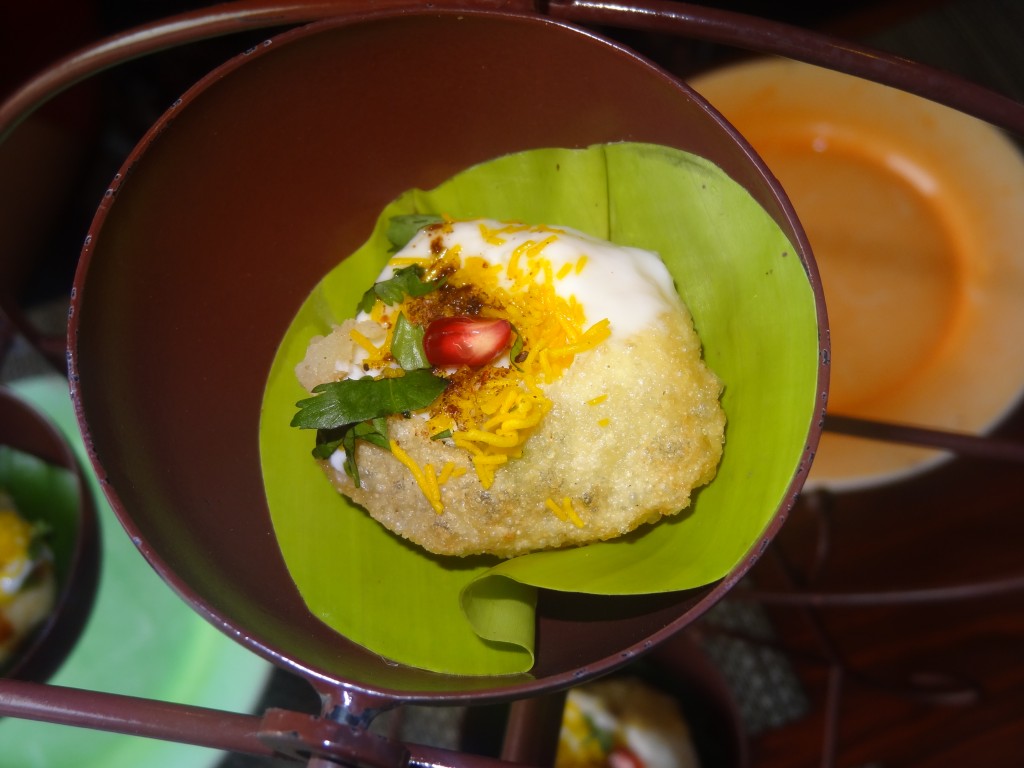 Then came Dosa- the Imly Way which was very nicely presented in a plastic leaf tray with a big bowl of sambhar, tomato & ginger chutney plus the coconut chutney and the new entrant the green chutney with lots of 'rai'. The dosa was cut in four rolls with cheese shavings on top with great filling inside. Varun fondly called it the "Genie Dosa".I loved the presentation and the sambhar in particular with the lovely taste of cheese that melted & gave a nice taste of satisfaction.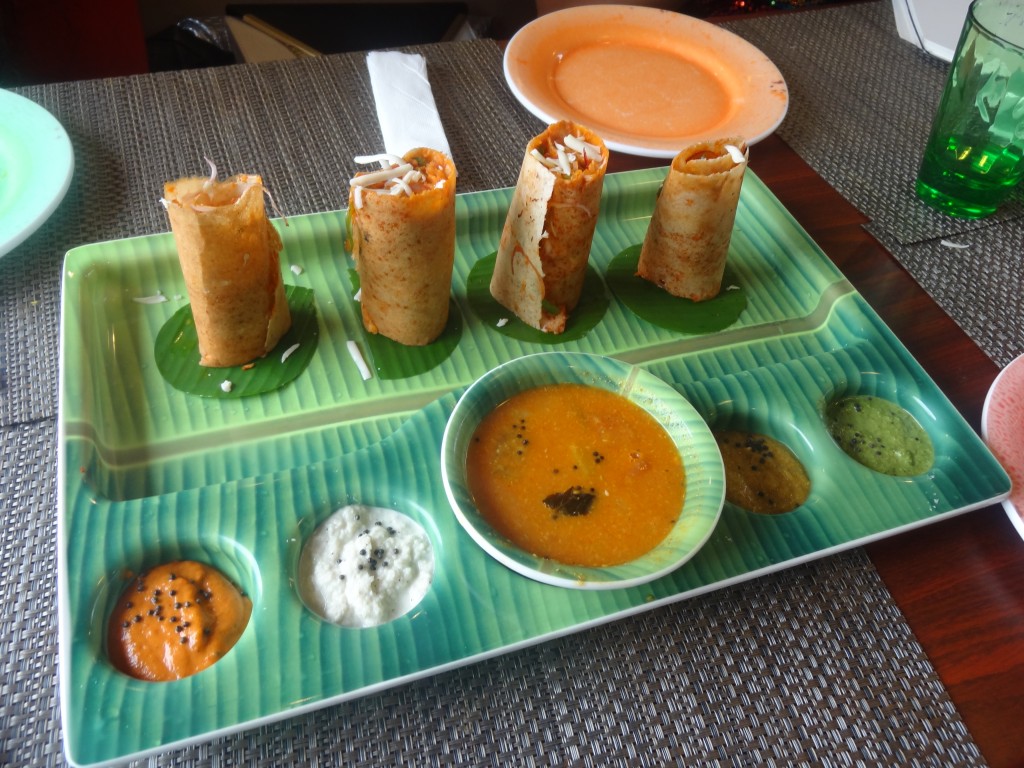 Then we tried the various shikanjis. The Pineapple shikanji was tangy & sweet with lots of masala. The Ginger shikanji had a strong ginger taste and had a very different taste with masalas. The Coconut or Kokum Shikanji tasted great. It's the most selling drink on the menu. The after taste it left in the mouth was out of the world. The Mango Shikanji was khatta meetha with all the masalas.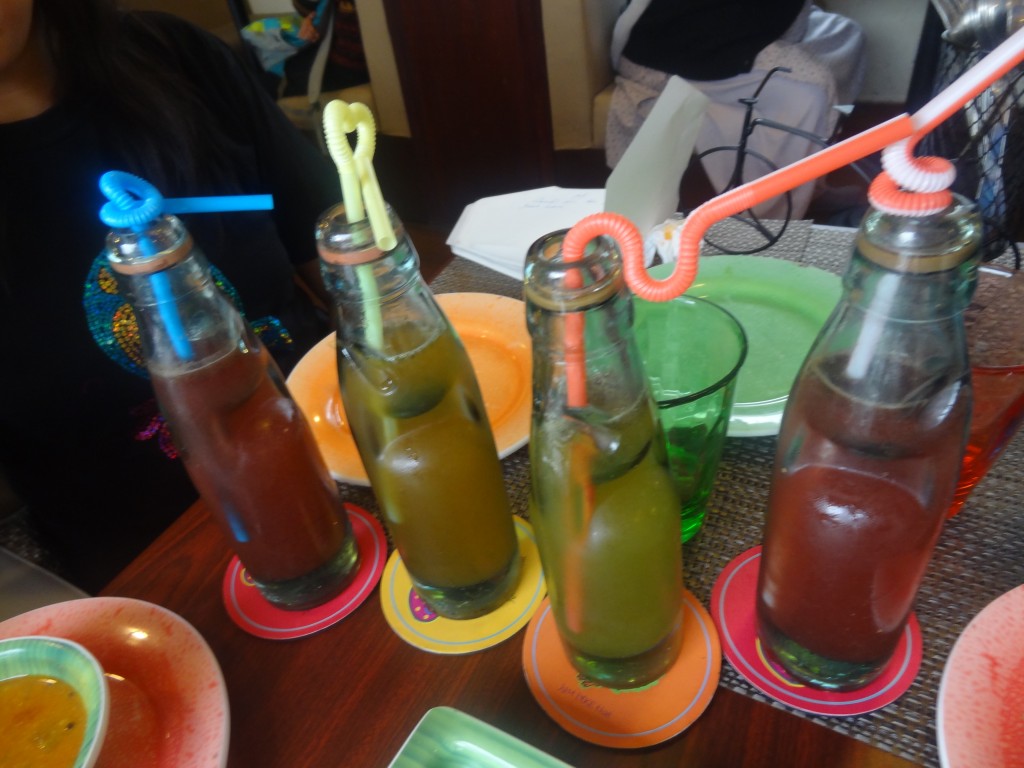 Next came the Kalmi Vada, a Rajasthani starter made with chana dal. It was like a namkeen cake. A little spicy & salty, served with garlic dip. I have never tried Kalmi before so for people who love Rajasthani cuisine, they are sure to fall for this one.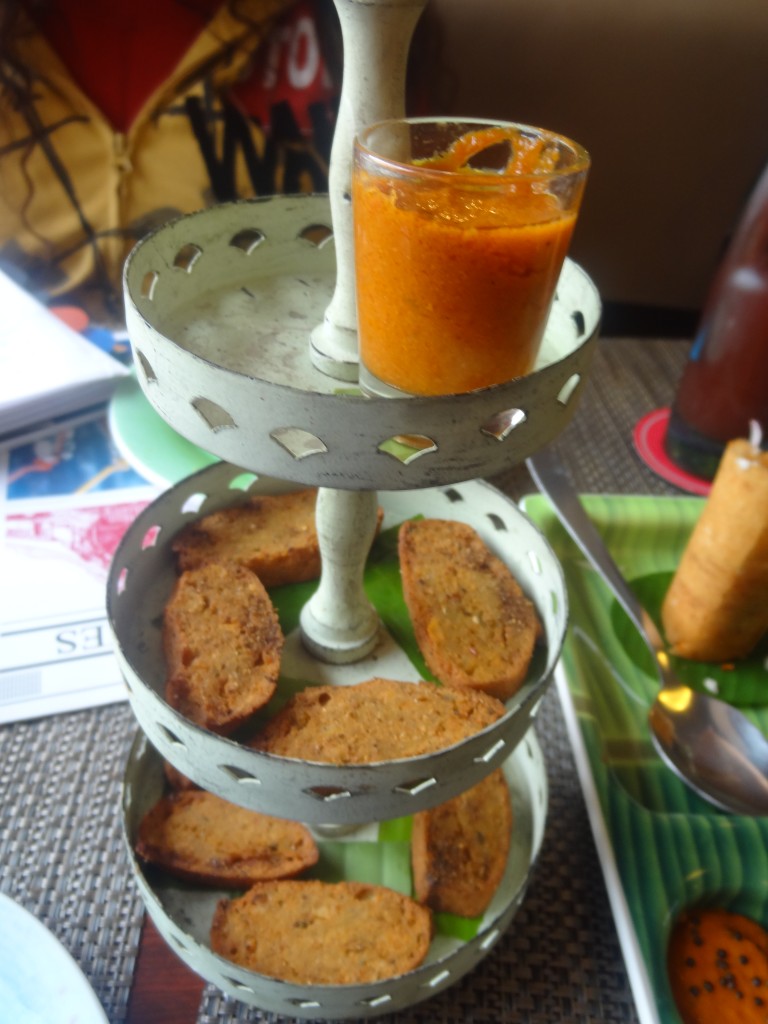 Then came my favourite Golgappa- the Imly Way. They were served in small purple coloured toy buckets like we used to see in cartoons. It looked very innovative, creative & lovely to look at. The buckets had Imly water which were sweet & sour. The Jaljeera water was tangy and spicy. A bucket of aloo, dhania & spices was also there. I truly relished the Golgappas.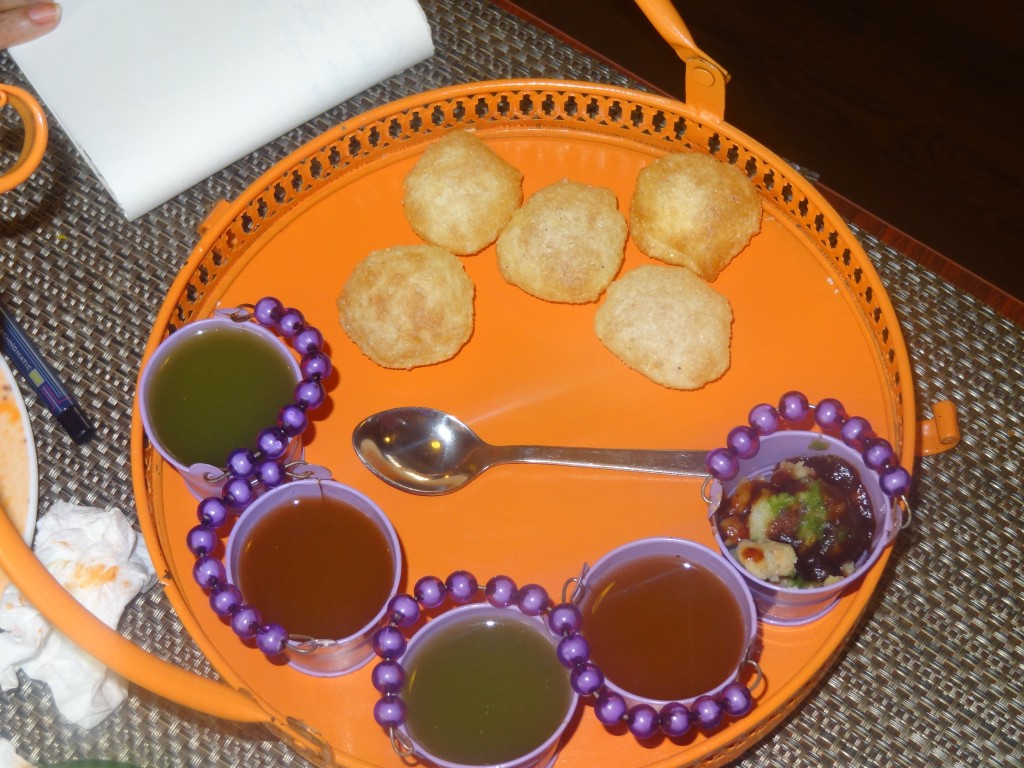 Next was Chinese Bhel mixed with Chinese sauces like Tomato schezwan & garlic sauce with capsicum, onion & finely chopped coriander tossed in the dish. The dish was served in a box and looked very appealing to the eyes. It tasted sweet & spicy with all the sauces, Quite a delicacy!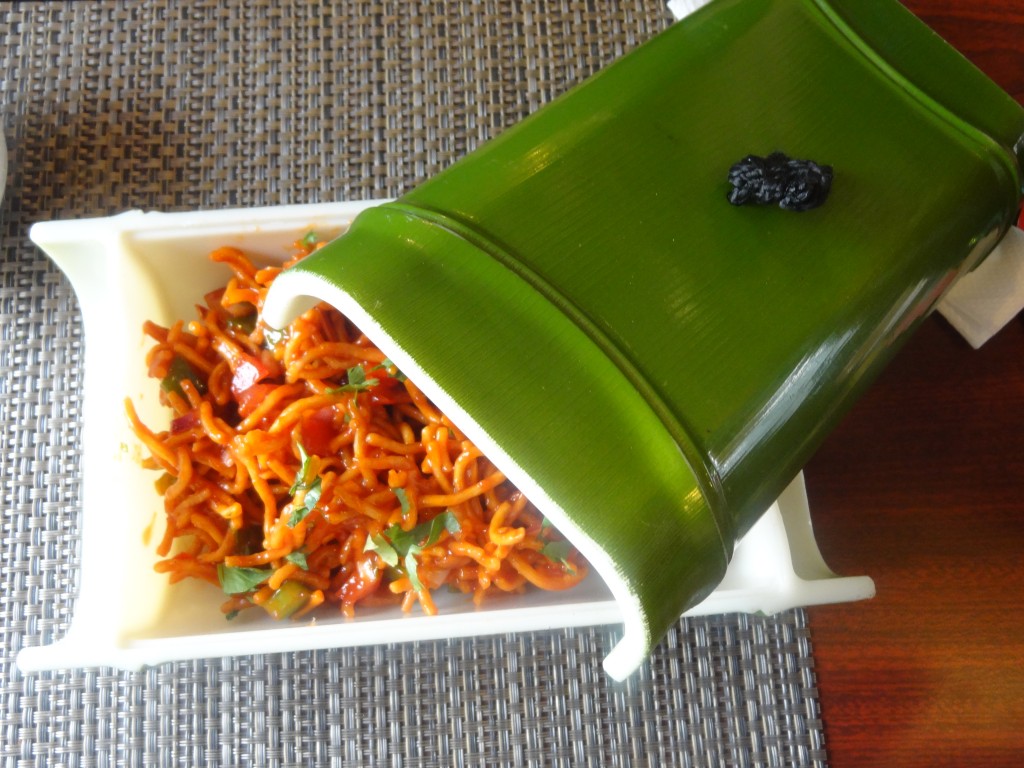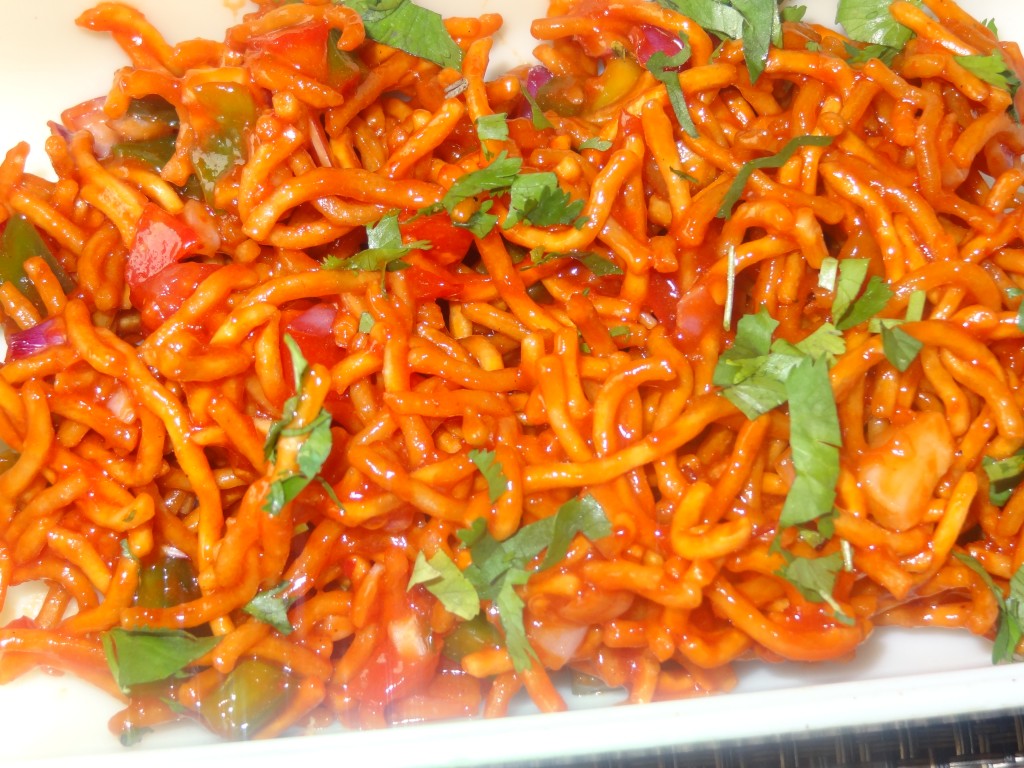 The Rajma Chawal were served with onions with lots of Bombay spicy masala on it and were brought in a packed Thali like the ones we get in trains. The Rajma were garnished well with coriander & tasted real good. They were a little spicy but tasted great with the rice which were totally imlicious & delicious in every way. A must have!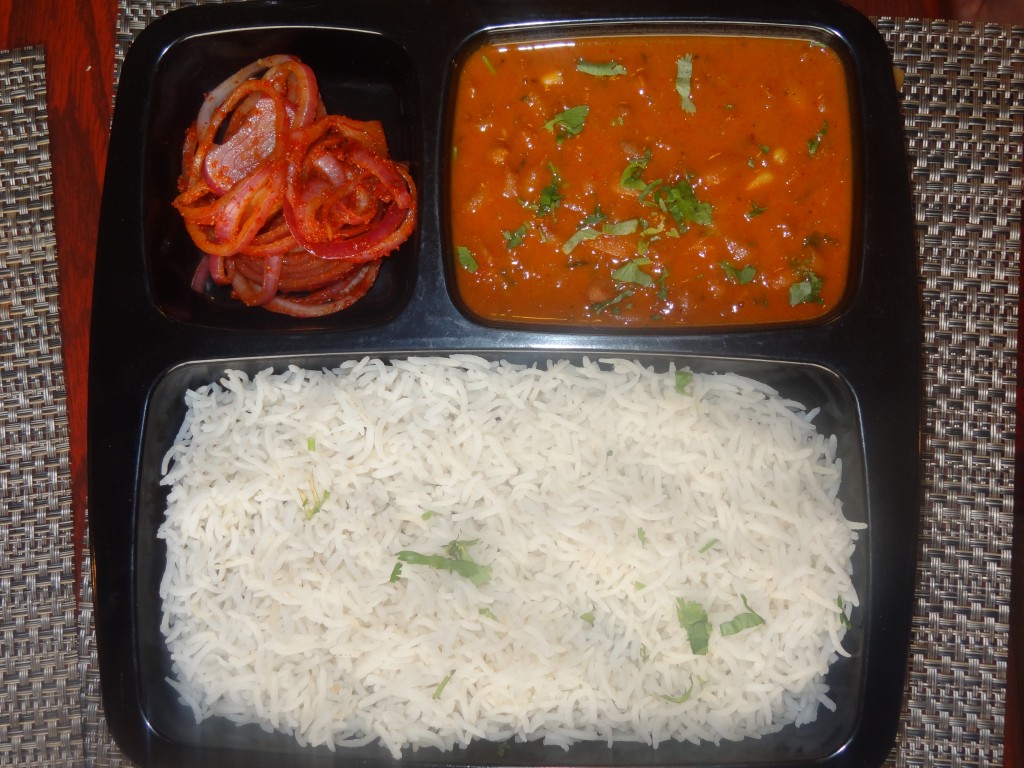 Next was the Pav Bhaji. The Pav was crispy with butter on it. The Bhaji was done nicely and topped with butter along with diced onions & lemon slice. The Bombay special pav bhaji tasted great & was nicely made the Bombay way.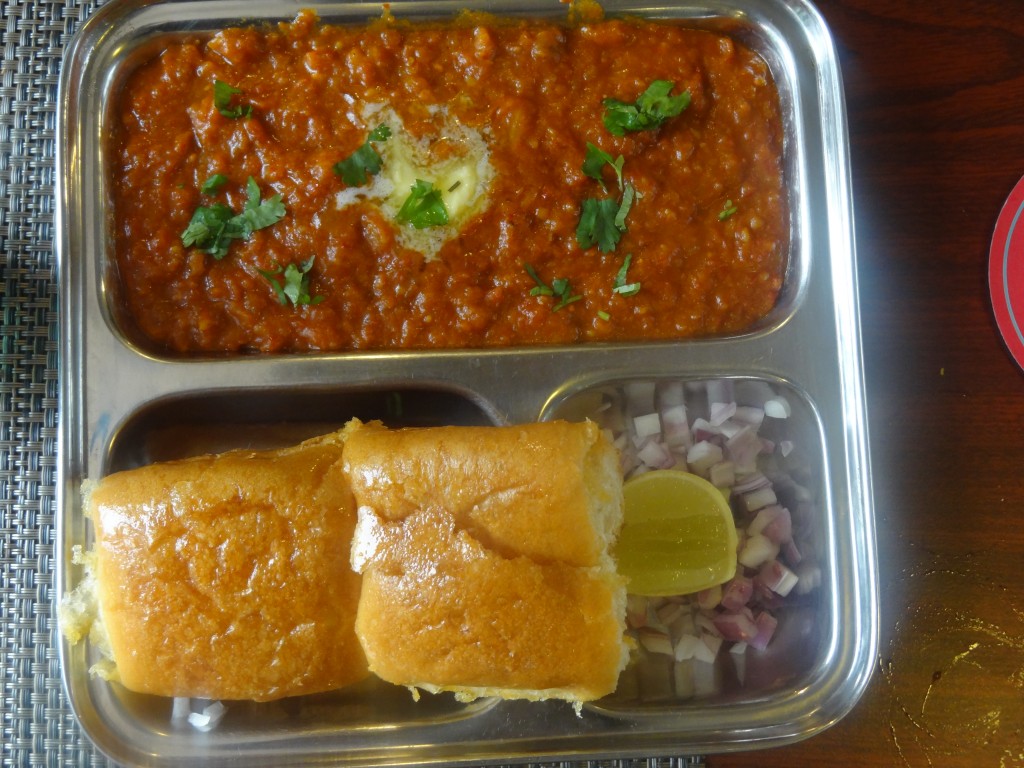 As the upbeat Bollywood music was played in the background with songs of AR Rahman and Rockstar, we were served Masala Tawa Pulao in our memorable train journey. The Masala Pulao had lots of peas, capsicum & onion with a flavour of the spicy Bombay Masala and that's when Varun Puri, the creator of this lovely train express joined us.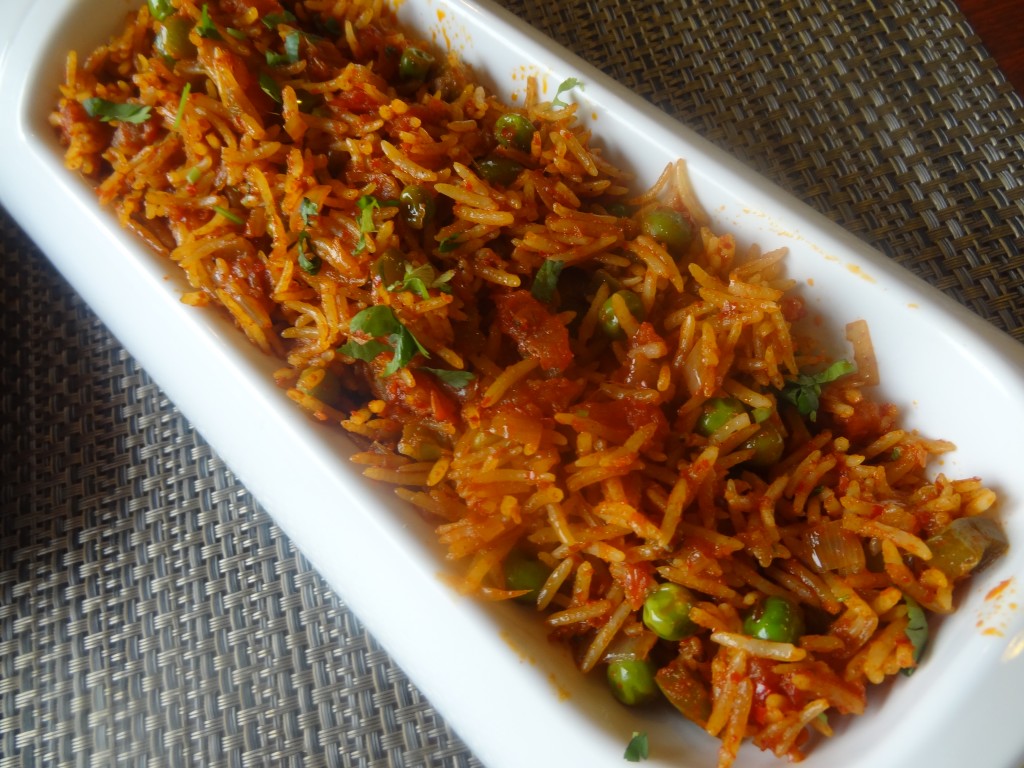 The superbly talented Varun Puri in a candid chat with Team ChicLifeByte told us that Imly is his dream project and he has gathered chefs from native places like Bombay, Calcutta, Rajasthan, Hyderabad, Madras etc. for making special offerings of different cities. He has 32 chefs in total preparing different cuisines and adding their special touch & magic and serving their specialities at Imly. Varun wants the street food culture grow and wants people to have golgappas and Chole Bhature in the confines of this cozy train i.e. Imply Express rather than the outside dust, pollution, sweat & uneasiness of the crowd. The mastermind Varun has plans of expanding Imly further in areas like CyberHub (March 2016) and Mall of India, Gurgaon (January 2016).
At Imly, there is every street delicacy that you enjoy on roads, the traditions & habits through the train journey, every hault of the train at every junction or station.. Here you can feel the nostalgia and enjoy every item you crave be it samosa, ram ladoo, pakoda, chaat etc.
Then came the big lovely plate of Chole Bhature. When I touched the bhatura, I was amazed to see that there was negligible oil on my fingers as the Bhature were fried in Desi ghee which does not go inside the Bhatura making it crispy & delicious. So we don't have to worry about calories and oil. The chole tasted great, not really spicy. I loved the Chole Bhature, a definite must have. Full marks!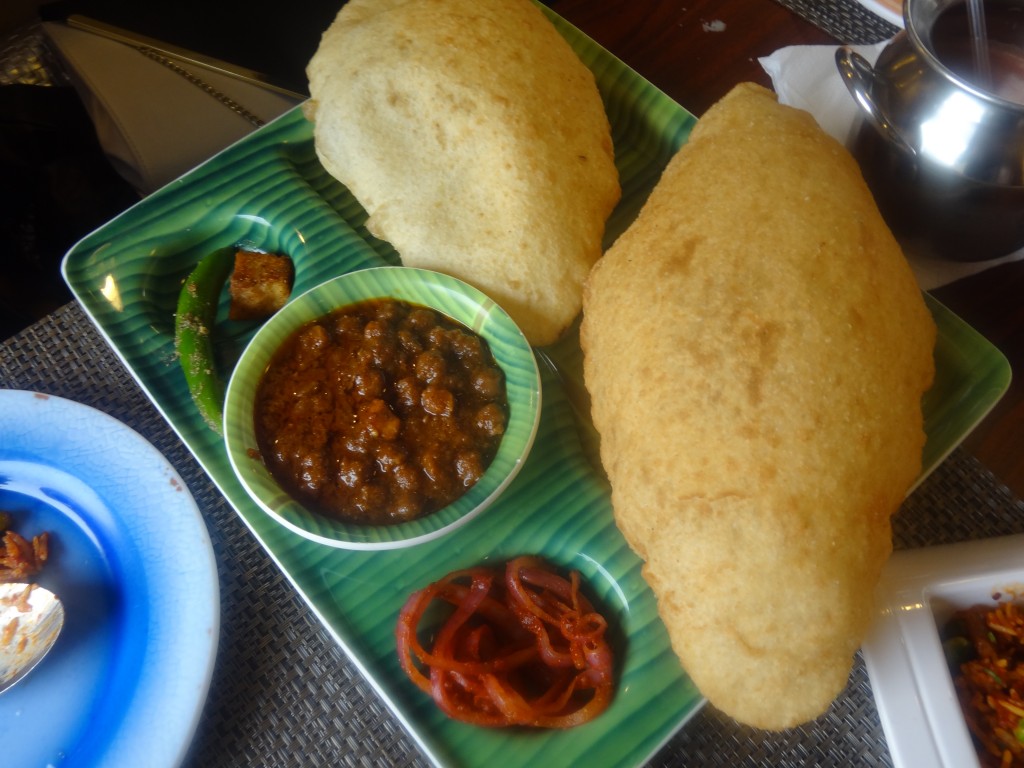 I also tried some juices here. The Relaxing Moment tasted like aam ras; a little tangy. The Sunset Fresh juice was nice & fresh just like a fruit punch but with a Bombay Masala. The taste was heavenly. It was one of the best juice I have had. Excellent!
Next, the Vada Pao were nice & had a great filling of Aloo. They were cooked in less oil and were crispy and delicious to bite & eat.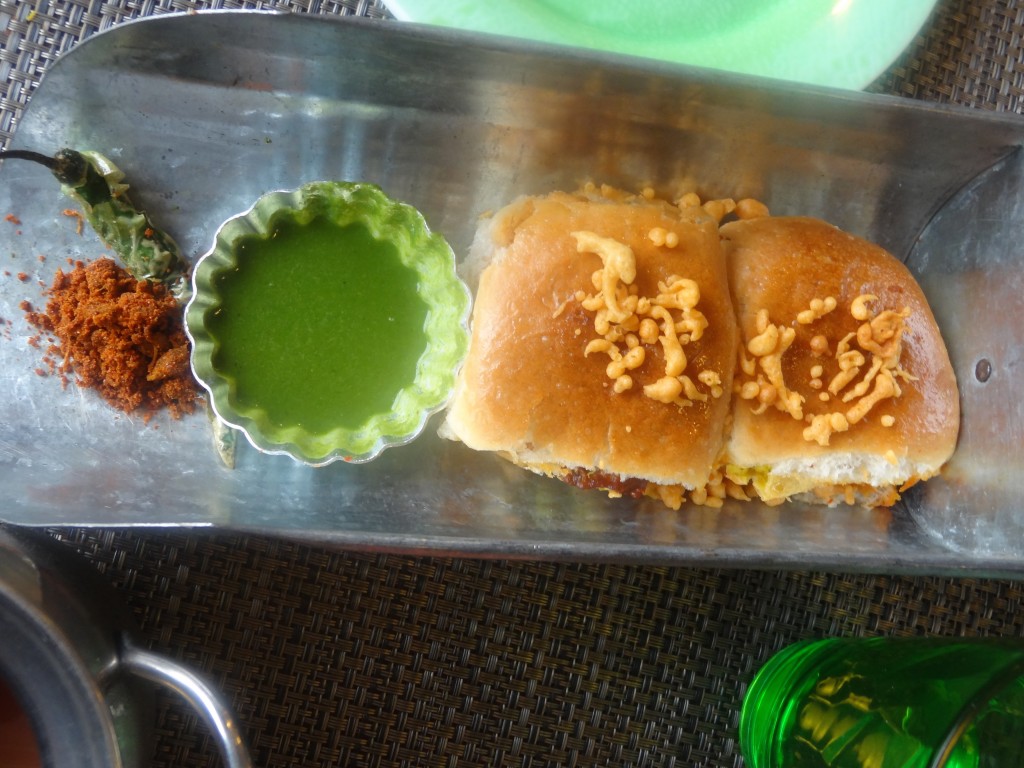 Varun also spoke about his upcoming venture Molecule which is a deconstructed lab with scientific drinks, a total science lab for food with new experiments in food and every drink to tell a story to give you a feel about the place, new innovations in food & drinks by the scientists & food makers in the lab.
As Imly is very close to Varun's heart, he has a partnership endeavour with CRY as he loves kids & loves it when they eat his food and smile. That is what makes him more happy and satisfied with Uncensored, another great venture opening in Bombay & Gurgaon. He has his eyes full of sunshine and words full of hope and love for the people who visit his restaurant and eat his lovely food.
Varun wants to make Imly a household name and wants everybody to bond over this lovely place be it any occasion or any mood. IMLY CHALO, he wants these words in everybody's heart. He is fond of Bombay so he wanted people to taste the Bombay delicacies, the Bombay way.
For the desserts, I tried the most awaited, the most remembered till now and yes the most popular & most ordered dessert here- Rabdi Pug Boondi. It was delicious and I could taste 3 desserts at the time. The Boondi melted in the mouth & the rabdi gave it a great taste.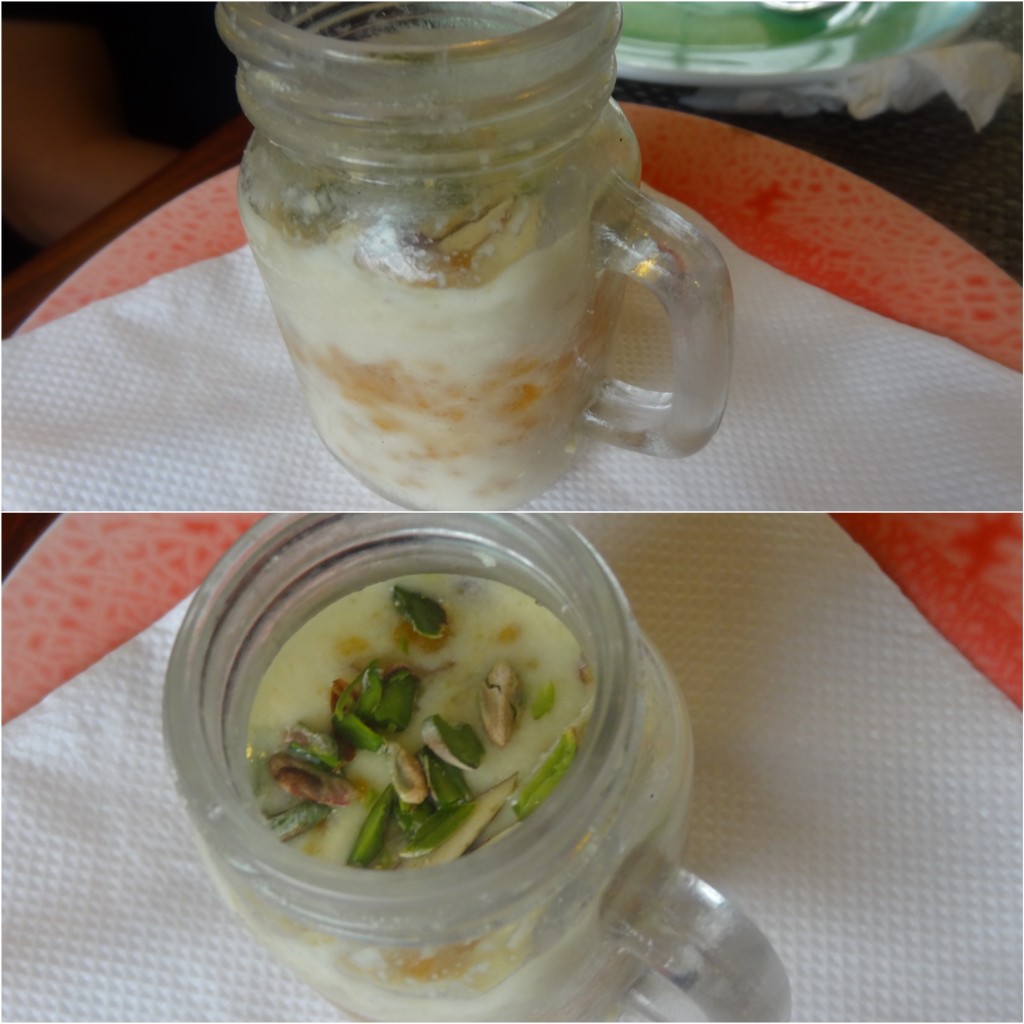 The Jalebi came in a cart wheel carriage. They were dipped in rabdi and was very tasty & crispy. The way they were served was such a delight & pleasing to eyes.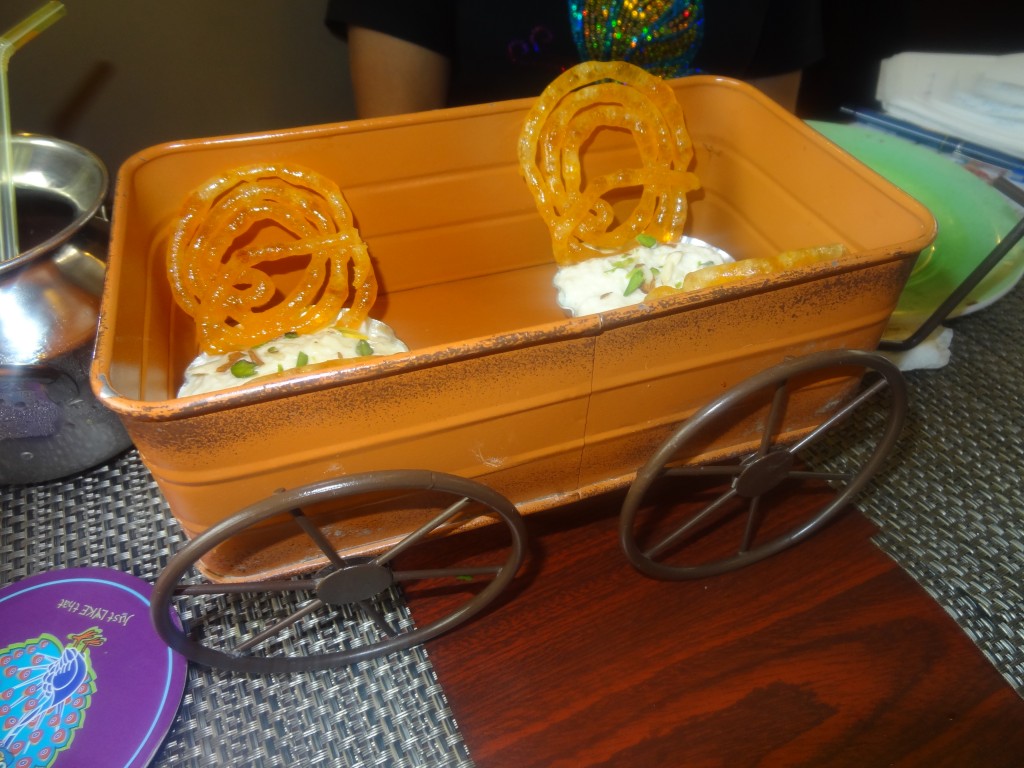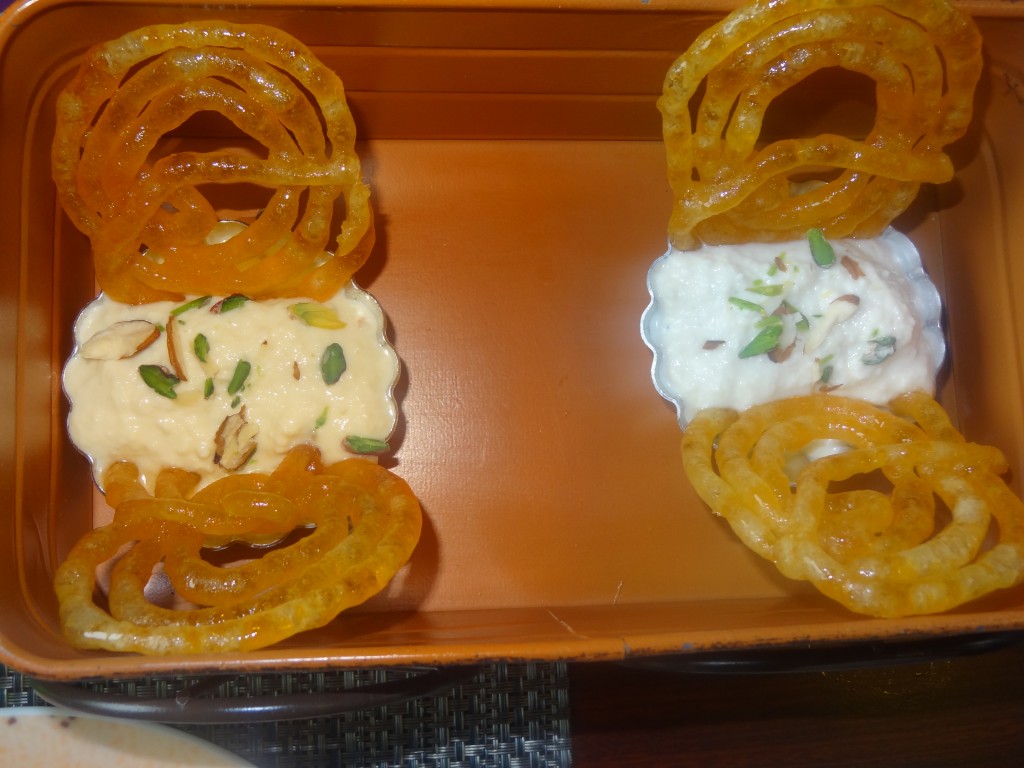 In a candid chat with the 24 year old Chef Aman Puri, the brain behind the menu of Lights Camera Action, Imly and also Molecule, told us that he has travelled a lot of places to do research for the food. With an experience of 3 years in food making be it in The Grand or ITC Maurya, he has it all set right for him at such an early age. Chef Aman told us that he loves Italian food & how he prepares it the Imly way. They'll be incorporating more menu additions in the future with dishes from Northeast, UP & Nagaland. Chef Aman himself loves travelling, cooking & meeting new people and loves to cook anything depending on his mood.
So all is well that ends well with the meet reminiscence and meeting the always smiling, friendly, warm & delightful person Varun Puri with all the positive energy in him and all the optimism and dreamy eyes for his restaurant to be in the league with great food being the focus. I think he has nailed it this time as Imly is unique, affordable & creative with all the spontaneity of the creator & master of the trade. Here is a concept re-opened through his eyes with lots of passion which comes from every corner of his mind, heart & soul.