With the festive season approaching, there's no better time than now to invest in celebration-appropriate menswear. When scouting for the perfect outfit, it is important to look for something that not only complements the occasion but also resonates with your personal style. Finding an ensemble that seamlessly harmonises the festive spirit with contemporary allure is key to making a lasting impression during this joyous season.
From tailored-to-perfection Kurtas to structured Bandhgalas, the spectrum of festive menswear at Pernia's Pop-Up Shop. Men offers a plethora of choices to cater to every man's distinctive taste. A one-stop shop for the finest in ethnic menswear, Pernia's Pop-Up Shop. Men houses the best in Indian design from leading labels.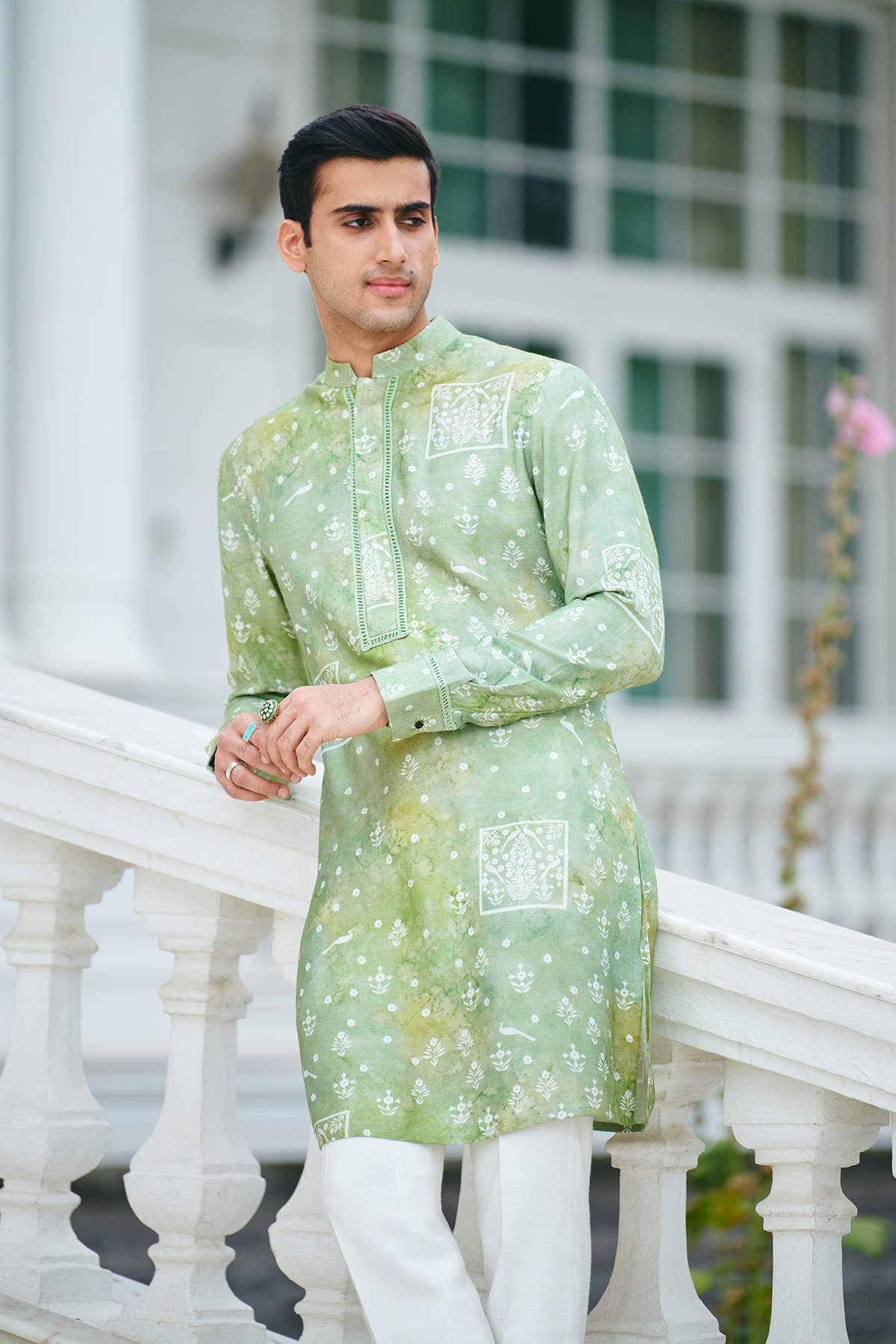 Scroll down to discover a carefully curated selection of the most sought-after ethnic menswear, handpicked for your celebrations.
Closet Classics
A classic Kurta takes the guesswork out of your festive outfit choices, catering perfectly to most occasions on your calendar. Whether it's printed, embroidered, or solid Kurta sets for men, you can count on this wardrobe staple to make a guaranteed style statement. If you're on the hunt for something that grabs attention, opt for a timeless printed Kurta. Inked in vibrant hues, designer printed kurtas feature eye-catching motifs that stand out. Want something more lowkey? A classic Chikankari Kurta is the way to go. Trust these closet champions to strike the perfect balance between comfort and style.
True To Tradition
Emanating regal charm, Bandhgalas are another fail-safe choice for the festive season. The structured silhouettes act as a sophisticated yet fashion-forward option for the men of today. Amp up your style quotient in an embroidered Bandhgala set at your next festive soirée. These embellished silhouettes elevate the allure of the classic style to new heights, infusing it with a touch of glamour. If something more traditional is your preference, consider opting for a solid Bandhgala set in shades of navy blue, black, or grey. The one-tone wonders exude timeless elegance while maintaining a sophisticated appeal, perfect for festivities and more.
Fusion Finesse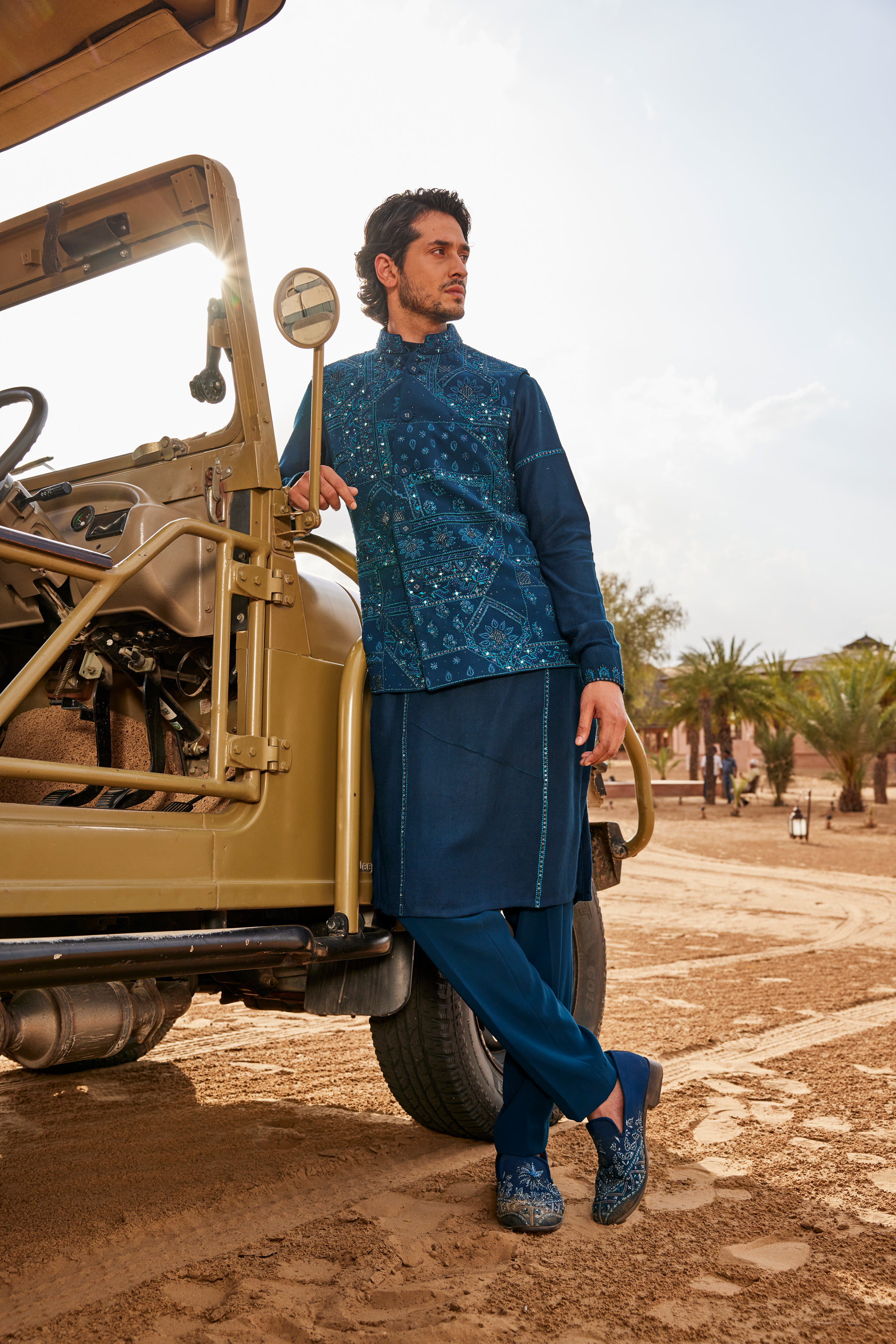 An amalgamation of Western and Indian aesthetics, Indo-Western sherwani is a wardrobe must-have if you're aiming to leave an indelible mark at celebrations. Weaving together heritage and contemporary charm, designer Indo-Western Sets emerge as a captivating choice for today's modern Indian men who aspire to create a distinctive fashion statement. A classic black Indo-Western set is a pick that promises to capture attention at every occasion. If you're scouting for an edgy design, opt for an Indo-Western set with pleats on the bottom and a structured silhouette on top. For something that is both lightweight and eye-catching, get your hands on a printed Indo-Western silhouette. Adorned with unique motifs, these comfortable yet classy ensembles are just what you need to show off your sartorial prowess this festive season.
Whether you're seeking something classic and traditional, modern and lightweight or an ensemble that gives you the best of both worlds, Pernia's Pop-Up Shop. Men has all your celebratory fashion needs covered! Visit www.perniaspopupshopmen.com, your destination for festive fashion and more.