India Fashion Week is one of the most awaited fashion events in the country where leading designers showcase their latest collection. The week of glitz and glamour witnesses everyone from Bollywood celebrities, models, fashion designers and influencers posing for the paparazzi and giving air kisses to each other.
We spotted some of the best collections at the Lotus Make Up India Fashion Week (The title sponsor changed from Amazon India to Lotus Make Up this time) organized by Fashion Design Council of India (FDCI) which was held at Jawaharlal Nehru Stadium, Delhi from October 10 to 13.
Almost 120 designers participated which celebrated various aspects of fashion – from inclusivity to handlooms and created a new bond with nations like Australia and the embassy of Japan through the medium of fashion.
The opening show was of Pero by Aneeth Arora which also had an offsite venue. So everybody's vehicles was diverted to The Park Hotel for Pero's show The offsite show had a different vibe with a sublime story that ran through deep waters, capturing and containing the richness of underwater landscapes. With a live band and the colours borrowed from the marine landscape and life, it was a show to watch out for! The highlight this season was playful colour blocking, frills and ruffles for a unique take on layering, crocheted edgings and beaded fringes.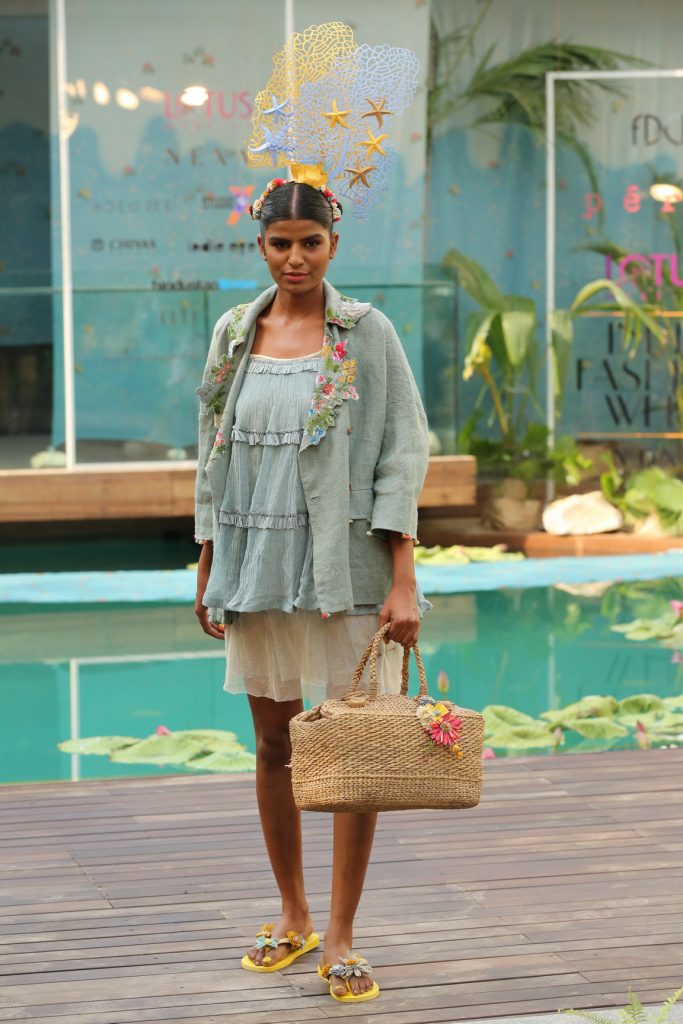 Handcrafted with love, the quirky little fish named péro, wiggles and pulls a graceful glide towards the colourful ocean bed and eventually getting lost in the vastness of the blue green waters. A new addition to the péro family are these fishes, small motley members of the sea handcrafted with the fabrics of the season. The bulging ivory eyes have been skillfully imitated through black and white beads, while the tiny coral beads form the puckered fishy lips. The supple fins and tail are crafted from light translucent laser cut fabrics in marine colours.
Anupamaa by Anupamaa Dayal was themed 'Broken SS19'. In Japan, when a bowl is broken, the cracks are filled in gold.  The Japanese believe that when an object has suffered damage and has history, it becomes even more beautiful and the gold in the cracks are homage to this. The same applies to humans . You are more beautiful now. Isn't that so interesting!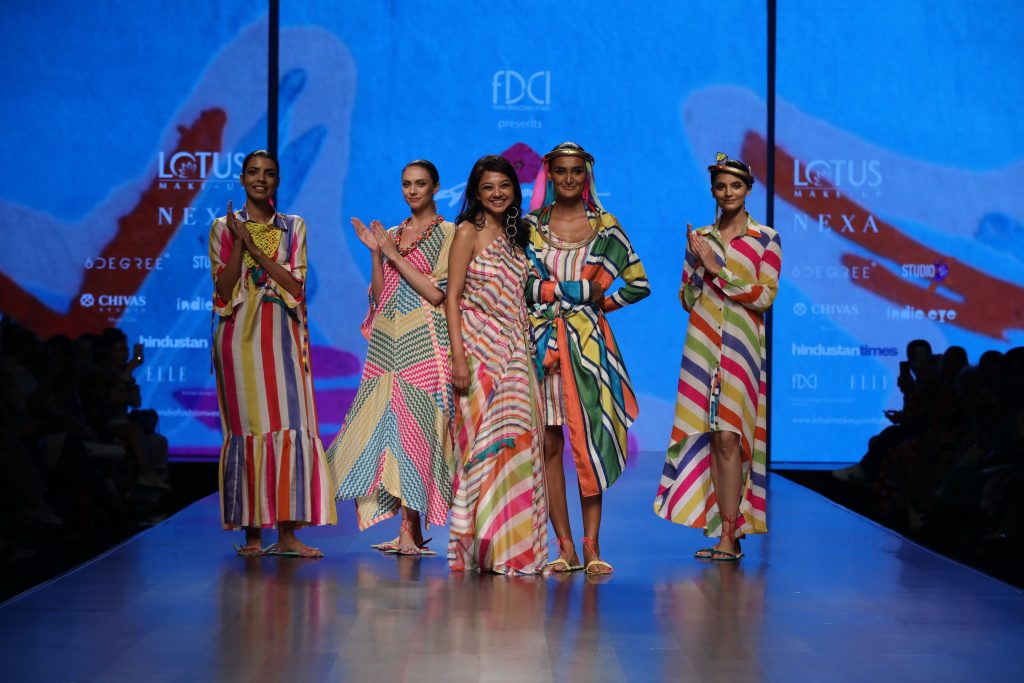 The collection brought together broken and the art of golden repair with star fish motif in different sizes. The starfish, with its ability to regenerate new limbs when the old ones get damaged is the ultimate symbol of self renewal. Patchwork in eclectic Anupamaa prints with 'boundaries' defined in gold could be seen. A lot of ' rainbows' were also used. At Anupamaa, they believe that the rainbow is every woman's birthright.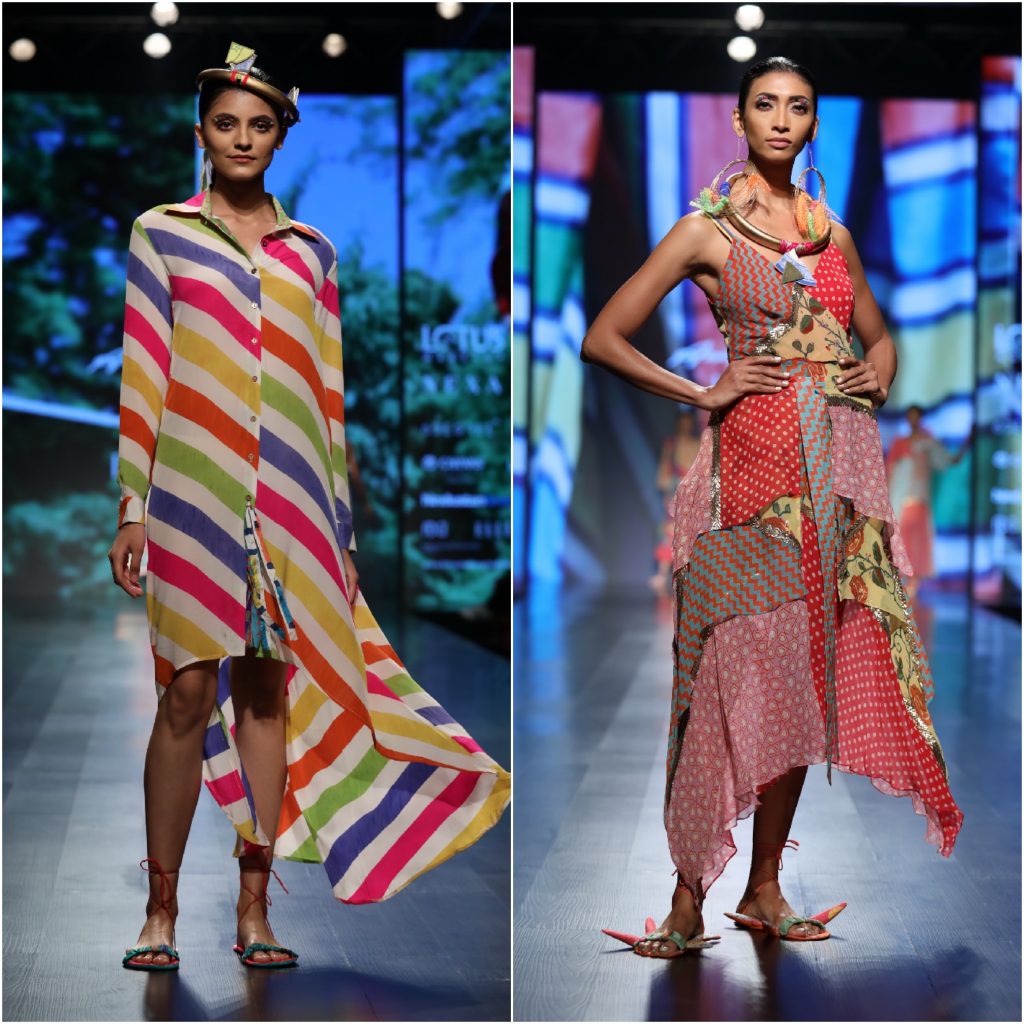 Rohit Gandhi + Rahul Khanna presented a specially curated collection 'Twilight' keeping monochromatic theme in mind which looks bold and masculine like a NEXA car. The collection is inspired from the beautiful lines and curves of NEXA. It pursues the accentuated glistening silver elements adding a touch of elegance to every garment and amalgamate metallic hues along with modern edgy elements. The show in association with NEXA also saw Sonakshi Sinha walking the ramp wearing the creations by the designer.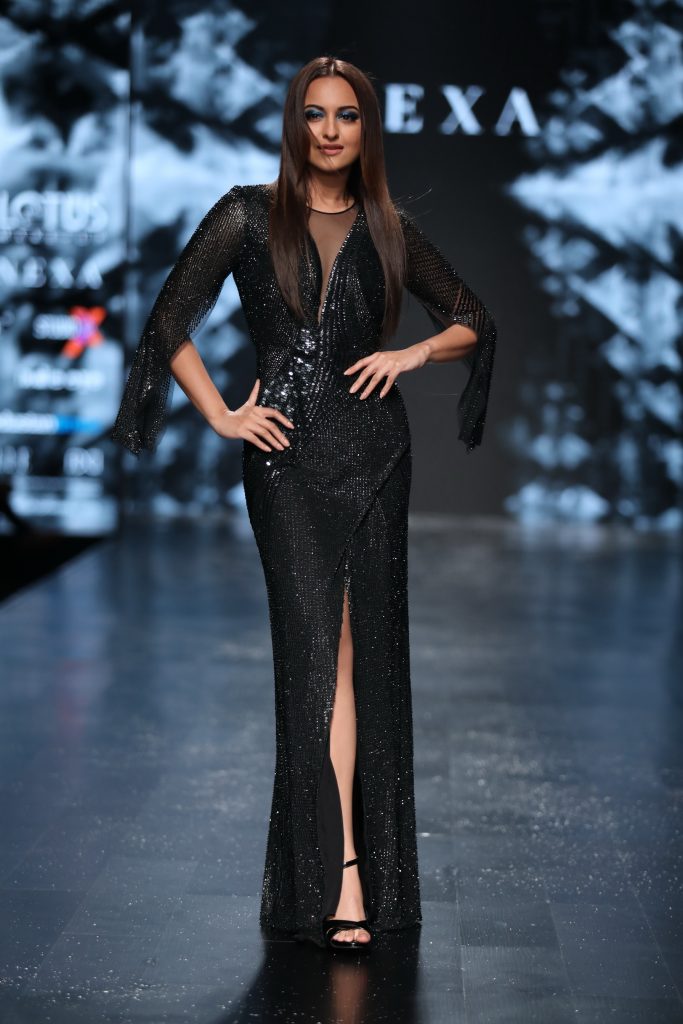 Black crystals & handcrafted techniques have been utilized in order to give this collection a sense of luxury. Luxurious satin and twisted crepe are used for this Red-Carpet Collection. The intricate metal work on the silhouettes with matte and gloss textures defined an unusual patterns, giving an impression of pure indulgence.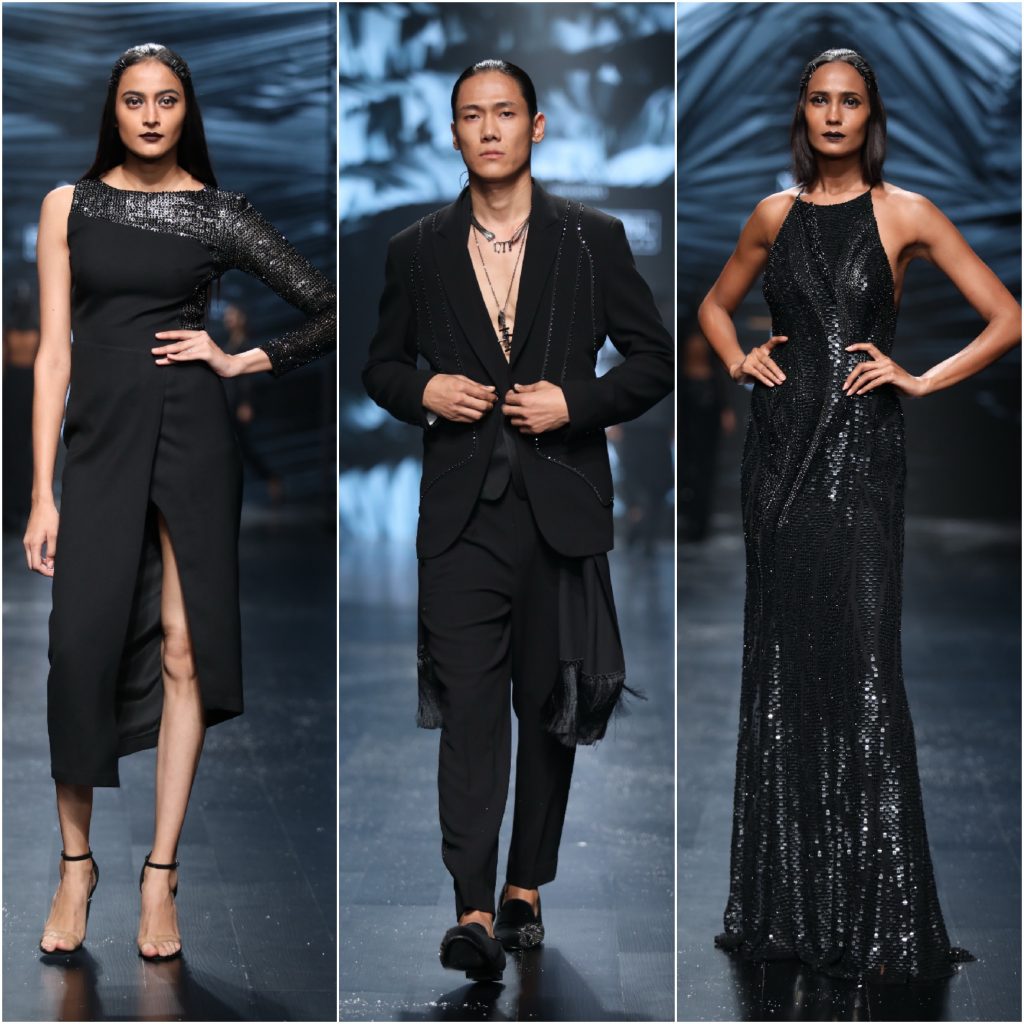 Designer Pratima Pandey presented her SS'19 collection 'Sone Ki Chidiya', the epitome of beauty, elegance and the new cool for the women of today. It is inspired by the rich ancient heritage of India and its craft. The collection also aims to draw attention to a woman's inner consciousness of love and the desire to dress up with care.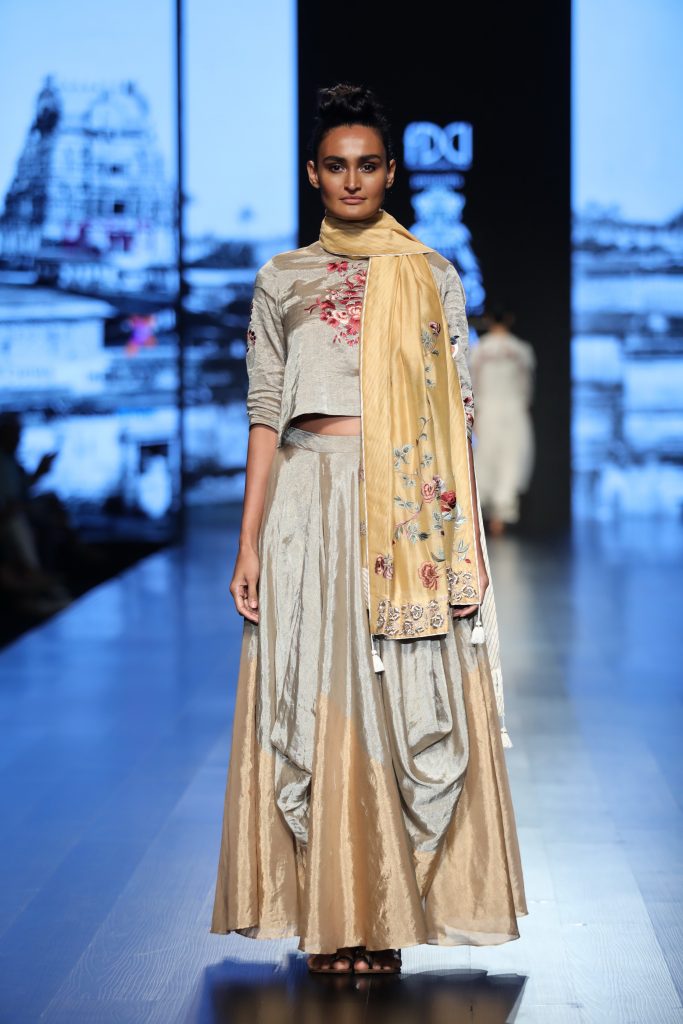 India has come a long way from the golden age to now in terms of its achievements in various fields. However, it must utilize its full creative potential and use the numerous textiles available to it in order to set the golden bird free, Sone Ki Chidiya. The fusion collection slowly unfolds itself using handloom gold, silver zari chanderis, handmade digital prints, kadwa techniques and maheswari which are complemented by hand crafted embroideries. The range of ensembles personifies elegance, class and style to capture new romantic standards of imagination and is best suited for bridesmaids who enjoy dressing up for destinations weddings.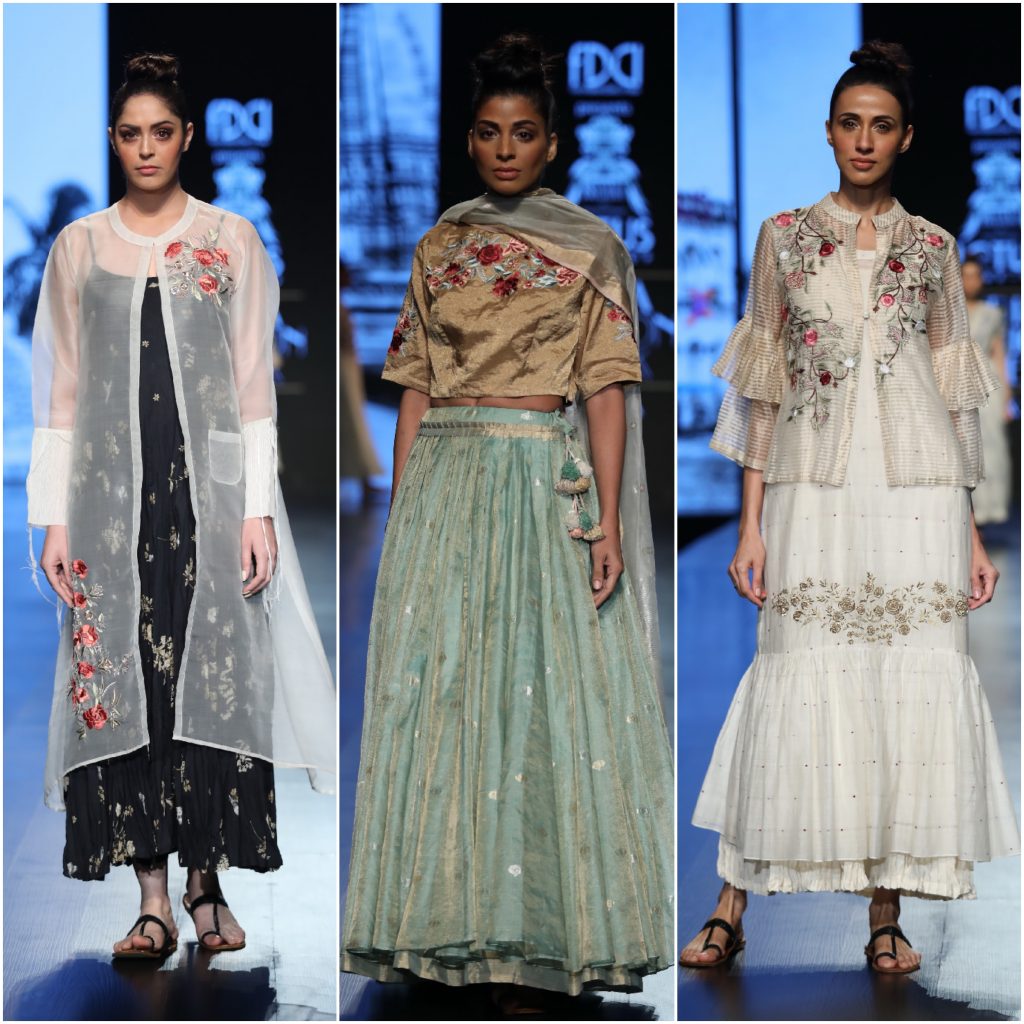 Nitin Bal Chauhan's collection was titled 'The Gatekeeper'. He guards the "Golden Gates of Greed" that consume him and his kingdom. "The Gatekeeper" is a collection inspired by the decadence of kingdoms over the past. History is proof of how human greed has been the cause of decay of art, culture & society. Opulent hand embroideries inspired by pixelated forms of broken monuments & vandalized sculptures, were skillfully crafted to give a visual effect of 3D Printing. While the contemporary silhouettes & hand clutches render the collection a modern flavour, the overplay of gold 3D embroideries & headgears inspired by vintage bonnets & hats places it in the past to create a feeling of a lost kingdom.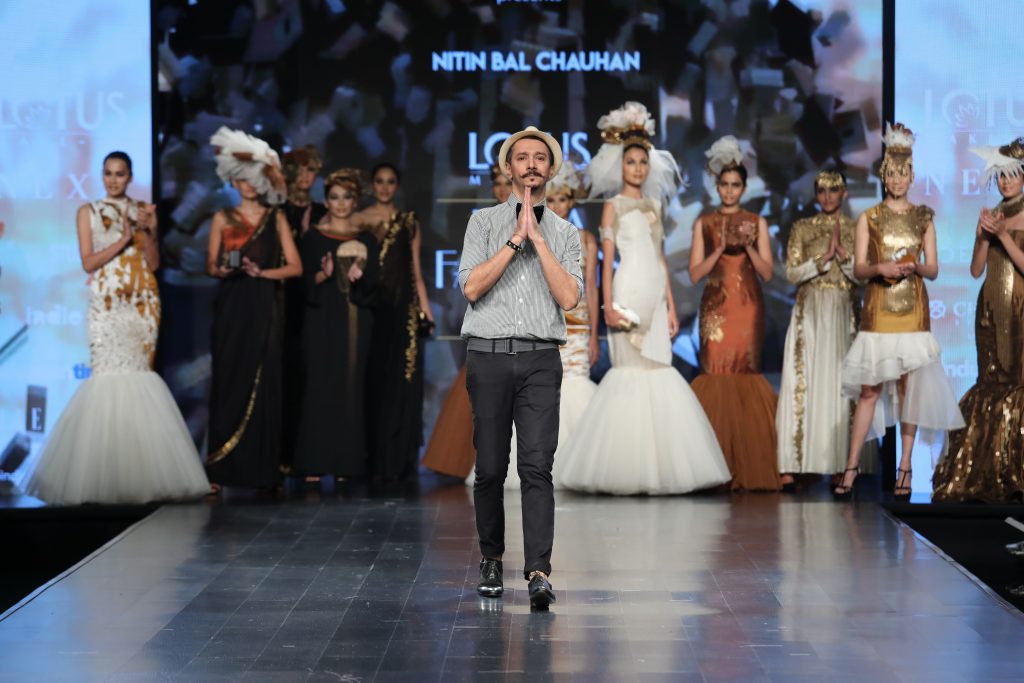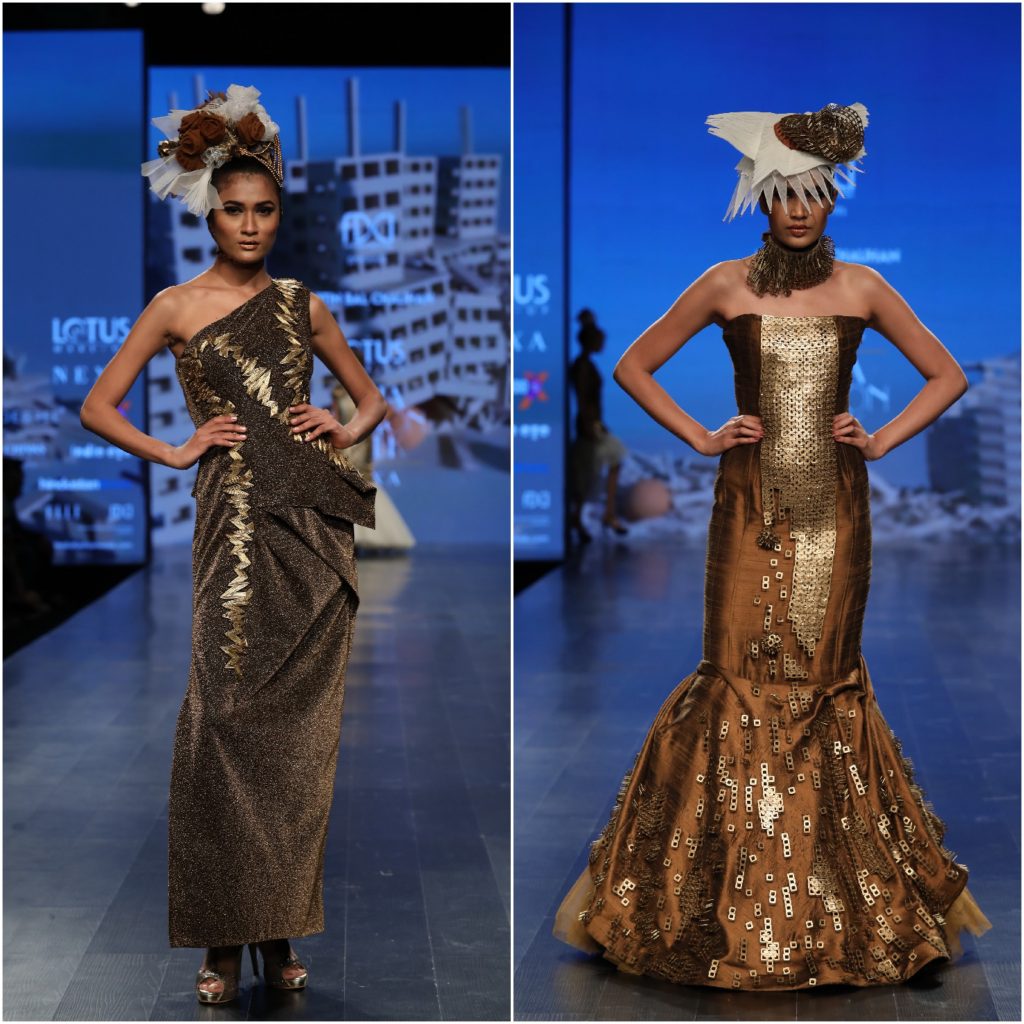 Another not to be missed show was by Schulen Fernandes for Wendell Rodricks. Aptly themed, the WOW Factor, it was an explosive burst of colours on the ramp blending yellows, reds, blues, purples and pinks in vibrant tones. Pairing fluid pure silks in satin and crepe, georgette and lycra together with pleated fabric in sexy, sassy and uber stylish silhouettes and swimwear, it is aimed at millennials in an all new brand positioning, totally on point for the Wendell Rodricks label.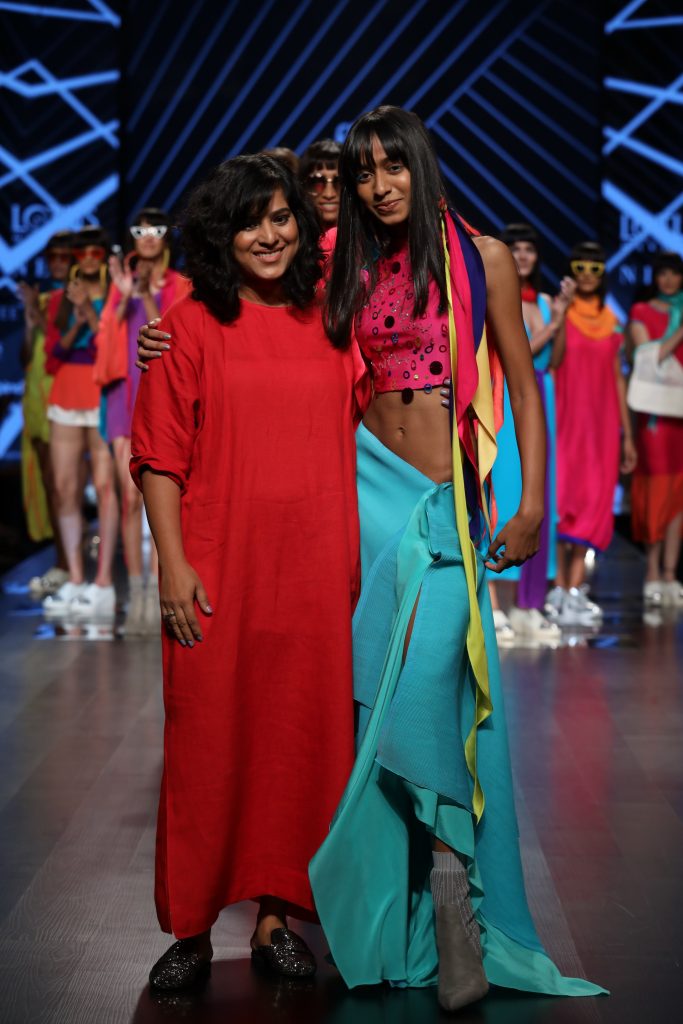 Styling details like hand-knitted sleeves, hems, scarves and crop tops as well as crochet, necklaces, bags and patterned shoulder straps add an interesting knotted twist to the collection's  spring-summer style.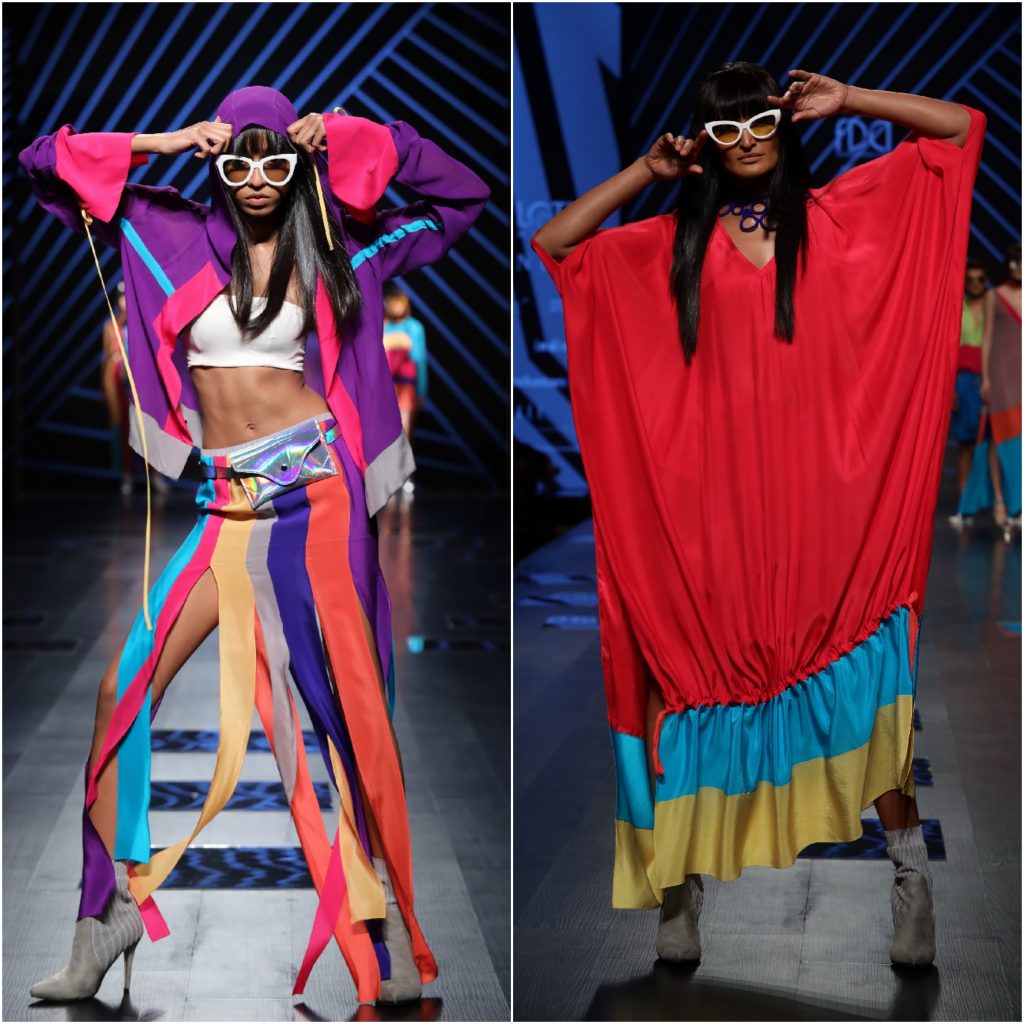 A spectacular show was Chivas Studio Music CDs presents Abhishek Gupta & Nandita Basu. The collection titled "Pollination" draws inspiration from the most common pollinators such as Bees, Butterflies & Birds. 250,000 Species of flowering plants depend on pollination for fertilization. The collection encompasses perfectly crafted intricate embroidered motifs of pollinators. The colour palette for this collection are hues of black, cream and dull gold with accents of pink and green. Techniques of quilting, pintucks applique & beading were seen.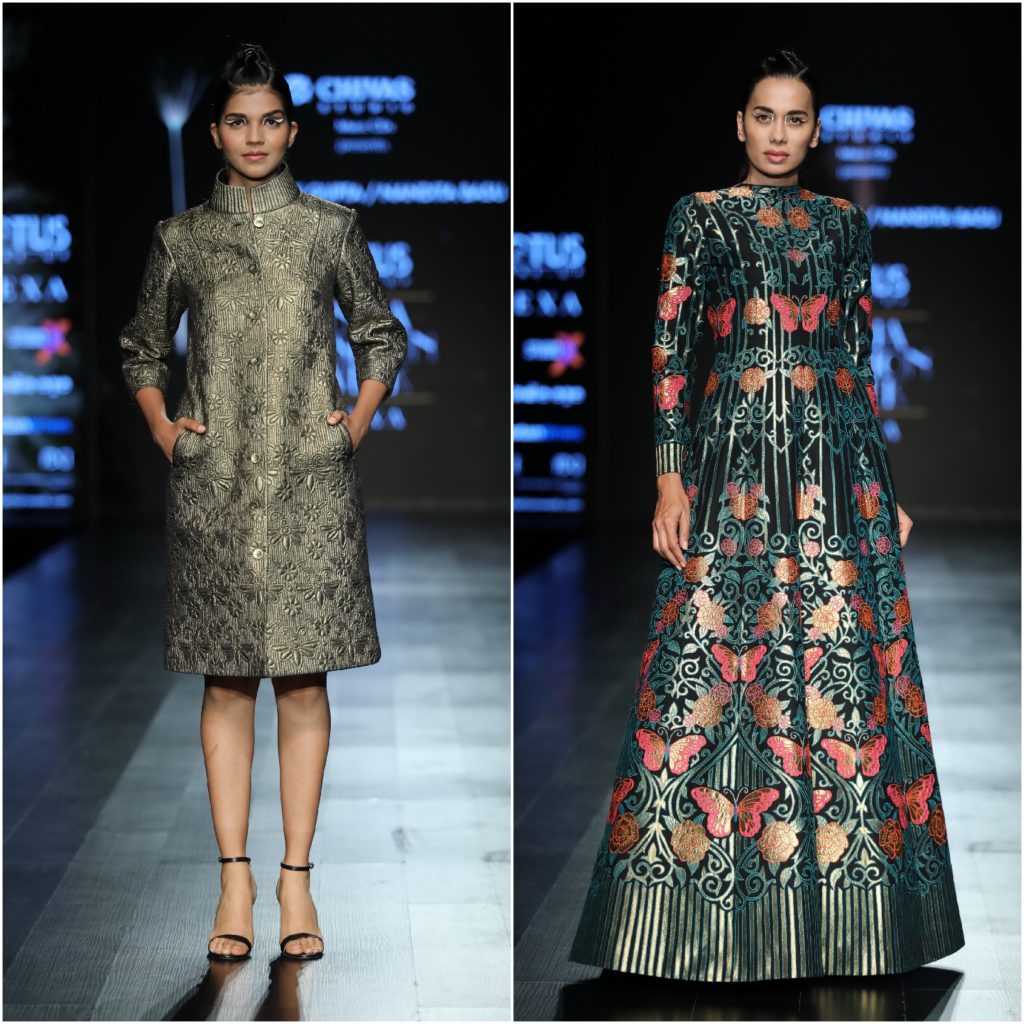 Day 3 of LMIFW witnessed Atsushi Nakashima who aspires to originality & creativity! The collection was inspired by 1960's fashion and music especially Funk, Disco, Soul, R&B and Rock-A-Billy.
Geometric pattern in various styles and silhouettes were presented in 60's psychedelic art by colour combinations in original lace, knit, print and bags, all made in Japan!
Suits were made by excellent fitting techniques with being particular about the details by a millimeter adopted high-quality cloth.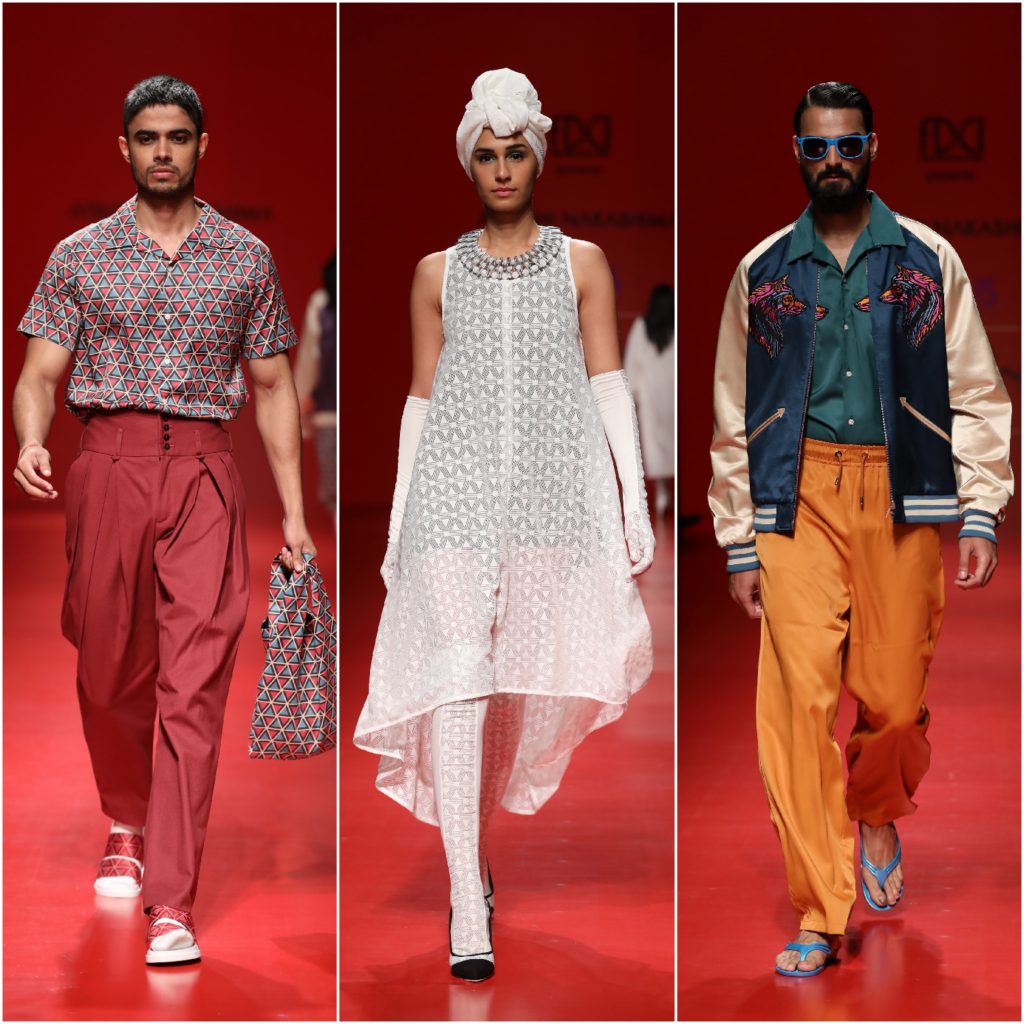 Rahul Mishra took crafts like Chikankari and Daraz to elevate them to luxury fashion because memory is a luxury. The way we hold on to smells, colours and textures! Fashion, to Mishra, is an expression of what makes him! As a nostalgist, he wants to bring back the 1980's in colour. When memory's floodgates are opened, you are confronted with the precision of details preserved somewhere in your being. In an imagined sequence, hazy in parts, bright with sharp colour palettes in bits and even rendered in whites. In absentia, memory asserts itself in such interjections.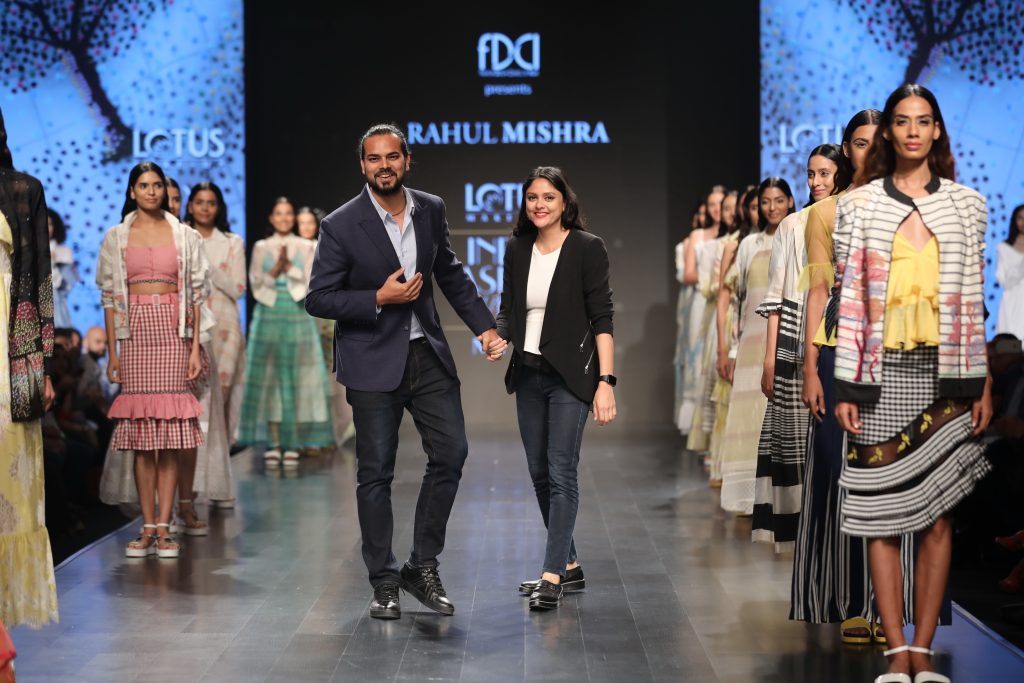 The textile development for the collection has its own narrative that emerges from the collection's theme. The fine cotton was woven in West Bengal. The Maheshwari textiles in this collection with their blue and white checks are an ode to memory of the village.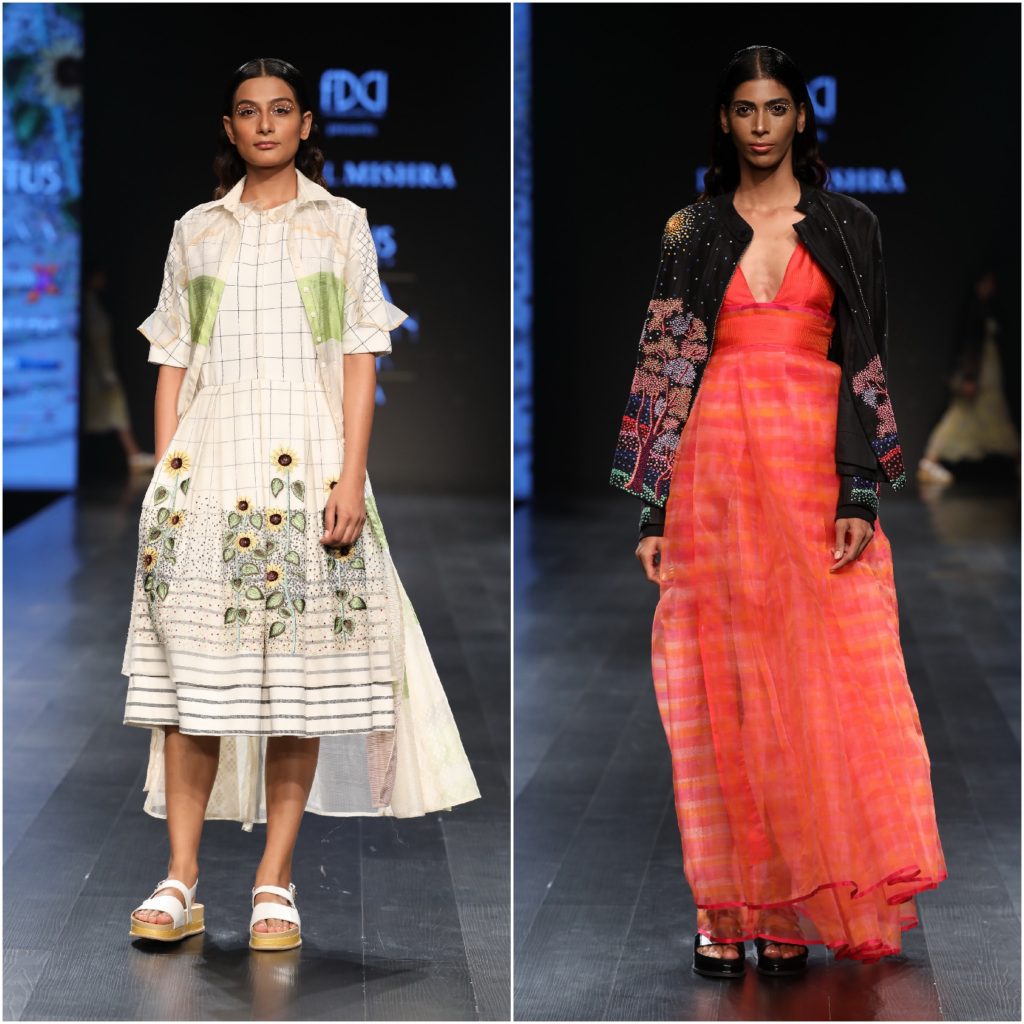 On the last day, Shivan & Narresh, showcased their latest collection – Koi Series. The collection features 6 new prints – eponymous Koi, Koi Coal, Mattie, Vann, Urvi and Iconotribe, where it captures the indigenous art form of the late 20th century.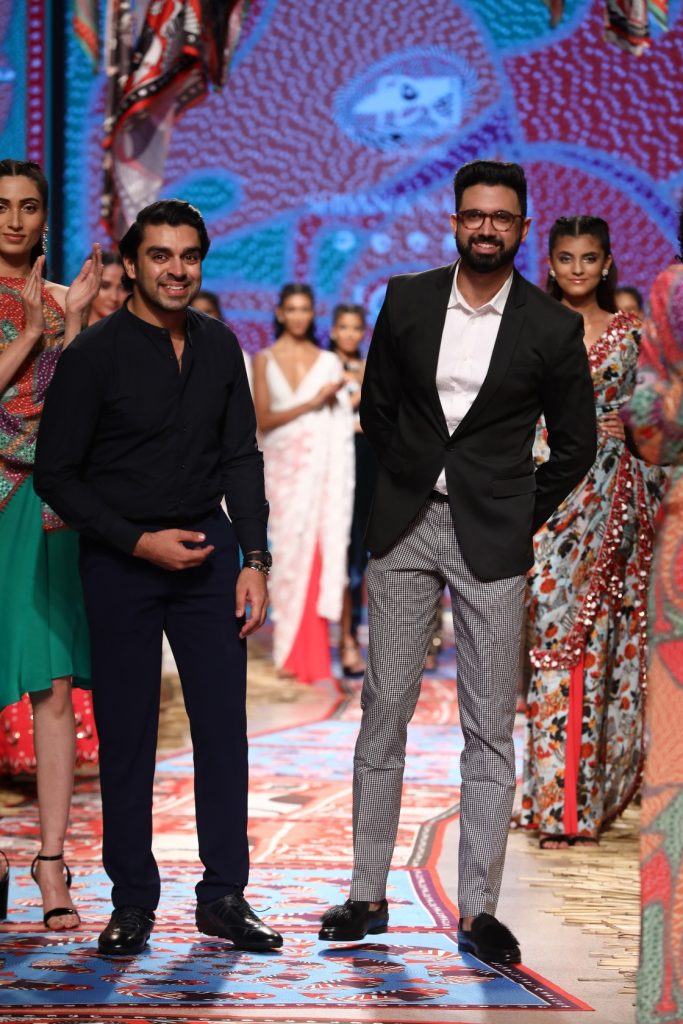 Koi Series captures the finer nuances of Dravidian Gond art – characterized through decorative motifs and patterns arranged through dots, dashes, lines and circles – and coalesces it with chromatic inspiration from the bustling spice markets of Ottoman-era Turkey, each discovered by the designers on their recent travels. The effortless amalgamation of these contrasting design aesthetics, initiates the foundation for the new collection inspired by the universes of travel & art.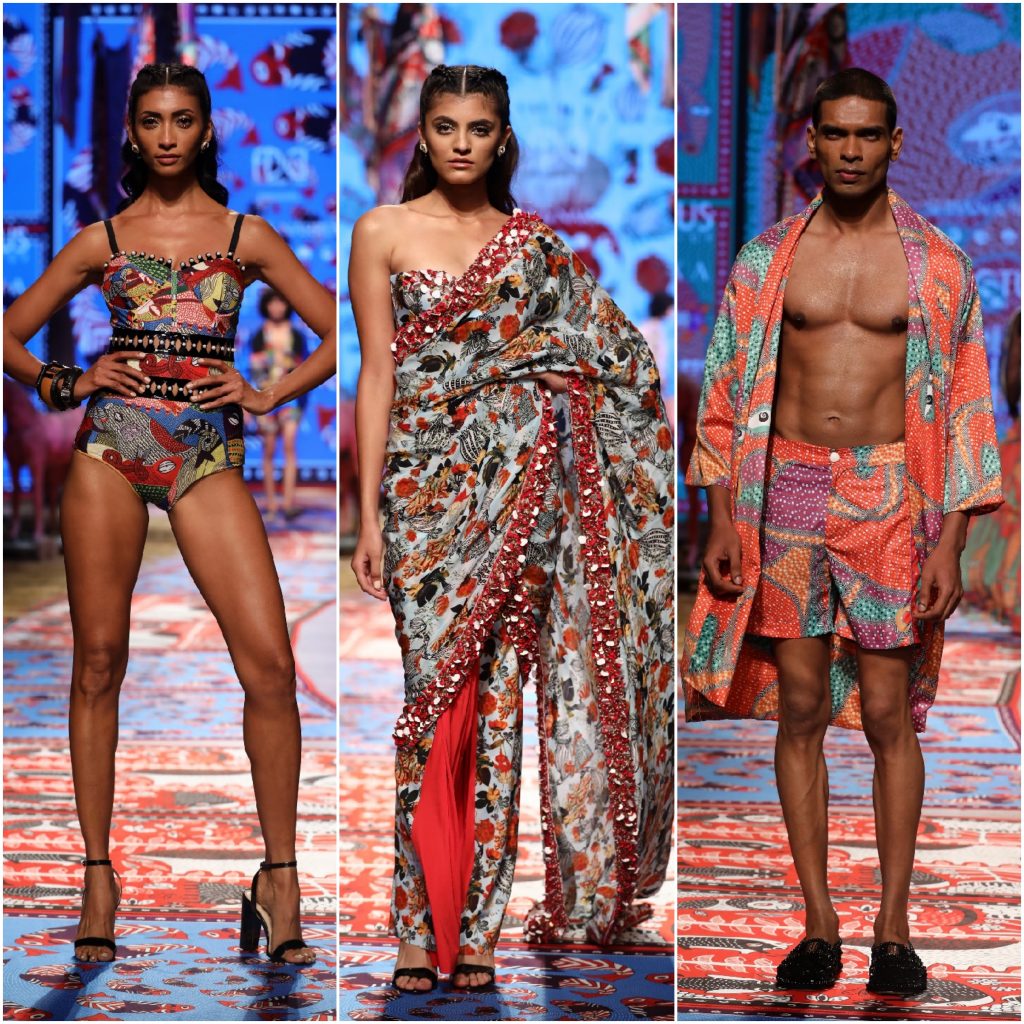 The finale of #LMIFW was not a show- it was a CELEBRATION! Presented by Lotus Make Up, the last day saw a holistic tribute in the form of a 'Rainbow' show to mark the historic article 377 judgement by the Supreme Court of India repealing this draconian law.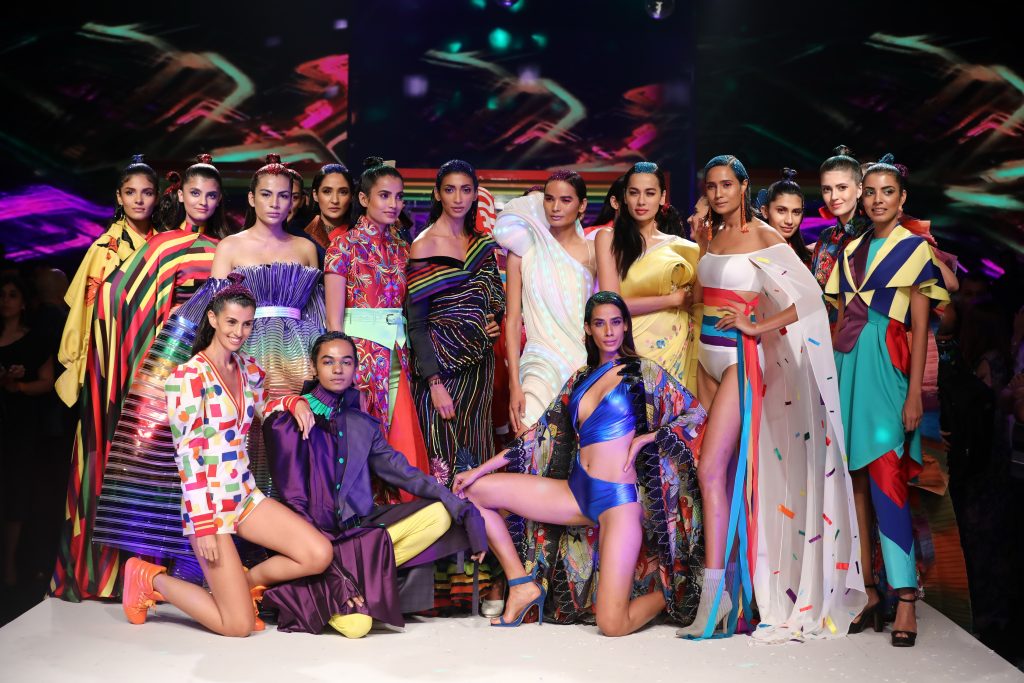 Inclusivity has been a recurring theme this year whether it is weight, imperfections, skin colour or the choice and gender of your partner. Around 40 designers from across the country interpreted what they believe best to represent this verdict which paid homage to tangible equality and decriminalises a certain section of humanity. The list of designers included Abhishek Gupta , Abraham & Thakore, Alpana Neeraj, AM:PM, Amit Aggarwal, Anavila, Arjun Khanna, Arjun Saluja, Ashish N Soni, Atsu, Dev r Nil, Dhruv Kapoor, Gaurav Gupta, Huemn, Ikai by Ragini Ahuja, Kiran Uttam Ghosh, Kommal Sood, Manish Malhotra, Manoviraj Khosla, Mynah's Reynu Taandon, Namrata Joshipura, Nandita Basu, Nitin Bal Chauhan, Pankaj & Nidhi, Payal Jain, Poonam Bhagat, Rabani & Rakha, Raghavendra Rathore, Rahul Mishra, Rajesh Pratap Singh, Rimzim Dadu, Rina Dhaka, Samant Chauhan, Shivan & Narresh, Siddartha Tytler, Suneet Verma, Varun Bahl, Vineet Bahl, Vivek Karunakaran and Wendell Rodricks.
A spectacular end to the Spring Summer season of LMIFW, each designer dressed a model in an ensemble based on the Rainbow theme, an emblem for the LGBTQ community which was originally created by San Francisco-based artist Gilbert Baker, in 1978 using six stripes: red, orange, yellow, green, blue, and violet to represent diversity and peace.