As we made our way to Circus, the latest swanky sensation at South Extension, we found a colourful, lively and joyful environment. Afterall, you have two renowned people behind the place- Shivkaran Singh and Raminder Bakshi. I have stayed in this area ever since I was born and have always missed a fine dining place in this area where one could have a nice meal or even party. Circus perfectly meets the requirements of today's youngsters who want the right ambience, right food at the right price.
Inspired by foods found in pushcarts and hawker stalls, Circus is a local restaurant telling a global story. Located in South Ex-2 with a terrace offering breathtaking views of the city, diners can choose from an array of global street foods while journeying through the multilevels of this all day diner.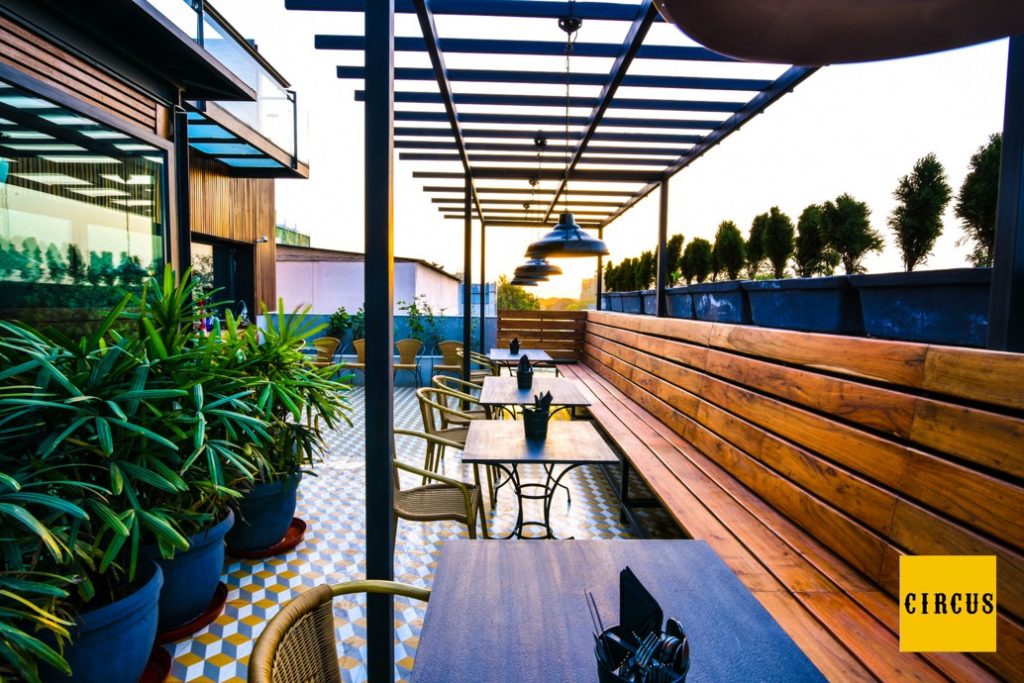 Spread over 10000 square feet – with bright colours, crazy chandeliers, funhouse mirrors and three different types of open seating – the three levels come together seamlessly to create a memorable experience. One can start with drinks on the high gymnast tables; dine comfortably in one of the booth seats and/or enjoy a night under the stars at the terrace bar while choosing to order from the global palate of wine and cocktails. The best part is its easy informality: families with children and the hip crowd both find their own space under the big top.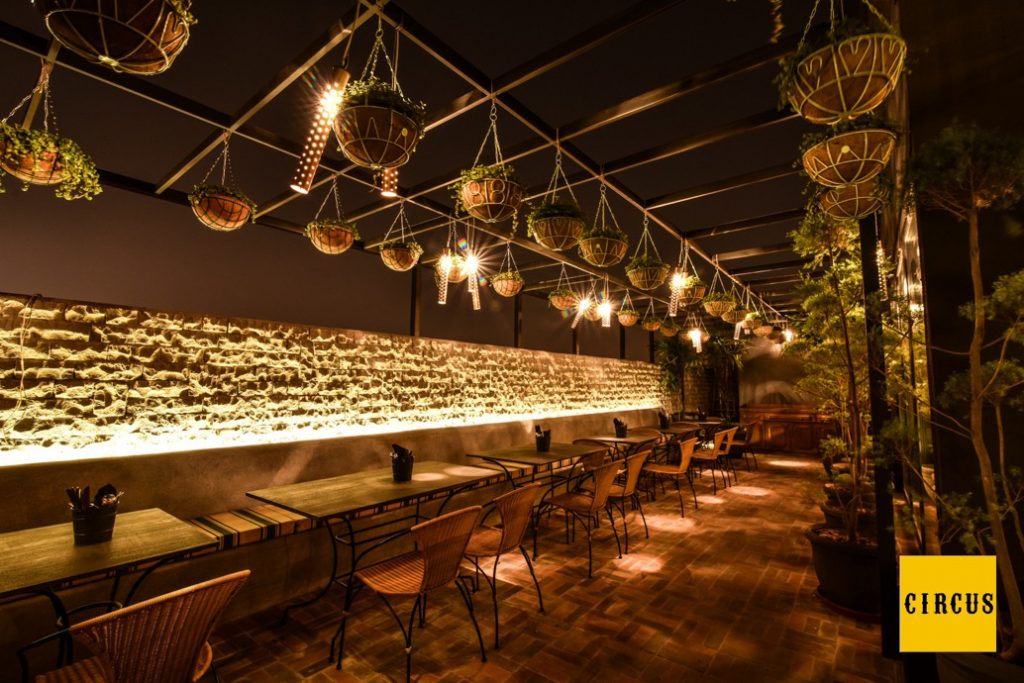 As we entered, we saw differential seating to suit everybody's needs- benches, couches, stools…what attracted us were red couches with a wooden table so we decided to make ourselves comfortable there. The servers with fancy headgears got us a menu which had an array of colours – blue, red, green, yellow. The menu spanned across sections like Lets Nibble, Sandwiches, Kathi Rolls, Soups, Salads, Burgers, Hot Dogs, Pizzas, Dhaba Chinese, Chinjabi, Indian Grill Room, tiffin meals, snacks, pastas, risotto and dessert. The bar counter was buzzing with bartenders in masks.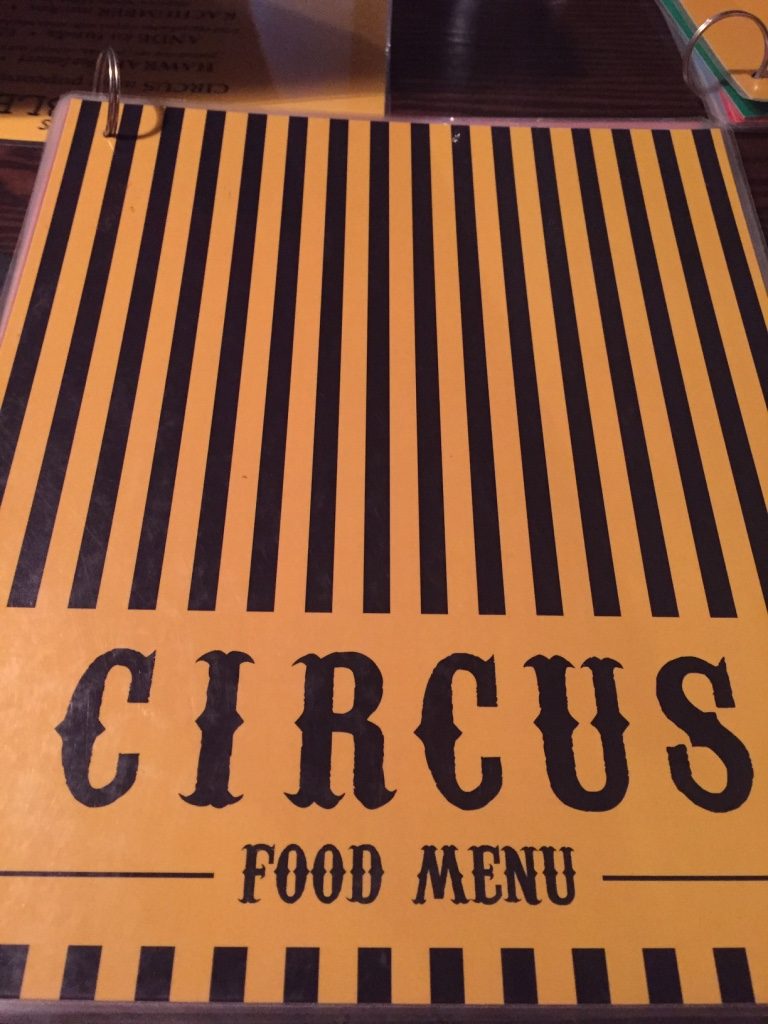 We started with Circus Wale Popcorn from the Lets Nibble section. Now, who can resist popcorns served in a nice white tin bowl. They were at their classy best, though nothing experimental about it! Next was Chilli Cheese Toast. The crispy and toasted bread came topped with cheddar cheese and jalapenos….an absolute delight! The mini samosas were a different fusion to our Punjabi dish. We tried the mutton keema mutter version which were served in a tin dish with pudina and imly chutney. The convenient size made for a quick bite which we relished!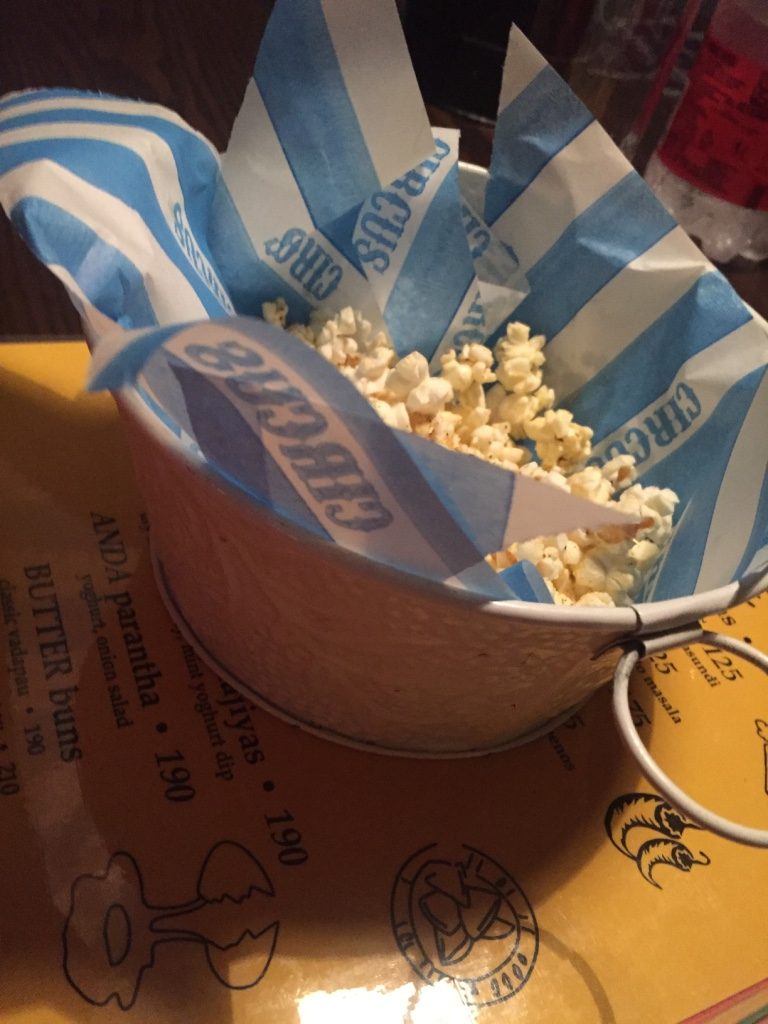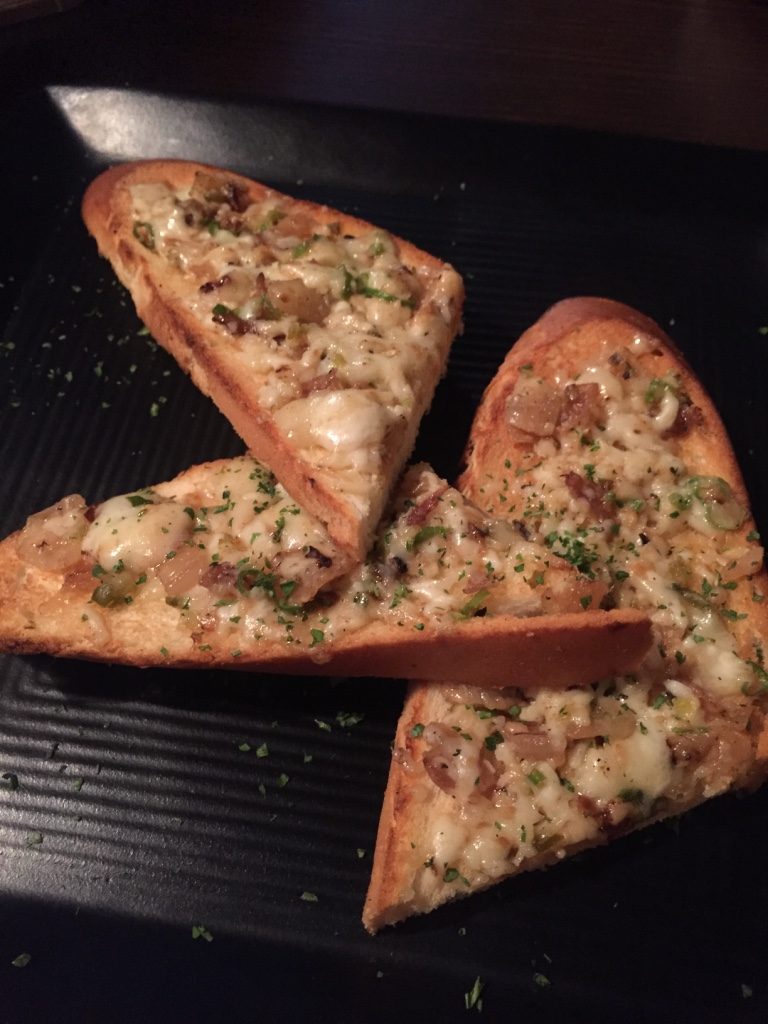 Next was what a Dilli Walla would swear by-Dilli Ki Chaat! I am sure your mouth is watering as you are reading this! We also ordered Chicken Tikka Chat. Perfectly garnished with chopped spring onion, the cold version of the chicken was quite appealing- tangy and masaledar! The Chicken Wings were fleshy and nice. We went for the Spicy Atomic version. A little sweet though but a nice after taste. The small fleshy bites with bones were served in the right size which made for a convenient bite! The Andhra Chicken Roll had a nice filling of mildly spiced chicken with chopped onions. It made for a great snack. The egg coating added delight and gave a nice flavour.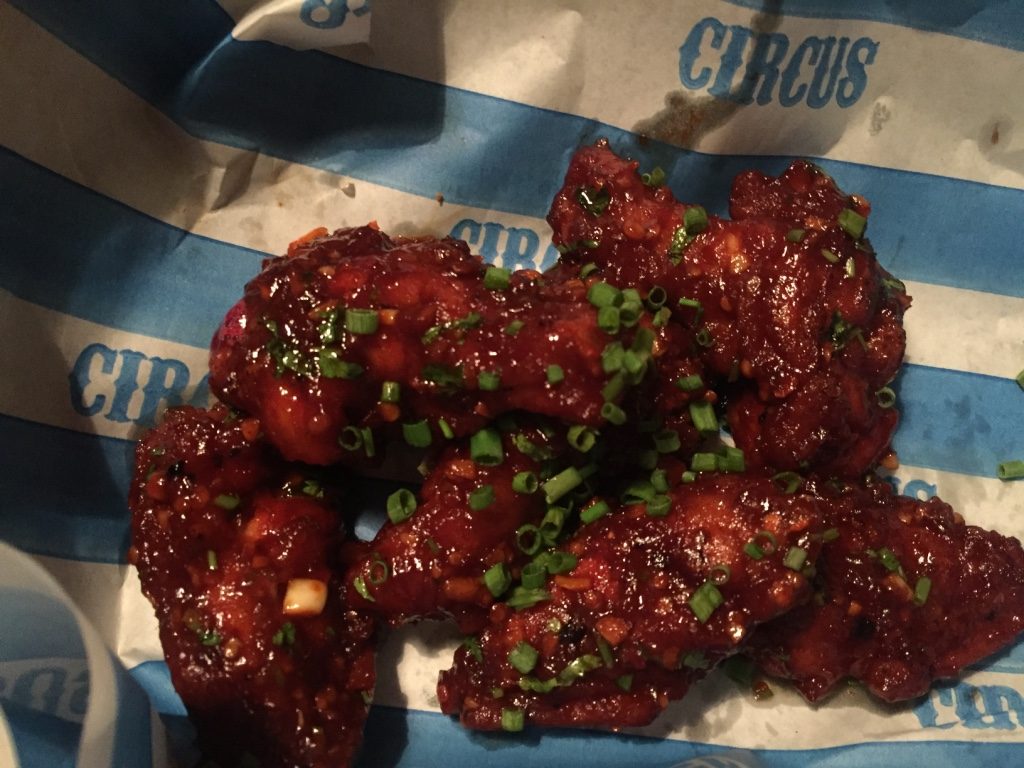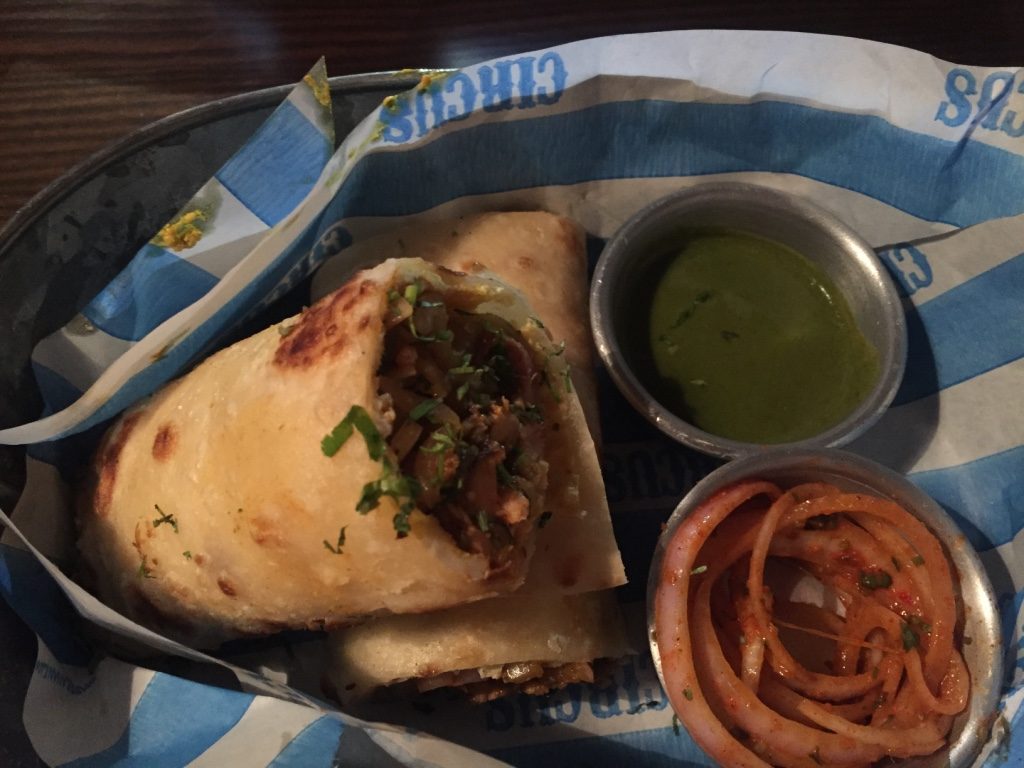 The Pomonade Mocktail had fresh pomegranate, chaat masala, black salt and lemonade. The drink came topped with fresh pomegranate and chaat masala which tasted great and absolutely refreshing. For cocktails, we tried Circus Kala Khatta Liit which had Vodka, Gin, Rum, Triple Sec + kala khatta. The varied fusion was on a stronger side topped with a slice of lemon and had a sweet and bitter taste at the same time. Next came Masala Gang which I would like to describe as a desi cocktail. I am sure you wanna know the reason! Coz we had the option of mixing Anardana/Imli/Ram Laddu/Aam Panna/Kala Khatta…we chose Ram Laddu. A chatpata cocktail is what came to my mind as I took the first sip. A different taste which we don't have on a usual day! Joker No. 07 had fresh mint, mandarin, angostura and Jack Daniel's. A little strong than expected!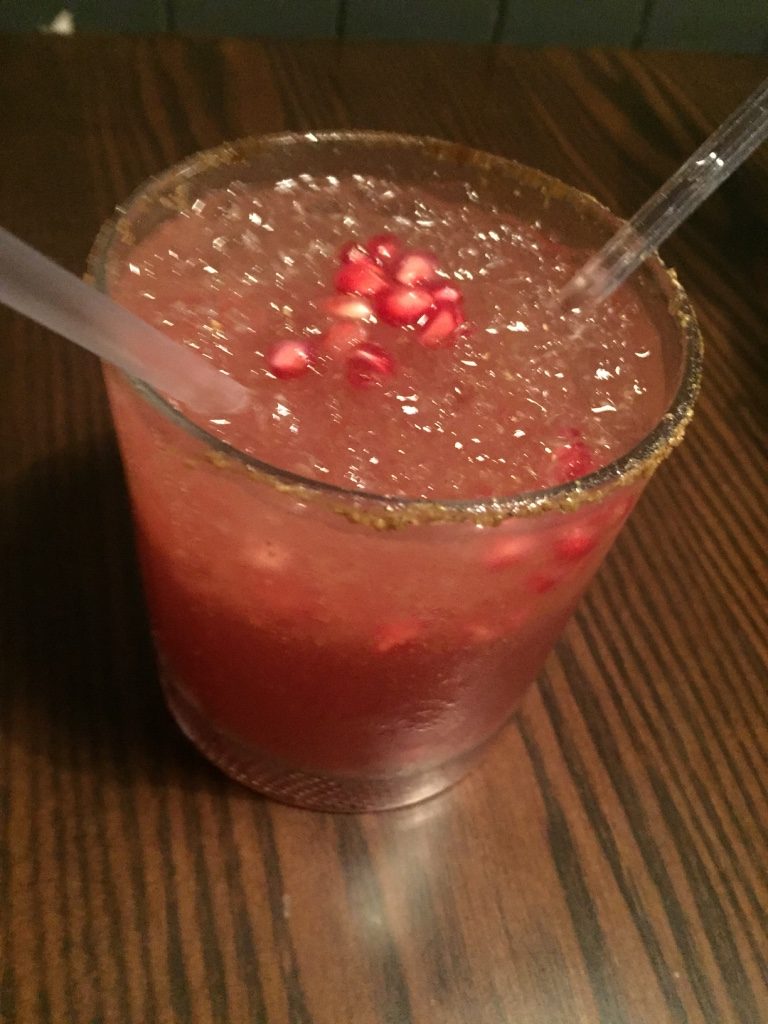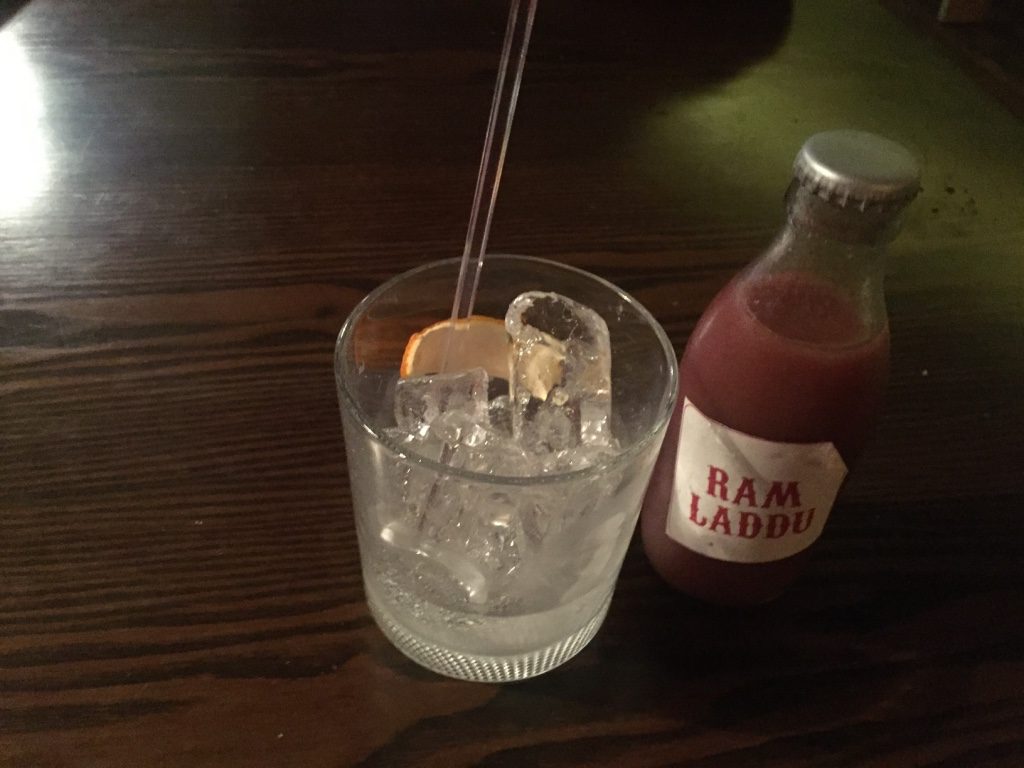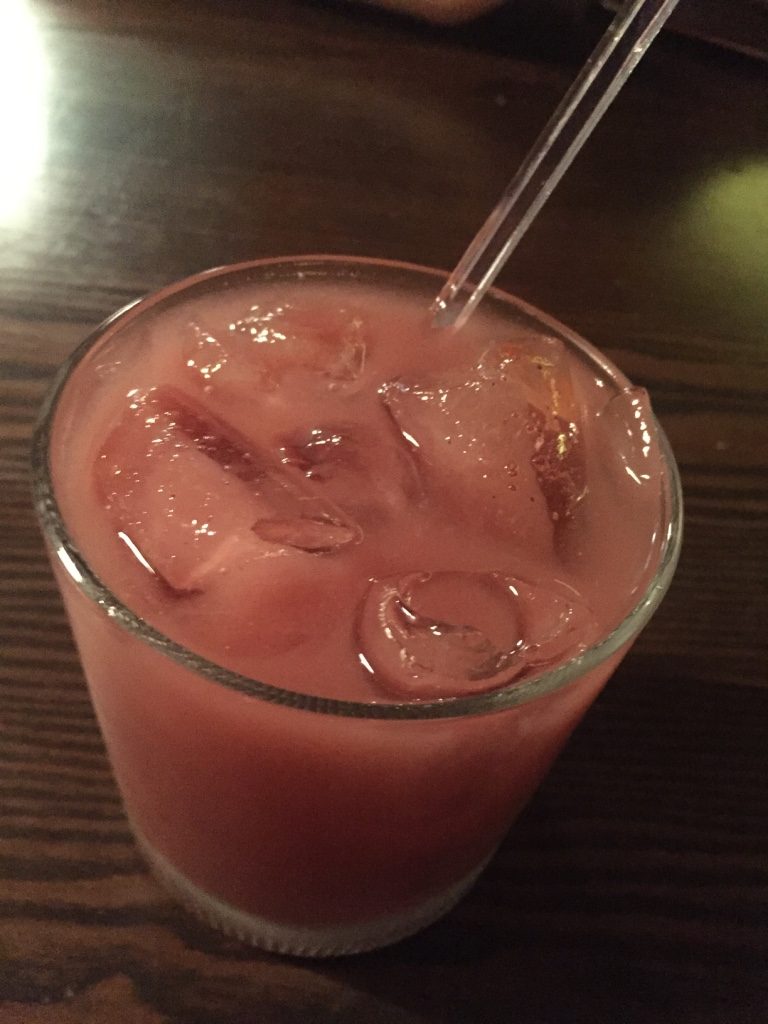 It was time to move to soup after the starters and drinks. The Hot n Sour soup (Chicken) was mild spicy with a great taste and flavor. Veggies like sliced carrots, cabbage, onions made for a great flavor. The Thupka (Chicken), a Chinese delicacy was warm and soothing. Topped with noodles, vegetables and chicken, this was a magical classy combo which no one can go wrong with. The Tom Yum (Chicken) was as different as the name suggests. Something, I am not used to but worth an experiment. Generous chicken pieces with carrot, mushroom and other veggies were at its nutritious best! All the soups were served in cups rather than bowls which made it convenient to drink.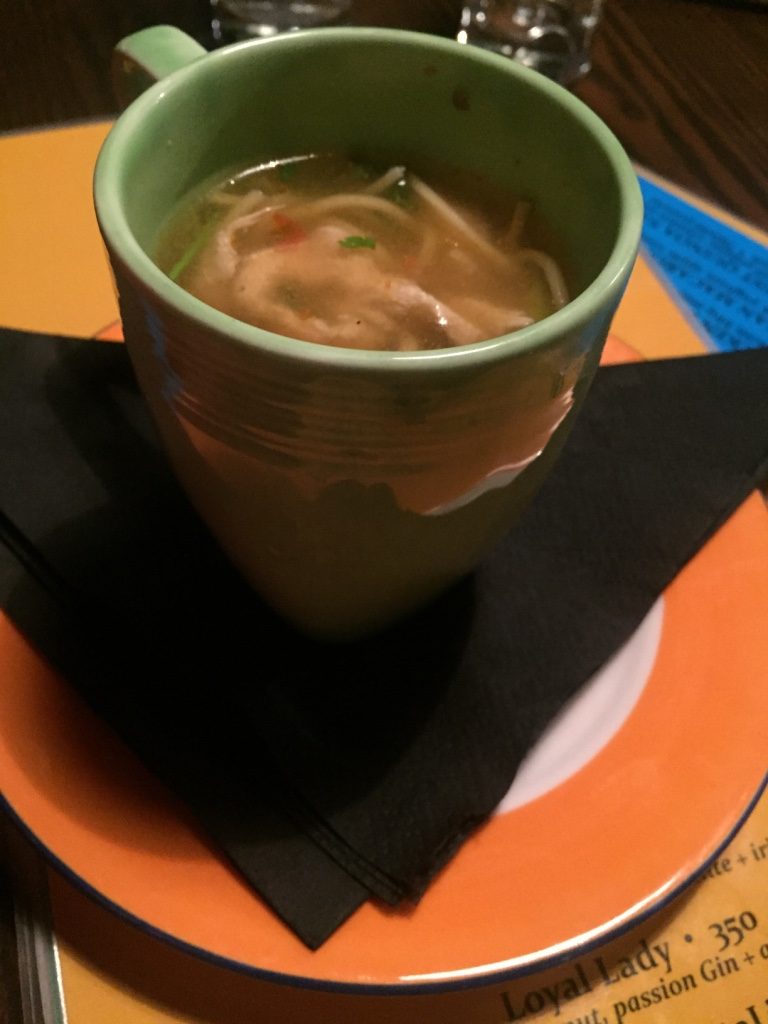 Next was time for Street Momos from The Dhaba Chinese section and we chose the Chilli Chicken version. A nice twist is given to the Chinese dish by making it chilli-icious! It is served with three different dips- vinegar, chilli and soya on a yellow square plate. They were nice but not the best…one can skip these!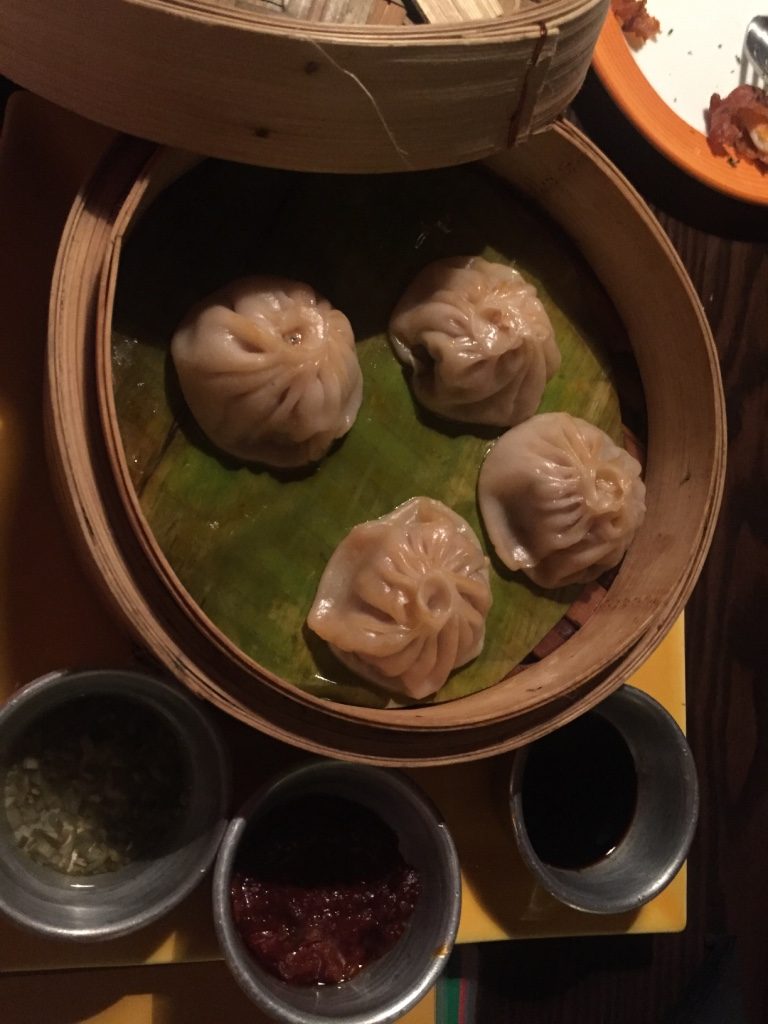 I was quite excited for the next section – Dilliwala Chinjabi and I ordered Cottage Cheese in Chilli and Pepper combination. I was quite excited when I saw the pieces of paneer cooked with chopped capsicum and onion. Unfortunately the dish was not upto my expectation. It had a little burnt flavour and was extra salty.
Next was The Indian Grill Room section, this one did live upto our expectations. The Seekh Kabab was served in a momo case. They were colourful, melt-in-mouth with fresh aromatic flavours! The Mutton Tikka Tak-a-tak had chunks of meat and crushed spices. The masaledar and spicy dish was fleshy, warm and flavourful. Infact it had the perfect aroma, taste and texture! The Amritsari Macchi, served in a tin dish was soft fried fish served with onion and pudina chutney. The melt in mouth macchi was perfectly marinated which gave a great flavour.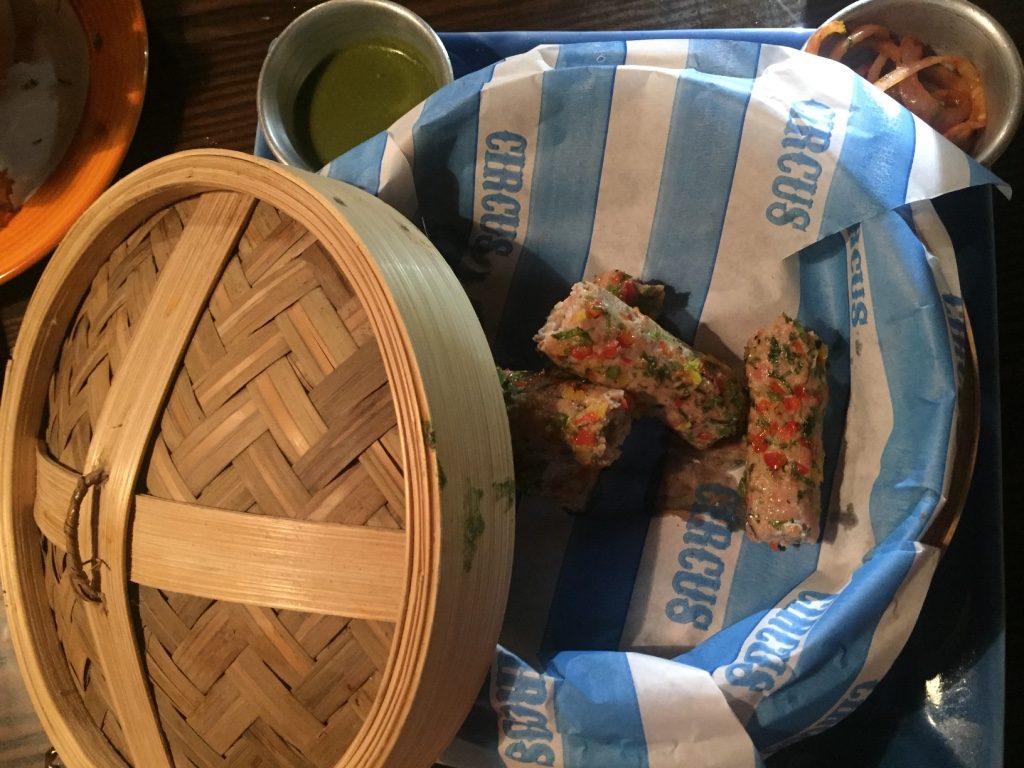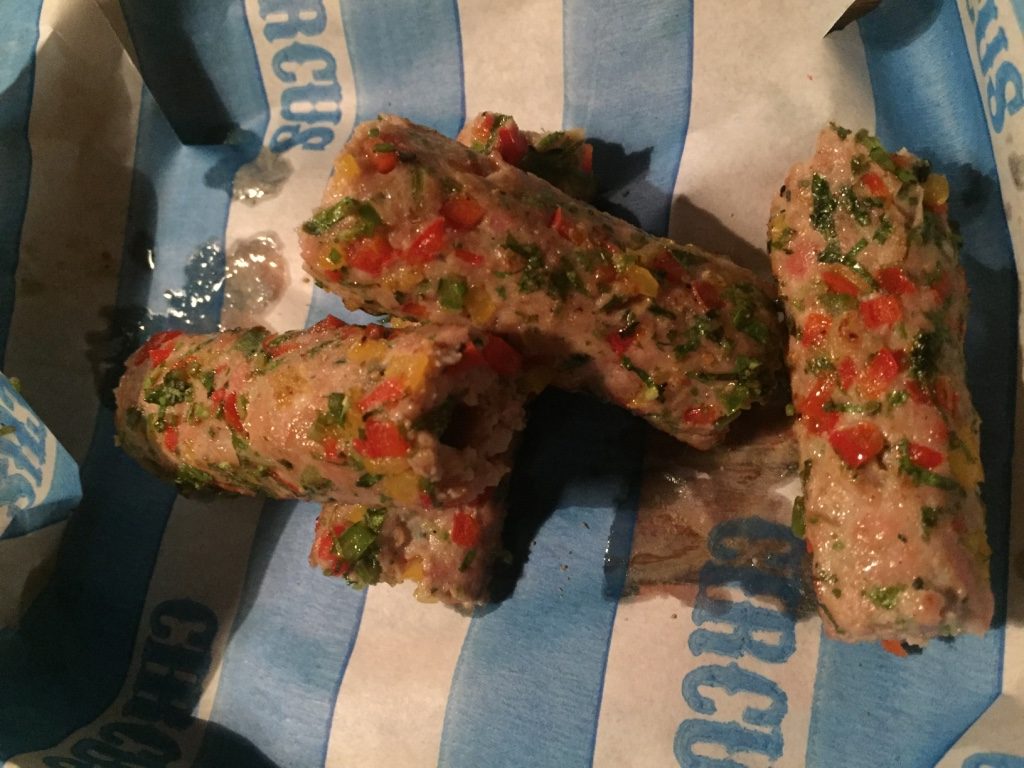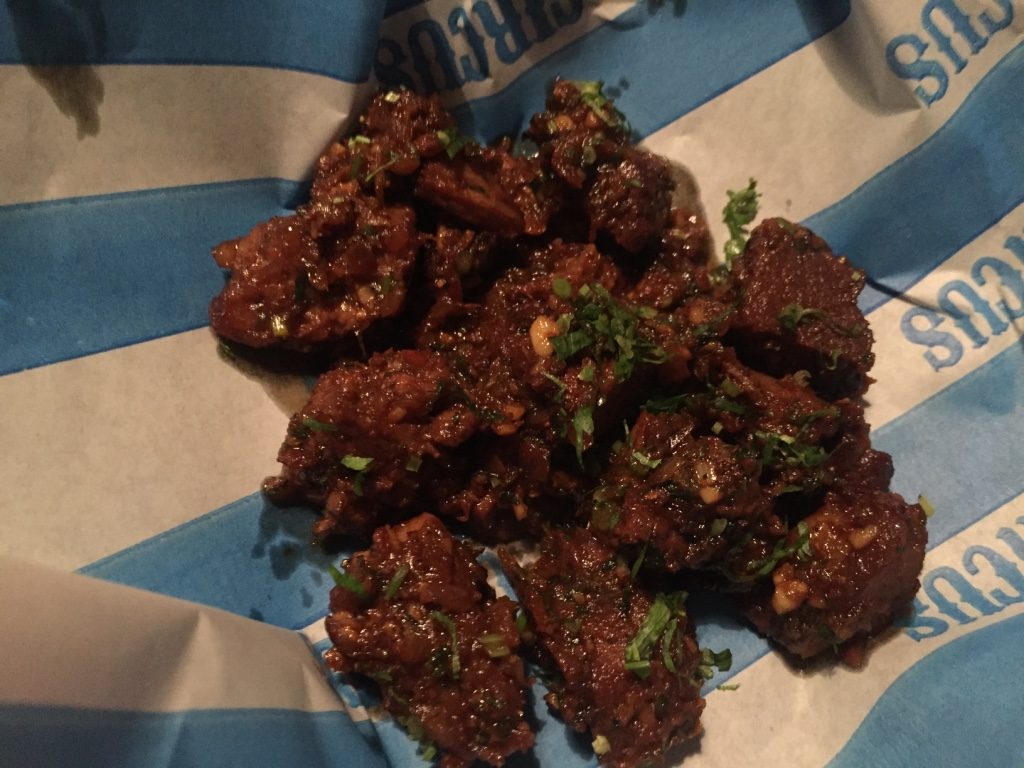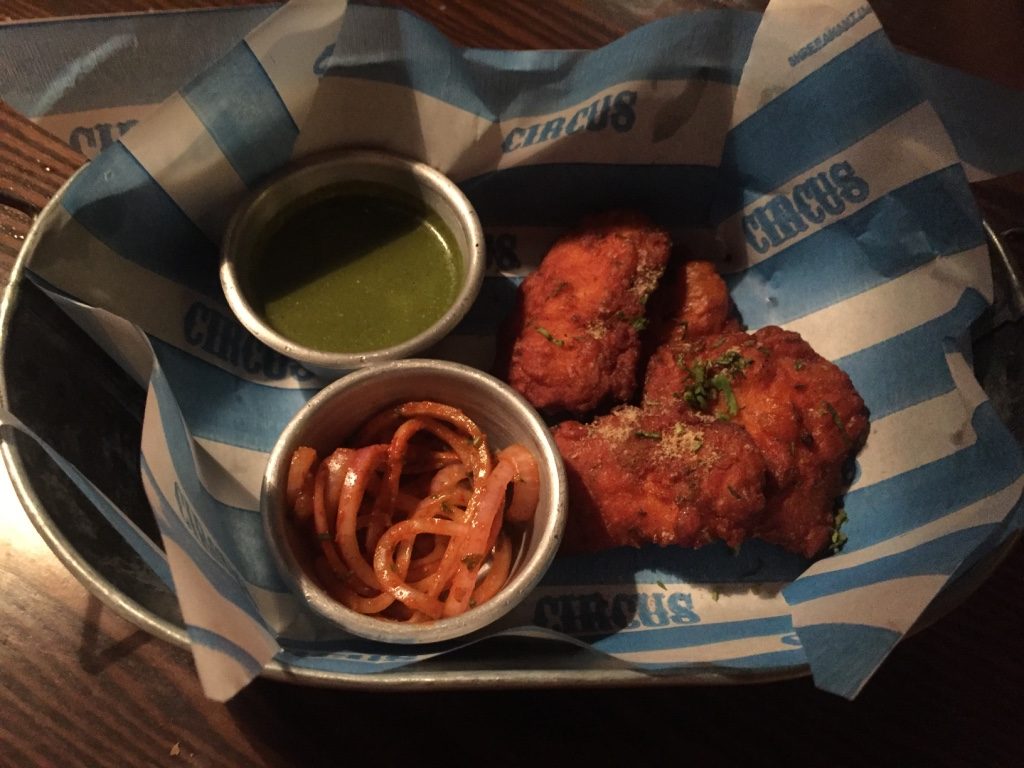 Time for Desserts! The Hot Chocolate Fudge not only had a great taste but was a visual delight a well. Ice Cream topped with chocolate cake, chocolate ring and munchini. Just divine! Rice Kheer was served in a tulip glass which again looked great. The dry kheer was topped with lots of nuts. Honestly this one didn't impress me!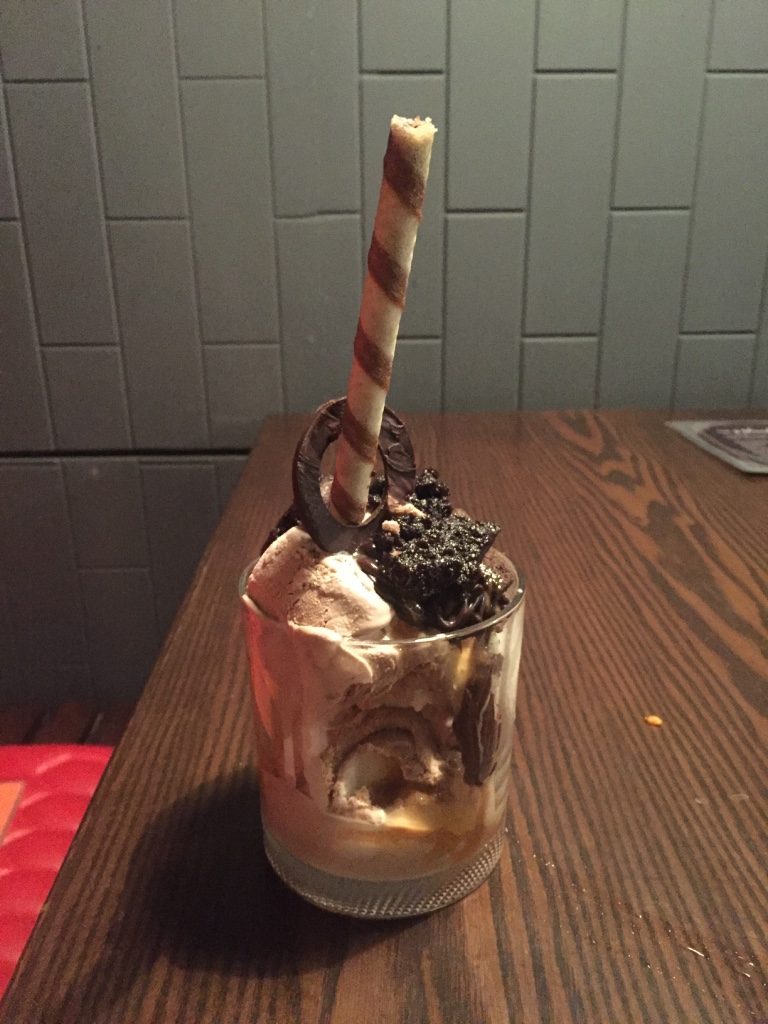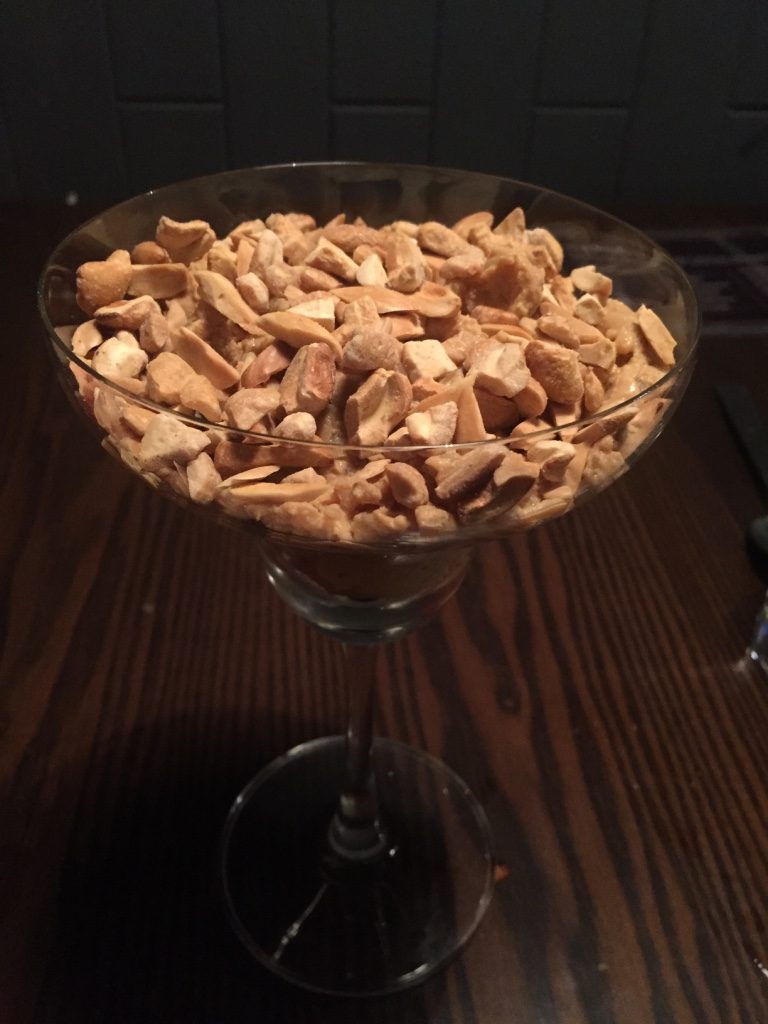 Circus is an eclectic, casual restaurant and cocktail lounge that satisfies both your hunger and your wanderlust. An evening at Circus will take you from drinks, to dining, to dancing – a place where you learn to expect the unexpected. The 200 seater restaurant serves families as well as youngsters and also has 2 open spaces which can also be booked for private parties!
Disclaimer: We had requested for small portions. The actual portion size is much bigger than what is shown in the above pictures