Only months after Delhi witnessed it's launch at the Jawaharlal Nehru Stadium, with a footfall of around 1 Lakh food enthusiasts, 70 participating restaurants, an enormous line up of chefs and lots of other entertainment factors, The Grub Fest, a brainchild of young entrepreneurs – Aman Kumar, Arjun Jain, Chaitanya Mathur & Manveer Singh Cheema, is back with yet another edition to please the palates of thousands across the capital. The second edition will take place from 23rd to 25th October at a new and significant spot, right at the border of Delhi and Gurgaon– the sprawling Ambience Lawns. (Entry from The Leela Ambience Gurgaon Hotel)
The Highlights
Grub Stories – Grub Stories is Asia's first, high end multi storey travelling restaurant with a terrace bar, providing a 360 degree view of the festival. A 60 feet and 100-seater property, with luxurious interiors and clear glass structures, the restaurant has got the finest Modern European cuisine featuring Nona's Home Style Mediterranean & Progressive BBQ from around the world.
Luxury Zone by The Leela Ambience Gurgaon – The Leela Ambience Gurgaon is curating a special 'Luxury Zone' on the 3 days of The Grub Fest with a spa and a golf putting space. The Luxury Zone will also offer a super fine dining experience wherein an International Chef will be orchestrating a unique Japanese and Italian cuisines restaurant. The following Chefs of The Leela, Gurgaon will also be providing a unique culinary experience at the festival –
1.Ramon Salto – Executive Chef
2. Pablo Moralis – Executive Pastry Chef
3. Neeraj Rawoot – Executive Sous Chef
4. Leivy Liz Levitan Hermandez – Italian Master Chef
Design Elements by Varun Bahl: Designer Varun Bahl is designing aesthetic installations for The Grub Fest. Come and see what they're all about!
The Exhibitors – Renowned names like Punjab Grill, Olive Bistro, SodaBottleOpenerWala, Social, Indigo Deli, Flyp by MTV, Fio, Smokeys, À Ta Maison & PCO, Urban Pind, Dao Dimcha, Koyla Kebab, Holy Smoke, The Backyard, Zerzura, Imperfecto, Karim's, Mamagoto, Hybrid, Fat Lulu's, Koyla Kebab, Fork You Too, Asian Haus, Sugarama, Room Service, amongst others, are extremely excited to be a part of this foodie paradise.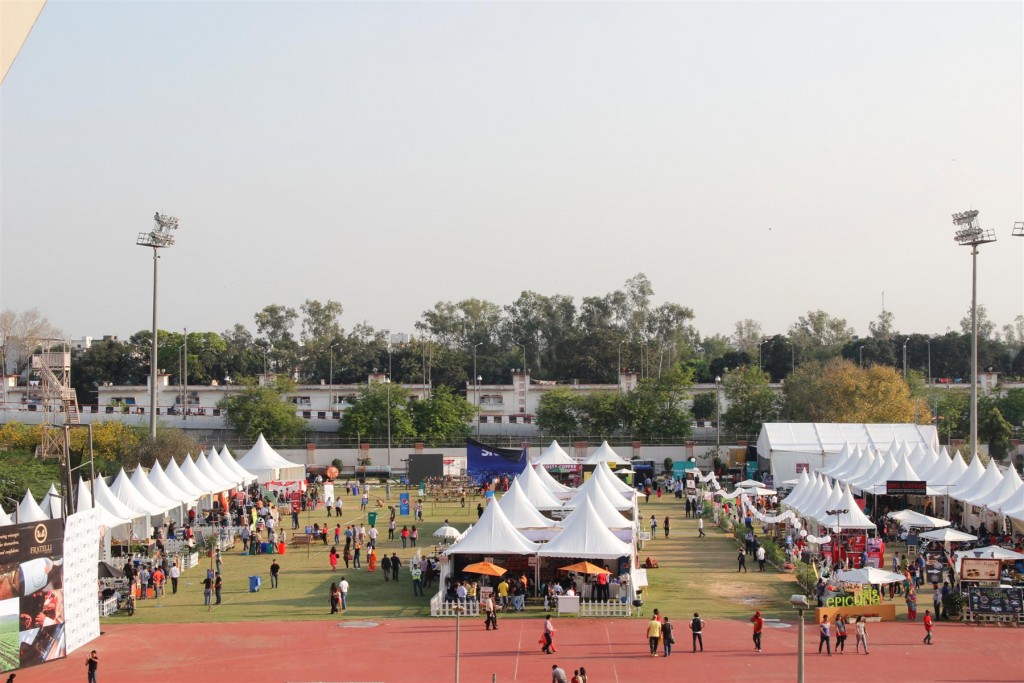 Entertainment – Artists like Nikhil Chinapa, Vir Das, Hari & Sukhmani, Raghu Dixit Project, Prateek Kuhad, Basanti aur Voh, Suryaveer, DJ Sartek, and others, are all set to add the beats to the grub.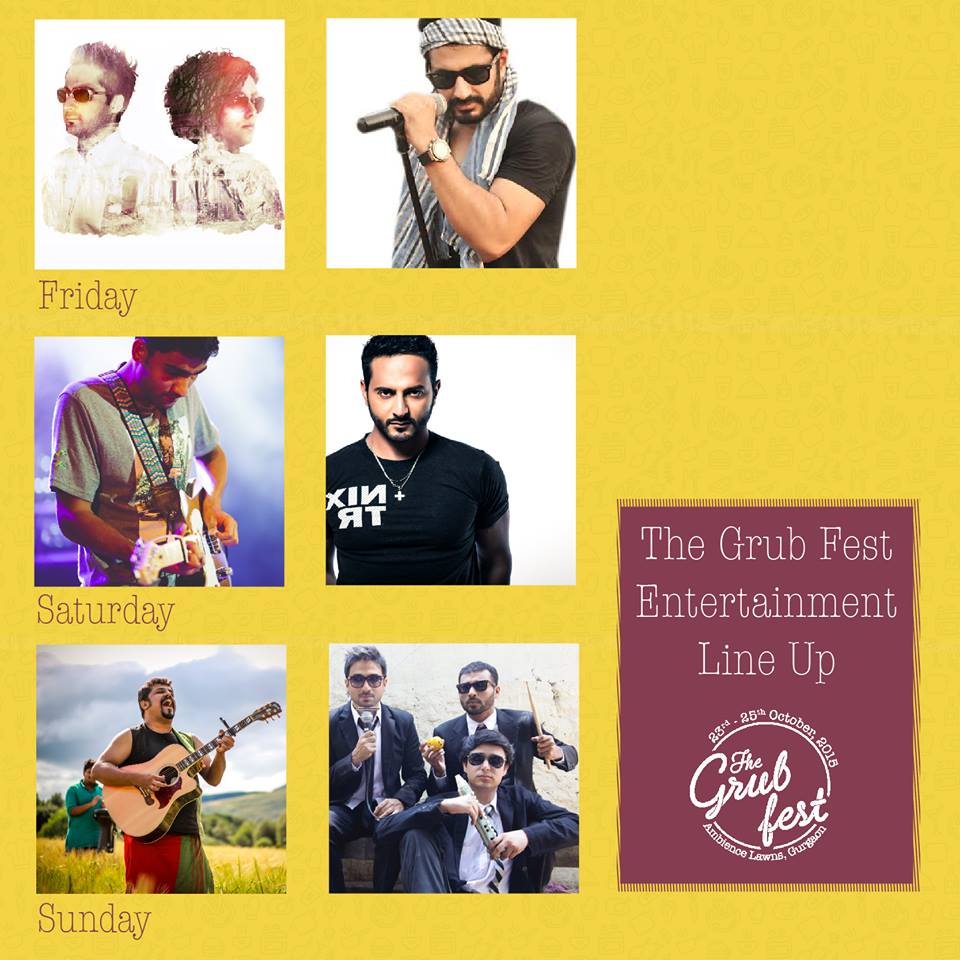 #GrubExplore –The Grub Fest is getting bigger, better and yes, authentic! The Grub Team is bringing to you authentic chefs, cuisines & other elements from different parts of our diverse & culturally rich country. Chefs mastering Arabic, Iranian, Naga, Coastal, Kashmiri and Bengali cuisines will be holding workshops throughout the 3 days.
Grub Theatre – Chefs holding culinary workshops and sharing recipes at the festival include Nishant Choubey by Dusit Devrana, Rohan by Silverbeach Café in Mumbai, Ashay by AtaMaison, Aditya Bal, Ranveer Brar Flyp by MTV, Jaydeep Mukherjee by Indigo Deli, Nitin Tewari Mixologist by Flyp at MTV. Time to take some notes!
Grub Market – A range of fresh farm produces and organic, pro-environmental preparations in beautiful bazaar set ups, The Grub Market will exhibit fresh and organically produced vegetables to salads homemade jams, namkeen, wine ice-creams, waffles, cupcakes, honey, aam papad, gluten free cakes and biscuits, and many more.
Apart from that, The Grub Fest is also introducing some remarkable new concepts that will be a first in the country. Hold on for some more amazing surprise elements that are in store for you at The Grub Fest 2.0! (including a free mojito stall, Harley Davidson & many food competitions– Ssshhhh)
After Gurgaon, the festival will be travelling to Pune, Bangalore, Mumbai & Chandigarh, and even internationally to Dubai & London.
Fact Sheet:
Dates: 23rd, 24th and 25th October 2015
Venue: Ambience Lawns, Gurgaon (Entry from The Leela Ambience Gurgaon Hotel)
Entry: Rs 200 per person
Website: http://www.thegrubfest.com/