National Highway 44 (NH44) as the name loudly announces the theme of the restaurant is to actually deliver the feel of 'Highway Dhabas'. NH44, a PAN Indian diner has finally opened its gates in the heart of Rajouri Garden for food connoisseurs to experience a wholesome culinary voyage. A brainchild of OTB Khan Market Owners & Businessmen, Udit Bagga & Udit Bhasin, the restaurant draws inspiration from India's longest highway and offers authentic flavors that are unique to each state touched by the highway.
The National Highway 44 stretches 4369 kms long starting from Kashmir to Kanyakumari.The main cities that National Highway 44 connects are Srinagar, Delhi, Hyderabad, Bangalore, Didingul, Madurai, Tiruneveli and Kanyakumari. The menu is thoughtfully drafted picking and choosing peculiar dishes of every state that National Highway 44 cross through.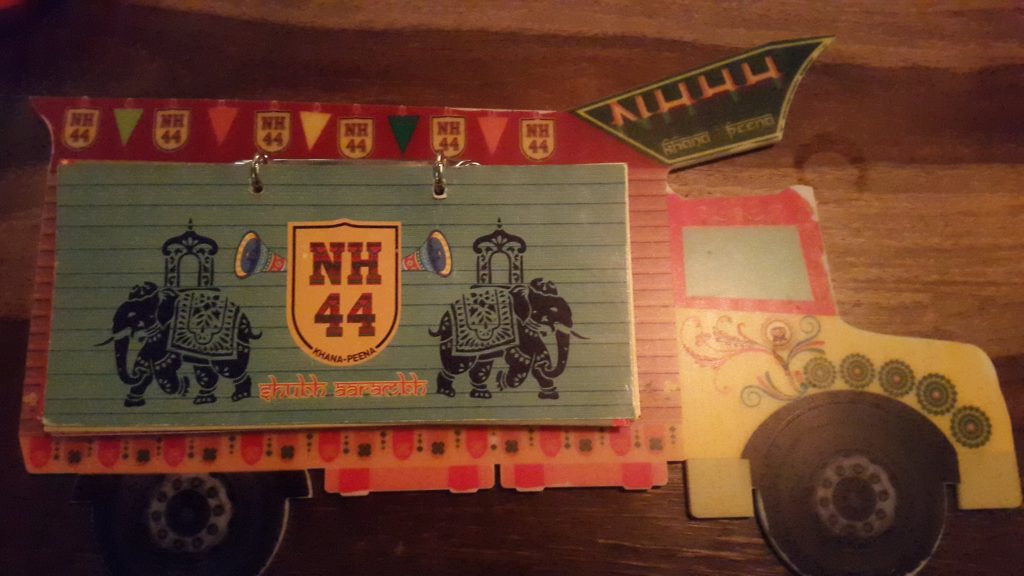 The interiors designed by ace architect Sumeet Nath, are intricately designed giving a feel of National Highway Restaurants commonly termed as 'Dhabas'. The walls are vaguely finished raw bricks and wooden jharokhas. Keeping up to the standards of open kitchen they also have spices and condiments arranged on a 'Thela'. If one section takes you to the Pind of Punjab the other will make you experience Rajasthan in its full glory.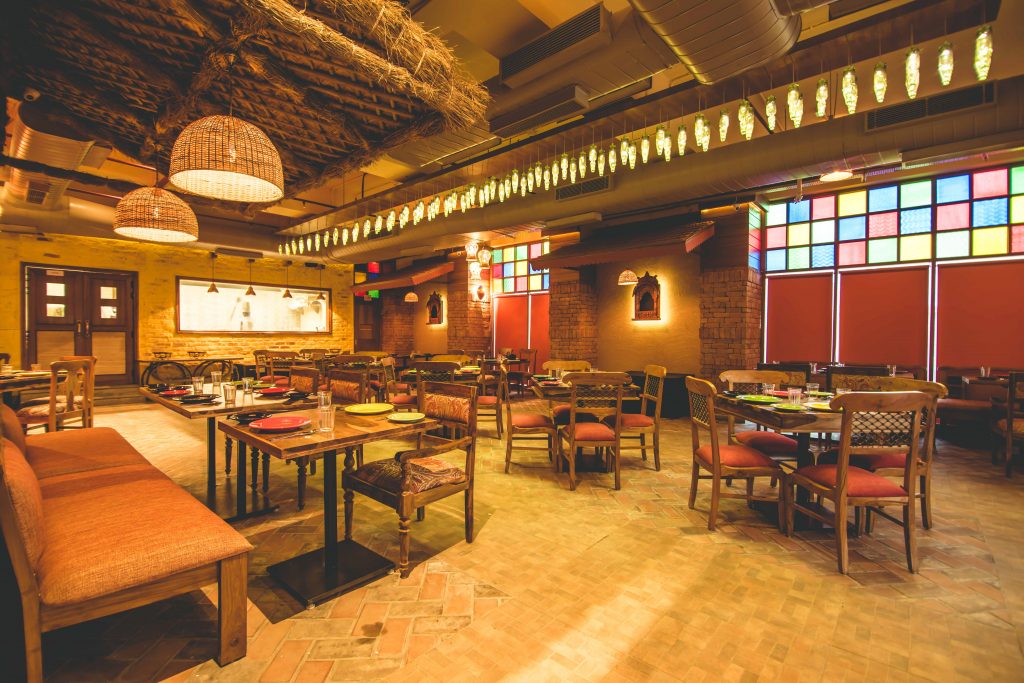 'Aam Panna Jaljeera' was on its way in shot glasses to welcome us to the journey of National Highway 44.
The very first dish to arrive was Kancheepuram Idli, which was extremely soft and moist, stuffed with peppercorn and Baba ramdev ki heeng and tasted delicious with sambhar and chutney.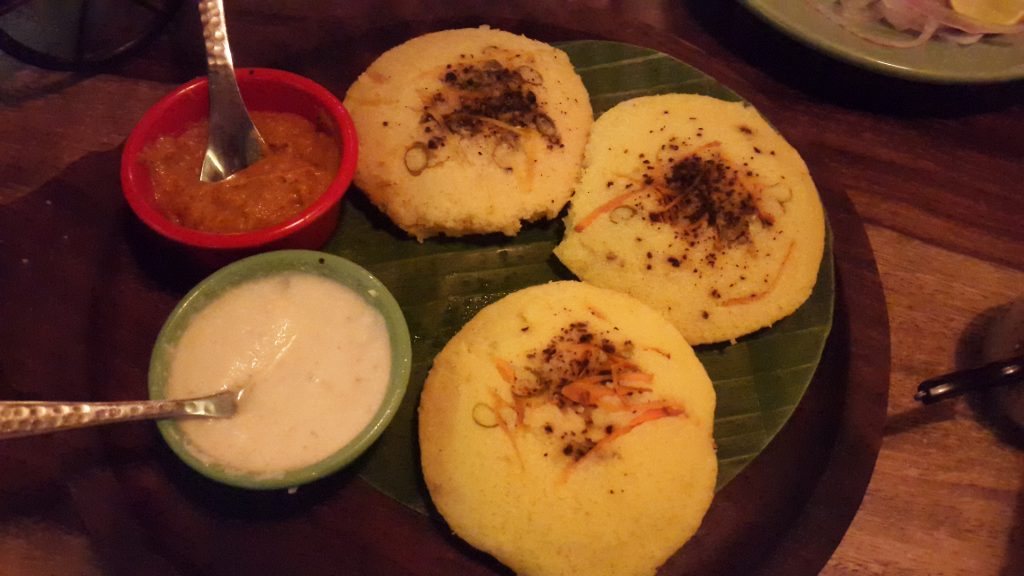 My heart whispered 'Wow' at the sight of my favorite Vada Pav, one dish which we rarely find in Delhi. It flaunted its very authentic flavour with perfect blend of spices and crunchy vada, beautifully garnished with a coriander floret.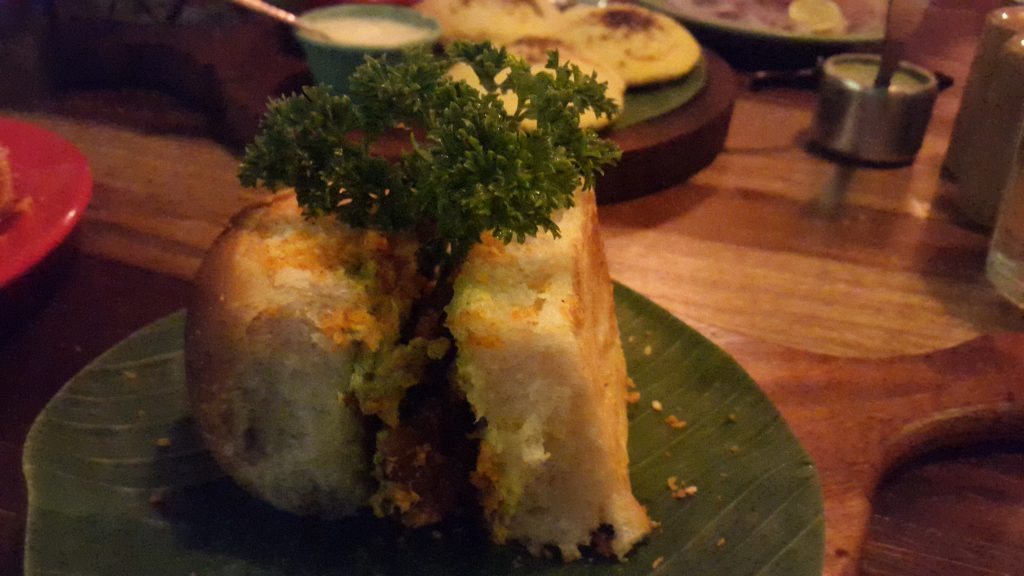 The Veg Tandoori Platter consisted of Tandoori Paneer Tikka, Veg Seekh Kabab, Fried Mushrooms and Corn Kabab. Stuffed and Fried Mushrooms were prominent of all with a crispy layer of coating and mild spicy nuts stuffing inside. The Veg Platter was presented in a unique manner on a wooden 'Thela'. The ceiling was ornated with basic but famous 'Banta Bottles' with lamps inside delivering the perfect ambience to the restaurant.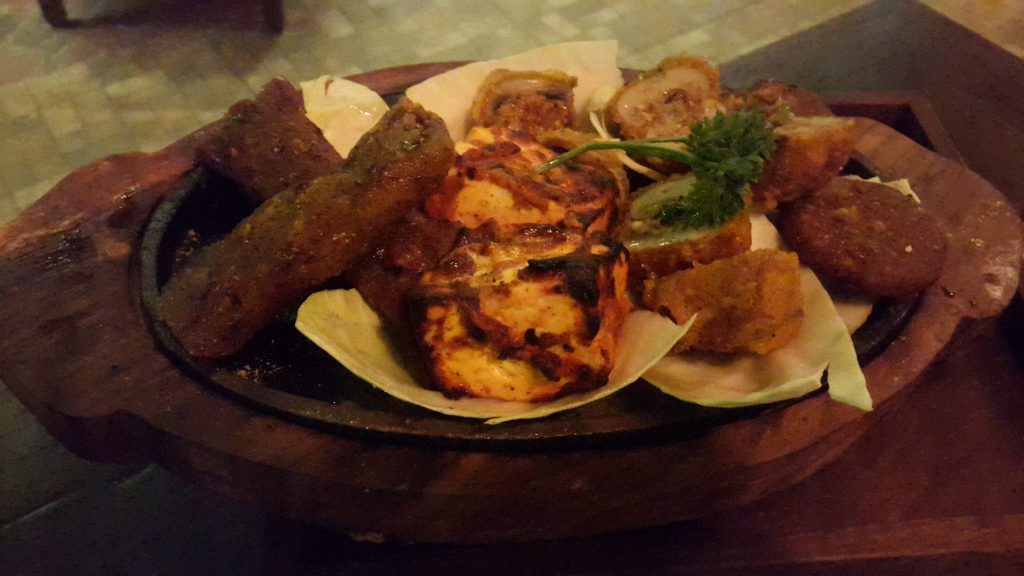 The Non-Veg Platter was combination of Mutton Seekh Kabab, Malai Murg Kabab, Ajwaini Fish Tikka and Chicken Tikka. The Mutton Seekh Kabab was juicy and tender with strong aroma of spices.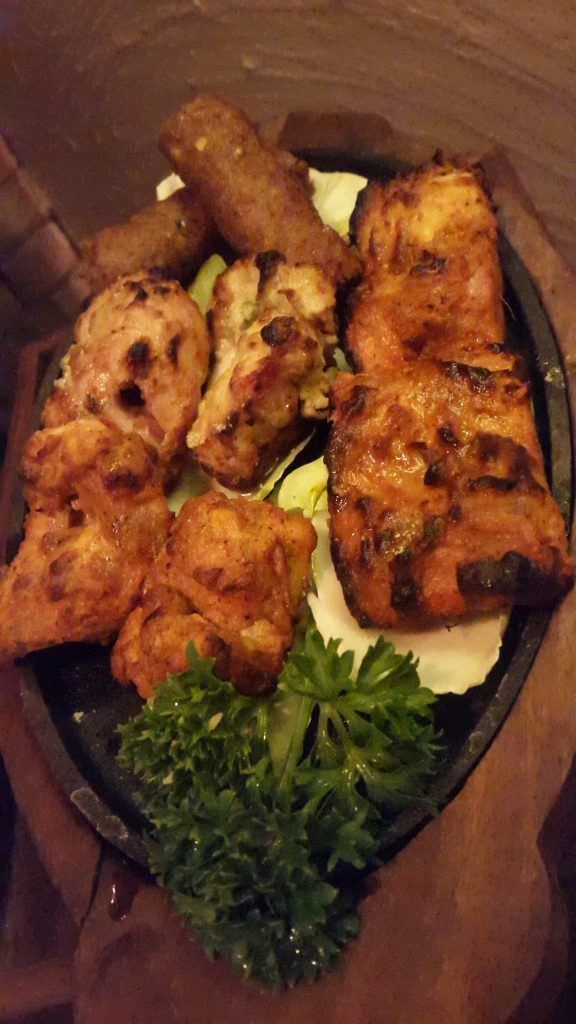 National Highway 44 has fabricated presentation technique very thoughtfully. The green mint chutney was served in mini toy sized Hawkins Cooker.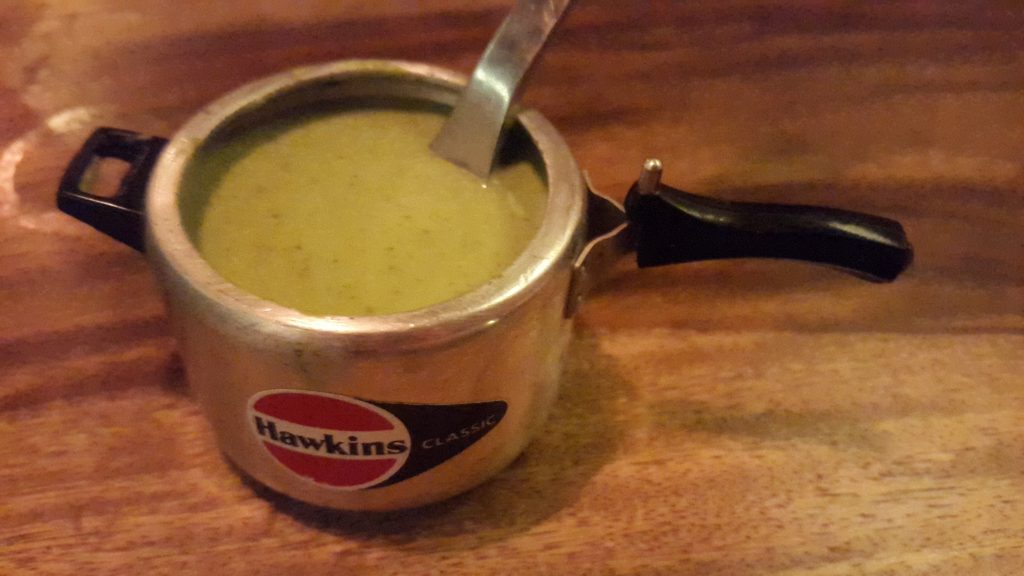 The menu has been drafted poetically, 'Kehwa' in its description goes 'Saffron infused tea pijiye jab taapmaan shune ke aas paas ho jaye ya headache ho jaaye' and 'Galouti Kabab': Ek nawab sahab ke daant toot chuke the, unke bawarchi ne Meat ko bareek pees kar galouti kabab banaya jo muh mein jaate hi ghul jaye'.
The main course dishes were Kadhai Paneer, Dal Makhni, Spinach Kofta, Paya ki Nihari, Butter Chicken and Goshtaba. The famous Kashmiri dish Goshtaba is a delicacy made up of meatballs in curd and cashewnut gravy with perfect aroma of cardamon and fennel seeds.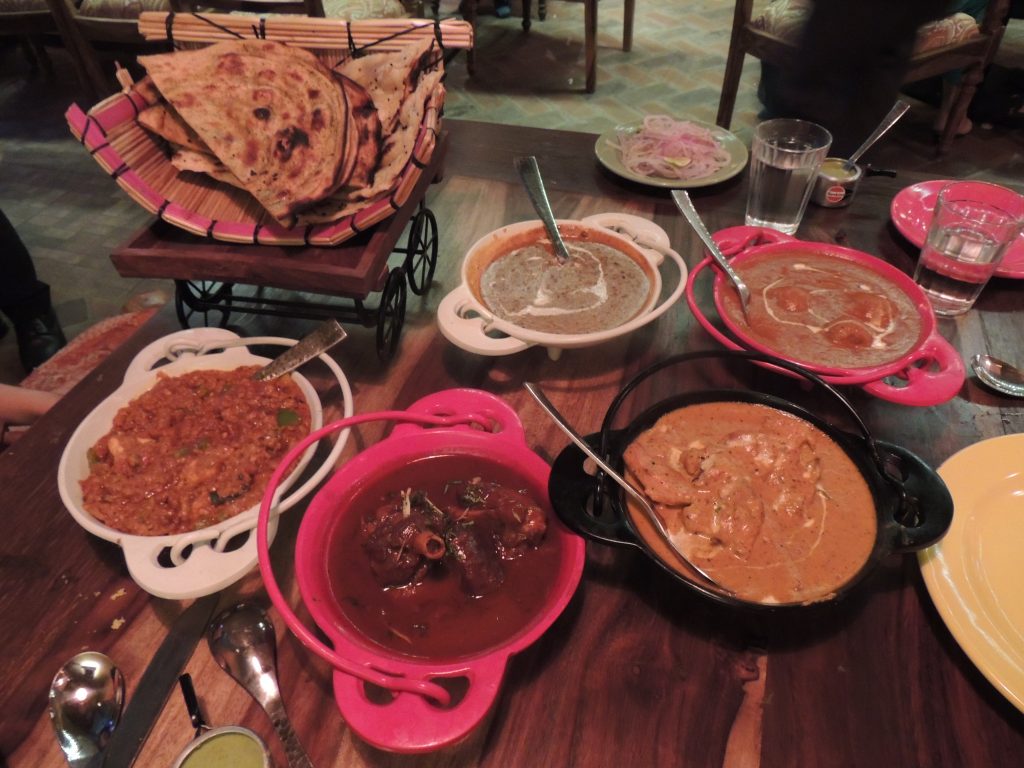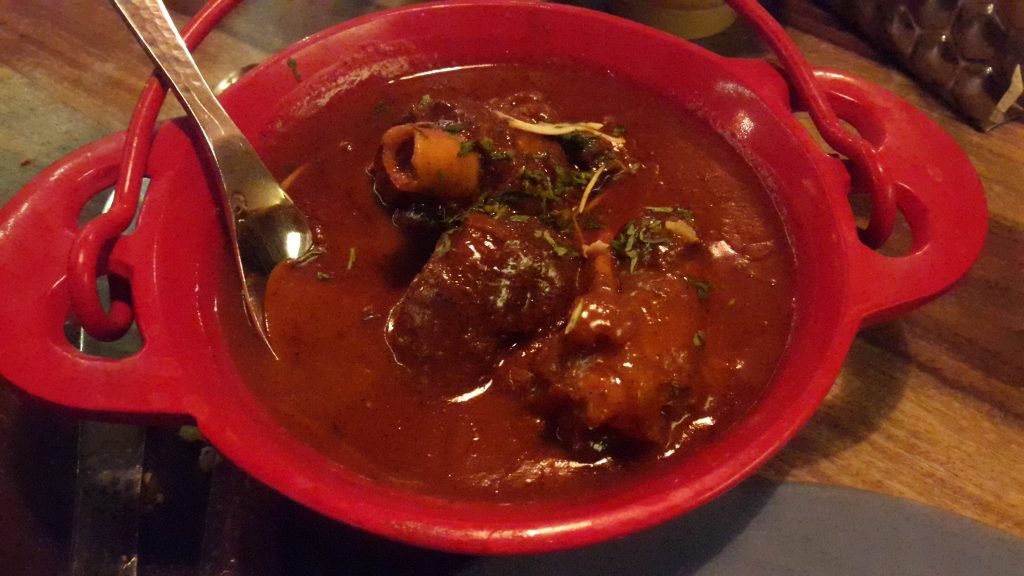 Coming to the desserts, 'Gil E Bahisht' being the Signature dish of National Highway 44 had to be very unique. It was a combination of Phirni, Kulfi and Kalakand.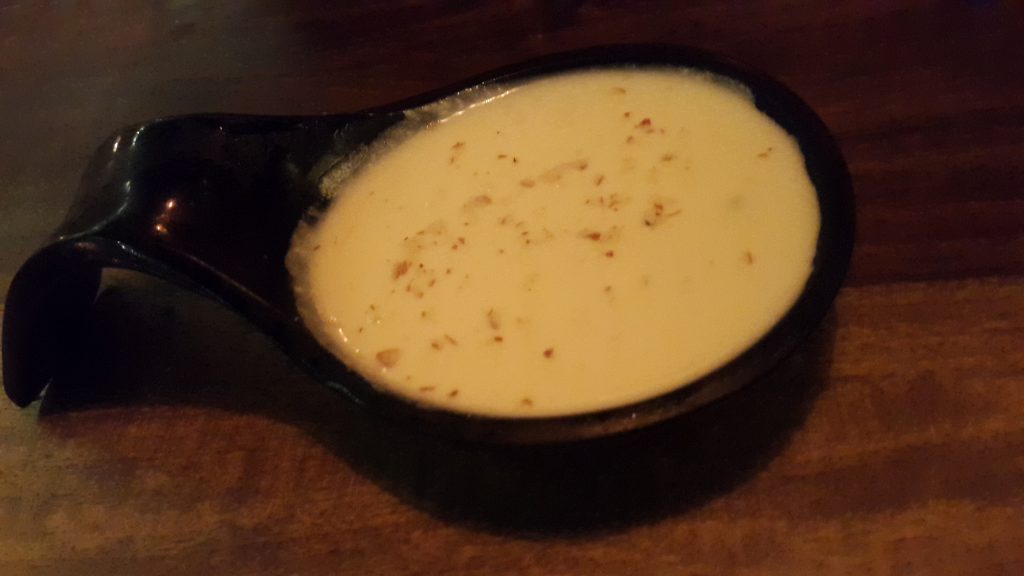 National Highway 44 is a must visit place for all food lovers who like to try delicacies of various states. The food is authentic, tasty and presented beautifully with amazing concept of Dhaba .
Review Credit: Sonal Gupta