After a busy Thursday at DLF cyber hub, you walk into the closest eatery to the parking and sway to the music of experimental folk fusion by Himalayan Routes, giving their best shot at the evergreen Bollywood tracks. Dimly lit with blue lights in the exteriors and white lights in the interior, Dos Burros give a very warm feeling of supper with a friend, or even by alone. The eatery has a combination of white & blue and white & brown furniture with pop coloured handkerchiefs and menu to jazz up the entire look. The white painted brick walls are covered with mirrors and frames depicting a Mexican story each. With an open kitchen and plating area, Dos Burros gives you a transparency to what is being served to you. Restaurateurs Amit Arora and Ankur Mahajan's property can host 120 guests in all, with about odd 70 outdoor seating making it a win-win bet for sundowners.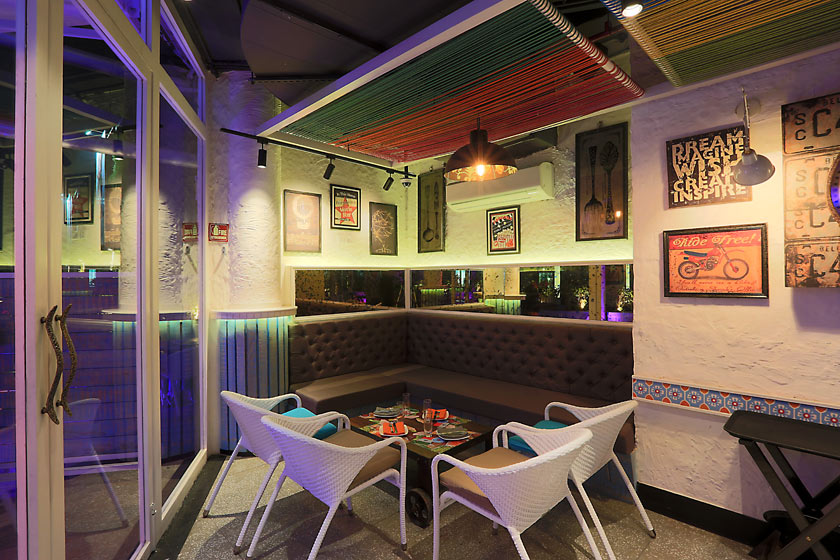 Chef Sanjiv Singh Yadav, Head Chef, Dos Burros, attended us personally and recommended us a few things to try and we stood by his servings and enjoyed a fusion of American, Lebanese and Mexican delicacies. We started with soups, a black bean soup and Sopa de Tortilla, and both were delicious. The perfect consistency of soups made it even better. We were then served, my all time favourite, Nachos. The Burros Nachos were an amalgam of fresh salsa, hungcurd dip, homemade nachos and avocado dip toppings. Life felt so sorted after a perfect serving of nachos #JustExpressing.
We were then served Mezze platter, which like regular ones, was a platter of Hummus, Baba Ganoush, Chilli Tomato Dip, Quinoa Fattoush, Pita Breads, Spanakopita Filo, Falafel, Pickled Vegetables, Cottage Cheese Tikka and Tossed Pickle. On an honest opinion, it was okayish, have had better ones though. We were then served some Vegetarian Quesadillas filled with grilled cottage cheese, pepper and onion and served with guacamole, pico de galo and sour cream. I must say the quantities being served was a complete Paisa Vasool deal for anyone. And this was one of the best guacamole I've had.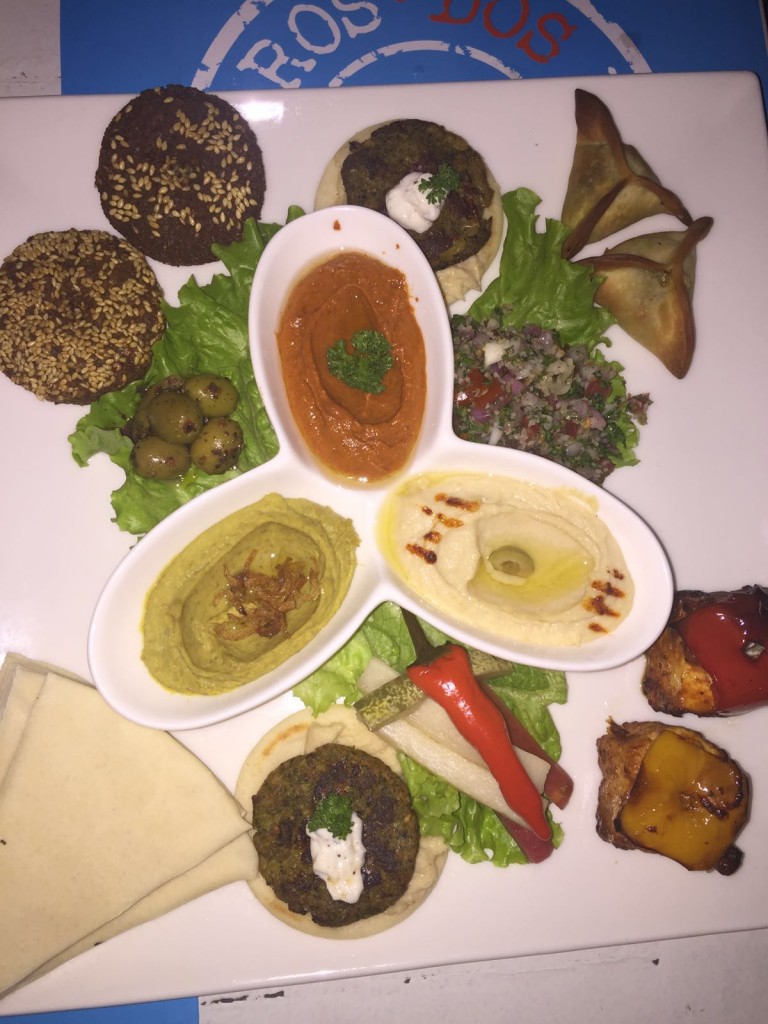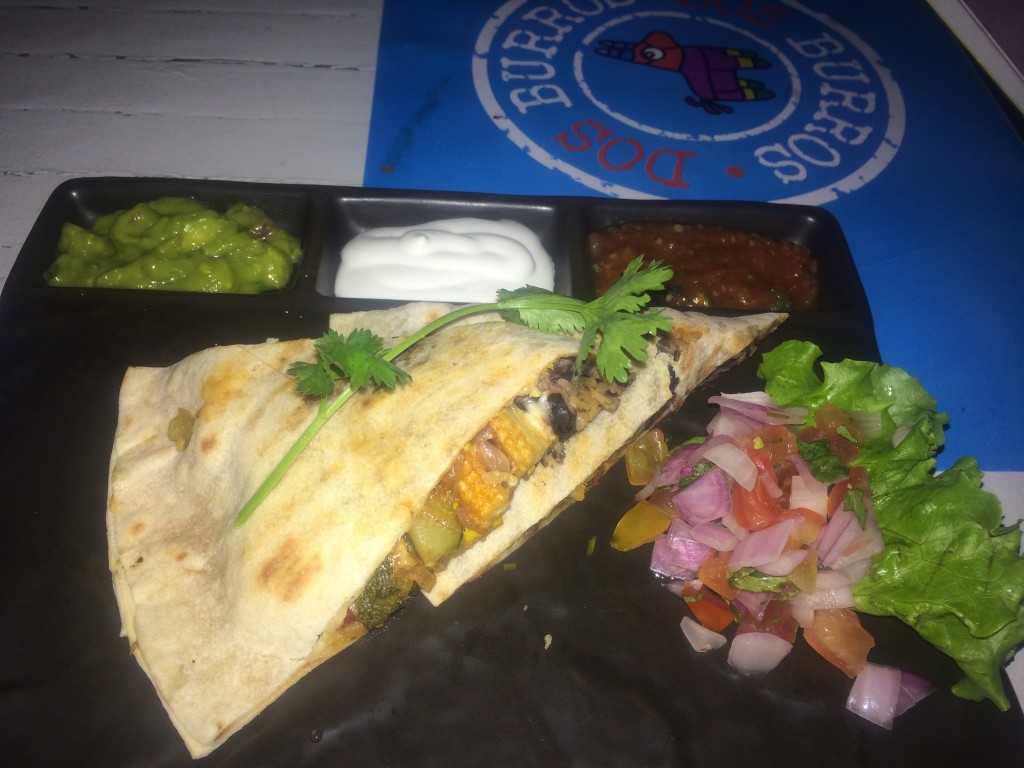 After having so much we wrapped up the dinner with a Casablanca Roasted Summer Vegetable Tagine. Just to let you know, it is a historic dish named after the earthenware pot, Tajine, in which it is cooked. The tagine's conical shape makes a uniquely moist, hot cooking environment for the dish being cooked. The base is wide and shallow, and the tall lid fits snugly inside. As the food cooks, steam rises into the cone, condenses, and then trickles down the sides back into the dish. Giving it a smoked flavor. This was my first at Dos Burros and a must try for all our readers. The saffron rice served with a creamy curry with summer vegetable made a great pair together and complemented each other's flavor. The coal under the tajine kept the dish hot. To my surprise, the slow cooker kind of this cooking technique did not curdle up the cream at all used in the dish.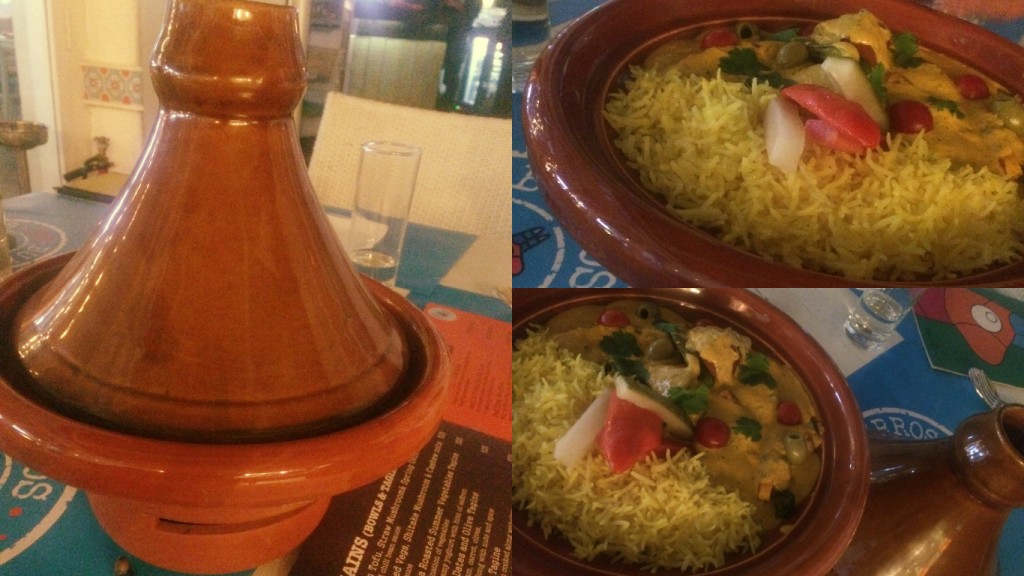 And then came the time for my never underestimated power of a dessert, we were recommended to try a Chocolate Cointreau Cake. A three layered slice of chocolate cake topped with a chocolate coin, a cherry and some mint. Absolutely gooey and melts in our mouth, a complete heart stealer.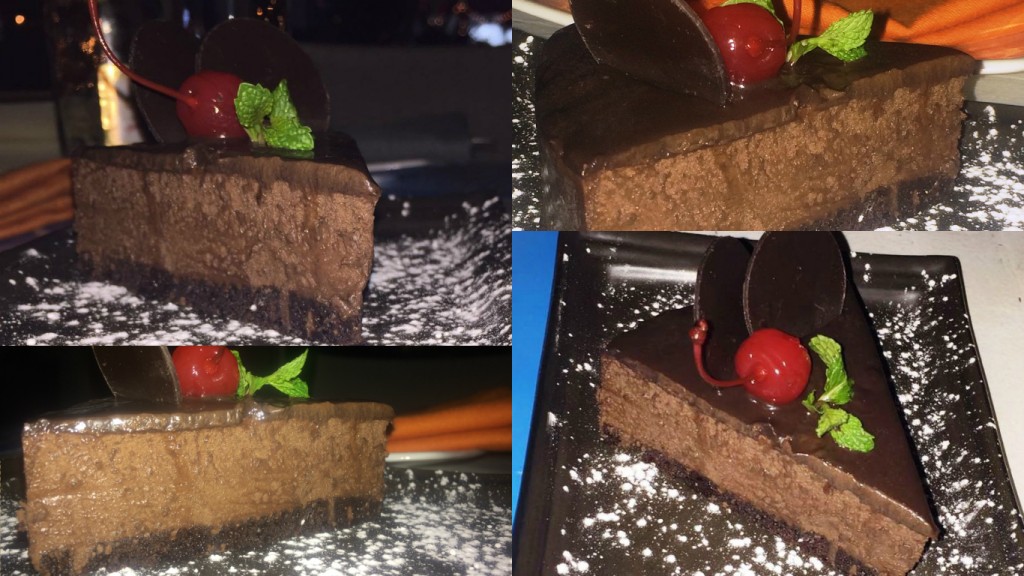 PS: This was a complete vegetarian evening for us, so for the non-vegetarian review, we'll have to go by our readers recommendations.
I must say, the food was very light on our tummy yet filling. And the live band playing was a complete add-on.
Review Credit: Pushpmeet Nanda