The BMW India Bridal Fashion Week kicked off with the opening show by Abu Jani-Sandeep Khosla. So let's begin with Sonam's grand entry in a black & golden mesmerizing dress. It's the body language or the face that we read & the song played in the background being "Will you still love me when I am no longer young & beautiful". The diva was wearing a black multi panelled net flared gown detailed in gold & mirror with three dimensional lotuses embellished with swarovski crystals.  Sonam's lovely attire, the way she sashayed in heels was commendable. I could spot Mrs. Jaya Bachchan, Shweta Nanda Bachchan, Dimple Kapadia (looking graceful as ever) & Rinke Khanna sitting in the front row. The collection paid homage to Varanasi.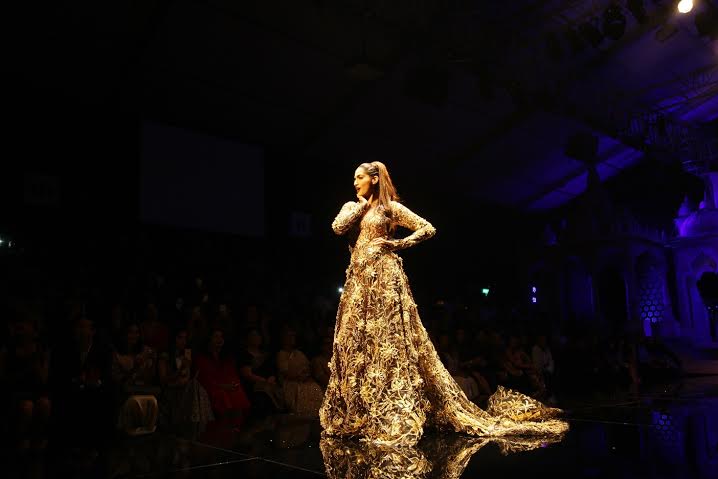 With the second song "Waqt Ne Kiya Kya Haseen Sitam" the models emitted peaches, greys, lots of frills & flowy dresses & strappy gowns with lots of Swarovski glitters. Whether the crisp white sari or the white kurtas with leggings, all done with Swarovski & sequined with mirrors.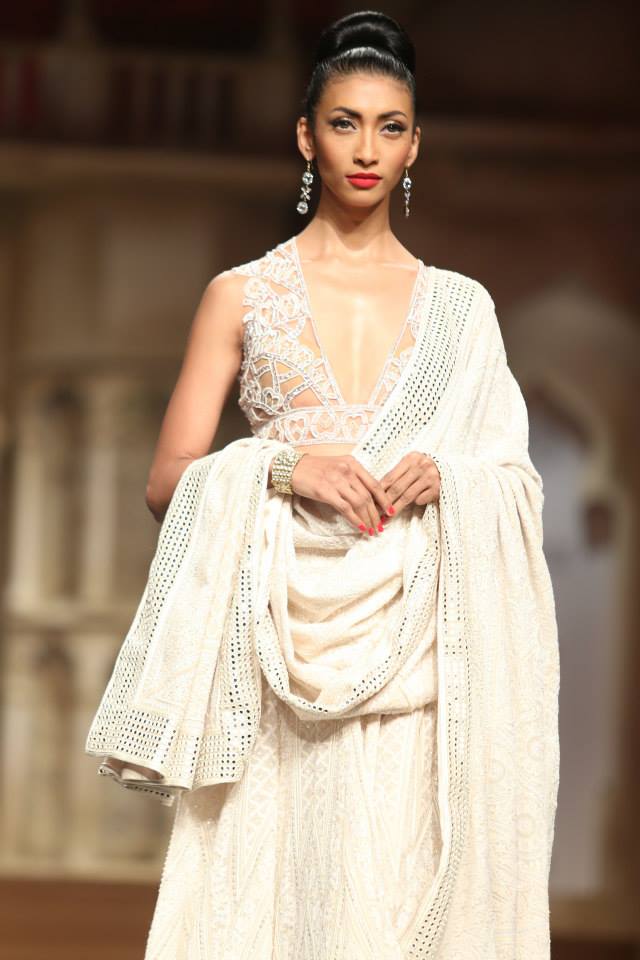 The boys were looking lovely in transparent kurtas & trousers in transparent white. There were colourful salwars with a very exquisite work of Swarovski with colour layering adding to the appeal & grandeur of the night.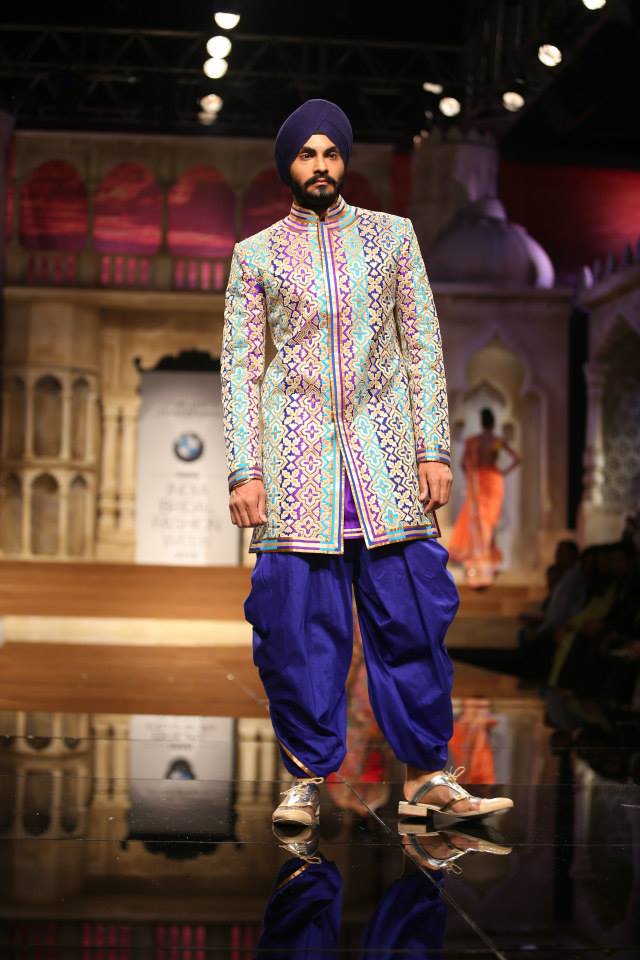 With all the magic & technique of the lights & reflection of Swarovski, the charming models walked with style & panache. There were lots of colourful gowns, lehengas & dupattas on the models in neon pinks, greens, yellows, oranges.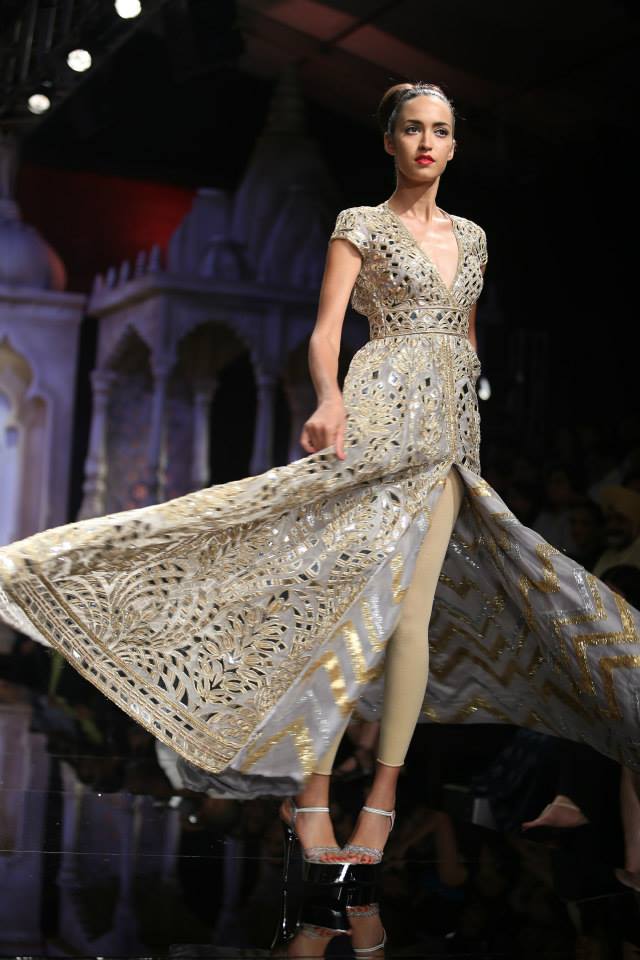 With "Babu Ji Dheere Chalna" there was a madness of colours with gold & some beaded kamarbandh with "Ratia Mujhe Neend Nahi Aaye". There were sun, fire, water, earth & moon elements, panels of brightness with some mantras on lehengas & surya motif made to give it the power of divine & light of sacred holy peace.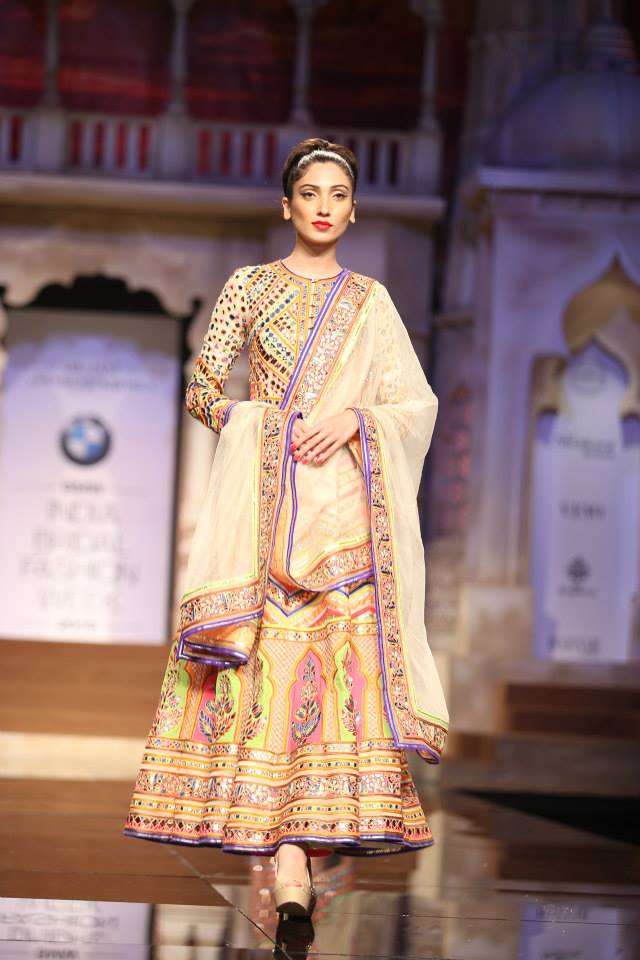 Sonam ended the show in a a ruby red 10 kali net ghagra embroidered with gold metallic beads and Swarovski crystals, teamed with a blouse with big golden beads on it stylized with simple red dupatta draped in layers edged with a gold koran lace border on the head. The song playing in the background was "Love me like you do" & Sonam's lips were syncing the song. She walked, beamed & even danced like a diva blushing in the glory of the wonderful work of the duo Abu & Sandeep.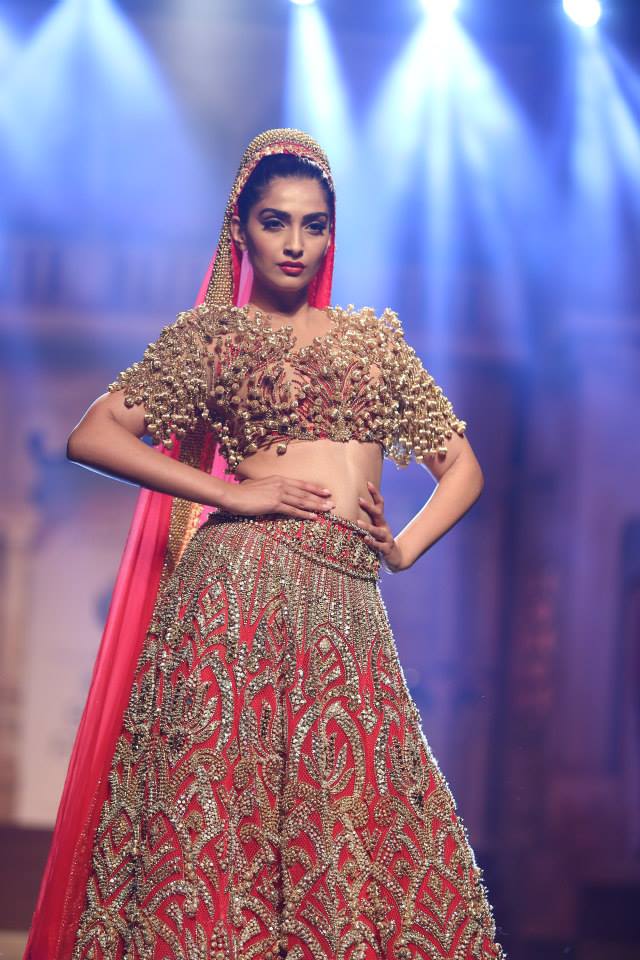 So overall the collection was ecstatic be it the patterns, the zardozi, the brocade, the mirror work or the colours. It was the lovely amalgamation with Swarovski which made this night a night of surprises.  The collection cast a spell on the audience & left us mesmerized.