Zaza Box is the magic box of goodness & nutrition and in Spanish "Nutricion deliciosamente" is the right word to describe the meal that was there in the beautiful wooden Zaza Magic Box.
Zaza Box is a delivery service started by an IIT Bombay alumnus Avinav Nigam & his wife Sonal who has been a Gym Fitness coach for 10 years & also a Miss India 2007 semi-finalist (WOW). They wanted people to have healthy nutritional meals & organic food with natural ingredients within the comfort & confines of their home. Zaza Box reads healthy fine dining in a box. Their magic boxes are divided into 3 categories that are changed daily & are wholesome and full on with health power:
Yogi Box (Indian flavours)
Traveller's Box (Global flavours)
Lean Box (Low-calorie artisan meal)
They also have guilt free desserts, wellness drinks & snack boxes to add to the nutritional well being parameter.
Coming to the food, I tried their Macaroni Salad which under their Lean Box. I can undoubtedly say that it was the best macaroni I have ever had. There was soft well cooked macaroni with coriander, half cut cherry tomatoes, zucchini (very finely diced) & bell peppers. It tasted superb & fresh. The macaroni was layered under a bed of lettuce which looked all the more tempting. The macaroni was very delicious & super nutritious with the right blend of cheese. It was a delight to the tongue in this scorching heat.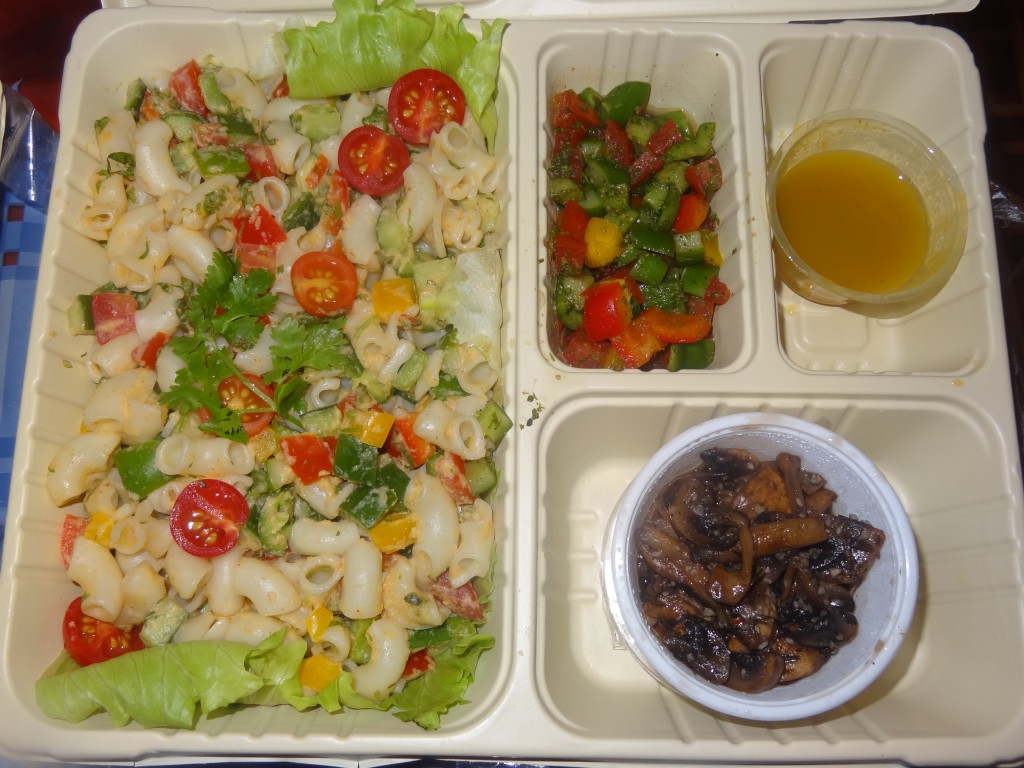 There was a side of salad, mushrooms & a dressing given along with the macaroni. The salad was laid on a lettuce bed and had tomatoes & bell peppers which were lovely to have in salad form apart from the macaroni. There were mushrooms also along, a delightful & helpful serving which I think was a superb idea of the Chef. The dressing was made of apple cider vinegar & red onions. It was a little spicy. The experience of having the meal was lovely as the creamy texture of the macaroni. It was a completely fabulous recipe with fresh flavours in a box to suffice a happy soul the organic & fat free way.
The Zaza Samosa Box had 3 small oven baked wholewheat samosas in the box which tasted very different & unique. The samosas were combined with a tamarind chutney, a delight again & to talk about the Pudina chutney, it was fresh as if freshly plucked seasonal pudina was used in it. It was excellent, soothing & lovely to eat with the samosa.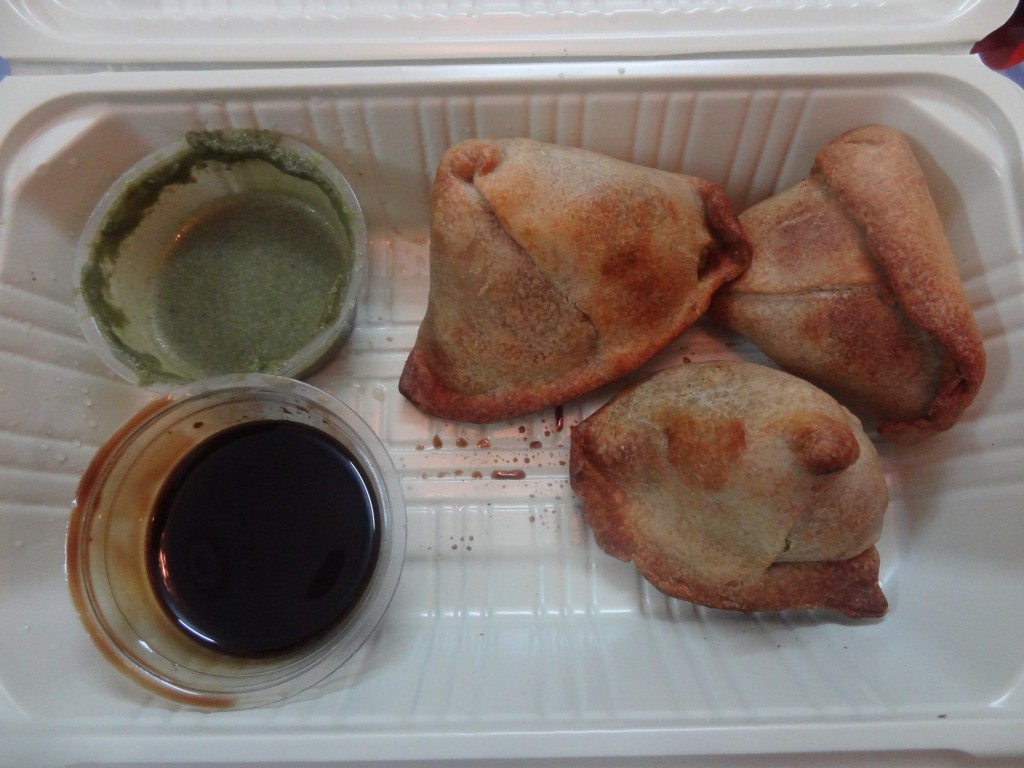 The Yogi Box Dal Makhani Lite (Yogi Box) is the most healthy, lightest & nutritional loaded box. The box had Dal Makhani (urad lentils) rich in Vitamins A, B1 & B3 with soluble & insoluble fibres good for hair growth & to make the heart strong. The Dal was made without any cream & butter and was slow cooked which lets the Urad lentil release its natural creamy texture. It was very nutritious & well cooked in organic style. There were pumpkin rotis & whole wheat triangular shaped rotis given along. The pumpkin rotis were reddish in colour, rich in Vitamin A, different in taste, crispy & healthy option to brush off the daily monotony of wheat rotis. Yes, they were slightly sweet in taste which did not matter since they gave it a new twist completing the daily recommended allowance. The whole wheat rotis were good & tasty & had fiber & nutrition with health power dose that fills you up faster. There was also brown rice served with lots of coriander & green peas in it adding to the nutrition factor. The rice was very well cooked, good quality & tasted lovely.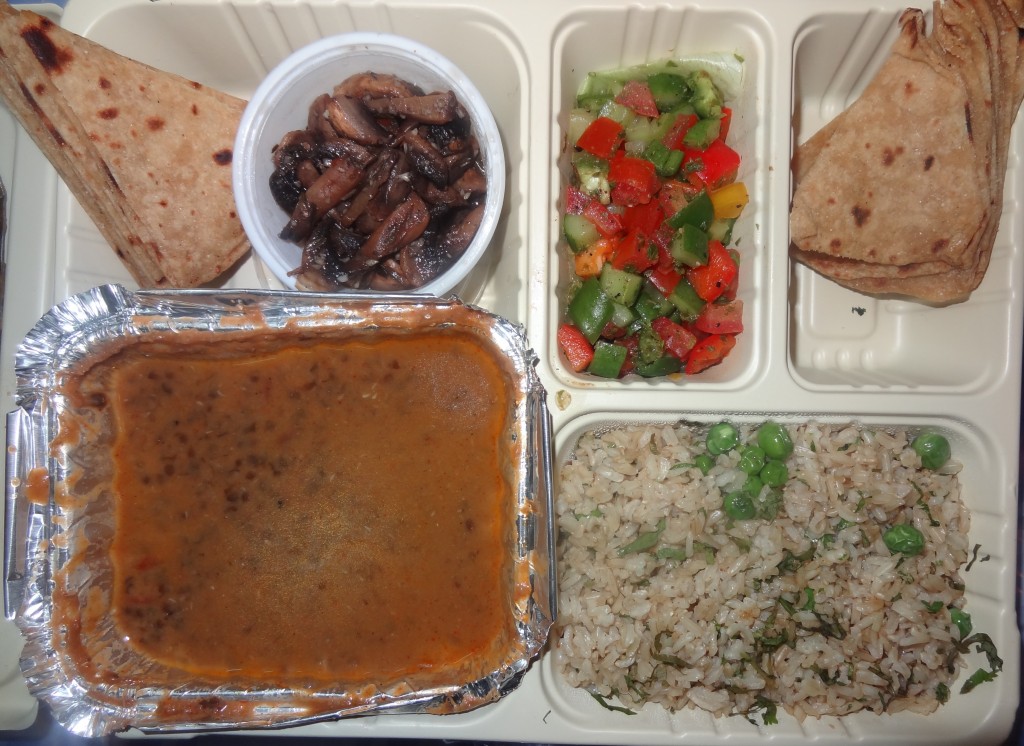 The Lemon Cooler (Shikanji) had lemon, mint & parsley with no refined sugar & preservatives. The sweetness comes due to jaggery & brown sugar. To make it a healthier option, organic lemon is also used which is locally sourced from Karnal. It had all the goodness of Vitamin C without the nastiness of chemicals. I felt fresh for long after drinking the tangy & lovely cooler. The taste was pure & organic. It was a lovely sip of pureness & healthy lemon essence.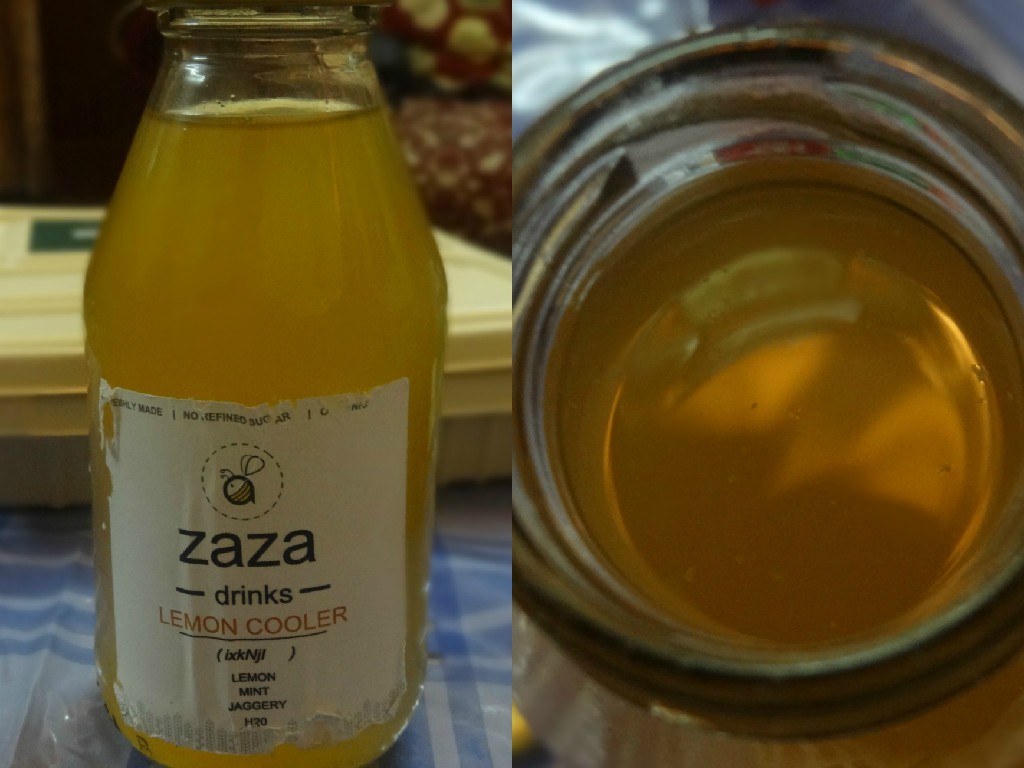 The Zaza Pink of Health juice had beetroot, pomegranate, watermelon & ginger. It is organic & cold pressed with no toxins & had the right balance of beetroot which is a health property, pomegranate (sweetness potion) & ginger (zingy). It was a bit bitter but high on health quotient so those who want to score on the health scale you should have it daily without fail.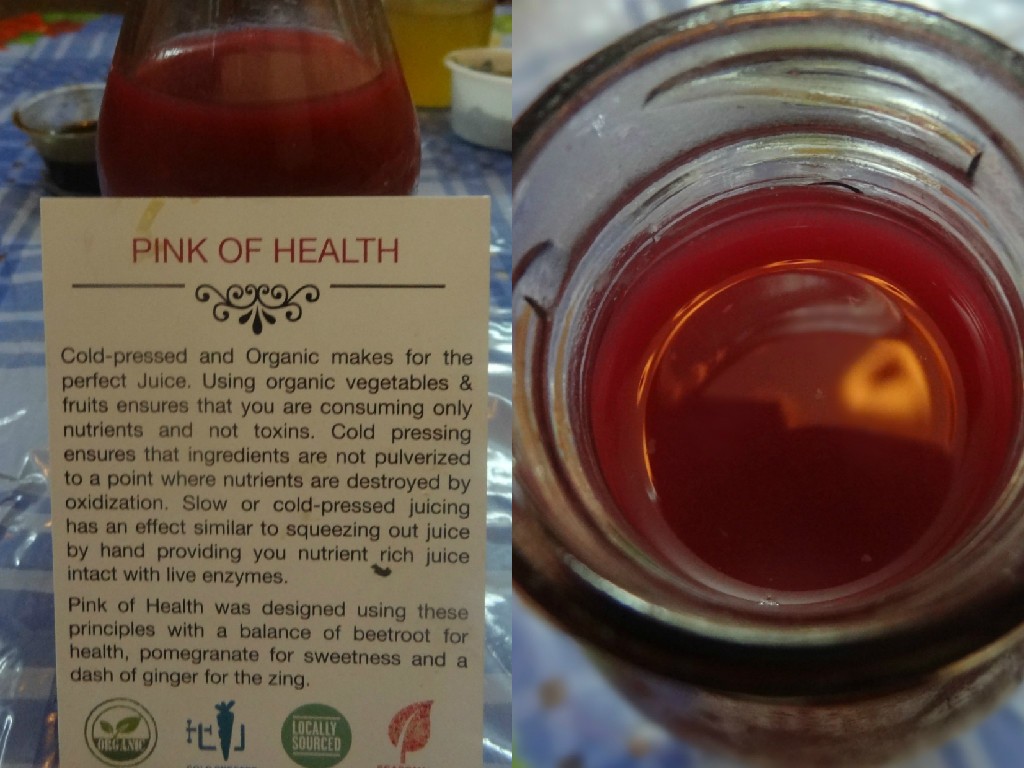 Next, the All Day Breakfast Parfait is basically a dairy free yoghurt made using cashew milk sweetened using jaggery & served with fresh organic fruit chunks. It is then topped mildly candied organic nuts. All the ingredients used were 100% organic. I loved the mild flavour of the nuts, fruits & the sweetness of the parfait. It was a yummy treat, high on energy & low on calories. So a good take on the healthy health meter up by one notch because its gluten free & seasonal produce served in a beautiful glass jar.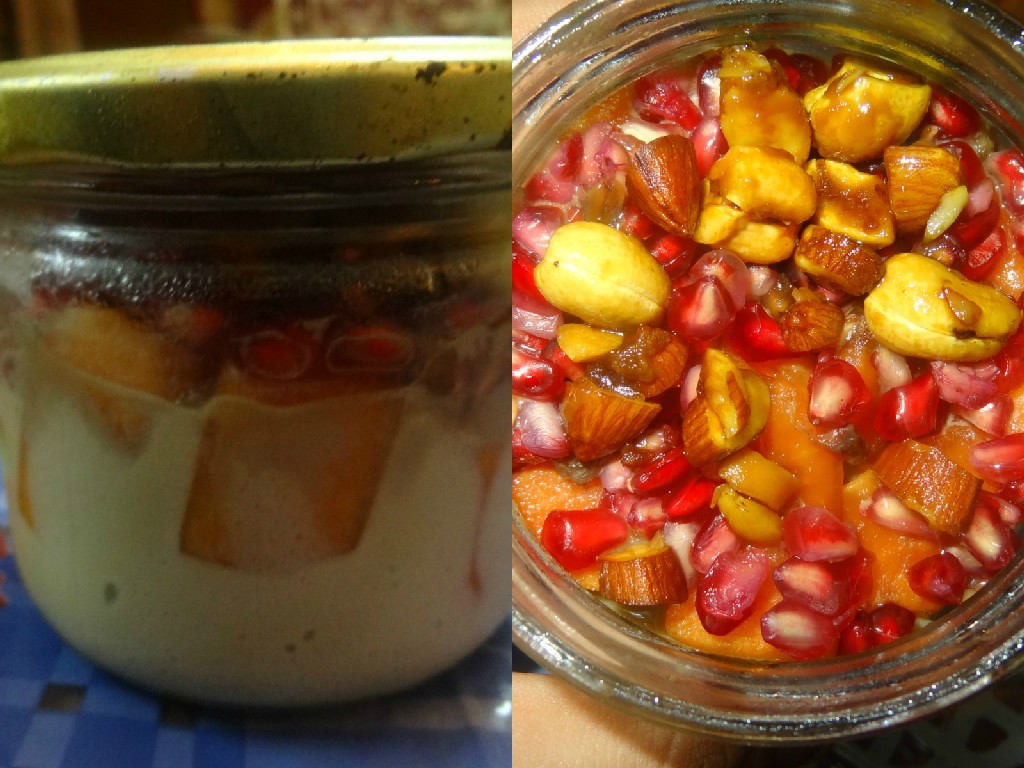 Coming to the desserts, the Mango Cheesecake is their gluten free in-house preparation. There are dates added to it to give it a lovely flavour. The bite is crunchy biscuit base which is made of buckwheat oats. The cheese used in the cheese cake used is dairy free made using cashews, tofu & coconut milk. There is also a layer of organic mango compote. The taste was heavenly!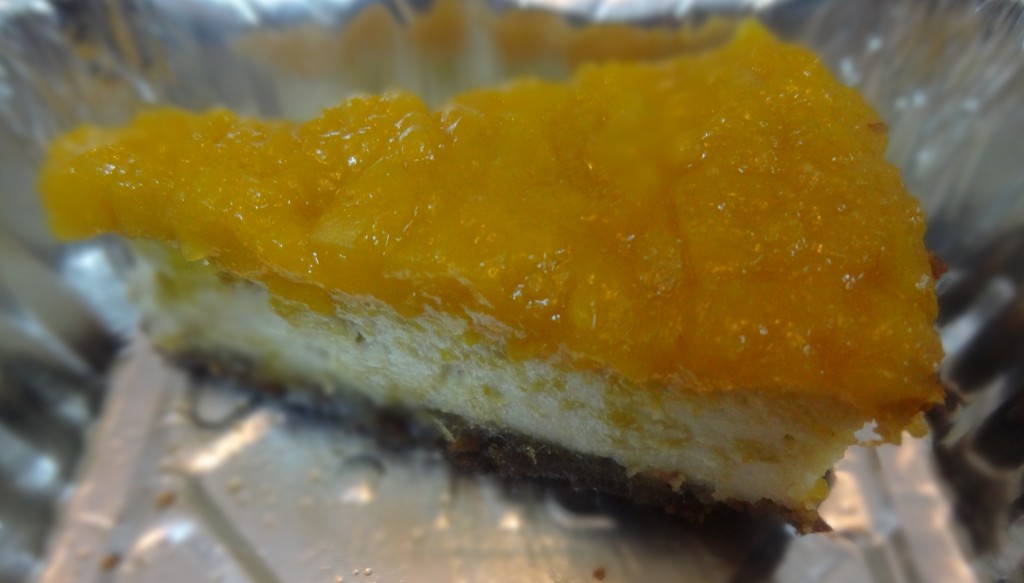 The Gluten-Free Brownie is a dairy free brownie prepared using Ragi. It was very interesting to see Ragi being used in such a fun way. The brownie was very soft, tasty & had a tasty organic taste. Ragi has a low fat content, is the highest anti-oxidant grain in the world & is a great source of calcium even more than milk. It also has more iron than Spinach. It was a pure sweet tooth indulgence in the organic way.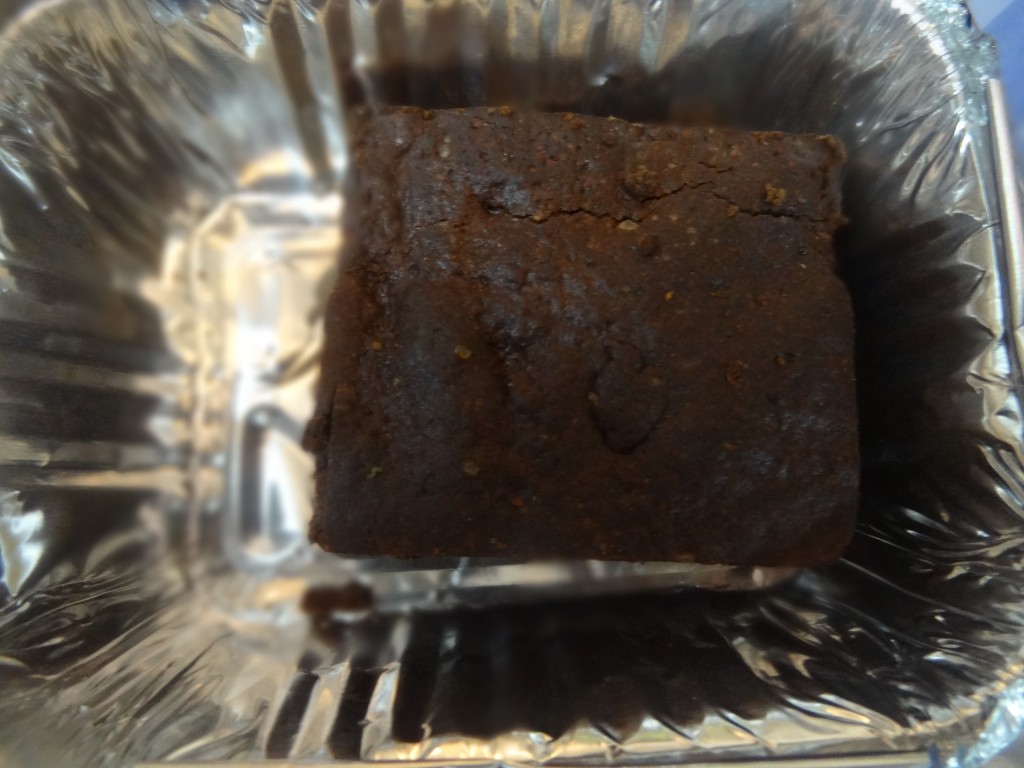 With every meal there were plastic spoons & forks given along with black pepper, salt sachets & tissues. Moreover, some accompanying notes were sent with every meal explaining about it which I think was a delightful idea. I was happy to receive it & loved all the food sent to me. The gift box which came with all the neon paper cuttings was a surprise to open. It had Raw organic cacao powder & organic choco peanut butter. I was thrilled to receive it.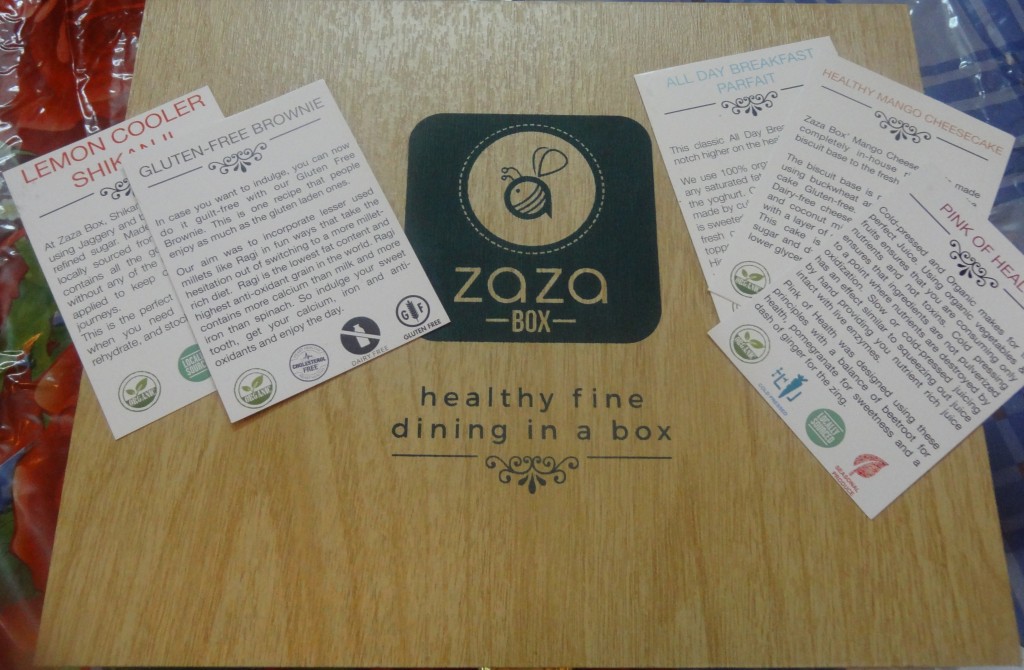 Zaza Box currently delivers only across Gurgaon but has plans to expand to Delhi soon. It's one of the best food services that I have tried till now. Way to go!!!