We all adore what our celebs wear and most of the times try to imitate the same style. Afterall a lot of the fashion comes from Bollywood movies whether it's the Madhuri Dixit's outfit from Hum Aapke Hain Kaun or Deepika Padukone saree from Yeh Jawaani Hai Deewani. We all love every bit of it.
Recently I attended Lakme Fashion Week Summer/Resort 2020 held in Mumbai. The star studded affair spotted our favourite celebs from Bollywood on the ramp as well as the front row. Let me give you a download what the designers showcased and what our Bollywood celebs were spotted wearing:
---
Bipasha Basu and Karan Singh Grover for 6degree presents Sanjukta Dutta
Sanjukta Dutta's "Prayaash" for her label 'Sanjukta's Studio' was a beautiful amalgamation of the cultures of Assam and the works of renowned personalities in the history of art.. The constant elements in Sanjukta's collections were vibrancy, pizzazz, modern twists to traditional styles and assortments of chic drapes. The designer's Summer/Resort 2020 line took its inspiration from the art of most legendary artists of the world like Vincent Van Gogh, Claude Oscar Monet, M. F. Hussain and more.
Sanjukta chose Bollywood's power couple Bipasha Basu and Karan Singh Grover who strutted down the runway in stunning coordinated black outfits, made from Assamese silk. Karan looked regal in an asymmetric black Pathani, detailed with woven motifs in gold. For an equally enchanting entry, Bipasha donned a lavishly crafted saree in black with a golden pallav, teamed with a ruffled-interest blouse.
Sanjukta Dutta's collection blended art with tradition at Lakmé Fashion Week Summer/Resort 2020
---
Malaika Arora for 6degree Presents Varun Chakkilam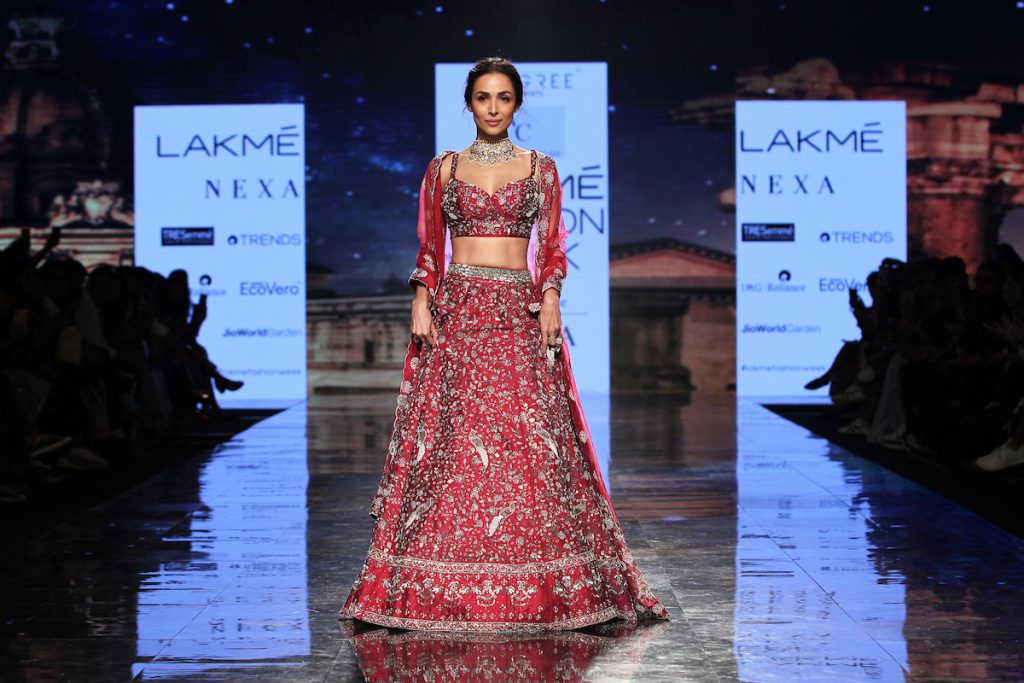 Drawing his inspiration from the perfect world of love, happiness and extravaganza, Varun Chakkilam presented "The Utopian Dream", an opulent collection of contemporary Indian wear at Lakmé Fashion Week Summer/Resort 2020. Tracing his muse back to the romance of a woman, the line comprised a range of sensuous yet mesmerizing ensembles, juxtaposing finesse with ultra-glam.
The dazzling Bollywood diva, Malaika Arora walked the ramp in a captivating lehenga and bustier in an alluring, deep red sequined, hand embroidered, creation with 3D bird motifs. A sheer red decorated dupatta added a final touch to the look. Our chaiya chaiya girl looked simply awestruck in the beautiful creation by Varun Chakkilam
For the bride with an OTT sartorial sensibility, Varun Chakkilam's latest collection "The Utopian Dream" is an ideal pick.
---
Sunny Leone for Swapnil Shinde
Swapnil Shinde unveiled his power packed women's wear line at Lakmé Fashion Week Summer/Resort 2020. For Lakmé Fashion Week Summer/Resort 2020 Swapnil's "Not-the Cool Girl" collection was for global women belonging to any religion, region, caste, colour, nationality and sexuality. With such a broad buyer base, Swapnil's inspirations were derived from the past and present with real and fictional women like Queen Elizabeth, Wonder Woman, Vivian Ward and Swapnil's favourite Sunny Leone.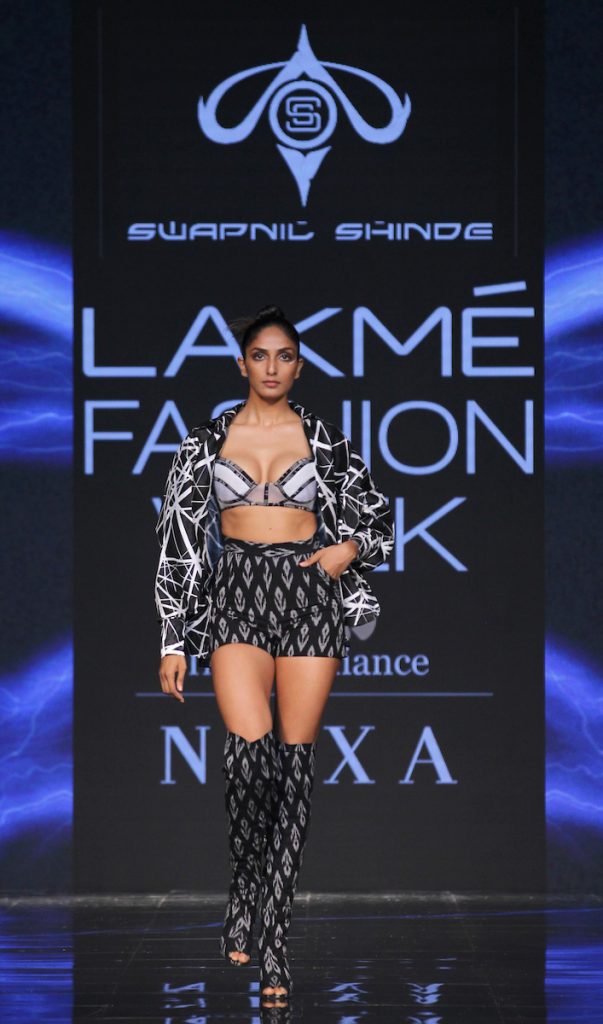 Striding in to close the show was the very dynamic and beautiful Sunny Leone who boldly displayed a giant, boxy, black jacket with sequinned lapels worn over a black mini with the Cinderella print teamed and calf high black bubble boots. During this summer, for the buyer who is "Not -the Cool Girl", Swapnil Shinde offered clothes that will add to her electrifying personality.
---
Aditi Rao Hyadri for Ritu Kumar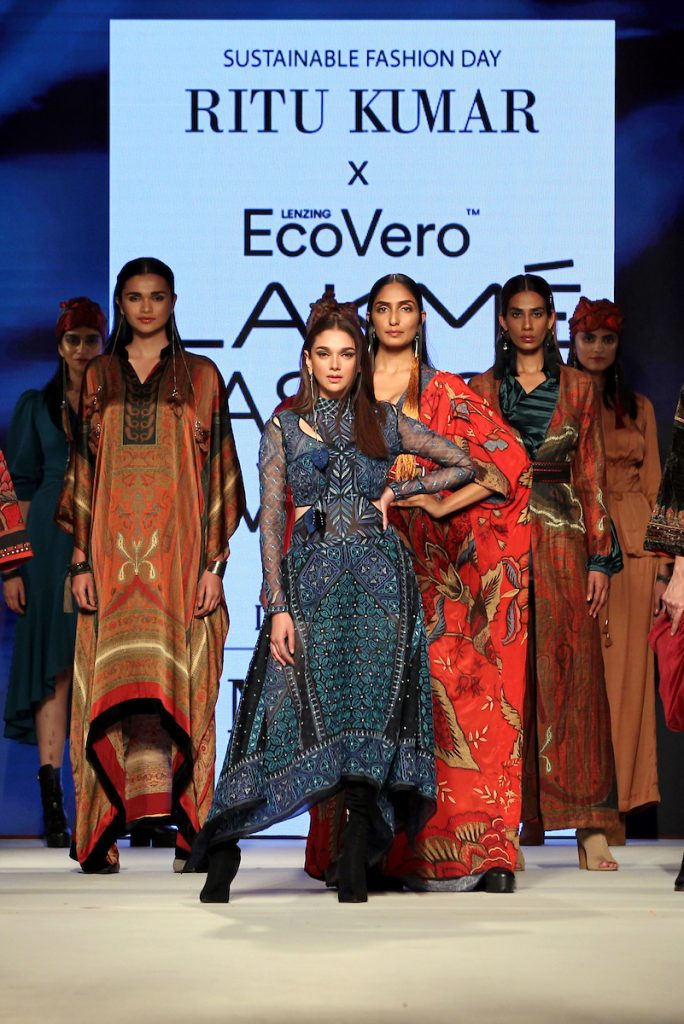 Padma Shri Ritu Kumar, India's most respected designer unveiled her environmentally friendly collection "Nature's Origami" with her iconic laid out prints in collaboration with Austrian fibre brand LENZING™ ECOVERO™.
Actress Aditi Rao Hyadri made a perfect showstopper as she walked the ramp effortlessly in a hand embroidered silk organza asymmetric hem black and indigo dress, inspired by appliqué work of Orissa.
Since the brand's inception, five decades ago, Ritu Kumar's relationship with nature has always been strong and apparent. Whether it is through processes using natural fibres or natural dyes, the brand's efforts have been dedicated to fulfil the void left by the harrowing exploitation of nature. This partnership with LENZING™ ECOVERO™ has further built a dialogue on sustainable fashion, thus focusing on the brand's ideology on sustainability and ecological harmony, contributing to a cleaner, eco-responsible environment
---
Nora Fatehi for Nexa presents Gauri & Nainika
Designer duo Gauri & Nainika unveiled a graceful elegant eveningwear line at Lakmé Fashion Week Summer/Resort 2020. Designers Gauri & Nainika are experts at dreaming up beautiful ethereal creations for those special occasions and Red-Carpet stunners. For Lakmé Fashion Week Summer/Resort 2020, the pair was inspired by the colours of NEXA and unveiled a grand look that was perfect for an evening in the enchanted garden when the romantic mood strikes. Corseted bodices and delicately plisséd skirts with never ending trains were visions of fragile elegance in tulle splashed with discreet glitter.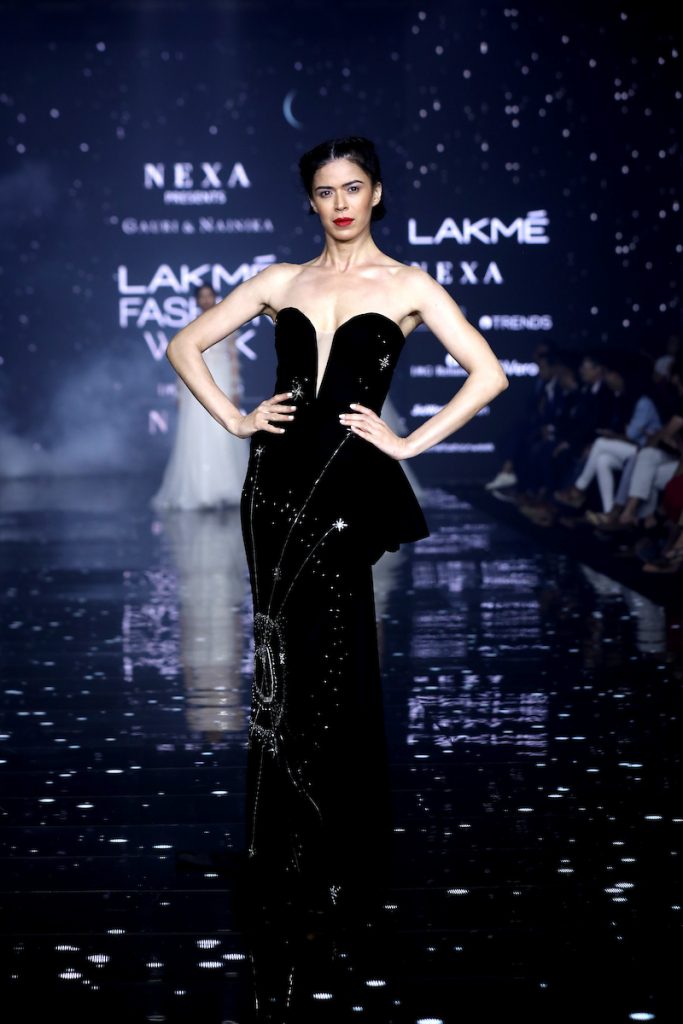 Making a graceful and almost balletic entrance the beautiful Bollywood star Nora Fatehi glided in a black, sleek, sheath, gown with a giant white lavish train. When it's formal glamour the fashionable trendsetters desire after the sun sets over the horizon, Gauri & Nainika' sutterly sensuous and elegant creations will be conversion-stopping pieces throughout the evening.
---
Diana Penty for Caprese X Shivan & Narresh
Caprese, the international high fashion handbag brand and Shivan & Narresh brought colourful stylish fashion at Lakmé Fashion Week Summer/Resort 2020. Designers Shivan and Narresh brought resort wear glamour to centre stage that worked beautifully with the new collection from Caprese, Inspired by a pristine little island off the Italian shores, Caprese's world of fashion truly reflects the design language of its muse: The Isle of Capri, A country that has, for centuries, been synonymous with the future of women's fashion, echoing with an unblemished, free spirit. With a confident aesthetic sense, sleek cuts and an indulgent voice to suit any occasion -Caprese's every design is crafted as a style testament to every woman who wishes to announce her arrival in life.
Shivan & Narresh, the expert resort and swimwear designers whose collections have created a fashionable impact in India as well as worldwide, once again brought an even more daring and dramatic version of their popular "Seoul Series" with the "Hututi Summer" Collection. Their line for Lakmé Fashion Week Summer/Resort 2020 researched the heart, essence and charm of South Korea, which the designers have visited several times. The vibrant colours and beauty of the idyllic Korean Peninsula countryside with its picturesque gardens, flora, culture, history and architecture appeared in all its glorious colours on the garments. Balancing this, Shivan & Narresh were inspired by the cityscape where bursts of art, music, food and fashion of Seoul gave inspiration for more additions to their holiday line.
Diana Penty closed the show wearing an olive neoprene/lace, asymmetric fluted, structured, long skirt encrusted with shimmering embellishments worn with Lurex, foil and Lycra blend wrap blouse.
---
Kareena Kapoor Khan for the Lakmé Absolute Grand Finale by Amit Aggarwal
Kareena Kapoor Khan returned as a showstopper for the Grand Finale to present a futuristic fashion showcase inspired by #Betterin3D at the iconic Mukesh Mills Mumbai, The most awaited show at the end of five days of fashion was the Lakmé Absolute Grand Finale- a show that has been iconic as it brings together the latest fashion and beauty trends.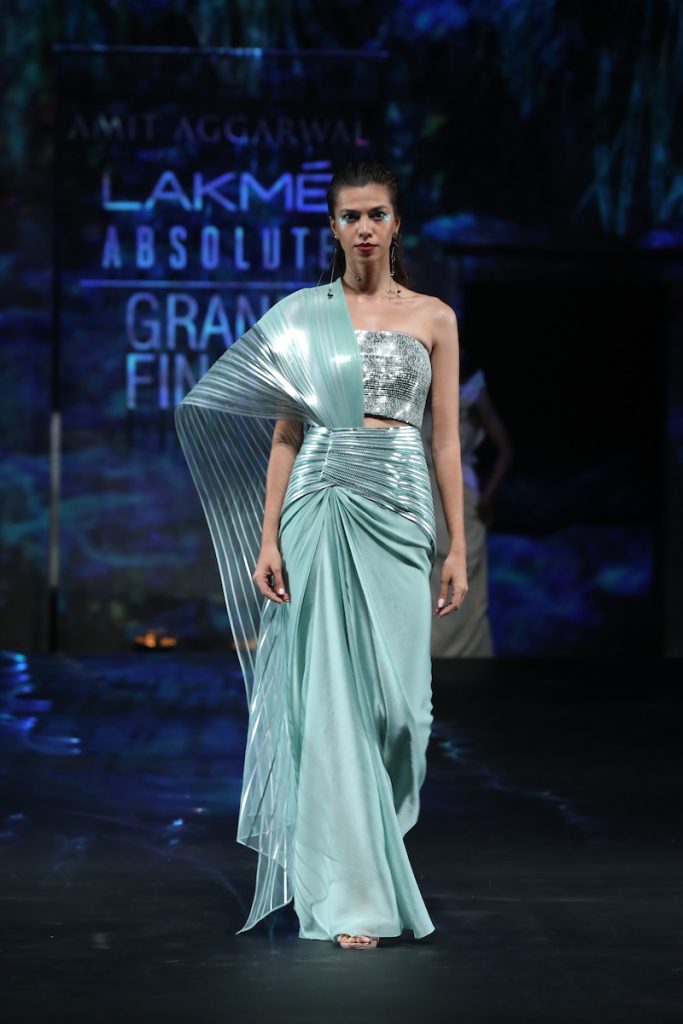 Designer Amit Aggarwal put up his first ever Grand Finale showcase, a collection inspired by Lakmé's beauty theme of '#Betterin3D', against a backdrop of the iconic Mukesh Mills in Colaba.
The star of the event, Lakmé Brand Ambassador, the gorgeous Kareena Kapoor Khan returned to the runway in a structured and elegant gown made in a stunning shade of green-that once again proved that she is the 'ultimate queen of the runway'! Kareena was also spotted wearing a stunning lip shade from the new range adding depth and dimension to her showstopper look! Amit Aggarwal's finale collection, named AXIL, was a perfect fit within this theme, as it was built around his vision of future. Just like 3D makeup.
---
With the finale the 5 day star studded extravaganza of glamour and fashion Lakme Fashion Week Summer Resort 2020 came to an end. Stay tuned for more updates.