Our vacations are always packed with multiple things, from luxurious stays to yummy delights to spa indulgences, sightseeing and much much more. So while we were heading to Mussoorie we weren't sure if we will be able to tick off most of our requirements but we were so delighted to find Sterling Mussoorie.
Nestled amidst the tranquil hills of Mussoorie, Sterling Mussoorie proved to be the perfect abode for our family of five. Offering a harmonious mix of relaxation, gastronomic delights, warm hospitality, breathtaking views, spa, and a plethora of exciting activities, our stay was nothing short of extraordinary.

Sterling Mussoorie is a refreshing property in the Queen of Hills. Situated just 10 mins drive away from the touristy Mall road, the lobby itself extended a delightful feeling giving us a view of the hills. The 5.5-acre resort has a total of 111 rooms categorised as Classic Rooms, Premier Rooms and Privilege Suites. We were welcomed with a revitalizing welcome drink in our home away from home. Post the check-in formalities, we were taken to our spacious and comfortable 2-bedroom suite, which was just so perfect for me and my family. The walk till the room was so alluring as well. Passing through the passage cherishing the beautiful view was an experience which can't be expressed in words.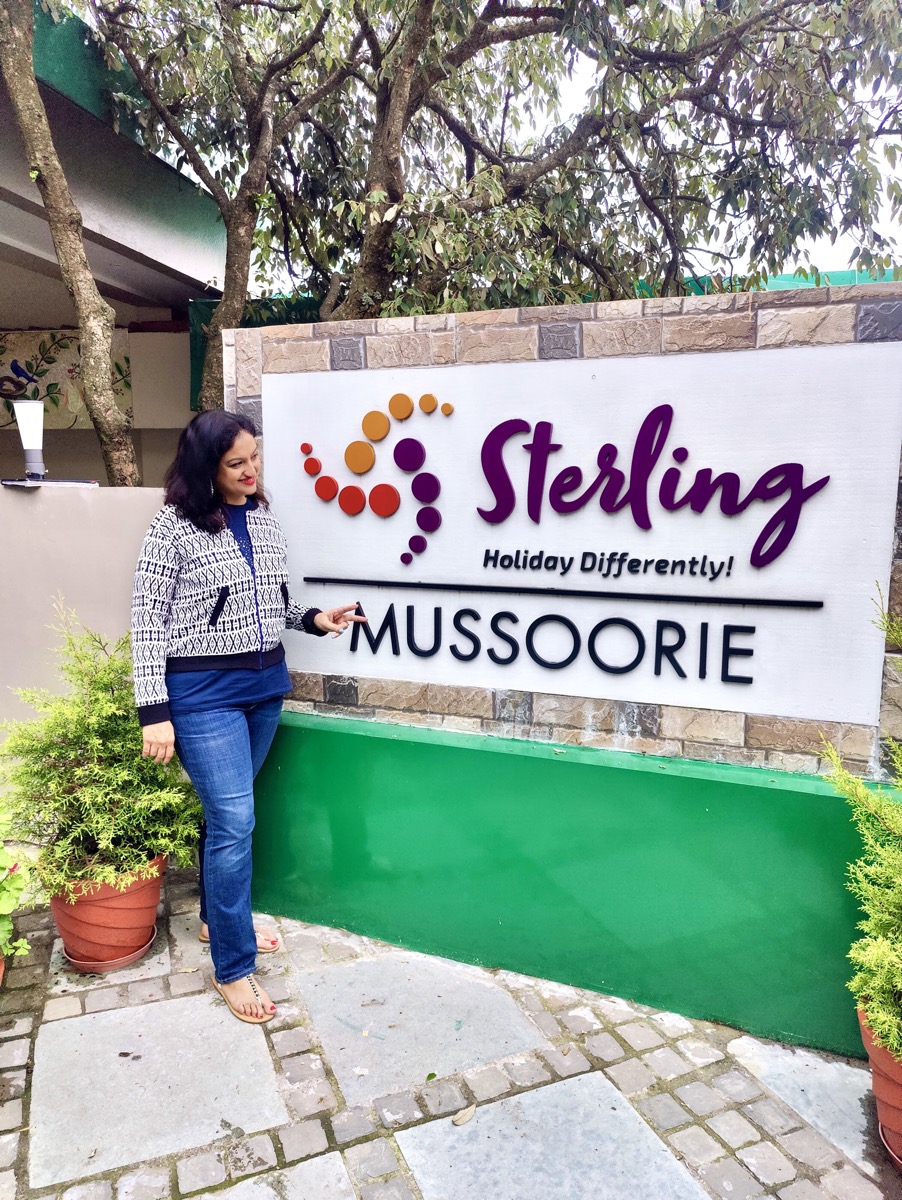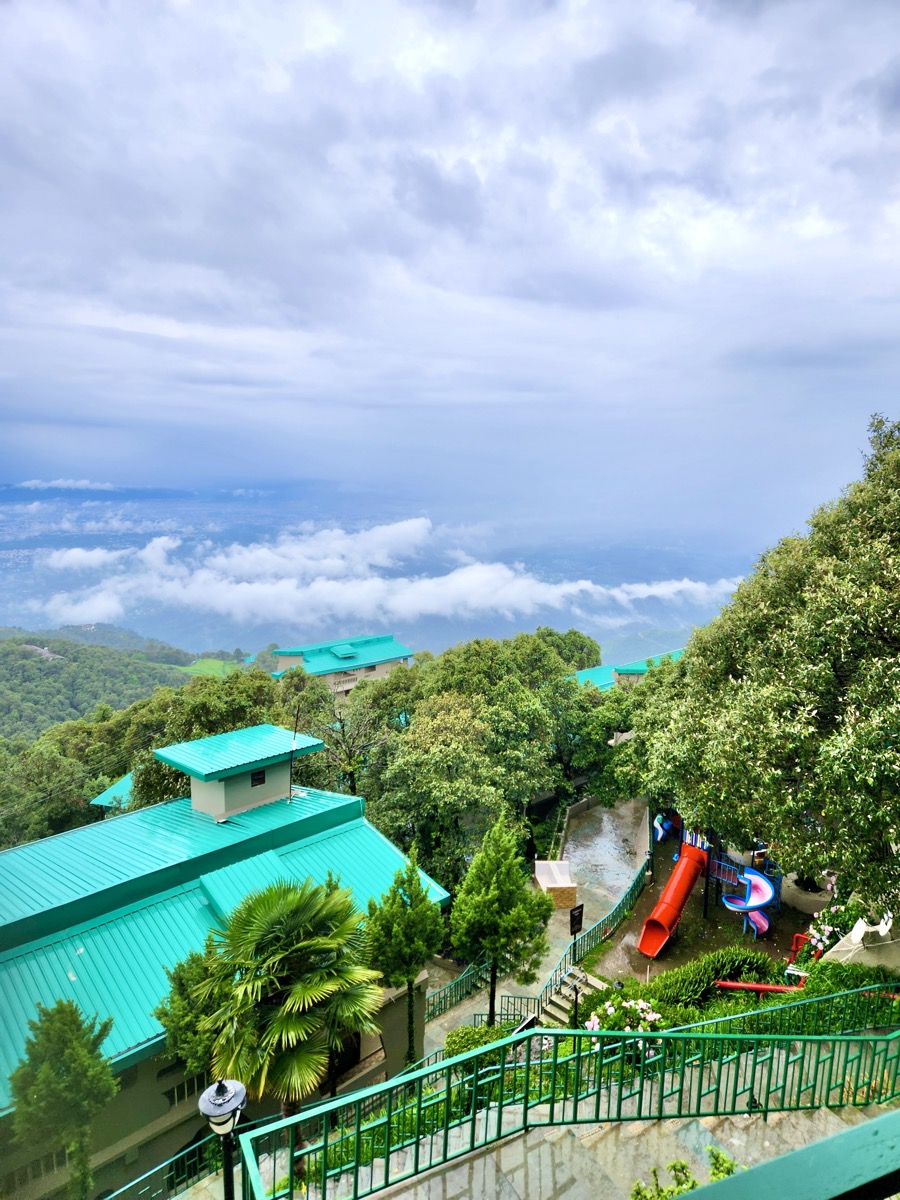 Let me tell you more about our 2 bedroom suite. It opened up to a lovely living room which had every comfort one could seek. Infact, all the rooms have contemporary amenities such as a tea and coffee maker, a hairdryer, a mini-fridge, an LED TV, air conditioning and an iron and iron board on request . However, our Privilege Suite came with even more privileges. The sofa of the living room could be converted into a bed. We also had a private kitchen space with a dining table, microwave and fridge too. A thoughtful touch awaited us in the form of delightful welcome goodies featuring fresh juice, an assortment of fruits, and some dry fruits which made our stay even more cherishable. Not to forget was the mesmerizing view from the attached balcony.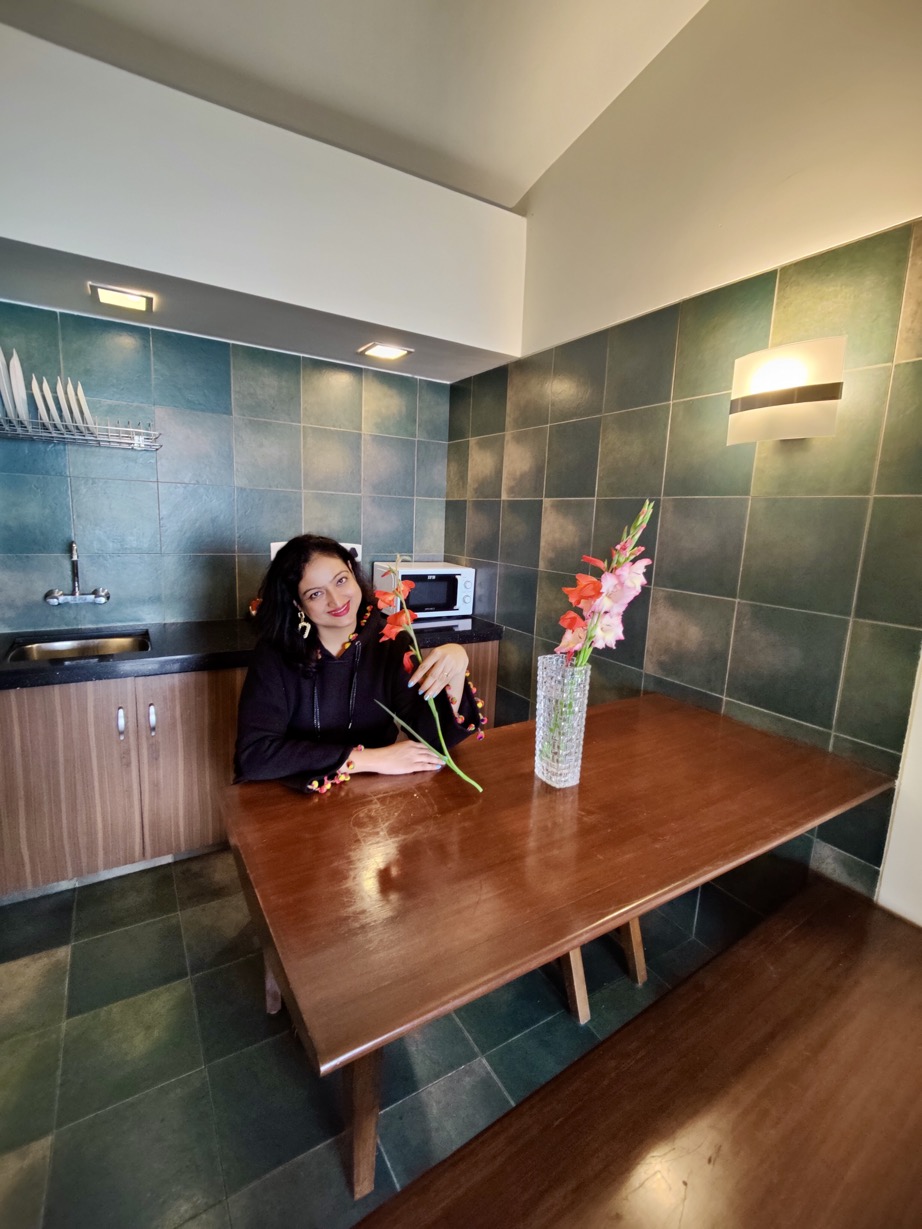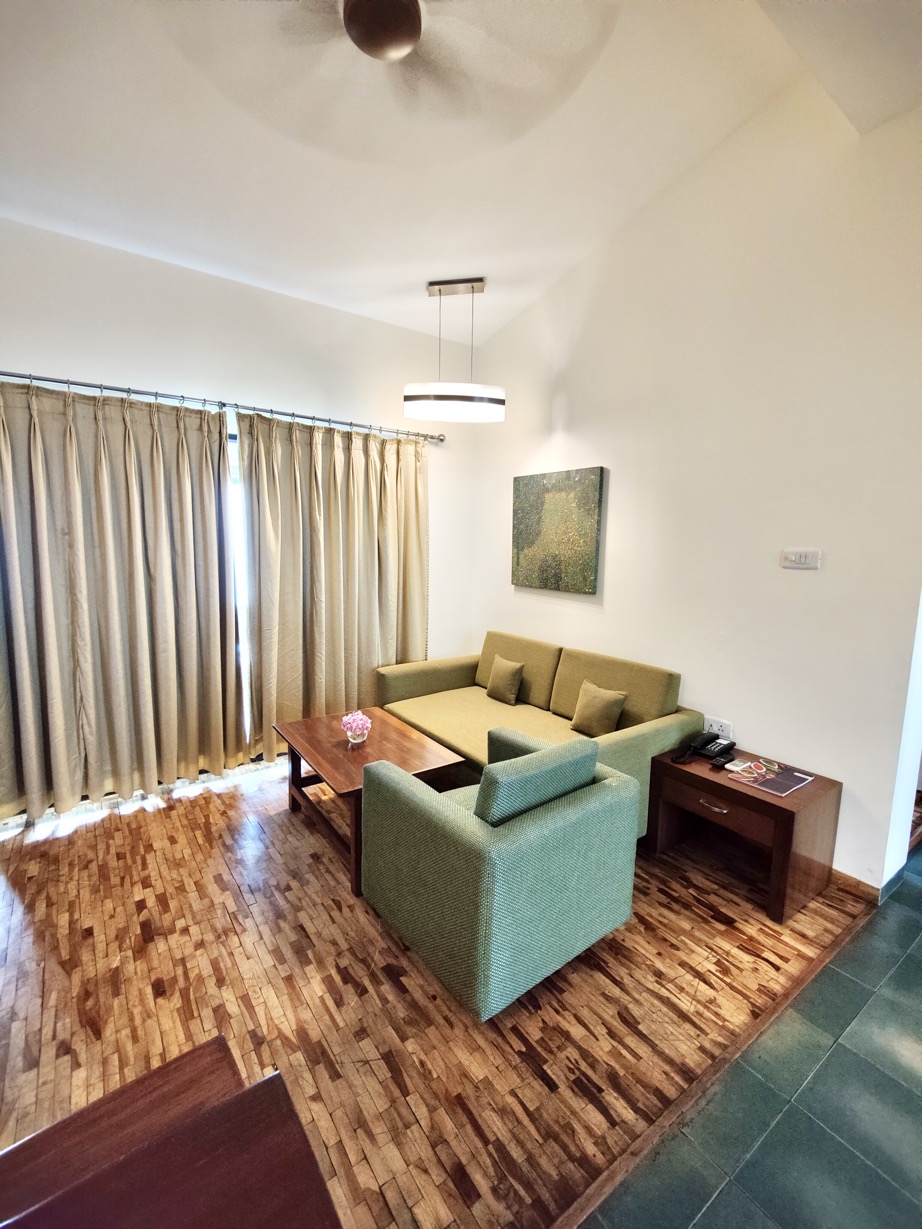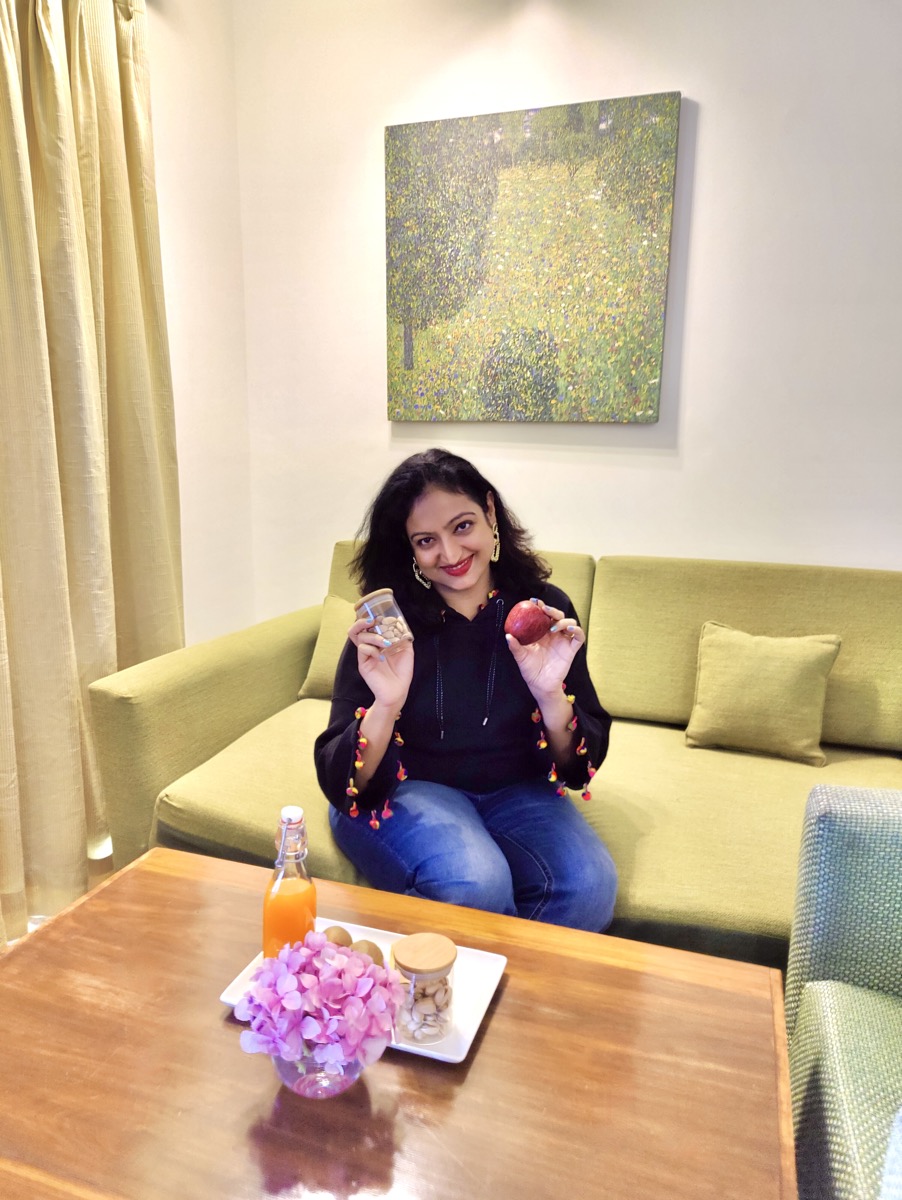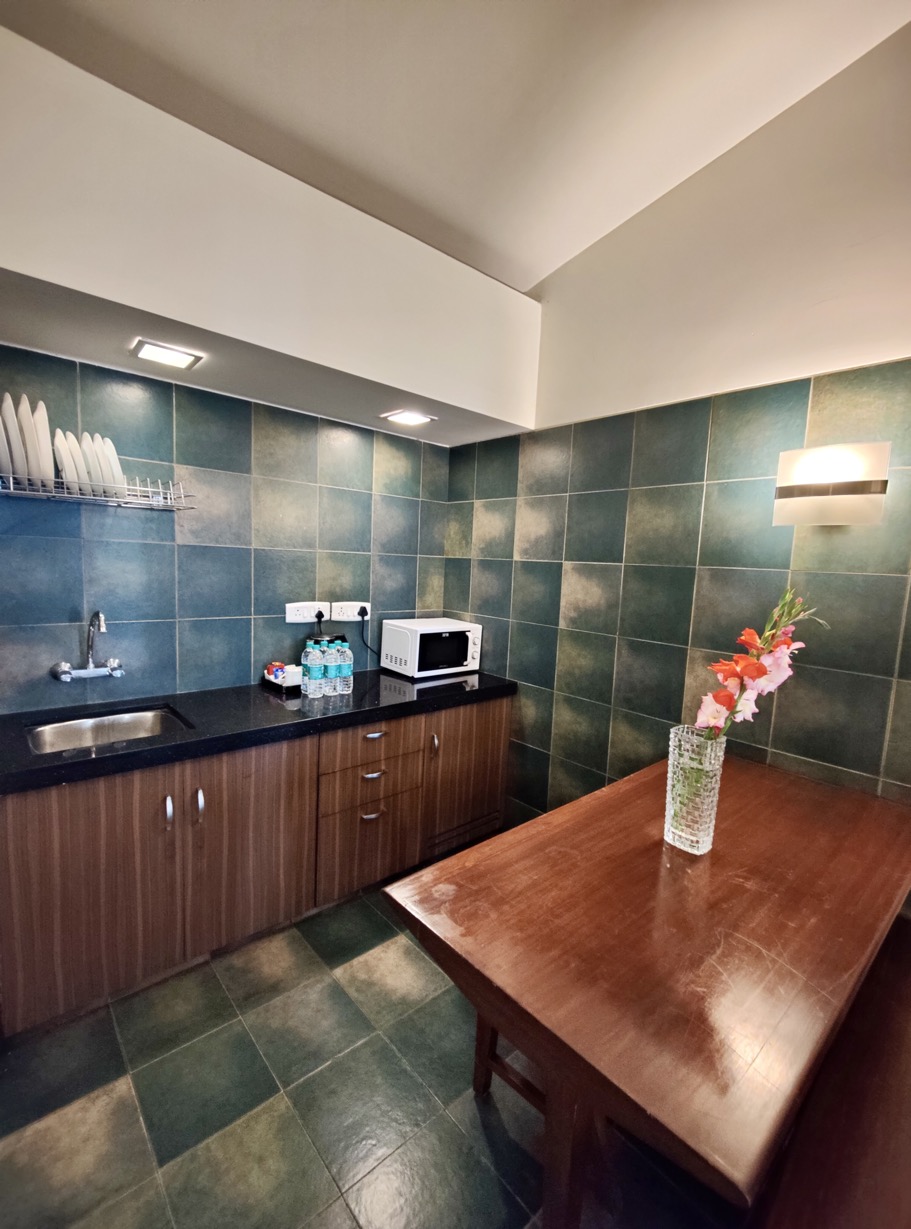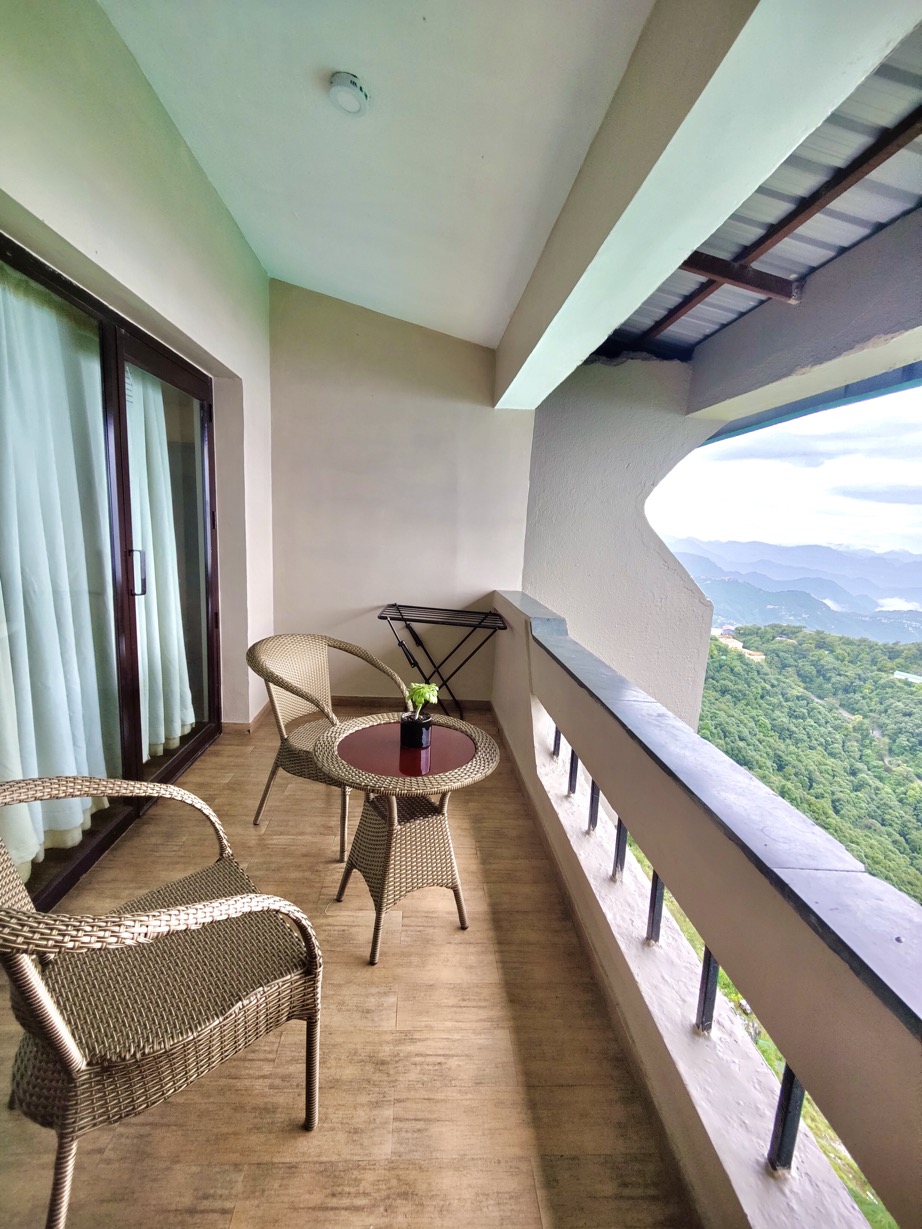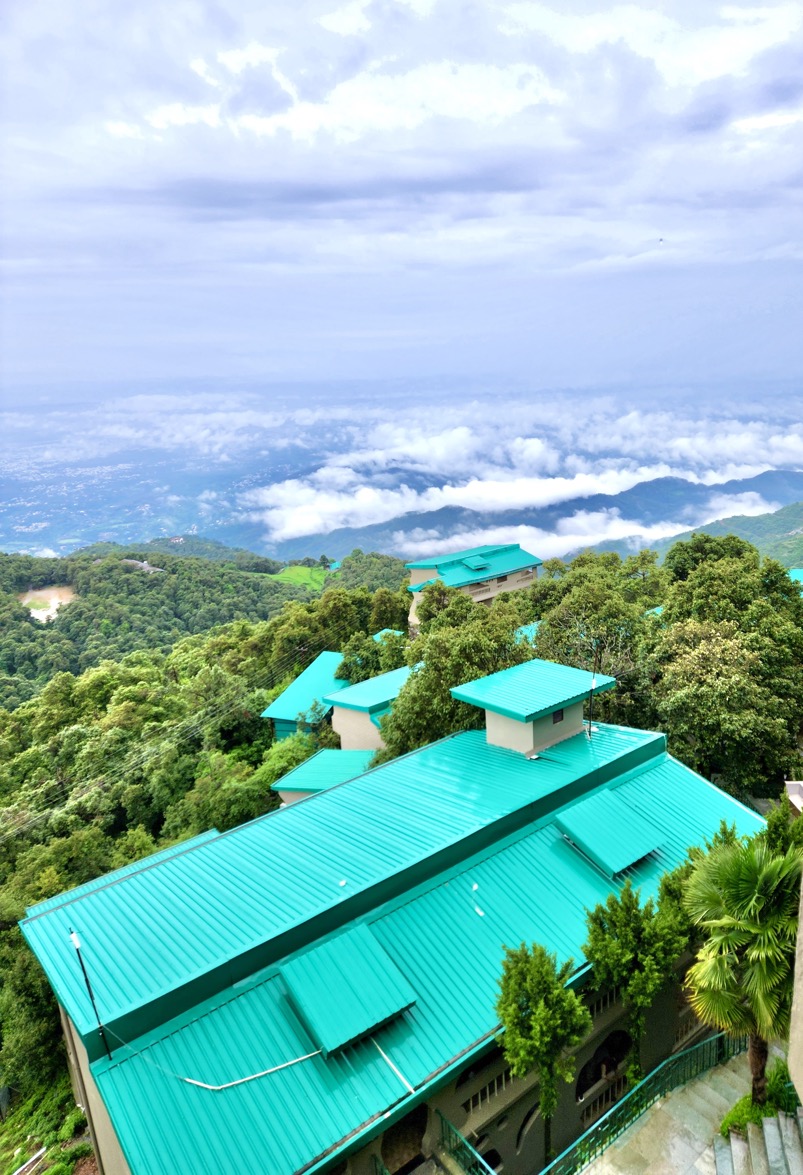 The Master Bedroom was so comforting and plush. Our king bed laid over a wooden flooring and rock tile wall was placed next to our attached balcony. Through the big glasses, I was again lost in the cherishable view, it was a place I would love to live all my life. The 2nd bedroom was also breathtaking beautiful but didn't have a balcony. It had a big glass window extending glimpses of the view.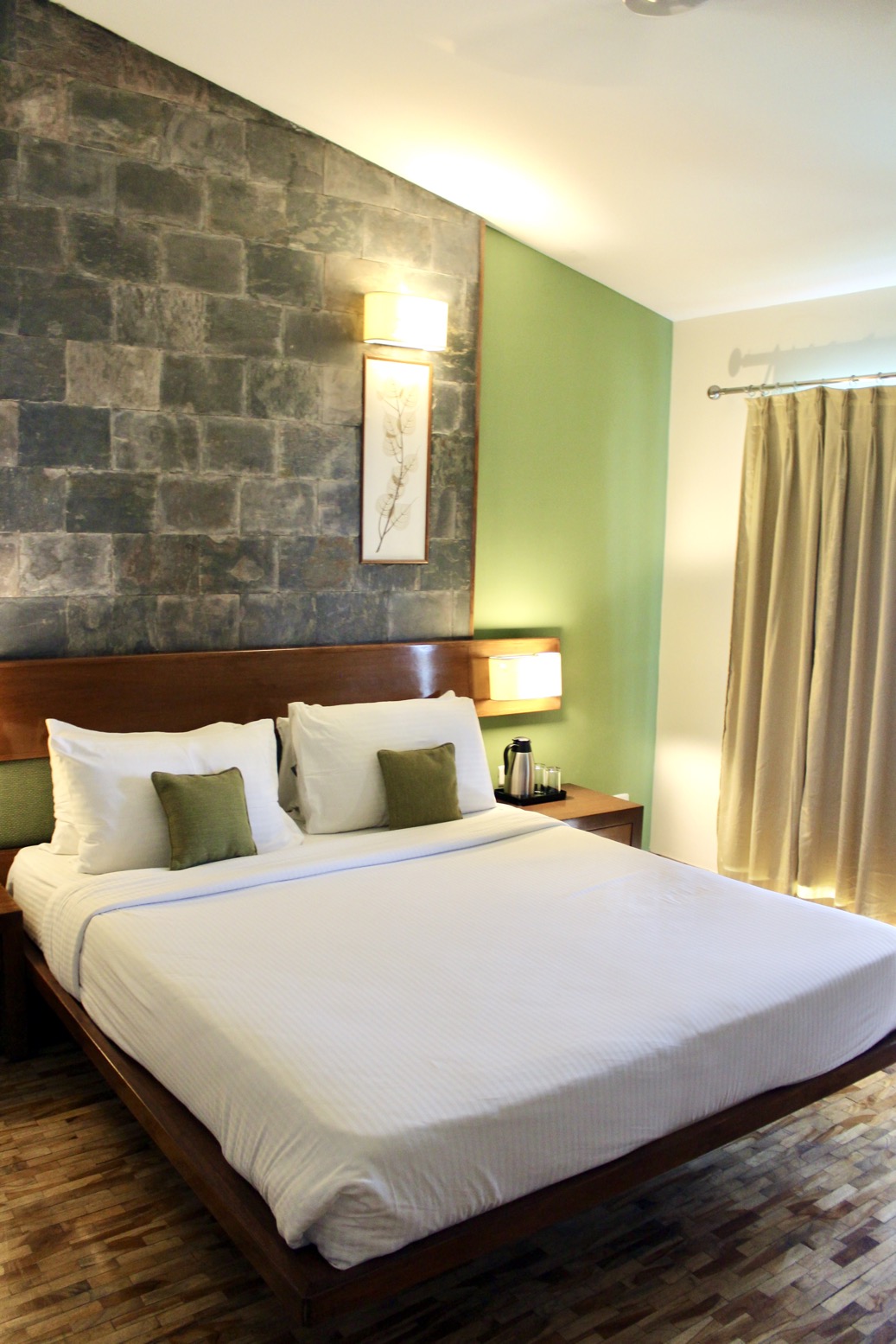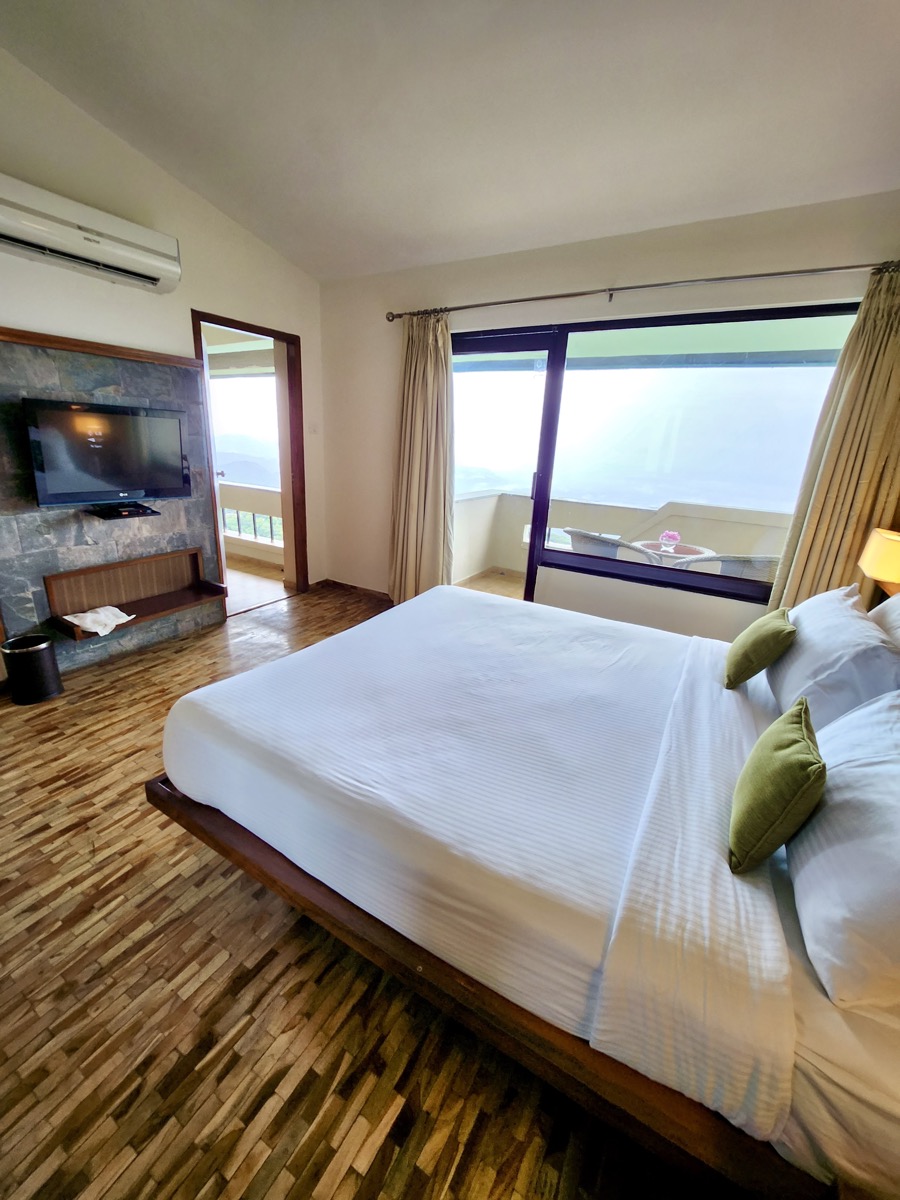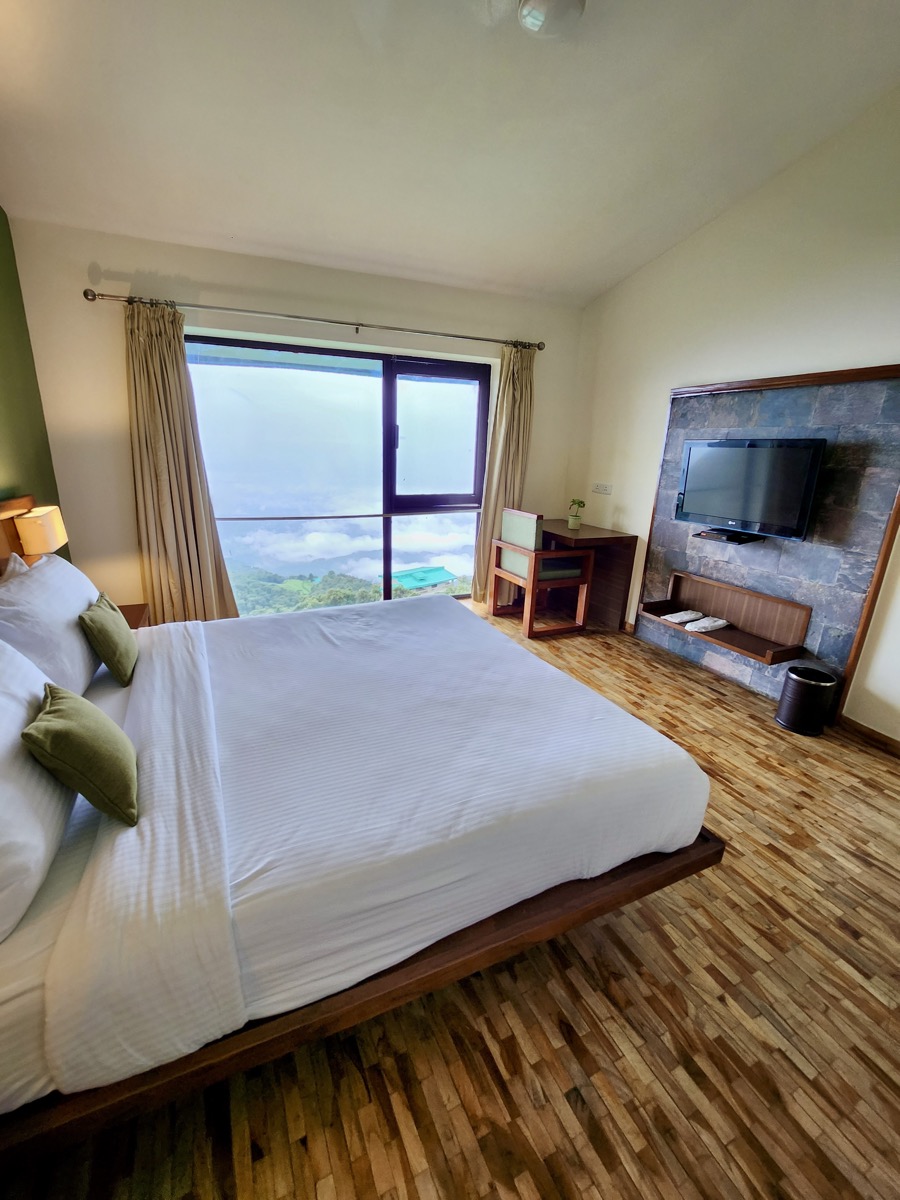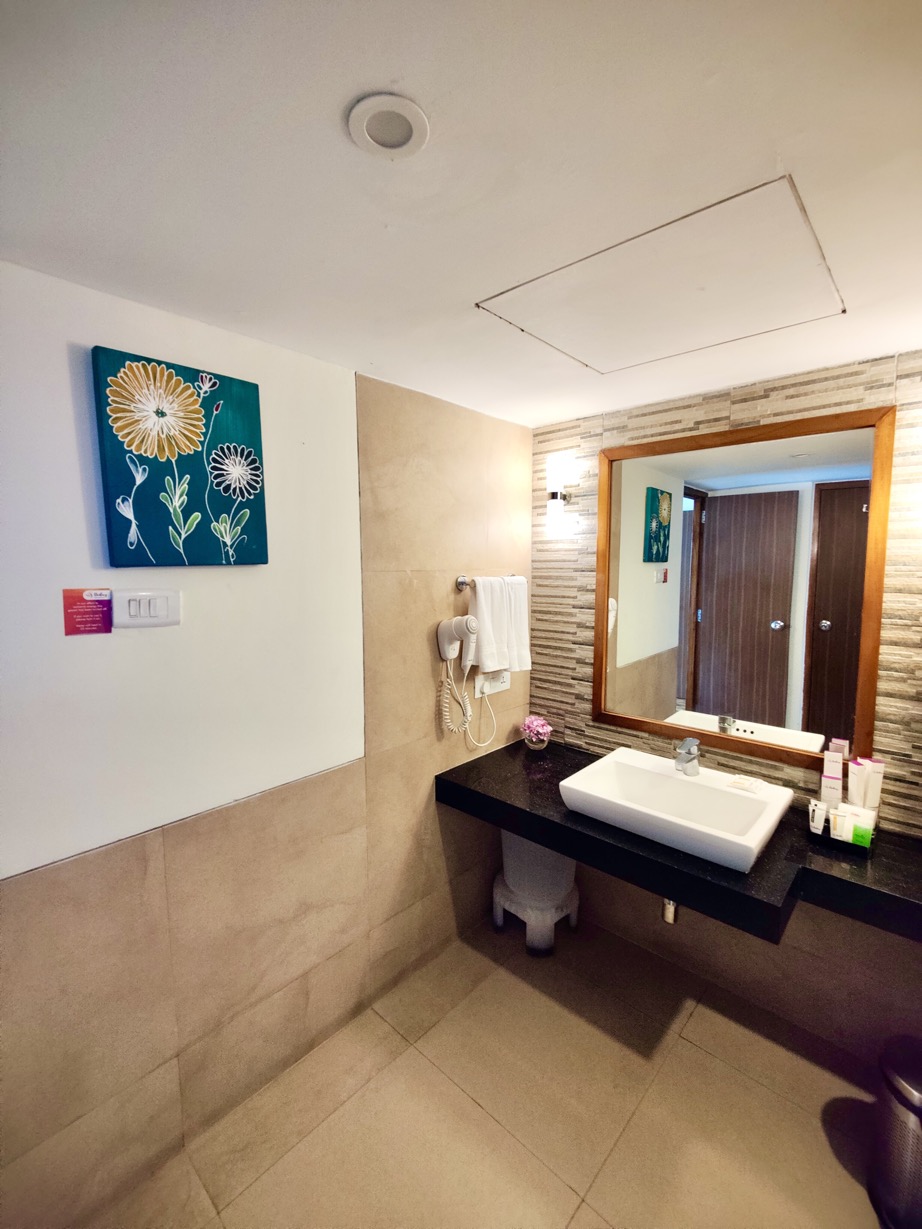 The interconnected bedrooms and the cozy living room, complete with a well-equipped kitchen, a dining table, and a convenient microwave, provided us with all the comfort and convenience we could wish for.
Did I tell you that it was monsoons while we were at the hospitality of Sterling Mussoorie and it called for a rainy day indulgence! With the rain serenading the surroundings, we decided to indulge in a comforting spread of snacks. Our choices included crispy Potato Wedges, an assortment of Mix Pakodas, a mouthwatering Veggie pizza, and the perfect complement, soothing cups of tea accompanied by cookies. We savoured it all in the confines of our private dining space. The entire experience was just so delightful.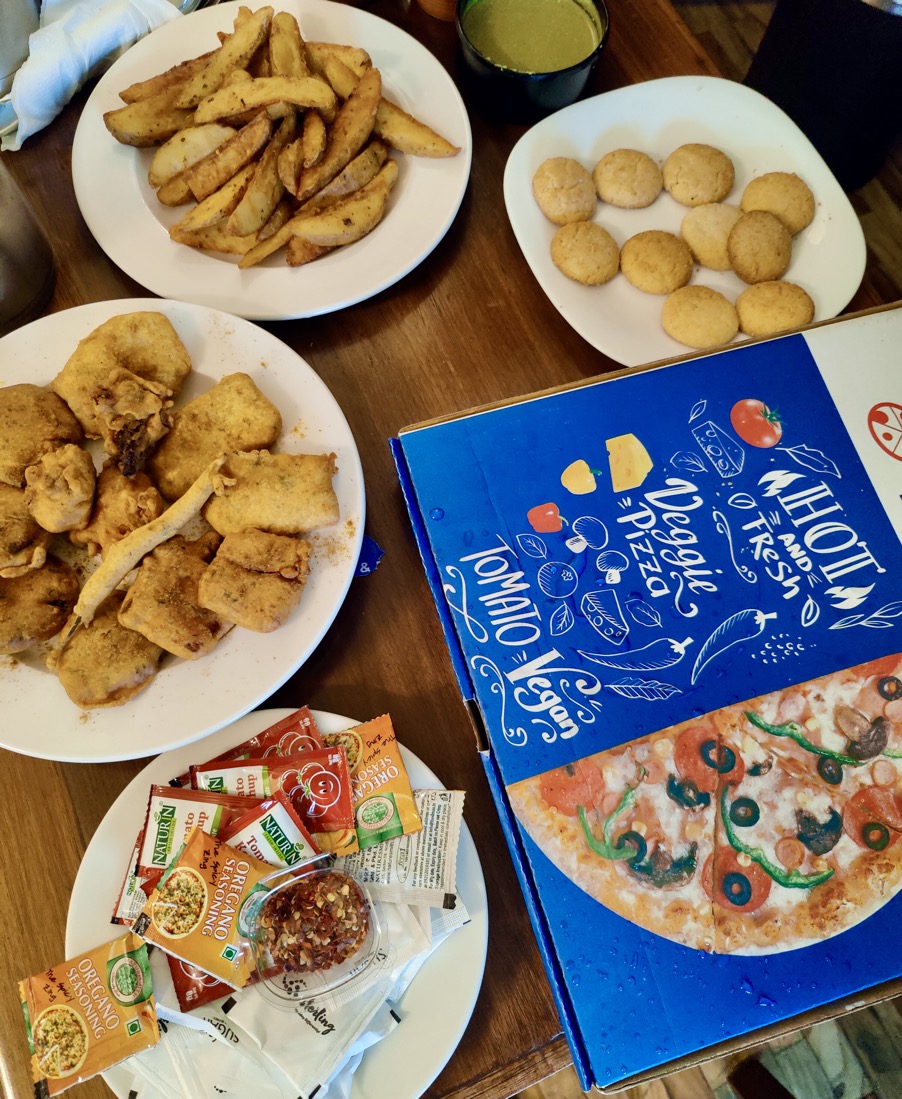 For more relaxation and rejuvenation, we headed to Sterling Mussoorie's Subuthi Spa which provided a haven of serenity. The soothing ambiance, coupled with the expert masseuse , offered us the idea escape from the stresses of daily life. We chose the Aromatherapy massage which took away all our stress away with gentle, soothing strokes in the tranquil spa surroundings.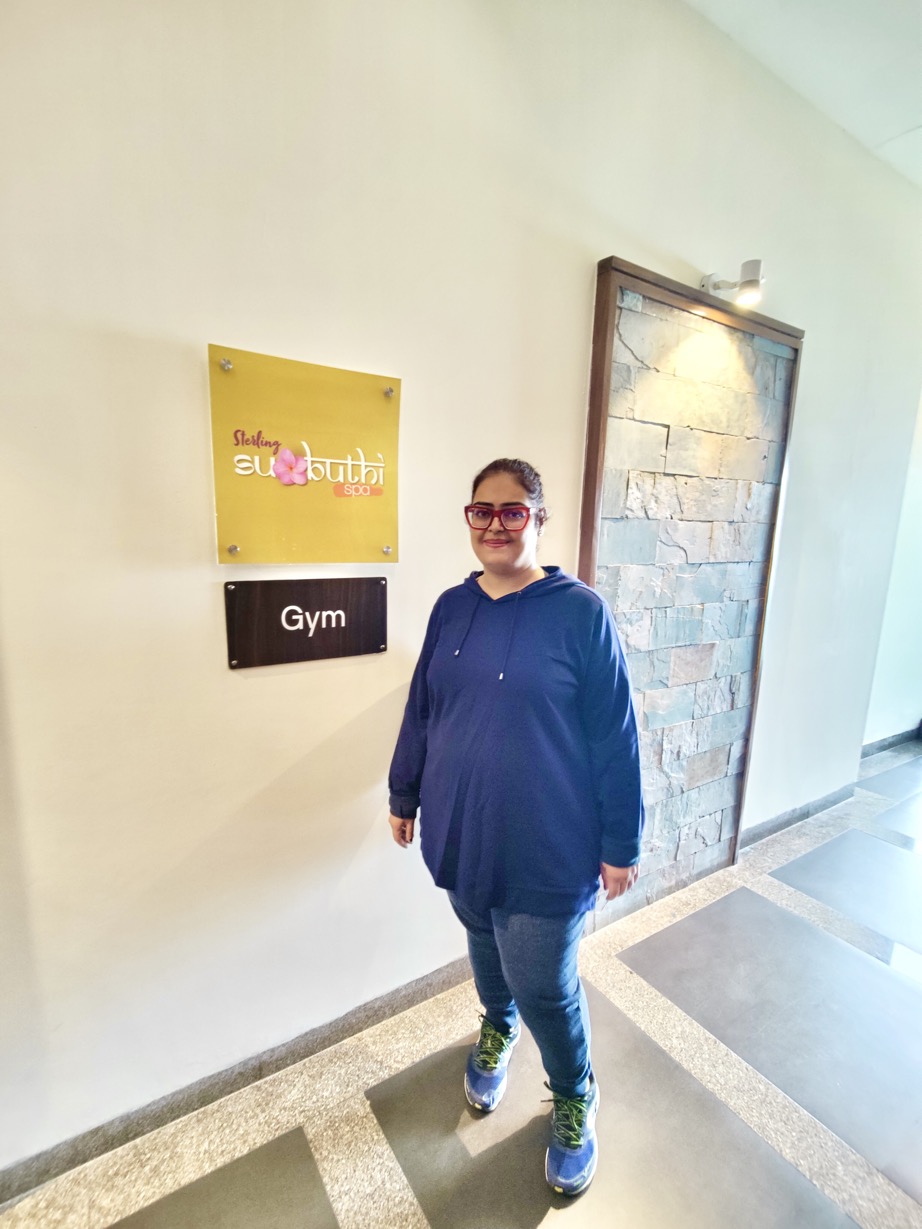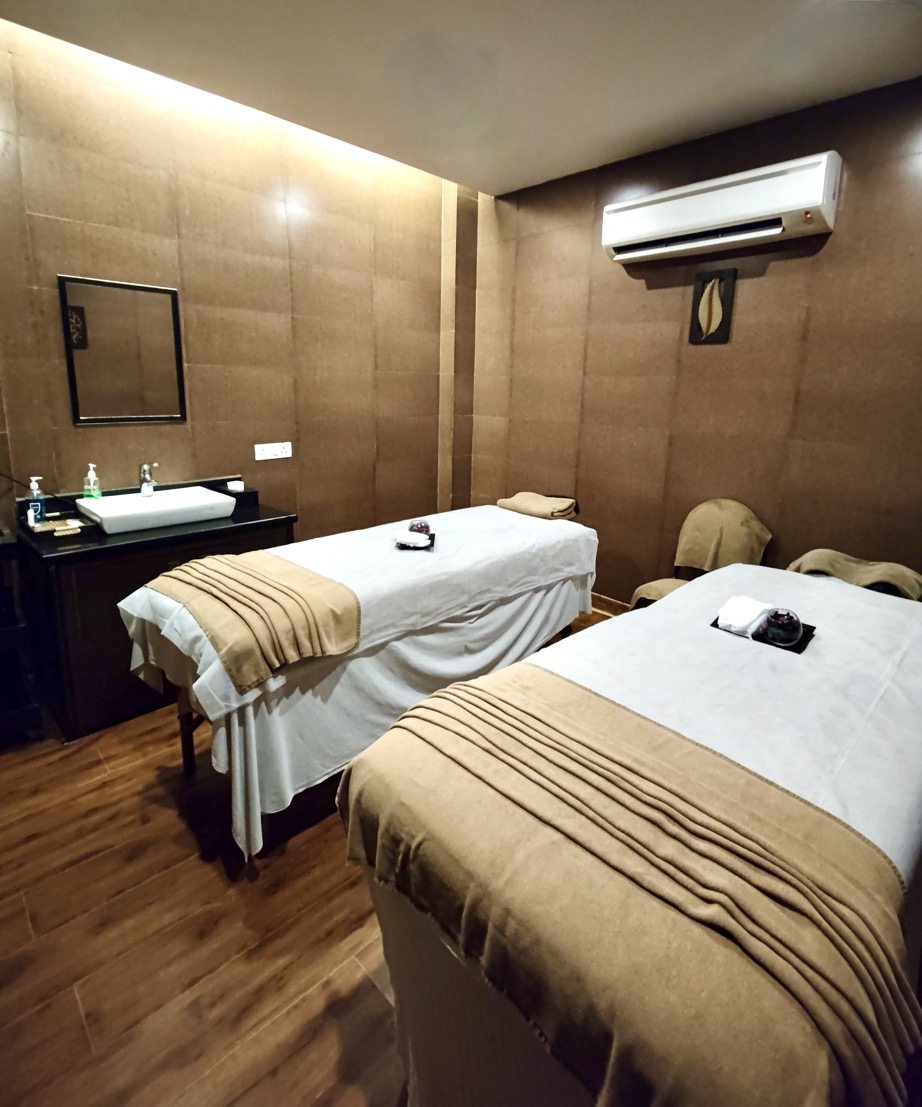 Following our spa retreat we headed back to our room. Since it was raining, we opted to have dinner in our room. Our first dinner at Sterling Mussoorie was a culinary extravaganza. The table was graced with succulent Tandoori chicken, flavorful Dahi ke kabab, rich and creamy Dal Makhani, Palak corn, a wholesome serving of Paneer Bhurji (a saatvik delight), accompanied by Lachcha Paratha, Tandoori Roti, Boondi Raita, and Jeera Rice. To cap off this sumptuous meal, we savored decadent Moong Dal Halwa and Gulab Jamun for dessert. Such a heavenly treat. Our taste buds relished the exquisite flavours.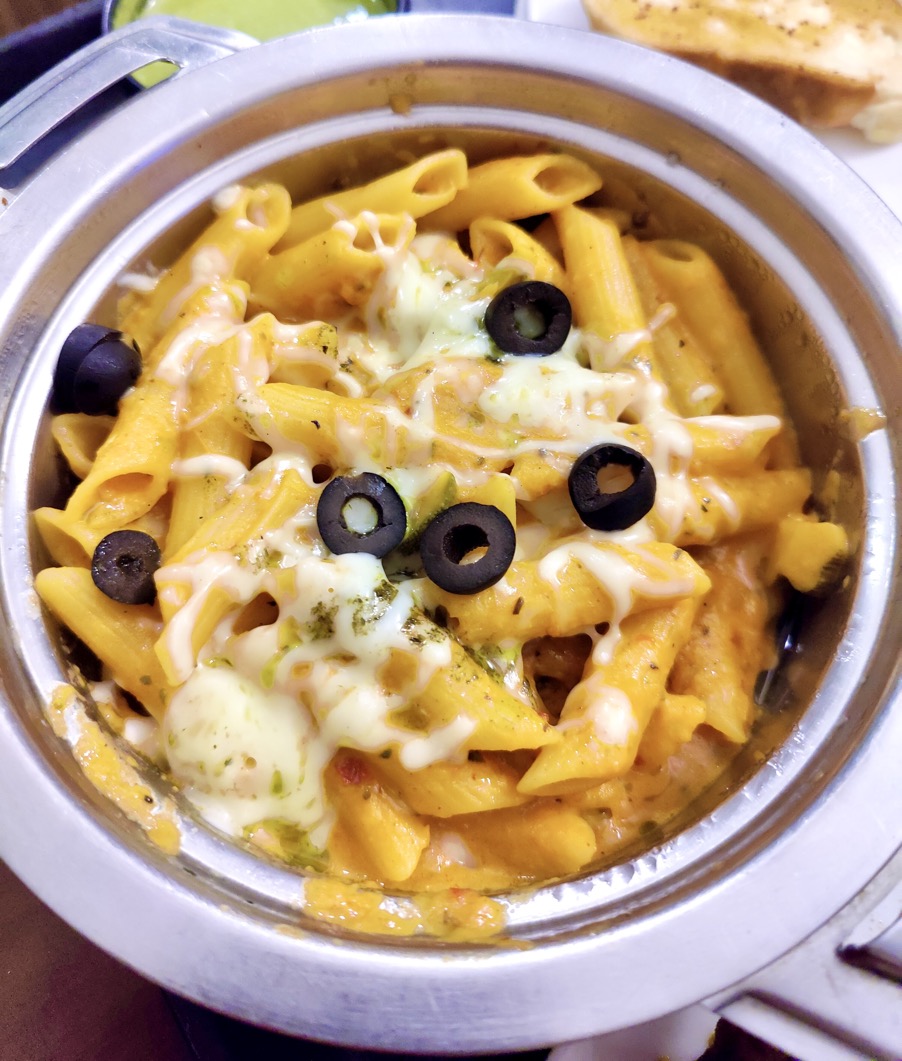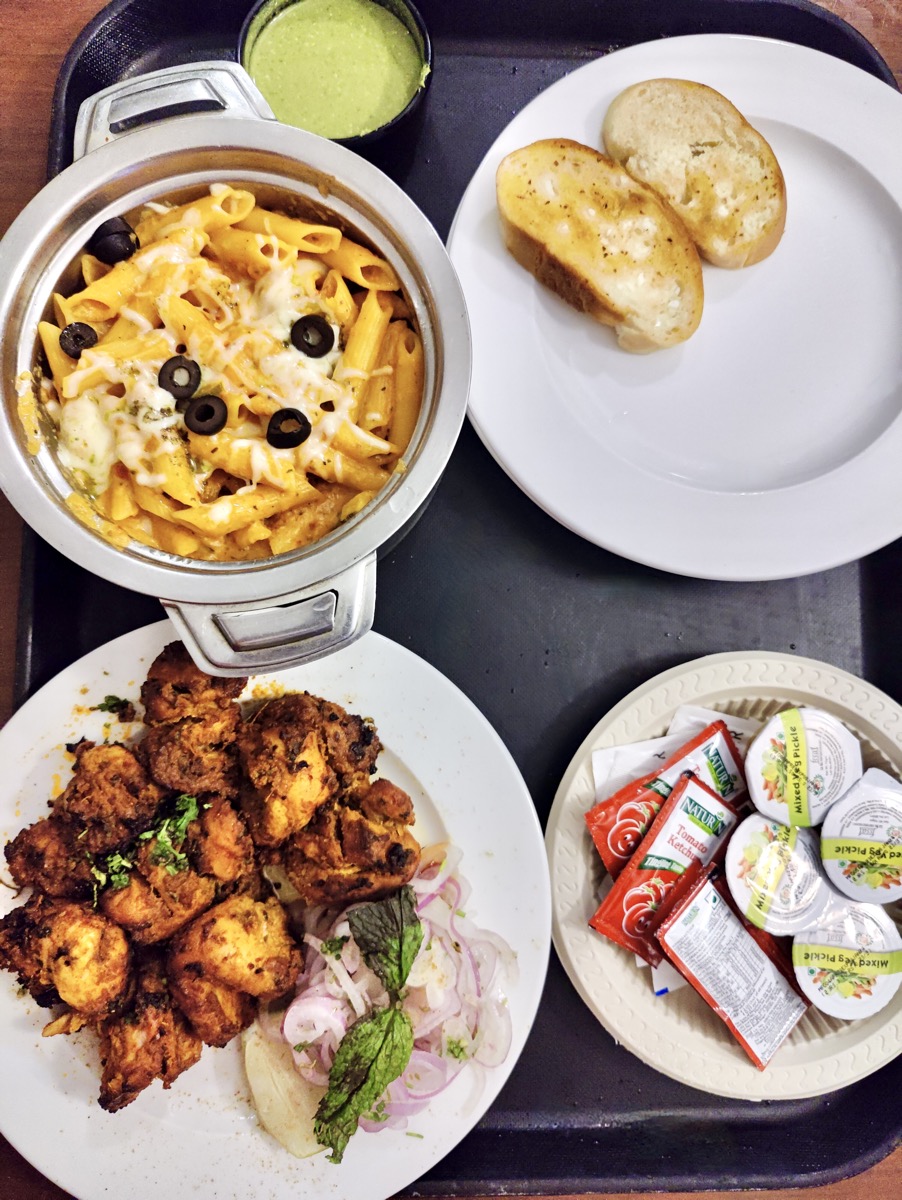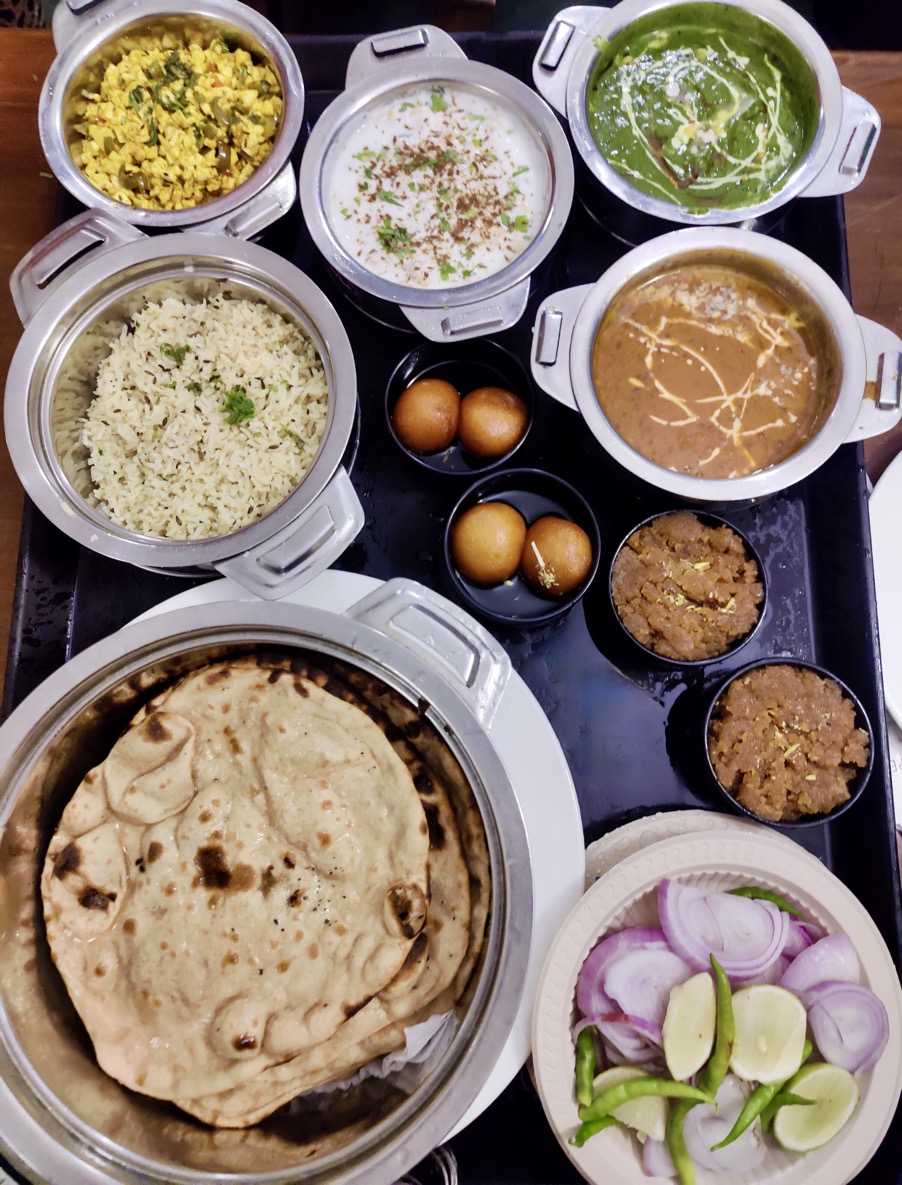 We retired for the night, and the following morning was even more beautiful, with refreshing air and a view to cherish, all from our suite of Sterling Mussoorie.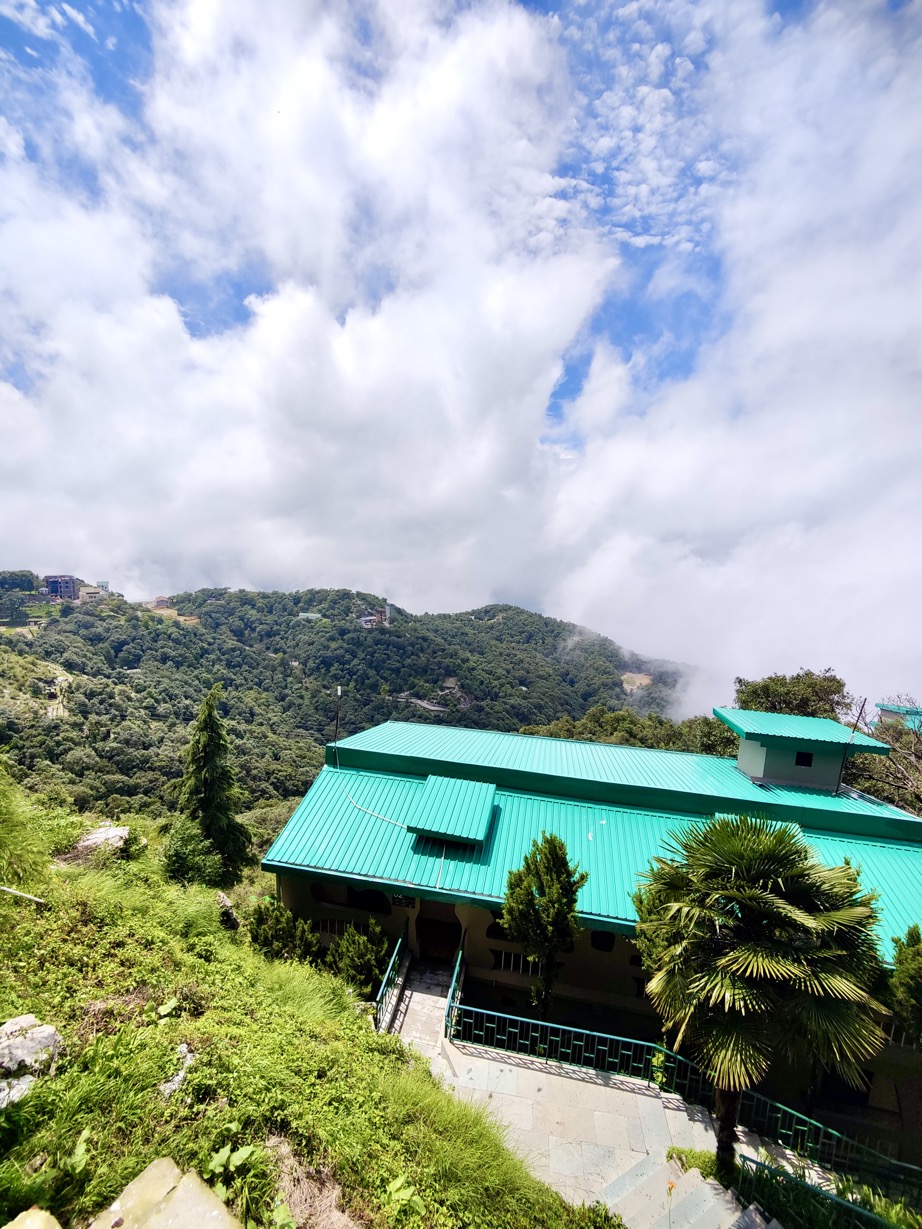 Our day commenced with a hearty breakfast at Doon Diner, the inhouse restaurant of Sterling Resort Mussoorie  where we had the pleasure of meeting Chef Sumeet Garg, who was hard at work in the bustling kitchen. The spread was nothing short of grand, featuring omelettes, a variety of fresh juices, delectable cakes, chicken sausages, perfectly cooked eggs, fluffy parathas, poha, a live dosa/uttapam station, fruits, and the ever-comforting chhole bhature.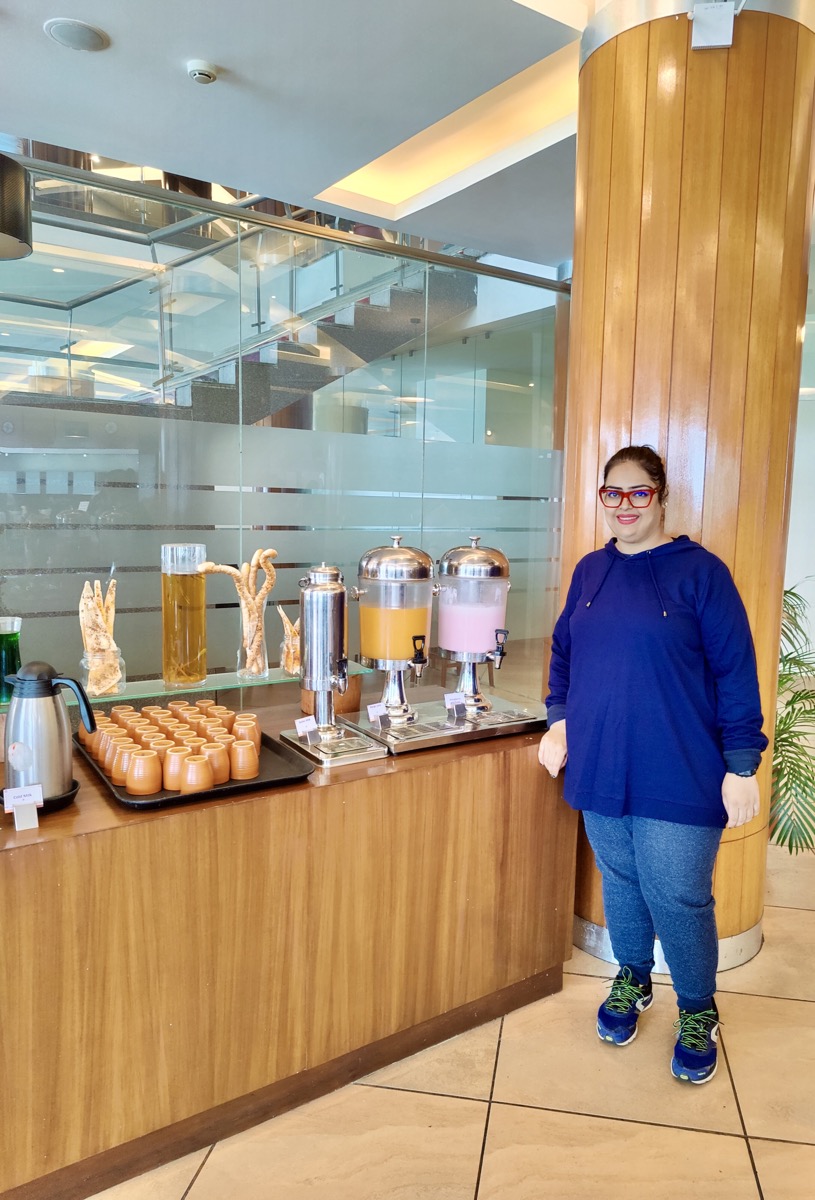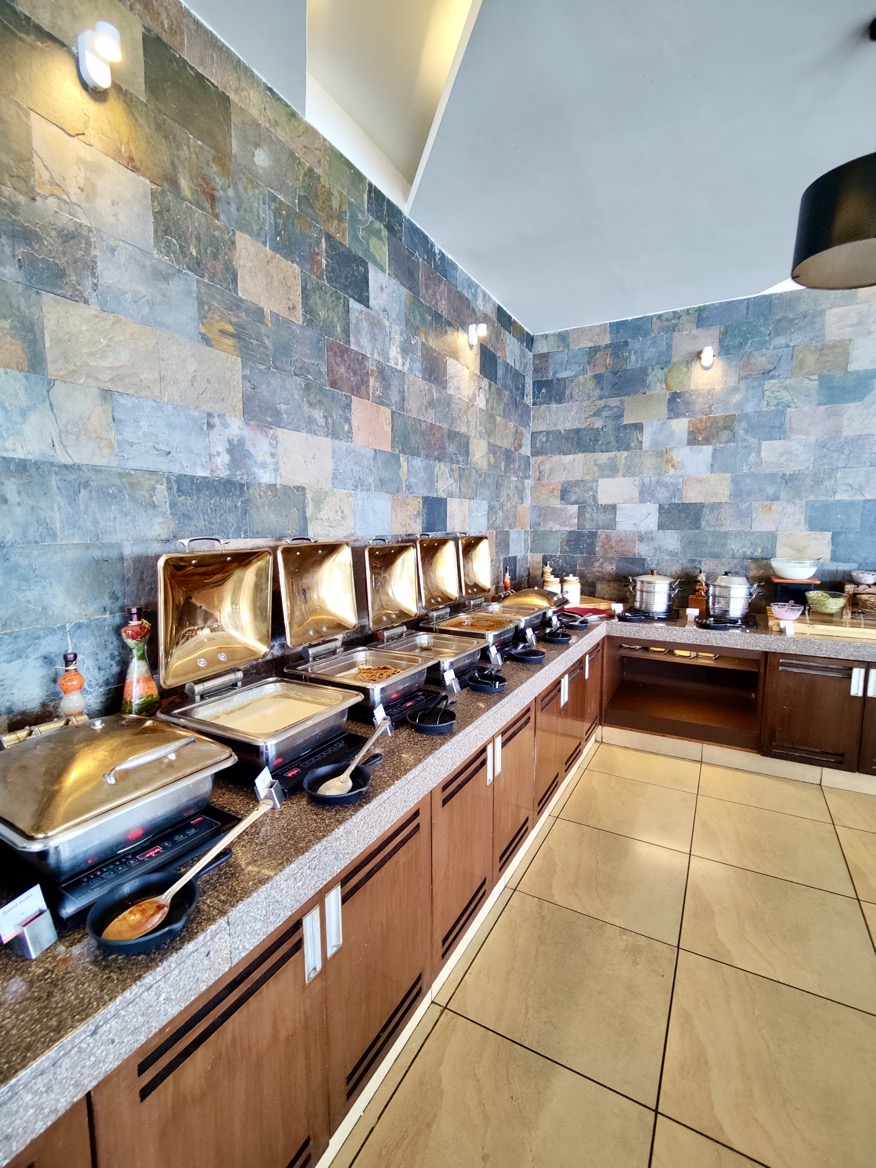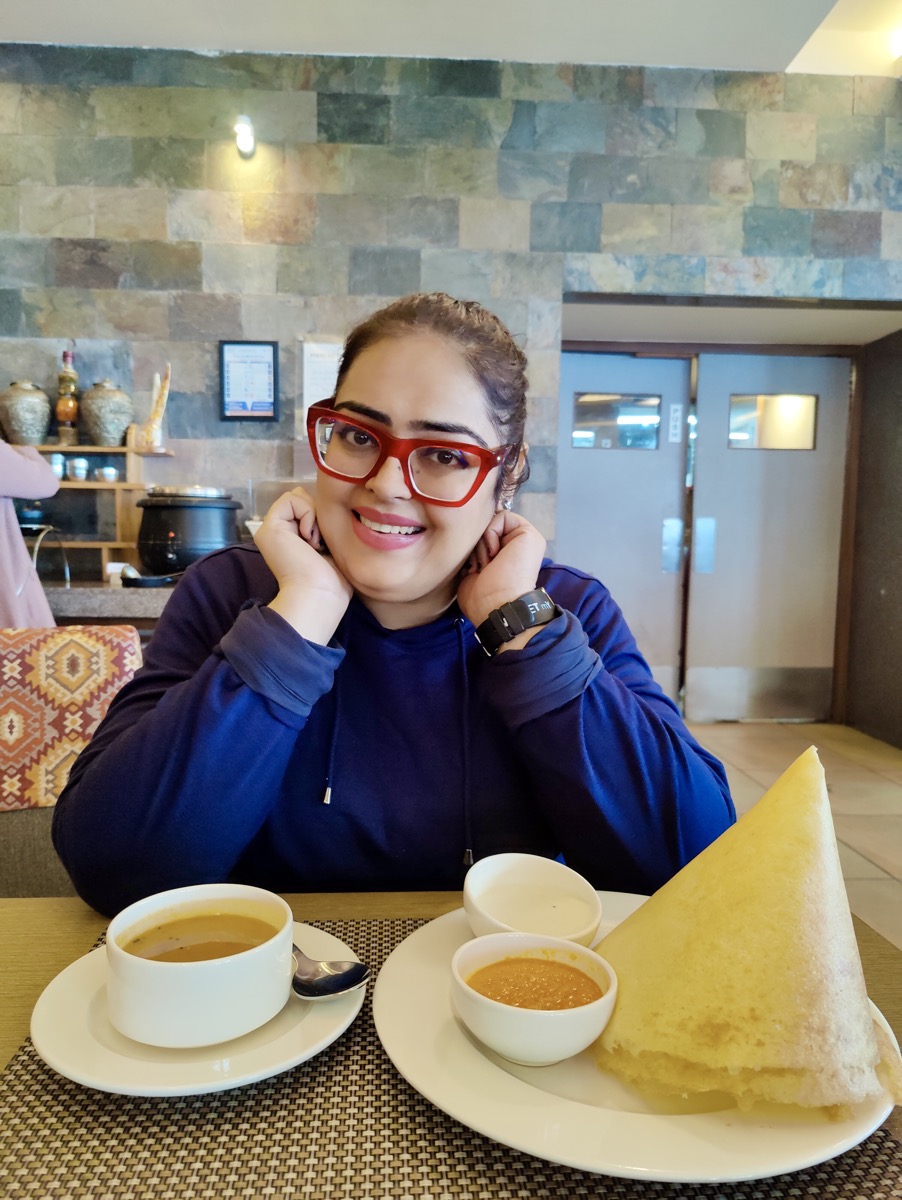 Fitness freaks, don't fret, there is also a spacious and well-equipped gym available for those looking to maintain their fitness routines.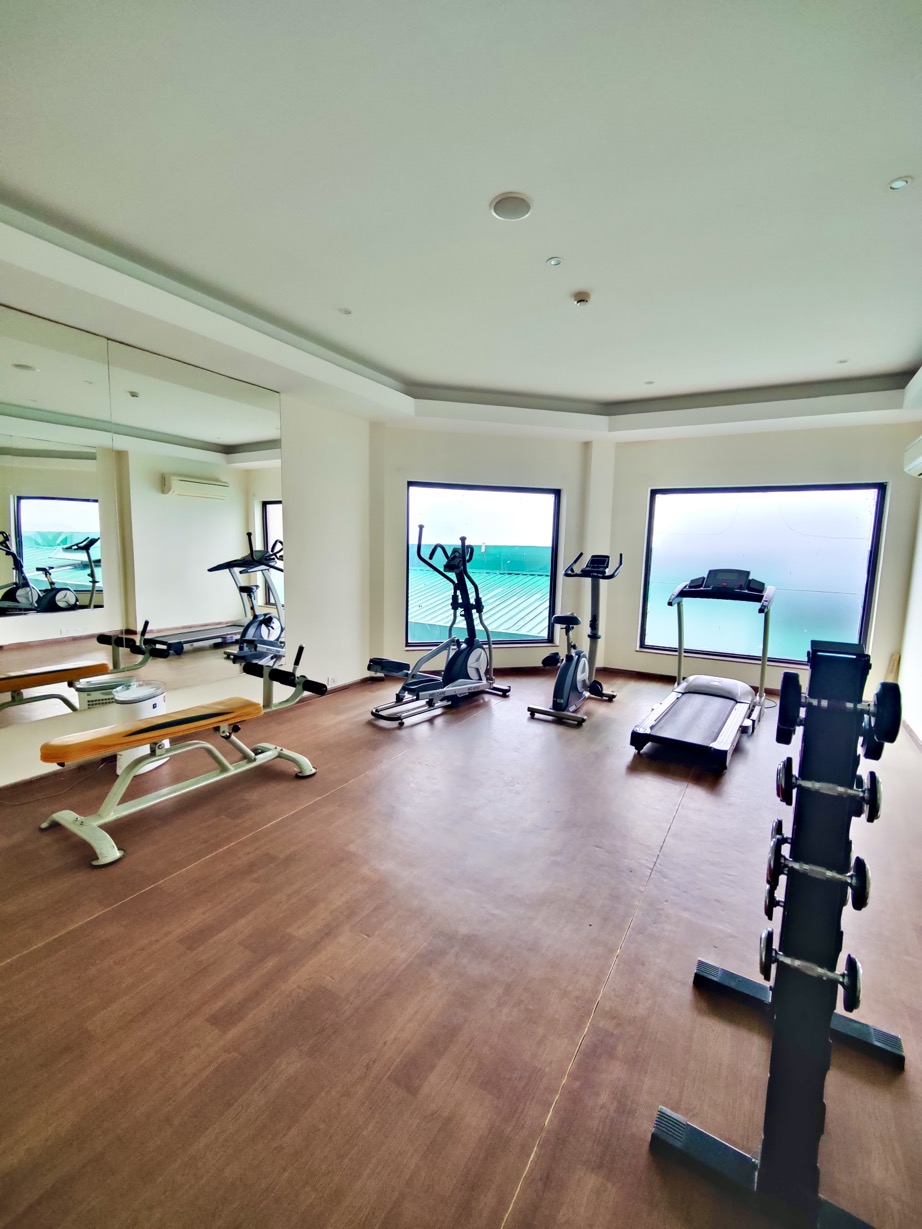 It was time for Adventure and Entertainment and we headed to Sterling Discovery Central, the resort's vibrant gaming room.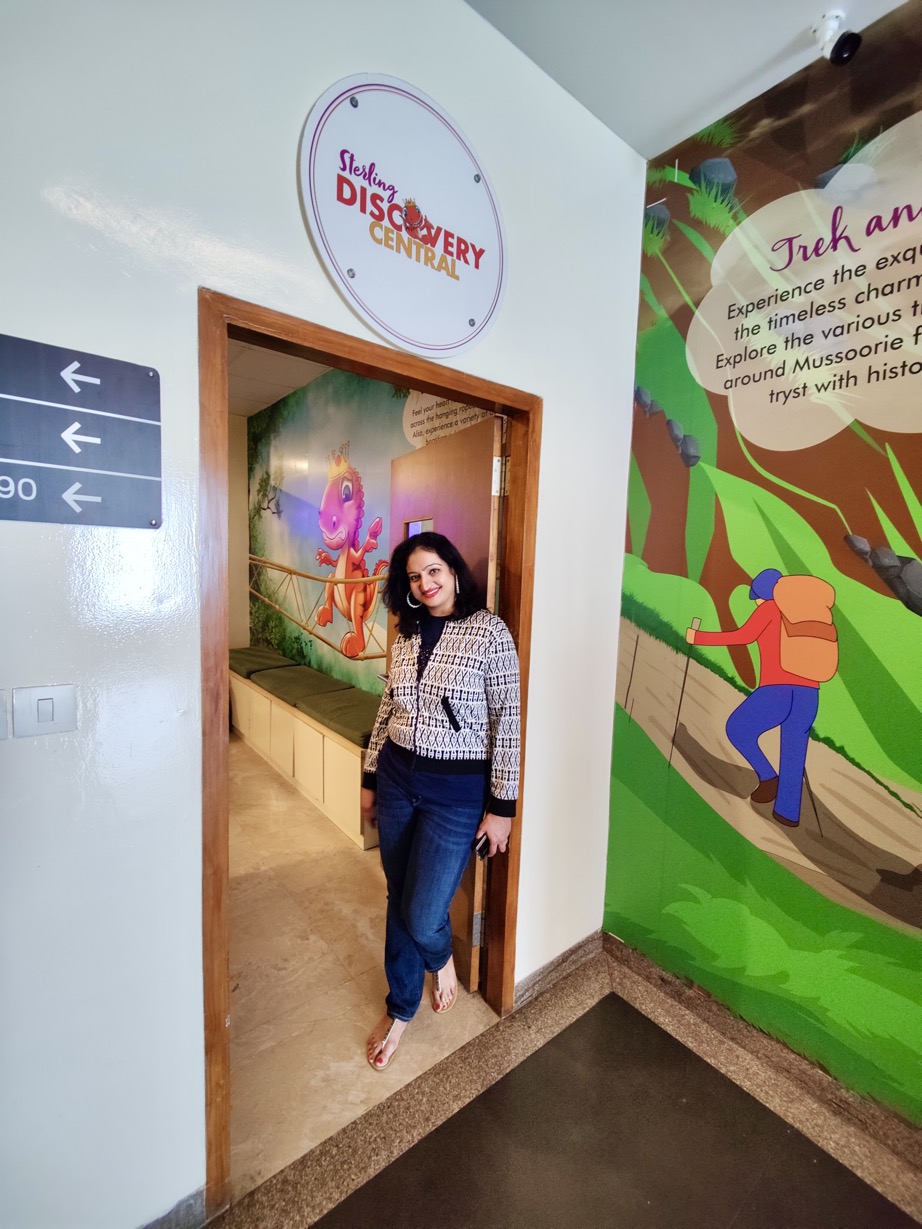 The resort's daily schedule was a treasure trove of activities. The resort organizes multiple activities in-house daily like ludo matches, karaoke nights, canvas painting, tambola, chess tournament and SO much more! The game room became our favorite hangout, with carrom, air hockey and foosball battles turning us into friendly rivals.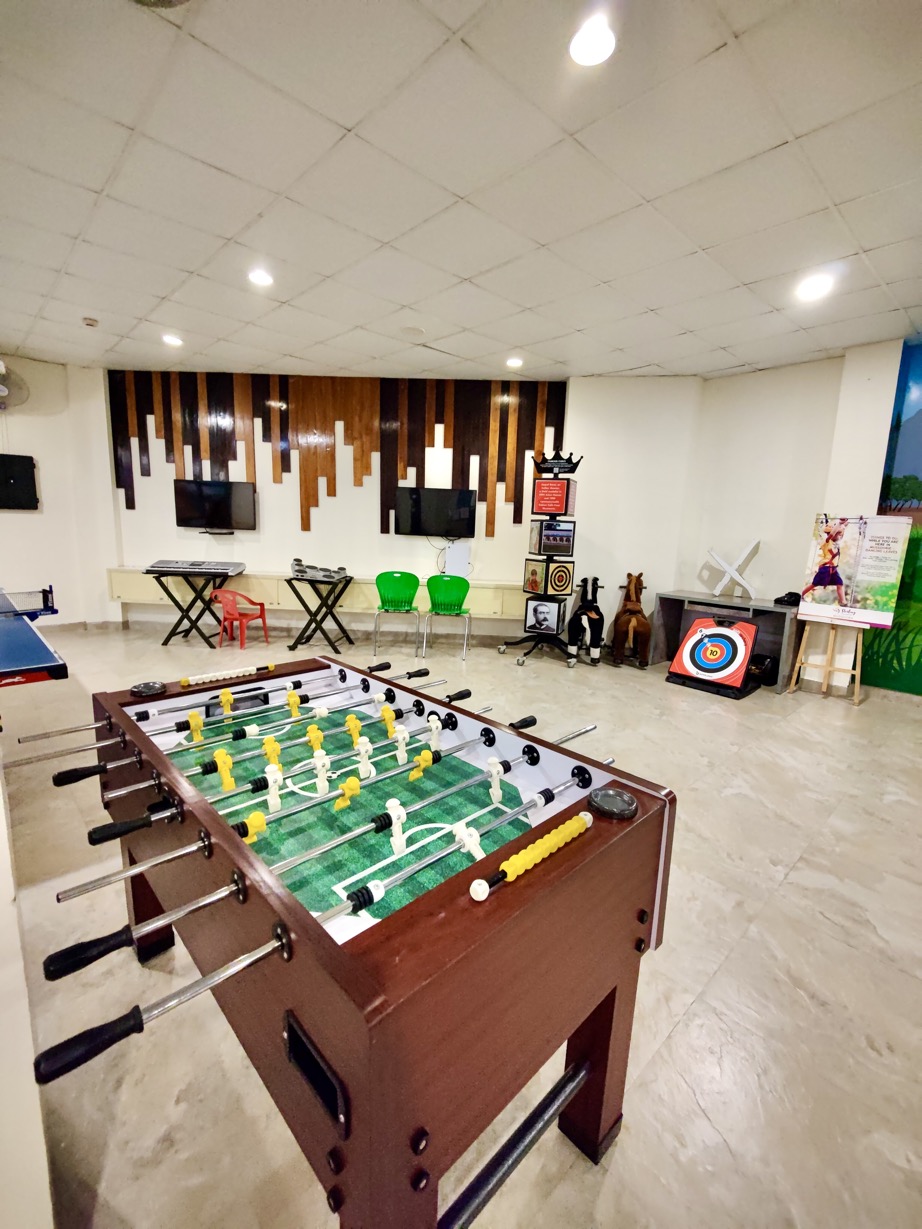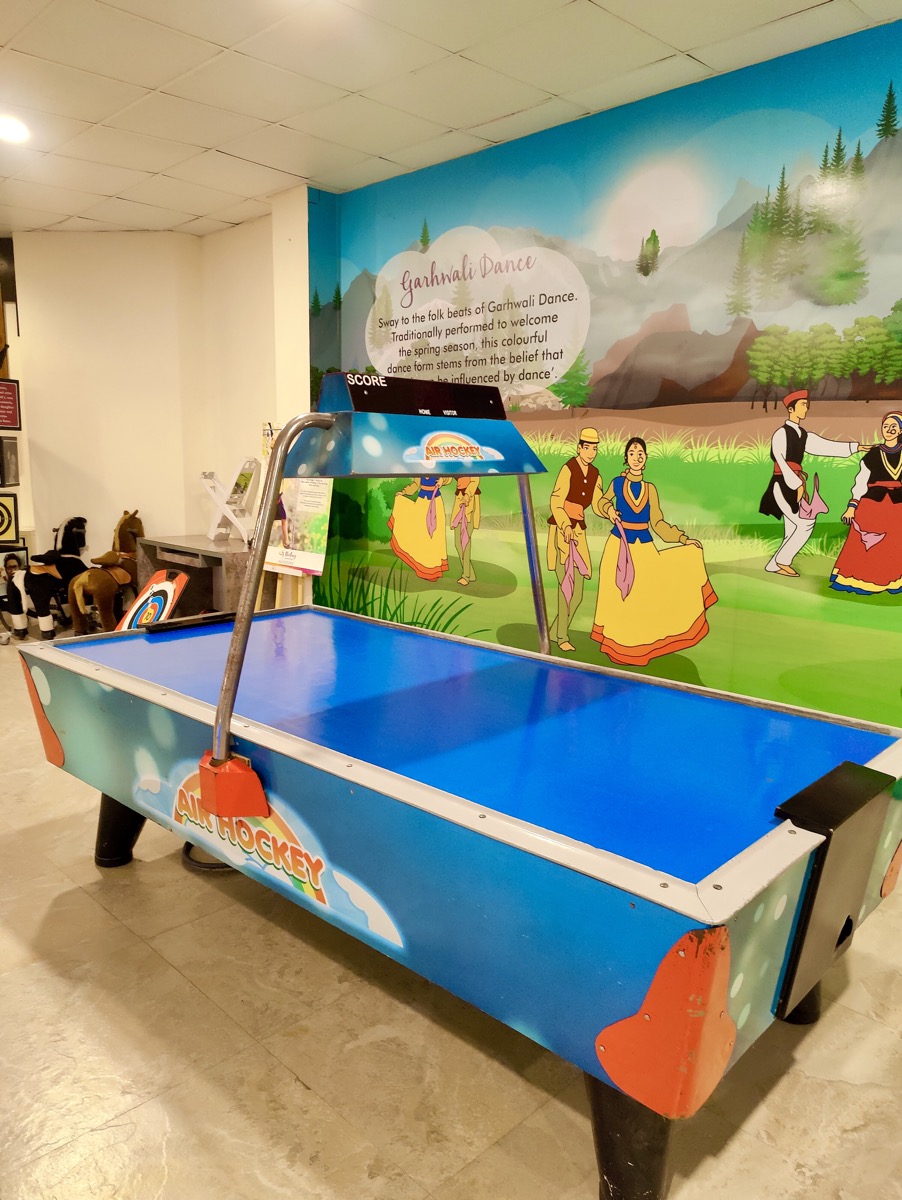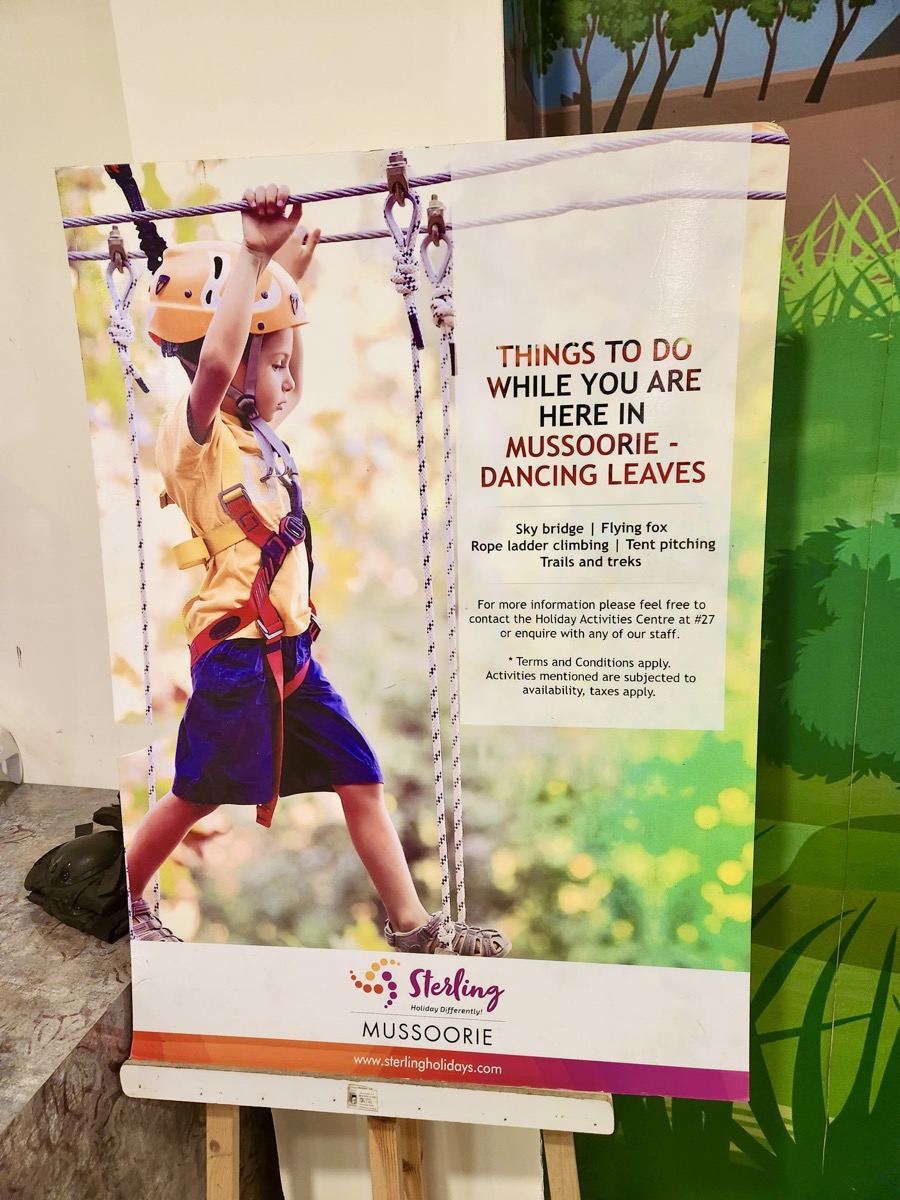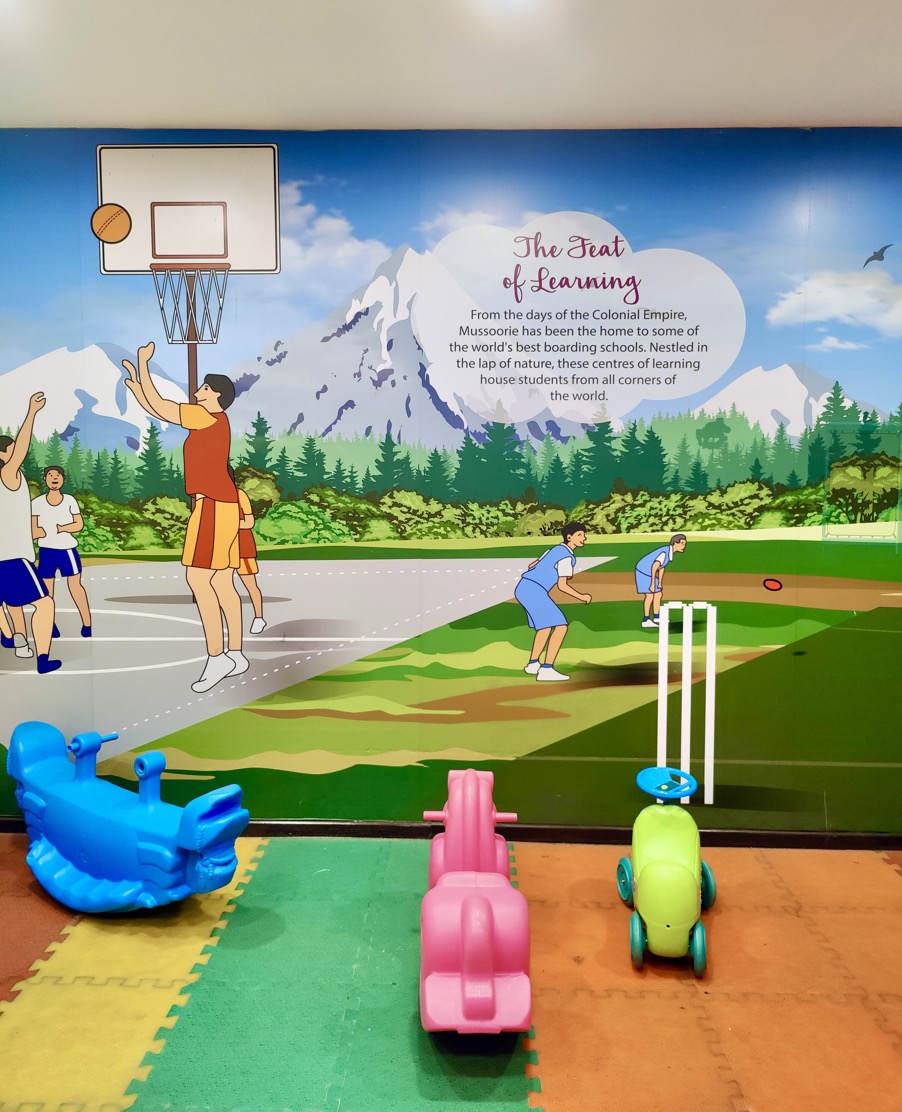 We also explored the fish spa…it was so much fun. We didn't even realise how time flew by. For families traveling with kids, this aspect of Sterling Mussoorie is an absolute delight.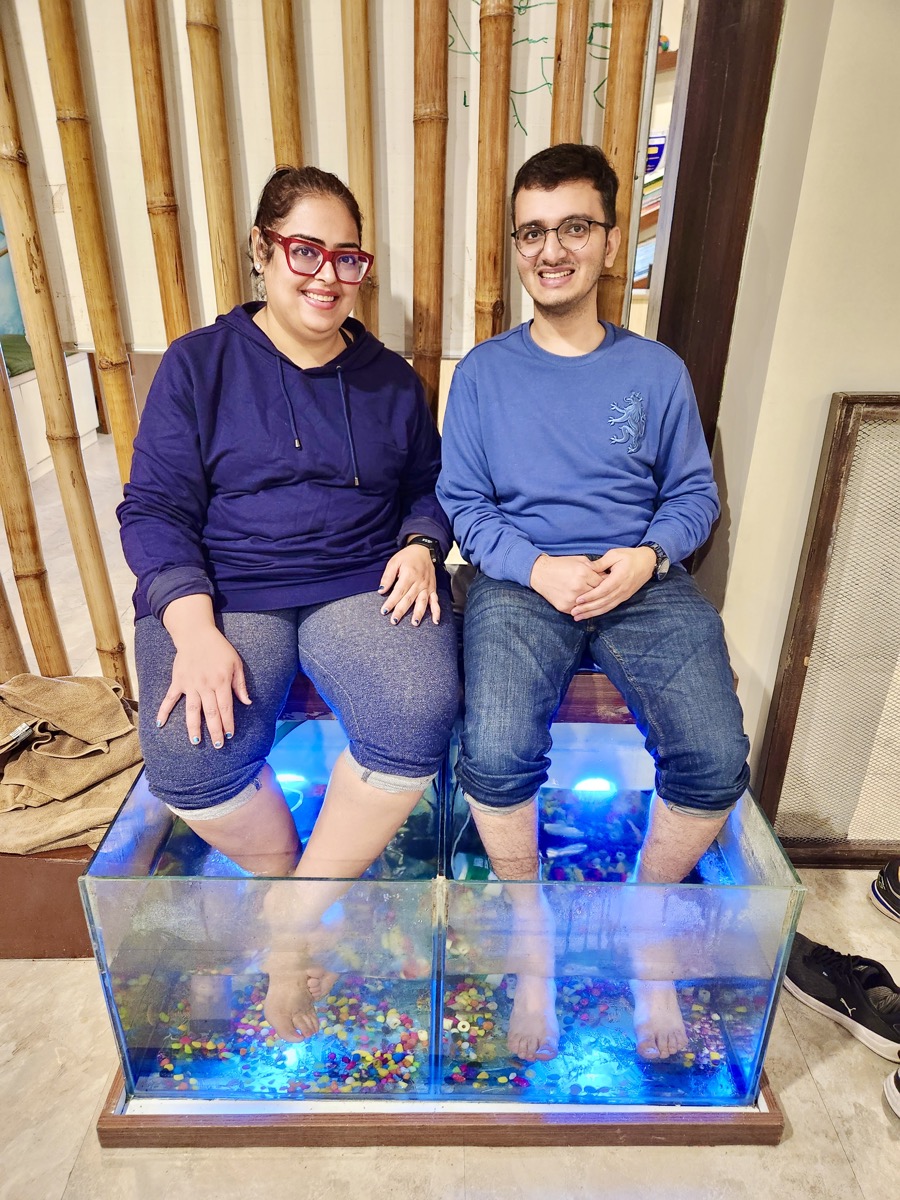 We were travelling to Mussoorie after a gap of a decade and eager to explore the natural beauty of Mussoorie, we embarked on a local sightseeing tour. Ensuring we do not pollute the serene environment, we booked EVCityRide, Uttarakhand's only electric cab service. The professional chauffers ensured we have a great time exploring the queen of hills. Our stops included the serene Mussoorie Lake, the cascading Bhatta Falls, and the vibrant Mall Road, each offering its unique charm and appeal. Sightseeing in the rain offered a unique and memorable experience.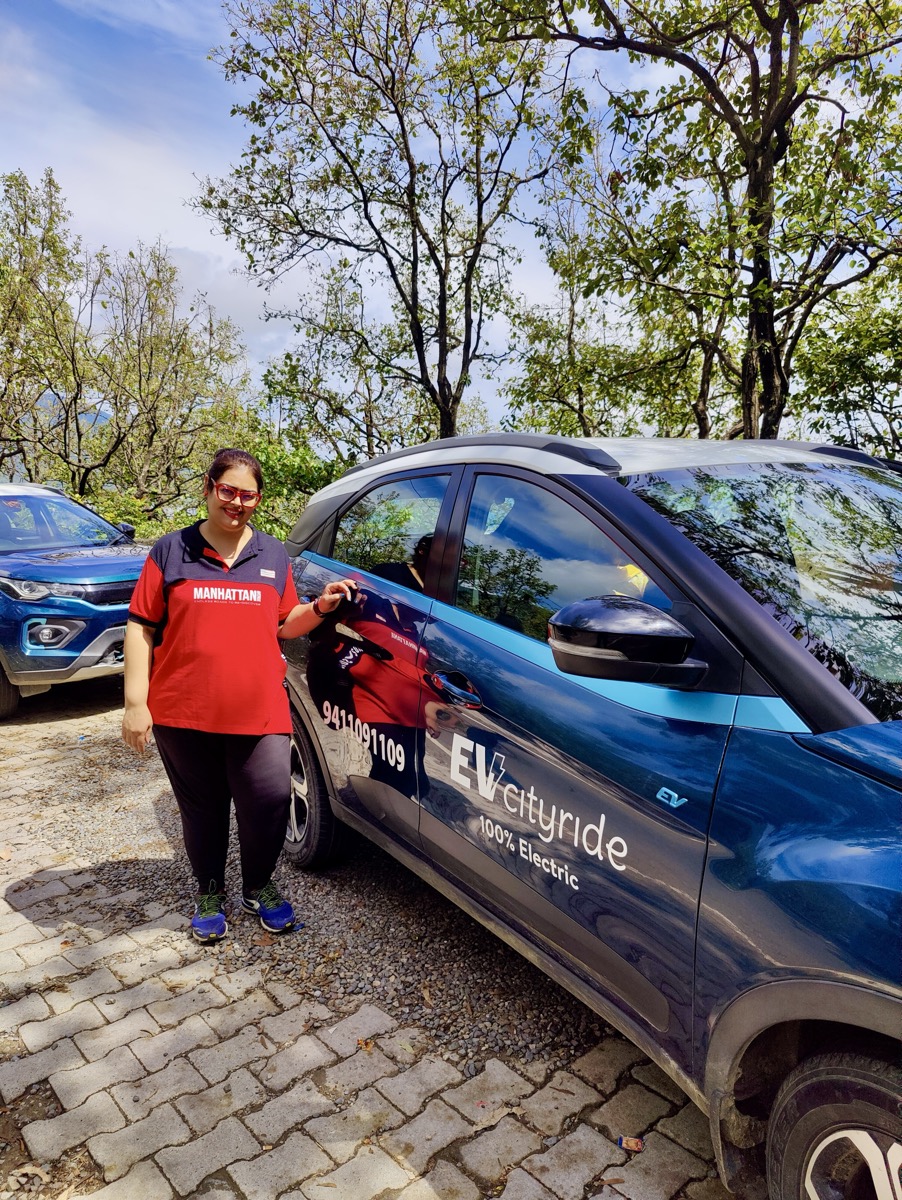 A little drenched we headed back to the hotel, relaxed for a while and then ordered our yummy dinner. We again preferred in-room dining as we were exhausted. Our second dinner at Sterling Mussoorie was a gastronomic masterpiece. We had delicious Chicken tikka, flavorful Penne with tomato, olive, and chilli flakes, rich Rajma Masala, Handi murg, some comforting Khichdi served with curd, Jeera rice, and refreshing Boondi Raita. We also enjoyed Lachcha Paratha and Butter Naan. For desserts, we had Gulab Jamun, Moong Dal Halwa, and heavenly Chocolate Walnut Brownie. Every bite of this meal was a delight for the senses. We also had the microwave handy to heat the desserts.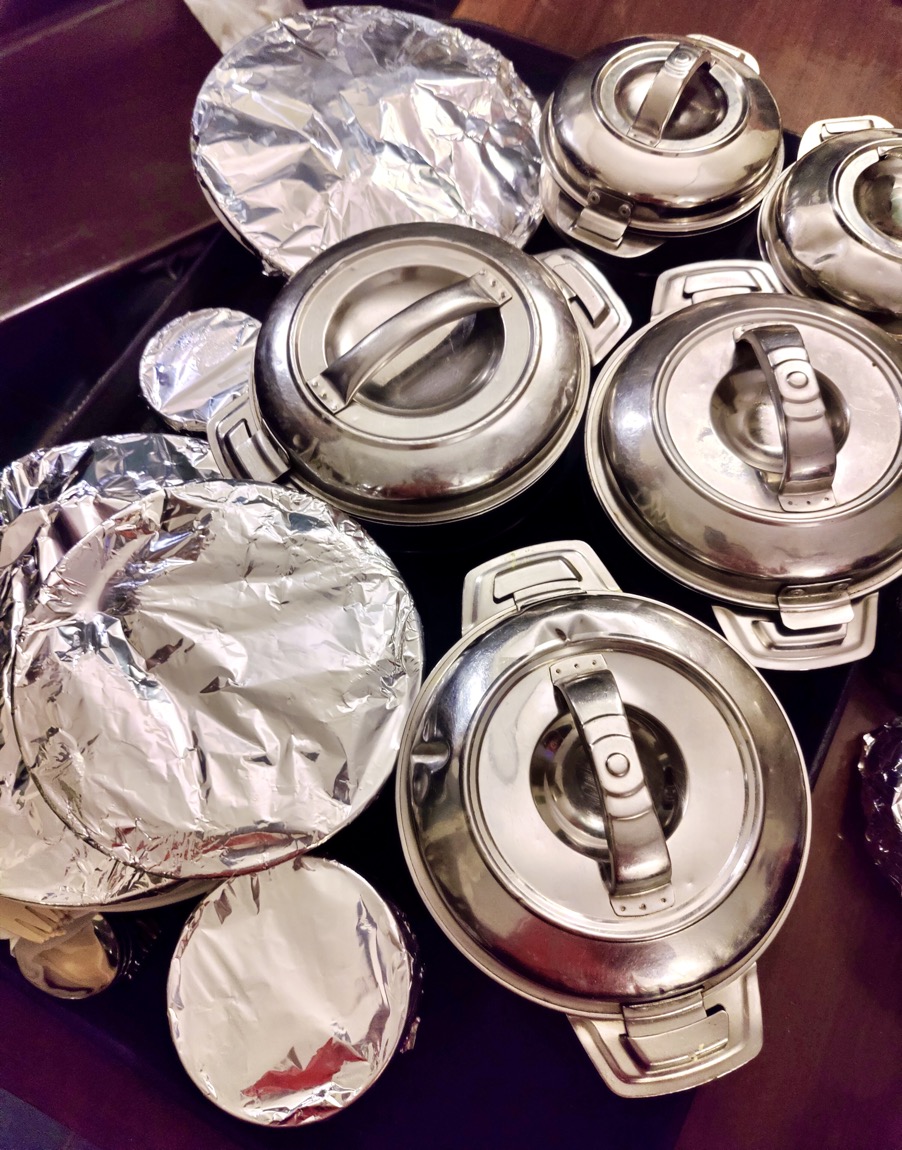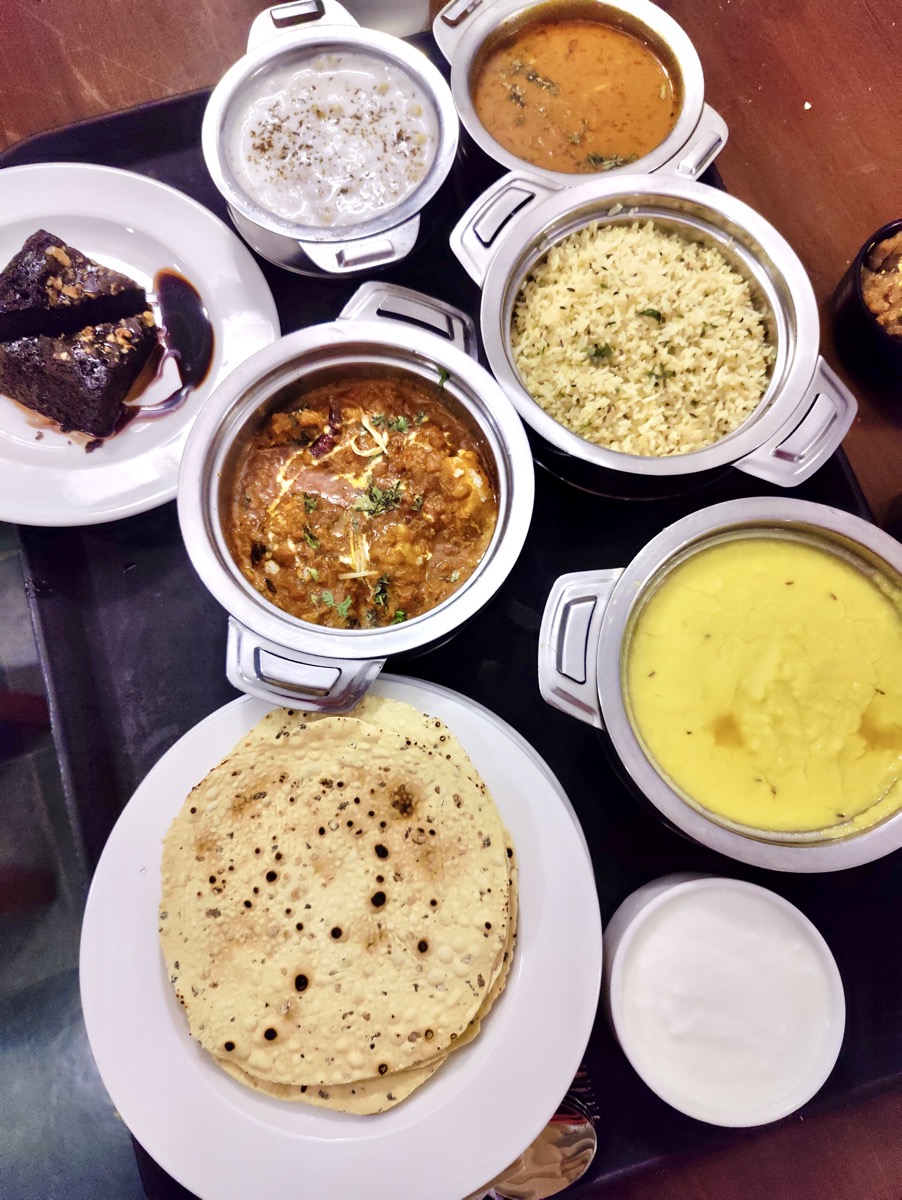 We ended the night cherishing the night view of Mussoorie from our private balcony.
Our next morning which was also our final morning at Mussoorie was healthy and adventurous. Our morning at Doon Diner, the in- house restaurant of Sterling Mussoorie brought forth a special and healthy breakfast, meticulously prepared by Chef Sumeet Garg. The meal featured delectable Ragi Uttapam, flavorful Upma, an assortment of fresh fruits, and perfectly cooked eggs, complemented by crispy hash browns. It was a breakfast to savour and remember.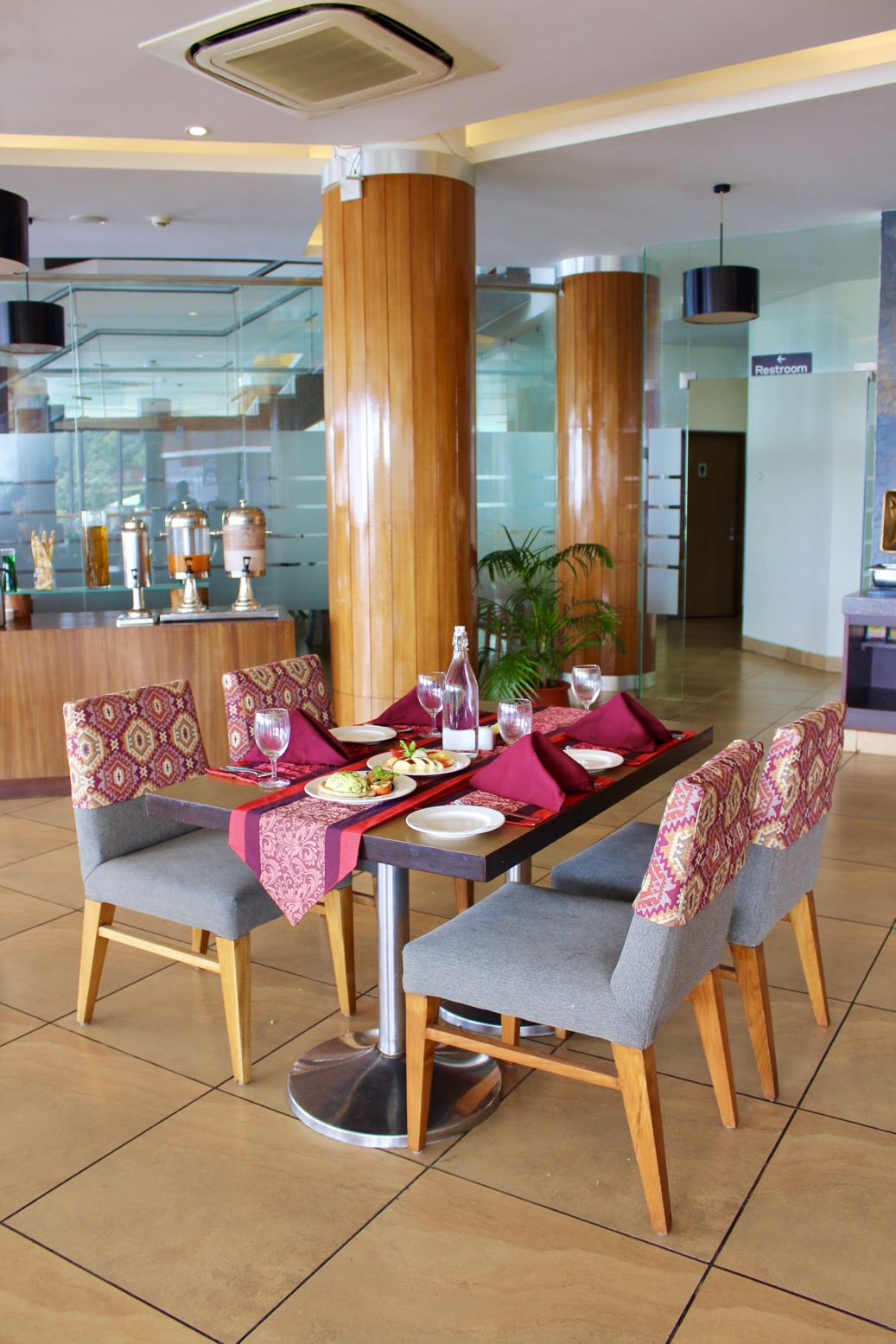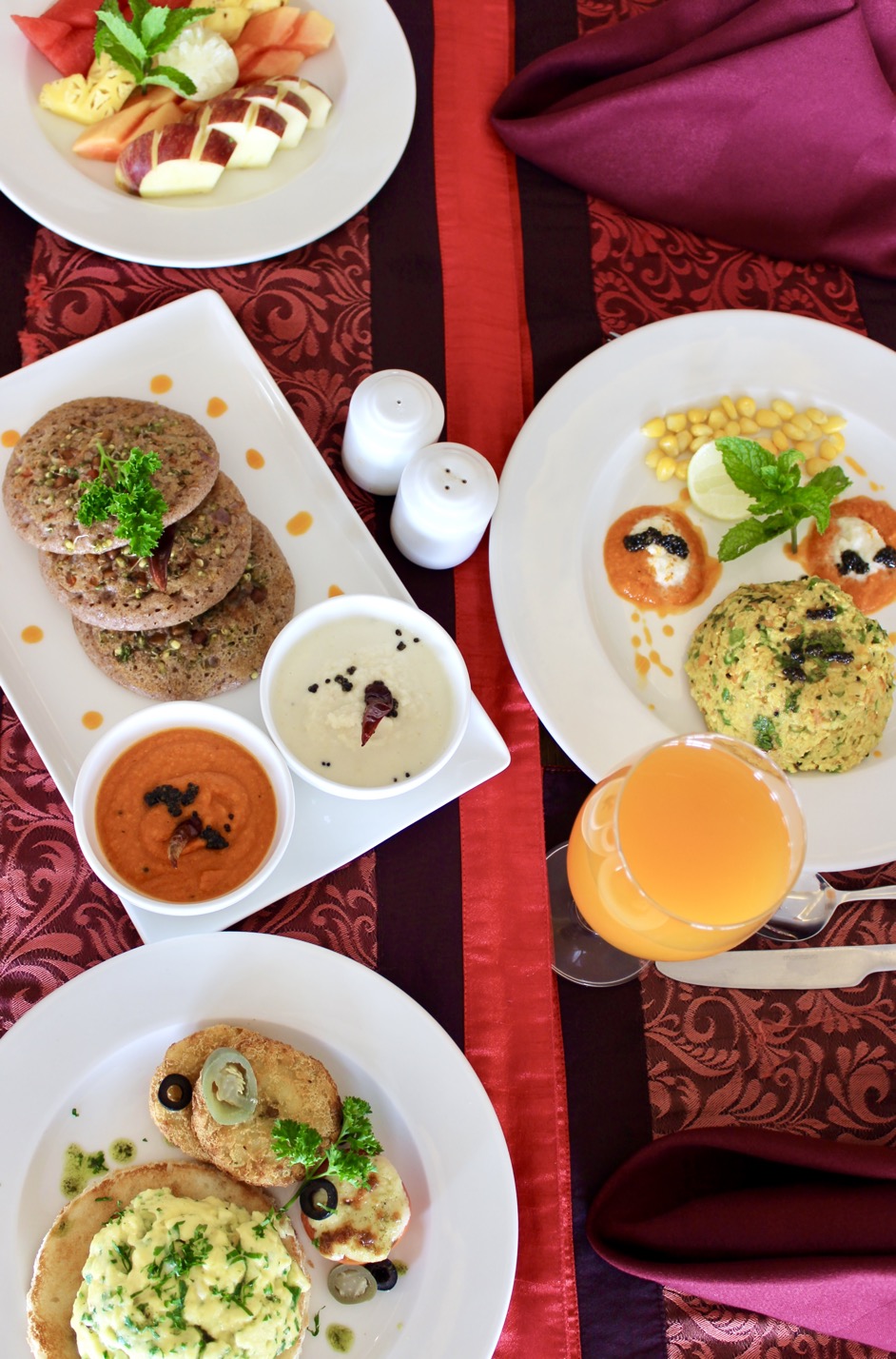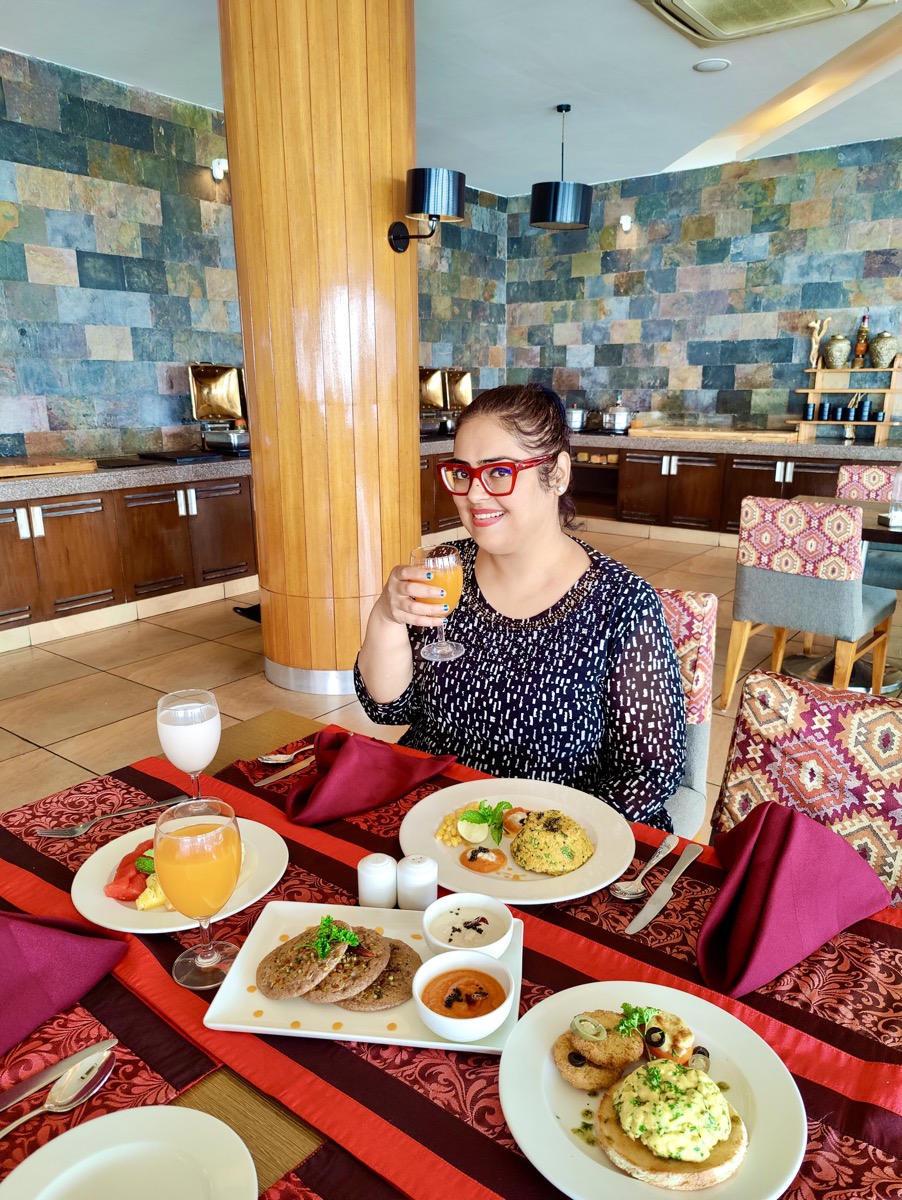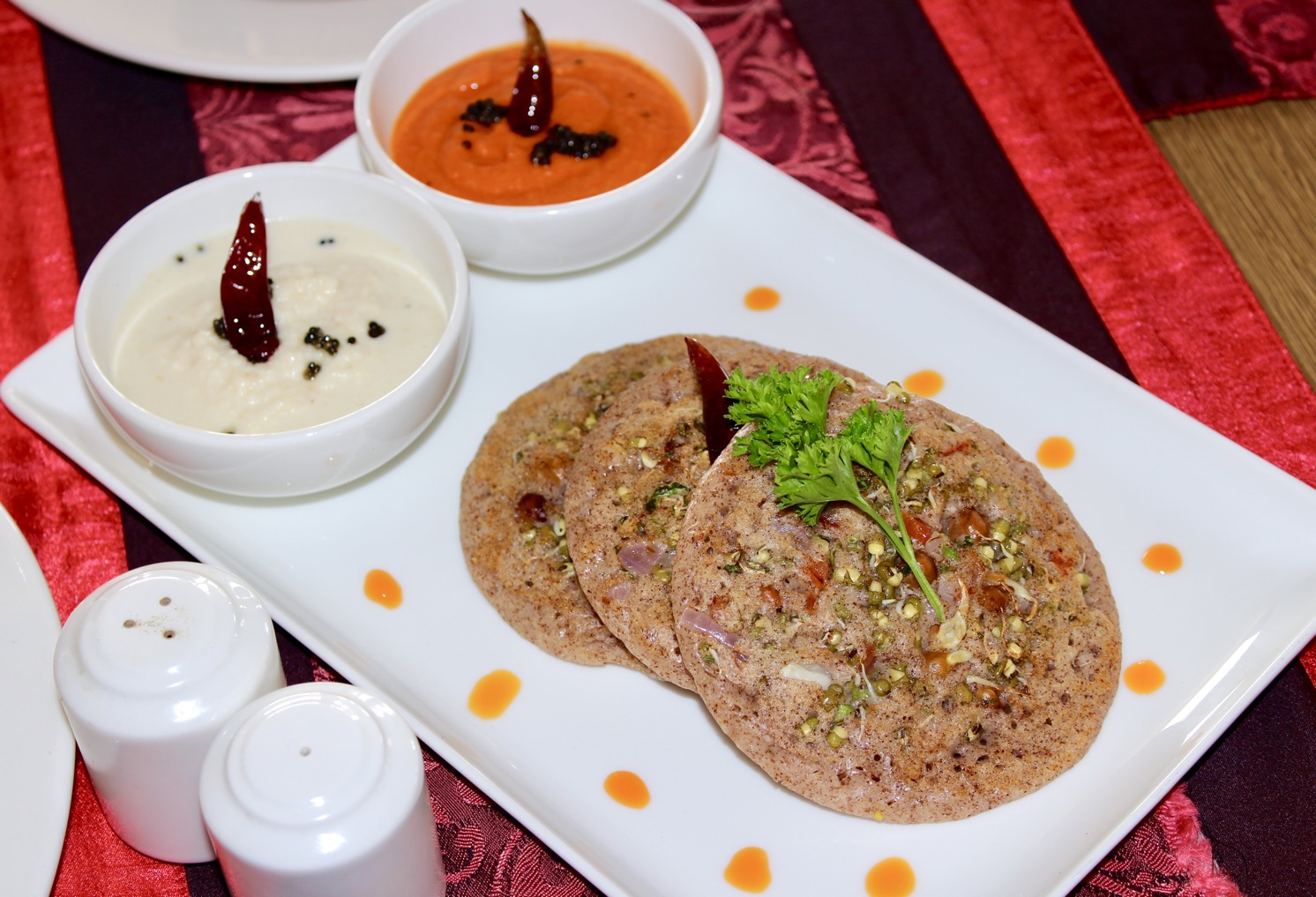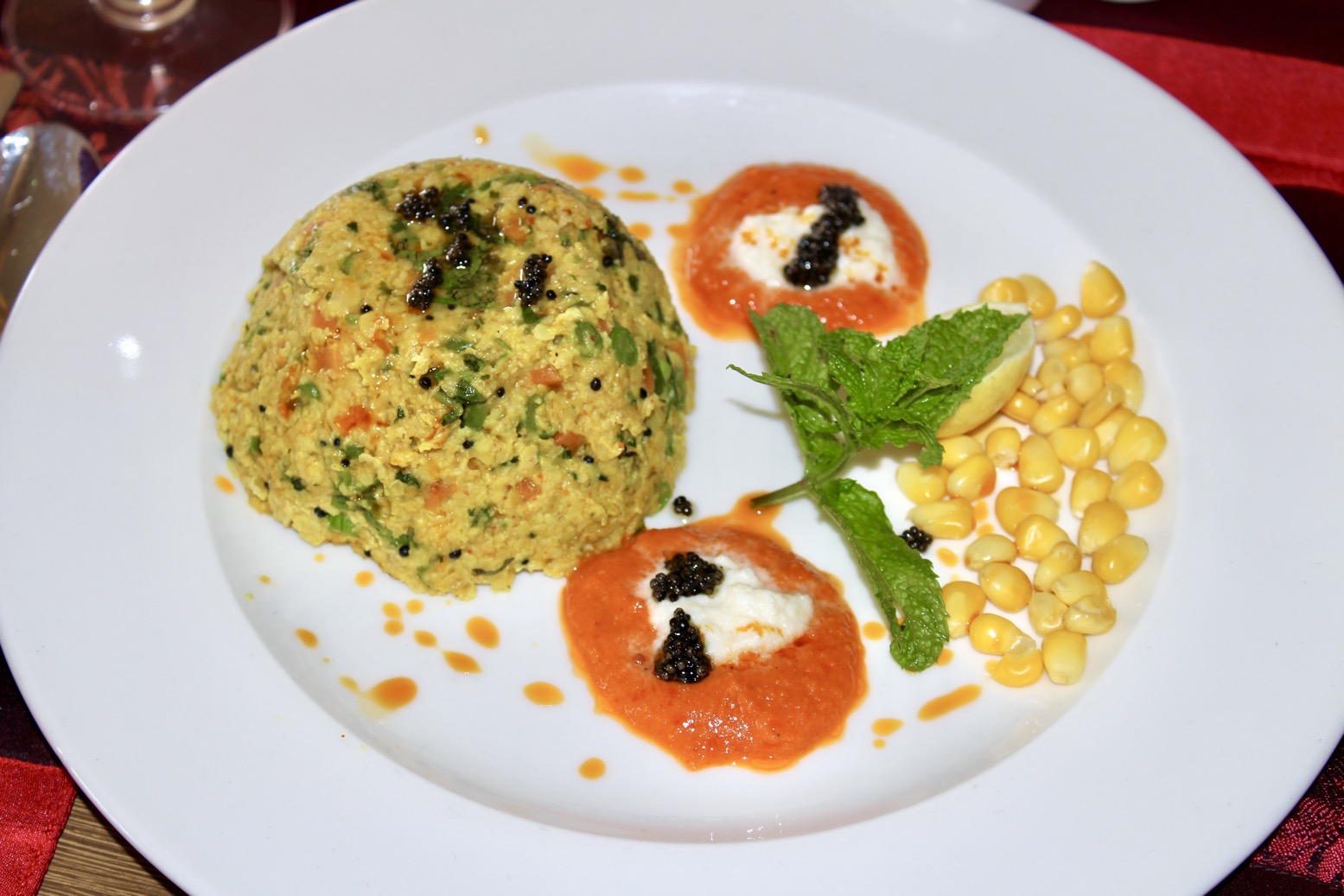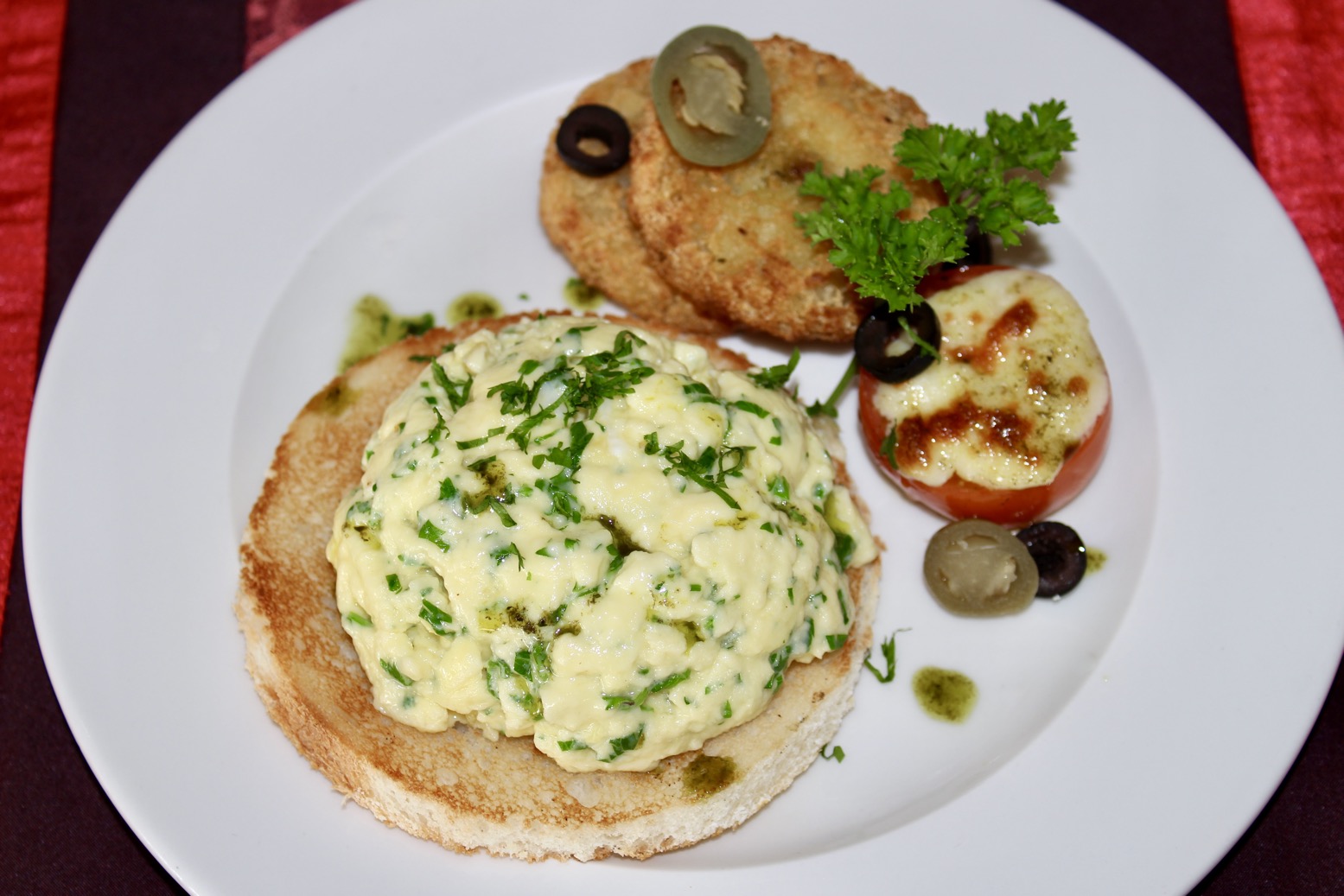 Sterling Mussoorie also boasts an exciting Adventure Zone, offering a surge of adrenaline like no other. The adventurous me had a thrilling experience on the zipline, and there were plenty of other adventures to explore too. The options included the thrilling Burma Bridge, the daring Double Rope Bridge, Ladder Climbing, Commando Net, Cross Wire, Rope Bridge, Tyre Bridge, and exciting cycling and paintball activities.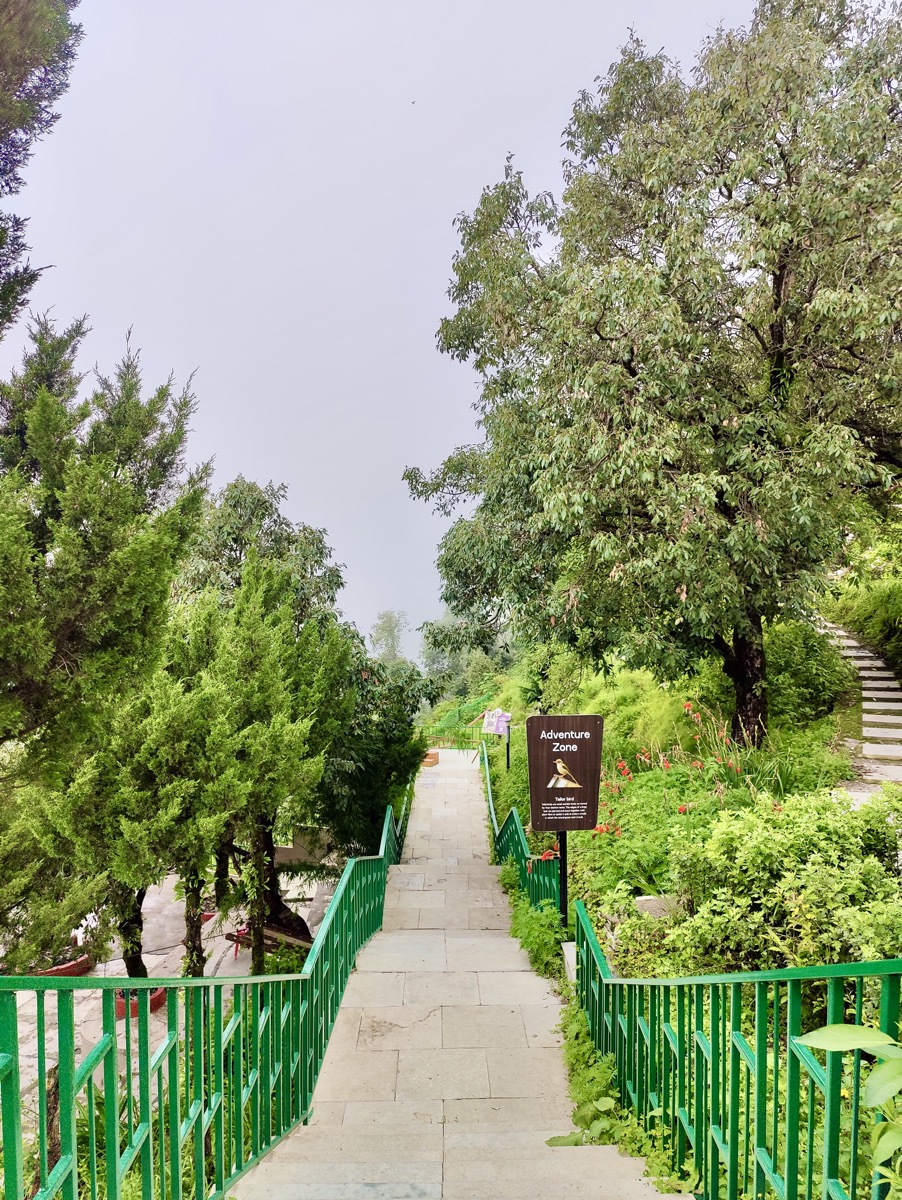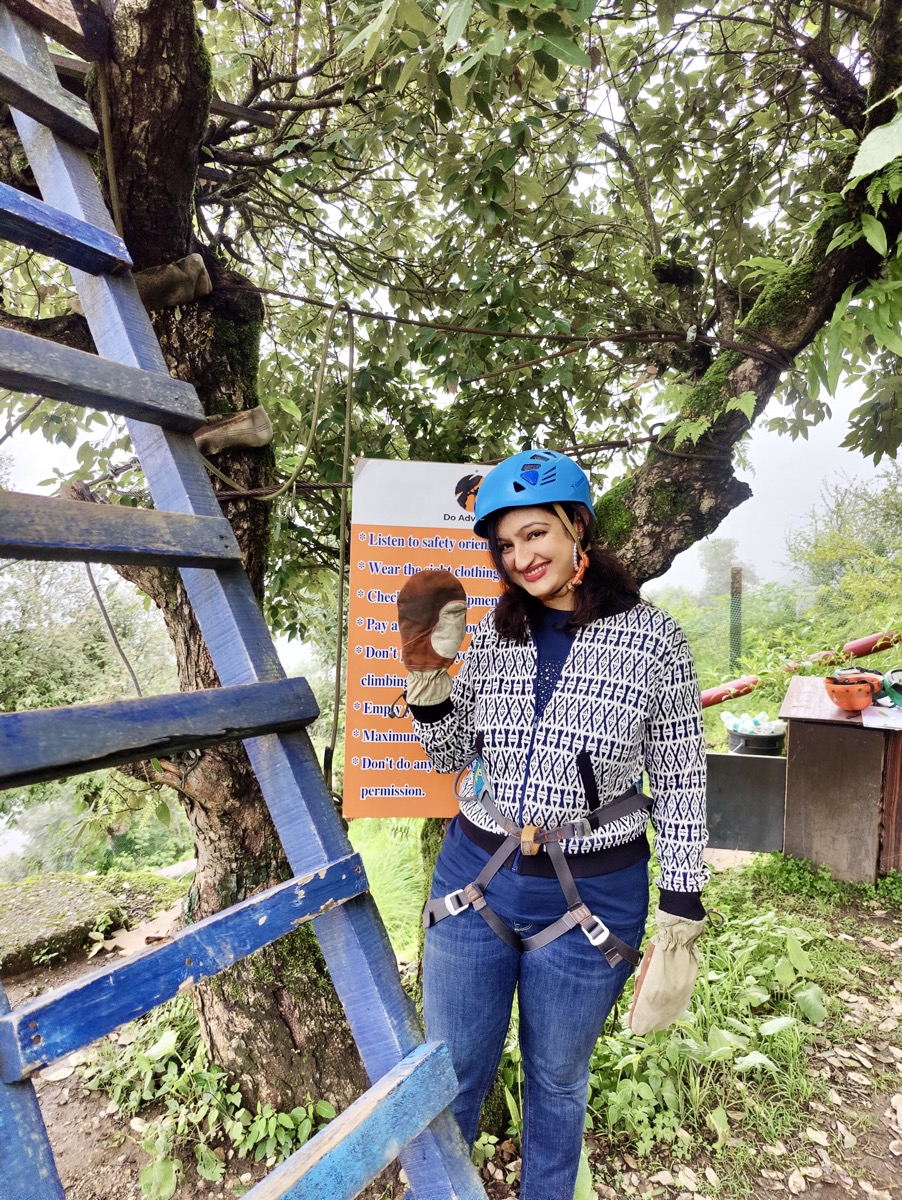 Our stay at Sterling Mussoorie wouldn't have been as remarkable without the dedication of the staff. We had the pleasure of meeting the General Manager, Mr. Ankur Saluja, and we extend our heartfelt thanks to him, Mr. Davender Bali, Mr. Sultan Waris and Chef Sumeet Garg for taking such great care of us throughout our stay. Their warmth, attention to detail, and the personal touch they added to our Sterling Mussoorie experience made it all the more memorable.
The stay at Sterling Mussoorie was a harmonious blend of nature's beauty, luxury, and adventure. The resort's commitment to creating a memorable family experience, combined with the breathtaking natural surroundings, made our staycation truly unforgettable. We eagerly anticipate returning to Sterling Mussoorie for more incredible memories in the future, and we wholeheartedly recommend this haven of serenity and adventure to fellow travellers seeking the perfect escape.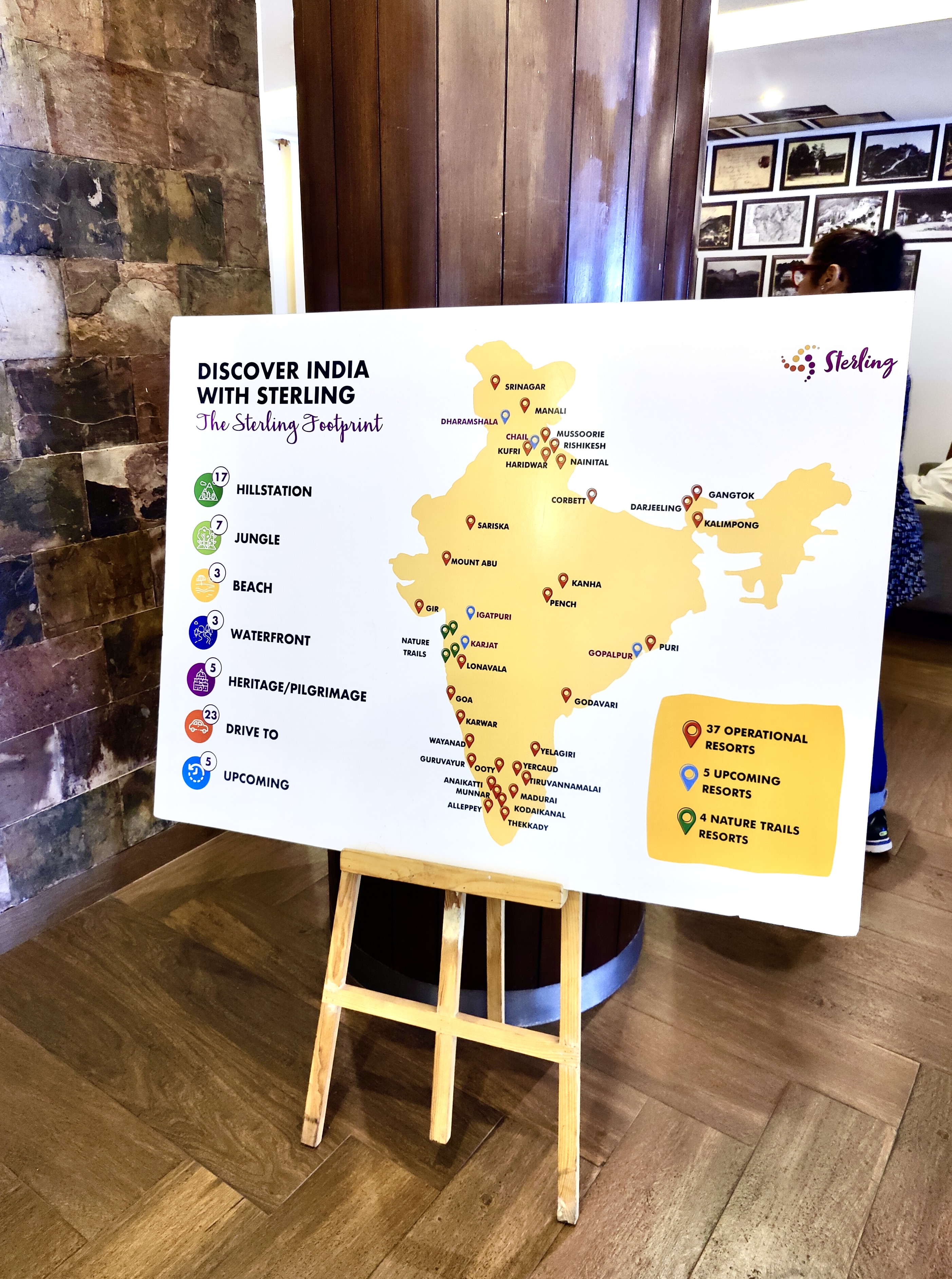 With a heavy heart, we bid adieu to Sterling Mussoorie and got into our EVCity Ride electric taxi to head back to Dehradun Railway Station.