Let me tell you about my third trip to Jaipur, actually first with parents! My first trip to Jaipur was with friends which was after college when we had started working and saved our meagre salary for a trip to the touristy city, my second trip was for my Corporate Communications job and now I am in Jaipur again which is a trip with parents. When parents travel, they want everything to be comfortable and cozy that too at a central location. It wouldn't have been ok if I had booked a secluded place for our little getaway! At times I become melodramatic! 😉
So we chose Lemon Tree Premier Jaipur to be our abode. Located at Bani Park, Jaipur, the property is known for plush and spacious interiors taking the zing up a notch. The hotel is a short distance away from Collectorate Circle and MI Road in addition to being be easily accessible from the railway station (2.5 kms). Since ours was road travel, it was a smooth drive for us as the hotel is 3 kms from Ajmer-Delhi National Highway. The hotel is also in close proximity to major tourist attractions like Jantar Mantar, Hawa Mahal, City Palace and the walled city of Jaipur. Hence, we were sorted whether we wanted to go for shopping or visiting tourist attractions.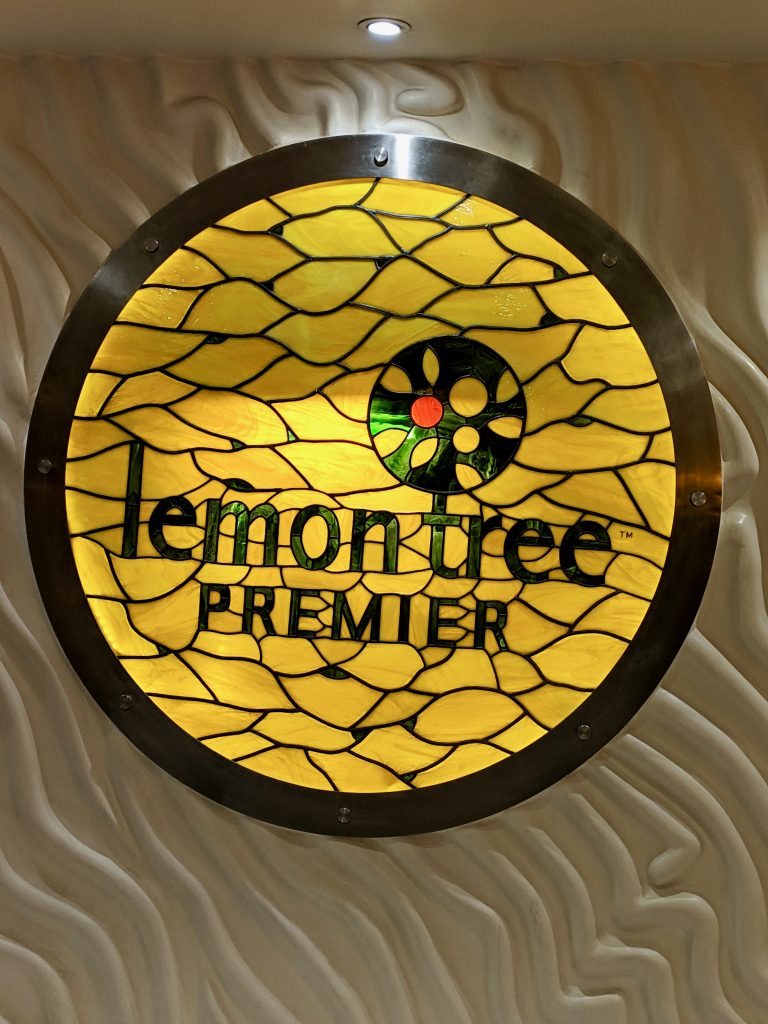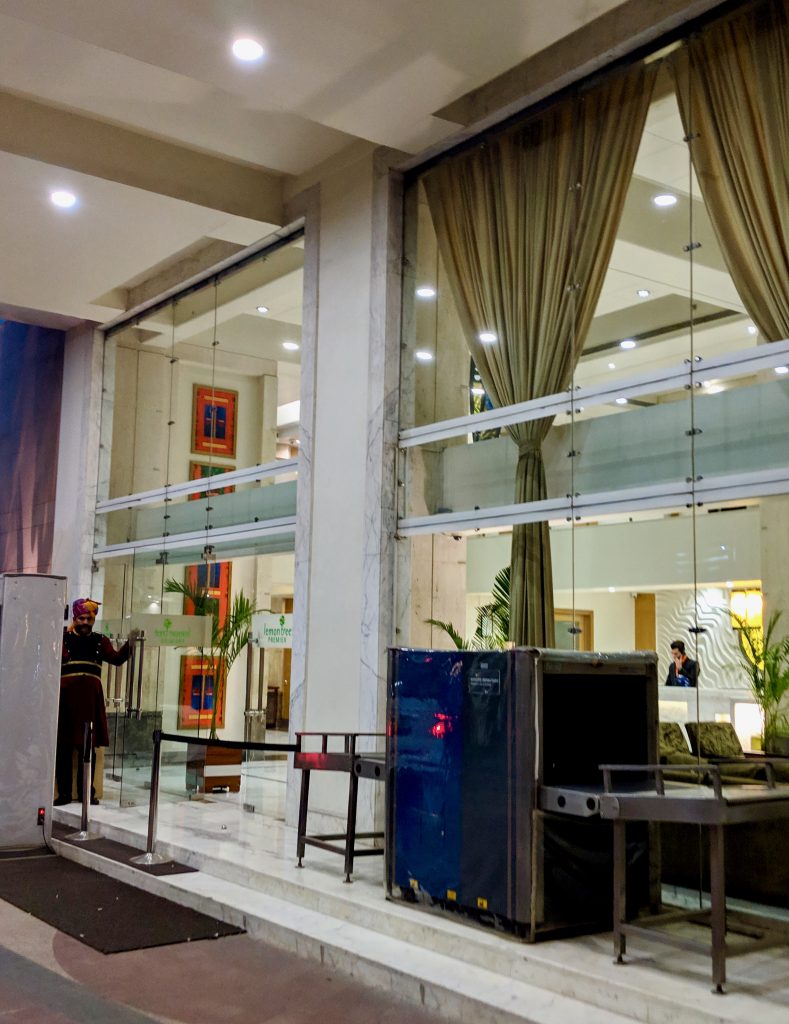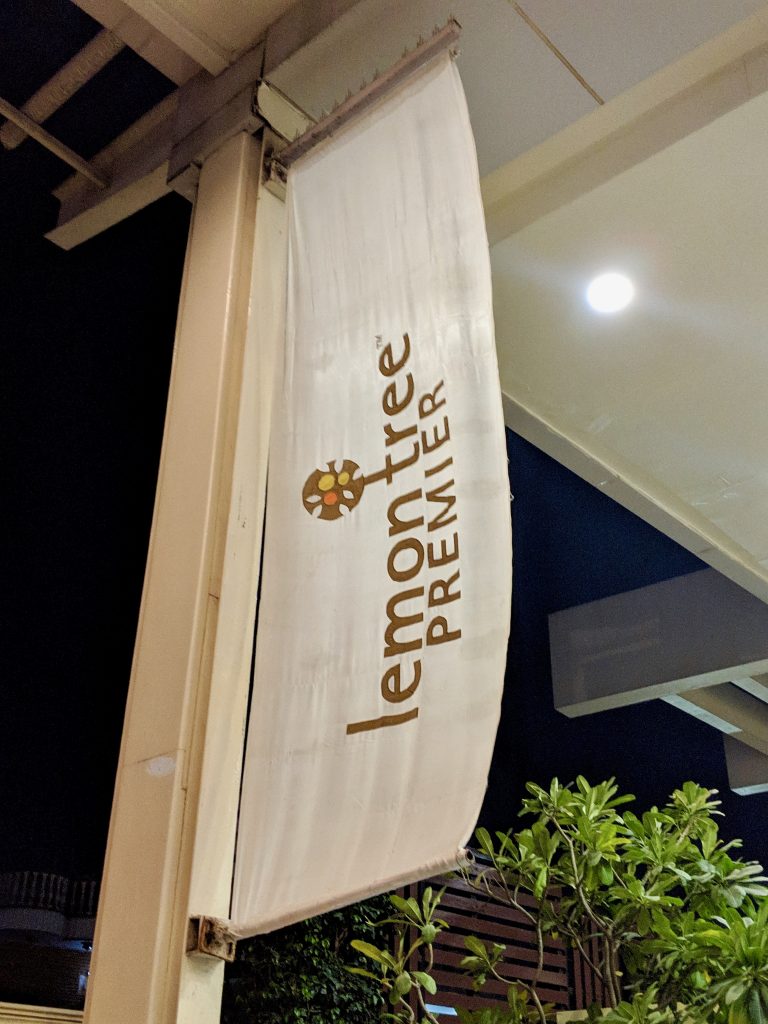 I absolutely loved entering the calm and composed interiors as soon as I entered. Sweet welcome drinks were waiting for us on arrival. The green couches and sofa made for a perfect seating for anyone who wants to relax while the check-in formalities are done at the white marble desk. Colourful shiny glass stain painted danglers make for a site to marvel.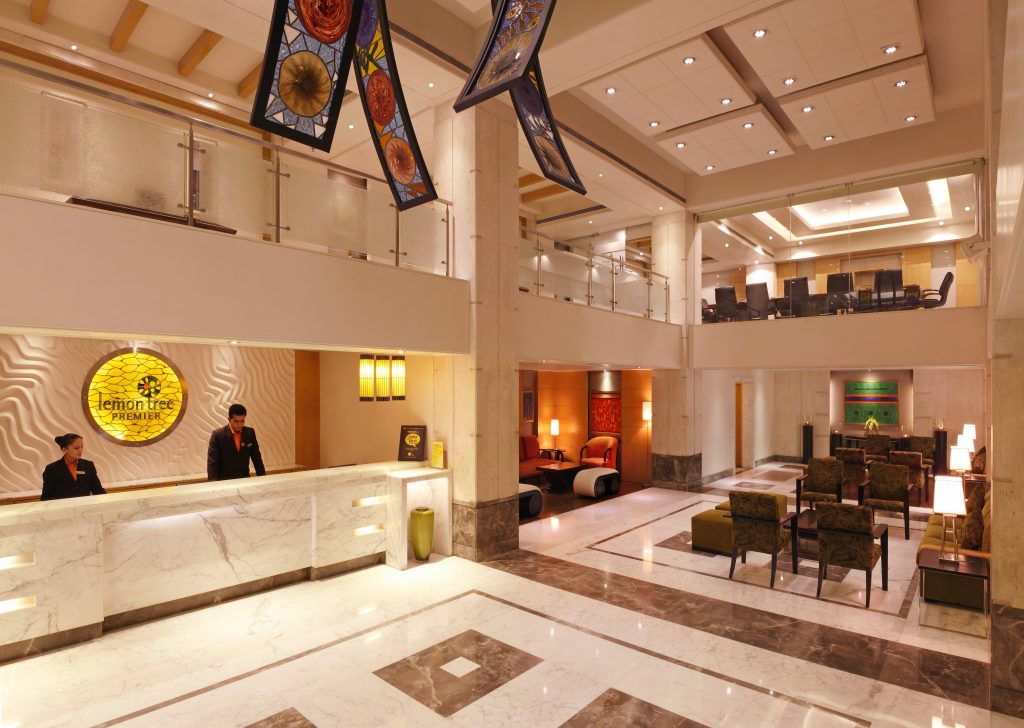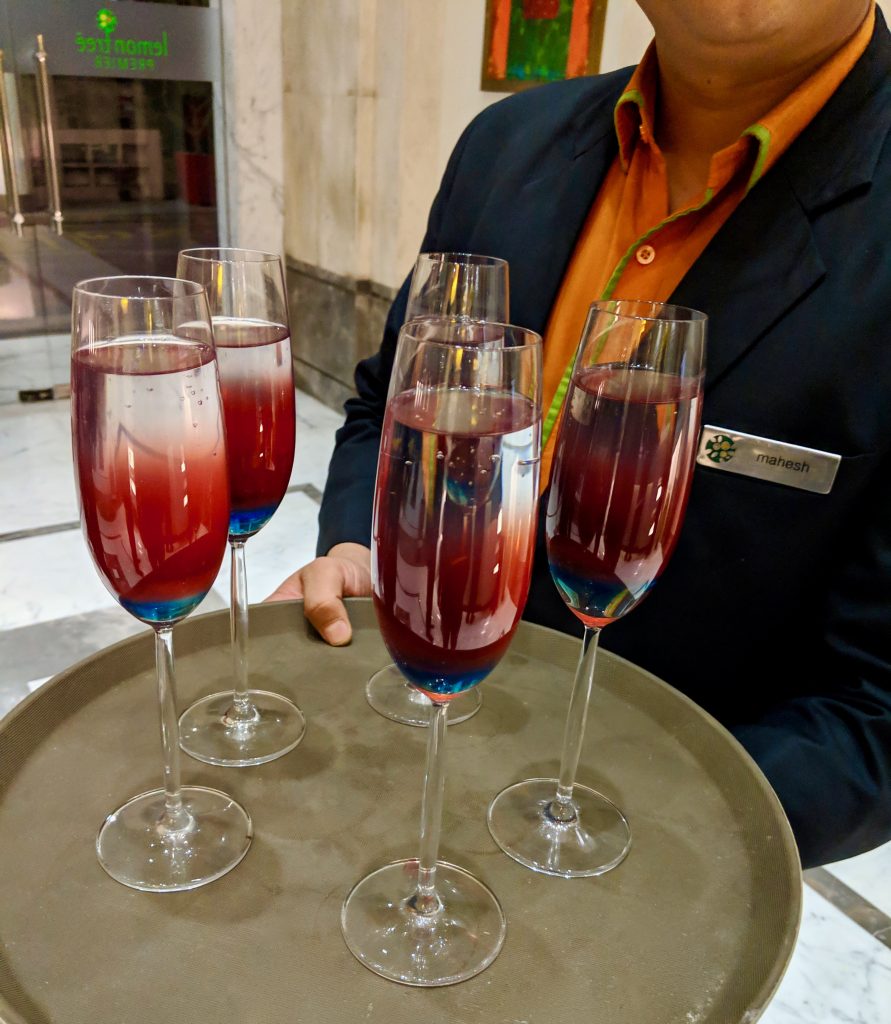 The hotel offers 108 stylish rooms and suites to suit the requirement of the discerning travellers varying from Superior to Deluxe to Premier. Our pick this time were the Junior Suite, the Executive Suite and a Premier room for a family of 5. The Executive Suite is divided in into a living room and a bedroom offering best of both worlds. An addition of orange with neutral hues make the rooms brighter and cheerful! An orange sofa with a grey couch and a table where delicious edible goodies in the form of chocolates, cookies and fruits were kept were waiting for us. Keeping the luxury treatment for its guests, there was a toilet attached to the living room which was meant for the guests to use. A king size bed welcomed us in the bedroom along with comfortable chairs from which we could witness the hustle bustle of the city while we relax. Luggage space next to the big wardrobes was an additional delight. The bedside adorned lampshades on the sides along with a radio/iPod console. Surprisingly both the rooms had television sets for us to make a comfortable choice.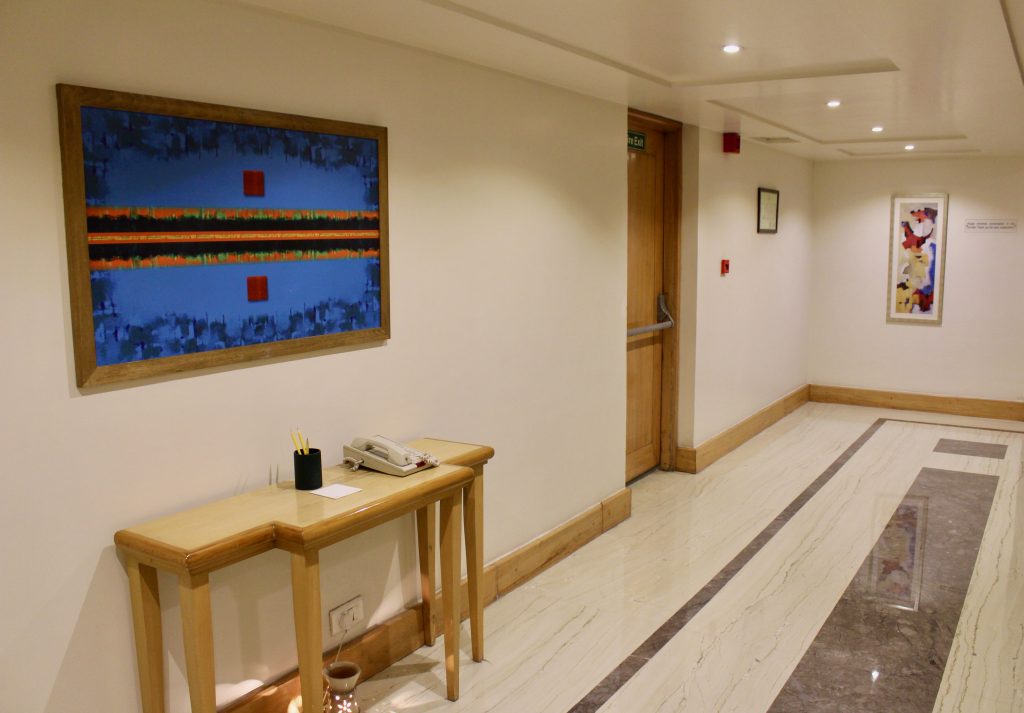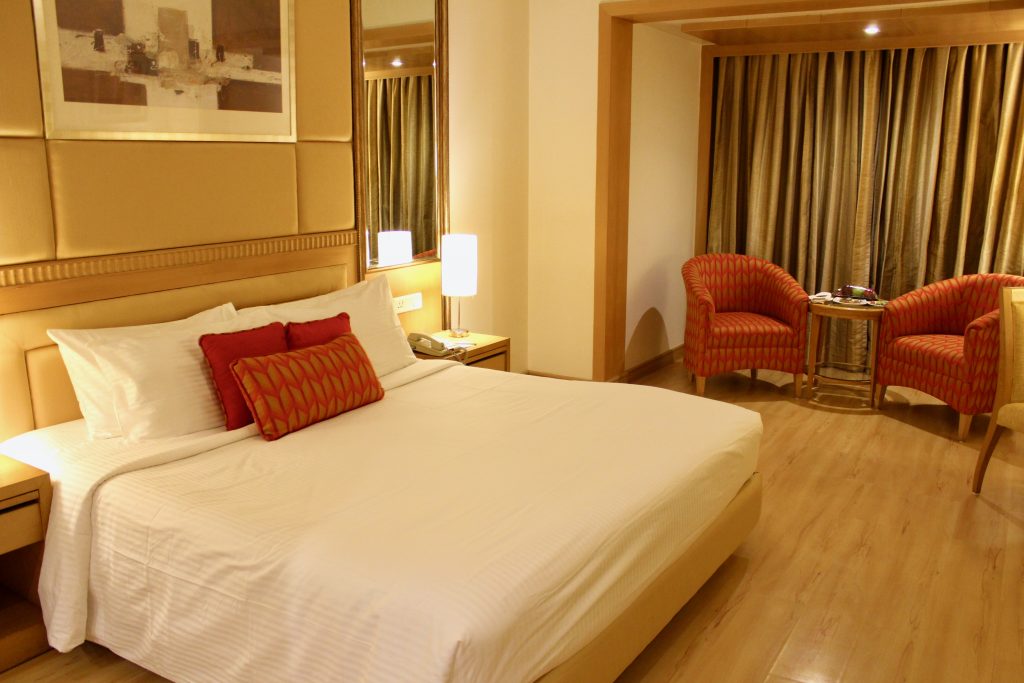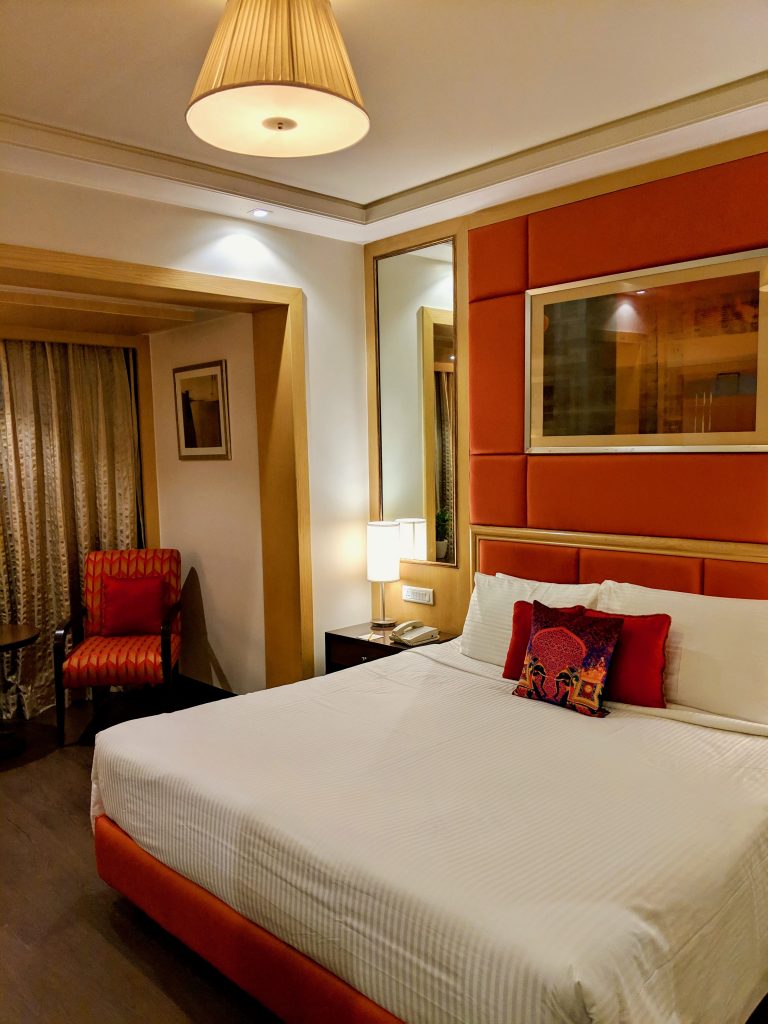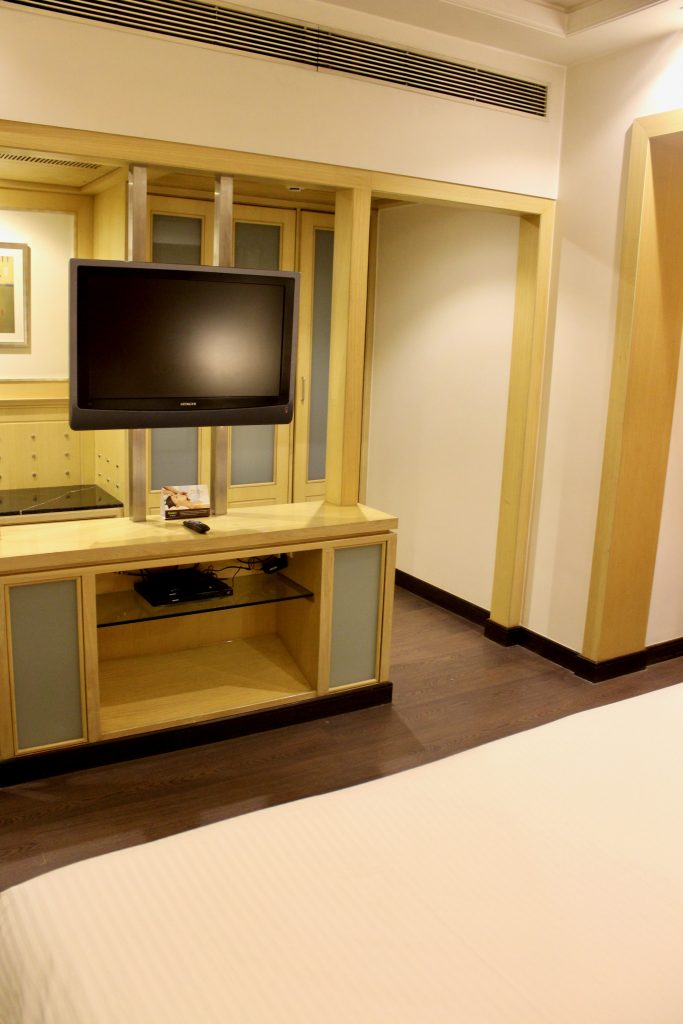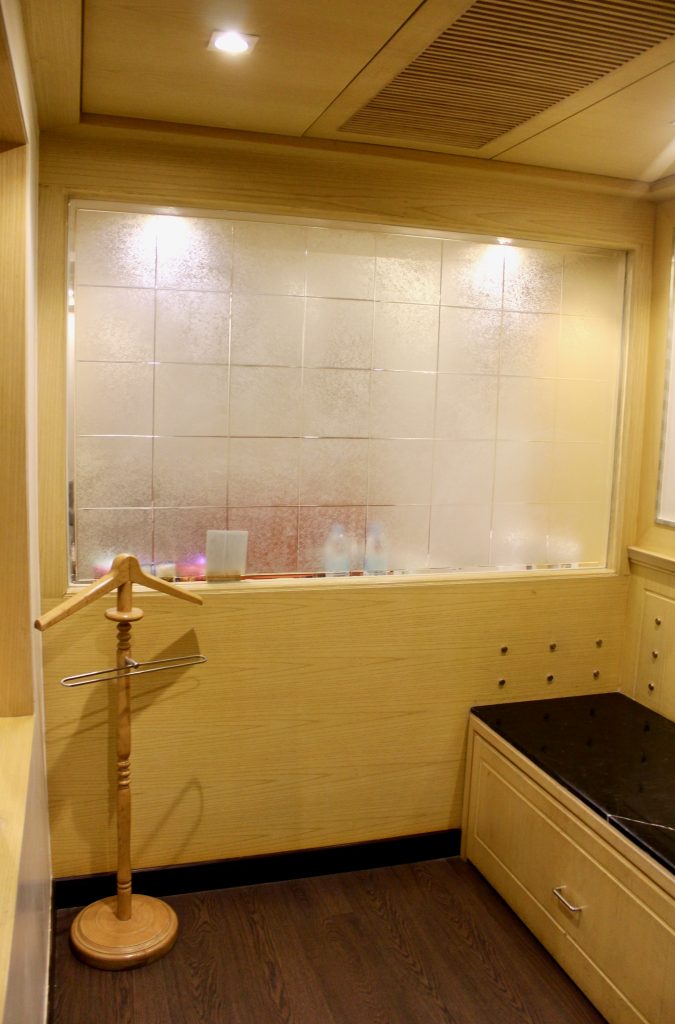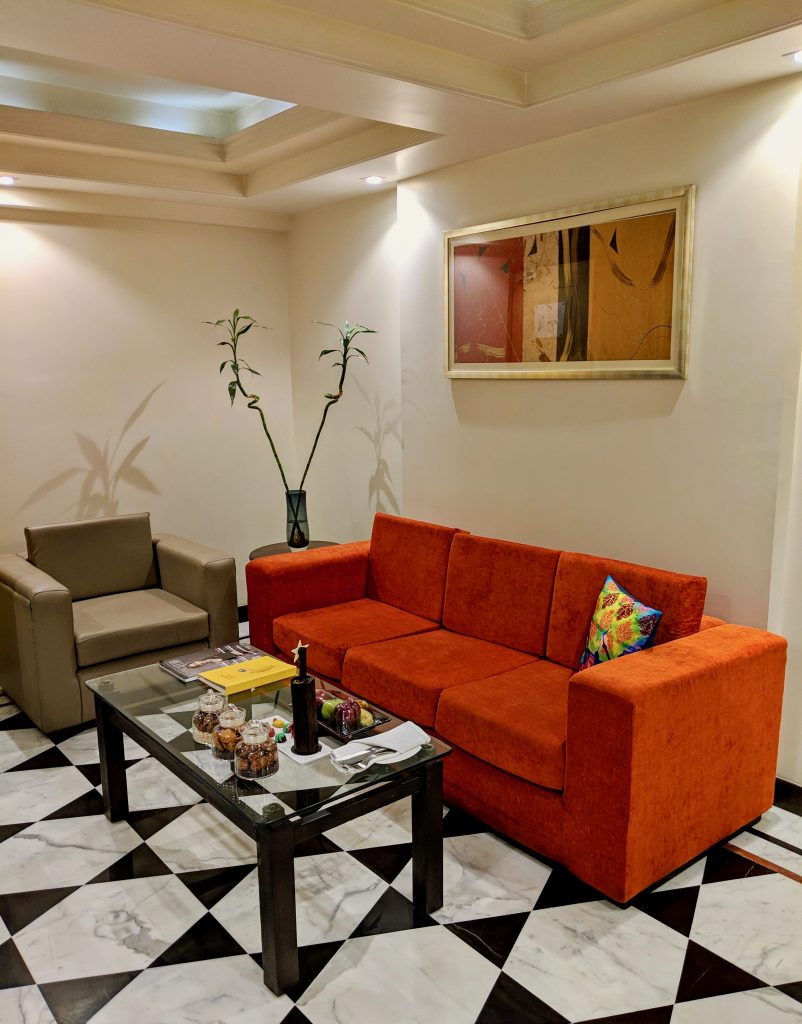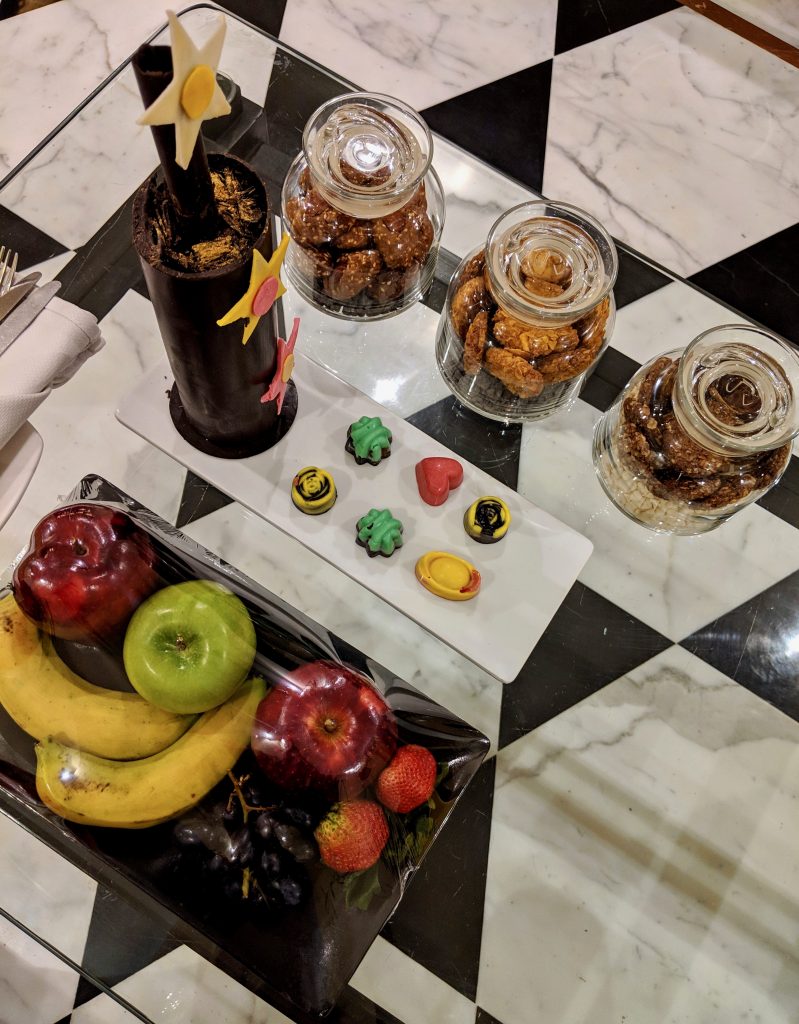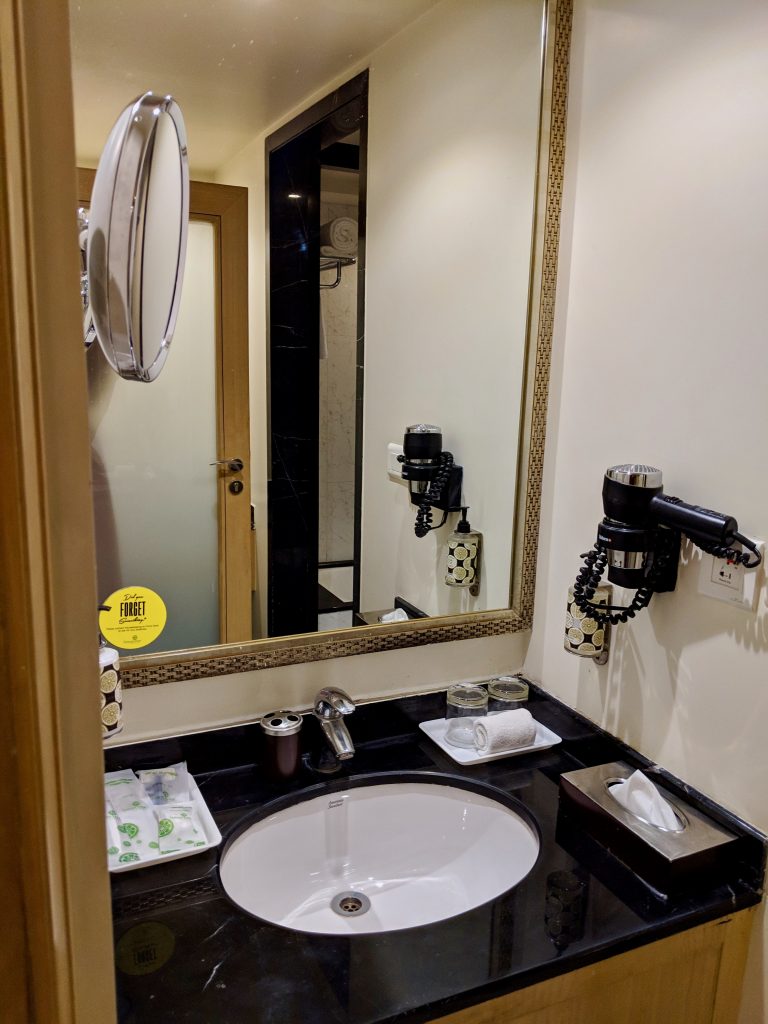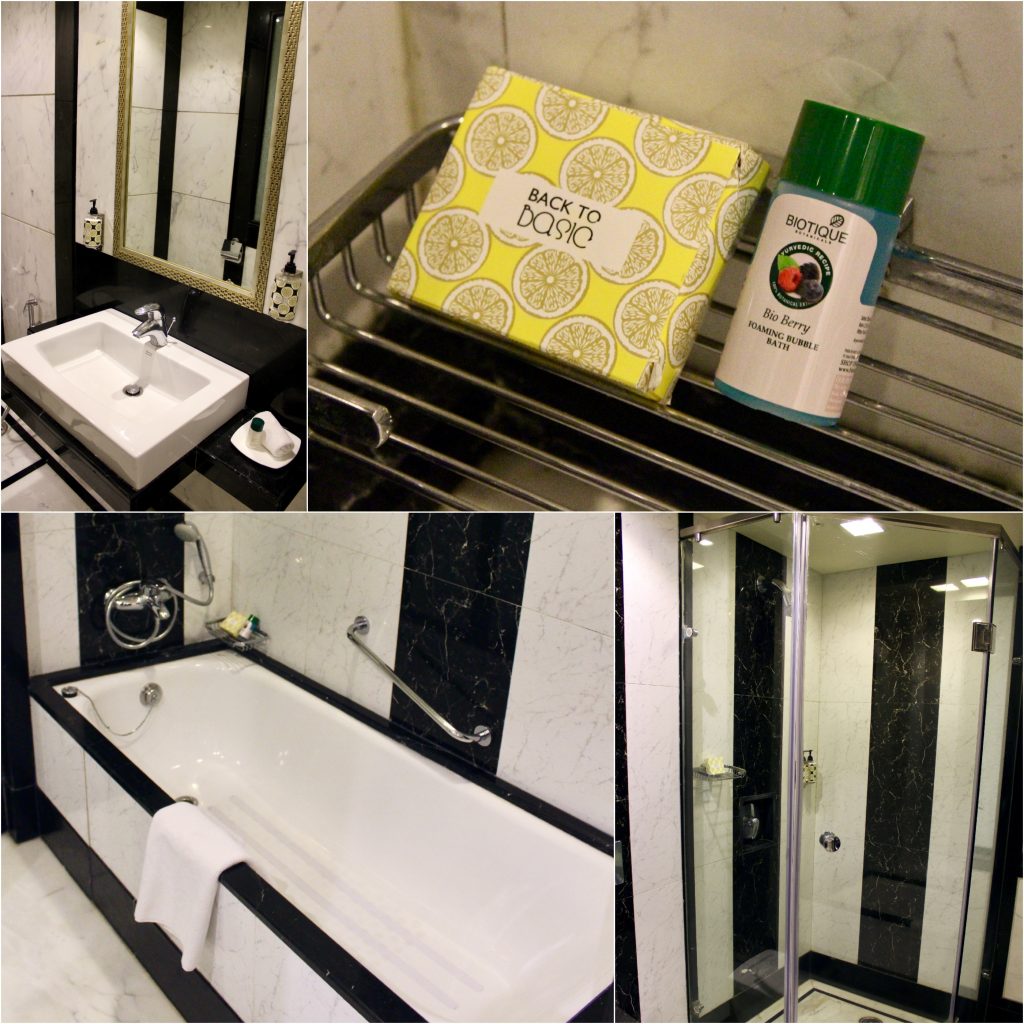 When I entered the Junior Suite what caught my attention was the tangerine backdrop of the bed which instantly infused more energy! With a private dining table in the room itself and a couch it made for a perfect place to have our meals. With 2 long mirrors towards the sides of the bed, I was jumping with joy! The room was big enough to accommodate a family with a private dining space for 4 and a couch where we used to have our morning and evening teas. The plant kept on the table extended an aesthetic appeal. Artistic paintings in the room made it look even more beautiful.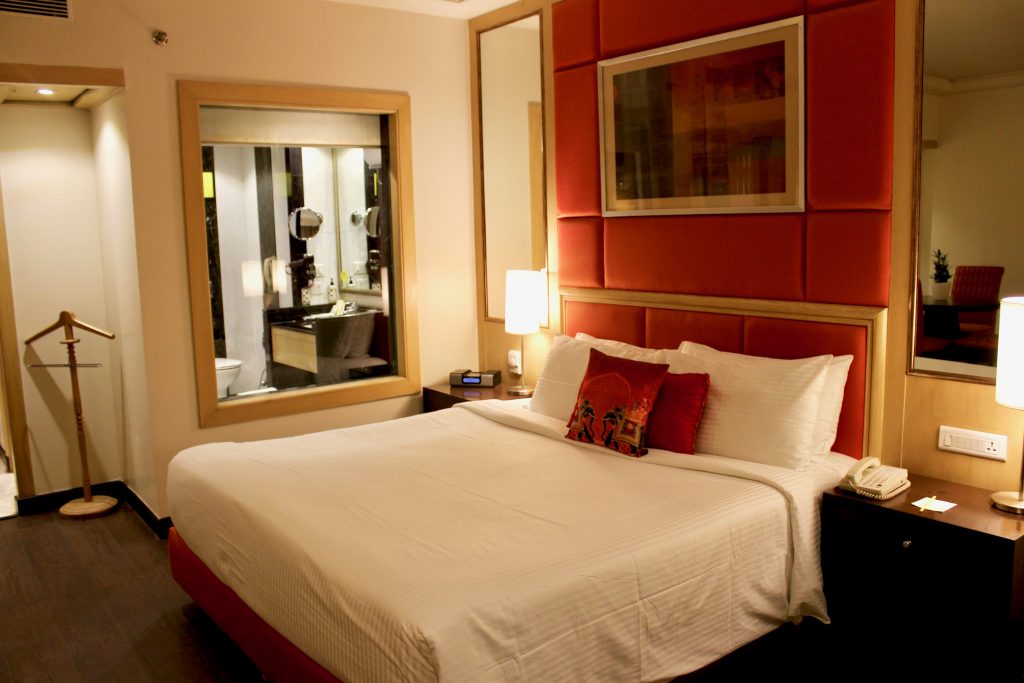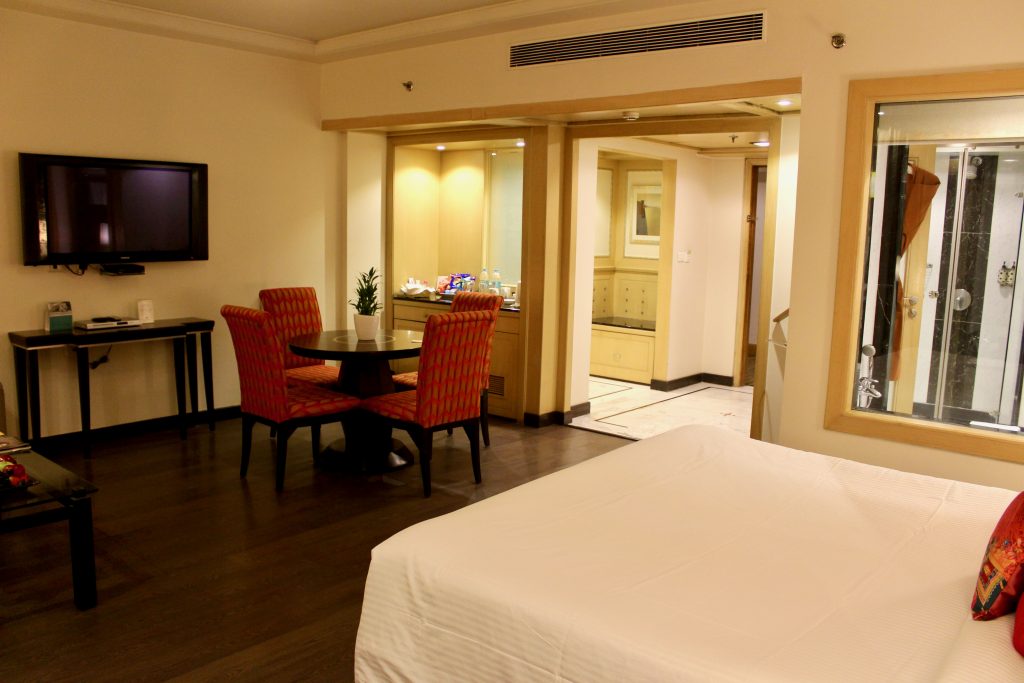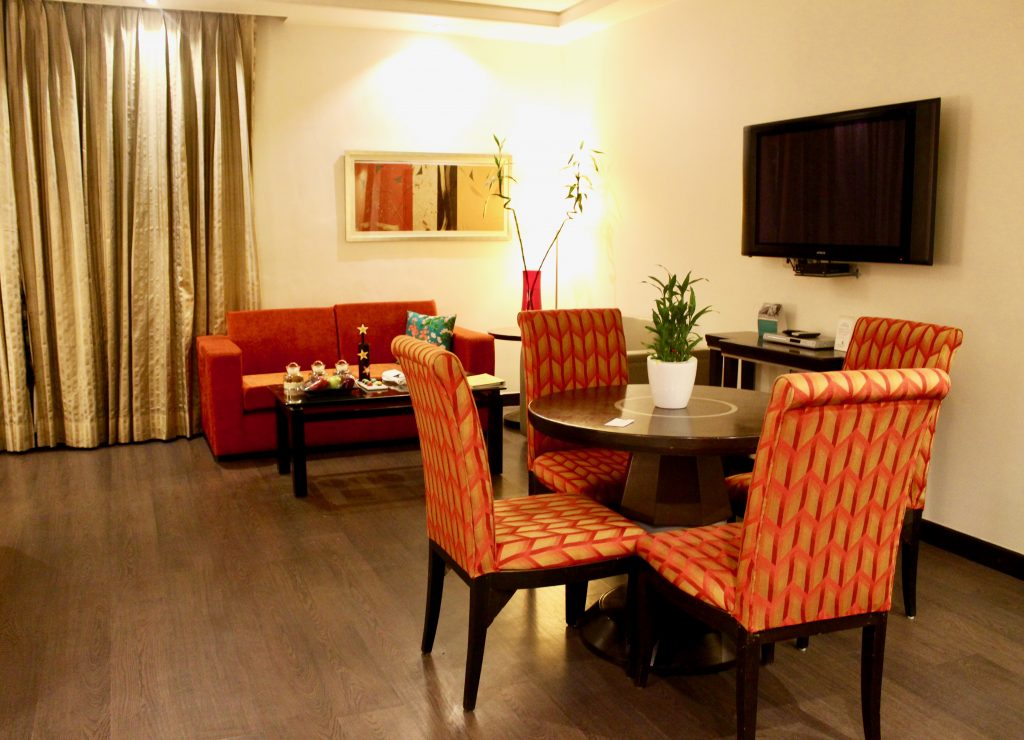 Ample space for luggage in the form of racks and wardrobe made it delightful. The wardrobes also had an iron table and a locker for our convenience. Well-equipped bathrooms with a shower area, bathtub, washbasin and toiletries made our stay great.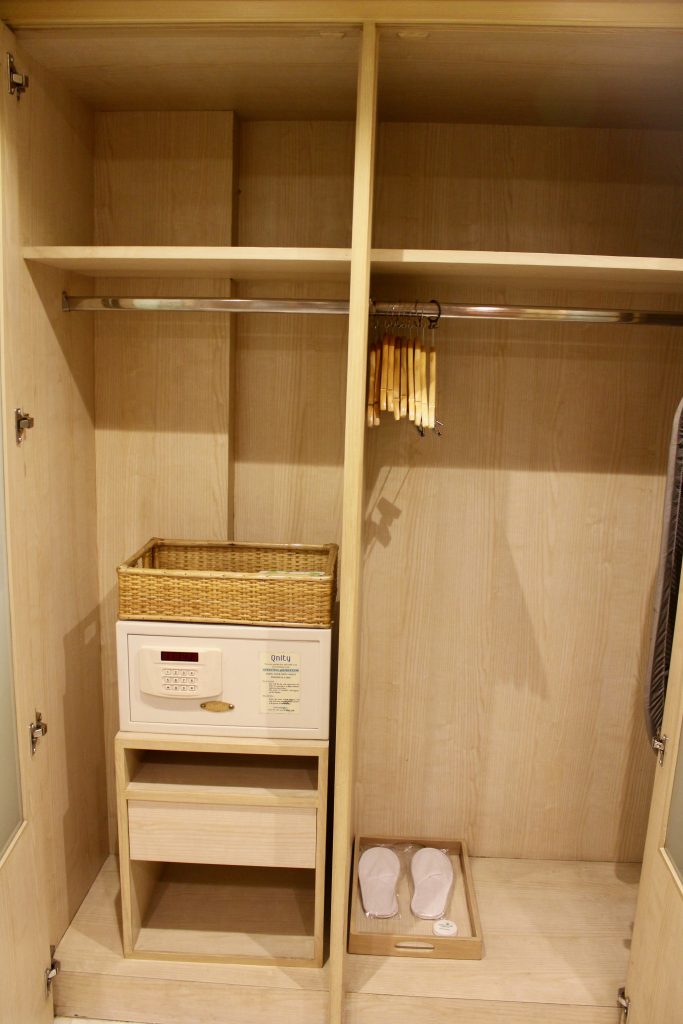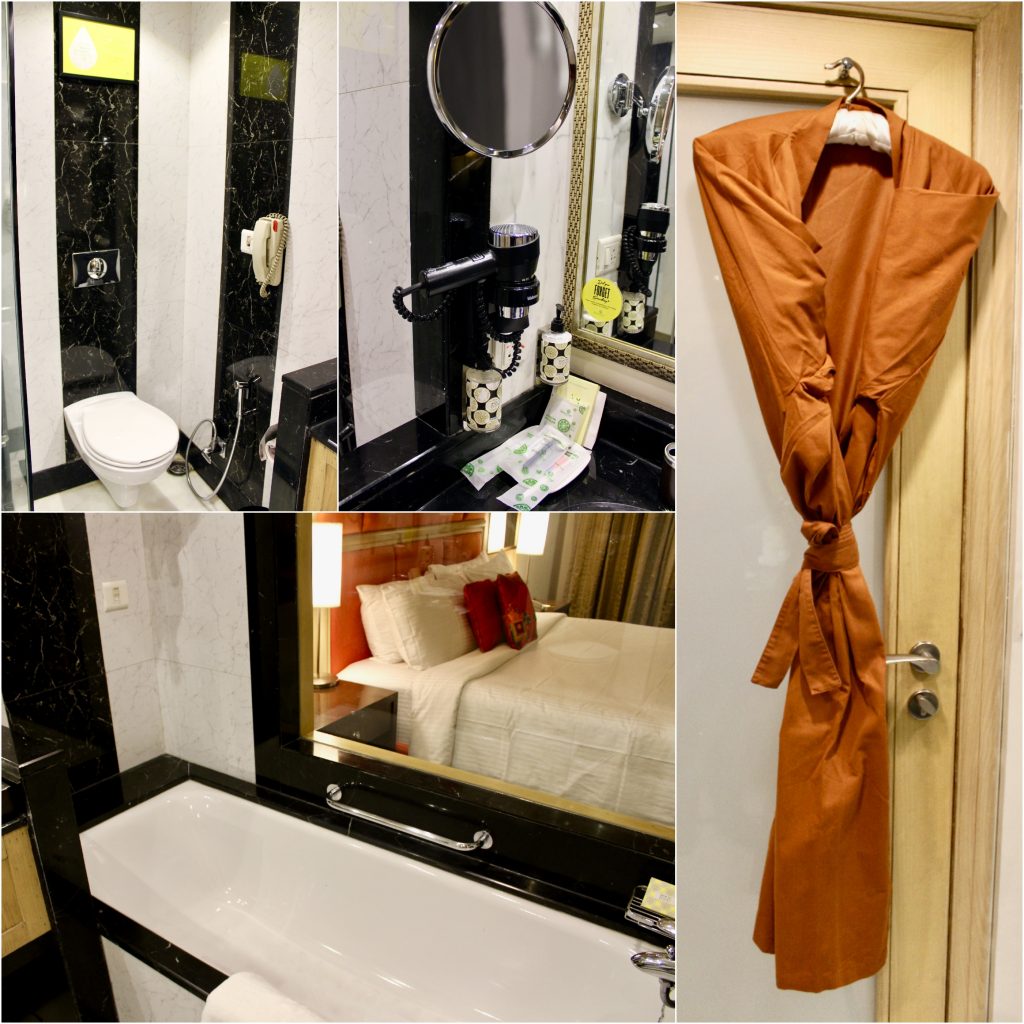 Nidhi had grand welcome, afterall it was her birthday! She was greeted with a beautiful flower bouquet and a cake. Mr. Nishi Kant Asthana, the GM of the hotel personally greeted her with the flowers. Isn't that so sweet!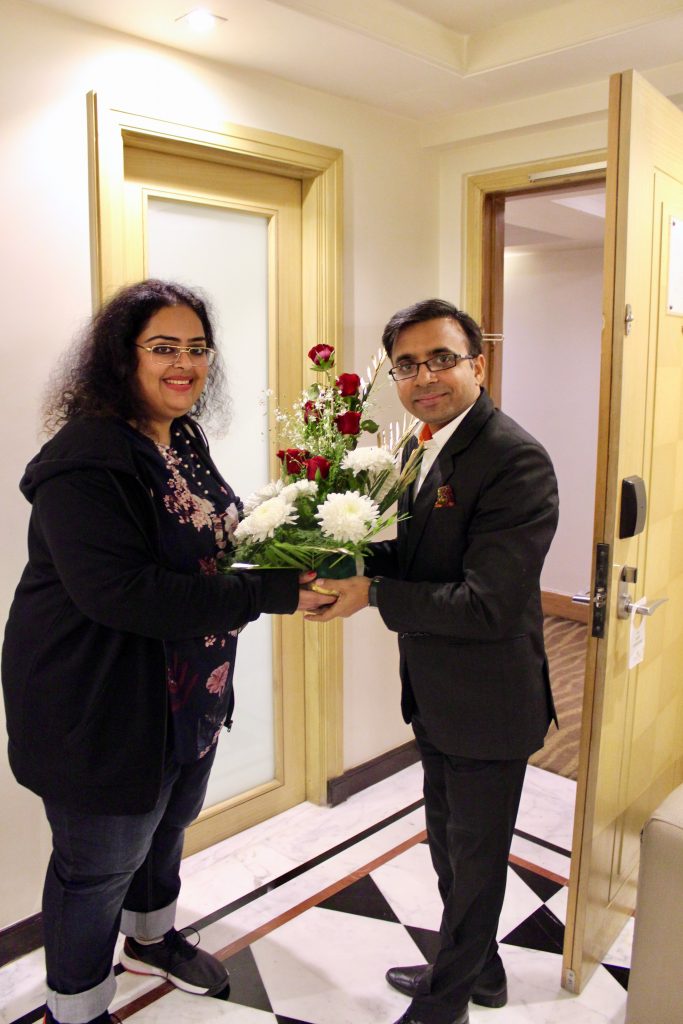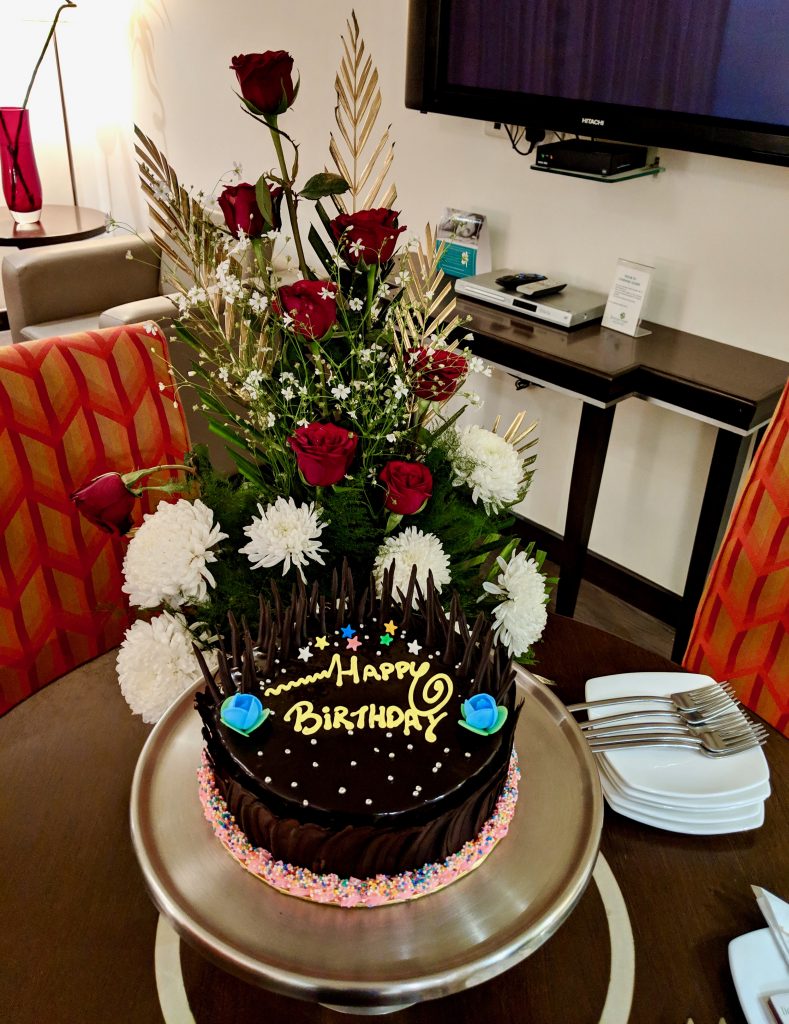 Another sweet gesture which the hotel has for its lady travellers is the Ladies Amenities kit. When we entered the suite, there was a hamper kept which had all amenities from wet wipes to rose water to pins and rubber bands. Don't we at times forget these important things!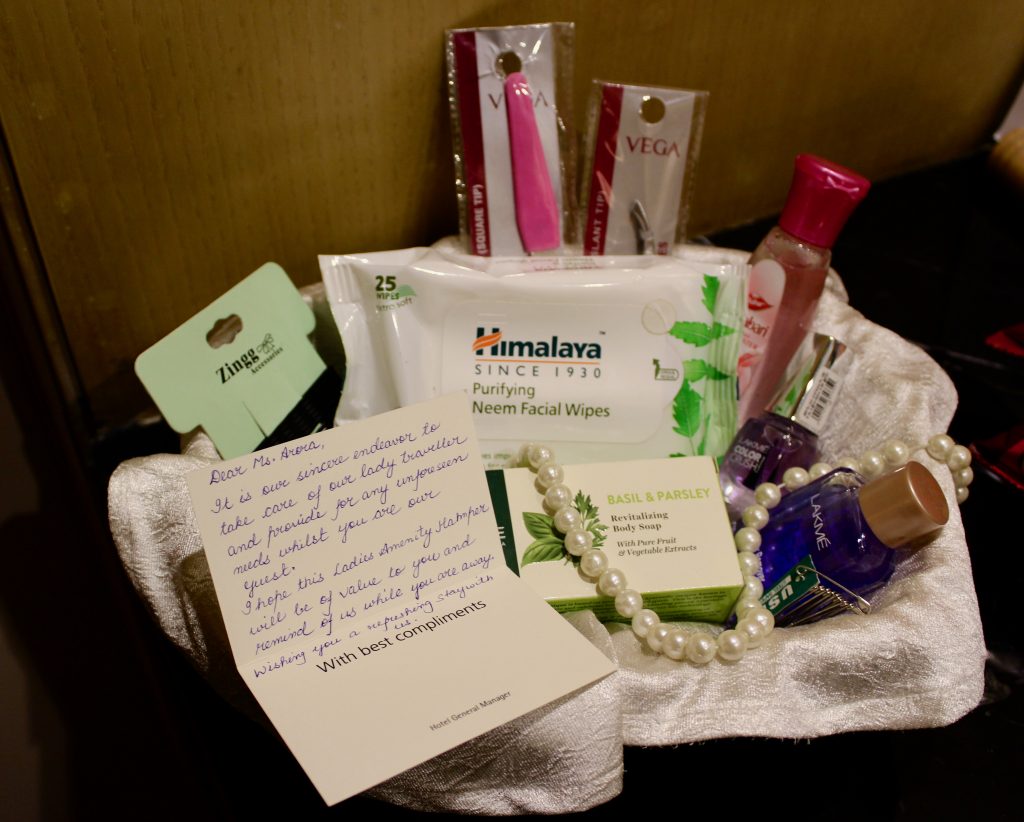 Our dinner was the best of Rajasthani cuisine! When I travel I make sure I indulge in local delicacies and Lemon Tree Premier Jaipur heard me even before I could tell them. Starting with Makki ki Rab soup which had a lovely aroma and consistency, we went on to the starters Murgh Banjara, Machhi Ke Sule and Kuti Mirch Ka Paneer Tikka. All well marinated and cooked giving the best taste of the local food. Three types of chutneys graced our table which were Silbata chutney, Dahi ki chutney and Lasan ki chutney. They perfectly accompanied the starters as well as the main course.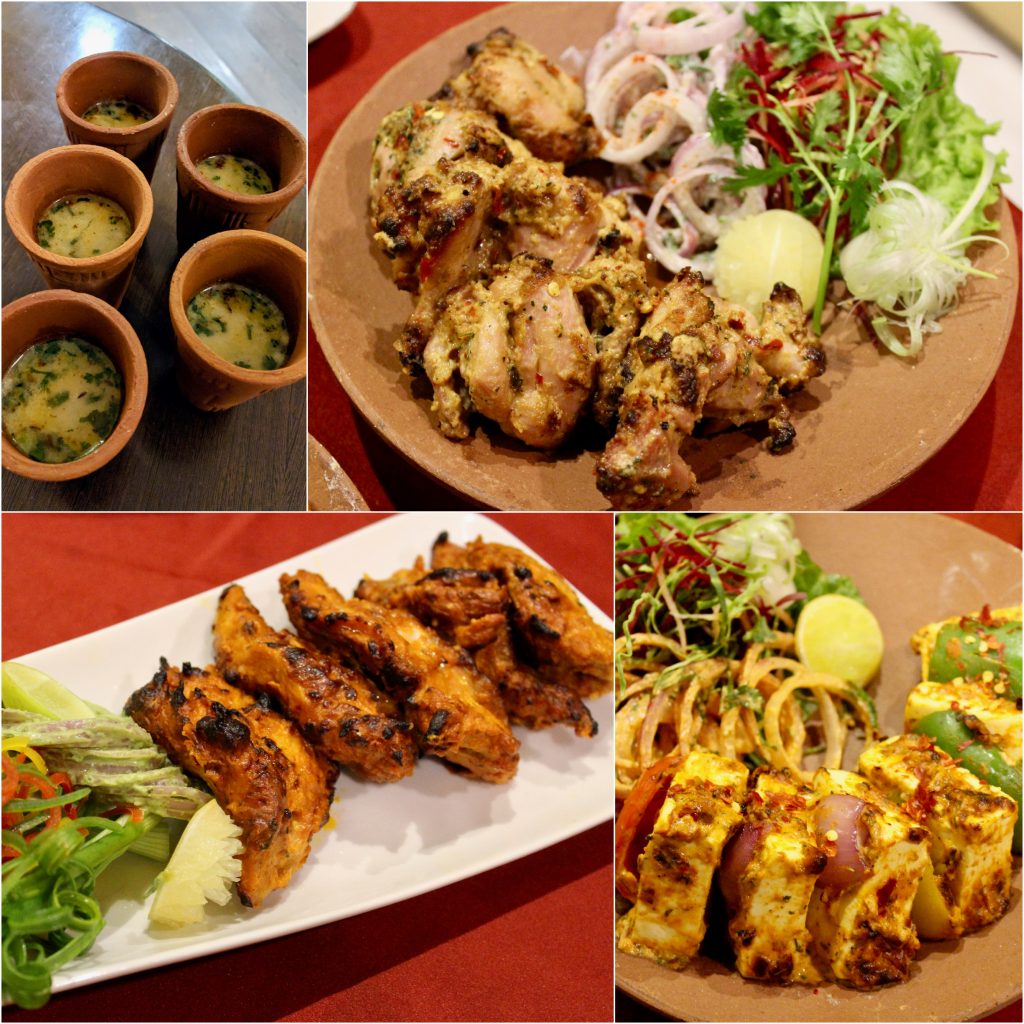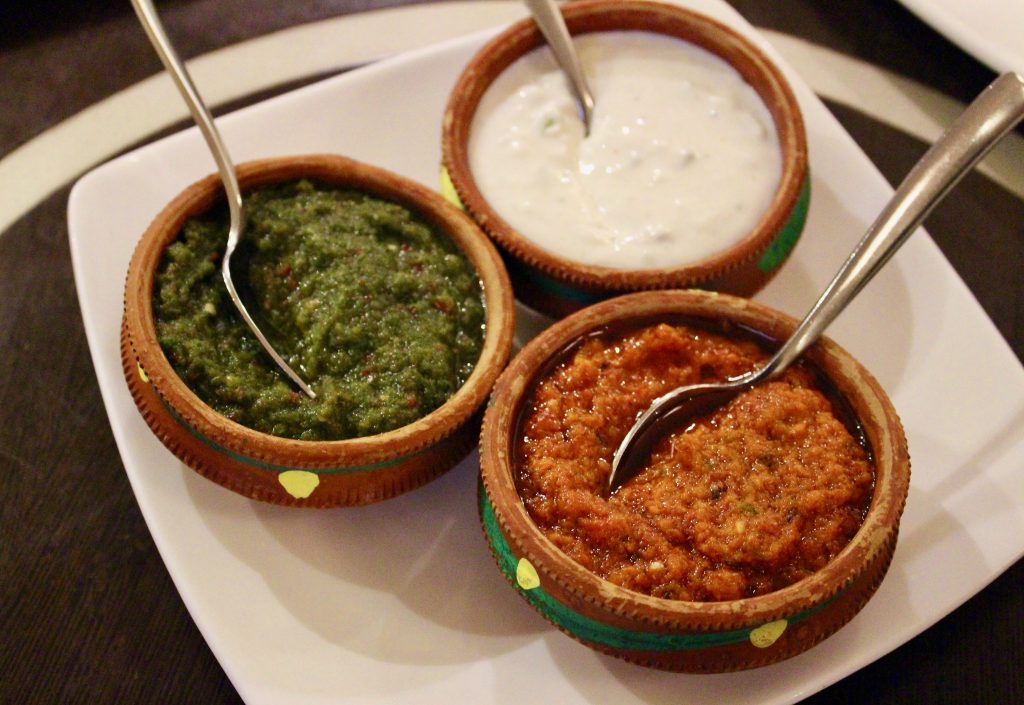 For Mocktails we tried Lemon Tree Creation which wasn't only a great visual delight but also had a great taste. The Main course was Laal Maas, Nagauri Murg, Keema Baati, Methi Mangodi, Jodhpuri Gatta Curry, Marwari Kadhi, Dal Banjara, Plain Bati, Masala Baati & Keema Baati. I would recommend the Keema Baati and Lal Maas if you are a non-vegetarian. They were simply delicious! Keema Baati was crisp on the outside with loads of keema inside….amazing to the core!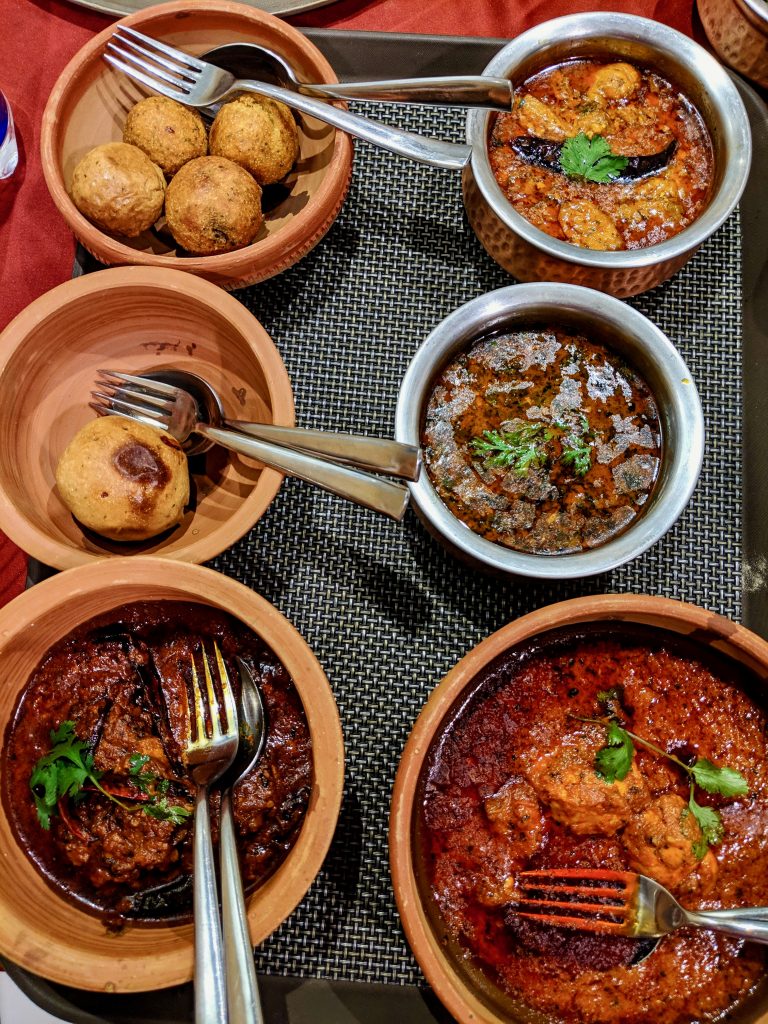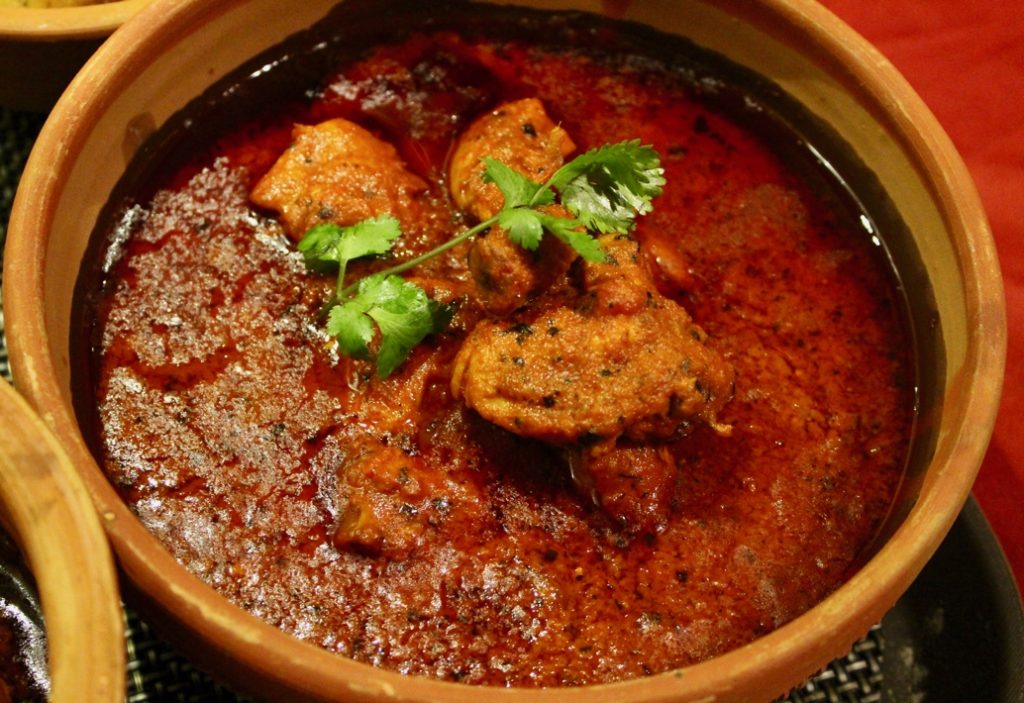 Time for desserts and we tried Plain Churma, Gulab Churma as well as Malpua Rabdi which were all Rajasthani delicacies. They not only looked great but were so yummy that we finished the entire bowl. If you want to be selective then Gulab Churma is not to be missed.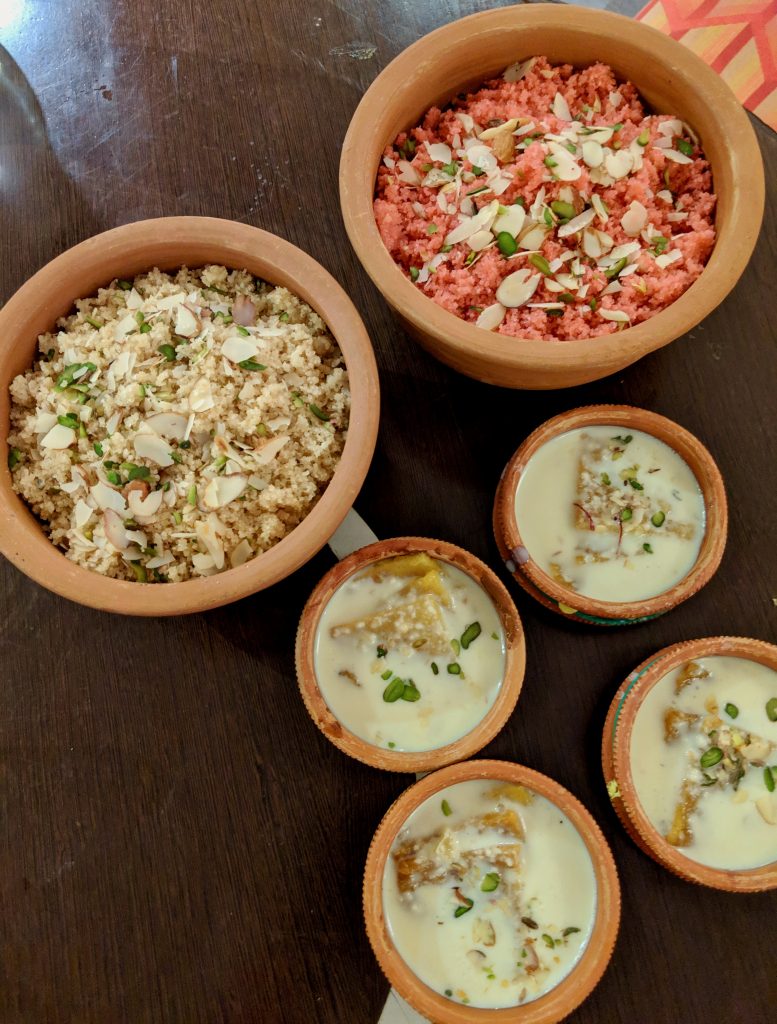 The best part, we had it all sitting in our Junior Suite at our private dining table.
Breakfast was in the confines of Citrus Café. Whichever Lemon Tree you go to, you would always find Citrus Café. A bright and inviting 24×7 multi-cuisine coffee shop that offers an eclectic all day dining menu including Indian, European, American and Pan-Asian cuisine. With a wide choice of seating in the form of couches and tables, the place looked beautiful with the natural light making its way from the large glass walls. Red blinds on the large window panes brought the required colour but to add to it, there were also pictures of famous monuments and tourist sights of Jaipur which made the experience even more enriching. While we chose our table and sat on the plush seating, when we looked at the table mat we saw interesting jokes and anecdotes which each one of us could relate to. Those were interesting insights to real life situations which were fun to read.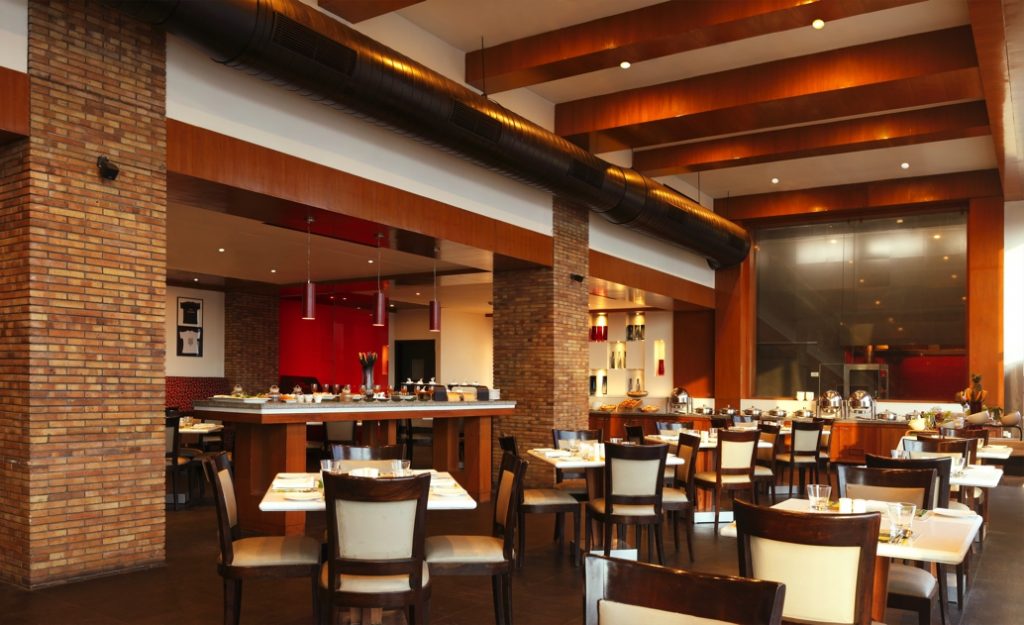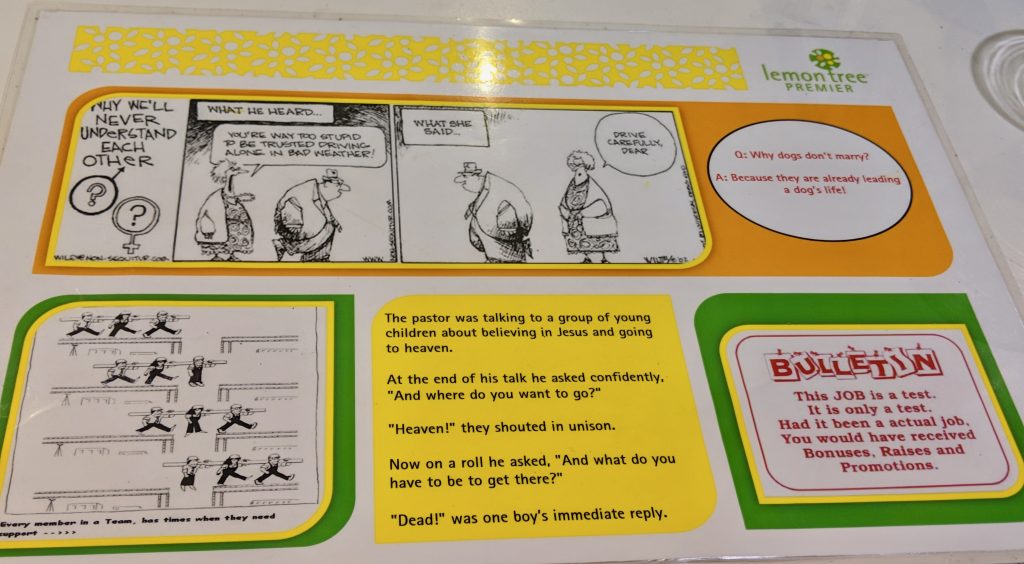 The wholesome breakfast buffet is served daily in an indulgence and guests get to choose from a wide range of popular Indian, South Indian, Asian and Western preparations. We tried a wide variety of beverages as well as food. Starting from a variety of fresh juices – watermelon as well as orange which were true refreshers but when you have some yummy shakes, who can stay away from those energy shots! So we also tried the Strawberry and Chocolate Shake! Other beverages included fresh Tomato juice and Mix canned juice.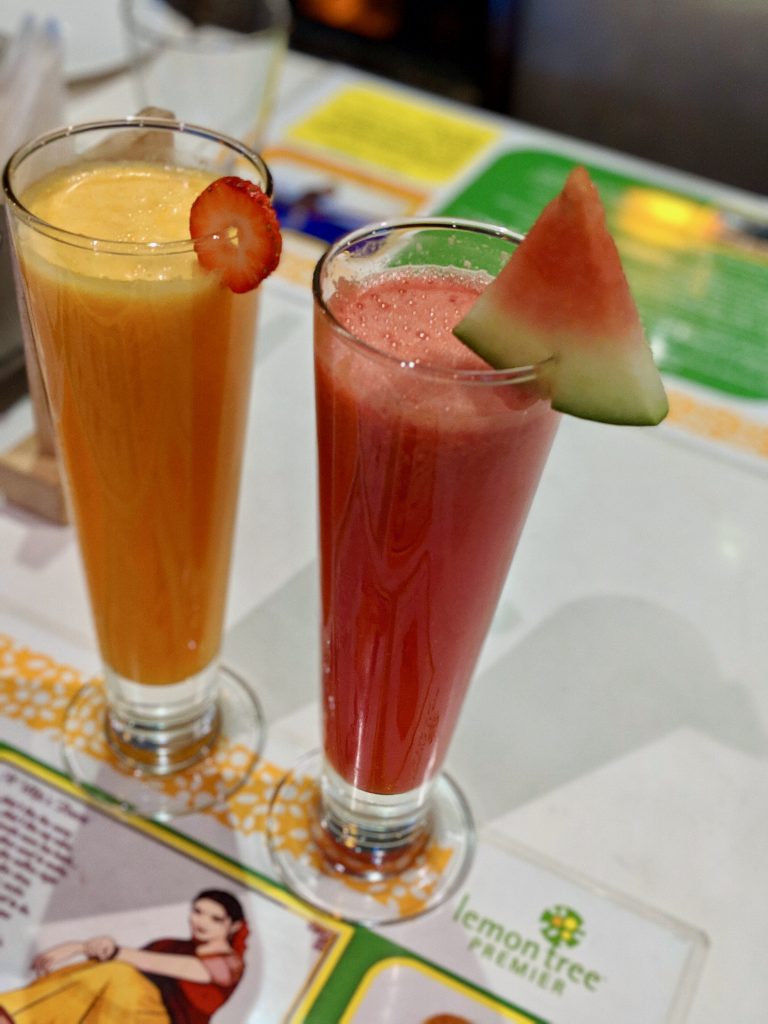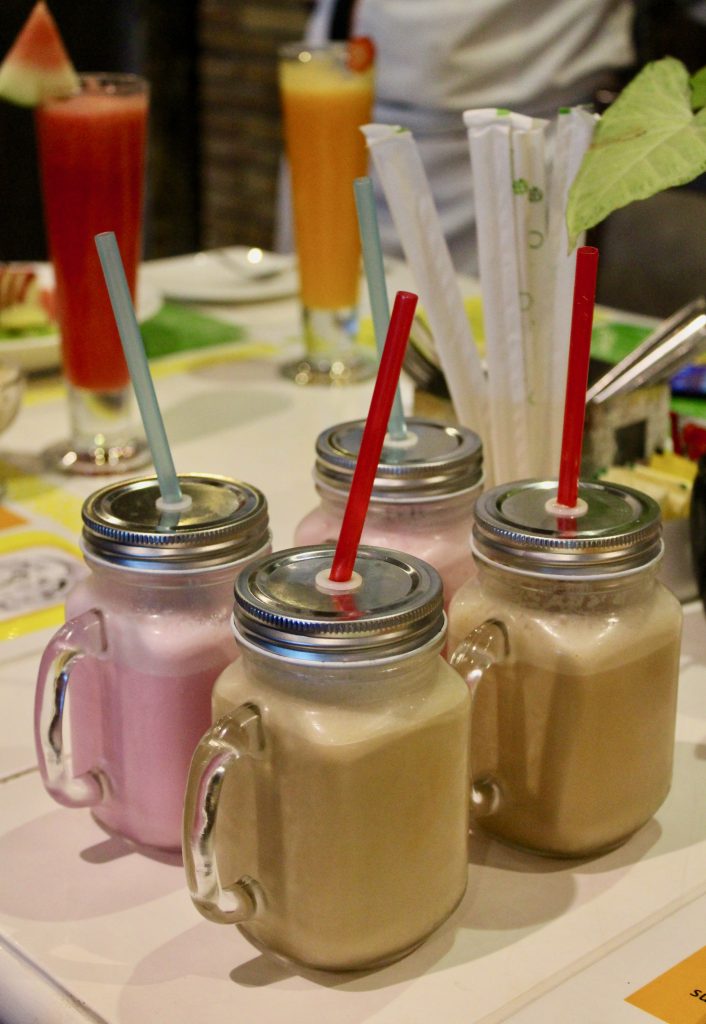 Jumping onto our favourite South Indian cuisine, I loved the Ragi Idli here which was so soft, yummy and healthy. If Ragi isn't your pick, then there is also the normal Rice Idli! We also tried Dosa which was crisp, and made to perfection! How can I forget the Veg Uttapam which was so yum and just perfect! Made with finely cut veggies, it was absolutely delicious!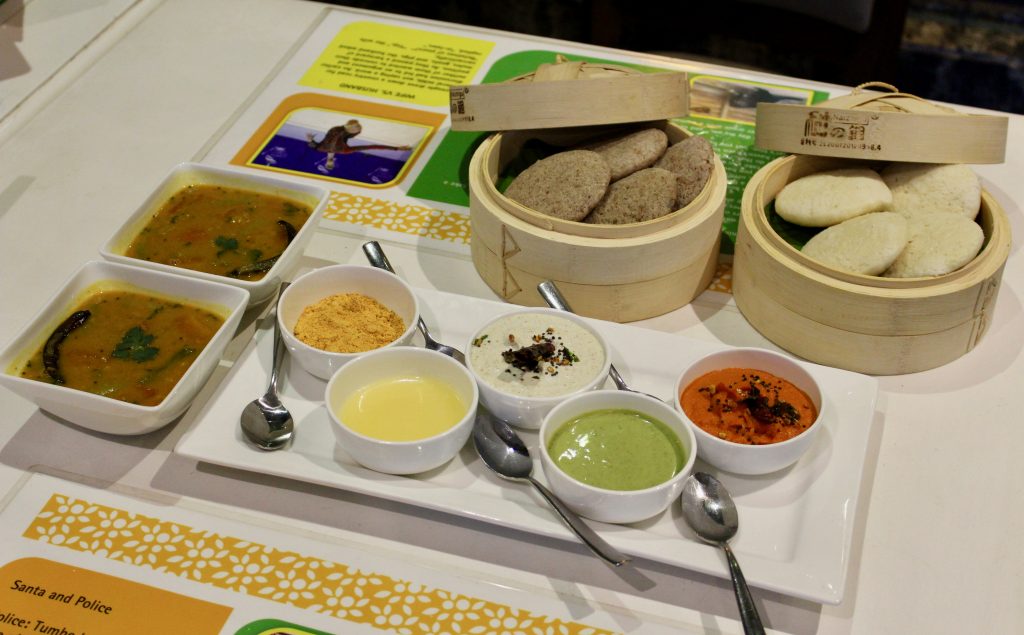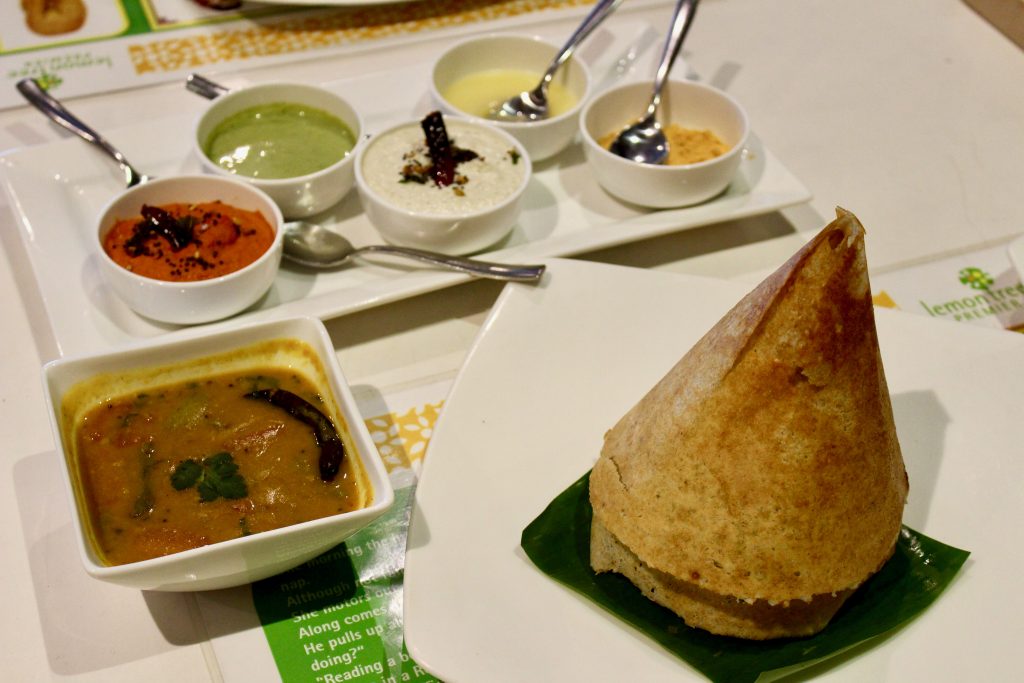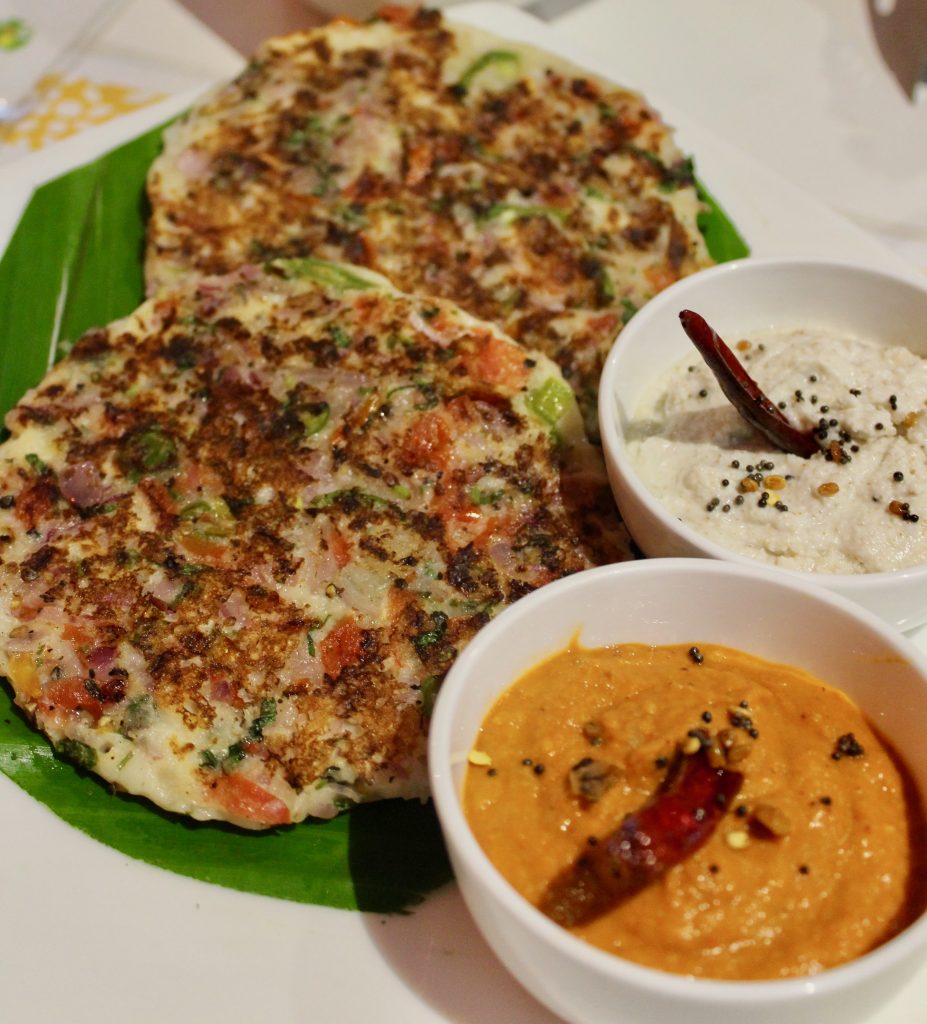 Moving onto the live egg preparation counter, my pick was the Classic Omelette which was served with hash brown. So nice, fluffy and had a great consistency. Sunny Side Up came cutely presented with hash browns and tomato. There was a wide choice of breads too from white, brown to multigrain.
We stayed at the hotel for 2 nights and hence could try a little more variety owing to two breakfasts.
Time for Cold Buffet which included assorted Danish Pastries, Flavoured Donuts, Muffins, Croissants and Cheese Platter. Sandwiches with veg/non-veg stuffing were well made and the small sized sandwiches were so perfect that you would not feel guilty of eating a lot.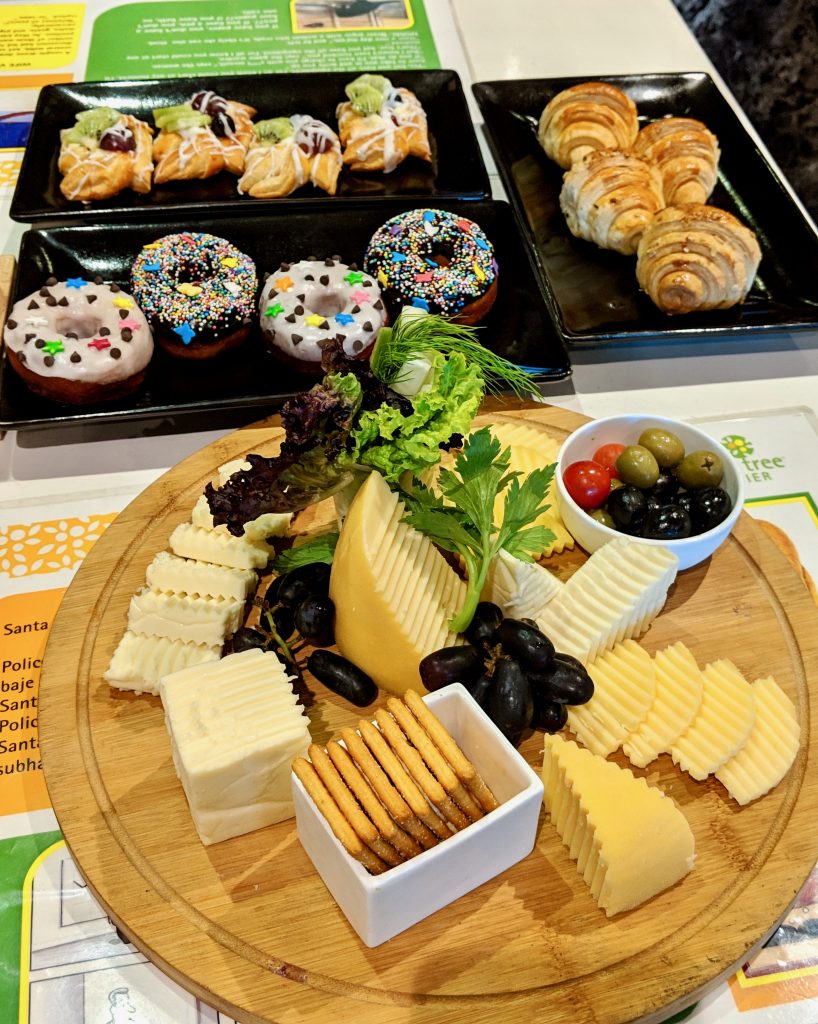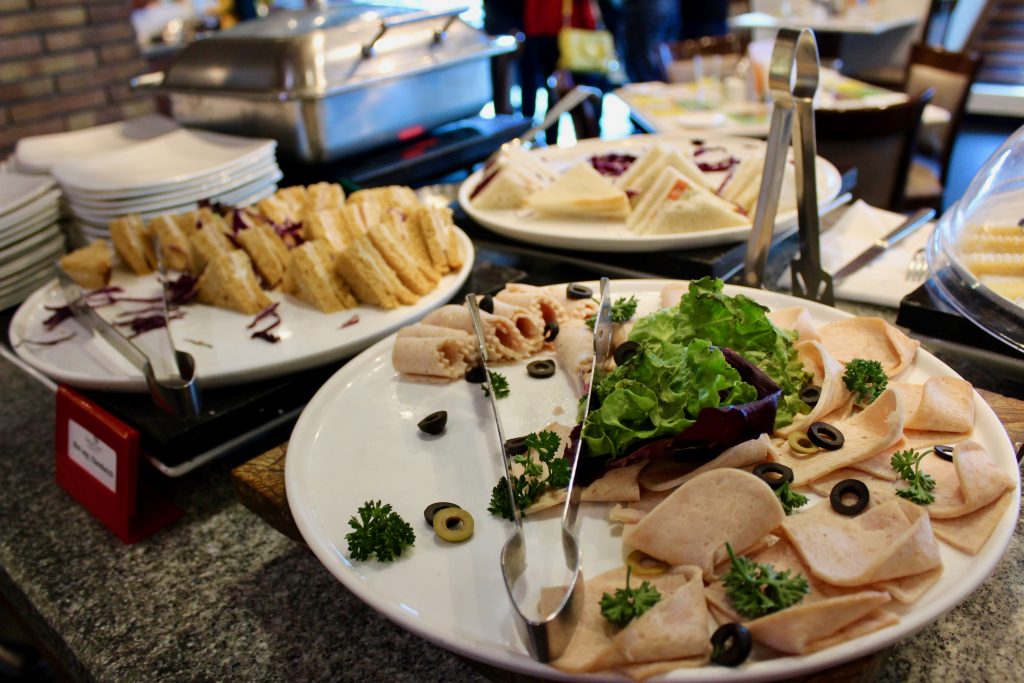 There were also Cut Fruits and Muesli. Pancakes were a delicacy!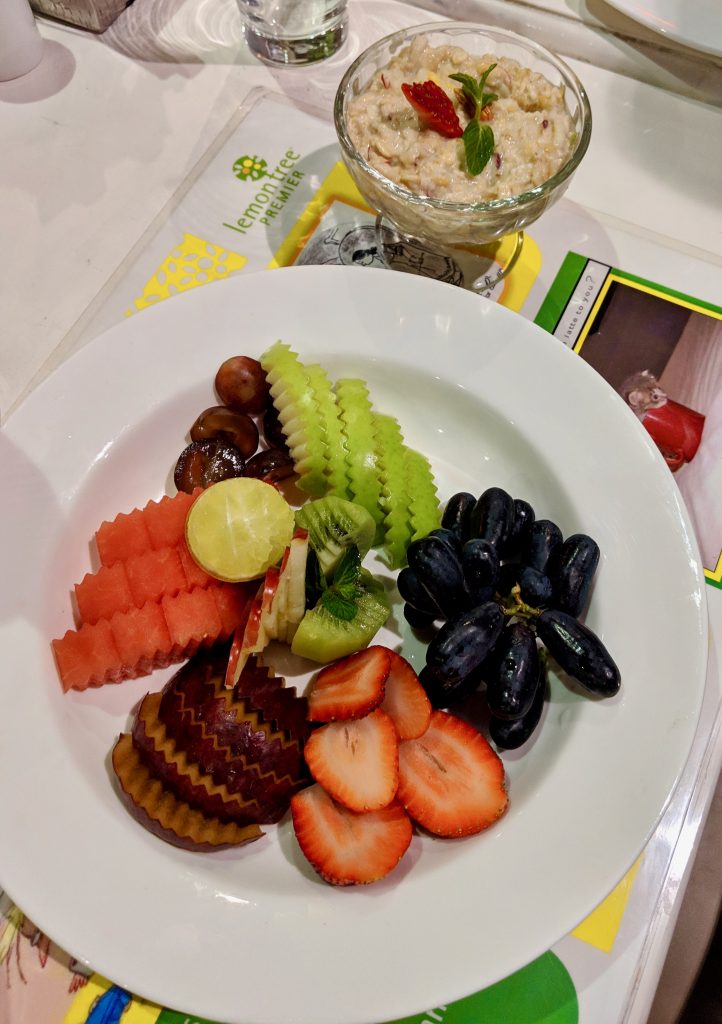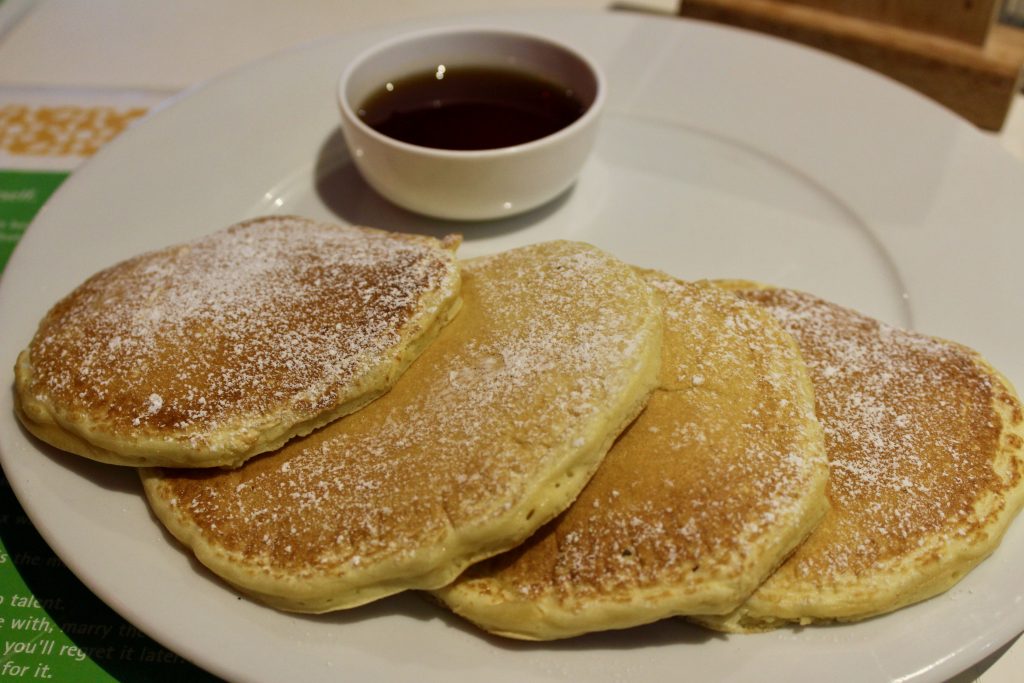 The breakfast buffet follows a cyclic menu where one traditional dish is always present! It could be Kachori, Mirchi Vada or something else. We tried the delicious Mirchi Vada where mirchi was filled with potatoes and served with curry and salad. We also tried the yummy Poori Bhaji. Kachori was served with mint and tamarind chutney and well stuffed with dal.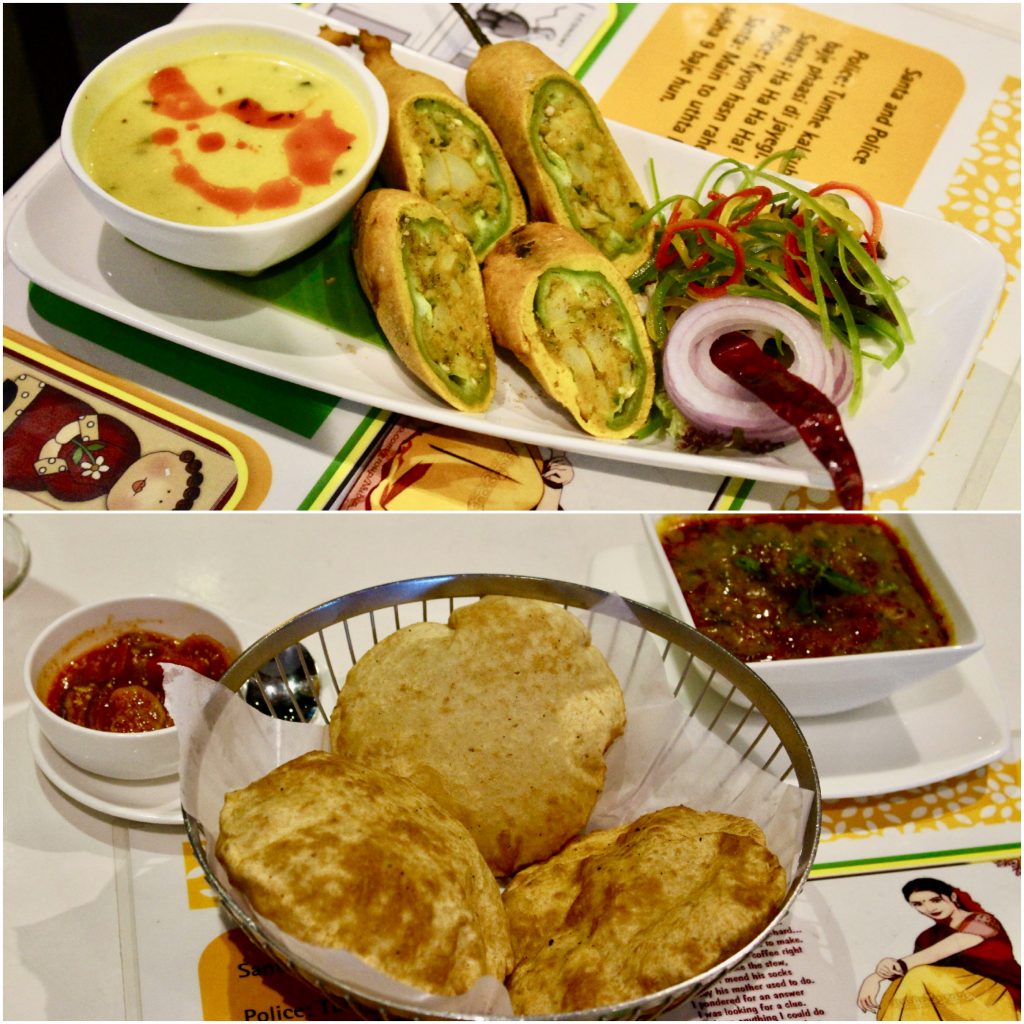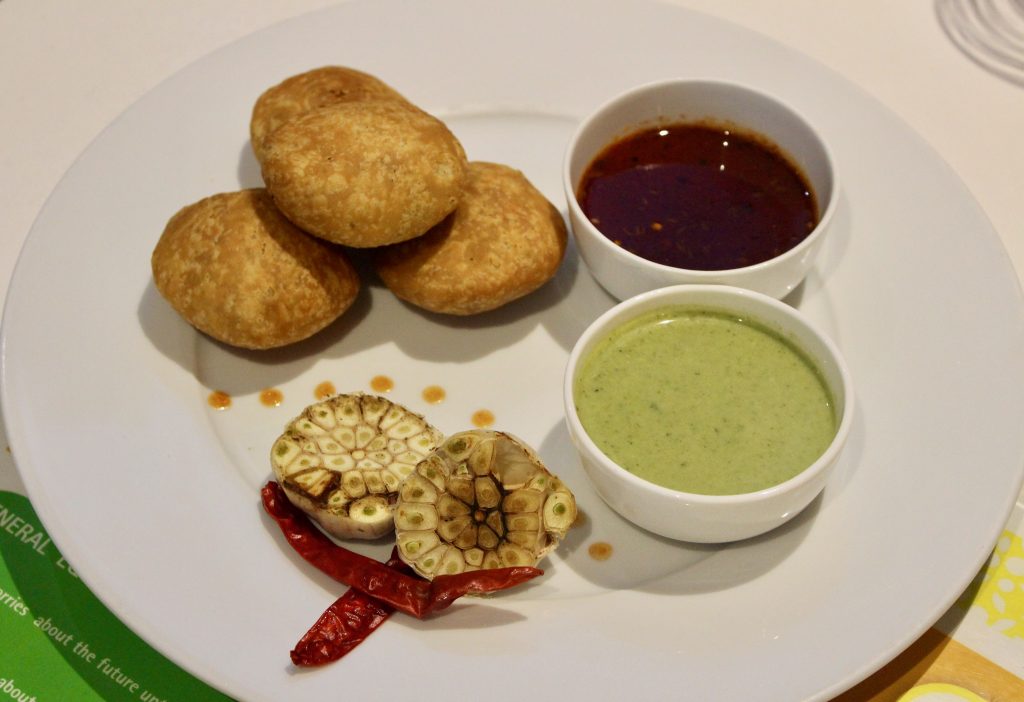 For health freaks there was also a Salad counter where one could customize their salad as per their liking. For non-veggies, there was Chicken Ham and Chicken Sausage too. Other items included Flavoured as well as Plain Curd, Parathas, Boiled Eggs, Pav, Cornflakes, Milk, Paprika Potato, Porridge, Butter Garlic Noodles, Poha and Aloo Methi Tikki.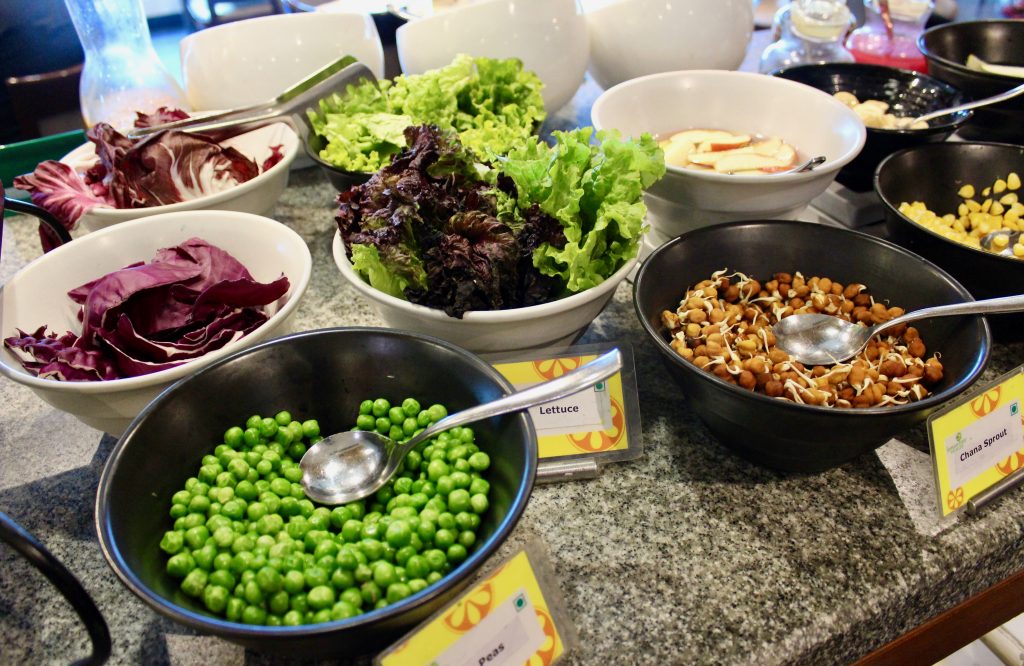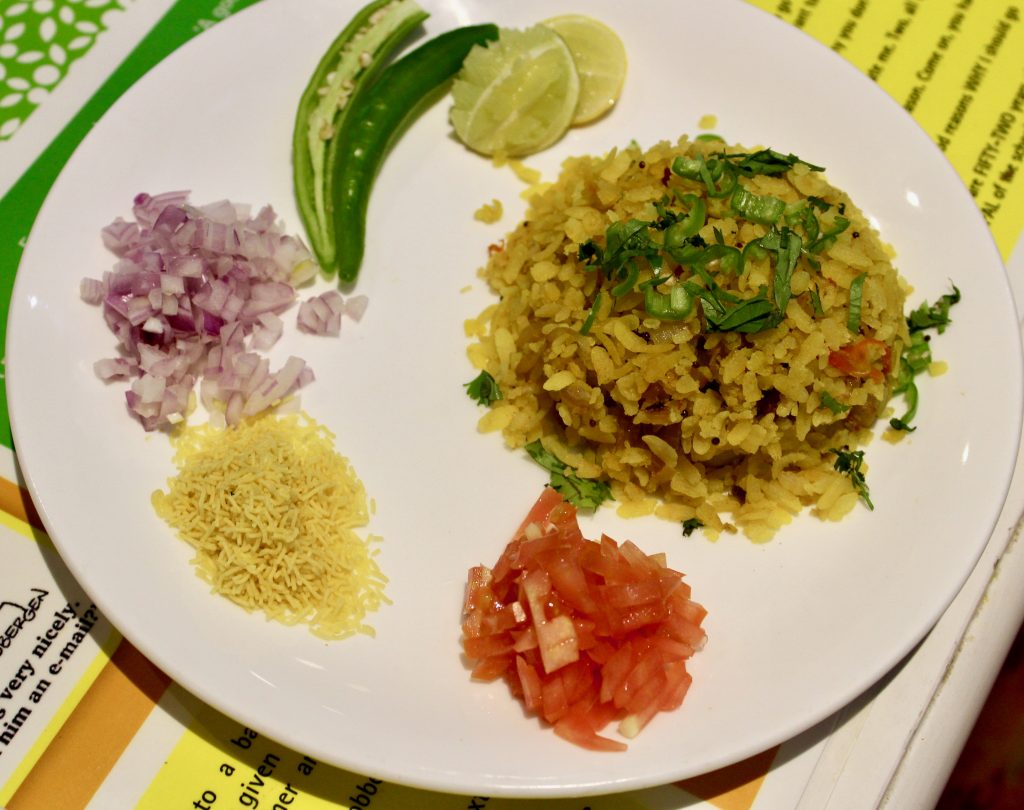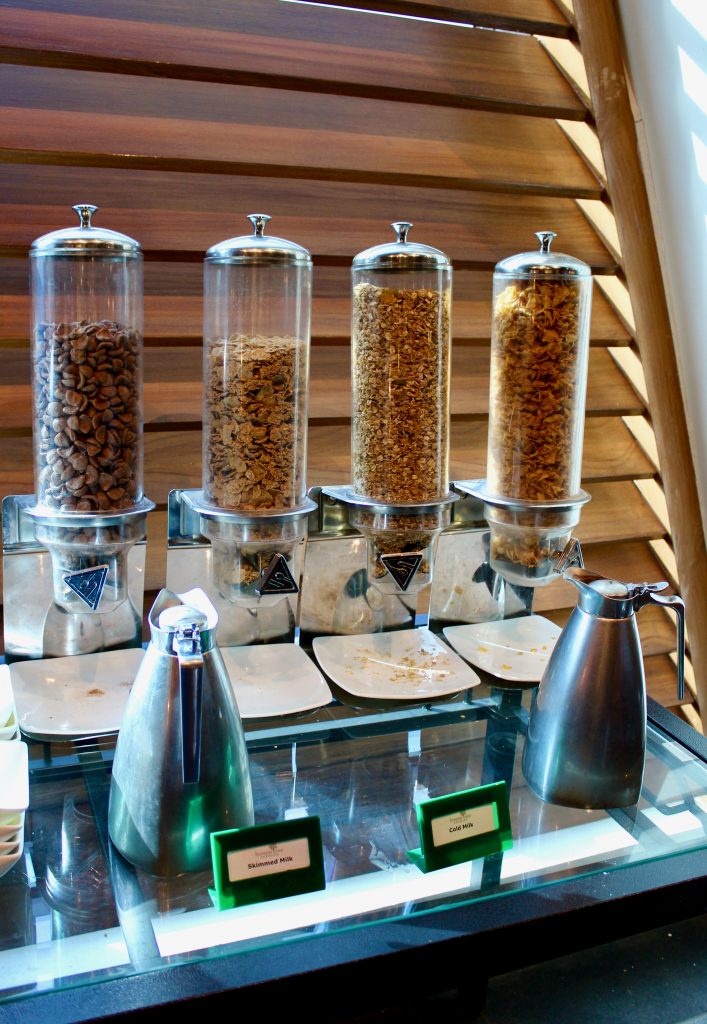 Time for some recreation and we headed to Fresco at Lemon Tree where you have Tattva Spa which promises to pamper the body and refresh the spirit and the fully equipped gym for a workout.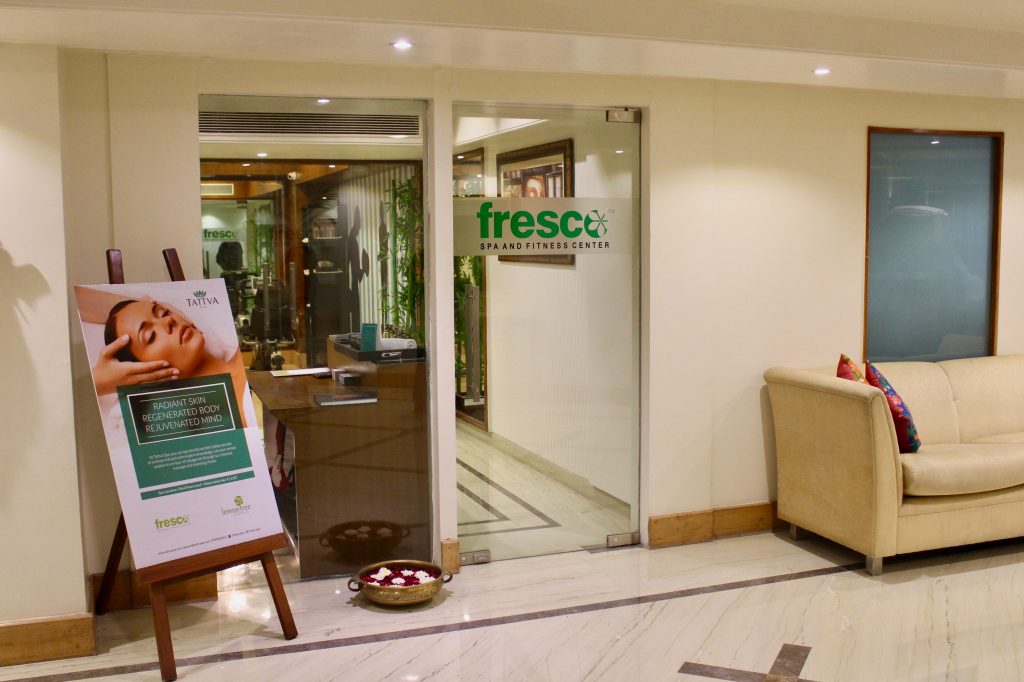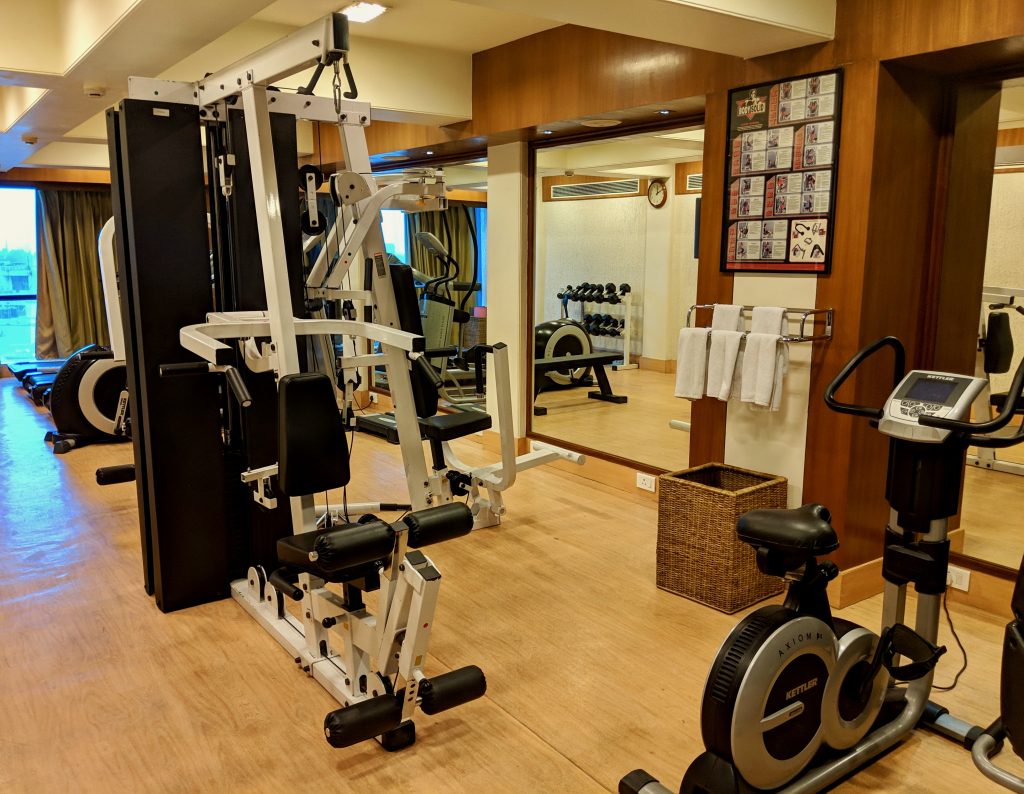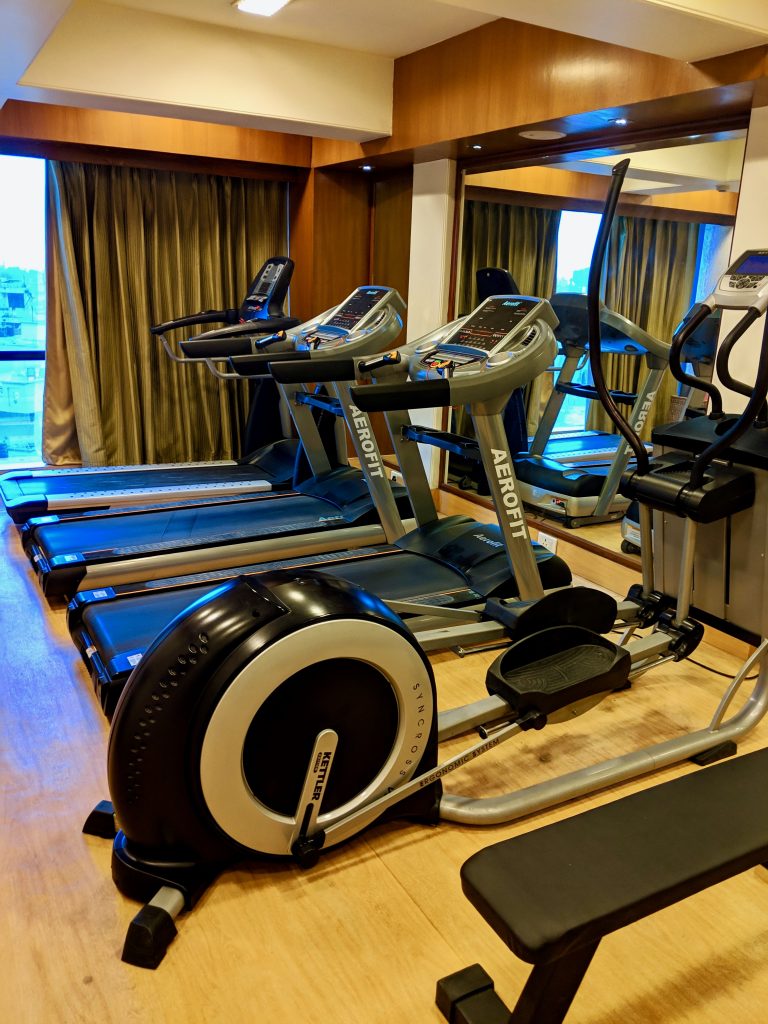 On a vacay, I would prefer the former than the latter so both Nidhi and me headed to Tattva Spa. Fresco Spa by Tattva invites you to experience the rich mystic fusion of the ancient Indian philosophy with the latest contemporary wellness methods. As the name spells ancient wisdom, it was time for awakening of healthy skin, mind & body. You would feel a calming affect as soon as you enter the Spa! The aroma and the music overpowered my senses. Once in, you see 4 kinds of oil – Vishram Oil which helps to relax the mind and body, Pavitra Oil which helps to cleanse the mind and detoxify the body Pranati Oil which helps to energize and rejuvenate the body and Dhyana Oil which helps to induce sleep & a meditative state of mind. Since relaxation is what I was looking for I chose Vishram Oil. Nidhi chose the Dhyana blend which was a meditating oil. The manager Mohit Pal Singh showed us the Spa Menu. With a wide choices ranging from the massages to the oils, you can choose both depending on your requirement. The 90 minutes of relaxation were bliss.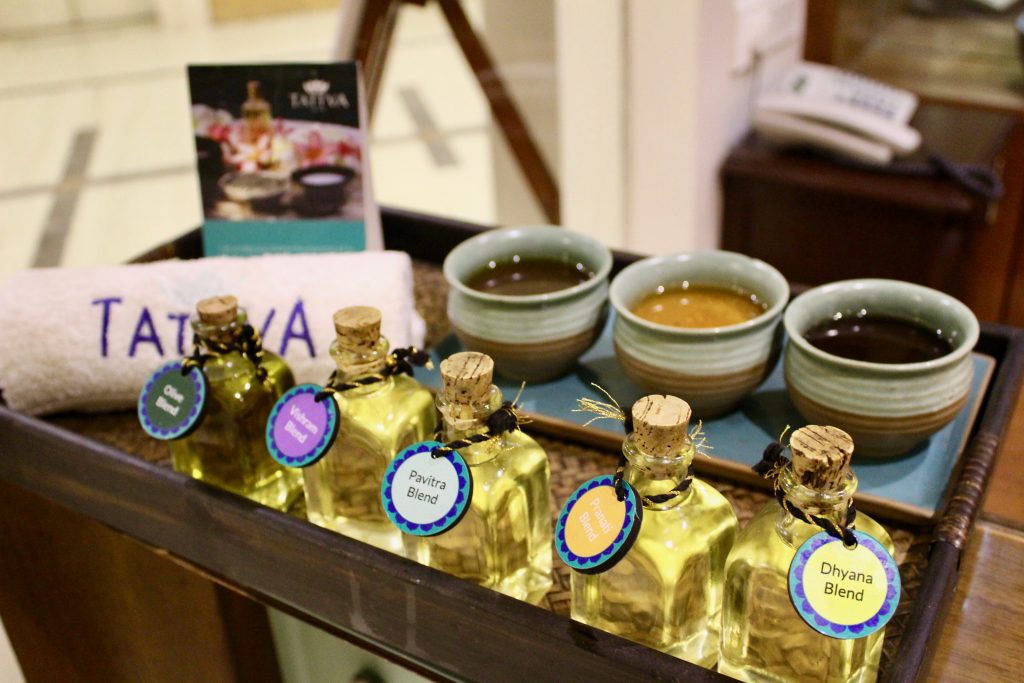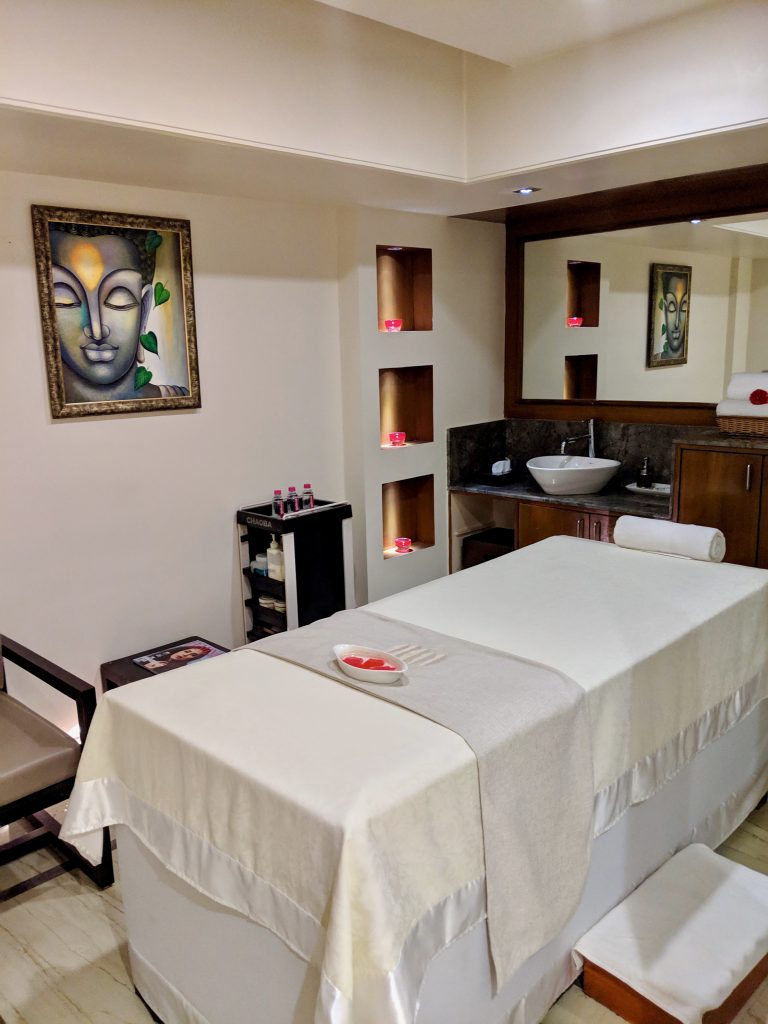 The massage with the enriching oil relaxed us completely and we could feel pleasure and relaxation in every drop when it was massaged on our skin making it more supple and soft as well as nourished from within. The spa was followed by a steam and an after shower which was pleasurable and extremely beneficial for the body. It gave our skin a new glow & charm.
The hotel also has a refreshing rooftop swimming pool where you can feel as fresh-as-a-lemon with the refreshing laps and the view.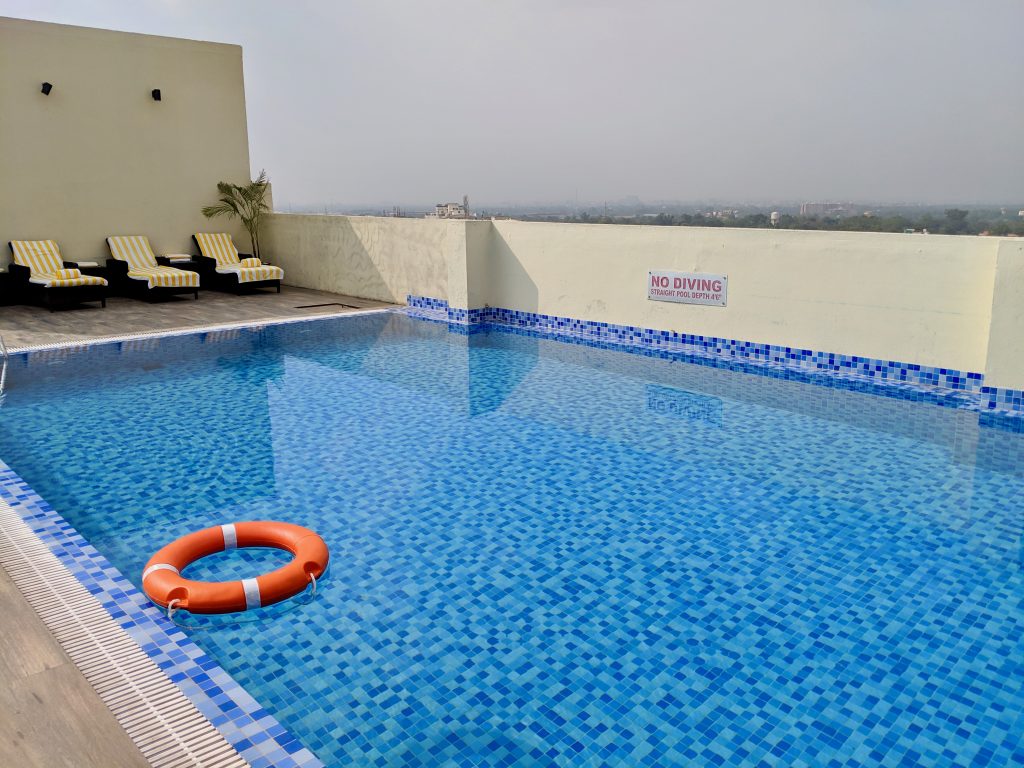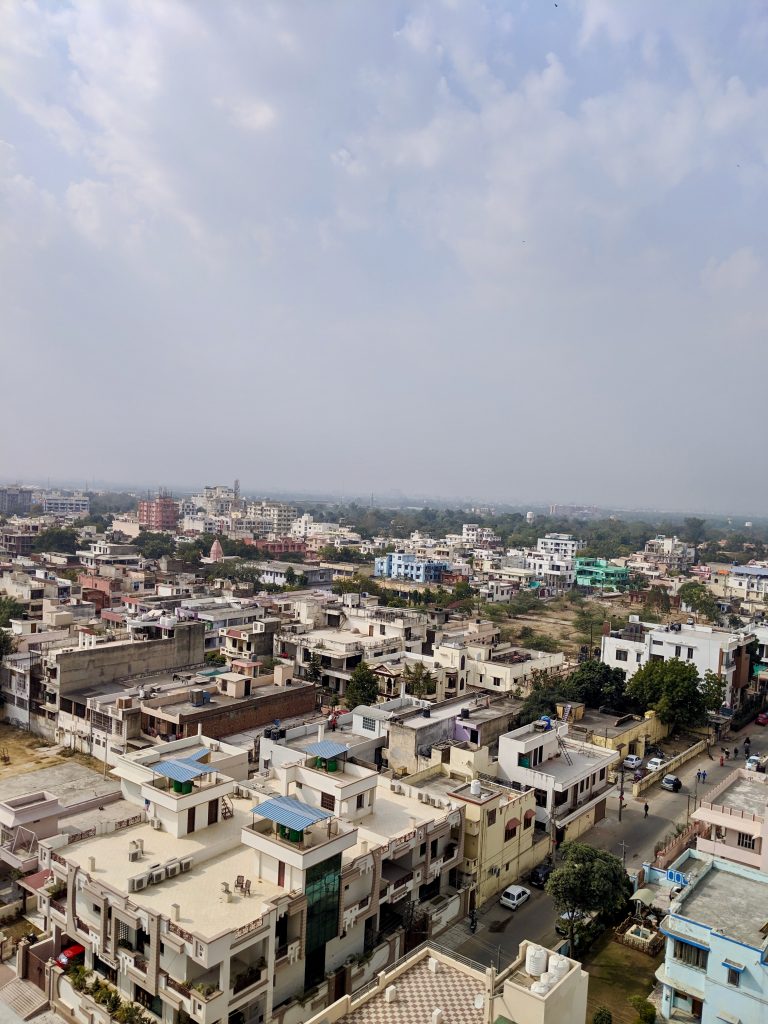 The hotel was also sweet enough to arrange a car to take us around the city but before we head out we thought of having a little lunch. You know when you travel with parents, they make sure you have every meal. Infact, after a spa, I do feel hungry so we picked the in-room dining menu and ordered a little Italian, Mexican and American for lunch.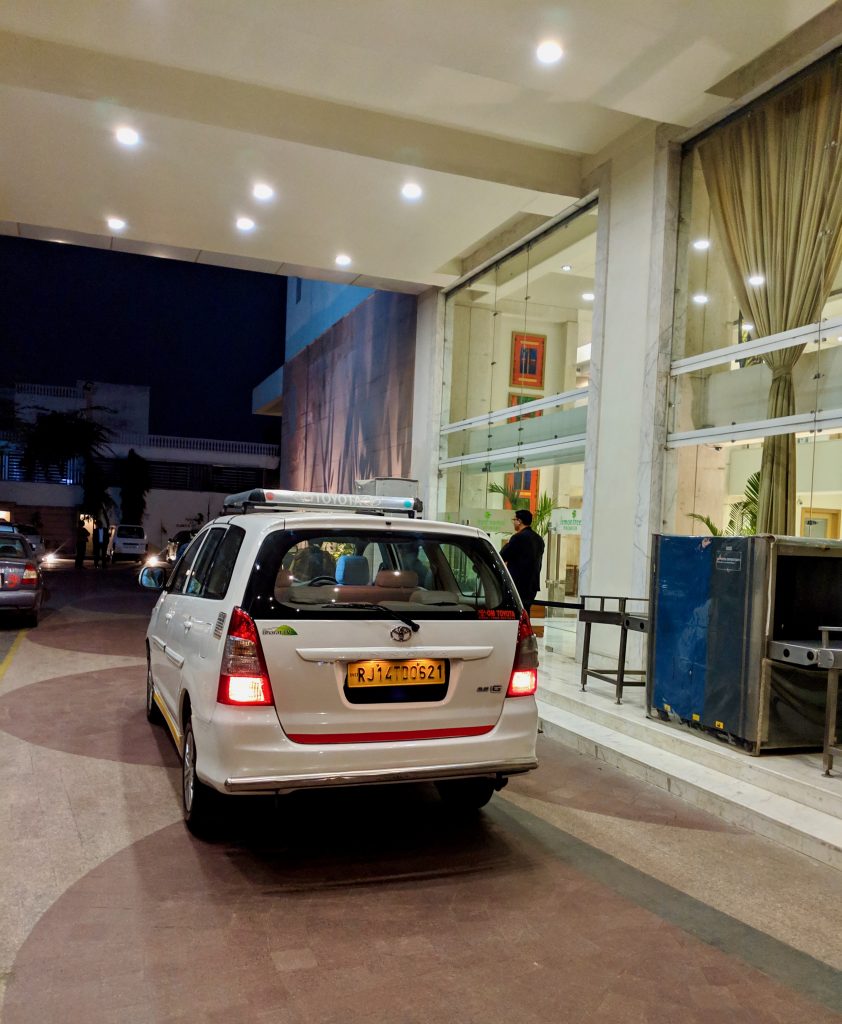 The Sweet Corn Soup was a great nutritious start which also had finely cut veggies. The Chicken Caesar Salad was fresh, nutritious and filled with great taste as well as crunch. Hummus with Pita was classy as ever served with pickled salad. The Citrus Club Sandwich was generously filled with cucumber, tomato, ketchup as well as cheese and served with salad and fries. Loved it! Café Burger was an indulgence in itself filled with a Chicken Patty and layered with slices of tomato, cucumber, lettuce, cheese & gherkins. Served with fries and spicy mayo, it was absolutely yummy! Penne Arrabiata Veg was delicious while Aglio Olio is a classy dish which totally lived upto our expectations. We also requested for a small portion of Fish & Chips and it was so tasty that we finished it in seconds. Coming to my favourite Pizza, we requested for a half and half. One half was grilled chicken, bell peppers, tomato, black olives and pesto while other half was Pizza Verdure. I would say best of both worlds!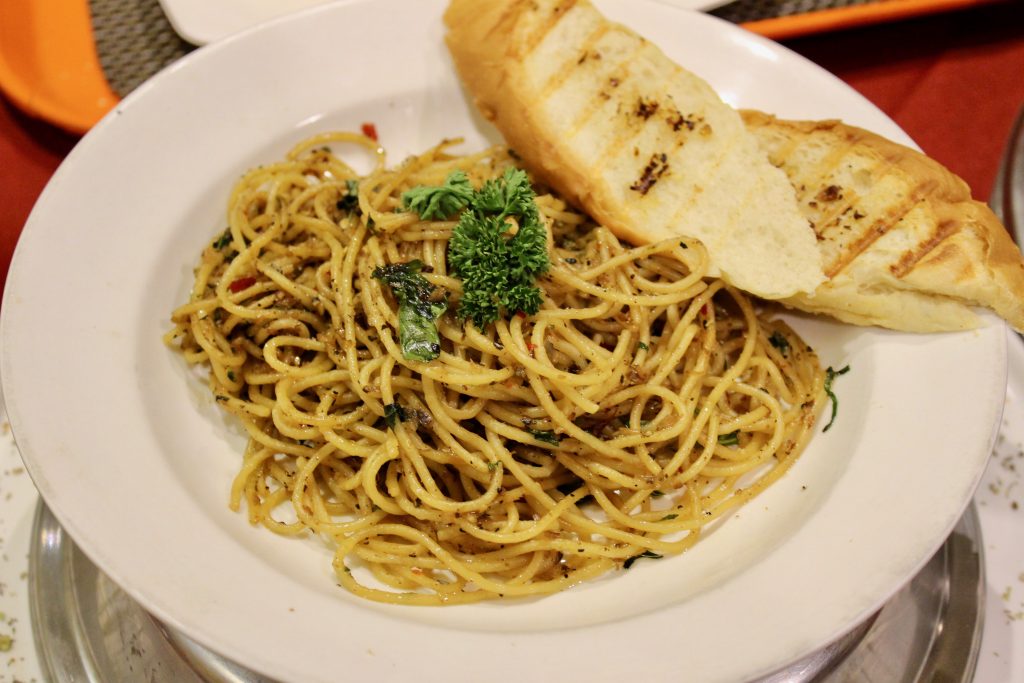 A trip to the touristy city is incomplete without sightseeing and shopping so we headed to City Palace, Jal Mahal, Hawa Mahal, Albert Hall Museum and Bapu Bazaar. True beauties and sights to marvel!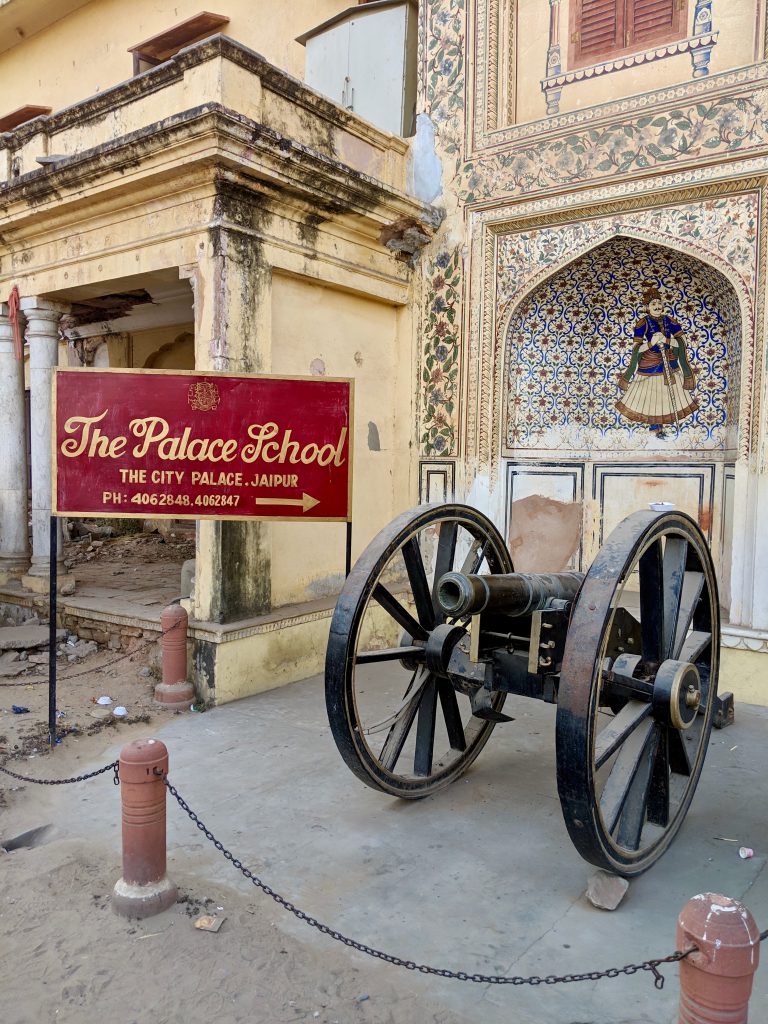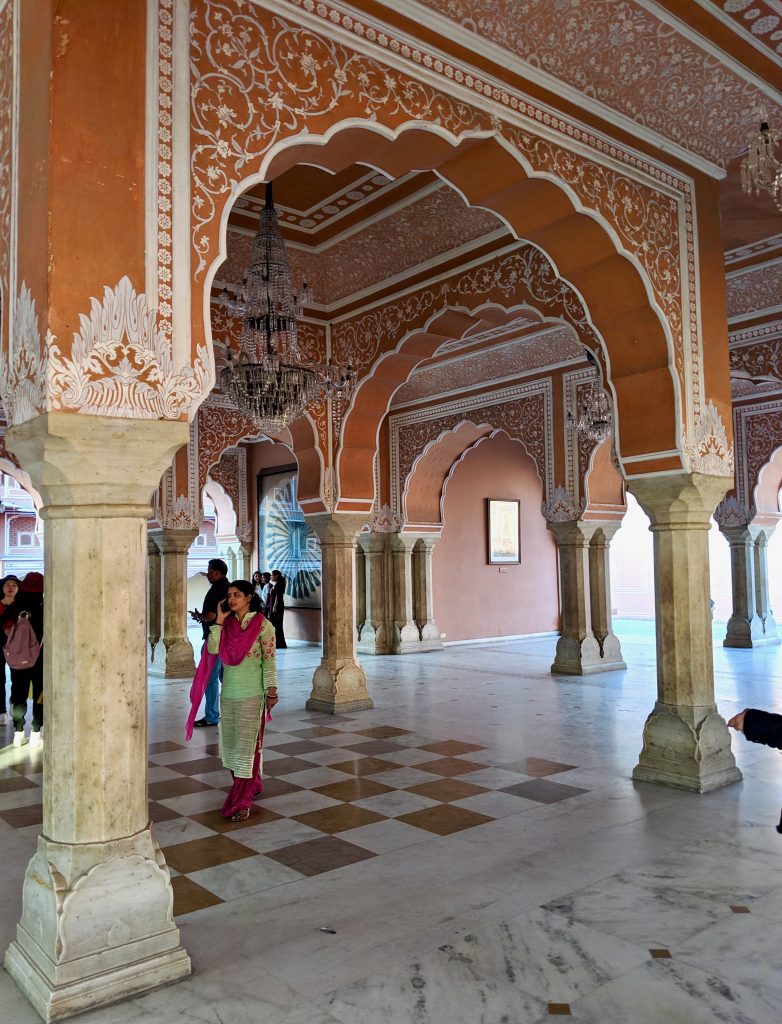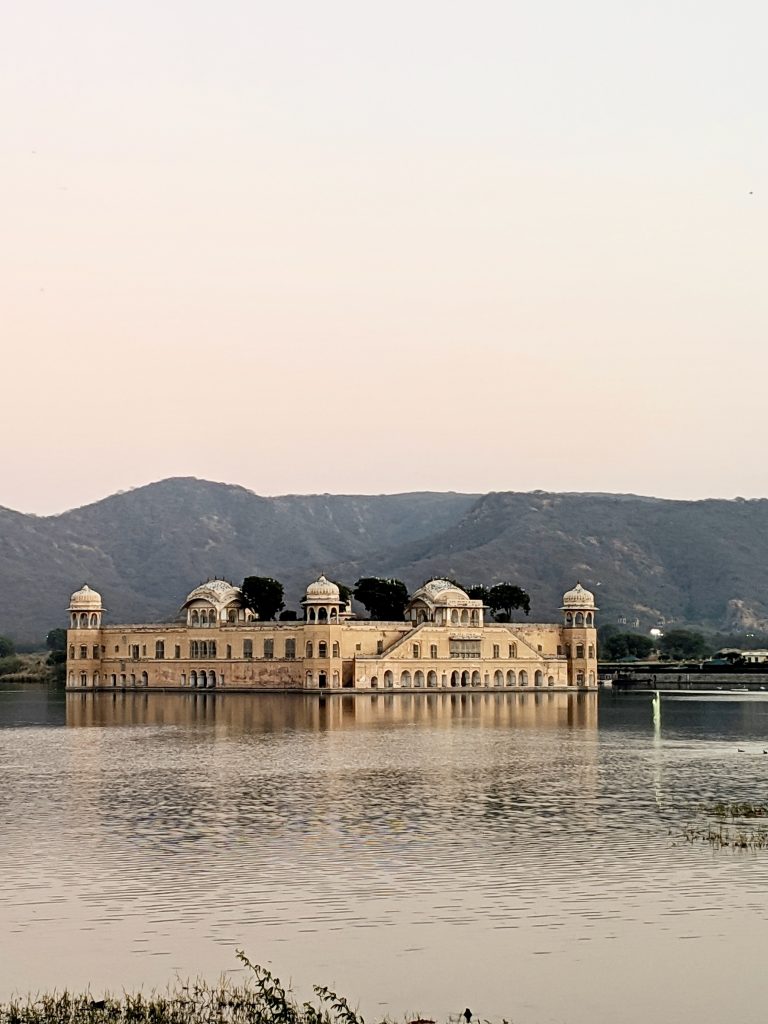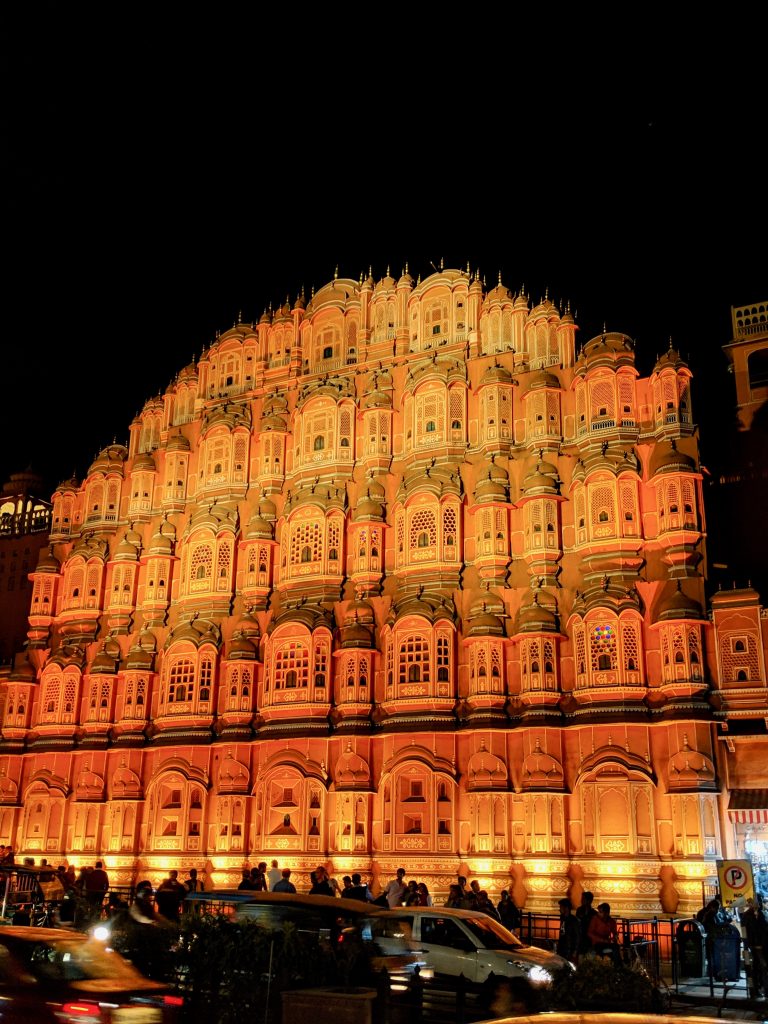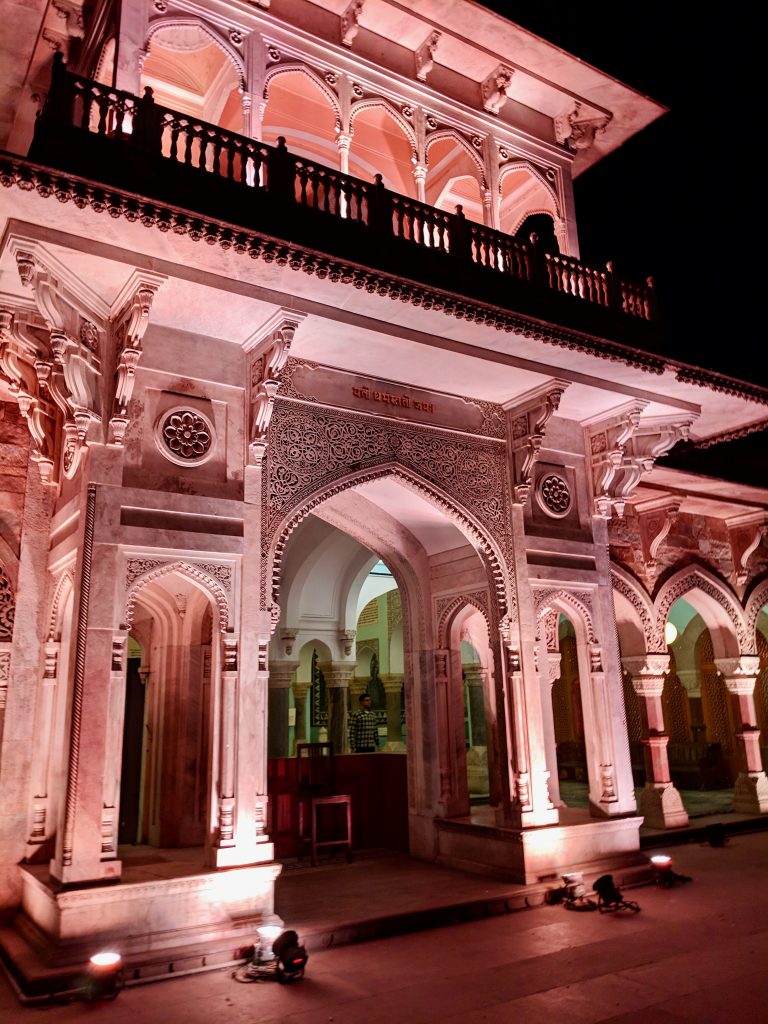 We came back and headed to Slounge, a hip recreation bar where guests not only chill and have their drink but they also have a choice of heading to the PlayStation, and also one can enjoy a game of chess or play pool. The buzzing music just lifts your mood and you could try a variety of cocktails and mocktails which the bartender would make in front of you. The décor is cosy yet 'chilled out'. Perfect for guests who want to relax. In food, one can choose between Indian and international cuisine.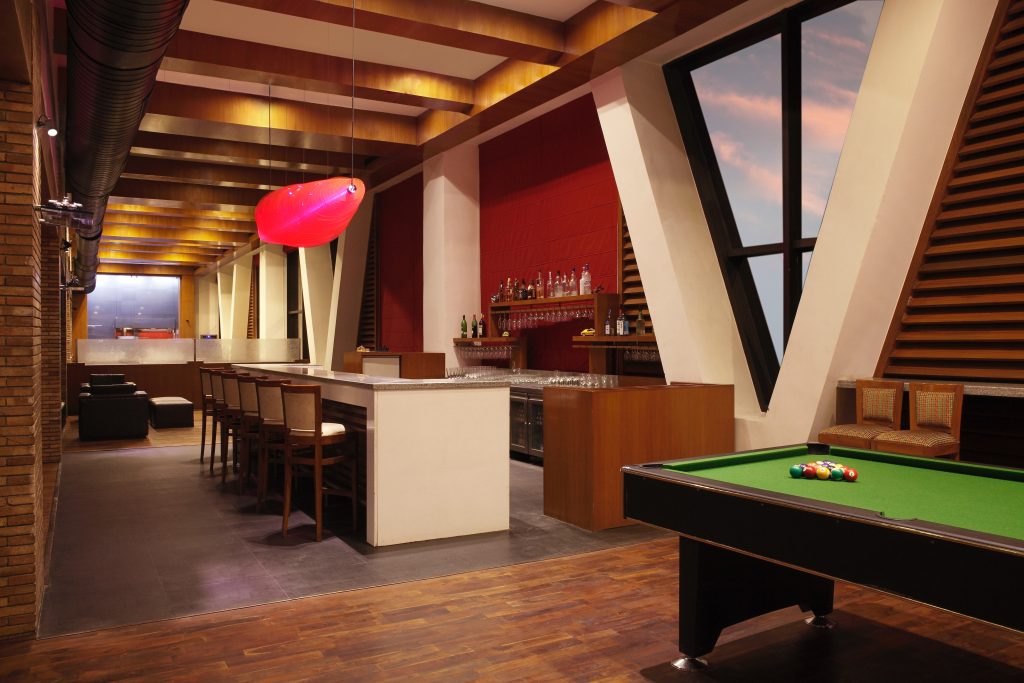 We tried a variety of Cocktails & Mocktails:
Classic Margarita which had tequila, lemon, sugar and Cointreau
Apple Vodka Mojito which had apple chunks, mint leaves, triple sec and soda
Cinderella – strawberry crush, orange juice, lemon, soda and triple sec
Purple Rain– triple sec, lemon, cranberry juice, soda and blue curacao
Shirley's Temple– ginger ale, soda, orange juice and lemon
Blue Hawaiian– Coconut liquor, pineapple juice and blue curaçao
Loved the blends and the magic of the bartender. We loved the taste as well as the way the drinks were presented.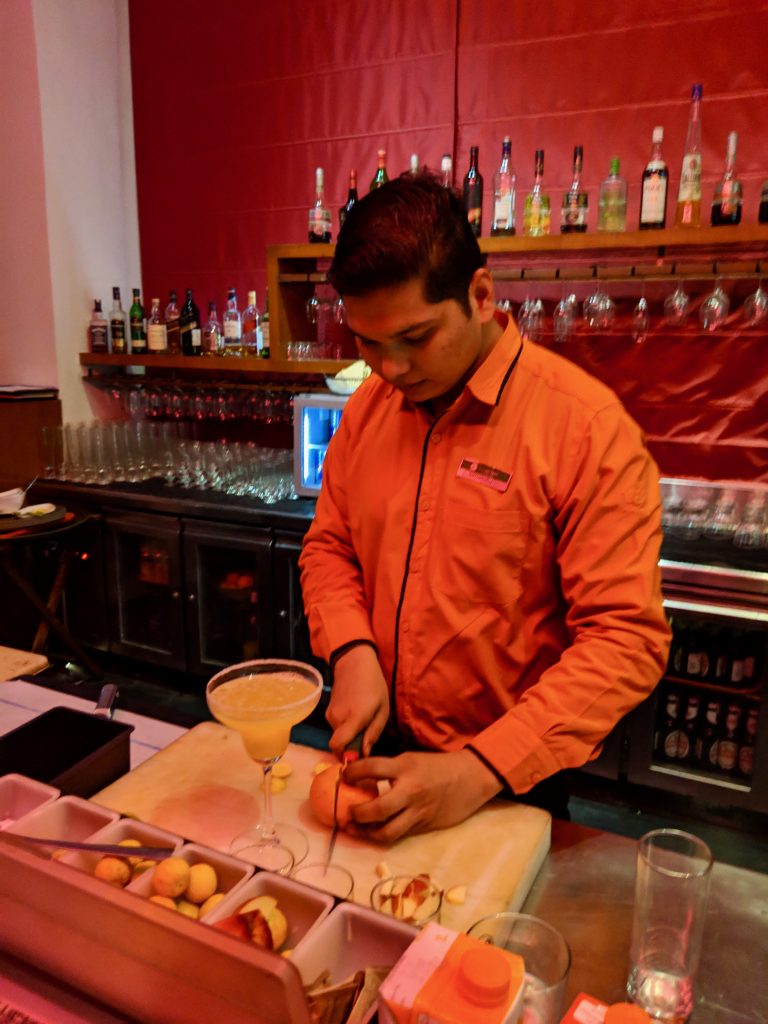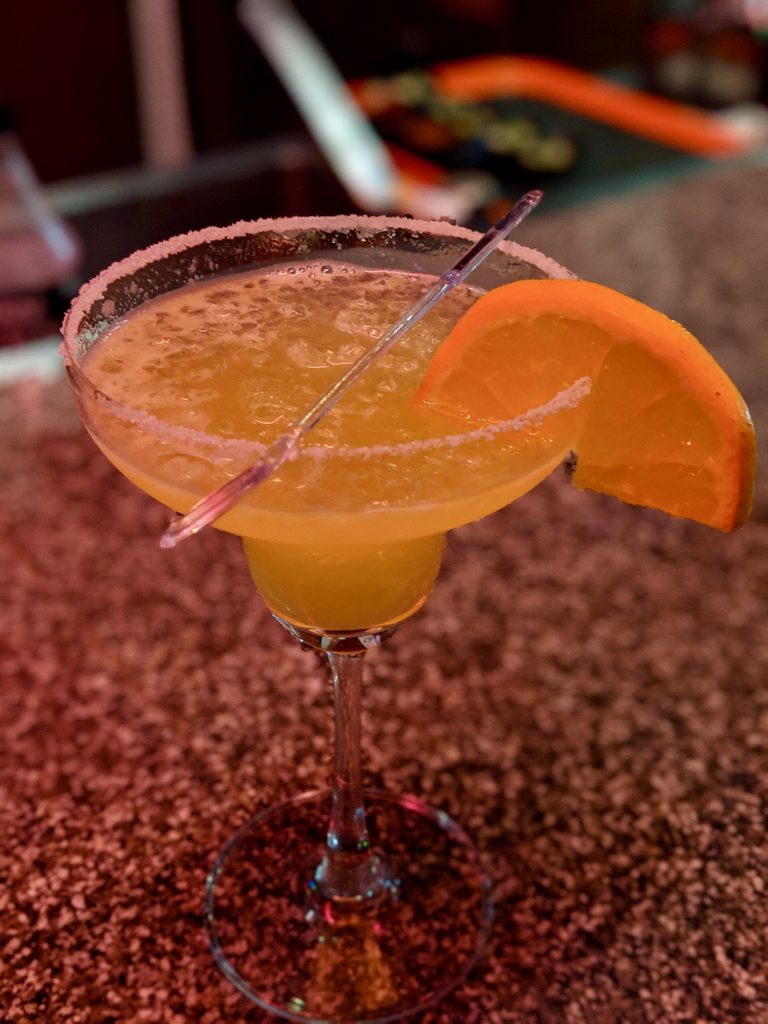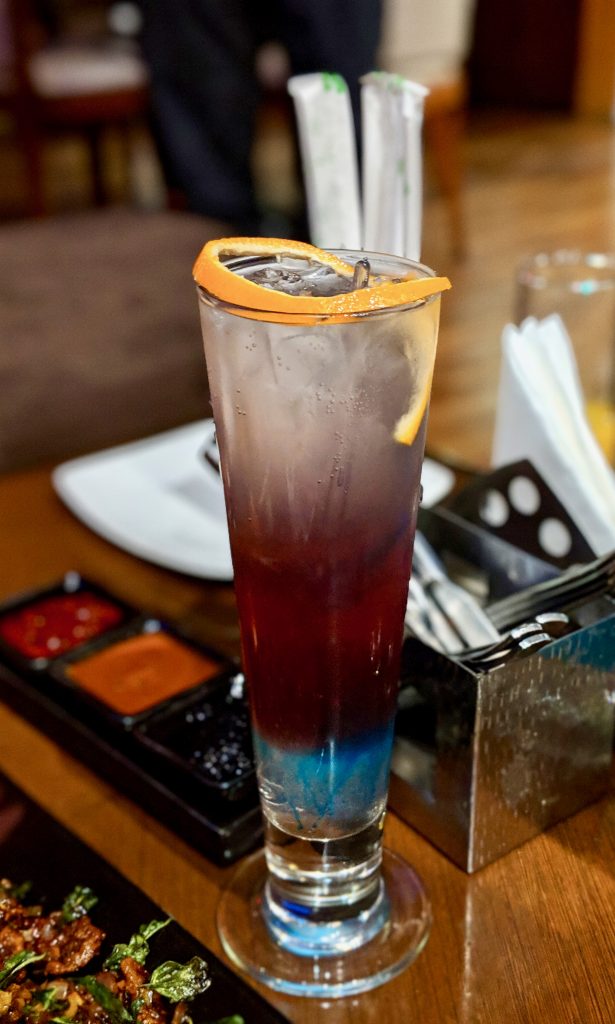 Every Lemon Tree Premier would have a specialty restaurant and at Lemon Tree Premier Jaipur it was Republic of Noodles. Lemon Tree's celebrated Pan-Asian restaurant showcases the best of popular food from Thailand, Vietnam, Singapore, Cambodia, Indonesia and Myanmar. Specialties include stir-fries, clay pot dishes, curries and noodle preparations.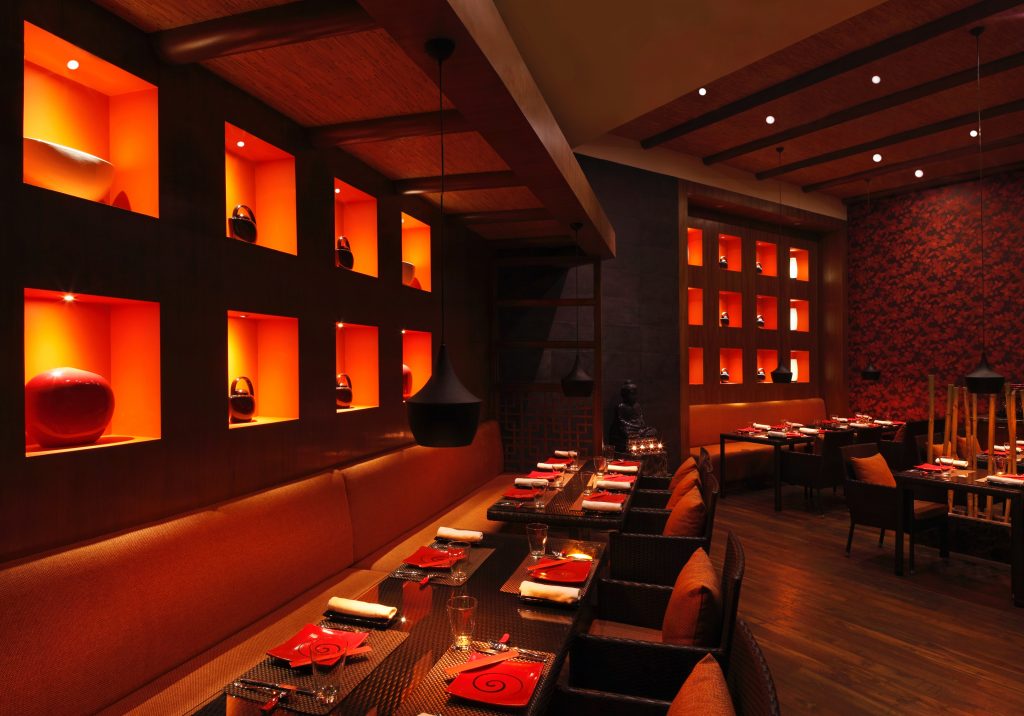 Warm Interiors in red and black dominated the restaurant. For Starters, we tried Crispy Fried Calamari tossed with sambal belacan sauce, Fried Sliced Chicken Breast with roasted chilli paste and Honey Chilli Basil Tossed Lotus Stem. They were all served with colourful salad on the side. Crisp, nice and flavourful is what I would like to say.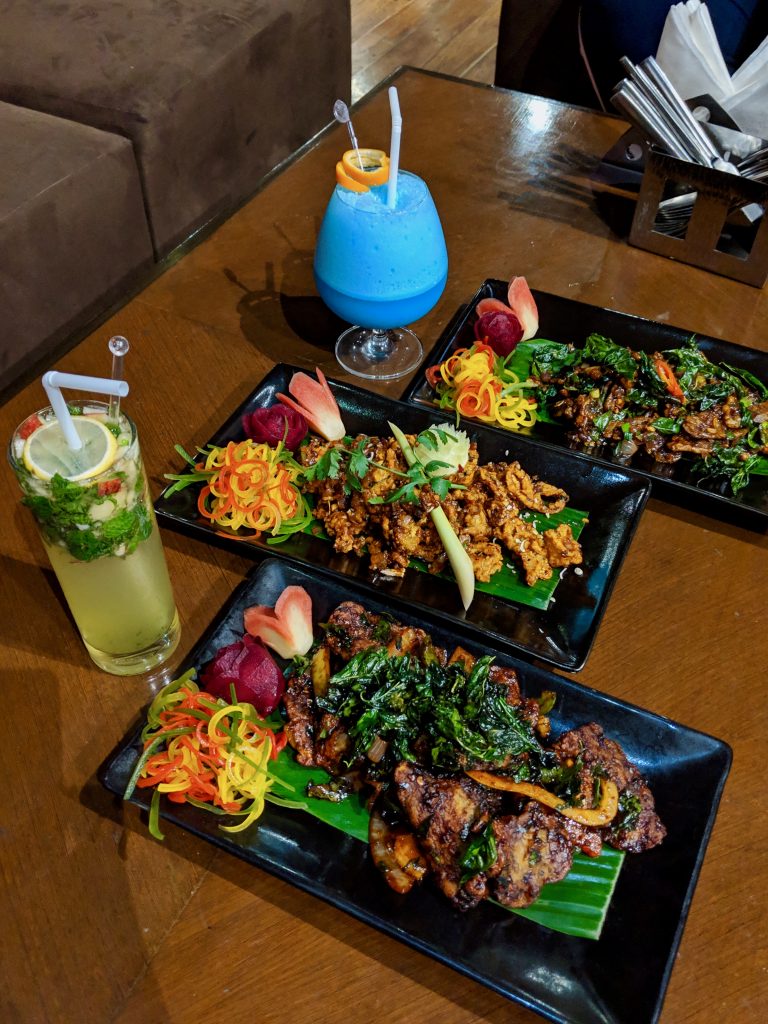 It was time for Dimsums and we loved our well-stuffed Veg & Chicken Dimsums. Moving to the Mains, the Red Curry Chicken with Bamboo Shoot was just wow. Chilly Paneer was delectable. Mhad Noodle Chicken (chilli coriander noodles) was so yum. This particular dish is RON's specialty. Bangkok Style Pad Thai with Flat Rice Noodle was delectable. Mint And Basil Fried Rice was the star of the evening with finely cut carrots, corn, broccoli, and a flavourful aroma. It not only tasted great but also looked marvelous with colourful additions. The Steam Rice was classy as ever.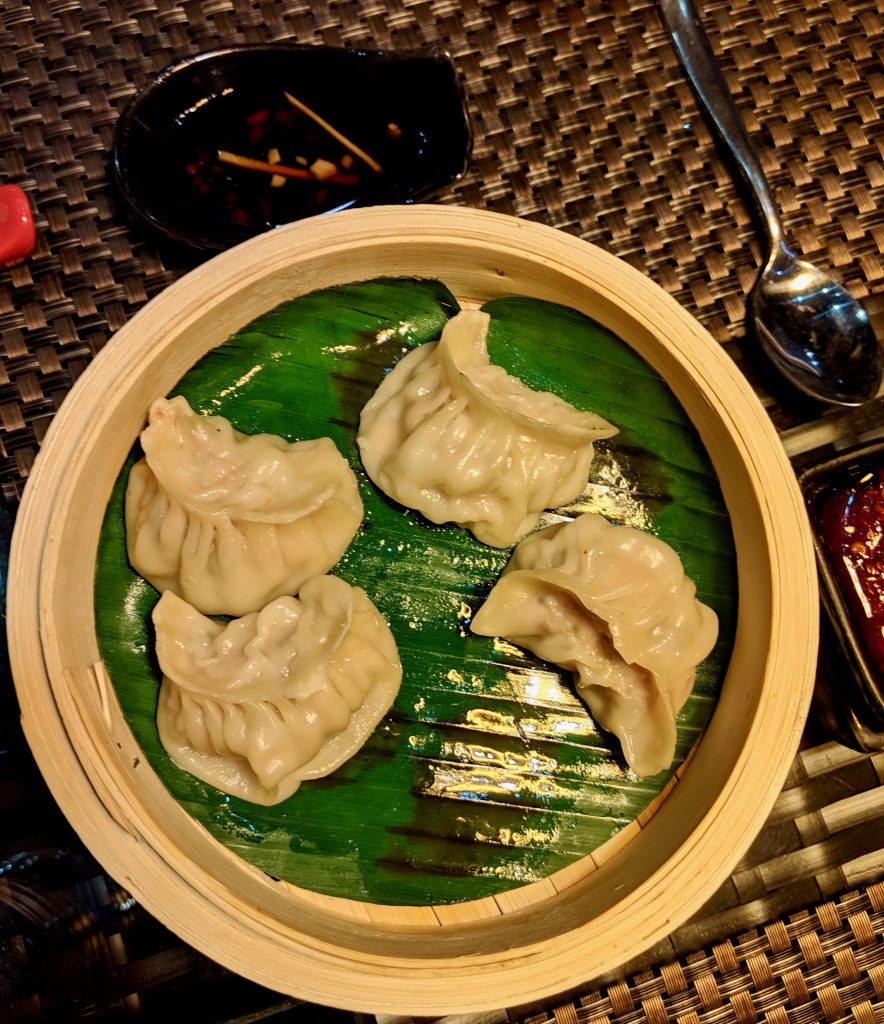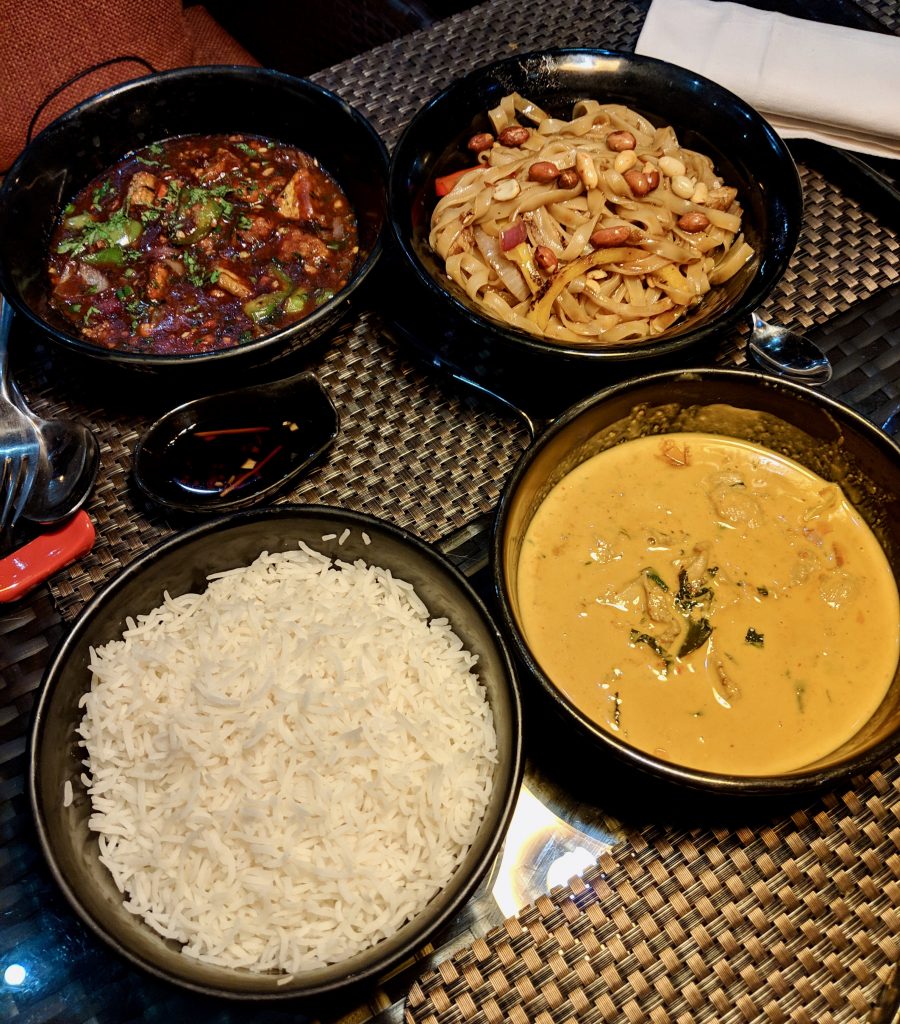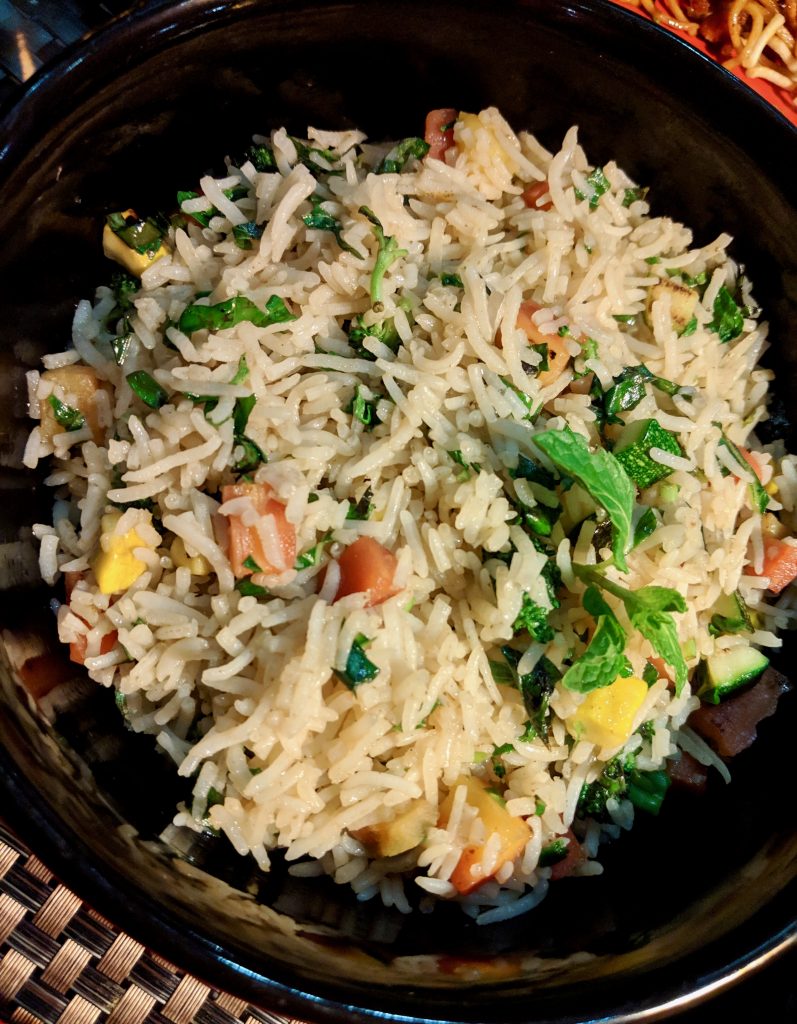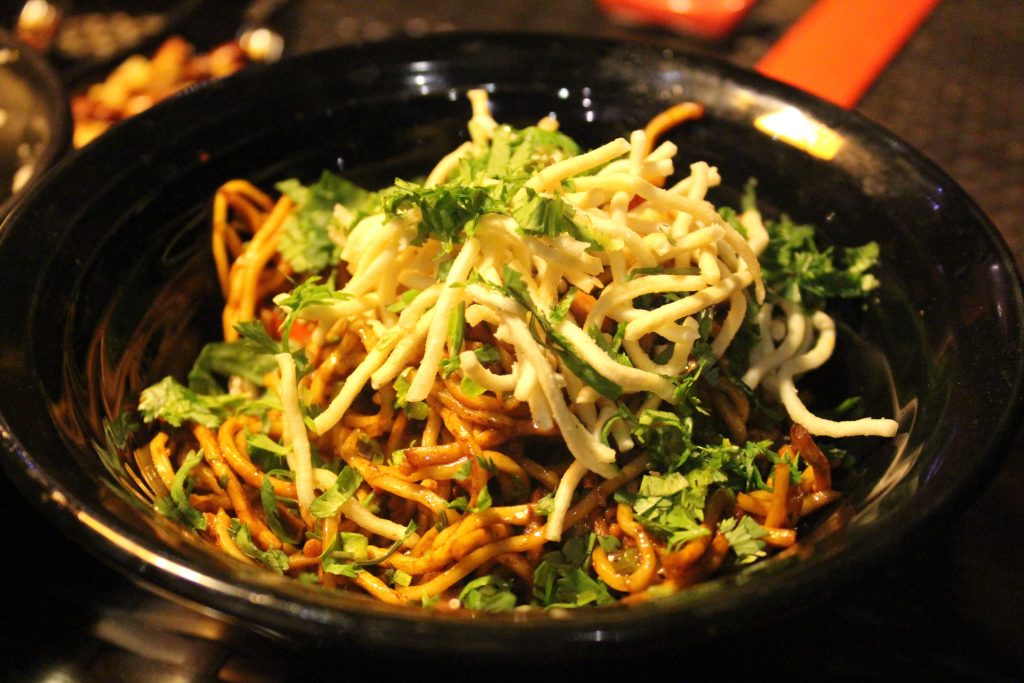 For Desserts, we tried Water Chestnut Rubies and Longan In Coconut Milk and Kaffir Lime Flavoured White Choco Mousse with Passion Fruit. Loved the presentation and flavour of the former!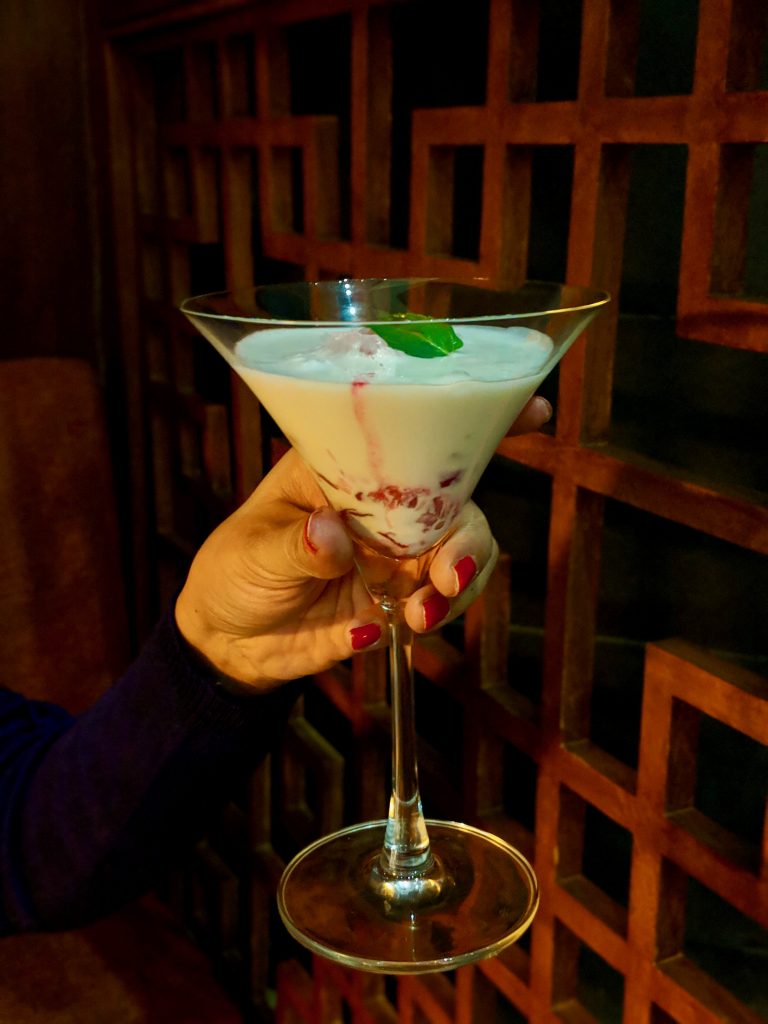 The contemporary alfresco seating of Republic of Noodles creates an ideal ambience for an unforgettable dining experience.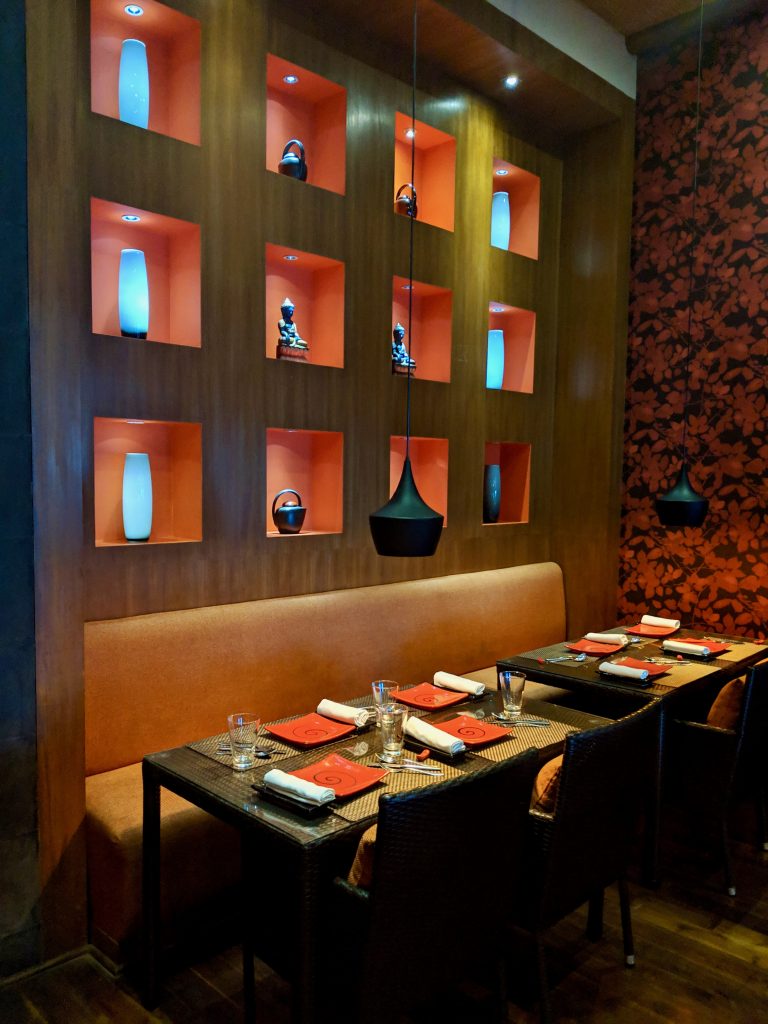 Delighted by the lovely hospitality of Lemon Tree Jaipur, we also requested to meet Mr. Nishi Kant Asthana, General Manager, Lemon Tree Premier Jaipur who has been with Lemon Tree group for more than a decade now. The hospitality professional has managed Lemon Tree hotels in various locations, from Goa to Indore to Chennai to Kerala to Aurangabad.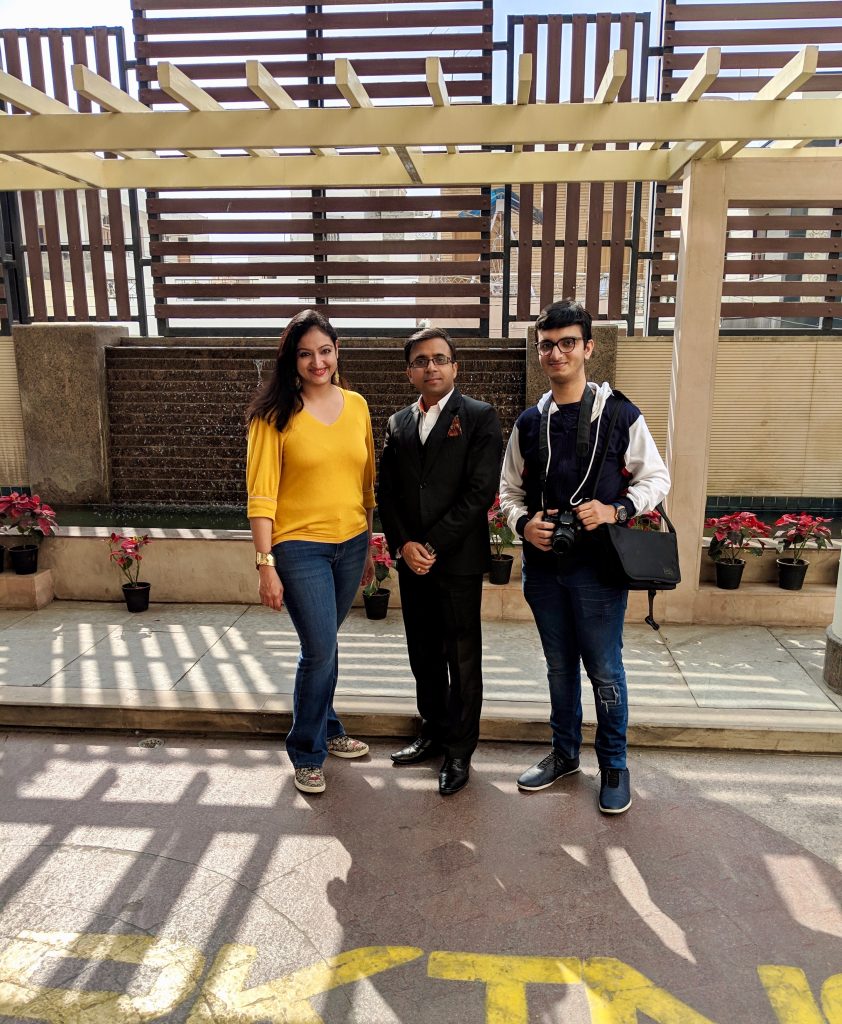 A special thanks to Mr. Akshat Mathur, Executive Assistant Manager  of the hotel who made sure we tried a variety of cuisines for an enriching experience. The young gentleman has been associated with the hotel since 2014 and is the second in command after the GM. A thorough professional who has a rich work experience of 14 years!
Lemon Tree Premier pampers the style conscious and upbeat traveller with its personalized services, premium in-room amenities, award winning restaurants and fun experiences. We absolutely loved our time at Lemon Tree Premier Jaipur!