It was Nidhi's birthday recently on 19th Jan and we as family thought of celebrating her birthday as a getaway! While growing up her birthday used to be during exams and we were mostly confined at home. Now that we are pass through those grilling school and college days, it's time to look at bigger celebrations. Afterall we work day and night, why not cherish those special moments!
Surprisingly, what we got was not only a getaway but an experience in itself! You would have got a glimpse of our experience on our Instagram stories and posts too, but now is the time to tell you every bit of our experience!
We started at 9 AM from Delhi by road to reach Alila Fort Bishangarh, a luxurious 22 acre heritage fort-hotel. Opened in July 2017, Alila Fort Bishangarh is the only warrior fort that has been converted into heritage resort. With 10 years of restoration, the fort retains the fantastic combination of the rugged, untouched inhabited parts of the old fort. It is a magnificent property which boasts of carefully reconstructed royal residential areas, recreating the truly authentic flavour of Shahpura's royalty. The navigation was simple and the highway led us to Bishangarh village and then to the gates leading us to the majestic property. We were welcomed at the Haveli tent- a massive space which welcomes its guests under a tent with fountains on the sides. It's such an amazing feeling that you get! There is no front office and one relaxes at the comfortable Haveli tent where welcome drinks in the form of shikanji/tea are served along with gur (jaggery). Then comes the twist in the tale. A jeep comes and takes you up to Pehla Darwaza and into the fort. An ancient era is what we were reminded of when we looked around after coming out of the lift.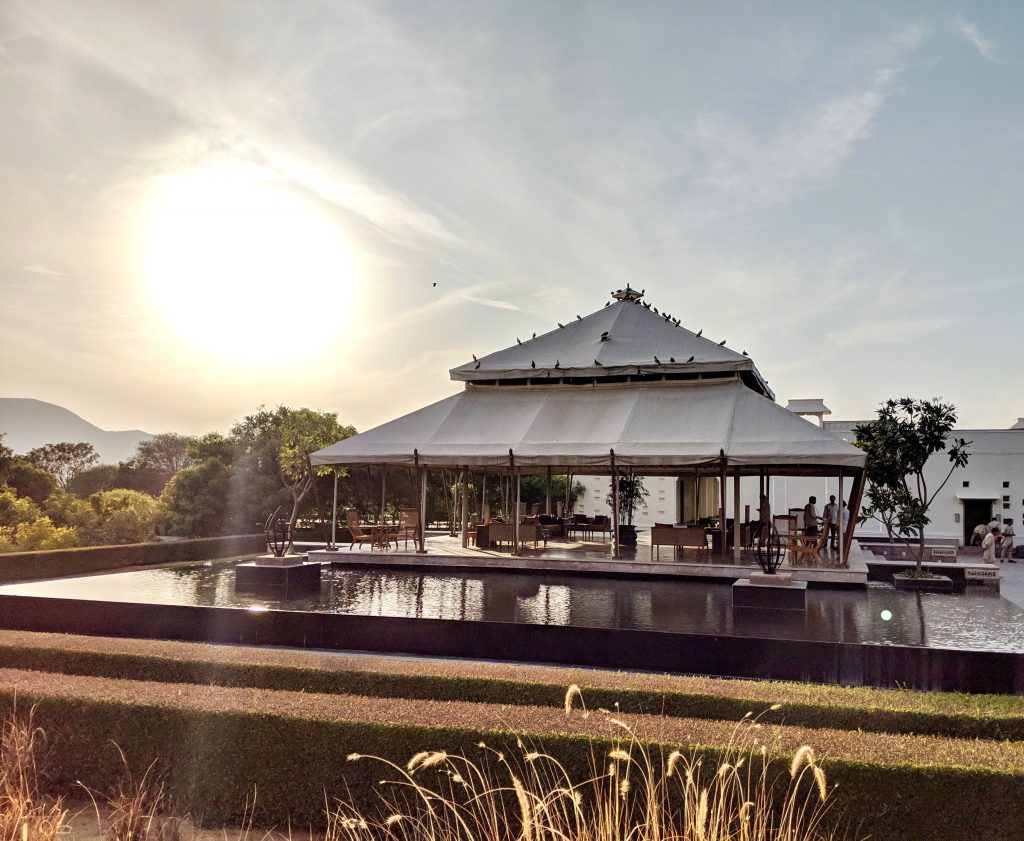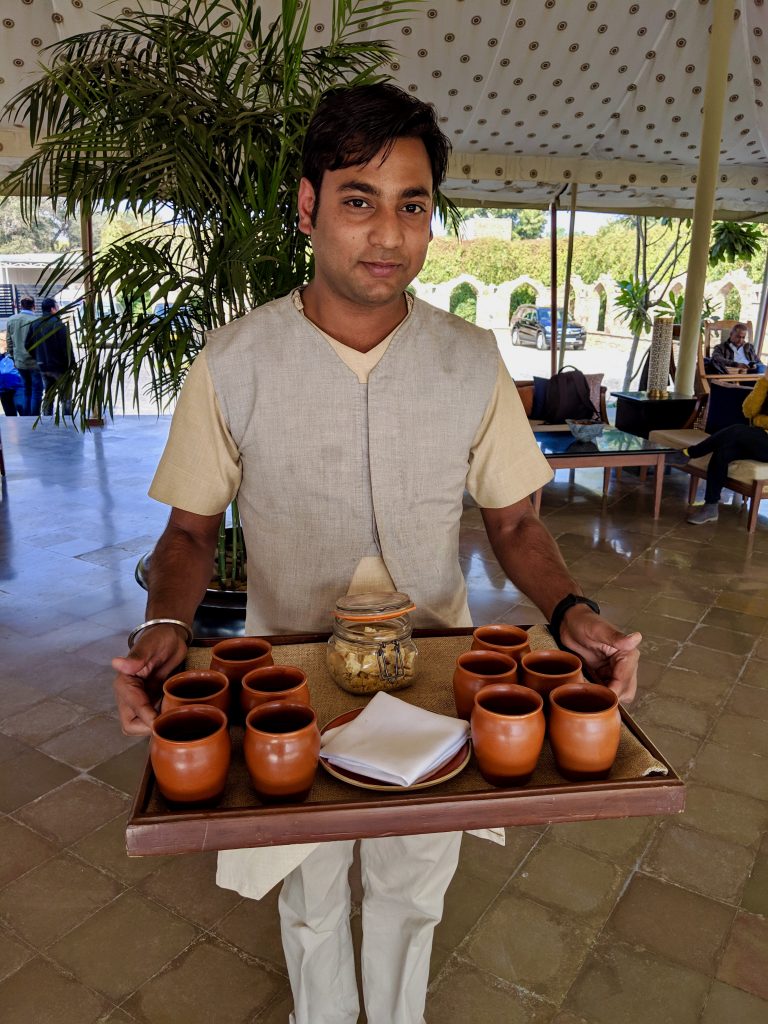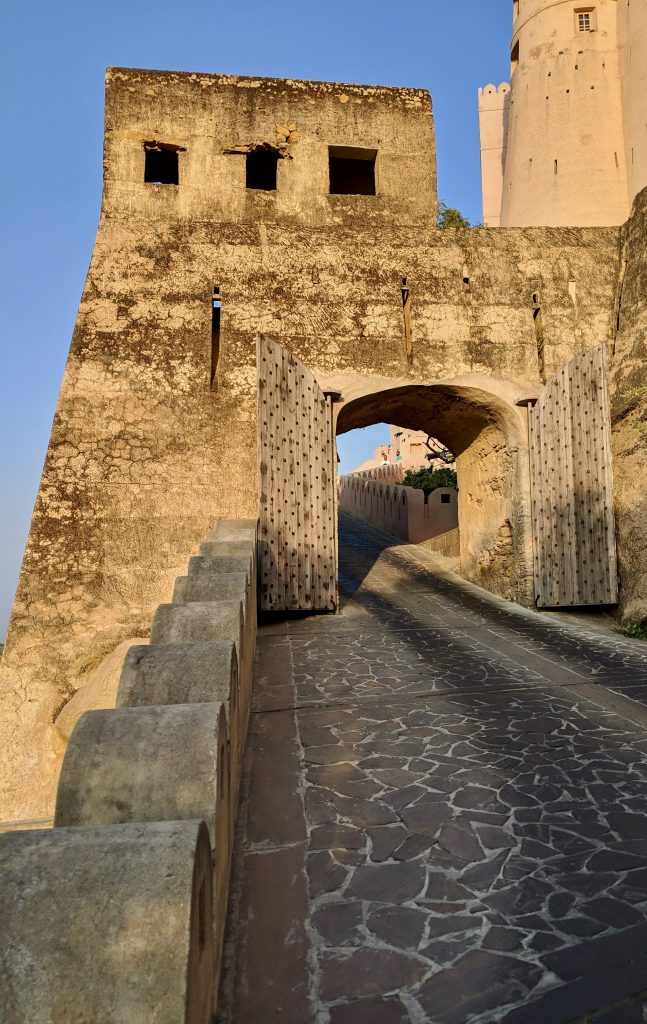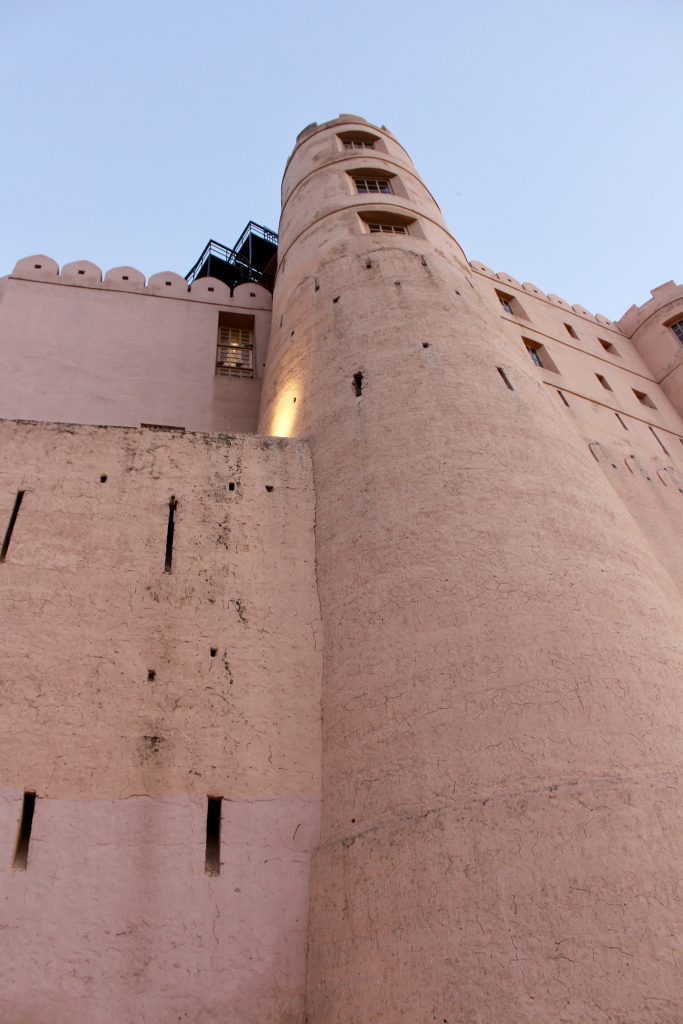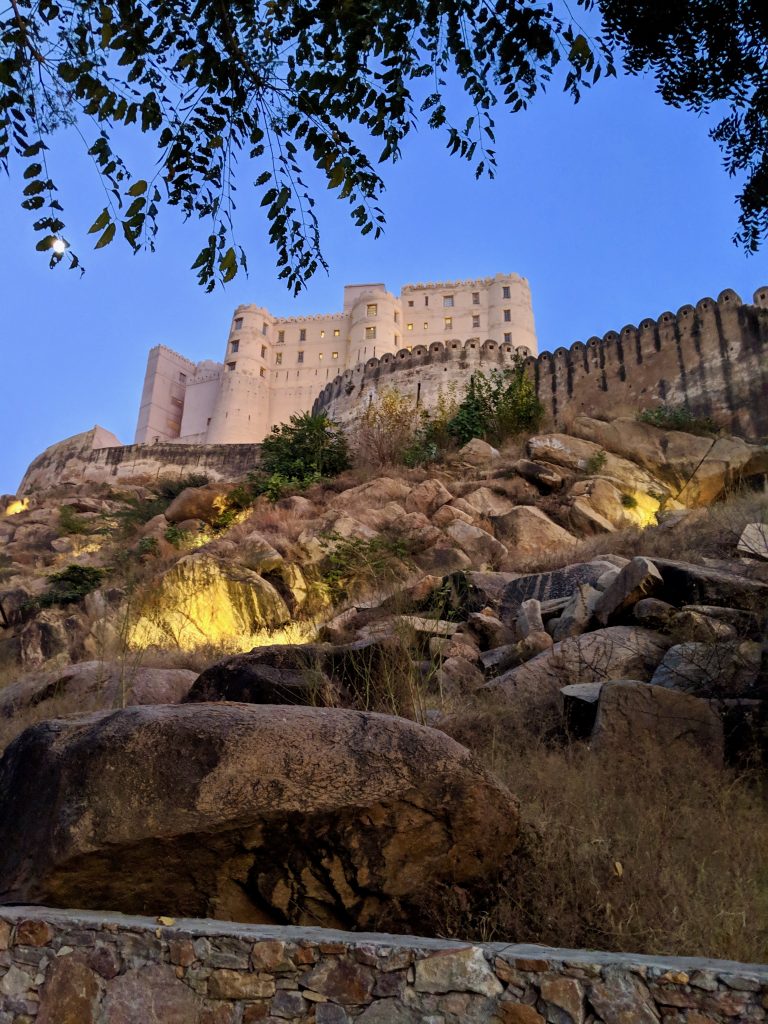 Elements of the past in the form of keys and utensils are seen as we enter the premises. The fort stands out as a unique example of the architecture of the Jaipur gharana with an influence of both the Mughals and the British interwoven into it. The original fort has been left intact and a complete structure created above it and outside it to house the modern suites that merge seamlessly with the existing fort. The Fort offers different rooms and suites for the requirement of different guests. From Heritage room to Royal Suite to Grand Suite and Regal Suite, we chose the Grand Suite to be our abode in this 59-room and suites fort hotel.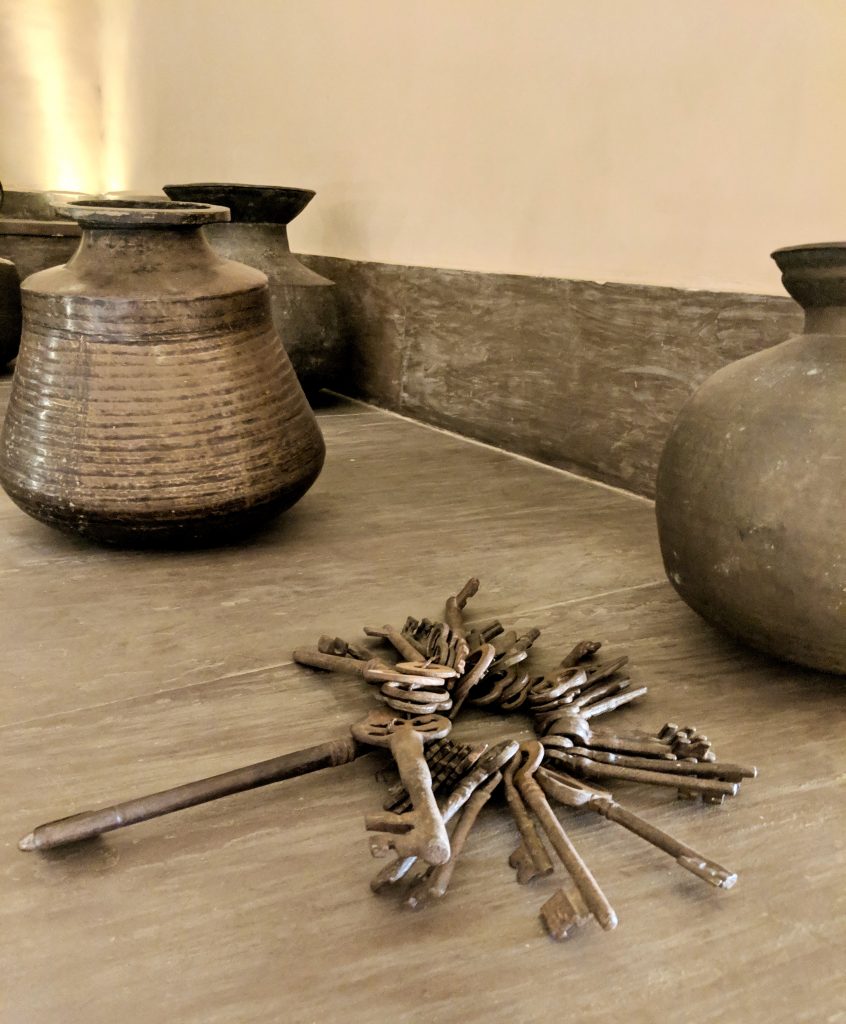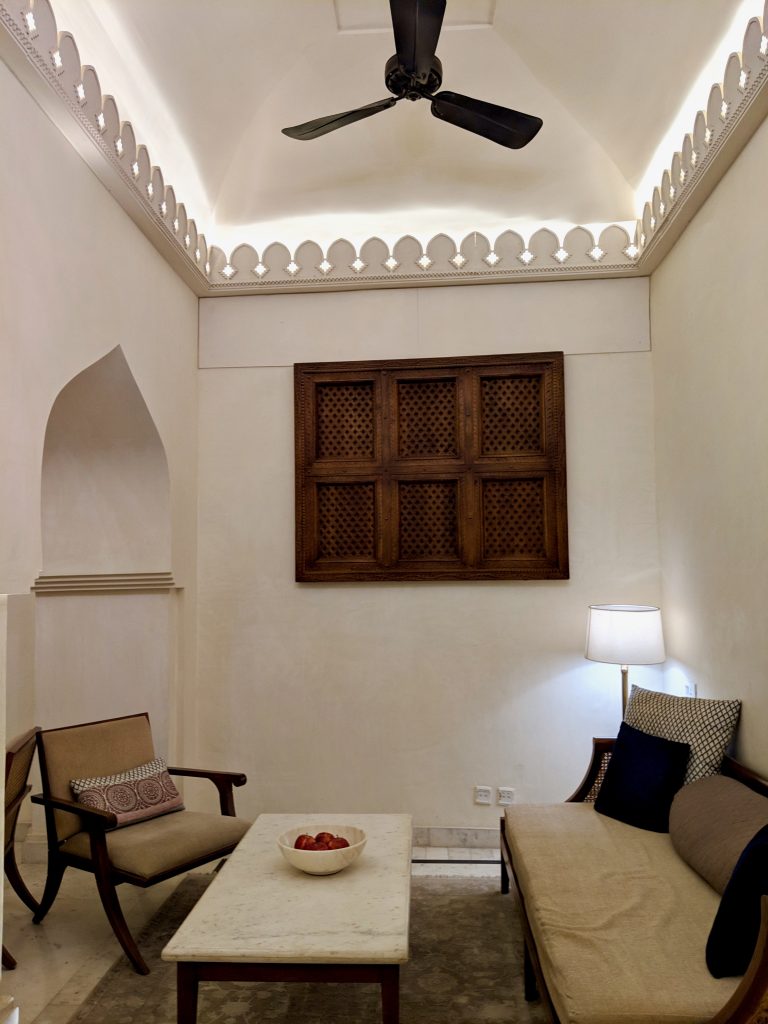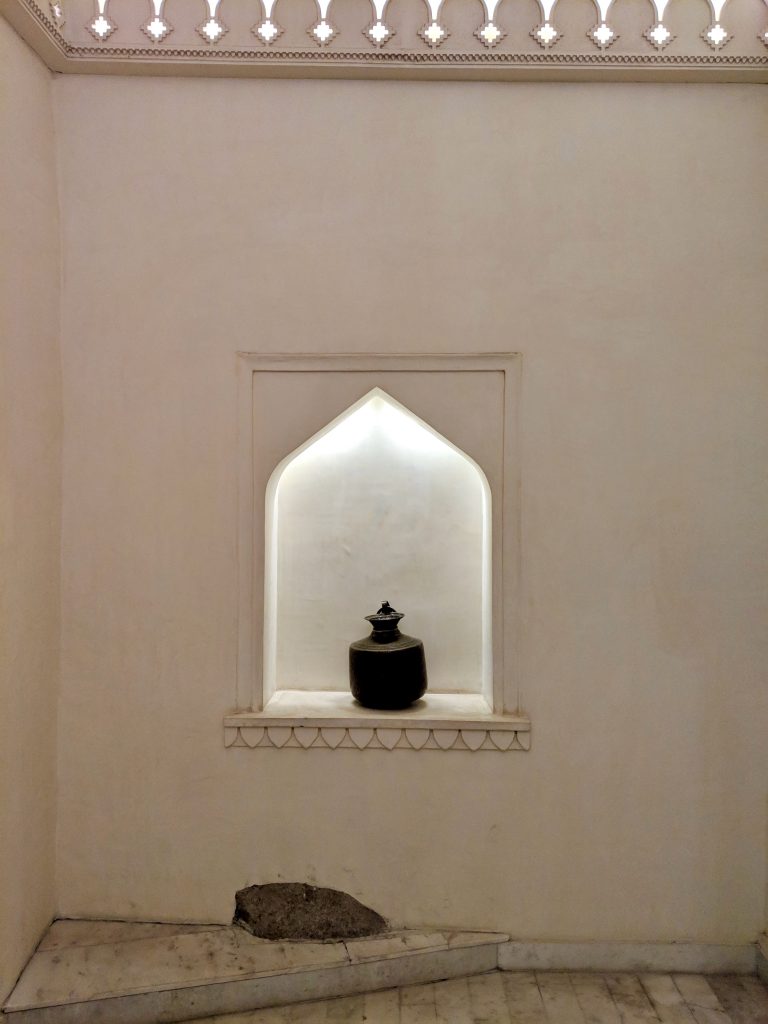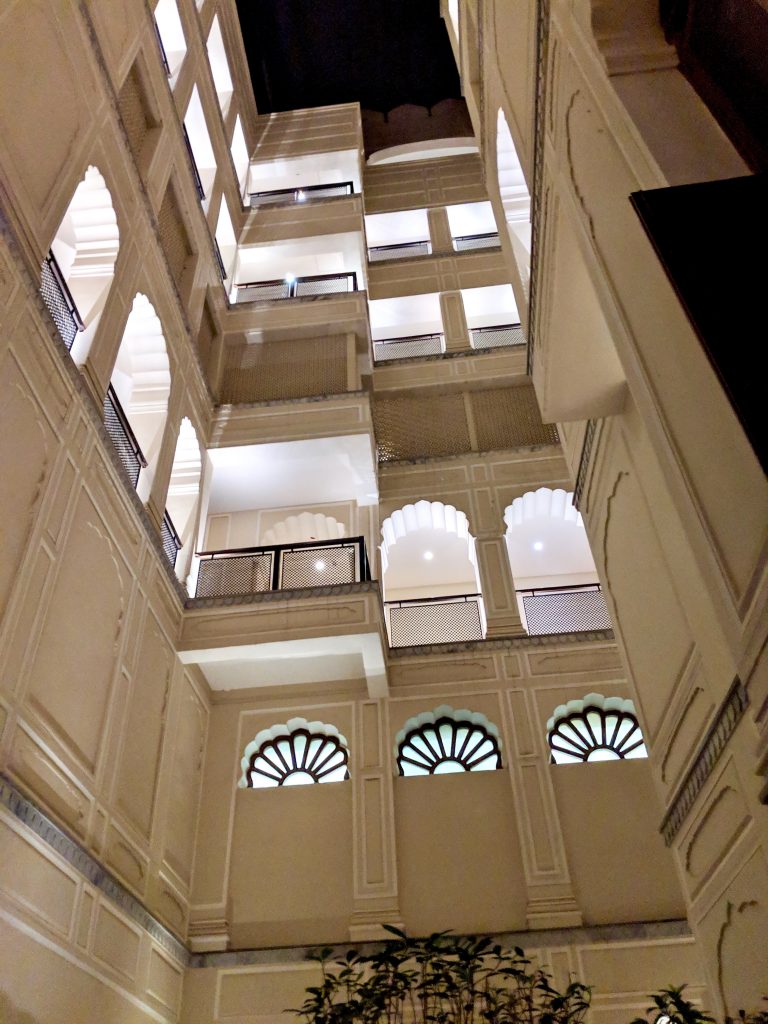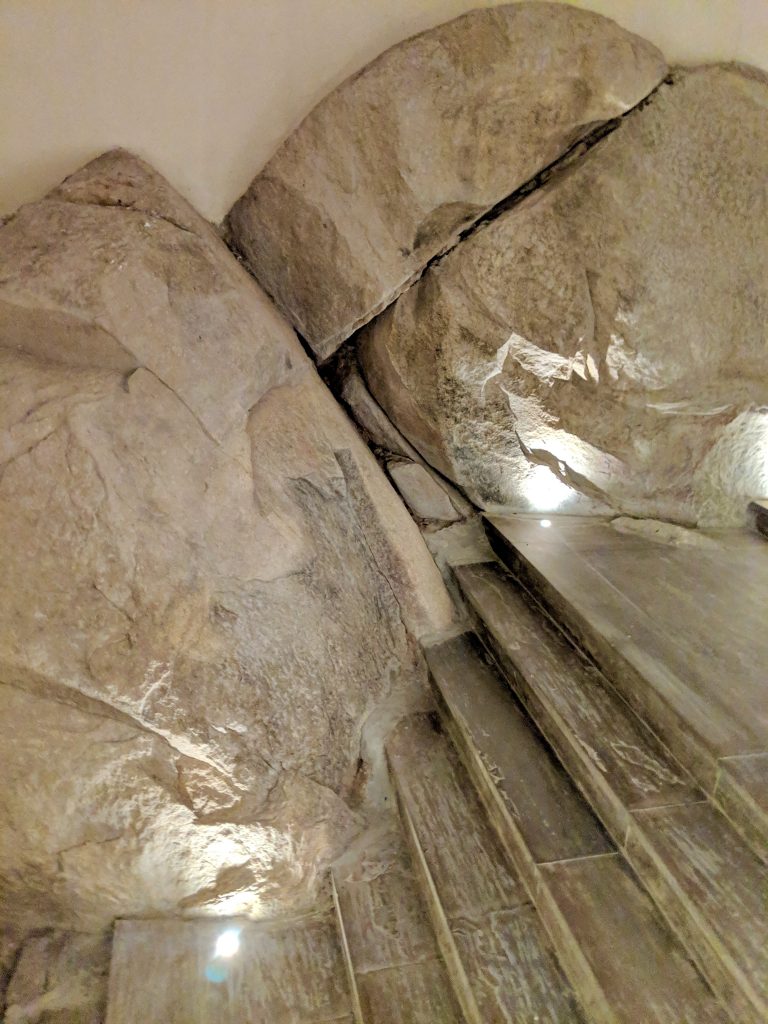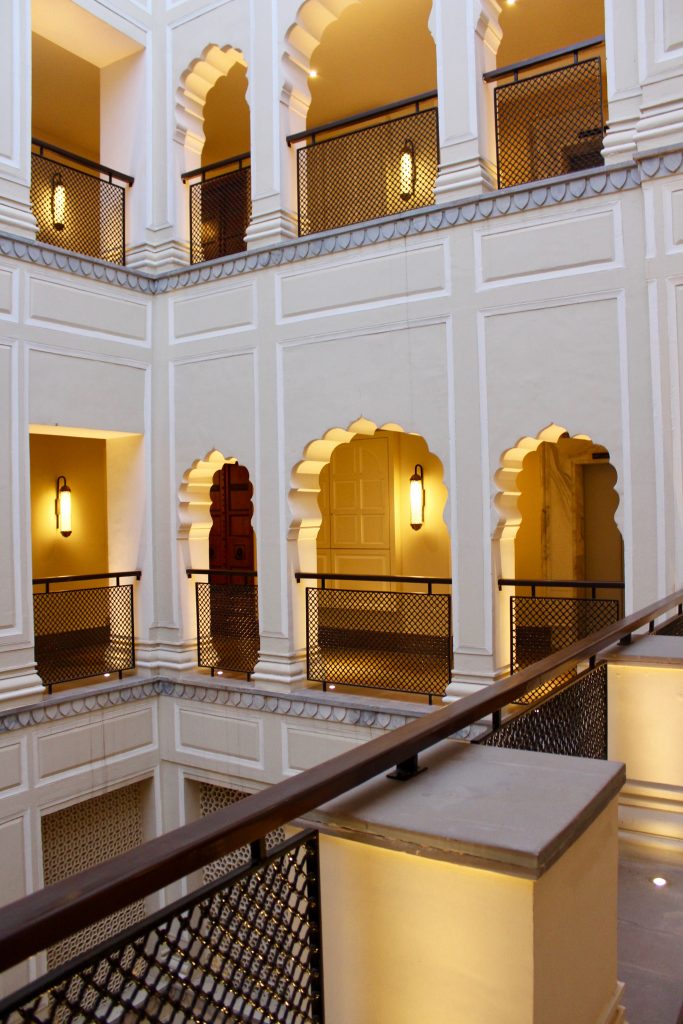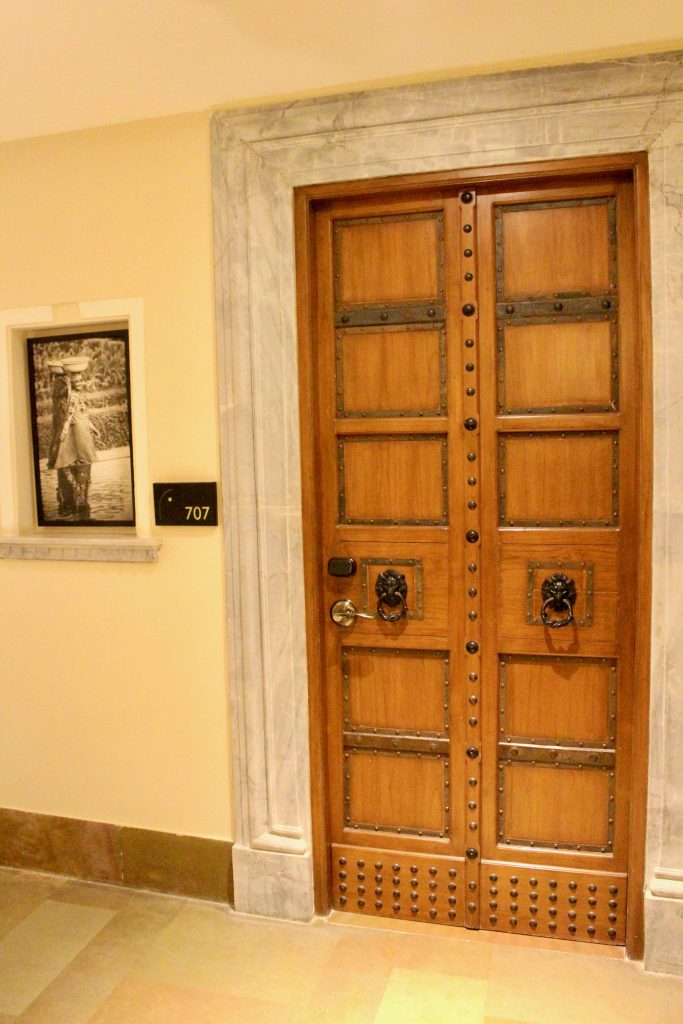 The Grand Suite has a living room as well as bedroom divided by a beautiful arch. A king bed, a large bathtub along with a beautiful view which presents a harmony of authenticity and modernity. Other facilities include big wardrobes enough to fit our luggage along with a television set in the middle. A tea/ coffee maker along with a variety of tea/ coffee, milk and sugar were also kept in the room to keep us comfortable. The bedroom left a cozy and comfortable vibe but my favourite corner was the couch next to the French window from where I could see the beautiful mountain landscape. Colourful cushions on top of the neutral base of the couch added a vibrancy. The ceiling adorned lights surrounded by wooden planks on the sides. A beautiful dining table surrounded by a couch and 2 chairs made it comfortable whether we want to try the in-room dining or have our cup of tea or coffee. Additionally, a desk at the centre makes it a comfortable space if you want to do a little work. Perfectly designed for quiet indulgence, with a palette of neutral tones that mirror the fort's exterior enlivened with deft strokes of colour showcasing the region's rich native artisanship.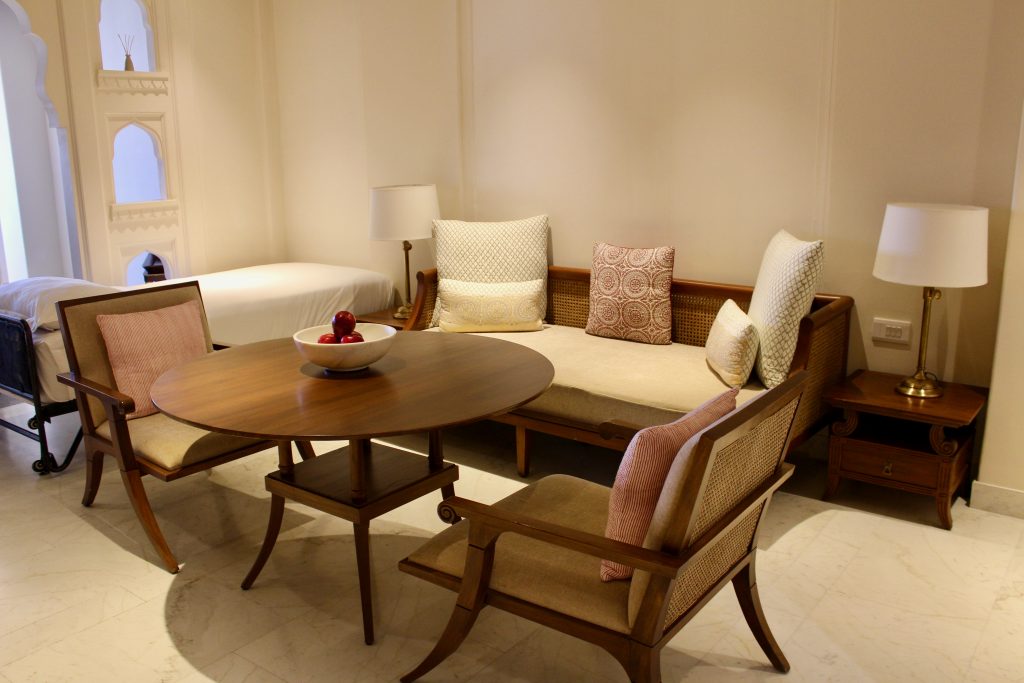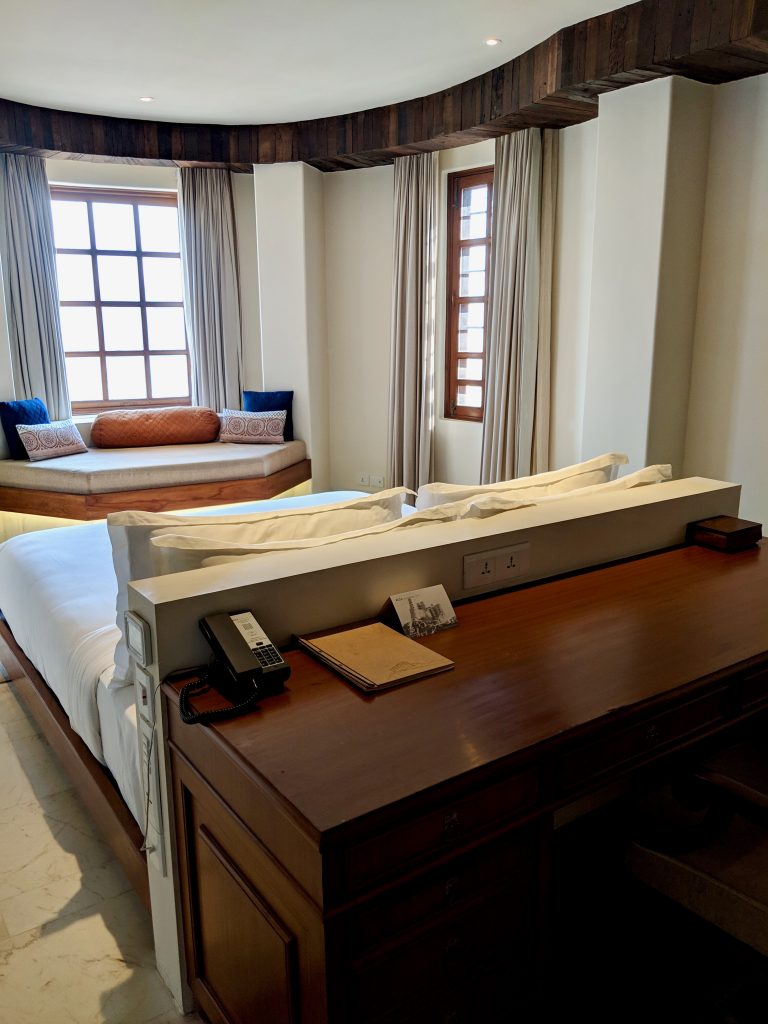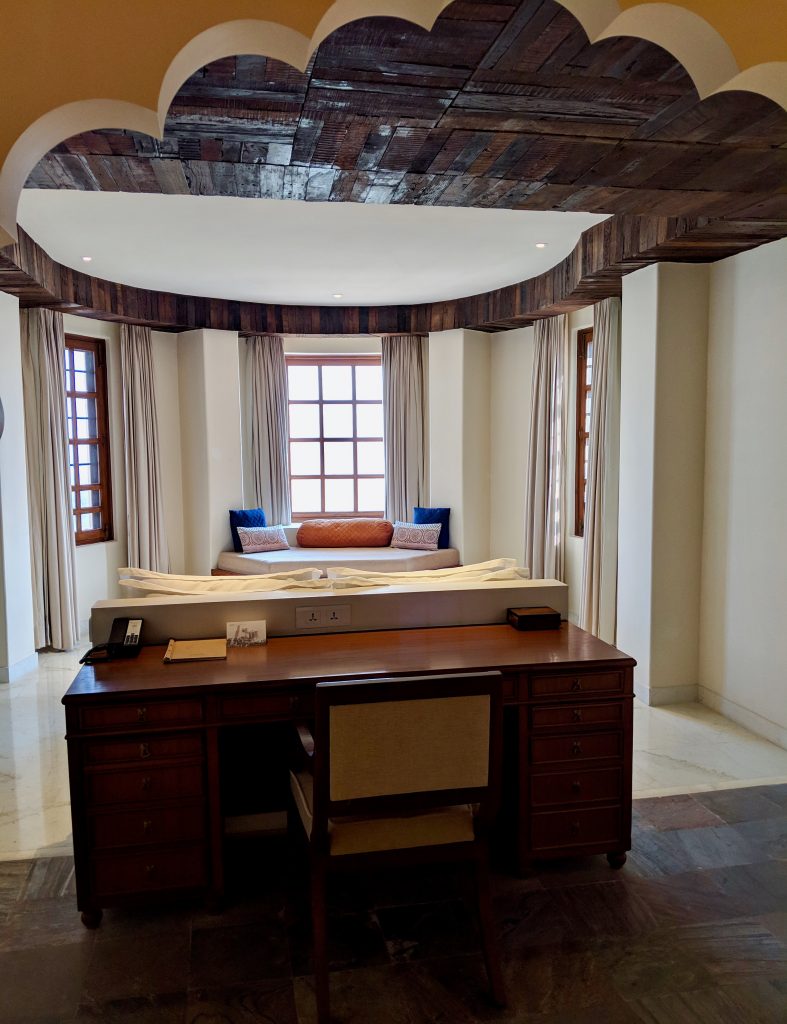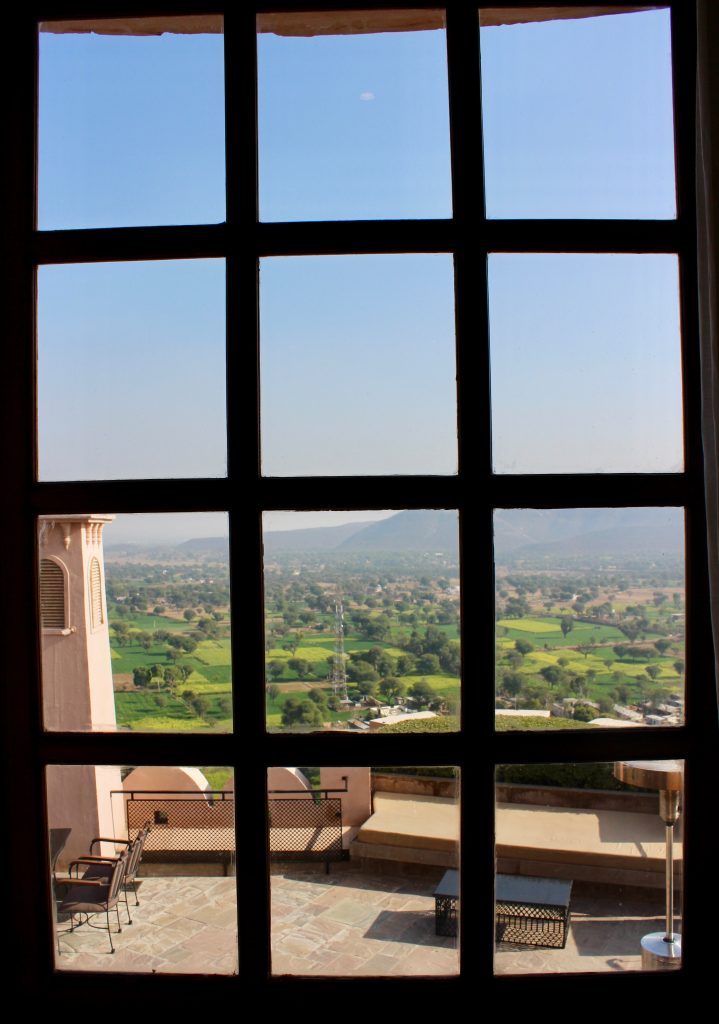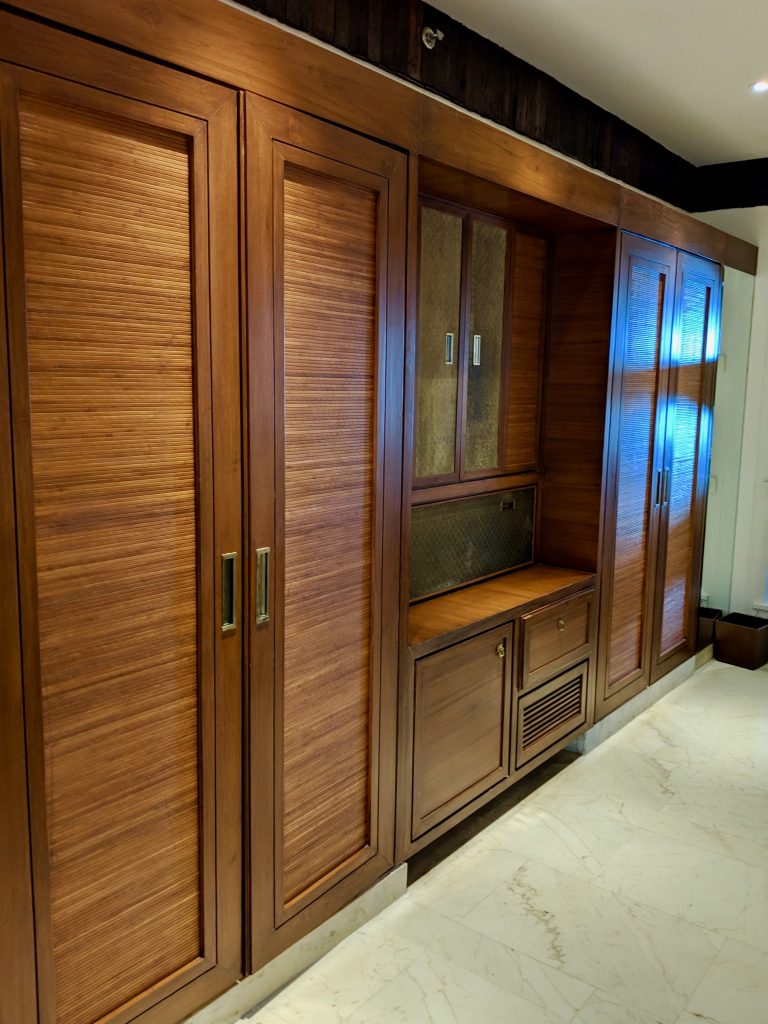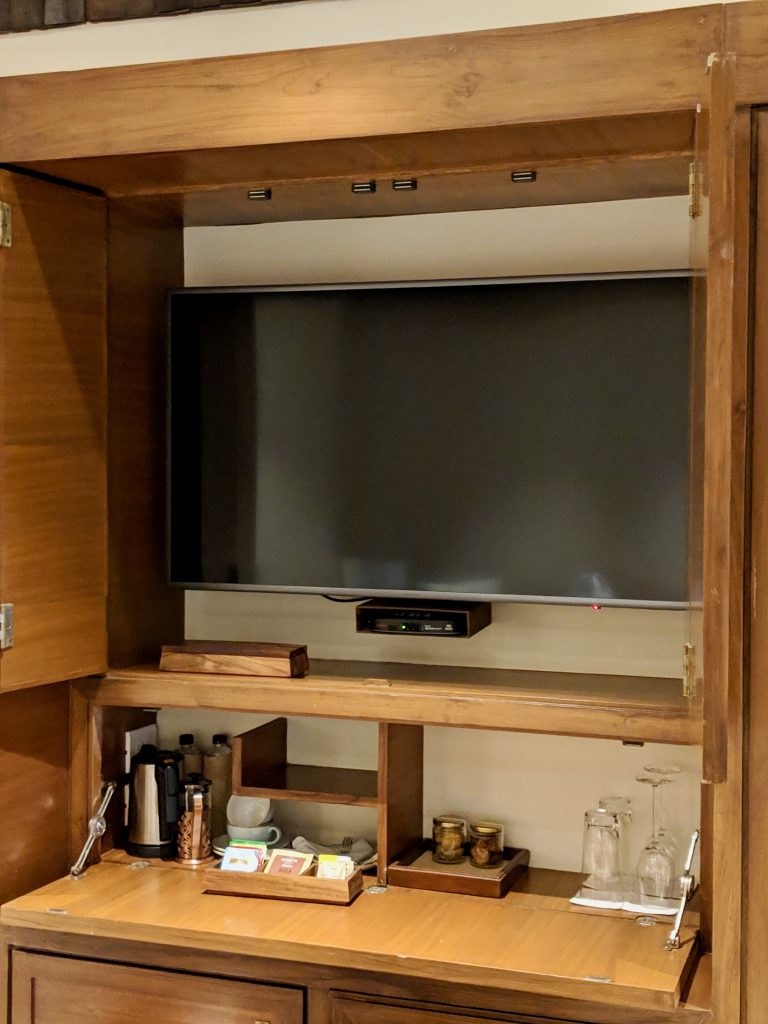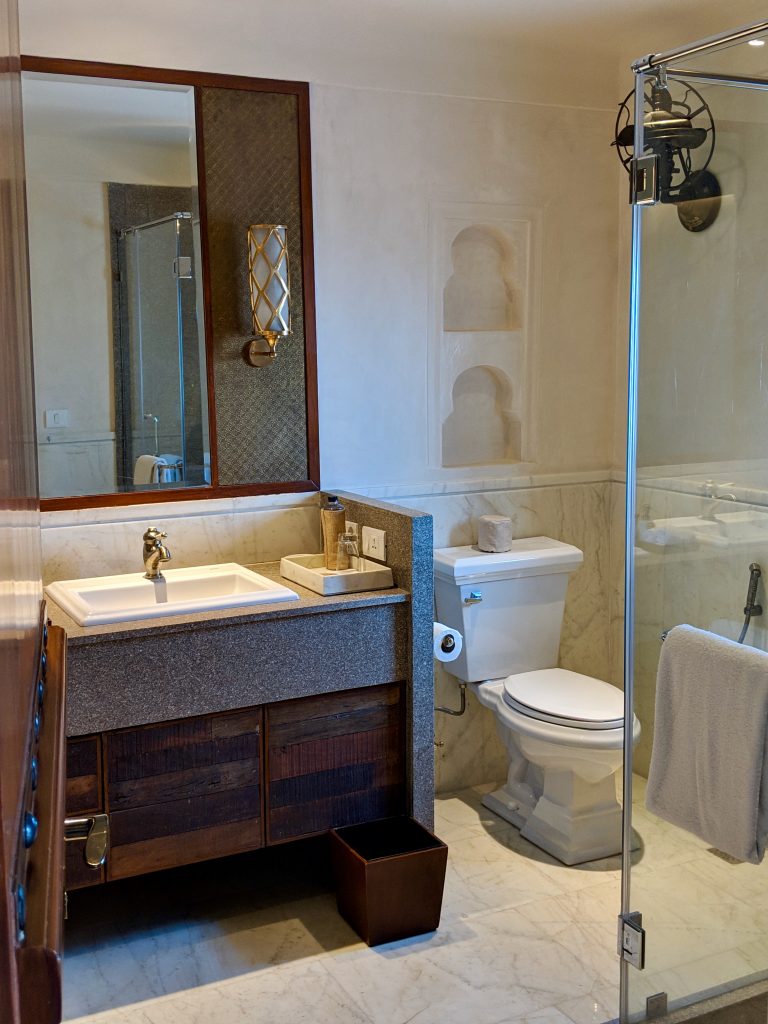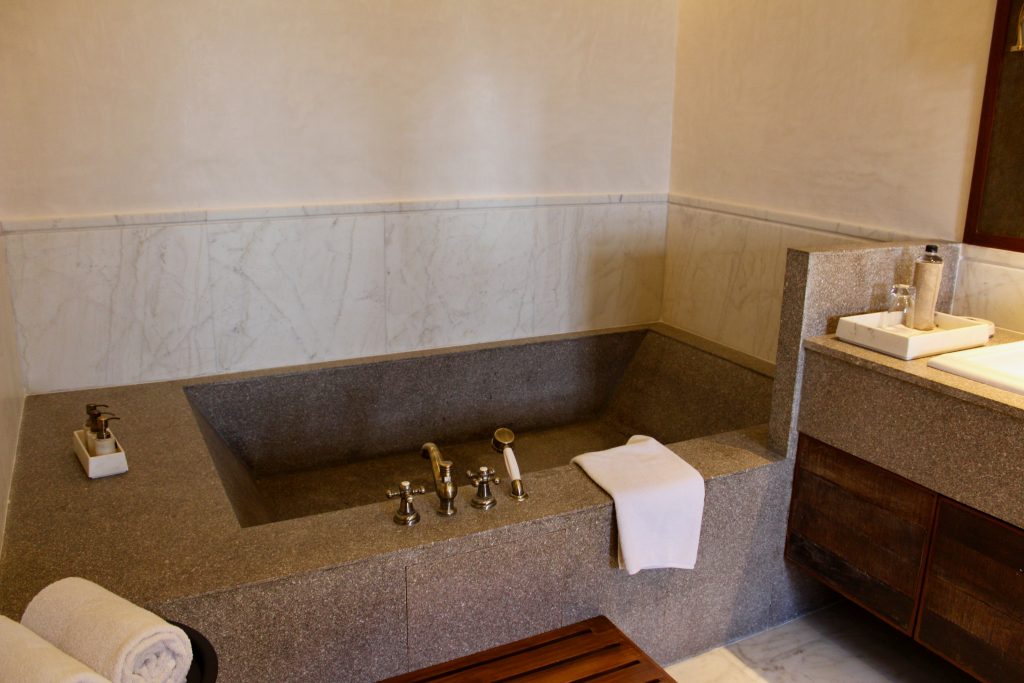 For breakfast, we headed to Kachchawa deck, a private space which can accommodate upto 10 people with a view to cherish. That's not where the breakfast takes place generally but since it was time for pampering, this was where it was planned for us.
When we came to the deck, a private table was laid out for us for a meal to remember. With a wide variety of meal options from Western to Indian, we did our selective picks. From the hot breakfast section our pick was Palak Methi Poori served with kala chana! A green poori not only made a great visual delight but also made for great taste. An amazing dish which was healthy, tasty and filling! Bajra Paratha Thali was an ideal Rajasthani village Nashta which included bajra paratha, butter, garlic chutney, butter milk. It was a meal in itself with the wholesome goodness!
From the taste of Indian states, we chose Delhi Poori Bhaji which was a combo of yummy fluffy poori with a delectable bhaji. How can we North Indians miss having parathas for breakfast! So we ordered an assortment of yummy Aloo and Paneer Parathas. Well stuffed and great! Time for some South Indian! Well, that's a cuisine I can have any time of the day and so we ordered Mini Dosa Uttapam. The cute little Uttapam came accompanied with a little larger dosa and an assortment of sambhar, coconut chutney and mint chutney. We also ordered an omelette which was well made. Our breakfast was accompanied with fresh pineapple juice, buttermilk and fresh pineapple juice which were served in large glass bottles.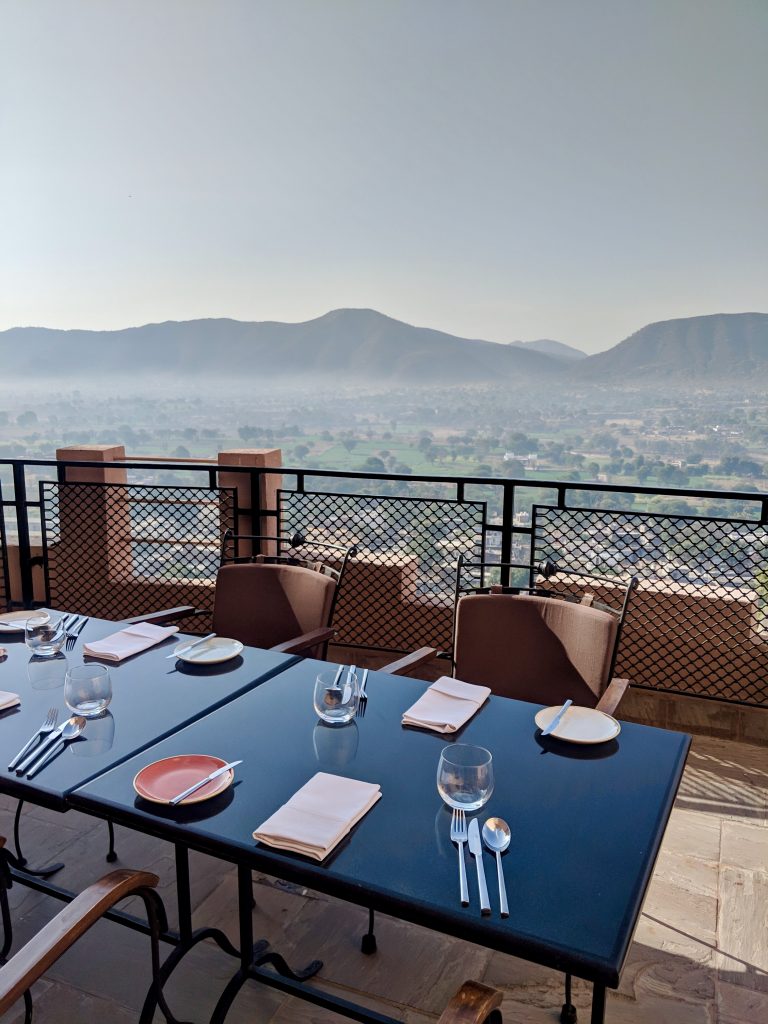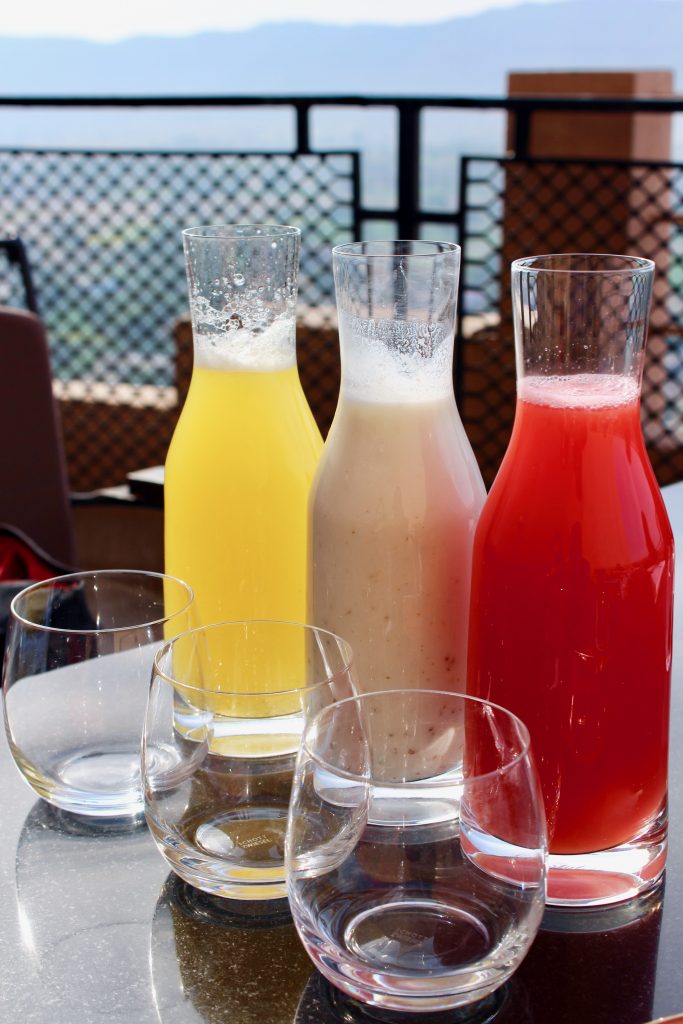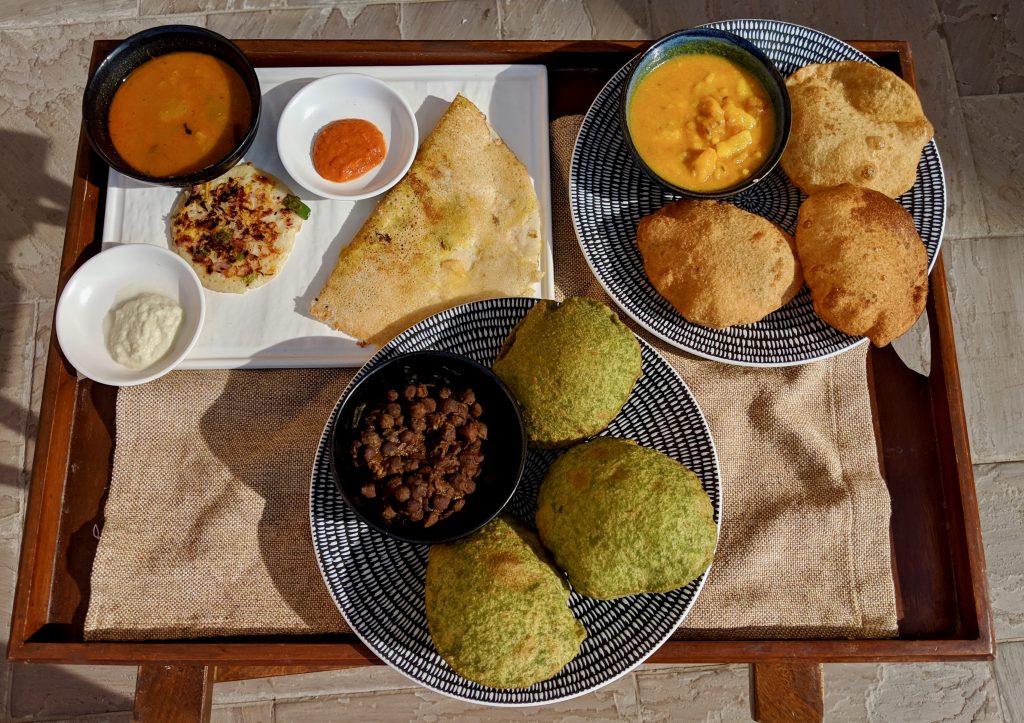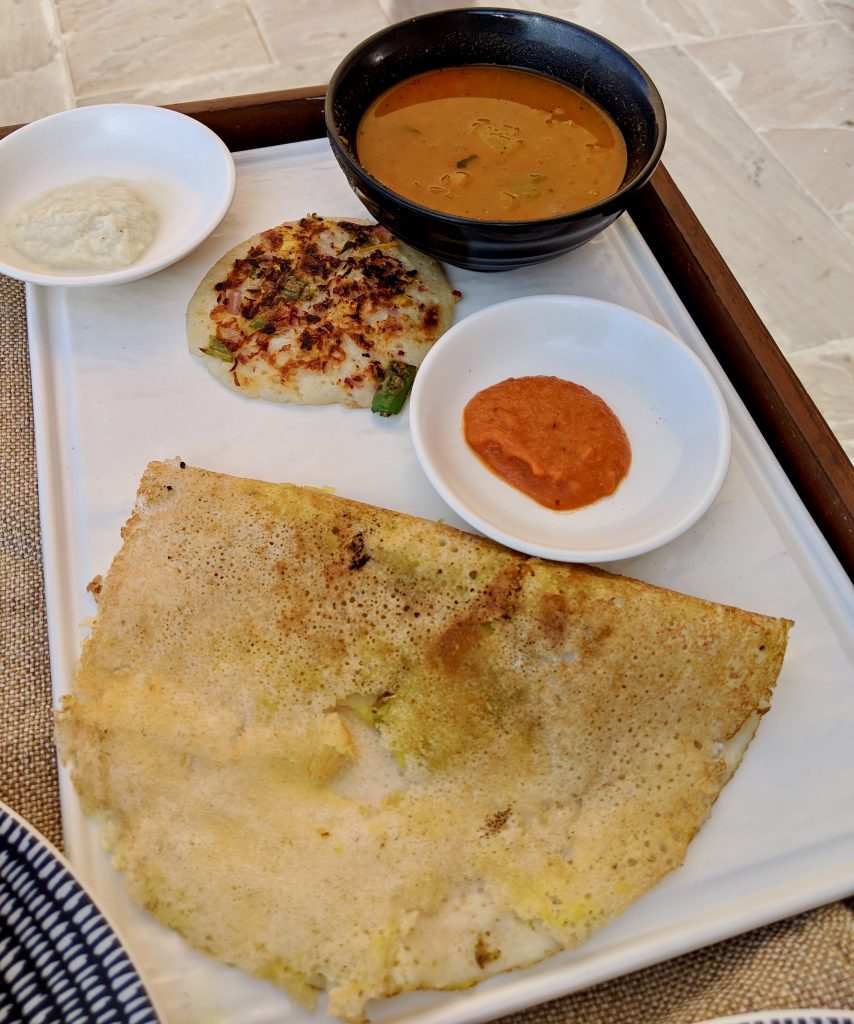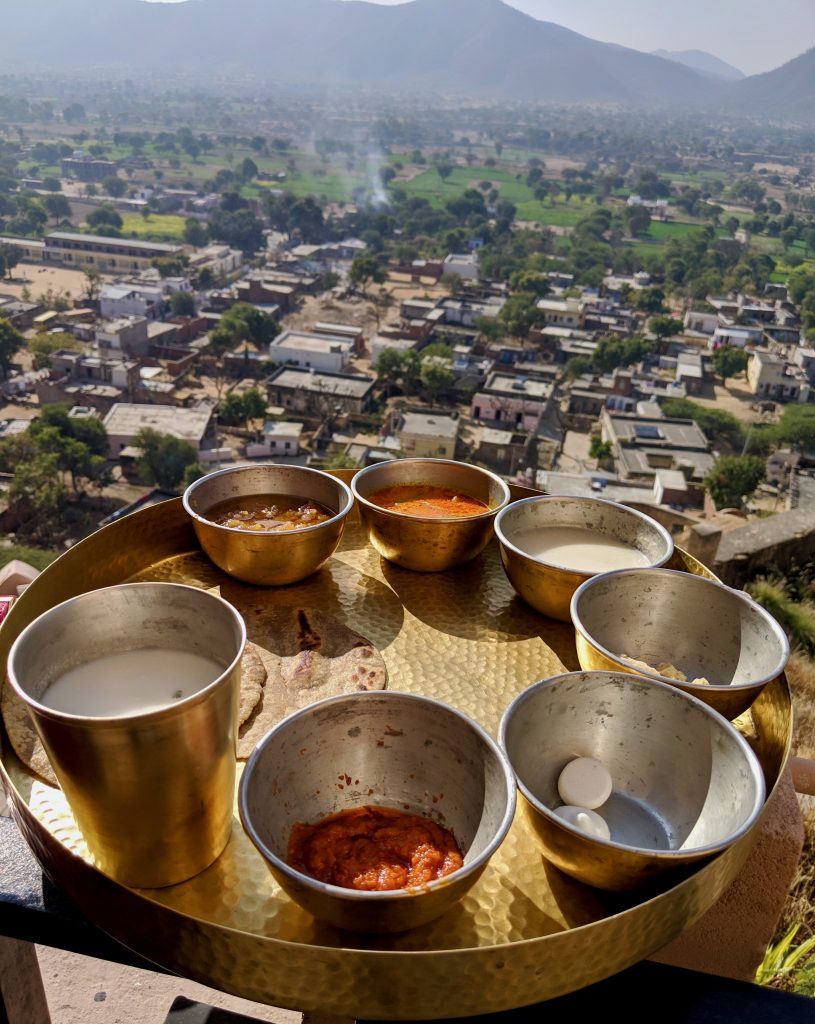 From 'A taste of Nations', which had Options in eggs in Western breakfast ranging from English, Tunisian, New York, Mexican, Belgian and Canadian our picks were the last two – Belgian and Canadian. The Belgian breakfast included light and fluffy waffles, honey cream, berries while Canadian included a stack of old fashioned pancakes, berry compote and maple syrup. Yummy Yummy Yummy!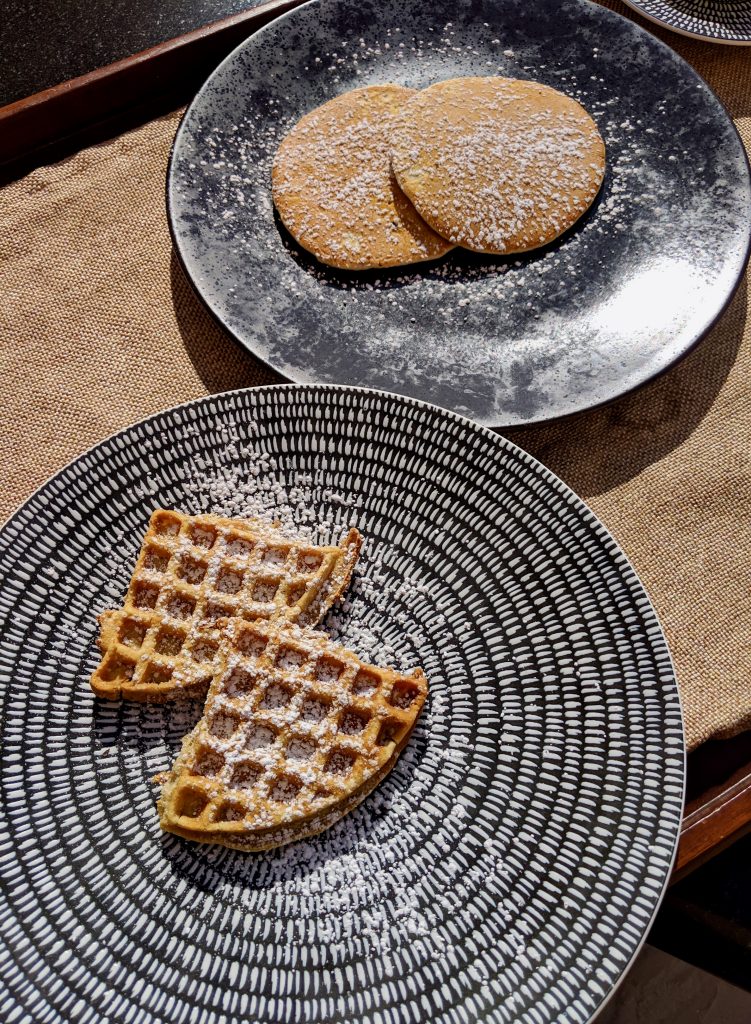 The view, the private space and a family time is what we cherished and I don't think I will ever forget these happy moments where we happily soaked in laughter, food and love!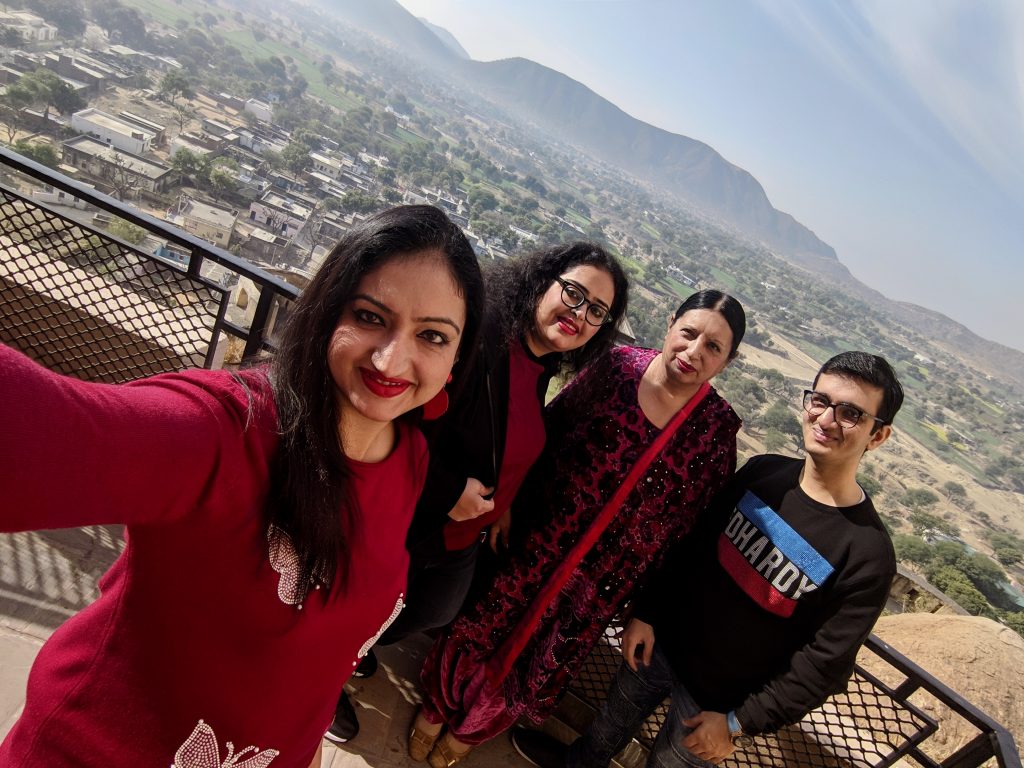 Every space of this hotel retains the story of its timeless heritage whether it's the library which used to be the war strategy room or Kachchawa lounge which used to be the General's office.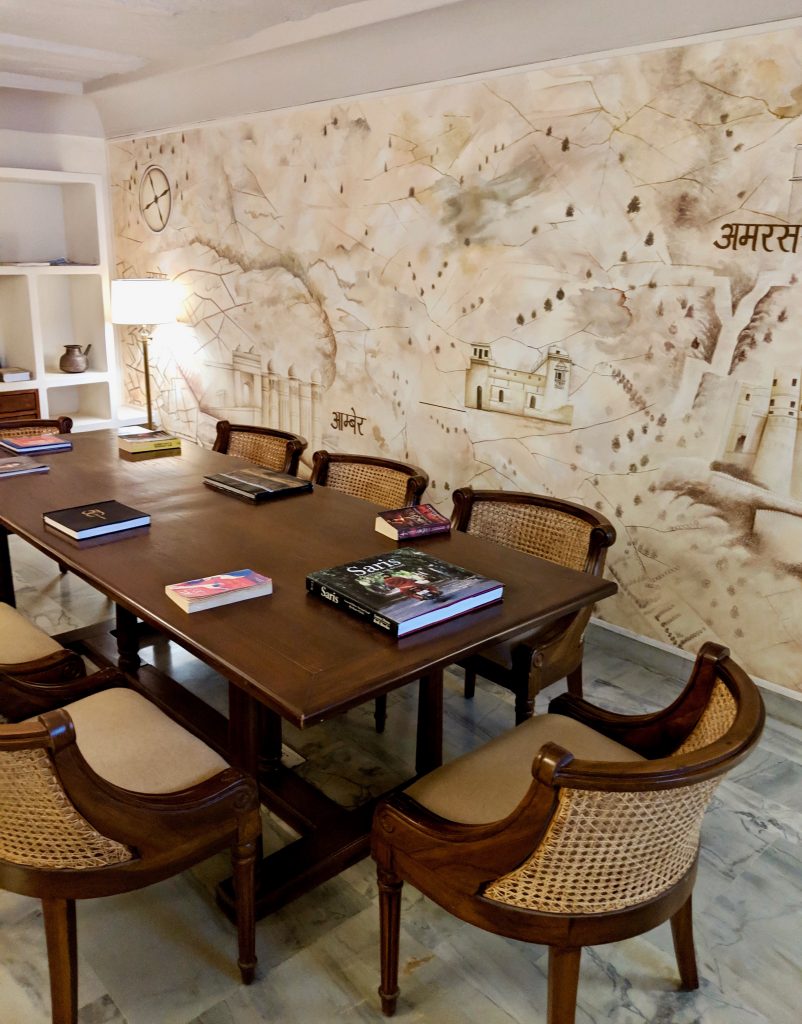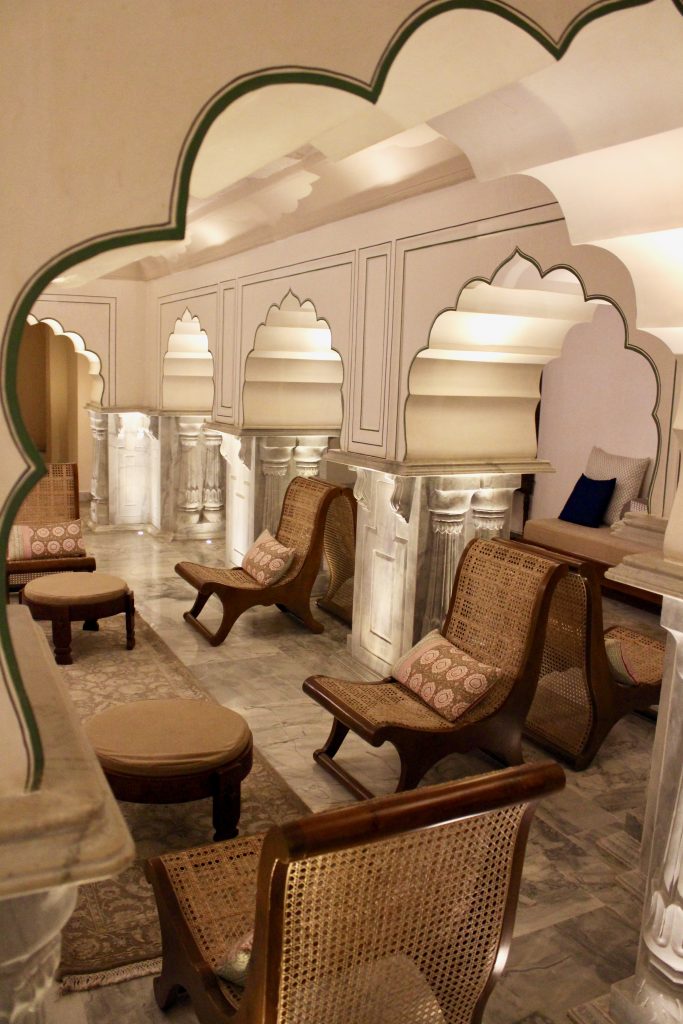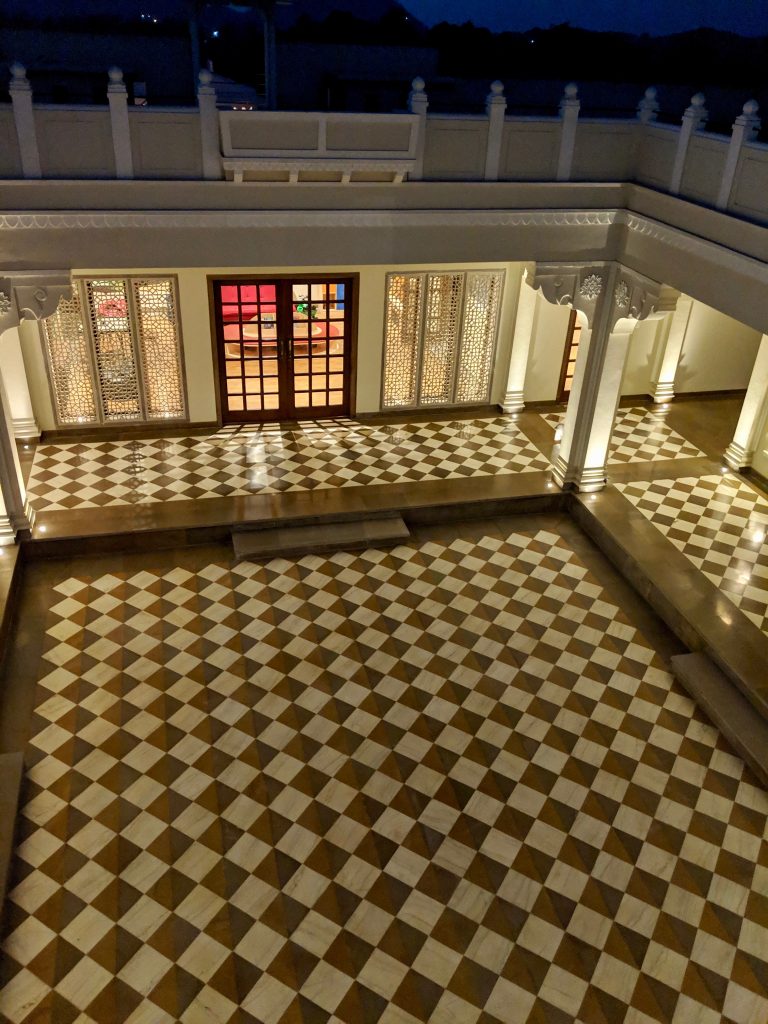 Various celebrities have loved the experience of Alila Fort Bishangarh. From Nimrat Kaur to Diana Penty to Karanvir Bohra to our Jumping Jack Jeetendra. Not only Bollywood but even ambassadors of different countries have made their way to Bishangarh to experience Alila. We met Mr. Binny Sebastian, General Manager, Alila Fort Bishangarh who further acquainted us to the property. He mentioned that they love to create experiences and they could create an experience for their guests depending on the requirement. Guests here stay for atleast 4-5 nights and love to dine at various locations of the resort. The beautiful resort offers 3 restaurants but they can actually create 22 locations where a private dining is possible.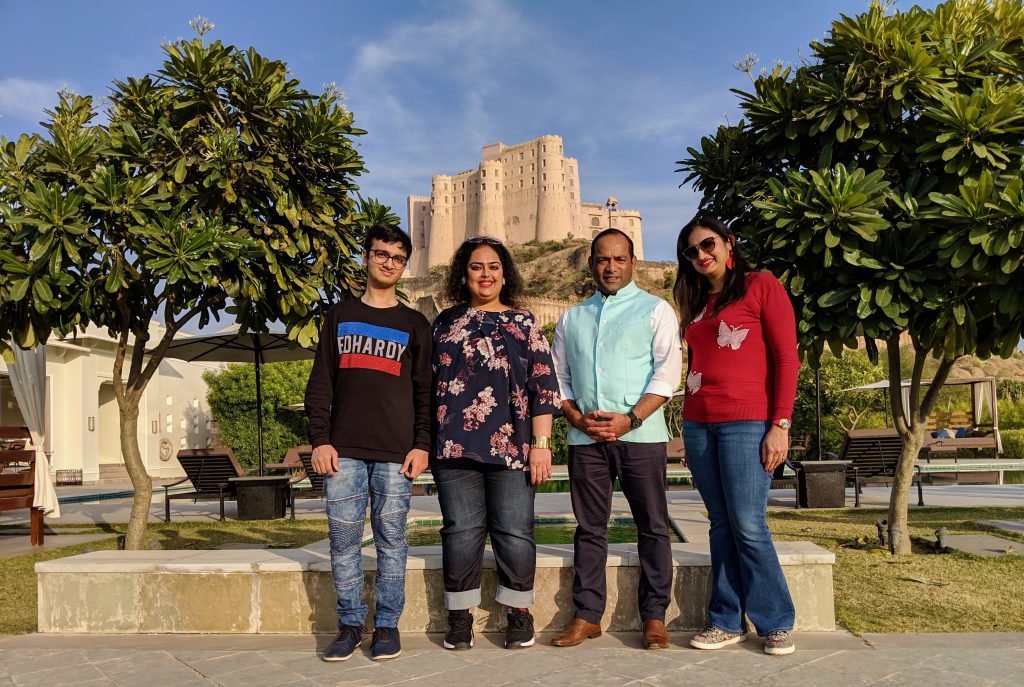 The fort looks enthralling during the day but the night time view is just so mesmerising. Glowing in the moonlight, it looks just so stunning.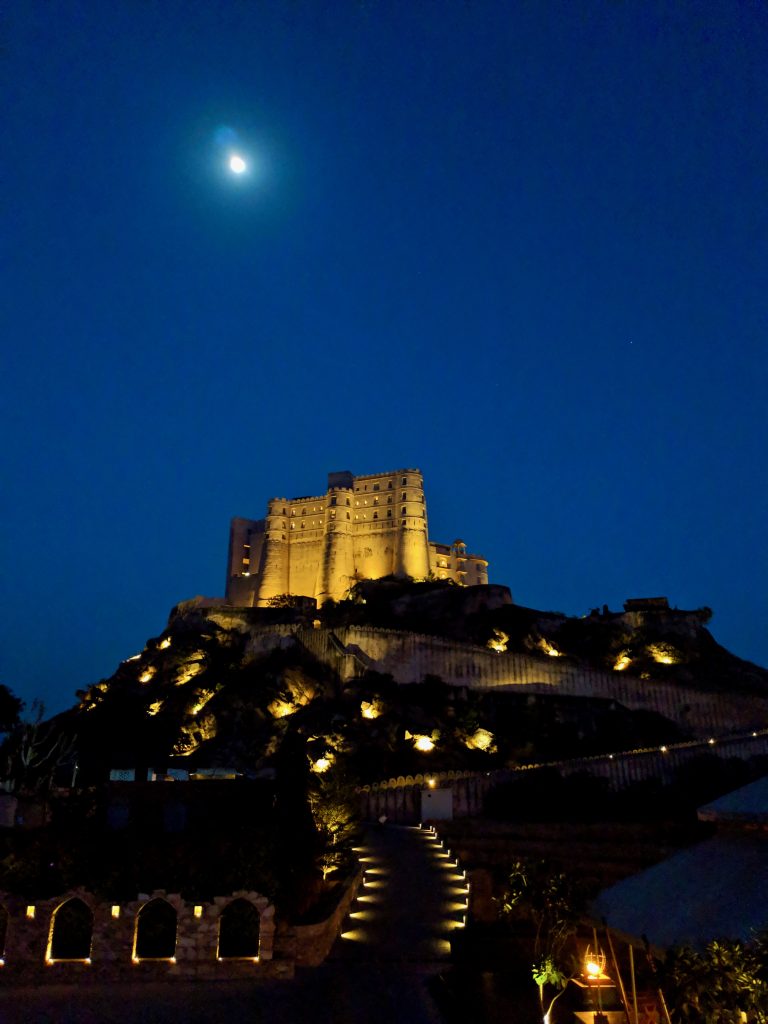 Staying away from the traditional hotels, there are also activities like yoga, trekking, horse riding, tour of the organic garden which the guests can indulge in! Even if someone wants to dine in on the mountain peak after trekking early morning, a breakfast can be served there.
Taking care of the environment, in addition to the veggies being grown in the organic garden, the resort also believes in 100% biodegradable packaging. Even the straws are paper straws and not the plastic ones.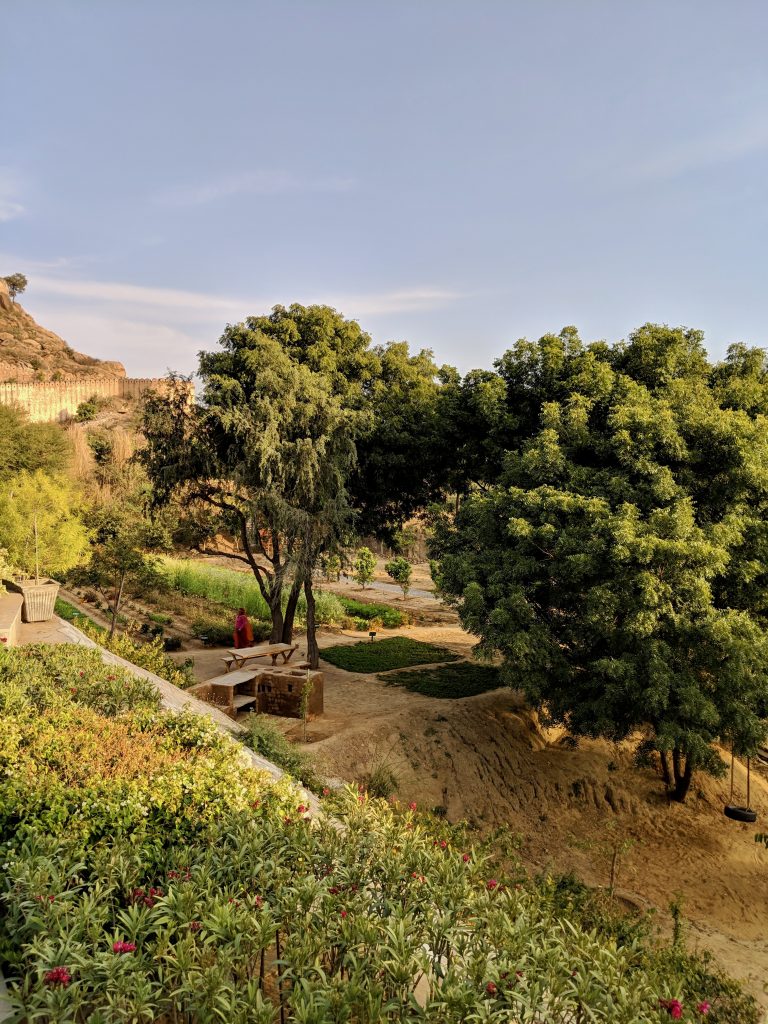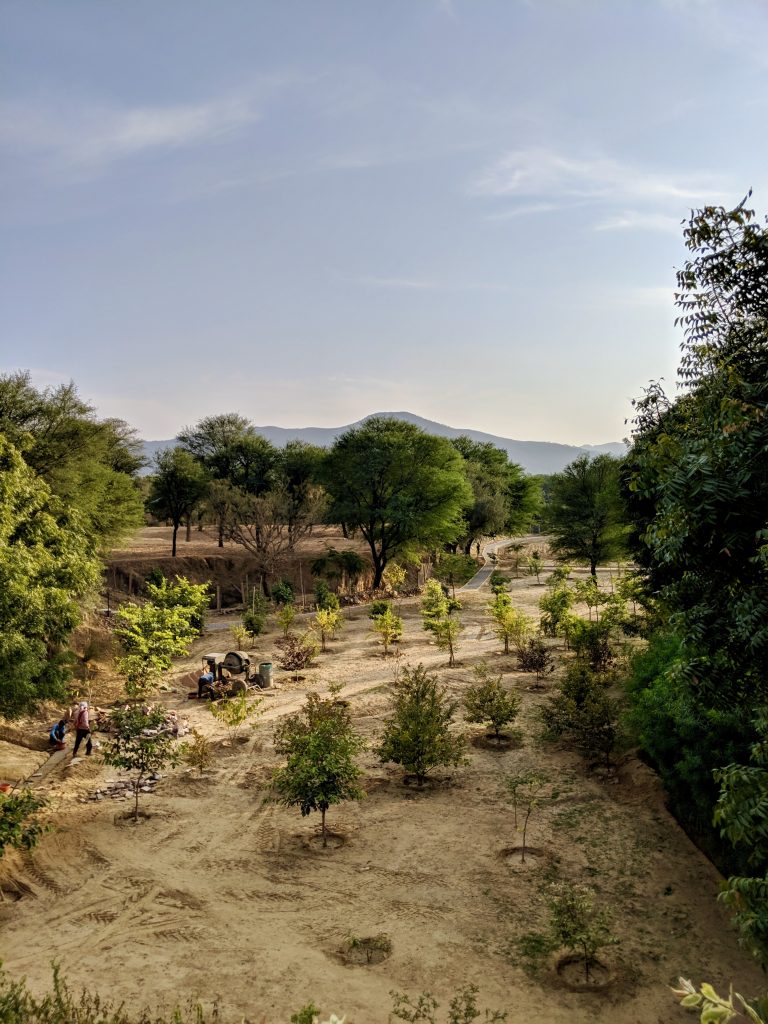 No Executive Chef is involved and the team serves the menu designed and curated by Celebrity Chef Ranveer Brar.
Our lunch was at Haveli. Amidst the beautiful pool was a special restaurant which serves a fusion of Mediterranean and Indian in the lap of greenery. We chose our preferences from the menu divided into beverages, Soft Tacos, Kids Special, Melts and Sanchwiches, Pasta & Risotto, Salads, Soups, as well as Flat Breads.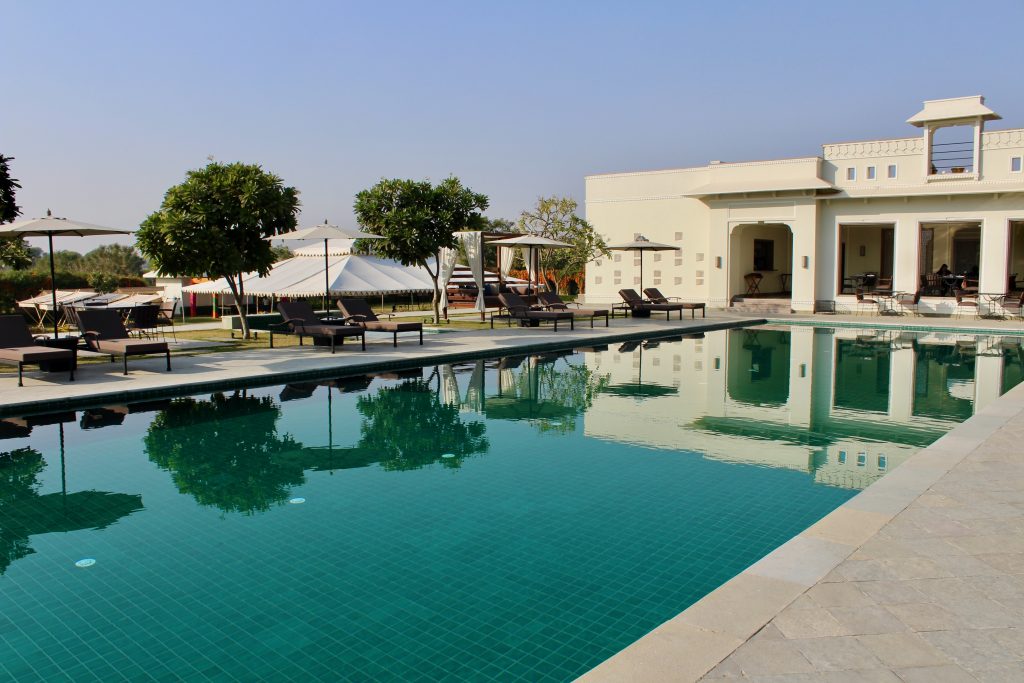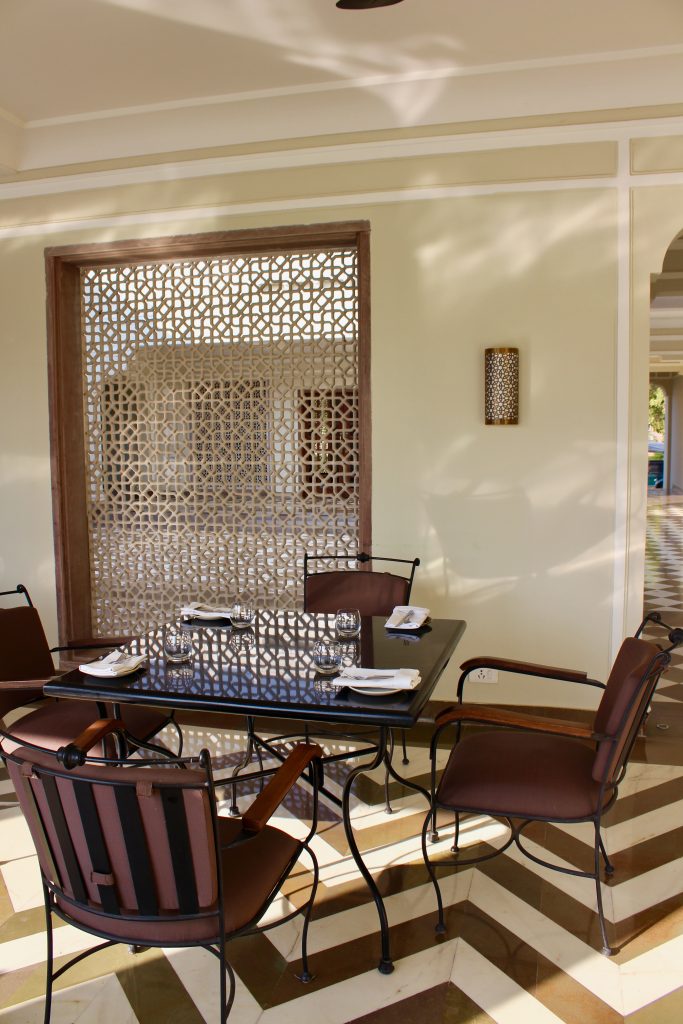 We started with salads, not sure which one to order, we asked the chef for a full portion of House Salad On Skewer which was filled with a nutritious and delicious combination of cucumber, onions, olives, sweet peppers and their local brined feta on a skewer with crisp greens. Loved the combination! We also requested the server for tasting portion of Indian Millet Tabbouleh Salad which had the goodness of roast tomatoes, chopped coriander, mint, bathua/chawli greens and cracked millets. It felt so fresh and energizing with the millets soaked overnight. The Bishangarh Pickled Salad was what I wanted to try but my family wasn't sure so came to respite was the tasting portion of it which was surprisingly loved by each one of us. The dash of pickle on watermelon, cucumber, radish, carrots, kalonji, Himalayan rock salt and burnt chilly was just right- Not too strong, not too light but just perfect!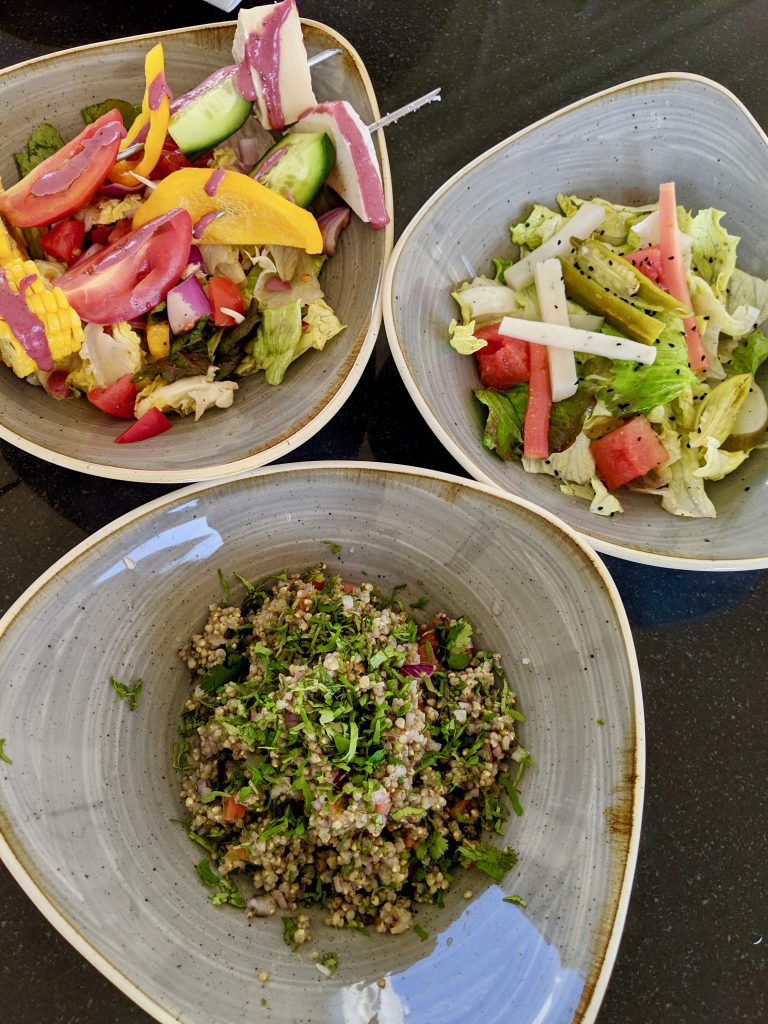 Next were flat breads! Rajgira Flat Bread with Sumac Grilled Vegetables, Falafel And Amaranth Leaves Salad (SIG) was filled with nutrition and health owing to the Rajgira base and generous toppings. The Corn And Coriander version also had a yummy topping of Indian Spiced Tandoori Chicken, Baby Spinach, Brined Garlic and Local Mozzarella…absolutely amazing and recommended!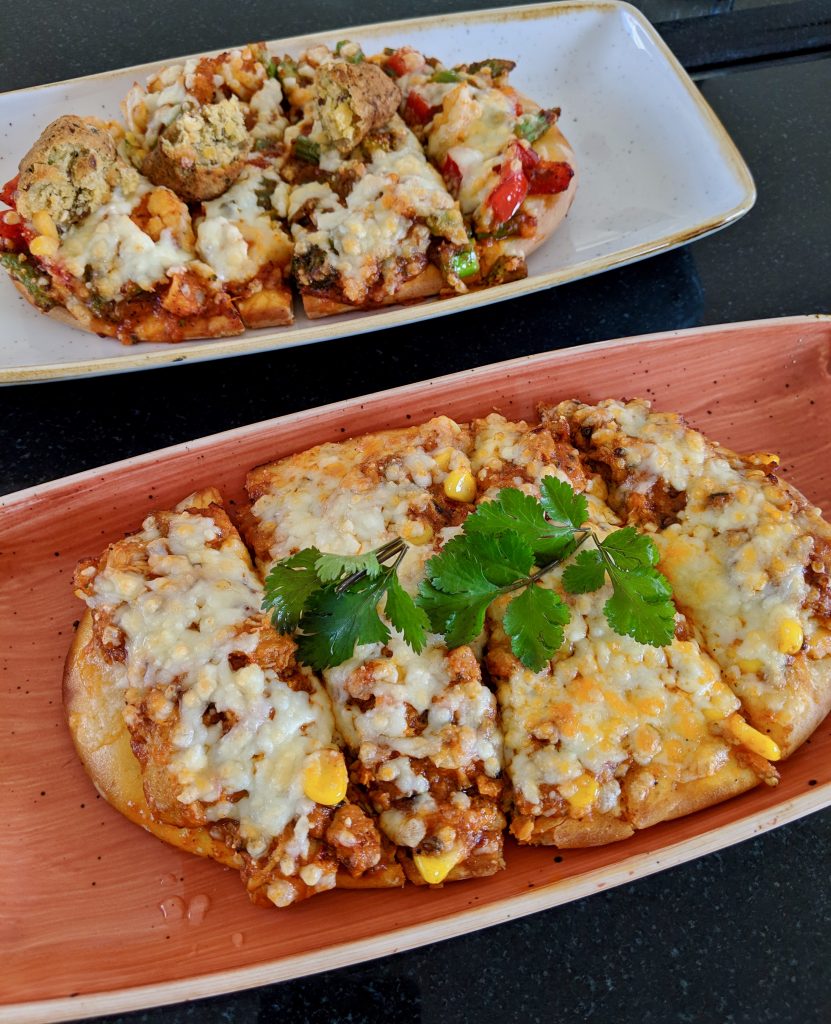 In Melts, we ordered Tomato Yam Guacamole And Hummus Melt. A great filling and baked to perfection, this dish was different from the kind of sandwiches I had till date. The Baby Greens and Ricotta Tomato Sauce Ravioli met our expectations fully. Also on special request the chef would love to make anything you desire and we got Aglio Olio made which was classic as ever. There is also a Kids Special menu, though none of us fall in the criteria but its always good to bring out the inner child 😉 and hence we ordered the Classic Fries which were crisp and heavenly and Chicken Fries which had a topping of diced chicken on fries, herbs, cheese sauce and green onions. For beverages, our picks were Virgin Mojito, Orange Juice and Vanilla Milkshake. No, we are not leaving without a dessert. The Opera Pastry was amazing with a great taste.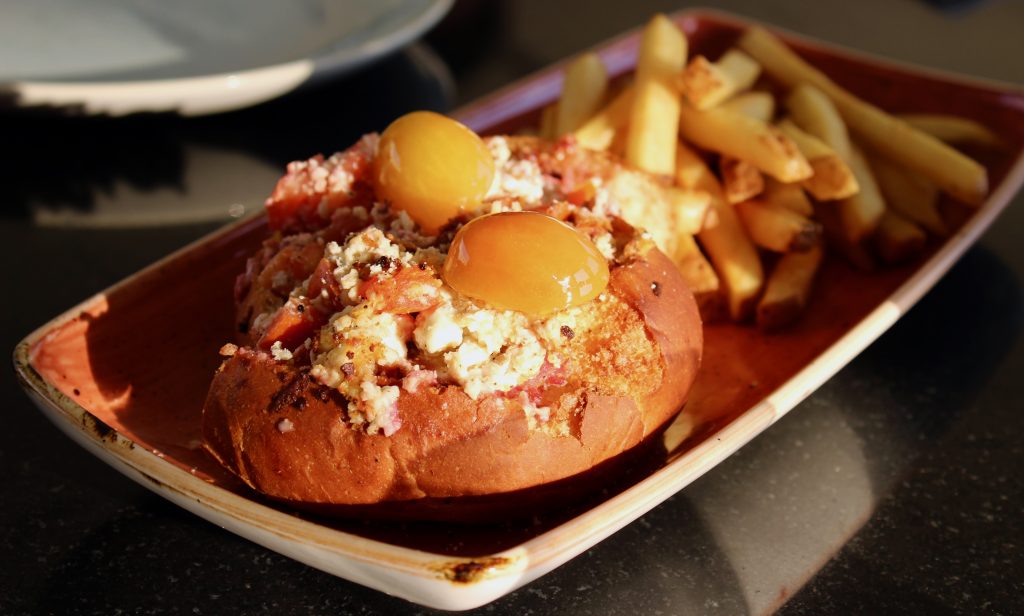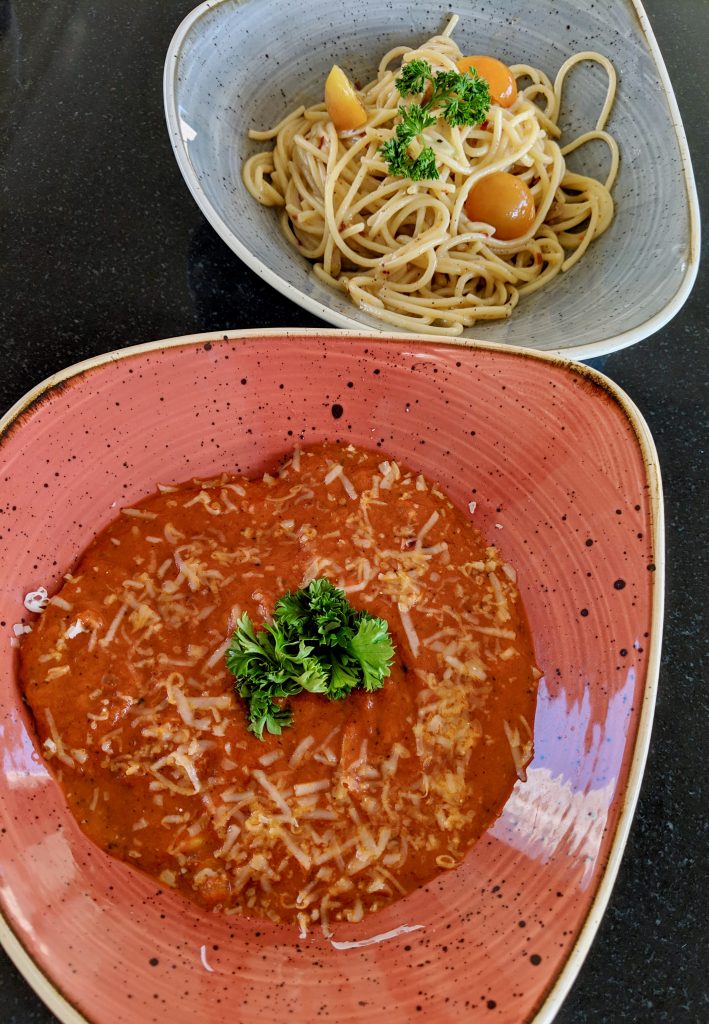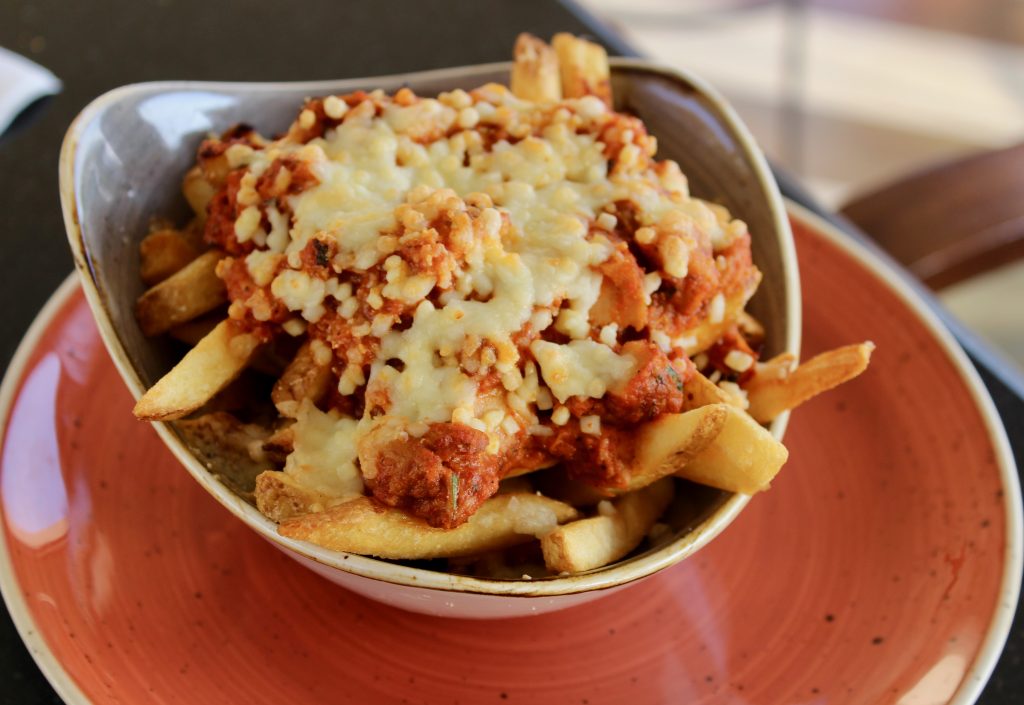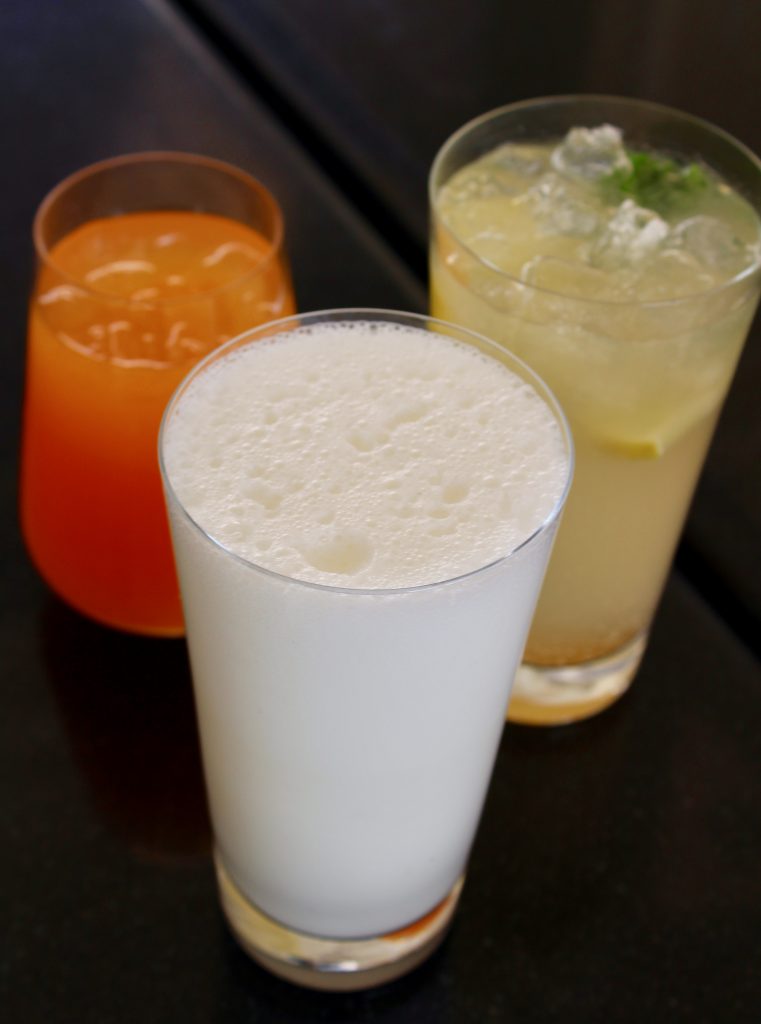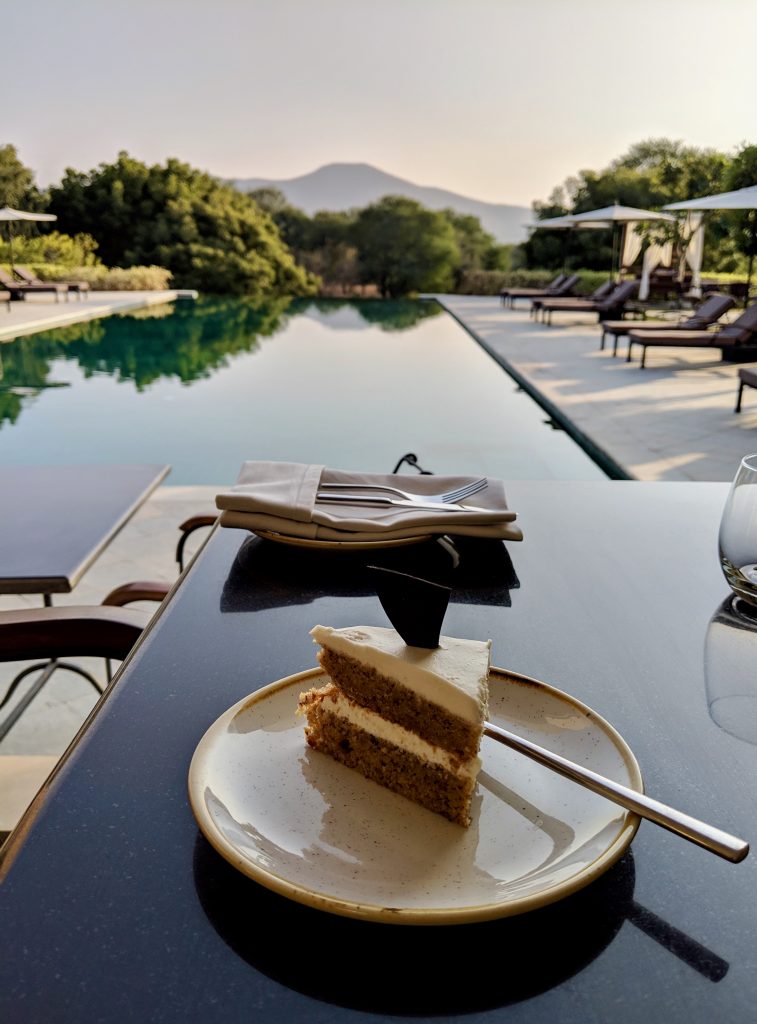 You would also hear melodious flute tunes every morning and evening which is played live from 6.30 AM to 9 AM and evening 6.30 PM onwards and then the group shifts to Nazaara restaurant.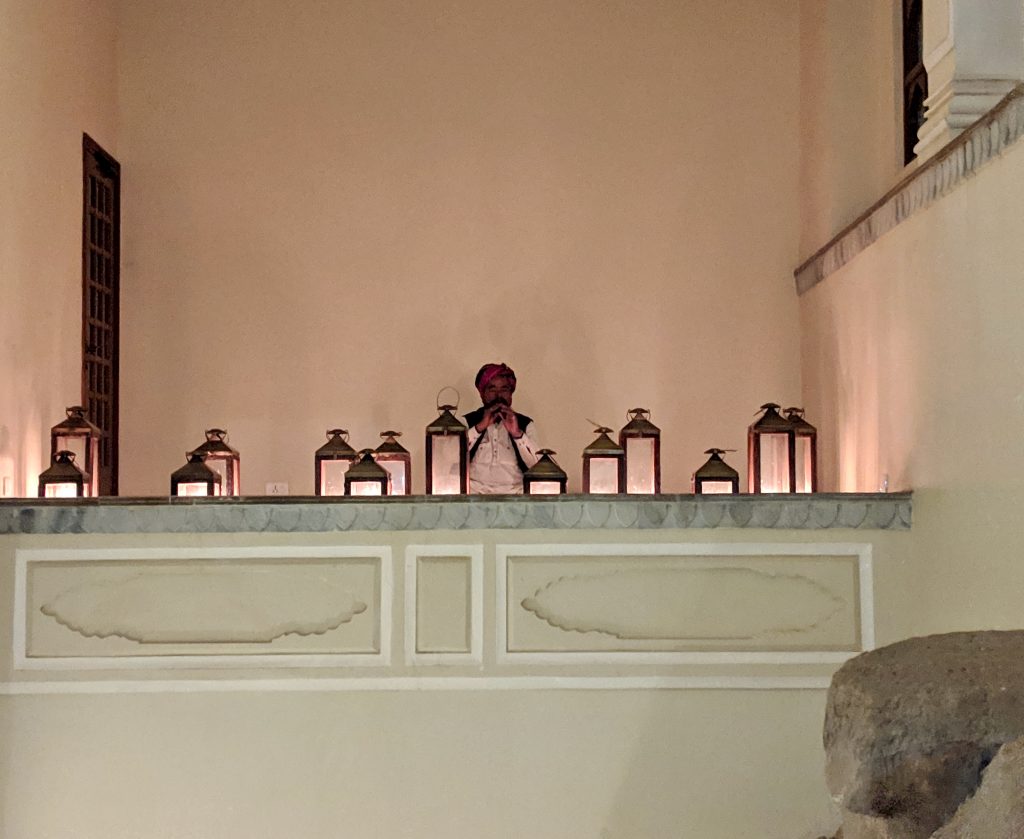 For dinner, we headed to Nazaara, the Rooftop restaurant which serves Rajasthani Food. With folk music buzzing along with a view of the most hauntingly beautiful landscape, a meal here was an experience to be cherished. Nazara is an Urdu word which means 'view' and the restaurant is a nazara of its own. With variations in Rajasthani cuisines, a different menu is curated each day for vegetarians as well as non-vegetarians. Since we were a family of 5, we could try both the cuisines.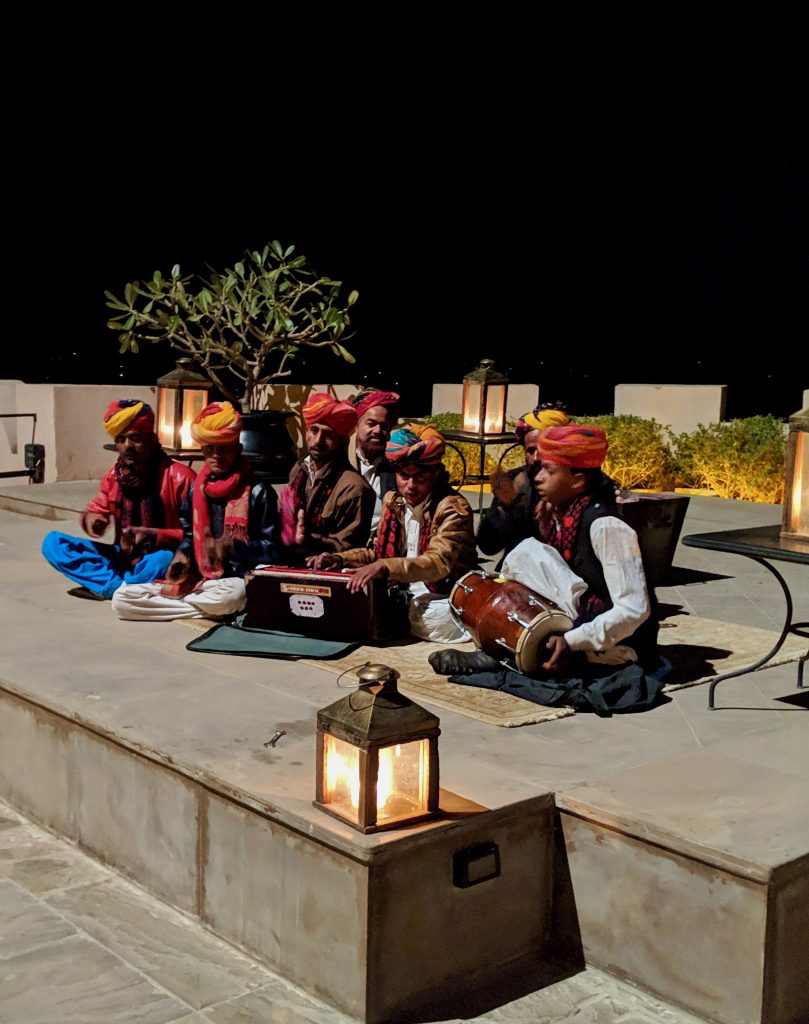 In Vegetarian Appetizers, there was Khumani Paneer Tikka, Rajma Ker Sangri Ki Tikki and Samosa Chaat. My favourite was the Samosa Chaat which had a crushed samosa layered with tamarind and mint chutney. My love for both samosa and chaat was satisfied here. In Non-vegetarian appetizer menu, there was Surajmukhi Kebab, Lasoon Chutney ka Murgh Tikka and Til Sarson Machhi. My favourite here was Lasoon Chutney ka Murgh Tikka which was absolutely relishable.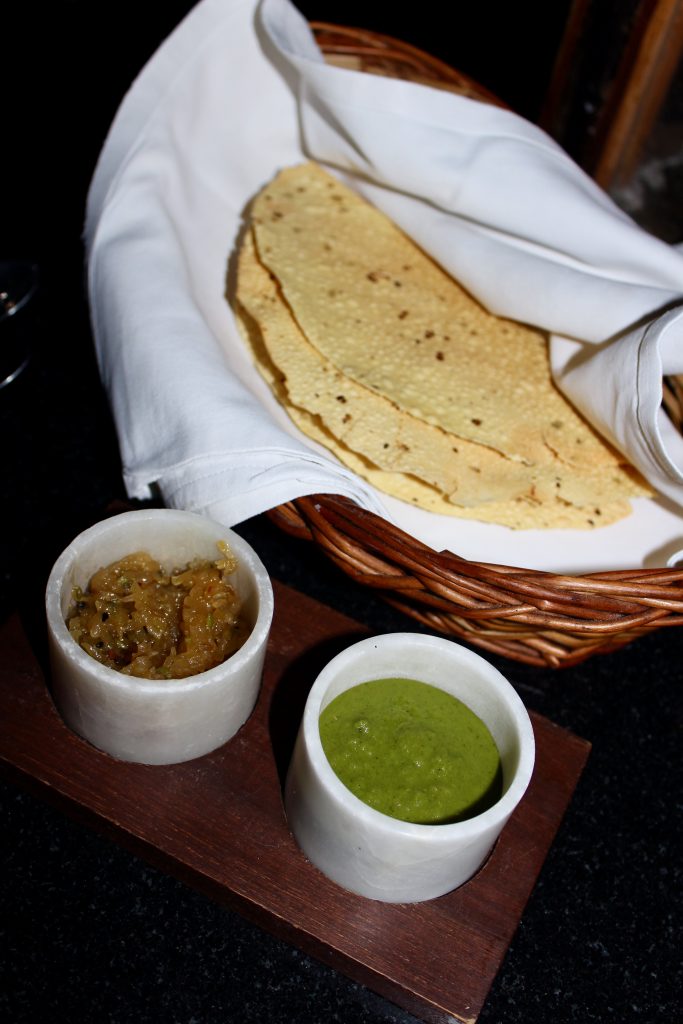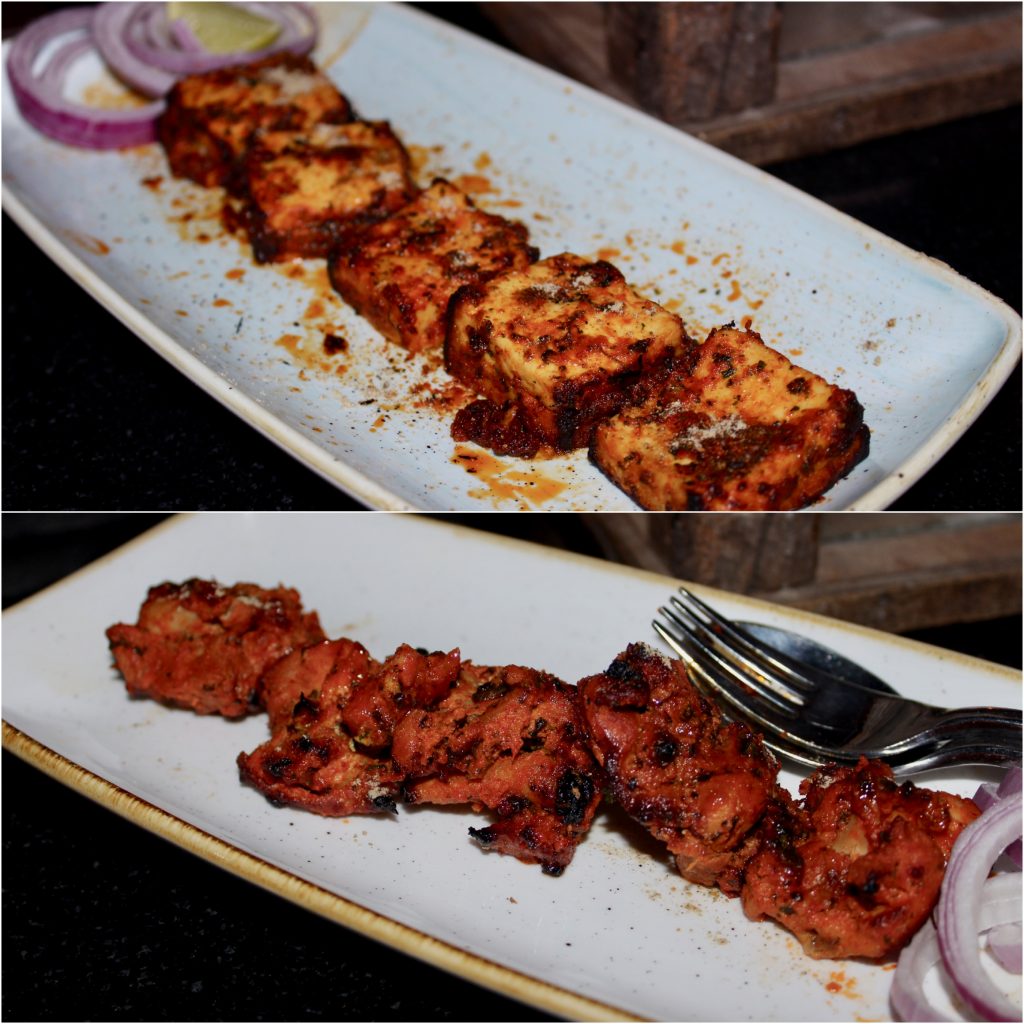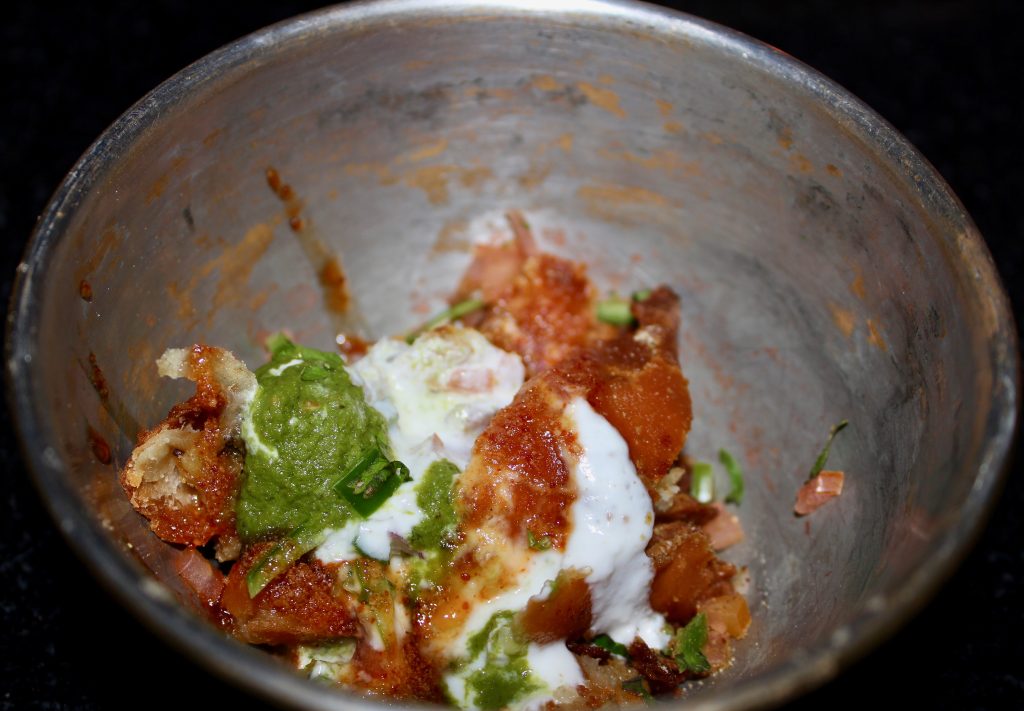 For Mains, there was a wide variety including Khade Masala ka Paneer, Bishnoi Kadhi, Gatta Curry, Aloo Seasonal, Seasonal vegetable, Dal Bishangarh and Subz Biryani for vegetarians. My recommendation is the Rajasthani Gatta curry which had the authentic Rajasthani touch as well as taste. Even the Bishnoi Kadhi was interestingly made with black chickpeas and was yummy. The mains for non-vegetarians included Laal Maas, Adraki Kesari Murgh, Jaismandi Fish, Dal Bishangarh, Seasonal Vegetables and Mutton Biryani. My favourites included Laal Maas which was made in an absolutely delicious way with yoghurt, mathania chilies and whole spices. All the mains were relished with Missi Roti, Mirch Papad Ka Paratha, Naan as well as Lachha Paratha.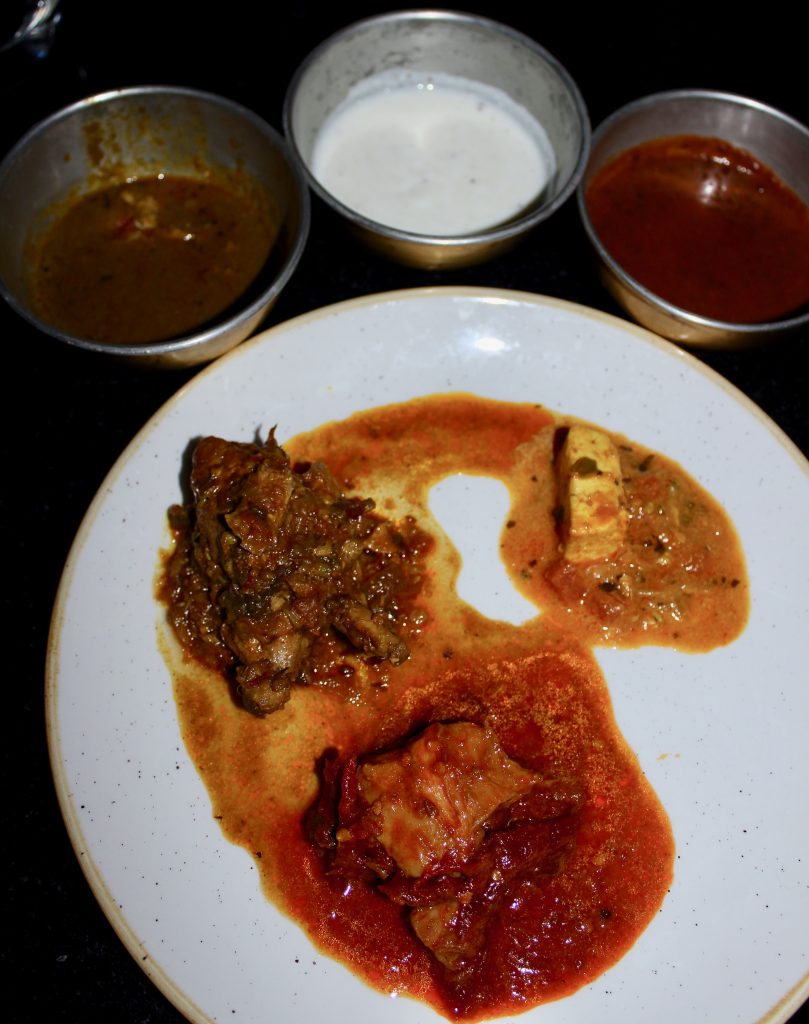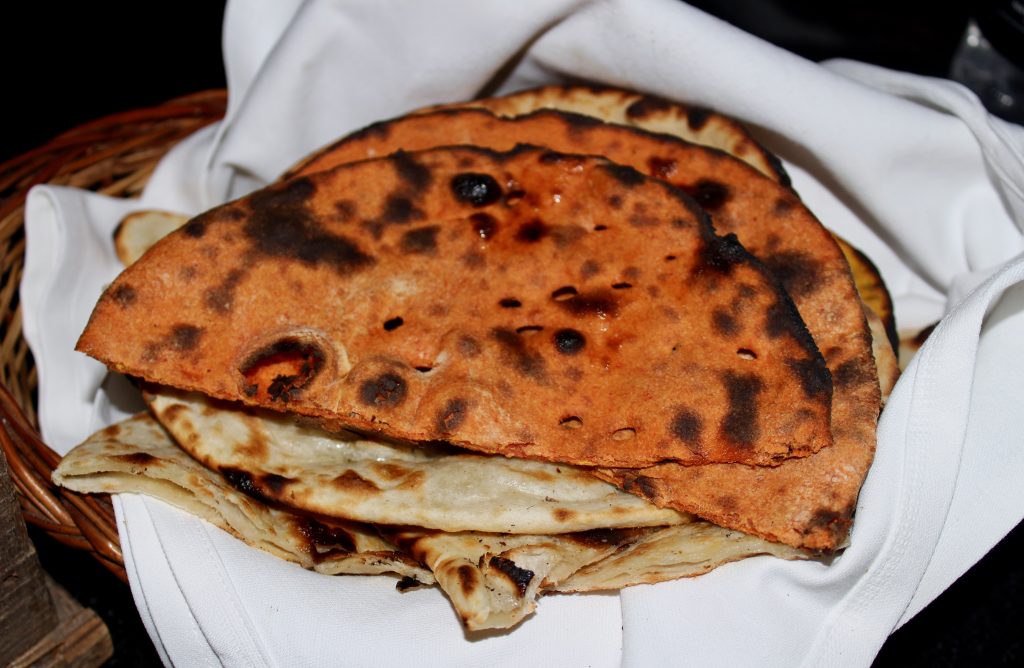 Coming to one of my favourite parts- Desserts! Beetroot Halwa was simply amazing- it was so good! That's not all! The assortment also included Gur aur Khajoor Ki Kheer and Homemade ice-cream.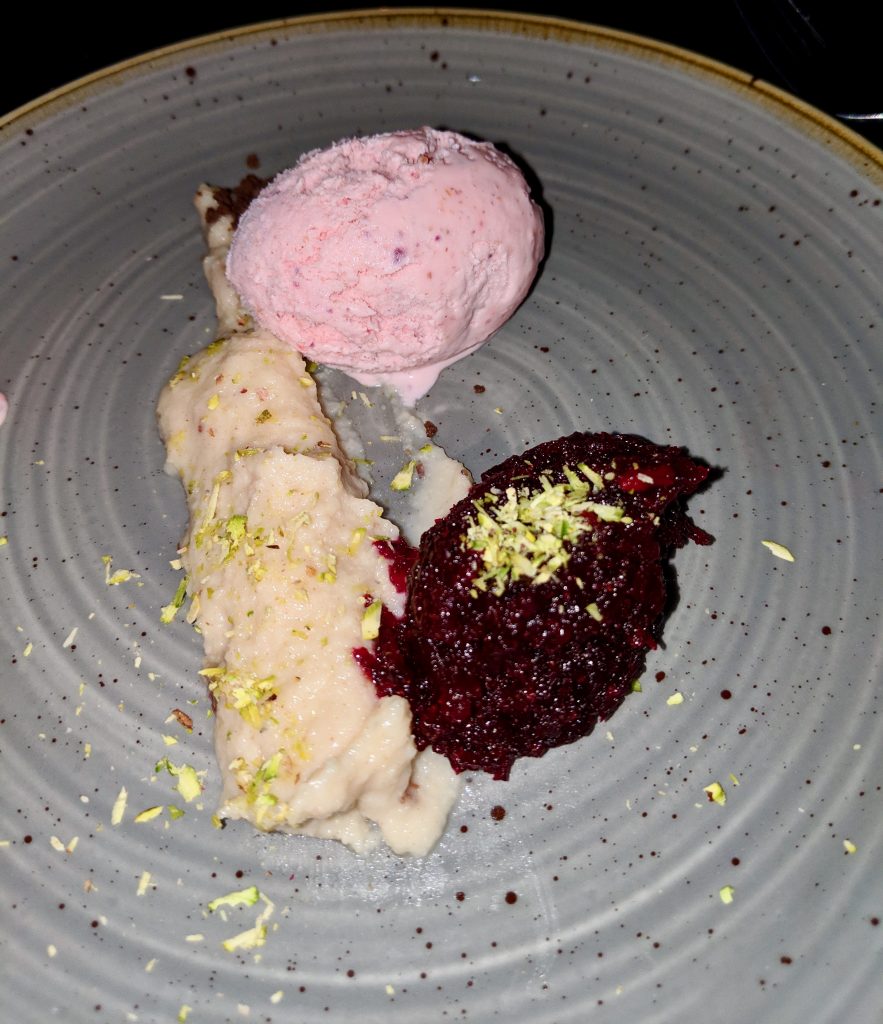 Nazaara with the most romantic setting is the jewel in the crown of Fort Bishangarh. We had an amazing time there. Considering it was winters, there were also angeethis placed to help us from the cold breeze.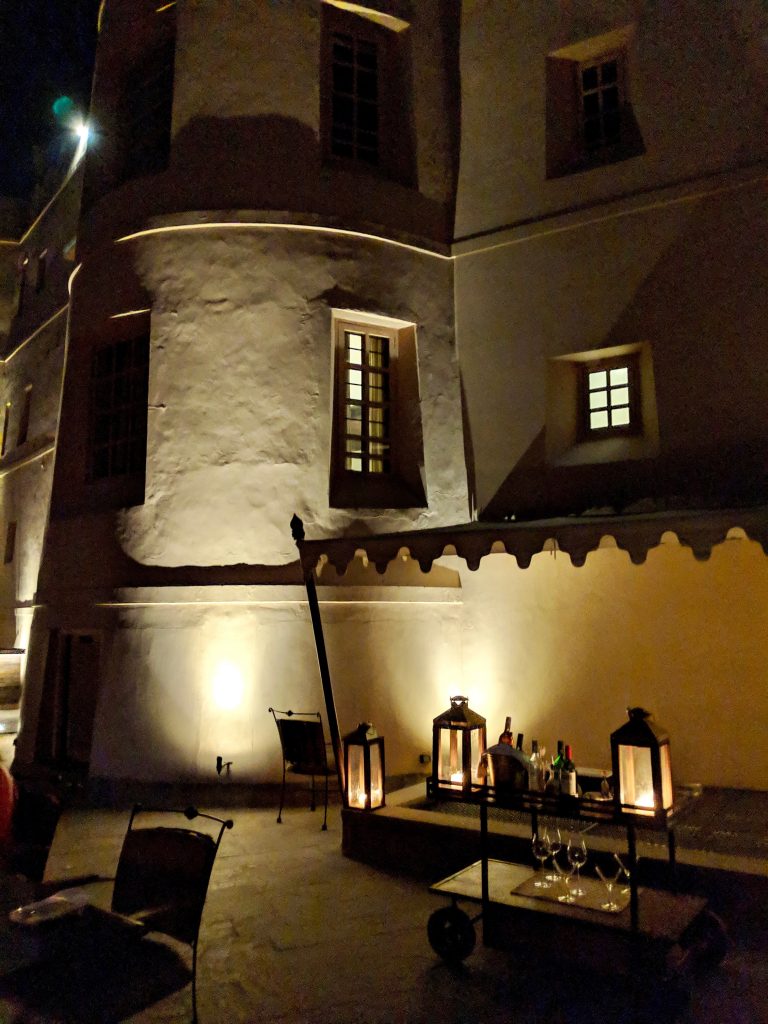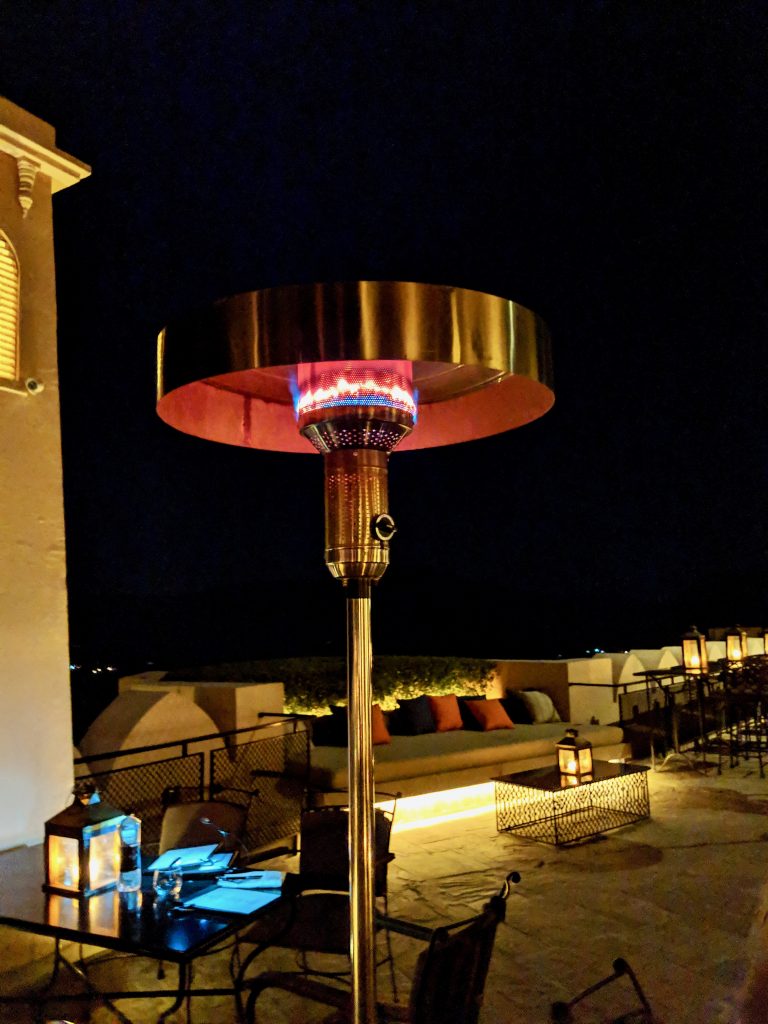 The hospitable staff was always around at the fort and Haveli who followed our requests with a pleasant smile. Well, the dining scene doesn't end here. The guests stay for as long as 4-5 days and the place ensures they have a different experience everyday. Hence the dining options are just restricted to the above, there are more.
Amarsar – the Authentic all day Fine Dine restaurant  inspired by the Silk Road Route serves Persian, Mediterranean and Turkish cuisines. Taking cues from folklores and fables that make up for the history of this fort, Amarsar looks to epitomise the authenticity and hospitality synonymous to that of the Rajputana.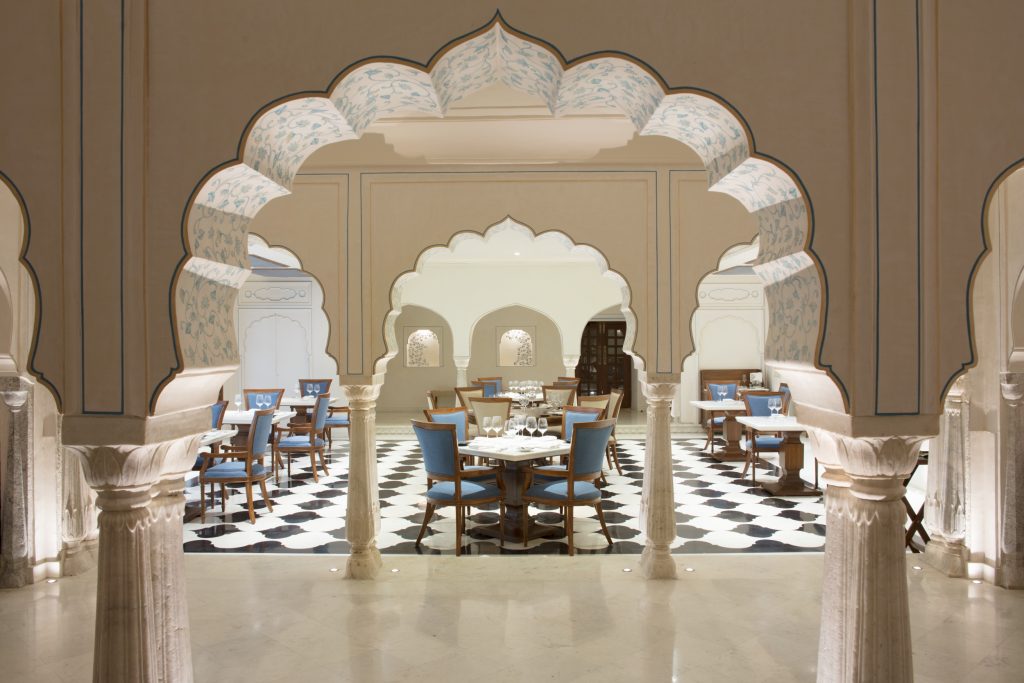 Also is Madhuveni – The Bar with its finest selection of malts & fine sprits just what is needed to sooth your soul after a long day or for a mellow evening in the most sublime setting. The name 'Madhuveni' when combined means a stream of sweetness and here it is named after the Bishangarh village river surrounding Fort Bishangarh.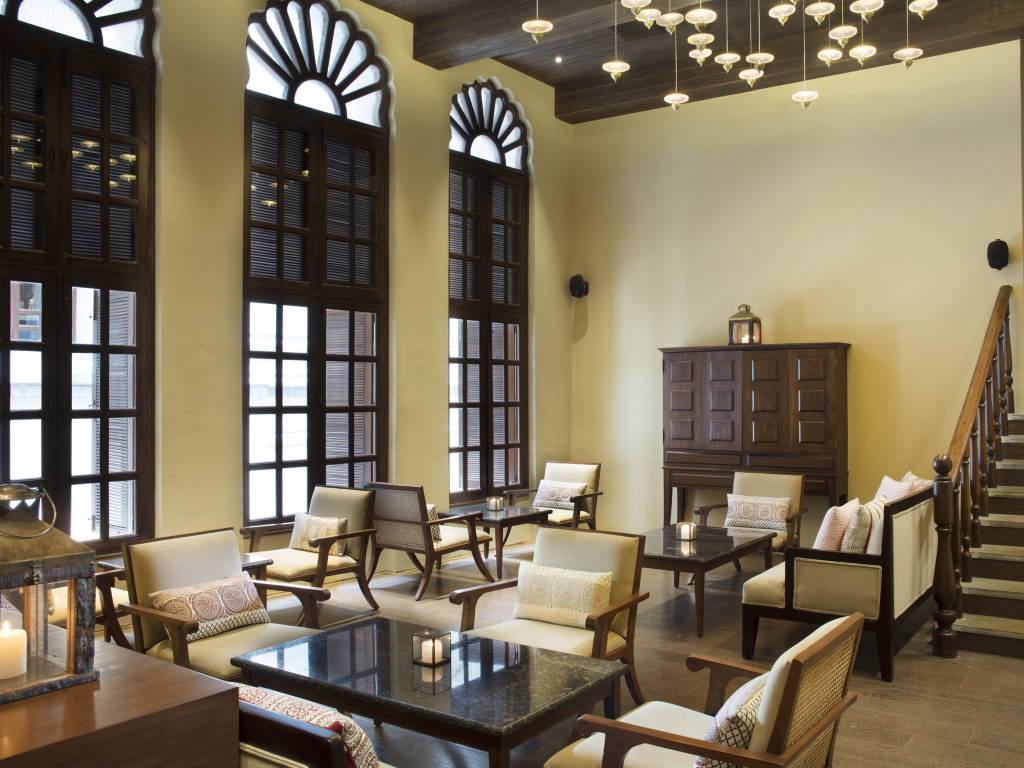 It's not only about the stay; there are some recreations as well! Situated at Alila Fort Bishangarh is also Spa Alila, the idyllic spa in Jaipur. Hidden away in the dungeons inside the fort, the spa's goal is to help bring you back into balance naturally with treatments personalized to your needs. Through the heartfelt touch of their experienced therapist in the three couple massage rooms, their naturally active products and maximum guest input, they create a new dimension in nurturing and divine pampering rituals. Interestingly, it's carved out between granite rocks in the old dungeon.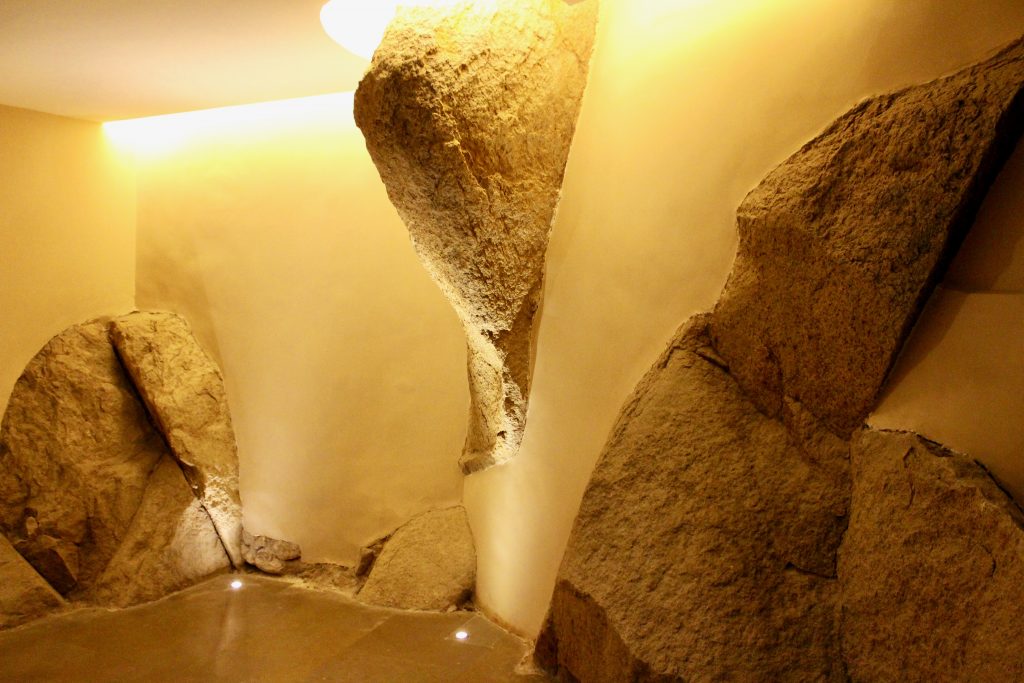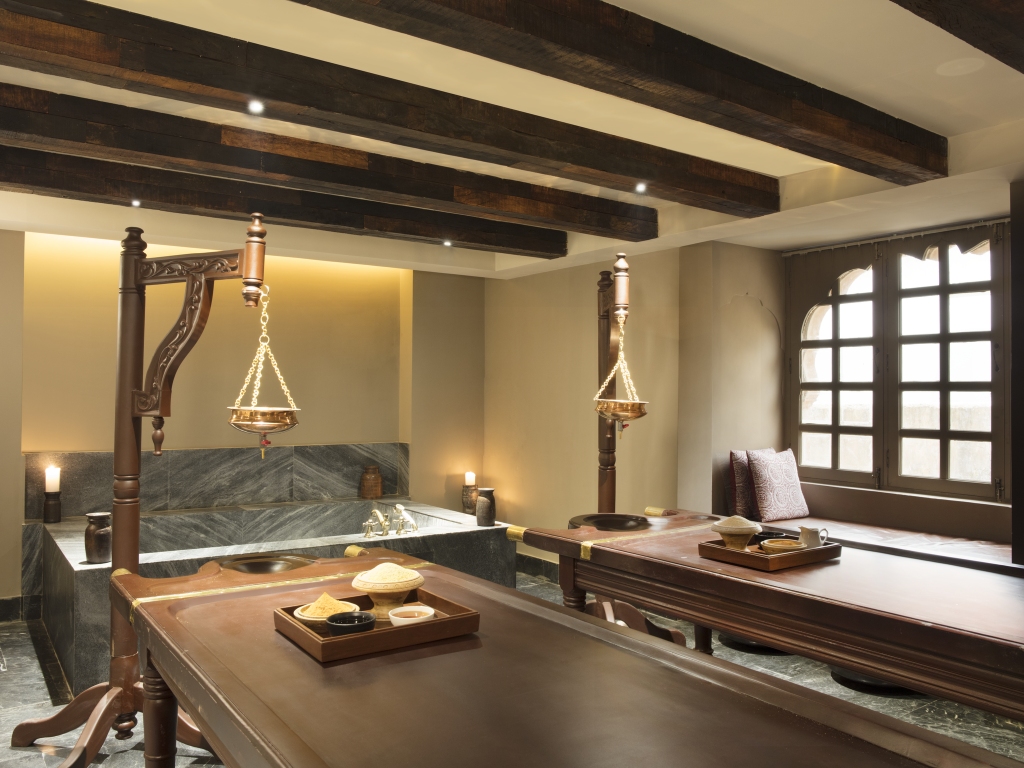 For those who want to stay in shape even on a vacay, there is a well-equipped fitness centre. For kids there is a playroom which not only has exciting games but also activities like henna art, recycle art and clay pot painting. They also organize interesting activities like nature walk and kite flying for the young ones.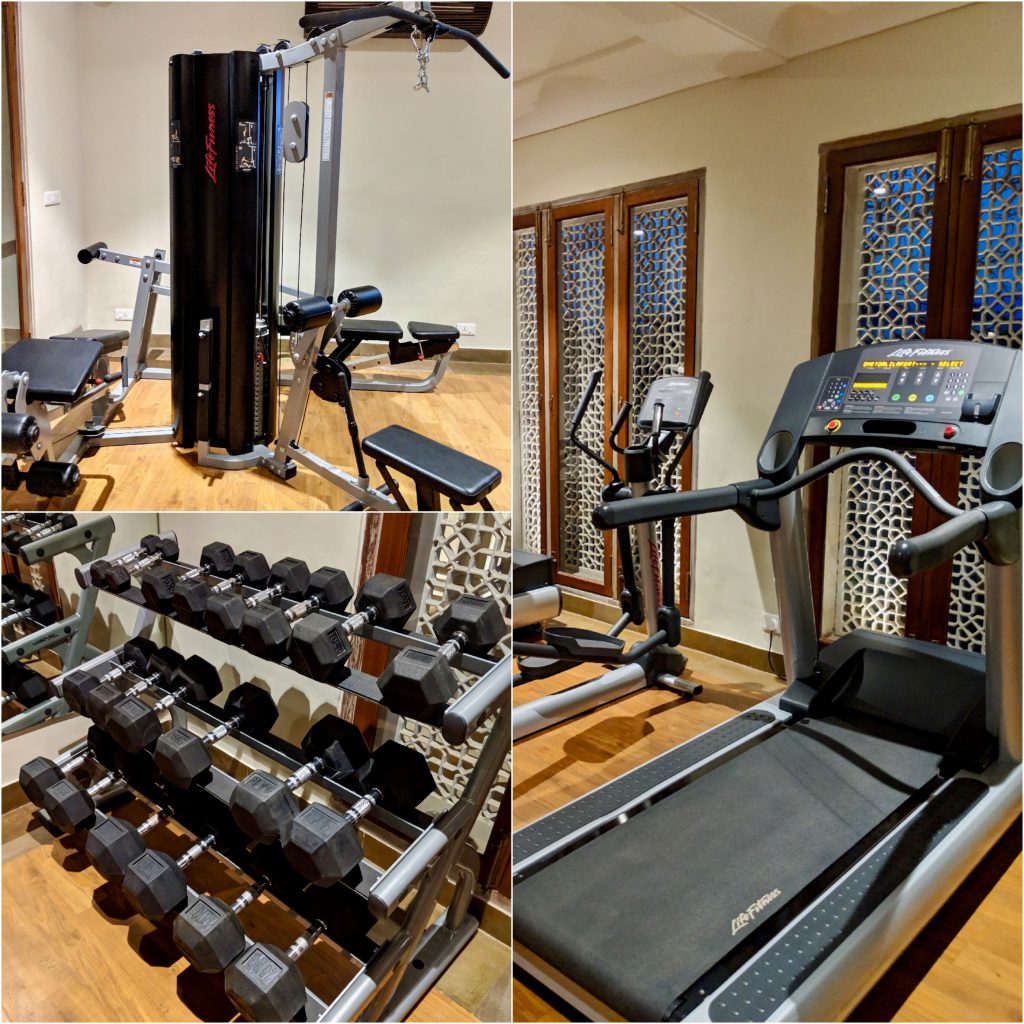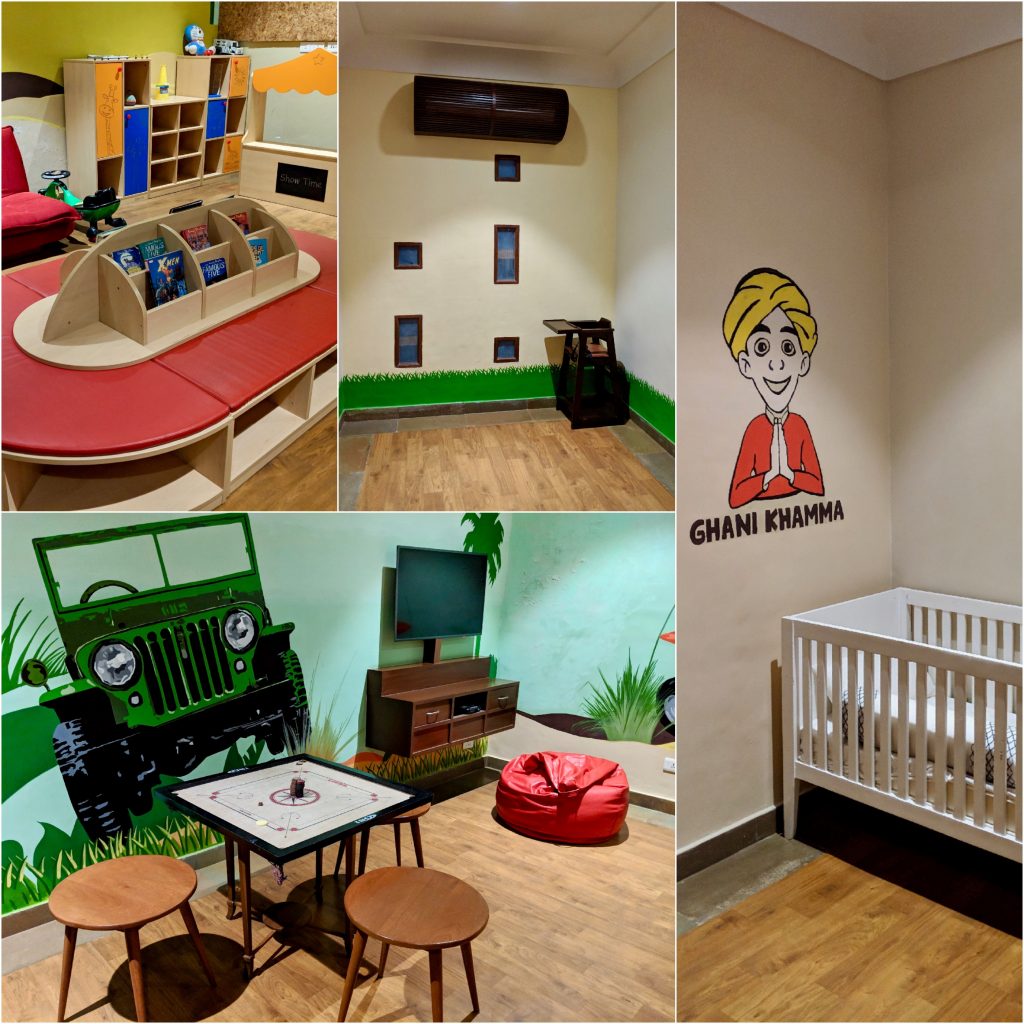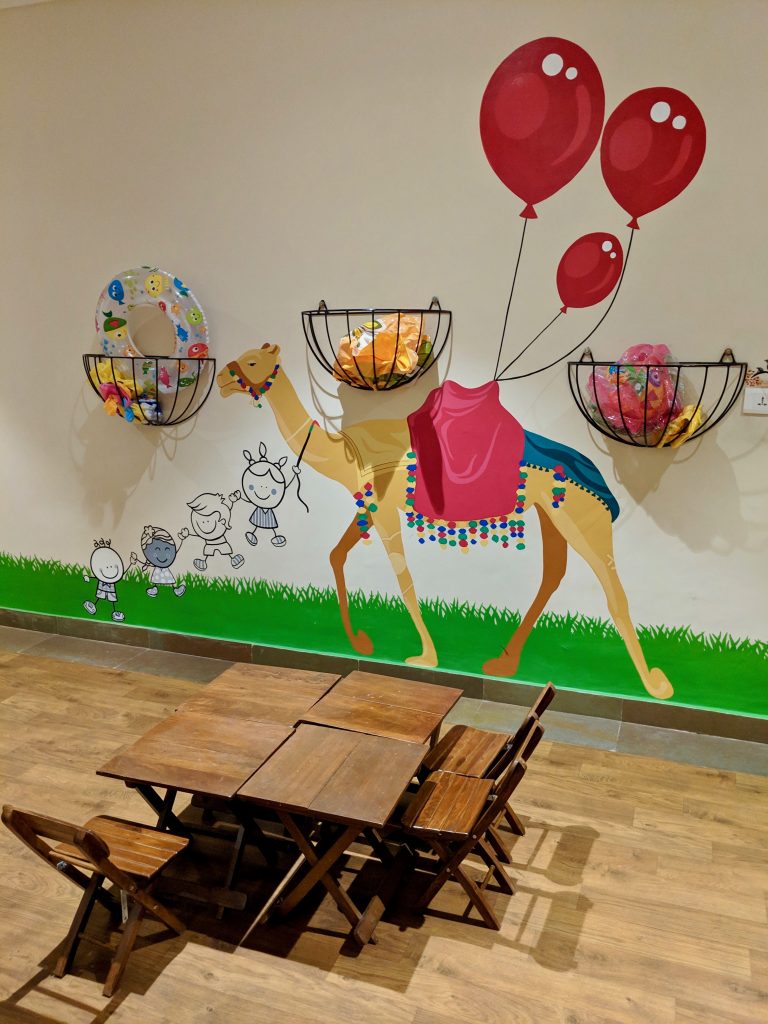 Adults, fret not….there is also an Adult Recreation Area which has games like Table Tennis, Chess, carrom plus a screen for a private movie screening. There is also an Amazon firestick for you to stream content.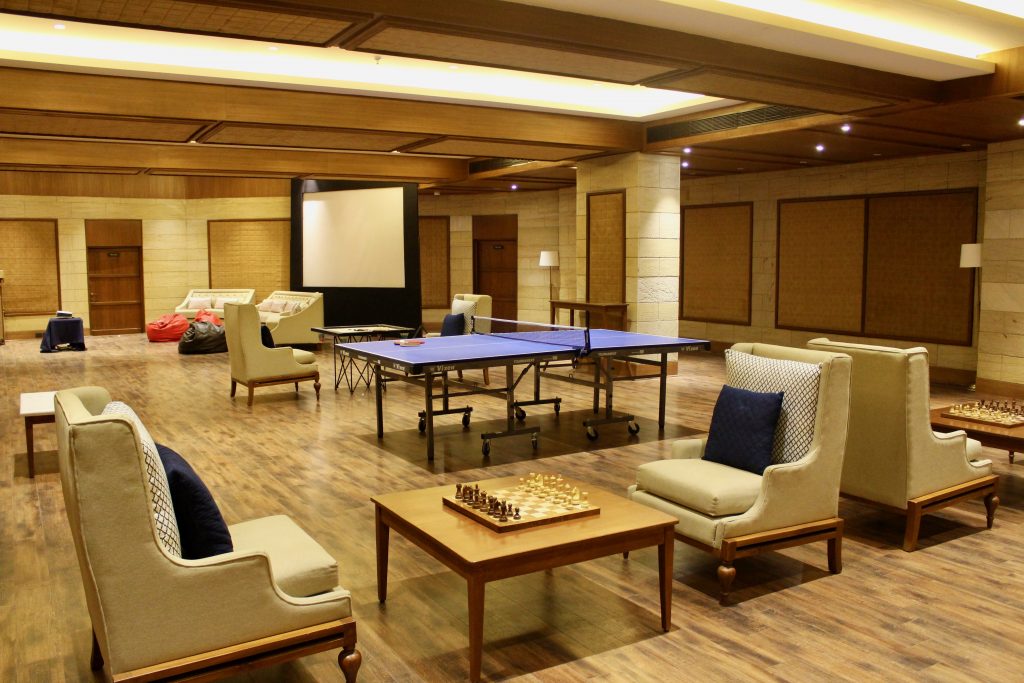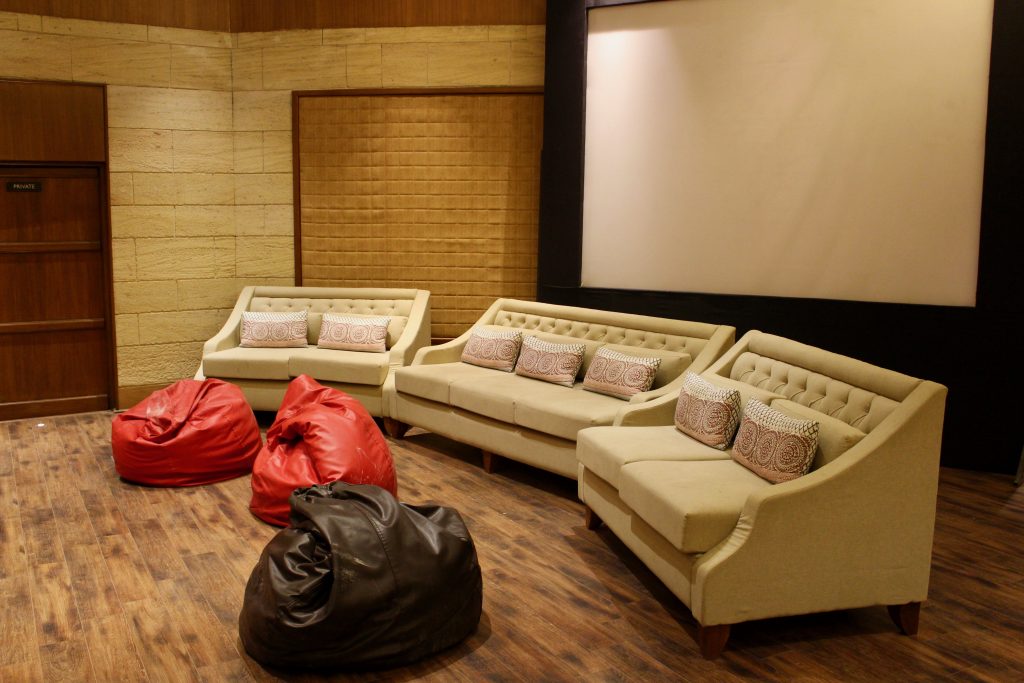 We got another cute surprise by Team Alila. At 12 in the midnight, on the start of Nidhi's birthday, there was knock on the door. We opened it to be thrilled with a birthday cake for Nidhi making its way to our room. It was one of the yummiest cake we have had with edible sparkle on top!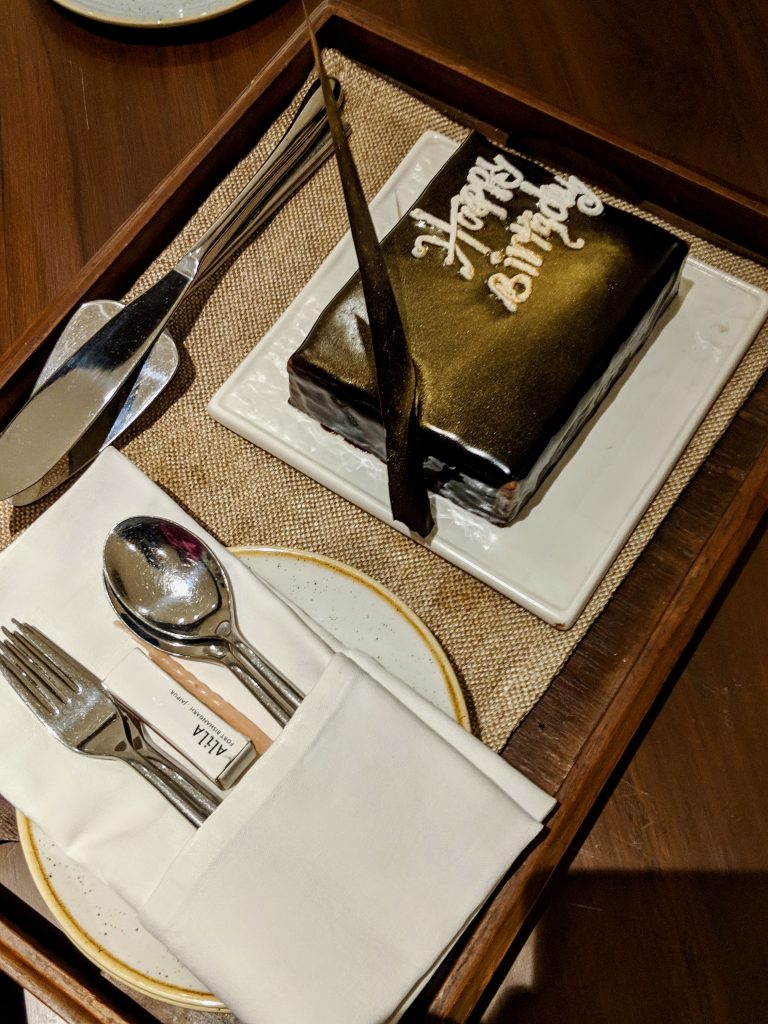 We were also lucky to be at Alila Fort Bishangarh when they were hosting the annual Kite Festival. The Kite Flying festival had a colourful theme based on various shades of Indian culture. It was not only about the colourful and vibrant kites in the sky but it was a carnival in itself. A tent spread across the humongous garden had activities like bangle making, puppet show, magic show, astrology and henna art which were being enjoyed by kids as well as adults. With a live DJ, I could see a lot of foreigners and Indians getting in the dance mode enjoying the beats.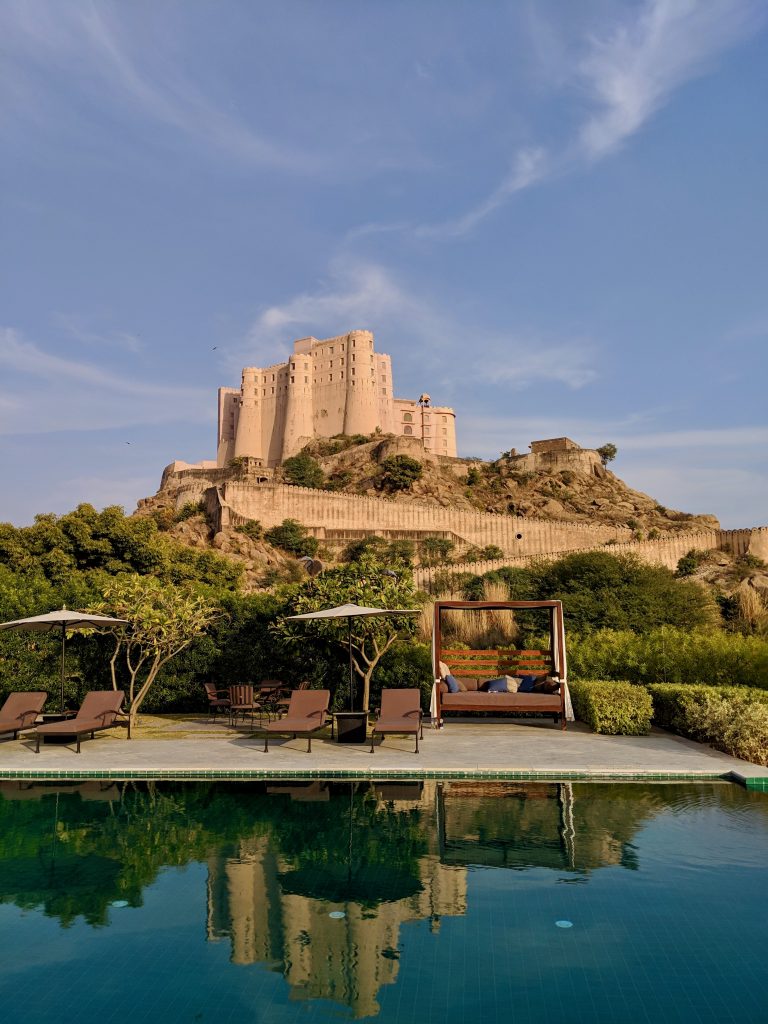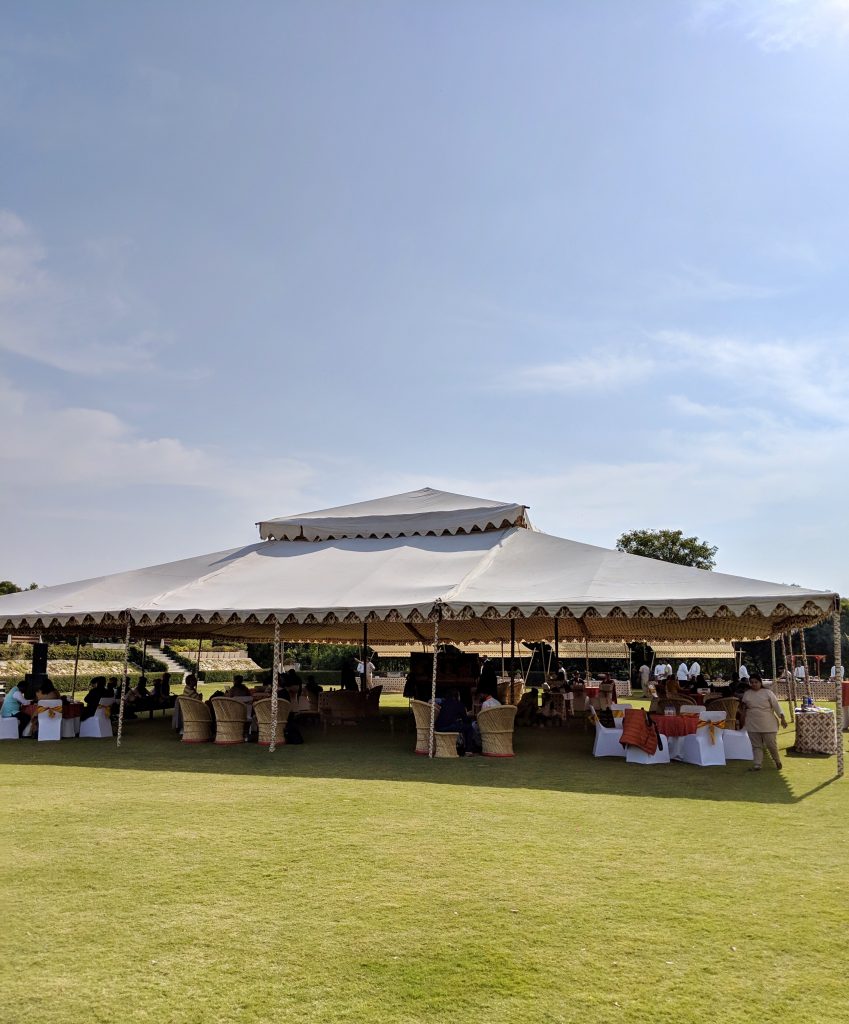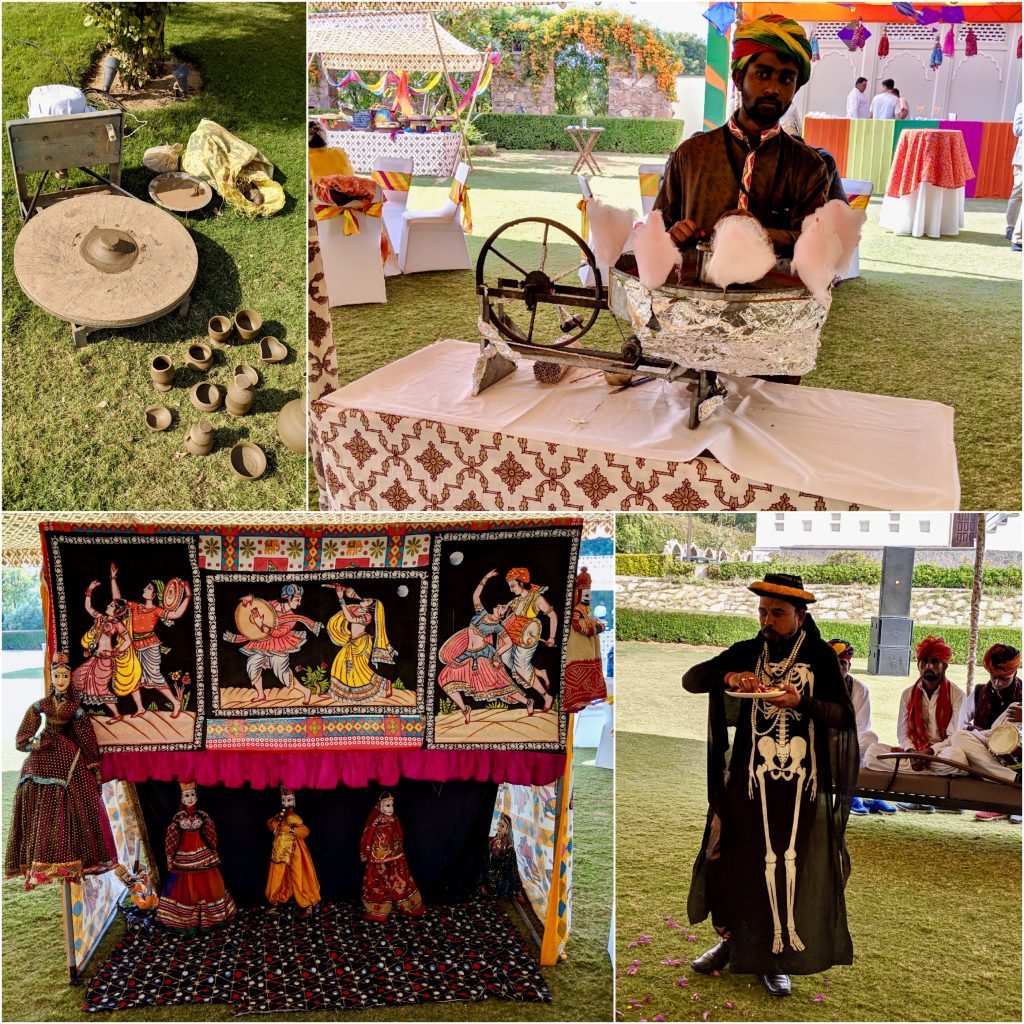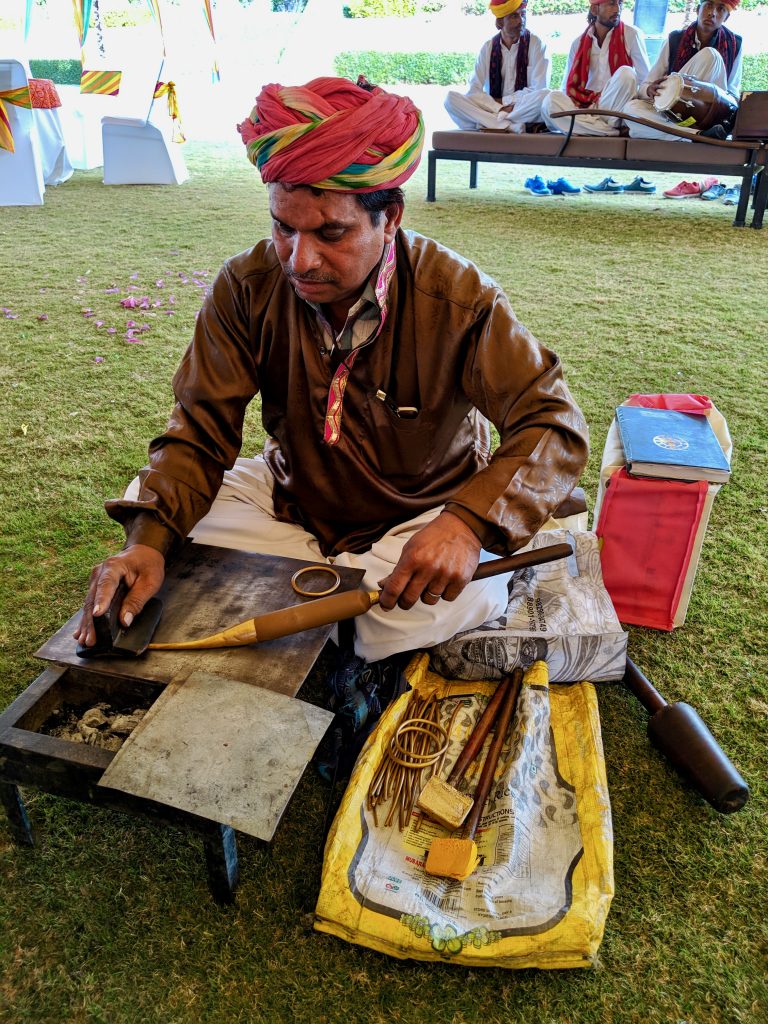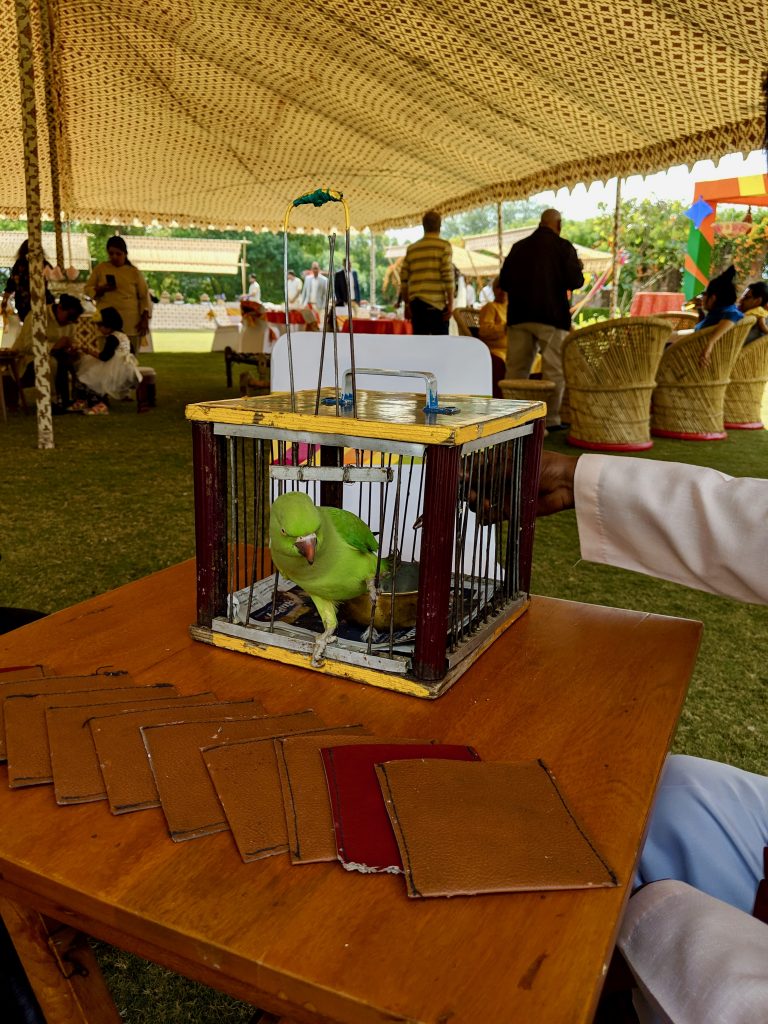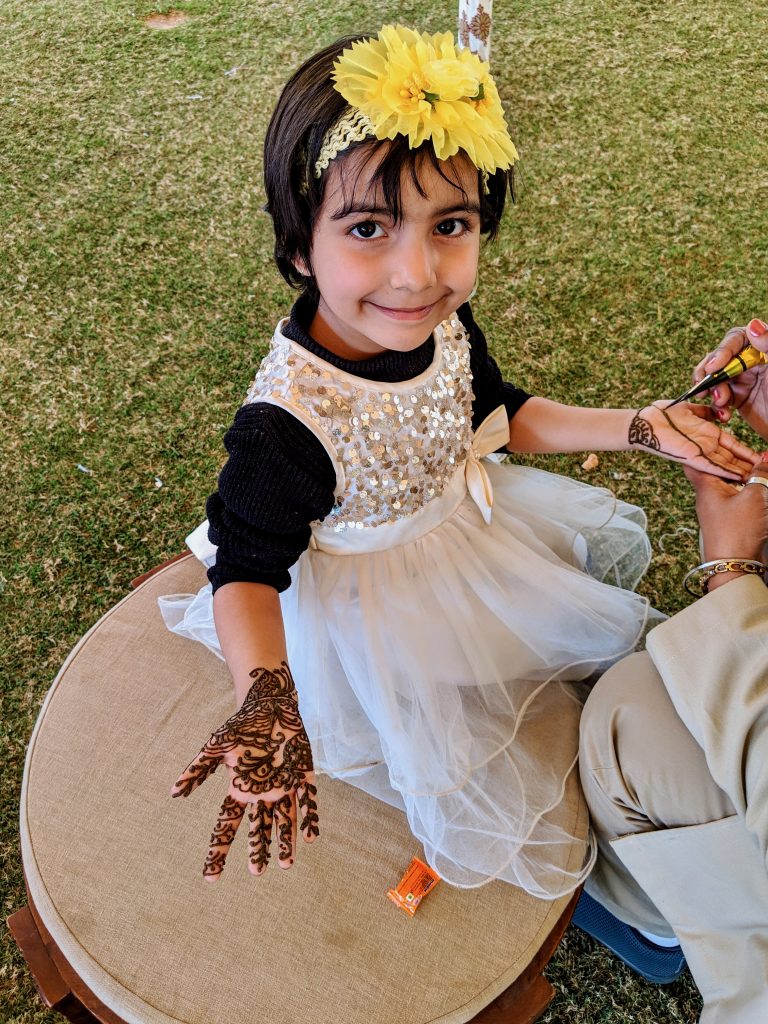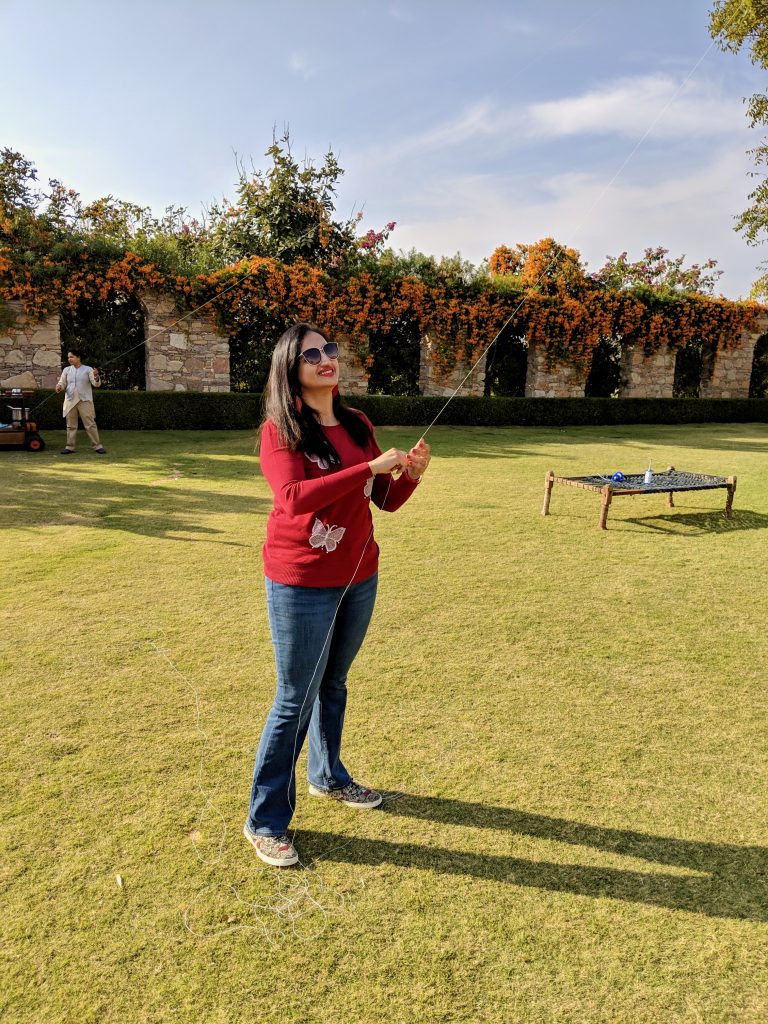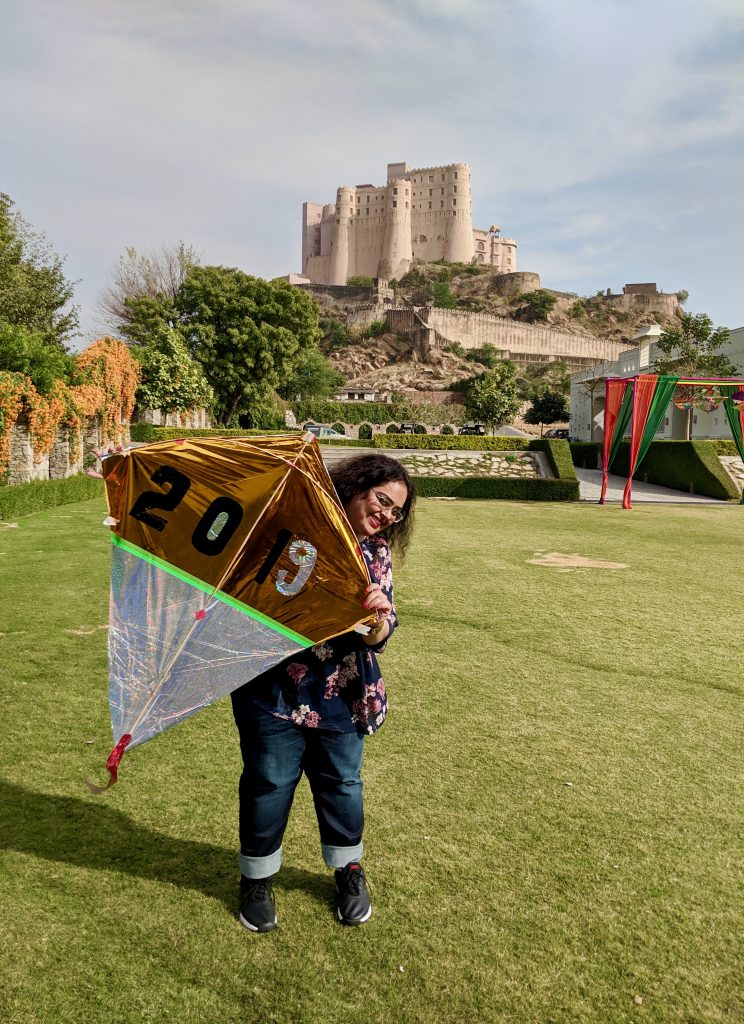 How can the carnival be complete without food? Keeping no stone unturned, there was a wide variety of food including the live food station which had delicacies from Dal Chilla to Dahi Bhalla to Rajasthani main course! Not to forget the delicacy Sarson Da Saag and Makke Ki Roti! Such a memorable experience it was!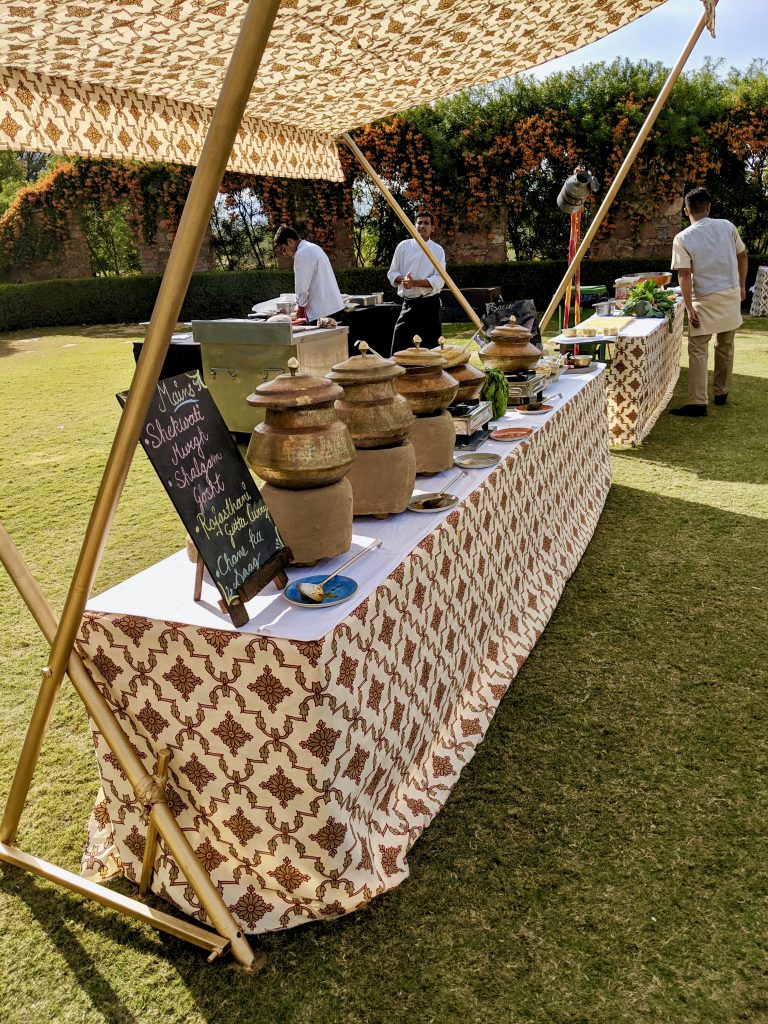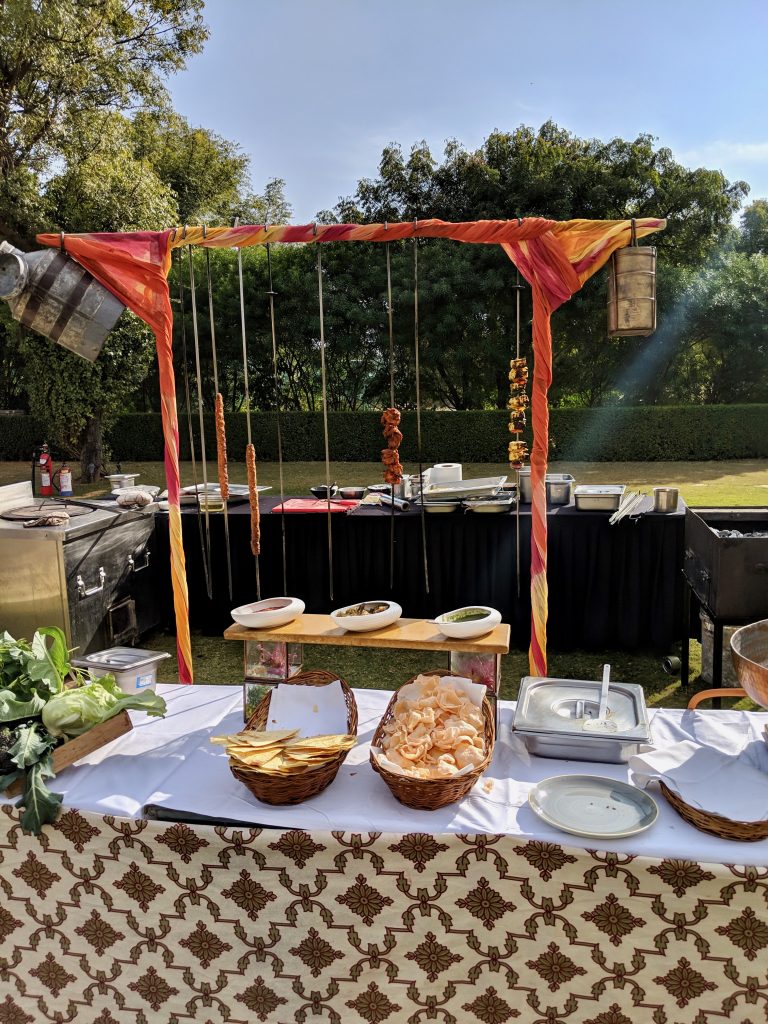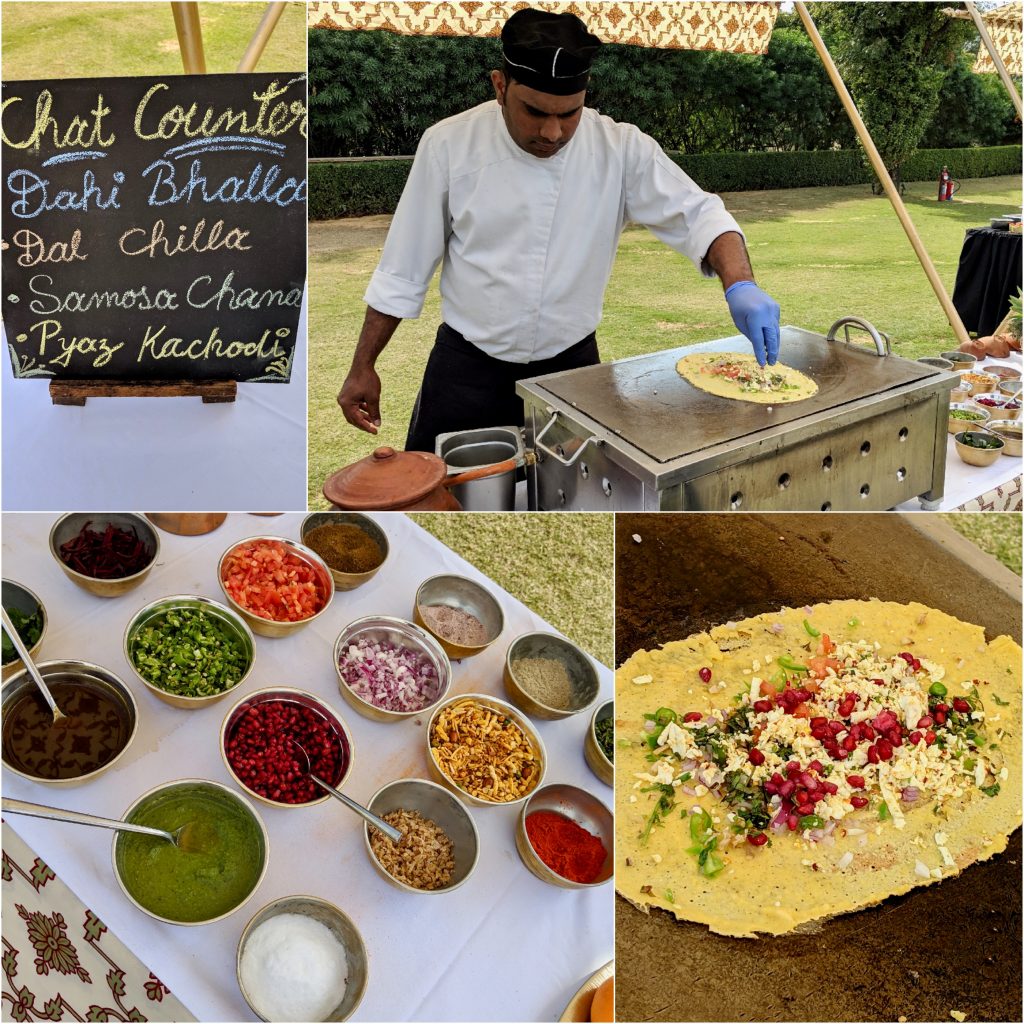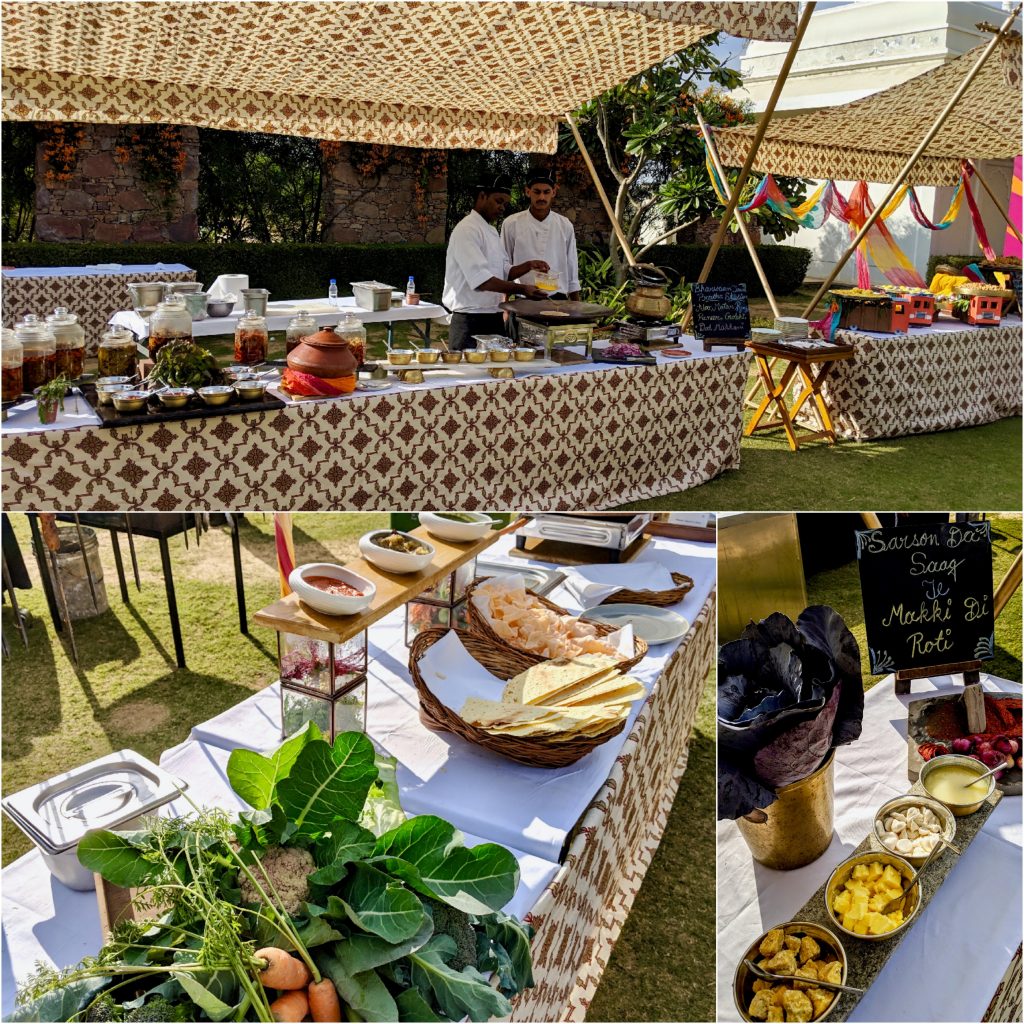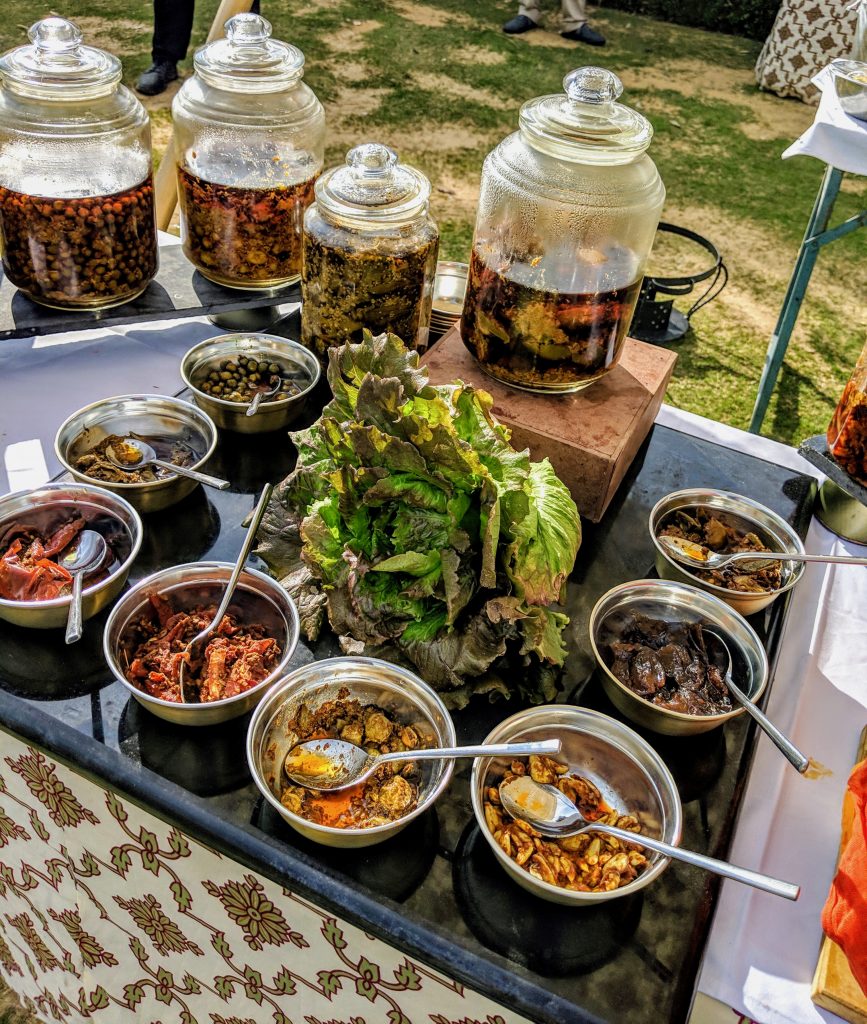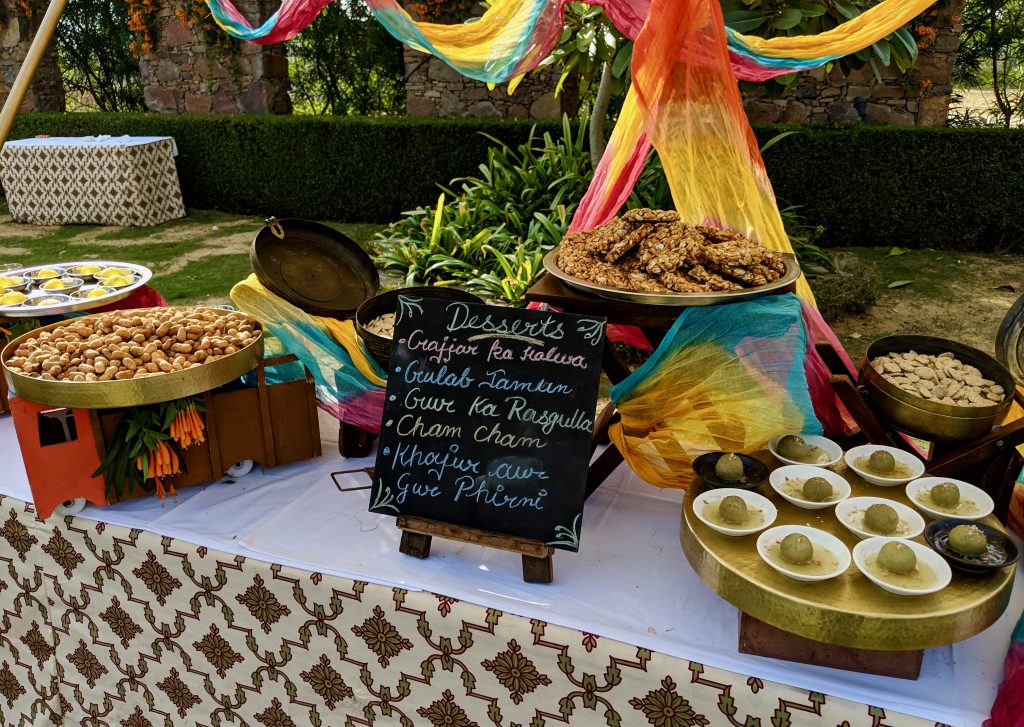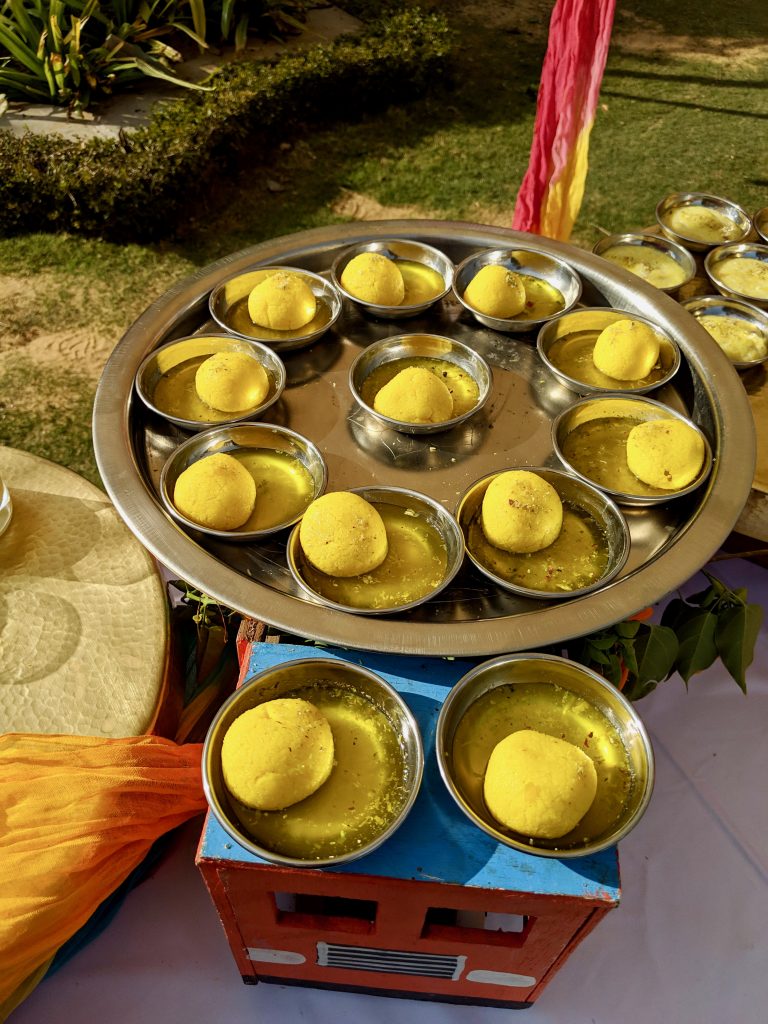 So if you are planning to pop up the question to your girlfriend or want to surprise your wife or want your kids to know about the era gone by, then this is the place to be! The magnificent property is loved by the young and old offering unique experiences to be cherished for a lifetime.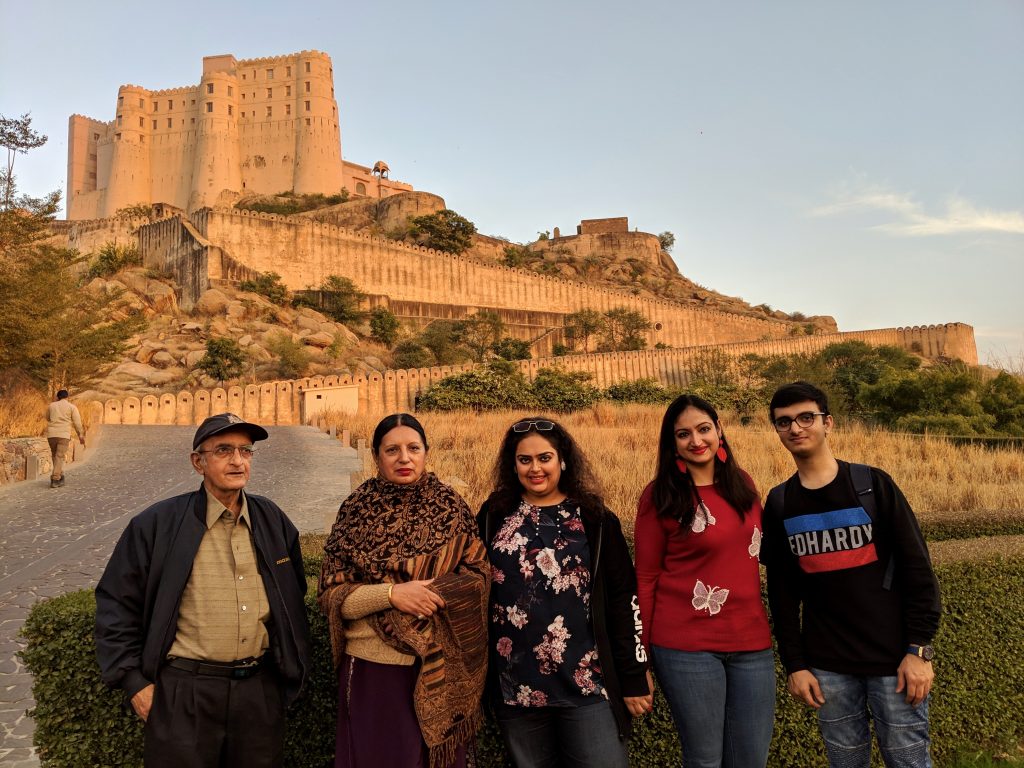 The hotel also creates experiences by taking guests around the village and participate in the everyday experiences of villagers. Whether its pottery making or Carpet weaving, the guests are acquainted with these, they also are really fond of things like farming experiences as well as milking experiences. The property is often visited by families who love to take kids to such experiences who are disconnected from their roots.