If you have been following ChicLifeByte's social media handles, you would know of our luxurious trip to Thailand but obviously we have not been able to tell you in details about it as social media posts have limited space so here I am all excited to tell you every minute detail of our holiday!
As we reached Suvarnabhumi Airport at Bangkok, we boarded the taxi and 40 minutes drive checking out the beautiful city during peak hours led us to Sheraton Grande Sukhumvit, a Luxury Collection Hotel located at one of the most premium spots of Bangkok. Situated at the heart of city's vibrant business and entertainment district, with an excellent connectivity to BTS and Terminal 21 Mall, the place looked spectacular! Infact, there is hotel entrance to the BTS Asok SkyTrain station, the MRT Sukhumvit subway station, and Terminal 21 Shopping Mall. The hotel looked really grand as we made our entrance! A pleasant brown colour dominated the colour theme of the lobby. We then headed to the front office for the check-in formalities.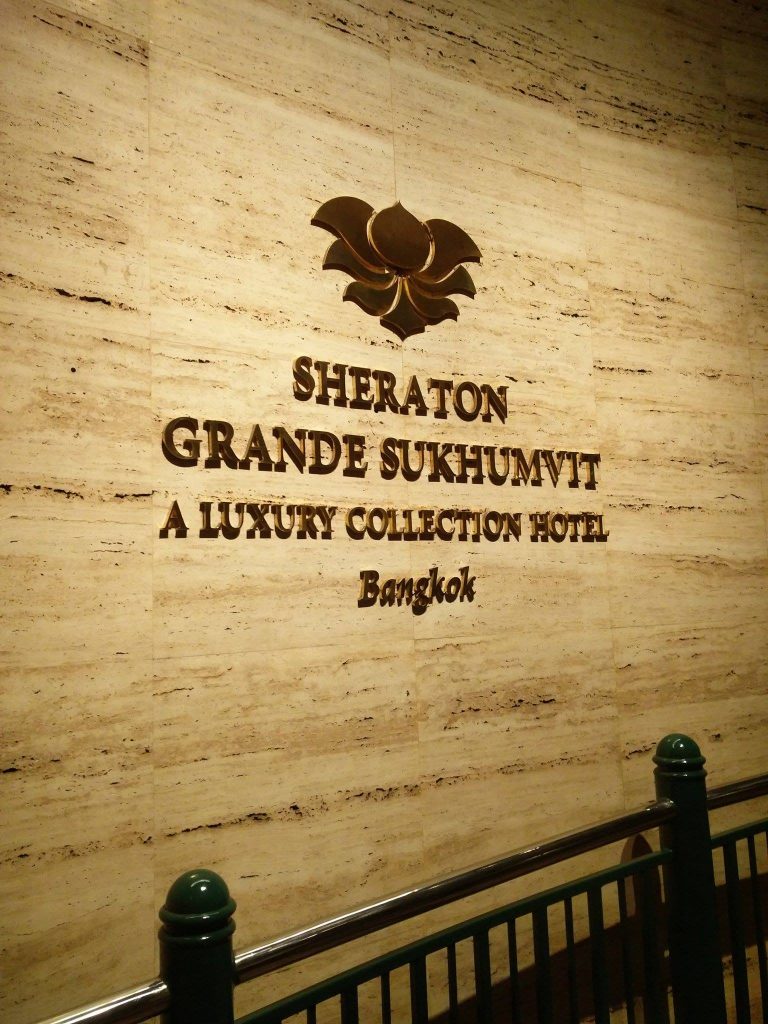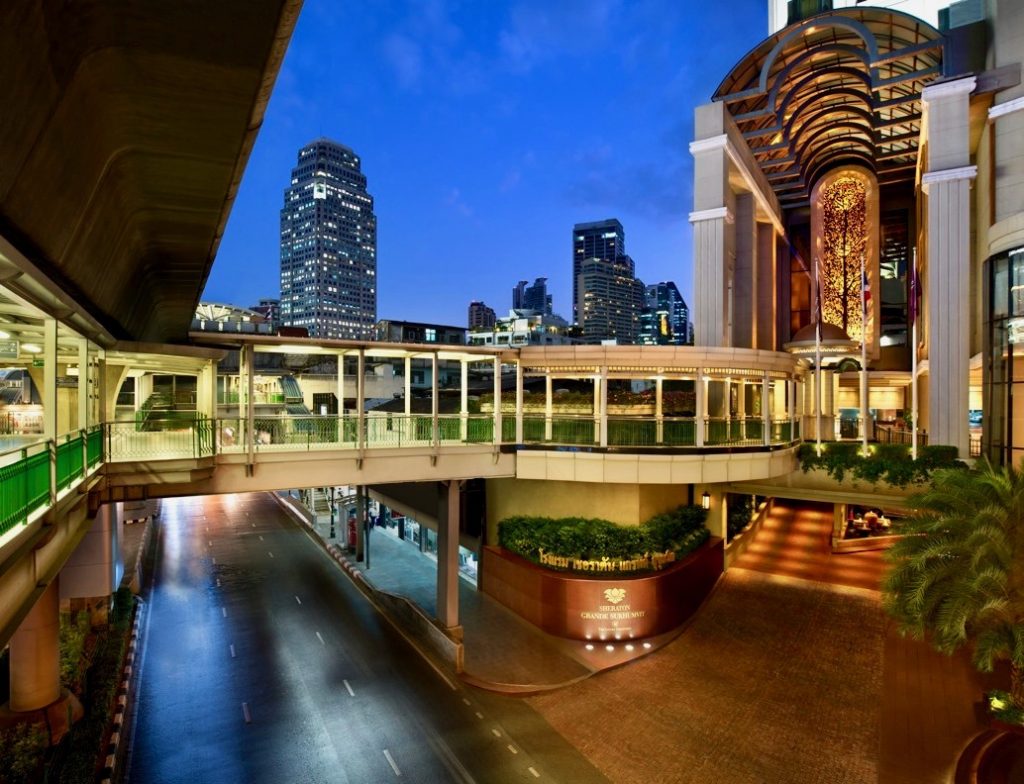 Defined by grand designs and opulent interiors, the hotel offers guests luxury accommodation complemented by exceptional service. The majestic 33-storey hotel has dramatic views over the city and nearby Lake Rachada, while a distinctive three-storey podium with an elegant marble lobby, high ceilings, unique Thai stone carvings and sculptured water features, provides a haven of tranquility.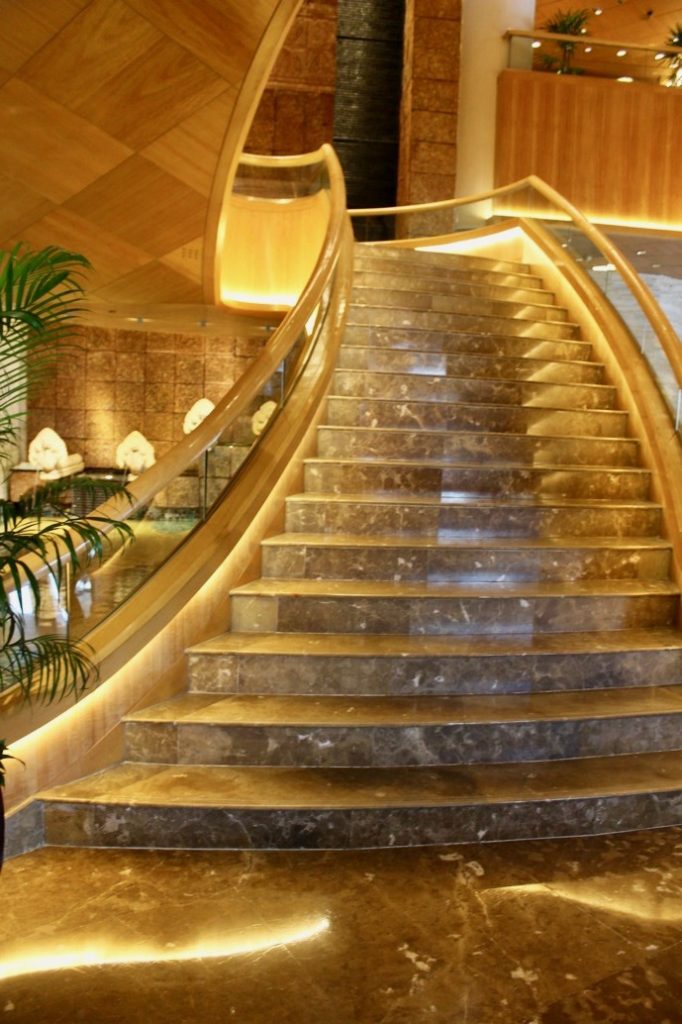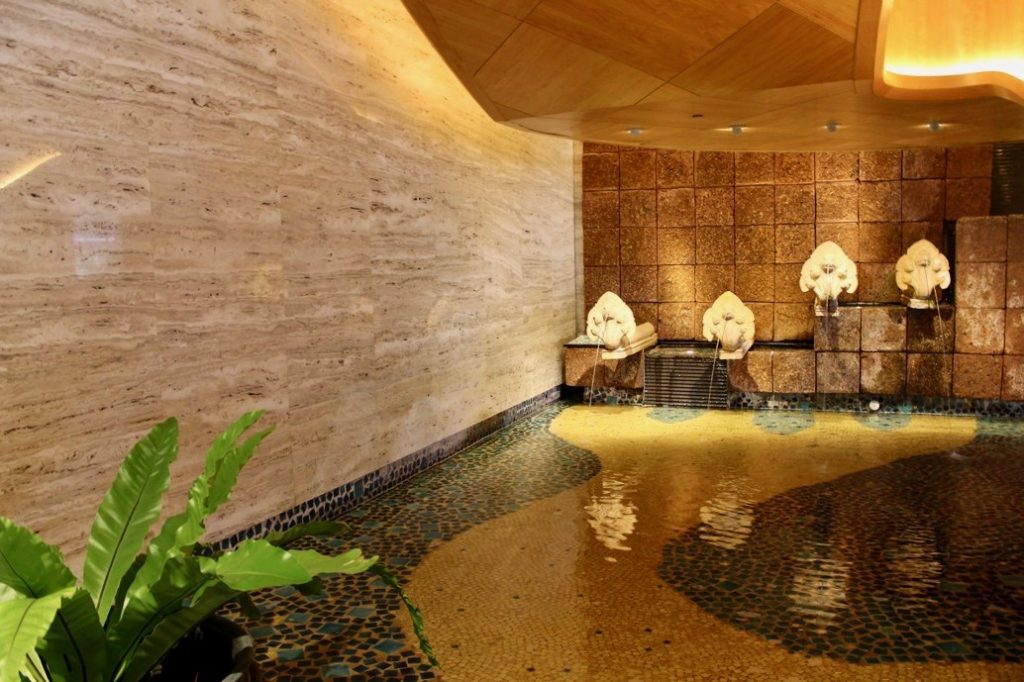 We were informed that our room is on the 20th floor and the friendly front office executive took us to the room! The grand room delighted us and would be any girls dream fantasy! A walk-in closet, 3 big mirrors and a large washroom! No, I didn't count the restroom mirrors in these 3 mirrors. There were 2 more mirrors in the washroom – one beside the bathtub and one with the basin. Apart from that what delighted us more were the softest pillows I have ever slept on. They were a part of the luxury collection. Moreover, there was a pillow menu too with options like Ultra Soft Micro Fibre Pillow, Buckwheat Pillow, Firm Ball Fibre Pillow, Cervicalopedic Pillow and Contour Massage Pillow (obviously everyone has different requirements). As soon as we rested our head on them we felt a nice and relaxing feeling! The wall behind the bed adorned a nice golden and lavender wallpaper. Complemented by a media hub with HDMI, Bluetooth, and USB ports, a 40-inch LED TV with IPTV services is located in a wall-mounted console. Also provided were complimentary bottled water and daily fresh fruit.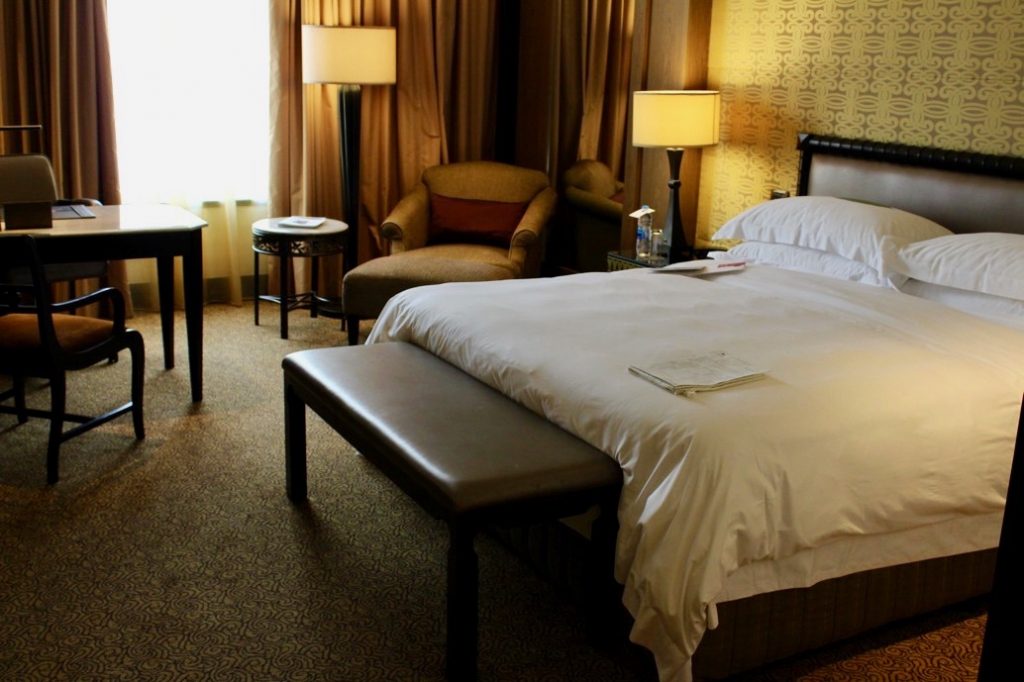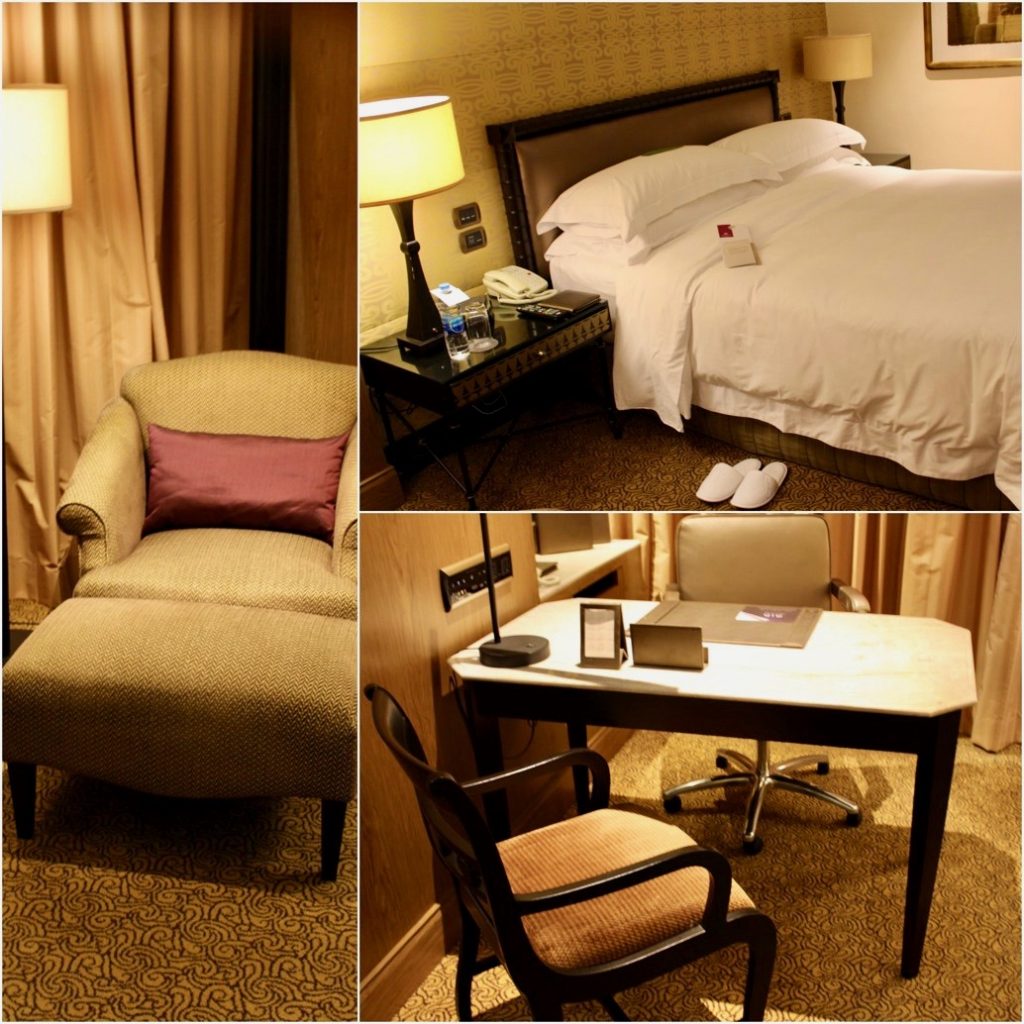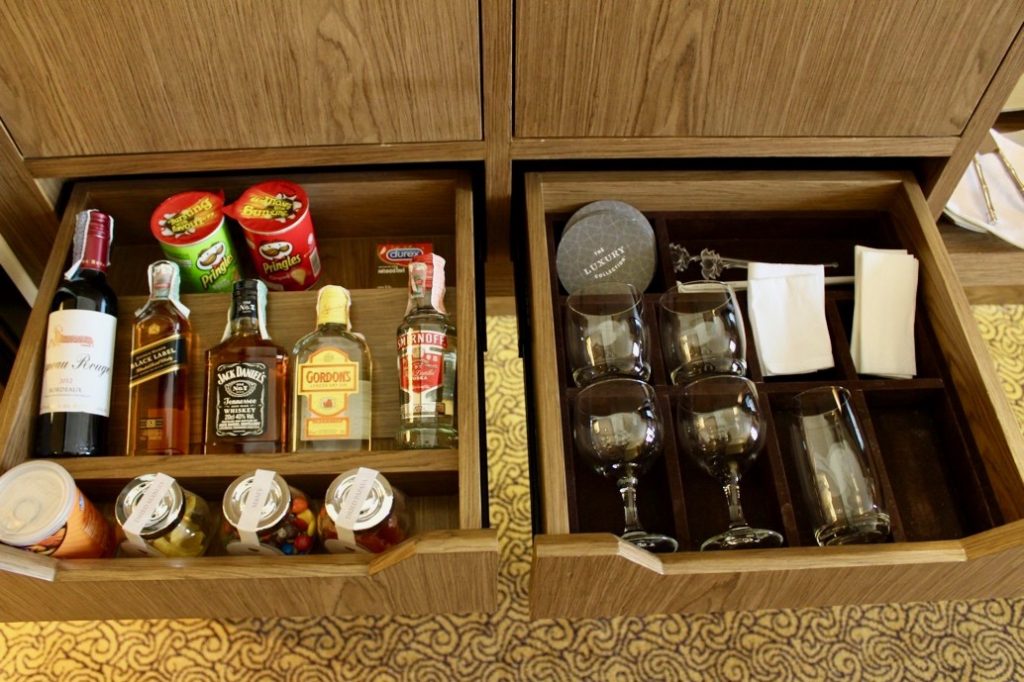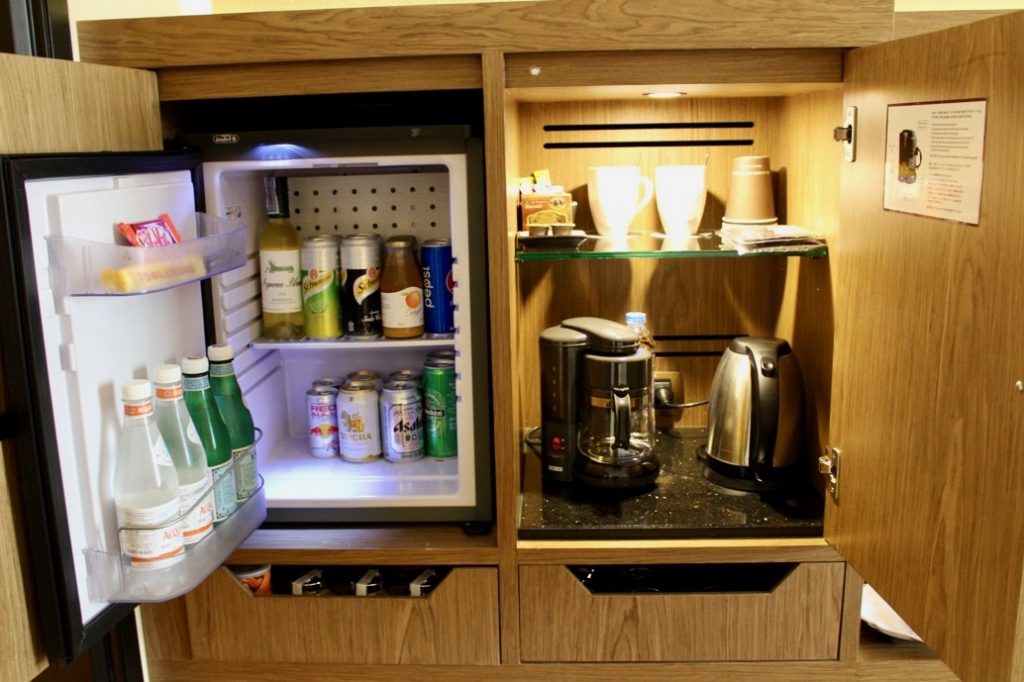 The marble-floored bathroom features a separate bathtub, a generous vanity area, and a large walk-in shower with sleek glass doors. To ensure absolute comfort, they also had pure cotton bathrobes and slippers, a digital scale, a salon-style hair dryer, and a selection of luxurious Thai THANN toiletries, created using natural plant extracts and modern dermatology.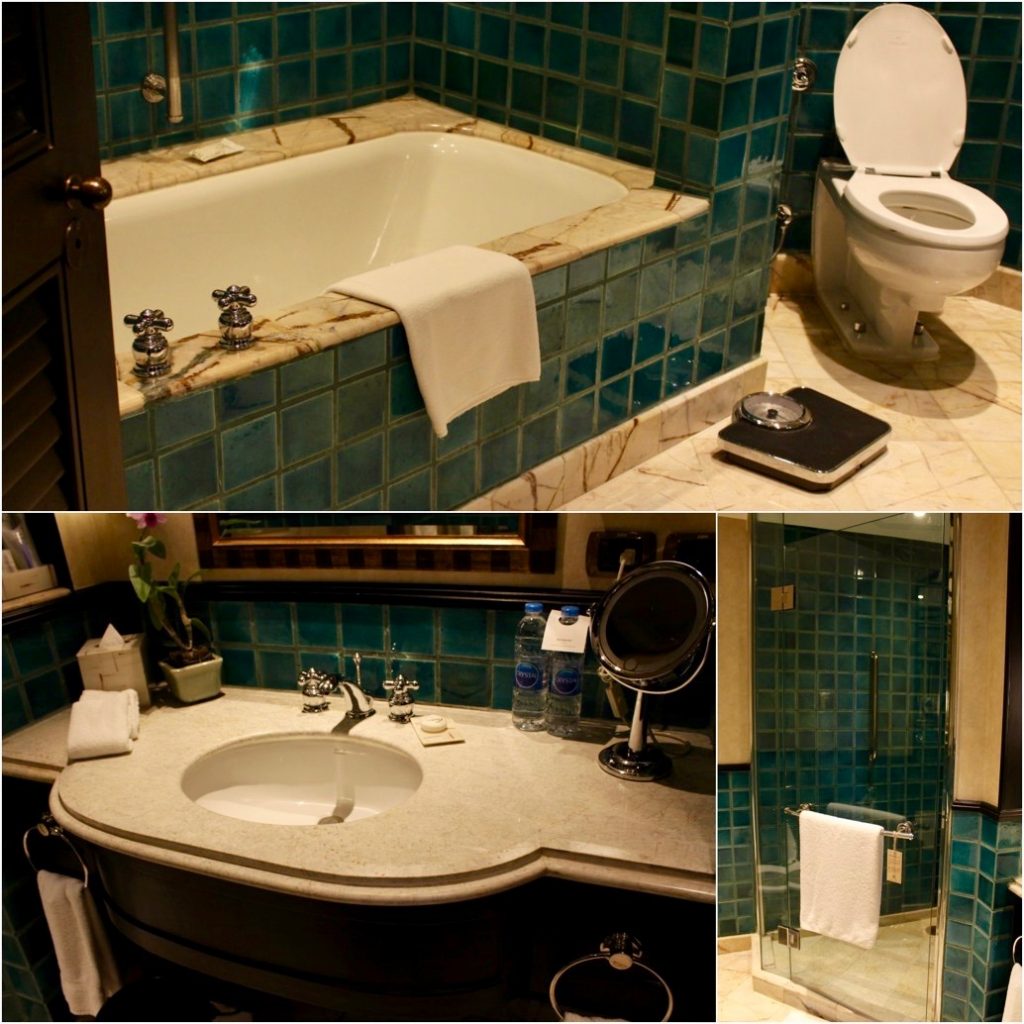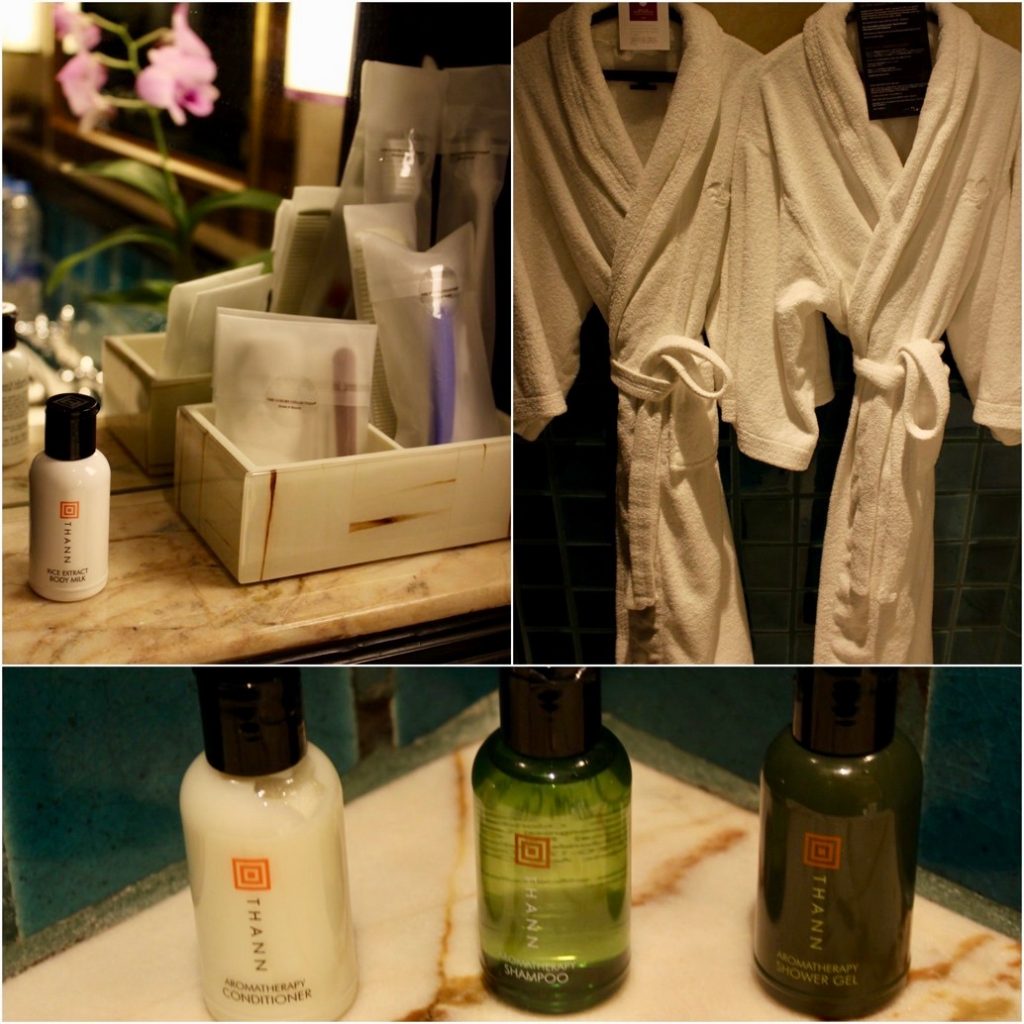 Now it was time to open the curtains and check out the gorgeous view! Apart from the tall buildings we were delighted to see Terminal 21 from our room- one of the most famous mall of Bangkok with its cutting edge concept that places several world famous cities under one roof. Wow, shopping was just a walk away! Which girl can resist shopping? Especially when the best of brands are just a walk away!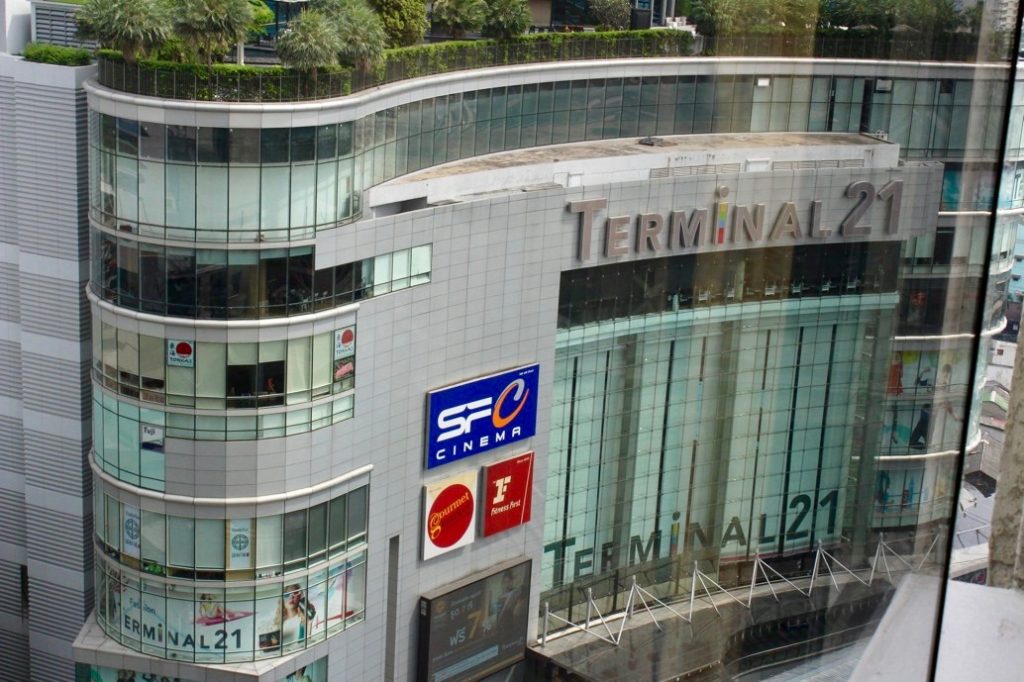 Each of the hotel's 420 guestrooms and suites are exquisite and refined living spaces decorated with rich timber, marble and elegant Thai silks. The 45-square-meter Grande Rooms are some of the most spacious in Bangkok while 38 luxury suites, 3 inspired specialty suites and 3 beautiful Thai-theme suites (Rama, Rajah and Rachada suites) offer truly distinctive accommodation. The Rama suite offers a private covered outdoor Jacuzzi as well and each suite comes with a 24-hour butler service.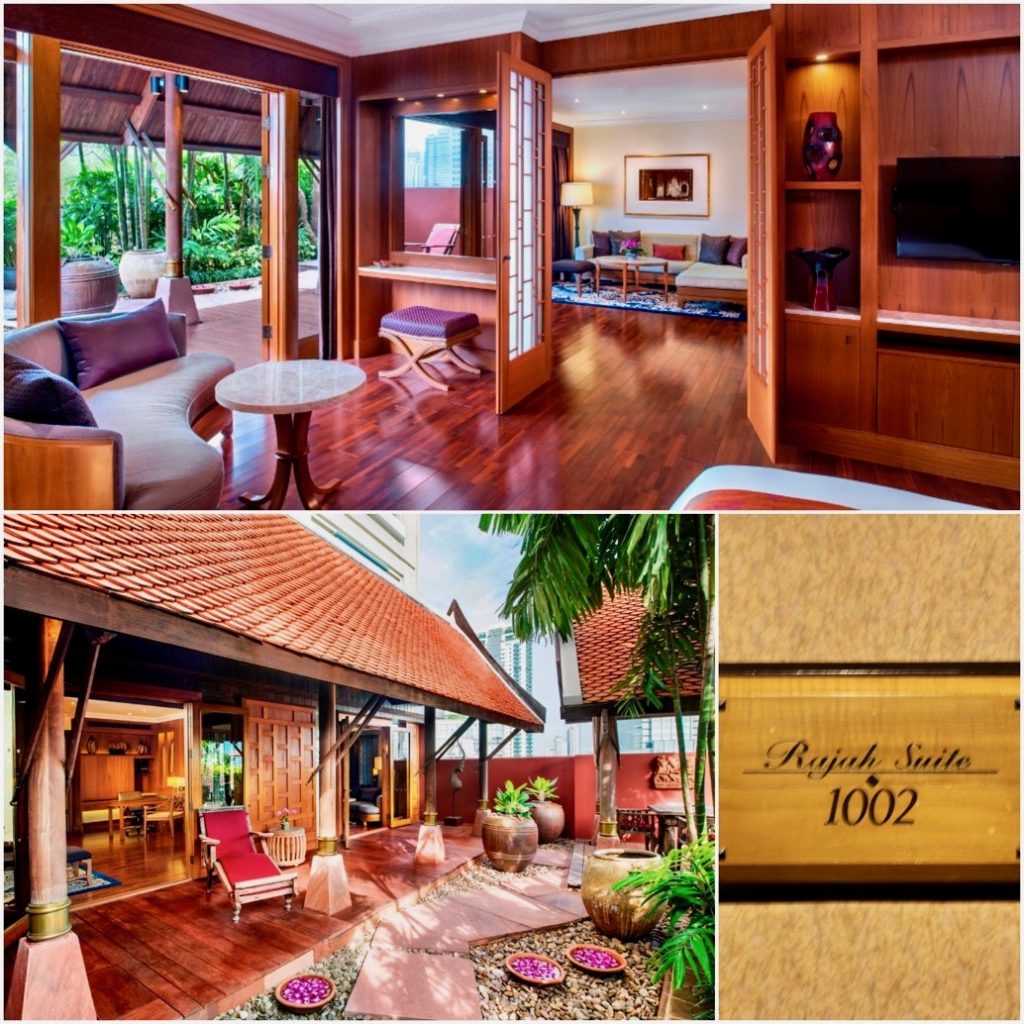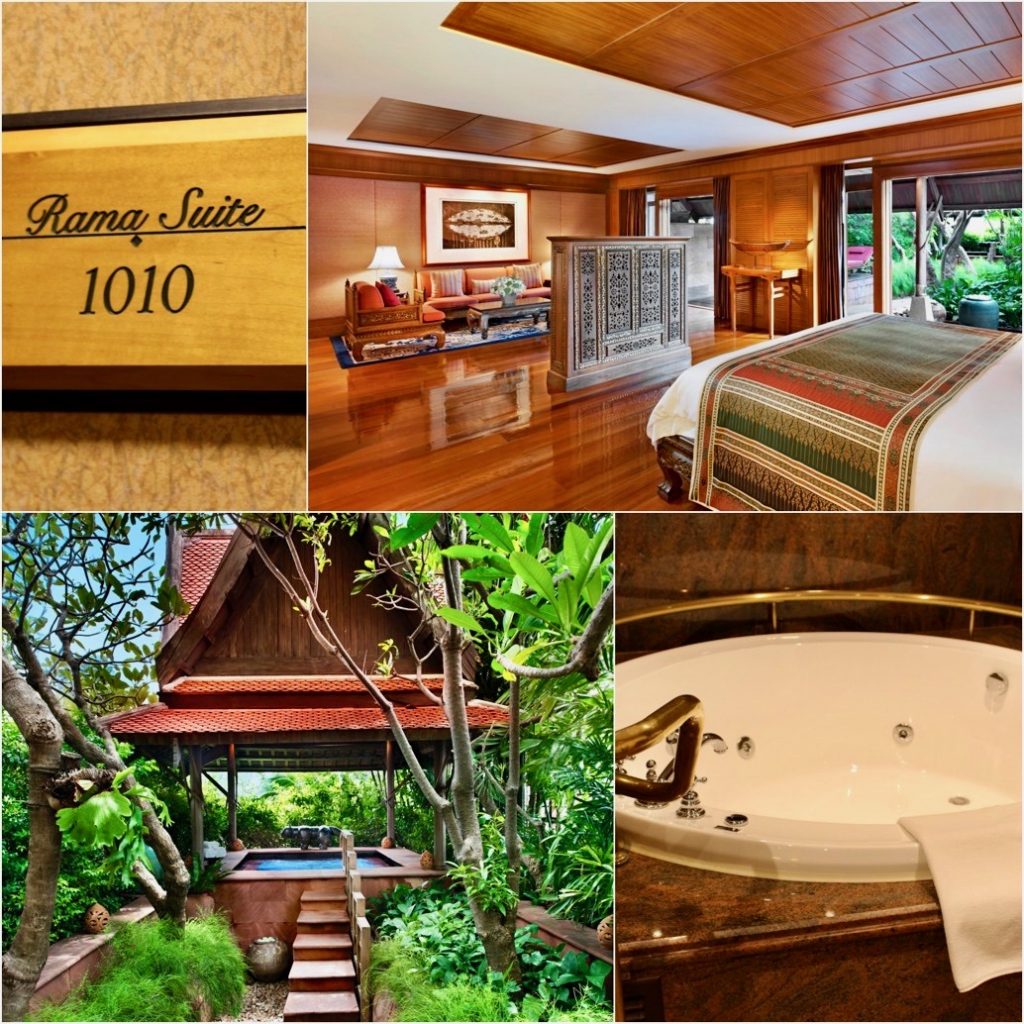 It was time to freshen up and go for some sightseeing. Bangkok is a beautiful city and we were looking forward to the tourist spots. We shall tell you more about sightseeing in Bangkok soon!
Sheraton Grande Sukhumvit offers unrivalled dining in award-winning restaurants.
The lavish breakfast spread was at Orchid Café located at the lobby level of the hotel. Orchid Café serves one of the finest gourmet international buffets in Bangkok for breakfast. The breakfast was really grand and extensive. I think even if I plan to have this breakfast the whole day I can still not taste everything! So after checking out the buffet we settled on Kala Chana Aloo and Chana Masala which we relished with roti and parantha. Loved them! Whichever part of the country you are in, there is something special about Indian cuisine but these are not the only things we had! Next was Masala Omlette which was wholesome and I accompanied it with toasted bread. Interestingly there was a choice of brown, white and rye bread! Loved the fluffy, well-stuffed and well-cooked omlette! To go along with our food, there was a choice of juices and we chose orange juice! For desserts we had a whole assortment from which I loved the chocolate croissant. The meal ended with a plate of colourful fruits. The restaurant also offers an exhaustive range in lunch as well as dinner. Though, an a-la-carte menu is also available. Orchid Café also invites diners to experience its exceptional Grande Seafood Buffet dinner, the ideal choice for families and friends looking for a memorable meal and a relaxing weekend.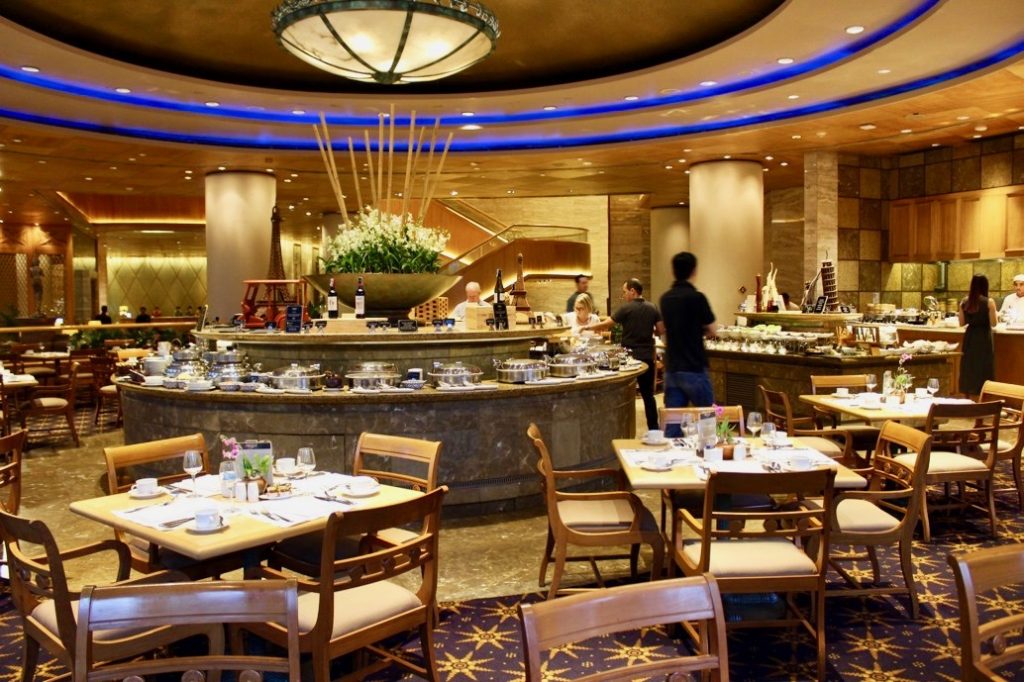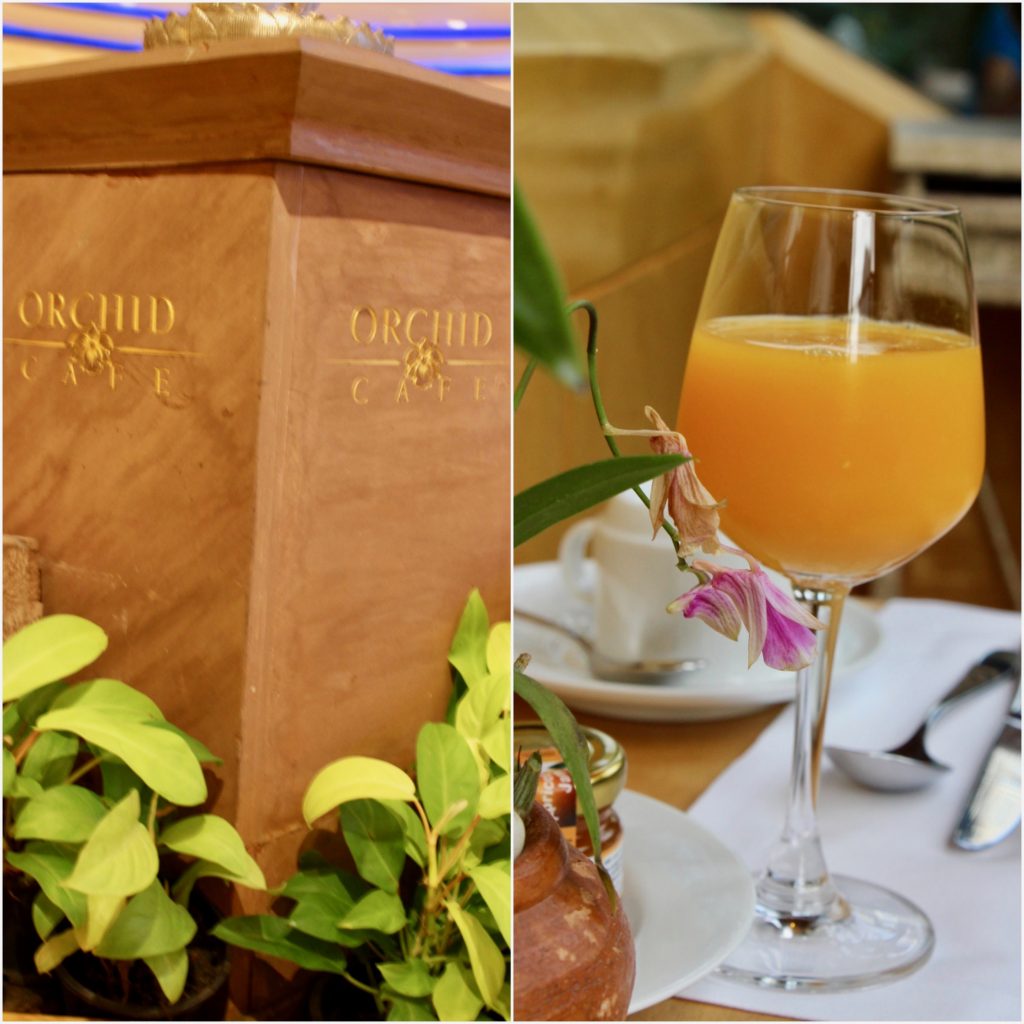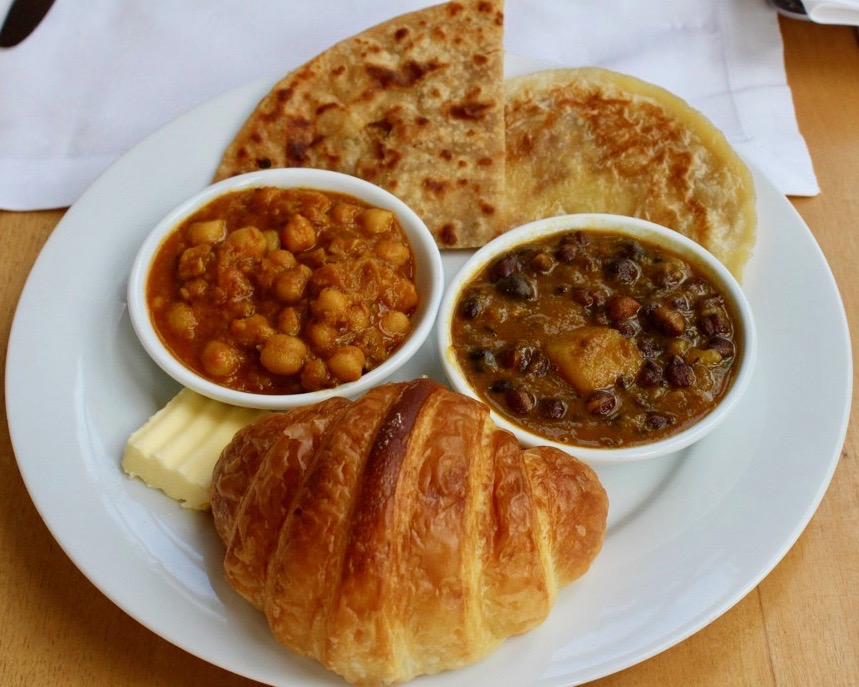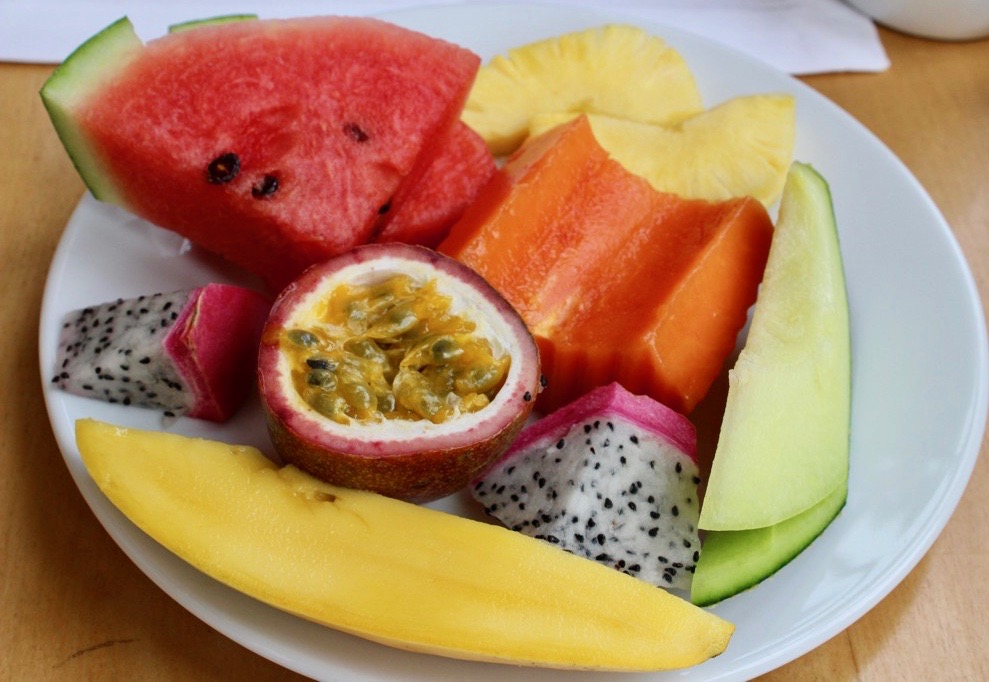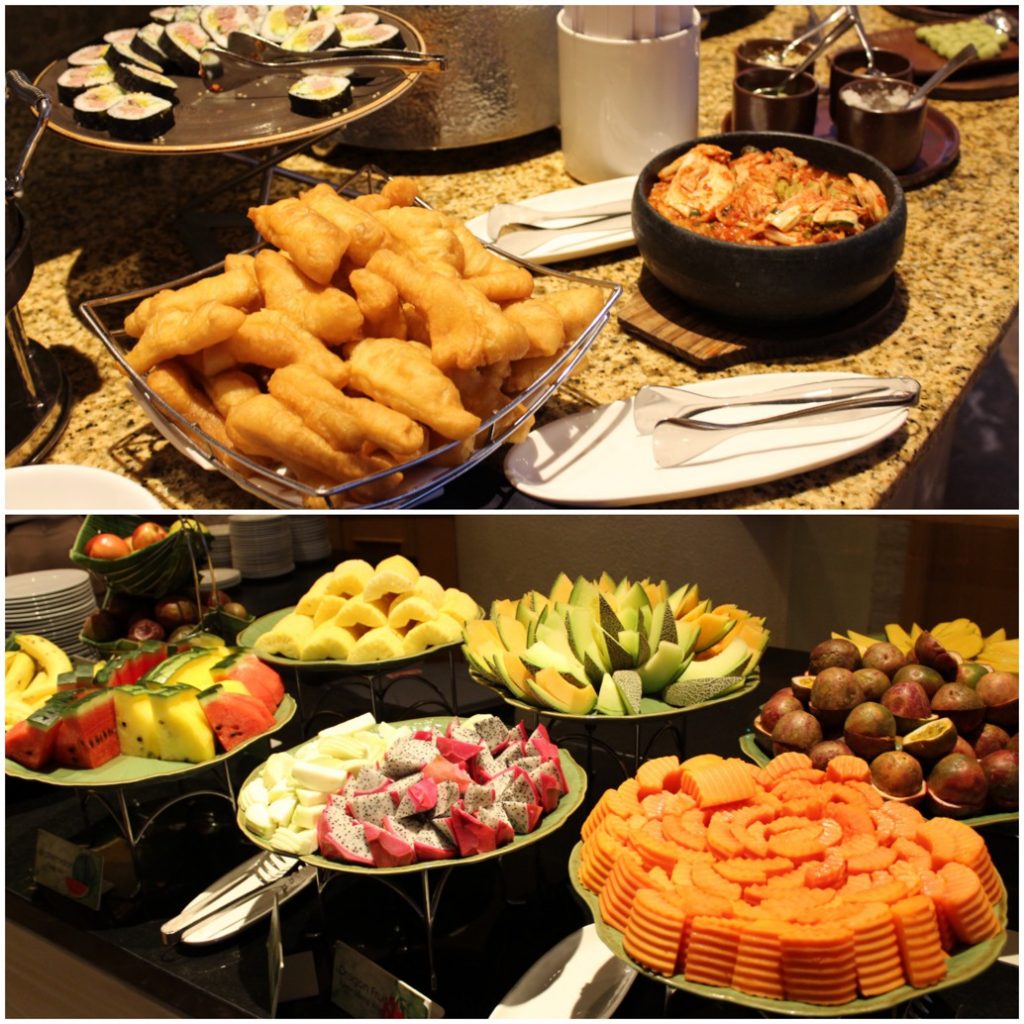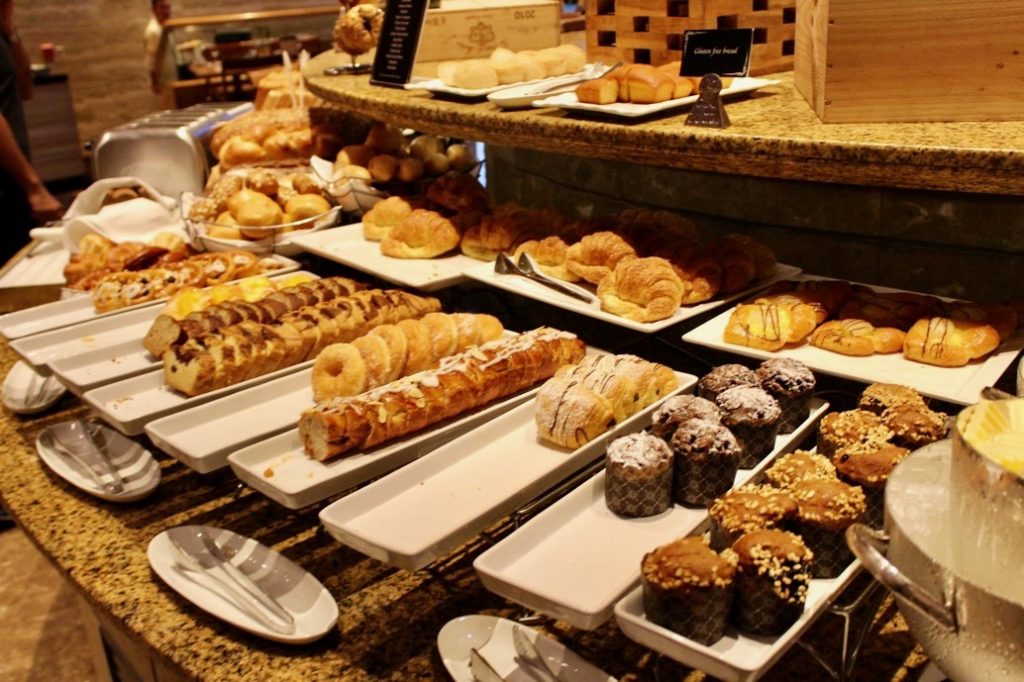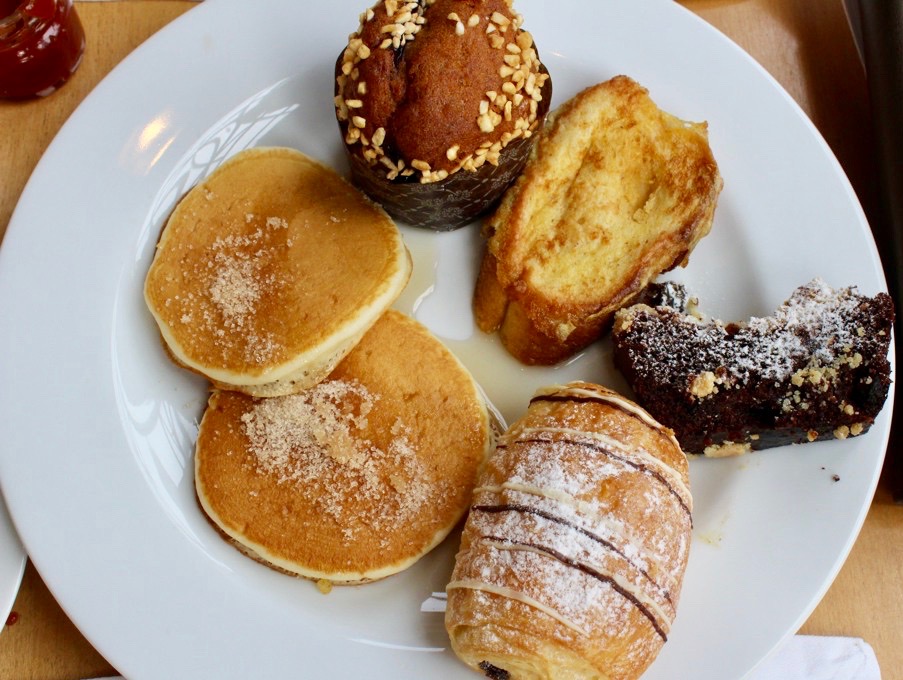 We wanted to try different restaurants for different meals so our first dinner was at the Poolside restaurant The Sala. The relaxed tropical garden ambience of the restaurant makes it the perfect place for an alfresco dining, fine wines, imported beers and exotic cocktails. It has a seating capacity of 60 including an upper deck area which has an impressive and relaxing low seating as well. A table for 2 close to the pool and upper deck was already waiting for Team ChicLifeByte. As we made ourselves comfortable, within minutes we received a special surprise from the chef – mini samosas and meatballs! Yum! The samosas were crispy and nice, they were the mini size and were the perfect way to start the meal! Meatballs were full of flavours that too with right spice.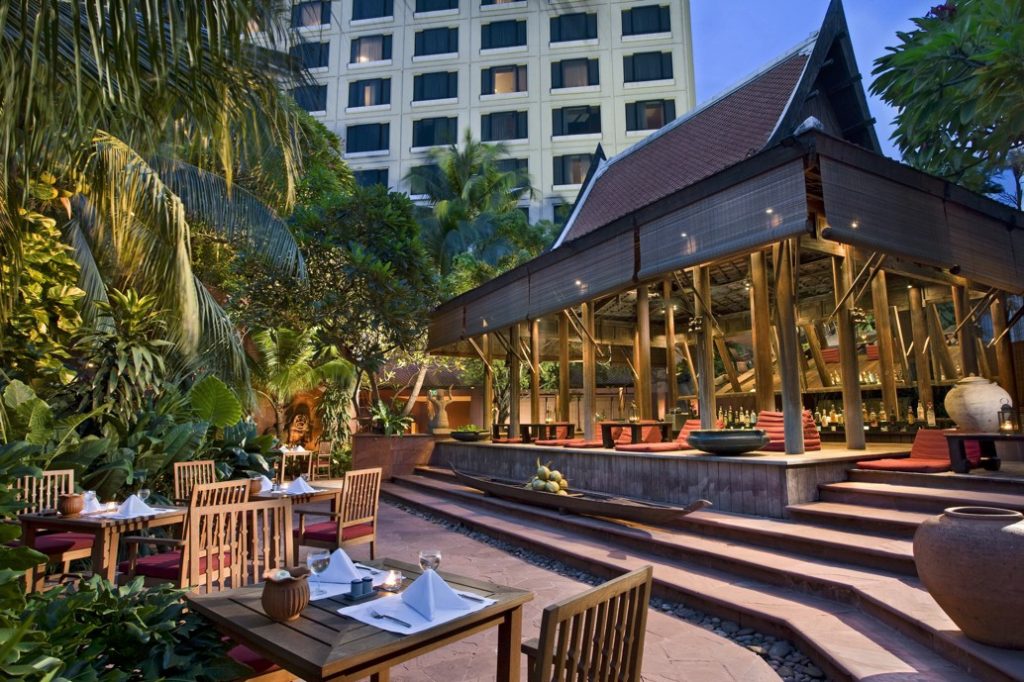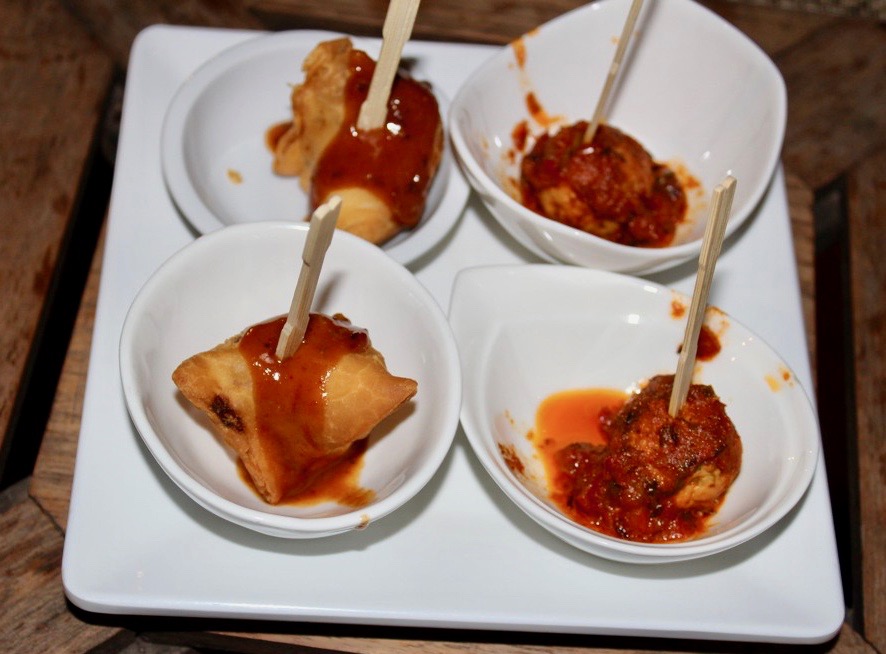 It was now time for the soup and salad! The soup we chose was Tom Kha Gai, a spicy chicken soup with fresh coconut milk. Wow, what an interesting combination! It was a little sweet and I don't enjoy sweetness in main course but I loved it! It was sweet and soothing. I would really recommend this if you are ever dining at The Sala. The Chicken Caeser Salad had romaine lettuce tossed with anchovy dressing, crispy bacon, shaved parmesan and focaccia croutons along with grilled chicken. Nice refresher! The juicy chunks along with the healthy mix made it yummm! The Tandoori chicken wrap was what I was excited for. Being a true Indian such fusion delights us! It was well stuffed with cucumber, lettuce and tomatoes but for an Indian like me who loves spices, I found it a little bland. It was accompanied with papad, mint and mango chutney which I think was a great idea!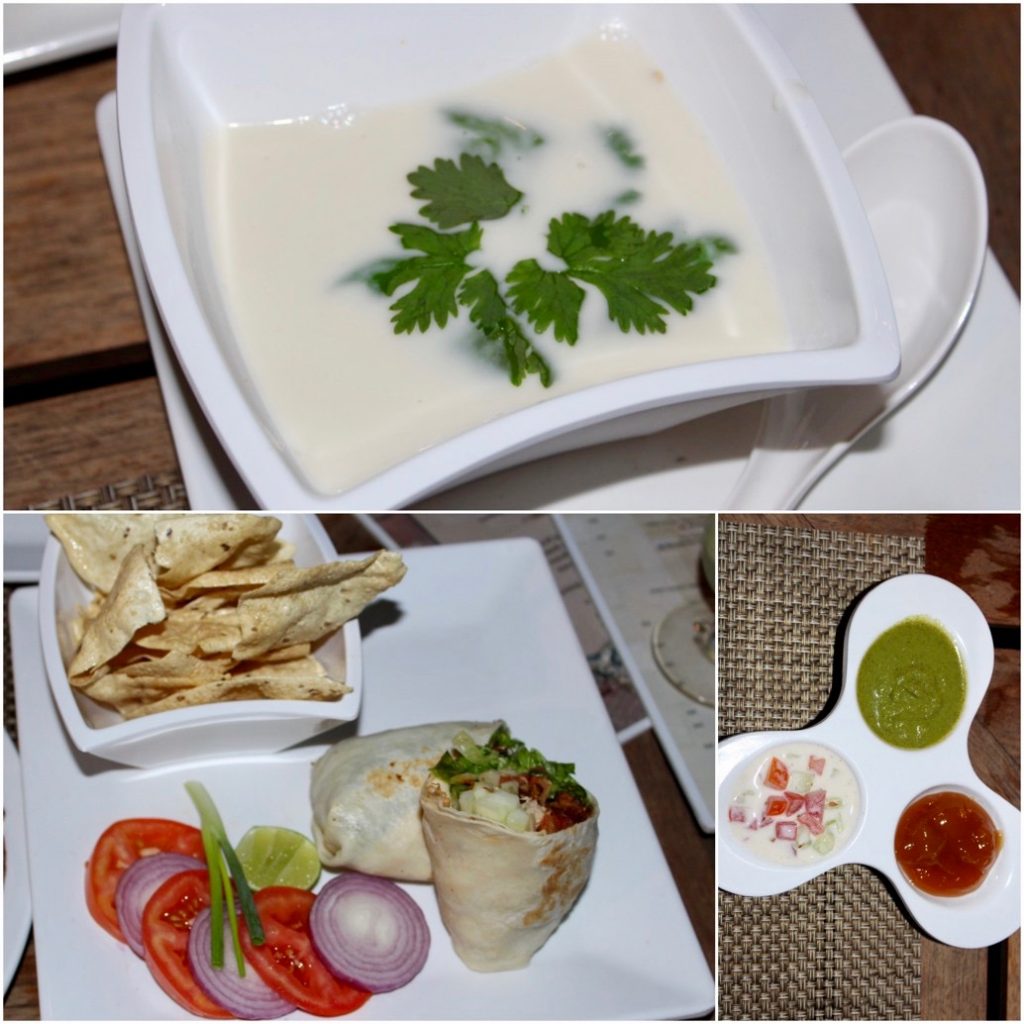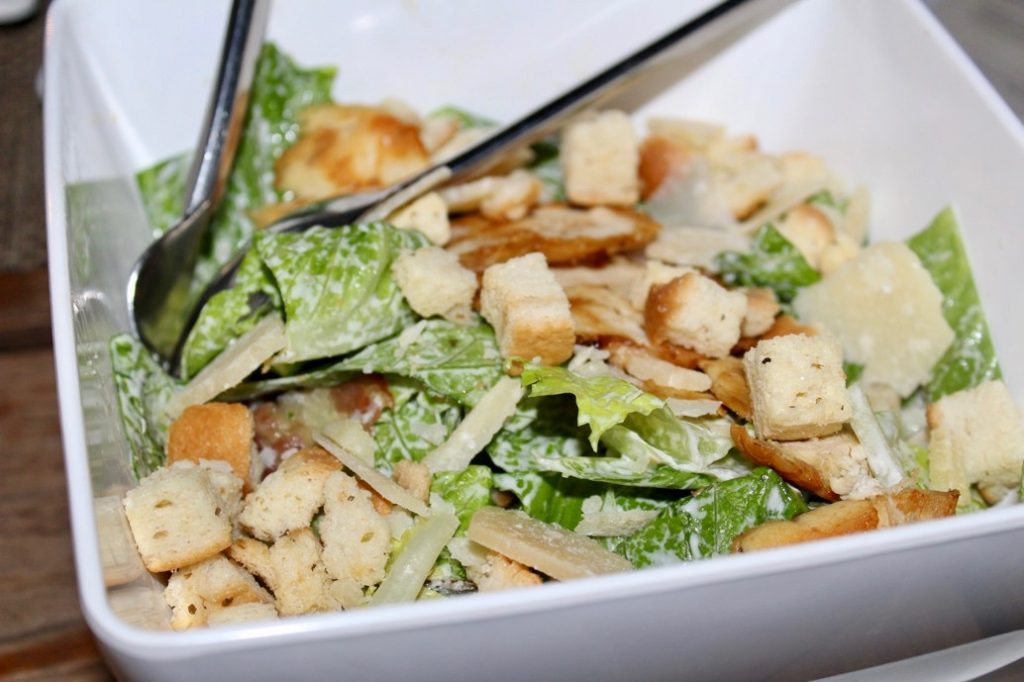 The Phad Thai Goong had Thai stir-fried rice noodles with chicken. Generally it is served with prawn however it was made with chicken on special request. I initially tasted only the noodles which I found to be a little sweet but I was suggested to mix the sprouts, peanuts and other accompaniments for the right taste which made it quiet pleasurable. It is always wise to take suggestions from the chef/server especially in a foreign location because they know their food best! The Four Cheeses Pizza was cheesylicious and had Mozzarella, Taleggio, Gorgonzola and Brie cheese. A must try for any cheese lover!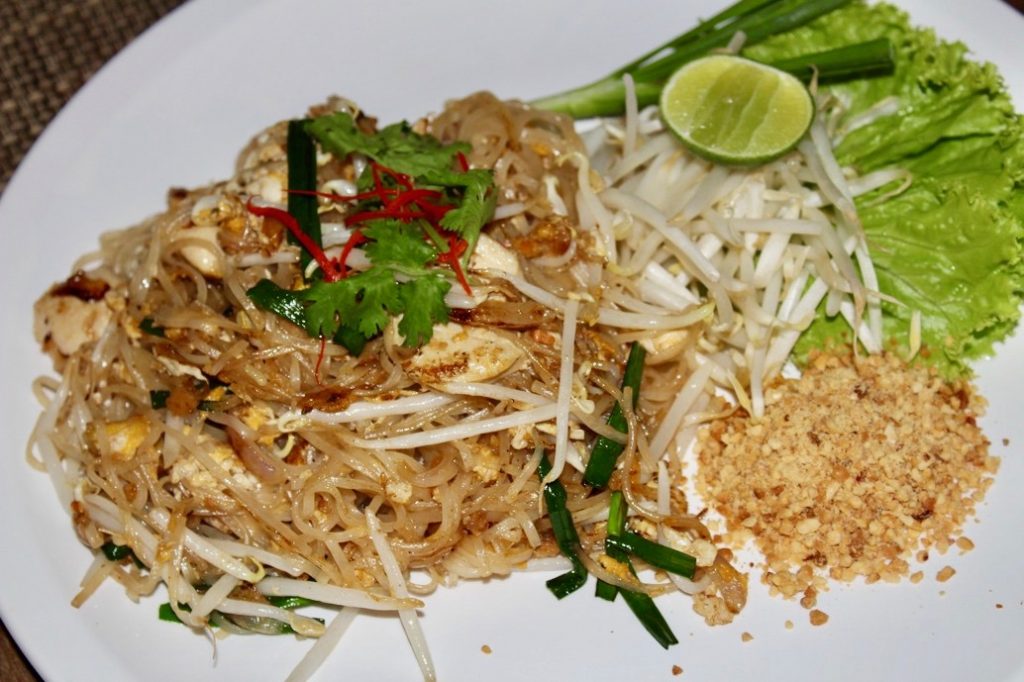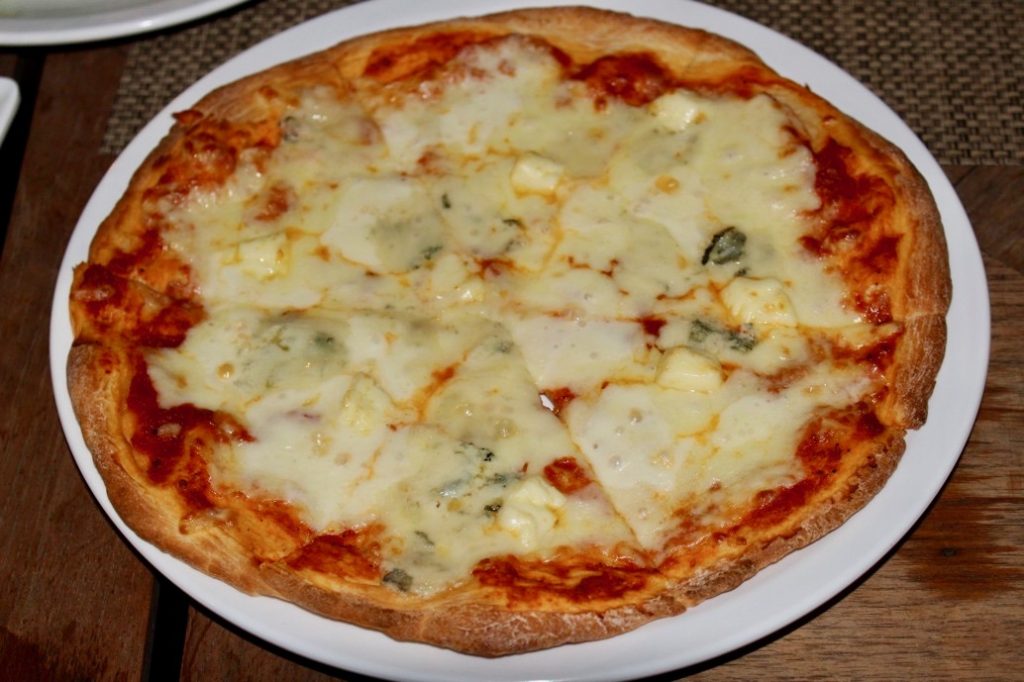 For drinks we ordered Lets Dew which was blended with fresh honey dew lemon, lime juice and fresh mint leaves. Citrusy and nice! Another drink we ordered was the fruit juice combination in orange and lime which was a total refresher!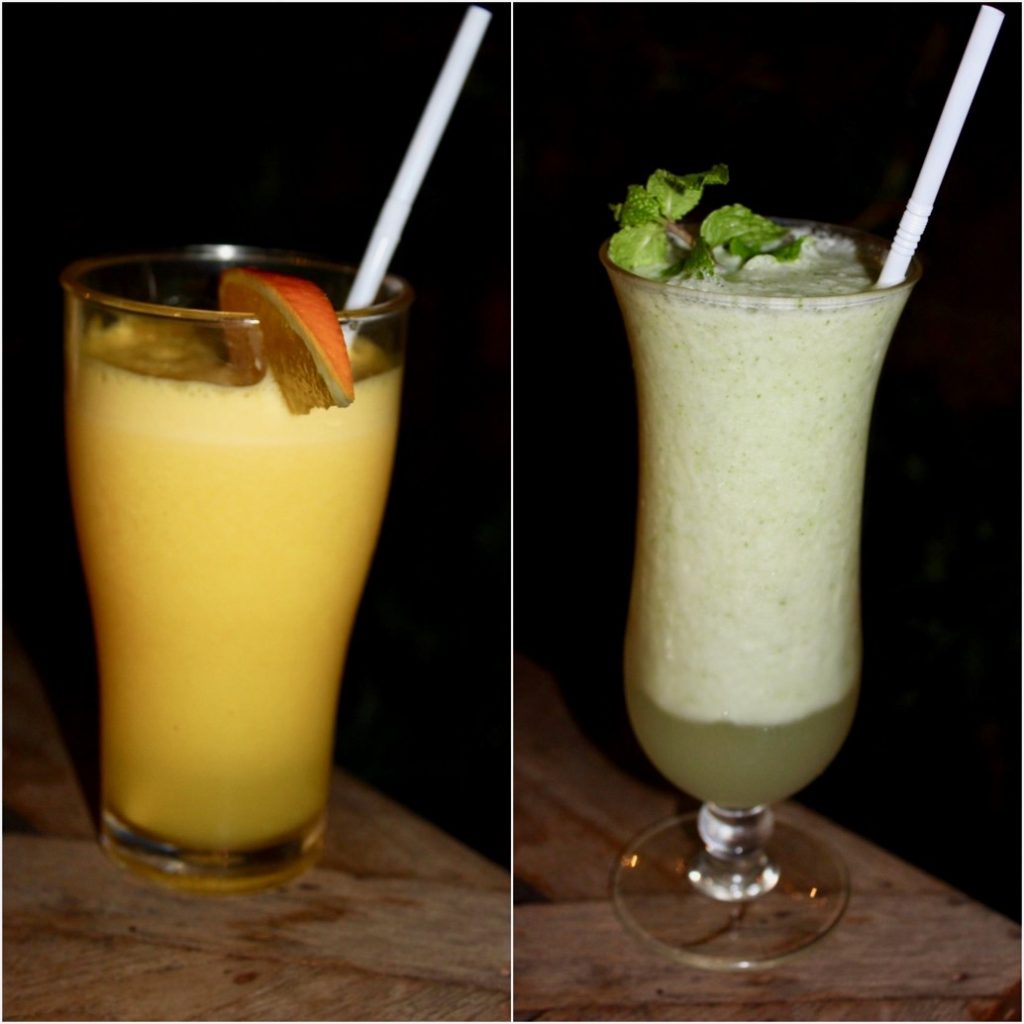 To end the meal on a sweet note, we ordered Mango Sticky Rice with Coconut Ice cream! This was a joy with the right ingredients and combination! The Homemade Ice cream which we ordered in vanilla flavour tasted different from the usual flavours tried till date and was great!  During the dry season, guests can enjoy a wonderful barbecue experience in an enchanting poolside setting, ensuring that every event is truly memorable.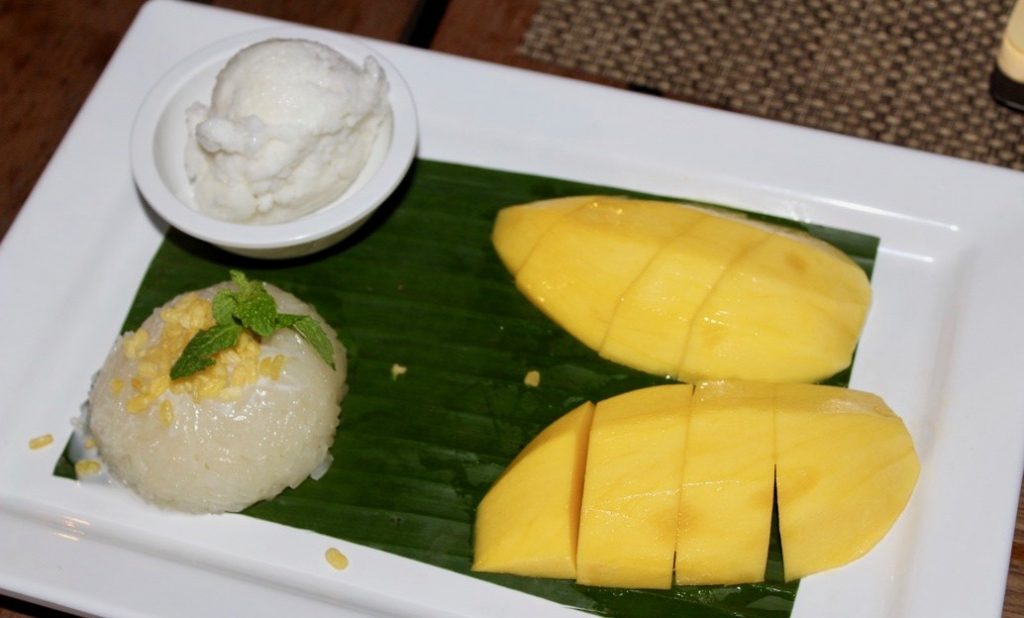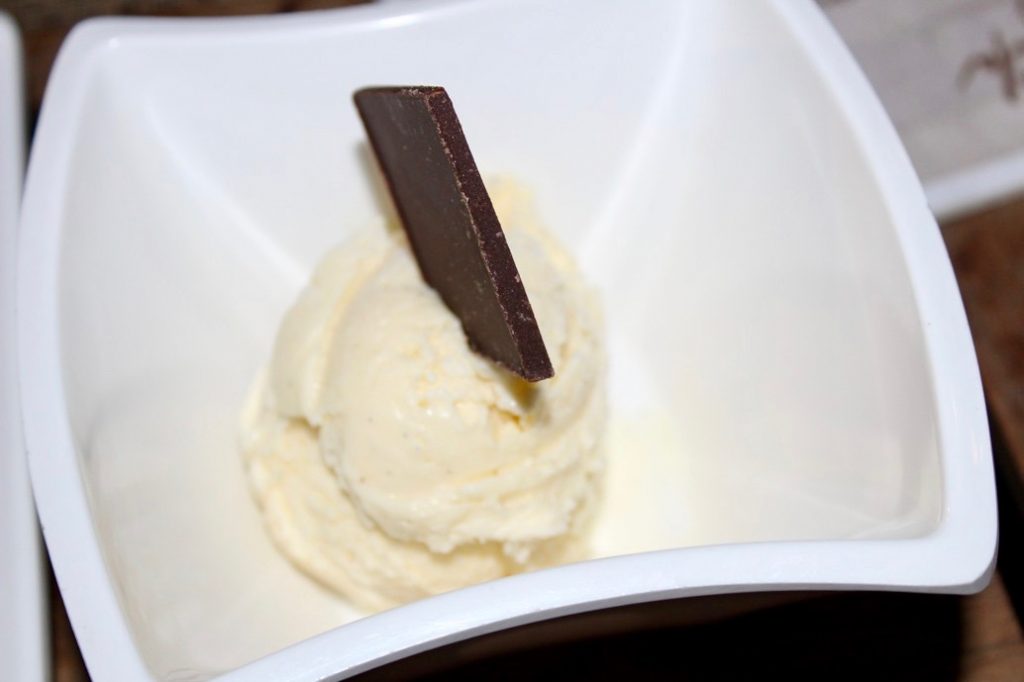 The next dinner was at the well proclaimed restaurant DID – Dining in the Dark: an extraordinary culinary journey into the world of the visually impaired. This unique culinary concept invites guests to experience a gourmet dinner served in total darkness by visually impaired guides. It was time to ditch our senses to see and try the other senses to experience 'Dine in the Dark'. Situated at the ground floor of the hotel, we first entered BarSu, the chic and stylish gastro lounge serving high quality cuisine at down-to-earth prices where the guide for the evening provided a brief explanation of the extraordinary "Dining in the Dark". Then we were introduced to the choice of four delicious 4-course set menus including Asian, western, vegetarian, and a special surprise menu. We were also asked for allergies because we will not be able to decide or see our food. We were then introduced us to our guide Kik who was visually impaired and asked us to put our hands on her shoulders and we were taken to a pitch dark room. Kudos to Kik, she was blind but exactly knew what was where, from curtains to our seat to the fork, knife, water, just everything! Even with the right vision, we at times don't know of these things!. We enjoyed our meal, with Kik guiding us from our appetizer to the salad to main course and dessert. Ofcourse we were able to recognize some food items by the taste and some not! After our dinner we were led back into BarSu where we were shown pictures dishes we ate. Well, we would not want to reveal the name of the dishes of had. We would leave you to experience the hospitality of DID. For each diner, the hotel donates to the Foundation for the Blind in Thailand.
The other dining options include:
Rossini's an award-winning Italian restaurant which offers a memorable culinary experience. The restaurant brings diners the passion and creativity of modern Italian cuisine, fine wines, the authentic décor of a Tuscan villa, and impeccable service.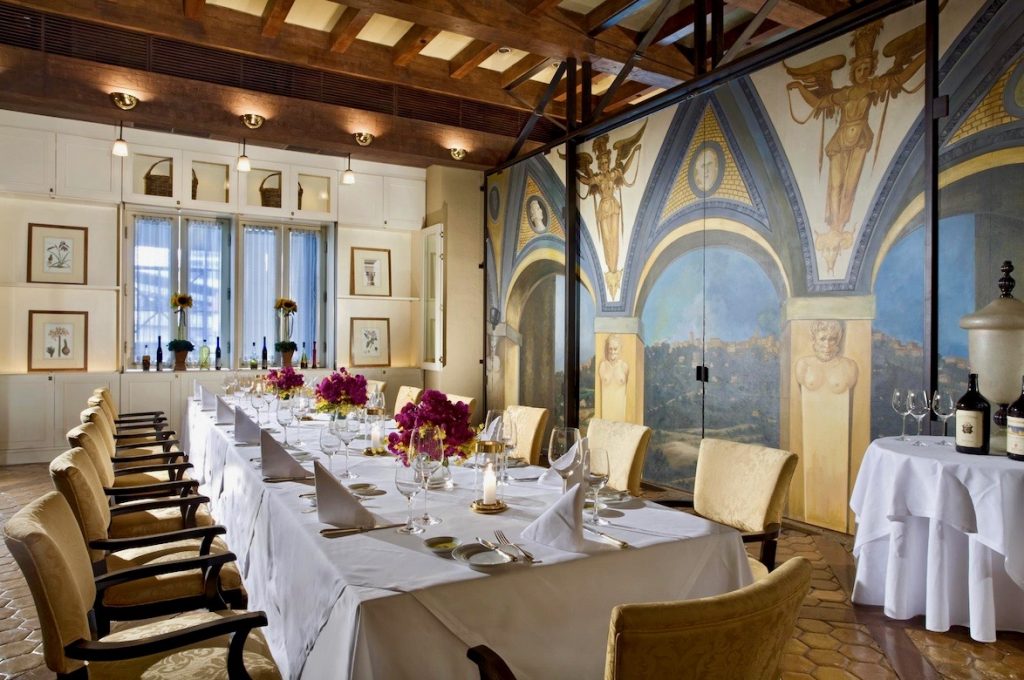 Basil offers a fresh approach to Thai cuisine, finely balancing a blend of bold flavours and quality ingredients, served with genuine warmth in a contemporary setting. Private rooms are also available.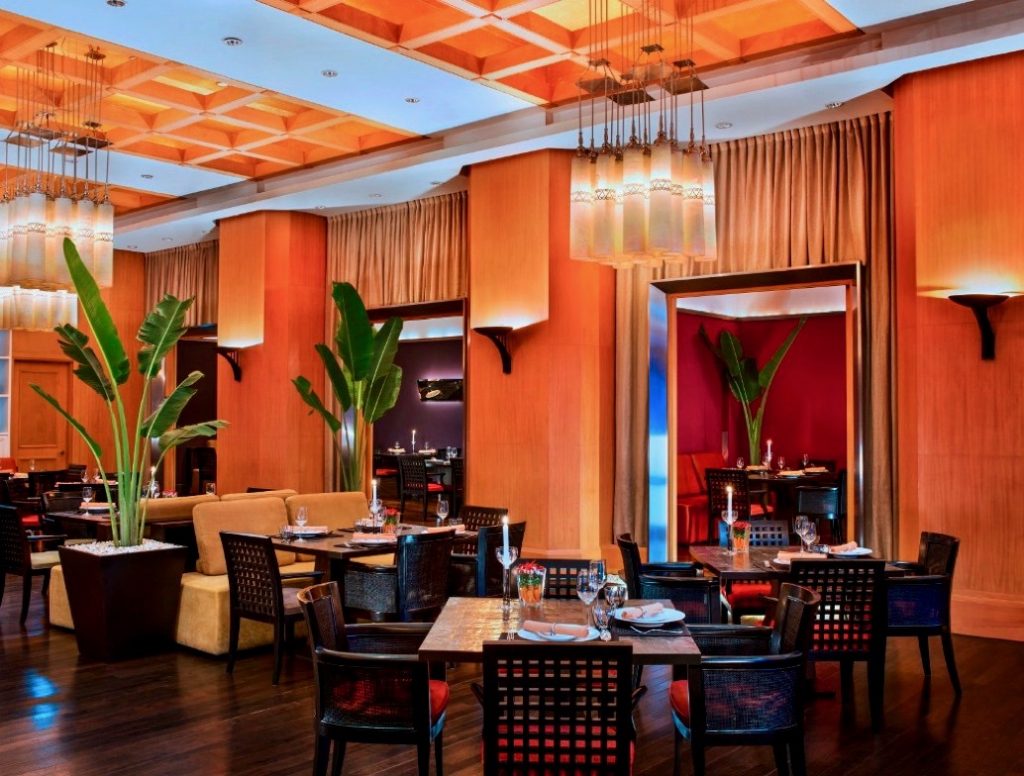 The Living Room, a renowned live jazz lounge hosts nightly performances by the best international musicians and is also home to the spectacular Sunday Jazzy Brunch.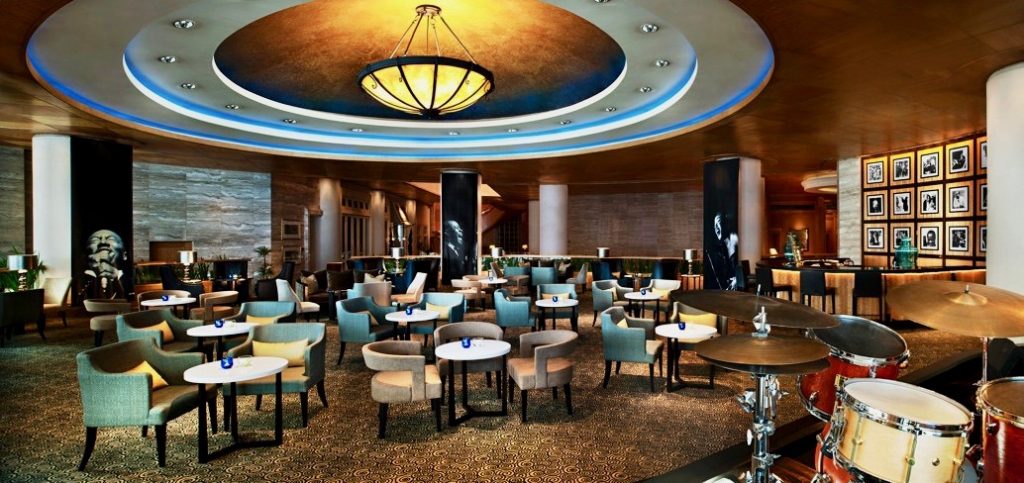 Other facilities at Sheraton Grande Sukhumvit include a 24 hours dedicated concierge, state-of-the-art Business Center including 4 meeting rooms with video-conferencing facilities and The Library providing an opportunity for an informal meeting or browsing the collection of fascinating books.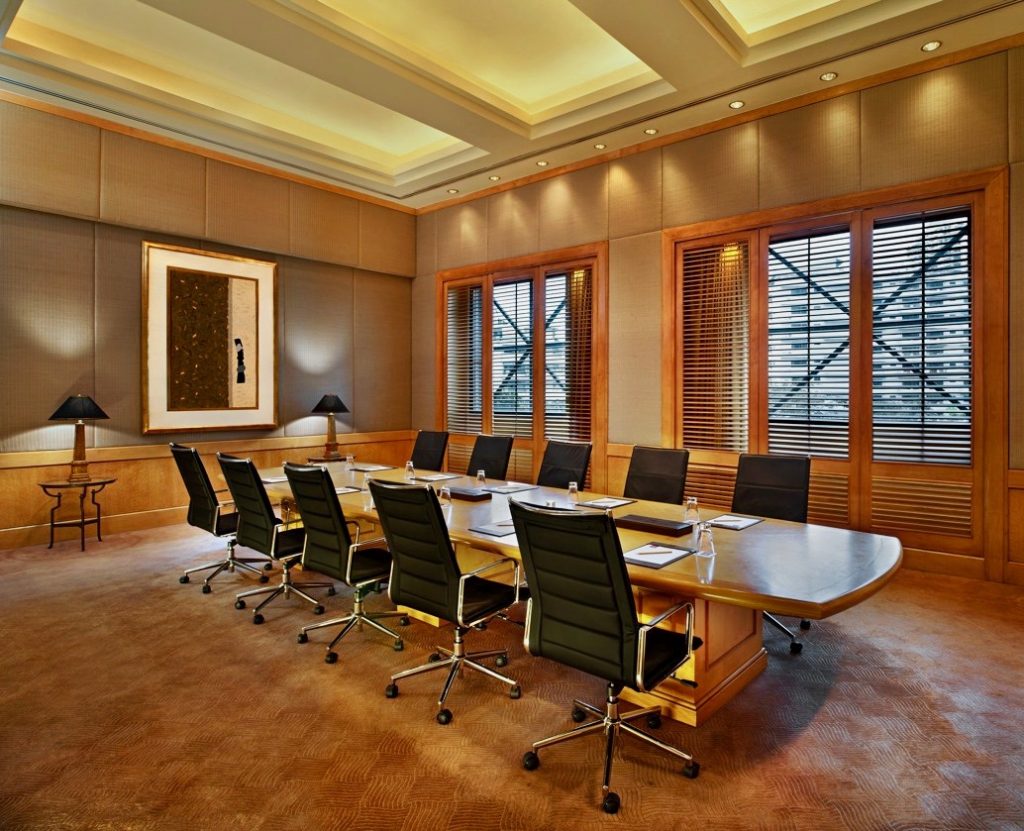 They also have a beautiful outdoor Swimming Pool surrounded by a lush tropical garden. It is a secluded oasis where guests can escape from the city and experience total relaxation. Also is The Grande Spa– a sanctuary of wellness that combines the timeless wisdom of Thailand's healing arts with contemporary spa practice. Their signature treatment includes the Herbal Grande Pound which uses 19 organic Thai herbs applied as a hot poultice to improve circulation and ease aching muscles. The hotel features a fitness centre as well. Known as The Fitness Club, guests can enjoy an invigorating workout and relax afterwards in a steam room, sauna or Jacuzzi. Guests can enjoy a complimentary access too!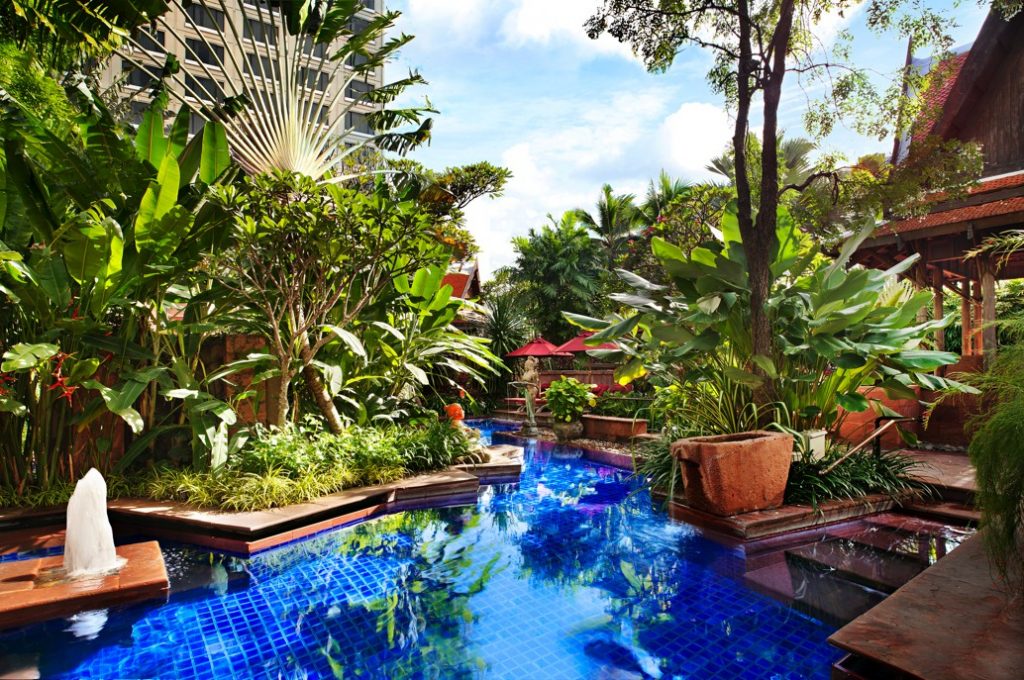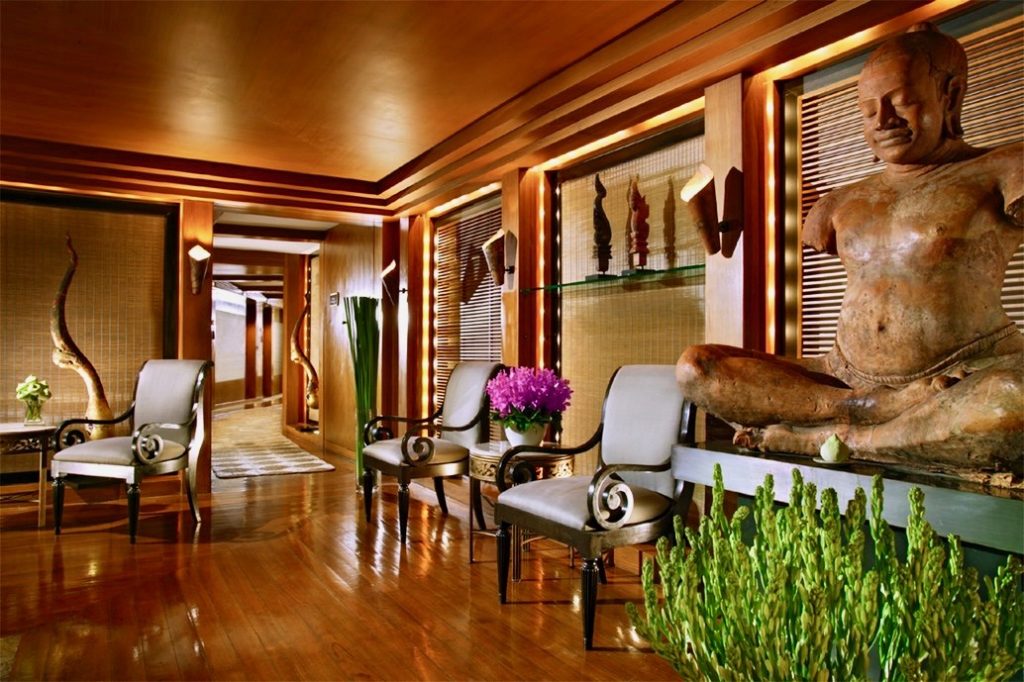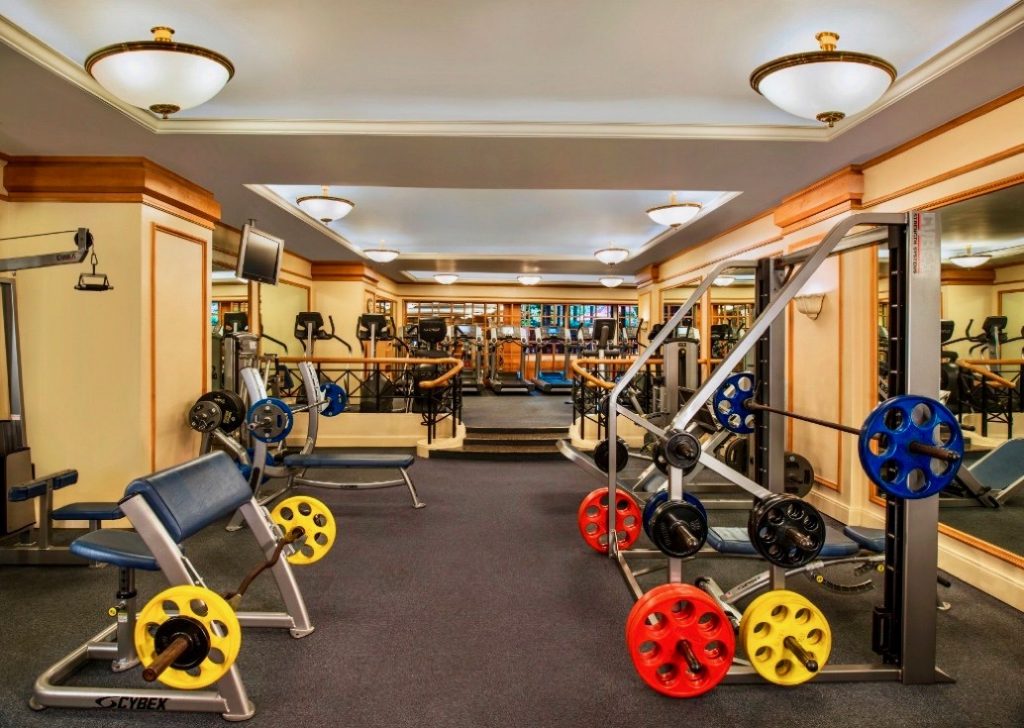 To conclude I would like to say at Sheraton Grande Sukhumvit, exquisite living spaces and tasteful décor, renowned award-winning restaurants, an intimate spa, exceptional business and function facilities all combine together to deliver an unforgettable personal experience.
You could book your luxury stay on a click here!
---
Address:
Sheraton Grande Sukhumvit- a Luxury Collection Hotel, Bangkok
Sukhumvit road, Klongtoey
Bangkok-10110
Contact:
662 649 8641