A special occasion is meant to be spent with loved ones at a special location but not every time it is possible to pack your bags and catch a flight to an exotic location. With Nidhi's birthday approaching we wanted to make it GRAND but with limited timeframe, it wasn't possible. BUT we found a way to make TO MAKE IT POSSIBLE. A grand retreat with a drive of 1.5 hours from our residence in South Delhi! So we packed our bags and took the road less travelled to ITC Grand Bharat, Gurugram. ITC Grand Bharat is set amidst the ancient Aravali hills and is conveniently located just 45 kilometers from New Delhi.
Situated on a sprawling 300-acre estate, ITC Grand Bharat, a Luxury Collection Retreat, Gurgaon, New Delhi is a luxury hotel offering world-class all-suite accommodations, bespoke services and outstanding facilities. It features a sparkling outdoor swimming pool, a full-service spa and wellness centre, and a 27-hole Jack Nicklaus-designed golf course.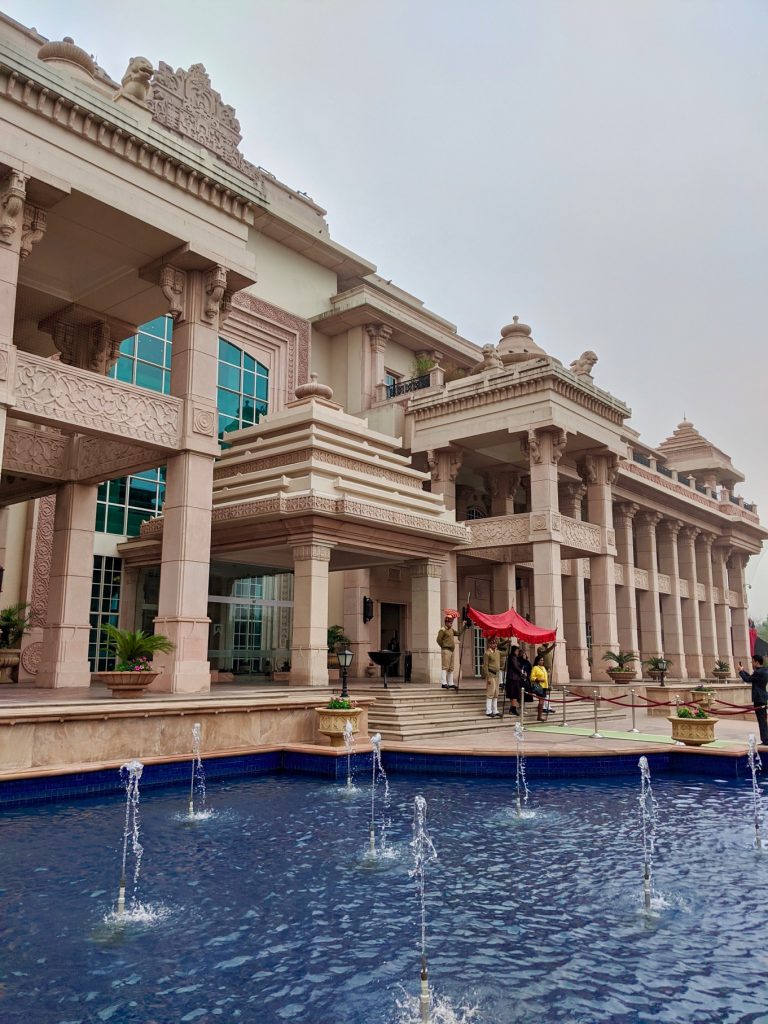 Though we visited the property in January 2020 before COVID-19 pandemic had entered India, we checked with ITC Grand Bharat on the precautions they are taking right now. ITC Hotels has launched 'WeAssure', A first-of-its kind initiative on health, hygiene & safety. The WeAssure programme is ITC Hotels' commitment towards health, hygiene and safety, designed in collaboration with medical professionals and disinfection experts to further enhance the existing hygiene and cleaning protocols. The accreditation by National Accreditation Board for Hospitals & Healthcare Providers (NABH) will enhance existing procedures and controls in the area of sanitation, hygiene, safety and infection control thereby conforming to hospital level hygiene standards.  DNV GL Business Assurance, a body that helps businesses assure the performance of their organization is evaluating a model, built around the three pillars of – Health, Hygiene and Safety. This will help ITC Hotels achieve higher levels of maturity around all facets of operations.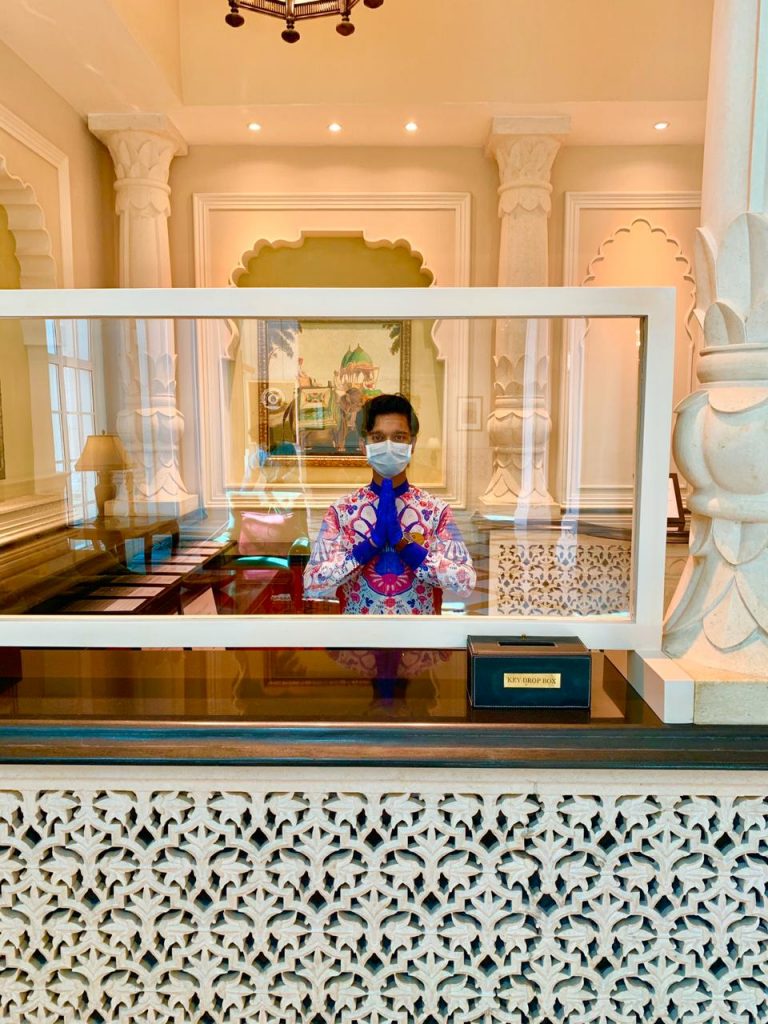 The property is a beauty in true sense. We were able to see the magic of Incredible India in every aspect of the hotel. The grand building is set amidst the flora and fauna and one falls in love instantly with the property. From a beautiful drive inside the premises giving a grand welcome, to the fountains which further lead you to the beautiful lobby where a tri colour flower arrangement is witnessed. The retreat symbolises the concept of 'Bharatvarsha' which encompasses the essence of India and brings to life myriad facets of the great nation through its architecture, interiors, services, cuisine, decor and ambience. Conceived as the next step in luxurious Indian hospitality, ITC Grand Bharat is an architectural confluence of some of the finest details and techniques that India has witnessed. The result is as rich as the heritage, the resort proposes to honour: a world of capitals, domes, frescoes and plinths, of stonework with intricate carving, regal pavilions and gentle fountains, of reflection pools and verdant gardens.
Set amidst a vast expanse of 1.2 square kilometers, 'Unhurried Luxury' finds expression in the promise to deliver the finest stay experience to guests with its classic 27 hole Jack Nicklaus Signature Golf Course, 100 splendid deluxe suites and four palatial presidential villas and ITC's internationally acclaimed indigenous spa brand Kaya Kalp – The Royal Spa coupled with Ayurvedic consultation, yoga sessions, nature trails and sports facilities making ITC Grand Bharat the preferred wellness destination.
We reached the hotel well in time and were welcomed by Bhoomika, the PR Manager and Mandakini, the Guest Relations Manager of the hotel. Both of them acquainted us with various aspects of the hotel while our check-in formalities were done at the Peacock Bar. We also relished the winter Welcome Drink Apple Cinnamon Toddy. Interestingly all check-in formalities are done at the Peacock Bar and not at the front desk or the lobby. Post check-in both the beautiful ladies took us around the hotel and showcased various in house restaurants from Aravali Pavilion to India Room to Apas Promenade. I am gonna acquaint you with all these while I tell you the food we ate at these restaurants.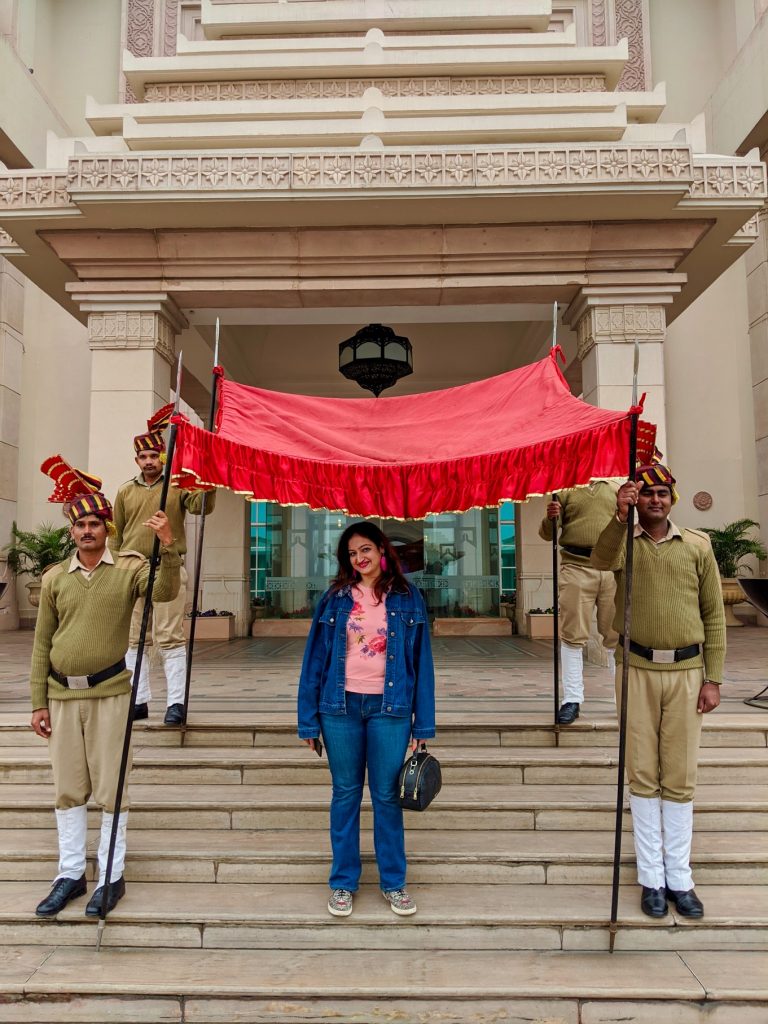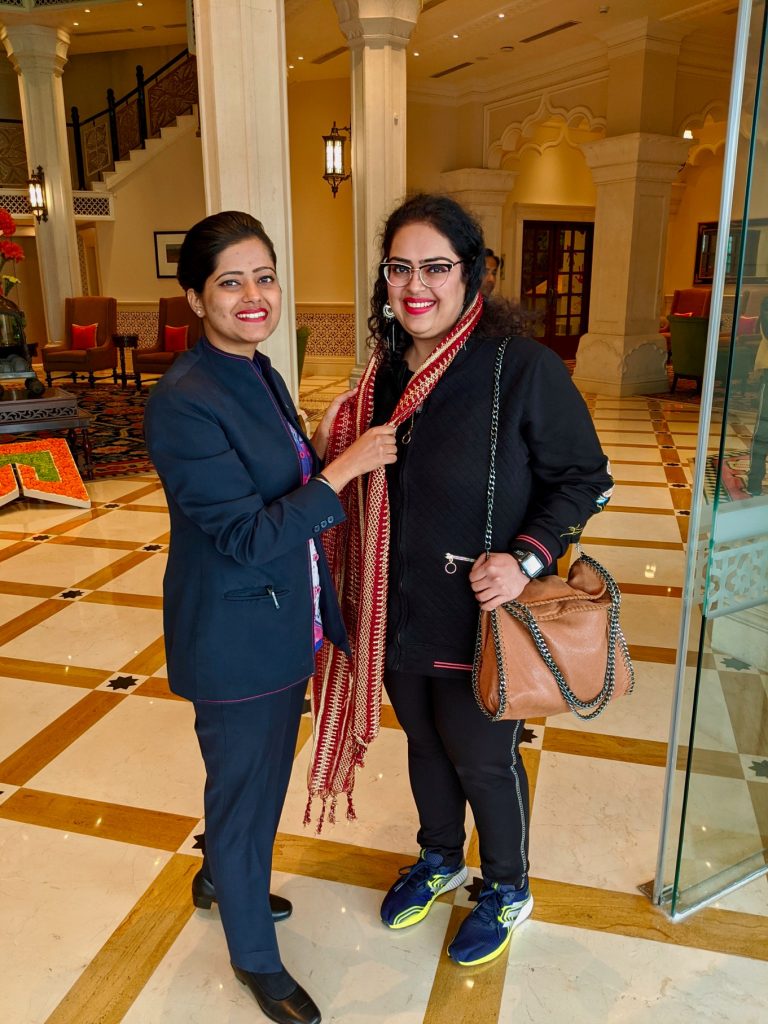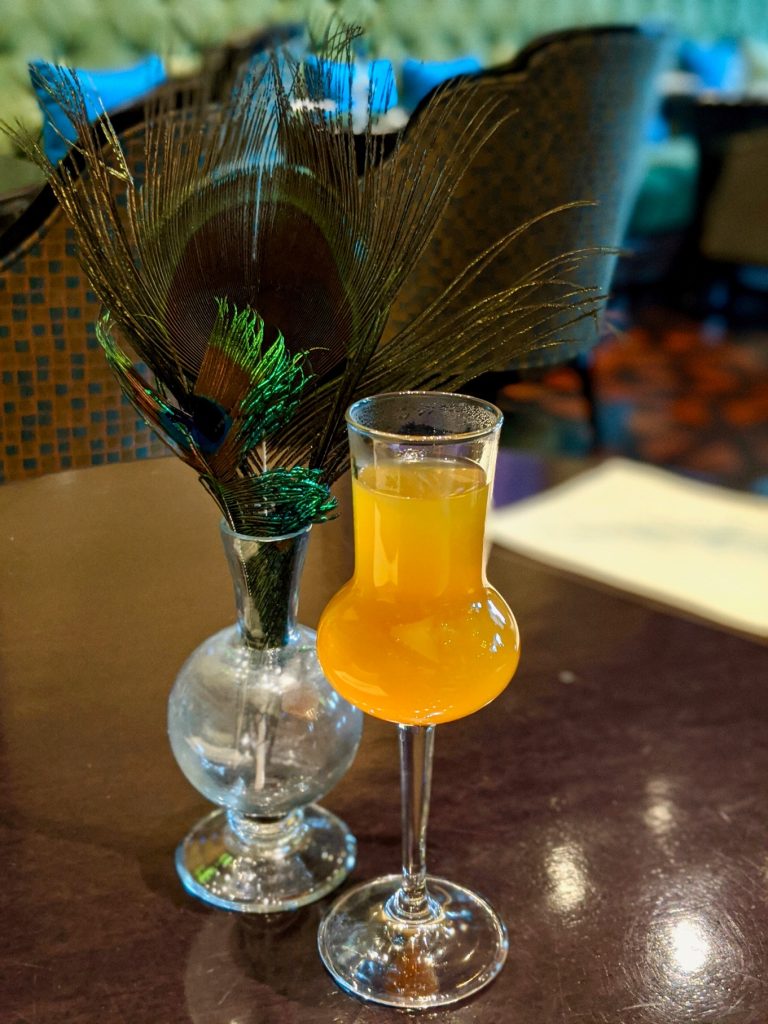 The suites and villas offer a seating area, room safe, 42-inch TV, Tempur-Pedic mattress, premium hypo-allergenic bedding and private bathroom. Suites have the option of a terrace or semi-private pool while villas come with a personal butler.
We were taken to our gorgeous Pool View Premium Suite for which the term 'beautiful' is an understatement. A vintage charm with unique elements across the suite. A living room with a calming atmosphere opens to a door which has a semi-private pool. It's so enriching to hear splattering water while sitting by the pool. Comfortable couches accompanied with a centre table, TV and table lamps made the living room perfect for our stay where we comfortably had our evening tea and little snacks watching TV.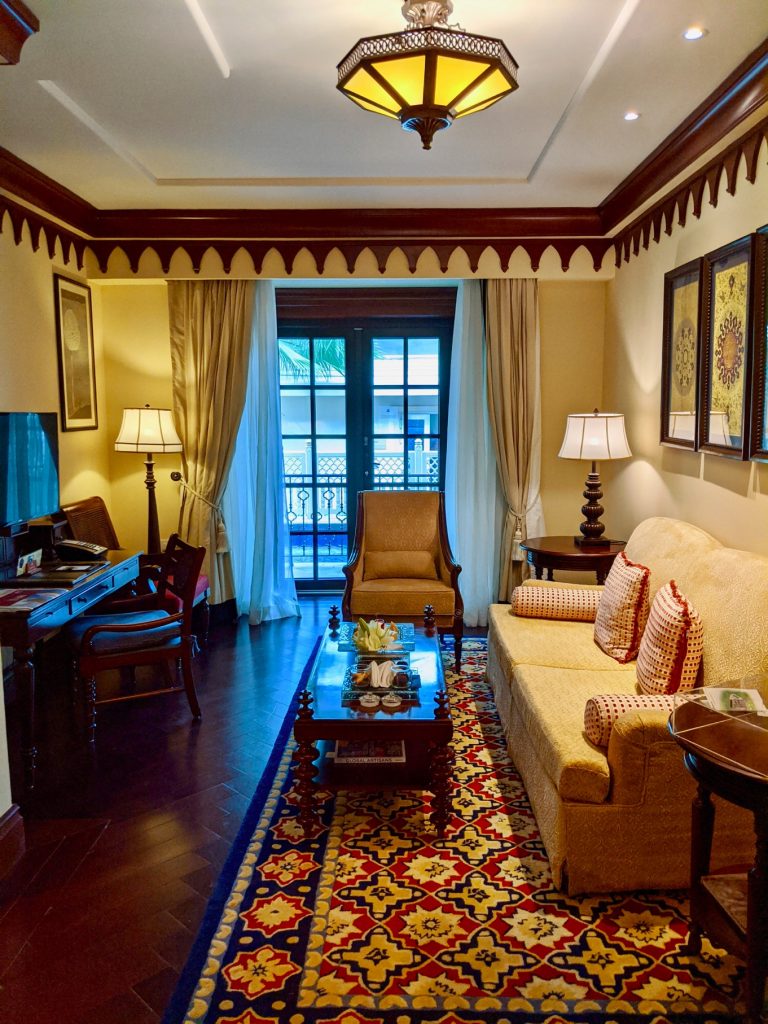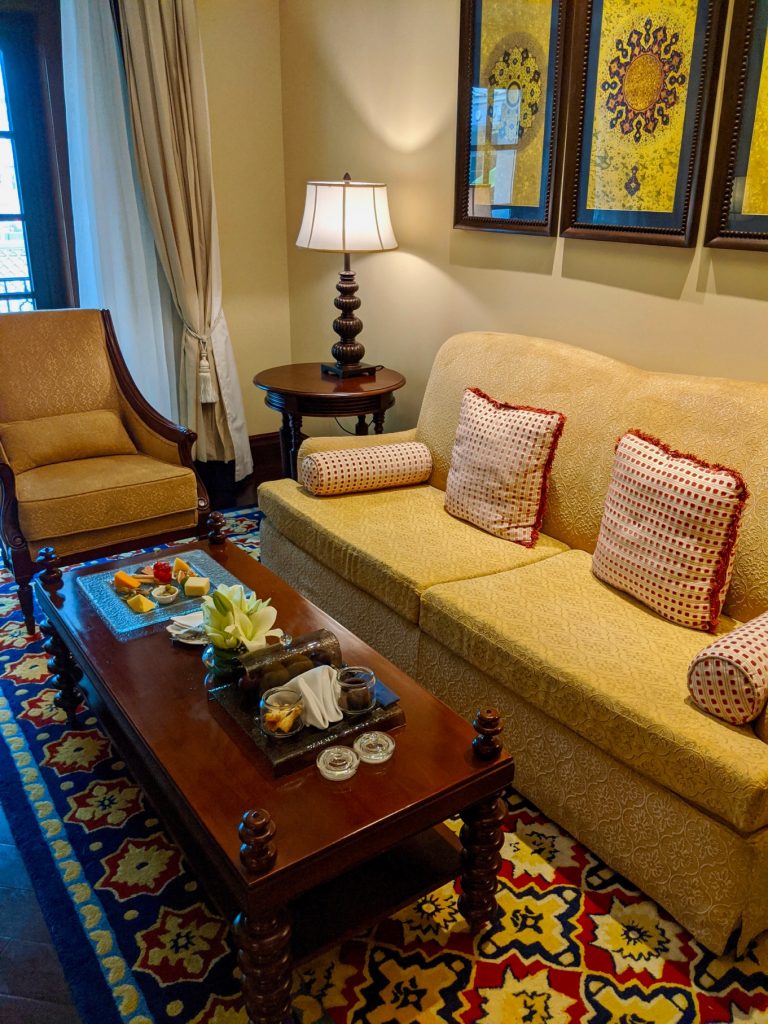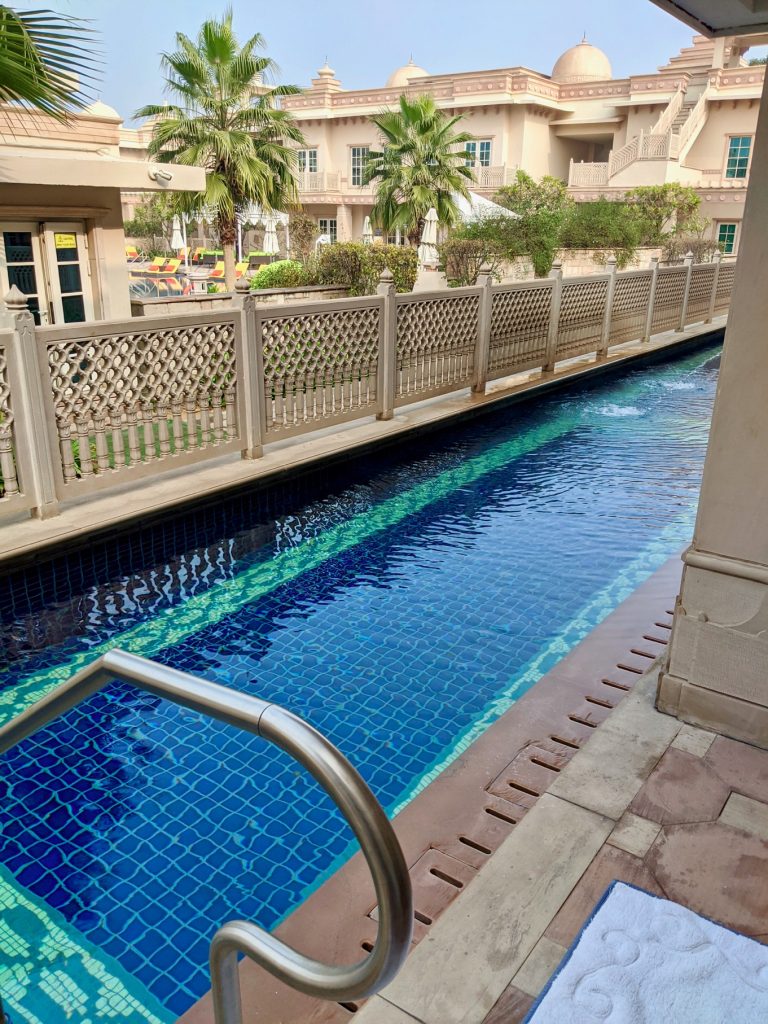 When we entered the bedroom, we were taken by surprise. Cushions customized with our names and a picture of the three of us…such a lovely gesture. The comfortable and grand bed were accompanied with side lamps, reading lights and paintings for an aesthetic look. Another fascinating thing on the side table was a Sleep Kit which had almost everything I would need for a good night sleep. The sleep kit had all the sleep essentials which include an eye mask, ear plugs, pillow mist and stress reliever spray. Also loved the beautiful French window with a view was where I spent a lot of time. The well-lit bathroom further had a luxurious bathtub as well as a shower console for us to enjoy our bathing ritual. The room had a spa menu as well and a lot of munchies for us to snack. Chocolates, cookies, puffs, olives, fruits and cheese….loved the Swagatham chocolates too which is done for special guests. Little gestures leave such lovely memories! A special handmade card with Swagatham chocolates welcomed us whole heartedly. A big wardrobe ensured we keep our luggage well spaced out.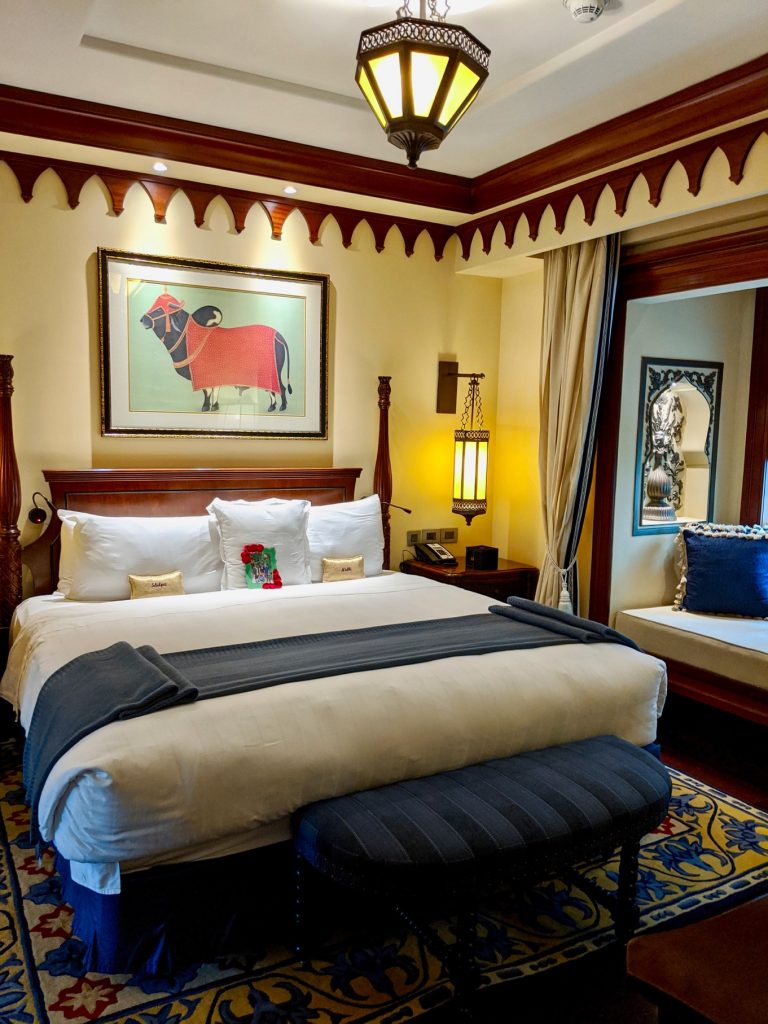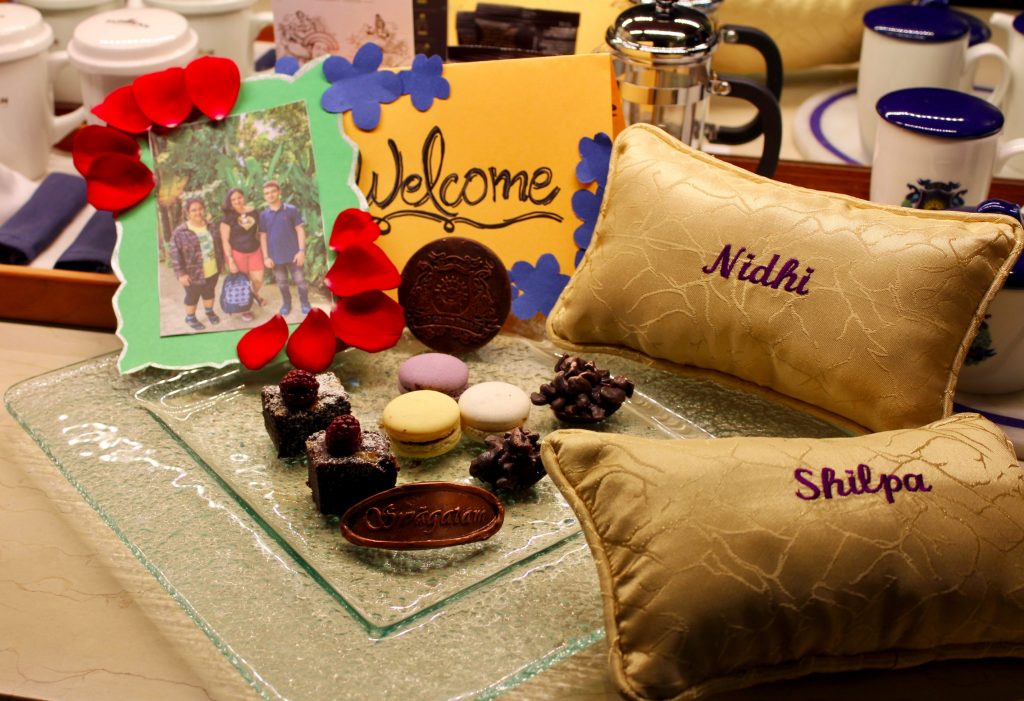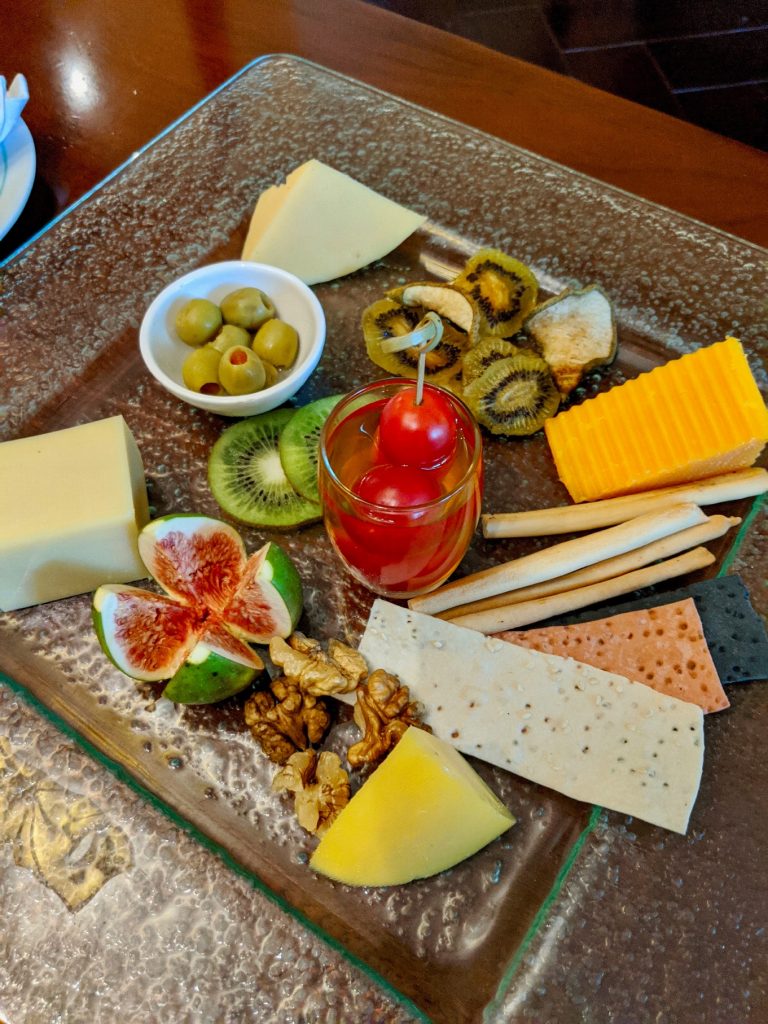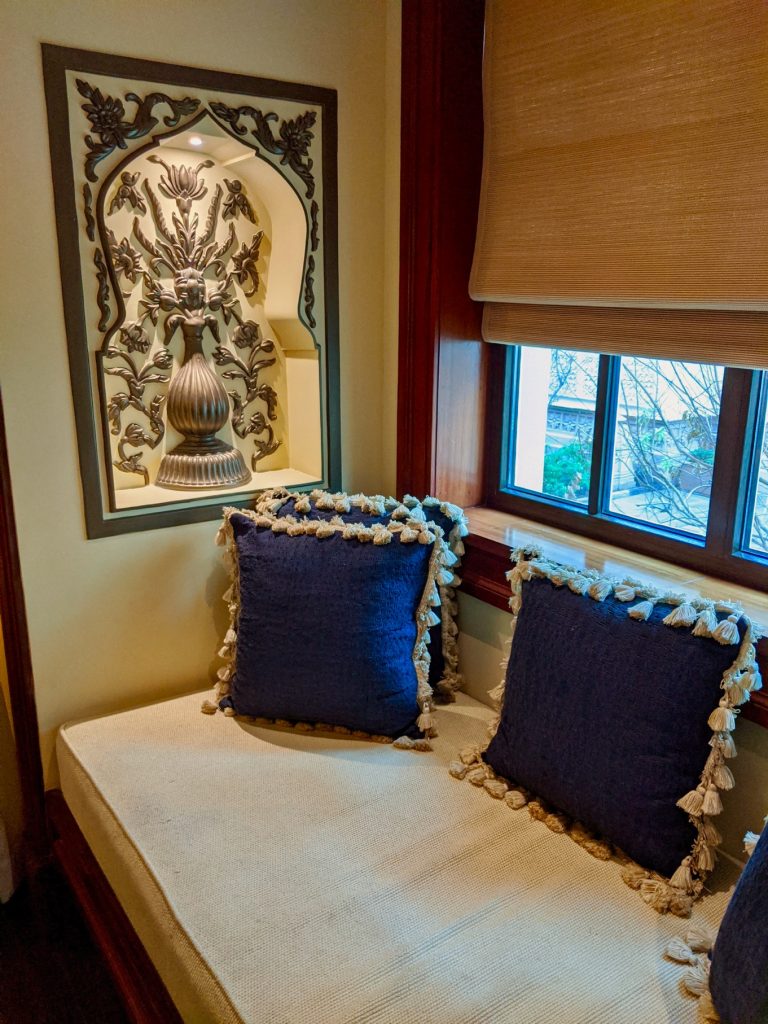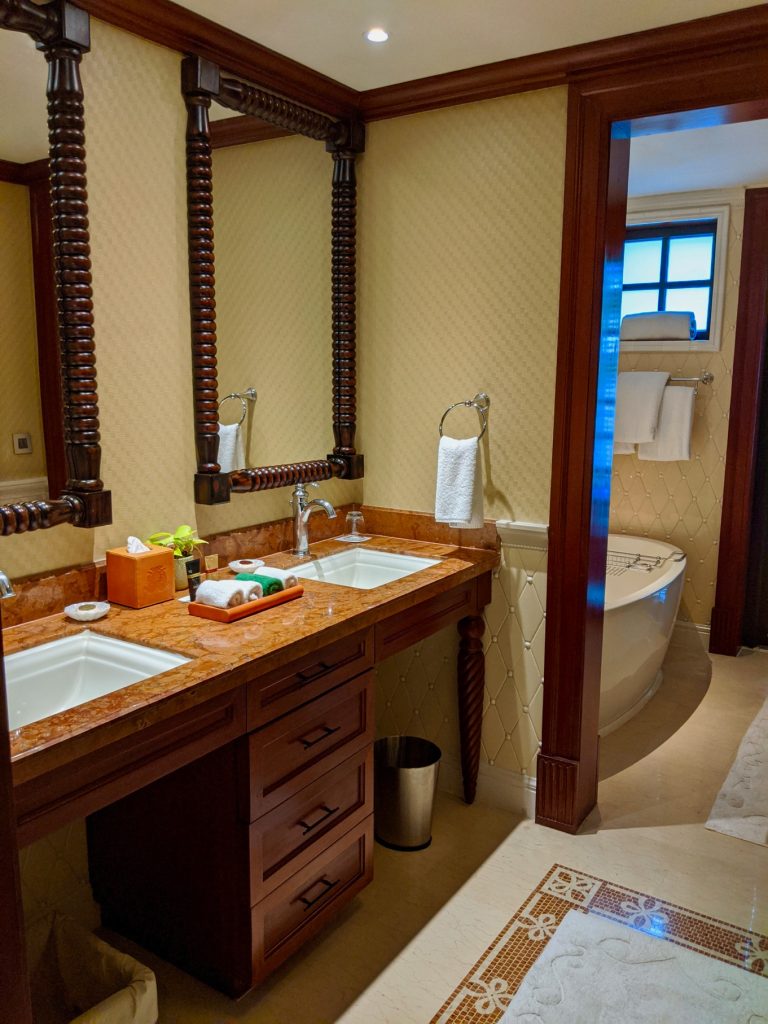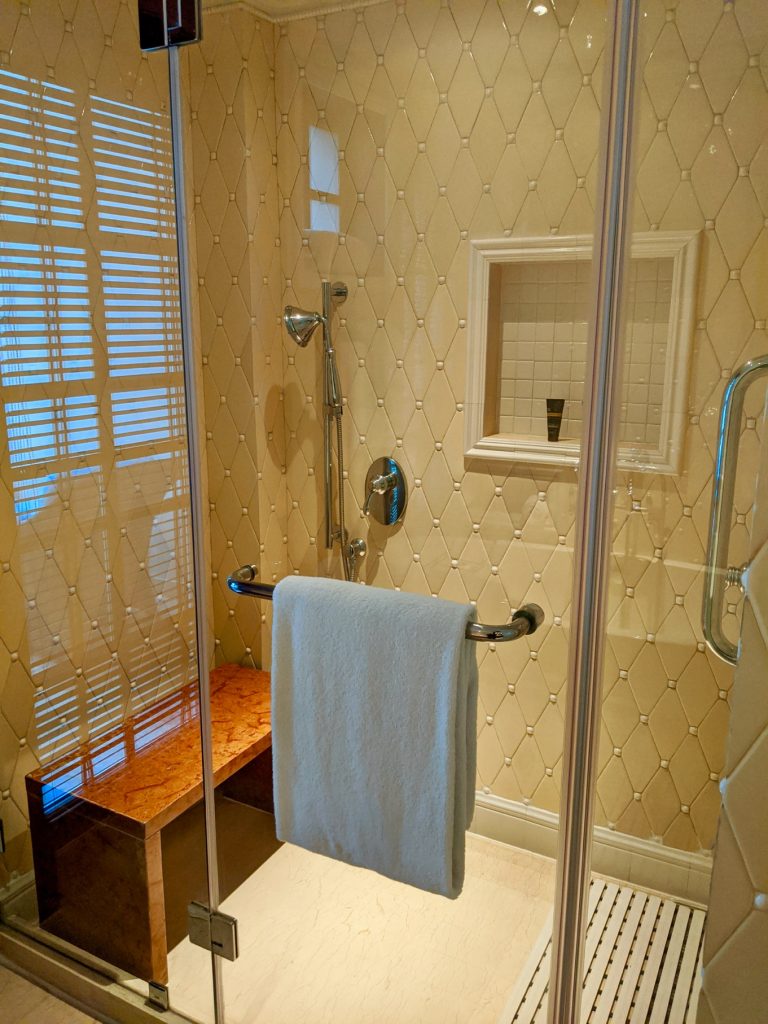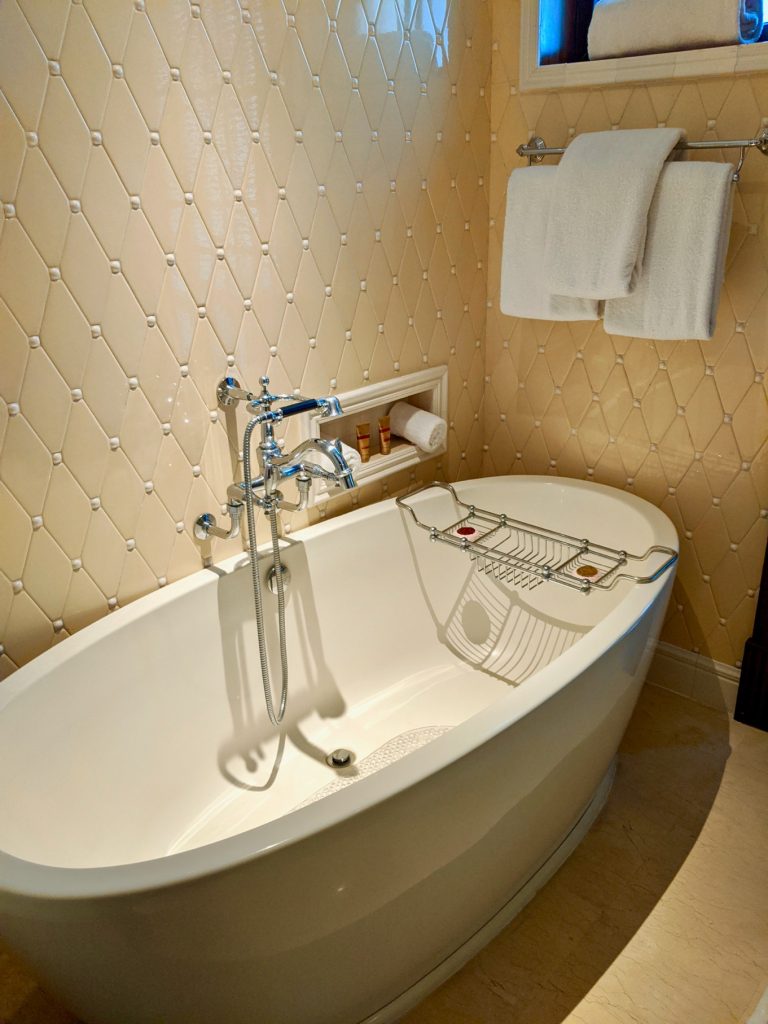 Under the #ResponsibleLuxury initiative, ITC Grand Bharat does not use any plastic and hence they have SunyaAqua glass water bottles.
We headed to Aravali Pavilion for lunch and were looking forward to our multi-cuisine spread. Pastel colours dominated the walls which were beautifully hand painted. The walls also adored stunning lotus bloom paintings which were hand painted too. The multi-cuisine menu is perfect for everyday casual dining which is loved by the young and old and also boasts of some local delights. Colourful cushions add charm to the off white couches giving an aesthetic touch. We started with the Gourmet Pizza which to our delight was also available in a half an half, so on one half we went for Vesuvius which was a vegetarian pizza with olives, red onions and chili oil while Indiano was a non-vegetarian pizza with chicken tikka, jalapenos and sundried tomatoes. The thin crust pizza made with love looked yummy and tempting too. Bajra Khichda was what we tried on chefs recommendation and it was delectable. It is ITC's grand signature dish made with locally grown pearl millet. The Penne Pasta was classy and great served with toasted garlic bread while Fish n Chips were crisp on the outside, soft and yummy inside. Absolutely yum served with tartar sauce and fries! Mirchi Vada was an innovative and creative dish which had green chillies stuffed with mashed masala onions and fried with besan. Just so delicious.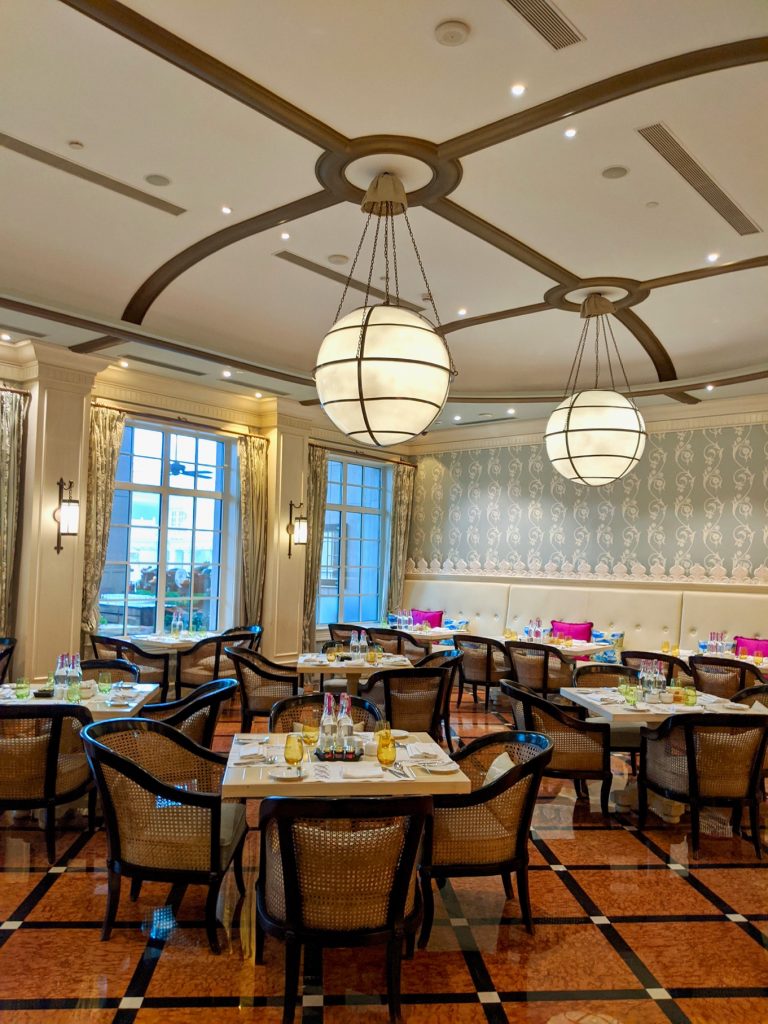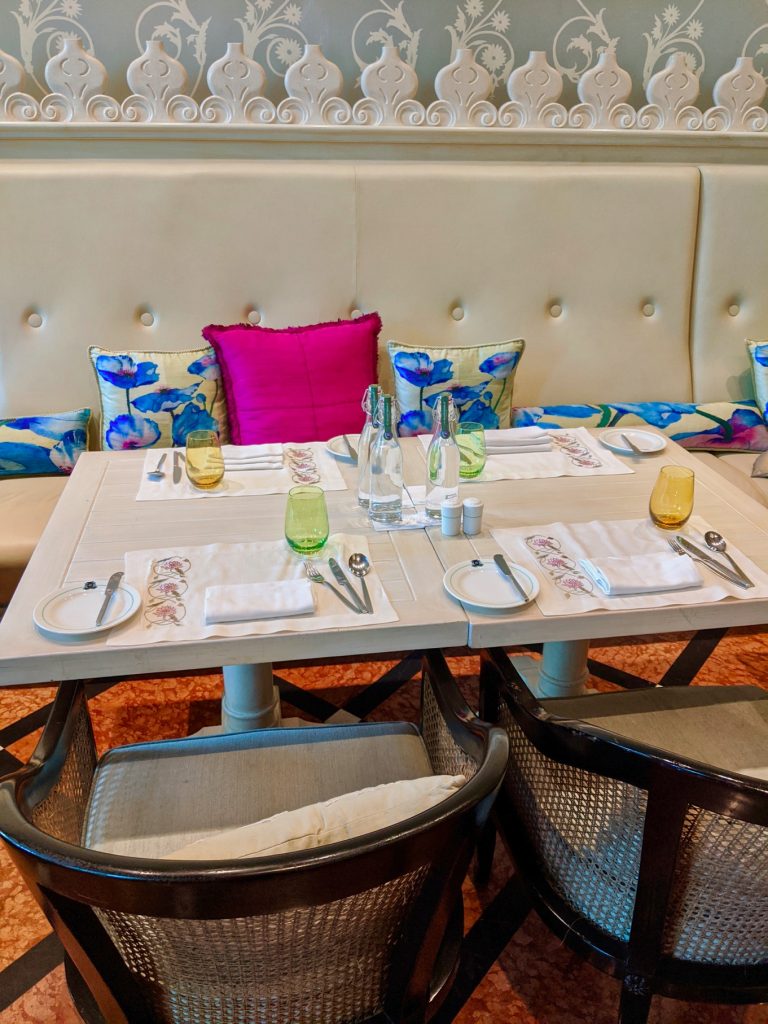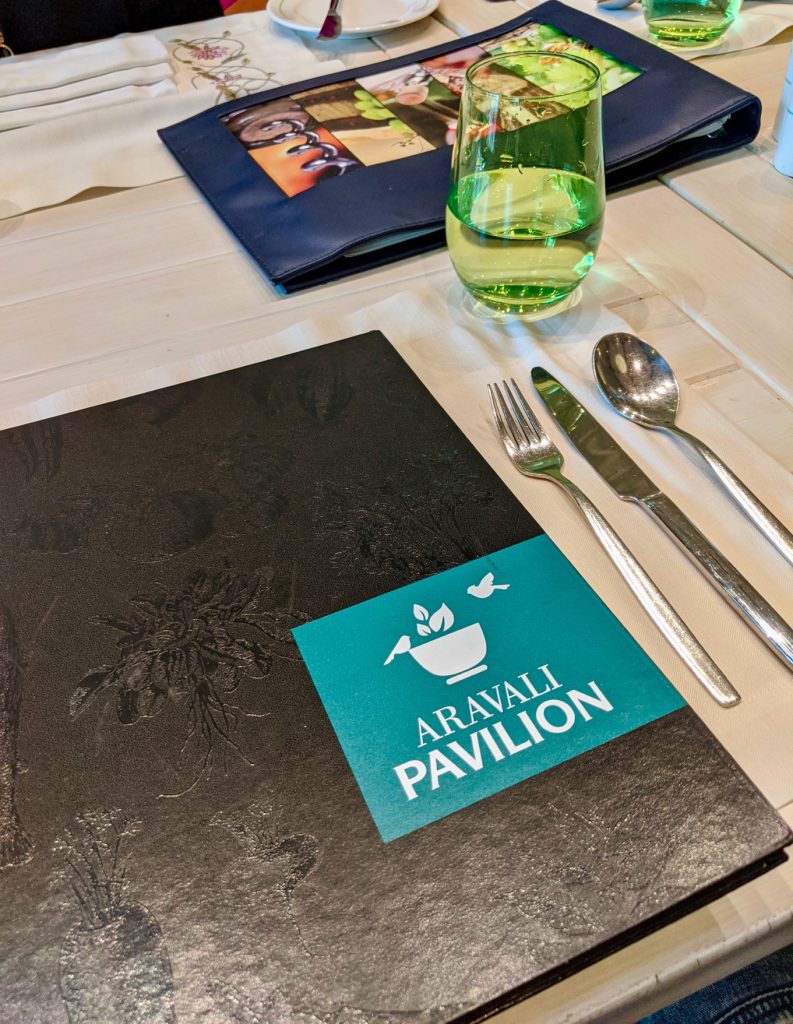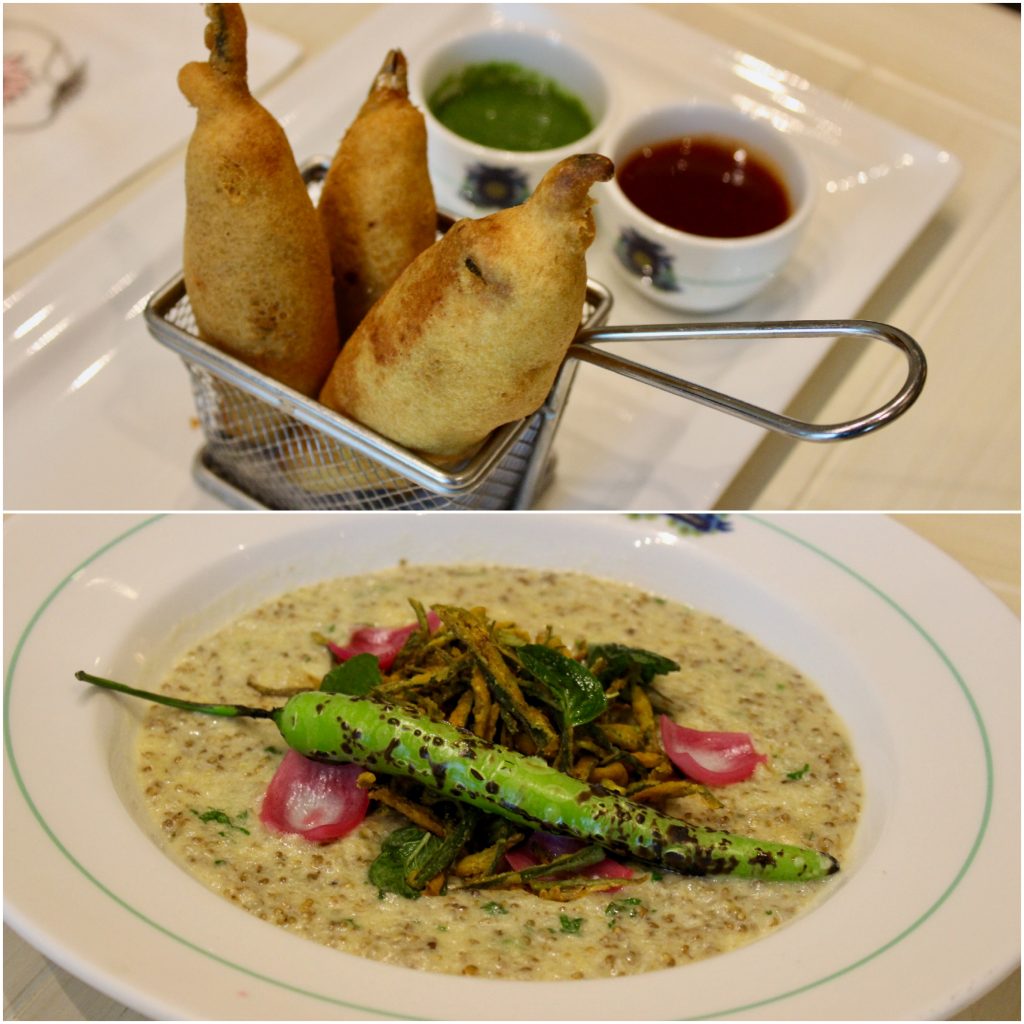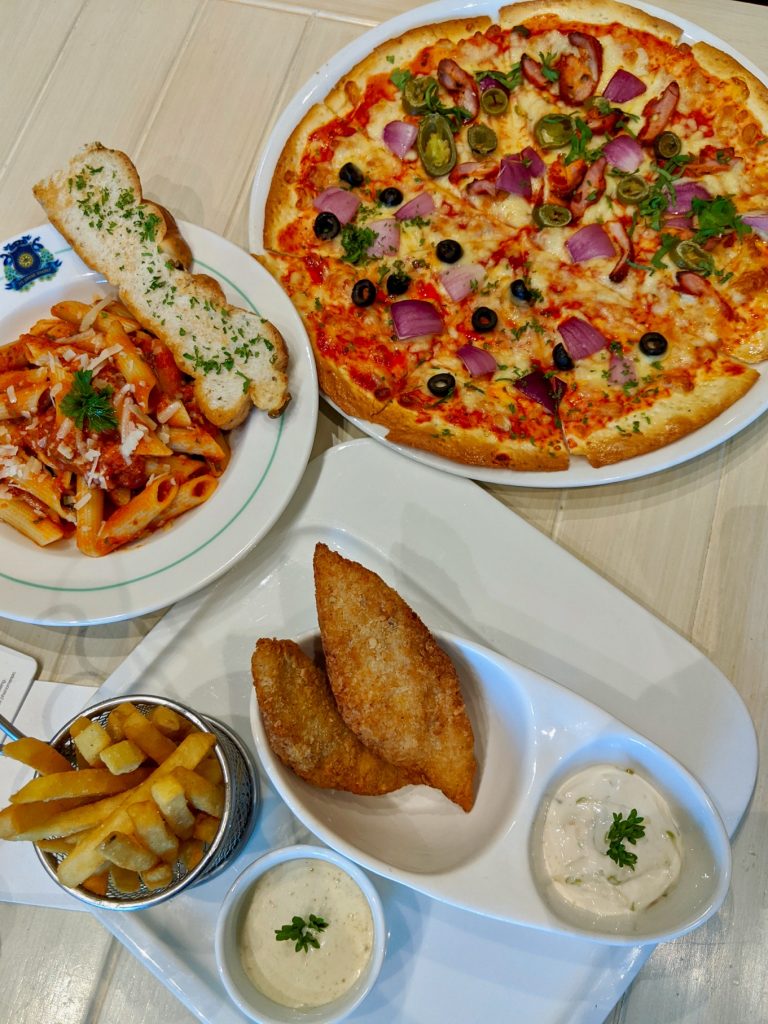 We also tried the Murg Makhani which was accompanied with Dal Makhani and breads and was good too. In mocktails, we tried Aravalis Magic, Berry Blast, Watermelon & Crack Pepper Spritzer which were so refreshing and nice. For desserts, our choice was Aravali Chocolate Mousse and Kulfi Falooda. I am a falooda fan but my vote here goes to Chocolate Mousse which was a sinful delight- chocolatey and yummy!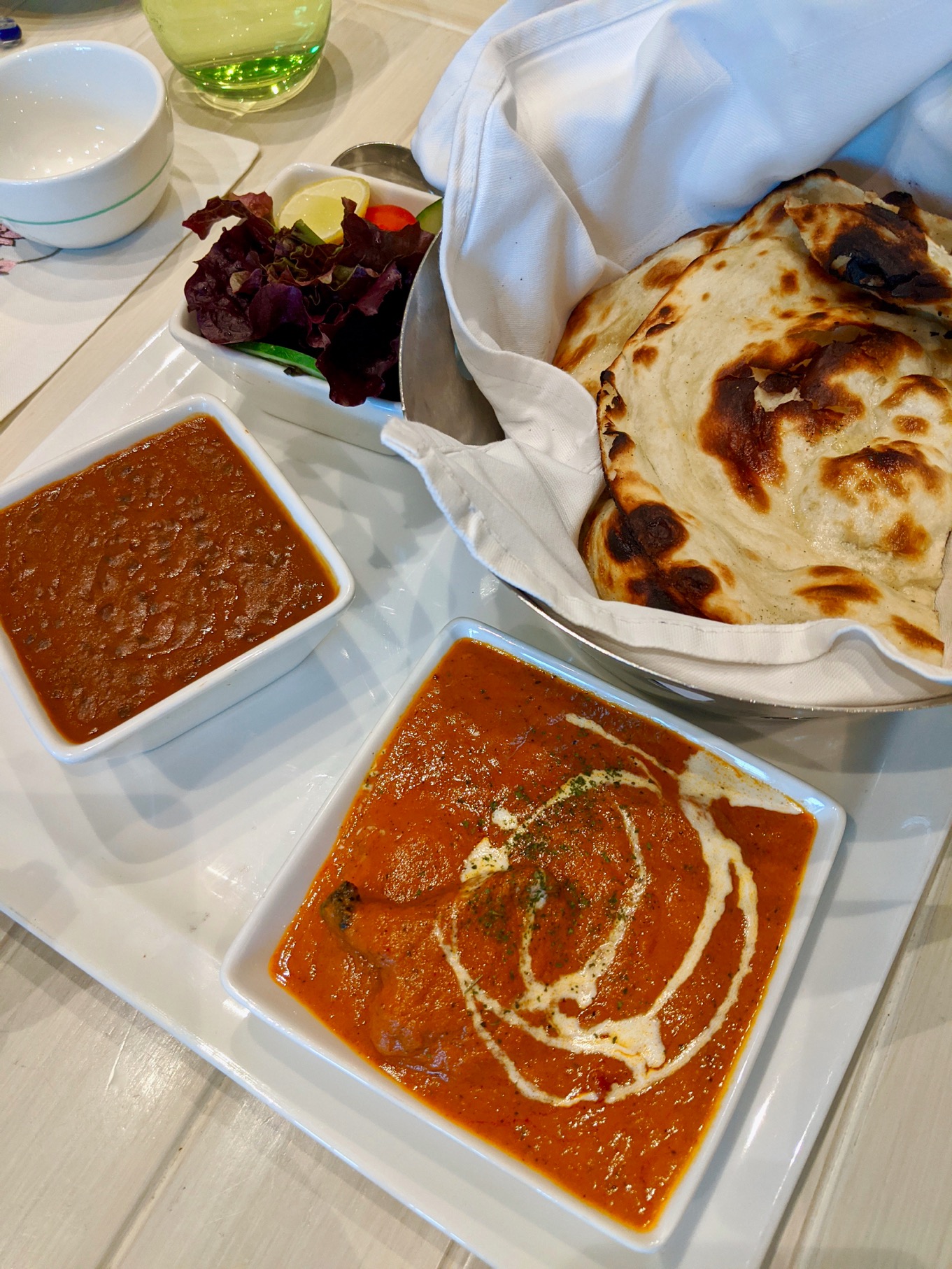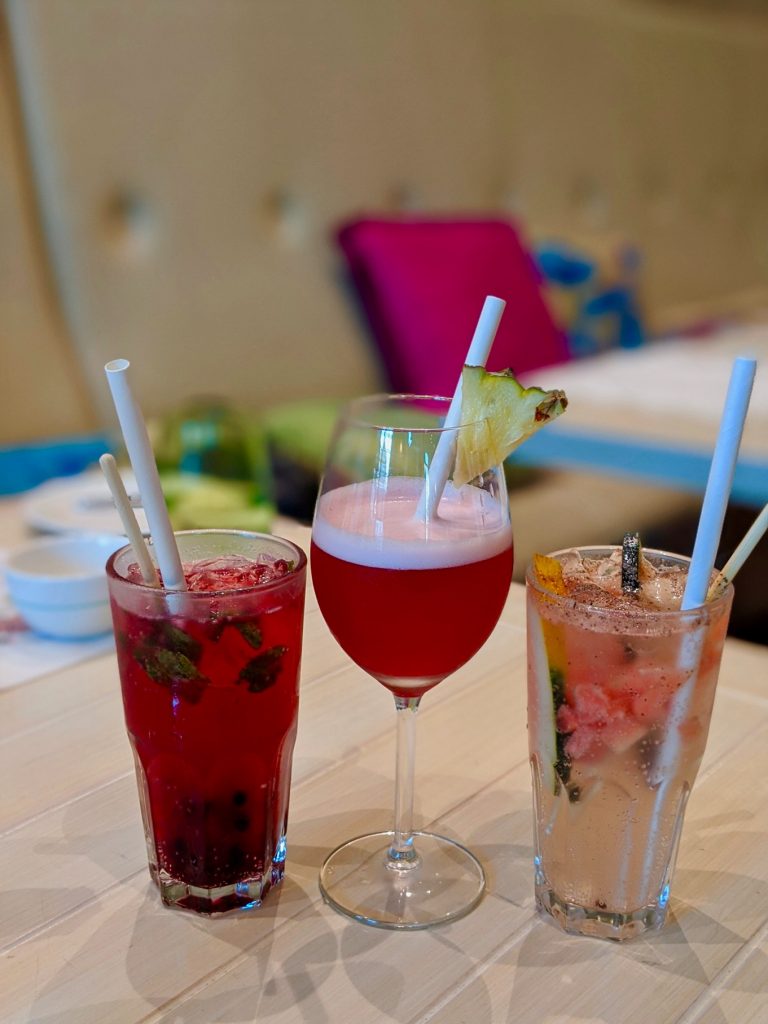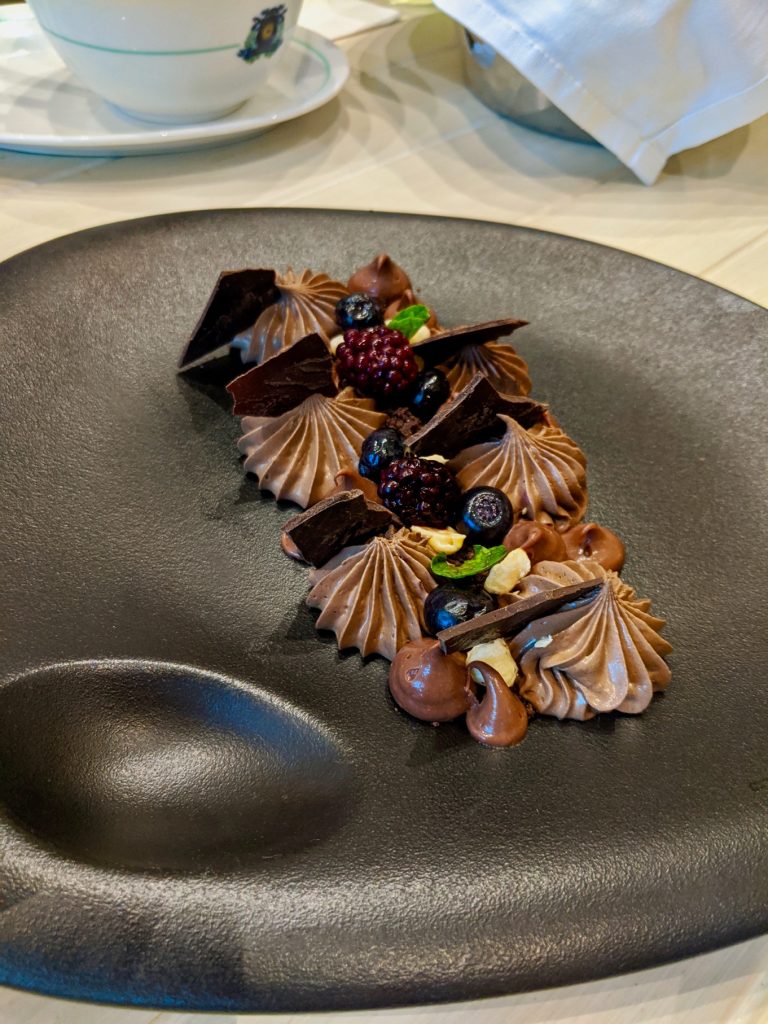 Post our grand lunch it was time to check out more of the grand property for which we went around. A cute buggy took us around the property and is also available whether you want to head to the suite or golf course or the spa or any restaurant.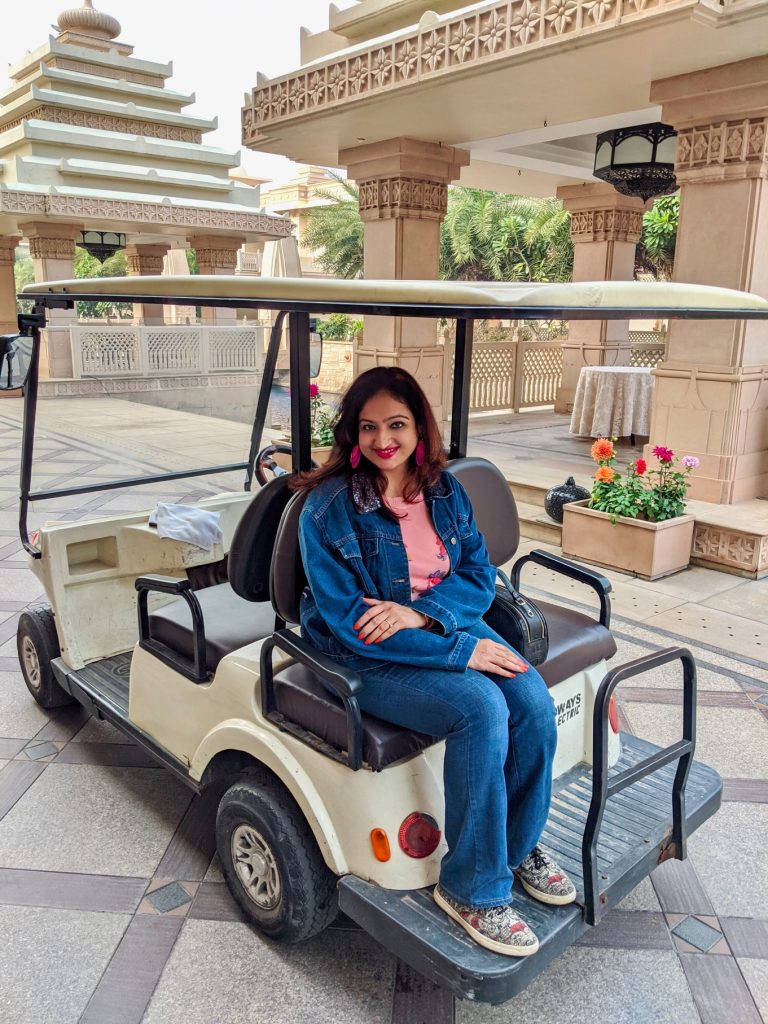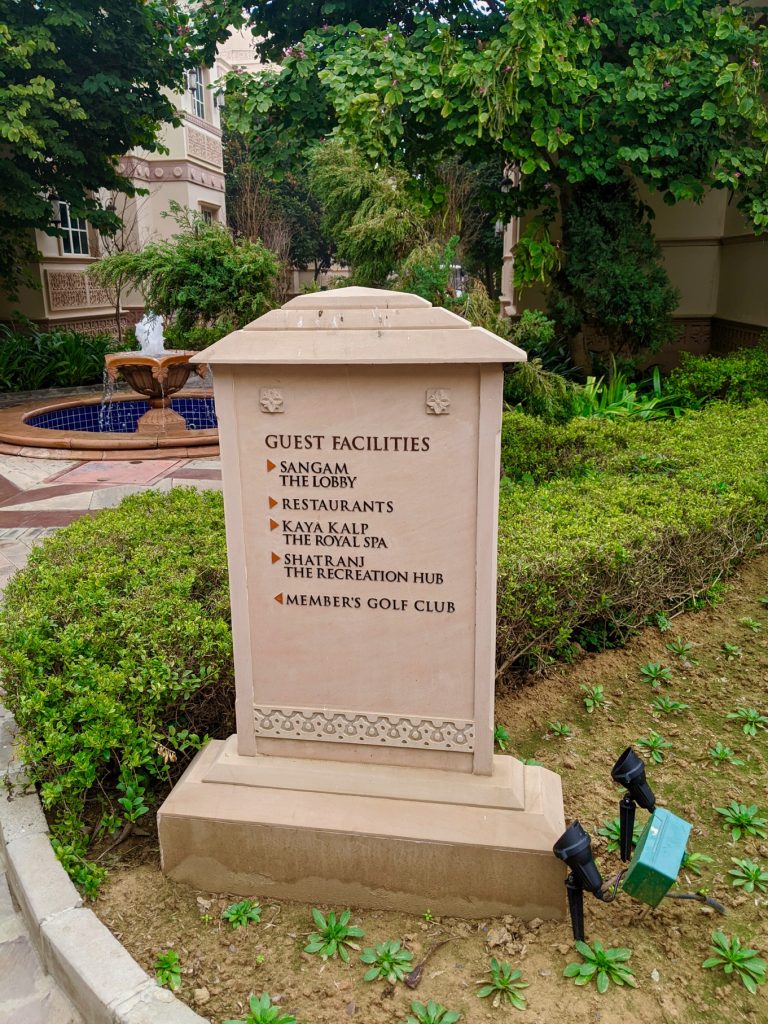 ITC Grand Bharat offers a variety of Indian experiences in areas as diverse as lifestyle, health, wellness, beauty, recreation, cuisine and human bonding, its architecture offers a mosaic of India's finest building traditions. Conceived as the next step in luxurious Indian hospitality, ITC Grand Bharat is an architectural confluence of some of the finest details and techniques India has witnessed. The result is as rich as the heritage, ITC Grand Bharat proposes to honour: a world of capitals, domes, frescoes and plinths, of stone work with intricate carving, regal pavilions, and gentle fountains, of reflection pools and verdant gardens. A picture of majesty, the architecture of ITC Grand Bharat will give the emperors of today a taste of what their counterparts enjoyed in bygone times.
We started from Sangam – The Lobby at ITC Grand Bharat which is symbolic of the meeting of three historic rivers, Ganga, Yamuna and Saraswati, which respectively signify power, wealth and knowledge. The lobby's highlight is the painted Tree of Life, surrounded by eight pillars. The eight pillars signify the four stages of life as indicated in the Vedas – each pillar symbolic of the beginning and end of a stage. The Tree of Life is an expression of the Indian Philosophy of 'Vasudaiva Kutumbakam' – the world is a family.
The central dome over the atrium at ITC Grand Bharat, as well as the domes over the other pavilions have been inspired by the rich temple forms of Orissan Architecture. Additionally, the main entrance to the Hotel block has been inspired by the famous 'Torana' (Arched gateway) of the Muktesvara Deula of Bhubhaneshwar, Odisha.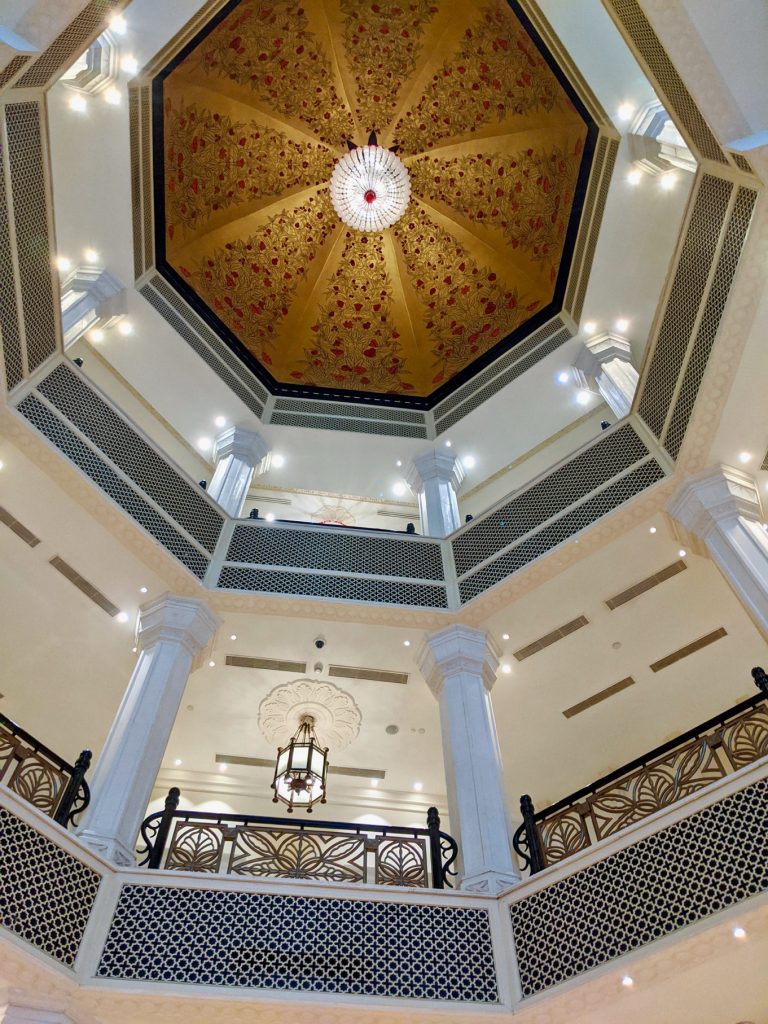 Time to tell you about the 27 hole Jack Nicklaus Signature Golf Course. In the early nineties, Delhi was ready for a truly International course. It was at this juncture that the idea of a unique product was conceived which would be the first of its kind in the country and which would be a destination for the whole family – a retreat that would match any across the world. The legendary designer and golfer Jack Nicklaus was engaged to design the first international standard golf course in India. The result is that the golf course at ITC Grand Bharat is the only of its kind in South Asia – a 27-hole behemoth signature Jack Nicklaus Golf Course, with a one-of-its-kind Golf Academy for budding golfers.
Nicklaus, nicknamed "The Golden Bear", is an American professional golfer. He is widely regarded as the greatest professional golfer of all time, having won a total of 18 career major championships over a span of 25 years. He now operates one of the largest golf design practices in the world, Nicklaus Design, in partnership with his four sons and his son-in-law. The company has consistently created some of the world's best golf courses in America and across the world. The course offers 27 holes, each with its own design characteristics. Also, each set of nine holes have relative characteristics that are synonymous with their names.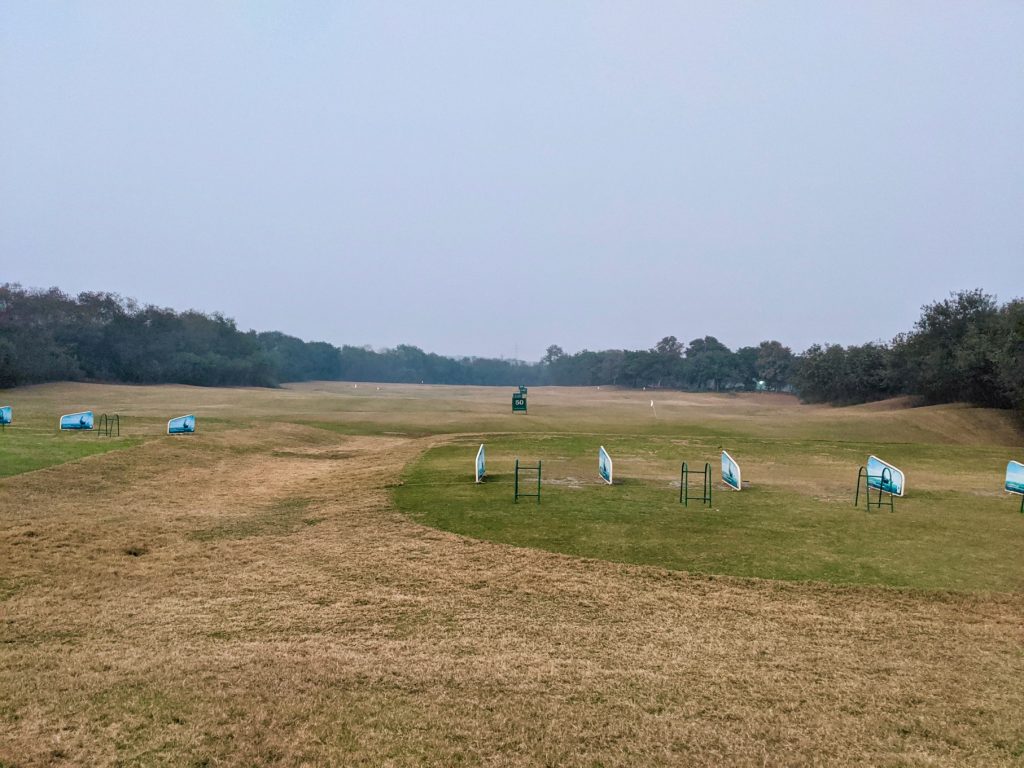 ITC Grand Bharat also features an arcade room and organizes recreational activities such as bird walks.
Non-golfing recreational facilities are available at Shatranj – The Recreational Hub. The sports block has squash courts, tennis courts and a billiards room. We checked it out and saw a play area for kids, Xbox and fun stuff for teens and adults like Snooker, Foosball, Segway, Bicycle, Table Tennis, Billiards, Dart Board and more. My brother tried Segway, the battery-powered, self-balancing, electric vehicle which can also be used as a personal transport device of exploration down the walkways of the retreat. The Activity Center also has swings and indoor games where kids with their families can play and enjoy. Other recreation options include ATV course, segway, a croquet court, squash court, badminton court, tennis court and basketball court to name a few.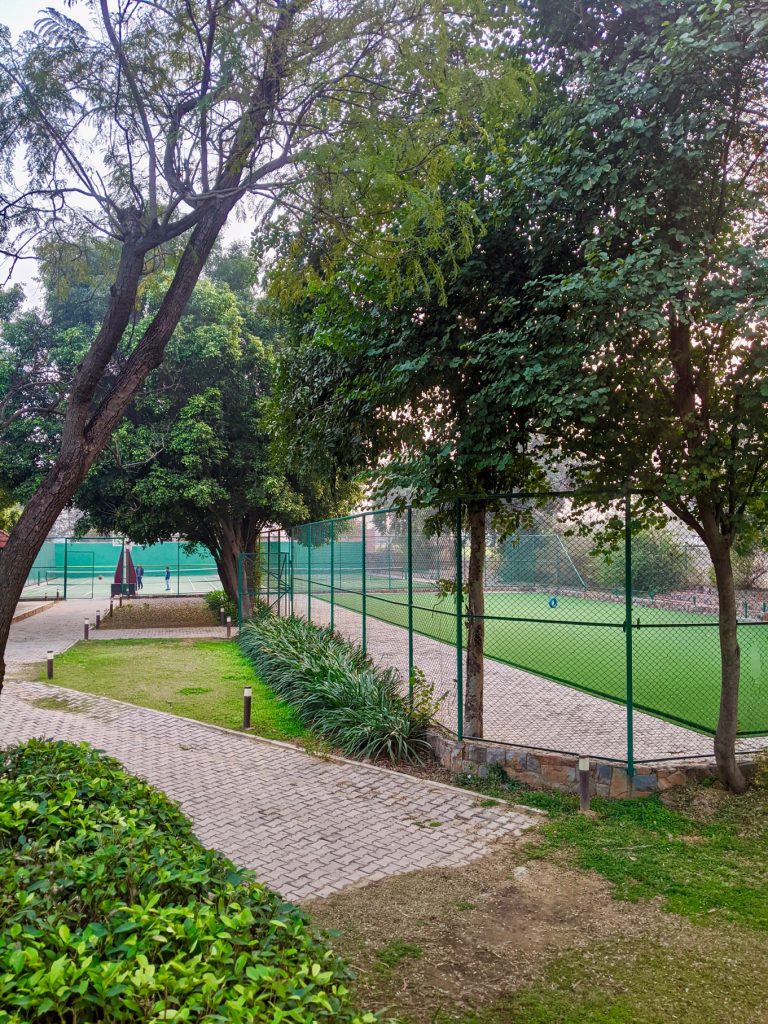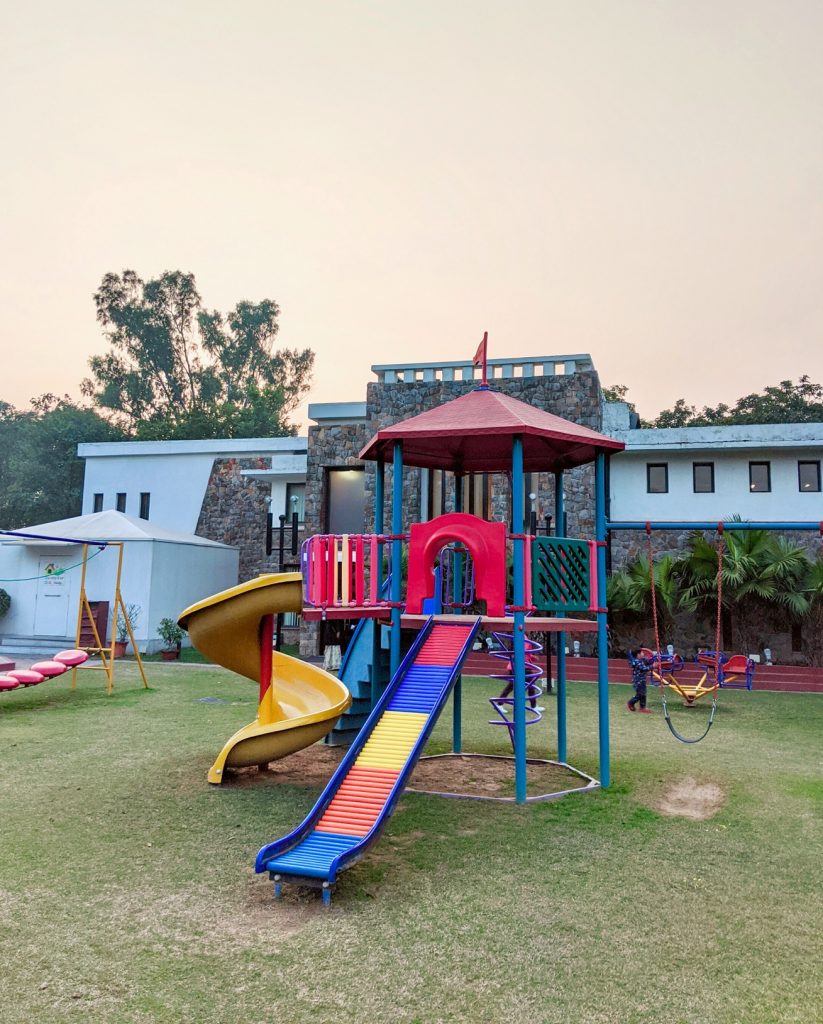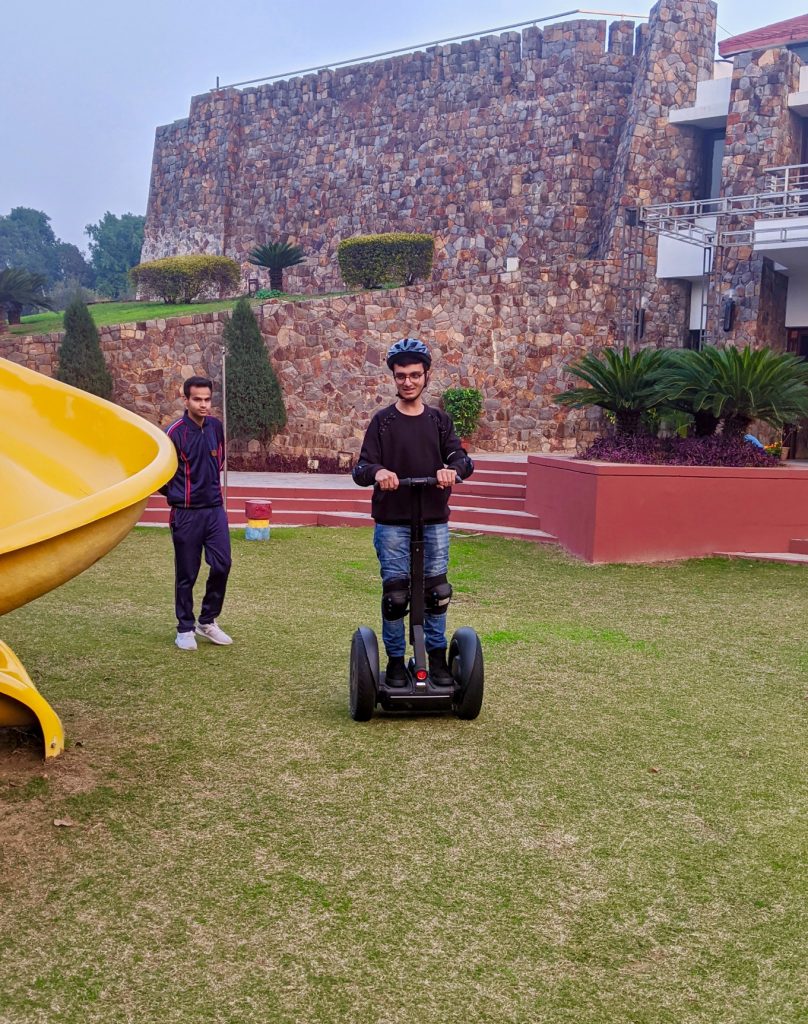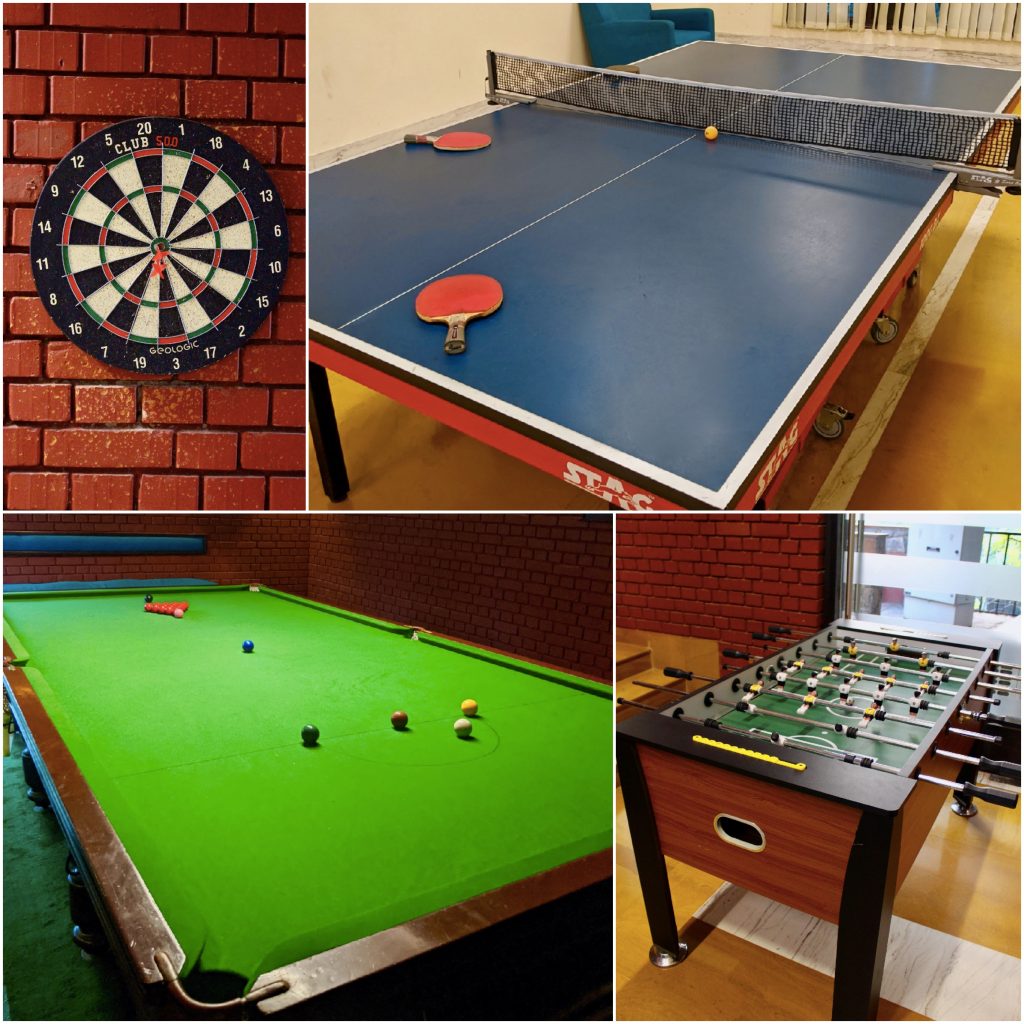 If you are with toddlers or small kids worry not as there is a dedicated area for kids called Ollie's Club next to the lobby. Perfect for small kids, it has lots of soft toys and fun activities suitable for that age group. It has a host of indoor games where kids can spend time, learn and enjoy themselves.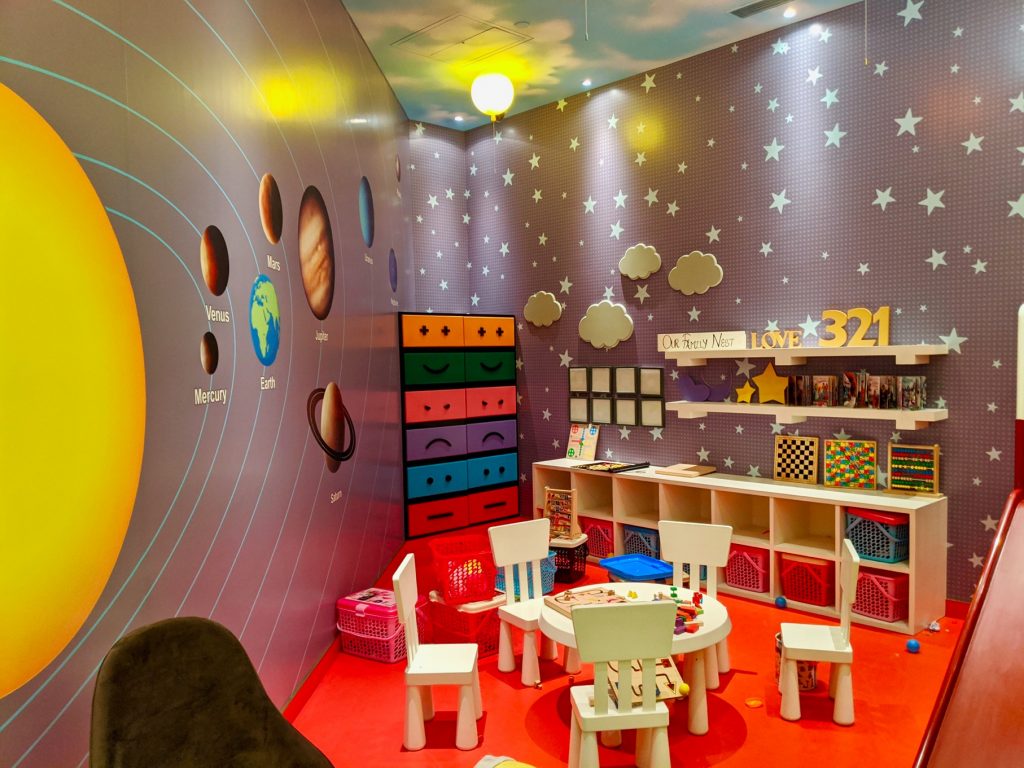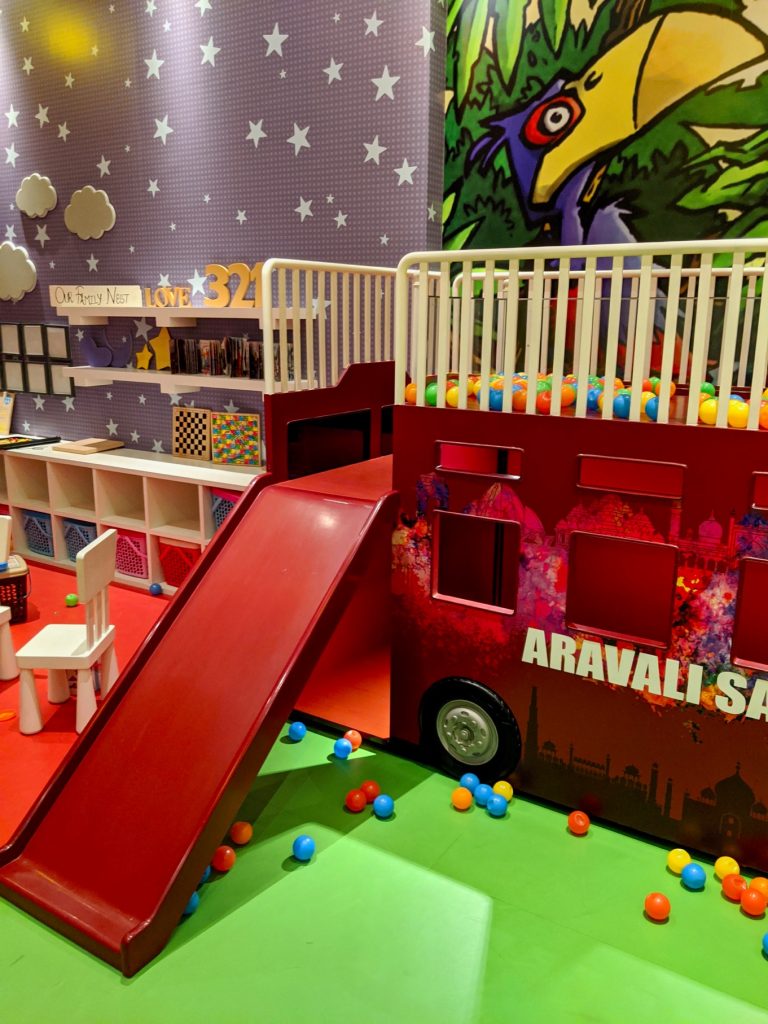 The swimming pool area has a designer swimming pool with baby pools and is operational from April to October. Zorbing is another highlight here for the adventure lovers. One can also cycle or indulge in Nature Walks through the genteel landscape, feel the sunshine filter through the leaves, listen to the first birdcall and be alive to the fragile.
Post this retreat we checked out the in-house farm where vegetables are grown in house making sure everything is served fresh from the farm- from cauliflower to lemongrass, onion, tomato, lemon, papaya, broccoli and much more is grown here. Food becomes even more scrumptious when fresh produce is added in it.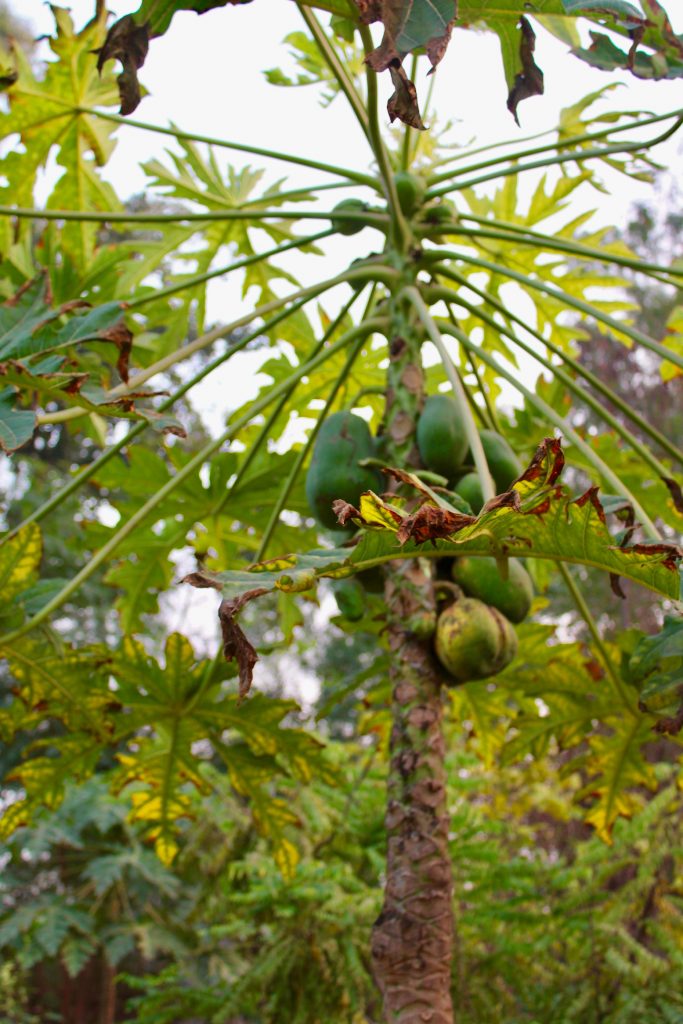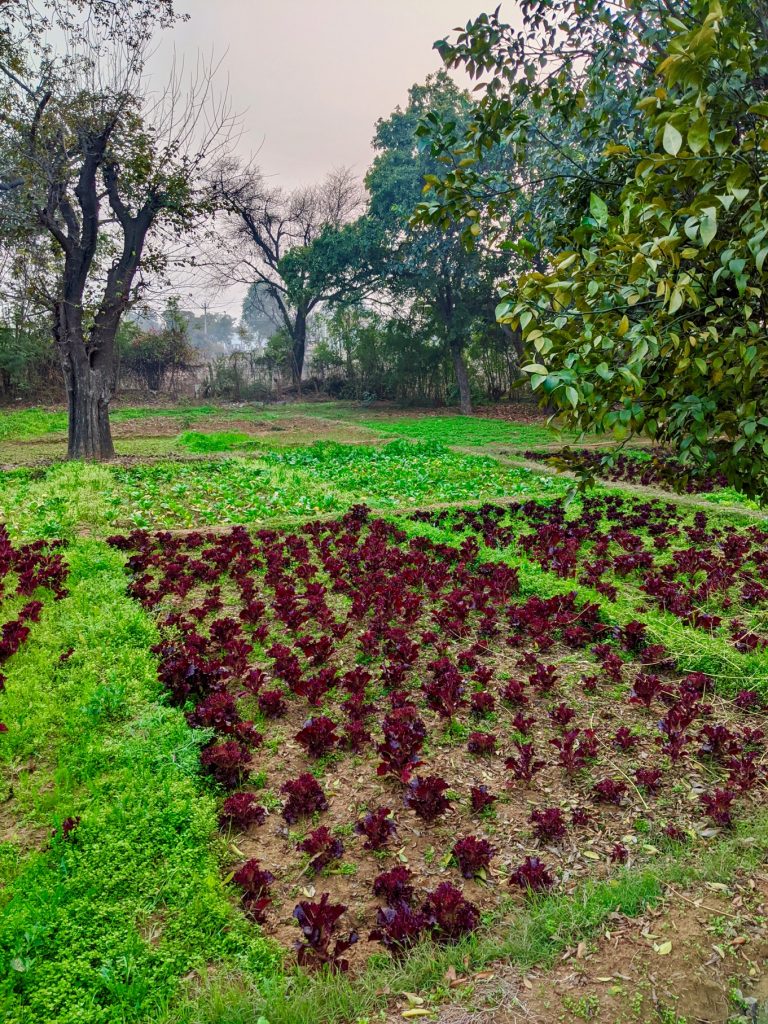 It was time for the evening aarti and Ghats of Yamuna is where the evening aarti takes place everyday. That what ITC Grand Bharat has as a unique aspect which is loved by its guests.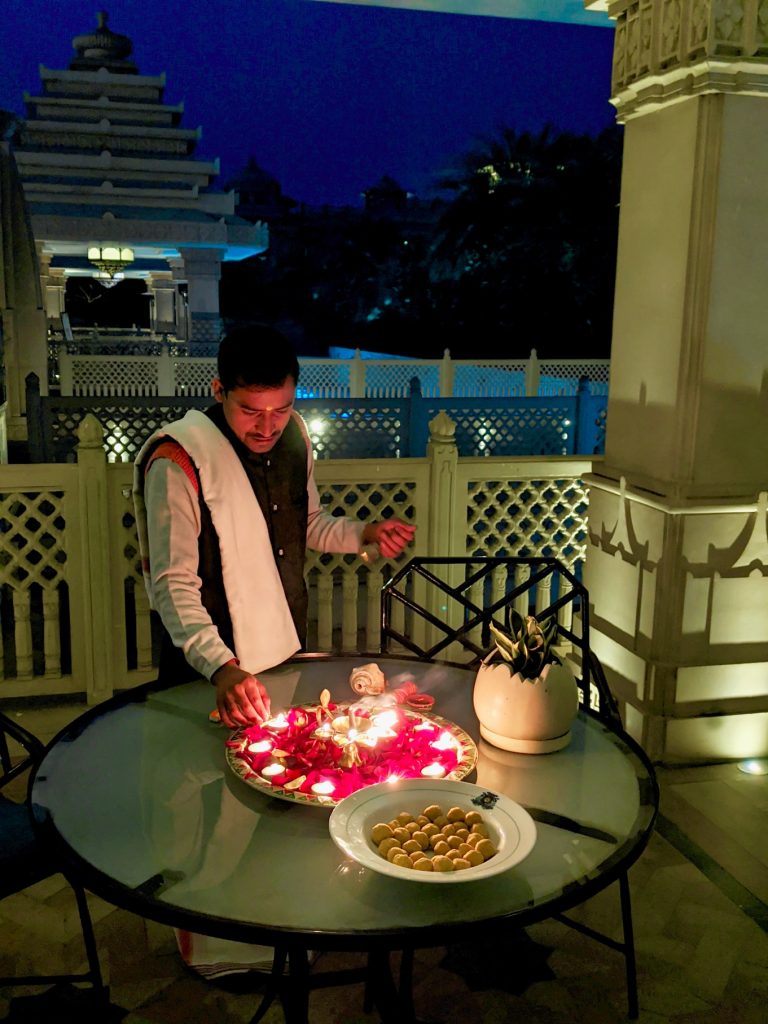 The Yamuna water body at ITC Grand Bharat draws inspiration from eternal Ghats of Varanasi. The famous "Ghats are embankments in the form of stone steps along the banks of the Ganga where pilgrims perform ritual ablutions. Pandit ji comes every evening at 6 PM and performs the aarti.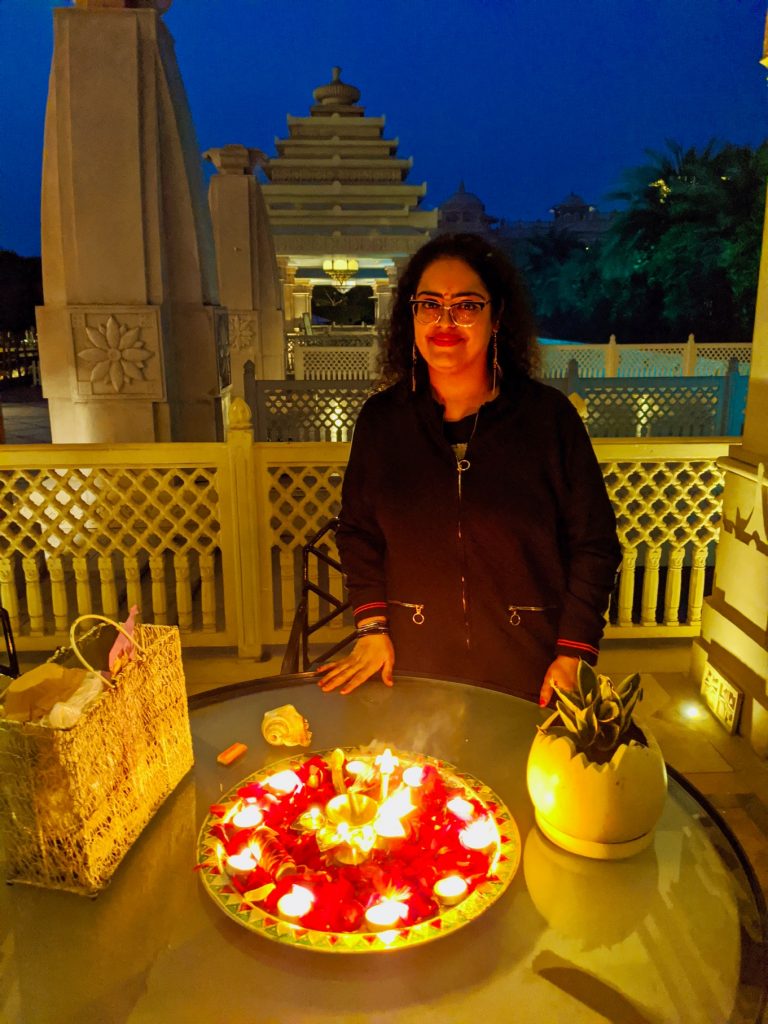 The evening ritual is a celebration, where one can make a wish and float little diyas into the waters of Yamuna. It was such an overwhelming experience to be a part of the evening aarti and to float the little diyas.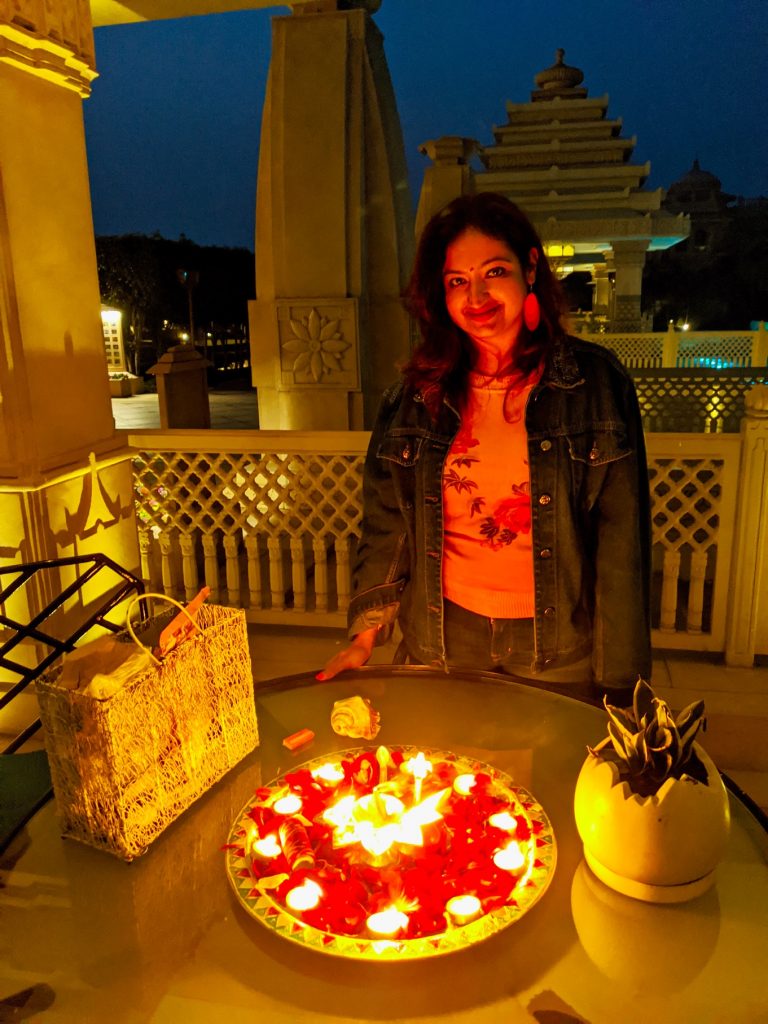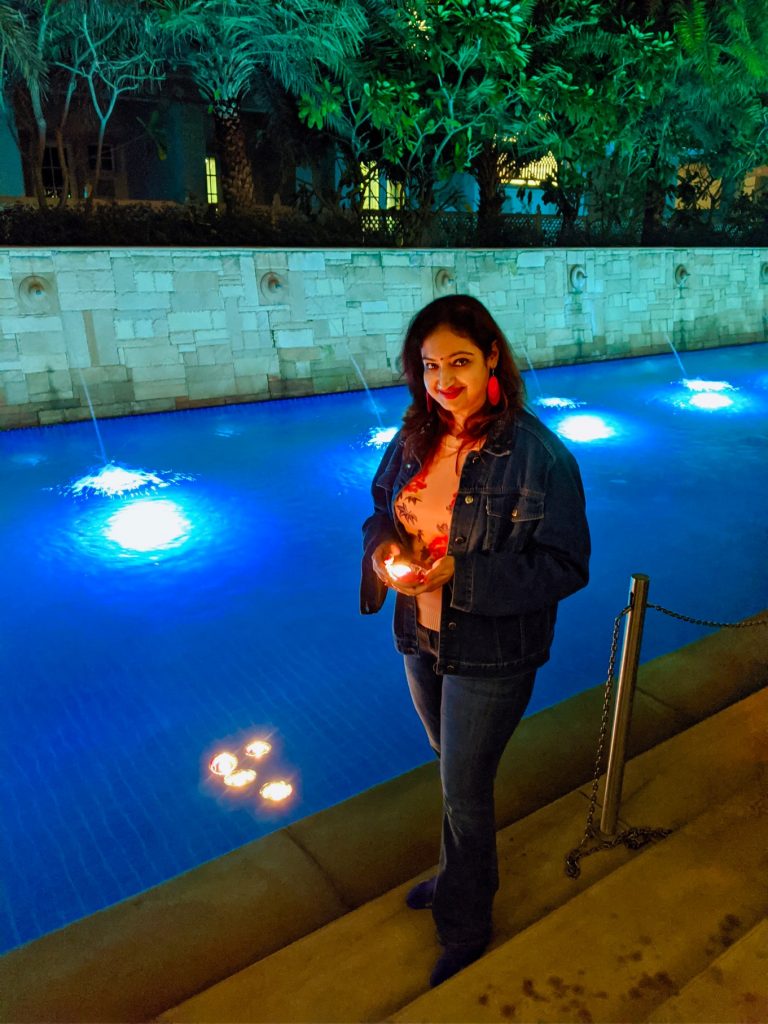 Our dinner on Day 1 was at Apas Promenade which was a beauty. This pool side tented restaurant had a stunning bar on one side and an open kitchen on the other end where chefs where passionately cooking meals for the guests. Apas means togetherness in Devanagari and water in Sanskrit while promenade means access and that's how the restaurant is named. The food is inspired by travellers (safar ka khana) and is served in an amazing ambience. The restaurant which opens only for dinner has stunning chandeliers from UAE and serves amazing mewati cuisine.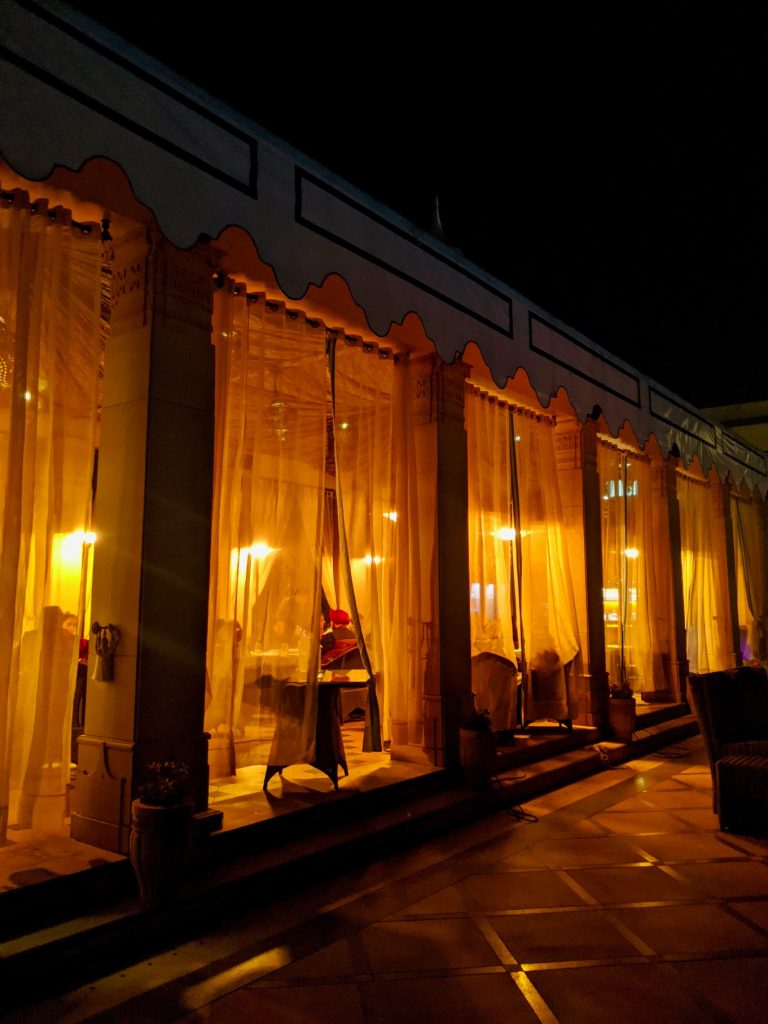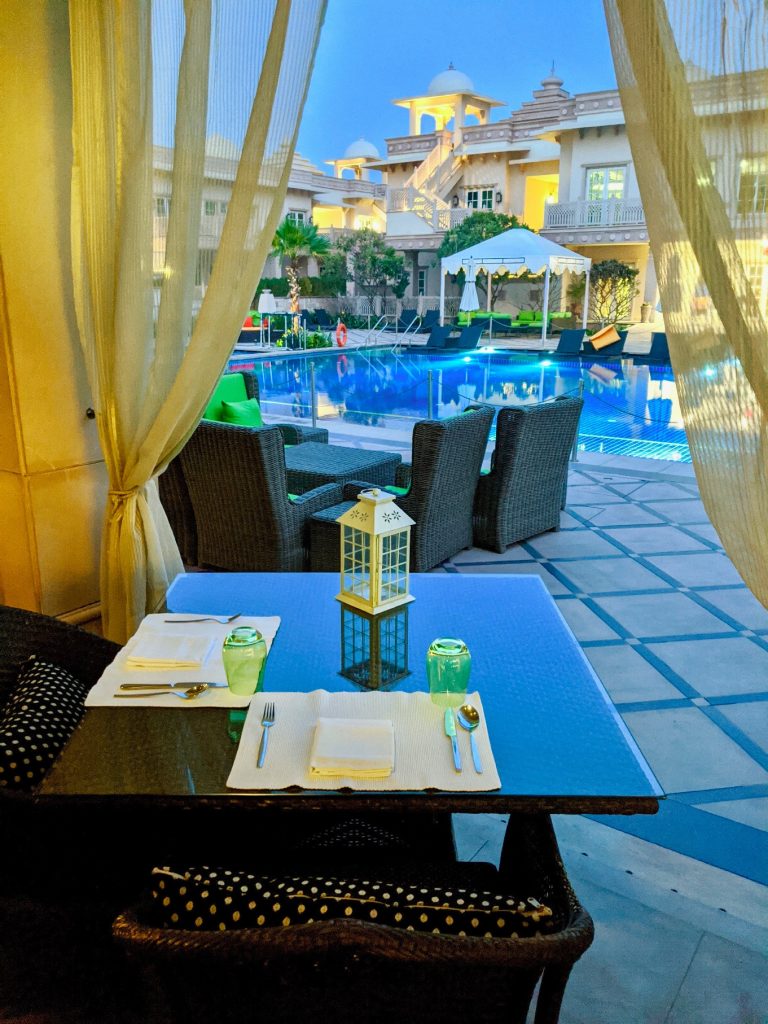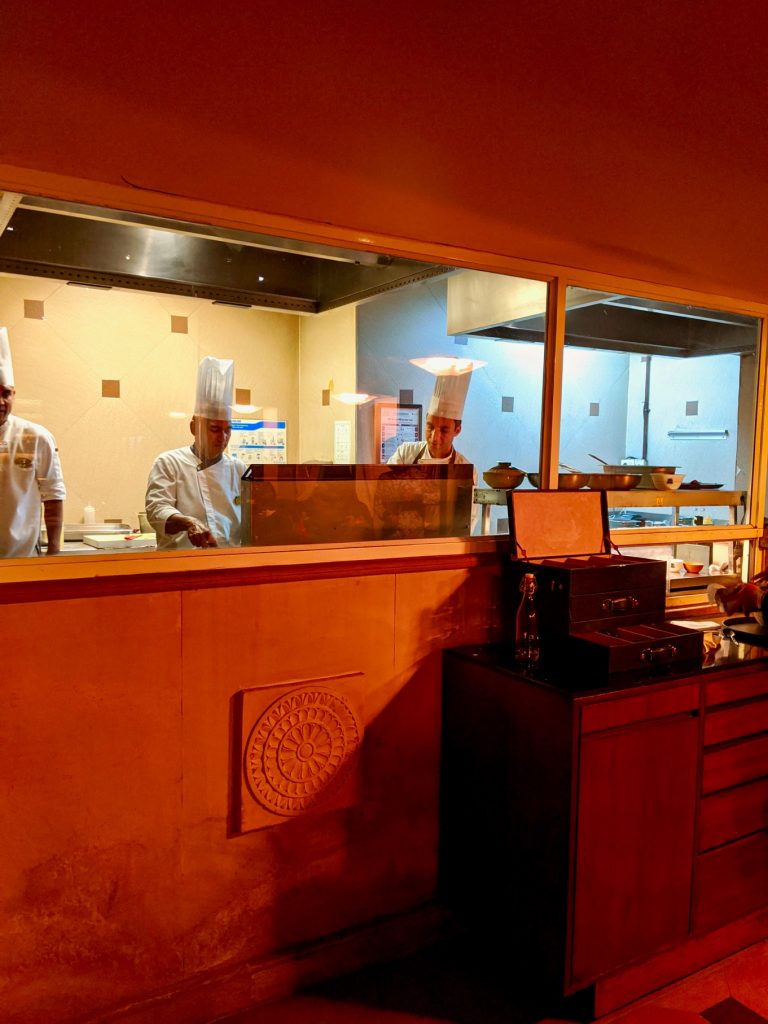 The restaurant is loved by its guests and was full. Infact, it was overflowing with guests and the management had to ask the guests to come later on the day we went. Apas Promenade underscores ITC Hotels Responsible Luxury ethos of bringing to the fore regional cuisines and local favourites with an emphasis on a Farm to Plate approach ensuring the luxury of savouring Fresh, Seasonal and Local produce. The Apas culinary philosophy is aligned with global initiatives like the 'Slow Food' movement ensuring complete harmony with the seasons of nature, preserving local food cultures to make good, clean and fair food accessible by all. Apas Promenade features local Mewati barbecues, a part of the robust regional cuisine of the ancient Aravali hills and also highlights indigenous cooking techniques.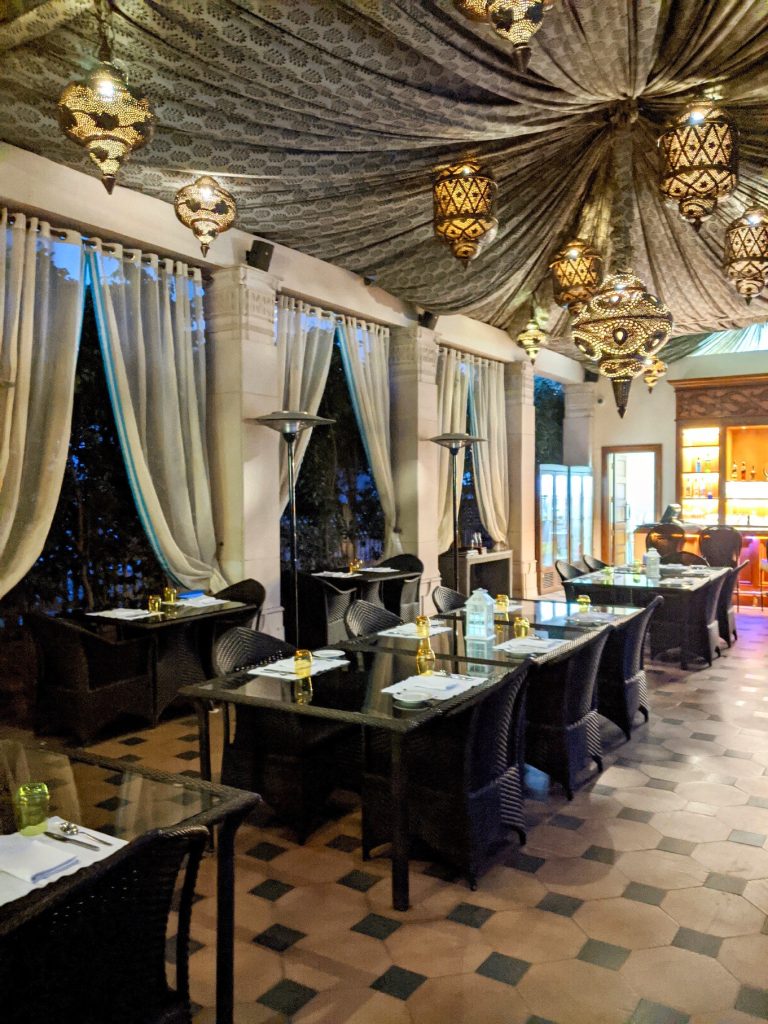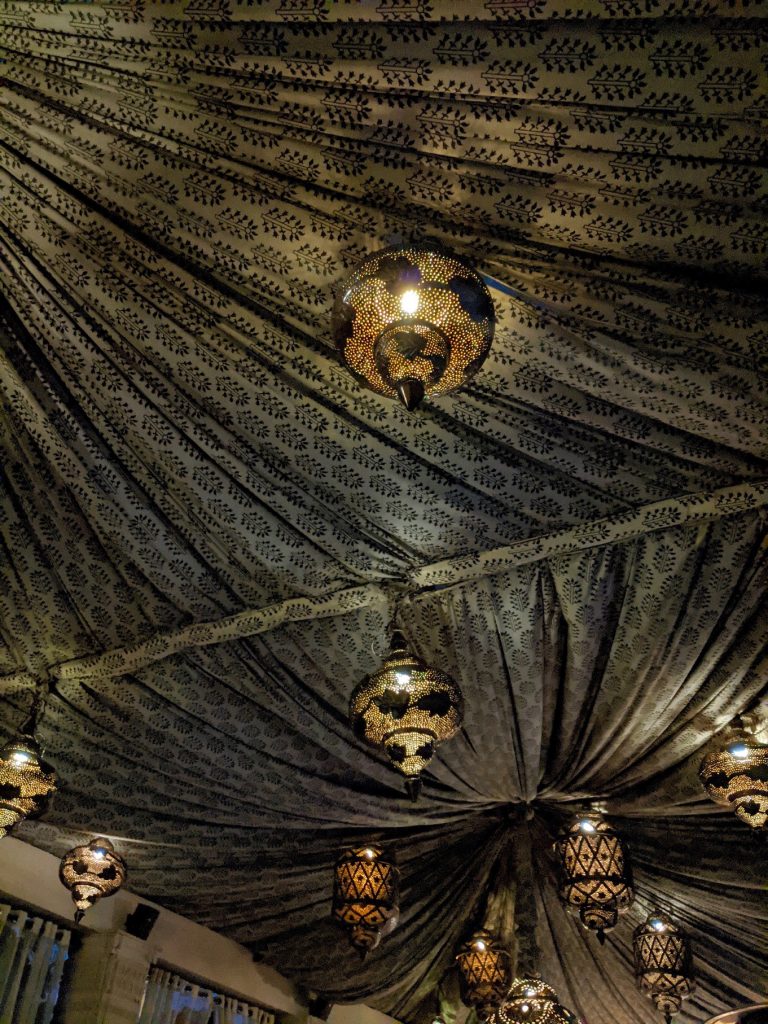 We made our picks from the menu and went for Sigri ke Reshmi Kabab, Paneer Angar and Macchi Alwar in starters. Reshmi Kabab were mildly spiced but what I loved were Paneer Angar, an interesting and unique dish with Paneer roulades centered with red chilli. It was very different from the usual paneer starters I have had. Macchi Alwar was mustard marinated dish which I wasn't sure of ordering since I am not a mustard fan but I am glad I ordered because I loved the unique taste of the soft and yummy fish.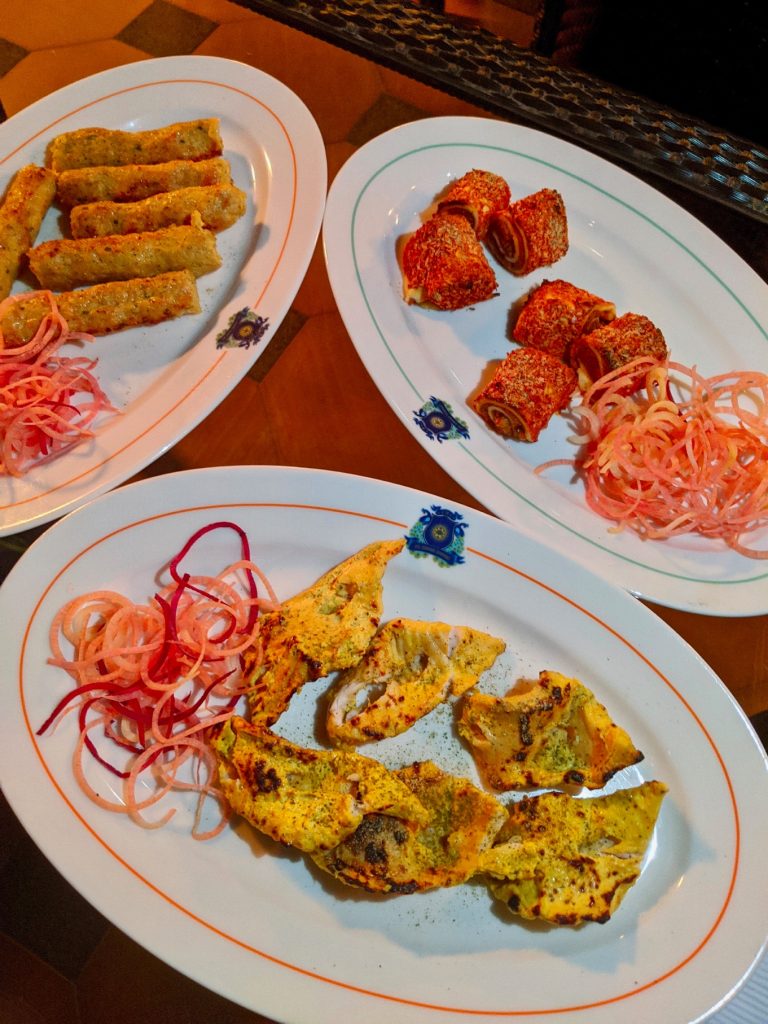 For main course, we ordered Palak E Falak, Murg Dhaniya Quorma, Junglee Maans and Biryani which was served with raita and breads. My recommendation is Junglee Maans which is a dish with only 5 ingredients- ghee, chilli, lamb, salt and water. Such a great taste! The Qorma was mildly spiced and was amazing too!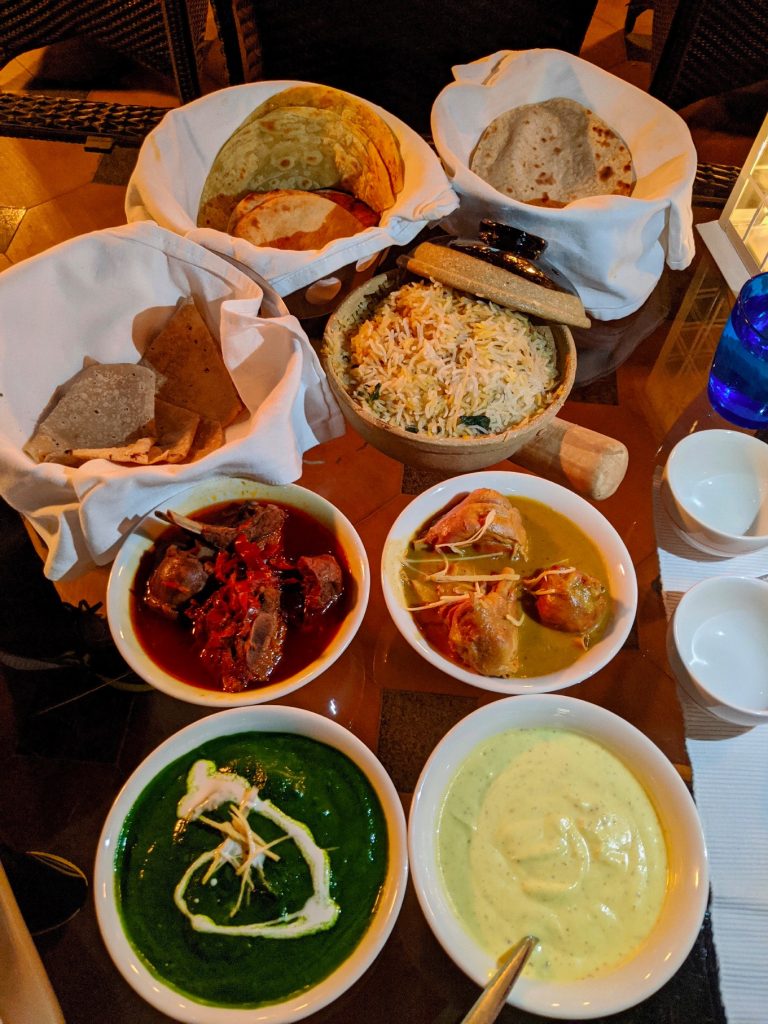 For desserts, we opted for Bajre Ki Phirni and Gulab Jamun and absolutely loved the taste.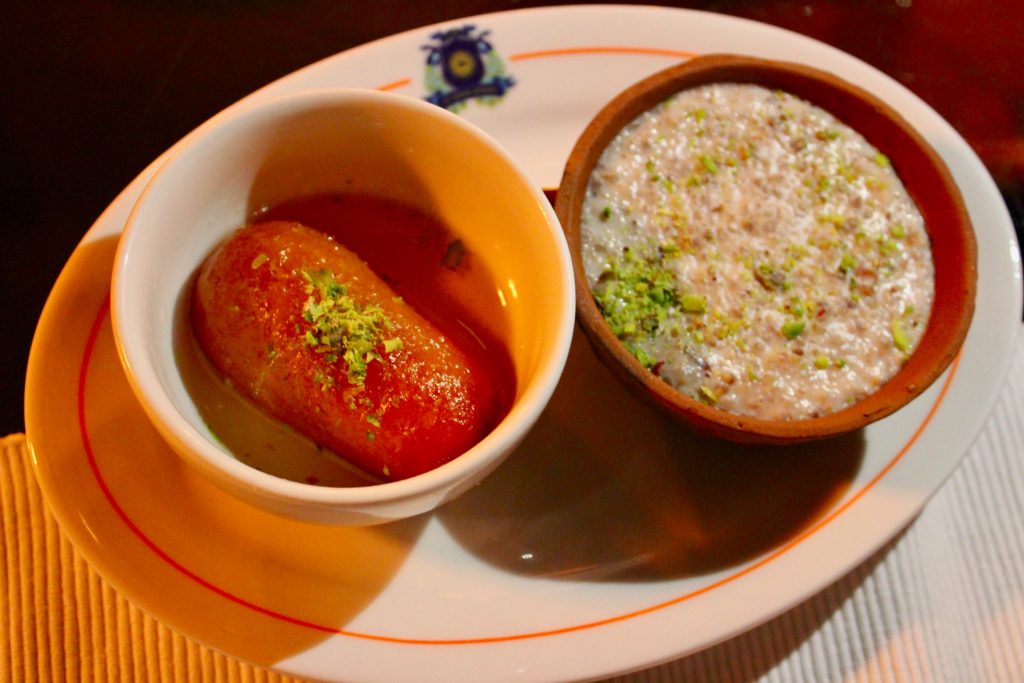 We went back to our gorgeous suite to retire for the day but what we were excited was for using the sleep goodies. (Remember I told you about the sleep kit). It was important to have a good sleep because next day had to be an eventful one. It was Nidhi's birthday and that was a big occasion.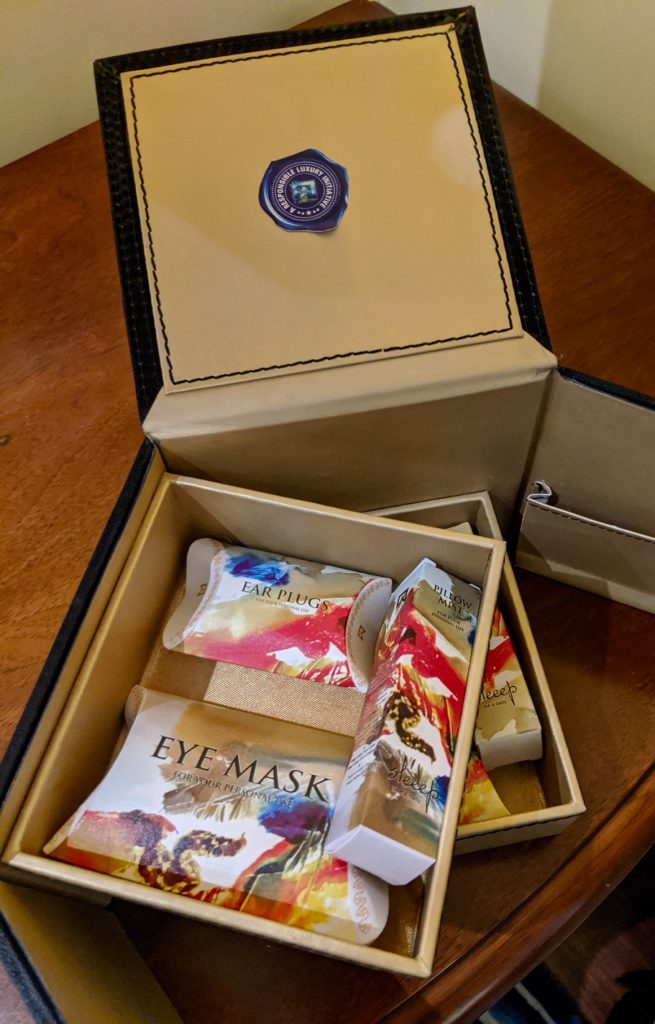 We woke up, freshened up and walked to Aravali Pavilion for breakfast through the splendid structures around. It was one of the freshest mornings and the breakfast was even more welcoming. The Zesty Morning initiative adds more good to Good Morning with a champion breakfast that puts a smile on your face.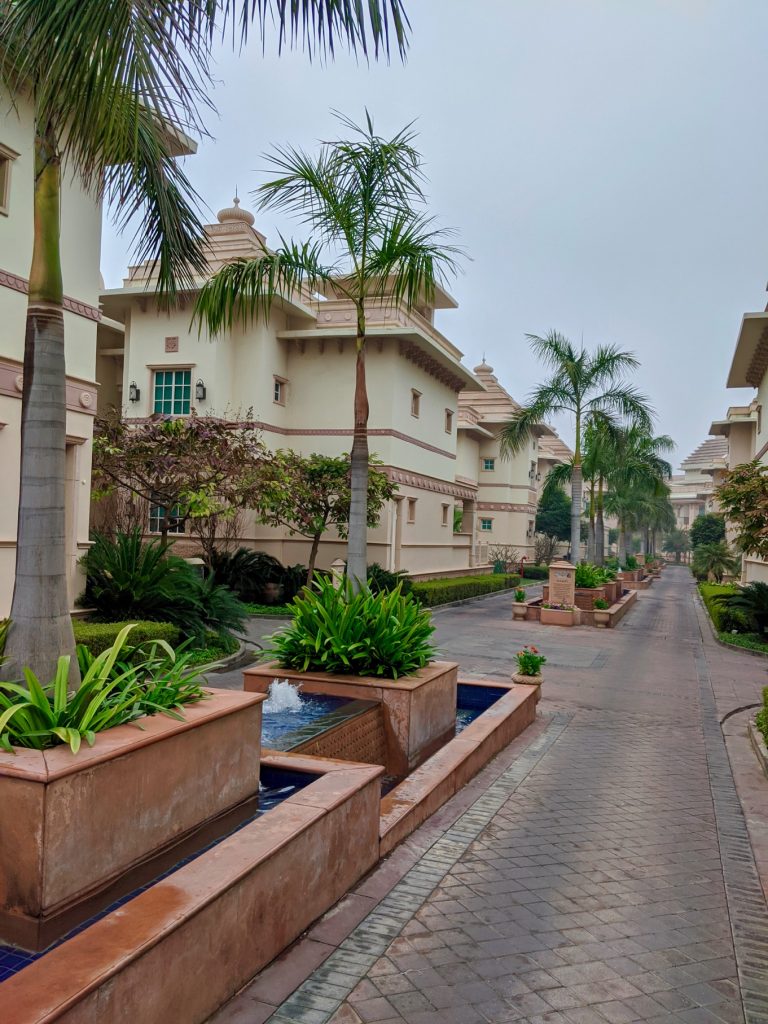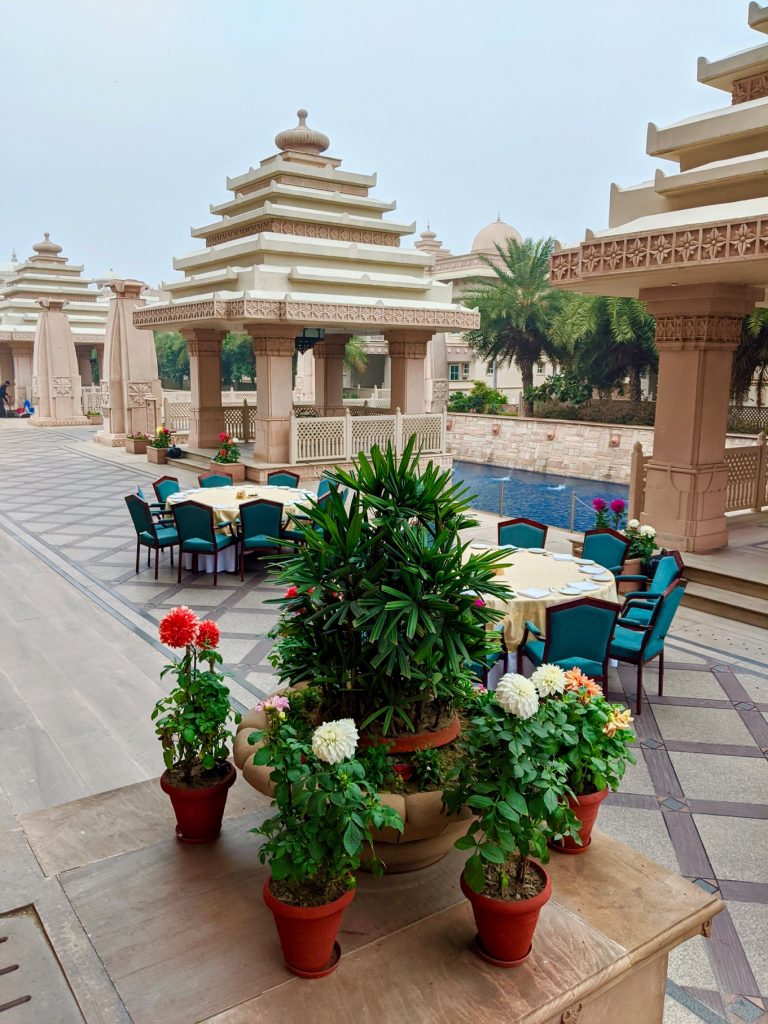 The scrumptious spread was well organised and brought alive varied concepts. From Breakfast Bowl which gives the opportunity to pair artisanal yogurts with any toppings desired to Pavilion Boulangerie which offers breads crafted with grains, cereals and more to Kitchens of India which focusses on home made breakfast to Conscious Cereals where one can sample a whole lot of yumminess in a bowl with their conscious cereals. The mindful wraps were a delight which were available in Paneer/Chicken stuffing. Slow pressed juices were great and so were the alternate milks with plant based mils made from nuts, seeds, grains and more. Breakfast toasts at ITC Grand Bharat are grainy and yummy and without a doubt one can top up the toast with any topping one craves. We had a breakfast 'like a king' with a marvellous variety!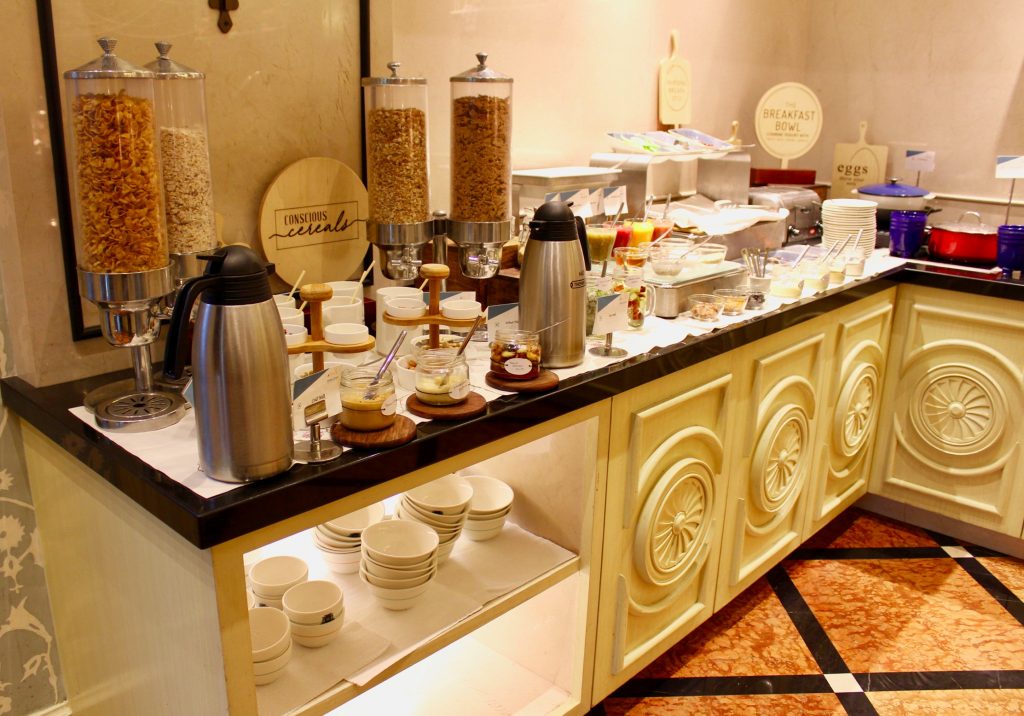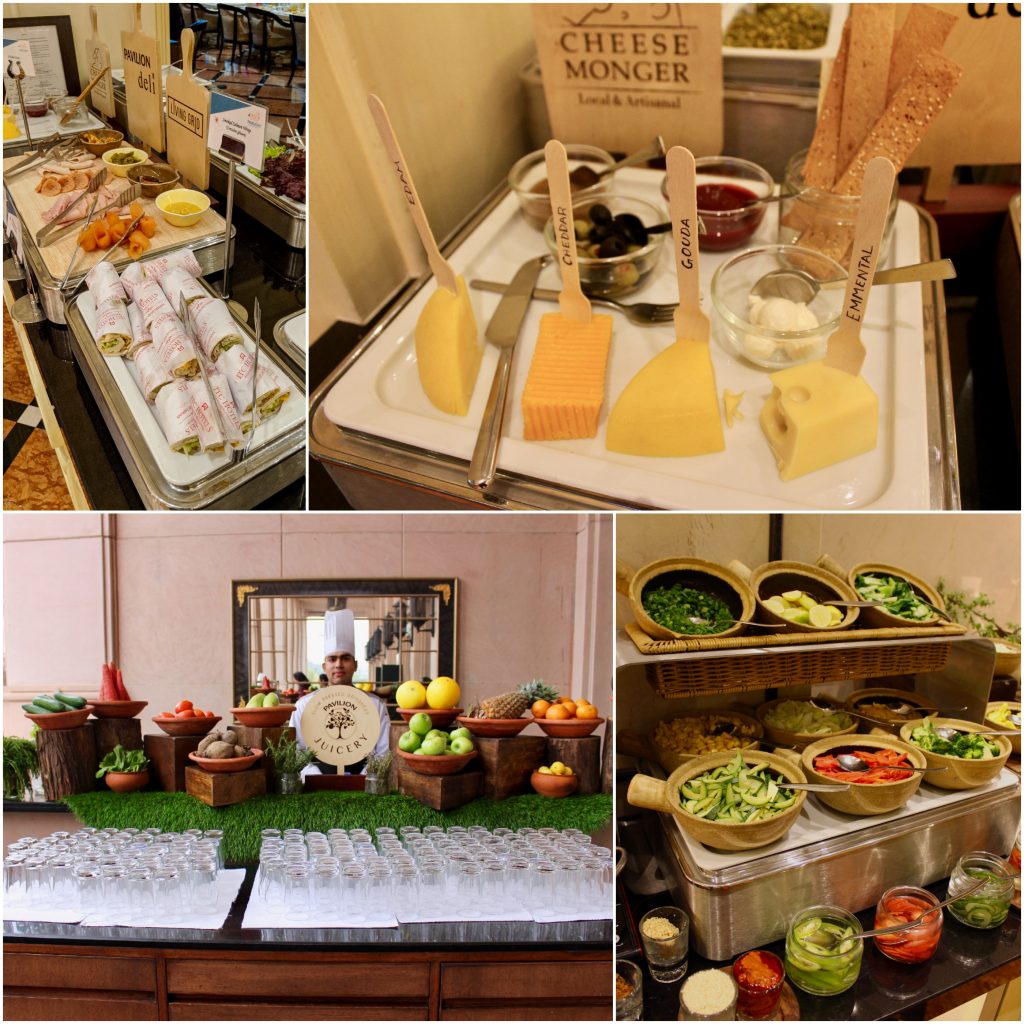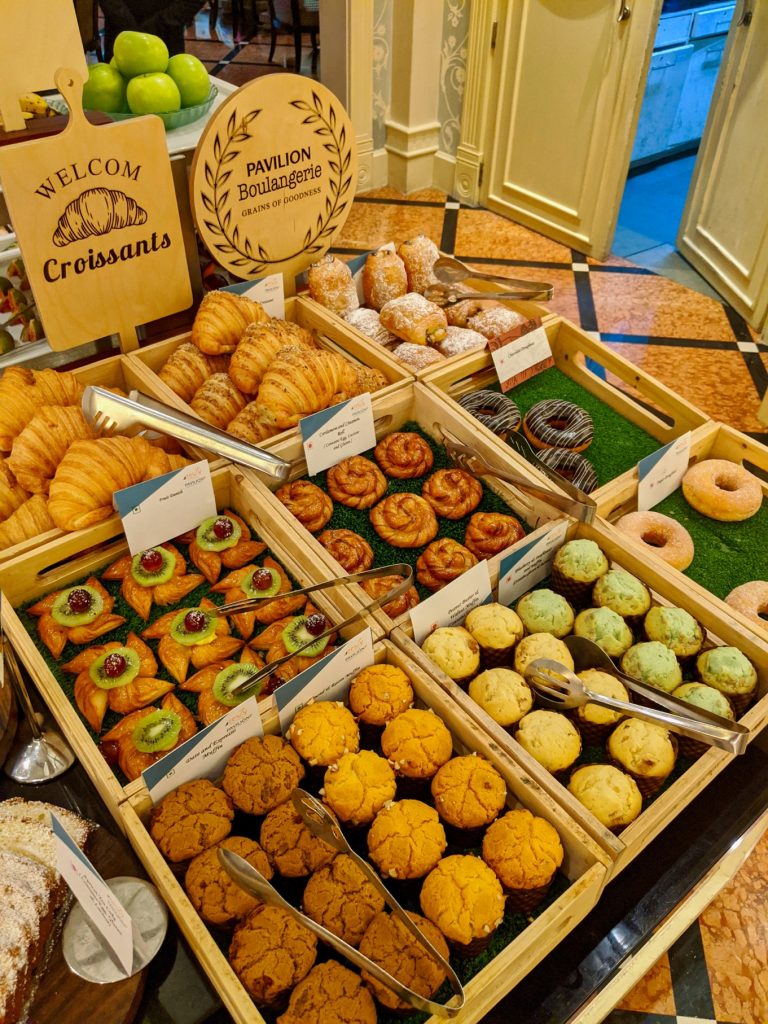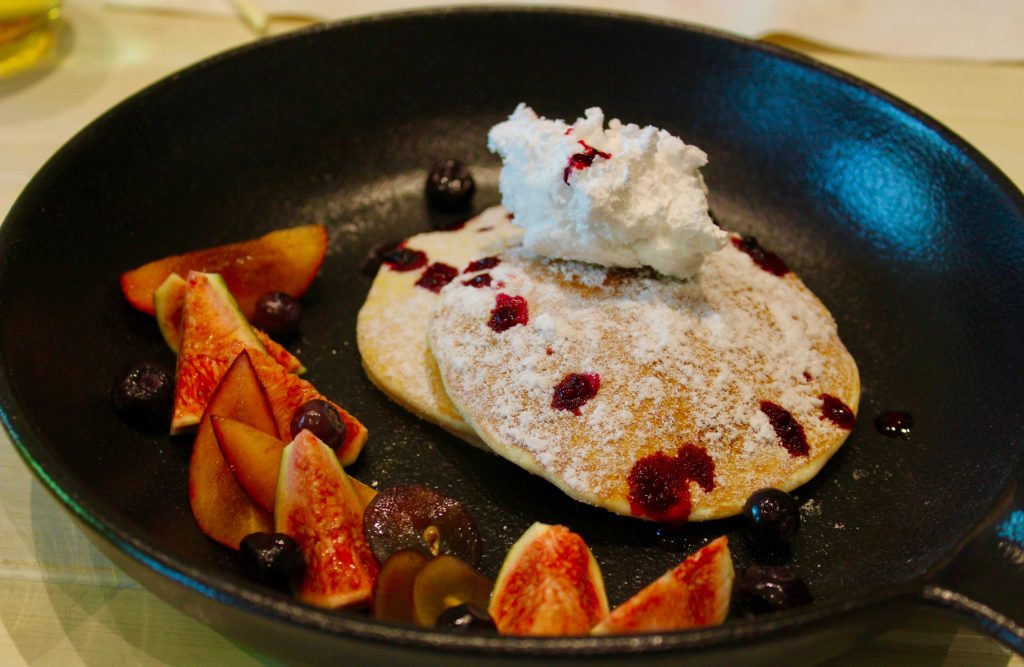 How can rejuvenation be complete without a Spa and for the same we headed to Kaya Kalp, the renowned spa at ITC Hotels. Embraced by serenity and tranquillity with a generous measure of unhurried pampering is ITC Hotels' internationally acclaimed spa brand – Kaya Kalp. The Kaya Kalp spas promote wellbeing and healing of the mind, body and soul with elaborate therapies. 'Kaya Kalp' is a Sanskrit term for 'Complete Transformation' – transformation in a positive sense – alluding to rejuvenation of body, mind and soul.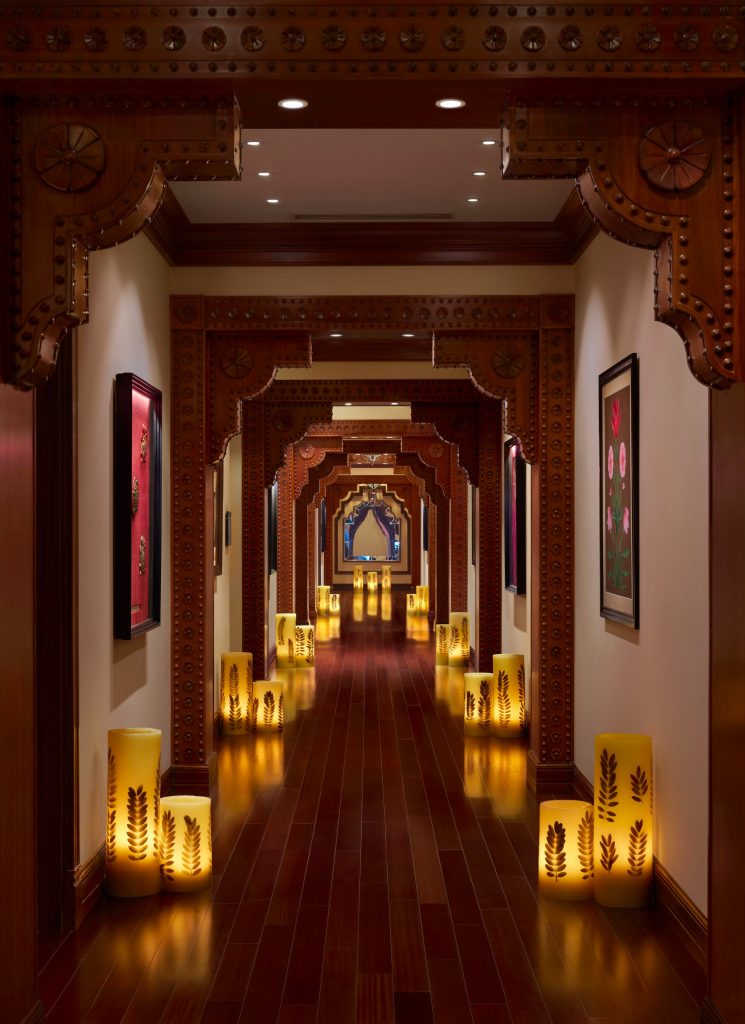 Kaya Kalp was an amazing experience. The interiors and architecture were absolutely gorgeous. We met the manager who gave us a form to fill where we had to fill up our details. Keeping these in mind, we were suggested which therapy to undertake. There were different treatments from Kaya Kalp Rejuvenating therapy to Deep Tissue Massage to Abhyanga to Ku Nye Massage and Prana Vitality Massage. Whether you are looking at tension releasing or detoxification or upliftment, you have the perfect therapy waiting for you.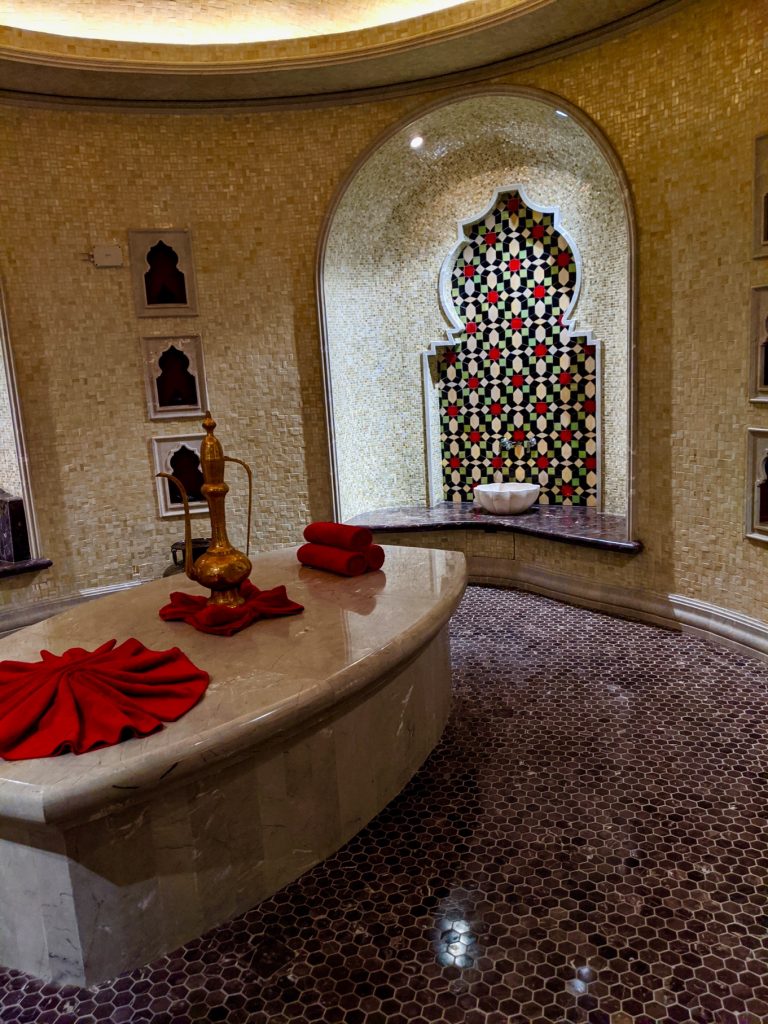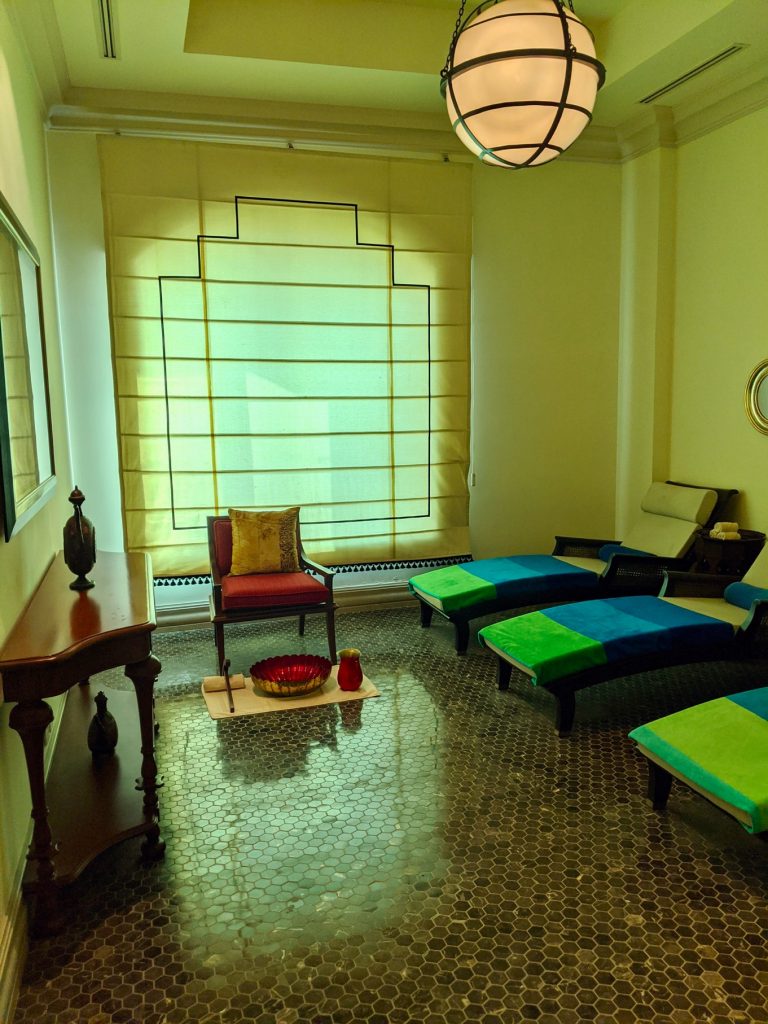 The masseur did her job perfectly and kept checking if the pressure is fine. Each therapist has been carefully trained to channel the healing flow of energy which is central to the success of the treatment. Post the steam, sauna, massage and shower we headed back to the room to dress up for Nidhi's birthday luncheon. My parents joined in too for Nidhi's special day.
Since it was January while we were at ITC Grand Bharat which is peak winters for North India, we chose The Bharat Brasserie for a grand lunch. The exclusive winter pop up is held at the Vrindavan lawns to unwind from the hustle and bustle of city life and to enjoy the winter sun. It also gives an over view of epitomising ITC Hotels' ethos of Responsible Luxury, 'Swasthya' cuisine at ITC Grand Bharat invoking ancient Indian diet philosophies through an ideal combination of foods that have been selected to enhance both internal and external well-being. The Swasthya offering features three menus- Indian, Continental and Oriental which include an appetizer, salad, main course and dessert. The experience caters to both vegetarian and non-vegetarian diners. The concept is based on the Ayurvedic principle of 'Prakriti' – the science of how the body reacts with food. It is the right combination of food tropology i.e. the art of right food combinations.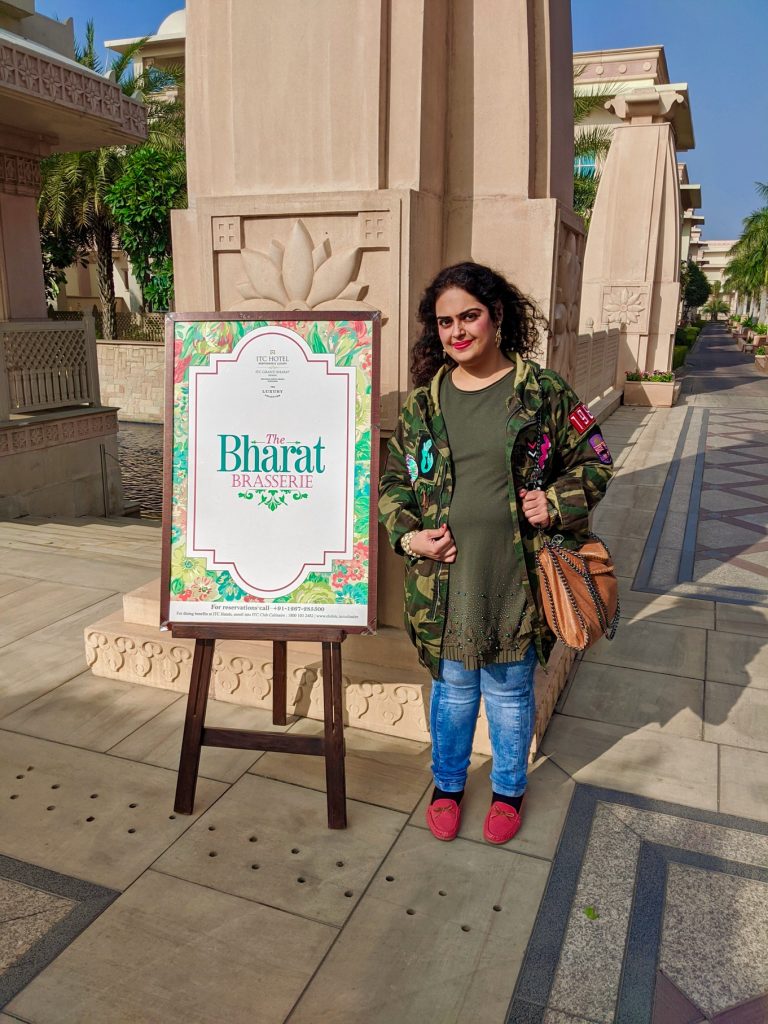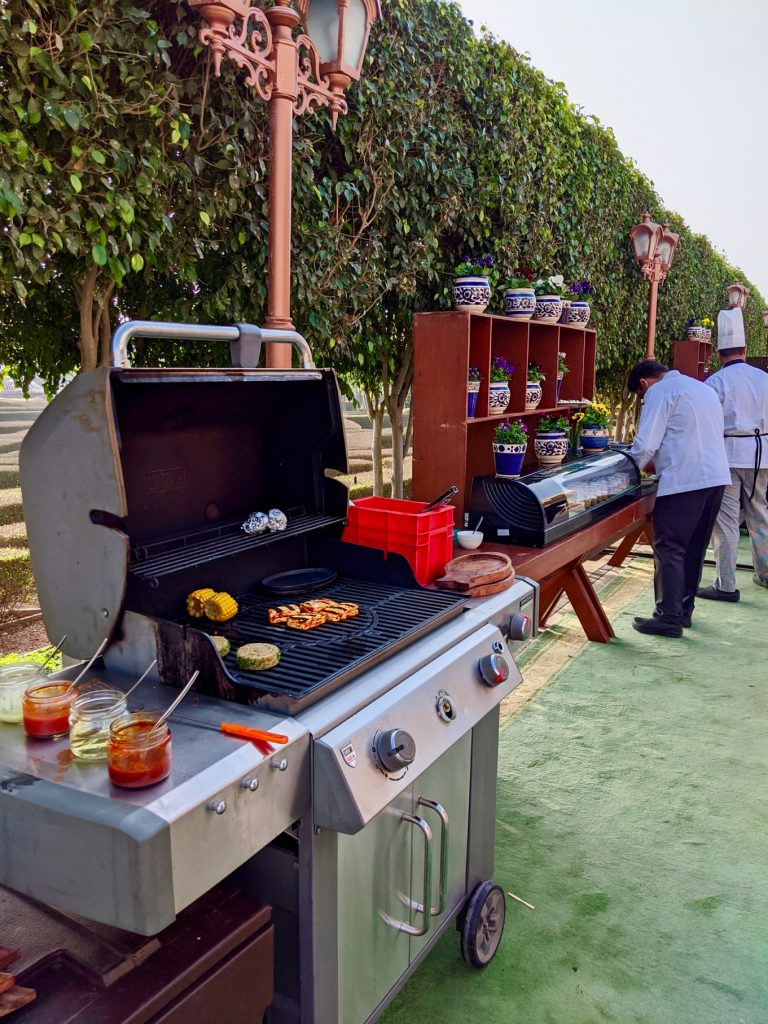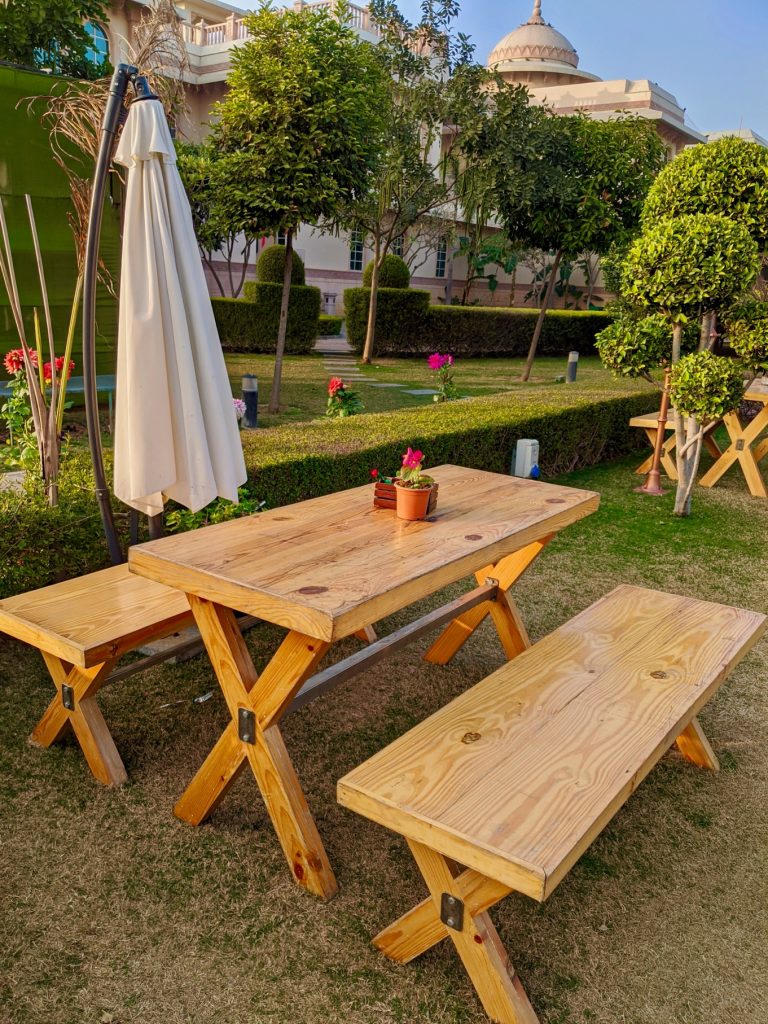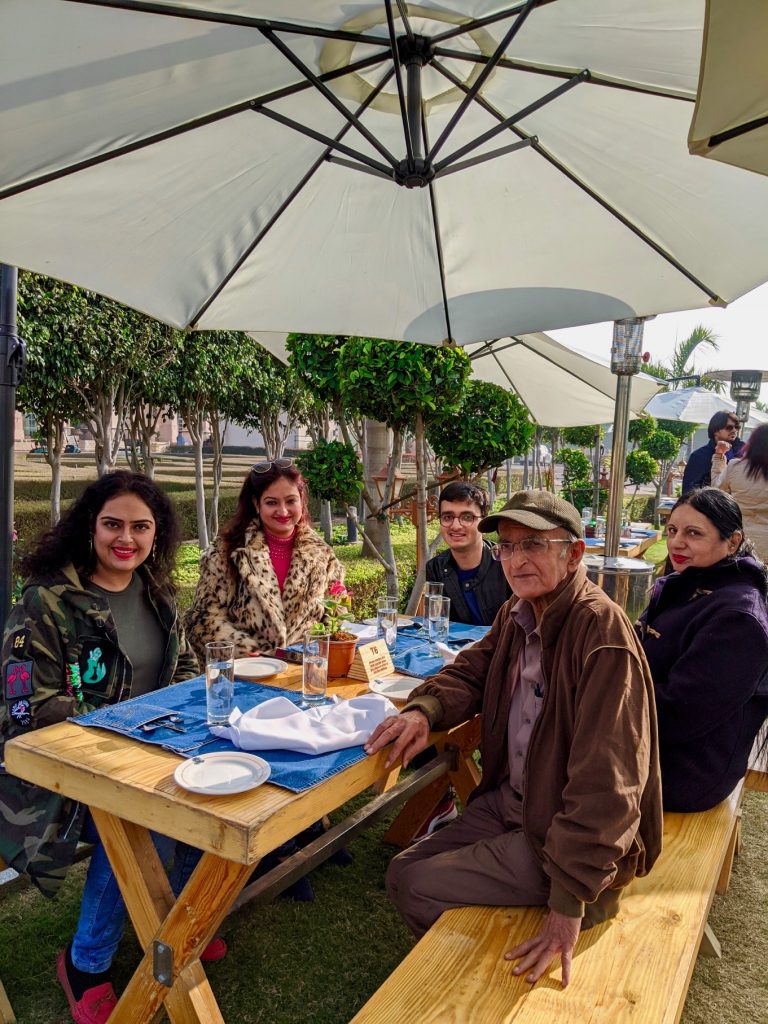 We had a wholesome 4 course meal which started from Fresh Salads offering produce from the farm – asparagus, broccoli, roasted carrots, cherry tomatoes, artichokes, bell pepper, figs, quinoa, barley, red rice, seeds, nuts, raspberries and blueberries. It was such a refreshing time sitting under the sky, enjoying the wintersun and relishing the fresh superfoods served with mesclun greens and choice of dressing.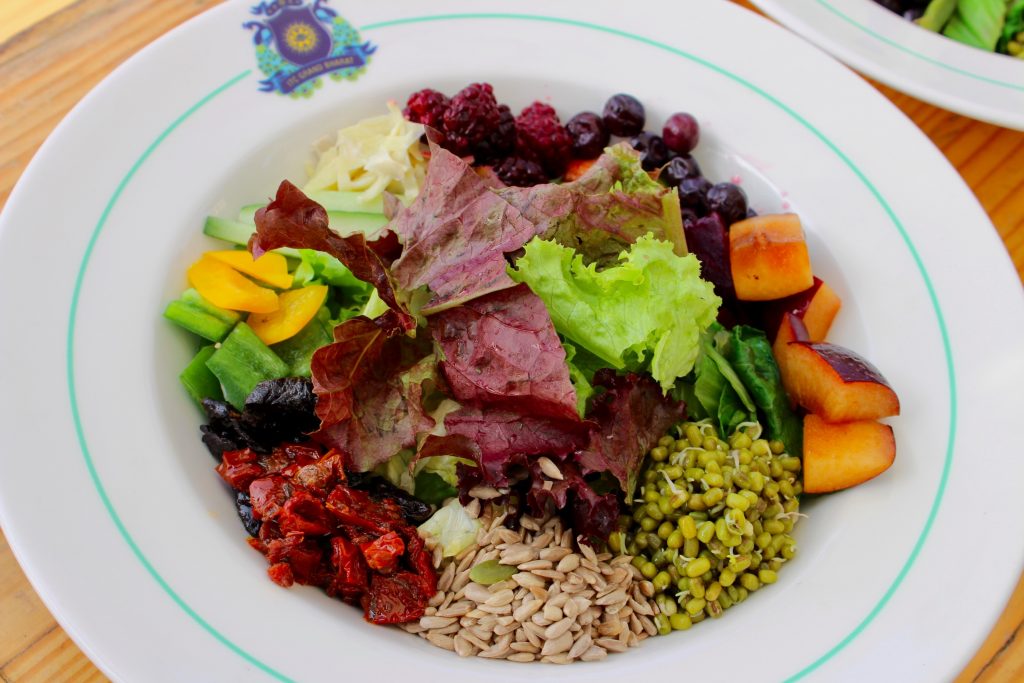 The Second Course was Oven Fresh Flatbreads (Flat Sourdough bread baked with choice of toppings and mozzarella) From a wide range of toppings- asparagus, broccoli, cherry tomatoes, artichokes, bell pepper, olives, American corn, pickled onions, zucchini, button mushrooms, smoked chicken, butter poached shrimp and pepperoni, the chefs made amazing delicacies which we relished.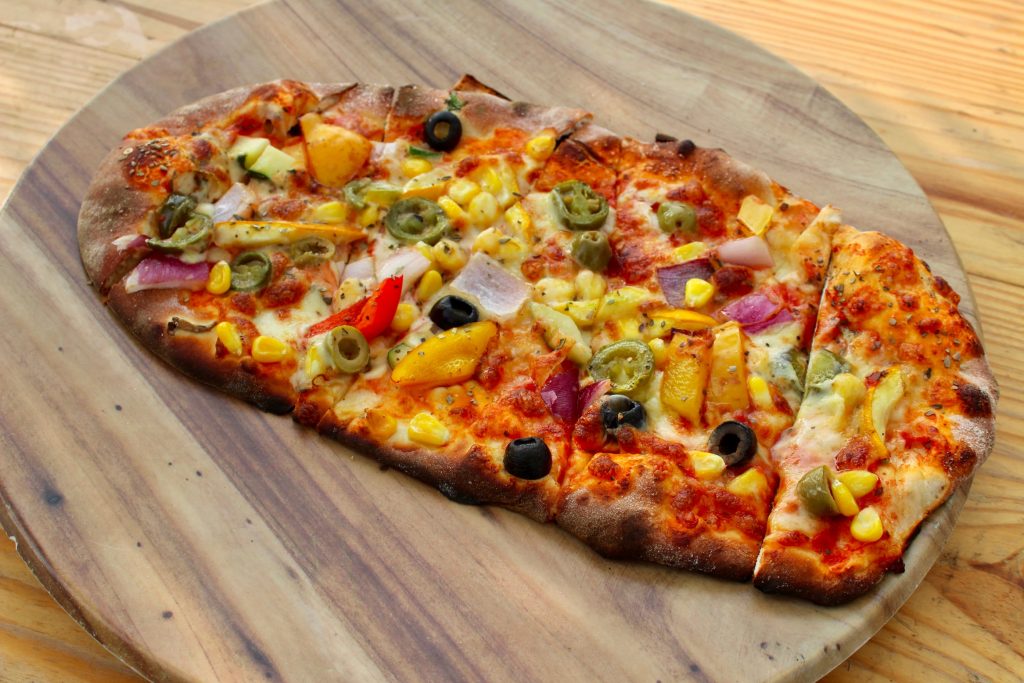 The Third Course was Live Grill Plates (Platter of vegetarian and non-vegetarian grills served with jacket potatoes, corn on the cob and house salad). Choice for vegetarians included Kidney Bean and Sprouted Lentil Patty (Cheese Stuffed), Couscous Stuffed Peppers, Jalapeno And Stuffed Cottage Cheese Steaks while Non- Vegetarians could enjoy Peri-Peri Fiery Chicken, Rosemary Lamb Chops and Grilled King Fish in Dijon Mustard.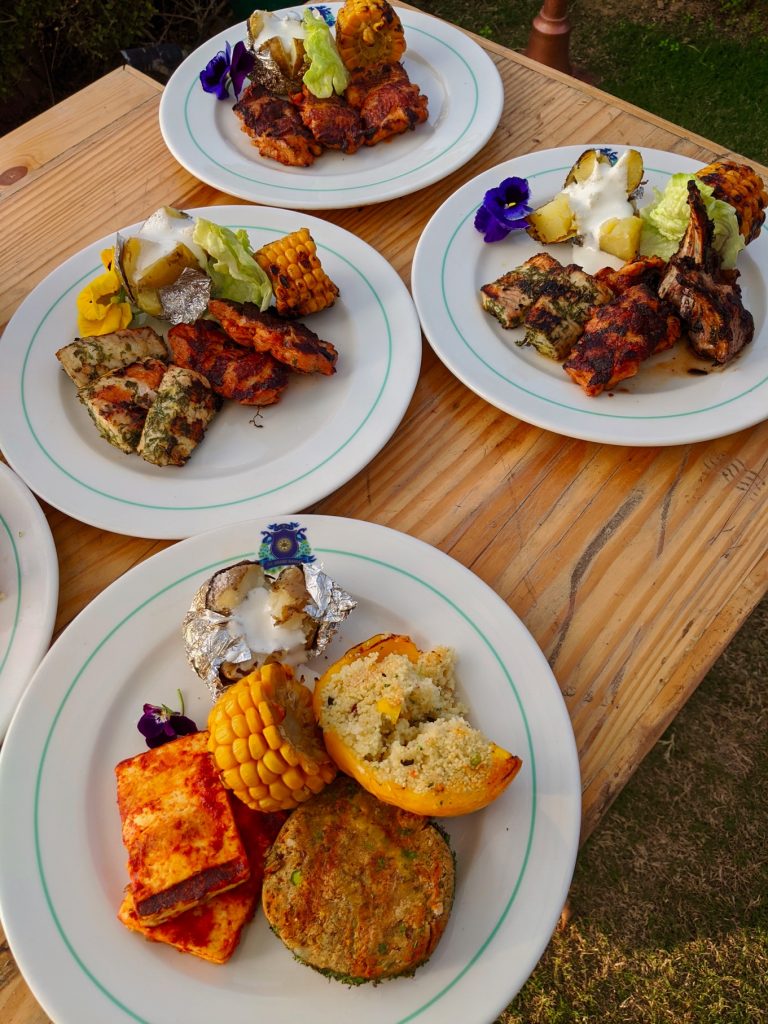 The Fourth Course was my favourite- Banoffee Pie in a Jar. ITC Grand Bharat's take on the classic Banoffee pie where it is deconstructed and served in a jar. It was so yummy. Special thanks to Arpit & Sayyam who took special care of us and served us with the delightful dishes.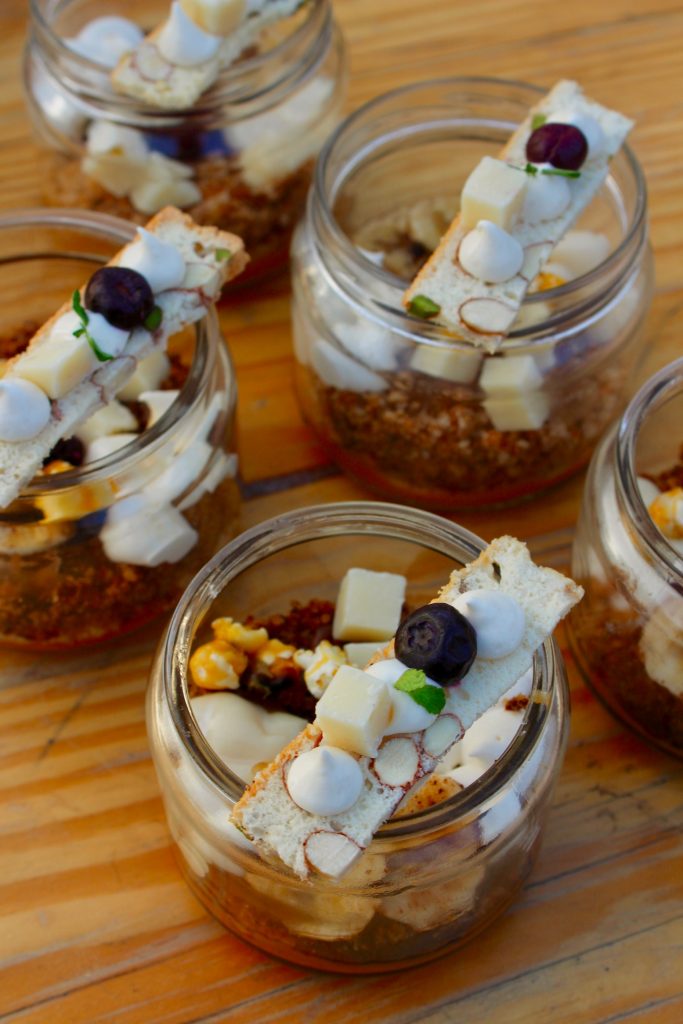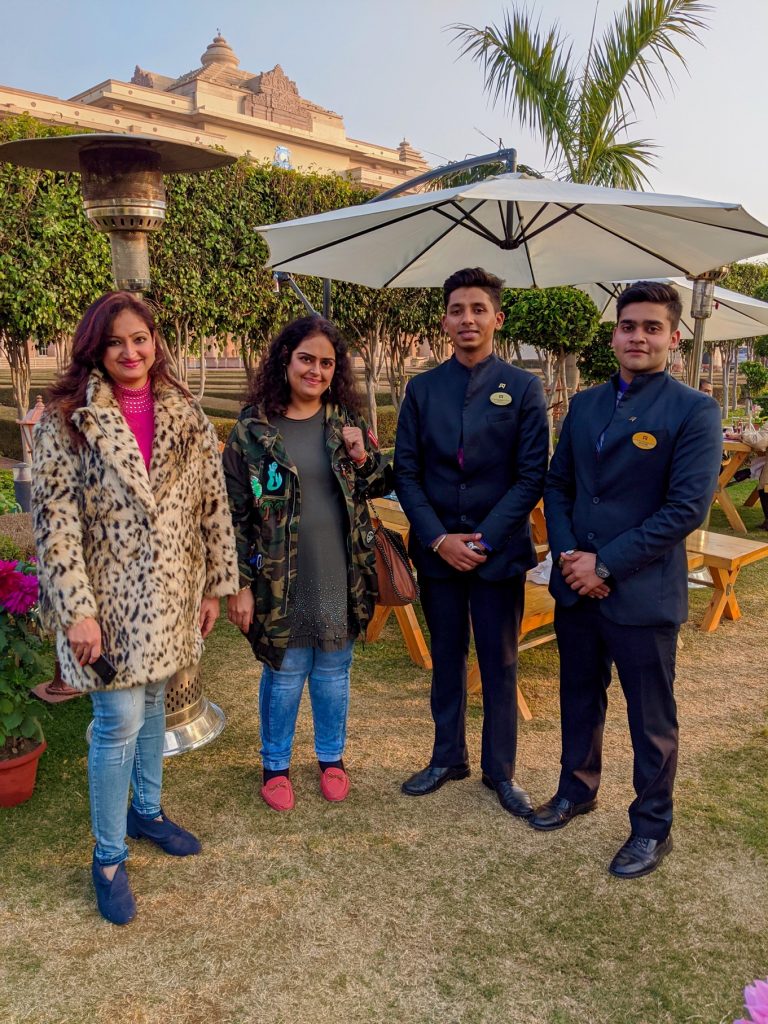 Everything was just perfect! Such a memorable experience this was but it doesn't end here.
It was Nidhi's birthday and ITC Grand Bharat is known to make each occasion GRAND so we were all asked to come to The Peacock Bar for a BIG Surprise. All of us including Nidhi were overwhelmed with what we saw. A beautiful cake decorated with macarons and rose petals on the side. The surprise doesn't end there, Nidhi was handed over a beautiful handmade card with her picture and a beautiful bouquet of roses. Mandakini, the Guest Relations Manager of ITC Grand Bharat sang Happy Birthday in her melodious voice as Nidhi cut the yummiest cake with all of us. Such a sweet gesture! We also enjoyed Aravali Magic, a refreshing mocktail made with cranberry and apple juice.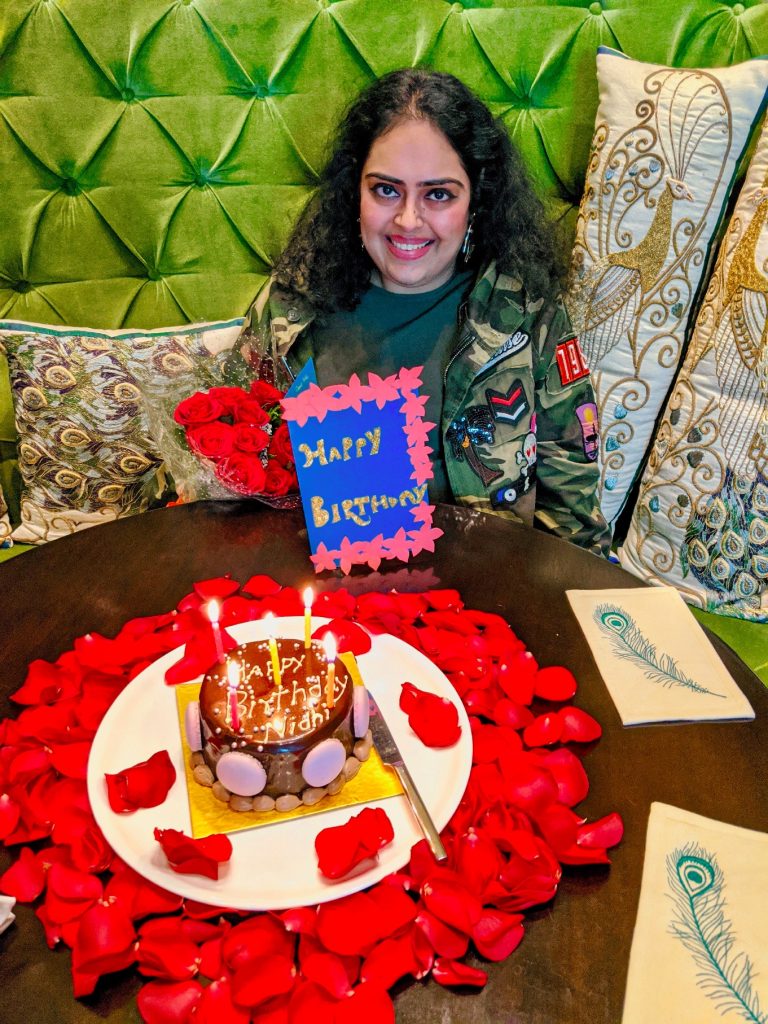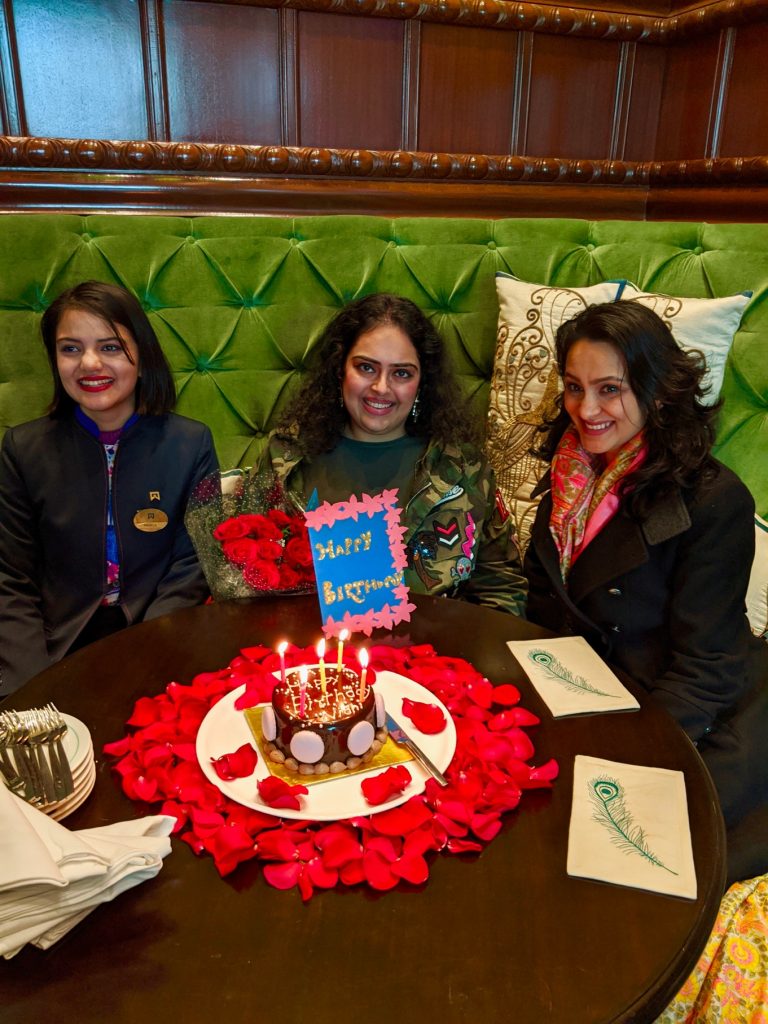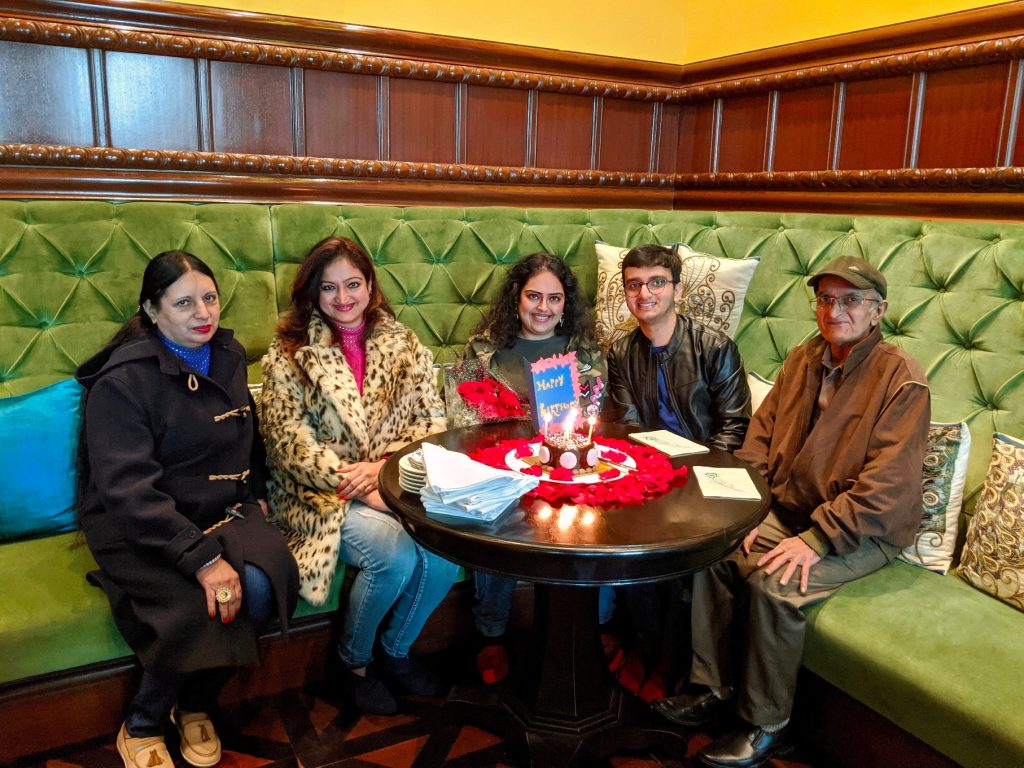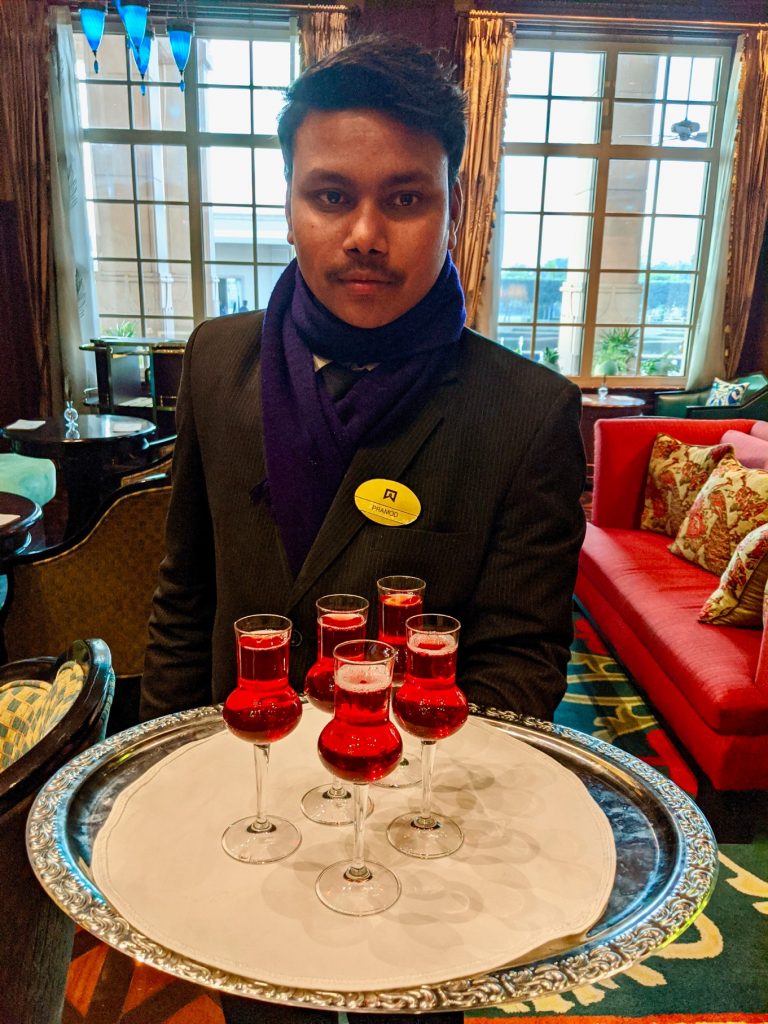 Keeping in mind, everything at ITC Grand Bharat is India inspired, Peacock bar is inspired by the national bird of India – Peacock. It is an ideal place to unwind and indulge in the retreat's extensive wine and malt library, complemented by Molecular Mixology inspired Classic Cocktails. Embodying its name is the piece de résistance of the bar; a stained glass, peacock motif, inspired by the fables of India. Loved the whole décor of the place where we see the pretty peacock everywhere from the upholstery to the counters to the décor items. Infact even the hues of the décor is inspired by the beautiful bird.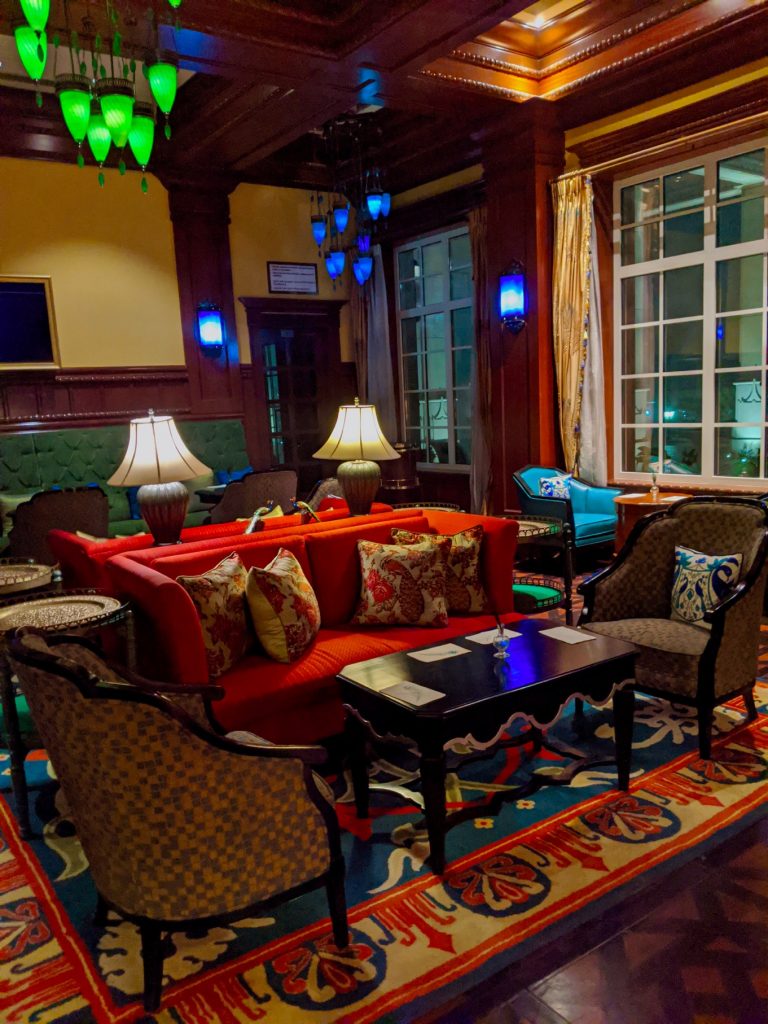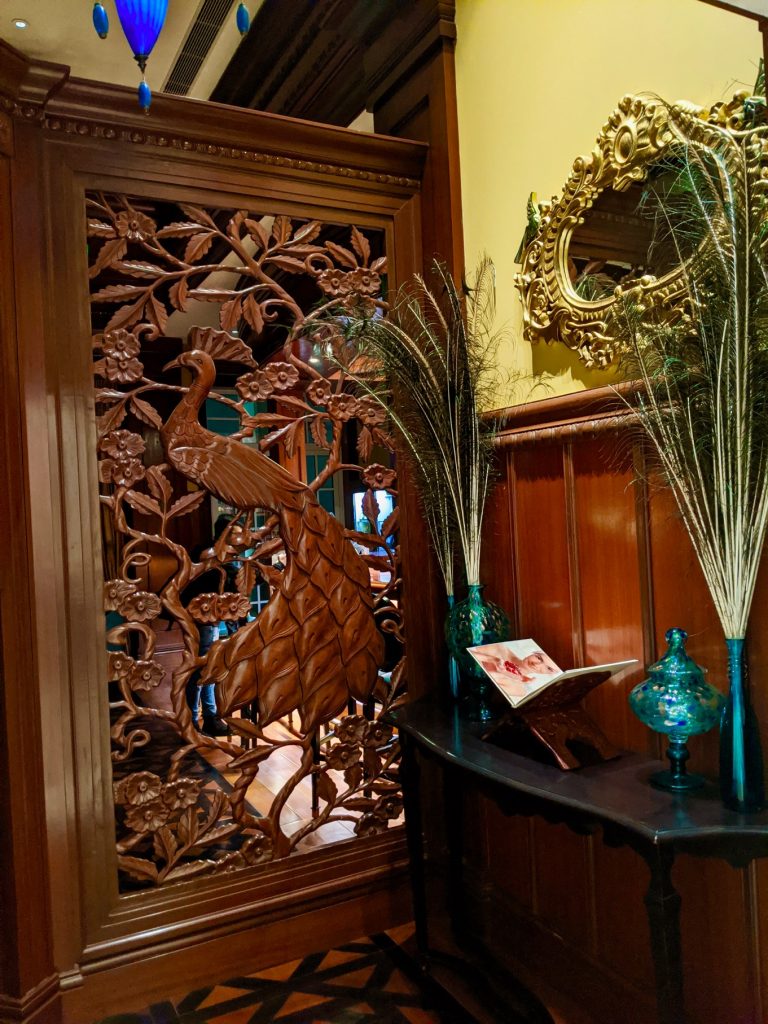 We went around the property adoring the marvellous architecture as the clock struck dinner time. So we headed to The India Room which specializes in European dishes. Classy, majestic and royal were words which came to my mind as I entered the stunning restaurant. Every corner of the restaurant was unique and spectacular. From the royal blue carpet to the chandeliers as well as the French windows. One highlight of India Room is the Wise Regal table which is generally reserved for family get together and special celebrations. If you reserve the 8-seater table, you are given a personal butler for the 7/8 course meal which needs a prior reservation.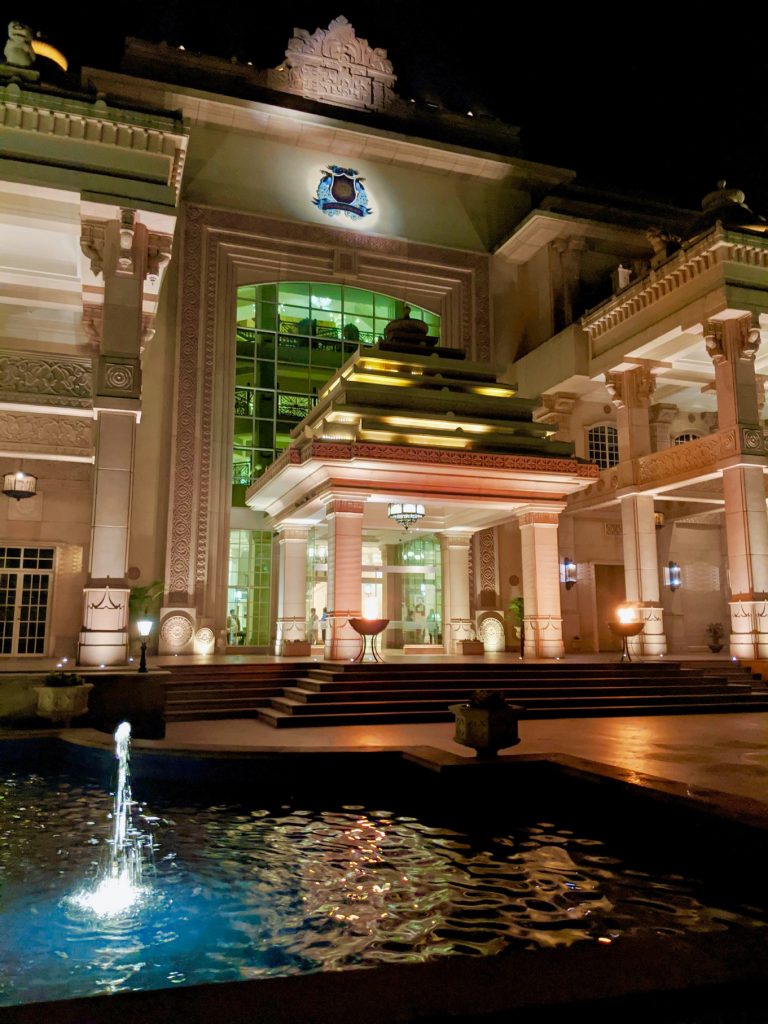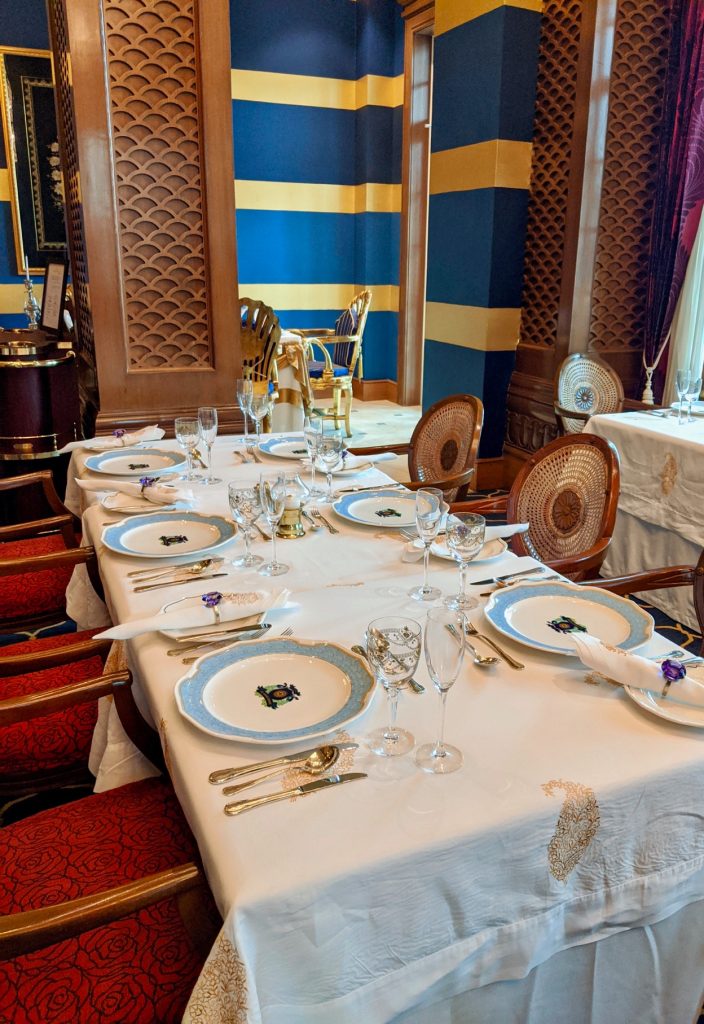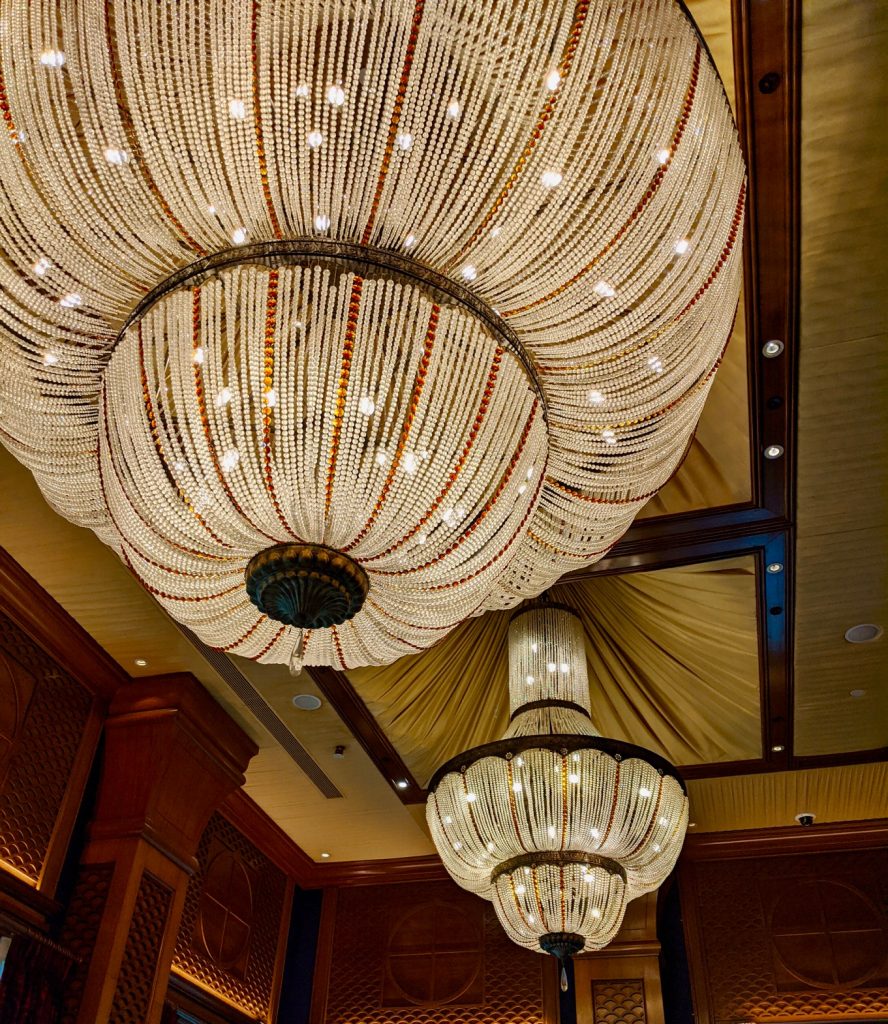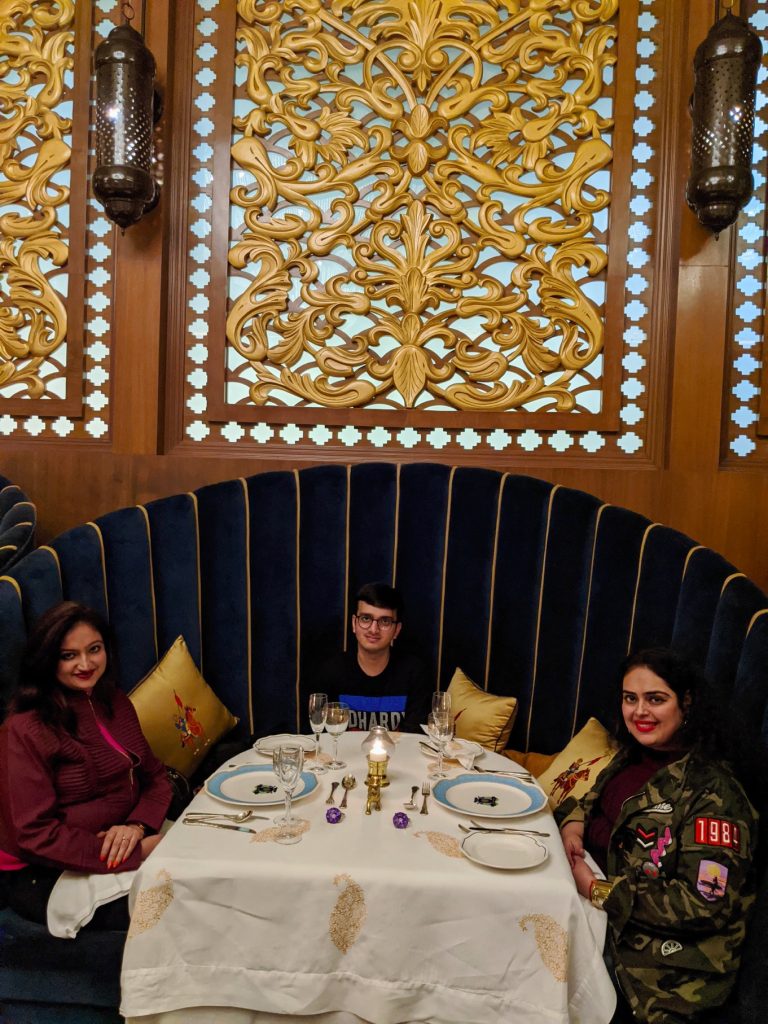 Manoj took great care of us and explained every dish with a smile. Guests can choose from a set menu as well as À la carte. We had a variety of dishes. Starting from hors d'oeuvre, an appetizer or starter served before a meal in European cuisine. We chose The India Room Salad, Anjou Poached Pear Salad as well as Insalata Caprese. It was such a refreshing, tempting, nice and nutritious start. My favourite is The India Room Salad which had a blend of asparagus, chevre and berries in citrus dressing. In Entrees we chose Aubergine Tortellini and Artisanal Fettuccine and the latter won my heart which was topped with mushrooms. It was cheesy and so yum. The Souffle of the day was Goude Souffle which was topped with Paprika Sauce. In Main course, I mean Plat Principaux, we chose Baked Artichoke Cake, Minestrone Lasagne, Pan Seared Fish and Seared Chicken Breast. All the dishes were delectable and were presented beautifully.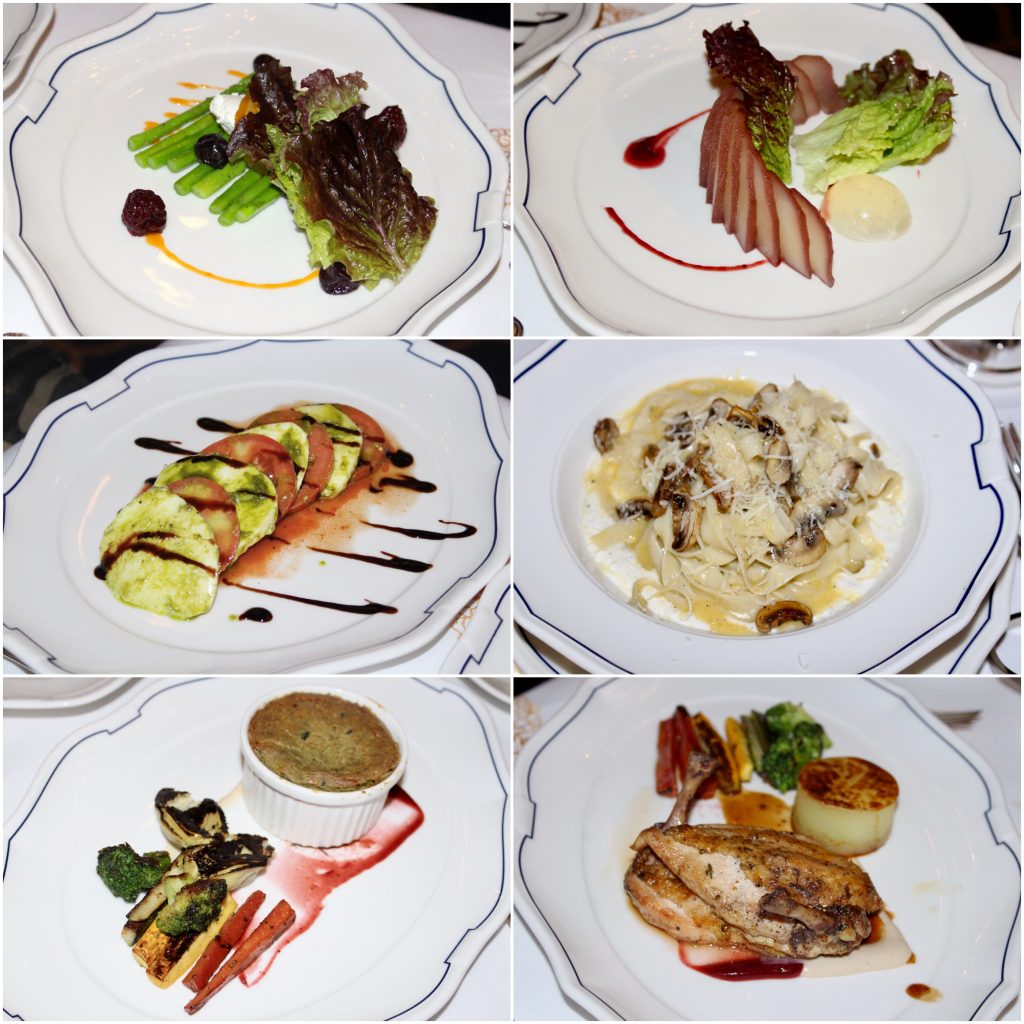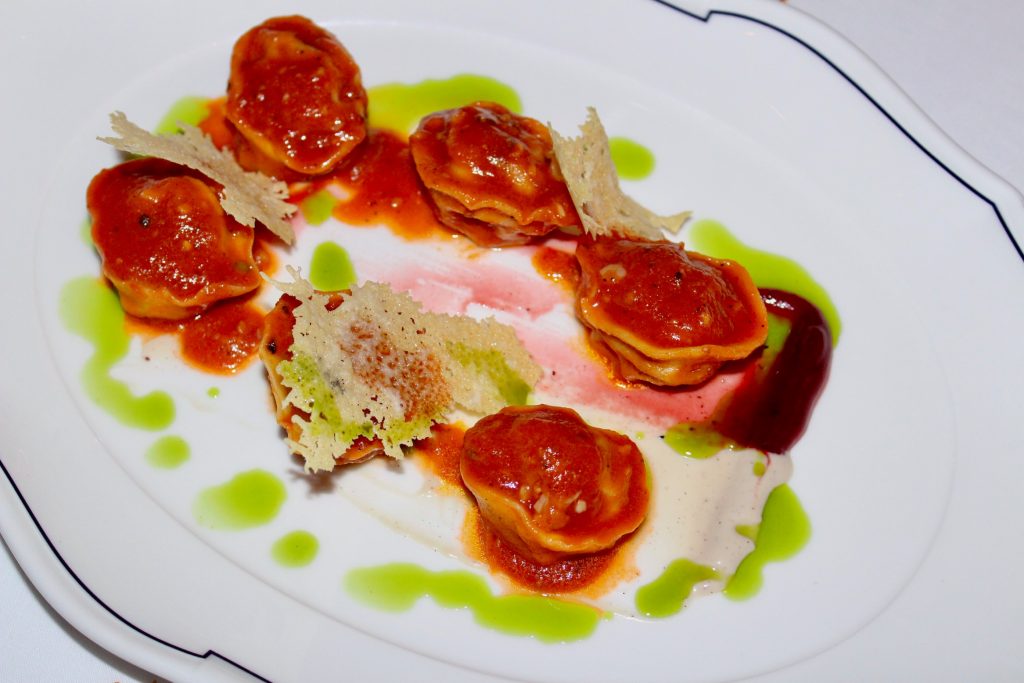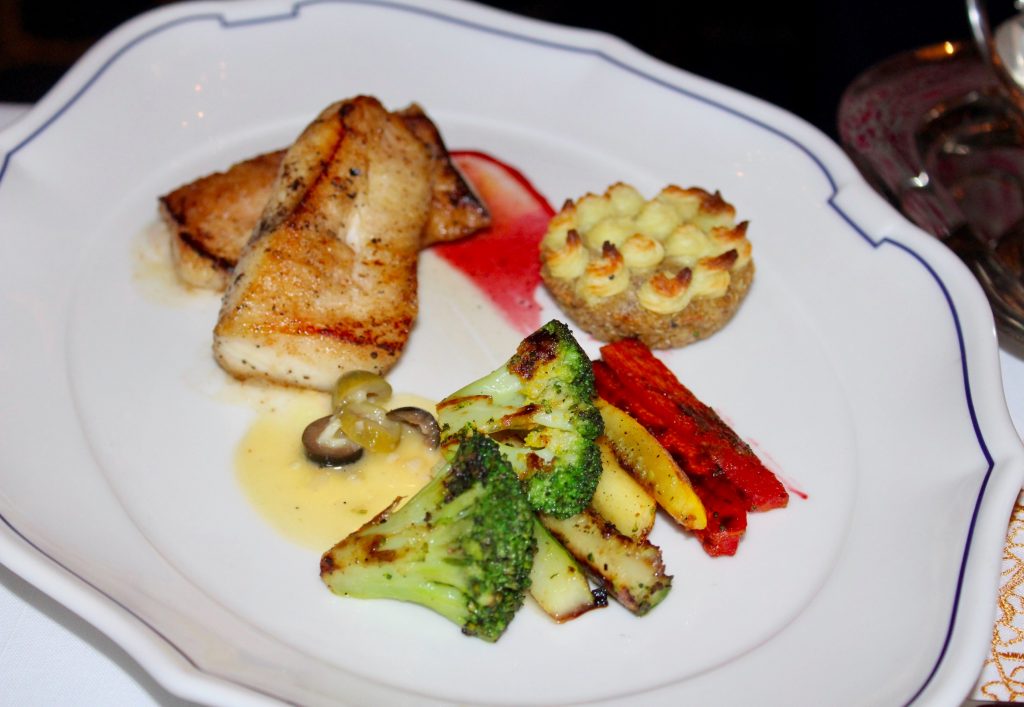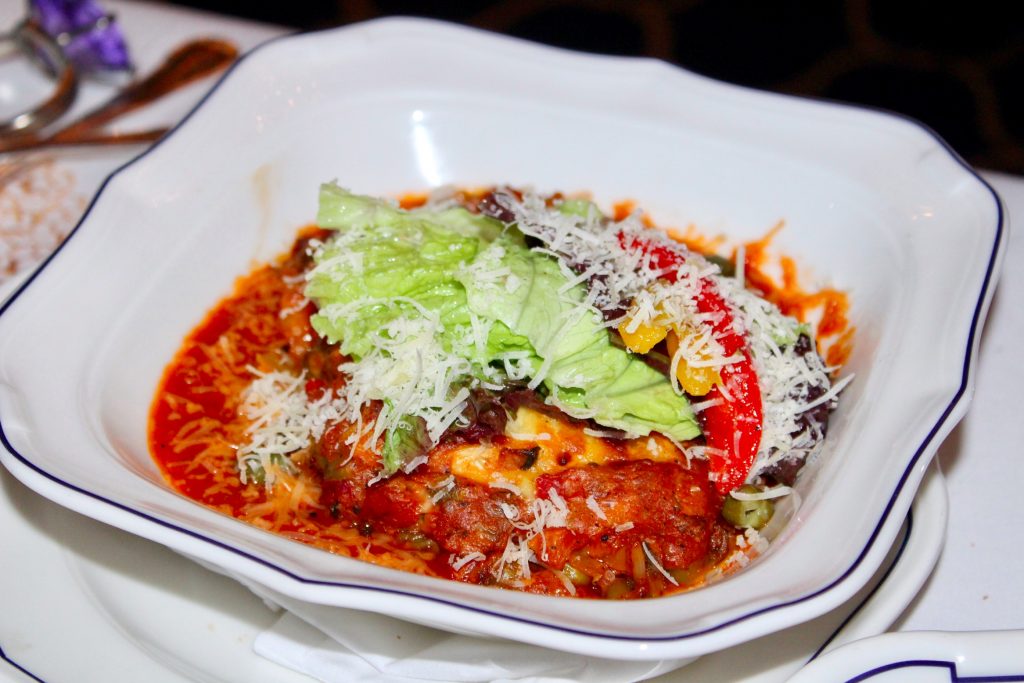 The perfect end to the meal were the desserts which looked like a piece of art the way they were presented. Our picks were Baked Yoghurt and Caramel Millle Feuille. Both of them were amazing and were relished in no time.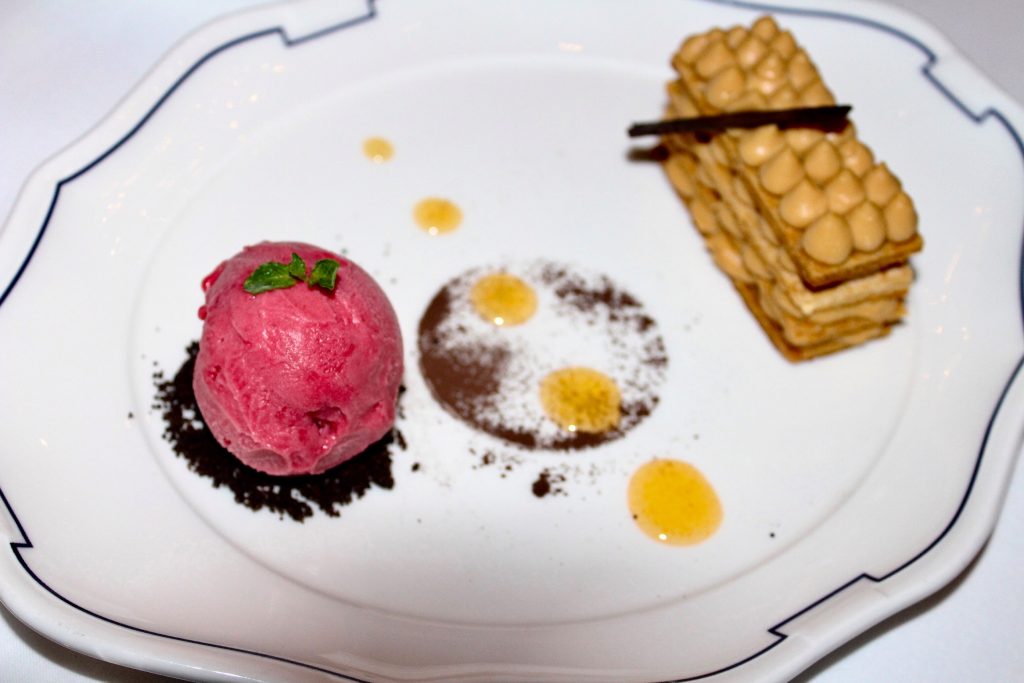 We enjoyed our great meal in customized Villeroy & Boch plates. I loved the exotic and royal napkin rings too.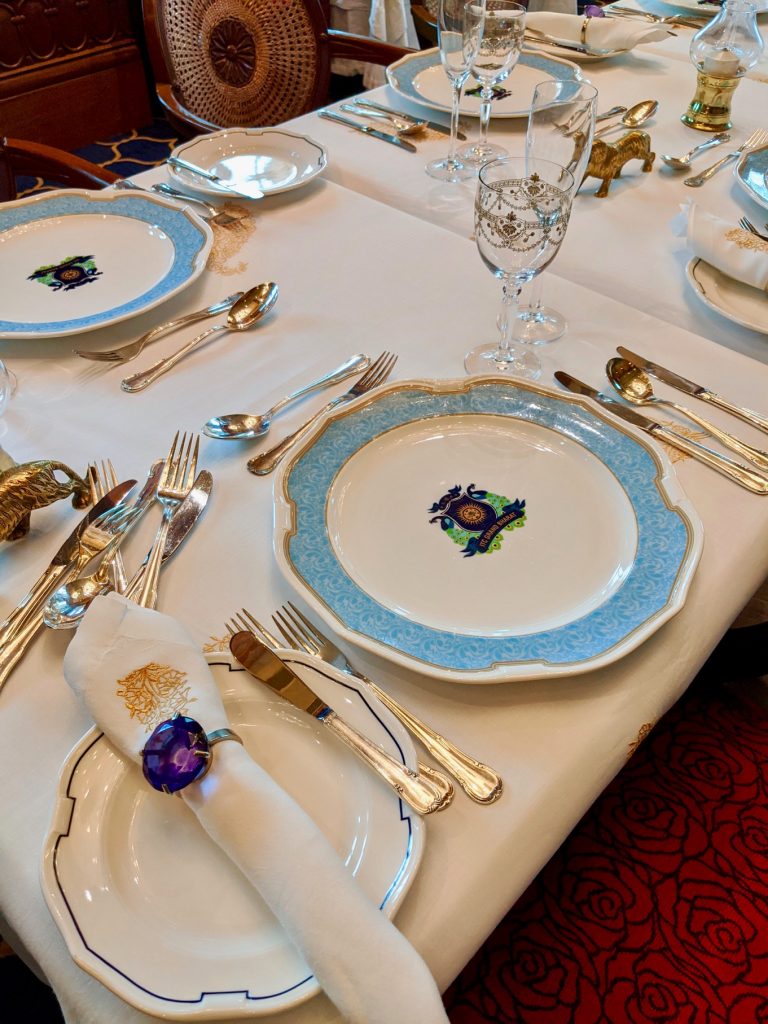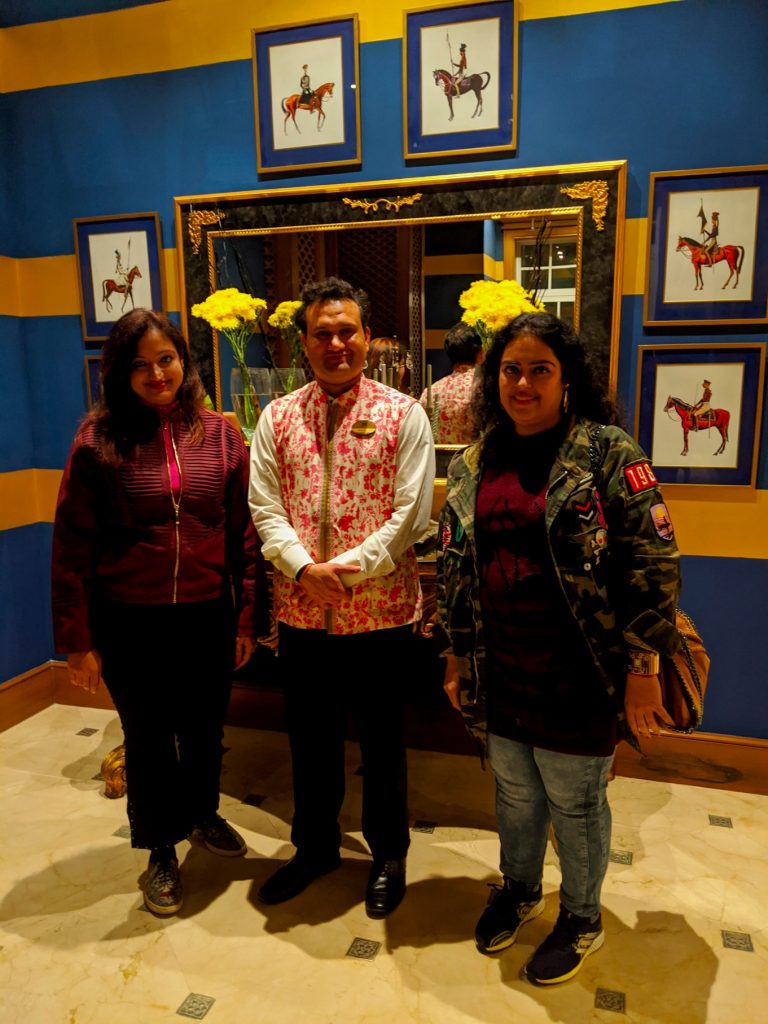 Our next morning started with Yoga which is practiced every morning at ITC Grand Bharat. It was such an enriching experience. Guests can enjoy numerous benefits with daily yoga with the in-house yoga instructor. Based on the ancient principles of Ashtang yoga, sessions comprise of Bahiranga Yoga (external) and Antarang Yoga (internal). The Yoga instructor also facilitates different forms of meditation such as Chidakasha Dharana (self-enquiry using the power of visualisation), Hridyakasha Dharana heart centred meditation or concentration on the space within the heart) and Trataka (flame meditation) to name a few.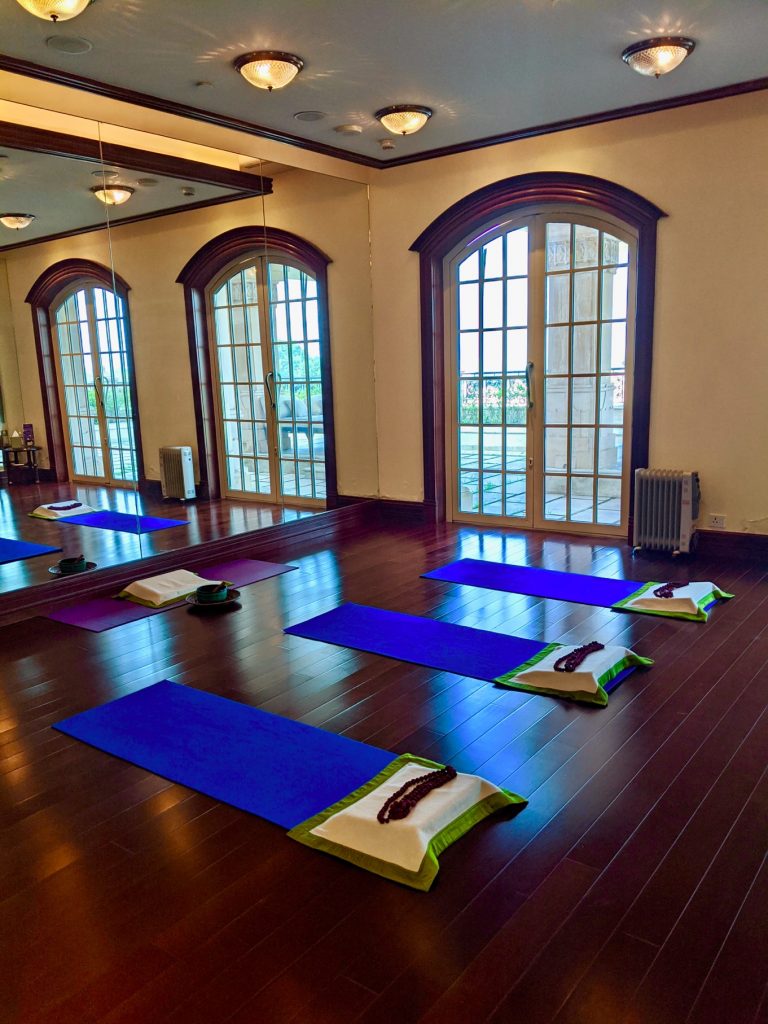 Next was ITC's Zesty Morning initiative, our last meal at ITC Grand Bharat. A caringly selected and mindfully prepared breakfast experience that contemplates various aspects that makes one's first meal of the day, wholesome. My favourites were the well made omelette and crispy dosa served with hot tempting sambhar and variety of chutneys. In Desserts, Pancake has my heart.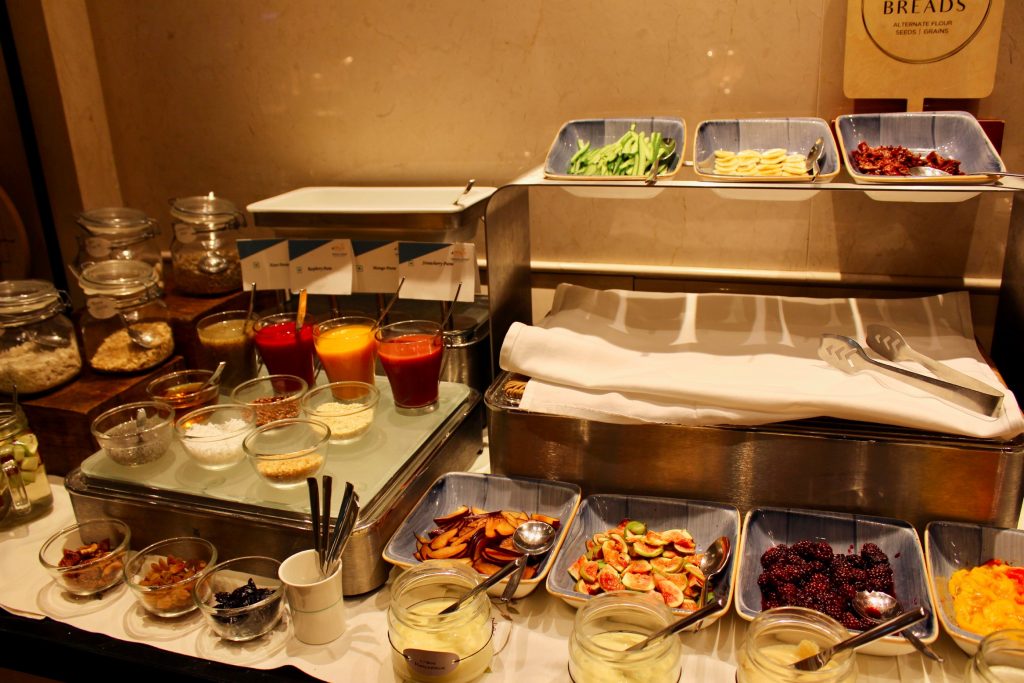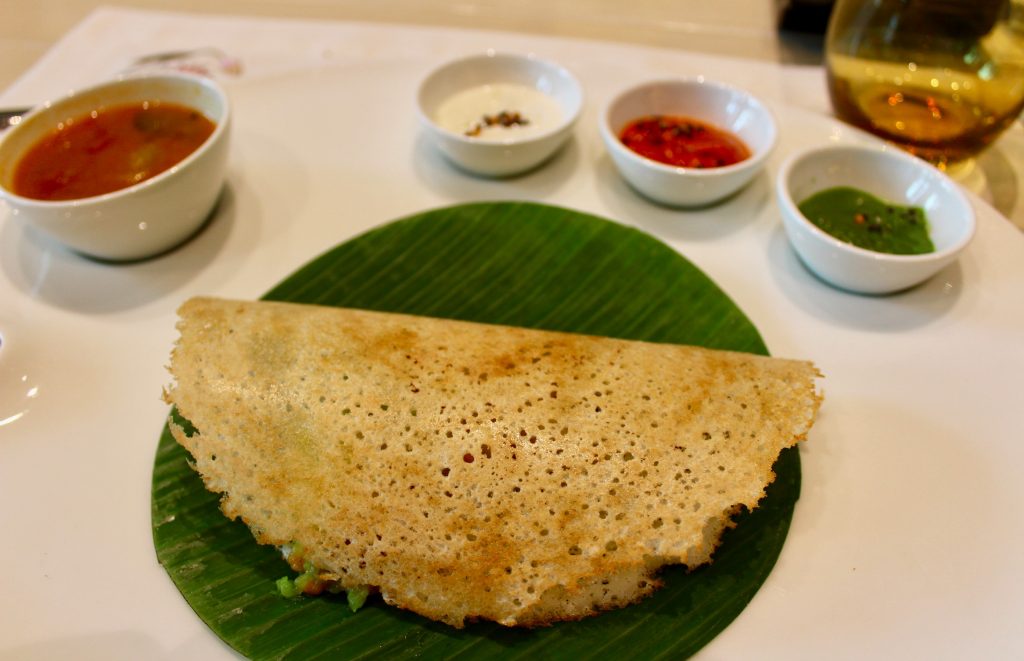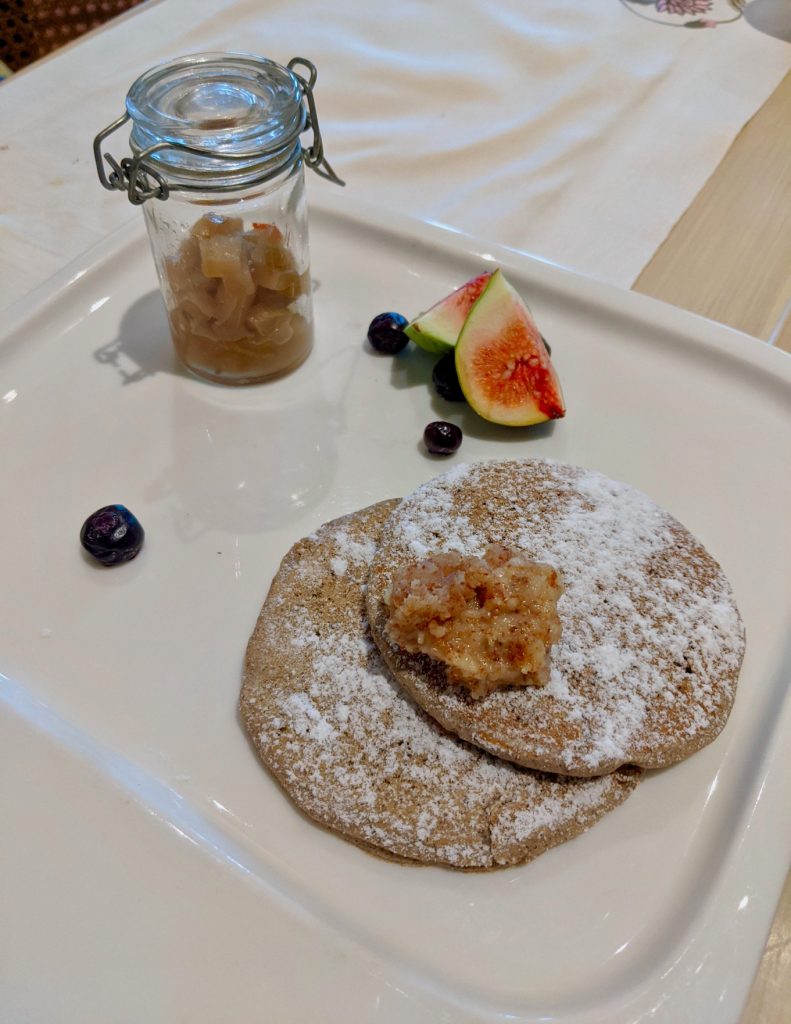 After breakfast, we went for a tour of ITC Grand Bharat to checkout another grand aspect of the hotel – the Presidential Suite of ITC Grand Bharat for which I would say LIVE LIFE KING SIZE!
The 4 Presidential Suites at ITC Grand Bharat draw inspiration from Maurya, Chola, Mughal and Maratha dynasties and infact are even named after them. We checked out the Chola Presidential Suite.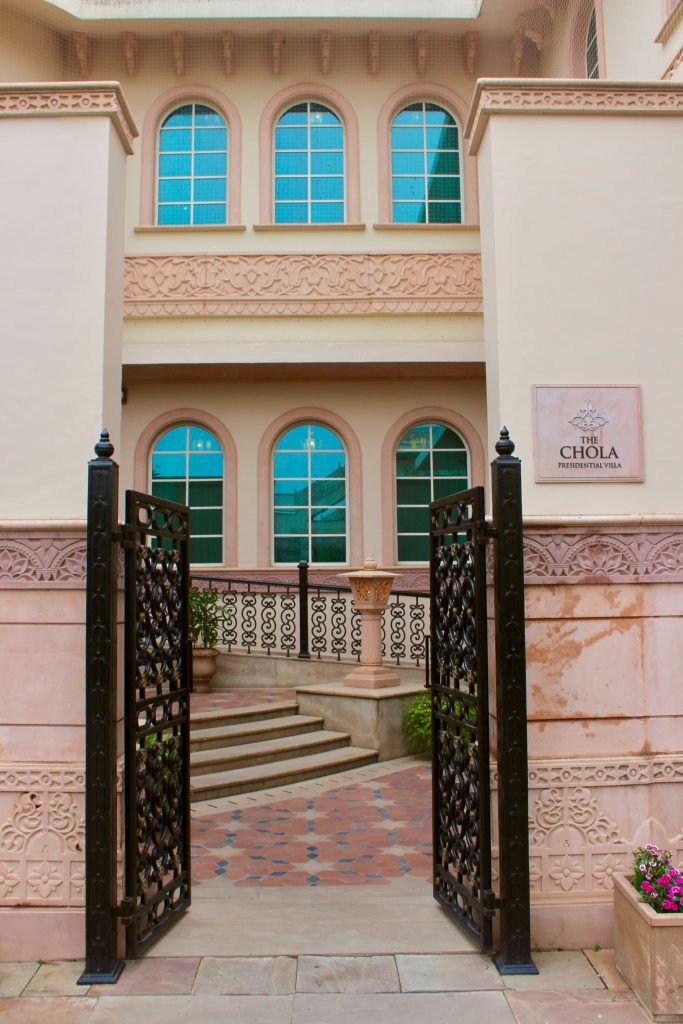 Some of the priviledges one enjoys in the presidential villas are a sprawling living room with dining room that has a capacity of 10 guests seating along with a personal butler. One would also get mini bars with finest gourmet chocolates, snacks and beverages. A sit-out patio in the master bedroom with views of residential enclave and the verdant and the surrounding retreat. The master bathroom comprises of a bathtub, shower, steam cubicle sauna and spacious walk-in closet! Isn't that a dream come true! There is also a dressing area.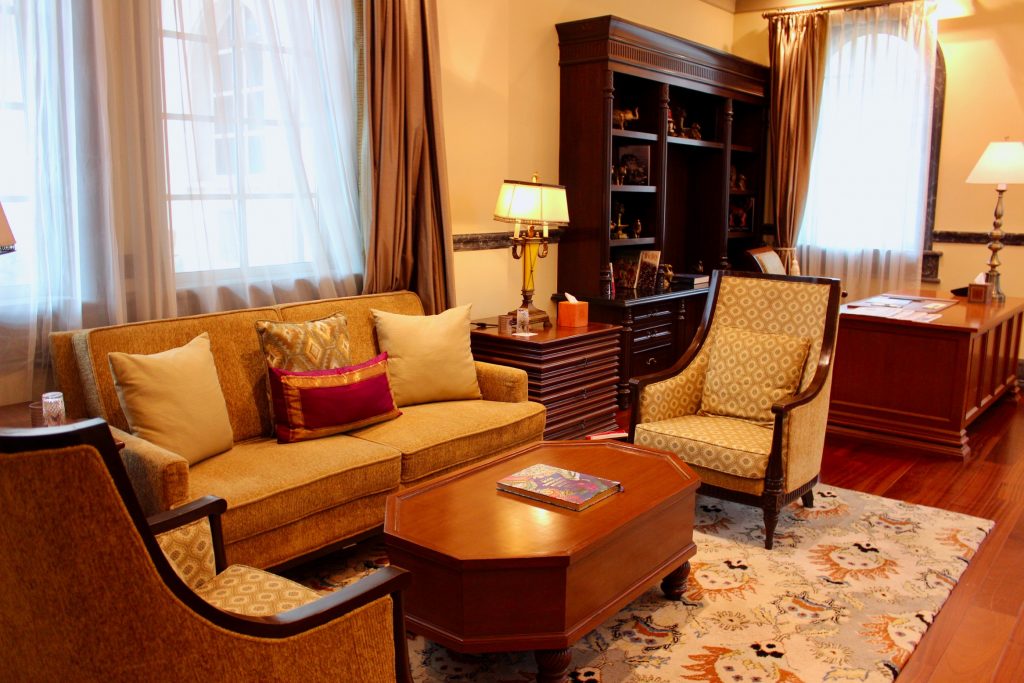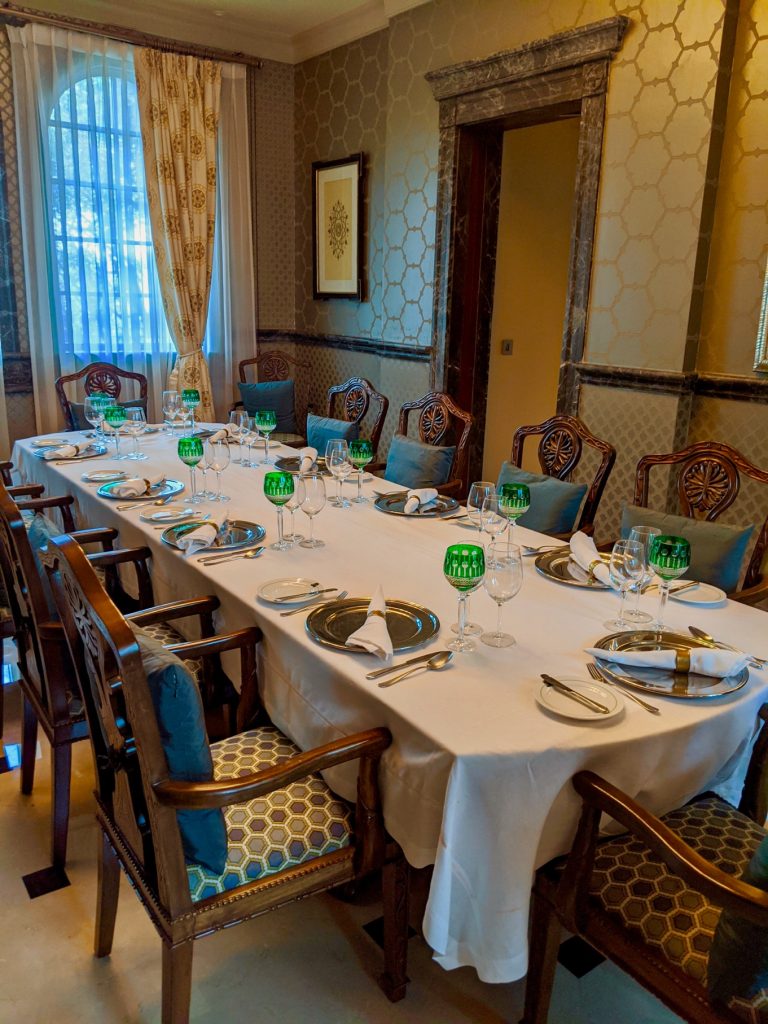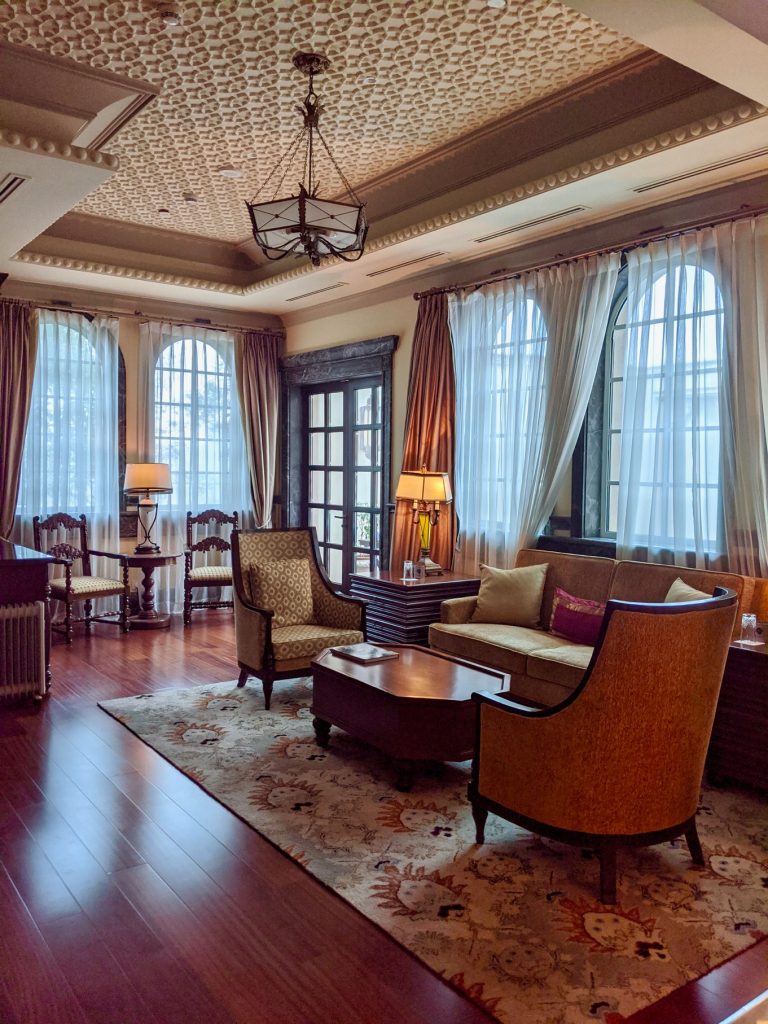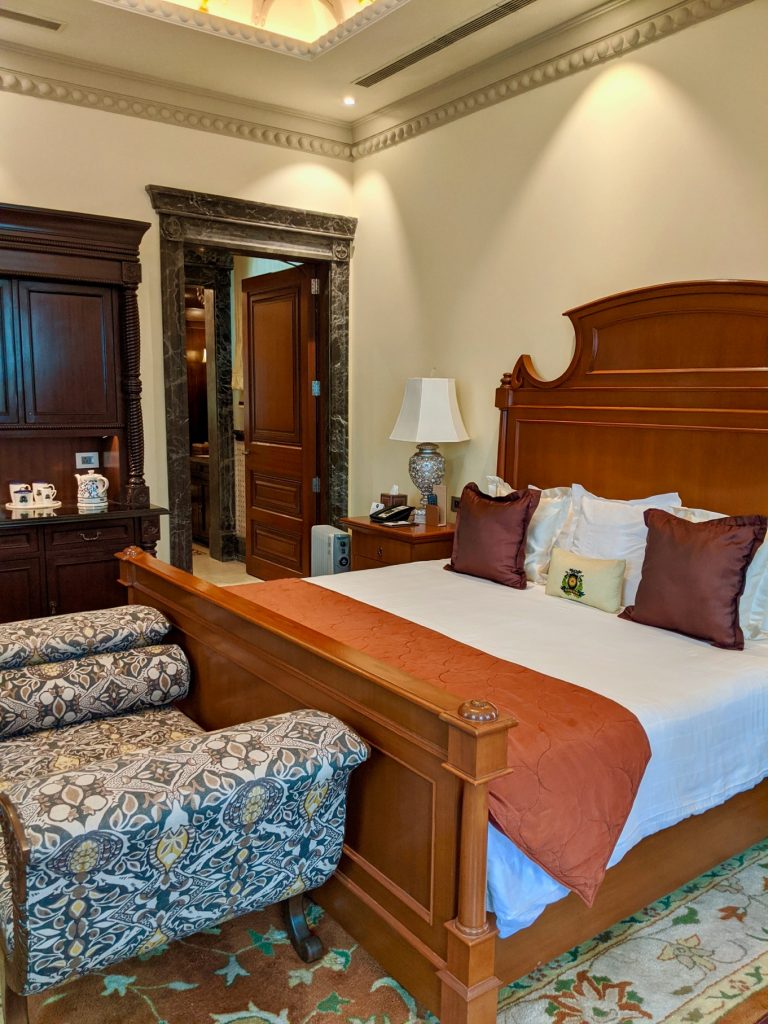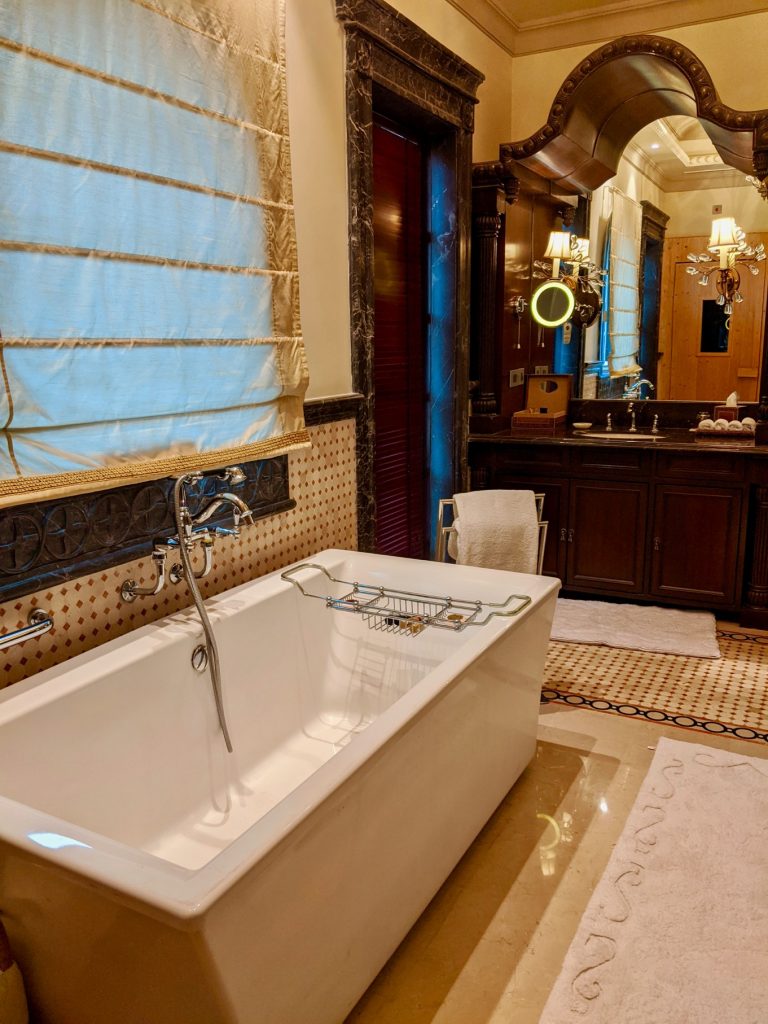 Guests can choose to drive in directly into the arrival court to a ceremonial welcome. There is a private elevator for access to the bedrooms on the first level. There is also a study with state-of-the-art work station. A private deck with a cobalt blue, temperature controlled lab pool and jacuzzi is completely perfect for intimate gatherings such as barbeques and cookouts. Another service would be well-stocked kitchen pantry. You can even request for a chef who can cook ITC's globally famous cuisine and you can enjoy it in the comforts of your villa. If one wants to stay here one would need to spend Rs 5 lakhs per night.
Otherwise the tariff for ITC Grand Bharat starts at Rs. 25,000/-
Thank You for the wonderful hospitality team ITC Grand Bharat and the GM of the hotel Mr. Deepak Cedric Menezes.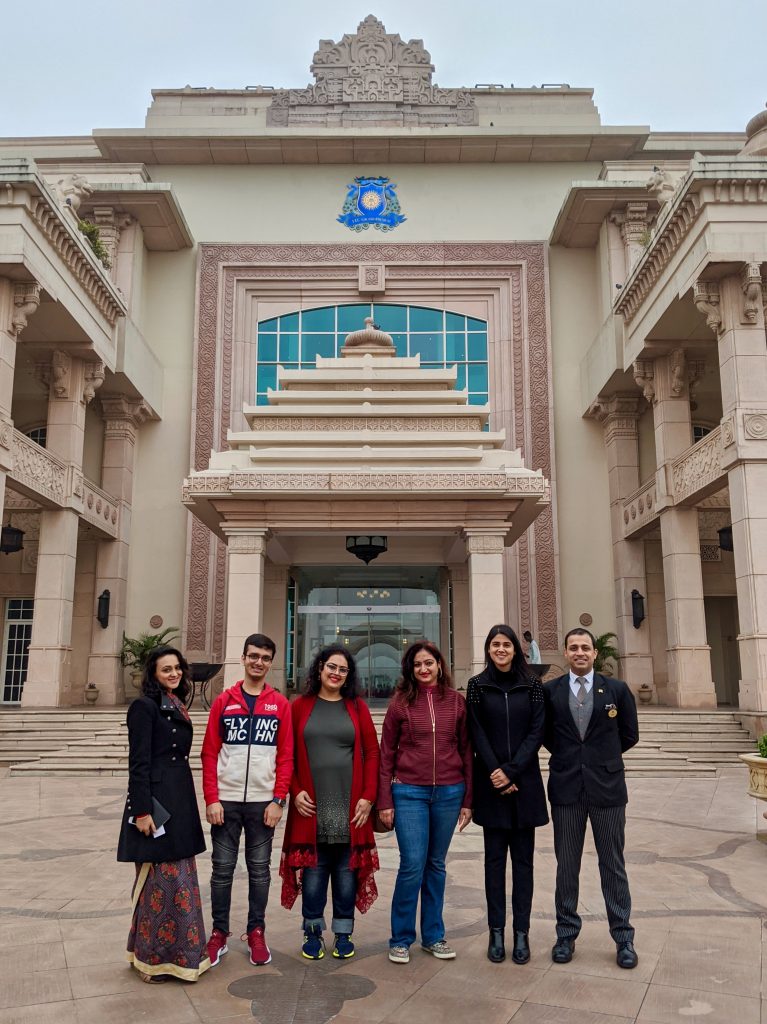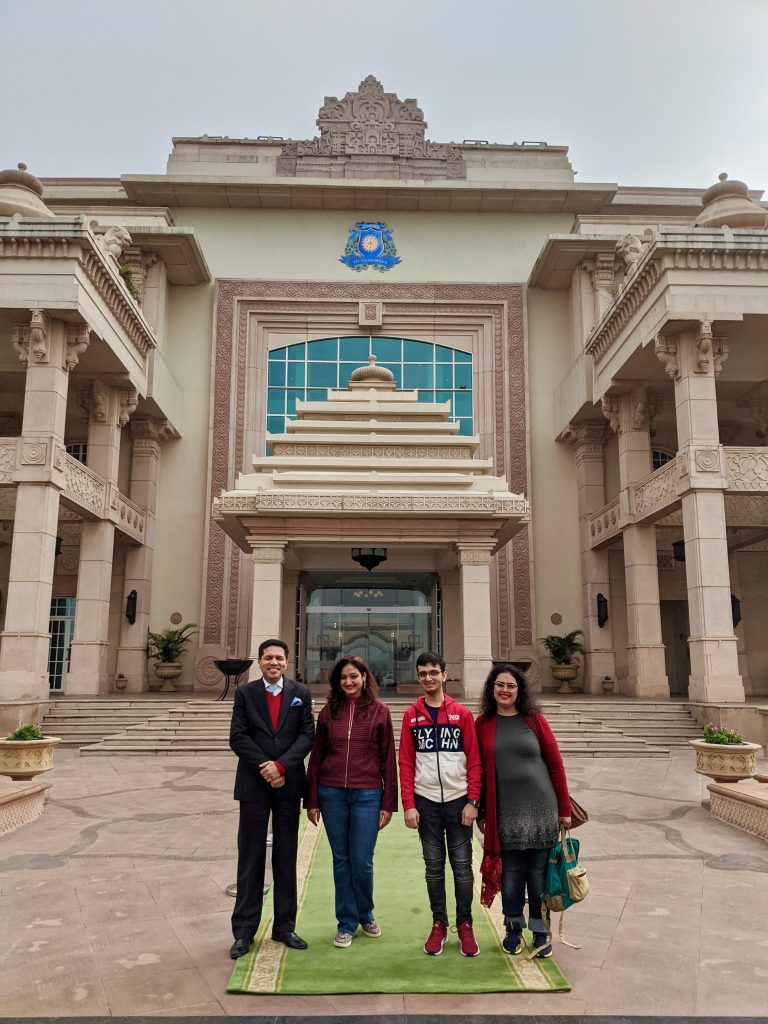 So ahead, make the most of your wonderful moments even more special at ITC Grand Bharat. Trust me, it is one of the best but THE BEST Retreat around Delhi.
The hotel is around 25 kilometres from Sultanpur National Park and approximately 12 kilometres from Heritage Transport Museum.
---
Photos shot & edited by Shubham Arora