Fashion weeks are always the topic of discussion for the latest styles and trends and one such recently concluded event was the Amazon India Fashion Week Autumn Winter'17 in association with Maybelline New York. The first day of AIFW AW17 was dedicated to 71 designers, who showcased ensembles from different corners of India.
The afternoon kickstarted with the opening show by The Handloom School supported by Good Earth. The show brought together 13 key designers – Akaaro, Antar-Agni, Eka, Good Earth, Neeru Kumar, Nicobar, Pero, Rajesh Pratap Singh, Raw Mango, Rohit Bal, Suket Dhir, Urvashi Kaur & 11:11/Eleven Eleven. All the ensembles were created by the talented students of The Handloom School.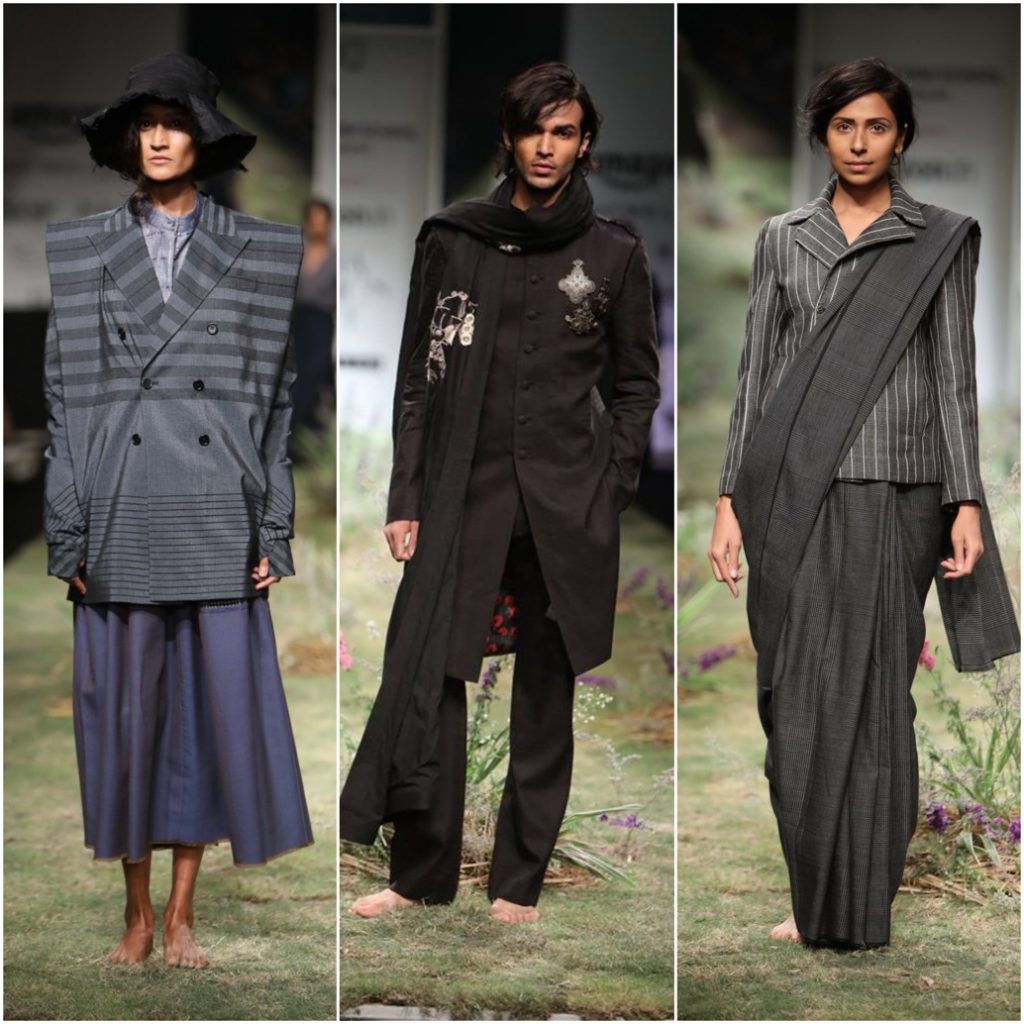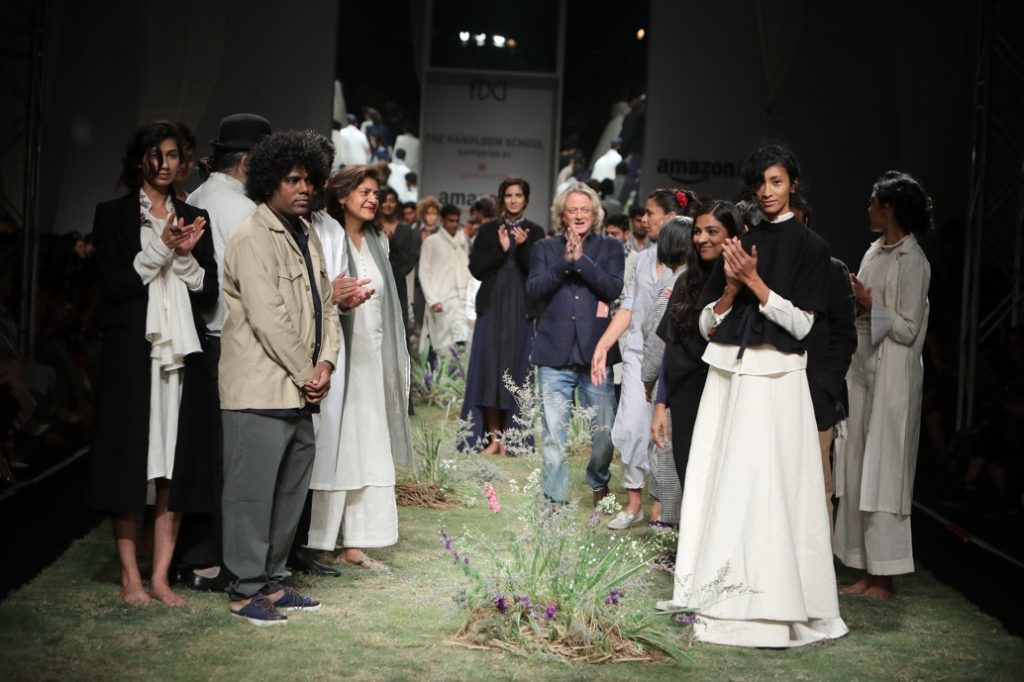 The Indonesian designer, Novita Yunus also presented a show to promote Jakarta Fashion Week. Entitled as Bumi Lagit (Earth and Sky), the autumn winter 2017 collection was inspired by the idea of balancing the colour palettes of the autumn leaves and the cold winter sky. Bumi represented the falling leaves and Langit is symbolized by Surya Majapahit (The Sun of Kingdom of Majapahit).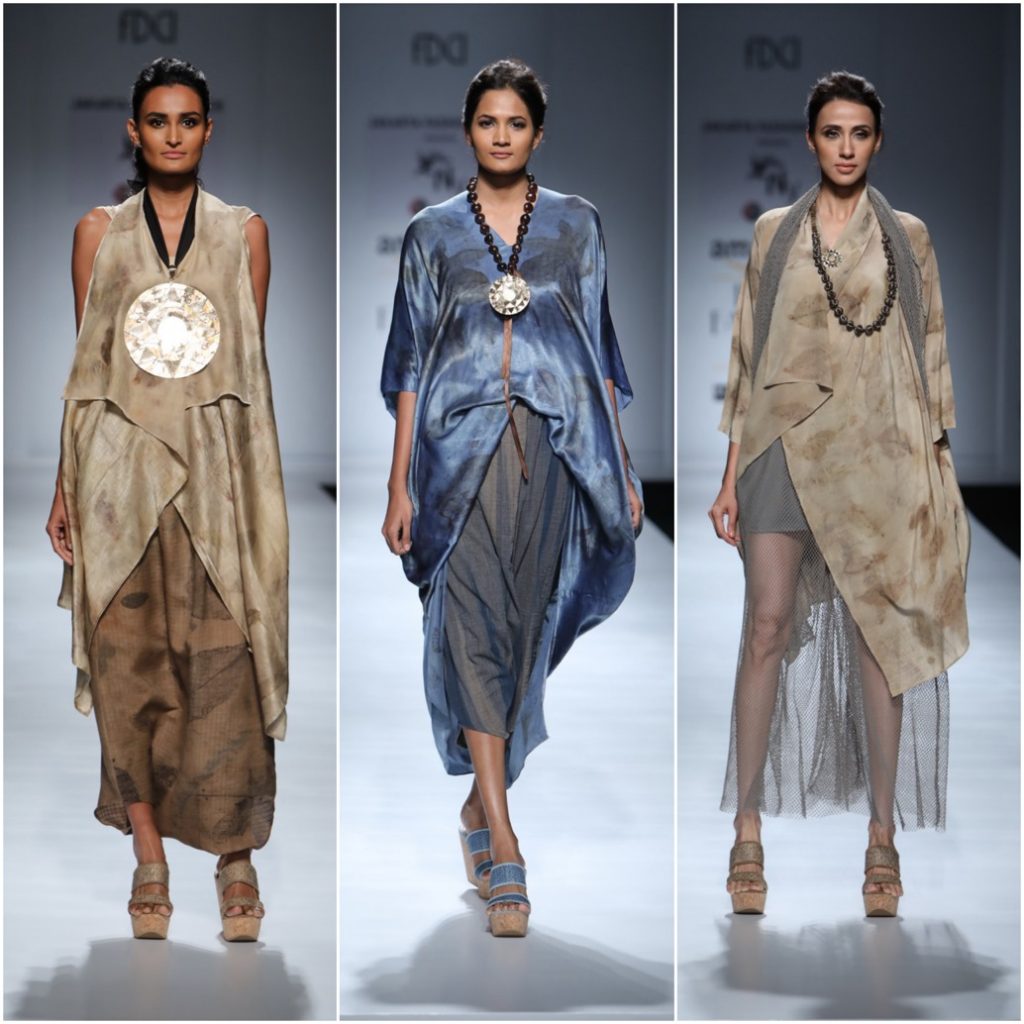 The colour palette comprised of ochre, dark chocolate, greys, beige, brown, gold, olive green, dark blue and silver. The earth & sky colours are expressed in varieties of kaftans, silhouettes, palazzos and kebayas. I truly admired the jackets which were caped well along with big gold motifs on necks. Even the clutches & armbands looked very stylish.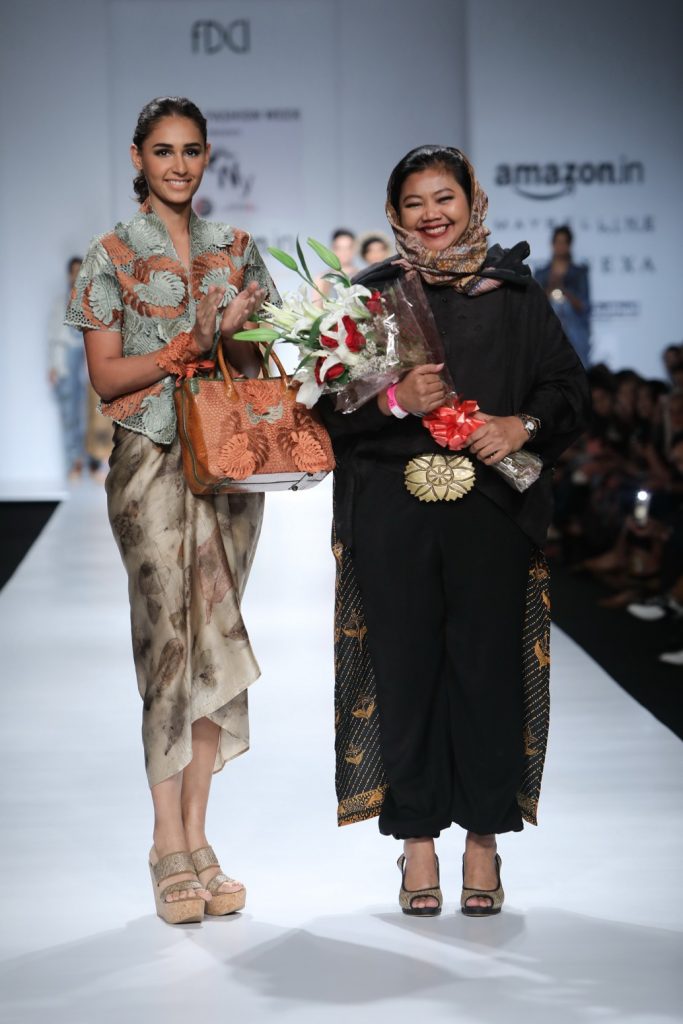 Madhu Jain's show started with a singer singing songs like "You look wonderful tonight" and "Can't help falling in love" with a guitar in hand with big huge puppet caricatures dancing with the young boy. Celebrating her lifelong journey in Indian textiles, Madhu Jain's collection "Parted Lips" was about Ikat weaves which is a fading art. Long kurtas & sarees were definitely the highlight with nude lips making big statements! The colours ranged from red, black, white to off-white and green with fine pieces of jewellery & graceful smiles. The models could also be seen wearing jootis on the ramp. A vibrant, elegant, rich, soulful collection!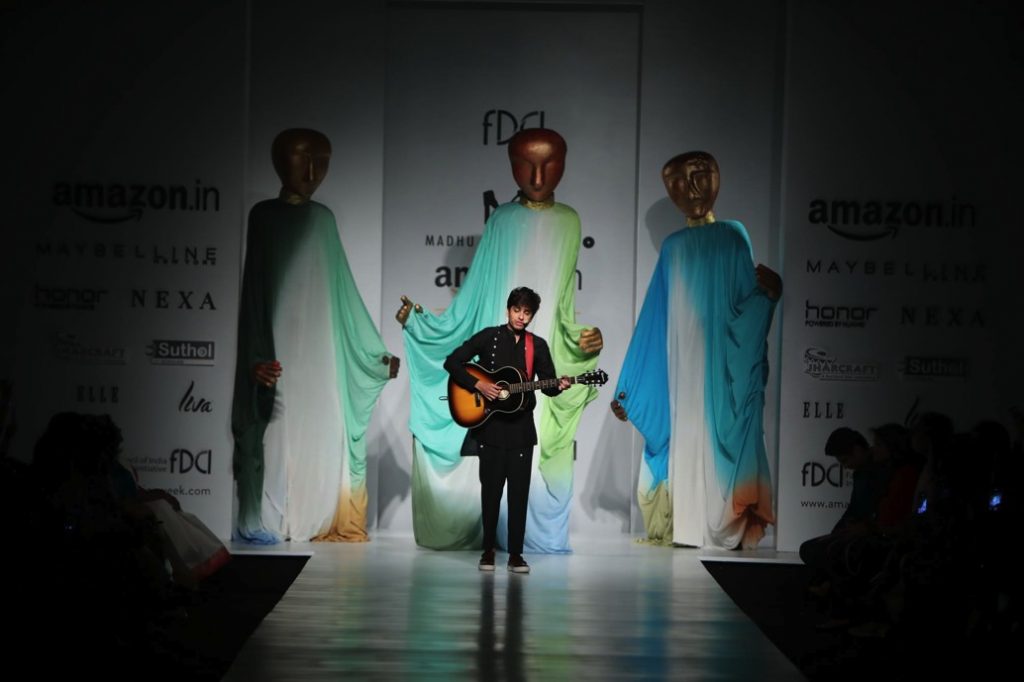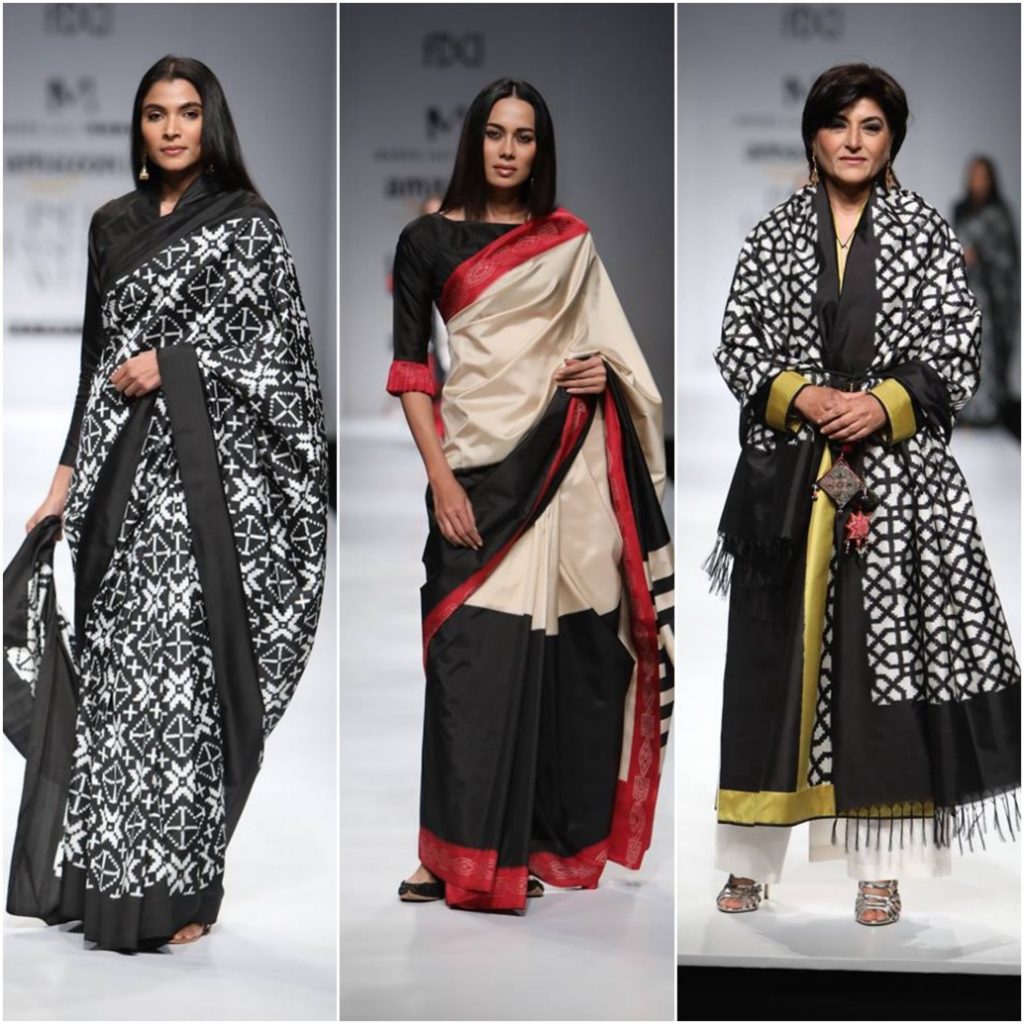 Krishna Mehta's show started with a sizzling salsa performance. Her collection entitled "Parted Lips" brings to life a young lady's joie de vivre; her zest for life! The colour palette mainly comprises of yellows royal purplish golds, oranges, peaches, indigoes, gold and green. Some vivid fuschia colours could also be seen, indeed a bright array of colours! The collection featured a burst of bouquets, cinched waistlines, patches and use of contrasting fabrics such as pleats & metallic. I loved the big flower motifs on the lehengas with heavy colourful chunars. Krishna Mehta herself entered in blue & gold rejoicing with her lovely Indian collection.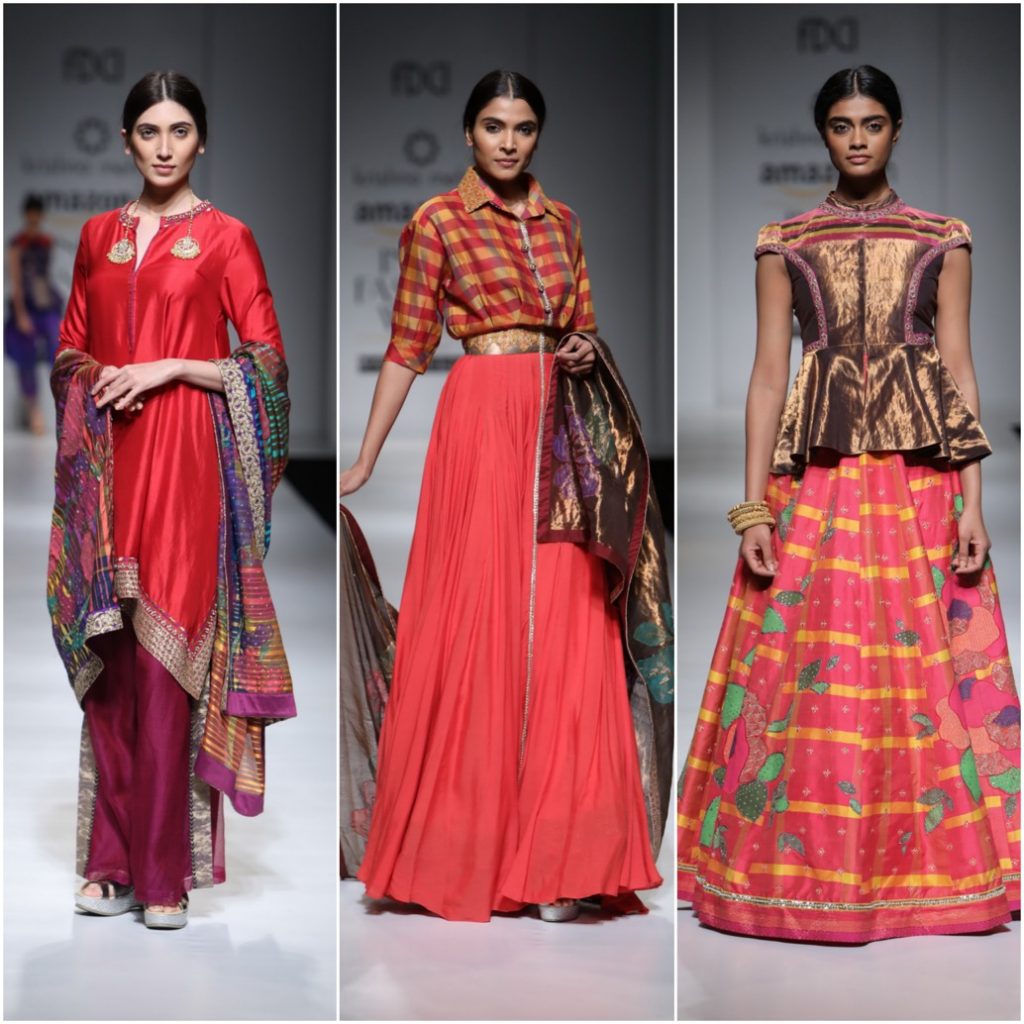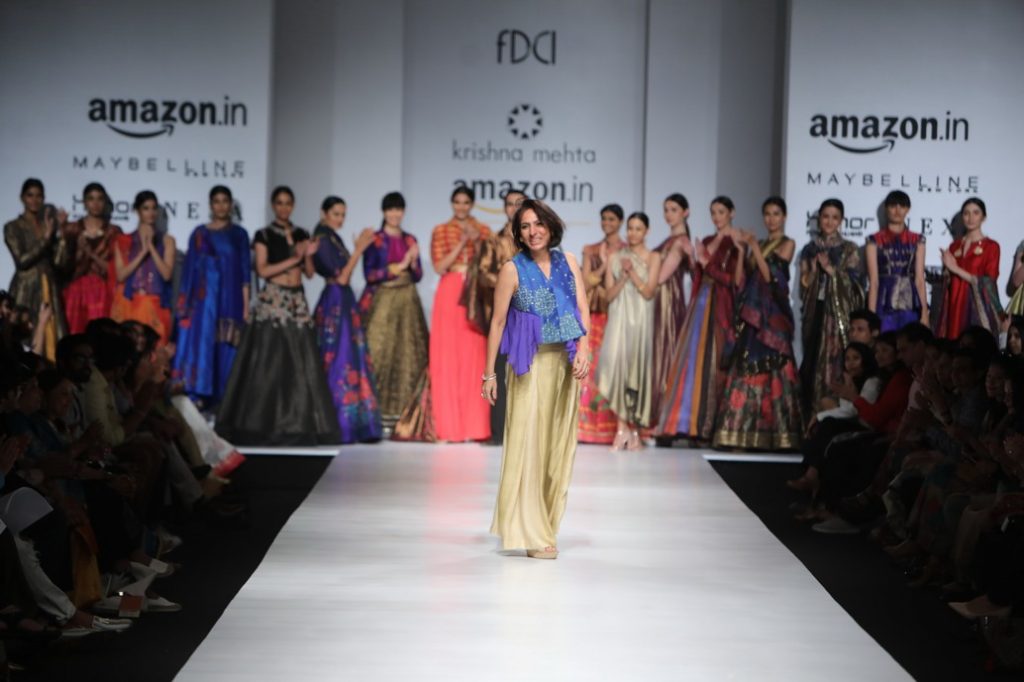 Abraham & Thakore presented their "Back To Work" collection with black & white being their main theme. Plain white Jane shirts with black formal ties and bags & black footwear could be seen. Well-layered, neat, crisp & structured collection! In addition to whites & ivories, there were kurtas in fiery red & cool blue. Seams & pleats made alluring statements as well.
One of my favourite look was the saree in vertical black & white lines paired with an office bag. Lines, hems & stitches of collared perfection tightened the rules with tidy, neat & formal dressing. Also was the polka white shirt which I really liked. Gothic, rustic charm of rules & dark wisdom! All the fabrics were pure cotton and either hand woven or hand printed in textile centres. So apt and suitable for the everyday workday needs of the urban Indian woman!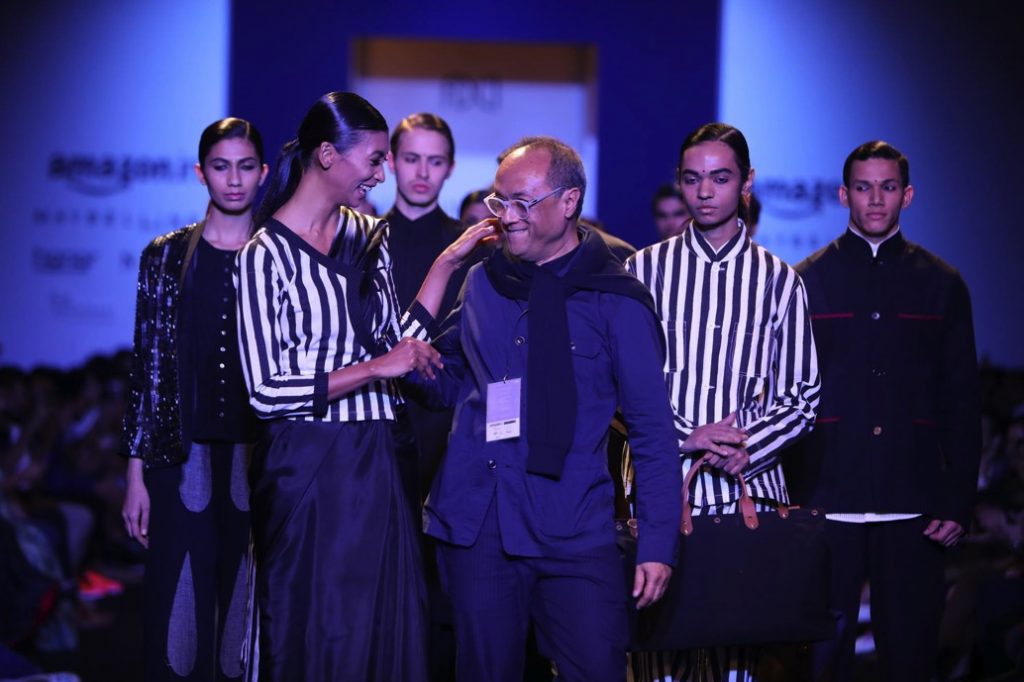 Day 1 also saw a show by Jharkhand Silk Textile (Jharcraft) with the mission of crafting opportunities, changing lives in the rural areas based on sericulture, handloom and other allied activities of Jharkhand. Jharkhand is India's largest producer of Tussar and Kuchai silks. From saris in tussar silk to kurtas woven from kucha—all were created from one of the best organic fabrics of Jharkhand. The show was an initiative of Shaina NC along with other designers like Rina Dhaka, Shruti Sancheti, Divya and Ambika Jain.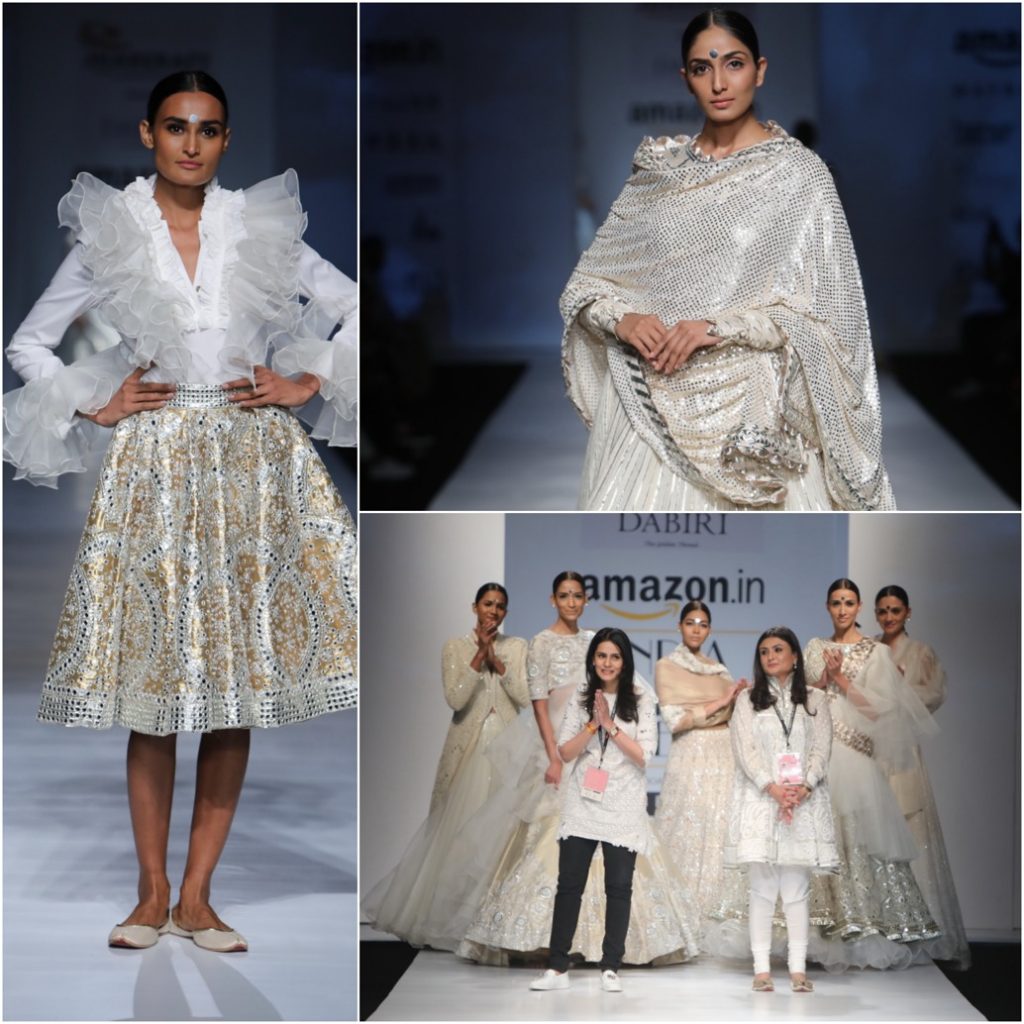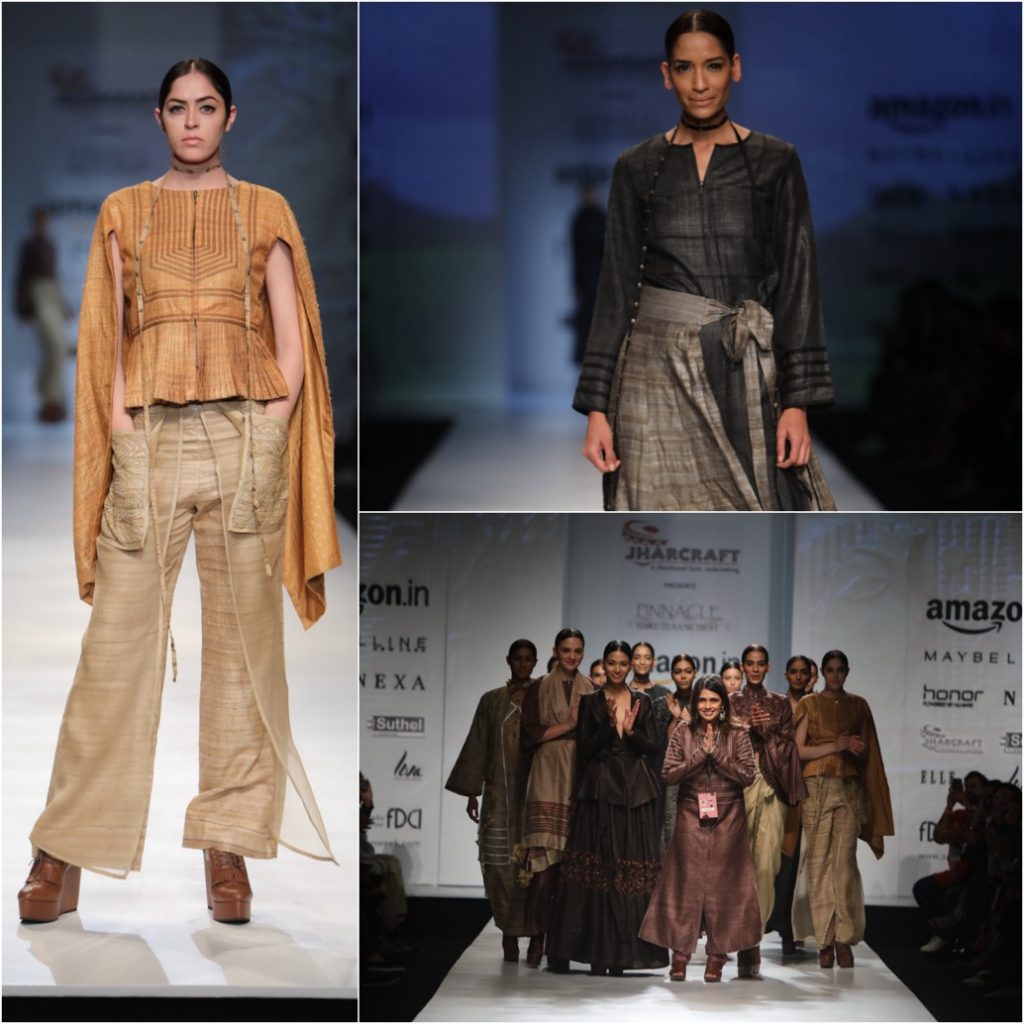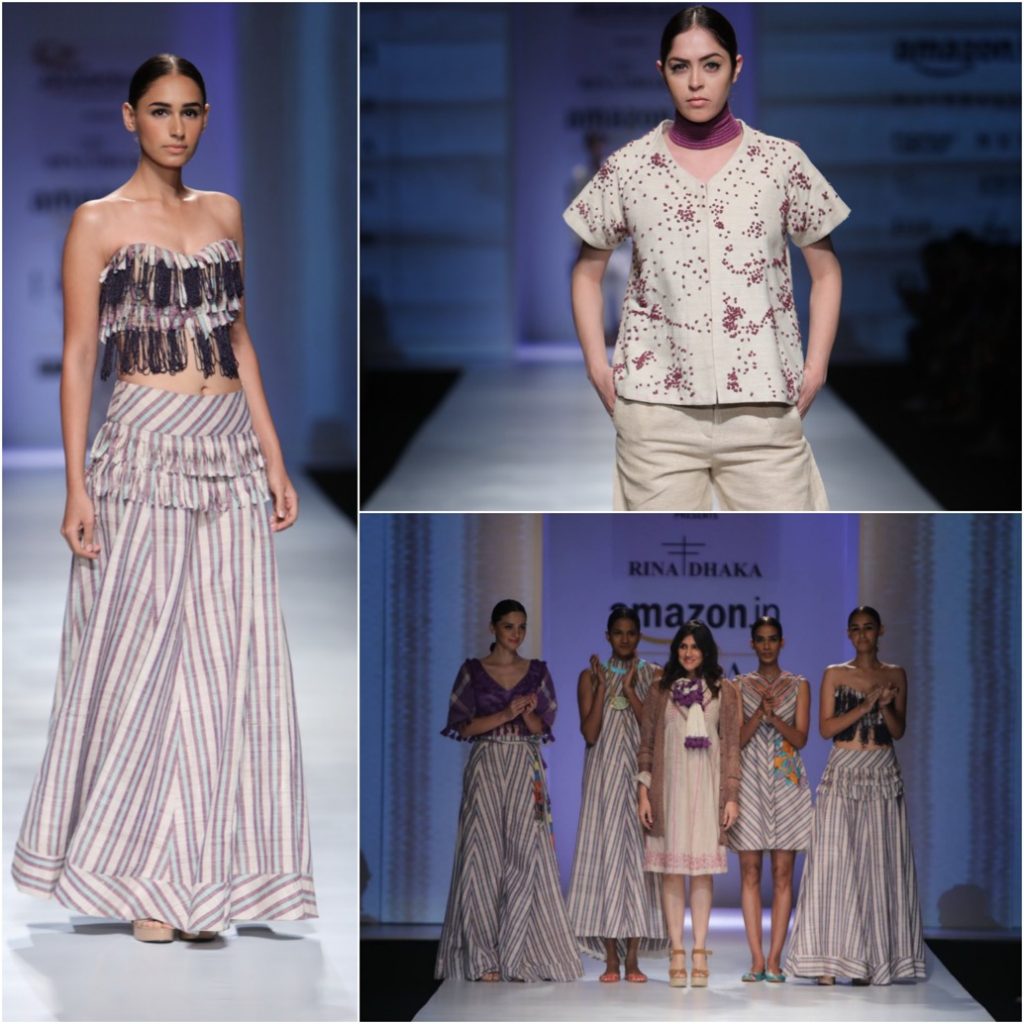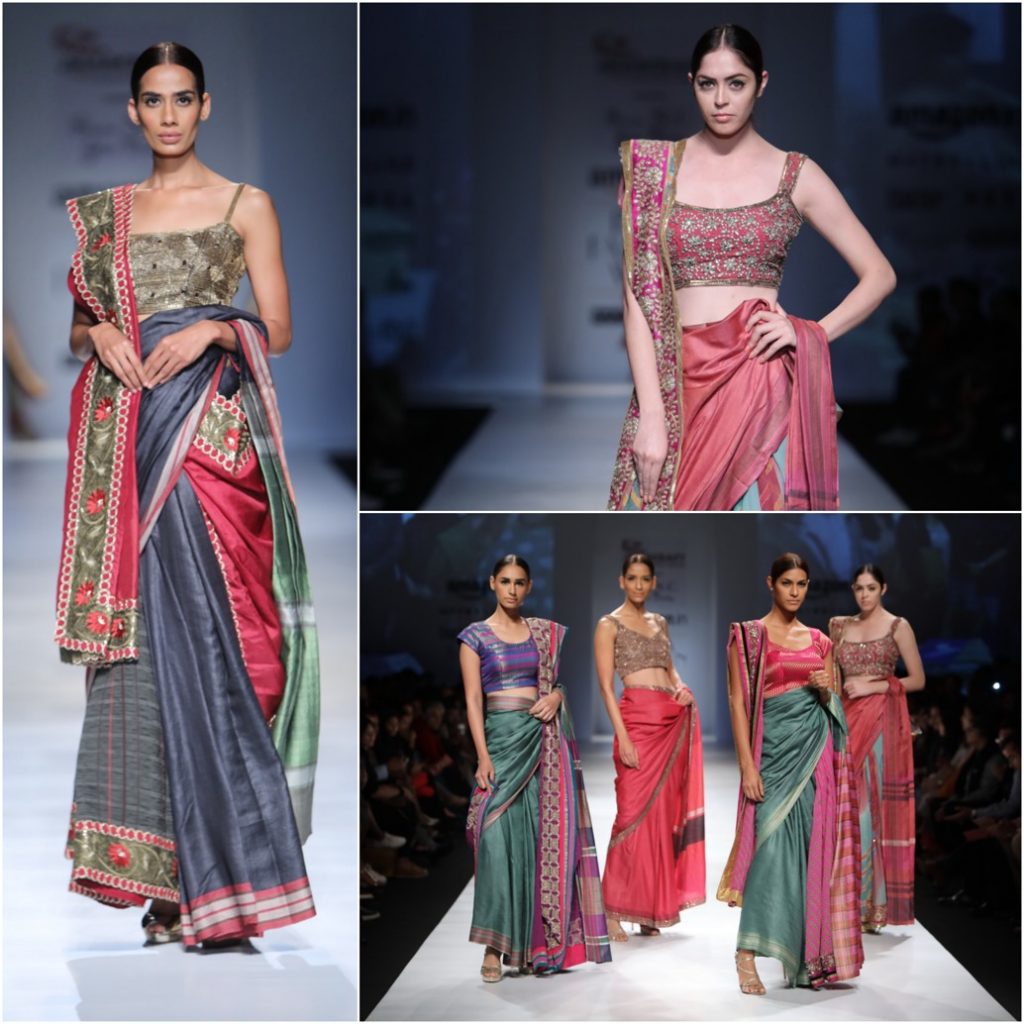 The evening concluded with a stunning Sari 24/7 showcase by Vogue India. Vogue recently completed 10 years in India and celebrated it through Vogue Empower 2.0- The Indian Sari Project. The show brought spotlight to the most ancient Indian costume, the Sari, highlighting the diversity of the garment in terms of fabric, handloom weaves & multiple draping techniques with the concept of 'Sari for Day, Sari for Play'. Designers like Manish Malhotra, Anita Dongre, Manish Arora, Suneet Varma, Nachiket Barve and AM:PM participated. Singer & actress Monica Dongra closed the show singing her popular hits in a beautiful white sari.