When you speak of lipsticks, what does one want? Extreme long lasting pigmented colour & a soft matte look! So here is what the new Nykaa Paintstix are all about. They have come out with a range of bold & opaque, extremely nourishing matte lipsticks. The lovely lipsticks are infused with castor oil, jojoba oil and nutrient infused butter leaving the lips feeling beautifully plump, desirable & smooth on application.
The colours which are available in this range are:
Rebellious Red
Grunge Brown
Purple Monster
Hearts n Kisses
Bombshell Berry
Nude Spice
Tender Rose
Rock n Roll Pink
Peaches n Cream
Chick Flick Pink
No Chill Orange
Cool Girl Nude
Here are my swatches of the Nykaa Paintstix: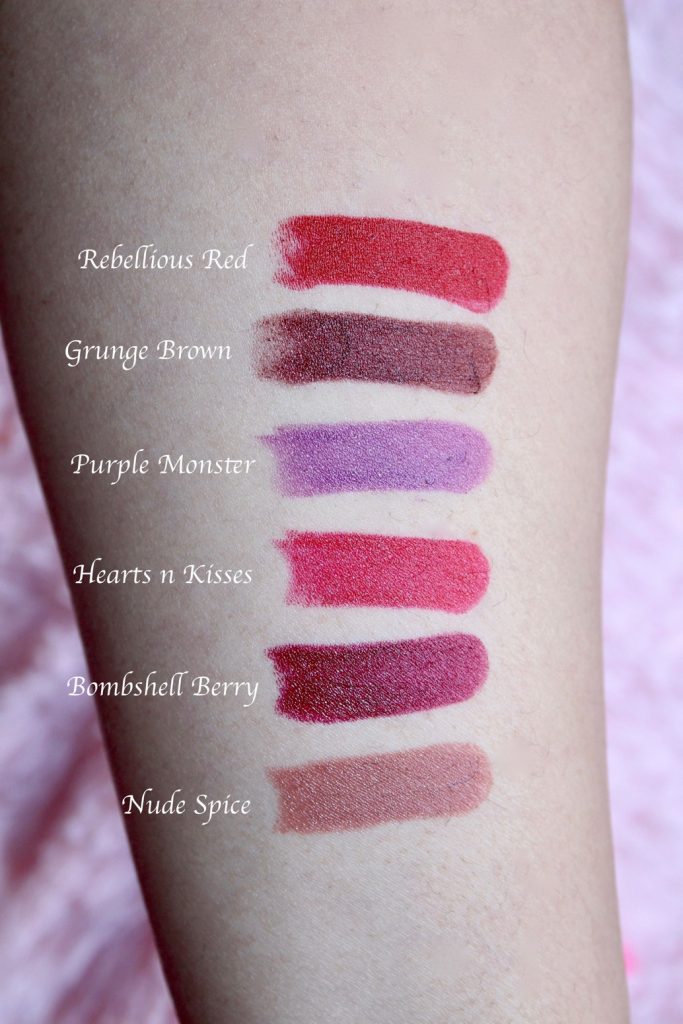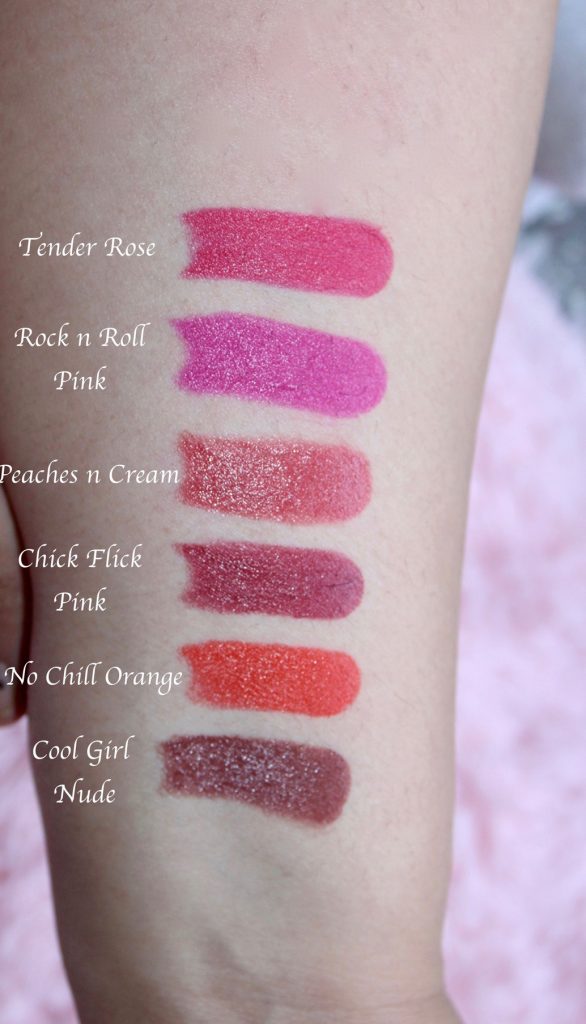 The shades are bright & brilliant with a remarkable formula that is just WOW and when you just glide it on your lips, you have supreme soft coverage with supreme colour intensity & undeniably comfortable soft matte look. They offer saturated colour formula in one single stroke. The packaging is good with the shade number & shade name mentioned on each carton.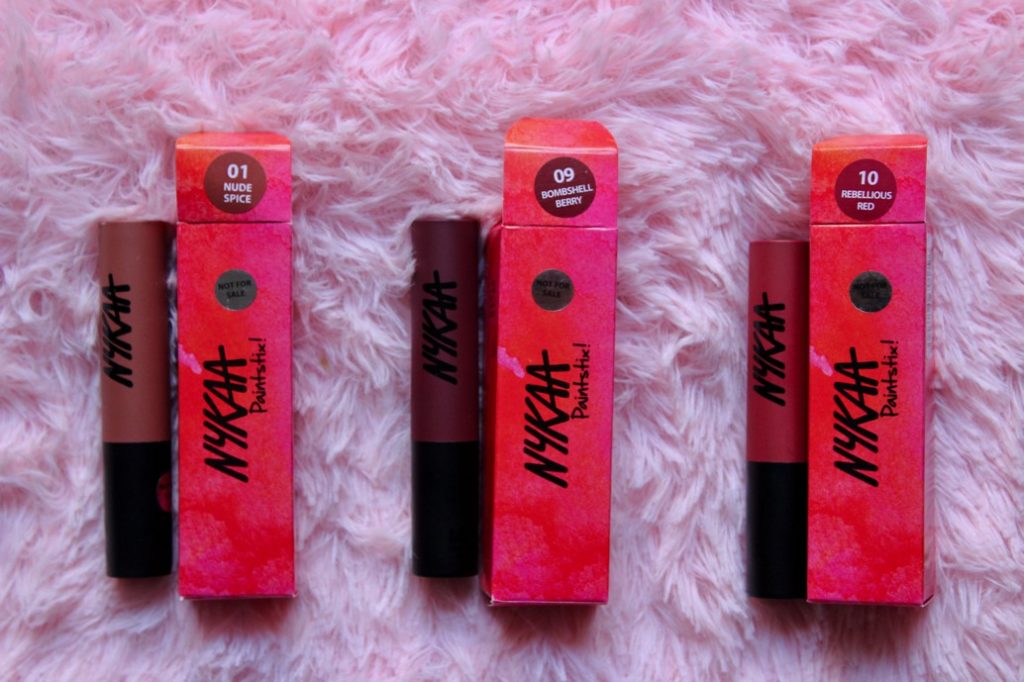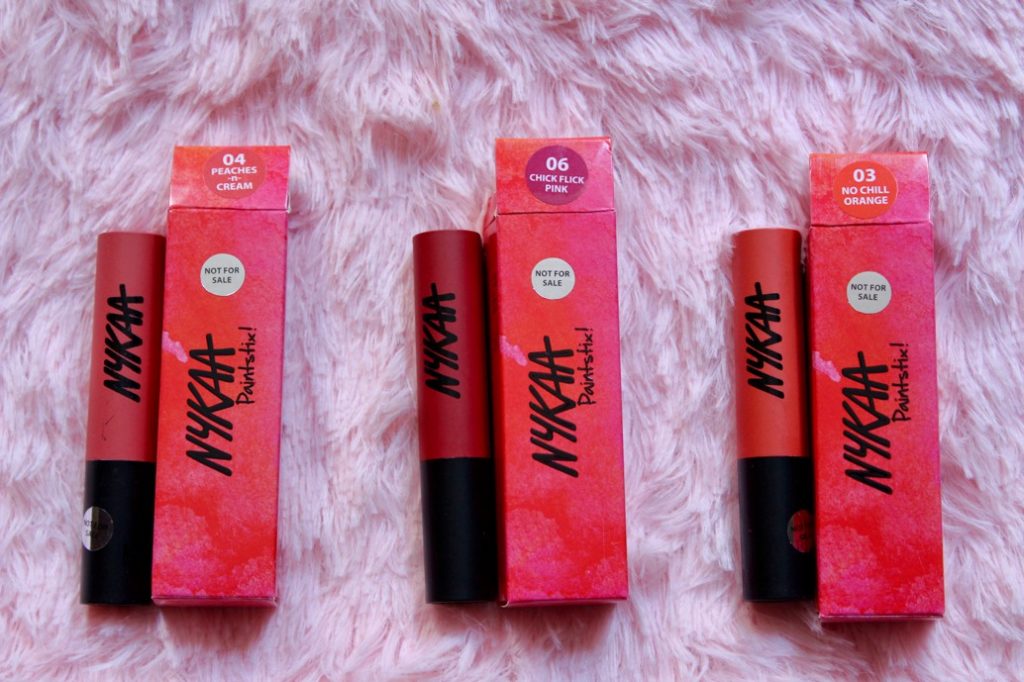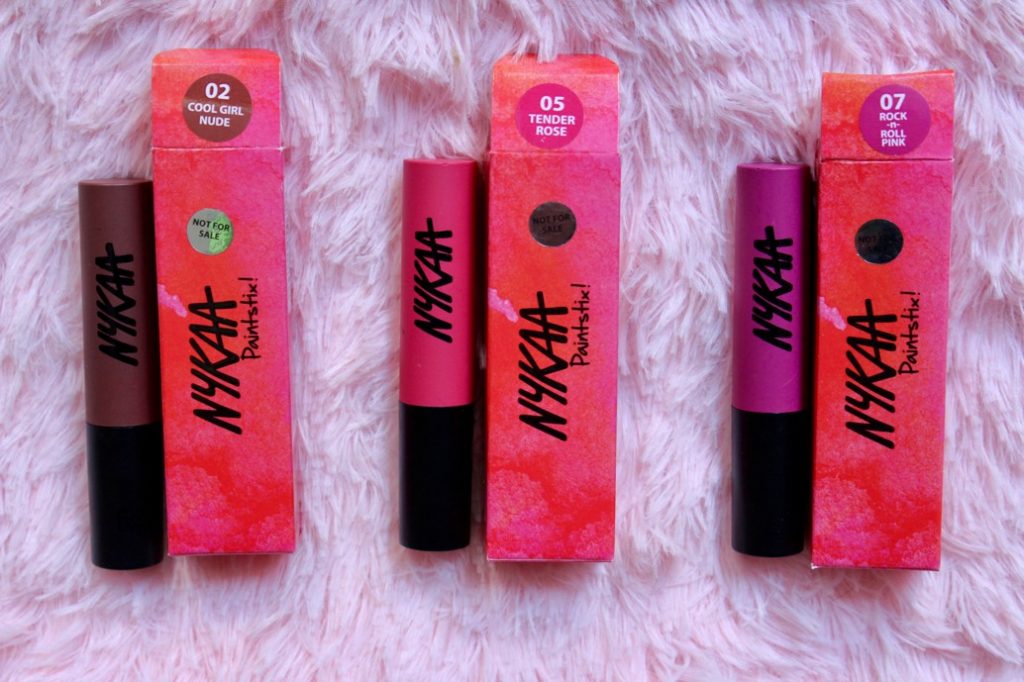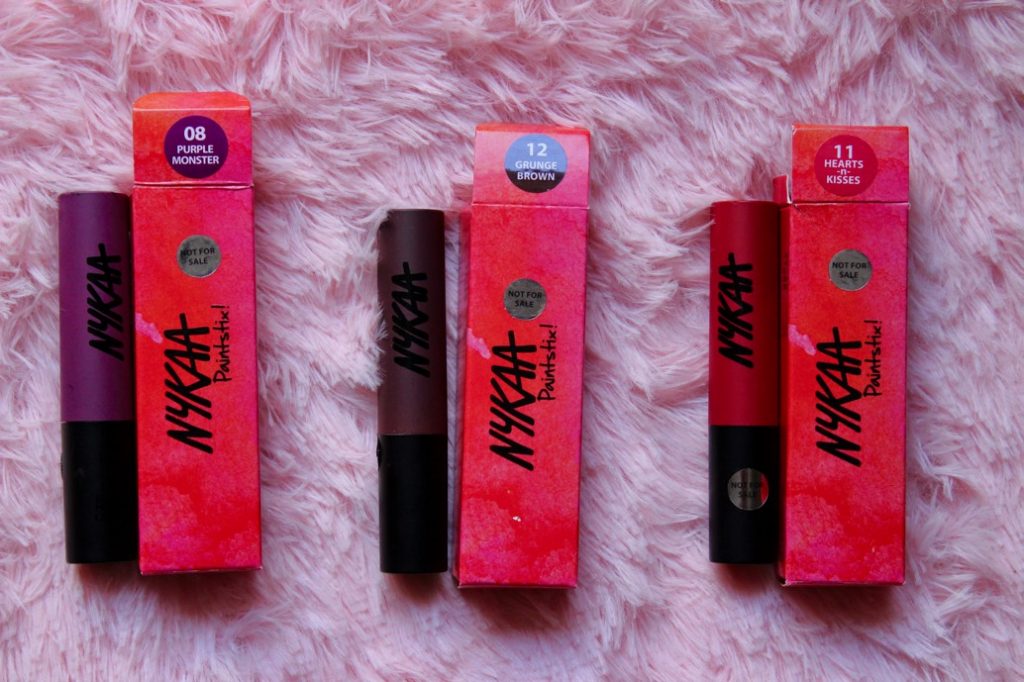 The lipsticks are priced at Rs 425/- each. They easily last for a good 5-6 hours leaving the lips smooth & shining as there is depth & texture in the colours. The tube of the Paintstix is colour coordinated with the colour of the shade. It opens & shuts easily and is easy to carry too with the colour number mentioned on the back of the lipstick tube and the bottom being black in colour.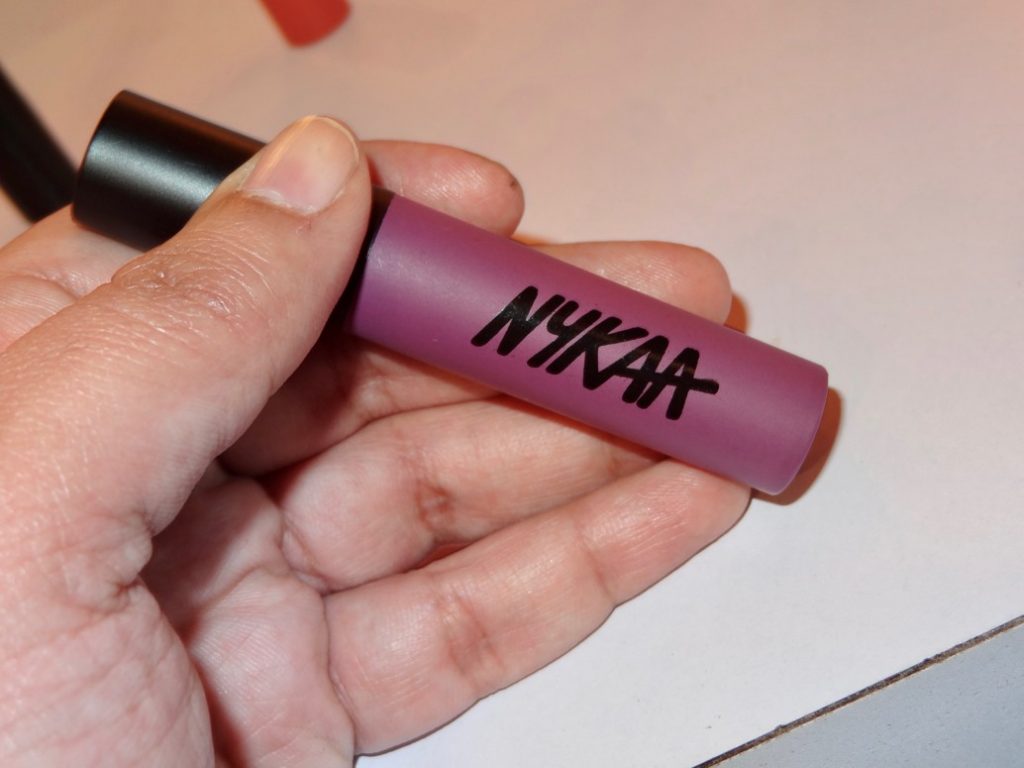 Personally, I loved most of the colours but my favourite ones are Tender Rose, No Chill Orange, Rebellious Red and Hearts & Kisses. The Purple Monster shade is also unique with its fun & bold colour while the Grunge Brown being the darkest brown is also a great shade. For the subtle wearers, there is Peaches n Cream and Nude Spice. Here is my picture wearing Rebellious Red: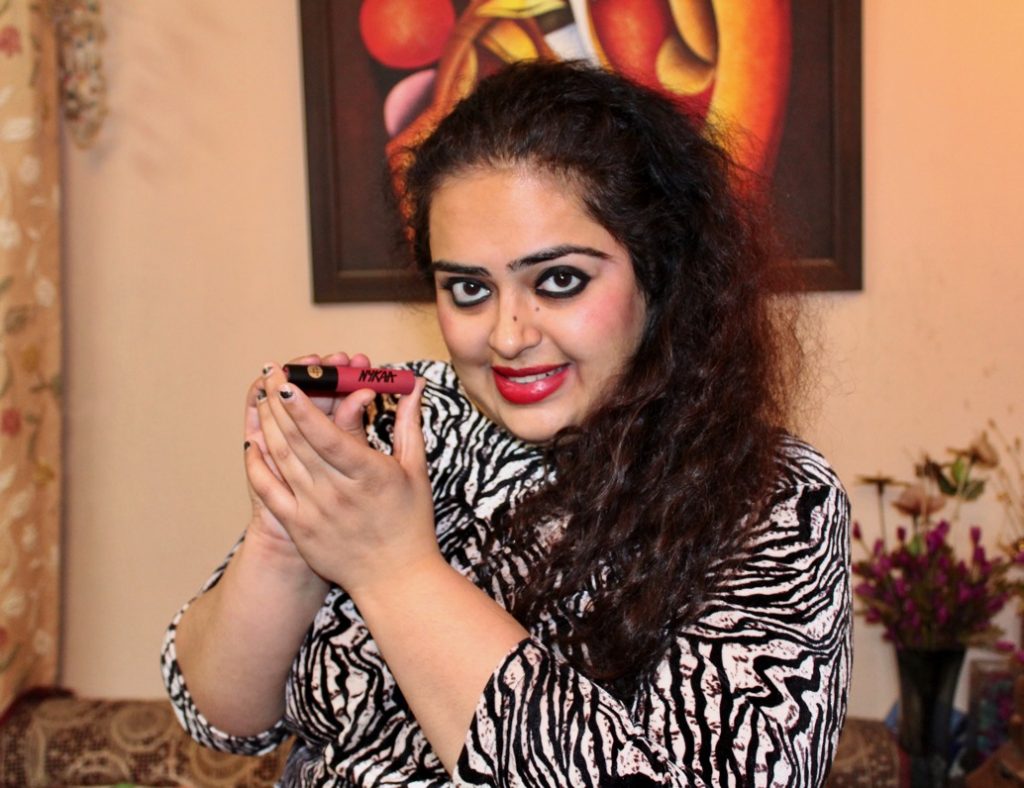 The Paintstix are definitely here to make a style statement & drench you with lots of colour & fun this style season! There is a luscious shade for everyone. The Nykaa Paintstix is just a click away with Nykaa.com, the exciting and scintillating new colours for those who live each day to experiment, living louder & experimenting with boldness & making the mattes truly yours by highlighting them on your luscious lips. The more you speak, the more volumes & depths you create & add to the colours, so soft & pure making yourself wanted, loved and cared by Nykaa all the way.