10th to 12th February 2017 was known as the foodies weekend coz there were 4 food festivals taking place in Delhi NCR. In just one weekend it was impossible to go to all 4 food festivals, so we had to choose one! I had never been to Palate Fest before so I chose to go there. Held at Nehru Park, it opened doors from 11 AM to 11 PM from Feb 10 to 12, 2017.
Palate Fest Reimagined 2017 is known as an all-encompassing Food & Music Festival jam packed with exclusive fine-dining restaurants & world class chefs, Palate fest has proven itself to be one of India's best culinary events, loved by families and the youth alike. So Team ChicLifeByte with an empty stomach went ahead to explore the culinary delights from the best of the restaurants under the open sky! The big wide lawn with colourful branding of the fest welcomed us whole-heartedly!
Our first stop was Bonhomia for the quick caffeine fix. We have also earlier done a review of the wonderful equipment and aromatic & frothy coffee which you can read here.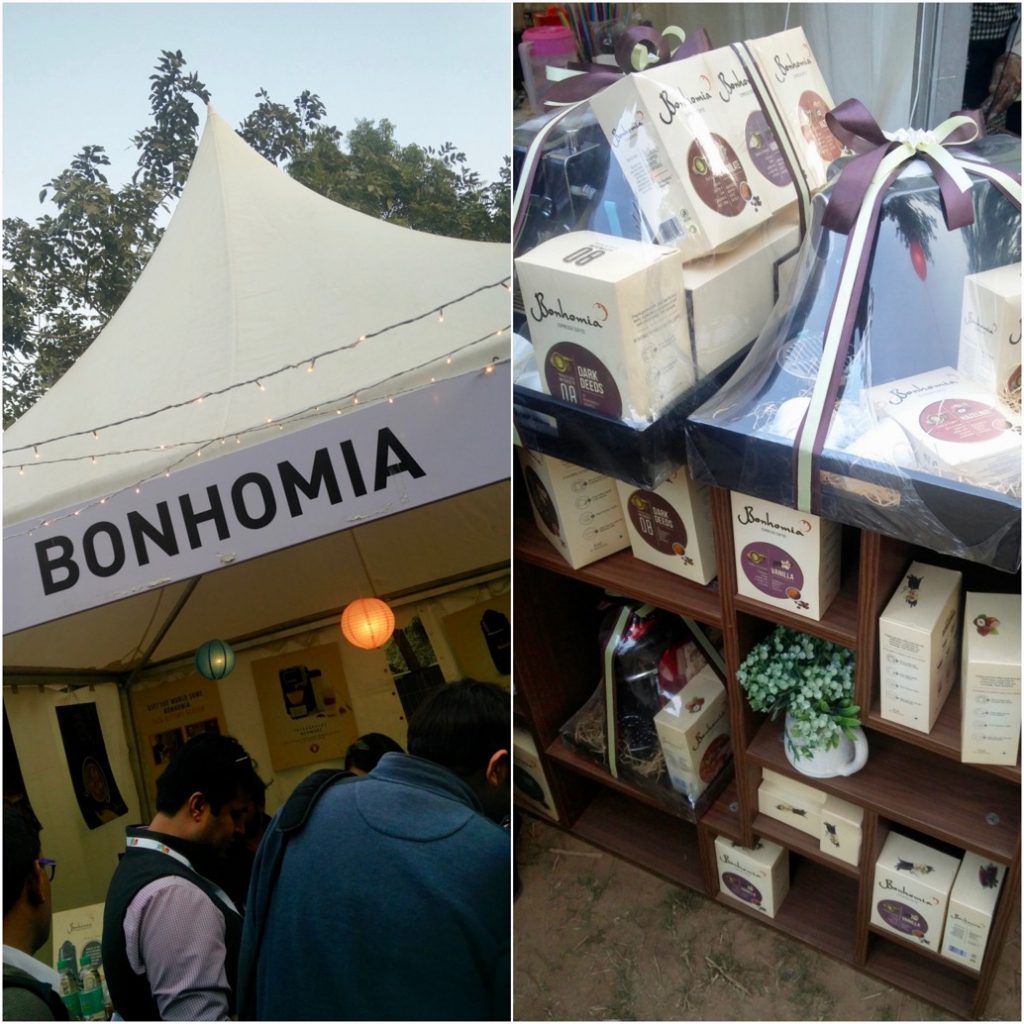 Next was the stall Olives from Spain where we got to eat some spicy and scintillating olives unlike what we have eaten till date.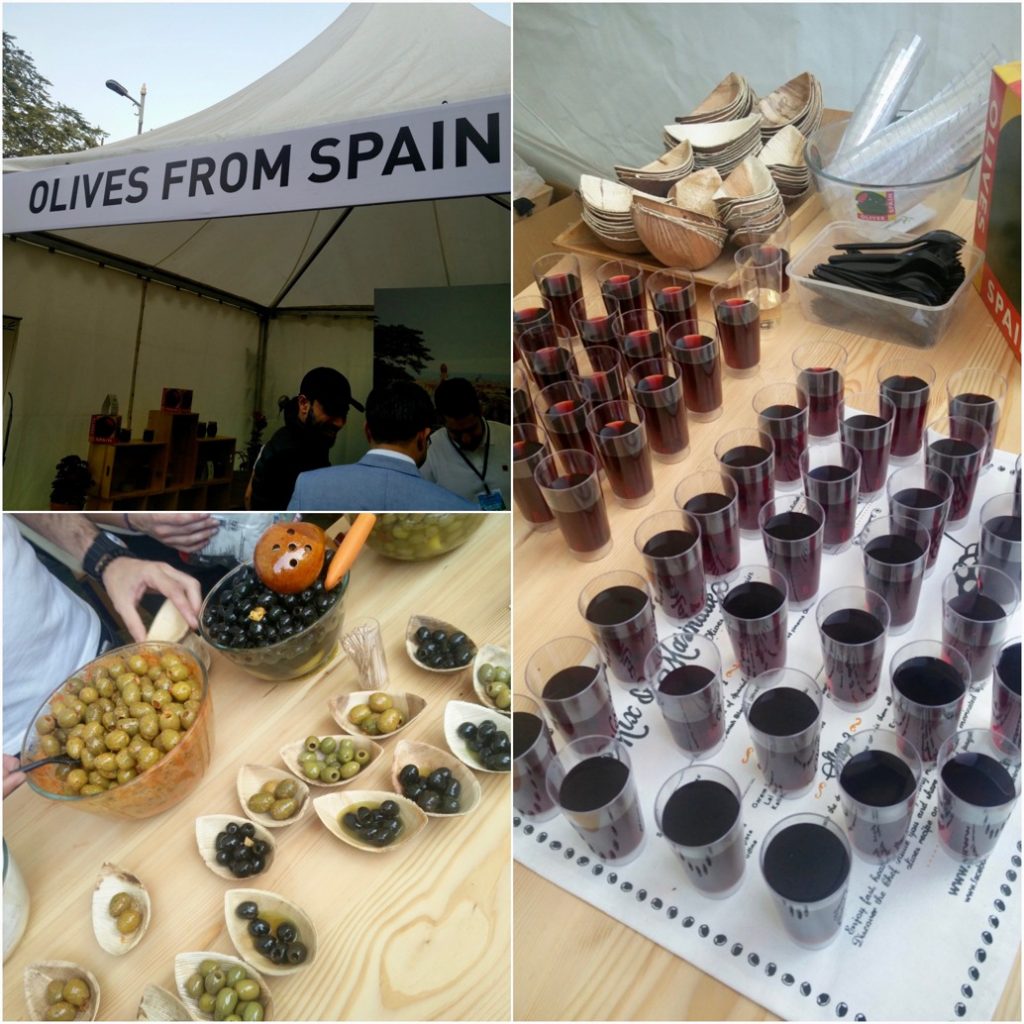 Caara Catering gave a different dimension to our food ride. On our visit to their stall, we got to know they grow everything inhouse! It's s bespoke events company that is known for its unparalleled service. We got seated on a nice couch with a table and a few plants giving the message of Caara- 100 percent chemical free. We had Gourmet Caara Basil Pesto pizza with rocket leaves which I would say is heaven for cheese lovers. The pesto, sun dried tomatoes and rocket leaves added the required colour and taste. The fresh Caara basil pesto macaroni pasta was creamy as well! Yum and tasty!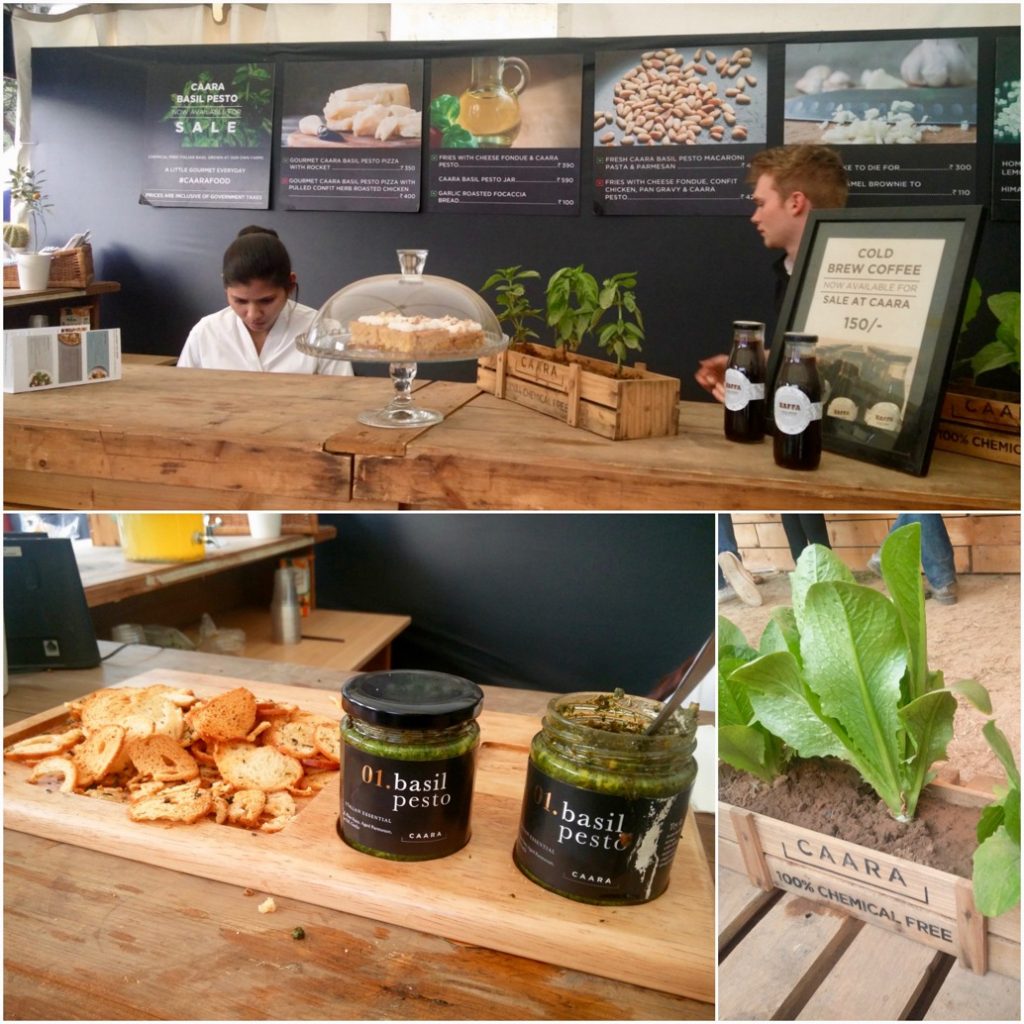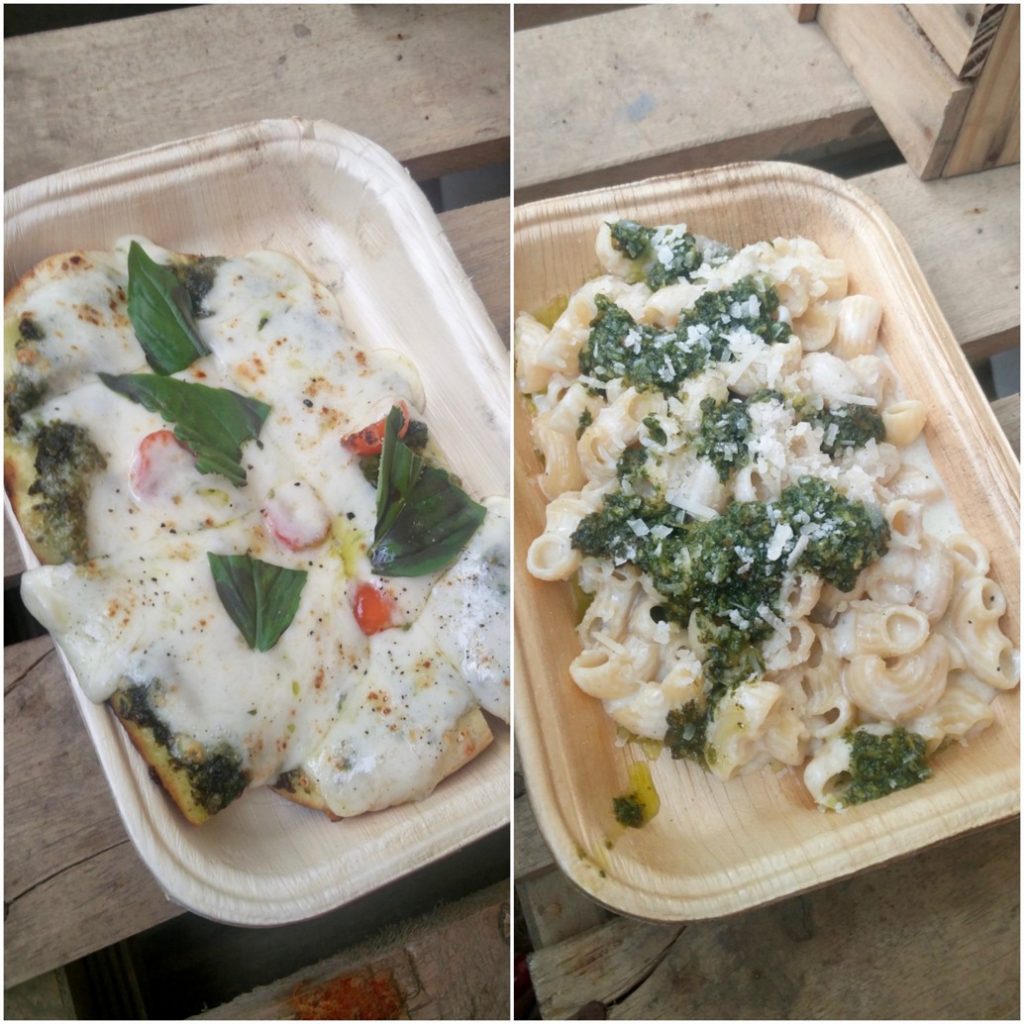 Time for Chinese and Japanese and our next stop was Asian Haus and Sushi Haus. We started with Mixed veg dumpling which was served with chilli paste, black bean onion and chilli flakes. The tasty treat felt like an assortment of vegetables in a small warm and friendly potli of love. The Chicken scallion dumpling had mouthwatering chicken inside the triangular shape dumpling. Asparagus tempura roll was crunchy with fulfilling rice and asparagus! Cutely presented as well! The Teriyaki rice bowl had crispy vegetables combined with soya and spices with sticky rice. It was colourful and delightful with a blend of nutrition coming from the veggies! We had earlier done a food review of both the outlets which you can read here and here.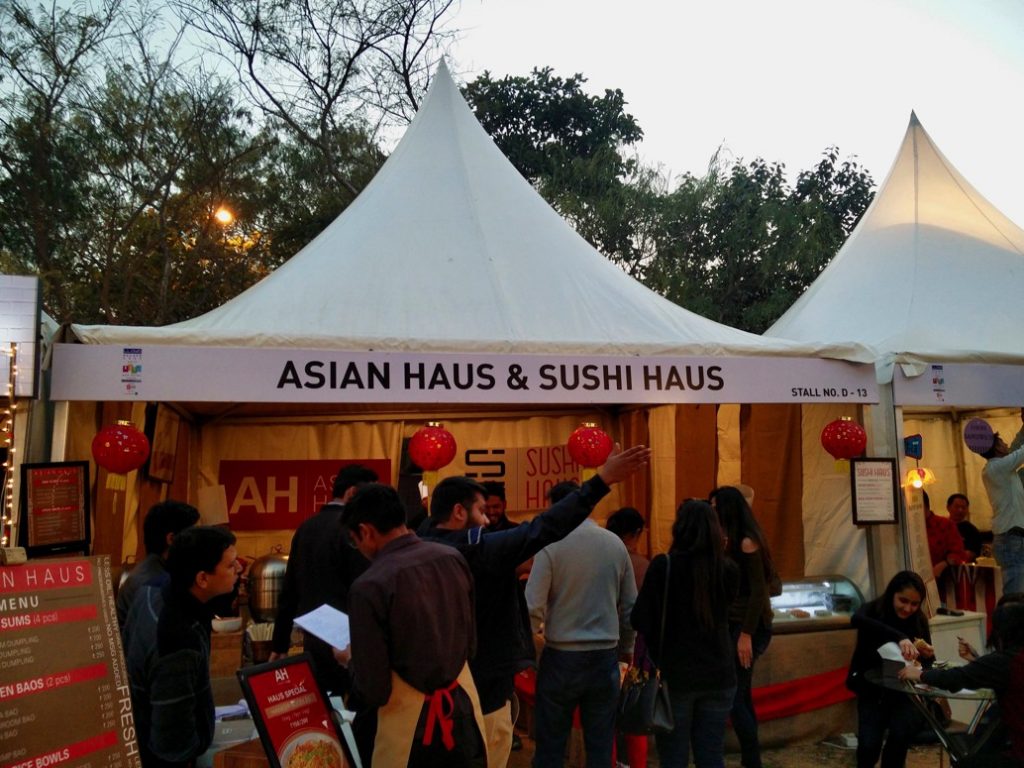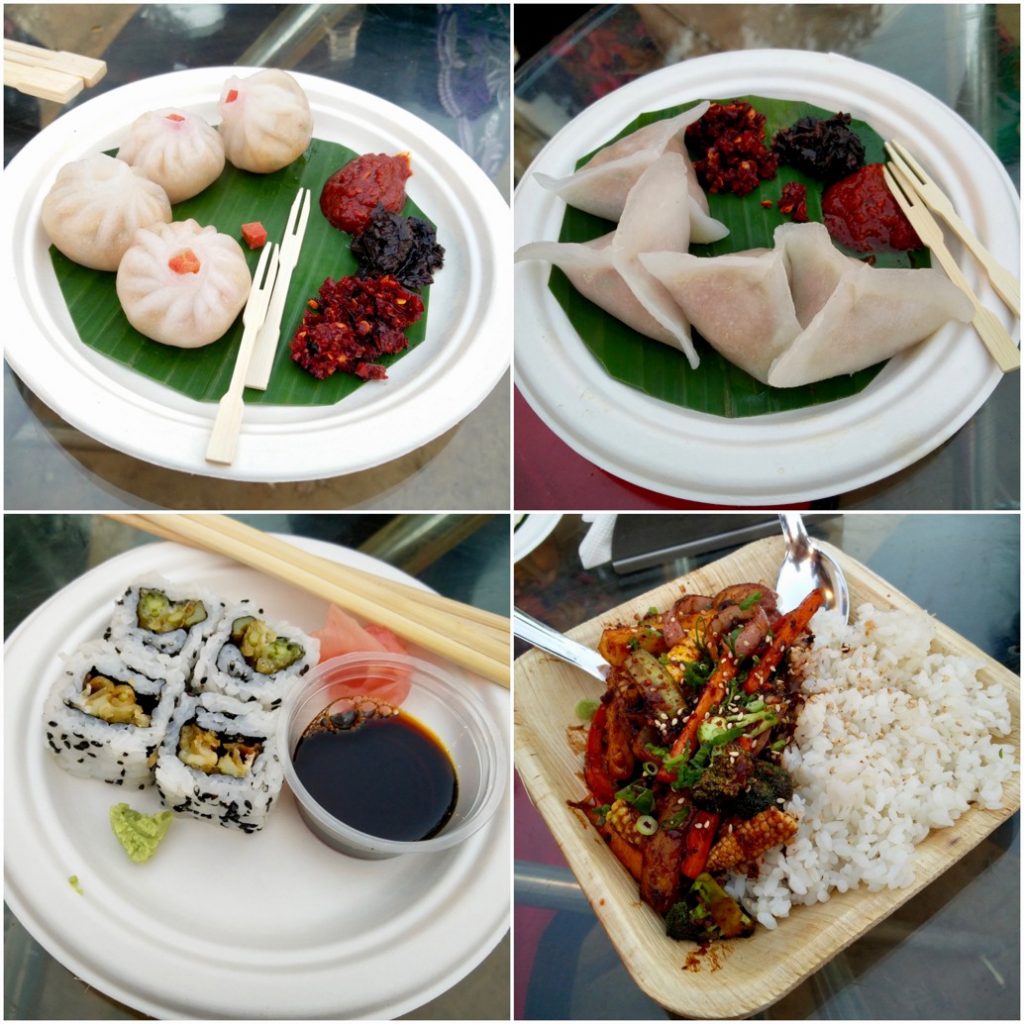 Next was Taj Mahal Hotels and Resorts. Yes, there were five stars as well participating in the renowned food festival. We started with Thandai and Masala Punch. What a respite! Both had perfect flavours and the right punch! Time for some nice Mughlai food and we started with Mutton Seekh Kebab. With warm flavours, the dish was well marinated and presented with chutney and sliced onion. They were succulent and flavoursome with the right spices! Next we jumped on to a North Indian delight with Rawal pindi chole with amritsari kulche. The well stuffed kulcha made for a delightful impression which were paired with awesome chole!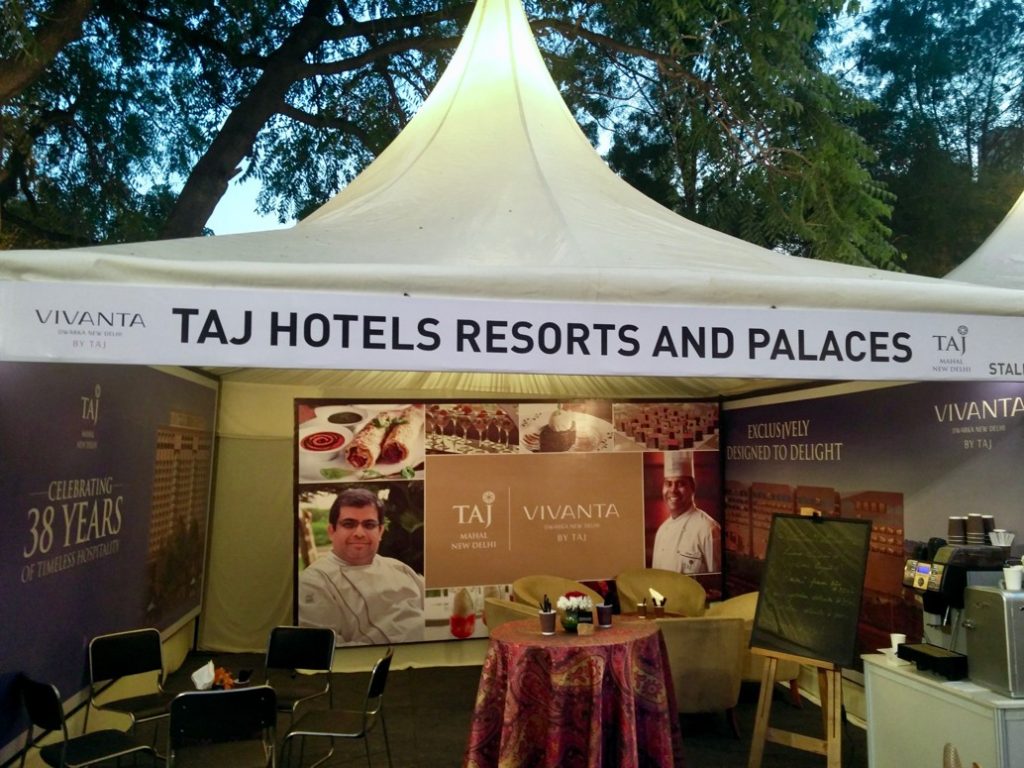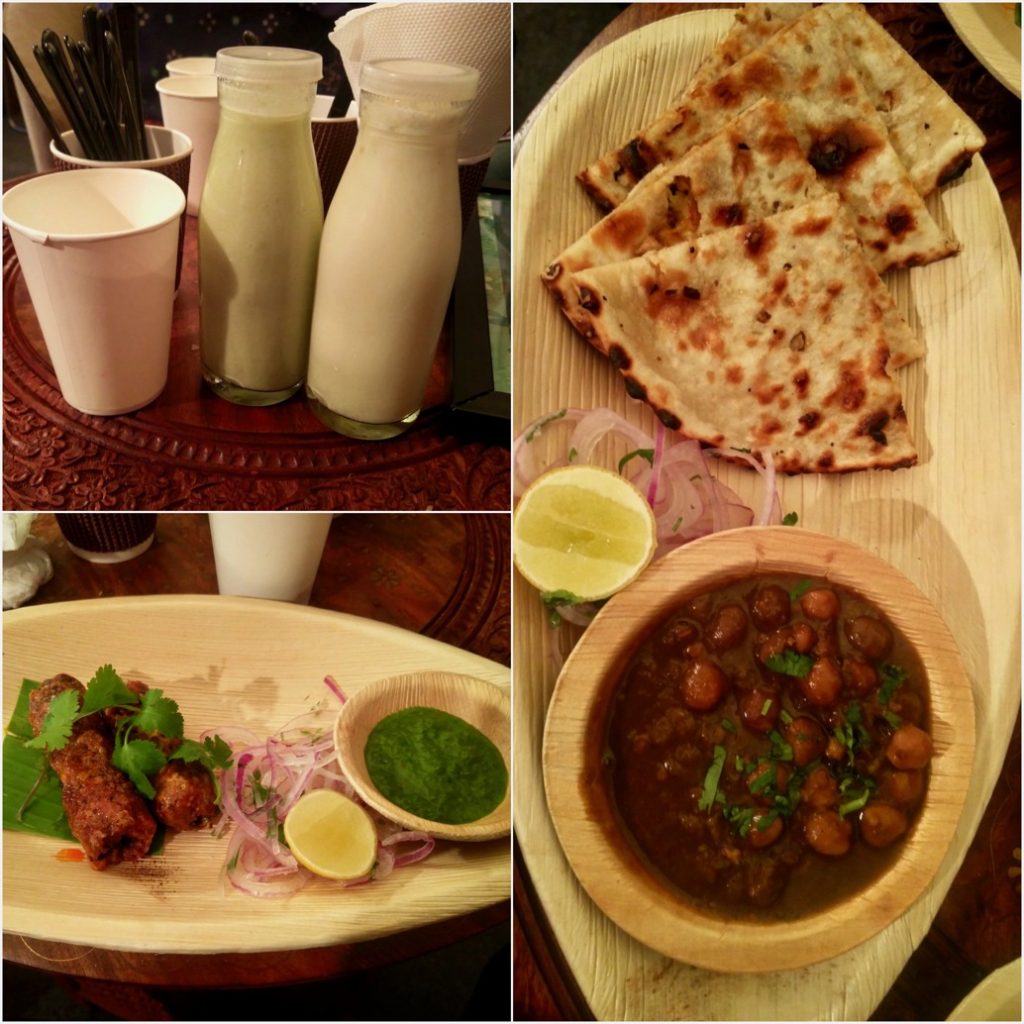 The Paneer kathi kebab was crisp and well stuffed which was served with mint chutney and sliced onion. A vegetarian's fantasy I would say so it didn't delight me as much as the other dishes on the menu! Aloo chi papad was crisp papad served with tomato garlic chutney and mint chutney. My favourite dish here was Veg Biryani the authentic Biryani flavour made a great impression. The aromatic flavors coming from the Spices were just out of the world! The biryani also had colours and nutrition with the right veggies – beans, carrot, peas and onions which added the right taste! It was garnished with coriander! Definitely amongst the best biryanis I have ever had to date! The food was accompanied with some mind blowing drinks – Teekha Tamarind which was tangy and refreshing and Nimbu Pani which was great, though I would preference goes to the former. Both were served in cute transparent glass bottles. All this was served in a nice ambience with comfortable couches and chairs with a cute colourful rickshaw serving candy floss.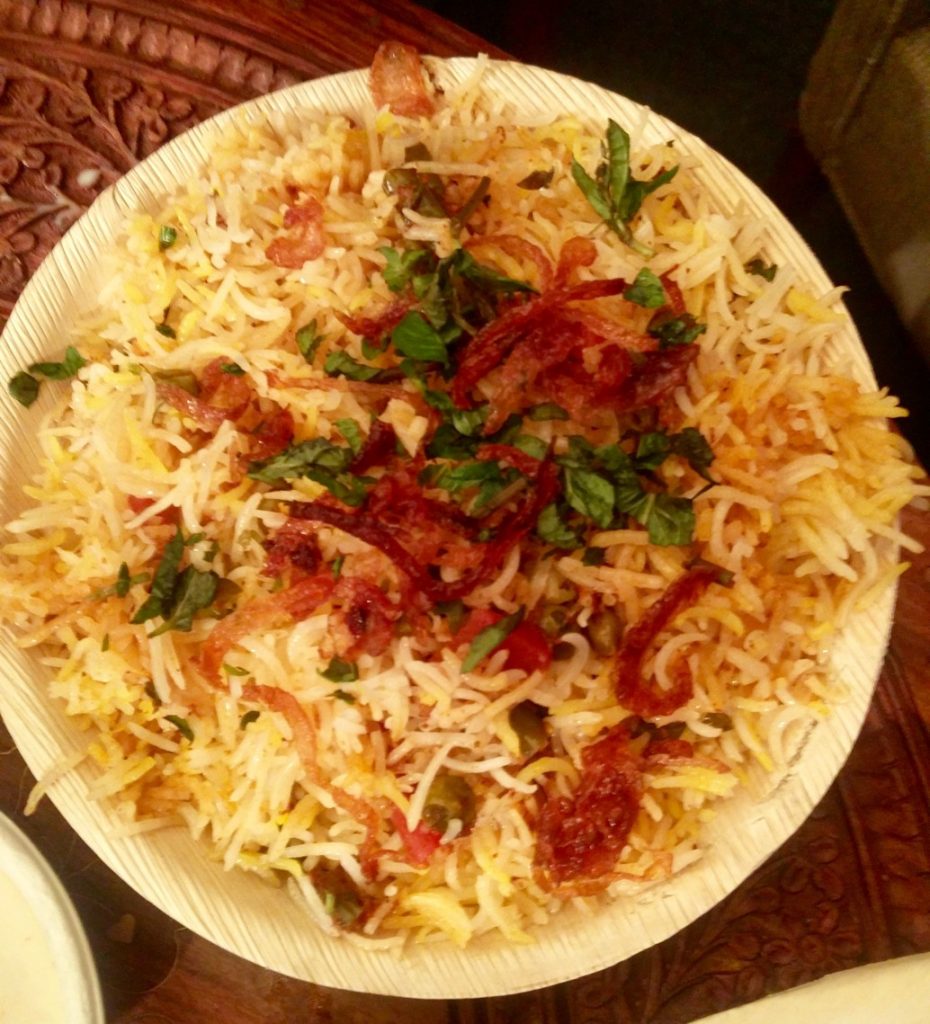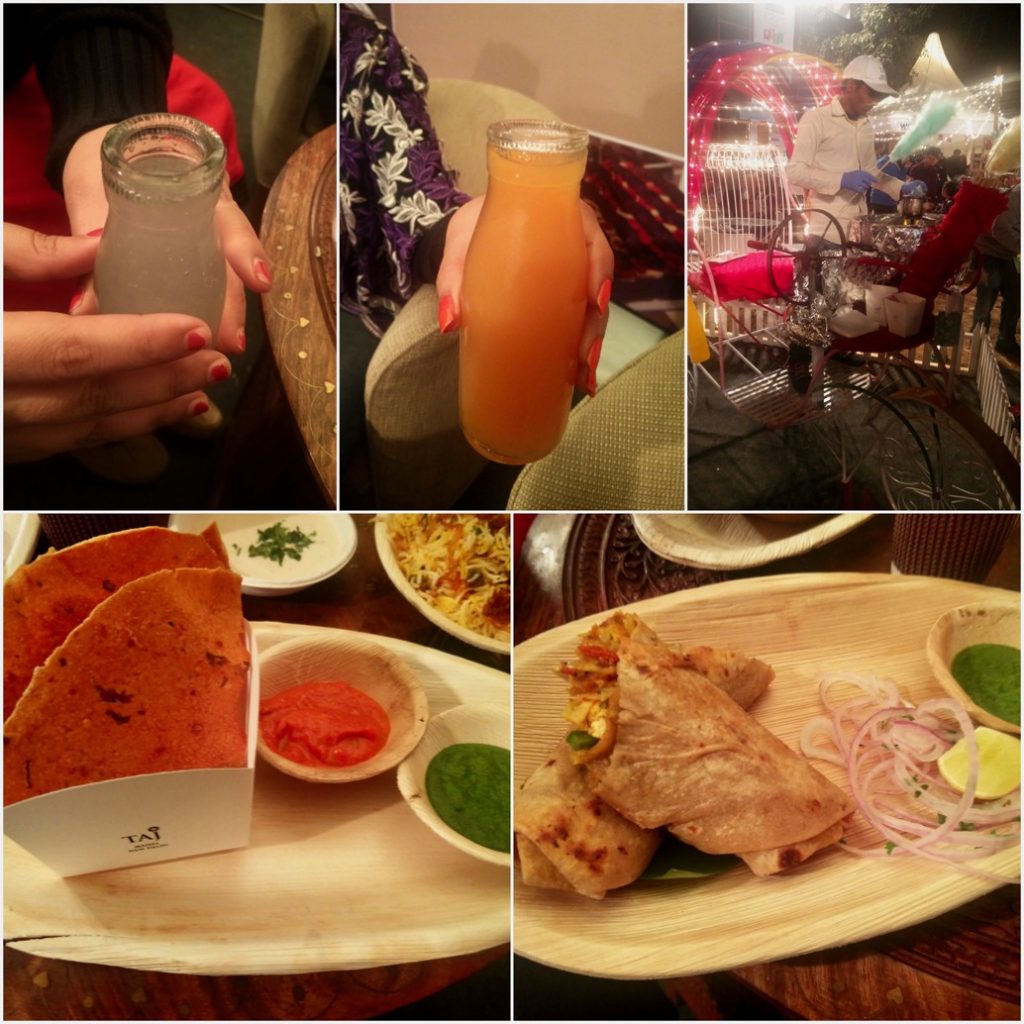 Our next stop was Bunta Bar which attracted us with a lively ambience with an orange ceiling and some fun props. We had Bunta Fries which were teekha and yum! How could we miss Banta, our childhood nostalgia so we ordered Anarkali Bunta and Fanta Bunta. The Anarkali Bunta was a pink drink with mixed flavours and was absolutely delicious while Fanta Bunta had the perfect mix of Fanta and Banta! Next, we tried the Bunta veggie lover pizza which had the toppings of bell pepper and onions. The thin crust pizza is a vegetarians delight and was absolutely relishable! We have also reviewed Bunta Bar earlier and you can read it here.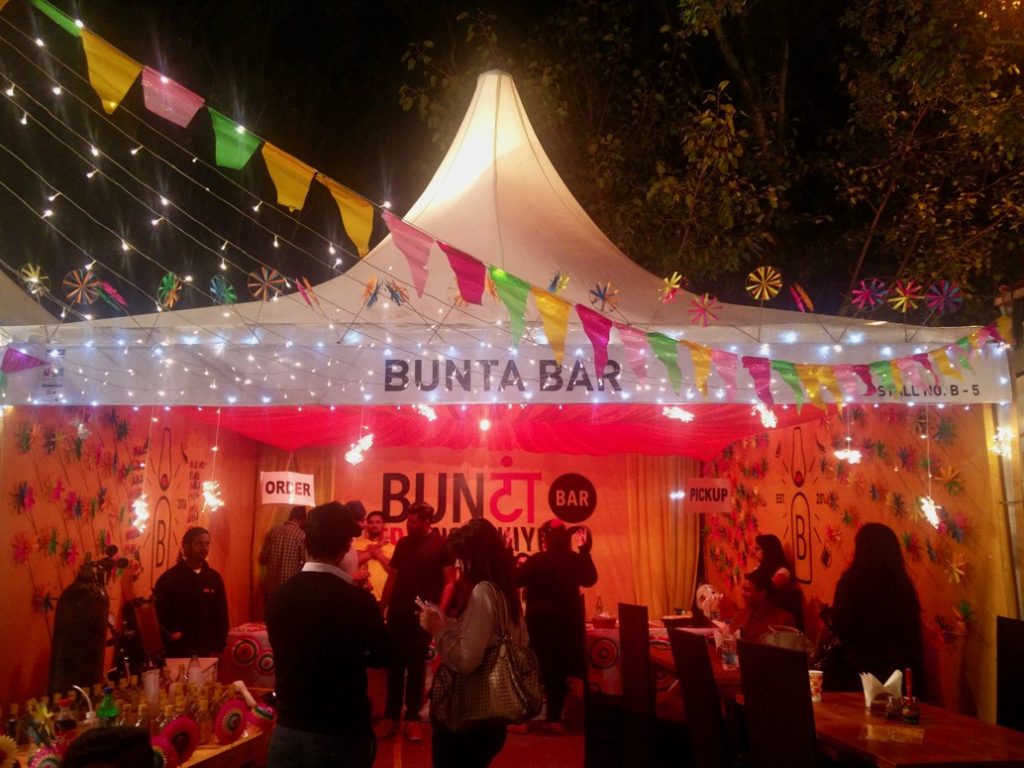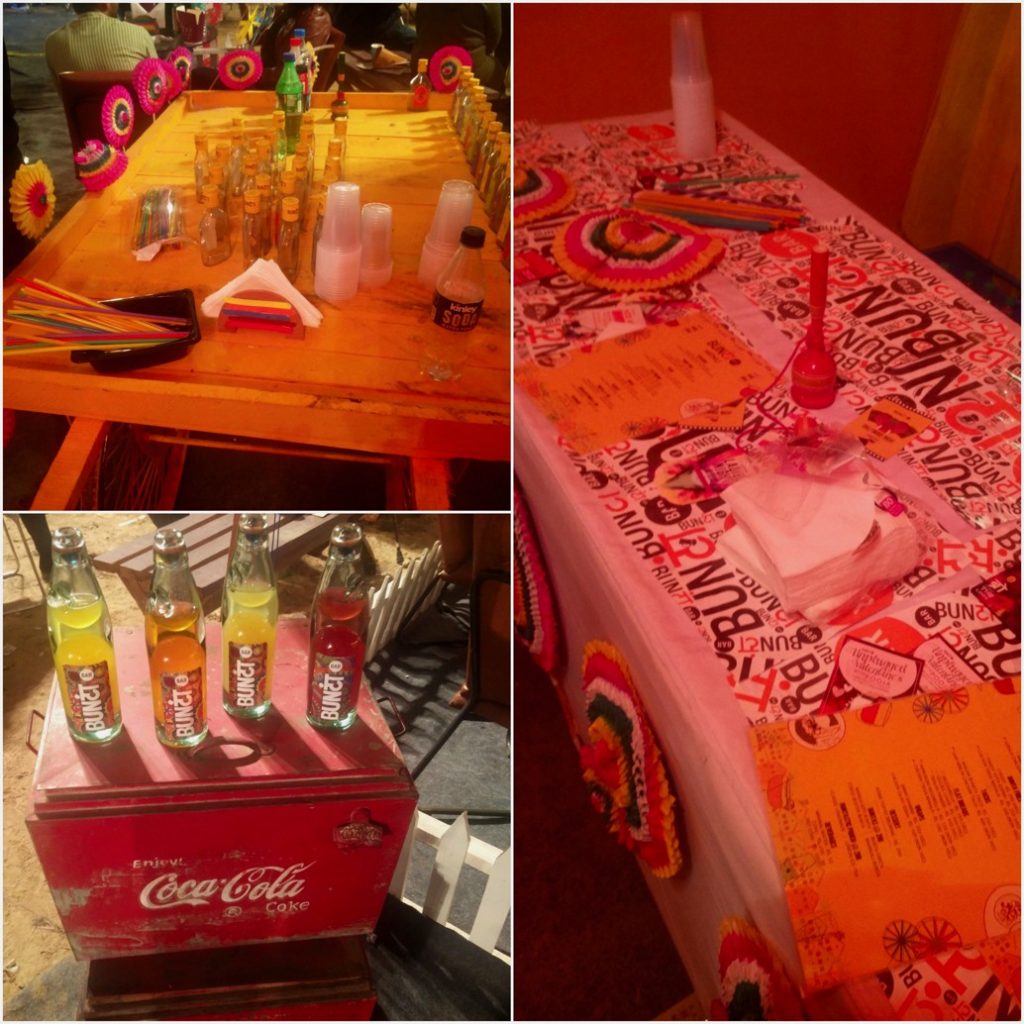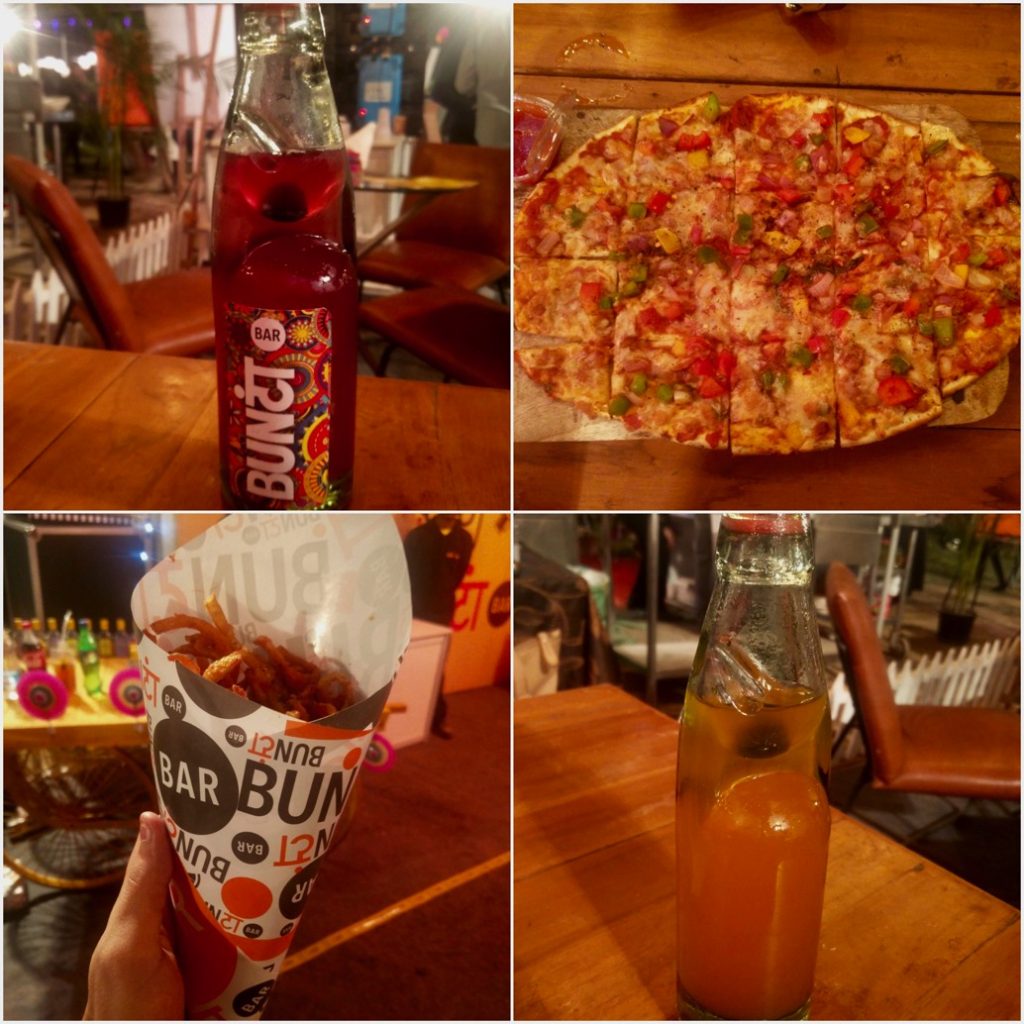 Elation Cafe & Bar had a nice well decked up ambience with high stools and drums! The high point was the swing which was a preferred spot for kids! For starters we had Pesto sundried tomato bruschetta which was soft and came with great flavours of the toppings. Next was Hummus with Pita Bread. The warm pita bread tasted great with the classy hummus. It felt great for the wintery afternoon. For drinks we ordered Watermelon, Orange and Apple mojito out of which I loved the Apple one! For main course we had Chicken Stroganoff with saffron rice which was creamy and mildly spiced! The Lemon Flan had both flavours, it was tangy as well as sweet. The Coffee soufflé was outstanding, my favourite beverage came in an edible format! The Oreo Parfait was divine! Oreo flavours with cream! Yummmm!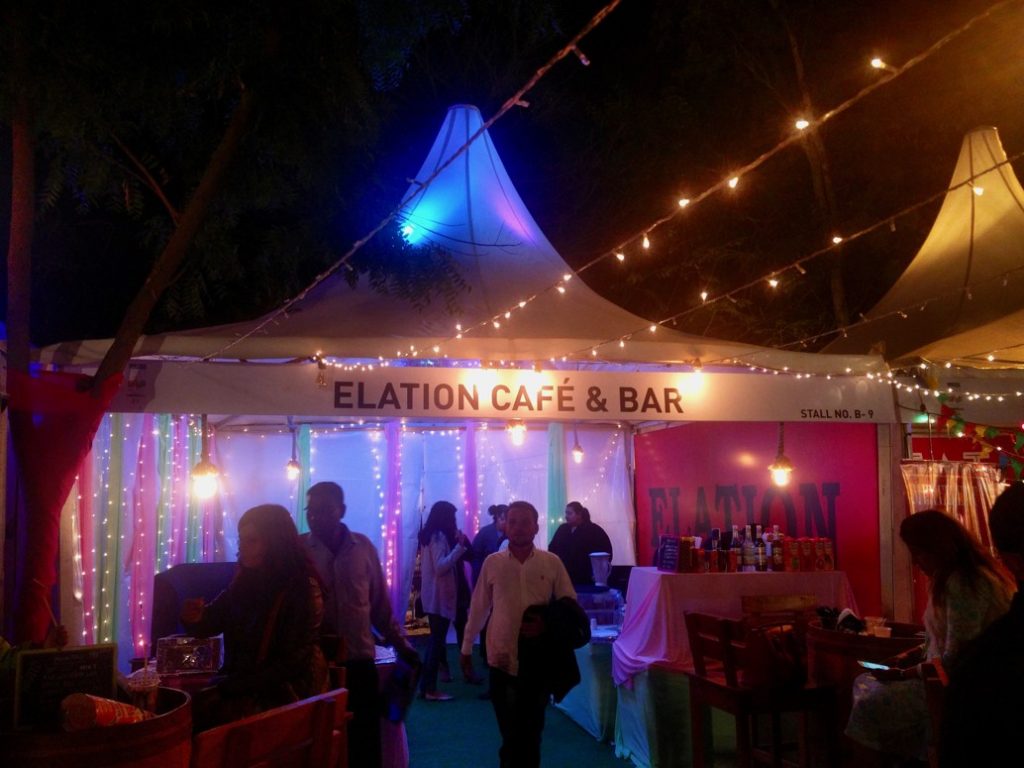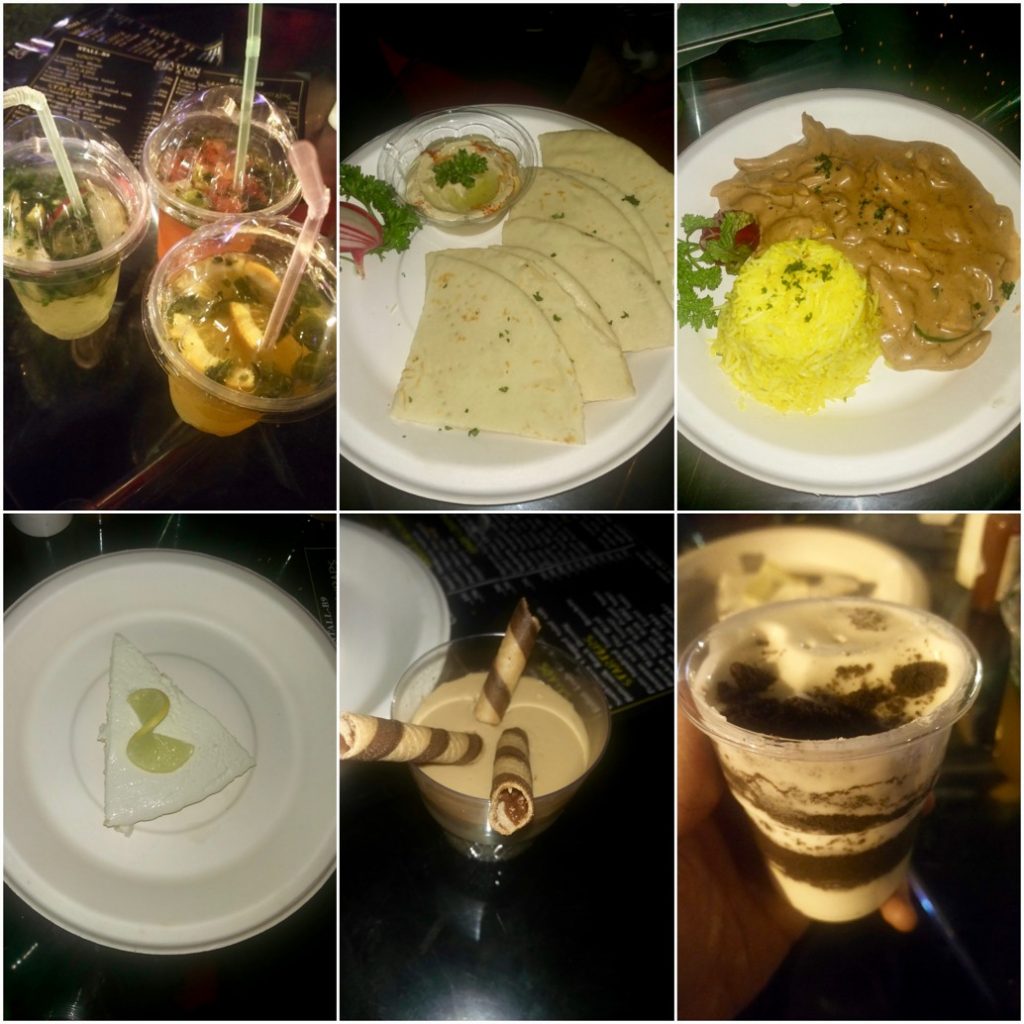 Our next spot was something sweet. Cravings, an outlet which you would find at South Point Mall Gurgaon has a colourful spot here. Tarini Bawa, the beautiful owner introduced us to her veg bakery and we started with their Cupcake Bar. We chose a vanilla cupcake with a filling of Nutella, frosting of whipped vanilla and toppings of gems, rainbow sprinkles and choco chips (which we could choose according to our preferences). We also tried Chocolate Lollipop which was yum, soft and so convenient to eat while the Caramel popcorn had a unique taste which made for a great munch! Other desserts on offer were Doughnuts and dessert sandwiches.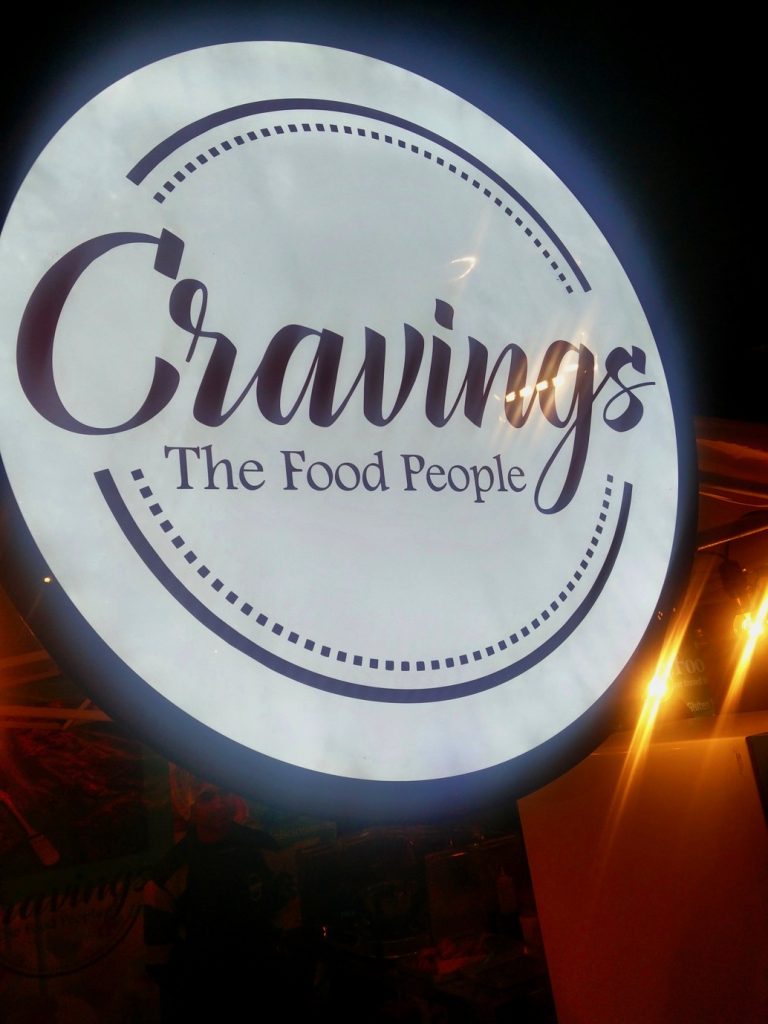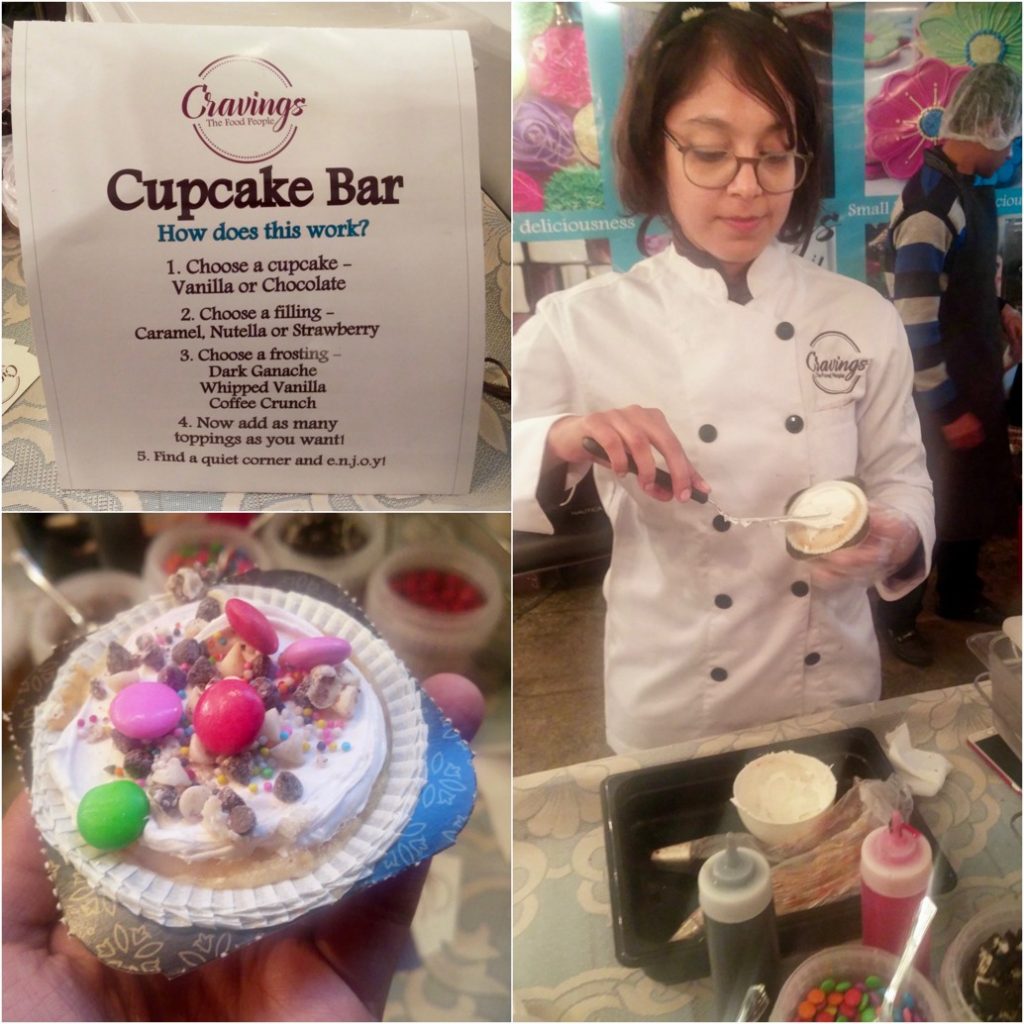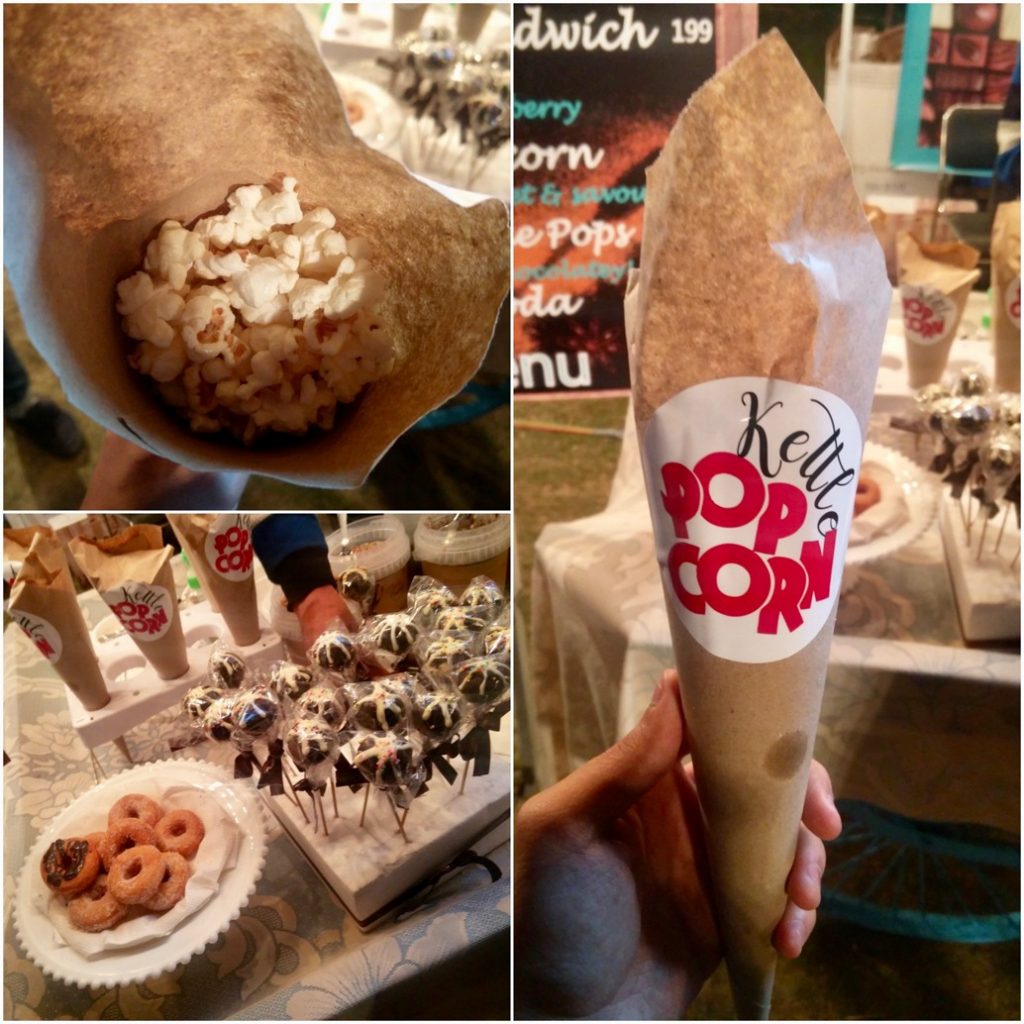 Time for some fruity nutrition and we stopped Crudo Juicery. The Gurgaon based outlet is known for being the right alternative to aerated drinks. We had the Rose Berried Treasure, a cold pressed juice which had blueberry, strawberry, gojiberry, watermelon, orange & rosewater. It was nice, tasty & refreshing. A hit blend since rosewater enhanced the flavour. If you want to know more about their juices, you could read here, a review which we did after visiting the hotspot at Galleria Market, Gurgaon.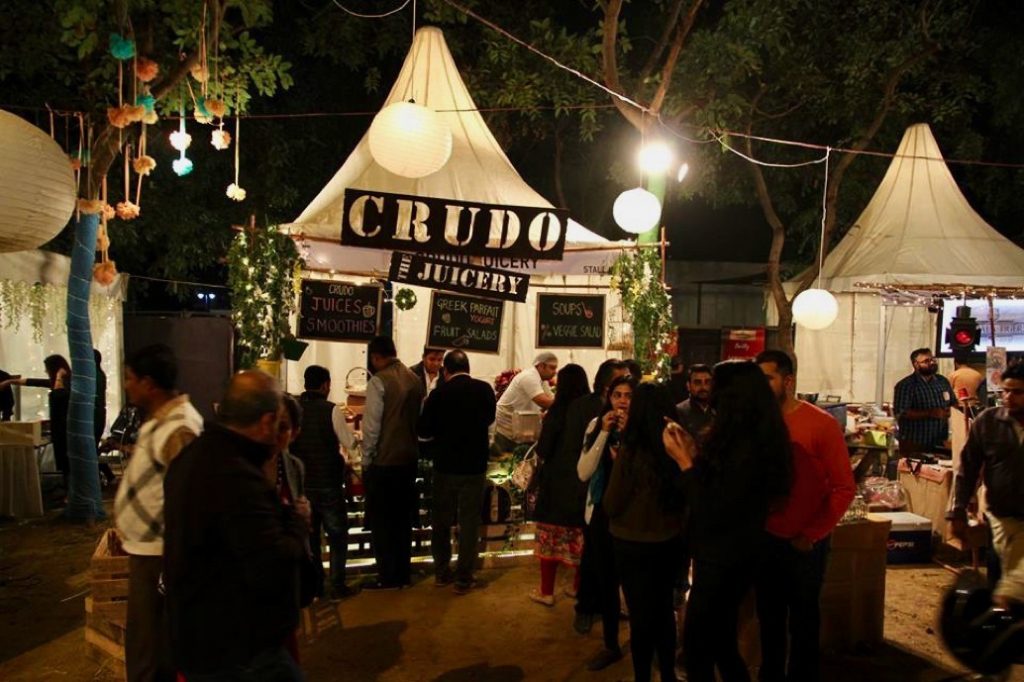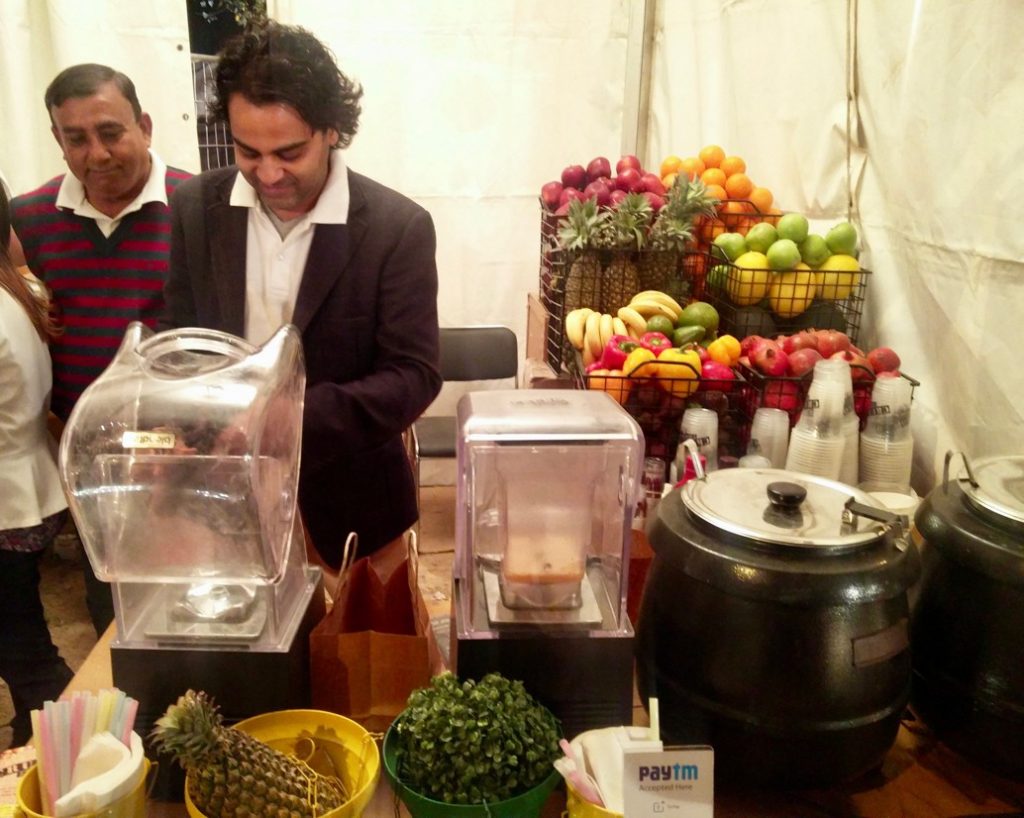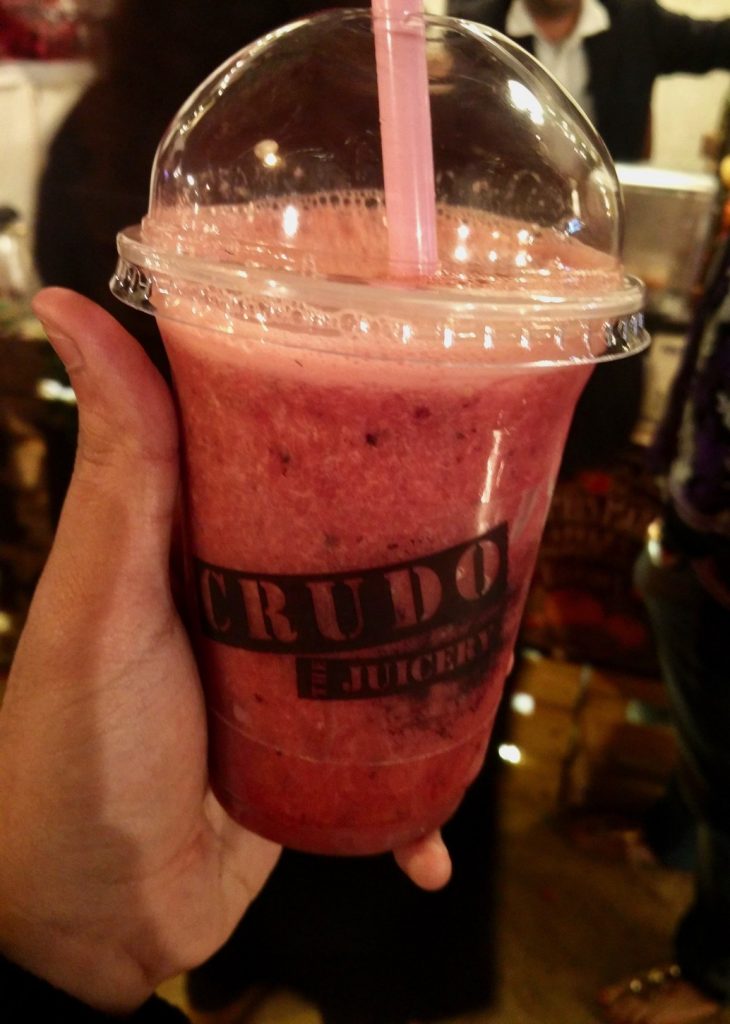 As I entered the next zone I was thinking of leaving as I was full but I felt a nice aroma which pulled me towards it. It was coming from Al Yousuf, an eatery from Chandni Chowk. They are known to serve love and not food. We had a delectable non-veg platter which comprised of Mutton Seekh Kebab, Chicken Reshmi Kebab and Afghani Tangri. Everything was simply outstanding beyond words! The Lamb Biryani was flavourful with soft and juicy lamb which should not to be missed at any cost. The Chicken Kofta was creamy and a little sweet but was amazing!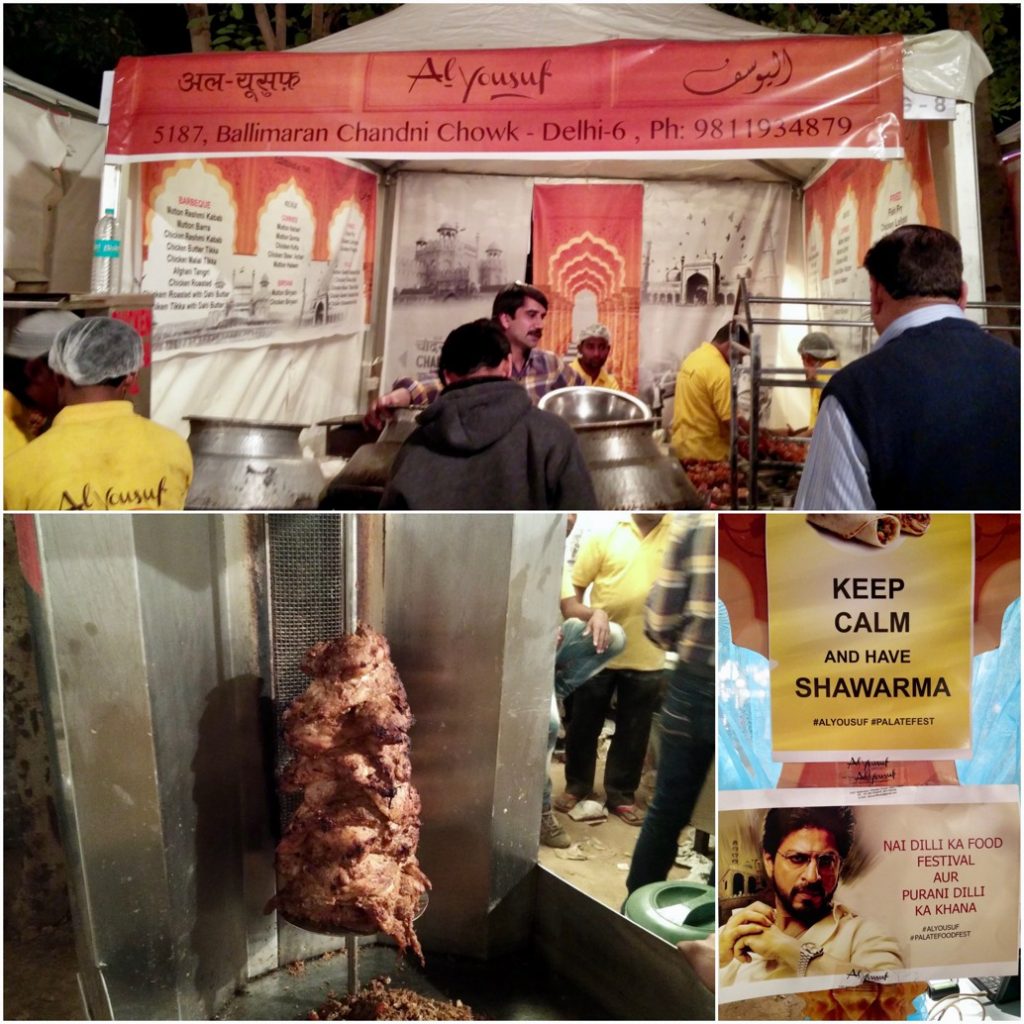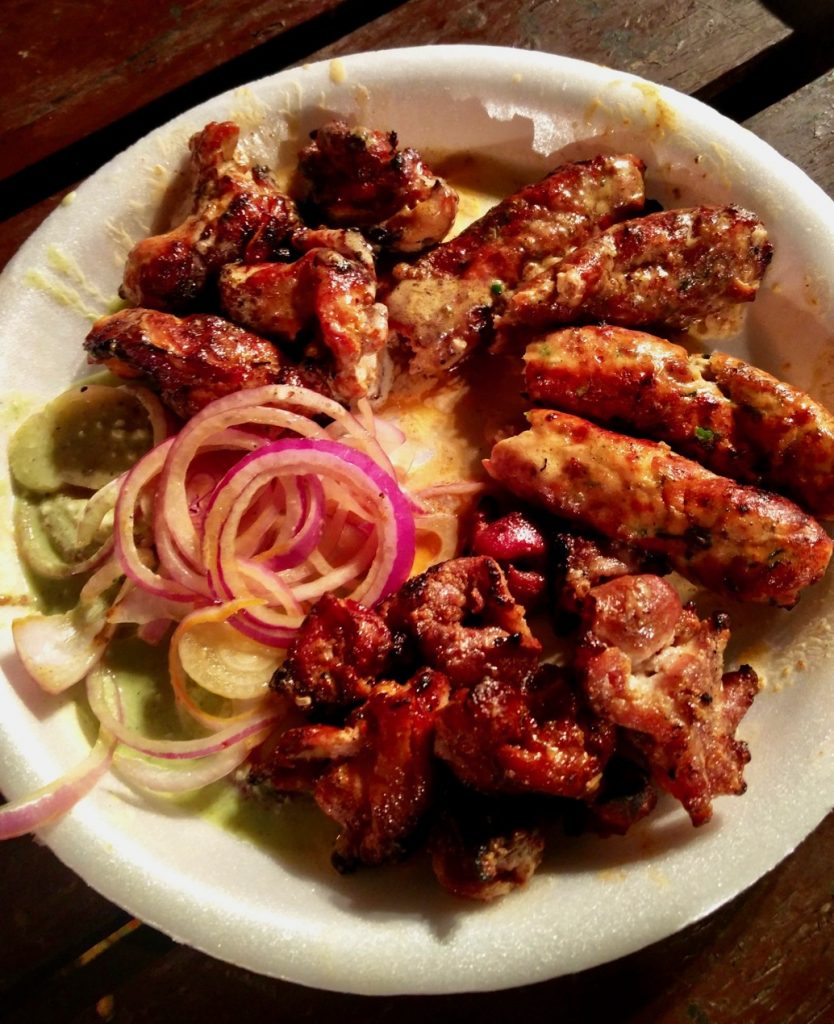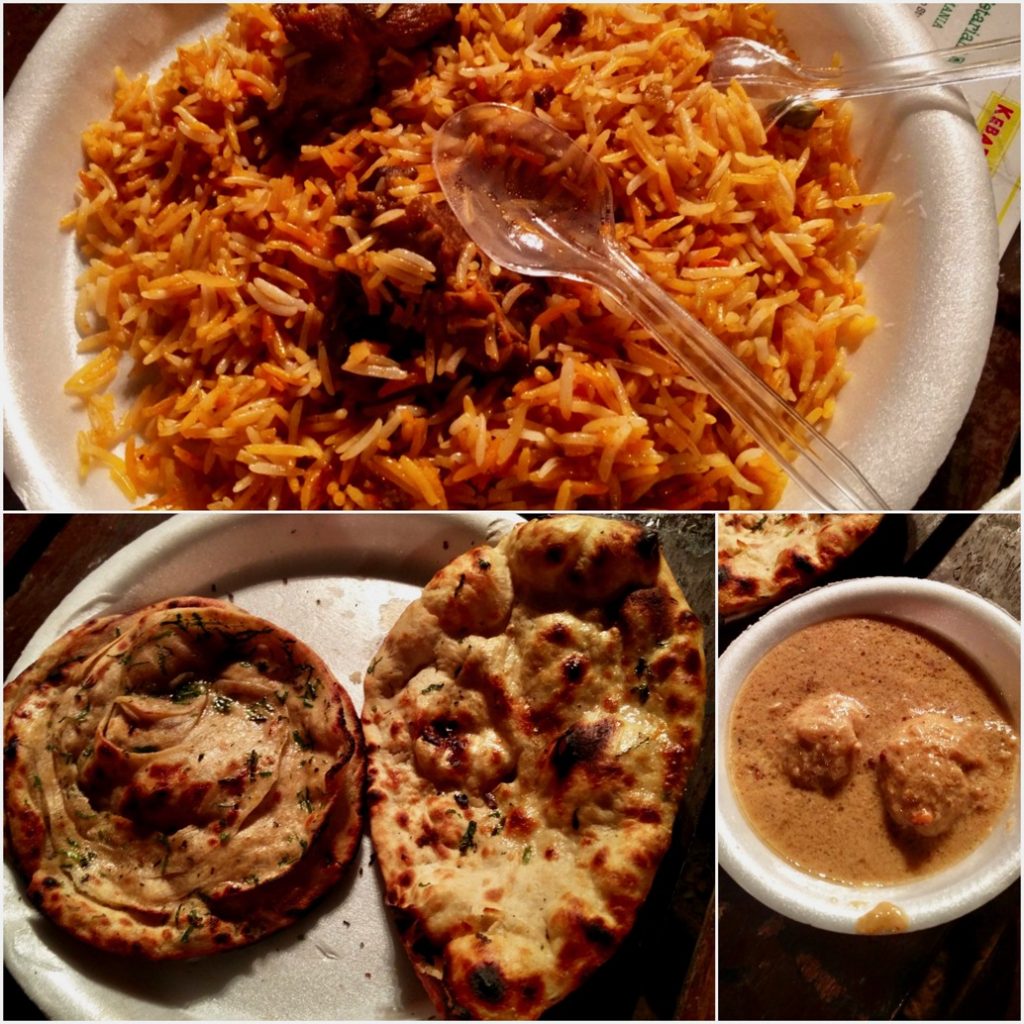 How could a tea lover life me miss on gorging the wonderful teas by Indian Splendor. With a wide variety of flavours, it had something for everyone! We loved Royal Jaipur which had a unique taste!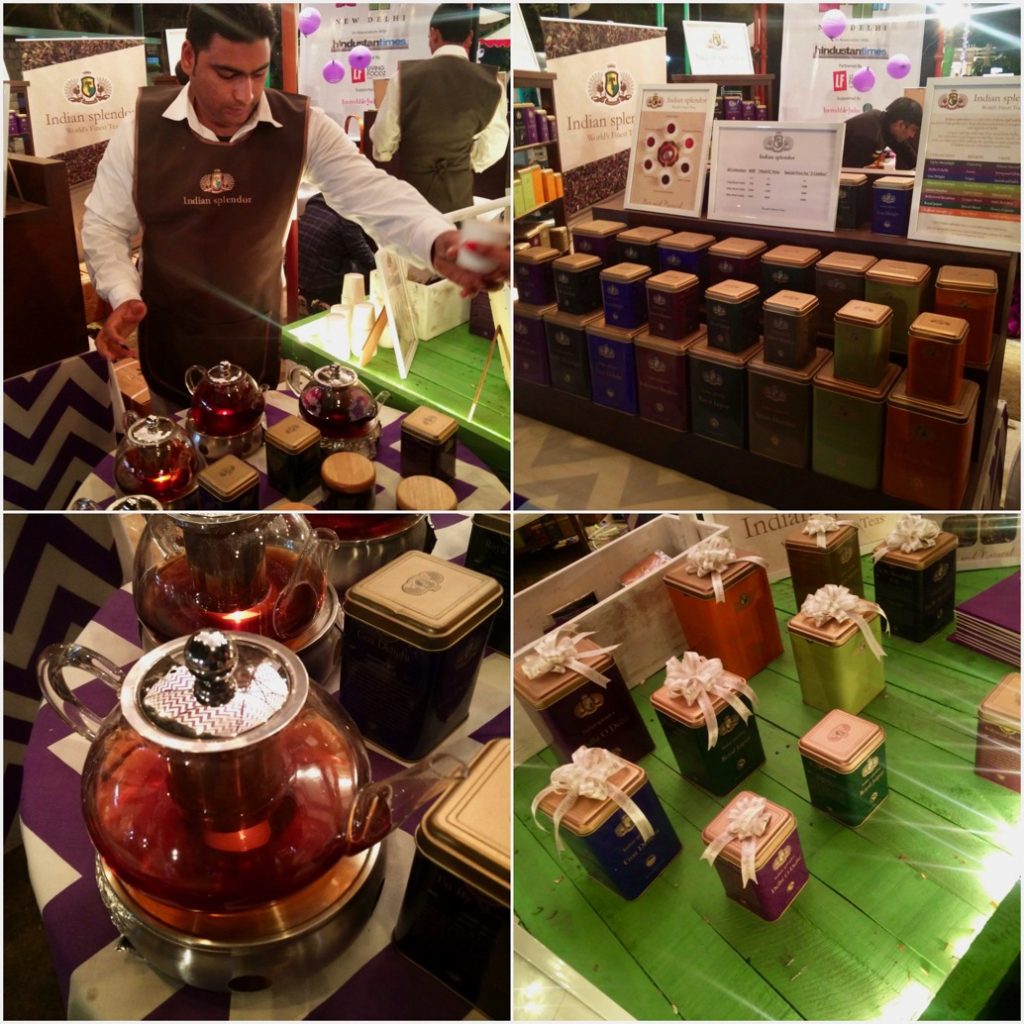 A big highlight of Palate Fest were Demo Classes by Masterchefs like Chef Saby, Chef Vaibhav, Chef Rakhee and Chef Pankaj across the three days of the festival. It wasn't just the food that everyone enjoyed but the mind-blowing music by some renowned bands including Swarveda, Euphoria etc! Team ChicLifeByte enjoyed their time at the Palate Fest and I am sure you enjoyed it as well! In case you missed it this time make sure you attend it next time! Kudos to Ruchi Sibal and Aditi Kapoor for such an amazing job! After 6 successful festivals in Delhi, Goa and Chandigarh in last 2 years, Palate Fest was back this year!