Looking for a place to enjoy a relaxing evening after a long, hectic day at work… a day of celebration… or simply for a change from the oh-so-typical hangouts in NCR… Quaff is the place to be. Situated aptly distant from the hustle-bustle and providing you and your gang your space, this place is a must checkout for its offerings.
Accommodating 40-50 outside and an approx. 125-130 inside, the space can be soon known as your "adda" going forward. The seating outside is casual and inside more chic and retro (all hard-wood seating without cushion needs a mention though!).
The first thing you notice once inside is their big bar counter, almost extending from one end to the other, hosting an elaborate assortment of international spirits. (And, by elaborate, I really mean elaborate – You can actually gasp looking at such a collection. Hats off to the creator!). Right behind the bar is the microbrewery made well visible via a big see-through glass, just to give you a feel that you are at the right place to Quaff. The place has been designed so as to accommodate the maximum without giving a house-full cluttered feel. Each sitting place has a uniqueness of its own. The lighting is apt – not too low for you can't recognize who's sitting next to you and not too harsh that you wear your shades inside and not seem out of the crowd. All in all, a decently built place.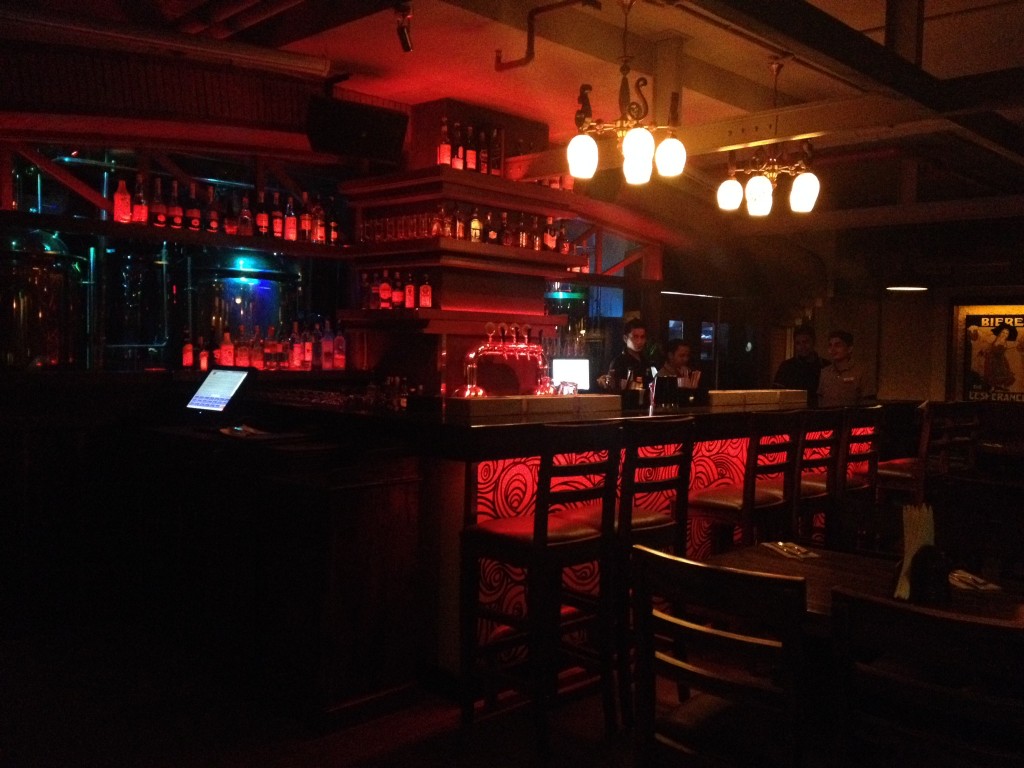 I first visited Quaff at a college re-union on a Friday and wow, this place was full (and yes, not overcrowded). The music was great- retro, R&B, jazz, playing at just right volume. Unlike quite a few cafes around who play repetitive tracks, this one played good and varied numbers throughout a few hours we were there- a high 5 for the DJ.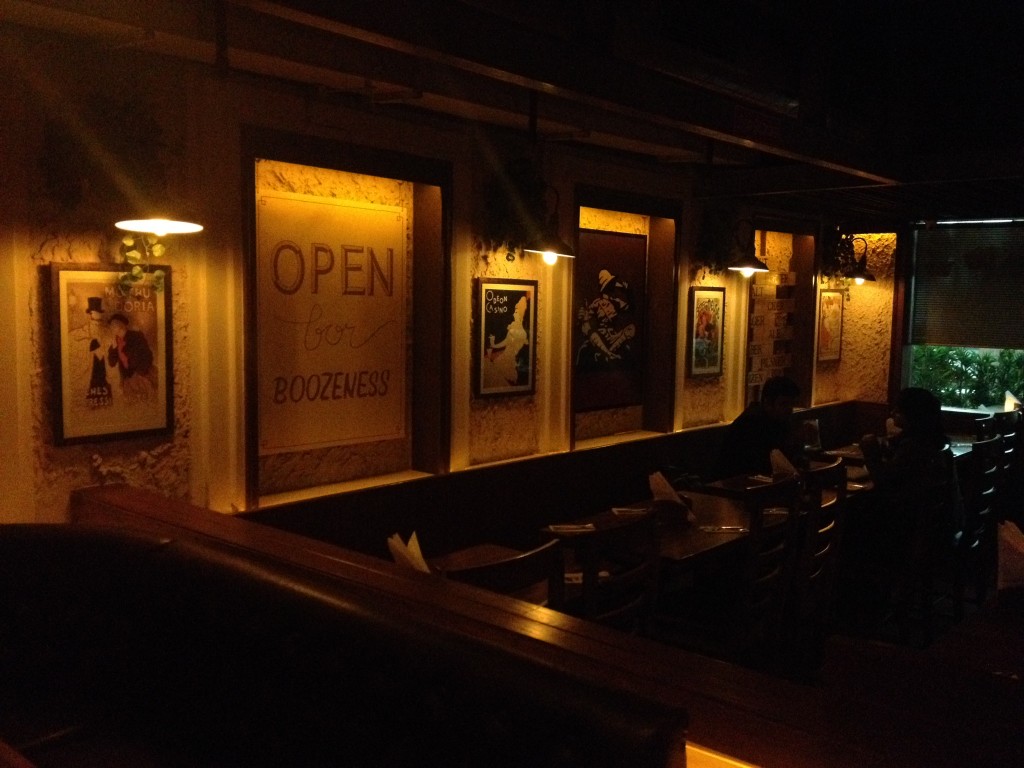 Once seated, absorbing the ambience and music feel, we requested for the menu. A look at the menu and you understand the uniqueness of this place – An all encompassing yet concise collection of offerings, enlisting a host of American & continental dishes. From innovatively done mocktails to a variety of beers, cocktails, vegetarian- non-vegetarian starters, burgers, pizza, pastas, it had something to suit everyone's delight.
The very first mention is bagged by the beer fraternity. The place very well lives up its name and offers a host of international and in-brewery prepared variations like Wheat, Brewer's special lager, dark bear. I personally made up my mind to try each one of them, and boy, was I content! The bar menu offered a host of cocktails comprising many of the all time favorites and some new additions. Berry explosion is a must try. Other cocktails worth a mention are Sex on the beach & sensual healing.
Moving to the mocktails section for the teetotalers few, this place offers a very good list of mixes here too. From many of the artistically named (and prepared, trust me!) drinks, a special mention to the Marigua, for a wonderful combination of guava and spices. The taste is remarkable and is something you would try every time you drop in. Others worth mentioning are Pickled mojito and Italian smooch, apart from their all-time classic menu of drinks serving the classic blends in their true sense. The variety is vast and you would want to try a couple of them before you make an opinion. Don't be surprised if you find people visiting this brewery to try out the mind-boggling mocktail mixes.
Food… the tasty part of the day! I would give 10 on 10 to their menu assortment. Asian Chicken popcorn was special, served with a distinct curry sauce- This one is a sure shot to order for all foodies. Mushroom with jalapeno cheese and wonton were with their usual taste as everywhere, hence are a little must adds to your order for those who are in for their hearty talks instead discussing the mouth watering innovative food offerings at the pub. Overall, the many starters we tried were good.
The main course dishes are limited, but well prepared and served. The chef probably has a soft corner for rosemary and you will taste it in 2 of the 3 soups being served. They can add a bit of variety to their soup section for better results. Pizza were wood fired, thin crust and especially the bolognaise had the authentic Italian taste to magnetize your taste buds. There was a usual list of pasta offerings, minimum on spices and salt, perfect only for salt conservatives. However the Smoked Chicken was so high on salinity, it can give the dead sea a run for its name. The chef can work equally well on the salt and spice mixes as he does for his mocktails.
PS: You are advised to keep some valuable time and ample capacity for desserts to follow.
Desserts, again a limited menu, but I bet you will you regret if you miss any of the available options. I would rate desserts an 11 on 10 (if math allows) for the marvelous innovation and incredible taste. Top of the charts is the Pale ale poached pear. The pear in it specially soaked in beer for at-least 24 hours before preparation. One bite, and you feel like a royal!
Bailey's Philadelphia cake also has a special blended taste. We also tried the Molten caramel and chocolate fondant, which had a soft chocolate drenched brownie cake, with a spectacular taste of fresh vanilla. Perfectly perfect for chocolate lovers!
Summing up my experience, I would want to go back for its location, drinks and desserts. The cherry on top has been its service – quick, friendly and they would really discuss their menu, ingredients and preparations (their descriptions make your mouth water even if they are talking of something you thought you would not have today) which will make it much easier for you to make the order.
Review Credit: Sourabh Nijhawan