Can you imagine a hip & happening place made out of junk? Even we could not imagine a place like this until reality hit us! Yes, we saw a place made out of junk and the name is true to its description, it's called Junkyard Café. A brainchild of Umang Tewari who also owns Vault Café, Café Public Connection, Garam Dharam and the recently opened 3 Pegs Down.
The place spread over 13000 sq. ft transported us to a different space altogether. The luxurious and spacious cafe nestled in heart of the capital – Connaught Place had pillars covered with tyres & drawers, seats made of car engine, drums, bamboo, chipboard etc. That's not all, the place also has a picture of Mona Lisa made out of scrap. A transformer stands out boldly at one of the entrance. On the walls, we could see cycle wheels, broken rear view mirror. Infact, even the bar had colourful drums and old tyres. Another thing which caught our attention was an Aircraft with Junkyard branding. Lights made of cut wine bottles, ceiling made of 8000 empty bottles. Oh! How could we miss the broken motorcycle which made for the perfect picture spot. Junk be utilised, and that too in the most beautiful way is quite evident at Umang's Junkyard. Junkyard Cafe is one of those places in India which are concept driven. It brings out raw junk world which is grungy, contemporary and at the same time very exclusive!!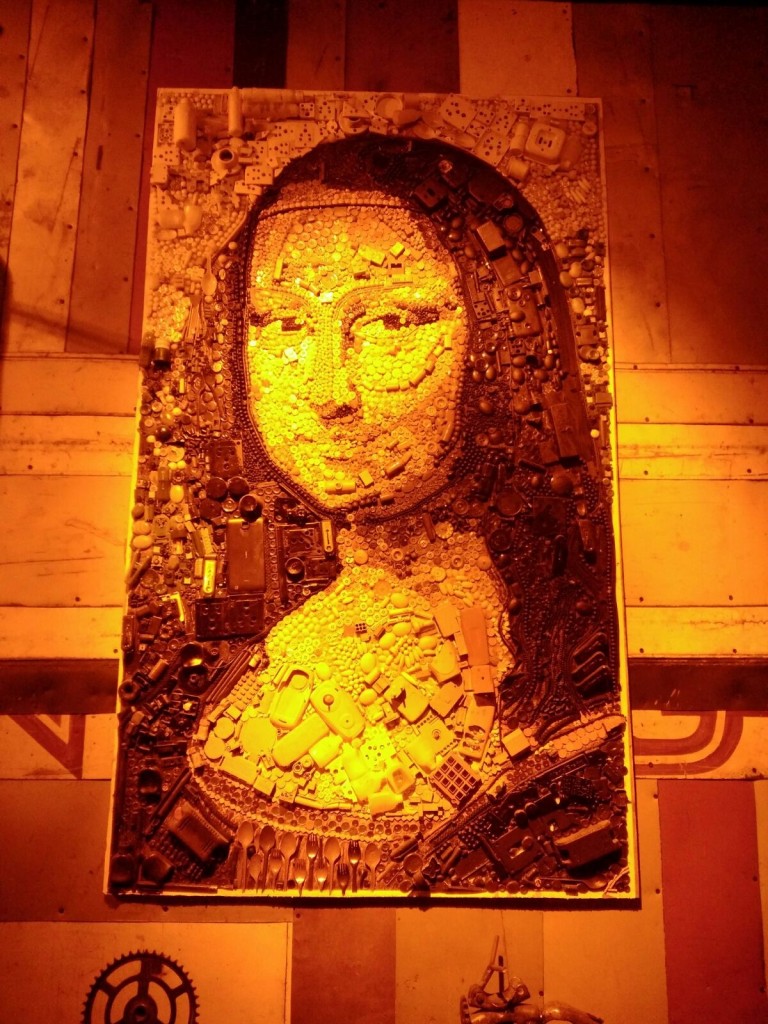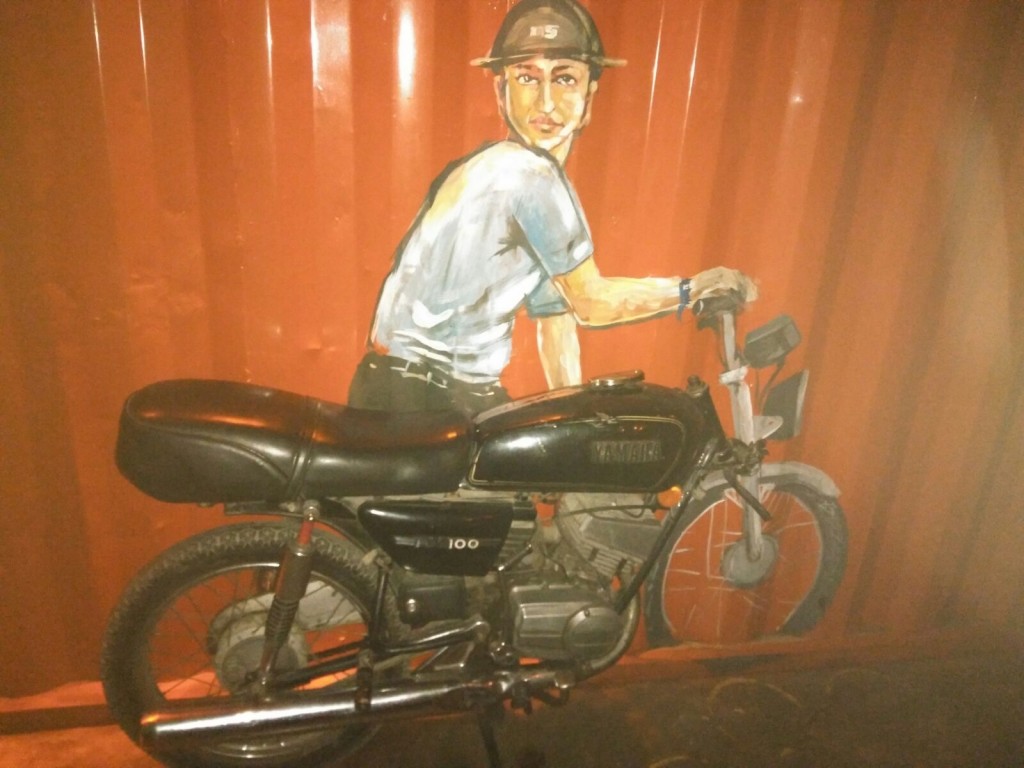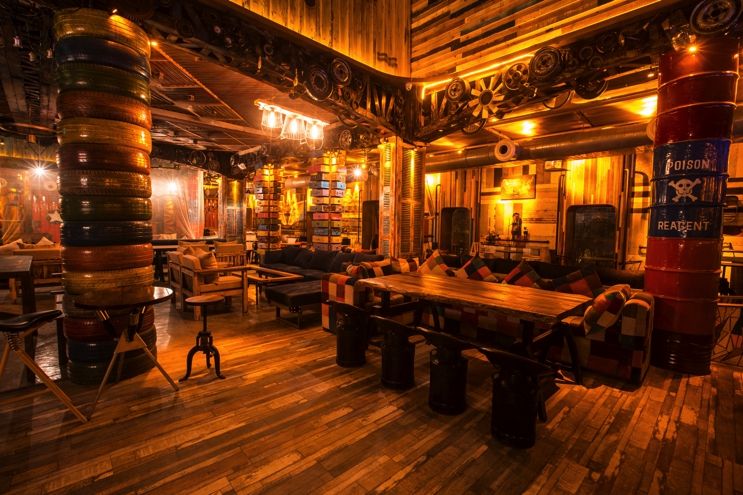 Well, getting back to what we had come there for – the food!! To our surprise, Innovations are quite visible here as well. Here food menu is an ode to all health conscious people who like to indulge in nutritious meals. Umang believes that entertainment should be guilt free. When one steps out, they should indulge in food without getting worried on calories intake. Chefs at Junkyard are making sure that indulgence in food menu is high on health meter, the offerings are nutritious, healthy and at the same priced very reasonably. It's also for those who enjoy keeping it casual and going out for a good satiating meal in funky environment. We started off with Chicken Clear Soup. The soup did full justice to its name. We could see pieces of chicken along with veggies like mushroom, lettuce, basil and carrot. Nutritious, healthy & warm with a great taste. It was actually a delight to see the veggies in the clear stalk.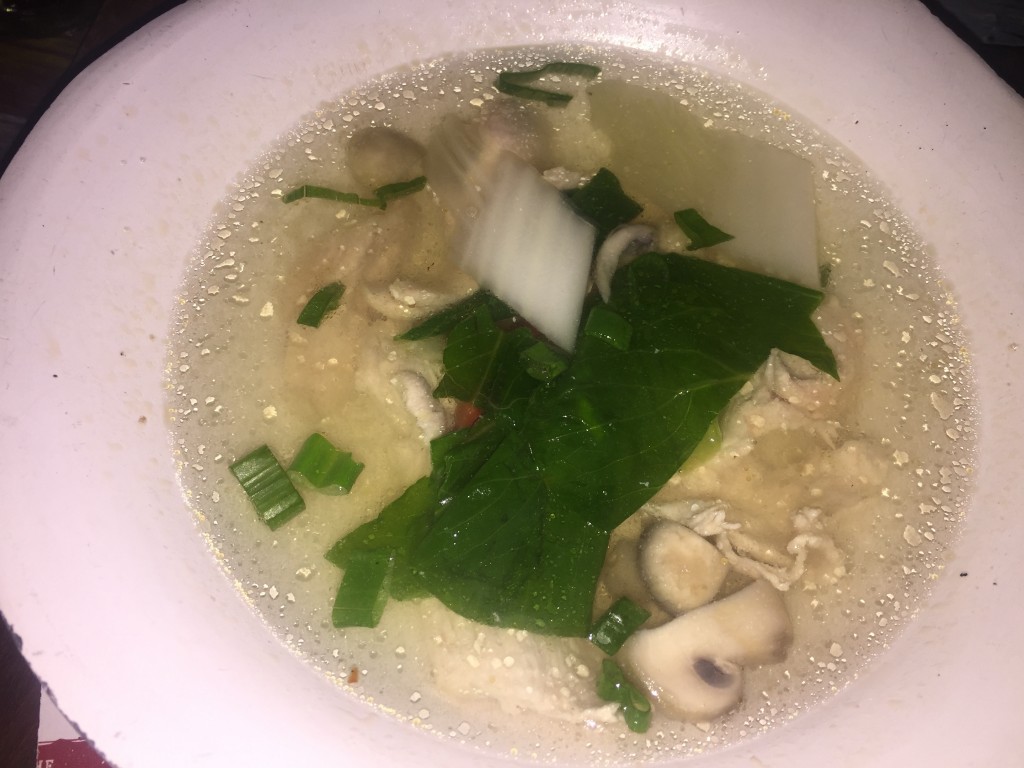 Jumping on the starters, the Wasabi Aloo Tikki served with mint sauce and sour cream along with sliced onion was crisp as well as moist. Though the dish looked like tikkis, the Wasabi fusion did add a lovely taste.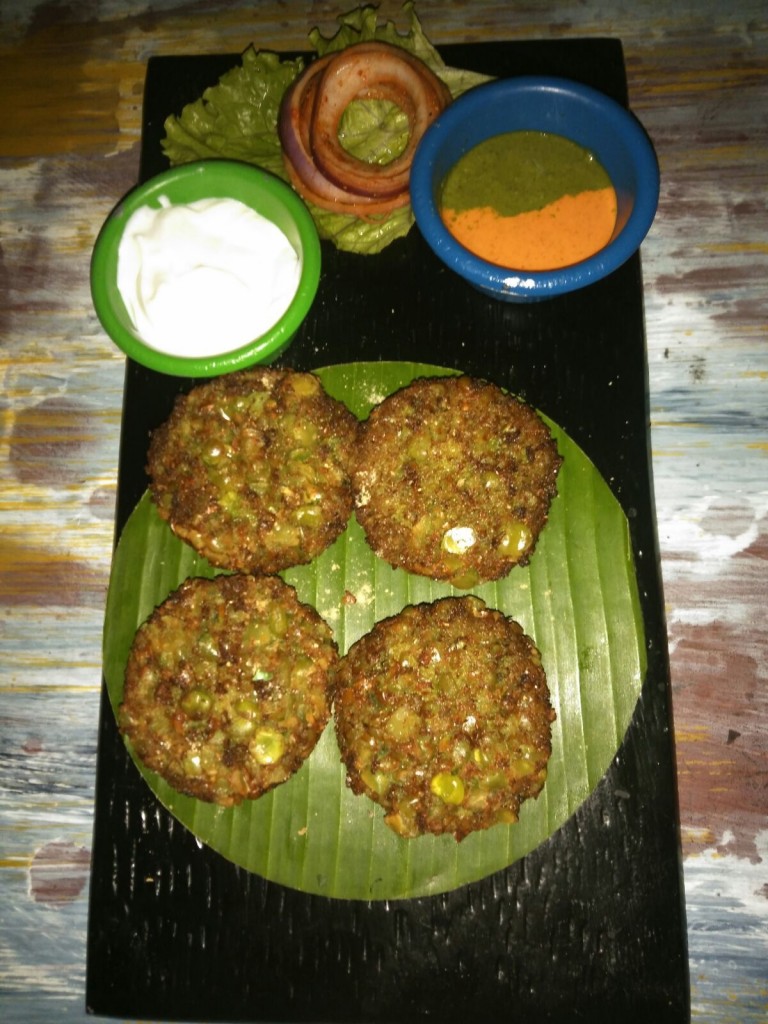 The Chicken Shish Taouk, a Lebanese starter had generous portions of chicken along with capsicum, onion and tomato served on a Pita bread along with a salad of cauliflower, bell pepper, lettuce and chilly and sour cream. Flavourful, along with generous toppings plus convenient to eat.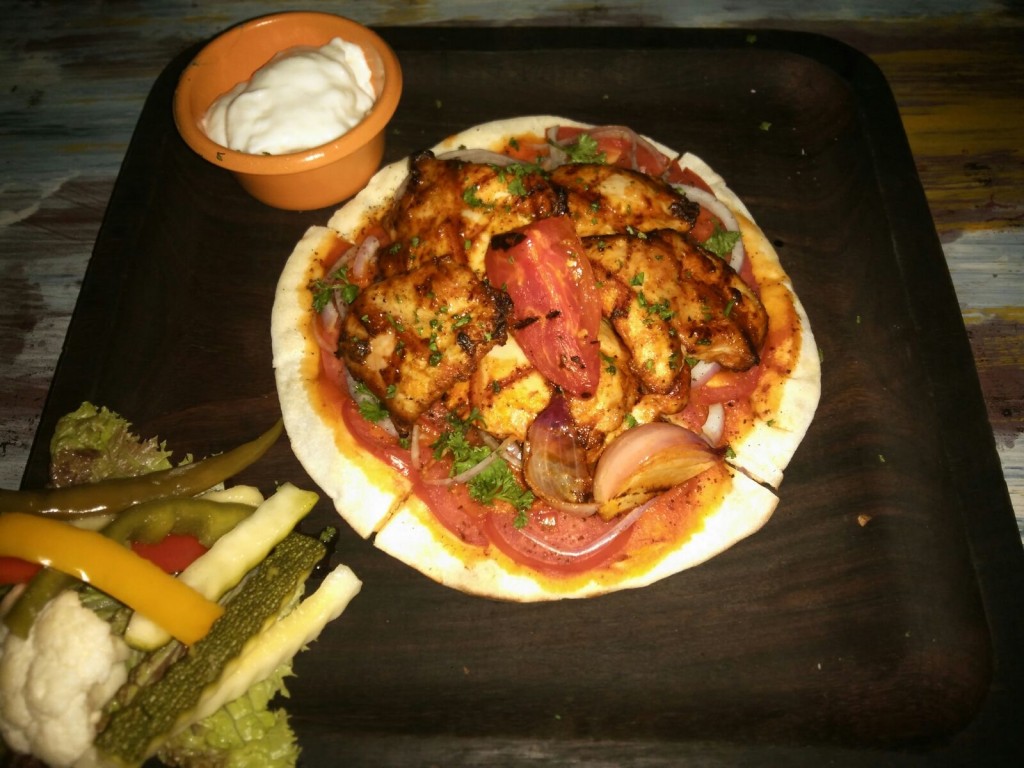 Falafel, another Lebanese starter served with hummus was made out of chickpeas fitter. In normal words, white chana was mashed and deep fried. I could feel the strong flavour of chickpeas which gave a nice taste as well. It was nutritious coz of the ingredients but loaded with calories as well (How can we forget it was deep fried!!).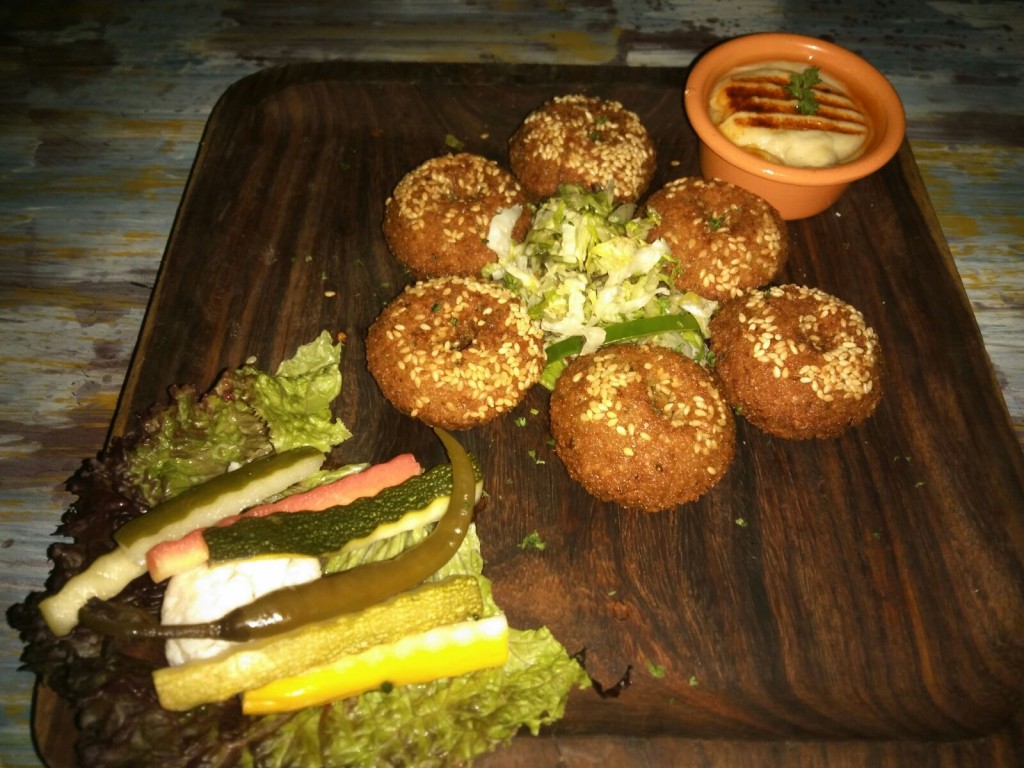 The Non Veg Platter had chicken tikka which was soft, fleshy and less spicy. Mustard Fish Tikka had a tintilating mustard flavor. It was nice, moist and soft. The Mutton seekh kebab were fresh, delicate and enriched with the right flavours served along with sliced onion and duo of chilly and mint sauce.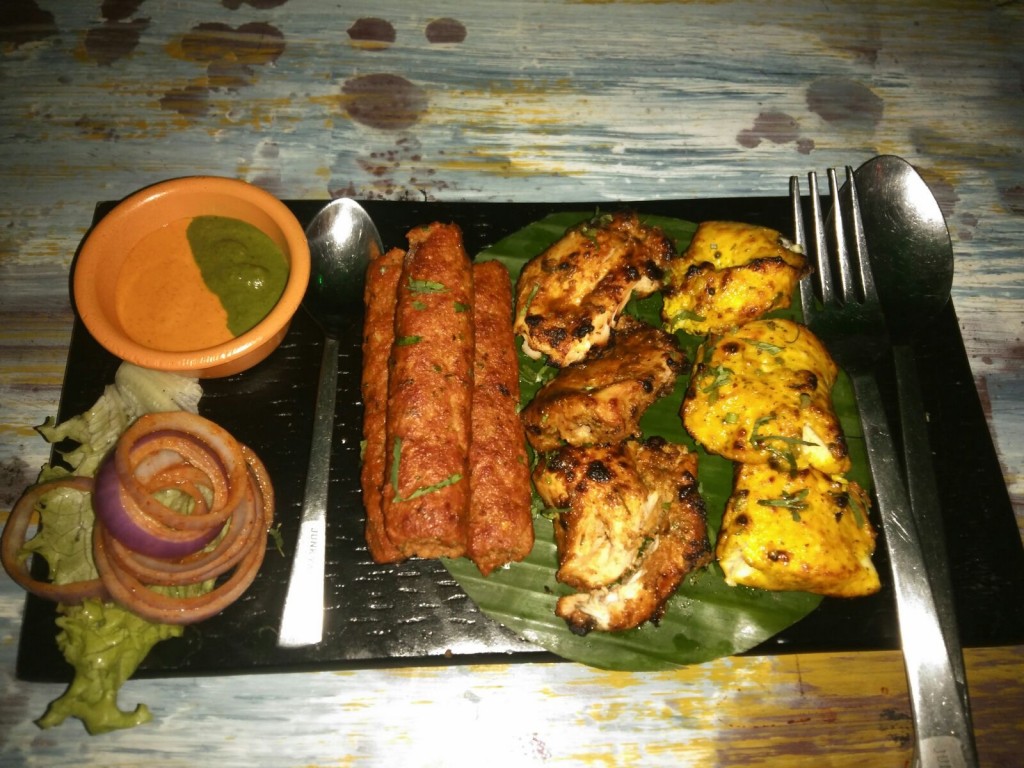 An interesting one was Nachos Overload topped with cheese, vegetables sour cream and a red chilly, served in a nice oval orange pan along with salsa dip and sour cream. The crisp nachos with cheese were yummilicious and tasted great.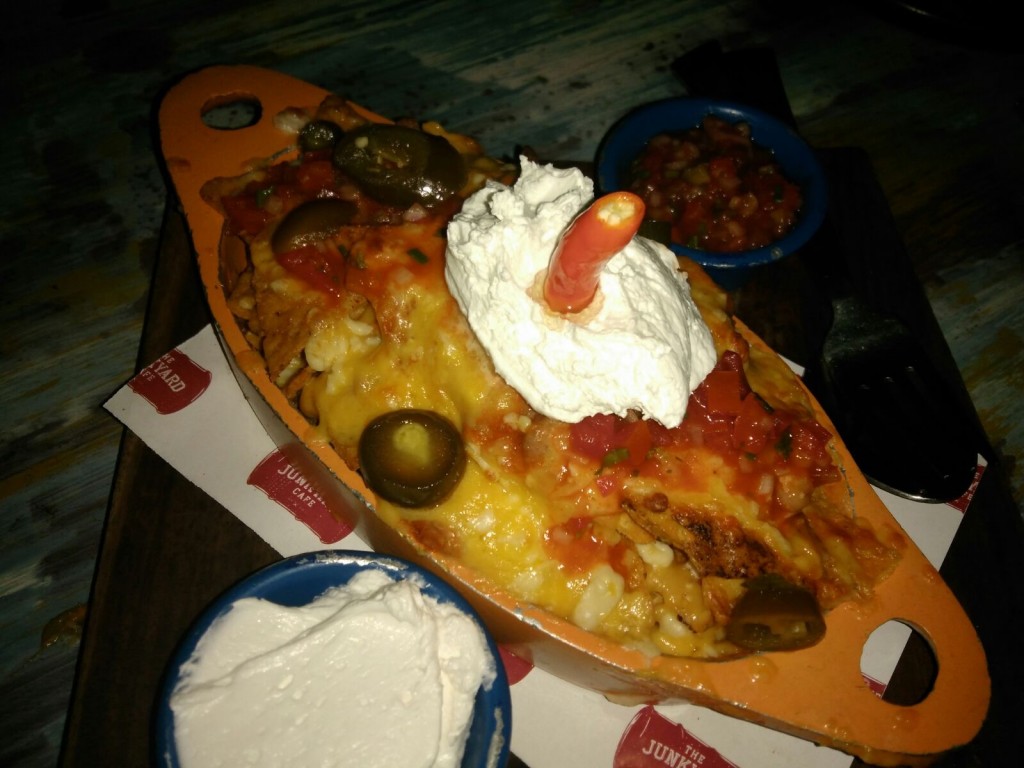 The Cilantro and Peanut Chicken served with a salad of sliced cabbage, basil, lettuce and carrot on a green tray looked great but I was honestly not too impressed with the taste. It was a little sweet and that's not what I was expecting.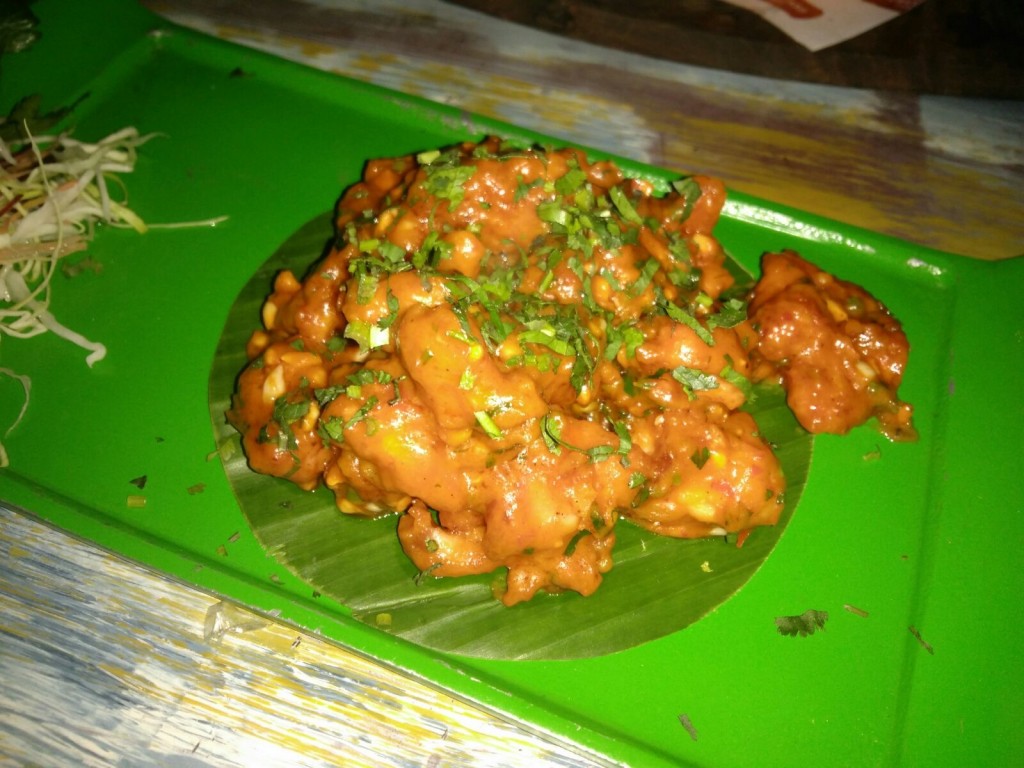 The thin crust Four Season Pizza was topped with cheese along with bell pepper, sun dried tomato, jalapeno, olive and mushroom, basically 4 different types of veggies. The colourful pizza was crispy, had mixed flavours and tasted great.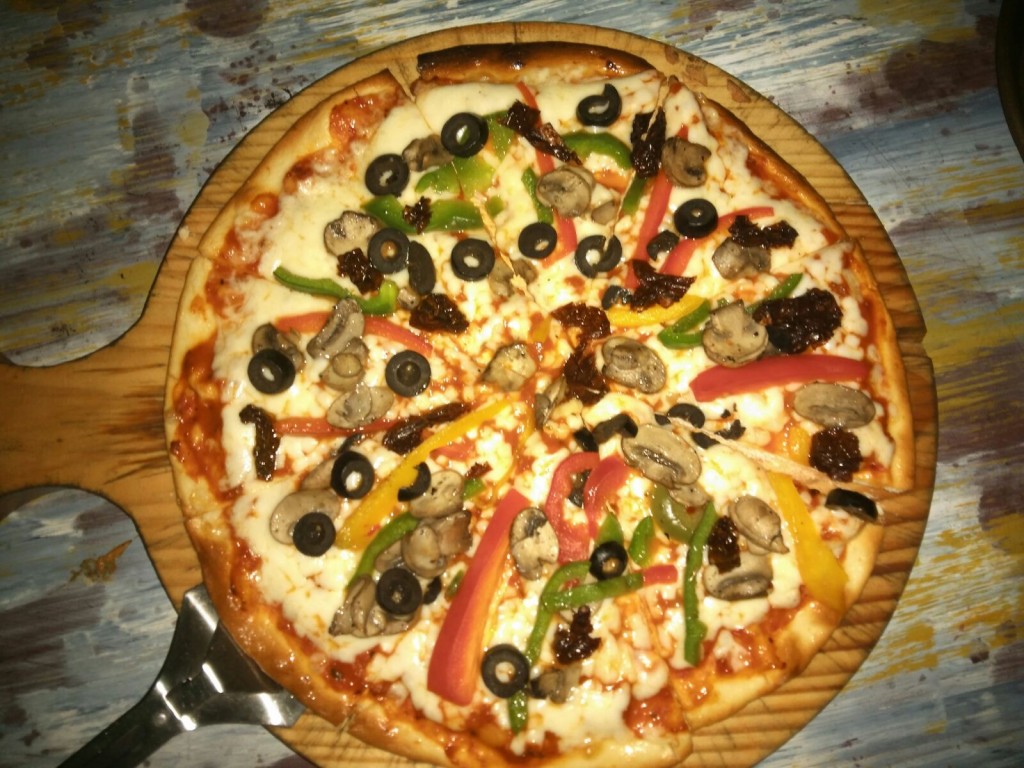 For drinks, I had Gardino, meant for health conscious. Though that's not the reason, I chose the drink for its ingredients – Watermelon, Celery, Mint and Beetroot. The drink was a visual delight with a slice of watermelon along with mint leaves. Served in a curved glasss, it looked quite beachy and made me nostalgic for a vacation but an absolute delight!!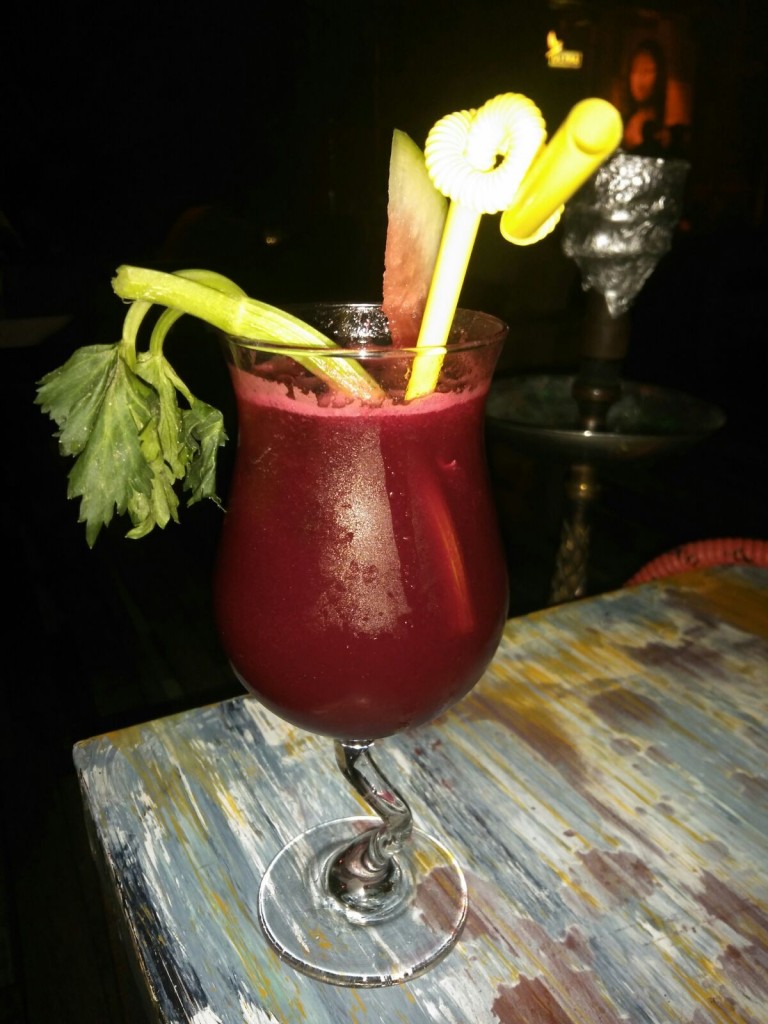 It was time for main course. The Chicken Tikka Butter Masala served in a nice orange pan was tasty and delicious with its thick gravy, though I found it a little sweet. Lal Maas served in similar blue coloured pan was nice, fleshy, flavourful, warm and yum. The Dal Makhani with its rich consistency tasted great. All the three dishes were served along with laccha paratha, naan and tandoori roti which were soft and tasted great.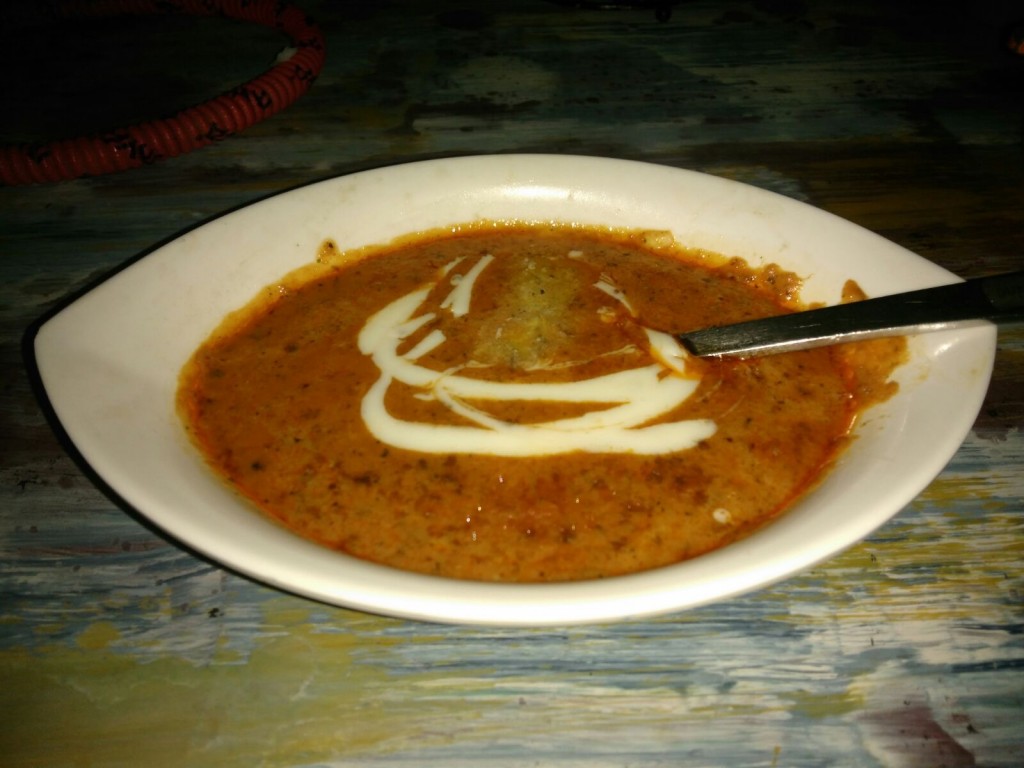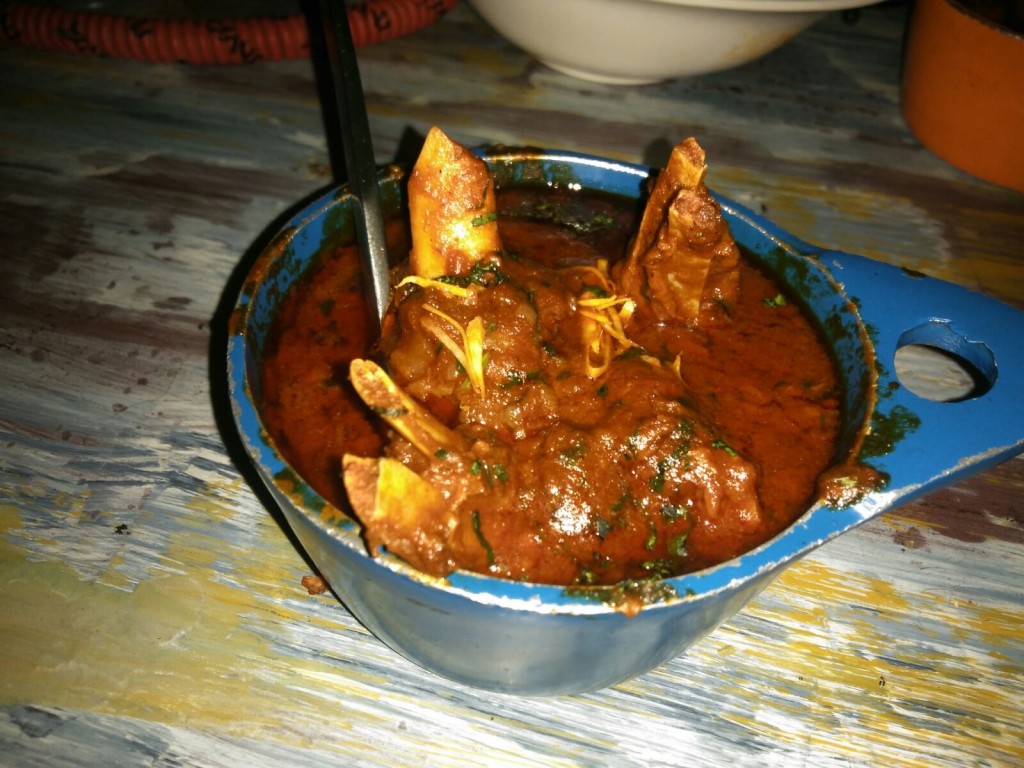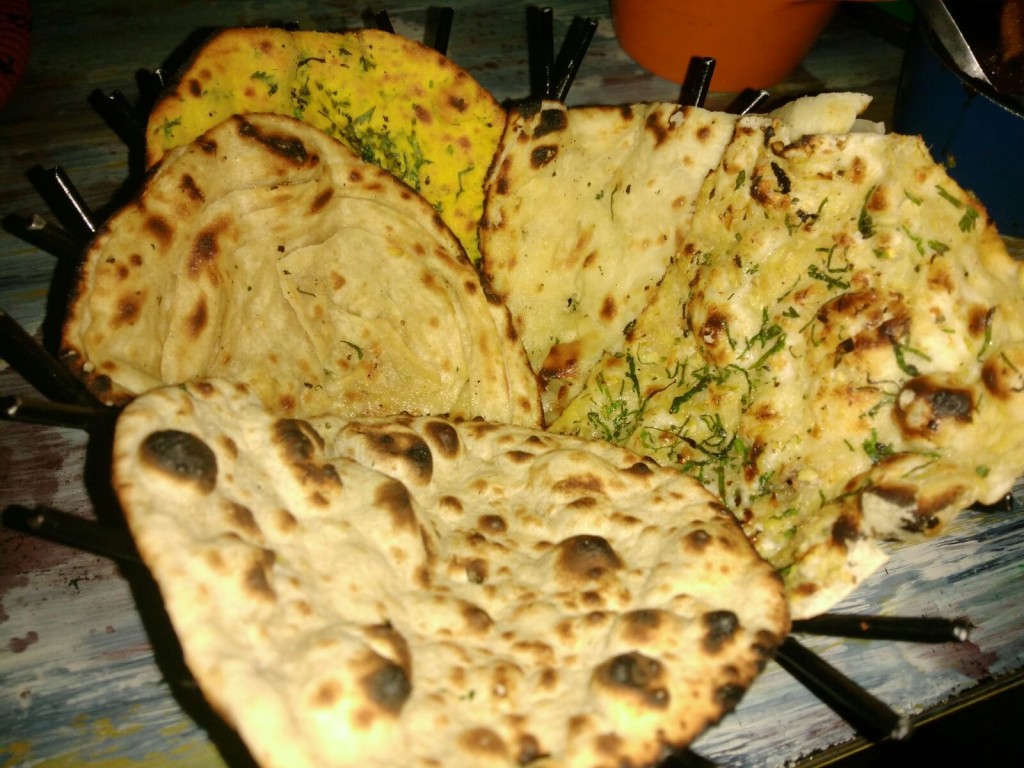 Time for desserts! Infact the desserts were so nice that I could just skip the food and have just the desserts. The Chocolate Dimsums were warm and a perfect comfort food. The chocolate filled dimsums were topped with coconut which enhanced the flavor.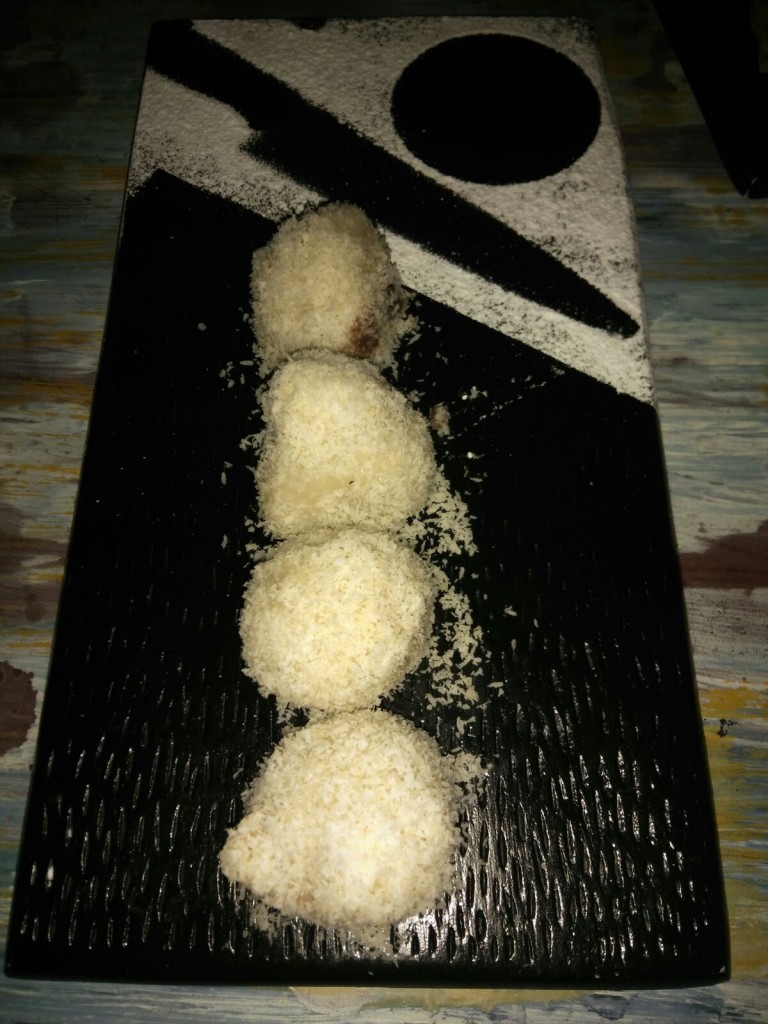 The Kaju Baida Roti is the most recommended dessert and was absolutely divine. The roti was stuffed with melted kaju barfi which made it absolutely yum.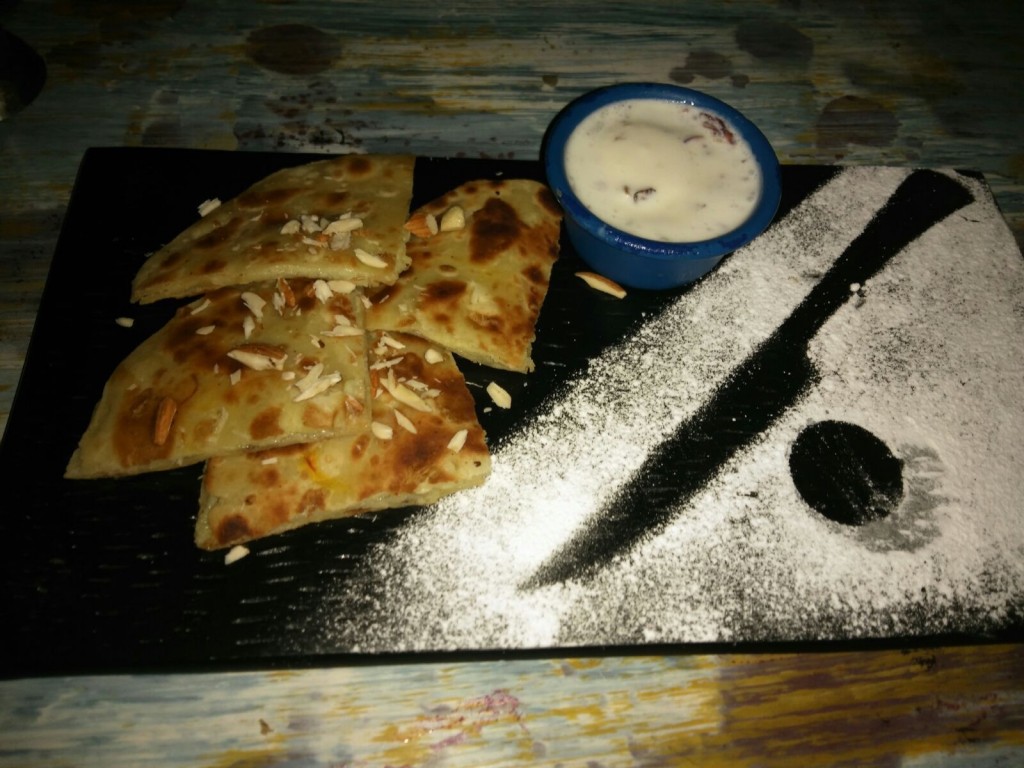 The Nutella Cheese Cake was a three layered cake with a crisp biscuit base and as we tasted the top layer, it was absolutely soft. Nice and subtle nutella flavor made it out of the world.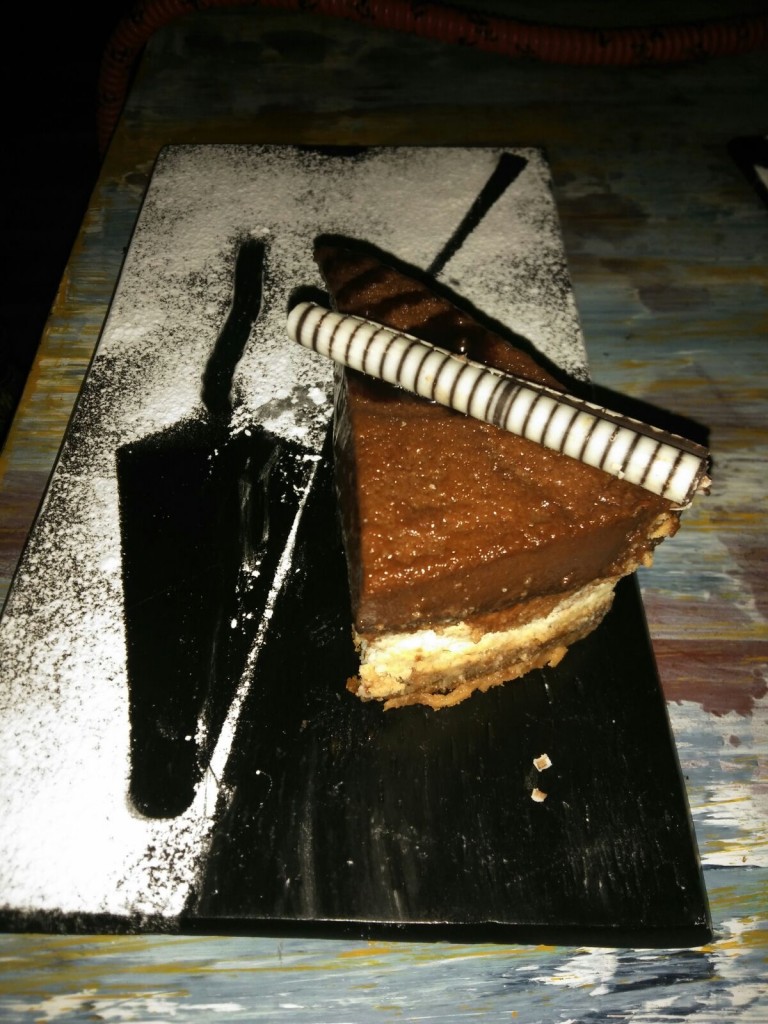 Live gigs at junkyard cafe are on the new high level all together. Right from live bands, singers and international artists, Junkyard cafe is all set to provide sort of entertainment which Delhi has not seen yet. ChicLifeByte echoes's Umang's statement that " Junkyard cafe is for those who don't want to compromise on anything when they step out, it's gate to best food, drinks, live gigs and ambience".
Head to Junkyard Café for an experience yet to experience!!
Photography Credit: Aman Vohra
Address: N-91, 2nd Floor, CP