Anita Dongre recently made her debut this season at India Couture Week with her collection titled "Epic Love" which was all about the young gypsy bride who was the muse for the collection. It is a luxury Bohemian, chic & casual collection of Indian bridal wear for the new age bride who has a busy work schedule & wants her attires light. Spotted in the front row were celebrities like Pernia Qureshi, Bhumi Pednekar & Shabana Azmi.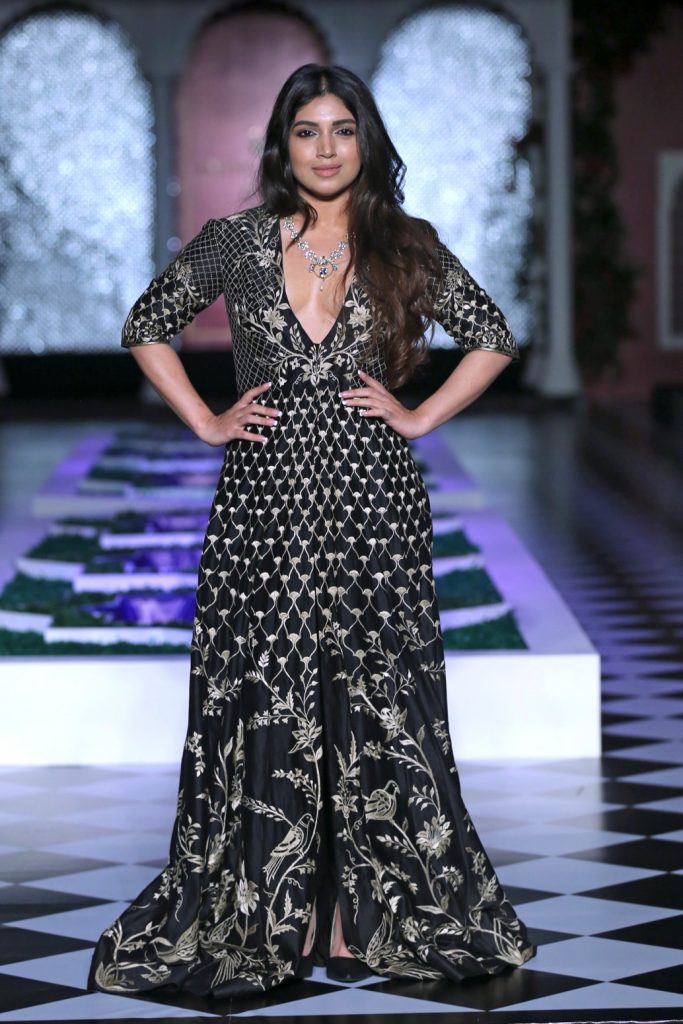 The show opened to a plush garden of a Rajasthan Palace and walk starts and the mathapatti shines in gold, the chintz inspired lehengas with golds, oranges & yellow reflections warming our eyes, some Gajari red and the models hair braided and chunnis styled differently with all the navy & red detailing and the ornamental gold rush all put together with the ribbon tied Bohemian blouses.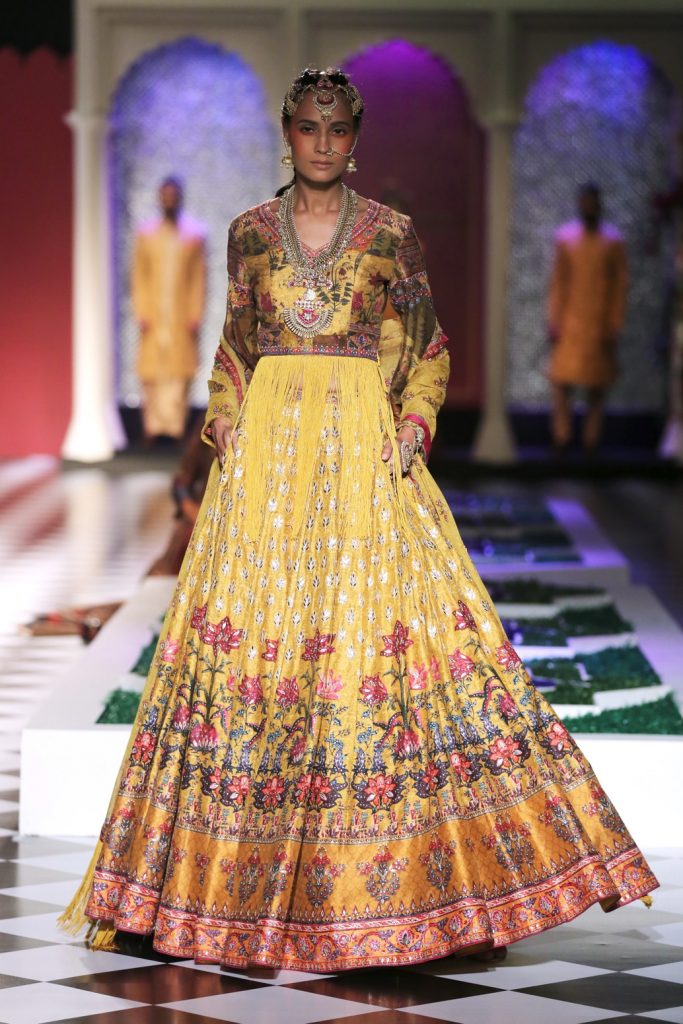 Be it the trousers or the jacket styled kurtas with a choice of colours like blue, red & bronze amalgamated together or the emerald blue, royal red & Turkish gold with a Rajasthani touch and feel. The vintage prints are inspired by Mughal gardens & flowers and everything is done in silk with gota work.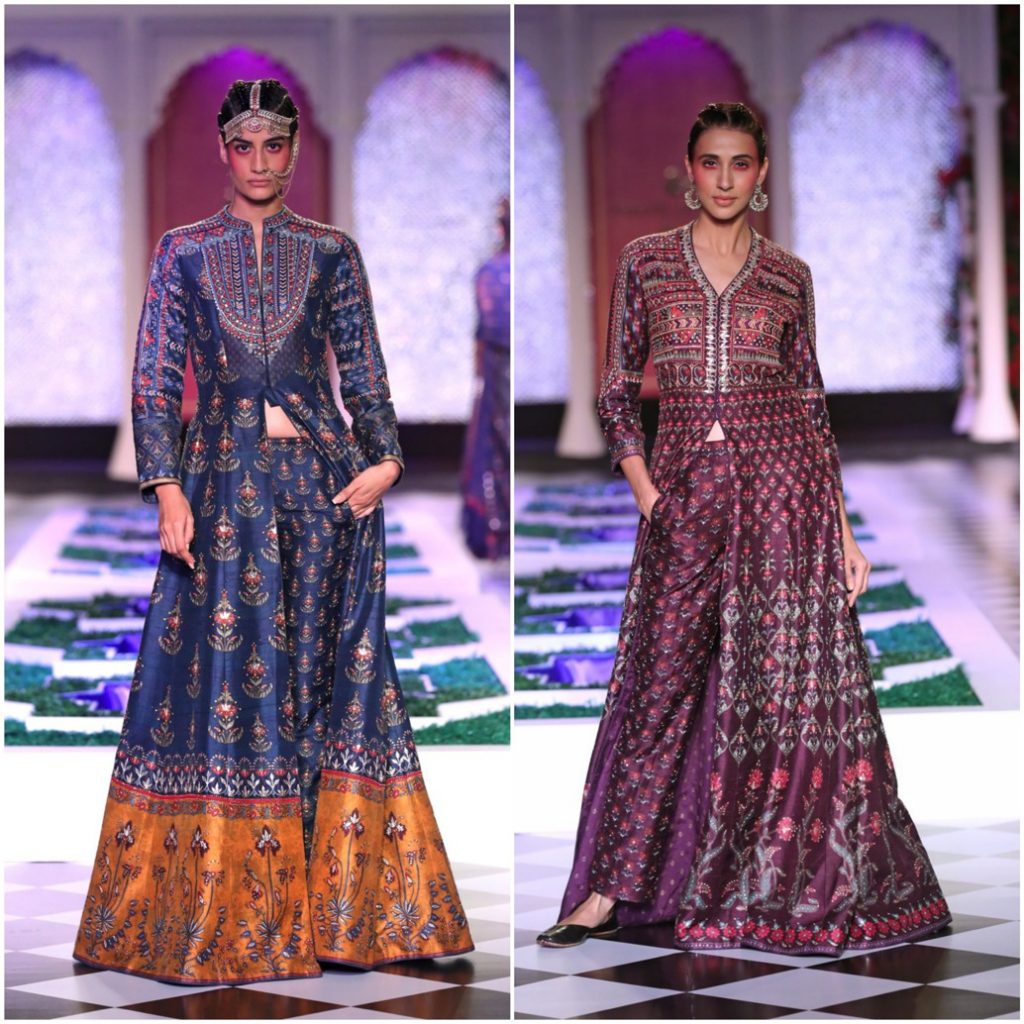 The men could be seen wearing nath and black navy stoles with red tassels- frivolous & fun! Also, with hints of candascent purple, bronze & brown. The women folk in flared sleeves, tight braids and transparent chunnar jackets in red, blue & navy.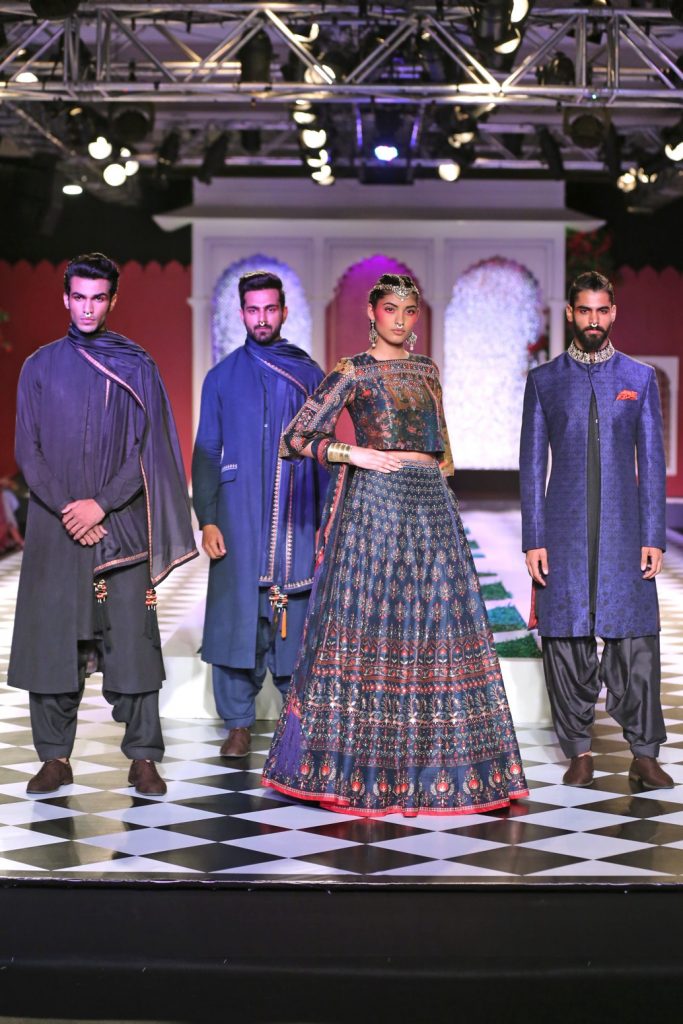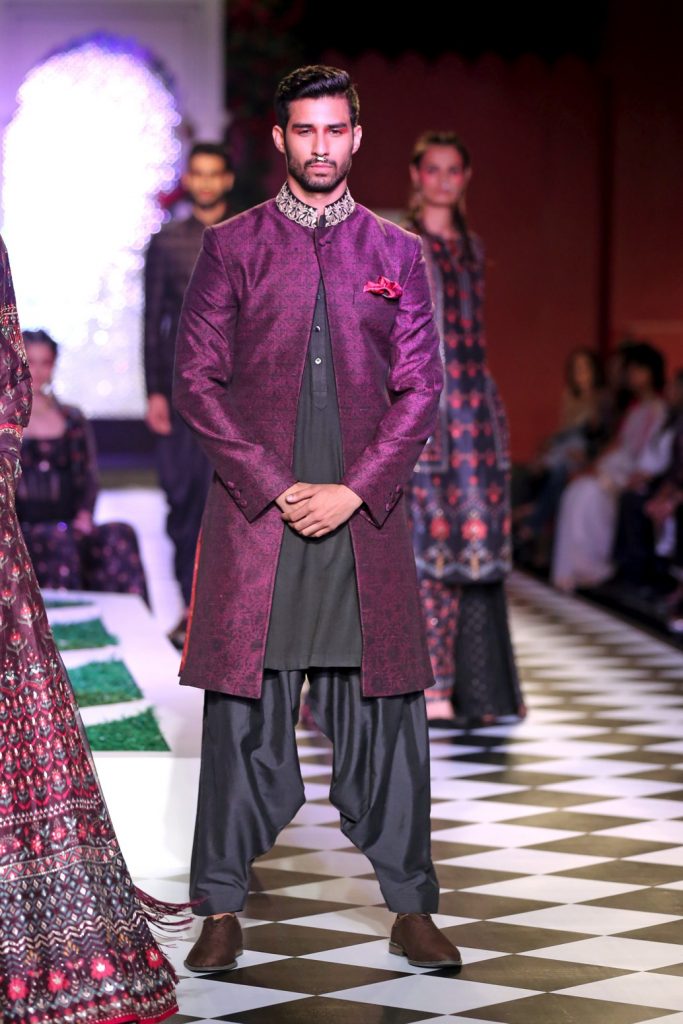 Also, gold print detailing could be seen on the jackets with the prominent colours used being gold, red & black. The trousers, kurta & over jacket gave a royal, elegant & artistocratic look.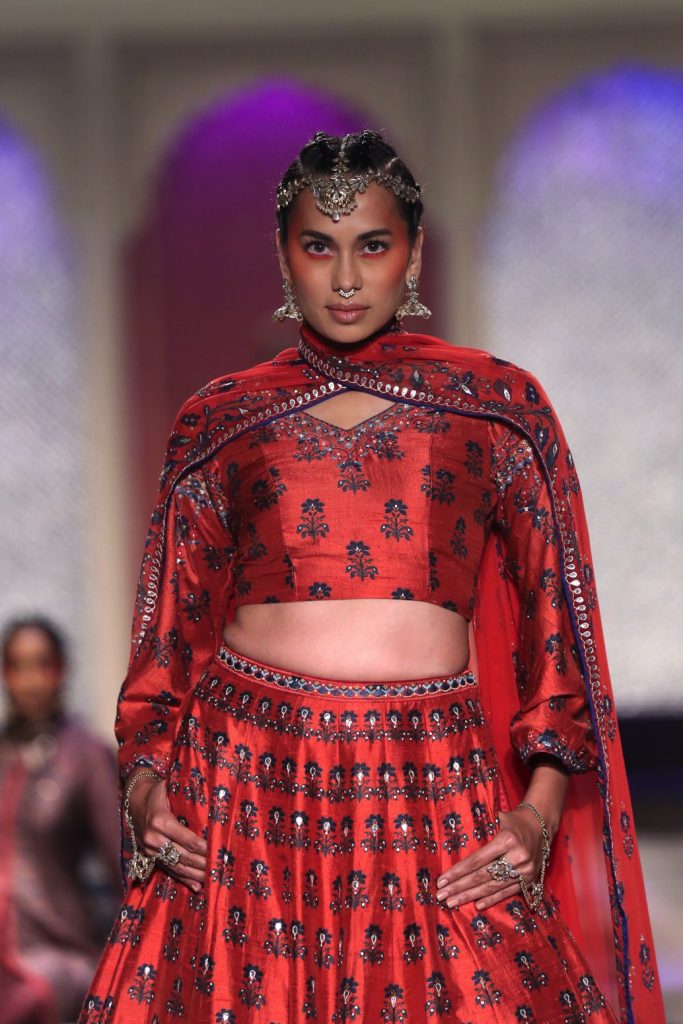 The deep burgundy look had a mere winterish autumn touch with black sophistication with the lower being trousers. Also could be seen fringe finished sarees in red, gold & oranges with easy sleeveless statements.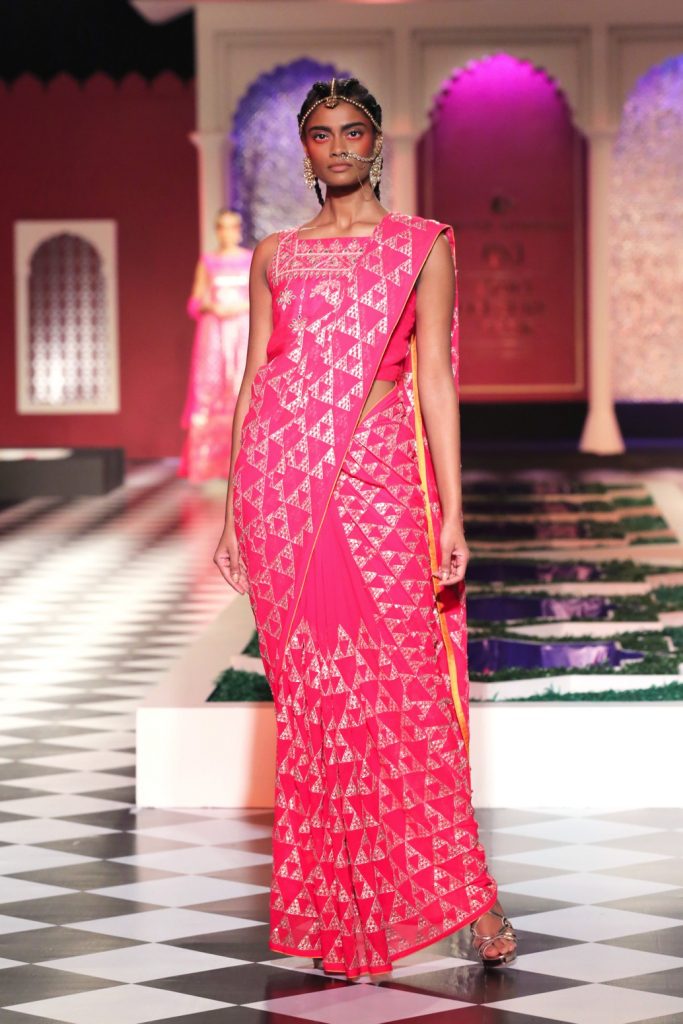 Lots of importance was given to the royal golden element and all the dresses patterned & layered well silhouetted on models. The collection also included Bohemian tops with long skirts, kurtas & palazzos. I also loved the long jacket, rani colour with golden flower motifs elegantly & suavely designed by Anita.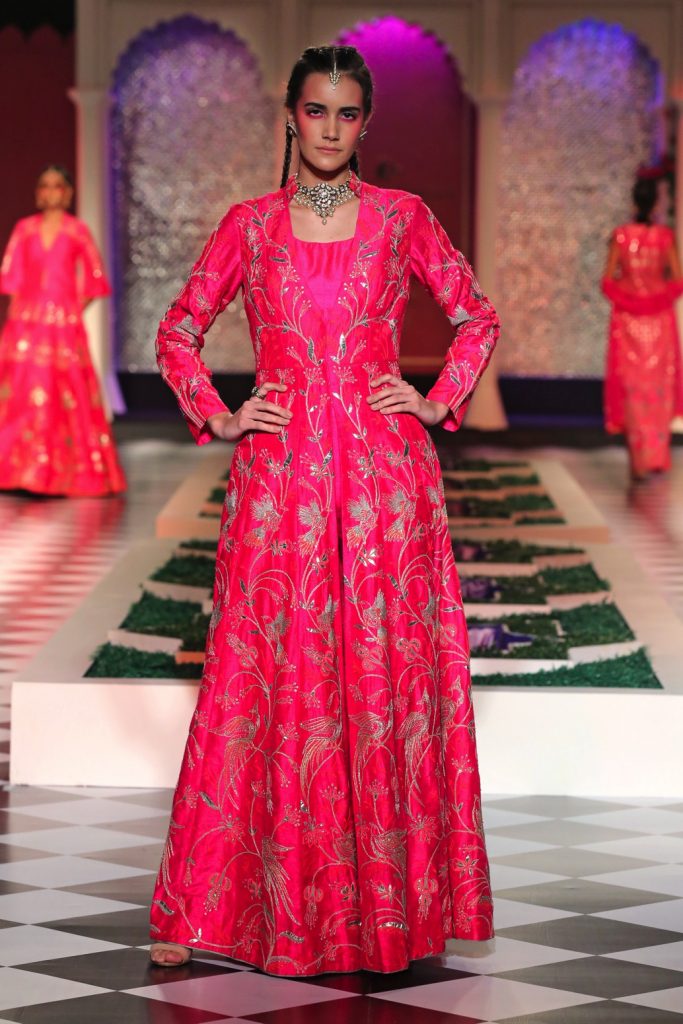 Now we talk about the brightest red with royal touches of gold ofcourse enveloping the beauties in cascades of bright colours. An ethnic feel was also given to boys (with the baali).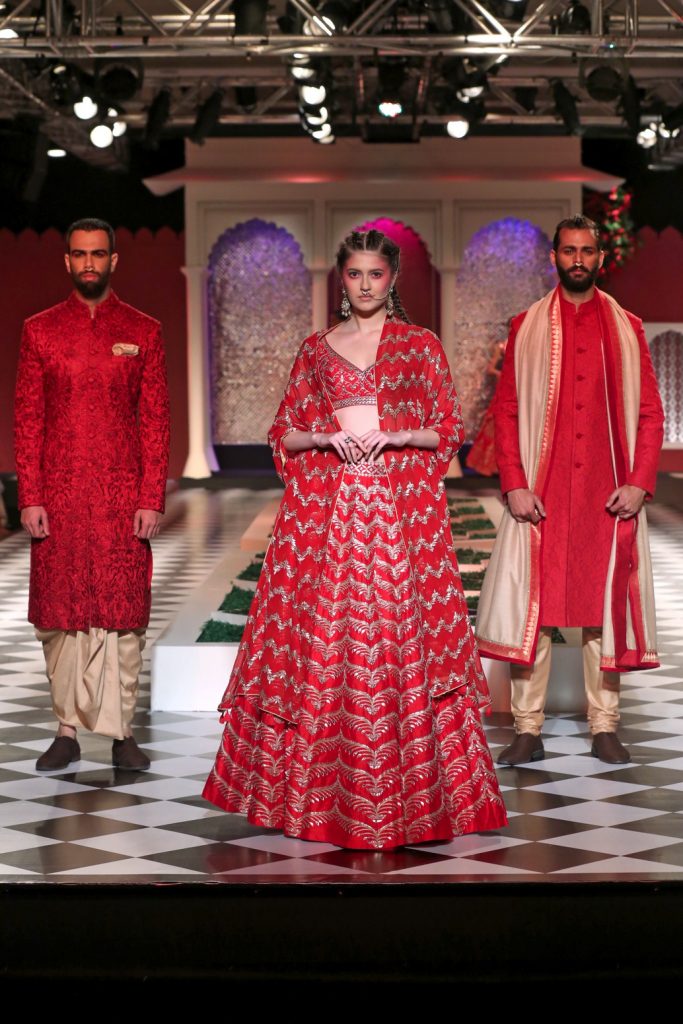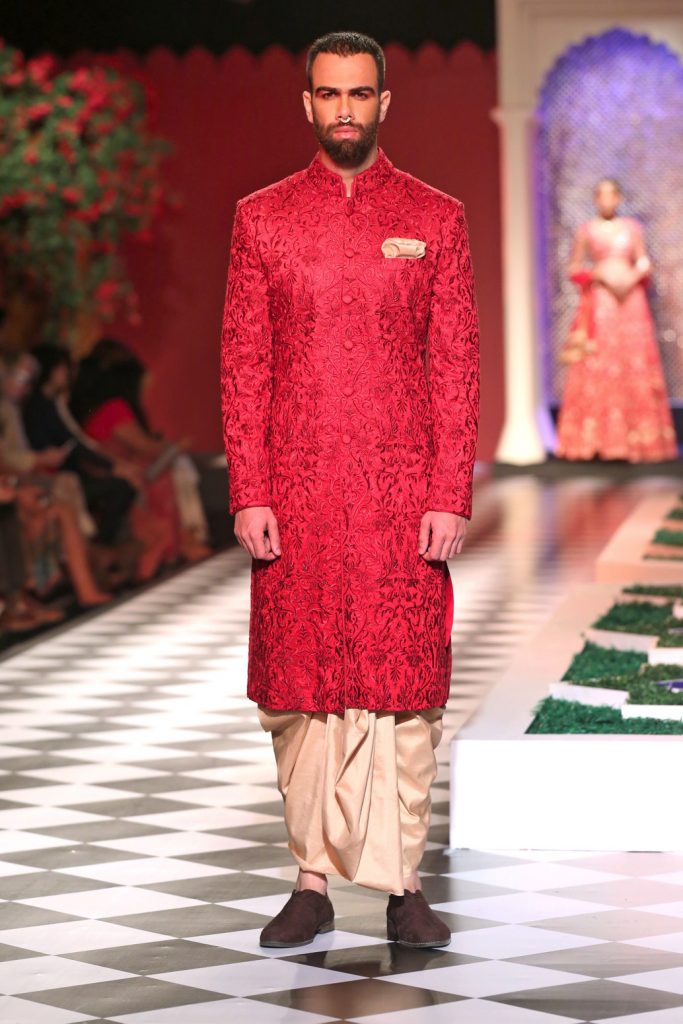 Gold embedded in jewellery & clothes made bold & stylish statements and the looks escalating and escapading the royalness of red & gold sashayed the ramp with beauty & sophistication making a sure impact.
Anita Dongre herself was dressed in Sufi Red and spoke so fondly about her love & inspiration for the collection. She loves clothes & jewellery with her favourite colours being orange & wine, a fusion that works with oomph & love.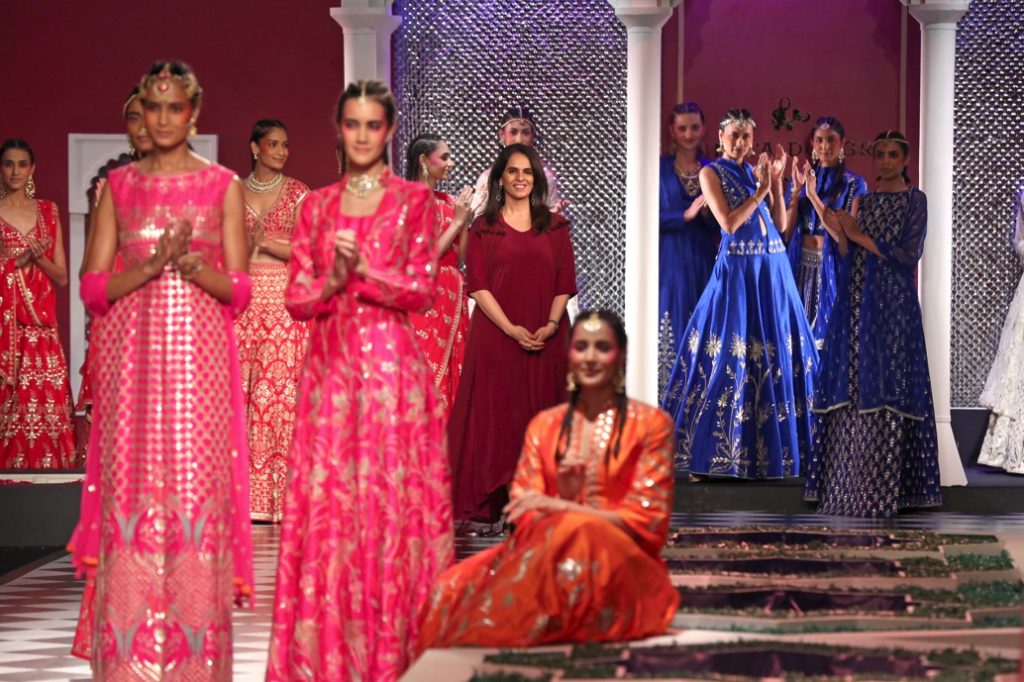 So this is ChicLifeByte signing off to yet another tale of alluring beauty & romance which flows through clothes & sets in hearts and the love goes without saying eyeing the best colours, remarkably royal & classy!