Shopping for sarees online wasn't what I had done before. Even when I got married I did my majority shopping online due to lack of time which primarily consisted of clutches, shoes, honeymoon dresses etc but could not risk buying my trousseau online. I recently stumbled upon trivenisarees.com, an E-commerce portal for amazing ethnic shopping. Set up in 2011, the website is a one-stop solution for a wide range of ethnic collection – salwar suits, lehenga cholis, lehenga sarees, kurtis, jewellery, cotton & silk sarees. Triveni is actually a 30 year old saree manufacturer based out of Surat, India and now offers a wide variety of ethnic wear and lives upto its heritage.
I was asked to pick one saree of my choice from their wide range. Believe me it was one of the most difficult task of my life. The website was quite smooth. They even have a category wise and selection wise filter. Their saree section had a sub filter which makes it more convenient – Bollywood Diva collection, Bollywood replica saree, Bridal sarees, Wedding sarees, Lehnga sarees, etc were some of the sub sections and each section had the most amazing sarees. After all, Surat is a place which is renowned for sarees. Their categories like price, colour, style, brand, made our shopping super easy.
I chose a pink coloured saree which immediately caught my attention. The pleasing pink coloured printed Bhagalpuri silk saree which I wore in the picture below lived upto my expectations.  The material was great and it was so light and easy to carry. Trivenisarees.com even had an option of getting the saree pre stitched or getting a blouse stitched . They even had an option of getting a standard petticoat. Doesn't it make our life so convenient?  I wore a golden coloured blouse with a pink saree coz it's the era of mix n match!!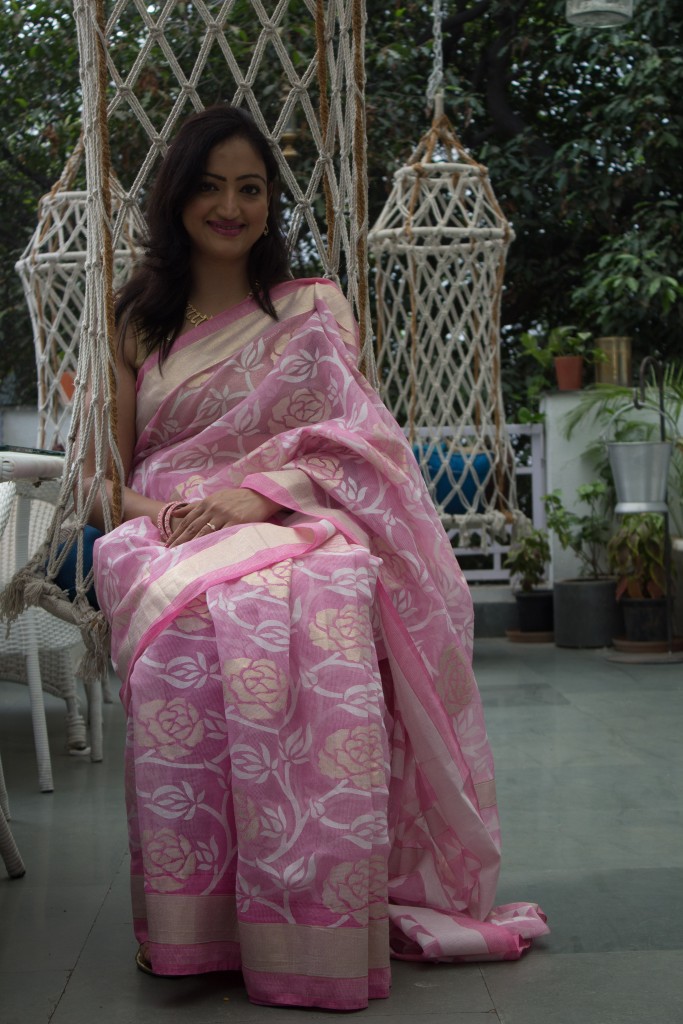 Triveni has more than 15000 options to choose from in various styles and hues. The price starts from Rs 250 and goes till 20000. We can see how Triveni loves sarees like no other ethnic wear brand. They even have live video sessions on saree draping which is so useful for most of the newly married brides. They can instantly drape a saree with the help of these easy tutorials. I now regret for not being able to see this website before.
Photography by: Shootera 
Make-up by: Blue Lagoon Salon
Location: Lavaash by Saby