The 31st edition of Amazon India Fashion Week organized by FDCI in association with NEXA recently got concluded where 100 + designers presented their ideas through the medium of ensembles on the runway and exhibit area, making it a memorable season. The event brought forward the ramp of Autumn Winter 2018 which showcased amazing designs, silhouettes and creations which had unmatched creativity which we loved. Team ChicLifeByte attended different shows of the five-day extravaganza and selected a few looks which delighted us and I am sure they would delight you as well! So here are our picks!
ANUPAMAA BY ANUPAMA DAYAL
Fida-e-Lucknow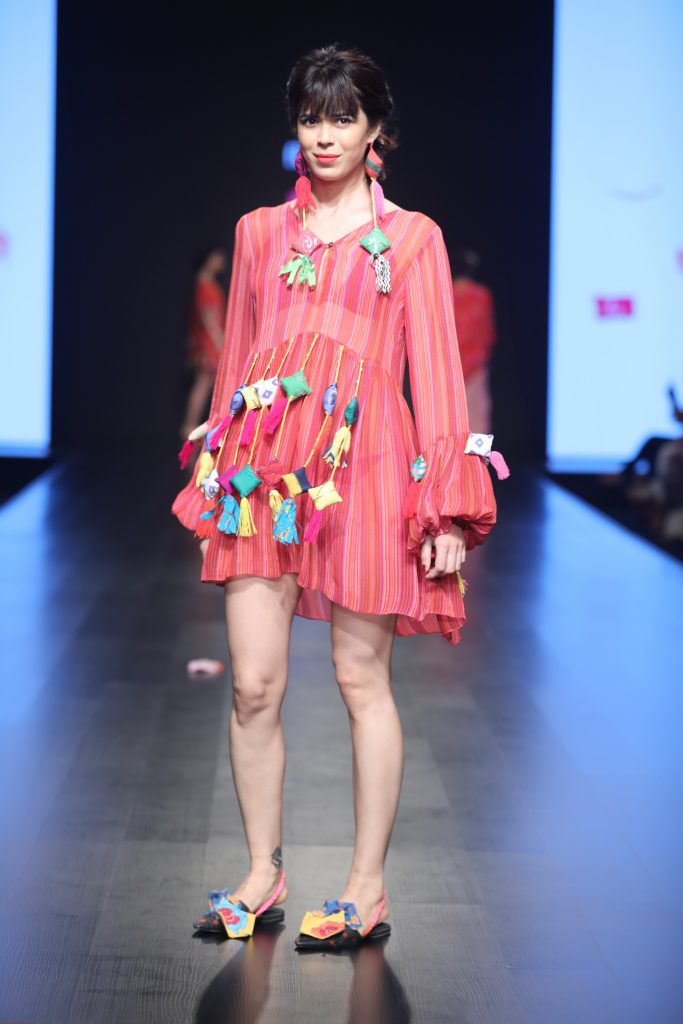 Anupamaa woman likes to be connected to her roots but eternally seeks new adventure. We witnessed a different spin on the visual dictionary of crafts with the use of decorative daggers and slender swords and the soaring colourful kites of Lucknow. Kite flying is a symbol of communal harmony in Lucknow. Some sequin drenching looks came as a surprise.
SHYAMAL AND BHUMIKA
A Parisian Symphony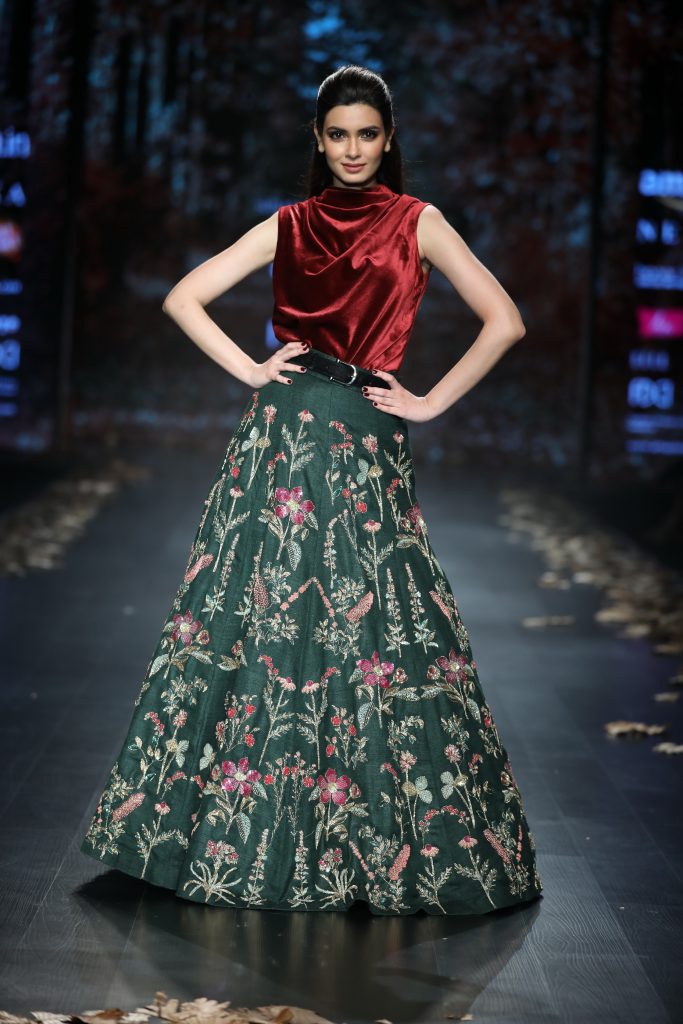 Actress Diana Penty represented Shyamal & Bhumika Fall 2018 collection which is an enthralling blend of craft and colour for a beautiful night of autumn. The intricately crafted collection consists of silk skirts with aesthetically interlaced botanical floral motifs, statement dresses in soft velvets with multi coloured sequins and bugle beads, and magnificent sarees in flowing organza. From deep wine to dark shades of green, twilight blue to seductive black the colours induce mystery with intriguing techniques of gorgeous hand embroidery.
ABRAHAM & THAKORE
#sadaksmart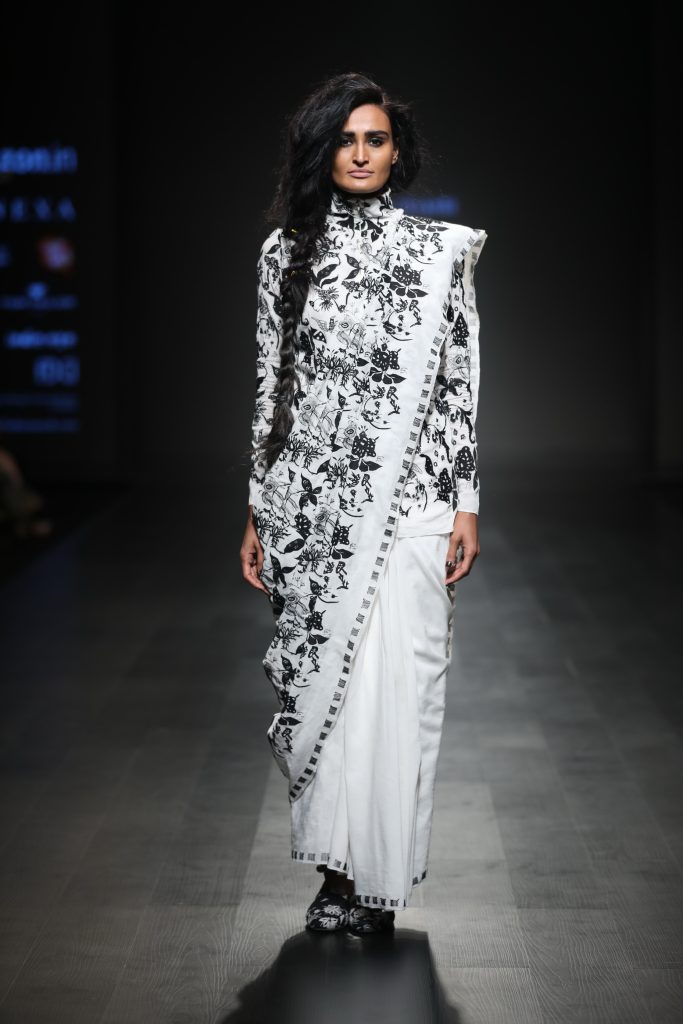 The streets of Delhi are a source of inspiration for Abraham & Thakore's #sadaksmart collection. Battling with the crowded thoroughfares of the NCR, the multicoloured pageantry of street life lifts the tedium. The incredible array of colours, fabrics and silhouettes, an uplifting testament to diversity and the sheer joy of dressing, in the midst of the cacophony and the ever-rising PM levels. From hoodies to ghagras, skinny jeans to salwars, jutis to trainers, a multitude of stylistic influences are mixed and re-mixed. The colour palette ranged from soft khakis and creams to shades of coral and olive green, and juxtaposed with black and white. Cotton and silk fabrics formed the base, and textures and sheers contrasted with opacity.
PAWAN SACHDEVA
Animate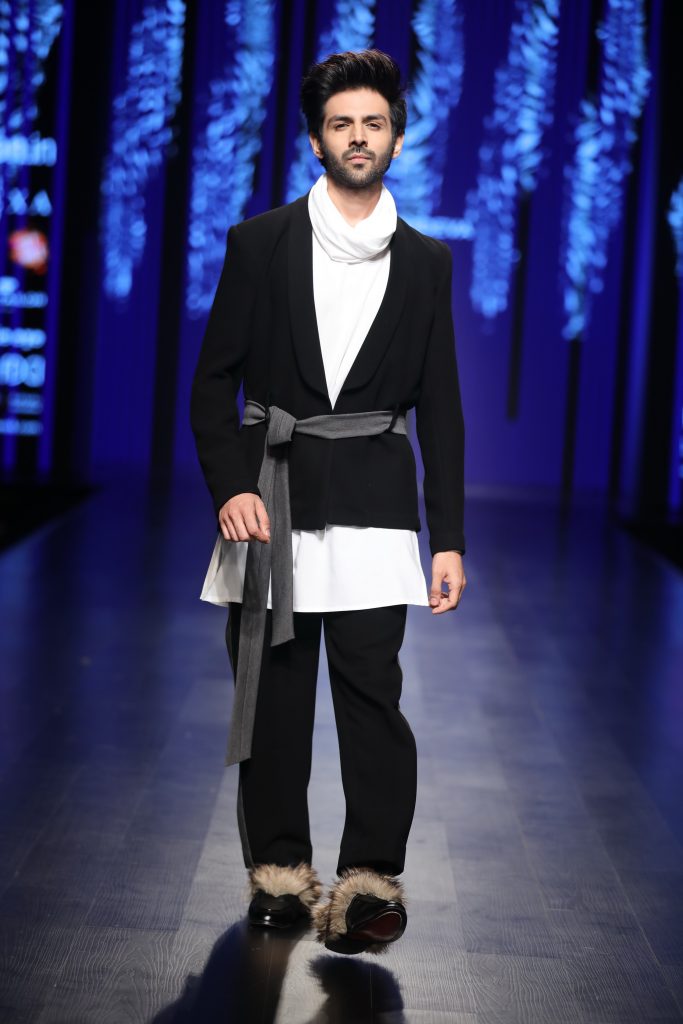 The collection ANIMATE is all about walking into the wild with a wide variety of animals beautify adorned in prints and embroidery with a splash of colours making the collection lively and fresh.
The silhouettes are clean and modern, perfectly blending with the soft belts with a variety that is changing from belted trousers to normal fitting trouser with details at hem. The jackets are a variety which includes zipper looks, belted looks, men shrugs and capes. The colour palette is an amalgamation of the shades of black, white, blue, tan, and grey with a color detail of red, yellow. The looks coming together form a series of garments making it distinct and unique. Bollywood actor Kartik Aryan played the perfect muse for the designer wearing a white turtle-neck kurta with a black blazer & trousers.
NIKASHA
Keya- A monsoon flower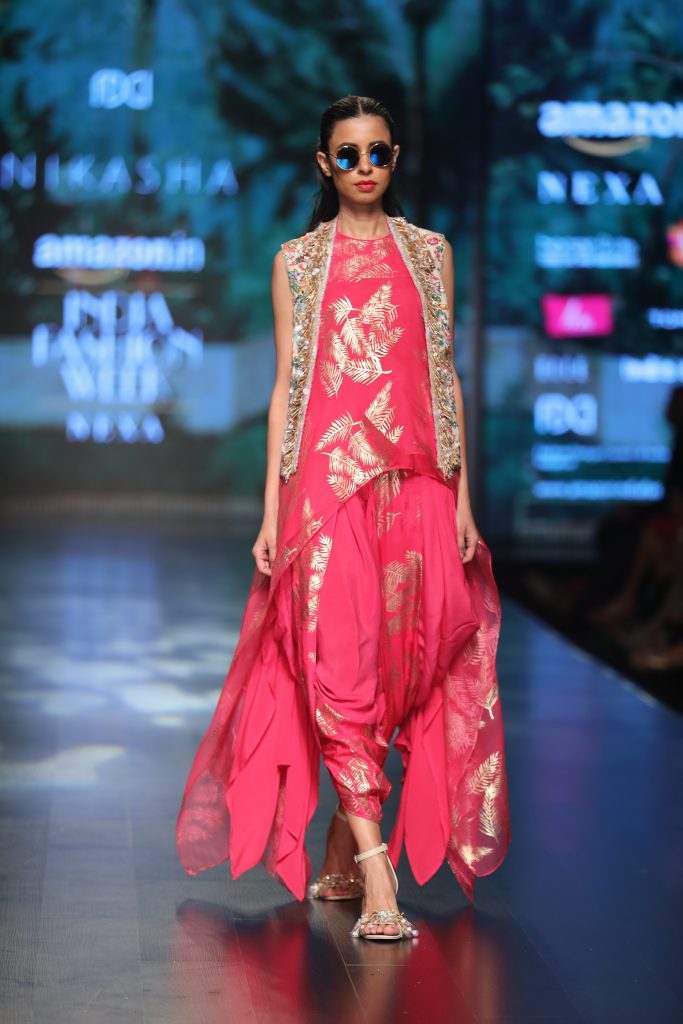 This collection by Nikasha celebrates the past and the future, the naïveté and the complex interplay of it all. You can't miss the gold-foil printed outfits! Fluid silhouettes like dhoti sari's compliment the brocade cocktail jacket, prints that embodies a million flowers and embroidery that is bold and full of colour and zeal. These are finished with the finest handcrafted accessories unique to the label.
RINA DHAKA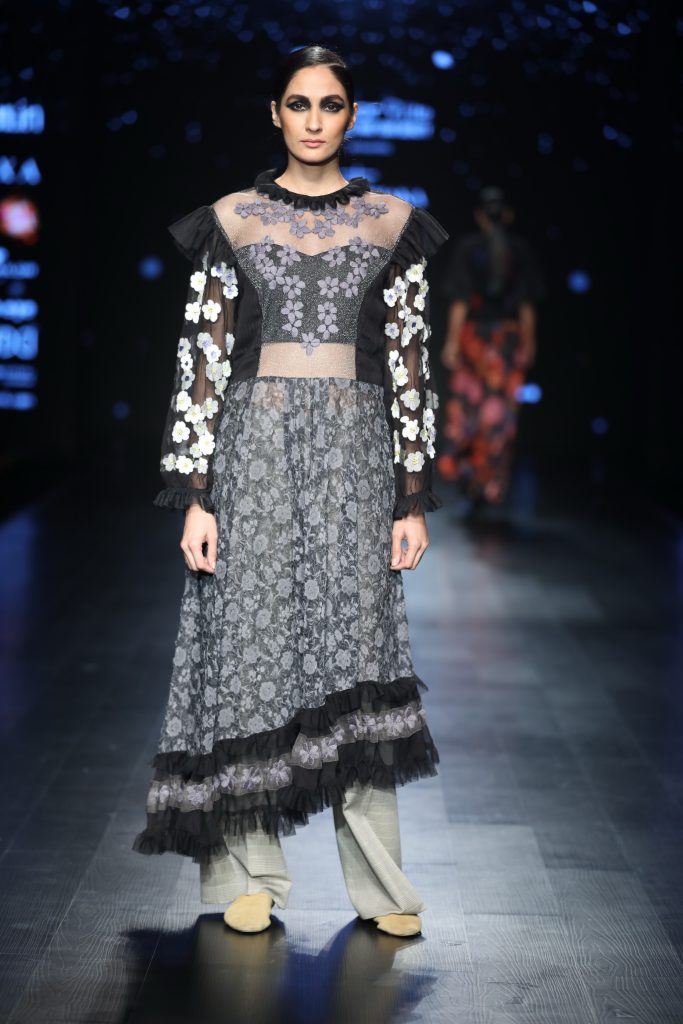 Like our style, florals are no longer the sweet, matching kind, different flowers, mixed matched with an unevenness, flowers compliment plaids and lace this season, that's what the renowned designer's collection represented. Layering a subversive spirit of seventies, along with a diversity, wherein mix and match is the charm. We got to see big sleeves, romance shoulders and knife pleats. Rina's theme for the Honor show was languid romance and hence her collection had a very relaxed yet elegant appeal with Rhea Chakraborty closing the show wearing an embellished silver dress with golden fringes.
TOM TAILOR
Historic Romance, Boss Girl, Rock & Folk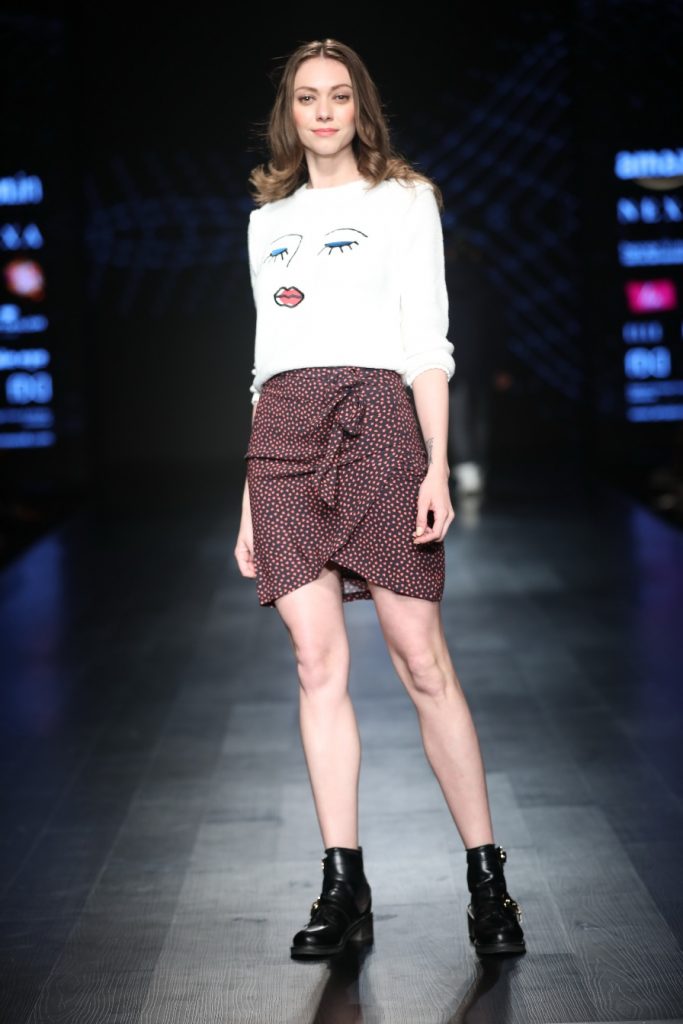 The high street brand from Germany showcased its collection which was divided in Historic Romance, Boss Girl and Rock & Folk. The Historic Romance Collection is the perfect reflection of this emotional state. Playful, easy and romantic, this is how you can experience this new look. The colour shades, such as khaki, warm red and soft pink tones are muted in this collection.
In the Boss Girl Collection you will find various looks to be dressed perfect for all occasions. Clear cutlines combined with material mixes underline the tough business character. The dark colours such as black or dark blue get highlighted with deep red, details of light blue or rosé. Animal prints & leather styles could also be seen.
The Rock & Folk Collection is the combination of romance and rock, it plays with breaking rules. Velvet is still a topic this season. In the collection you will find velvet bomber jackets and jogger pants, a combination of easy going and fashion dressed up.
NIDA MAHMOOD
The Chillum Sisters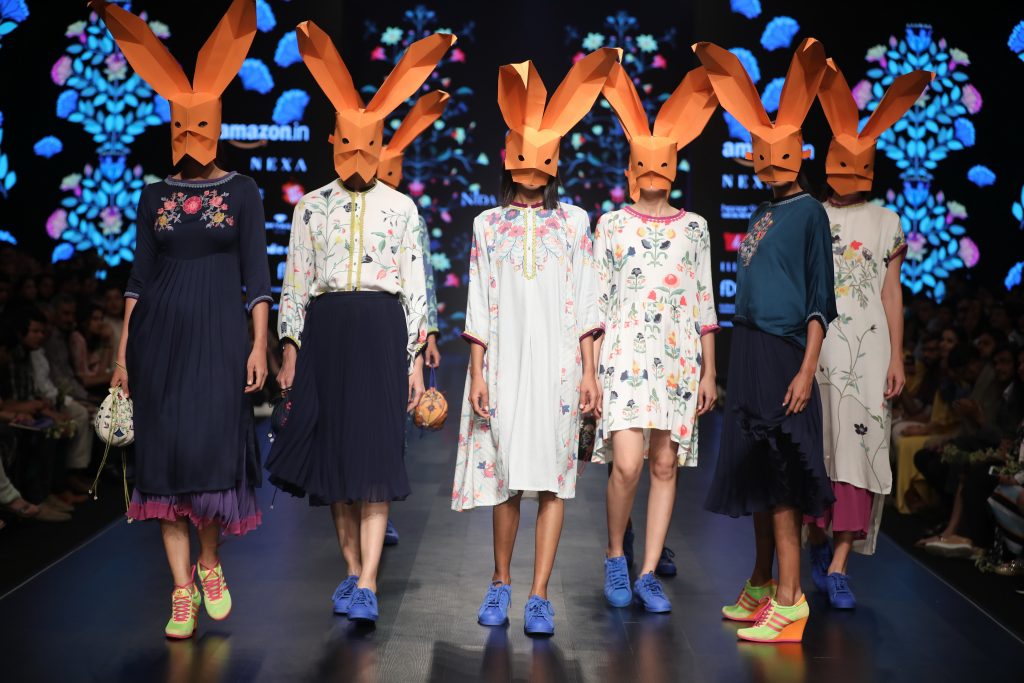 Nida showcased a world of chaotic juxtaposition of the old world, amalgamating with the new as part of the Liva show. The collection is composed of fluid relaxed silhouettes like oversized tops, tunics, blouses and over throws, flowy skirts and pajamas, antifitted kurtas and salwars, scarves and stoles using Liva fabrics like modal satin, dot dobby, moss crepe and cavillary twill. Layering is key to this line. Mix and match of colors, prints and techniques is the USP of the collection. Techniques used range from interesting Japanese shibori tieying techniques and resist printing to digital printing and embellishment. The look and feel of the collection is very homegrown modern Indian. Peppy Bollywood numbers like Hari Om Hari & Tamma Tamma set the mood of the show!
SCHULEN FERNANDES FOR WENDELL RODRICKS
The White Carpet Collection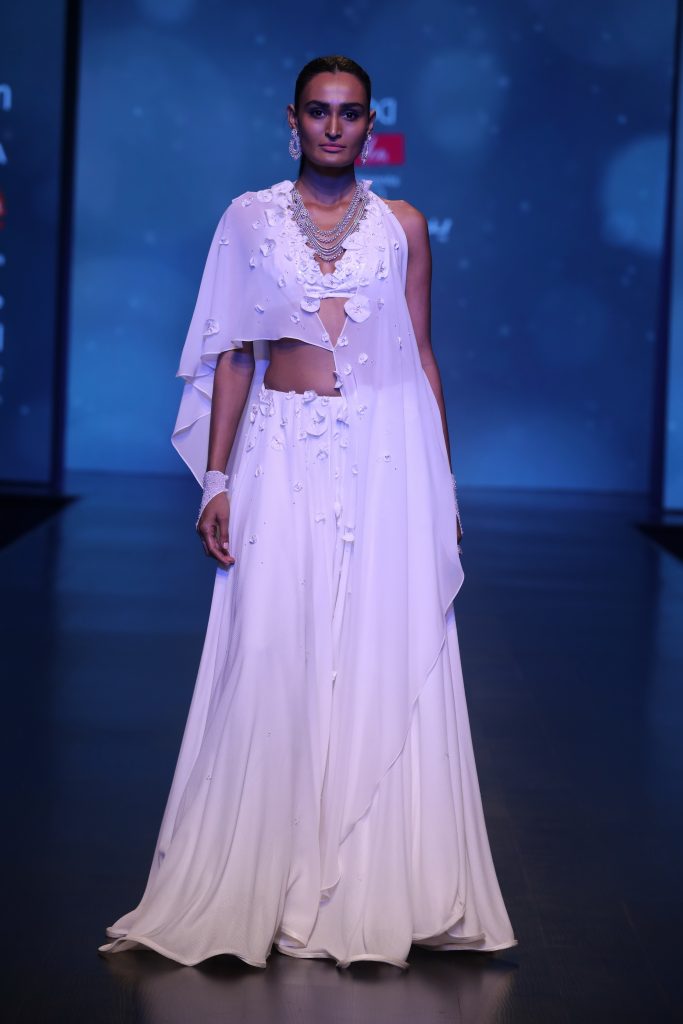 The whole show looked like a white fairytale. The new Liva red carpet was in white. Schulen Fernandes for Wendell Rodricks brings to Liva Fluid Fashion a collection that is sensual, elegant, refined, embellished and sparkling. Fabrics skim over sensual body-revealing curves in layered nuances, embroidered in a 'minimal baroque' style that defies definition and description. Where minimal ends and baroque begins is at the heart of the mystique and subtle glamour of this collection that sweeps across a spectrum of beauty. The collection has been created to display the diversity of Liva Fluid Fashion. This is a tribute to a sensual, natural fabric and an ode to Indian feminine beauty where the concept of 'Shringar' extends to a clothing line that heightens the essence of the Indian woman at her beautiful best.
SHIVAN & NARRESH
EdoMer Series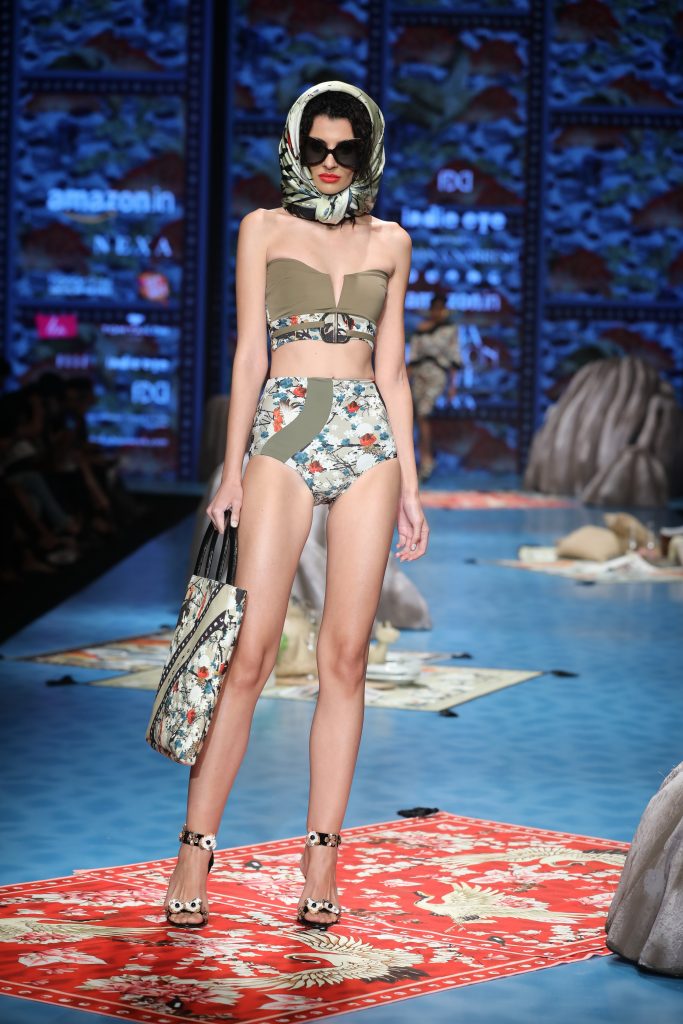 With minds delving into oriental artistic realms and physical experiences focusing on joyous holidays in the tropics, Shivan & Narresh's EdoMer Series dares a dream marrying dramatically opposite worlds with the language of design abstraction. Kicking off from the Araki Series, the new series captures the historic 17th century Edo Art aesthetic and amalgamates it with elements from the Eden of the world – Seychelles, transforming it into a traveller's decadence. The Seychelles memoirs featuring luscious fruits & flowers like Sour Sop & Alpinia Purpurata, fantastical birds and the magnificent Coco de Mer nut, meet the artistic era of Edo art.
The EdoMer Series, envisaged for the millennial on a luxurious getaway, presents key ensembles featuring signature prints against a colour palette of cherry reds, Seychelles aqua blue, coco brown and powdery blues for a glamourous getaway that could be a serene honeymoon or a splendid destination wedding. Each print dedicates itself to a setting or a thought reminiscent of the virgin islands of Seychelles, creating an effect of carrying a getaway in each of the ensembles. The collection also features some chic slings, duffles & totes.
NAMRATA JOSHIPURA
Now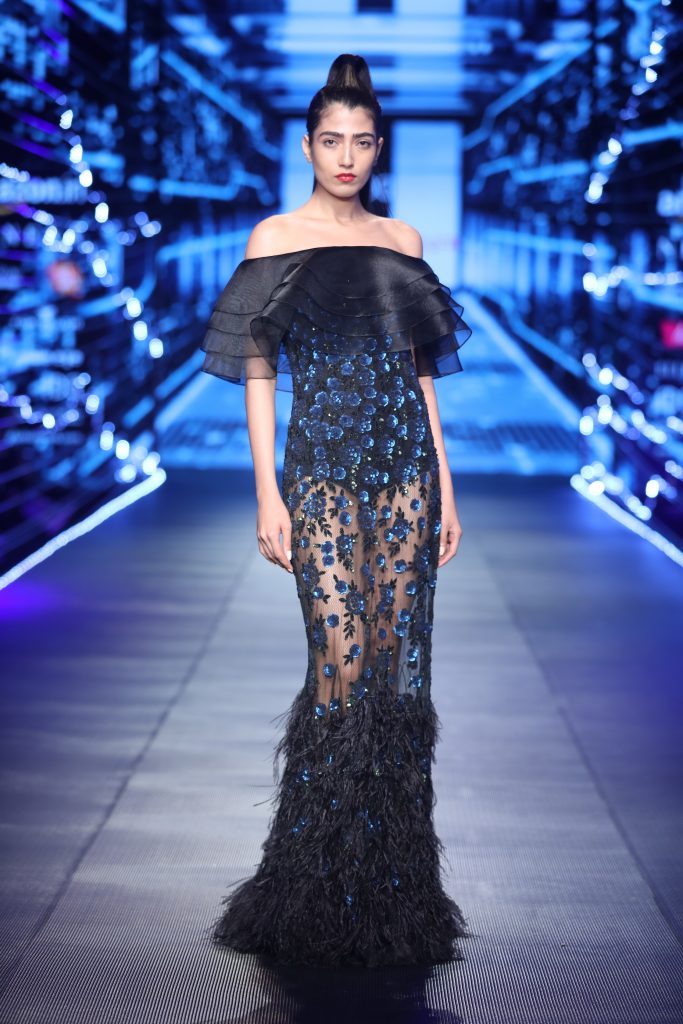 Namrata's collection titled 'Now' was an ode to technology. The human world – existing, emerging and probable – being driven and transformed by technology. As technology advances it becomes more and more human.
The collection was comprised of sharp silhouettes – gowns, jumpsuits and skirts, each with multi layers of embroidery. The palette is strong with electric blue, deep magenta, dusty pink, grey and black. The set inspired by the cloud looked spectacular.
---
Every season, all of us used to look forward to the culmination of the 5-day extravaganza with the grand finale show. However this season, every evening of Amazon India Fashion Week had a vibrancy of a grand show, instead of just a last-day grand finale, in order to commemorate as many designers as possible and to celebrate inclusivity. FDCI rocks it every season and this season too was splendid!