This time we went out to the newest outlet of Junkyard Cafe, located in the popular Rajouri Garden market. In line with their theme of using junk items stylistically, Umang Tewari and team have used unconventional items to set up the decor. Some of the items that we saw were: drums being used for the bar counter and as pillars, old wines bottles being used as lighting, and old milk containers, shock absorbers, and other spare parts being used as decorating items. Other interesting items we noticed were: part of an old ambassadors' body hung up next to the bar counter; and a Mona Lisa portrait made entirely out of junk. We took an elongated time to soak in the atmosphere of the outlet that is spread over 3 levels before deciding to take seats on the top floor where we could overlook the bustling market underneath and the parallel running metro track (far enough to not cause disturbance). The 2nd and 3rd floors have a huge screen each and would've been perfect had it been a night for any sporting event. Open to the sky, the top floor was fitted with a large air cooler and mist fans to ensure that everyone could have a good time without feeling the warmth of the night.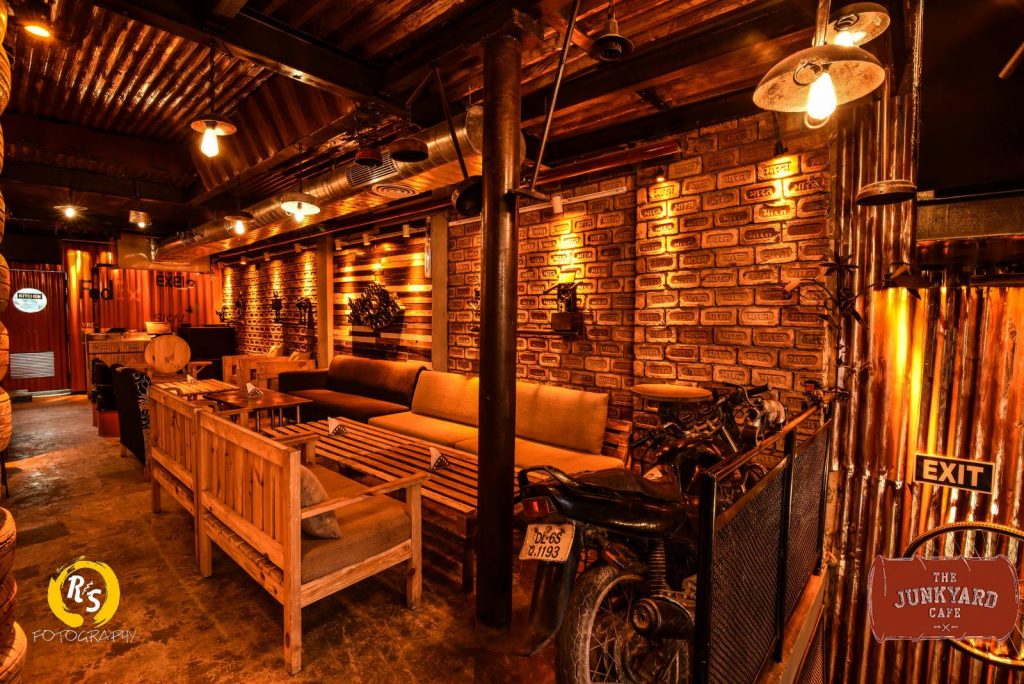 Another feature of the place was the uniform of white t-shirts and orange jumpsuits that the waiters were wearing. It completed the junkyard look. The place had an atmosphere suited to both family and friend outings and we could see a healthy mix of both.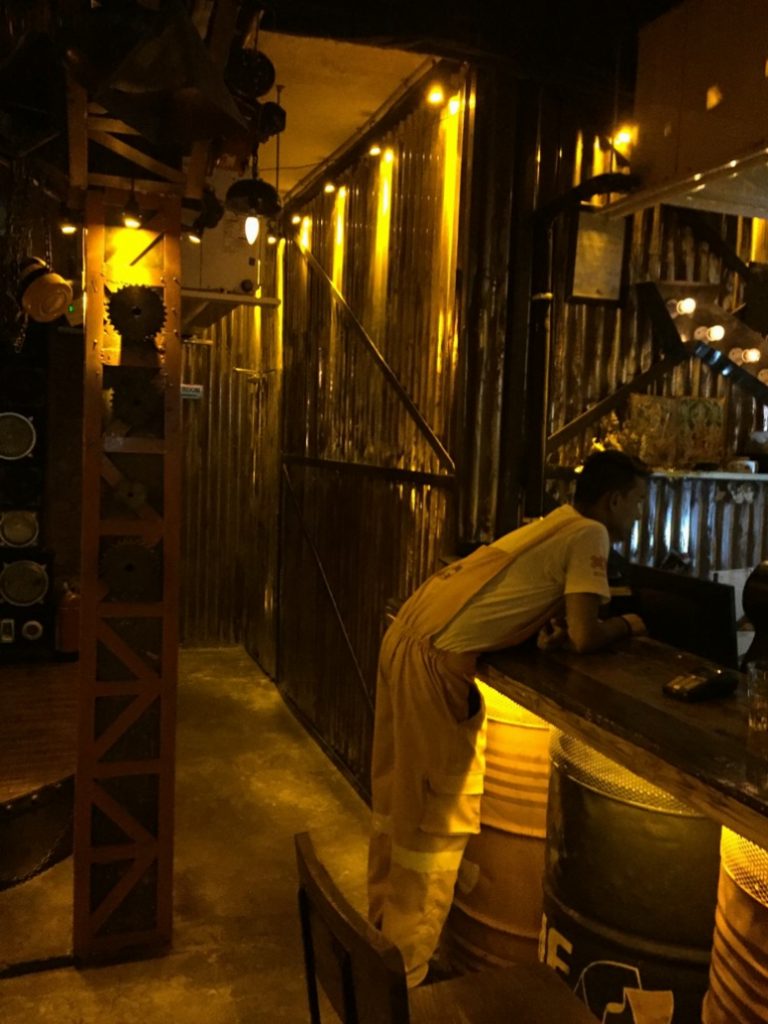 We started off with the cocktails menu, which had a mix of classics and ingenious drinks, and our first order was a cocktail called Bourbon Wreckage Fluid. It had a base of bourbon mixed with corn juice and orange juice, and flavoured with cinnamon. The drink was served in a glass made out of wood and was garnished with a slice of orange that was hollowed out from one side. There was a strong cinnamon flavour that added to the taste of the underlying liquids. Along with it, we ordered a Junkyard Special Hukkah in the Kiwi Mist flavour (a mixture of mint and kiwi) that was refreshing and was easy on the throat.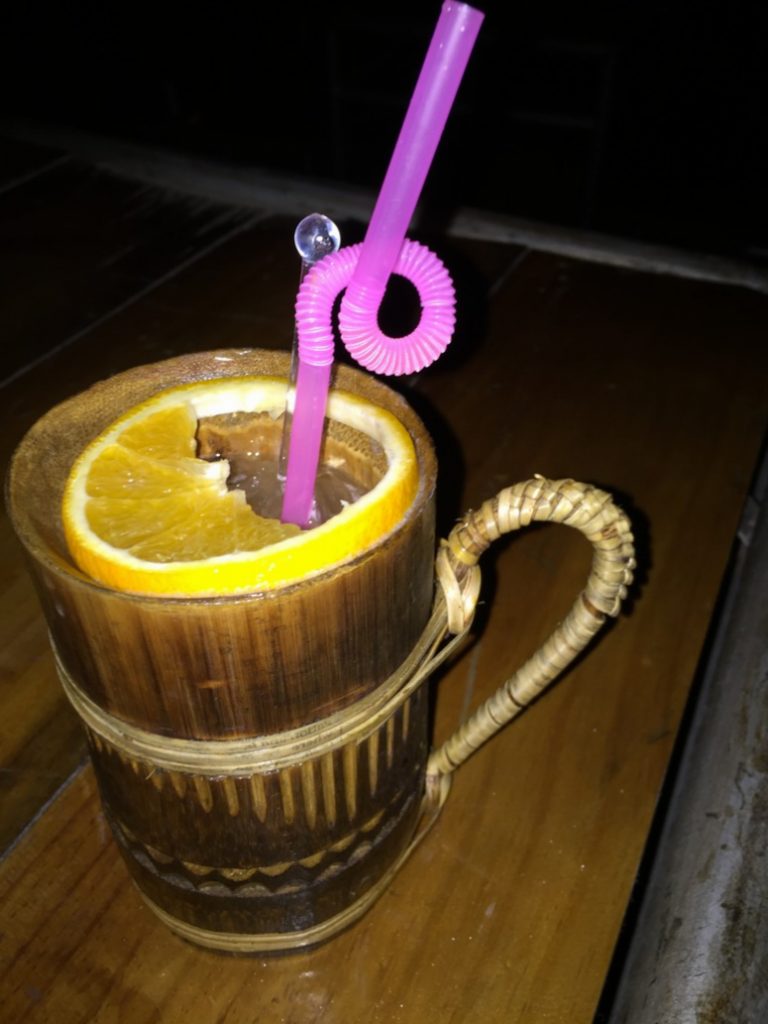 Next up was a Fresh Fruit Pina Colada that left a delicious sweet coconutty aftertaste in the mouth. The prefix 'fresh fruit' is taken seriously at Junkyard Cafe, and we could literally taste the freshness of the ingredients, especially the pineapples.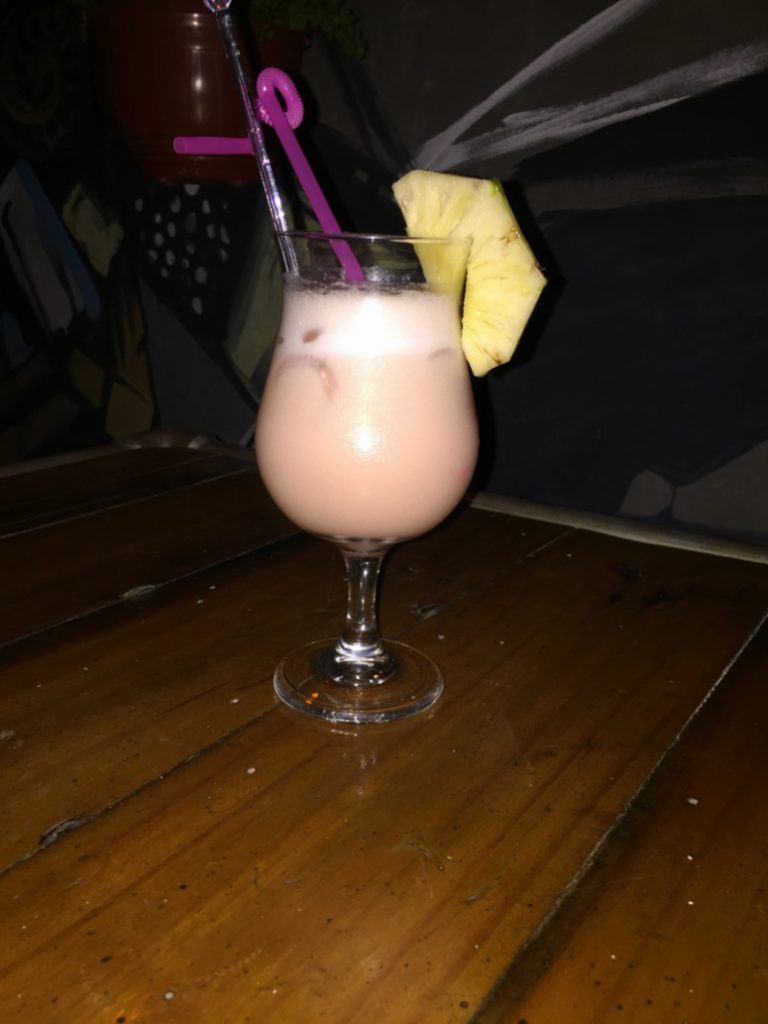 We also ordered English Central Monitor, a minty and refreshing drink – perfectly suited after a long summer day. It had gin mixed with orange marmalade, was flavoured with cinnamon and orange bitters and was topped with lemonade, garnished with a slice of orange.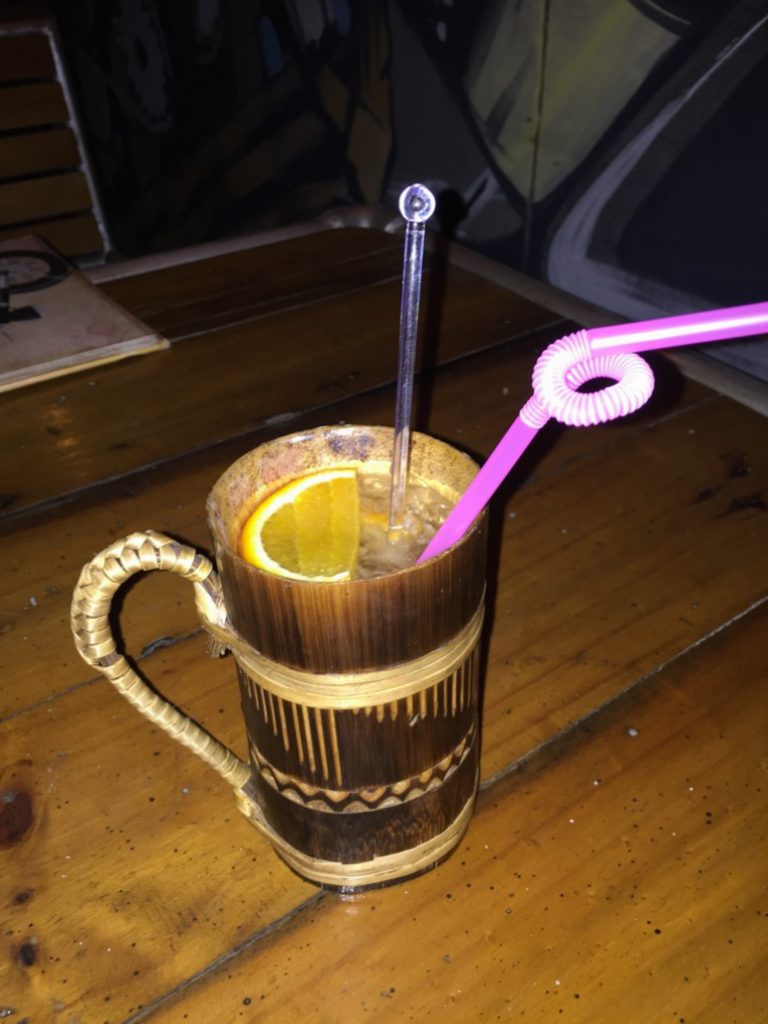 From the starters menu, we ordered a Chicken Broccoli and Beetroot Salad with Avocado Pesto and Falafel with Avocado Spread and warm Pita. The starters menu listed the calorific content against each item and also gave the nutritional content.
The salad consisted of smoked chicken cut into finger sized pieces along with chunks of broccoli, beetroot, and lettuce leaves tossed in mayonnaise sauce and avocado paste. The mix of ingredients and flavours made it taste like the perfect combination of yin and yang.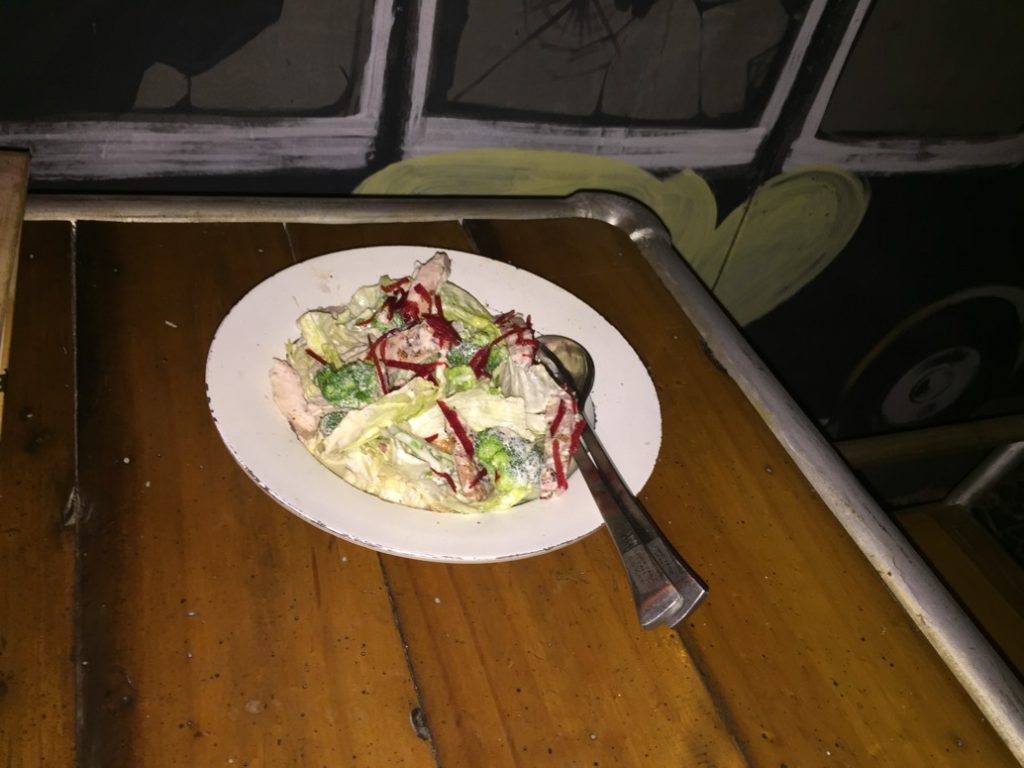 The falafel was perfectly crisp and was fried to the perfect golden brown colour. The avocado spread was rich in taste and full of flavour while the pita was soft and warm exactly as it should be. It came with a side of pickled vegetables.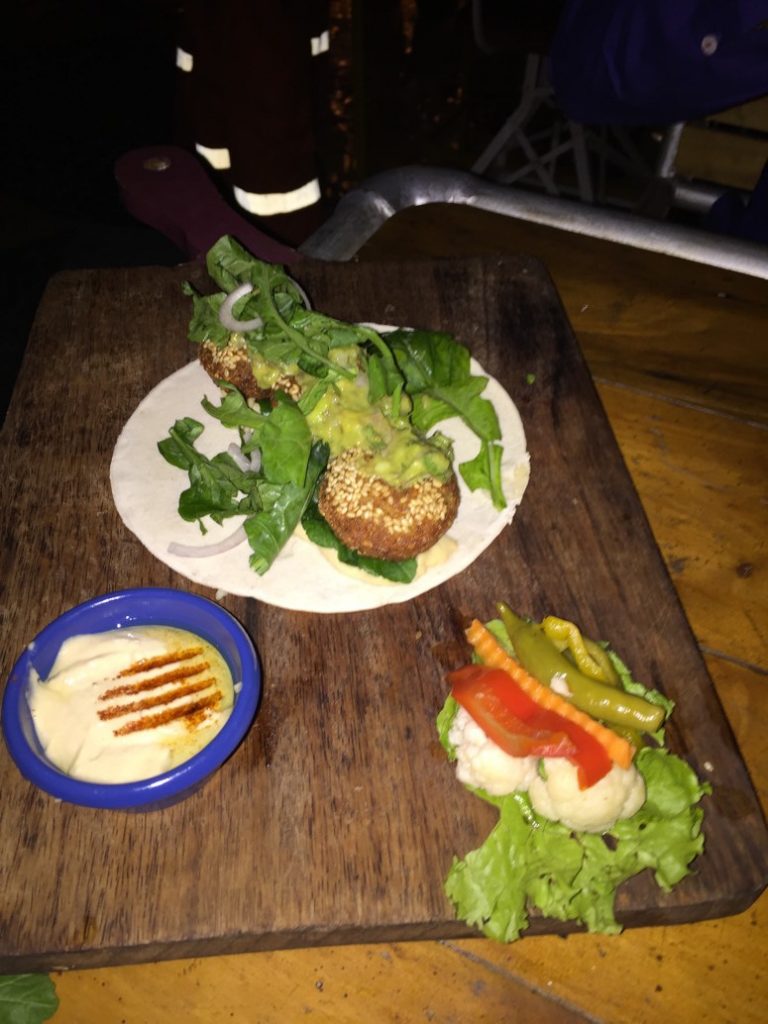 Next up was Nachos Overload, corn tortillas covered with cheddar cheese and baked to golden brown perfection. This was topped with salsa and garnished with pickled chillies and a dollop of sour cream on top.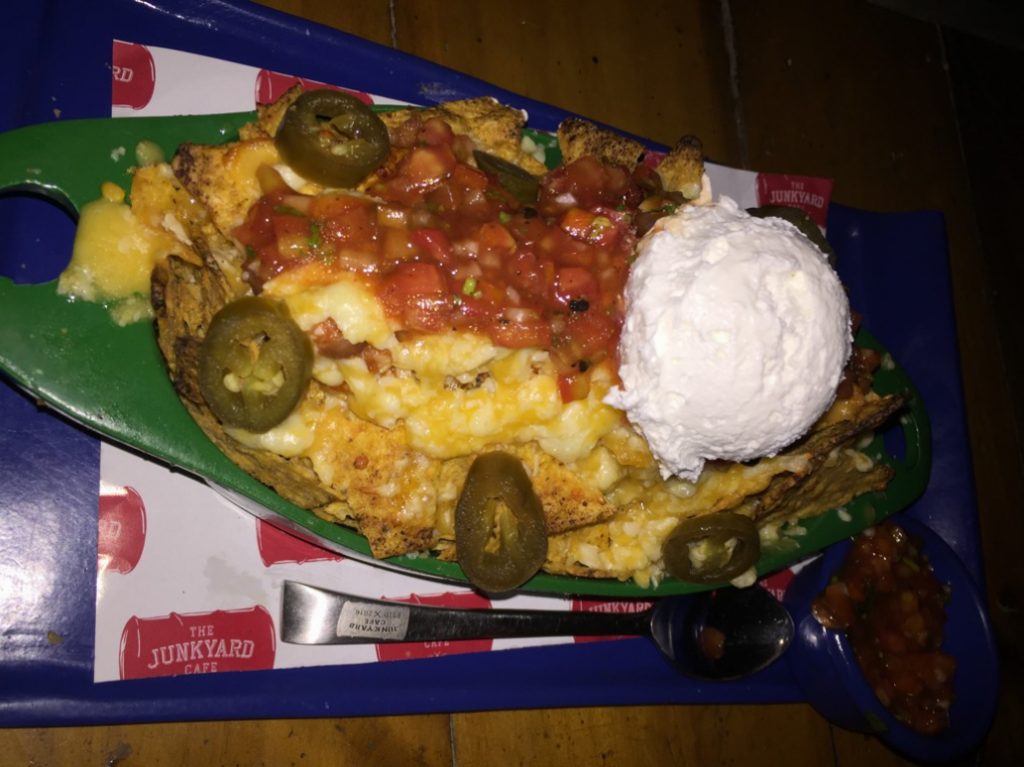 It was time for the main course. We asked for Jodhpuri Paneer Mathania and Grilled Chicken Breast with Couscous. The Paneer was cooked in a spicy and creamy onion-tomato gravy and came with a choice of 2 breads (we ordered 1 Lachha Parantha and 1 Butter Naan) and was accompanied by a side of button onions in vinegar and pudina chutney. The paneer pieces were soft and the gravy had undertones of methi and ginger. The breads were also cooked to perfection.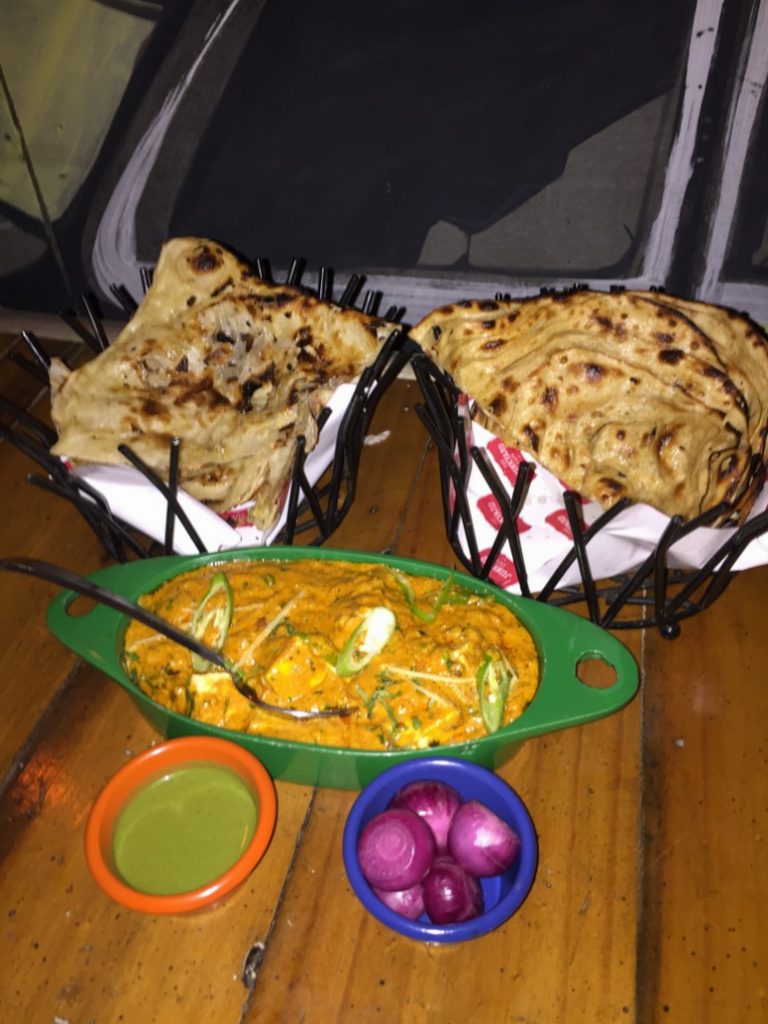 The grilled chicken breasts were smeared with creamy tomato sauce and were accompanied by sides of a bowl of the creamy tomato sauce, pickled vegetables, and couscous rice. The texture of the meat was good and the couscous was full of flavour and had crispy vegetables.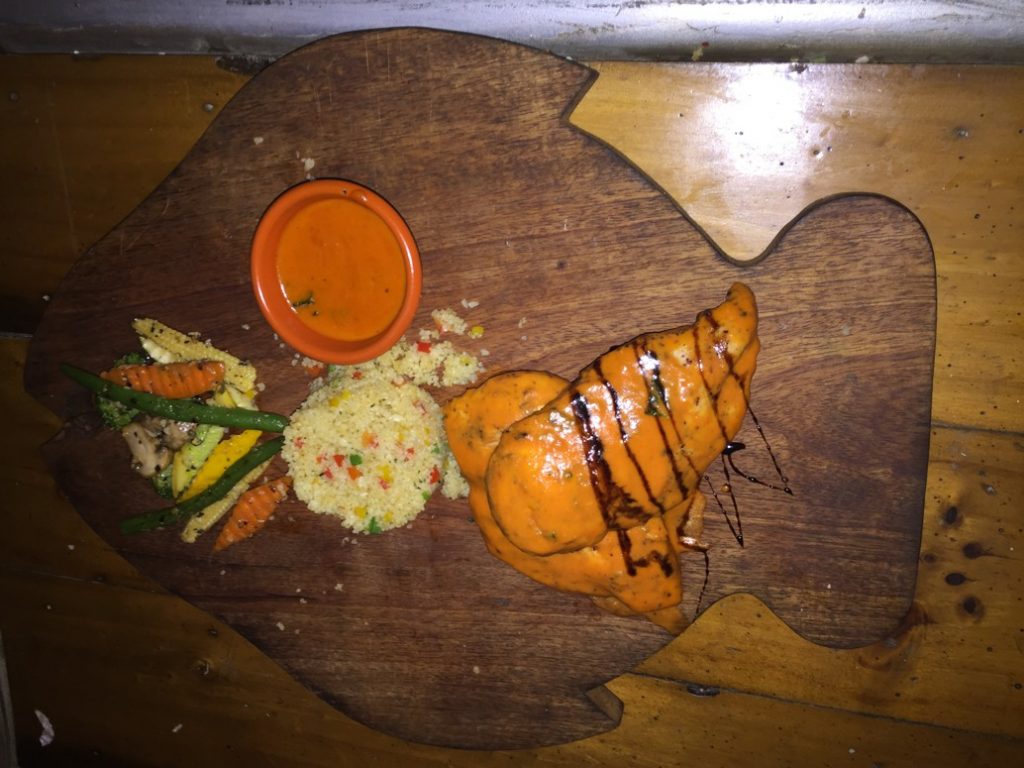 Along with the main courses, we ordered a couple of drinks. One was called Root Collage, prepared with beetroot juice, carrot juice and vanilla sugar and garnished with a slice of pineapple and orange each. It tasted quite good and the twist of vanilla in the end was quite a surprise.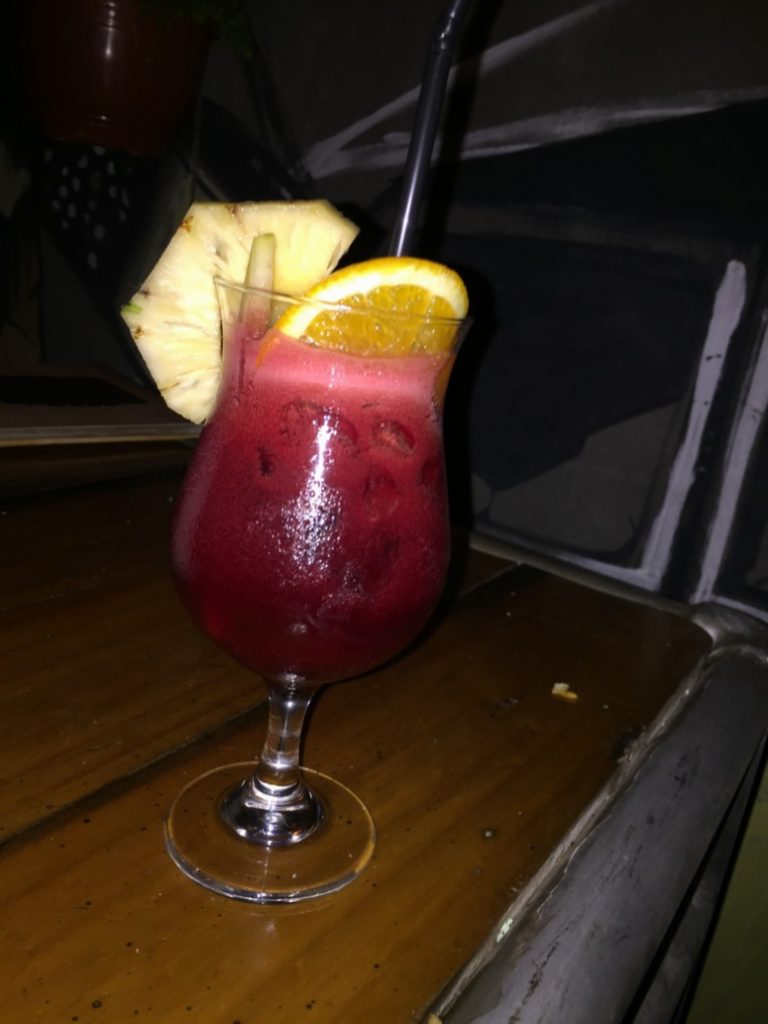 And the other one was Edison Bulb #1. Part of the reason for ordering this drink was the 'bulb' in the name and we were pleasantly surprised to discover that the drink actually came in a bulb that was kept in a glass. Inside the glass, an effect of rising smoke was created by putting pieces of dry ice in some water. The drink had a base of white rum that was mixed with lime juice and was flavoured with elder flower, vanilla sugar, and rosemary. The drink was absolutely delicious and I wouldn't shy away from calling it the highlight of the night.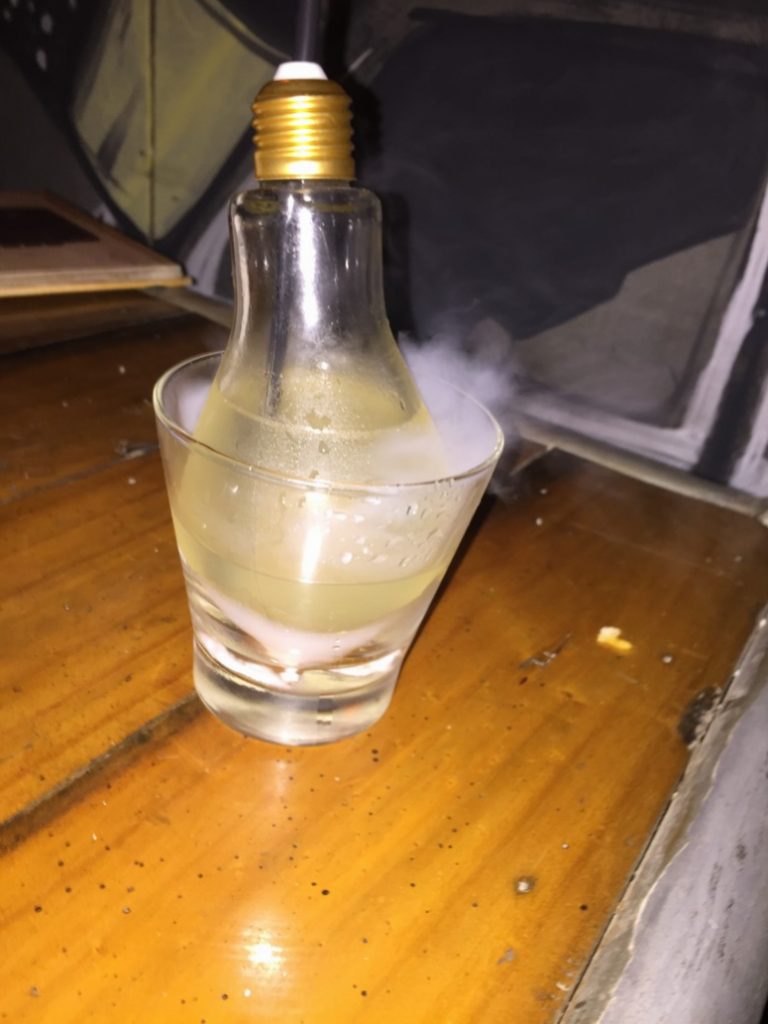 Lastly, we ordered the White Chocolate Raspberry Truffle and the Peanut Butter Fudge Cheesecake. The truffle had almost a 1 inch layer of white chocolate on top, below which there was a similar layer of truffle and a thin layer of biscuit. This was topped with a thin layer of raspberry sauce that had small chunks of raspberry in it. The peanut butter cheesecake had a similar structure, a thin layer of biscuit at the bottom, covered with a thick layer of cheesecake and another thick layer of peanut butter that was covered with pieces of broken peanuts and garnished with mint leaves. The only complaint I can have is that the desserts were a bit too sweet.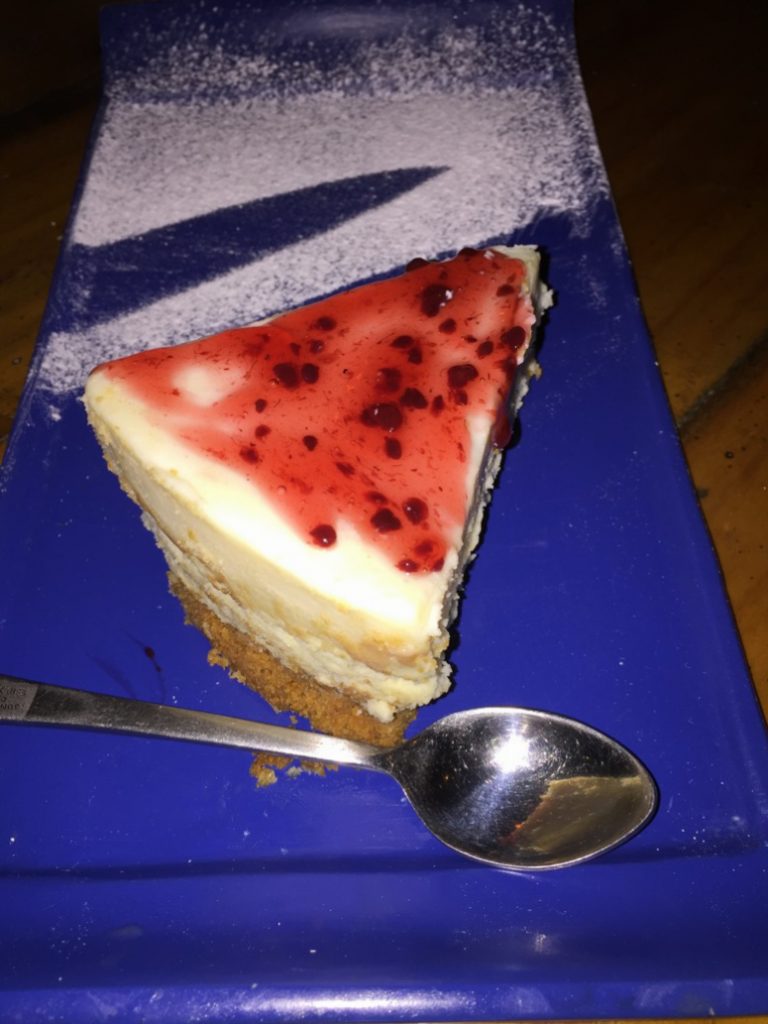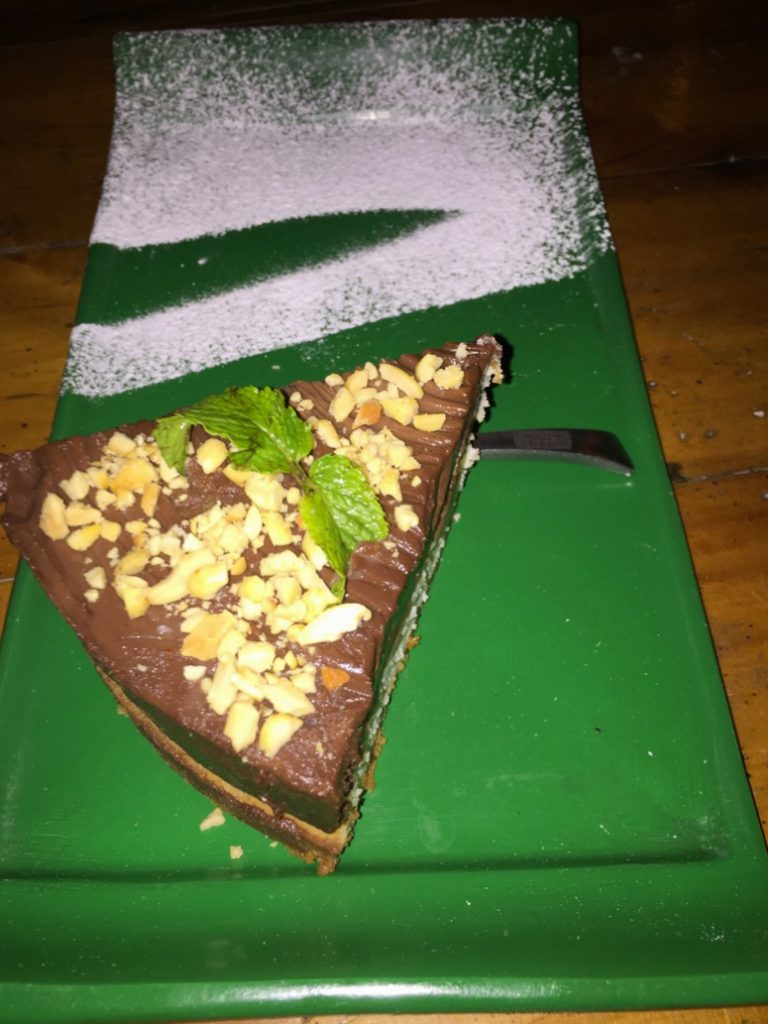 All in all, it was a great night with delicious food and courteous service that we were able to enjoy to the fullest.
Review Credit: Arjun Budhraja