Okay, Let me first start by expressing my love for perfumes! I simply adore perfumes, I try all sorts of perfumes, categorize them by nose or note, and love to talk about them. My excitement knew no bound when I  received the invite to be a part of "Make your own perfume" workshop by Rajiv Sheth of "All Good Scents".
Before I tell you about All Good Scents, Let me share a memory. Three years back I had been to one of the Perfume stores at the Fashion street in Paris. On the top of many Paris 'must do' lists was 'bring home a French perfume'. Upon stepping foot in one of the stores in the fashion street, the enchanting atmosphere and olfactory delights swept me off the floor. The store felt like heaven, really! Minutes later, I returned to my senses when I checked the price label! I could buy just two,  thanks to the skyrocketing Euro rates!
I am sure you'll agree that Perfumes in India too are very expensive owing to the brand and the ingredient factor.
Honestly I hadn't heard of All Good Scents before I received an Invite from them.
"All Good Scents"is a brand launched by Rajiv Sheth , which boasts premium quality fragrances in the affordable luxury segment for the new, contemporary and young Indians. Rajiv Sheth is the only Indian to have studied at France's ISIPCA, a very exclusive school founded in 1970 by Jean Jacques Guerlain.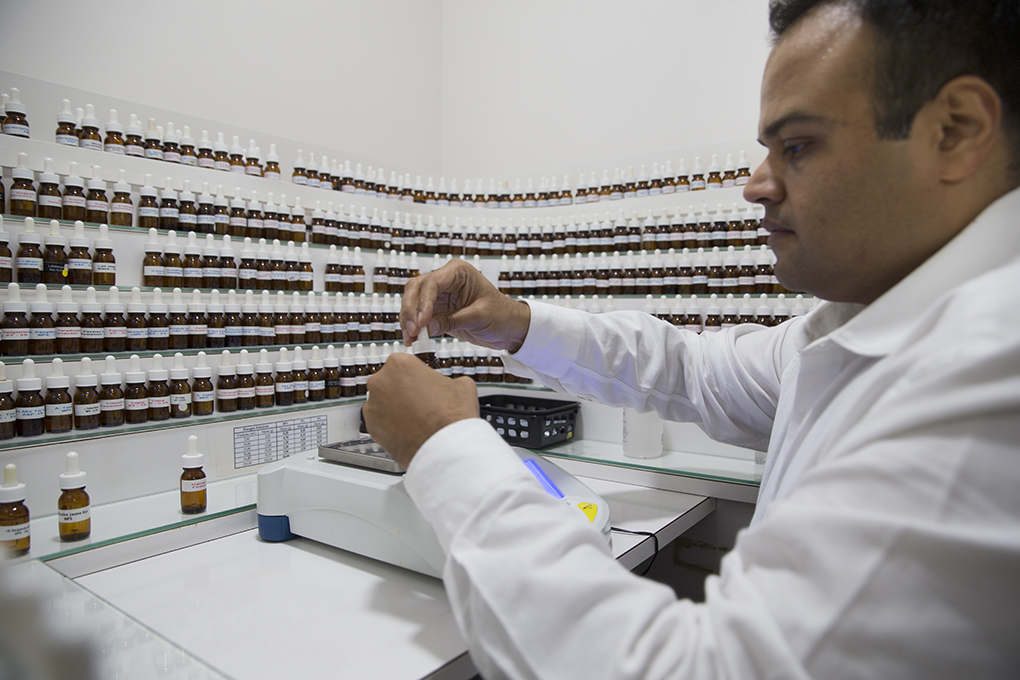 Being an acclaimed perfumer and having learned perfumery from few of the best 'noses' of the world, Rajiv decided to explore Indian Markets and came up with All Good Scents!
The  workshop was conducted at Indian school of Design and Innovation situated in Parel. I must say I am in love with this institution for the kind of  creative energy it carries.
We were a group of vibrant girls who had a penchant for fragrances. Girls being girls we couldn't resist chatting and discussing fragrances. With my visit to Fragonard factory in Grasse, I knew that being a  "Perfumer" is a rare talent. A "Perfumer"  or "Nose" as we affectionately call it is an artist who is trained in depth on the concepts of fragrance aesthetics and who is capable of conveying abstract concepts and moods with fragrance compositions.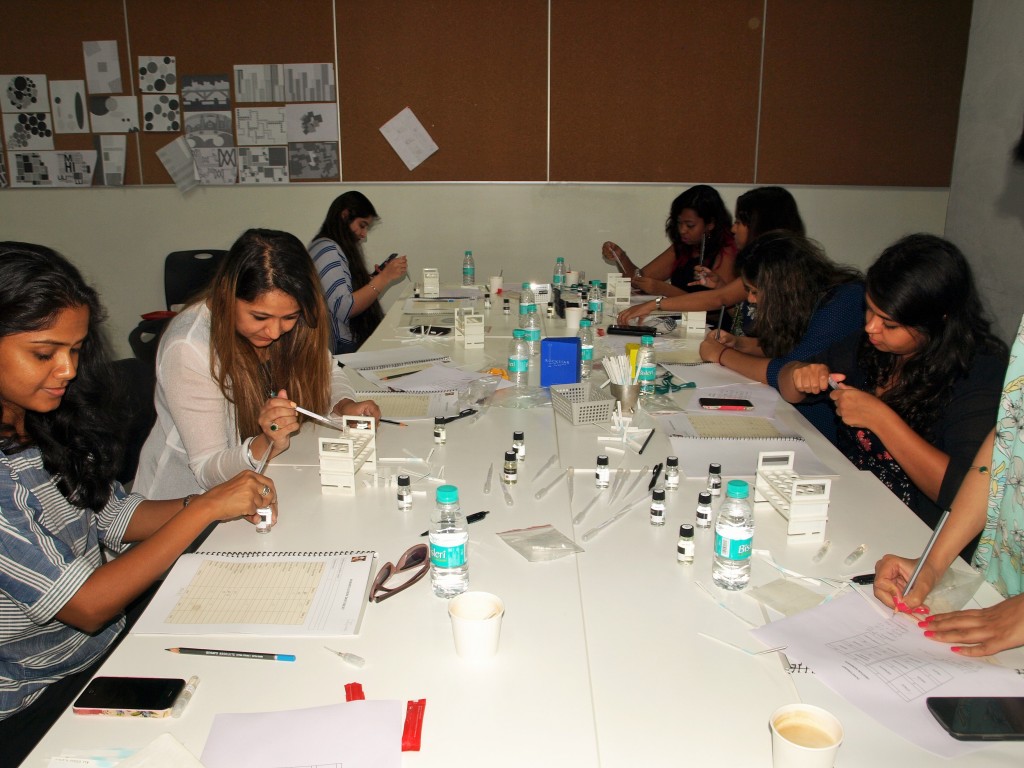 I wondered how Rajiv decided to choose this off beat career  and asked him about it. Rajiv's Grandfather had an export business of  Essential oils, he spent most of his childhood sniffing various raw materials. He developed a keen interest to know a large variety of fragrance ingredients and their smells which inspired him to walk the road less traveled.
Rajiv started the workshop by explaining the emotional connection that fragrances trigger. Indeed sense of smell does refresh memories. Perfumes are classified in 7 families and 19 olfactory facets. Each perfume composition has top notes, middle notes and base notes. After getting equipped with the technical knowledge it was time to craft our own fragrance. Each participant was to come up with three fragrances comprising of 100 drops created from the number of facets.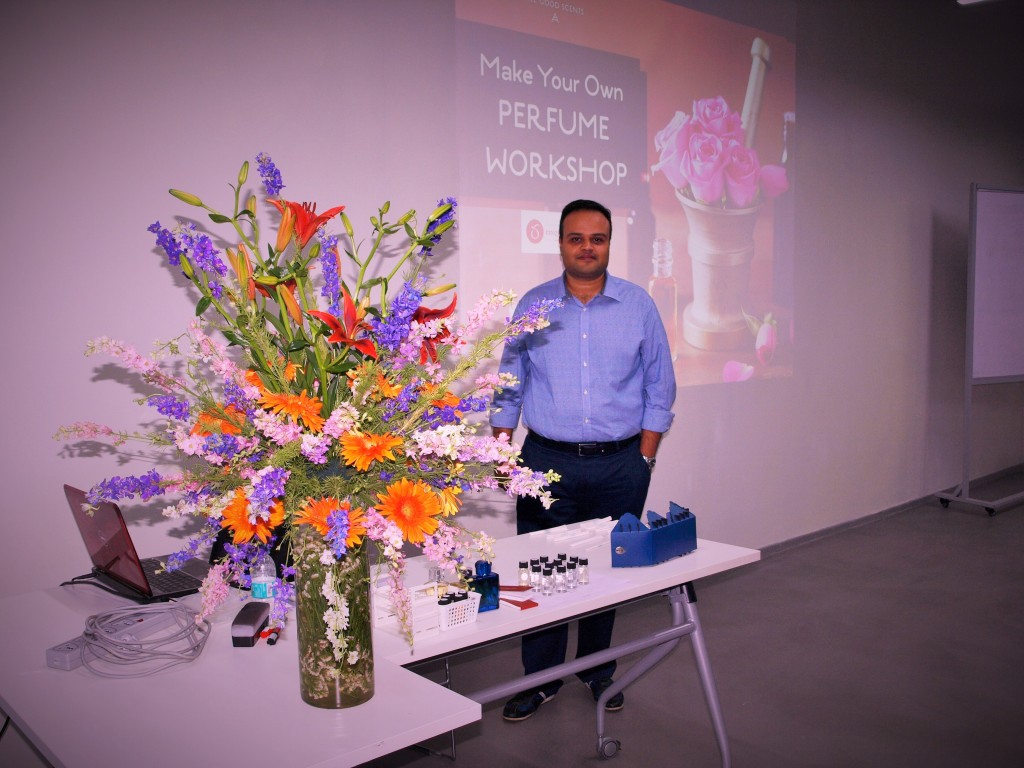 I wracked my brains to come up with a  formula for the three fragrances I wanted to create. Obviously all three had to have my favourite fragrance- Citrus!
Next 45 minutes were a lot of fun as we exchanged ideas, created fragrances and tested on each other! I was happy with my creations. However the process made me understand that it is not only about having a sharp sense of smell but knowledge of the components, properly taking in to account their intensity and tenacity.
The training room was fragrant as a blooming garden! Rajiv seemed happy with our work.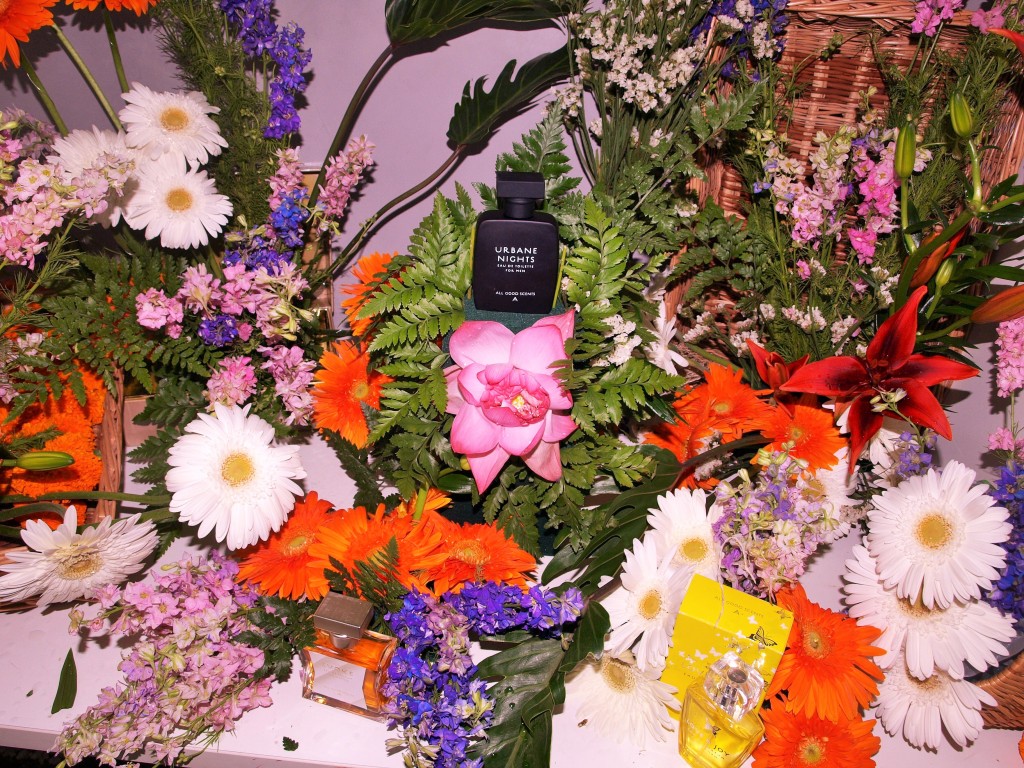 With this workshop my perception about perfumes has changed forever. I realized that although I loved perfumes like most girls,  my idea of selecting one was very superficial. There's so much that goes in making a perfume and it's for a reason they say that perfumes and personality are deeply associated.
The workshop concluded with delicious lunch at the While Owl and a lovely hamper from All Good Scents.
Review Credit: Kshama Gupta