We all know that there are limited options when it comes to Pizzas. What if I tell you there's something new in the pizza space to try out! Rich with authentic Italian flavours and variety of options both in veg and non veg. We were excited to know about this place when we received an invite from them. With the launch of PizzAah! – Mumbai's latest pizza chain, not only can diners satiate their taste buds in wood-fired and smoked flavours but also, can have them delivered at their doorstep.We thought what better than Valentine Day's eve to soothe our taste buds!
PizzAah has been launched at Cafe Lager, Bandra West. The cafe is where the famous "Zenzi" Bar used to be. The place has got that rustic feel to it with lovely interiors and rhythmic music running in the background. People who have been to Zenzi  however might  miss the old charm sans the celebrities off course. As of now this is the only place available with the dining option. Encouraged with an overwhelming response at Bandra, PizzAah has started with a Dark kitchen in Andheri East.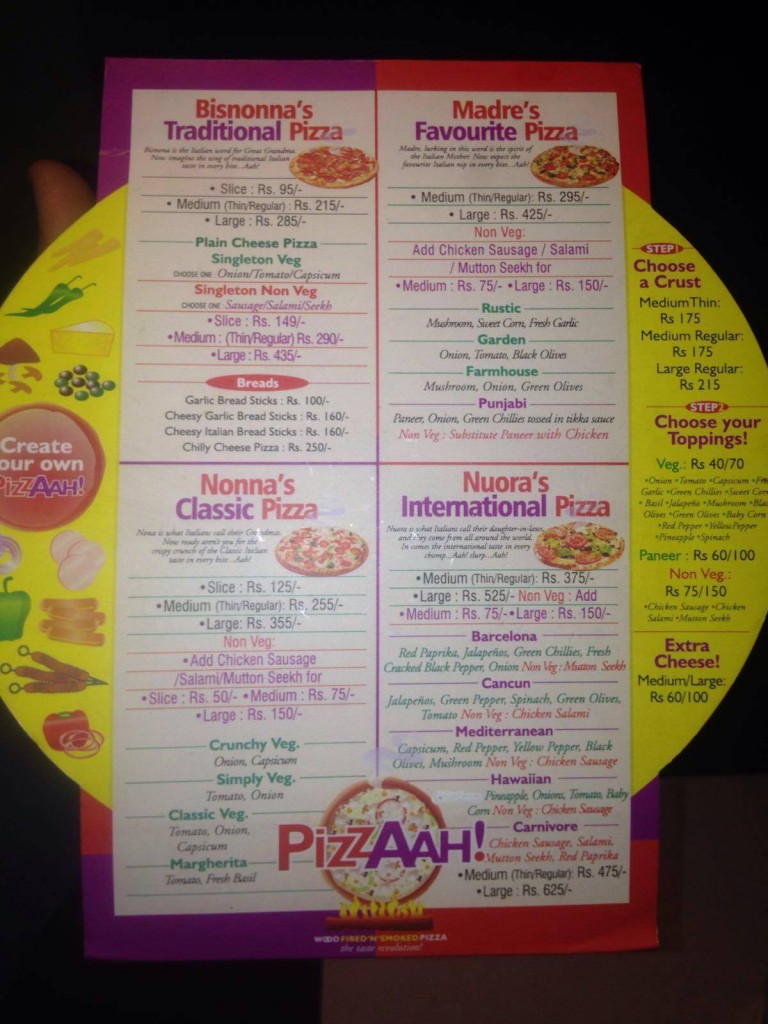 Pizzaah has designed their menu in an interesting fashion. The Pizzas are categorized in Italian words Bisnonna's , Madre's, Nonna's & Nuora's meaning Great Grand Mother, Mother, Grand Mother and Daughter-in-law.Offered in a spread of four distinguished Italian preparation styles including traditional, classic, contemporary and international, PizzAah! is available in standard sizes of 9 inch and 12 inch with thin or regular crusts. The toppings can be customized as per one's taste. Pizzaah's makes themselves stand out by keeping standard rates irrespective of the number of toppings. So if you have chosen a Medium Pizza from Noura's or any other category you can choose any number of toppings , you will not be charged extra for topping. Great!! Isn't it!
We decided to go with the Noura with Hawaiian (Veg) and Carnivore (Non-veg) pizzaah.
Well , the Pizzas arrived fairly quickly and we couldn't wait to try them. Hawaiian pizza offered delicious layers of cheese topped with pineapple, tomatoes  & onions. The Carnivore Pizza was even better with Chicken sausage, salami , mutton seek and red paprika.
We devoured on both until we were given a surprise ….A heart shaped pizza! Crafted specially for Valentine's day! It did look sumptuously delicious.We however expected more just than the look.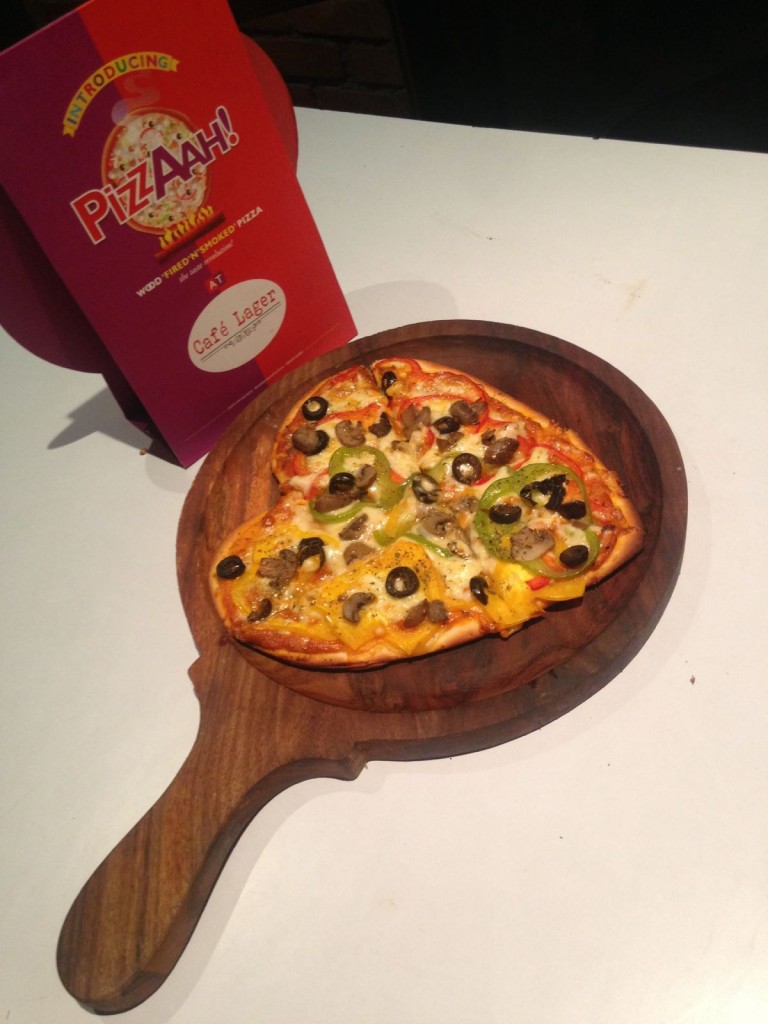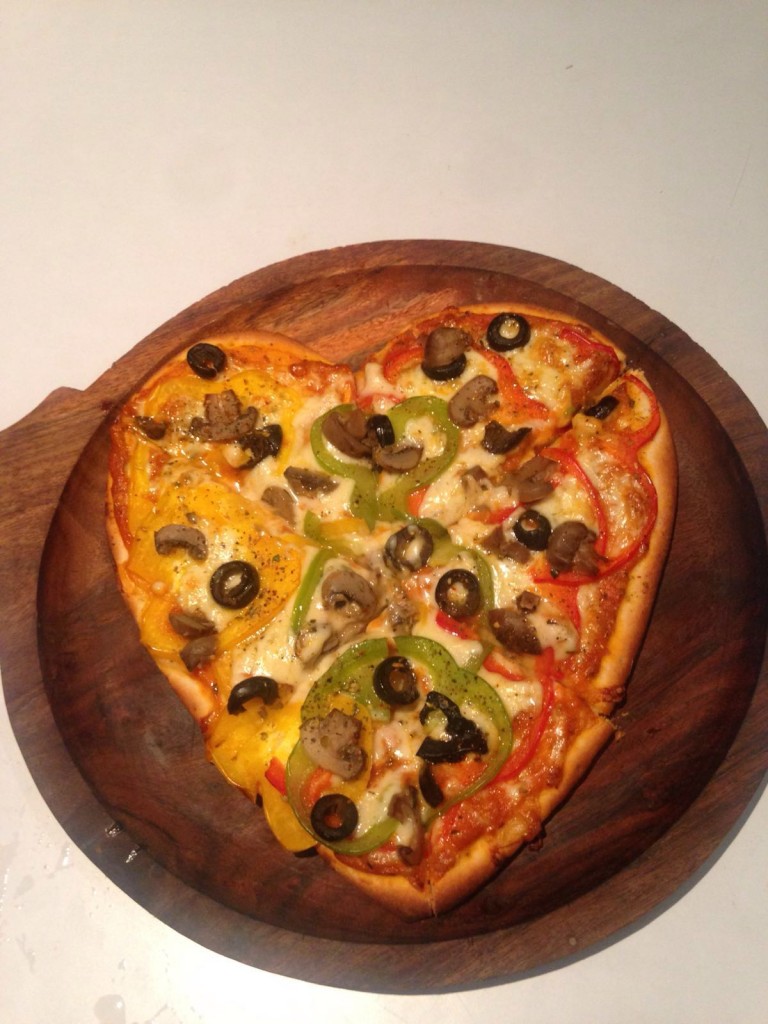 PizzAah! differentiates itself from the rest with its wood fired and smoked pizzas,They specialize in the wood fire and smoked pizzas with home delivery available as well. While you may worry that how can the wood fire & smoked pizzas be home delivered, Pizzaah has taken special care of your concerns. They ensure the flavors remain intact as you enjoy them in the comfort of your home. Not only that they provide with step by step guidelines on how to restore the flavors back just in case the pizza gets soggy.
All in all Pizzaah offers a host of pizza options for pizza lovers that too at very reasonable rates.
Review Credit: Kshama Gupta