Who doesn't love Punjabi food and when you know it's coming from the pind, you have to make a halt!! And that's what we did when Team ChicLifeByte was invited to Rangla Punjab festival organized by Punjab Grill. We are no stranger to the restaurant opened up by Jiggs Kalra and have always loved the food here. This time it wasn't the usual Butter Chicken that we were invited for some something much more than that. We were invited to "Savour the depth and diversity of Punjabi cuisine with a special menu at Punjab Grill".
Rangla Punjab is a special food festival organized from Feb 10th to 24th and the menu boasted of true flavours of Punjab. I had heard of the dishes coz of the umpteen visits to the city of Punjab but I am sure a lot of you would not have even heard of the names. Don't worry, I will be more than happy to share my memorable experience to bring out the essence of the heartland of Punjab.
As I entered I was completely overwhelmed to see the true colours of Punjab everywhere. Phulkaris adorned the walls and waiters were dressed in Punjabi traditional colours and outfits….it did make the whole ambience different. Team ChicLifeByte sat with a few other bloggers as well as Puneet Nagpal, Marketing Manager at Lite Bite Foods Pvt Ltd.
The first dish to make its entry was Mutton Chaap. Large chunks of mutton not only looked great but even tasted great. Nice, Juicy, Fleshy, Flavourful, made with right spices which we could clearly feel as we had each bite. It is one of the most recommended dishes and did set the expectations high. By the time we finished it, we were served Kaali Gajar di Kaanji, a Punjabi delicacy, though nice and flavourful but a little tangy! Macchi De Pakode served innovatively on a bed of mirchi chips were soft and crispy.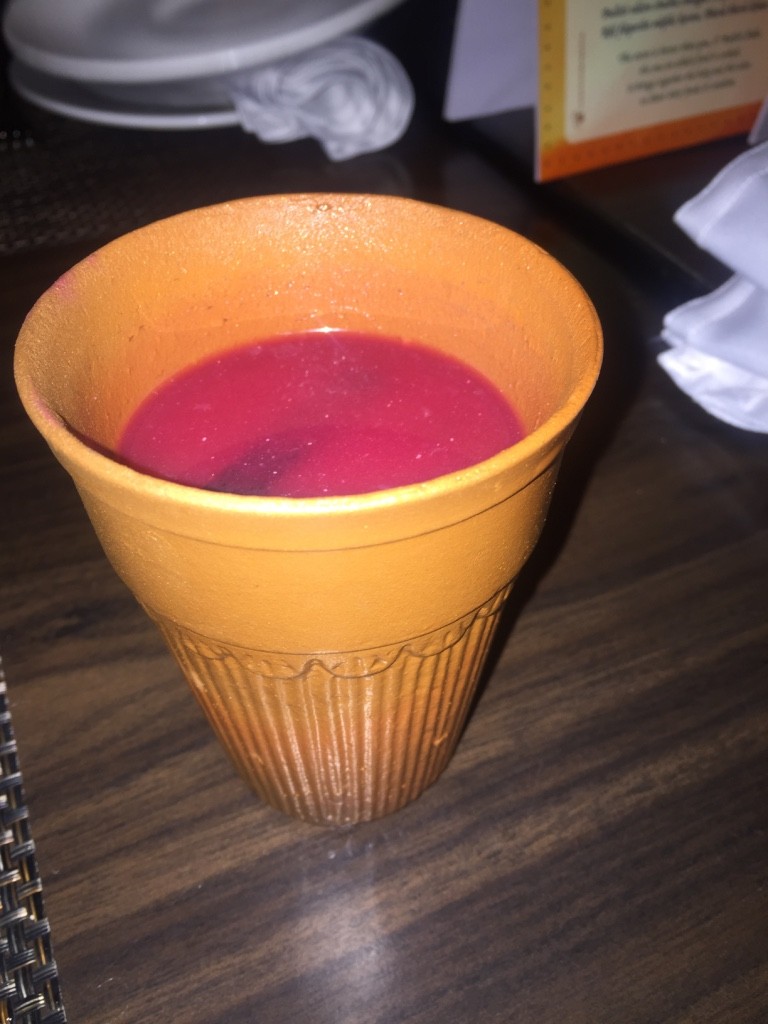 It was now time for main course and the star highlight of the evening was Kotkapura Da Atta Chicken– Punjab's answer to the Chinese Beggar's Chicken. This renowned Atte wala chicken is a delicacy from Kotkapura, Punjab and stands tall in the menu. A whole chicken, packed inside with a marinade of cream or yogurt, tandoori masala, salt and a red bean stew, wrapped in atta dough and roasted in a slow-fire tandoor, Kotkapura Atte Da Chicken is your one-way ticket to culinary heaven. Honestly, I have had Atte Wala Chicken during one of my visit to Bhatinda (Punjab) and this dish did match upto our expectation.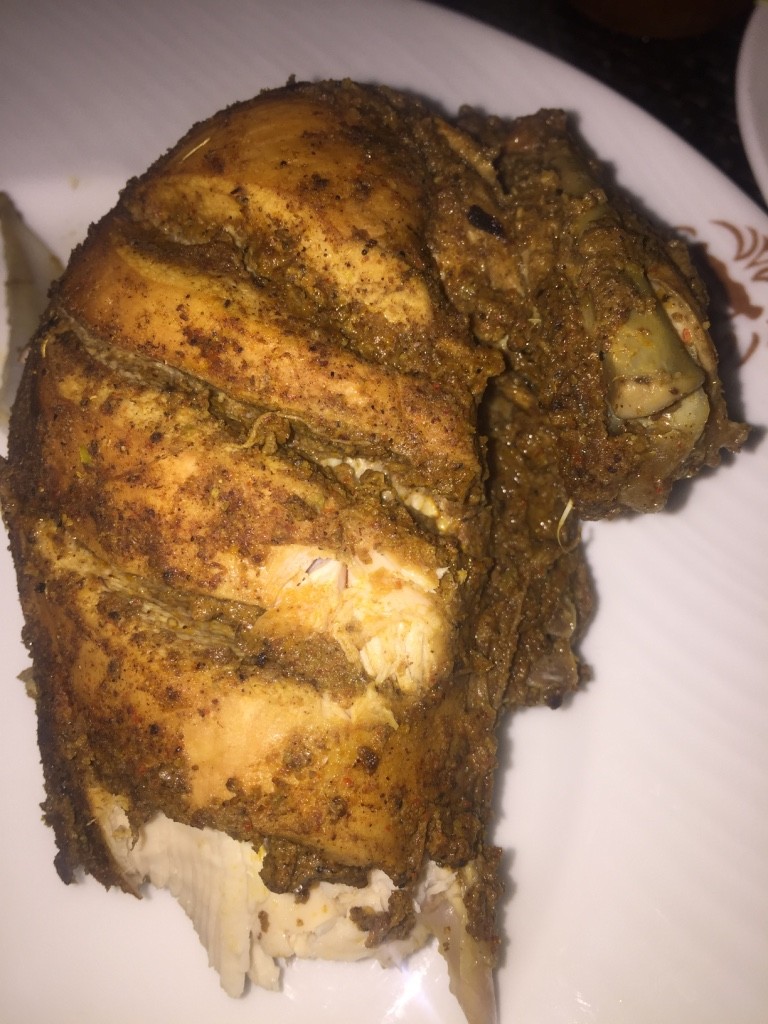 Another delicacy which we could not miss was Meat Da Achaar which was nice and spicy. I could honestly have infinite pieces of the achari mutton.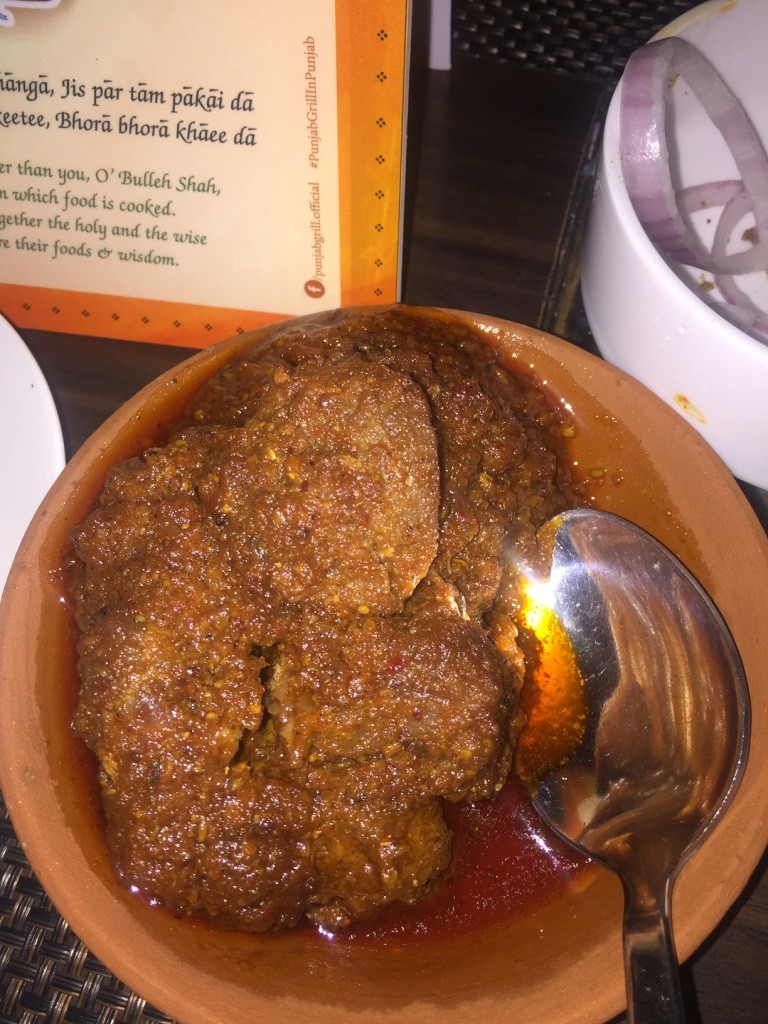 Oh! How could we not try Pind Da Saag when we talk about Punjab…the dry version of the saag (unlike its cooked usually at our homes) was blended well, less spicy but flavourful. Maa Chholey Di Daal had an authentic taste which can be found only in Punjab.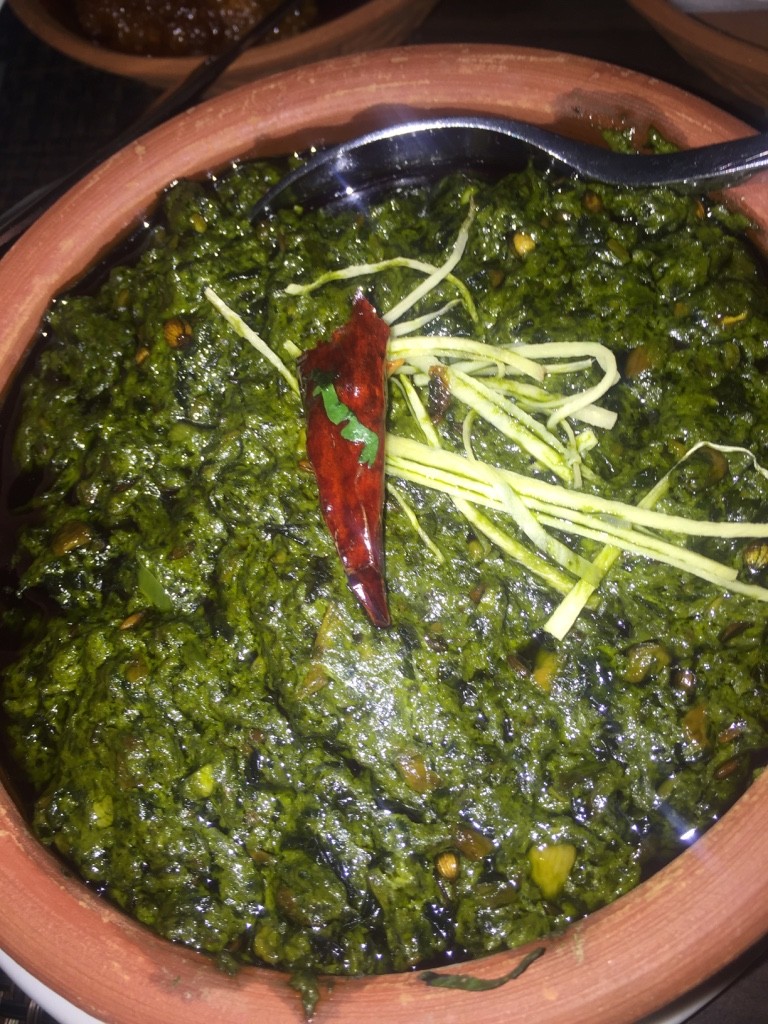 Harey Chholiya Da Pulao was heavenly. The long grain of basmati stood out and blended well with the hara chola.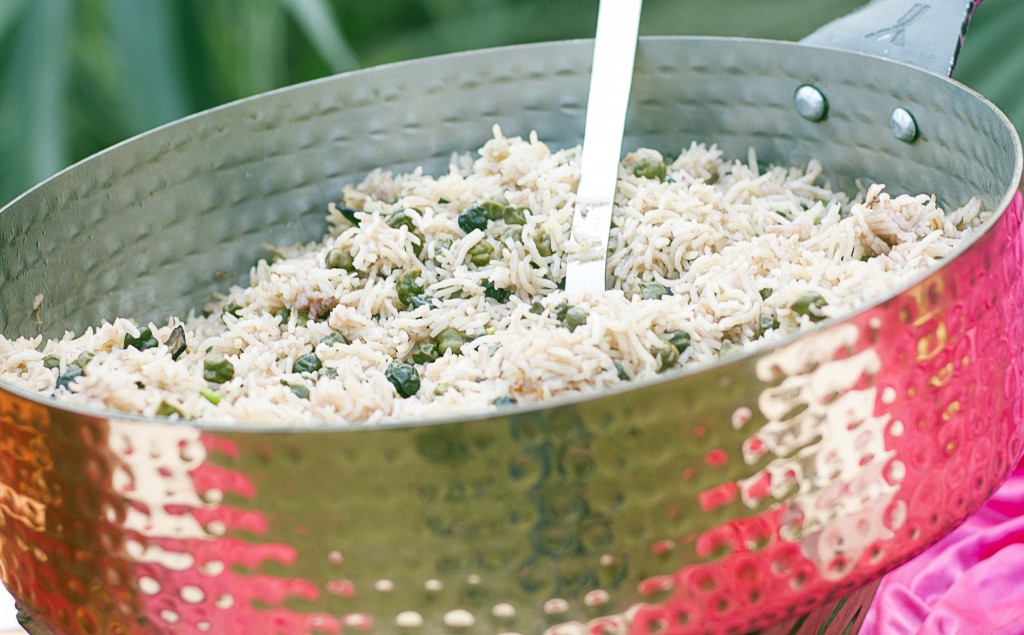 Khoya Paneer was a little sweet but had a nice authentic taste. Oh! How could I miss mentioning another must-try dish which is Kunna meat which consists of meat pressed into service in a kunna (earthen pot) along with mustard oil with onions, chillies, ginger and garlic to make an unforgettable braised and stewed mutton. This flavorful preparation of lamb meat hails from the village Chiniot in Punjab. The pot attributes to the earthy flavors of the braised and stewed mutton with fragrant quintessence of onions, chillies, ginger and garlic.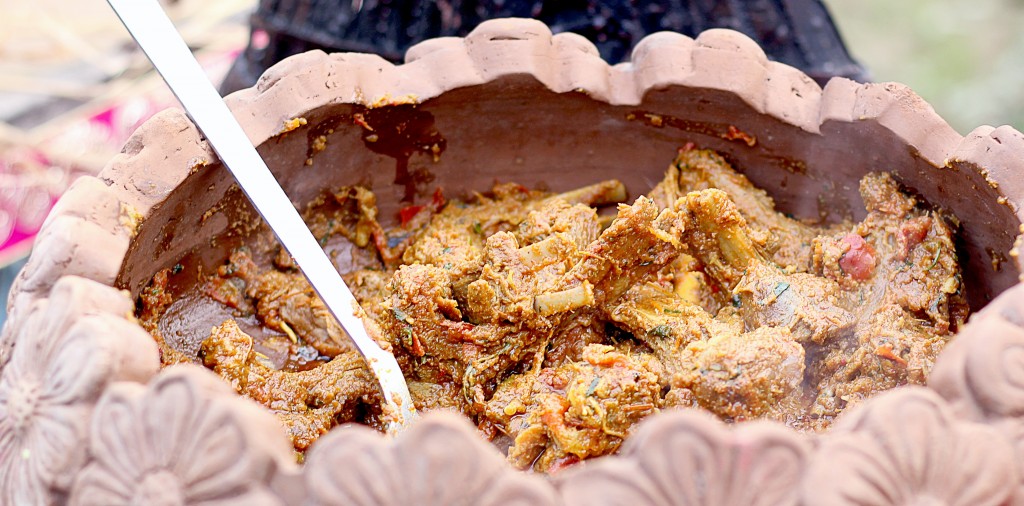 Though we were quite full but how could we miss trying the desserts. The first one to arrive was Makhane Di Kheer made with fox nuts and laced with nutmeg powder and saffron. As I had the first bite, I could just say Wow! It was divine. I honestly could have never imagined that makhane could be used in a desert. Crunchy as well as sweet is how I would like to describe the dessert and is again one of the most recommended dish.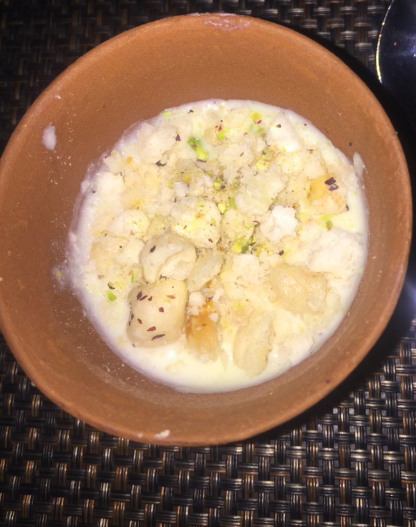 We continued to dwell in the food heaven with desserts such as the decadent Gur Wale Chawal and Masale Wala Gur. Both of them were good but the Kheer stole the show.
Overall we had a great time and do recommend you to make a visit this weekend! Don't forget the festival ends on Feb 24th!!
Its time to dig out those pretty phulkaris and explore the food of Royals at the Rangla Punjab festival at Punjab Grill!!
Venue: Punjab Grill- Saket
Timing: Feb 10-24, all day long
Cost: Rs. 1600 (without taxes)
Review Credit: Shilpa Arora