Who doesn't want to get pampered and what better way to get yourself treated by the experts of Blue Lagoon Salon located in Noida. When I entered the posh salon where a statue of Buddha is there at the entrance I met Nidhi, the PR Manager and Pooja, a beauty expert at Blue Lagoon Salon. Prior to this we also visited London Cafe (located above the salon) for a quick bite.
Blue Lagoon provides matchless services in an enviable environment to create hair and beauty culture in order to realize our vision. The difference can be judged the minute you enter into the hospitable environment of our salon. At Blue Lagoon, they combine the most modern technology with the highest quality products and provide you high class international level services. They show the best way to manage hair so that the customer's hair can always be an asset.
Everything looked great & relaxing. I wanted to get my wax & bleach plus my hair colour done as it was festive time and I had little time at my disposal to get all the work done so I chose what my body & hair actually wanted. I think I was wise as I got my Rica done for the first time. All my hair were pulled out quickly and nicely using the wax with very less pain. I also got my face and back hair protein bleached and the results were actually great as without the pinch of ammonia my hair got bleached and even the thickest hair on my face were actually made the colour of my skin with a glow and as for my hands & feet they were also glowing & clean like never before. Super thanks to the great quality products they used.
My hair needed a dose of colour so the experts at the salon straightened my hair, mixed 2 colours and applied it on my entire hair. My golden locks were gone but I got a full coverage of brown tone.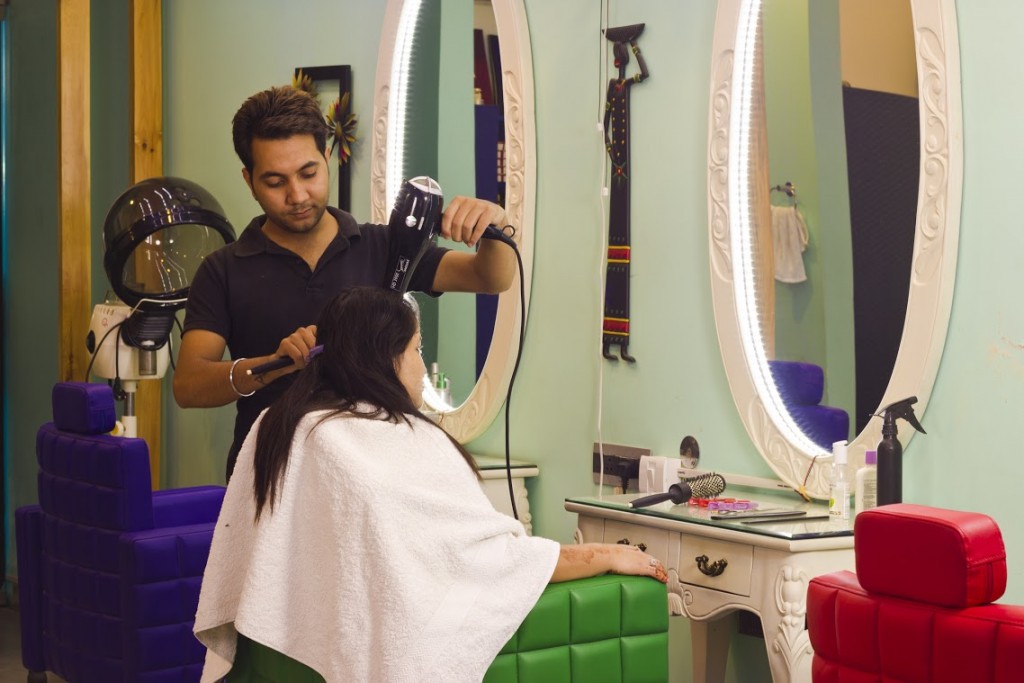 We were also demonstrated a Cocktail Party workshop during the visit. The make-up expert Rosy tried her make-up skills on Pooja with her brushes and concealed, blended, coloured, glossed, popped & pouted Pooja's face to perfection by giving her black & golden smokey look on her eyes along with red glossy lips. The products used were high definition and gave maximum coverage. Perfect blending & perfect technique of make-up was used. Pooja looked beautiful when Rosy created a messy bun out of her golden auburn hair, twisted & knotted them with lots of bobby pins and a silver brooch on the bun to set the complete look.
Overall it was a great experience and the pampering session went well and my work was finished at last. I took a deep sigh, drank my tea and rushed outside thanking Pooja for the time & patience. She is a very humble being and took every little care to handle my work till late. I felt refreshed after the salon visit and yes this would not have been possible without their great team & all the efforts to create this beautiful lovely paradise and of course their great work and service. I only have love & affection and words of thanks in my eyes for the handwork & patience required for this work is much more than it can be seen. Thank you Blue Lagoon, you left me happy & content.
Address: H-224, Sec-63, Opp Ginger Hotel, Noida