Team ChicLifeByte was recently invited to Radisson Blu Plaza Delhi and it's time to share my experience. We tried out the multi cuisine buffet at NYC which was laid out nicely on a big table in the centre with lots of lights & lamps hanging tall from the ceiling so that we can see each dish clearly. I was overwhelmed seeing the great variety on offer. The live kitchen counter was built in orange & black bricks in one corner where the chefs were cooking some amazing recipes. It was a rainy day & I could see trees & plants from the big glass door with natural light coming inside giving a clear view of nature.

Now it was time to raid the exciting food items and we started with Baba Ganoush which was roasted eggplant & Tahina puree with some juicy red pomegranates, tomatoes, bell peppers & carrots. The eggplant tasted very nice & I was refreshed by the flavour and thought it was a great start to the meal. The Hummus was also flavourful with nice consistency and very pleasing to eat.

The next item on my plate was Foul Brit Ziat which was basically green peas & chickpeas with braised onions & tomatoes. The vinegar onions gave out a nice flavour with chickpeas. The cherry tomatoes & the green olives tasted good & delicious in the recipe, very juicy & the taste of bell peppers made it all the more refreshing & tasty. I loved it!
The next thing was Grilled bell peppers & babycorn with cilantro garlic vinaigrette (soft crisp bell peppers nicely cooked). I particularly liked the yellow & green bell peppers and the addition of baby corns to it made it a healthy recipe.
Next was Bazinjan Mahchi which was Aubergine packed with garlic cilantro, cumin, pinenut & lemon juice. It was a good recipe & quite chilly. A must try for people with spicy cravings!
Now it was time for the Roasted Pumpkin Soup which was one of the best soups I have ever had. It was served with sesame soupsticks which were very crispy & crunchy. The best part was that it wasn't only tasty but healthy as well. The pumpkin scores well on the health meter.
For the main course I had some great stuff. I started with Thai Green Curry Rice which were served with thai leaves. It was hot & spicy on the tongue. Next was Noodles with Pokchoy & Peppers.  They were nice, tasty, hot, not really spicy & not really the regular noodles but thick ones. The Mixed Veg kung bao style had a sweet sour flavour. They were spicy saucy vegetables (bell peppers & corn) in gravy. Wok Fried Beans, corn & chestnuts with chilli bean sauce had Thai flavours along with soya sauce. It was sweet, crunchy, tangy & spicy at the same time.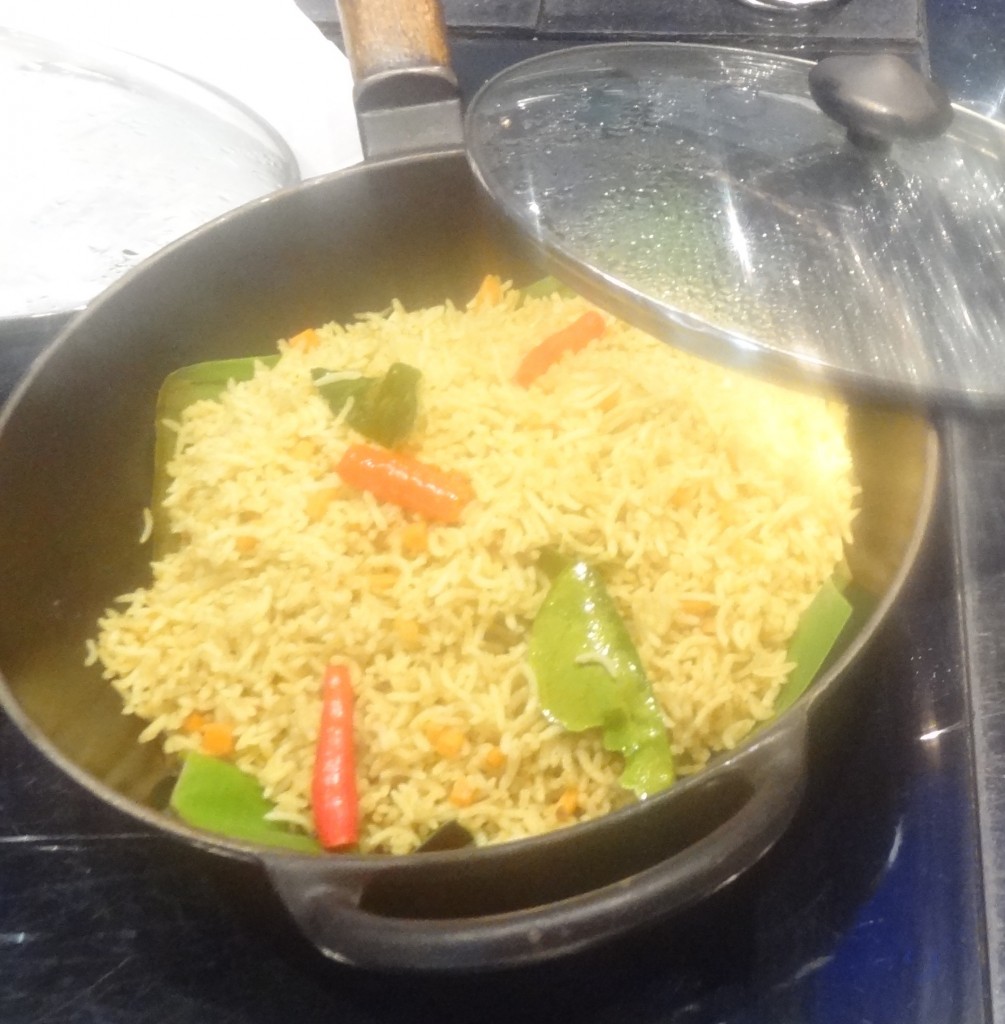 I also tried Ful Medames which was from the Lebanese cuisine. It was cooked brown kidney beans dressed with lemon juice, olive oil & garlic. Very nicely made, not overly cooked just tender & lovely. Everybody should try this coz it's a Lebanese twist & spice to the desi Rajma.
I also ordered the Falafel Wrap which was nice. It had a tikki made of vegetables mixed in masalas. Parsley & chickpeas patty tasted good.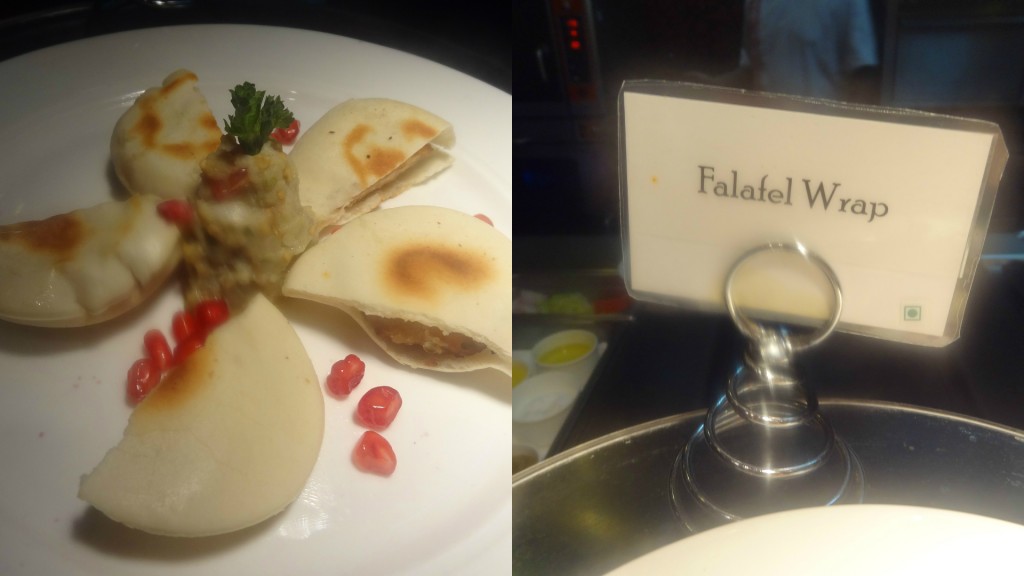 Now, it was time for Indian-my favourite cuisine. I started with Paneer Tikka (from the live counter) which was soft, nice and juicy served along with a salad of cabbage, onion, green chilli, tomatoes & lemon. Next was Malai Makai Pulao which had chunks of paneer and corn. The paneer was real fresh & soft and it tasted nice with the corn. Indian food is incomplete without Dal Makhani. The Dal we had there was perfect as it wasn't very spicy and salty. Great to have with Pudina Paranthas which had soft layers and was nice & crisp.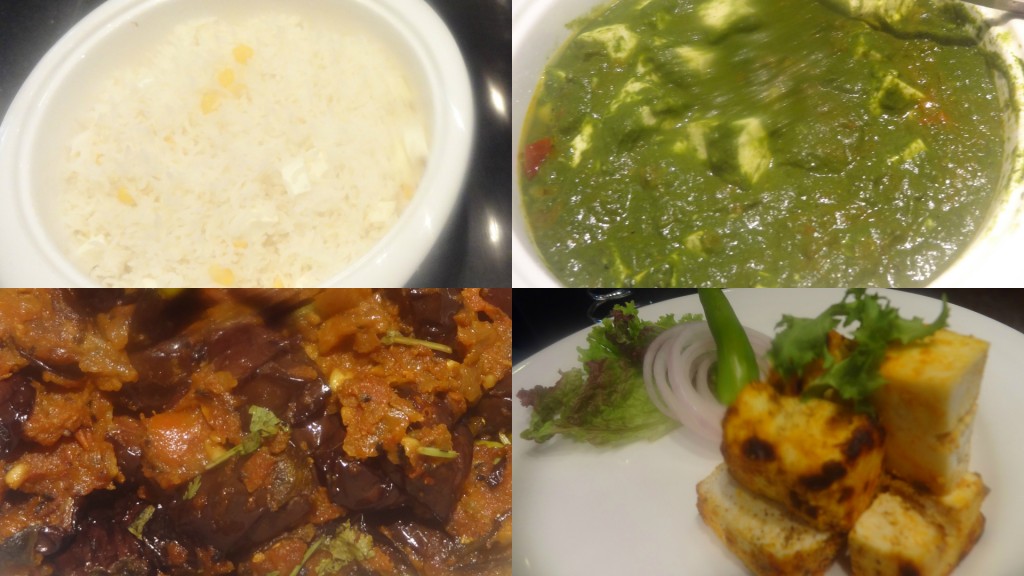 The other items which I had were Dal Tadka.  Yellow Dal was very nicely cooked but it was a little spicy though. Palak Paneer had tender Soft Paneer pieces to bite, nicely done & great in taste. Aloo Dum Anari was great in taste, spicy but nice.  Kalonji Waley Baingan were eggplant done differently. They didn't only taste nice but is also a great source of energy and are healthy. What amazed & surprised me were the brinjal (baingan) recipe which I ate with all my heart giving a 10/10 on my health meter.
One interesting thing that I spotted there was the Tandoori Phalon ki Chaat which had pineapple & apple cooked together in tandoori marination. Found them juicy & nicely cooked. Fruits were naturally sweet & gave a different taste.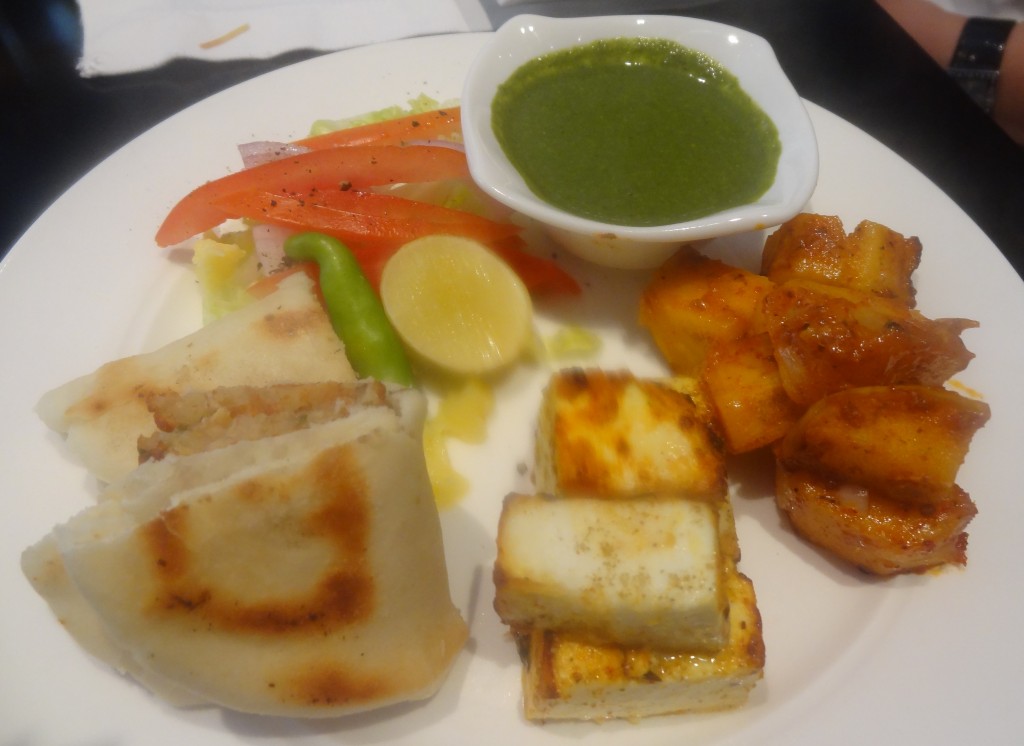 We also met the Executive Chef Sreenivasan who told us he loves to experiment with his food and loves the fact that Radisson gives him a free hand to invent & innovate in the kitchen. He runs his imagination and loves to execute various recipes using zucchini, eggplant, tomatoes, garlic, bell peppers, fresh herbs. A lovely team of 70 chefs serve the people sitting across different restaurants, banquets, bars and lounge housed here who are constantly looking at different options making new dishes with their experience in hospitality. When his recipes are liked this inspires him & motivates him to execute more & more. The chef specializes in Italian & Mediterranean and has an impeccable talent to fuse food stuffs together & substitute it with more masala. I mean spices & flavours of different worlds. His personal favourite is Spanish Paella Rice.
To relish my sweet tooth, I chose my deserts from the infinite options available. First I had Chena Payesh which were very soft & tender balls like snow. The Seviyan was yummy, nice & enjoyable reminding me of the Id seviyan. Kalakand was quite sweet, nice & soft. I had little amount to taste the divine & pure desi khoya & malai. Kala Jamun was nice & fresh. It was good & the best part was that sugar content was not too high- right & perfect. Baklava, the authentic Indian Sweet was the best one. The filling gave a nice flavour & it was wrapped in sheets. When I bit it, it melted giving the Indian flavours like a mithai. It's a must try here! Strawberry White Chocolate Parfait (eggless) was nice, tender & soft and had a fruity taste.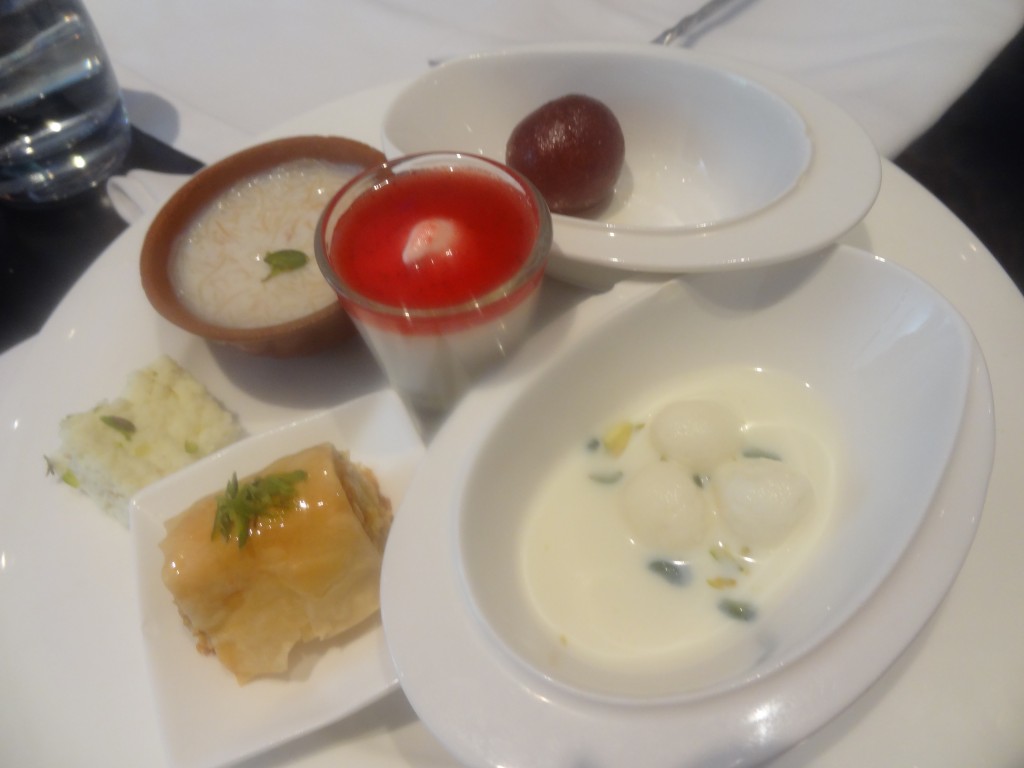 I had a great time and was definitely a memorable day with hearty talk with the chef & the fond memories of the food, ambience & the service with the quest to discover more such multi cuisines in future.