We live in a city where we're spoilt for choice – Taco Bell is the ideal breath of fresh air & taste for anyone who wants to grab a quick bite. I had heard a lot about Mexican fast food and Taco Bell totally lives up to expectations!
Taco Bell is one of the flagship properties of Yum Brands, the company that has brought KFC and Pizza Hut to India.
Taco Bell was kind enough to invite us to show us their warm hospitality and let us taste their mouth watering Mexican meals. I was just ecstatic that they are opening up in Delhi. It is because of TACO BELL that I was introduced to the burritos, chalupas, tacos, quesadilla and what not.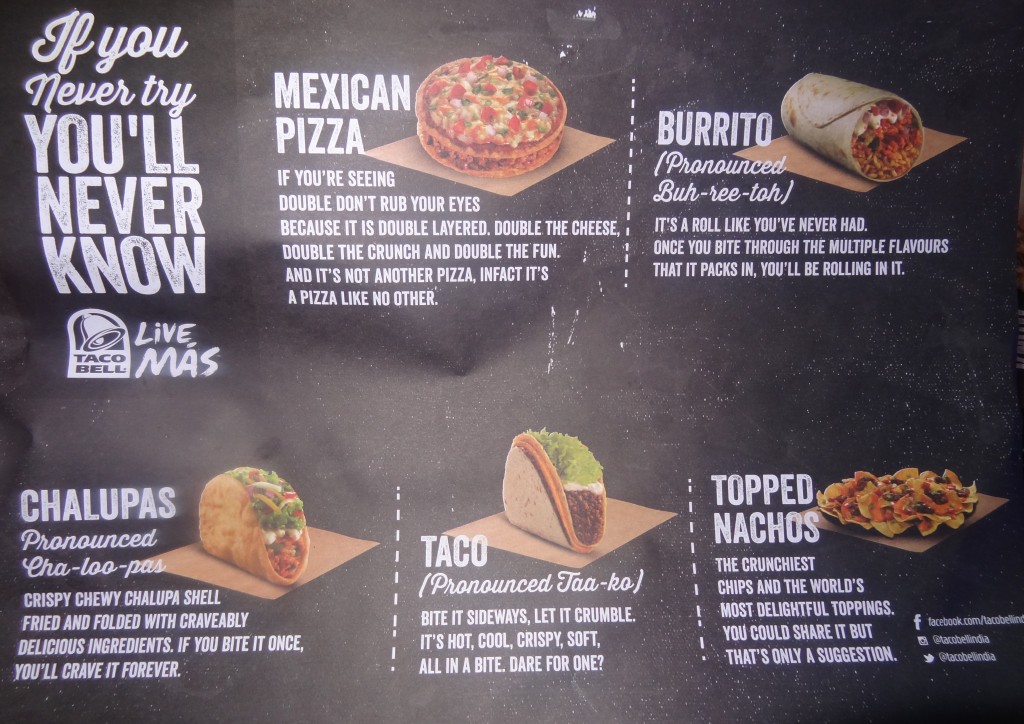 As soon as I entered, I was warmly greeted by Vikas Nagwani, Manager Training at Yum! Brands and he proudly said Welcome home.
We started with Supreme Topped nachos. The topped nachos come with chicken/beans topping along with a cheesy yellow sauce drizzled over the top. They were freshly prepared, crunchy nacho chips. Way better than the ones we get at other places in Delhi. Lip smacking superb!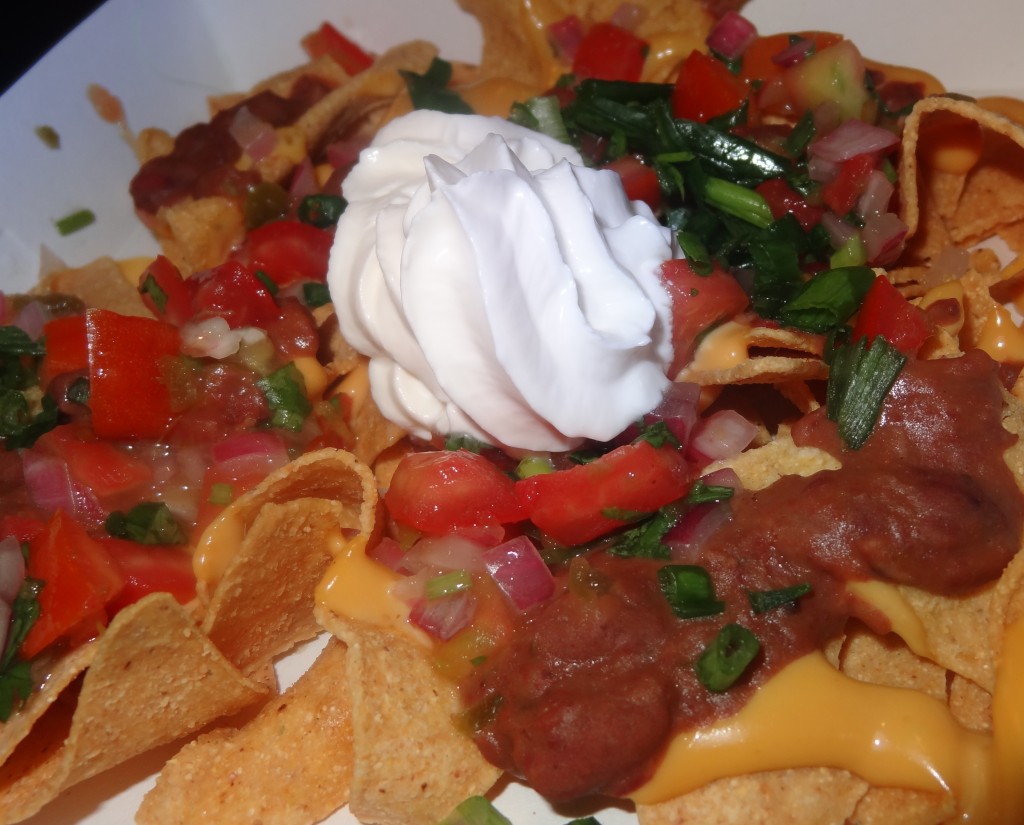 Their Cheesy fiesta potatoes is a side-dish with a twist that I just can't get enough of. They are golden fried, crunchy potato balls topped with a cheesy jalapeno sauce and fresh fiesta salsa. Do try it out!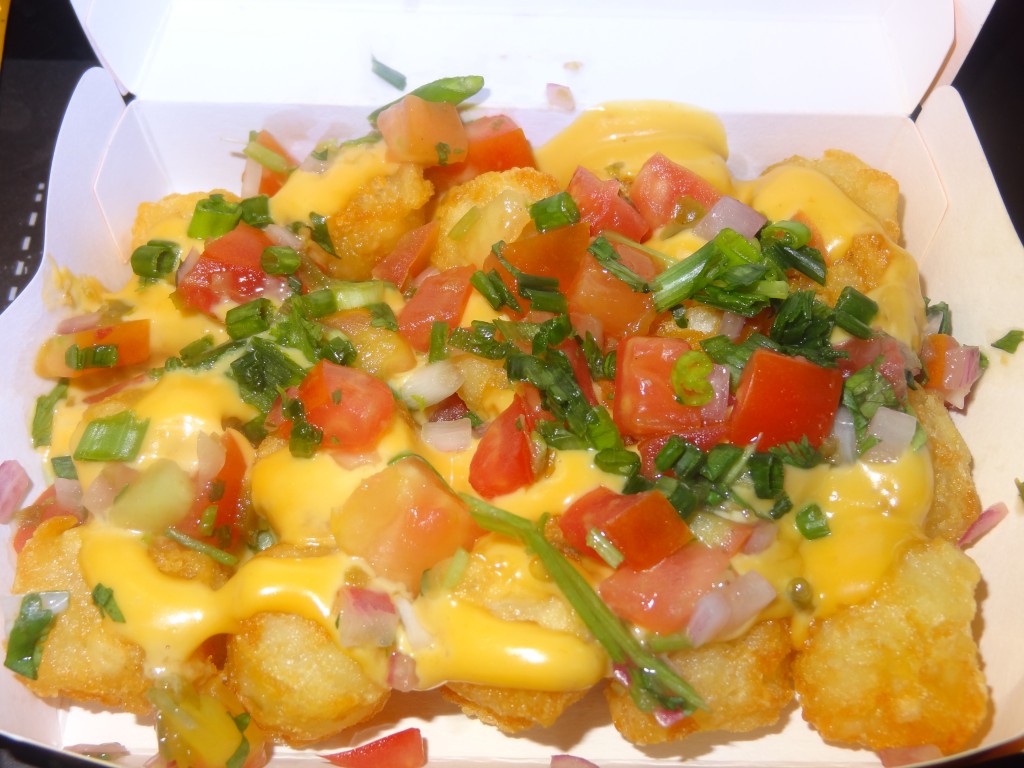 The Mexican pizza is an innovative concept- completely different from the regular pizza's. It is actually a double layered crisp taco. Top layer is filled with melted cheese, salsa & their signature sauces. Bottom layer is filled with beans and veggies. It's crunchy and crisp. My personal favourite. You can't not like this!
The taco sauces are delicious. They come in 3 levels of spice: mild, hot, fire. Another interesting thing to notice are the very interesting catchlines on the sauces. Each sachet has a different catchline according to the flavour.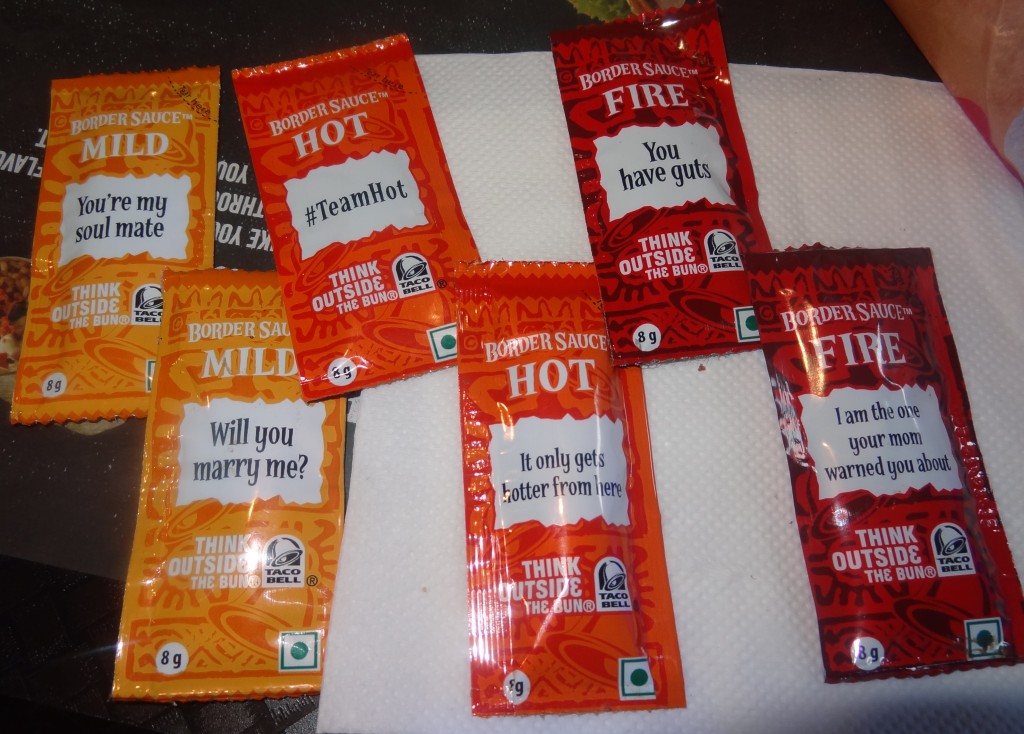 Then coming to what they are famous for- Tacos.  I had the cheesy double decker Chicken Taco. Just take a bite of any taco they serve and you'll realize how delicious it is. It was filled with delicious mexican chicken with cheeesseeee! (yum)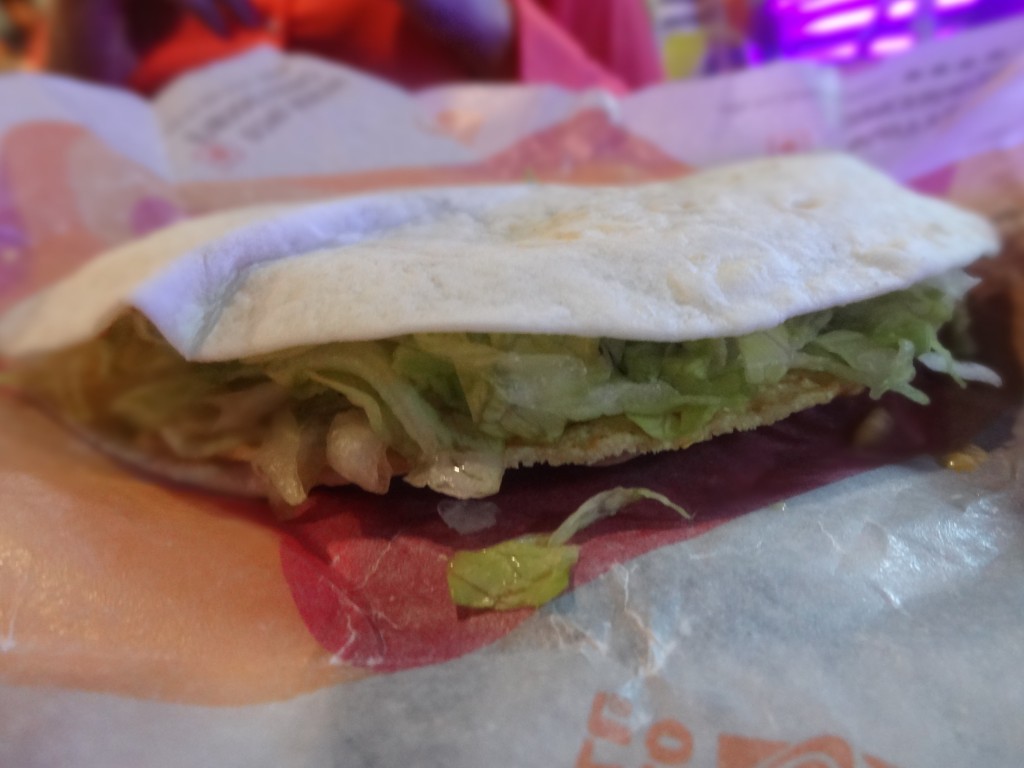 The crunchy tacos filled with layers of lettuce & signature sauce was also tasty. It comes in 3 versions- Potato, beans & Mexican chicken. However I didn't like the Potato version much (Guess that's because I am not fond of potatoes)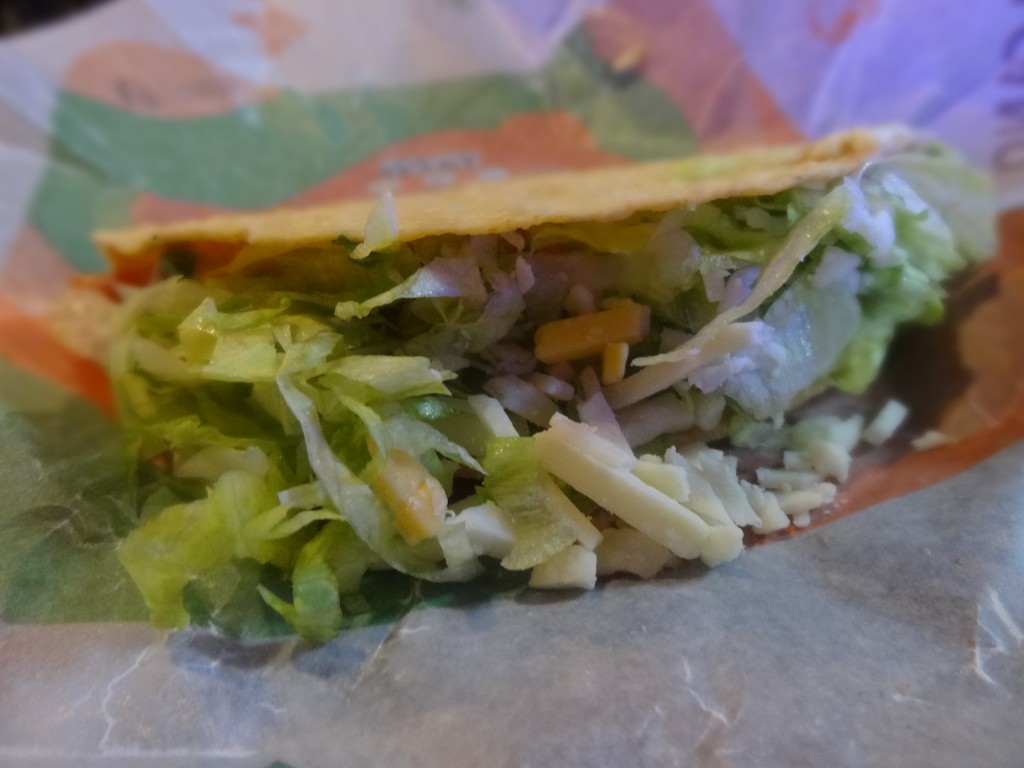 The 'Chalupa' is another small corn based taco (a thicker & fried version) which has cheese, sauce, tomato, onions & lettuce. The filling was fresh & yum.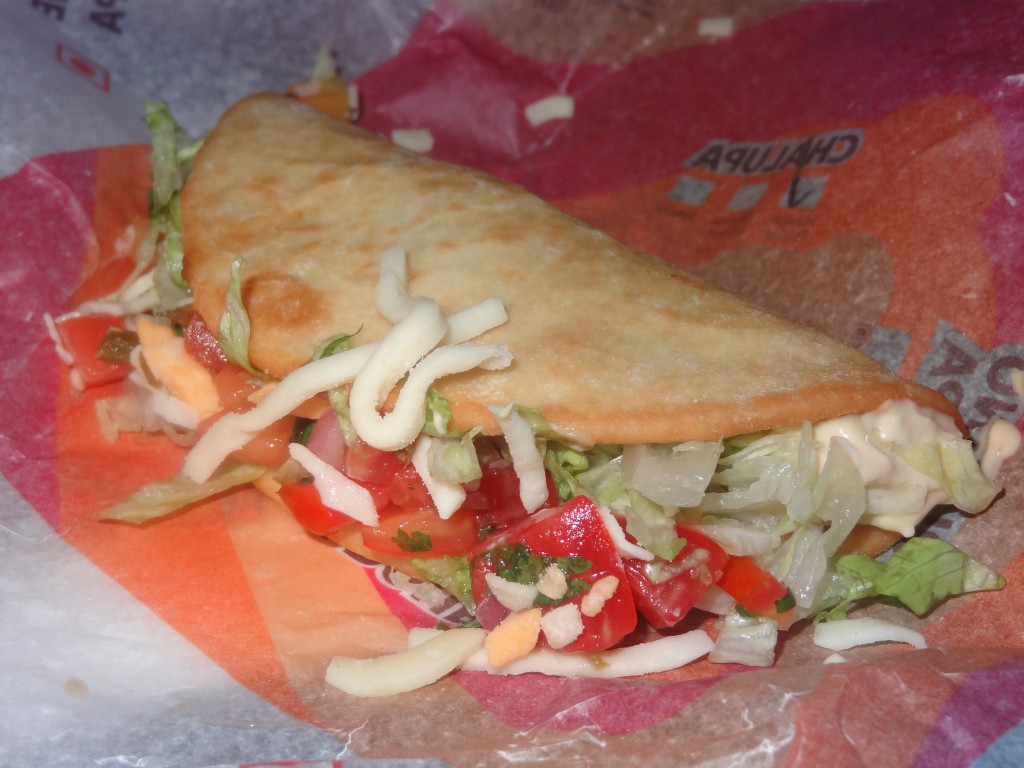 The Classic Burrito is interesting with a rice filling in it & comes with a variety of veggies along with sauces. It tasted pretty good too.
Finally we tried the 7 layer burrito which is one of the best things I have ever tasted. It's a burst of flavors with 7 different layers of filling inside a soft warm grilled tortilla. It was succulent and juicy with the right amount of cheese. Bite in and experience the various flavors at play!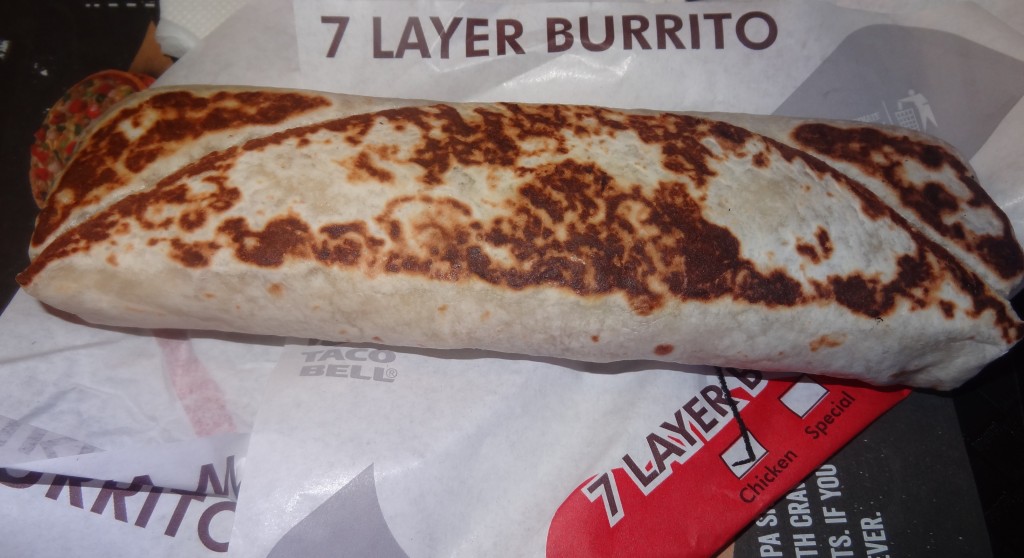 Coming to the desserts, the 'Chocodilla' was a surprise. It's a desert made from warm soft tortilla grilled with chocolate filled in it. A dish so simple yet so yummy!
Overall a great place for Mexican food lovers (also a value for money no doubt) and for people who haven't tried Mexican, please rush to Taco Bell now to grab a bite.