While in Bali, I wanted different experiences across different destinations. When we were finalizing our abode at Kuta, we chose Discovery Kartika Plaza Hotel. A dreamful destination, yes, it's so big, beautiful and splendid that I would choose to call it a destination rather than a hotel.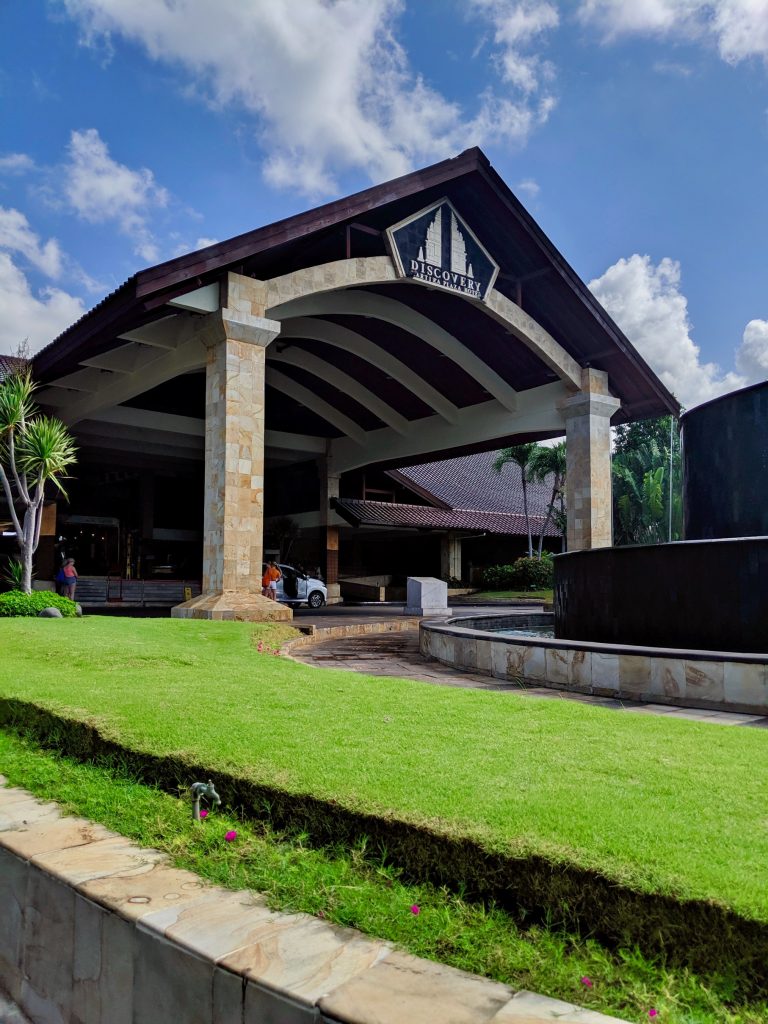 Located right next to Discovery Shopping Mall, the hotel was very different from the hotels I have seen till date. With natural air coming from two sides of the reception, it felt so relaxing and refreshing. Ample seating was available at the lobby while the check-in formalities were being taken care by the friendly and efficient staff. We were refreshed seeing the greenery all around the beautiful hotel. From manicured lawns to a beach facing view, everything was just so gorgeous. As the check-in formalities were being handled, we were served a revitalizing welcome drink. One can choose from 316 rooms spread across 4 floors which vary according to the requirements of the individual from Deluxe, Ocean Facing, Private Garden, Ocean Front, Junior Suite, Family Suite, Discovery Suite, Presidential suite and Beachfront Villas.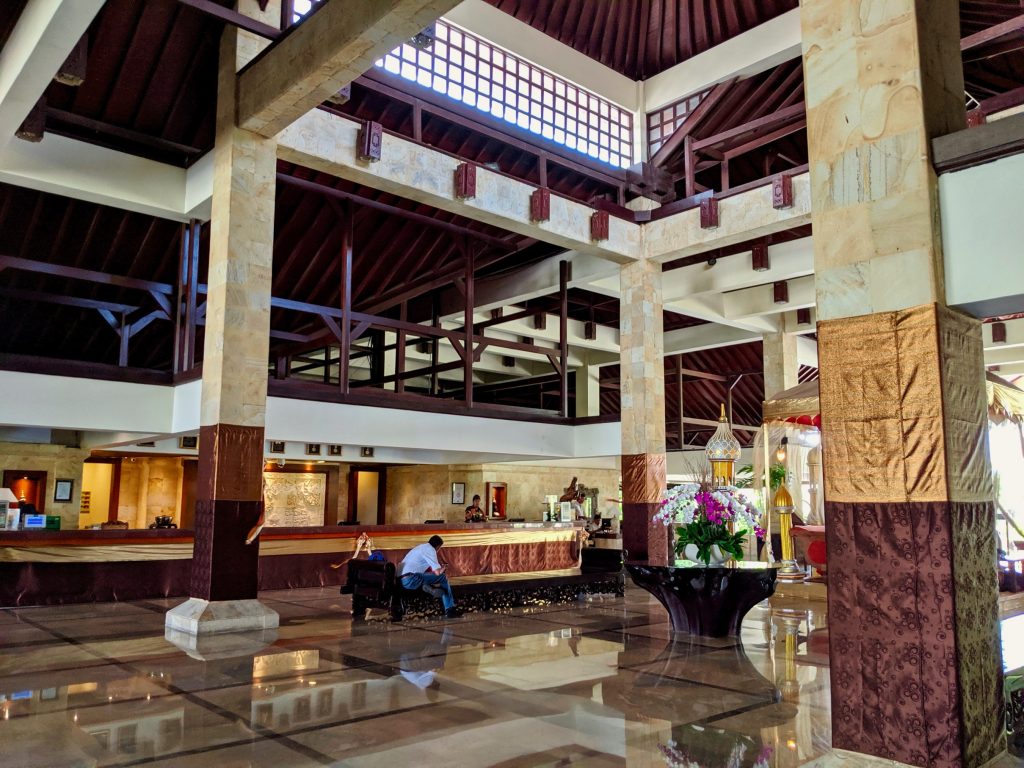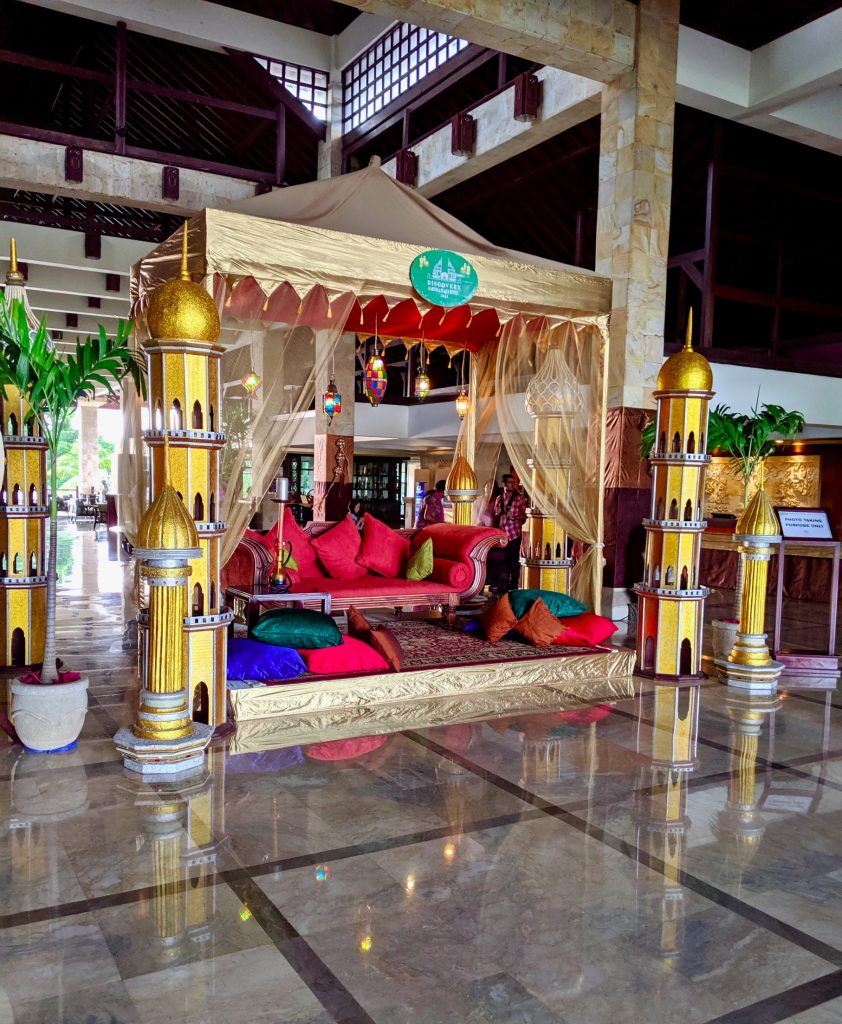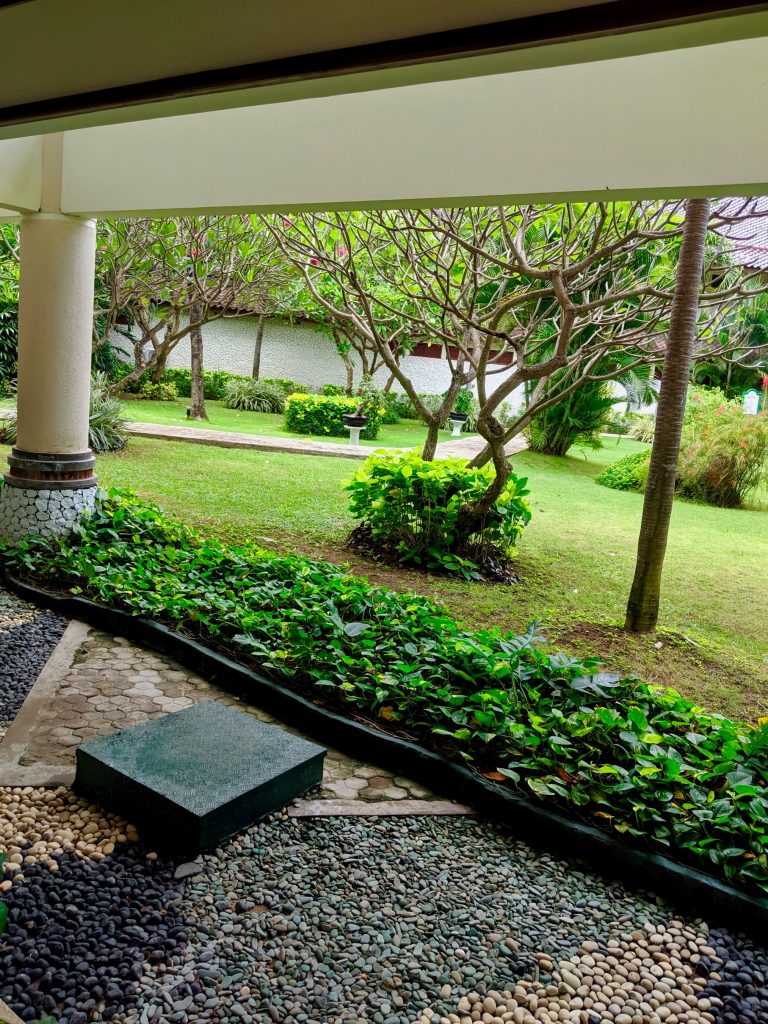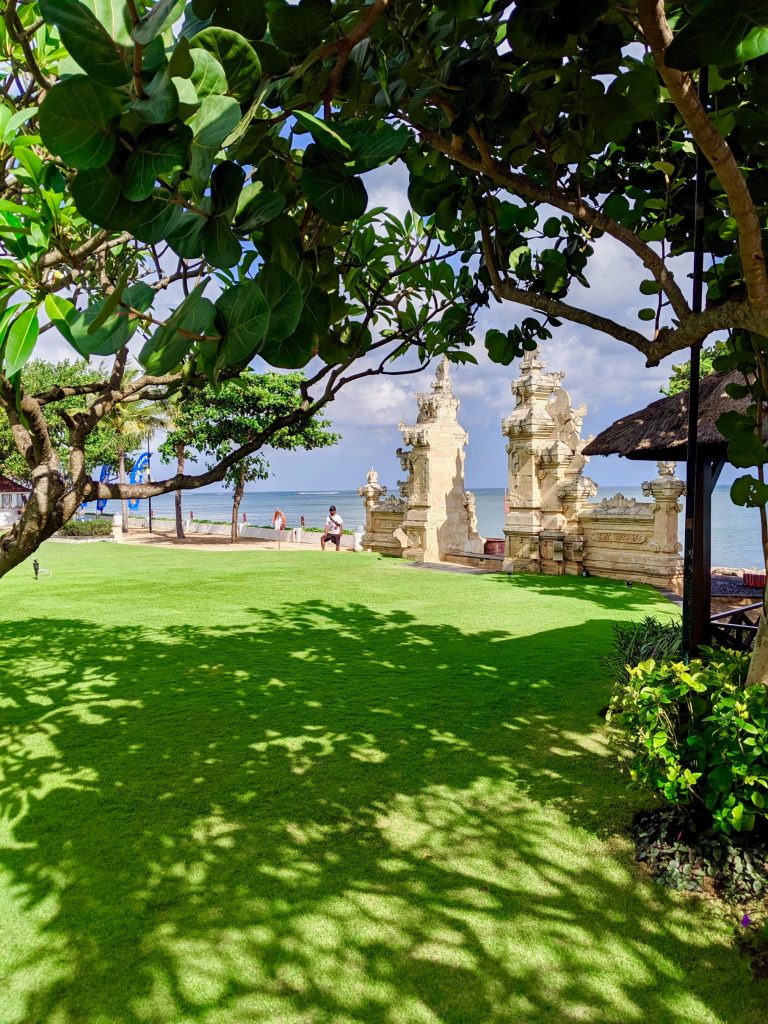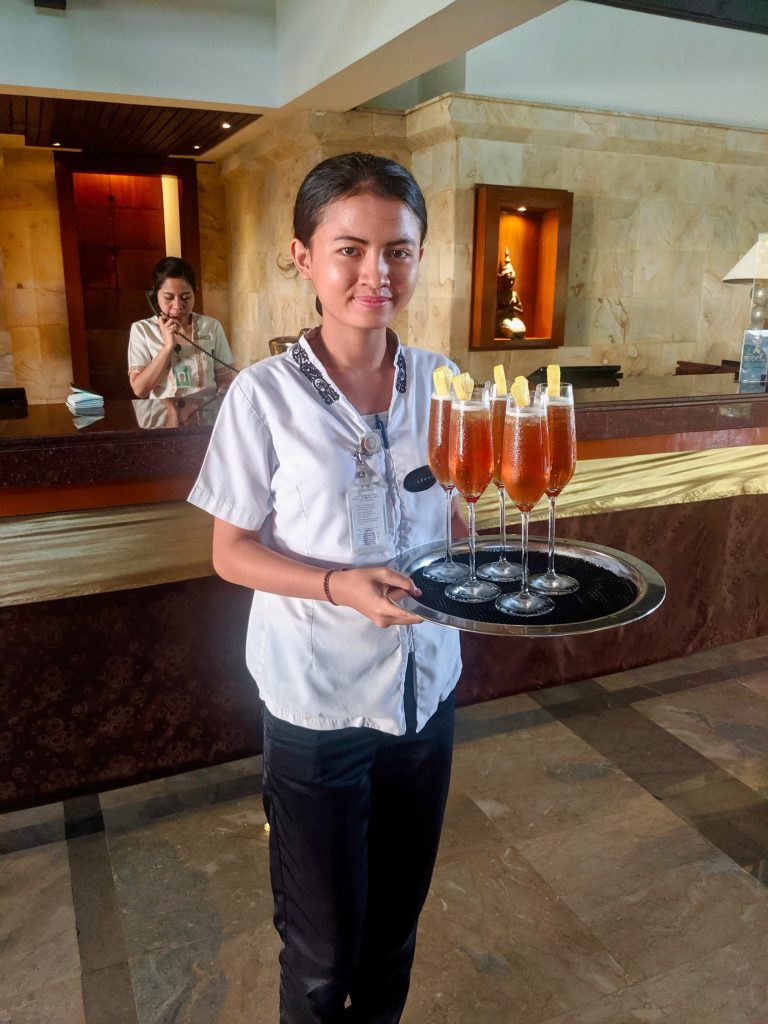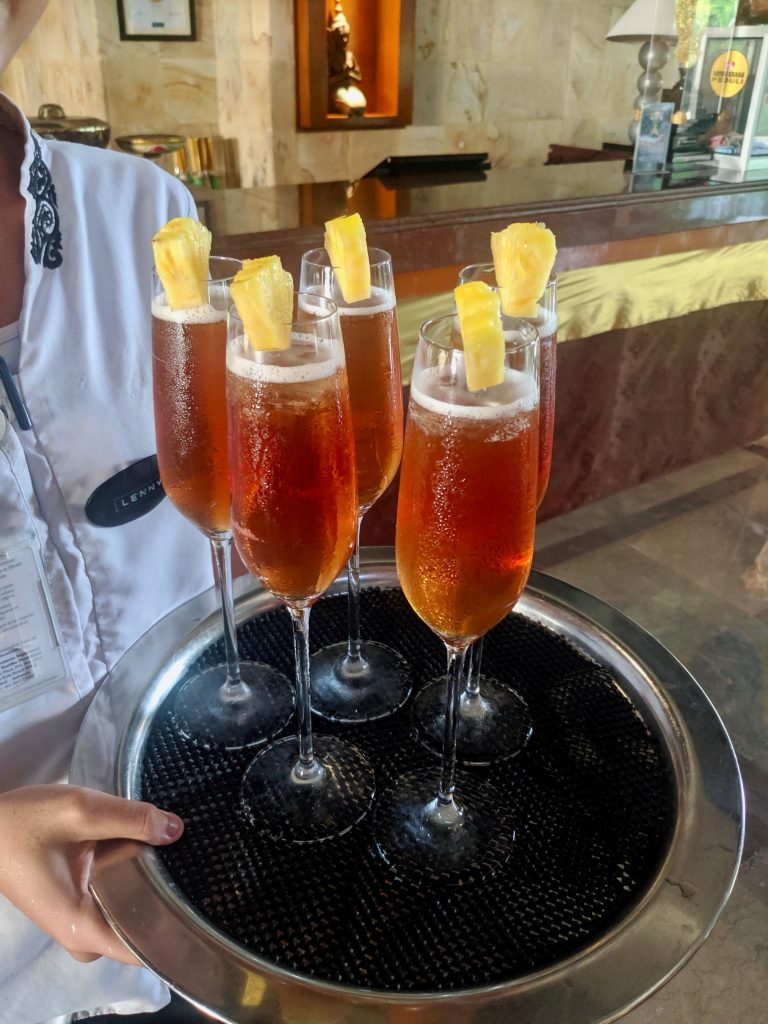 For a family of 5 who didn't want to restrict staying under different roofs, we got the perfect solution without compromising on anything. Thanks to the Discovery Suite of the hotel which comprises of 2 bedrooms and 1 living room. The beautiful suite offered a home away from home with a Master bedroom featuring a King bed, private bathroom with tub, sofa, work desk and LCD television. The 2nd bedroom featured 2 Twin beds and a private shower.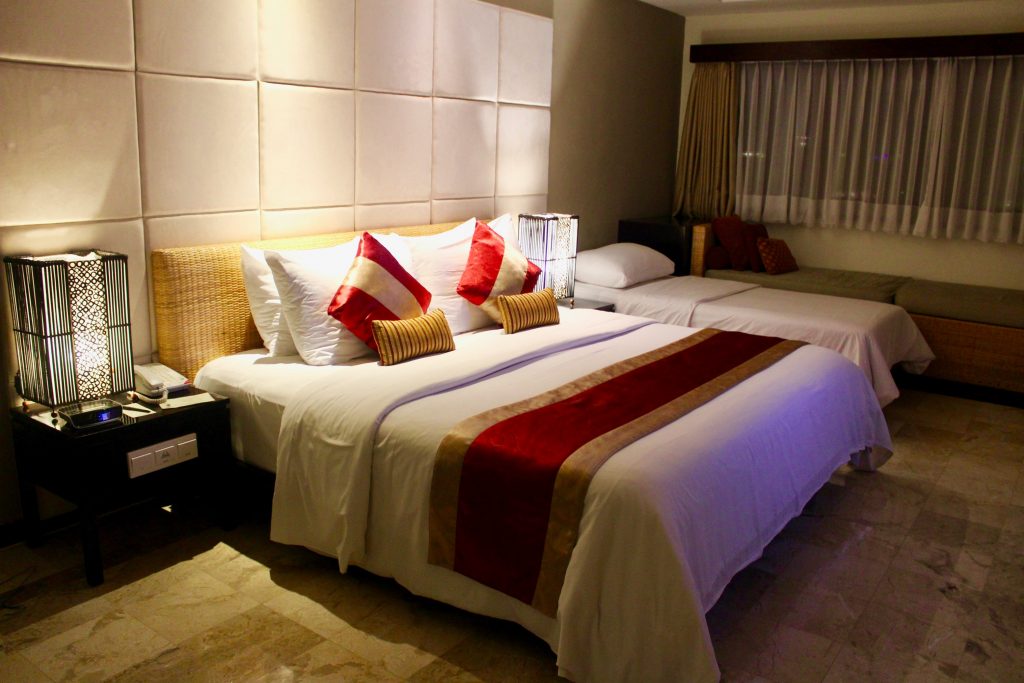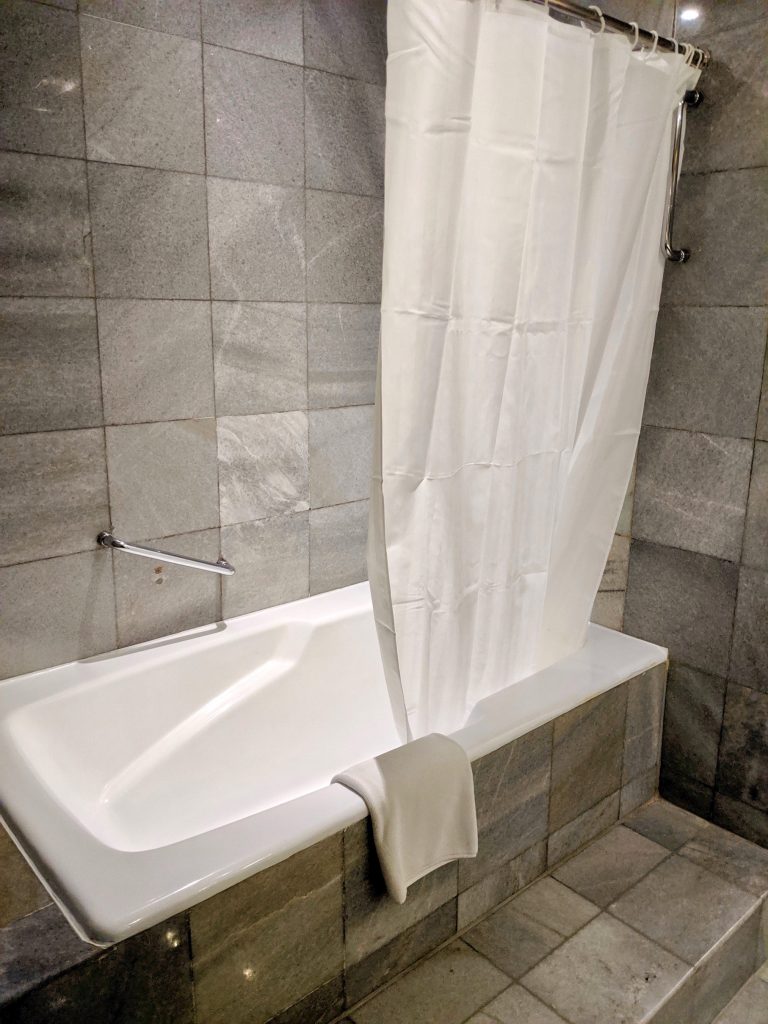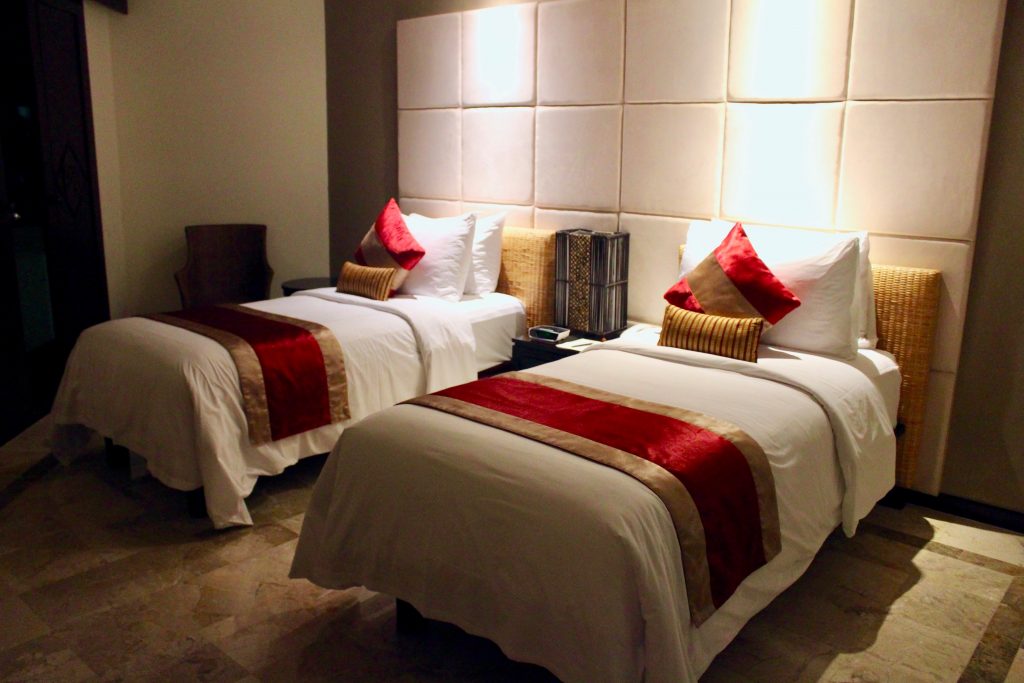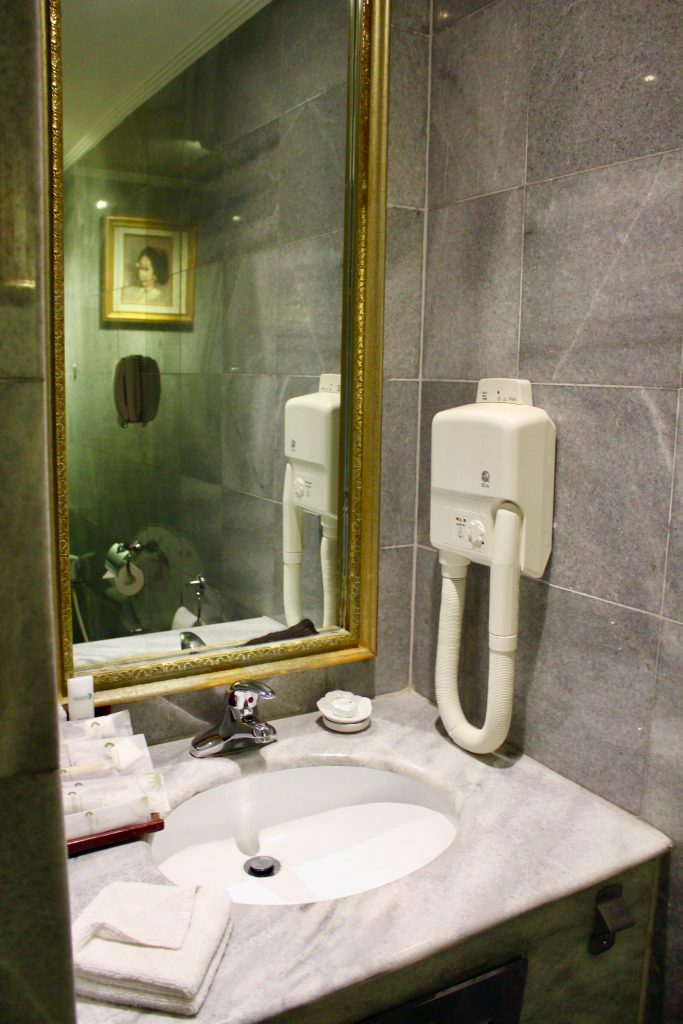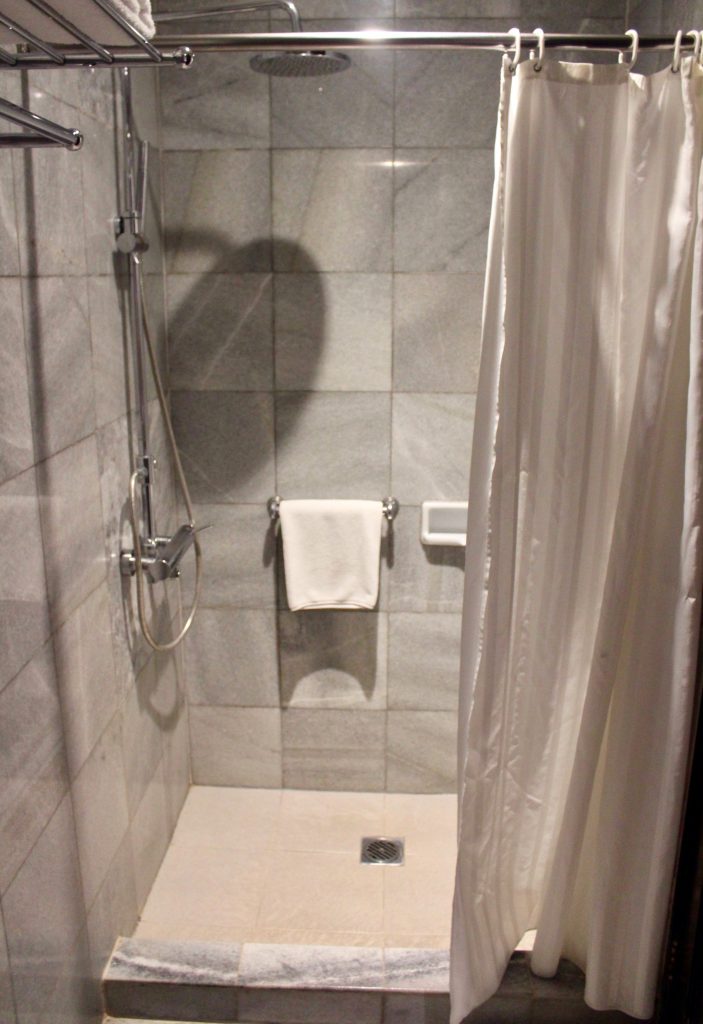 There were two more highlights of the suite. The first being the living room which was just perfect to sit and plan the day with the comfortable seating options in the form of sofa set. There was also a dining table, a microwave oven, an LCD television and a full-size refrigerator. The second highlight was the private terrace attached with the living room and the bedroom which extended a beautiful view which I could adore for hours. The suite also had mini bar, complimentary spring water bottles and fresh fruits with a personalized welcome note. The rooms were big and spacious and had luggage as well as relaxing space.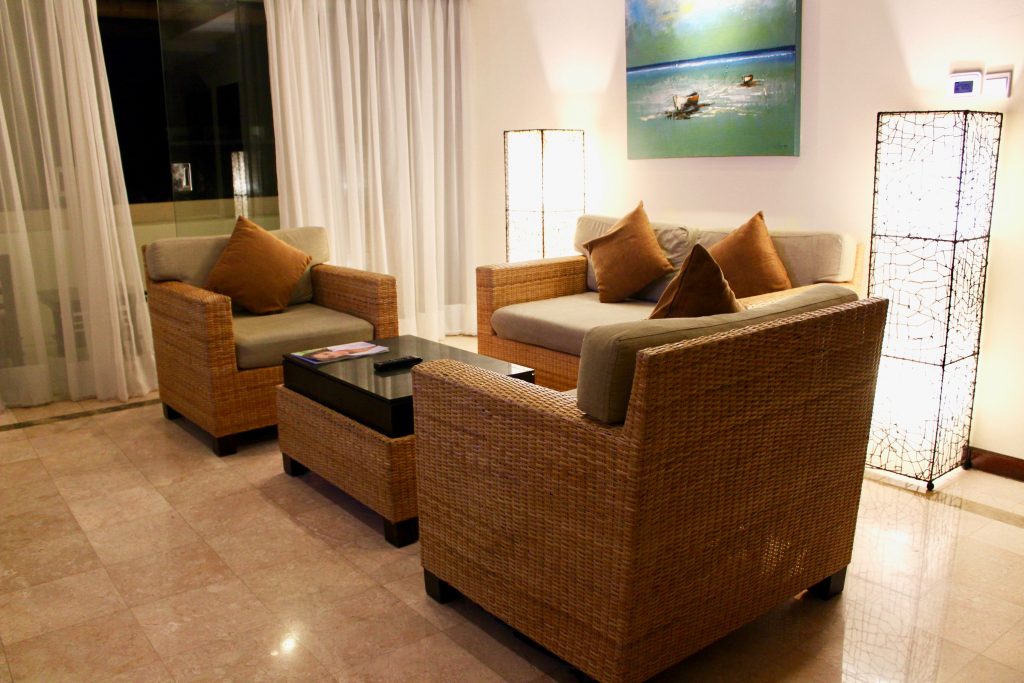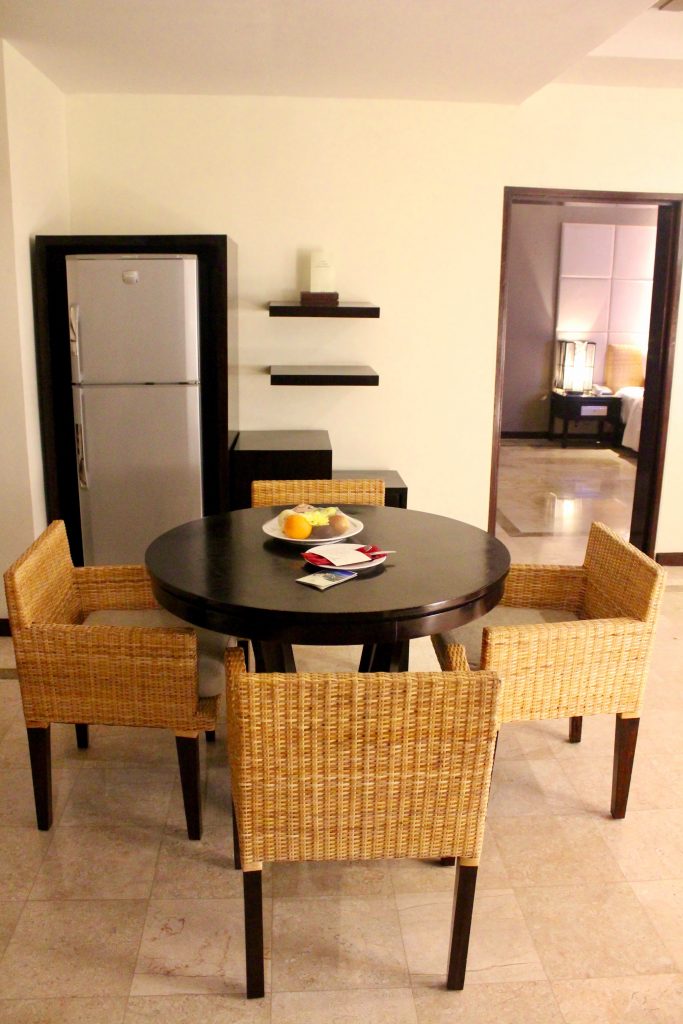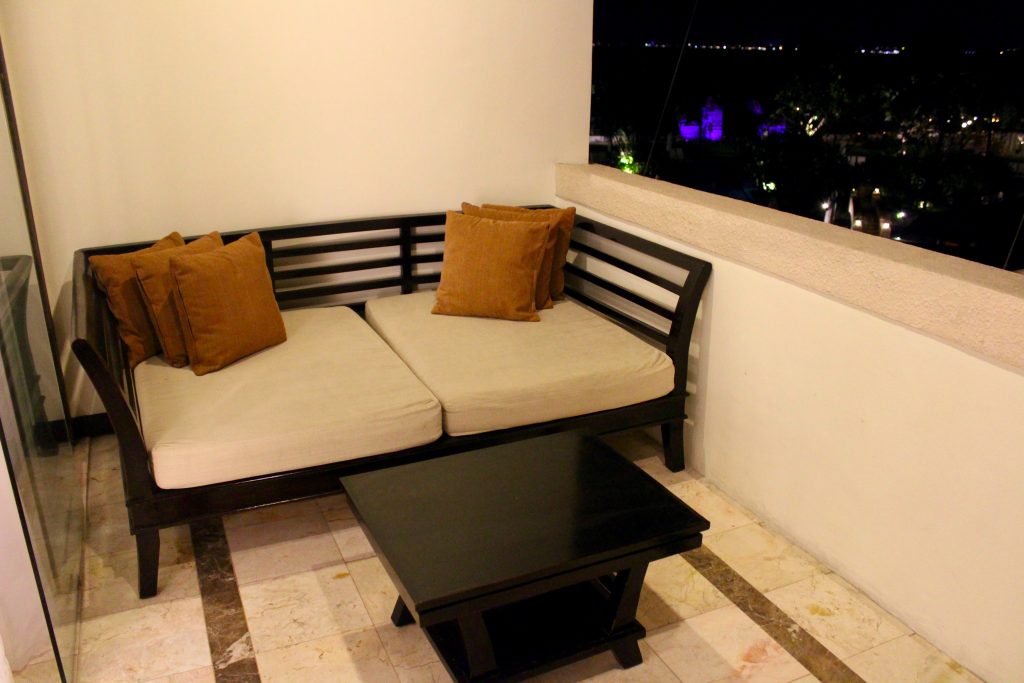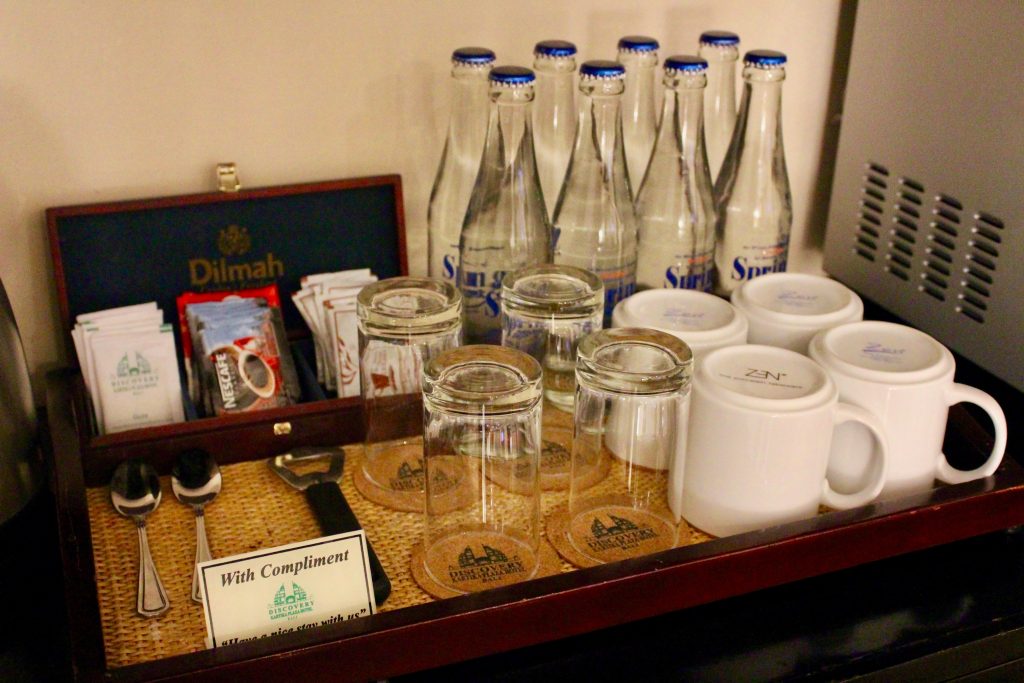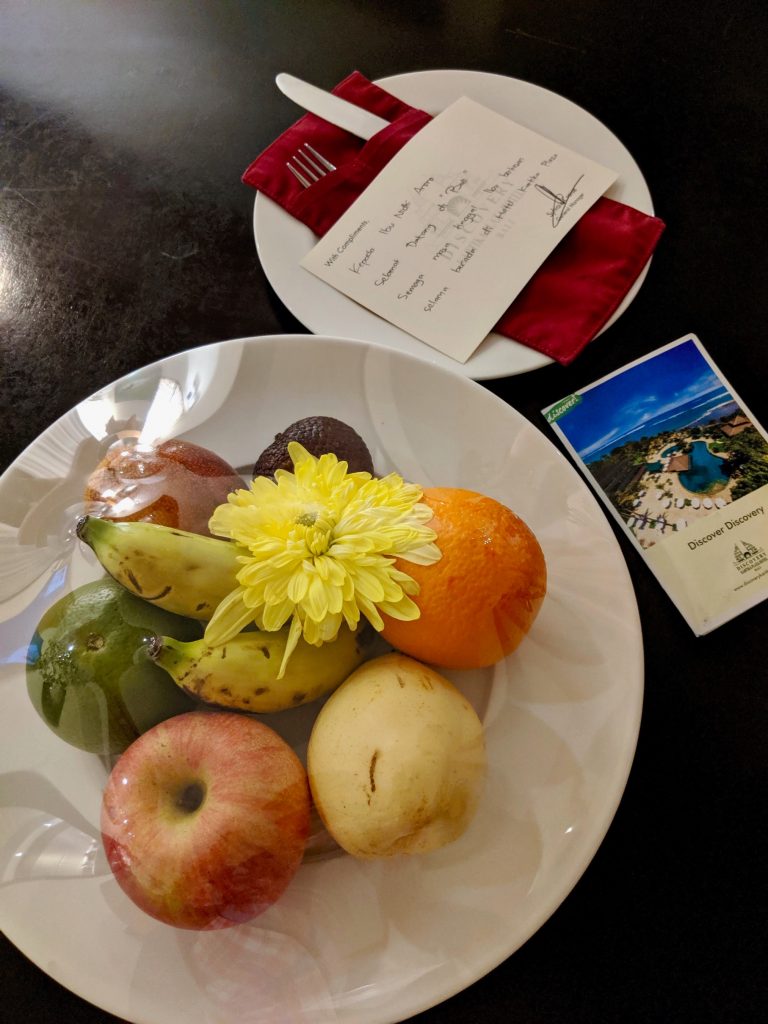 Well, the guests here rarely ever want to step out thanks to beautiful offerings they have. With 7 restaurants and bars, 9 function spaces, a spa, a fitness center and a spacious sculptured pool, it caters to leisure and business travellers alike.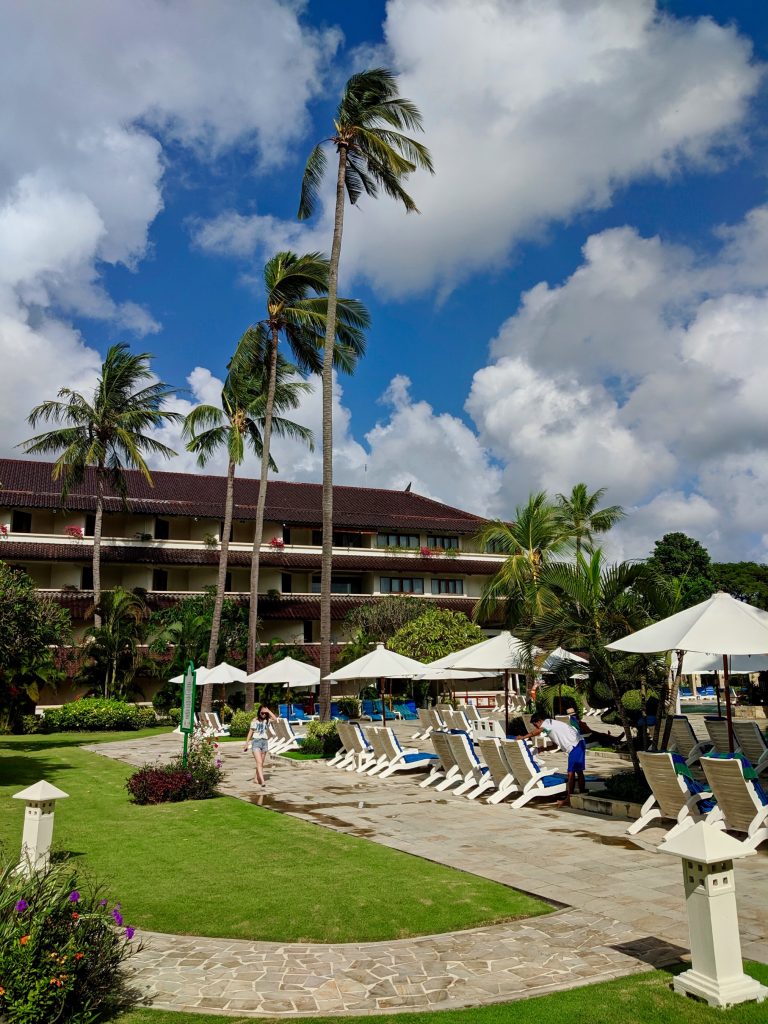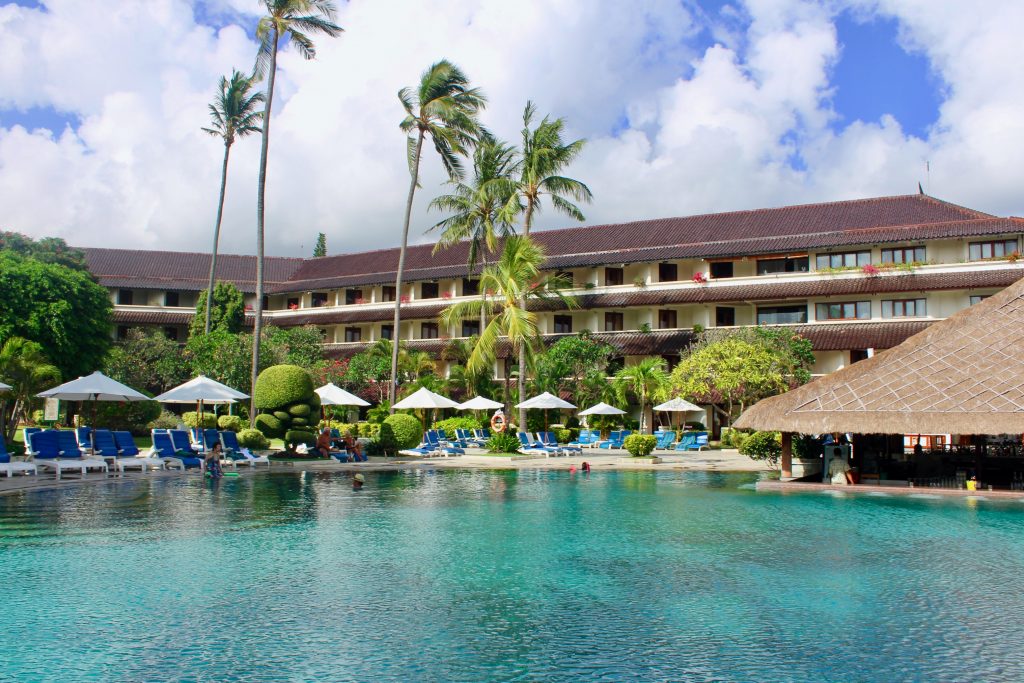 It was evening by the time we checked in and we headed to La Cucina restaurant in Discovery Kartika Plaza which serves delicious Italian food. Loved the open air vibe of the restaurant with pristine white interiors and chairs with a play of colours in between. With loads of greenery around, we loved the romantic set up. The restaurant is known for pasta, pizzas and light meals. With a beach & poolside view, we were excited to enjoy the hospitality in La Cucina way with the open kitchen and woodfire pizzas coming our way.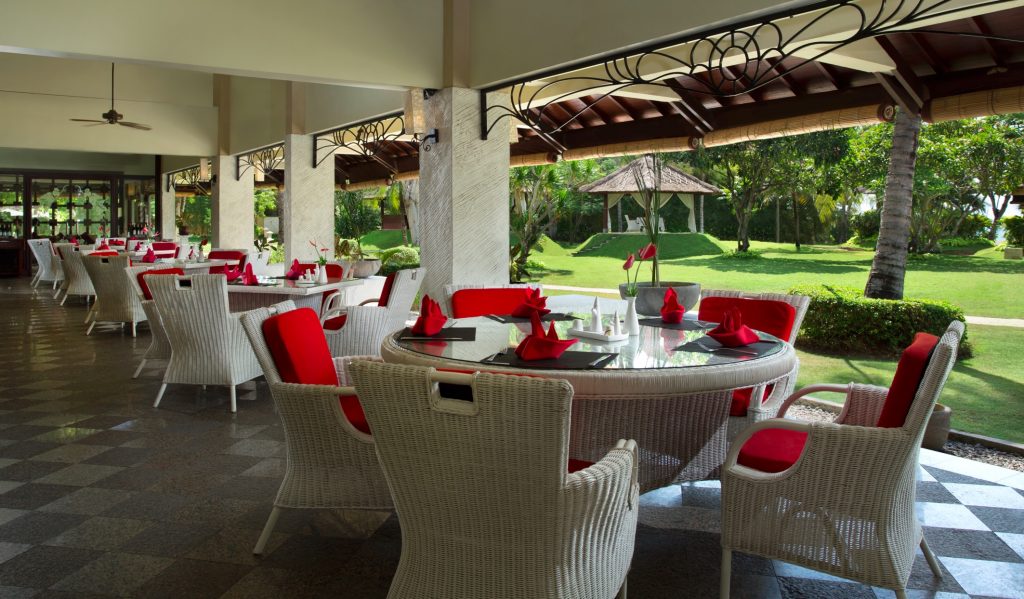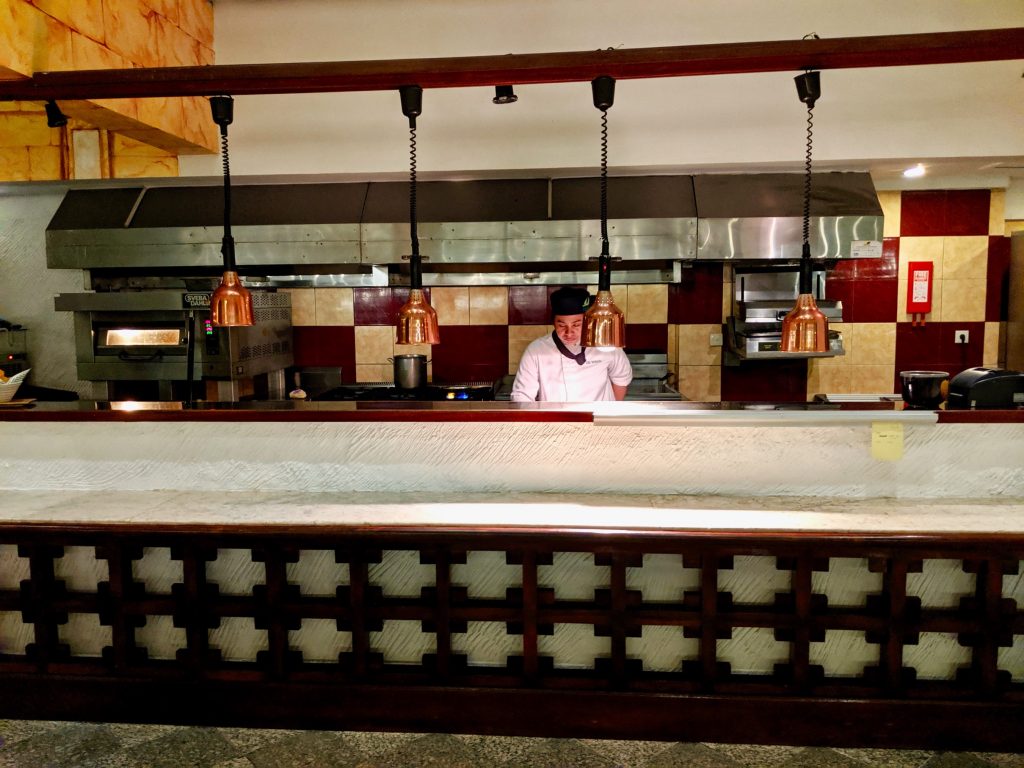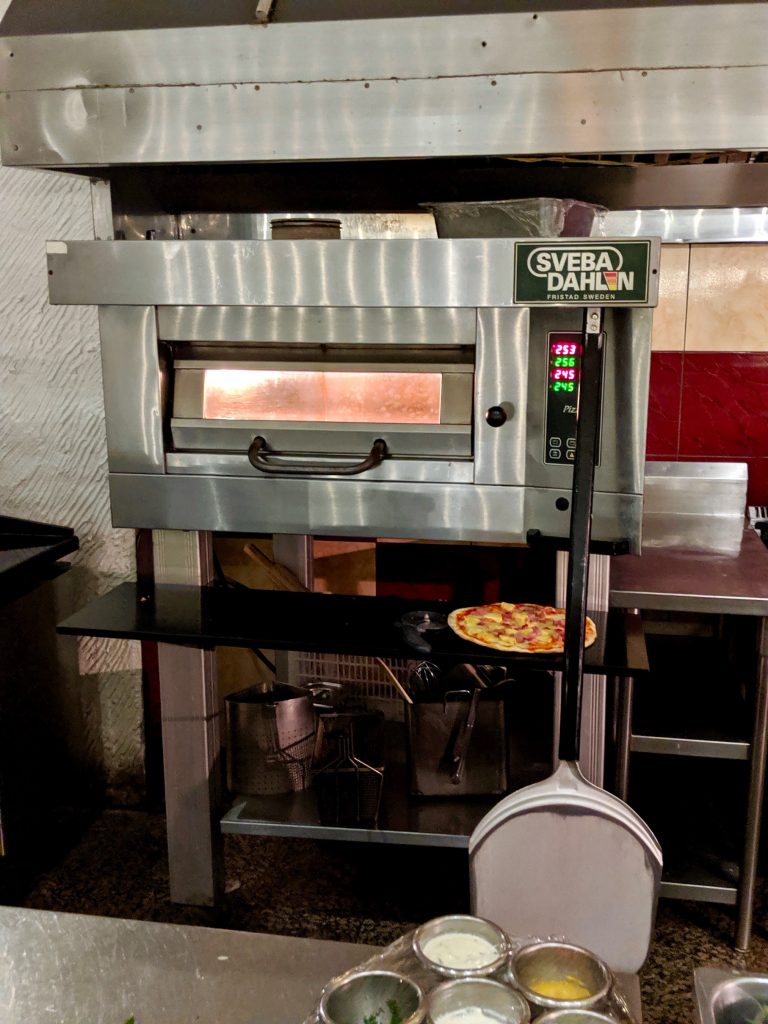 We started with Virgin Mojito which was a true refresher. The Caesar Salad was delectable with baby romaine lettuce leaves, charred chicken breast, croutons, topped with homemade caesar dressing which made it a lovely delight. Tomato Bruschetta Bites were topped with sun riped tomatoes, bocconcini and dripped with balsamic dressing which were crisp, juicy and tasty. The Vegetable Sandwich which was prepared on our special request by the Chef was nice, tasty, nutritious and healthy made of tomatoes, cucumber and lettuce and served with fries. The Pasta which we had was Create your own pasta and we chose Penne Tomato with Olives. It was presented nicely and was really nice.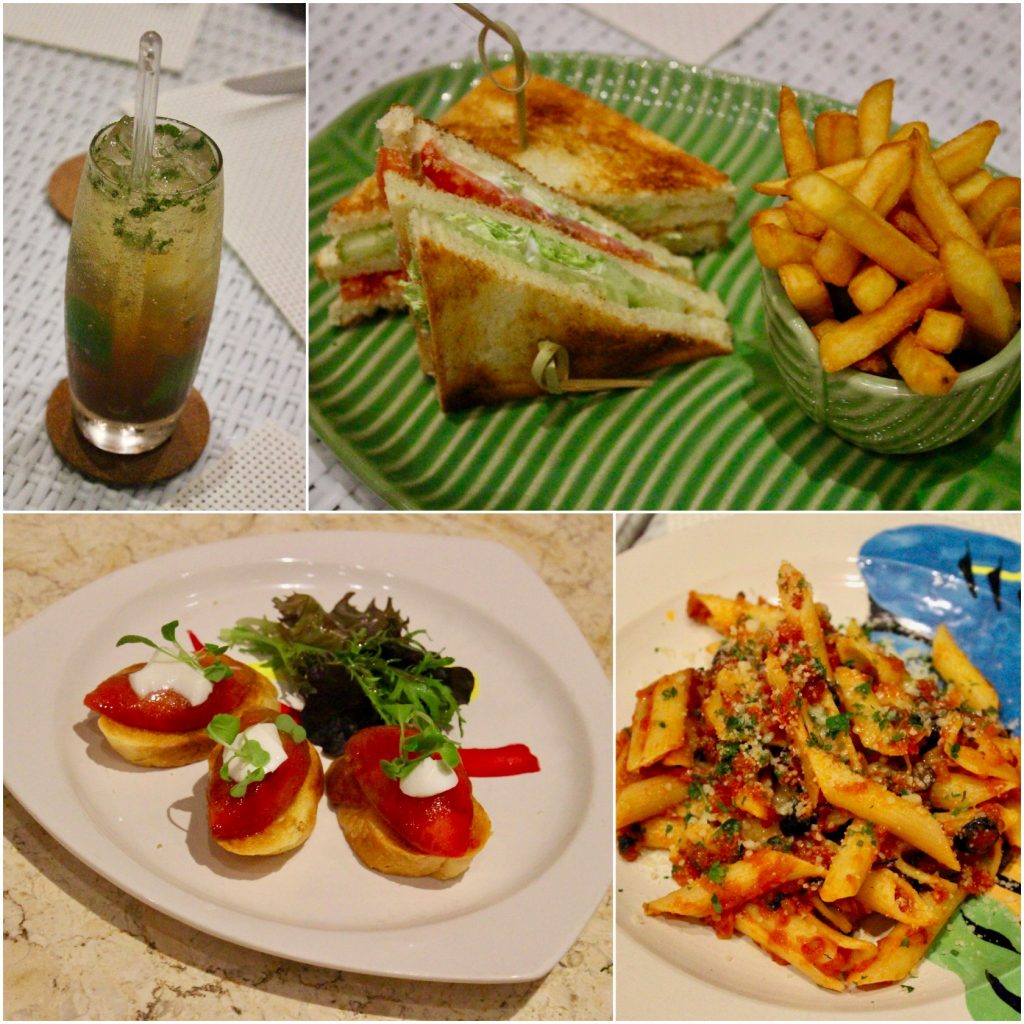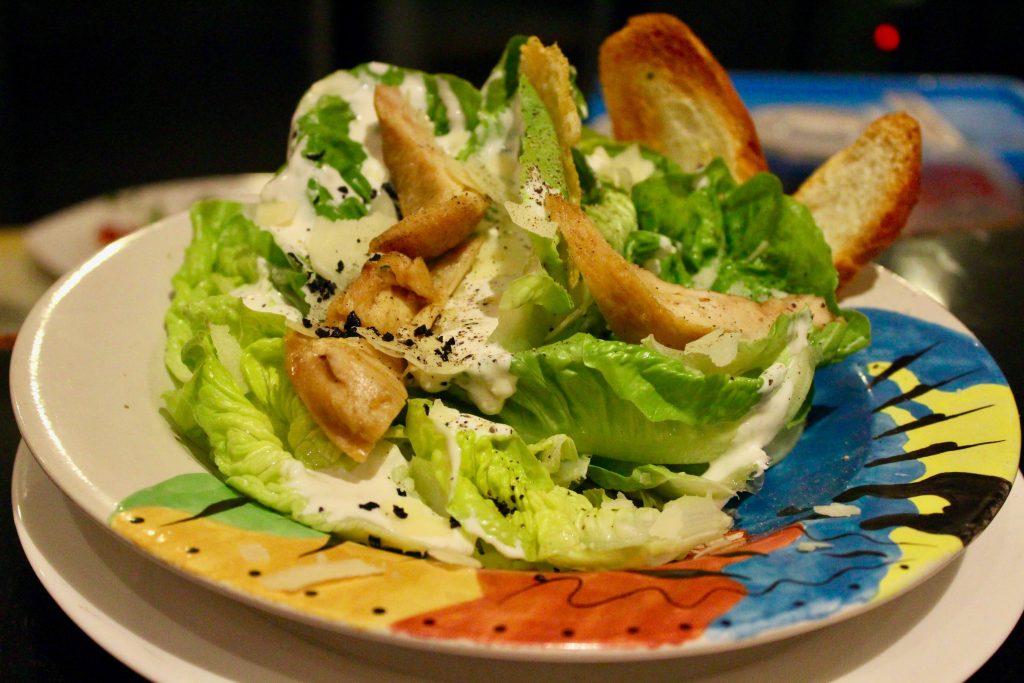 It was difficult to choose which pizza to go for and we asked for a half and half which the server to our delight said yes to. So one half was Healthy Pizza with zucchini, artichoke, sundried tomatoes, onions, capsicum and black olives. It was really yum and healthy. While the other half was BBQ Chicken Pizza-with BBQ chicken strips, olives, capsicum and mozzarella. Has to be the most tastiest pizza I have ever had in my life. Both the toppings were cooked perfectly with love. Trust me, you have to try the pizza here!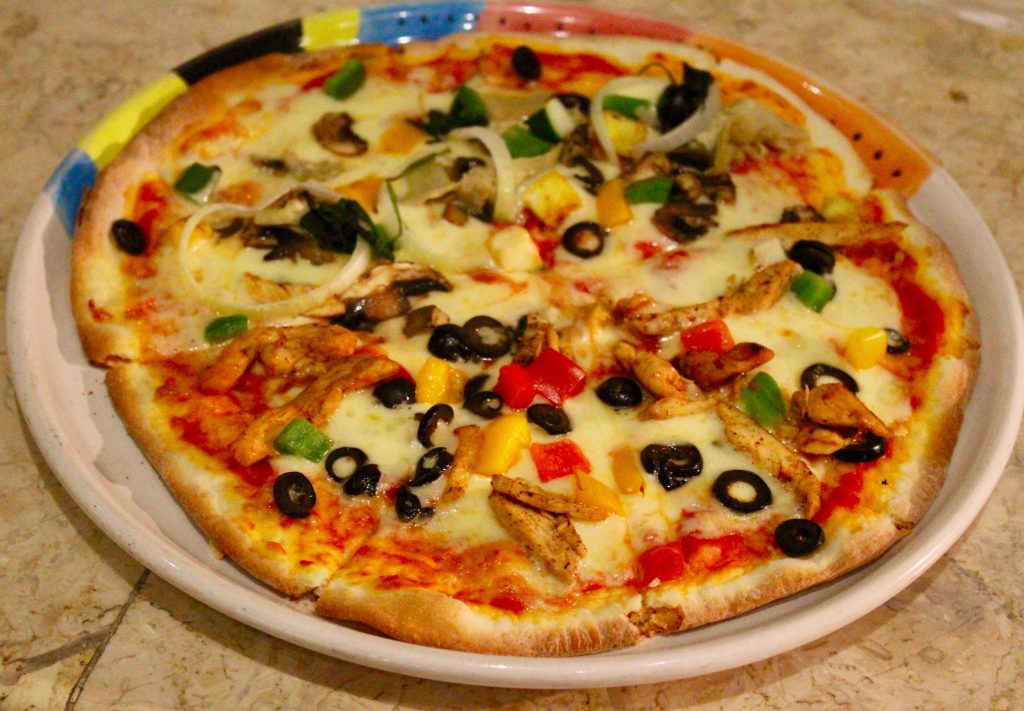 In Desserts, we tried Chocolate & Vanilla ice-cream along with Mango Sorbet together in a bowl, all of which tasted great. We also tried Chocolate Caramel and Cream Truffle which had sponge nip choco Ccunch in choco mint sauce. Pure indulgence!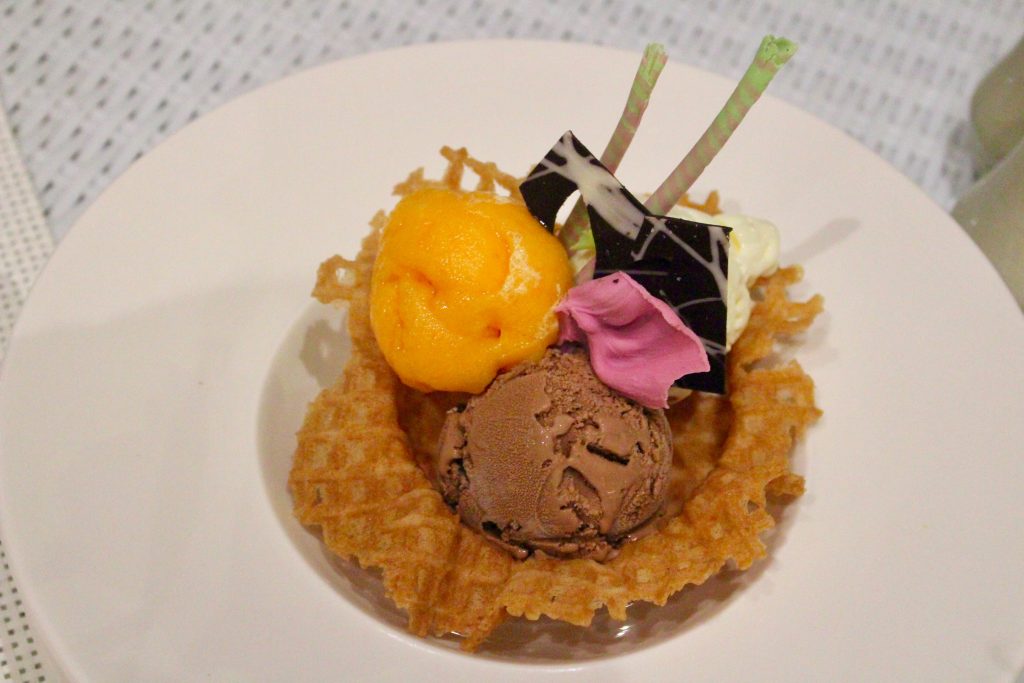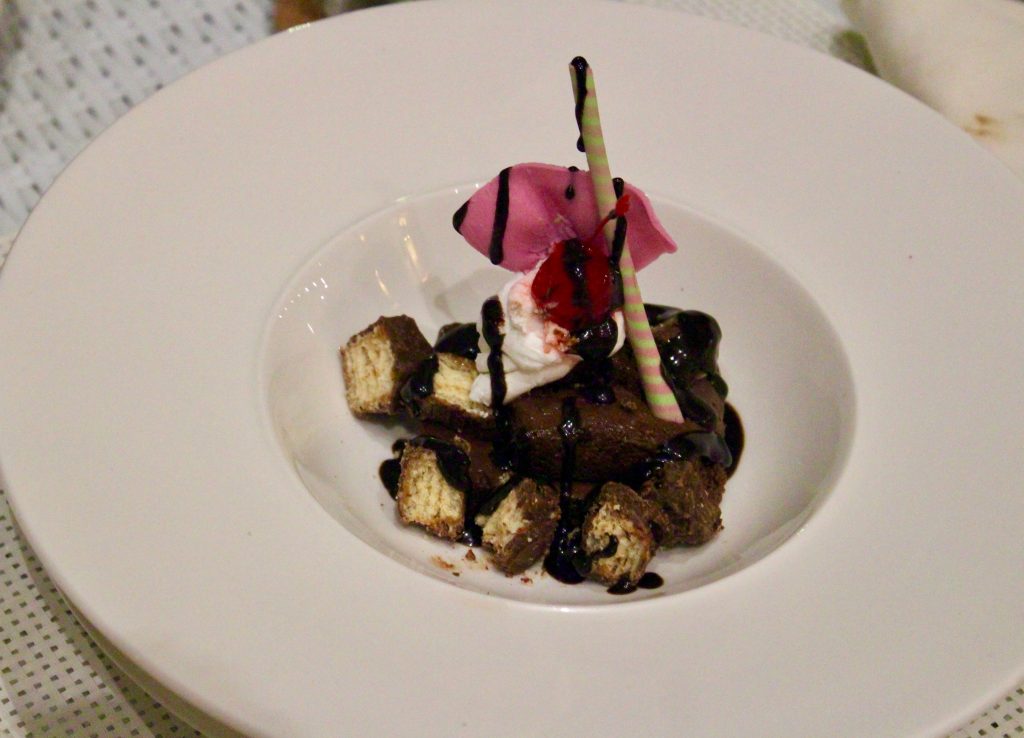 After this lavish meal, we went back to our beautiful suite and woke up with a spectacular refreshing view from the balcony of our Discovery Suite.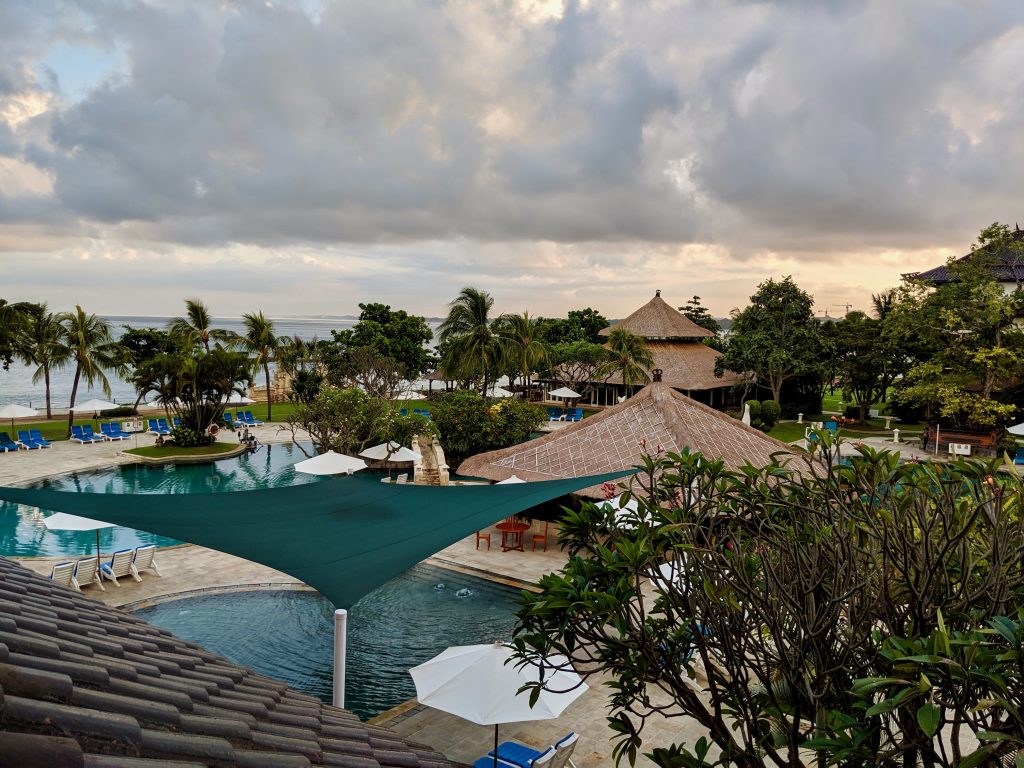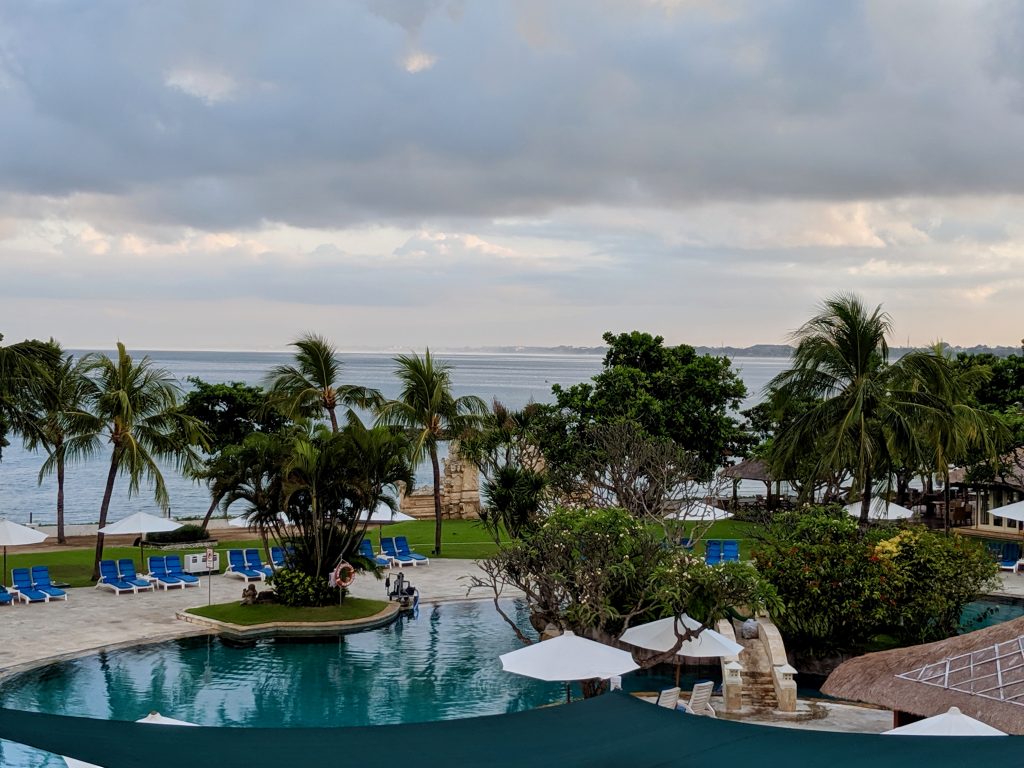 The breakfast for both the days was at The Pond Restaurant which was so enormous and beautiful with a pool & sea facing view. They even have a live piano each day during breakfast and you can have your breakfast enjoying the cool Bali breeze.
The morning breakfast was indeed splendid and beautiful. The breakfast was divided into multiple sections like Vegetarian, Indian Corner, Bakery Corner, Salad Station, Bakso Station, Healthy Bowl, Soup Station etc. There were variety of food items from noodles, rice, omlettes, toast, baked beans, hash browns to fresh juices, tea/coffee being served on the tables and ofcourse the yummy waffles, pancakes and muffins. I was really surprised and happy to find some Naan and Bhaji on first day and Poori, Sambhar and Aloo Bonda on the second day in the Indian section of the buffet. It feels so nice to have Indian in a foreign land.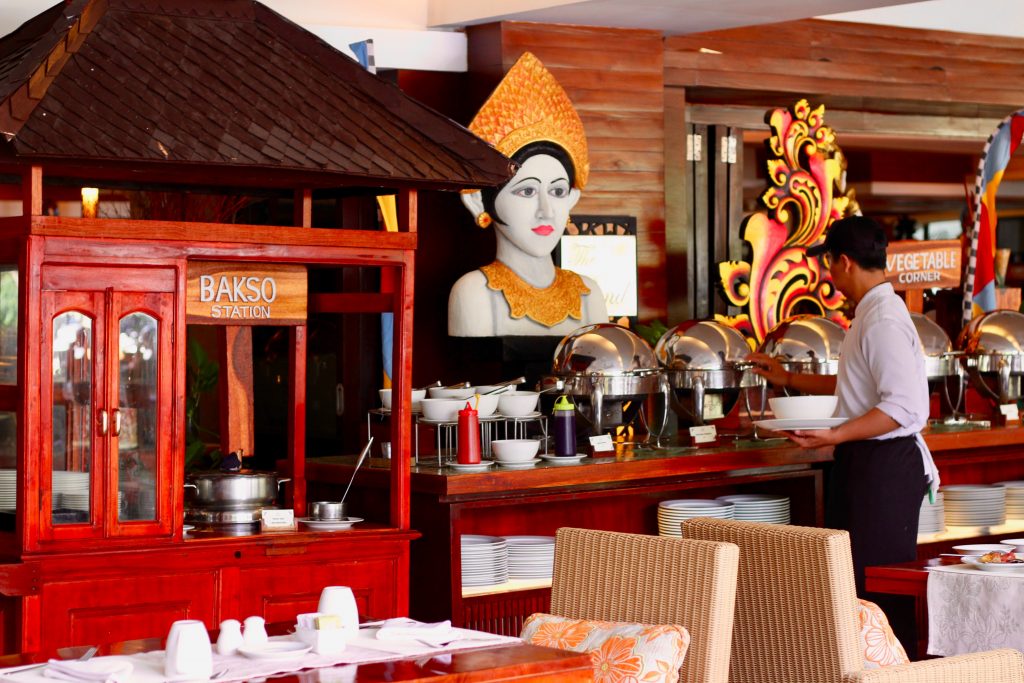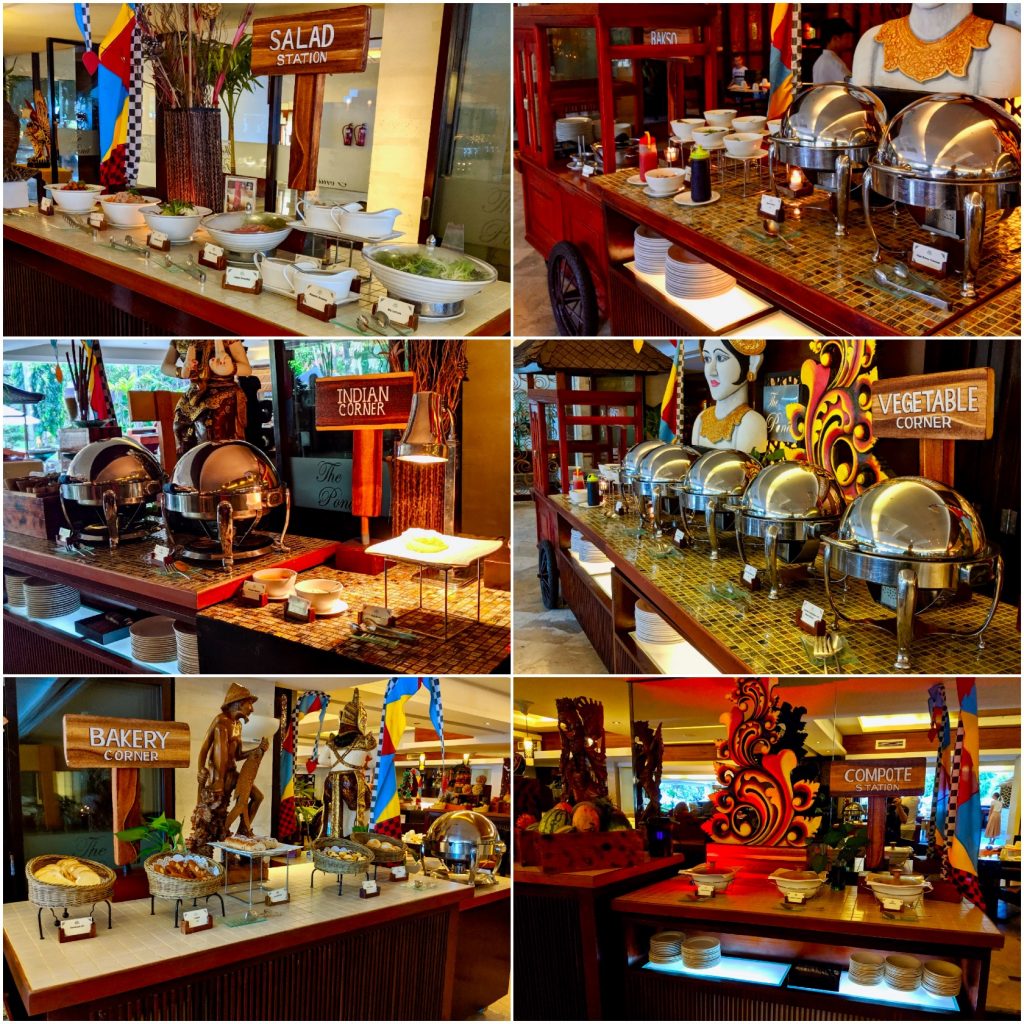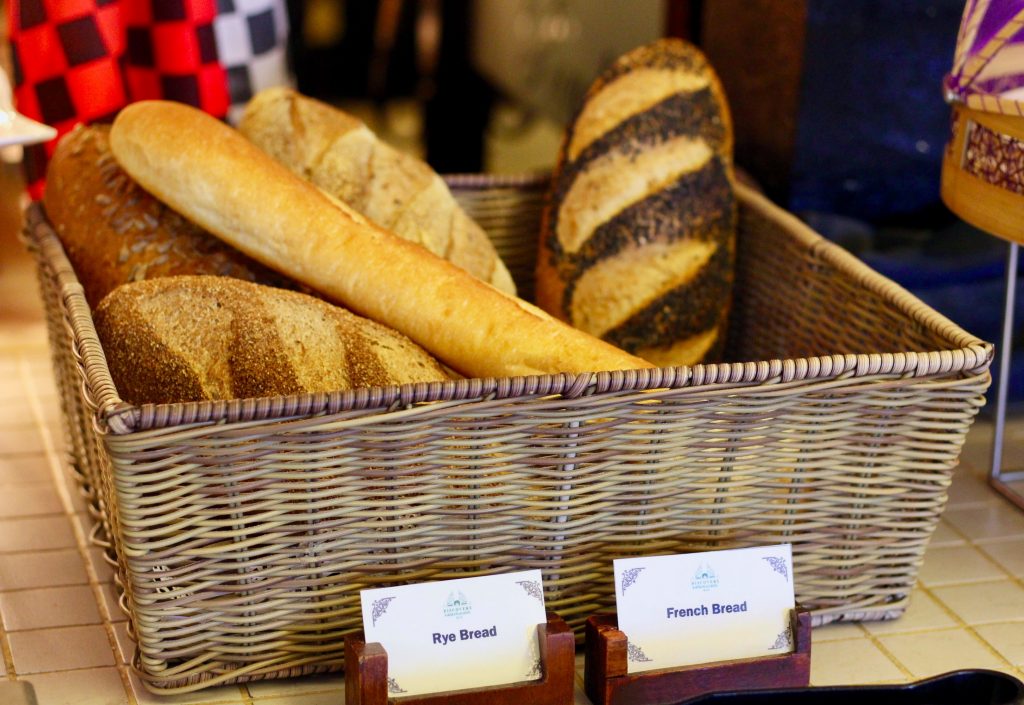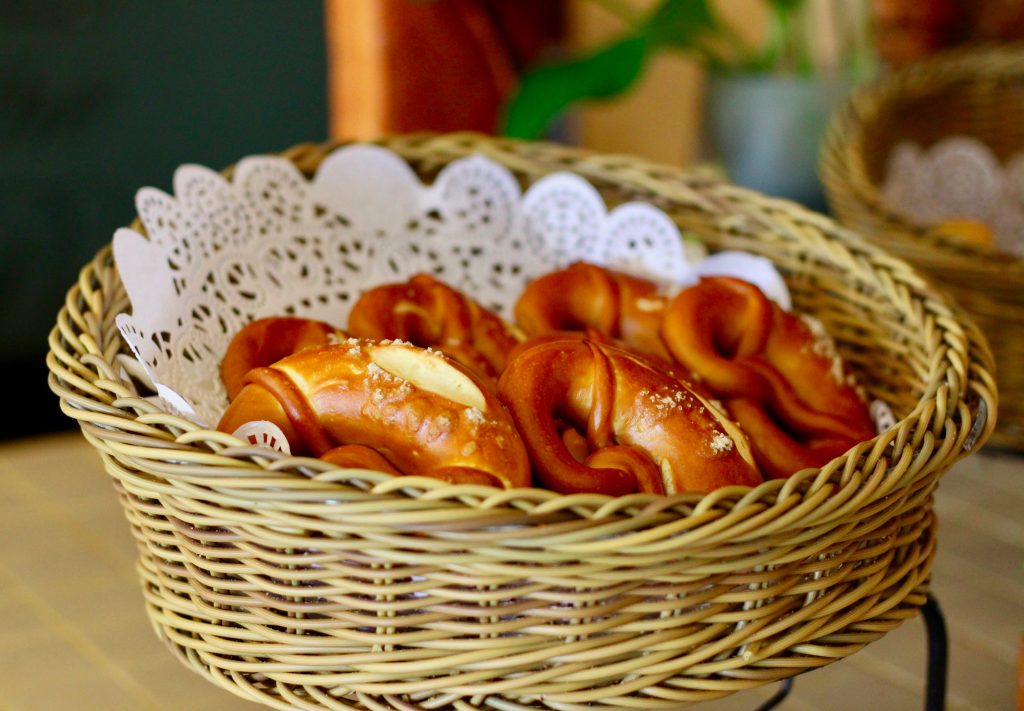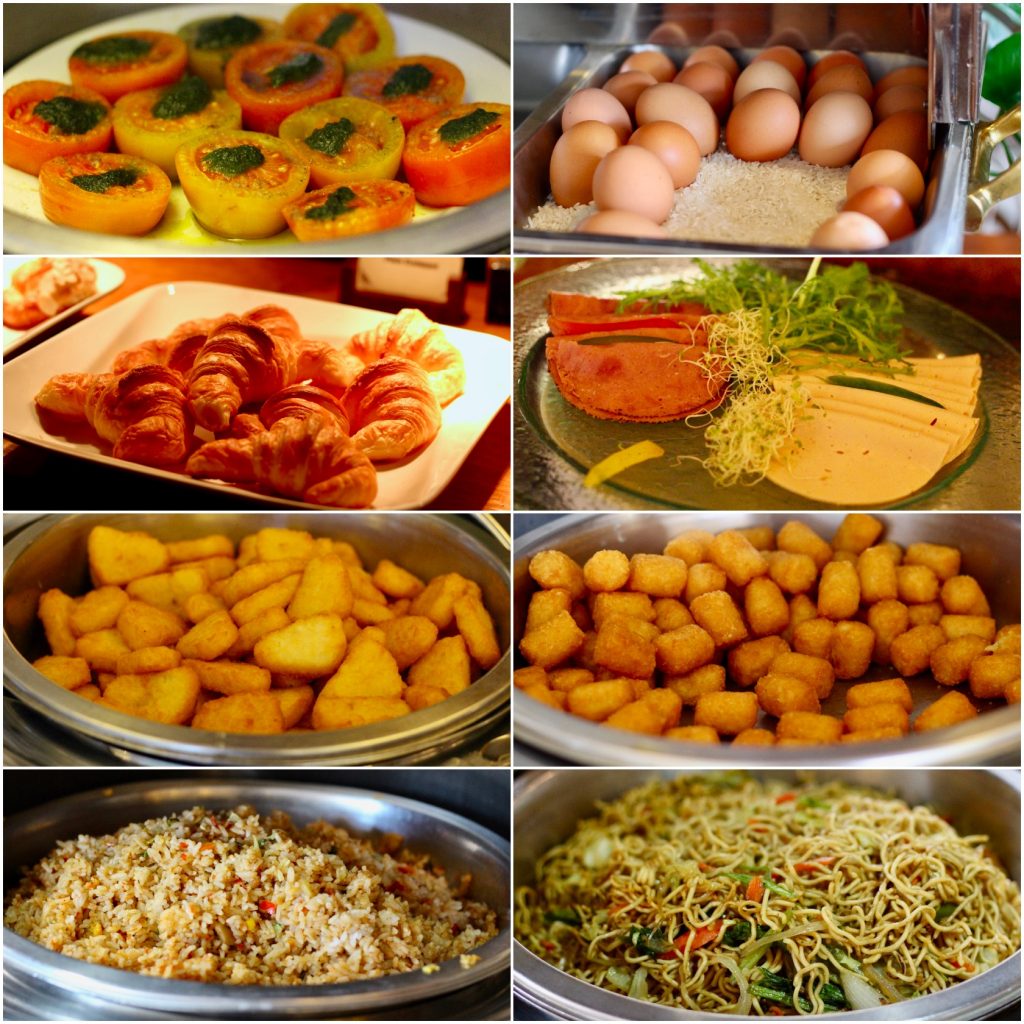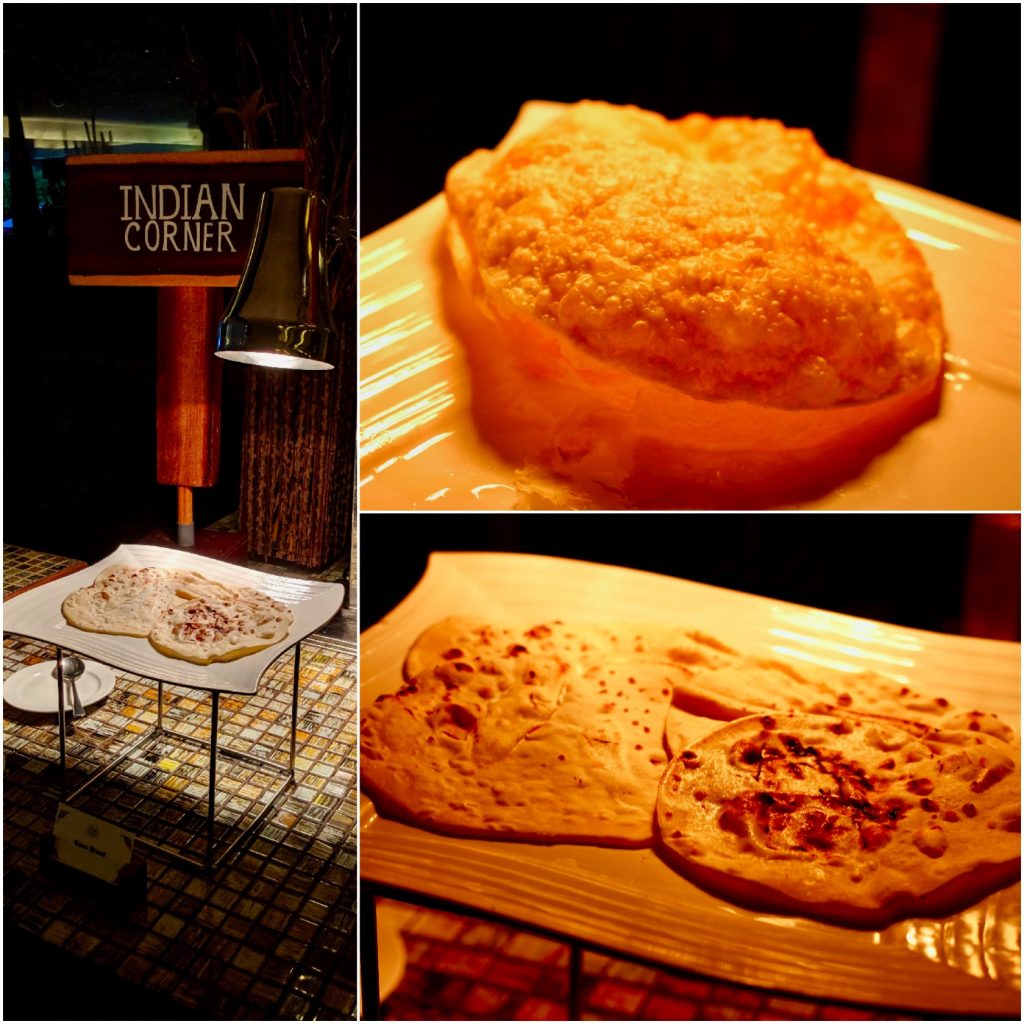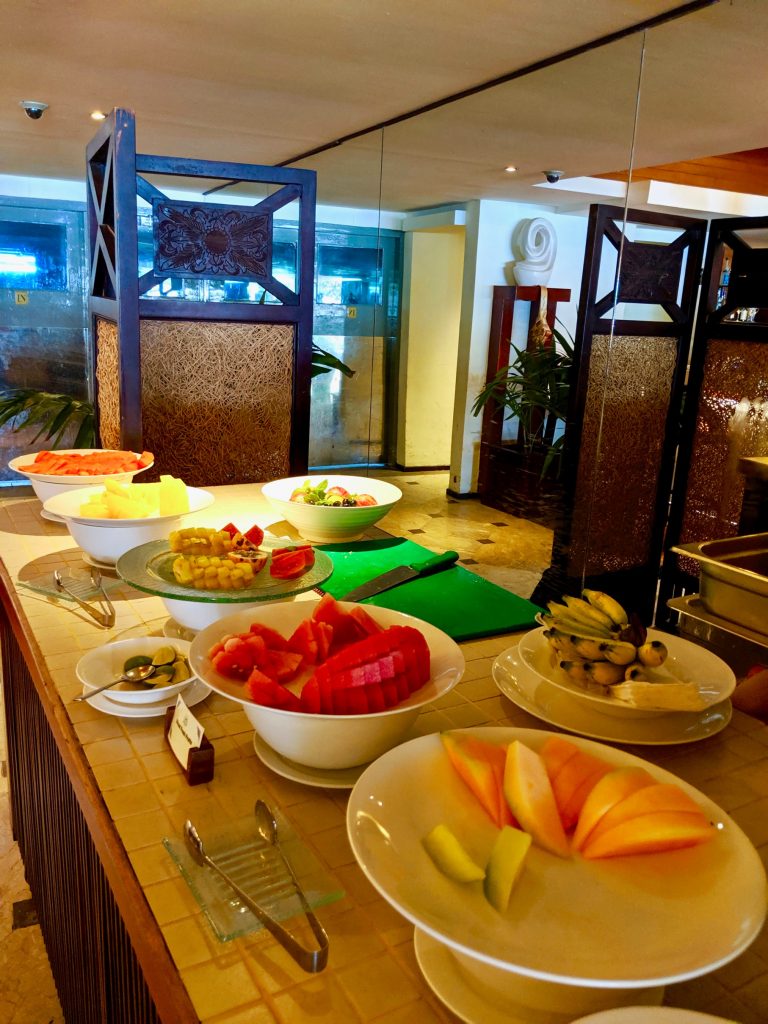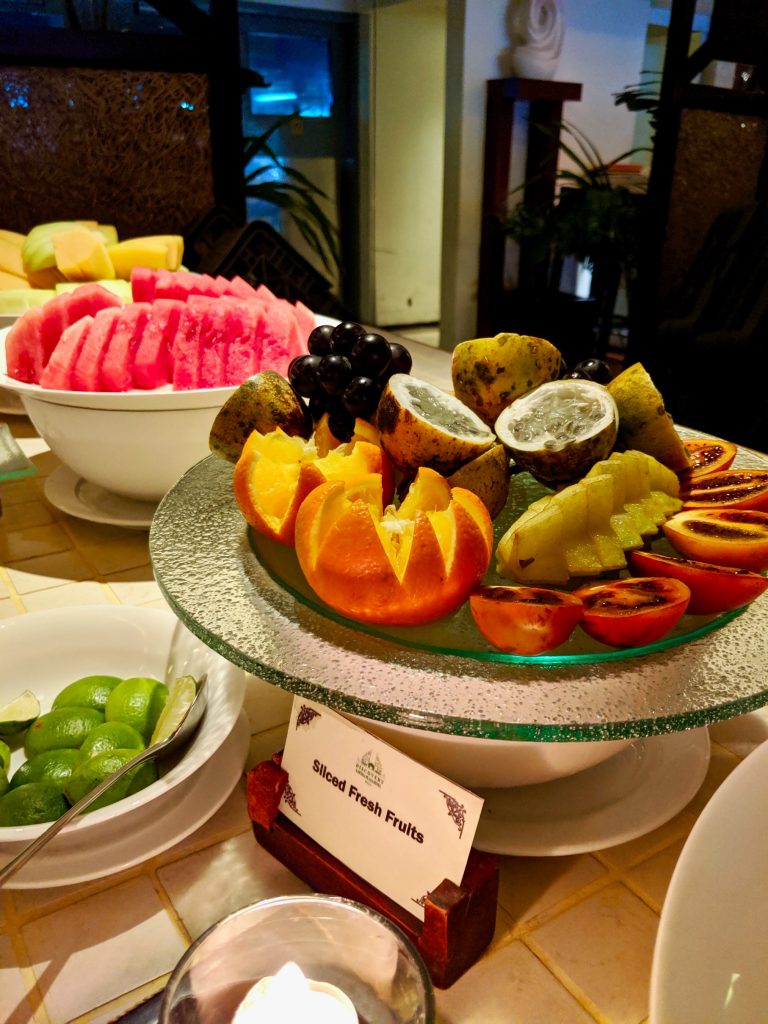 The live omlette making was another attraction and the live piano music playing in the background added to the entire breakfast experience making it more enriching and worthwhile. Guests indulge in this scrumptious spread by making a booking even if they are not staying in the hotel.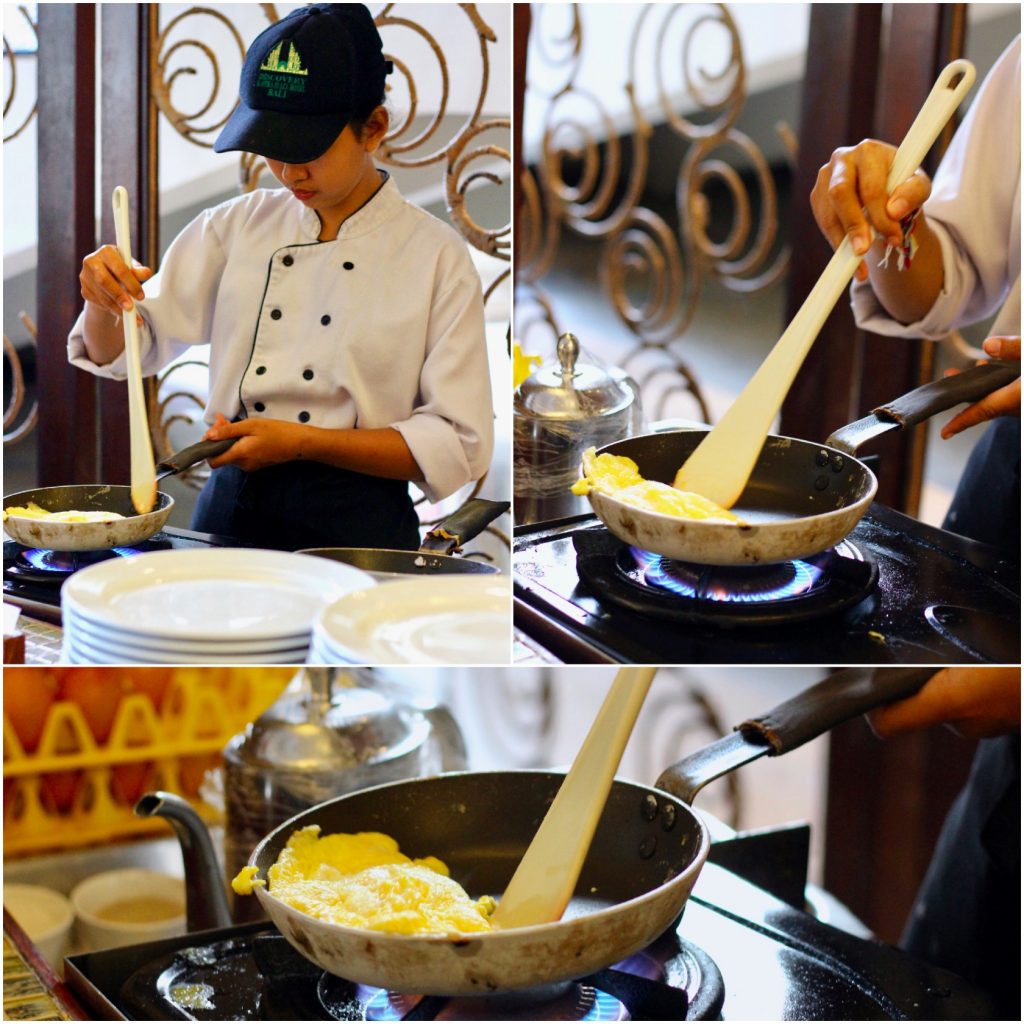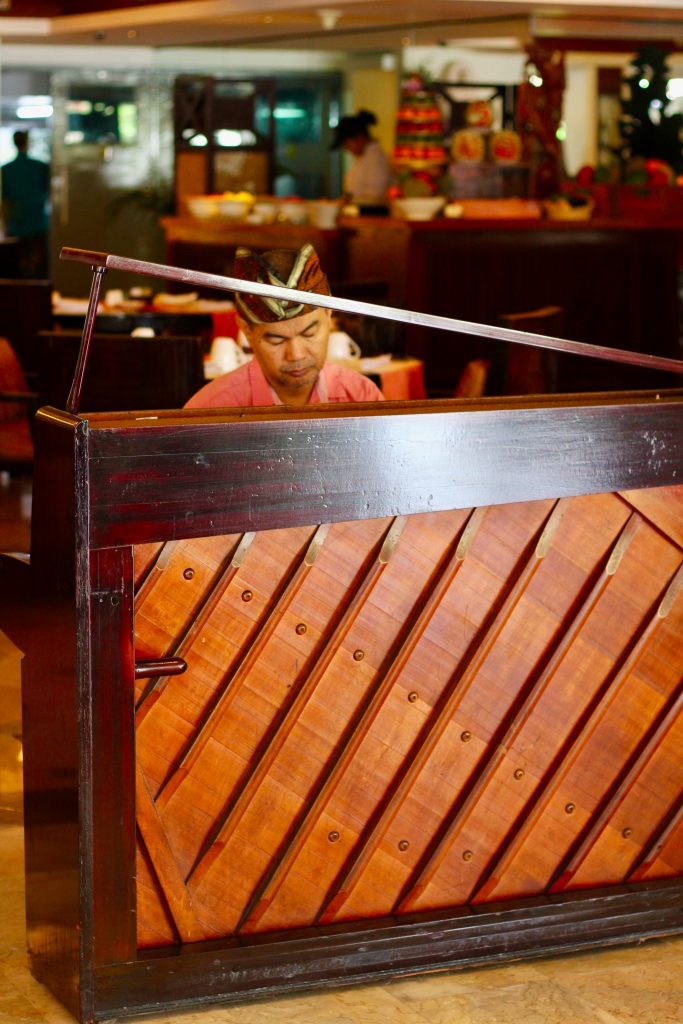 Discovery Kartika Plaza also organizes special arrangements for honeymooners (specially for Indians). A beach side dinner and/or a beautiful high tea arrangement with hearts made of flower, rose petals and tea lights all around. We did get to experience this hospitality over high tea and were served tea with croissants as well as sweet treats to relish our tastebuds. It was such an amazing feel with the beautiful set up and the pleasant breeze blowing.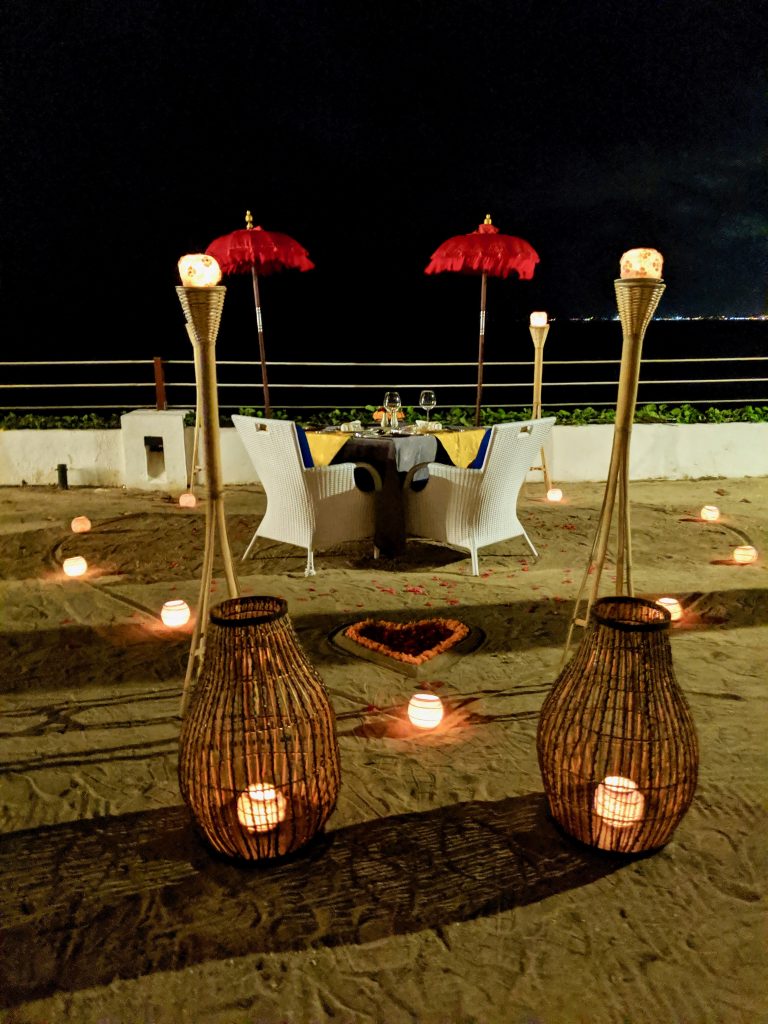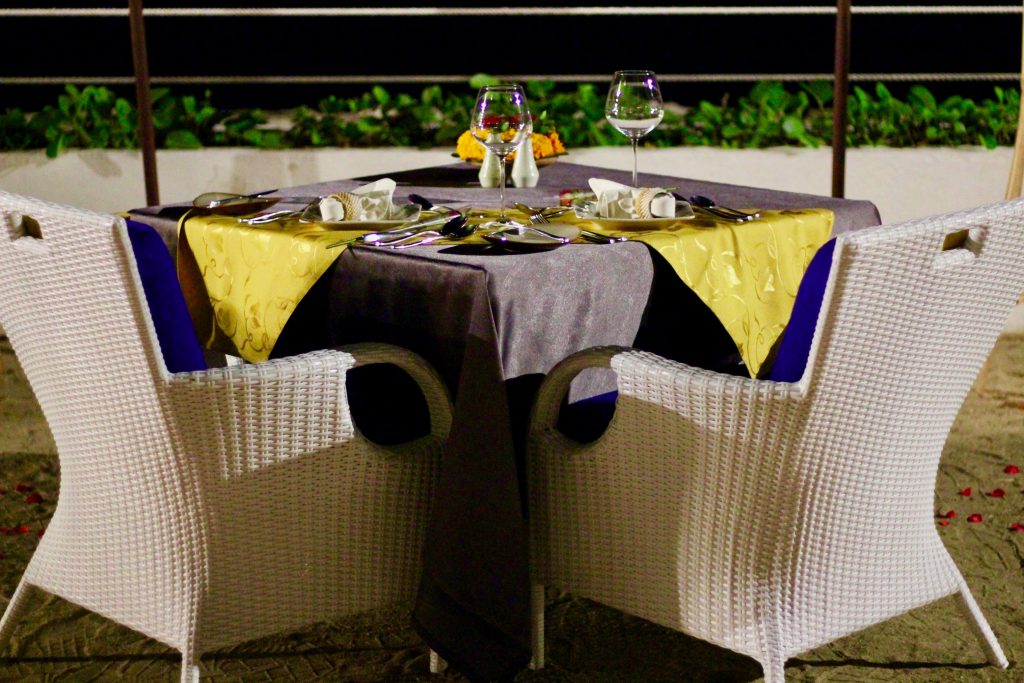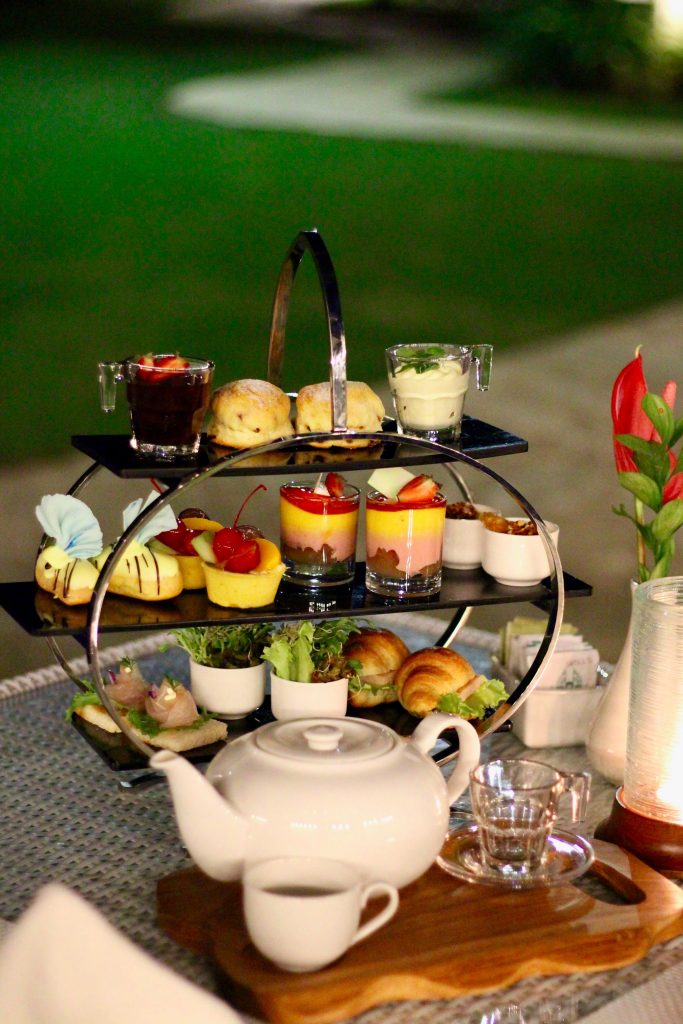 Discovery Kartika Plaza is hot spot for a perfect destination weddings too. The picturesque beach location is best suited for weddings as Indian Ocean looks beautiful as a backdrop for your special day to be memorable forever. They also have Kharisma Ballroom for indoor ceremonies.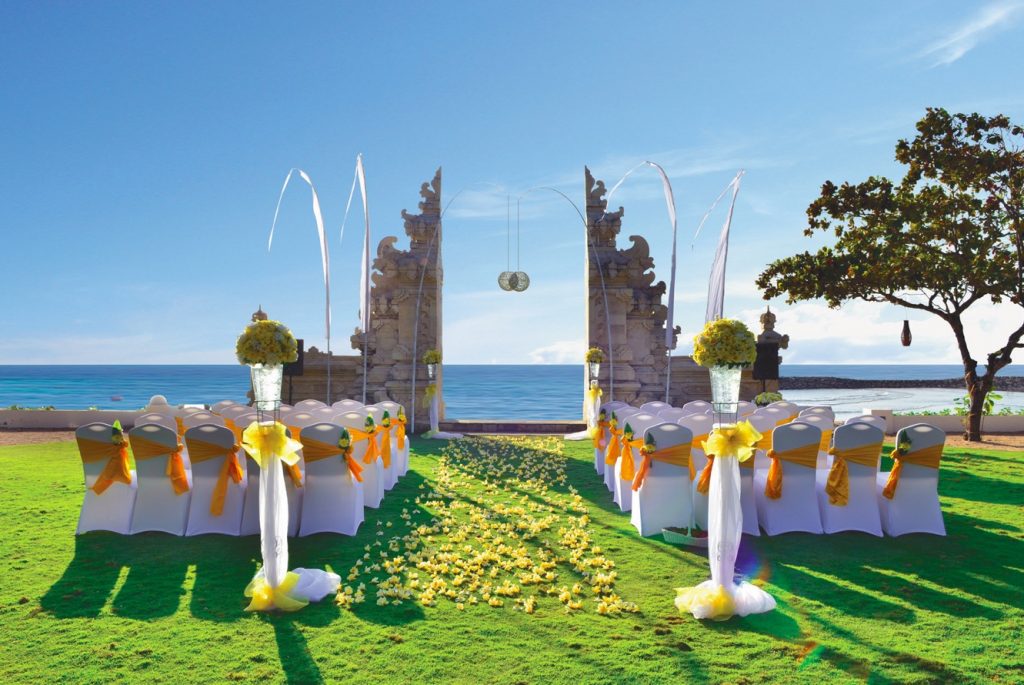 For dinner, we headed to Tepan Noodle restaurant in the hotel which is next to the pool and focuses on Asian cuisine. There are different themes across different days and when we visited there was a beautiful Asian Dinner Theme Buffet laid with a live singing experience. The buffet had a wide variety like beef ribs, stir fried rice, fried noodles, braised pork, fresh salads etc. The live music in the background added to the overall experience.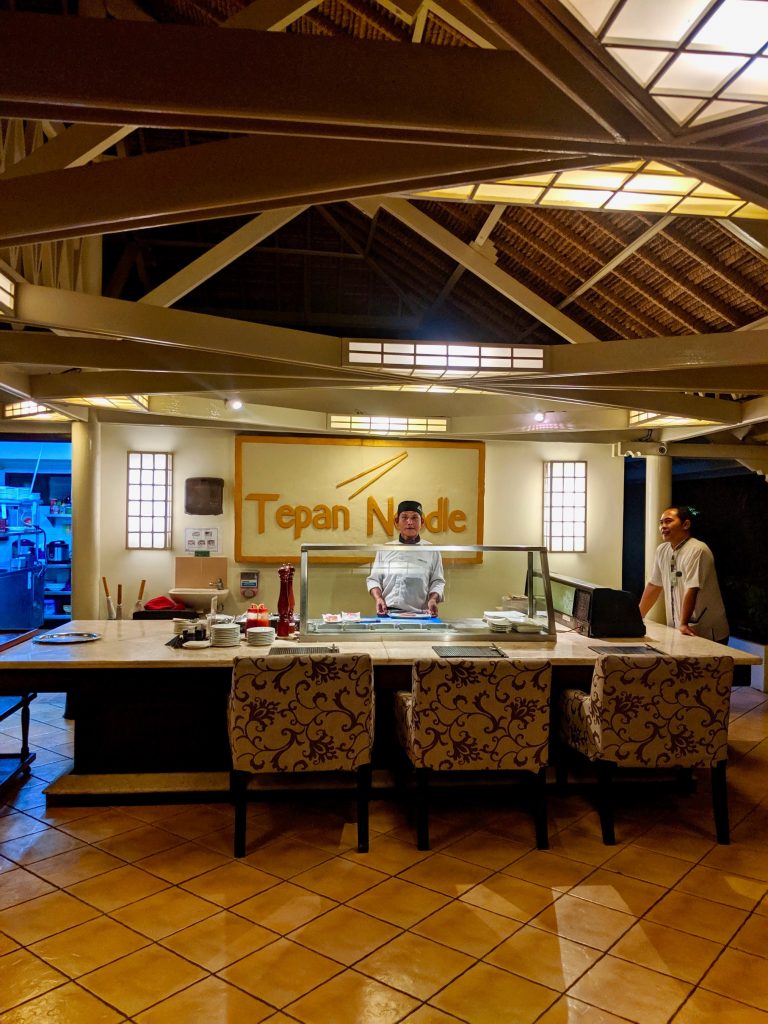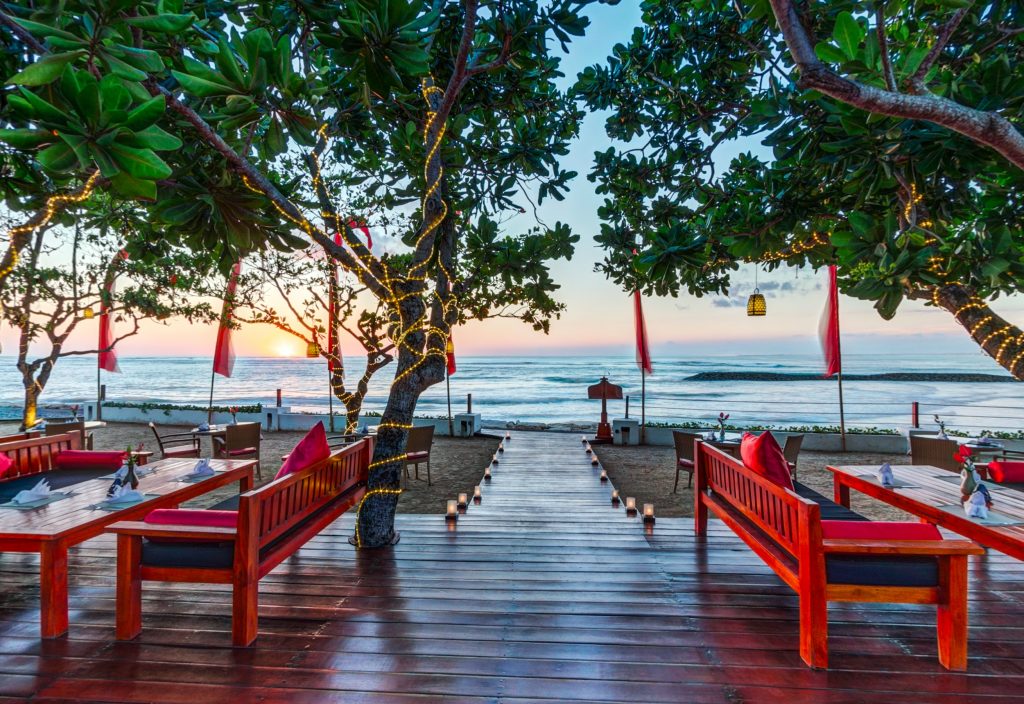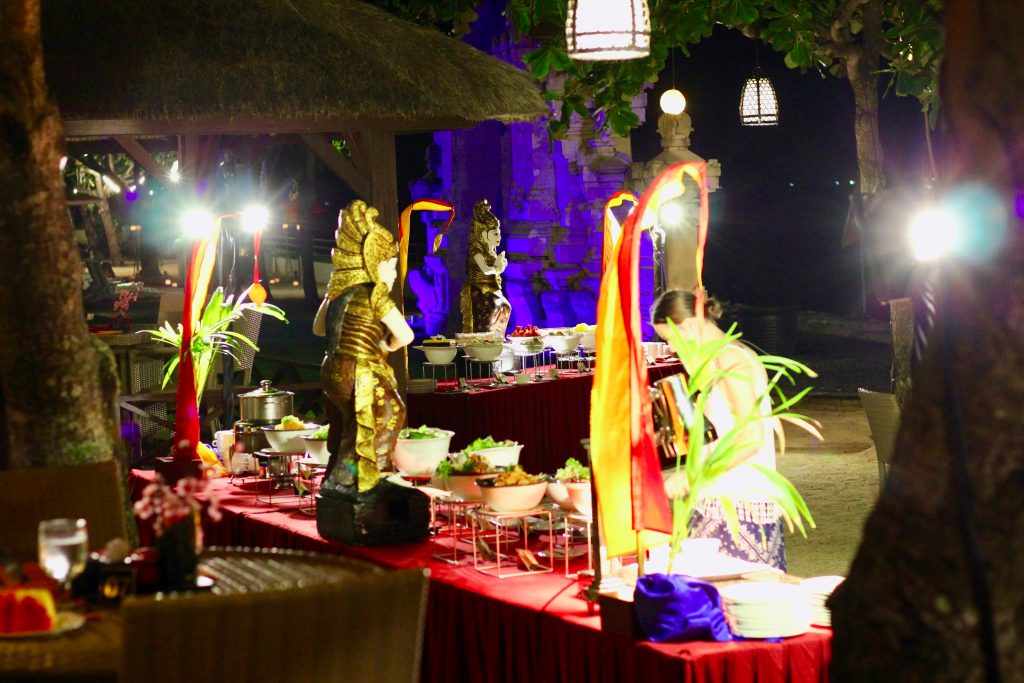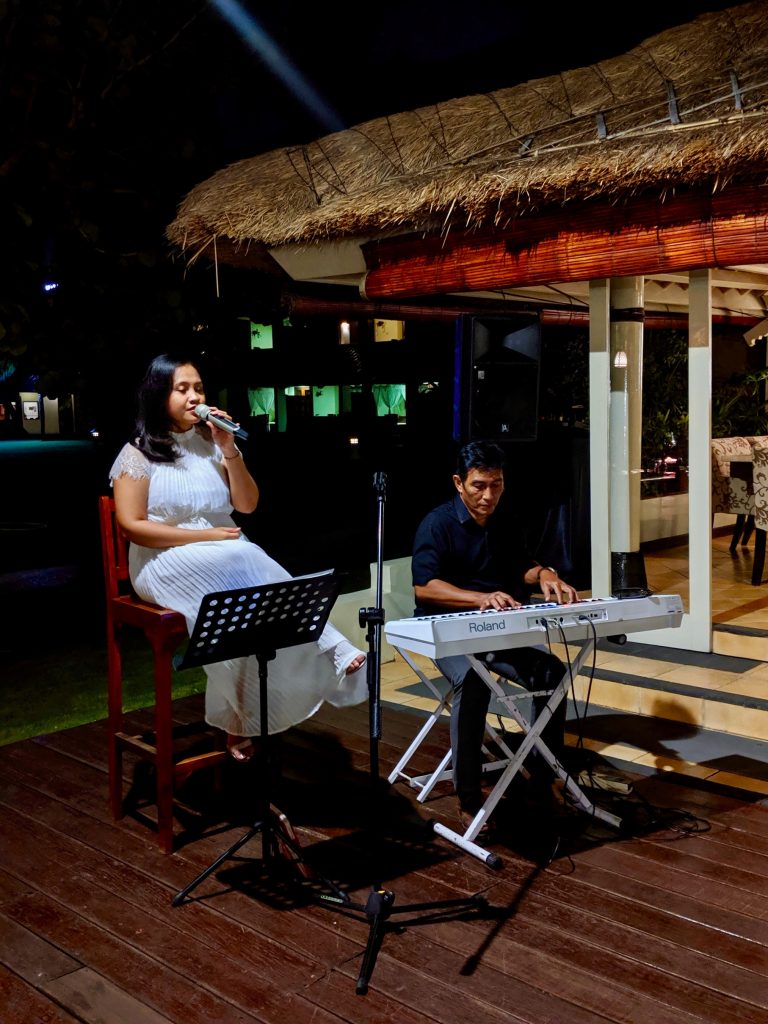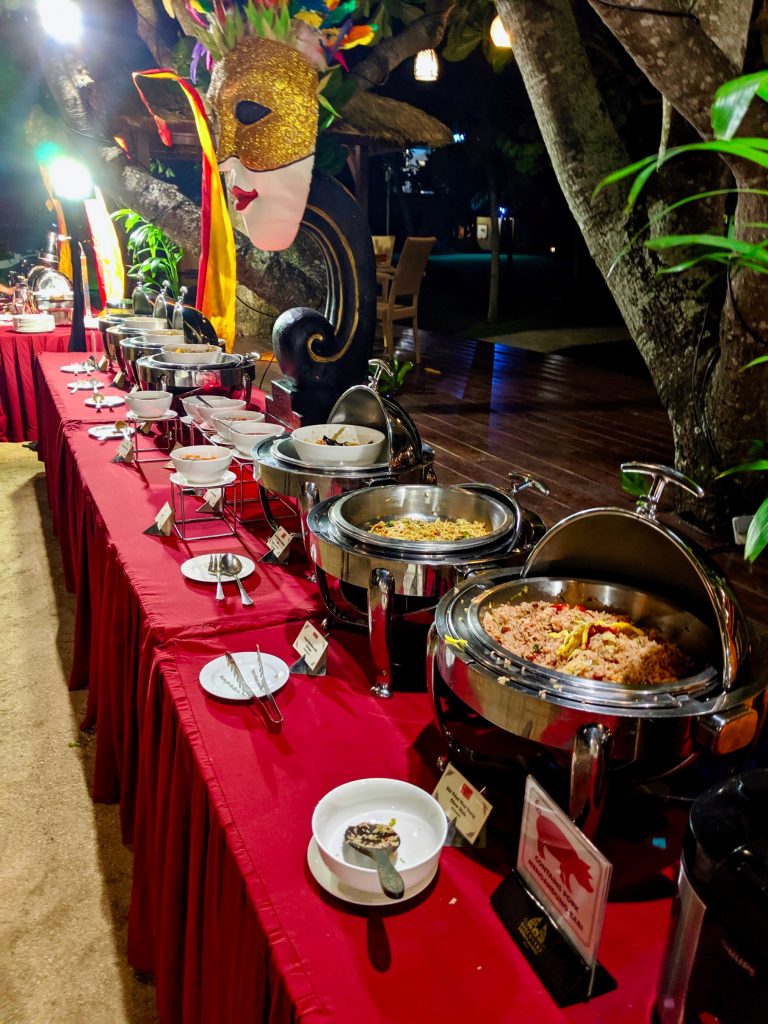 Since we are not too fond of seafood, we preferred to try the a-la-carte menu and ordered a variety of dishes. The Gyoza Pan Fried Dumplings with special sauce were delicious. The Veg Spring Rolls served with sweet chilli sauce were yum. Crisp on the outside and soft inside! We also tried the Veg. Sushi with avocados which the chef especially customized for us. They were so visually appealing and palatable. The Chicken Wonton Soup had a combination of noodles and chicken wontons. It was a different experience to have wontons inside the soup. The quantity was large and the soup was nutritious, healthy and tasty. The Chicken Udon Noodles were very fulfilling and appetizing. The Veg. Fried Rice were tasty with lots of veggies making the dish really nutritious and colourful. Afterall, that's one of the staple dishes in Bali. The Veg. Fried Noodles were flavorsome with veggies, packed with nutrition and love of Bali.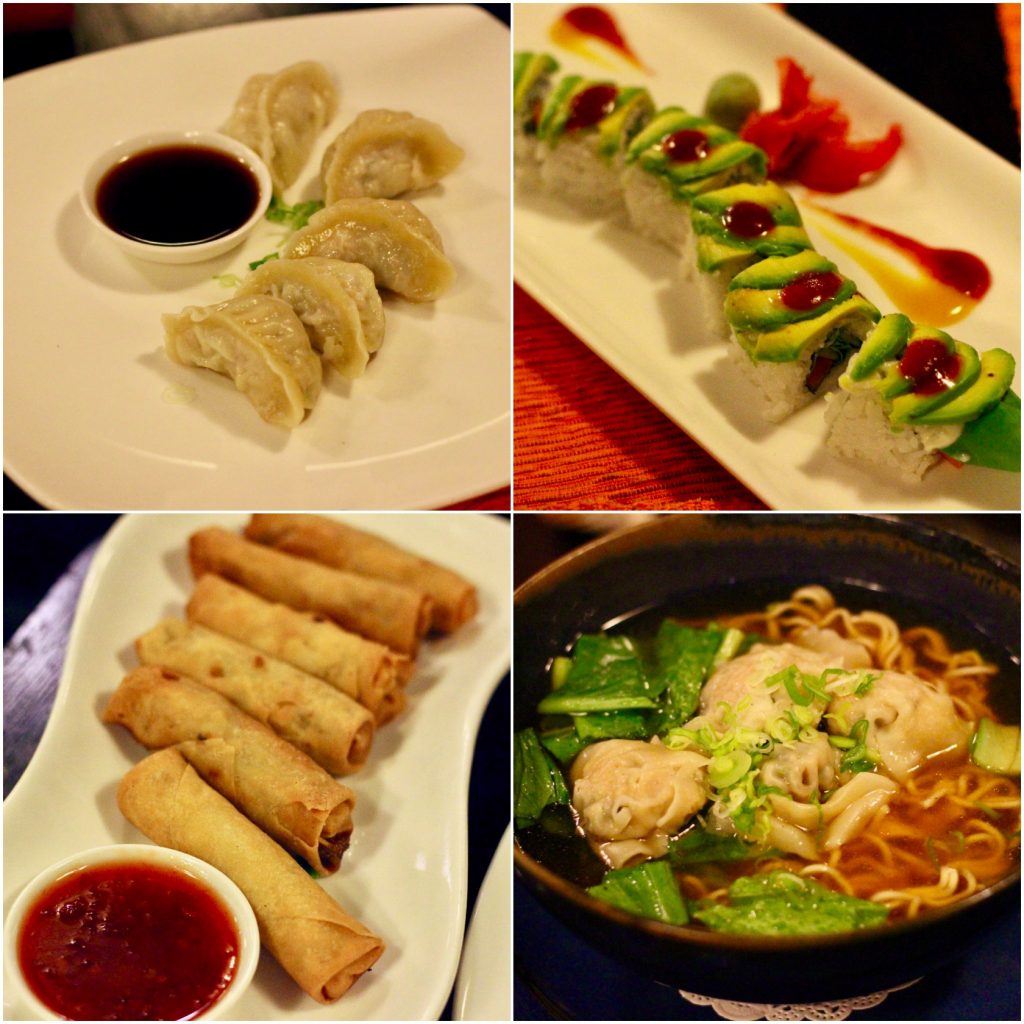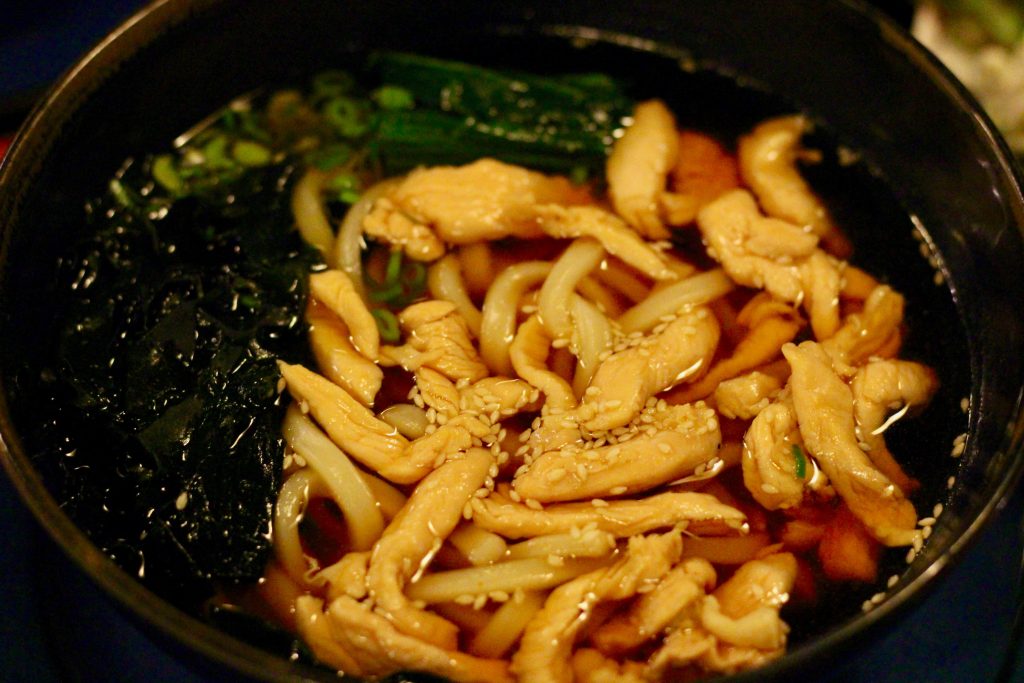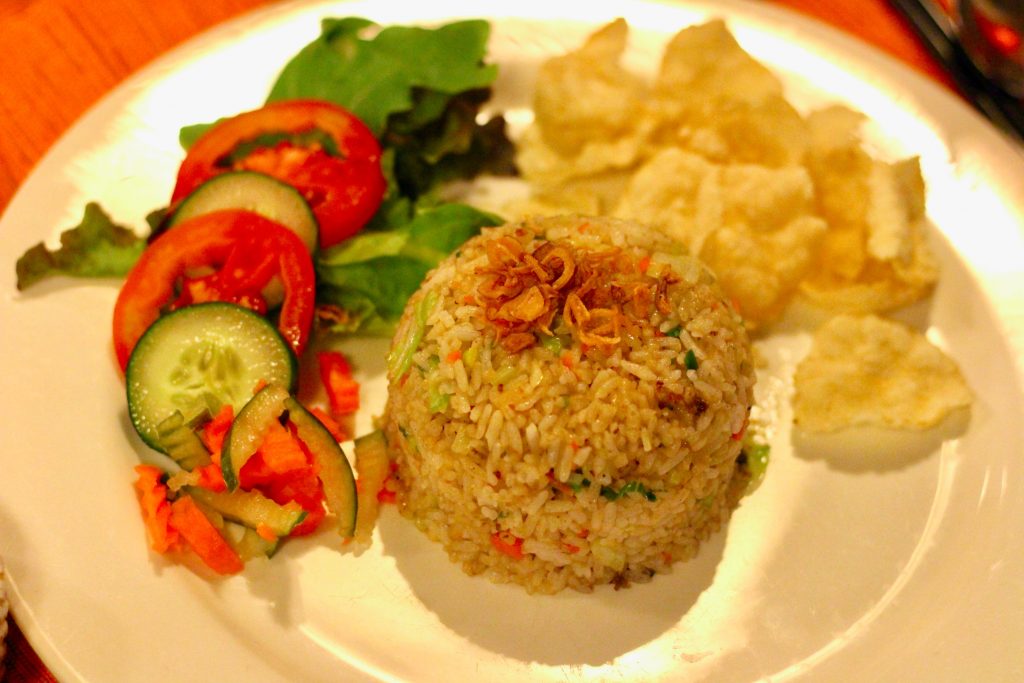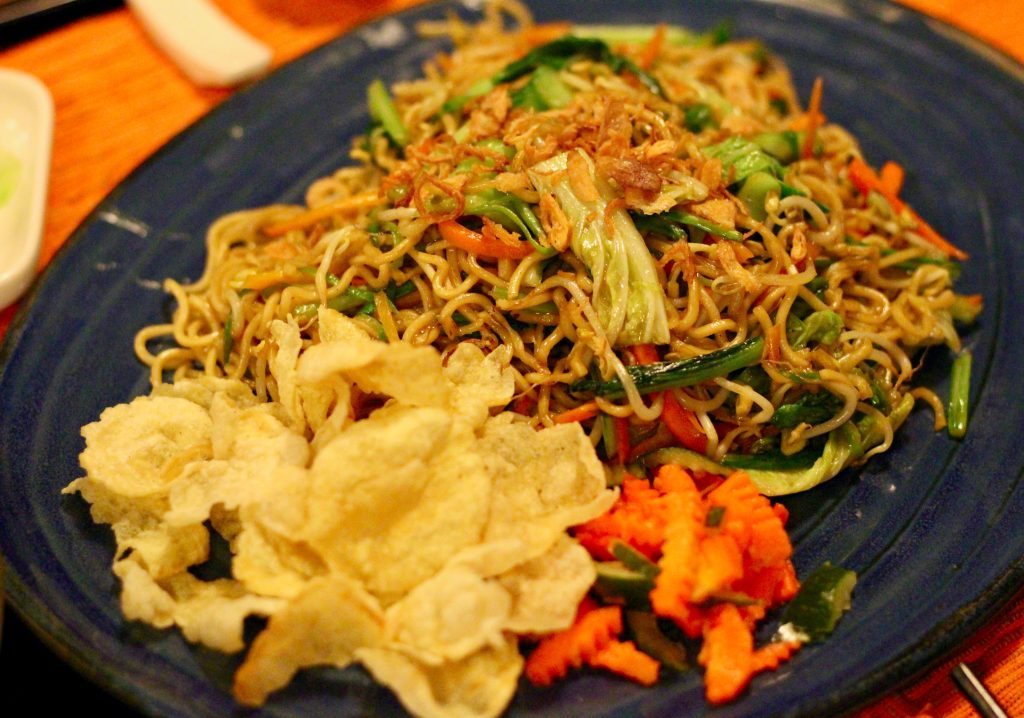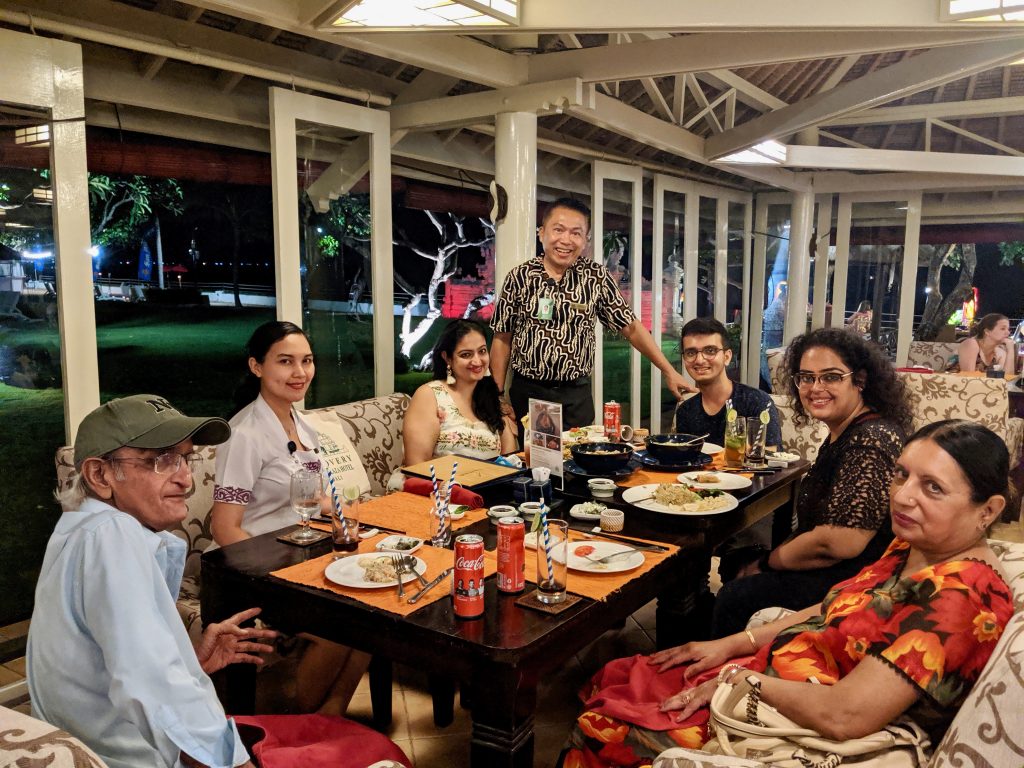 Another highlight of the hotel is the Discovery Spa which is set away from the activity of the beach and main hotel buildings. A perfect escape to peace and relaxation is what we were looking for after a day full of sightseeing and touristy things. With various treatments spread across Massage therapies, body treatments and facials combining western and eastern knowledge and long-established techniques, the professional and trained spa therapists are attentive to what you require from your spa visit.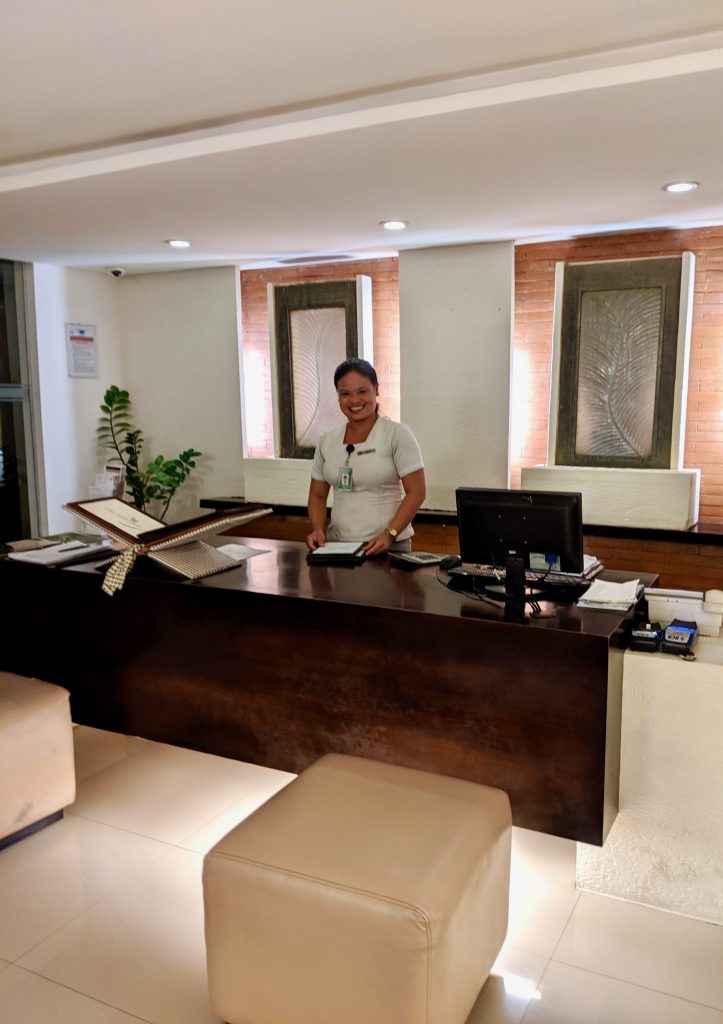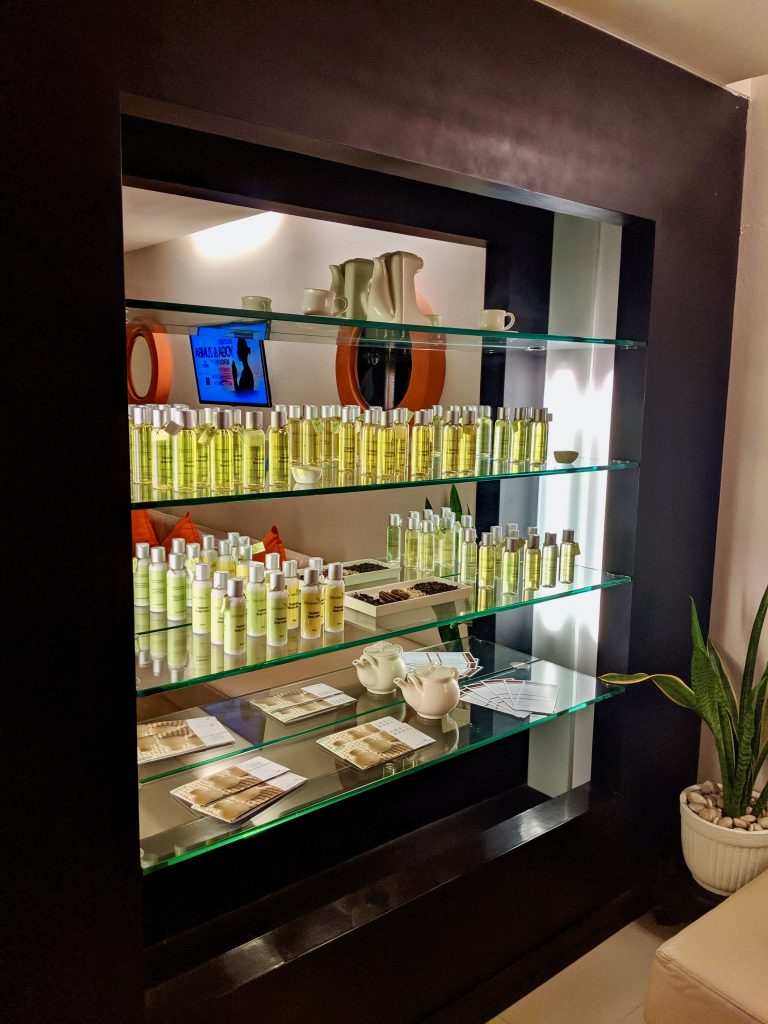 We took a 60 minute spa with frangipani oil in Discovery Spa. It was a relaxing massage by the trained therapist in the couple room for me and Shilpa. The massage we took was Balinese massage and it provided us relief from all the pain and stress. We want to do so much on a vacay and at times do get stressed out. We indulged in the therapeutic oils of the Discovery Spa and forgot all our stress and were completely at peace and relaxed states. The masseuse was friendly yet professional and did keep a check of the pressure. It felt relaxed and at peace in the quiet chamber of the blissful spa room as the therapist nicely did her job with exact pressure that I needed. Before the massage started, there was also a herbal concoction served and I tested the oils on myself for any skin sensitivity.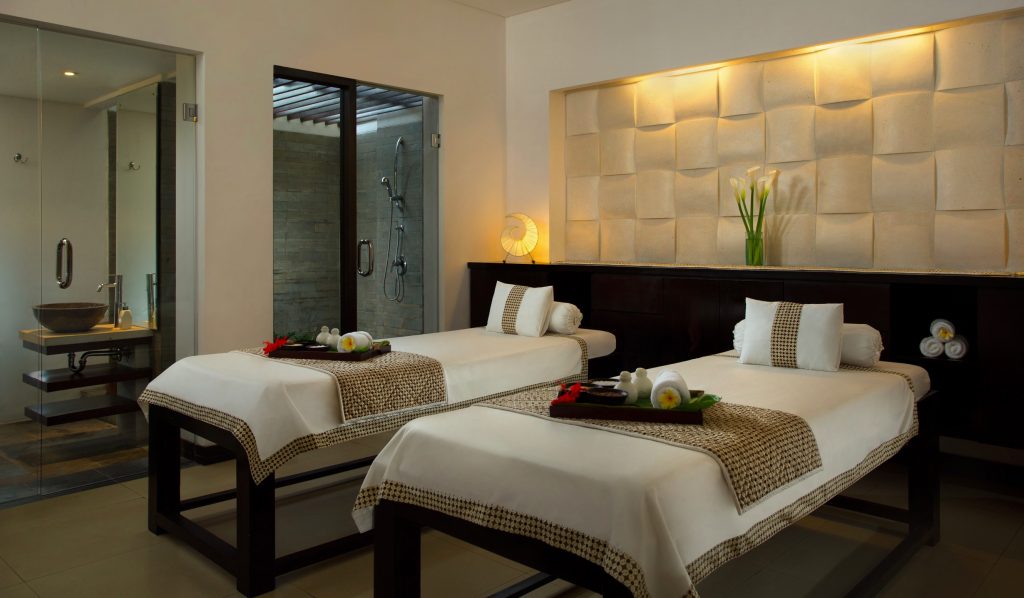 If you are travelling with kids, you will be surprised that there are Kids spa treatment as well. The spa is fully equipped and has locker room facilities, different changing facilities for males and females as well as sauna and shower rooms. There is also an adjoining salon for all hair and beauty needs of the clients. Out of 7 spa rooms, 5 have private bathtubs.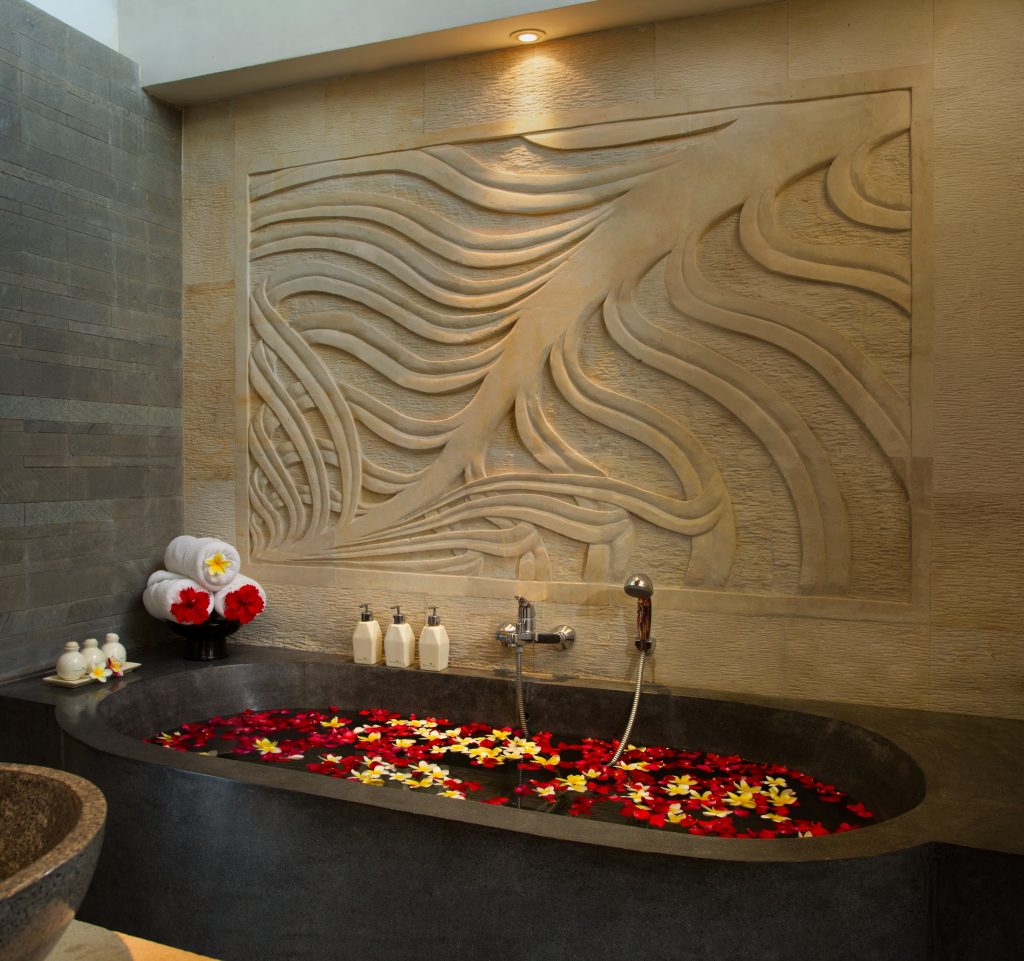 Discovery Kartika Plaza enjoys a private seafront location in Kuta, only few minutes away from the Ngurah Rai International Airport. The guests enjoy the comfort and experience Balinese hospitality with international service standards.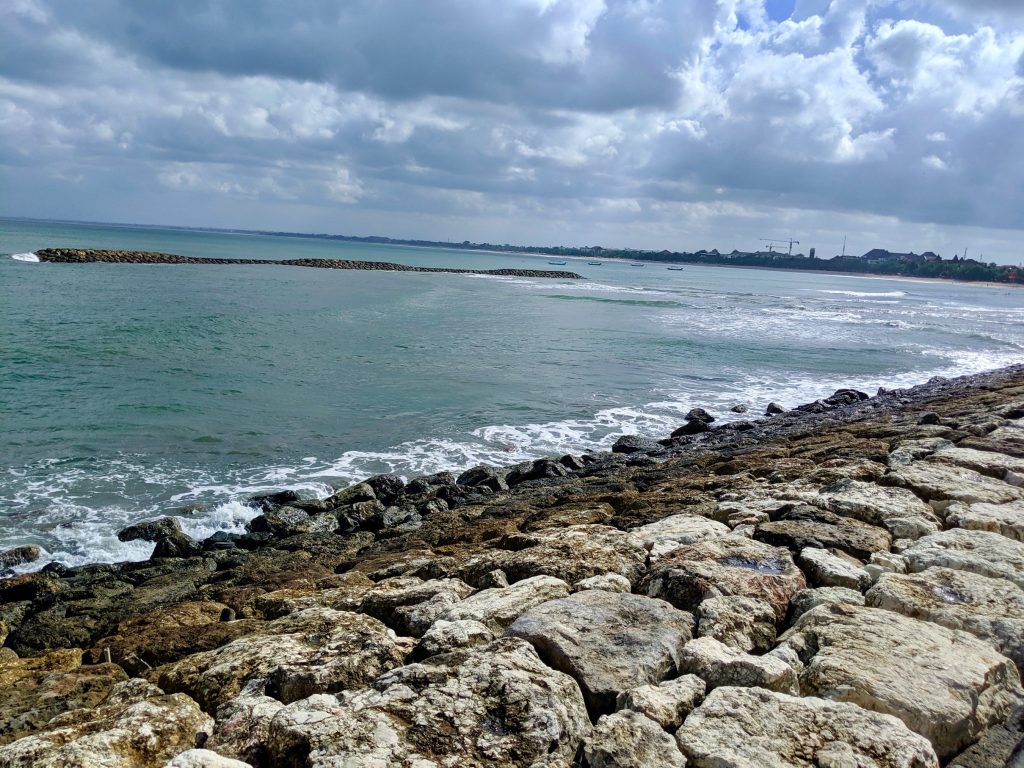 The hotel takes care of the guest's recreation. While there is a beach for the guests to enjoy, there are also 2 pools. One for the kids and one for the adults. In the big pool, people can swim, dip, play, relax and cool down. Not only that, one can enjoy pool games like pool basketball also. You can also directly access the beach from the hotel. There's a beach volleyball court as well to enjoy along with indoor/outdoor table tennis courts and squash courts. People also enjoy activities like running and jogging on the beach track.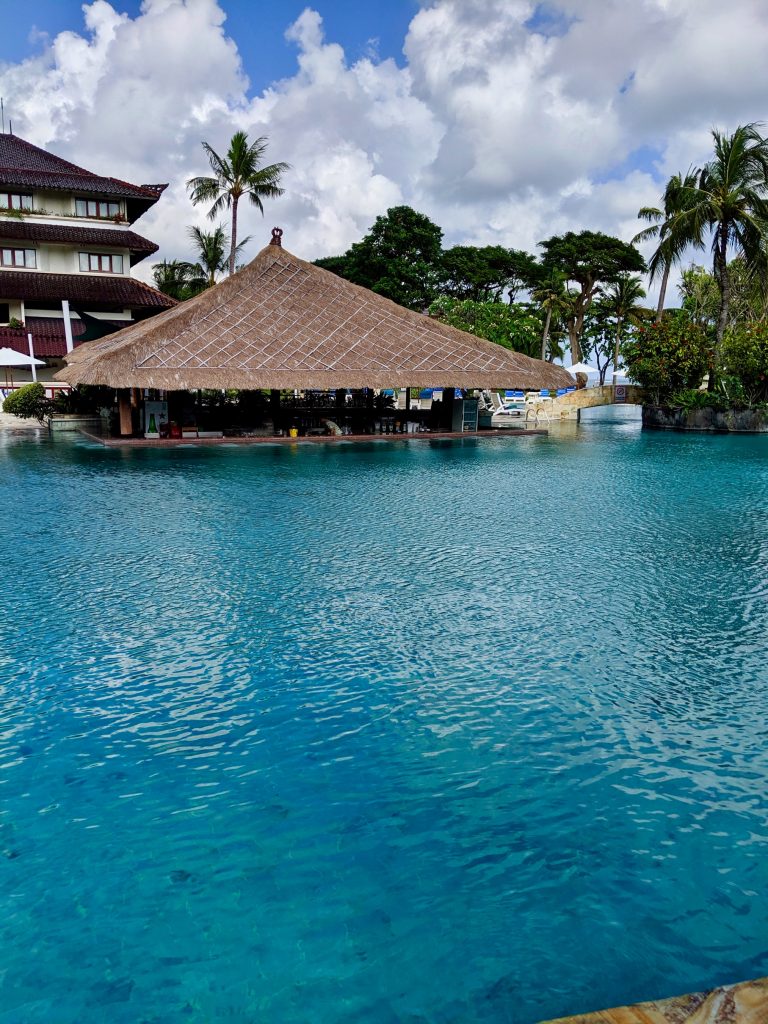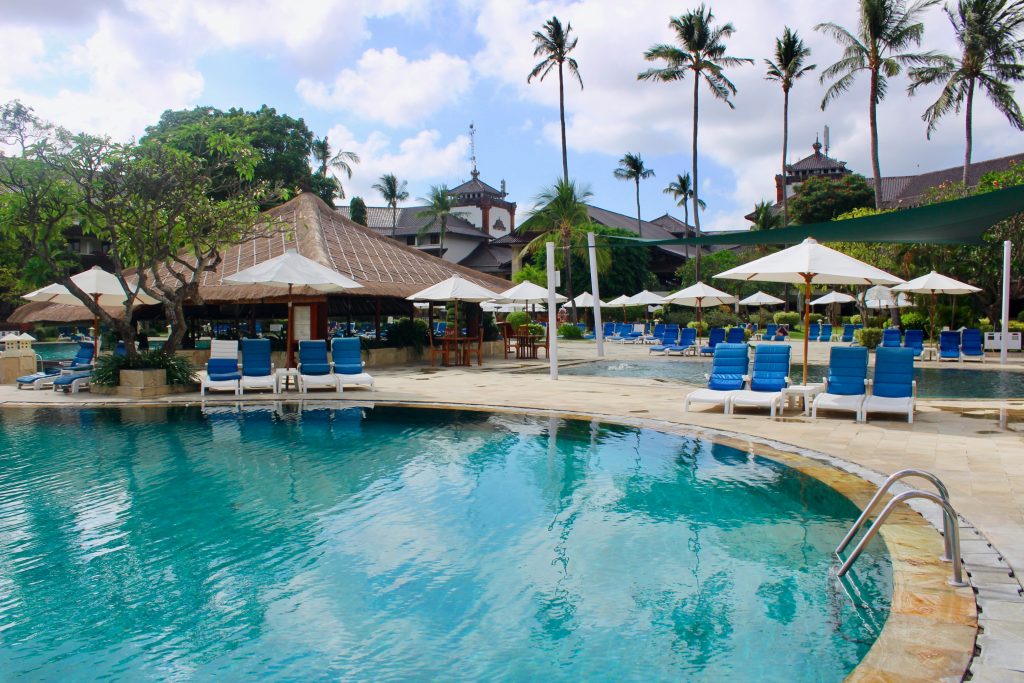 The hotel also has a Fitness Centre which is well equipped with all modern equipments for complete fitness of body, mind and soul. For the little ones, there is a Kids Club too that ensures daycare facilities for kids aged between 5 to 12 years old so that they are looked after during the day and kept happy, occupied as well as well-fed with their favourite items from the kid's menu. This is a free facility for all the hotel guests. Ample options in the form of board games, books and fun activities are also there for kids.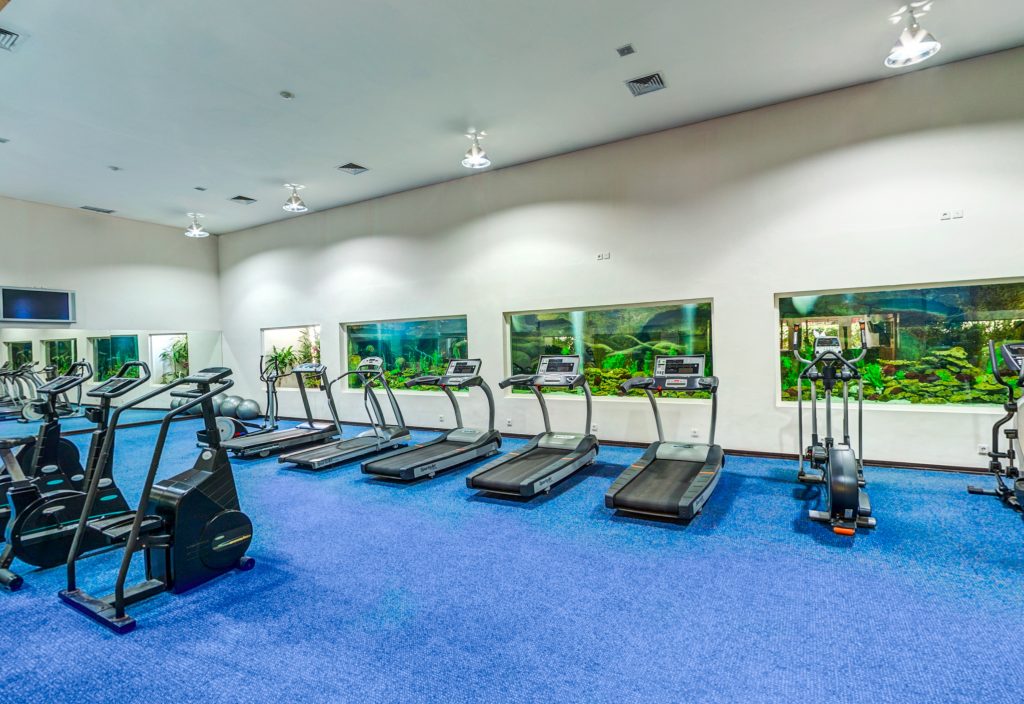 As we go downstairs near the lobby we find Discovery Kartika Boutique with a great collection of artefacts, clothing, jewellery, bags, shoes, paintings, sculptures, etc. There is also a Tour Desk if the guests would like to indulge in sightseeing.
Discovery Kartika Plaza is an amazing place to stay in. With everything around from recreation to beach to shopping to the airport… I don't think one can escape its beauty. Discovery Shopping Mall, the beach front, the lovely poolside, the food, the lovely hospitality as well as the staff of the hotel, pool games, open spaces, the spa, the Bali sun, breeze & air, freshest of fruits, the amazing Discovery Suite, the amenities, the music, the people all will be missed and you need to go there to experience it all! So whether it's a family trip or your honeymoon, you know where to stay now in Bali!
---
With inputs from Shilpa Arora
Photographs by Shubham Arora & Discovery Kartika Plaza Hotel