I love the vivid culture India has where one gets to learn about different religions as well as their festivities. I have enjoyed the splendour of Christmas as much as I enjoy Diwali so when I got an invitation for a Ramadan Food Walk from Novotel Hyderabad Airport we could not say 'NO'. After a 2 hour flight we landed in Hyderabad, the City of Nizams from where in a few minutes we entered the plush and beautiful hotel. A look around and I was captivated with the serene surroundings filled with greenery and nature.
Built over six acres of beautifully landscaped area, it looked like a landmark in itself. Lobby extends great aesthetics with a floral bunch as you enter. A unique circular pattern is the front office where the ever-smiling front office executives ensure a smooth check-in. Lobby has varied seating options in the form of comfortable couches in different hues like blue and grey. A very visually appealing bar makes a stunning impression with circular patterns again with colourful lights. A relaxed feeling immediately comes with interiors done with a modern touch. The hotel has 289 spaciously done rooms and suites. There are 7 Suites while rooms are spread across Superior and Premier rooms. The hotel has also has a convention hall at the other end of the lobby and on the way to the banquet hall are more seating options in cabanas and low seating stools. Interestingly, a lot of these are used by wedding guests to relax while pheras are happening.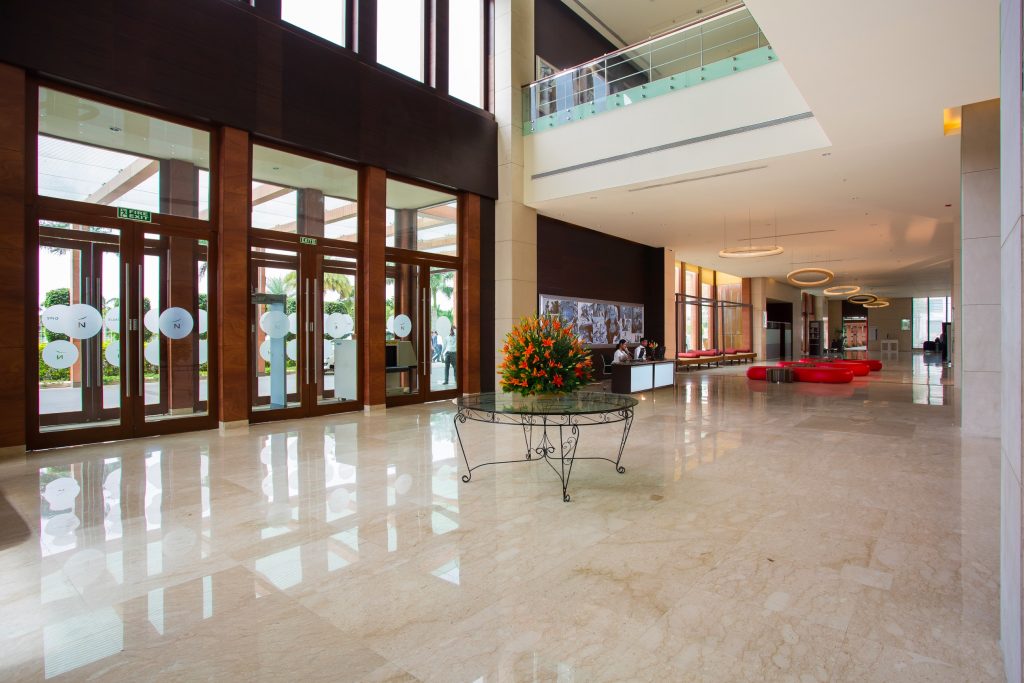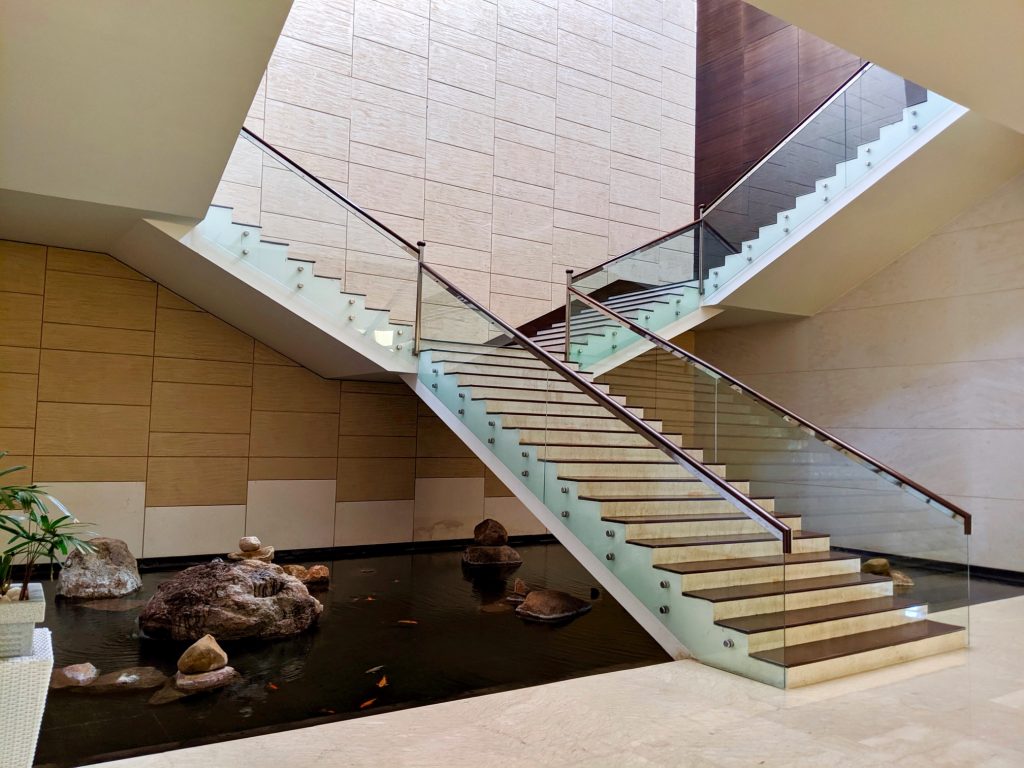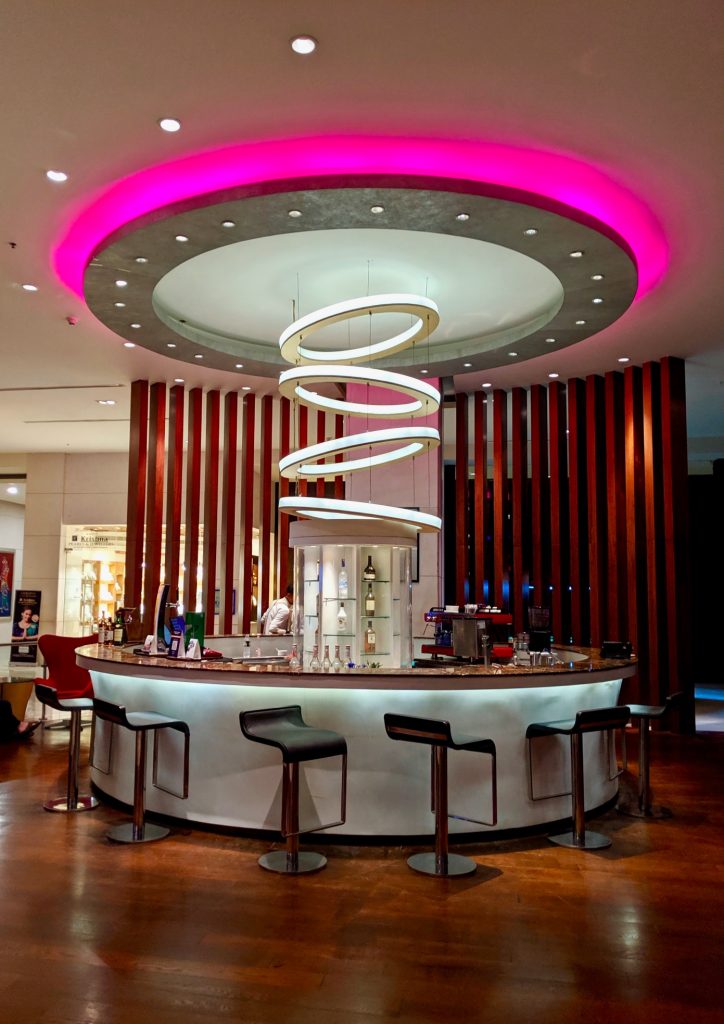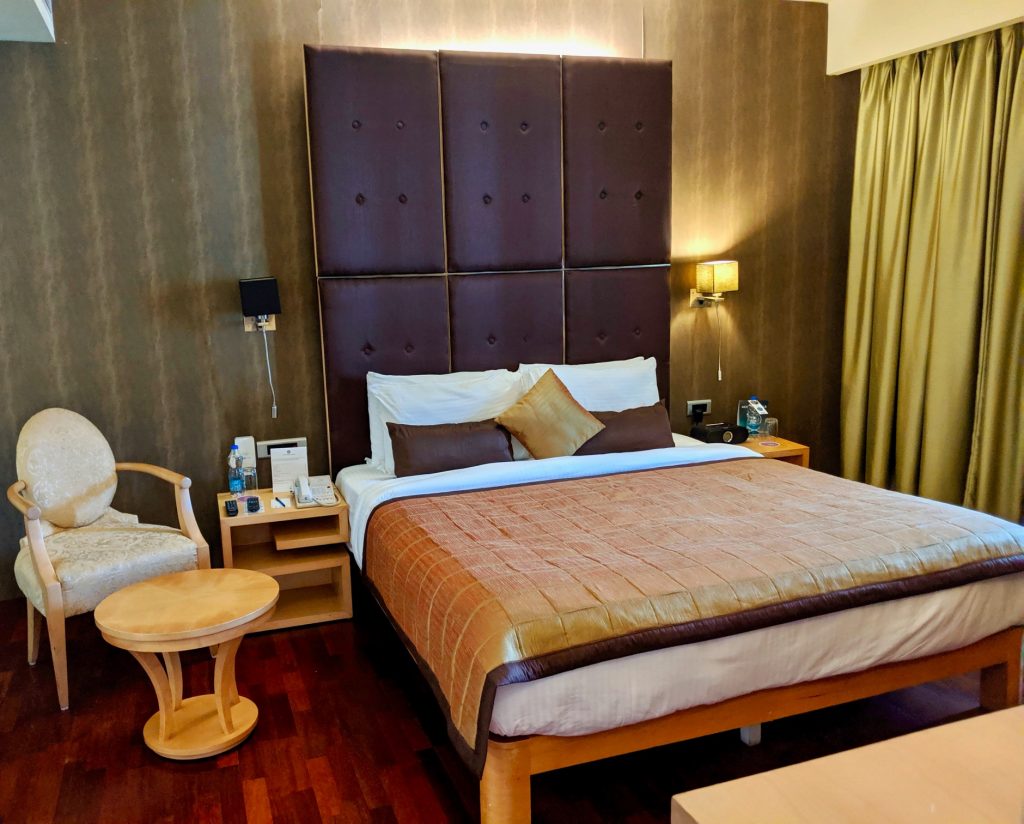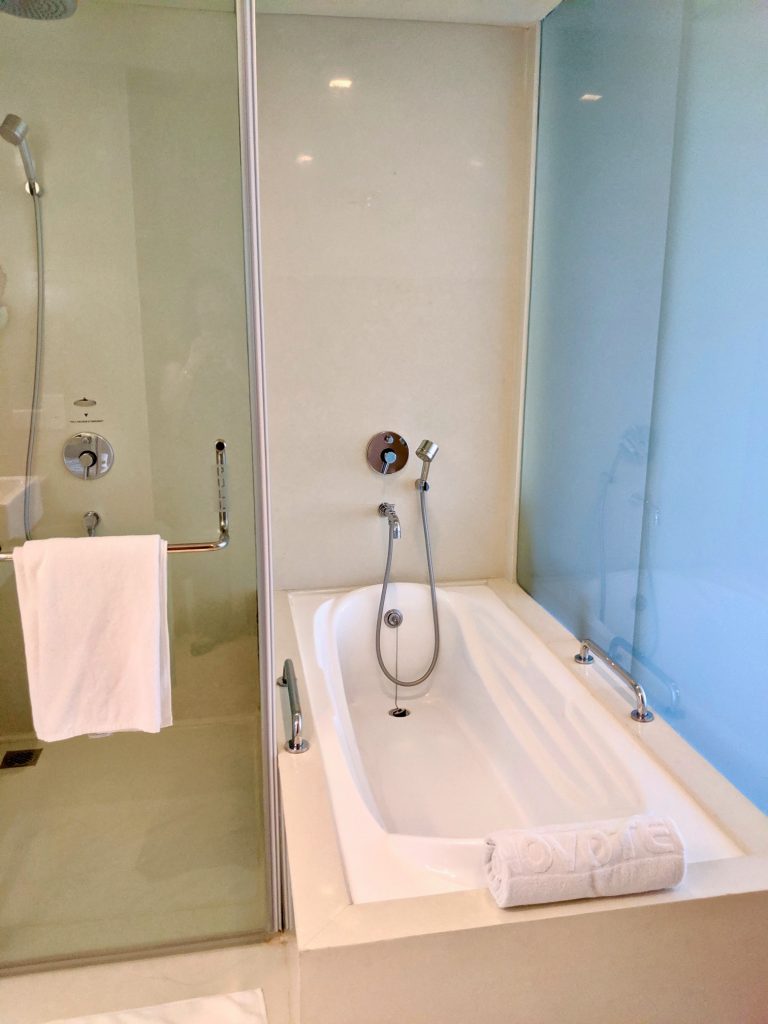 We checked in the superior room and loved the cozy feel with natural light popping out from the huge glass brightening the room. Natural wooden hues dominate the room with white furnishing and black lamps on the sides of the bed. 'A well furnished room with all modern facilities giving a calming effect' is how I would like to summarise it! A lovely landscape of the natural vicinity of the city could be seen from the glass window. For a person like me glued on to social media day and night there were also welcome goodies with sweets and chocolates with logo of different social media websites. Such a cool idea!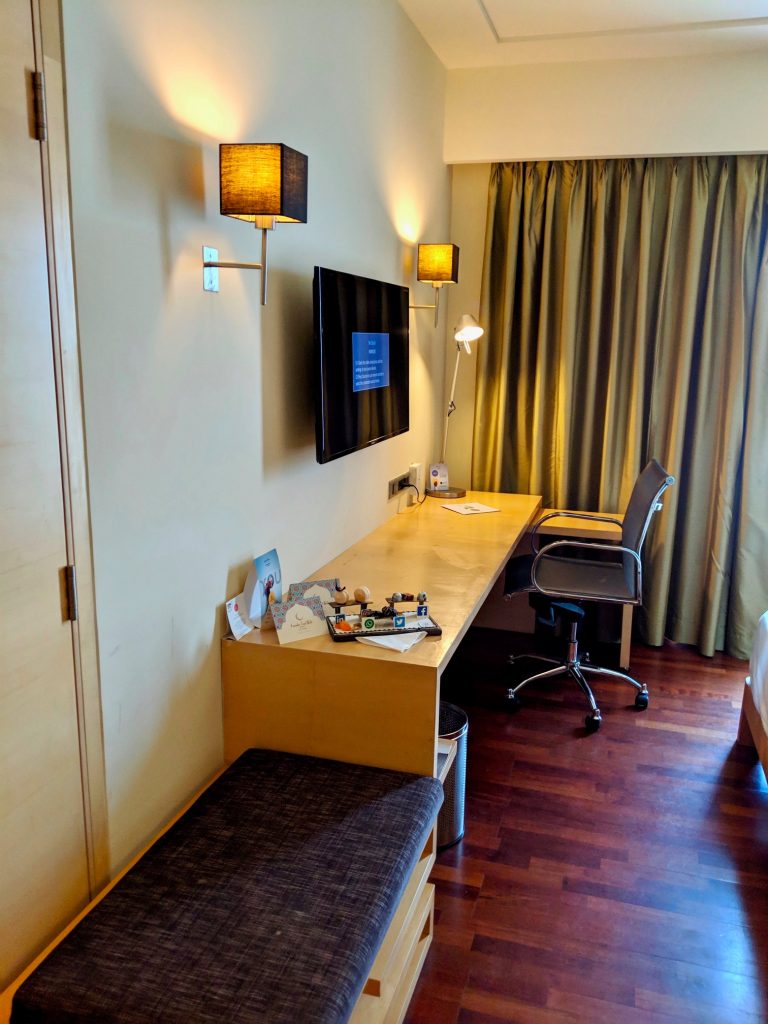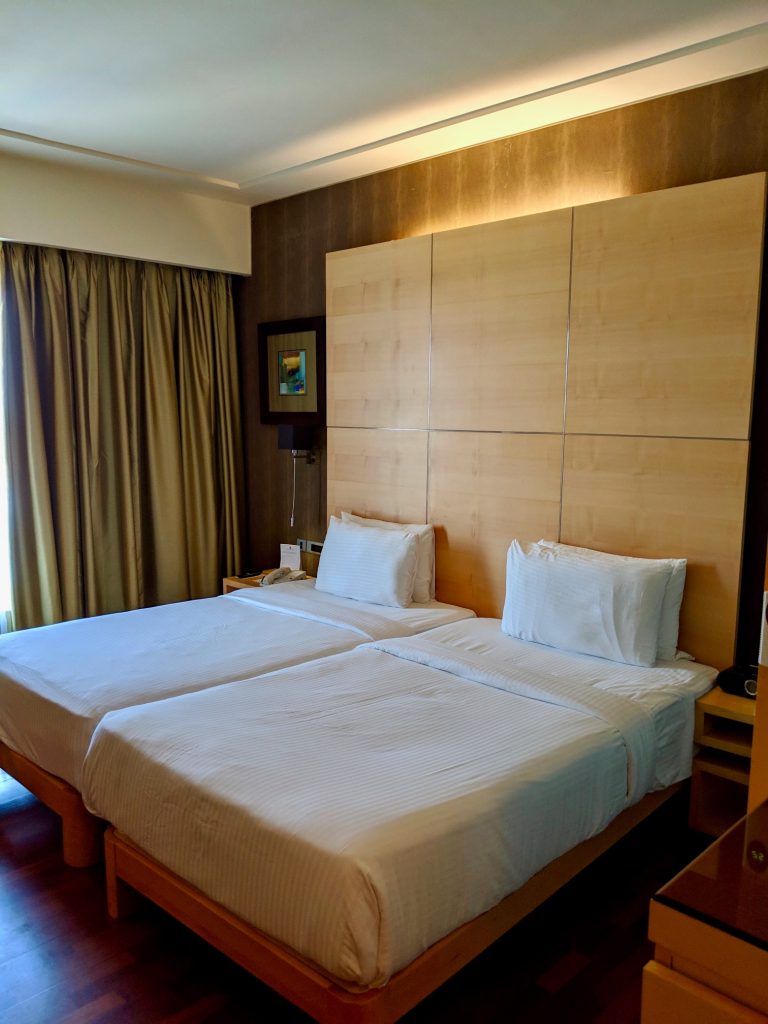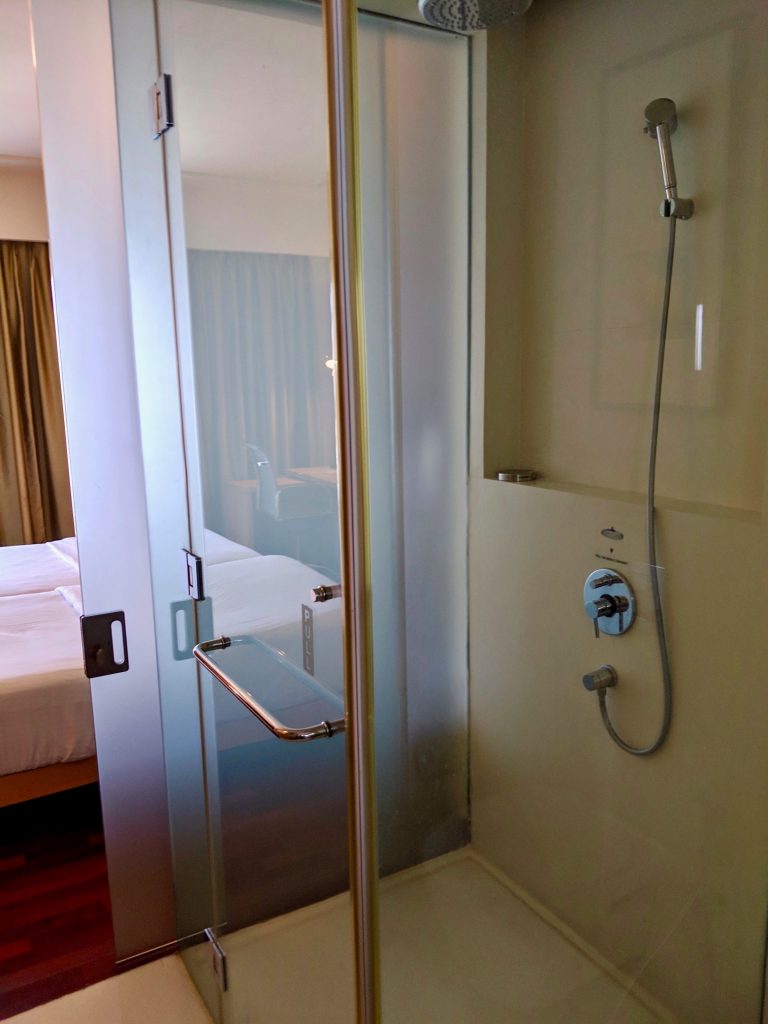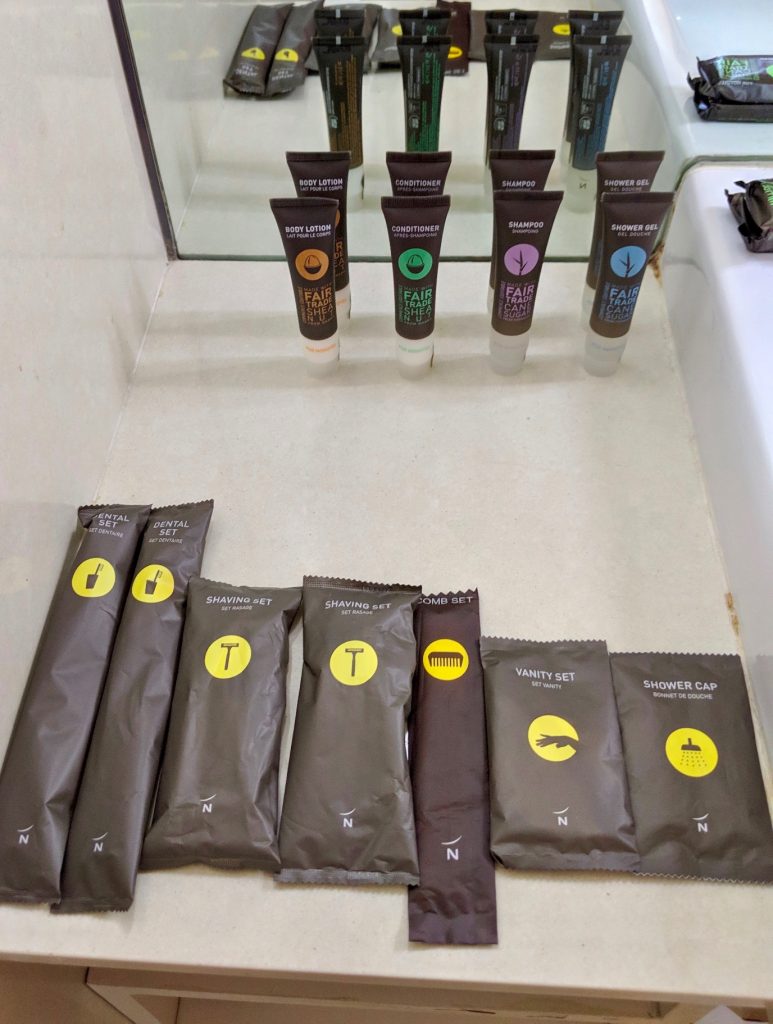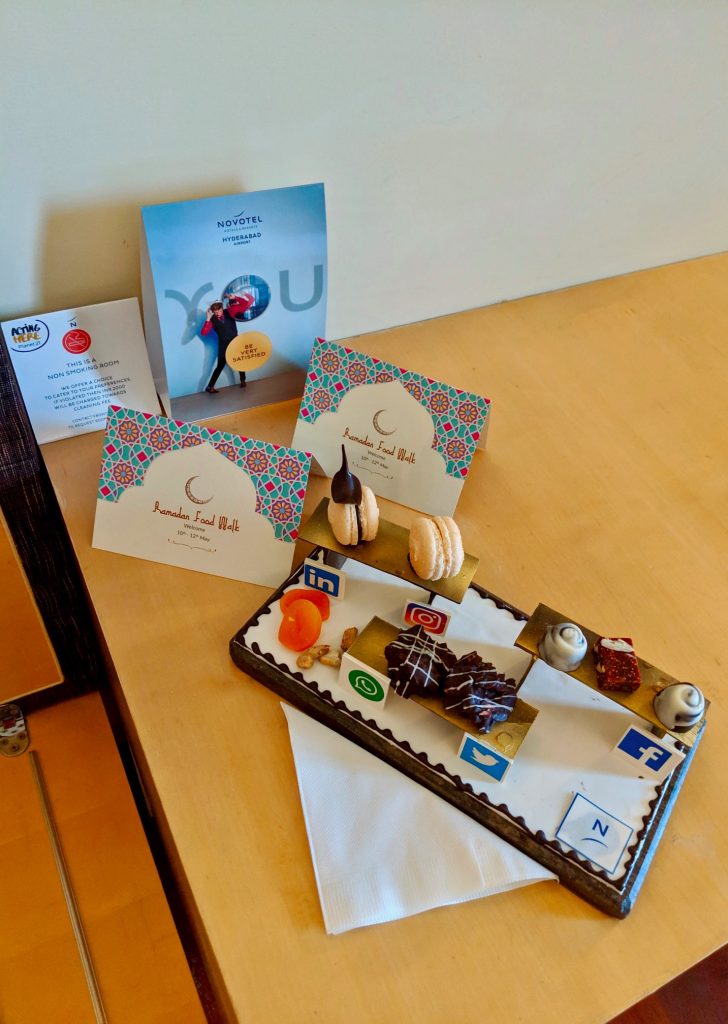 The 10-year-old hotel caters to the wide requirements of its guests. With location being the key advantage, the hotel is a preferred option not only for corporate fliers or families but also a lot of airline crew. Novotel Hyderabad Airport is a modern living, full service five star hotel that hails amidst the serene landscape, inviting you to embrace the joy of travelling with luxury and convenience.
It was time for lunch and we headed to the gorgeous restaurant 'The Square' where a buffet spread across multi-cuisine dishes was waiting for us. From soups to salads to breads to oriental to North Indian, main course and biryani. There was also a pickle and podi section which had a varied variety. And ofcourse the huge dessert section which comprised of the best desserts and ice creams with an assortment of colourful and tempting toppings. I made my selective picks because in the evening was a special Ramadan dinner and I wanted to build up my appetite for the same. The Square is a specialty Multi-cuisine restaurant at Novotel which is open 24 hours. Loved the soothing well-lit atmosphere and how the buffet was laid out.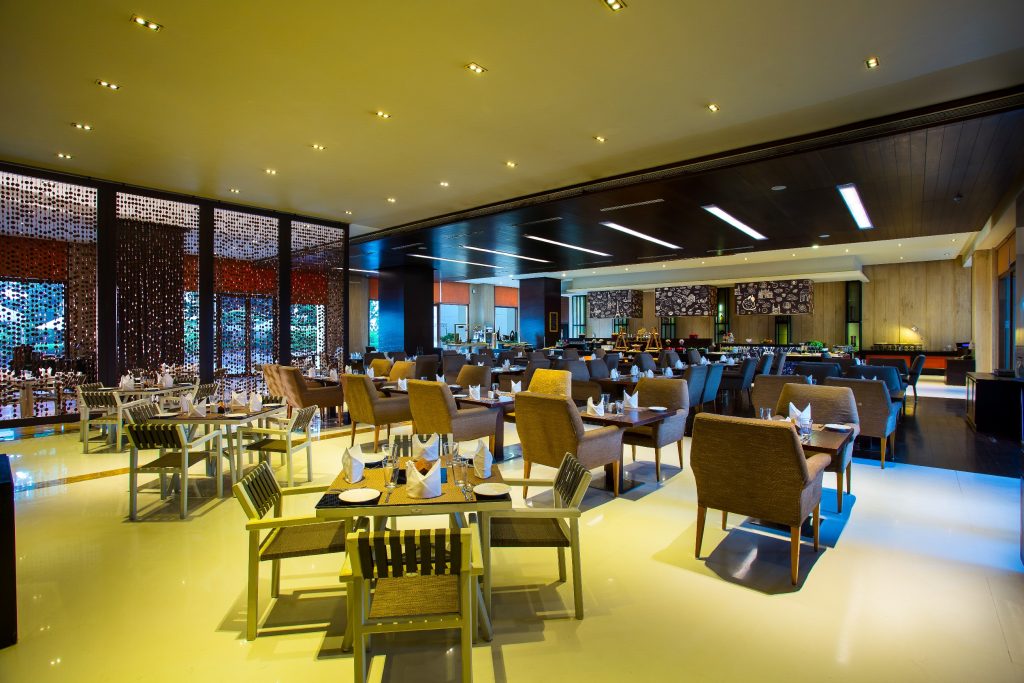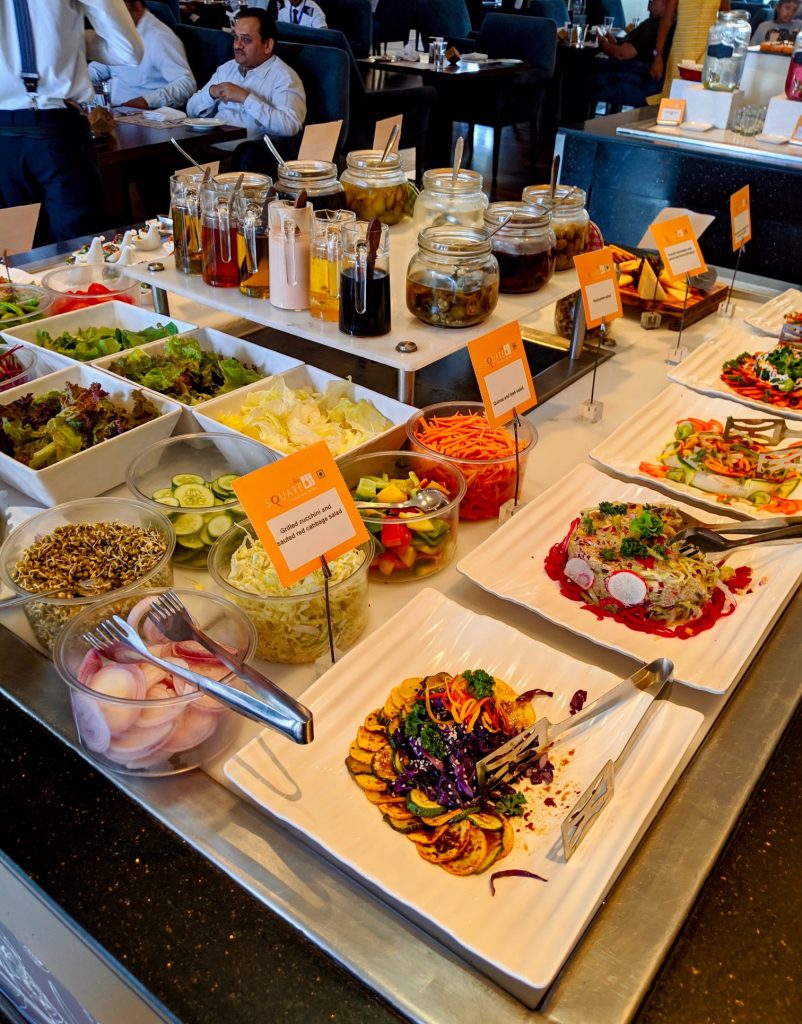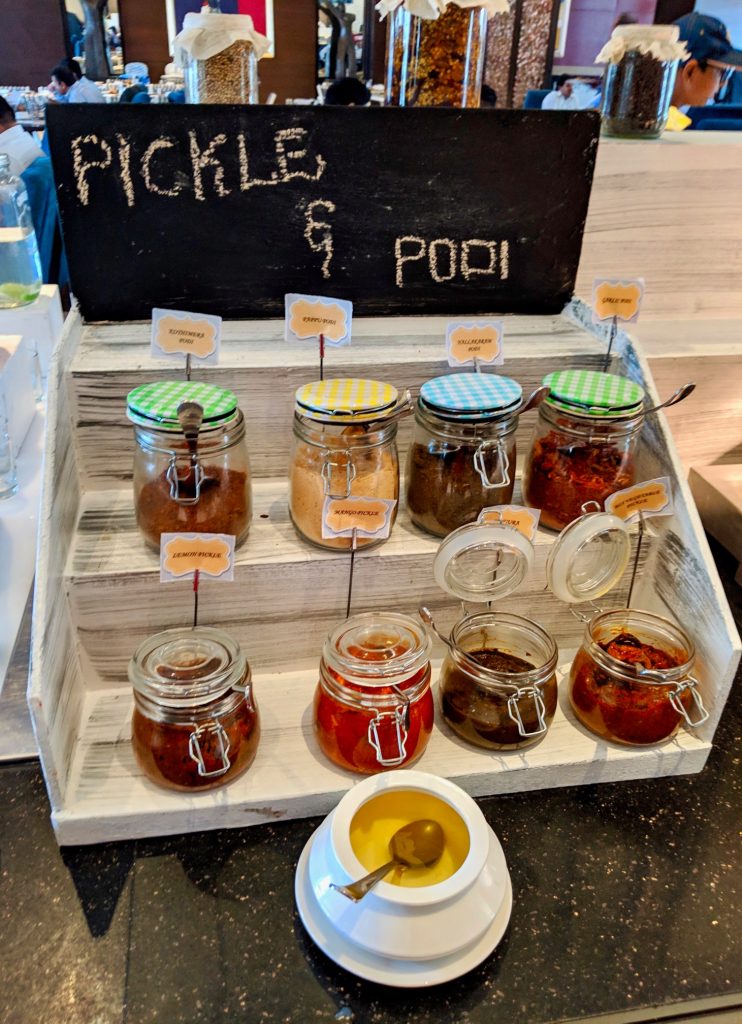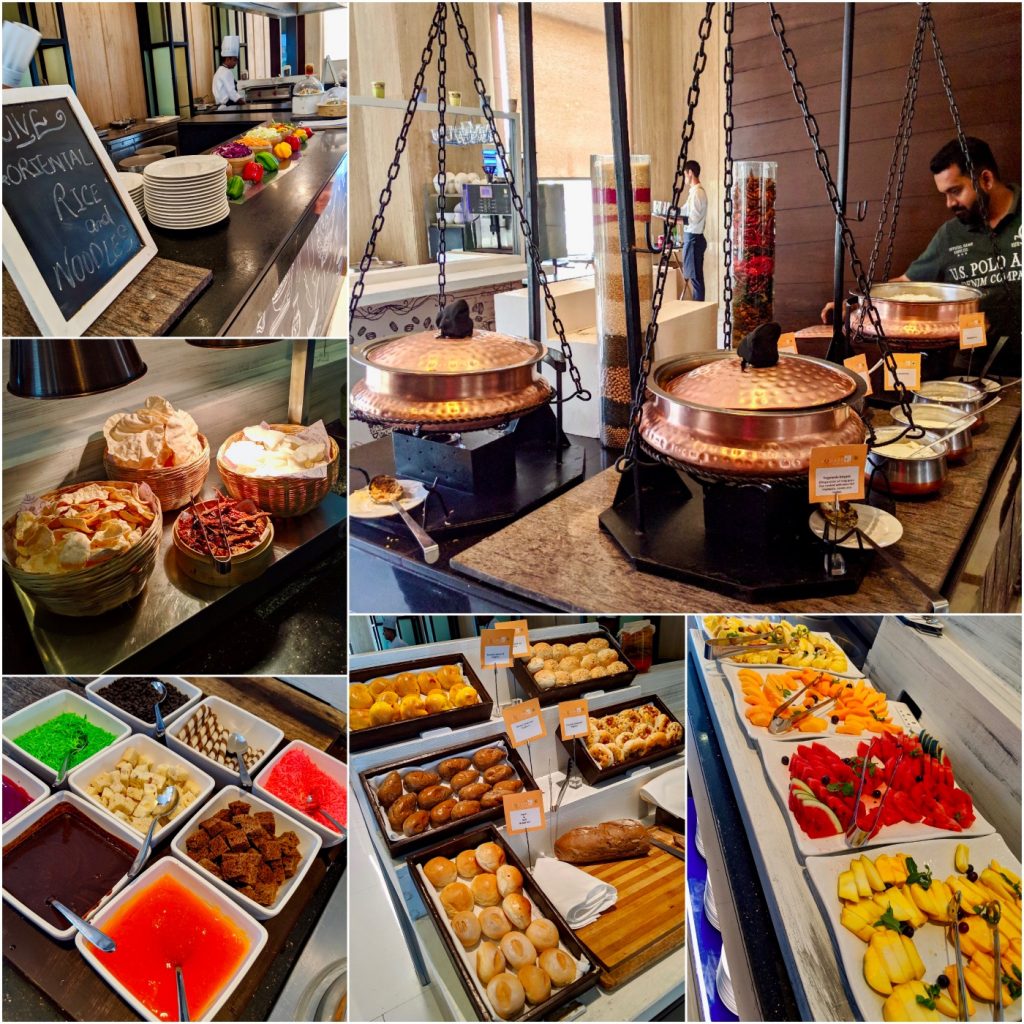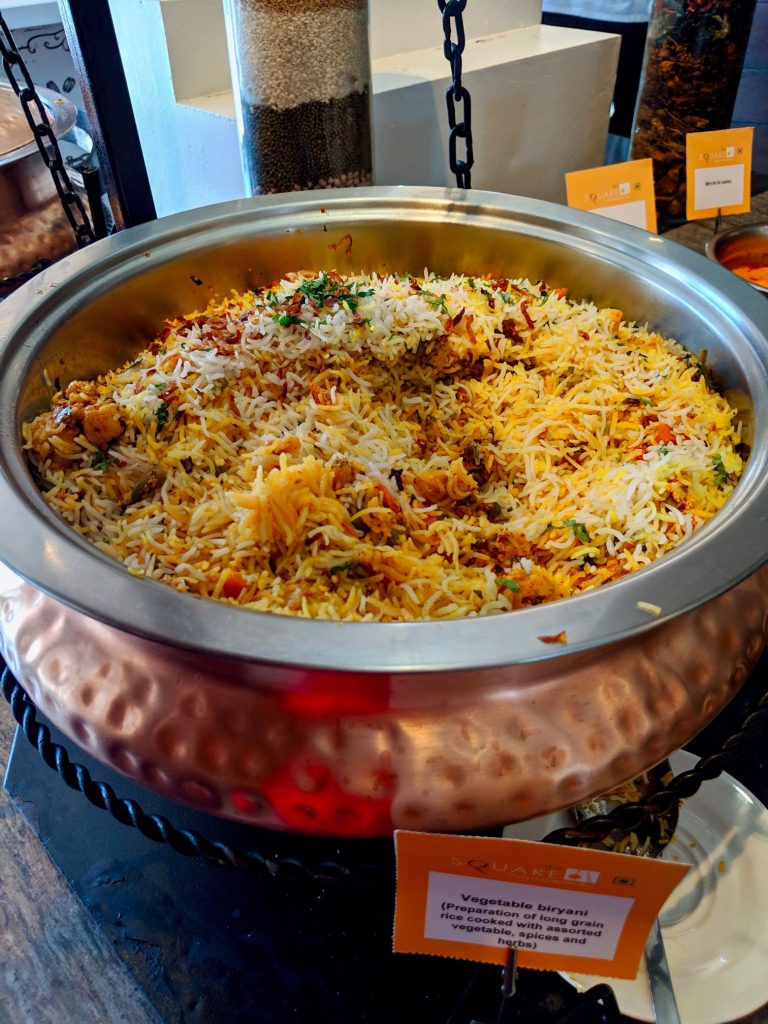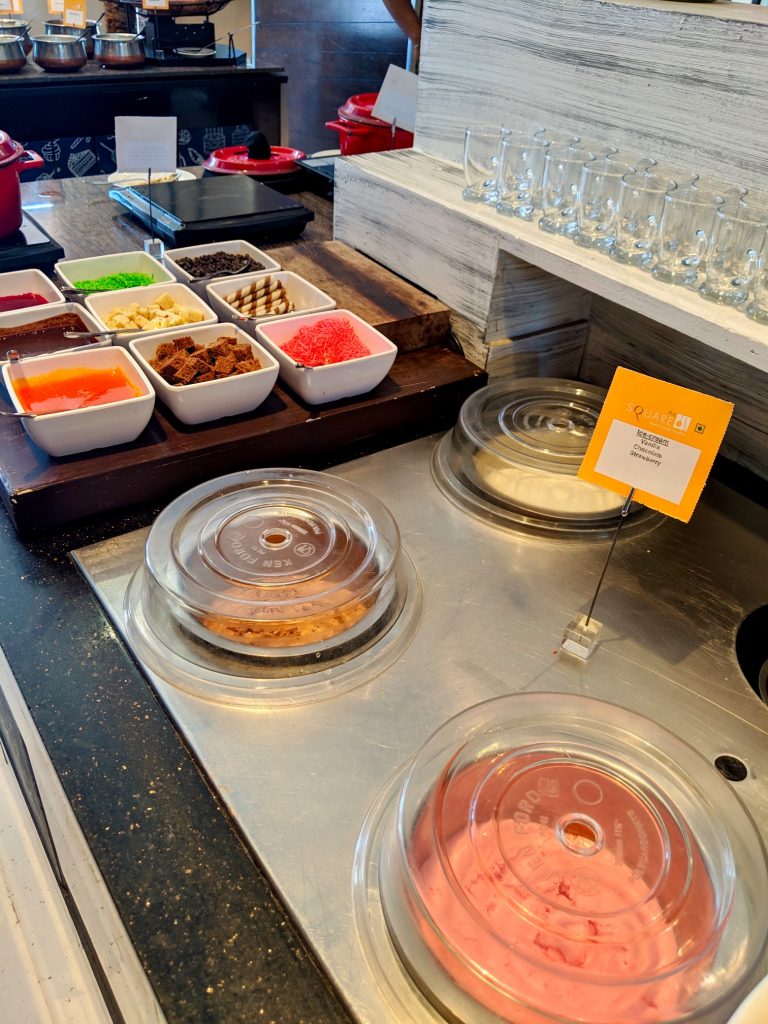 Whenever I travel I like to checkout the local markets and tourist spots and the hotel had arranged a visit to Shilparamam, an arts and crafts village located in Madhapur. Being a Delhiite I was introduced to this place as the Dilli Haat of Hyderabad, but honestly my expectation were not fully met. A wide variety of handicrafts, clothes, accessories, paintings, footwear, pearl jewelry etc. were spotted. Though I didn't buy anything because I would have spotted similar things at Dilli Haat or Janpath in Delhi.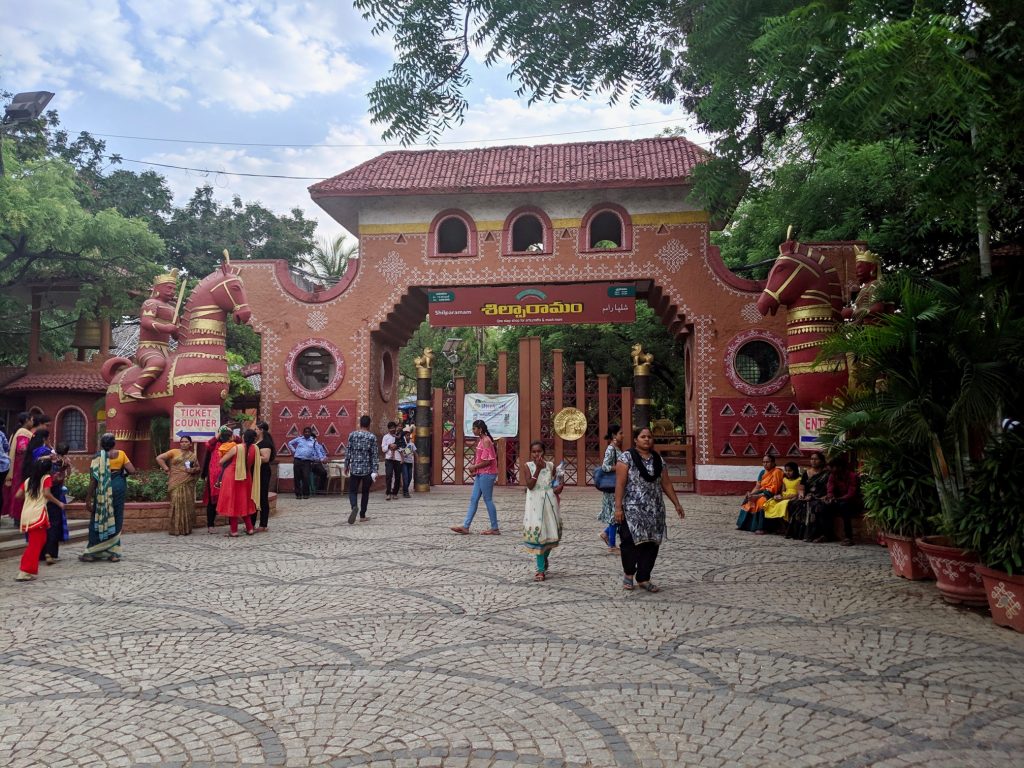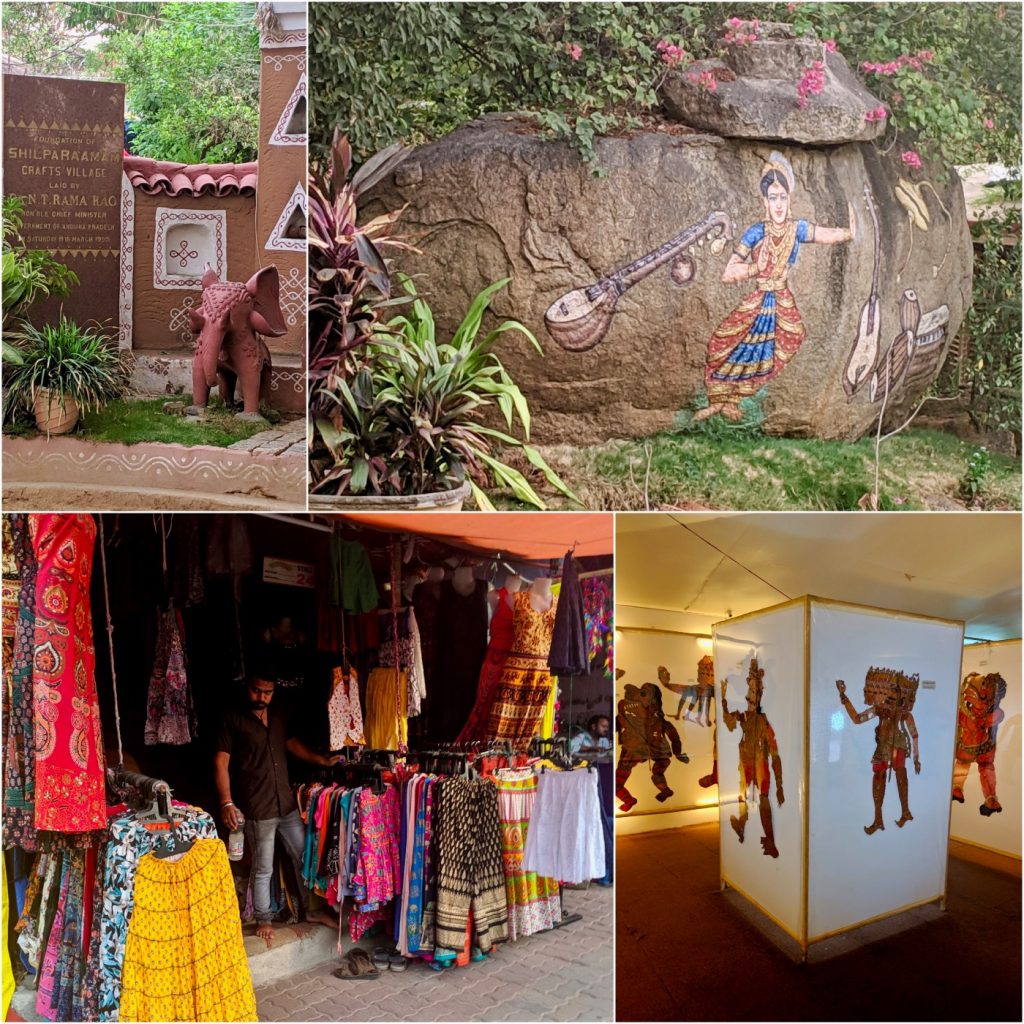 We came back and after freshening up, we headed to the special Ramadan Dinner which Chefs of Novotel Hyderabad Airport had prepared. The Ramadan Special evening was a memorable one with entertaining live music. Chef Varun and his team made sure there are yummy dishes not only for non-vegetarians but also vegetarians. My favourites include Paya Shorba with Shirmal Pondo which had a great aroma and nutrition. In veg starters, it was the Nawabi Paneer Tikka which was totally royal in its taste as well as presentation. Also loved the innovative Palak and Soya ki Seekh, right from the colour to the taste to the marination, everything was just perfect! In non-veg starters both Tandoori Murgha and Dakhni Talahuwa Jhinga left a stunning impression! The former was juicy and soft while latter was crisp and yummy.
Coming to the main course, it was Methi Bhindi which I absolutely loved owing to its unique flavour and texture while in non-veg delicacies, it was Haleem. Moving to desserts, it was Double ka Meetha which left a great after taste. I honestly didn't know that there are so many unique varieties for vegetarians too. Being a foodie, I relish both vegetarian as well as non vegetarian dishes with equal enthusiasm. From the presentation to the flavours, everything was spot on.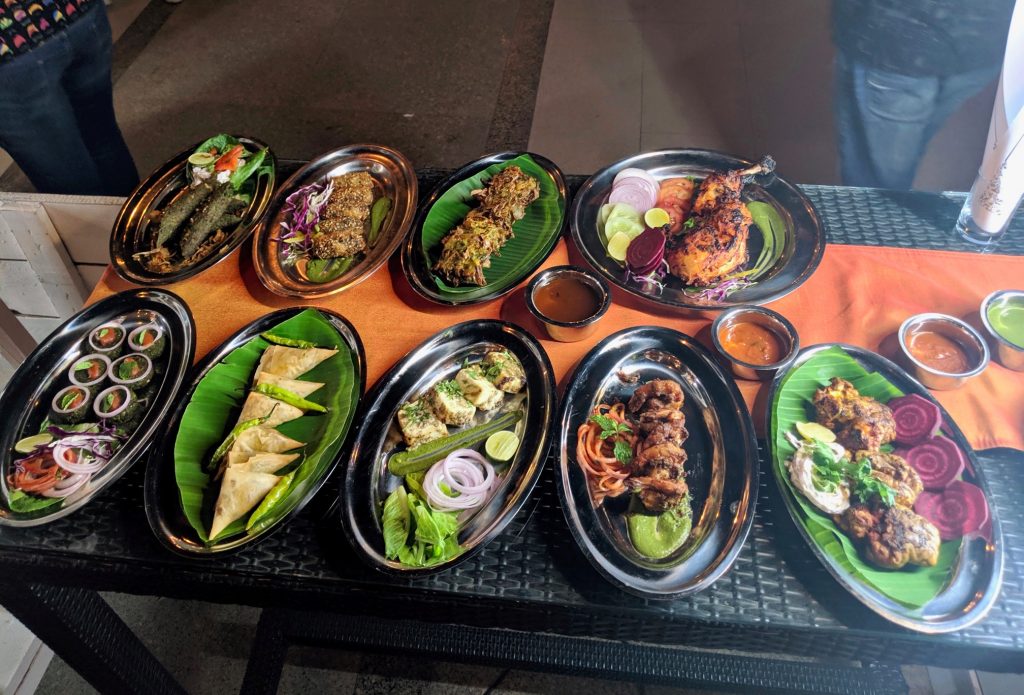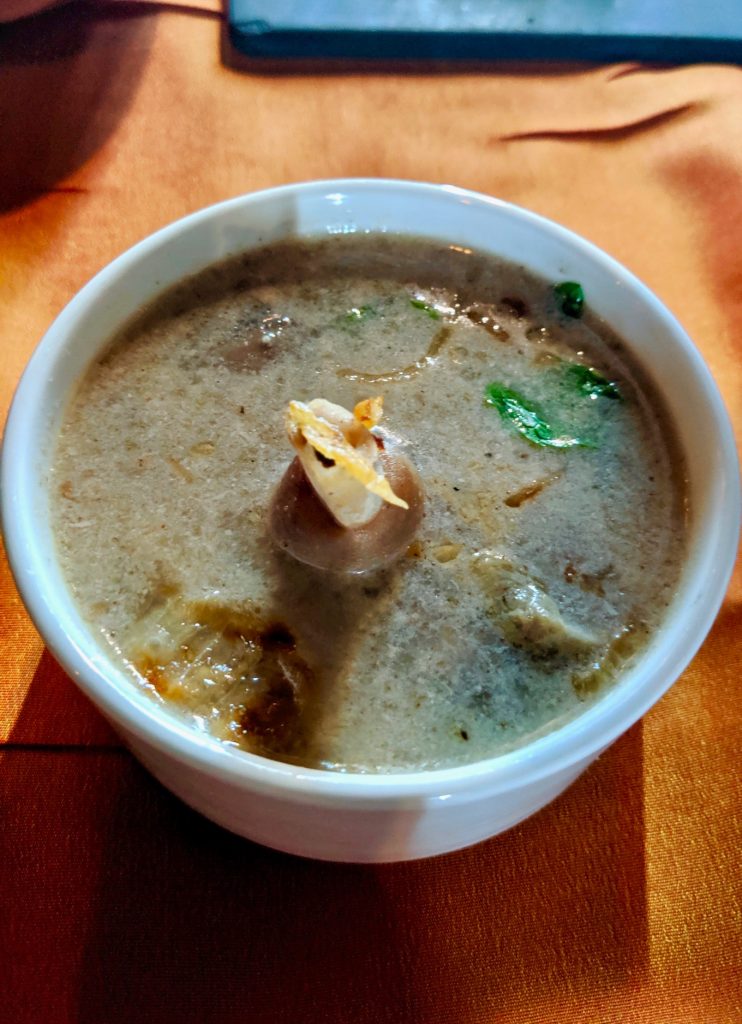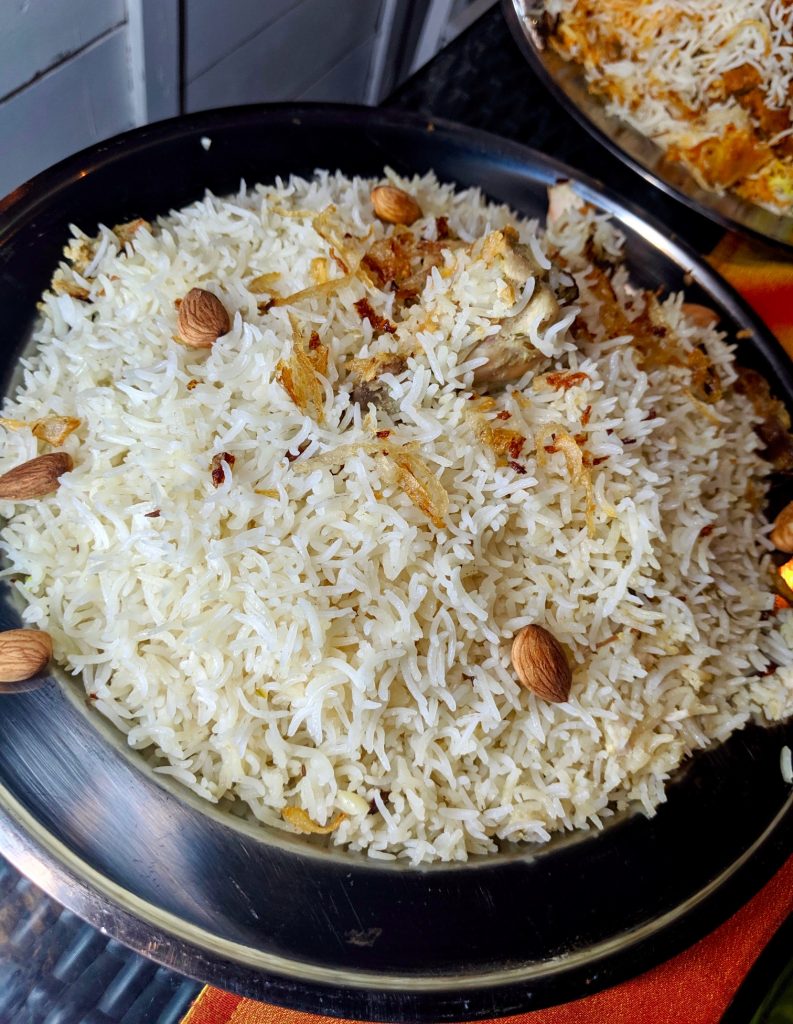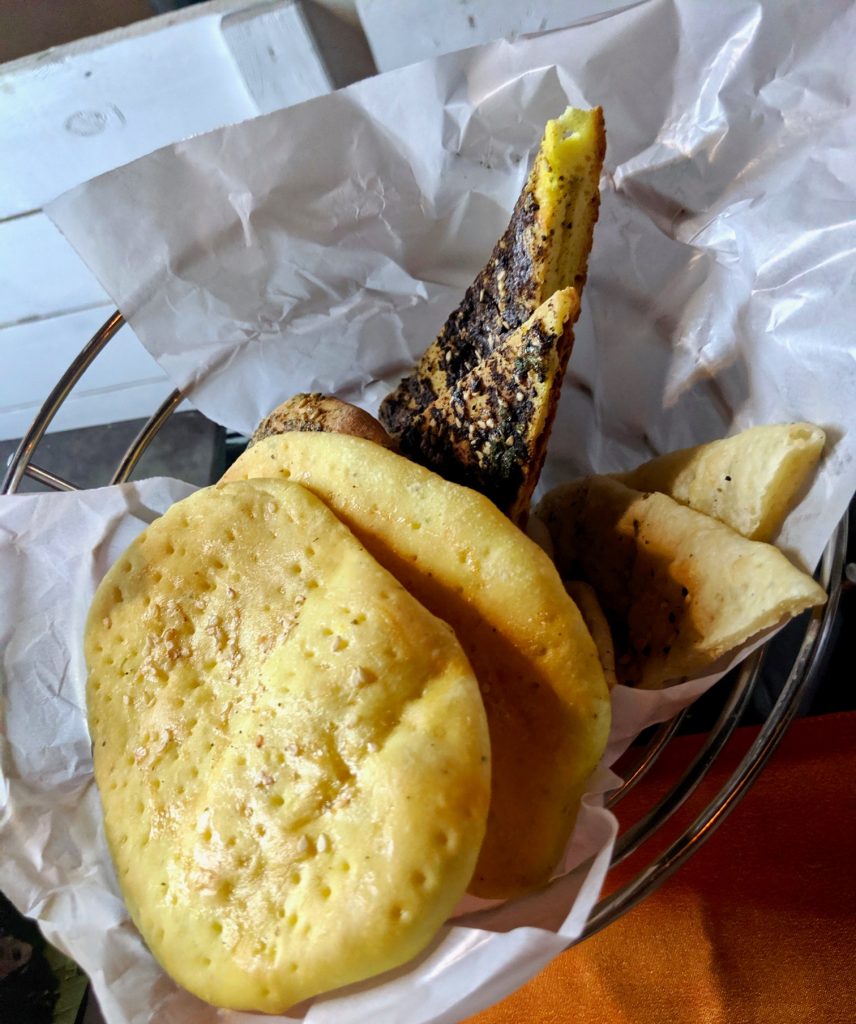 We then headed to the room to retire for the day for a fresh morning which awaited a lot of thrill.
A breakfast which starts in the lap of mother nature and chirping birds is one of the best starts of the day and that's what Novotel Hyderabad Airport surprised us with. A special breakfast was waiting for us at the Herb Garden of the hotel where chef whipped the best dishes. Passing through the greenery early morning which a Delhiite like me would have rarely seen, we headed to the Herb Garden. A tented ambience with colourful tyre stools and white table and benches delighted us. From a variety of Egg dishes to Barbeque to yummy desserts, there was everything what we could have asked for! On the sides were Tea/Coffee, Muesli while the desserts included Mango Yogurt and Mango Parfait!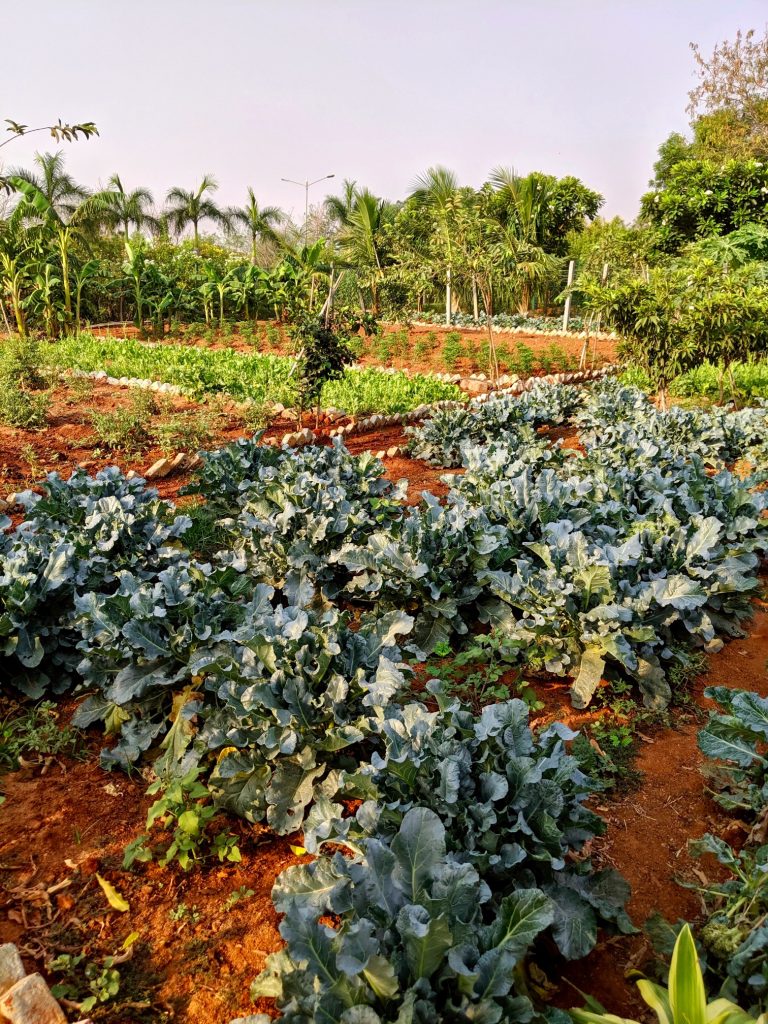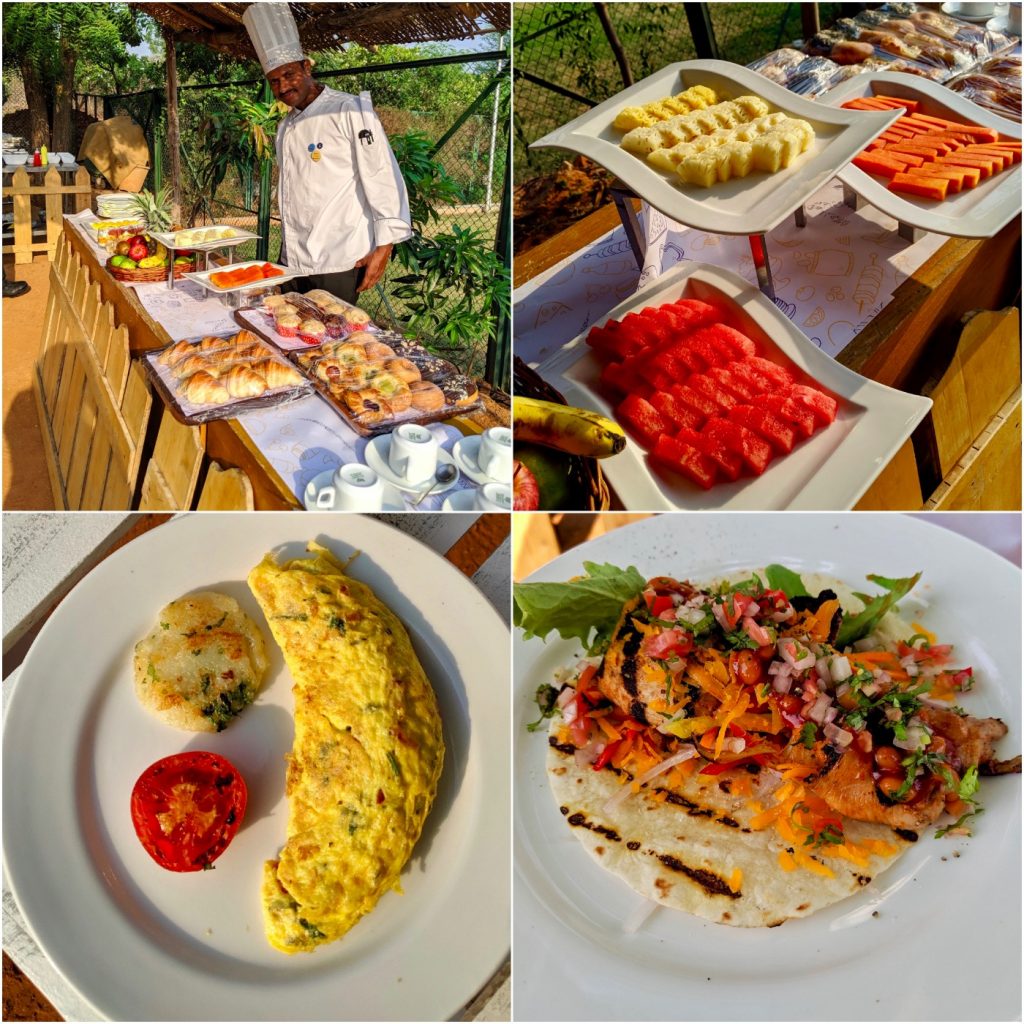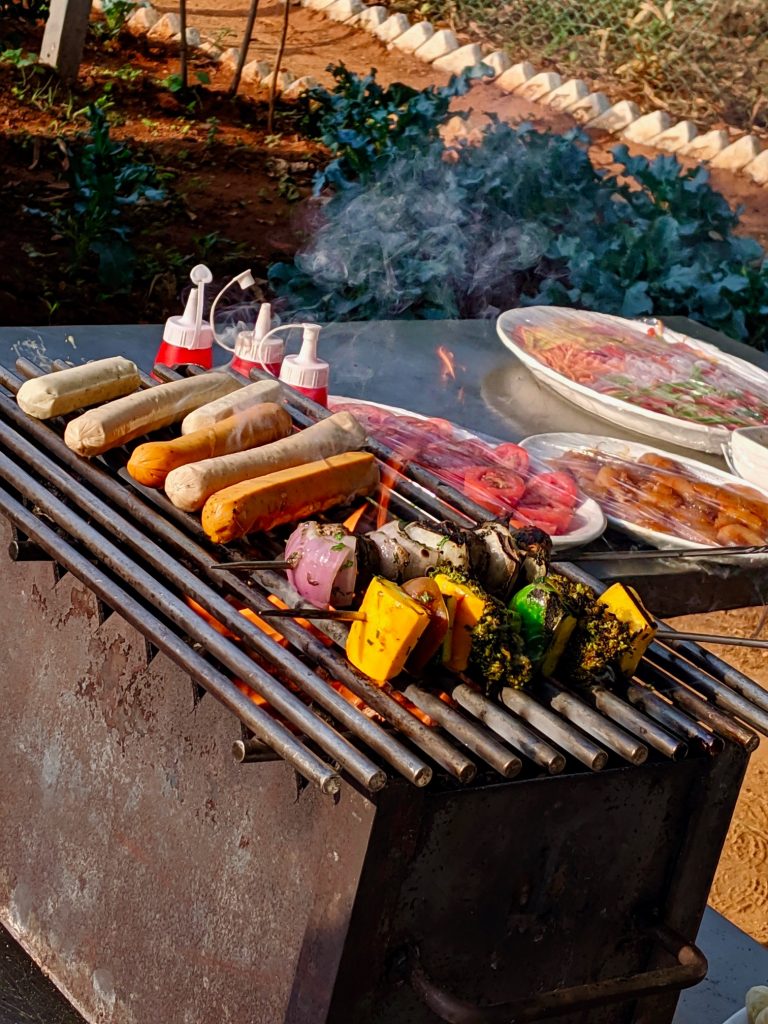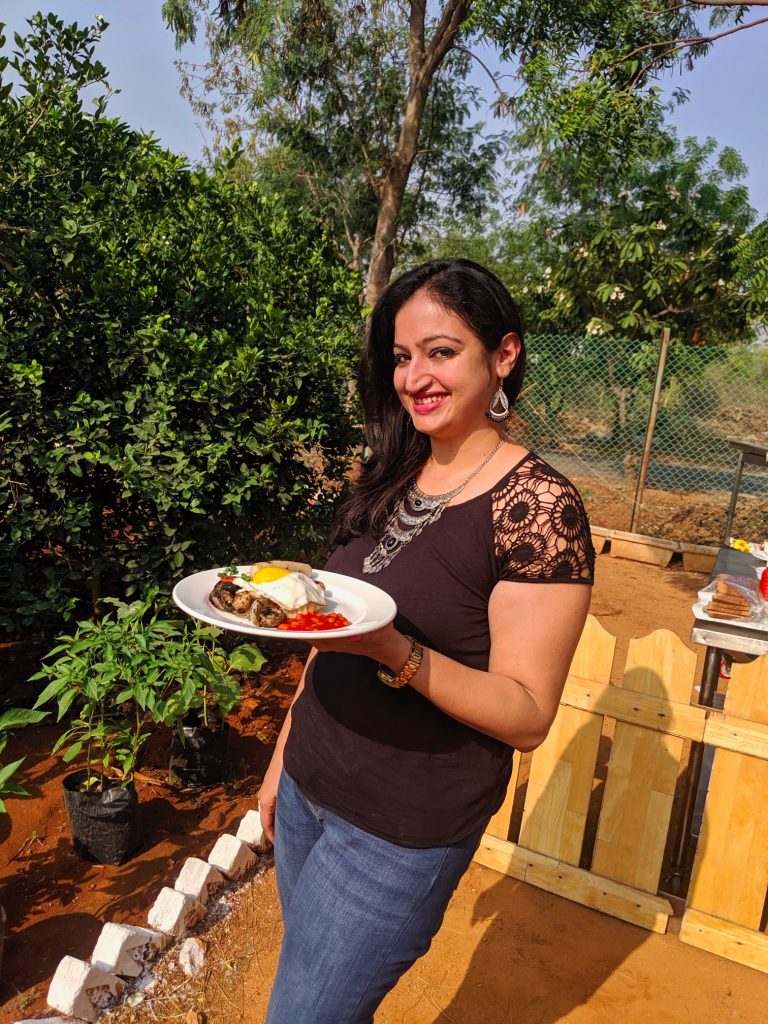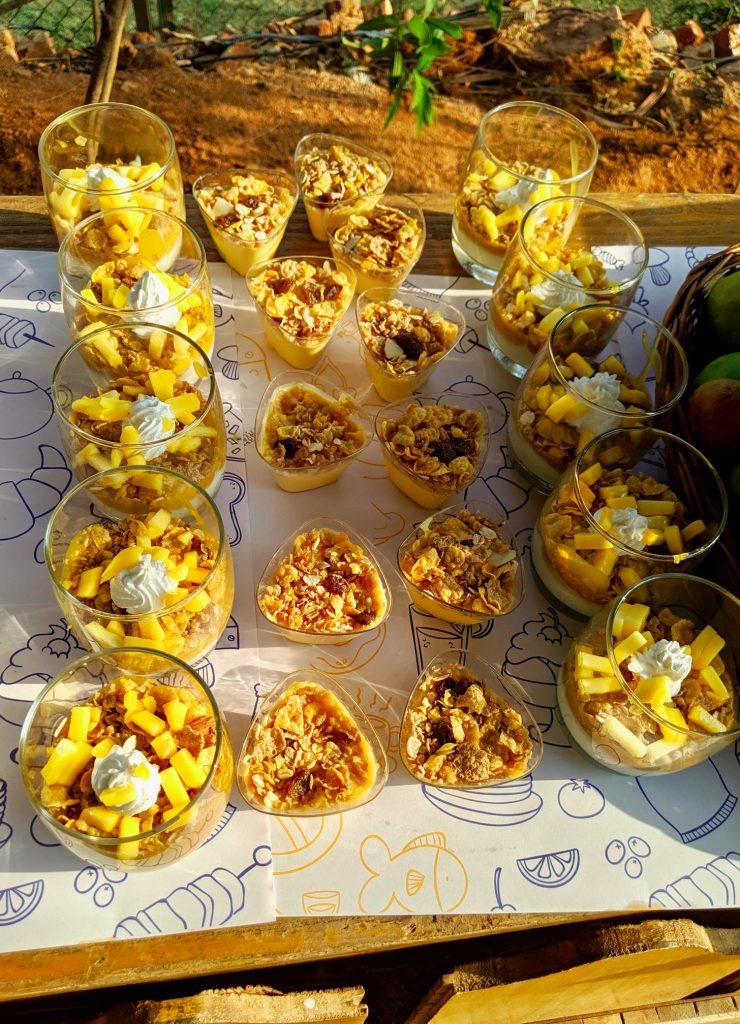 We also caught up with Ravi Khubchandani, the GM of the hotel who has been with the property for 3 years before which he has been with ibis Pune and other hotels in New Zealand.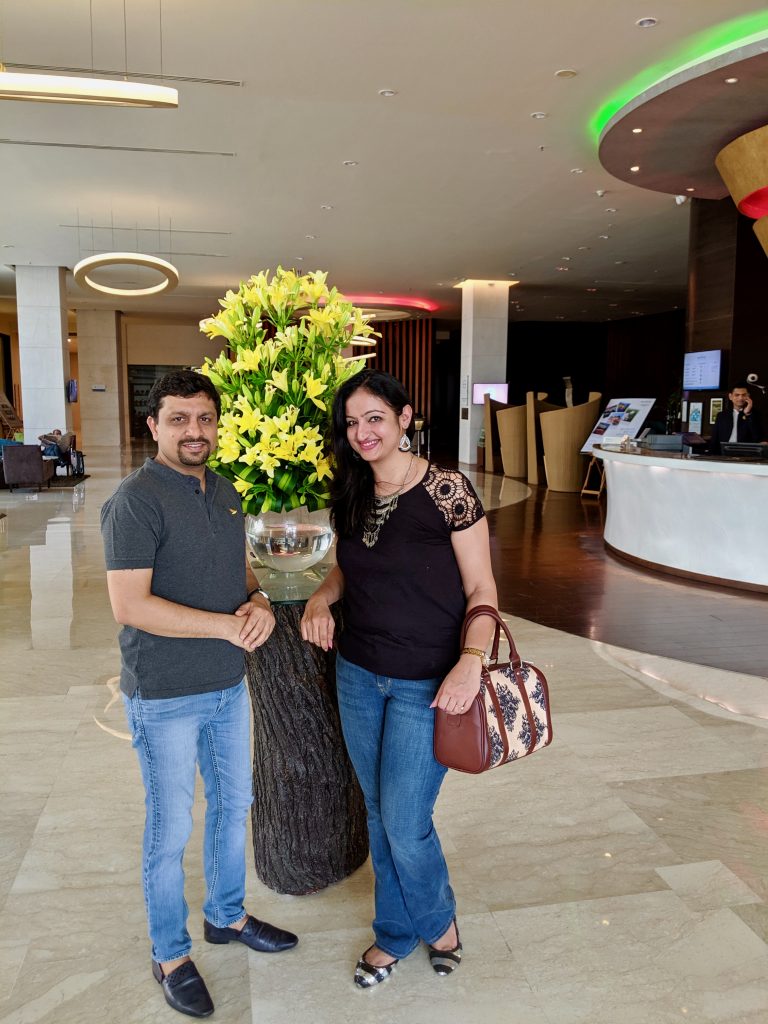 The hotel is perfect for families with kids too as the hotel also has interactive games for kids. I saw an Xbox and a play table but the hotel discourages screen time for kids and offers TT table, pool & indoor games. Nestled amidst lush gardens, breathtaking landscapes and cascading water body, Novotel Hyderabad Airport's outdoor swimming pool boasts of beautiful flora and transcendent serenity. This green zone of the hotel also serves as a rejuvenation area with its own sprawling pool deck and a special kiddie pool for children. Another unique initiative is that there were bicycles for guests who would want to cycle around the vicinity. There is also a gym in the basement of the hotel which is honestly one of the biggest hotel gyms I have ever seen. The 7000 sq. ft. well equipped gym is open 24 hours and has a yoga room, steam, sauna, changing room as well as lockers. There are 4 instructors who are available at the gym between 7 AM to 10 PM.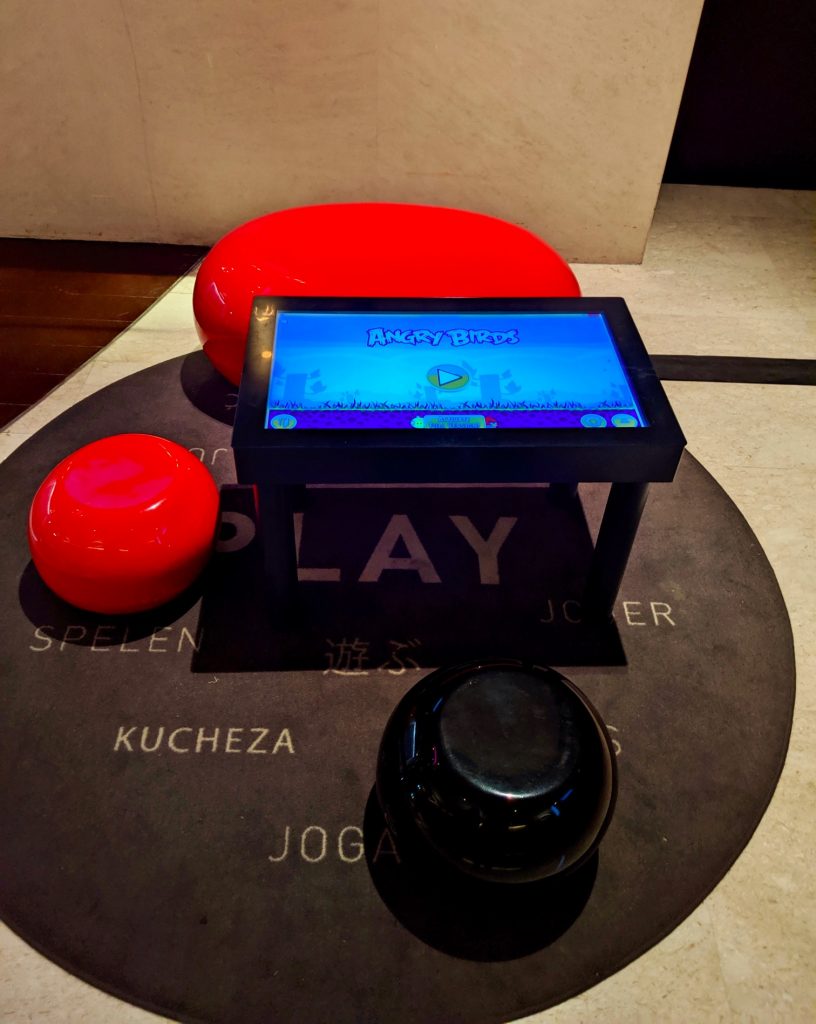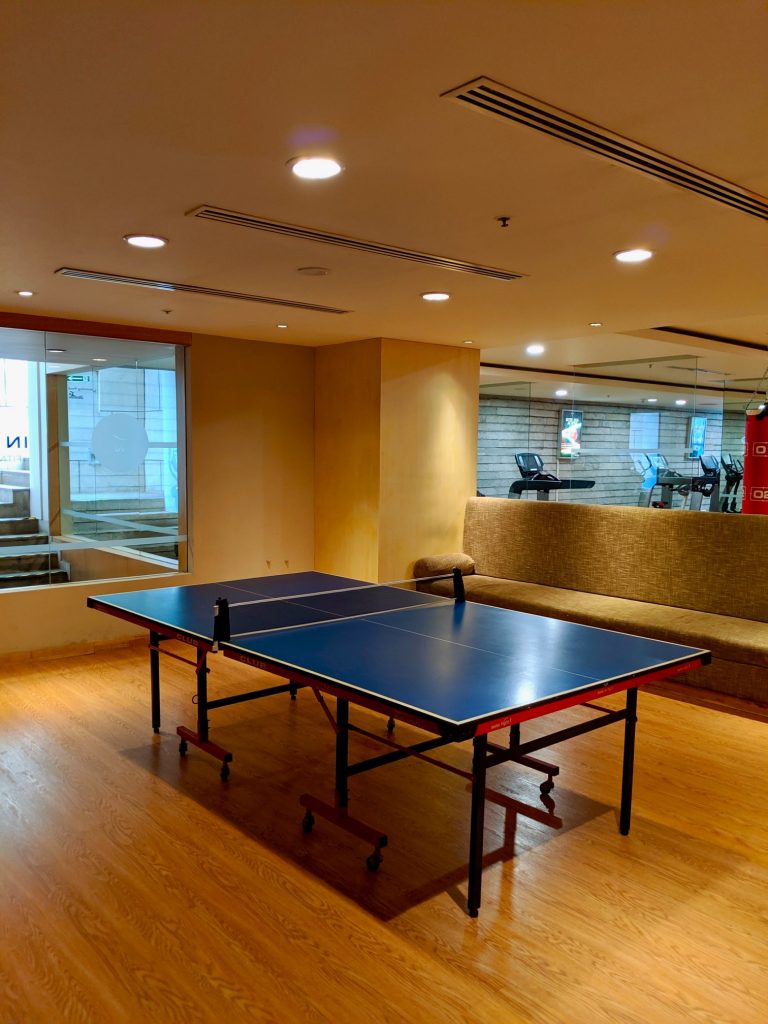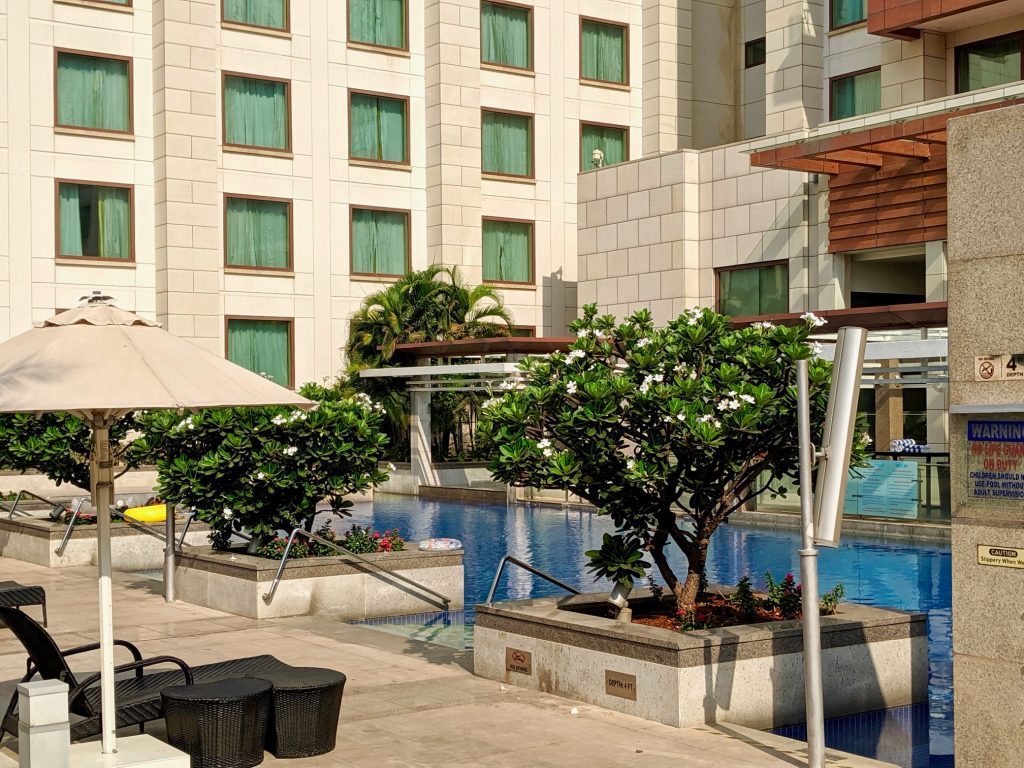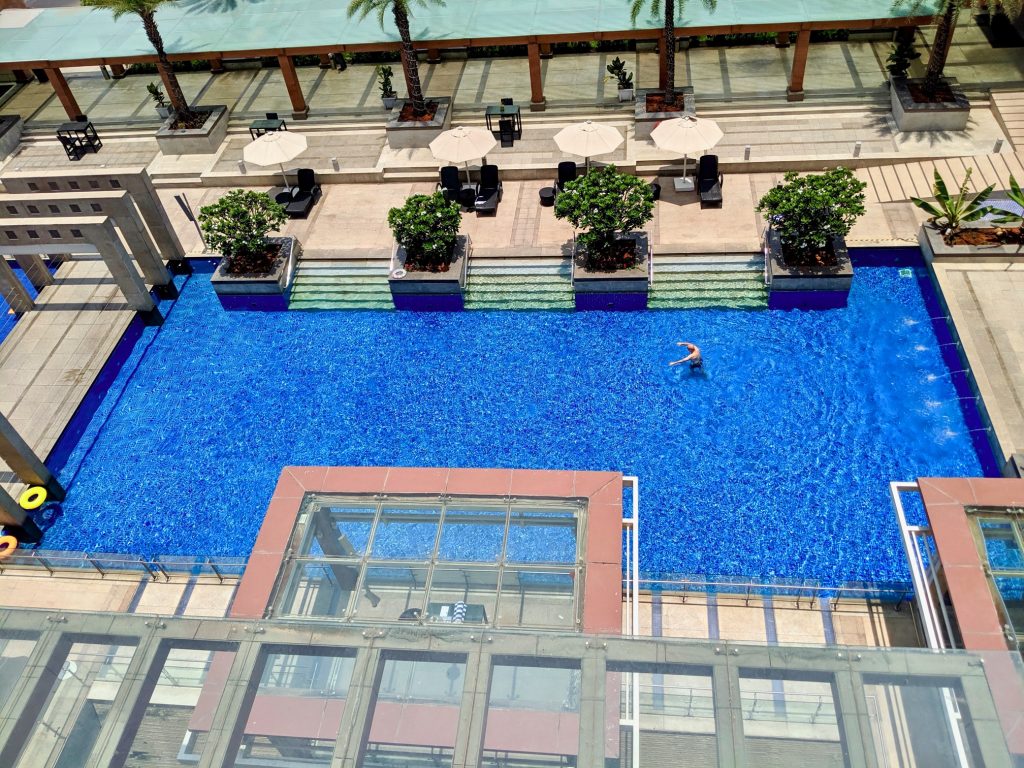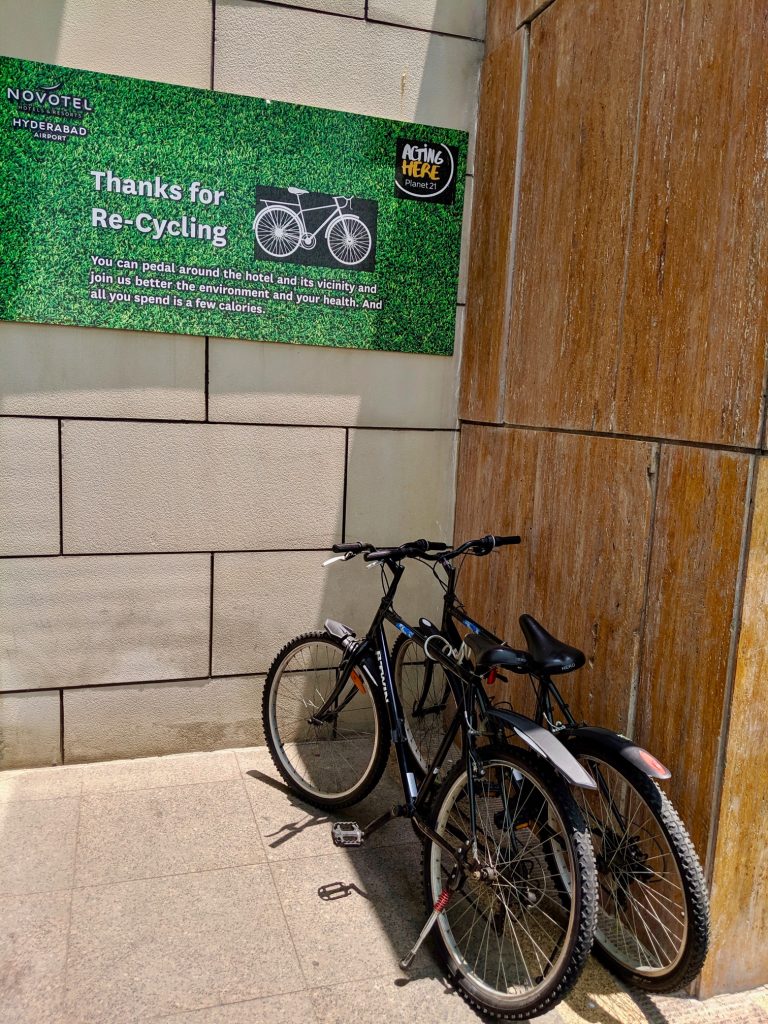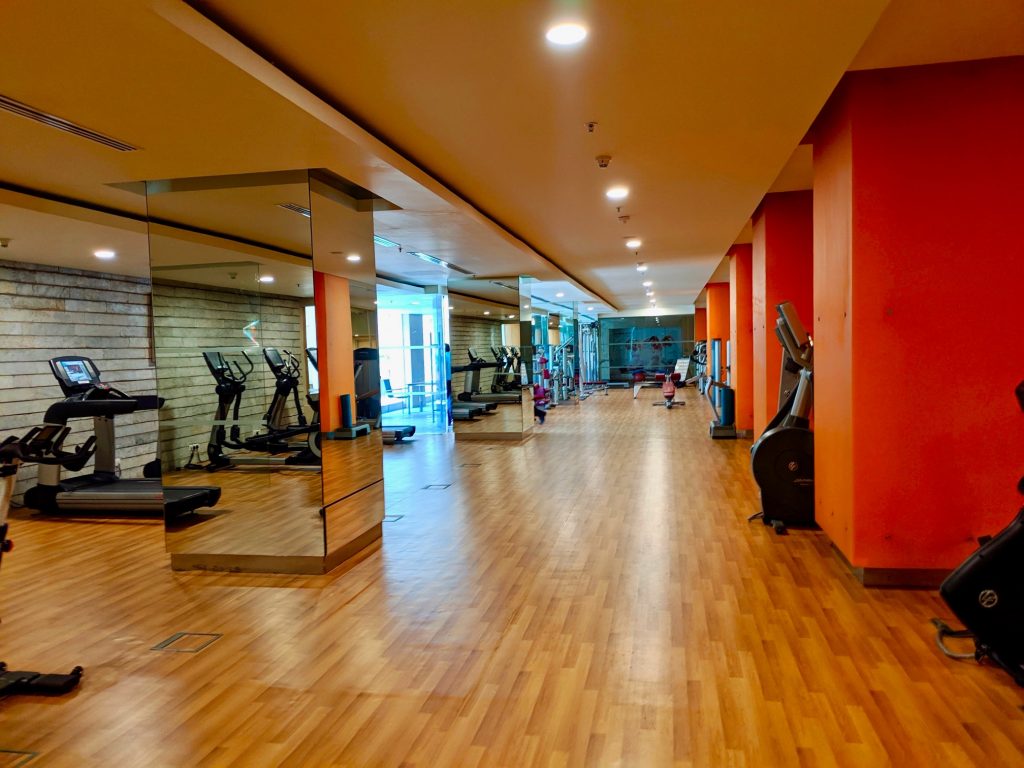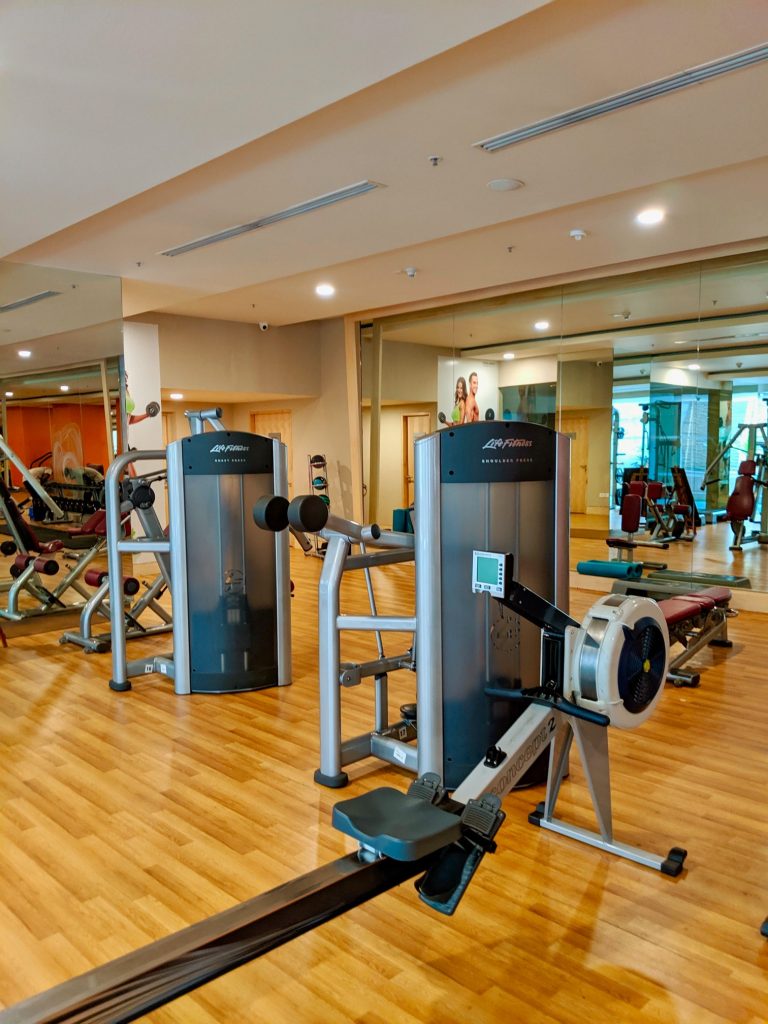 The spa located next to the gym has 2 big dry spa room as soon as you enter. Interestingly the mattresses are not on a bed but laid on the floor to ensure the right pressure by the masseurs. There are 6 treatment rooms which also includes a couple room with attached steam room.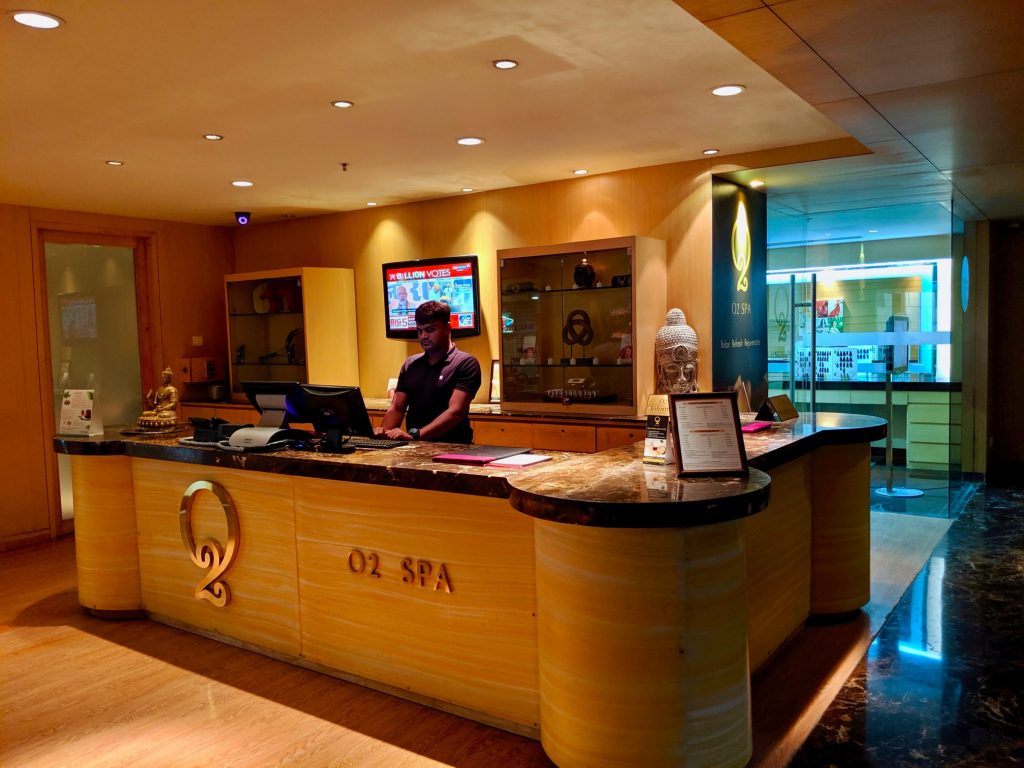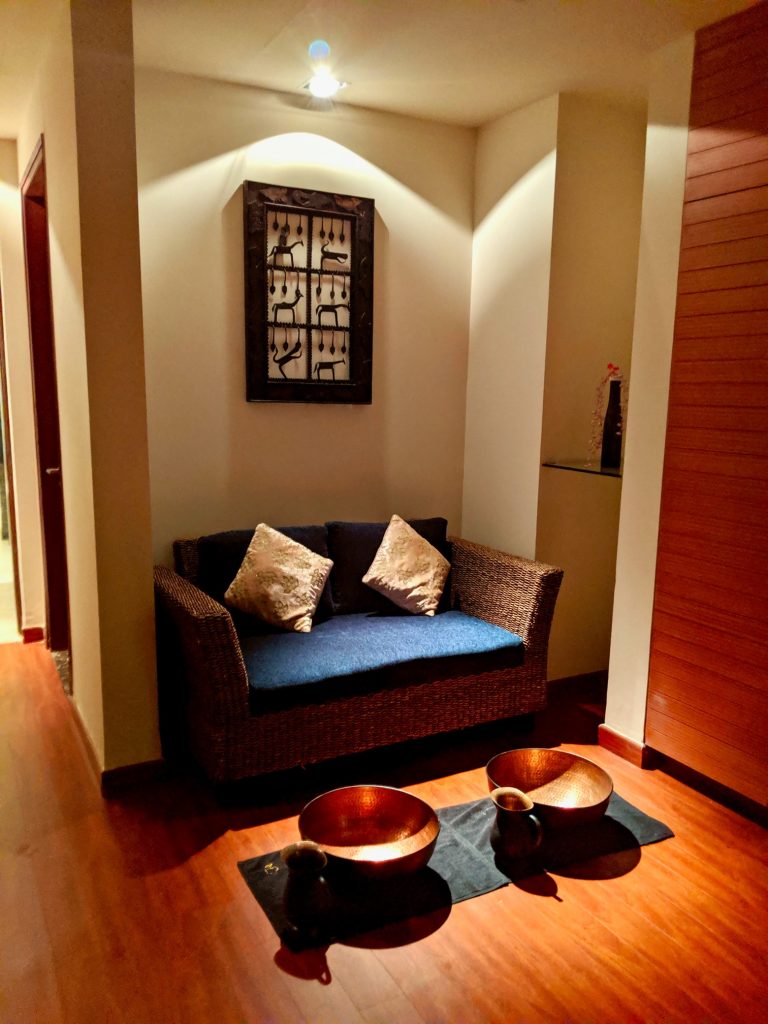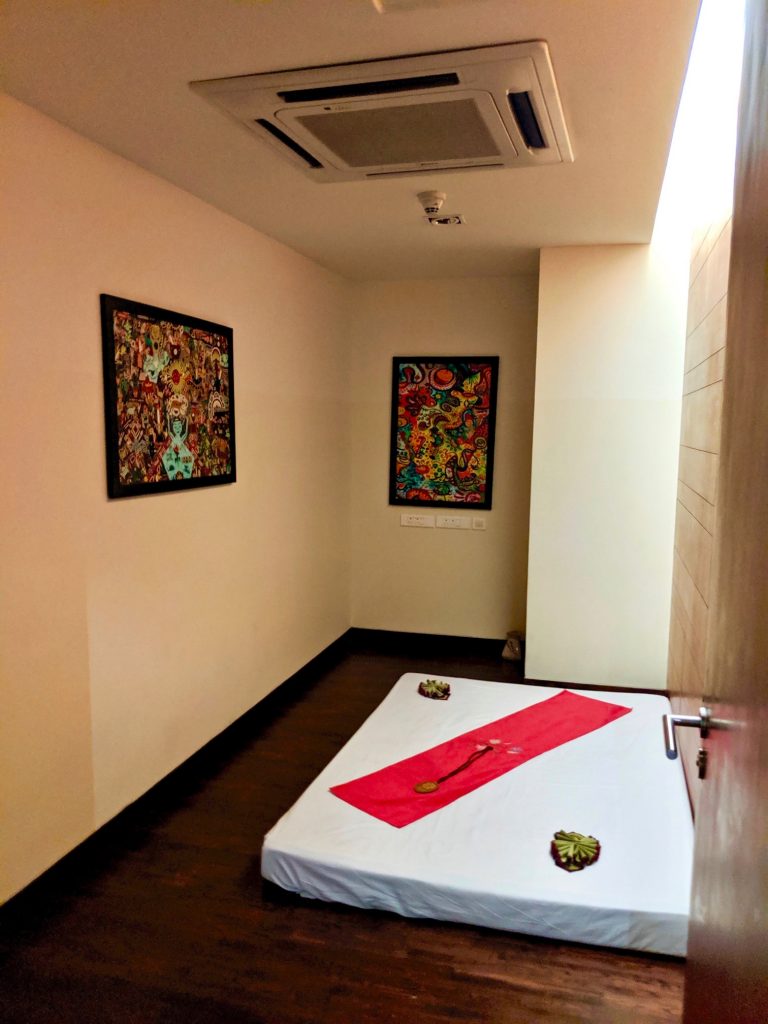 Novotel Hyderabad Airport also accommodates a huge sports arena with a tennis court, basketball court and a sandpit volleyball court as well.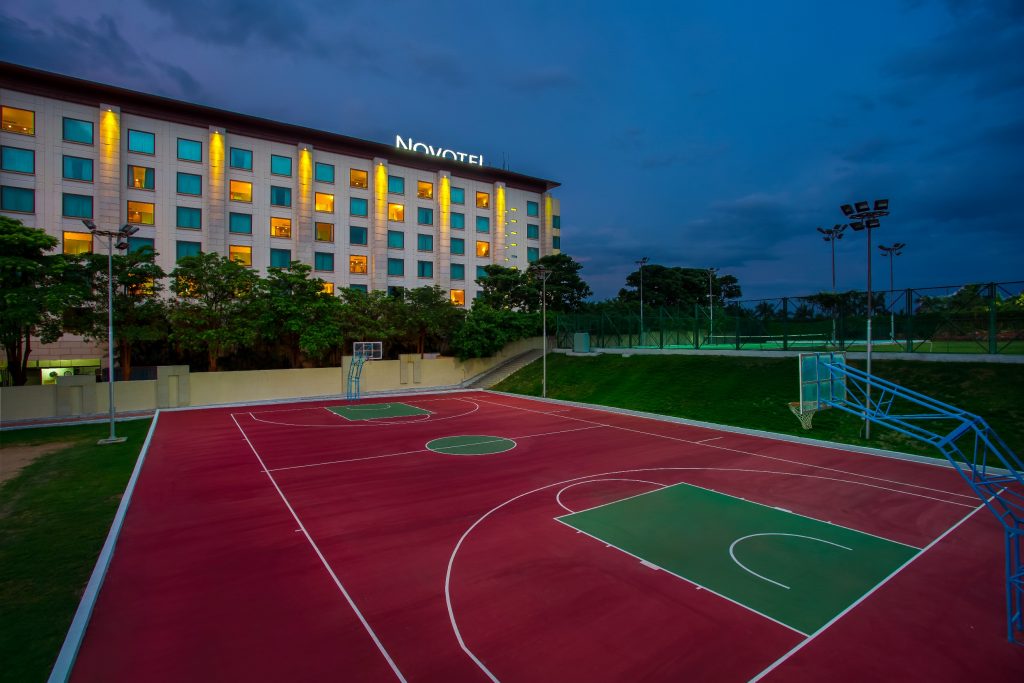 After a hotel tour we thought of trying the in-room dining and went through the elaborate menu kept in the room. Me and Nidhi who was accompanying me ordered Veg Pizza, Greek Salad and Veg Fried Rice. I loved the Thin Crust Pizza which was filled with colourful and nutritious toppings of olives, jalapenos, corn, pepper, onion and sun dried tomato.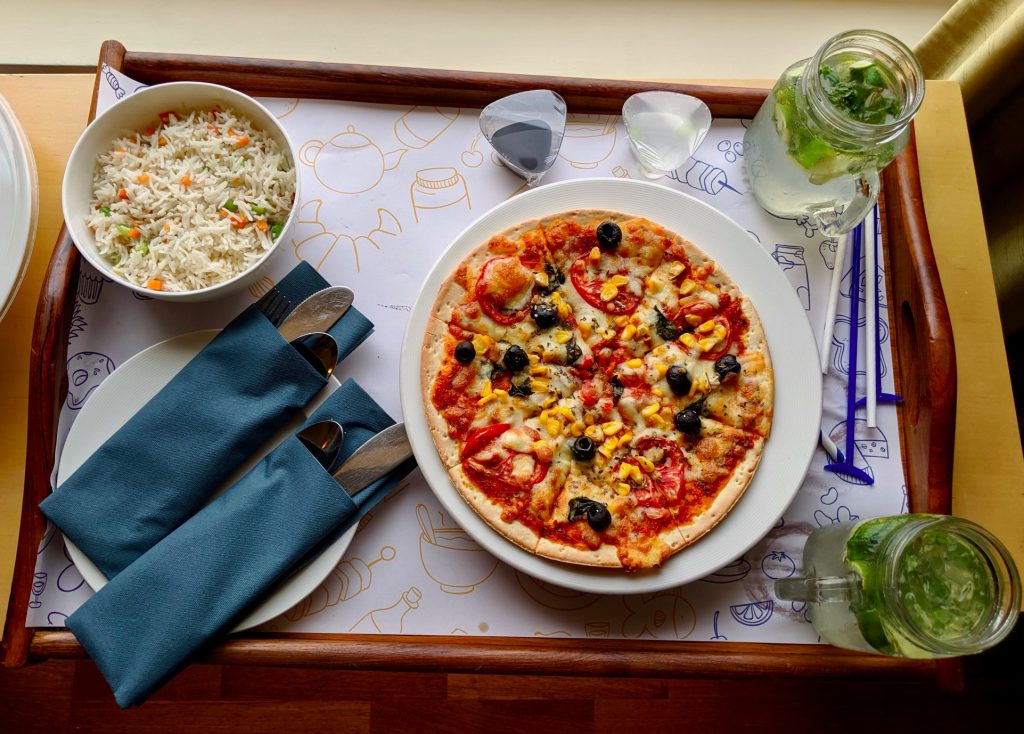 Apart from the rooms, the hotel also has conference venues for weddings and corporate events. The Meeting and Conference venues at Novotel Hyderabad Airport offer state-of-the-art professional and administrative facilities. The hotel is a preferred destination for corporate events and weddings owing to it's 70,000 sq. ft. of banquet and convention gall spaces. A 4500 sq. ft. banquet on the ground floor becomes an ideal destination for weddings as it has a separate entrance and a huge car parking space and can accommodate 500 plus people with ease. The events and banquets space are designed to provide guests with all amenities for both business and social events so that one can host conferences, weddings, exhibitions and meetings at Novotel Hyderabad Airport without any hassles. There is also a new convention hall being built.
Apart from the 24 hour multi cuisine restaurant The Square, The hotel also has Haldi, a 45 seater traditional fine dine Indian restaurant which opens only for dinner and a Bar which is open 24×7 to refresh you at any hour of the day.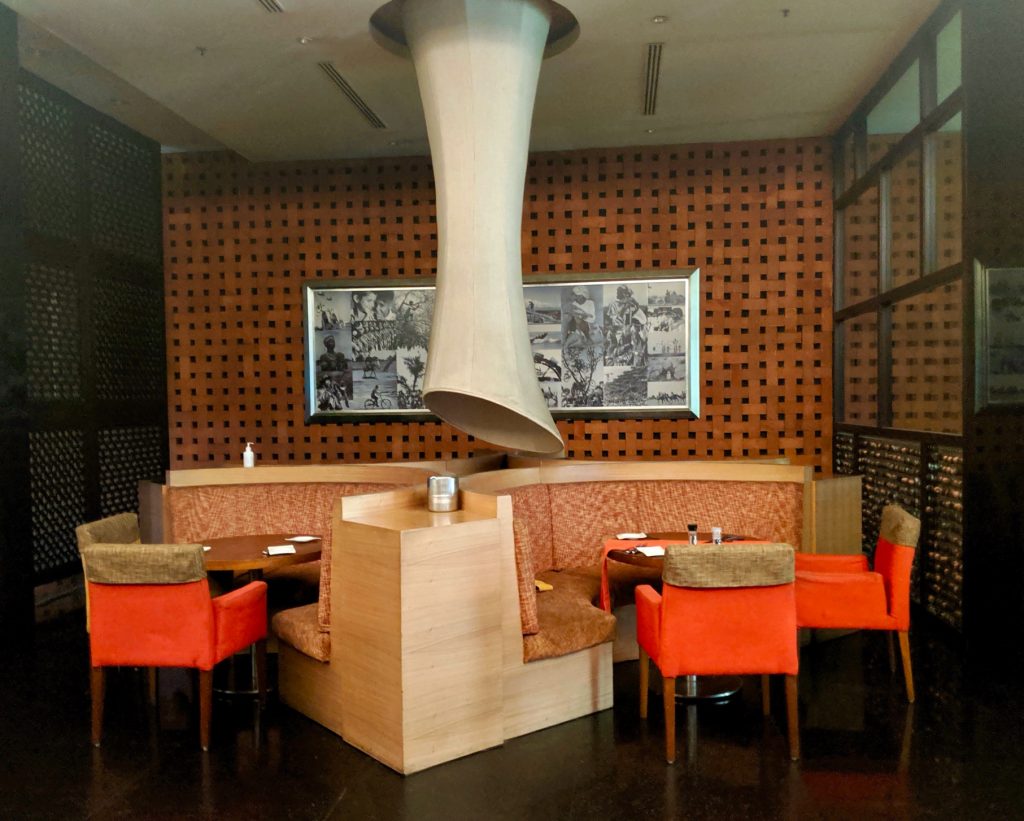 There is also a Premier Lounge located on the 6th floor of the hotel which can be accessed free of cost by guests staying at the suite and premier rooms for their meetings and interaction. Lounge can easily accommodate 12 people and also has a small board room for a conference of 8-9 people. There are also finger snacks and cocktails every evening from 6:30 PM to 8:30 PM.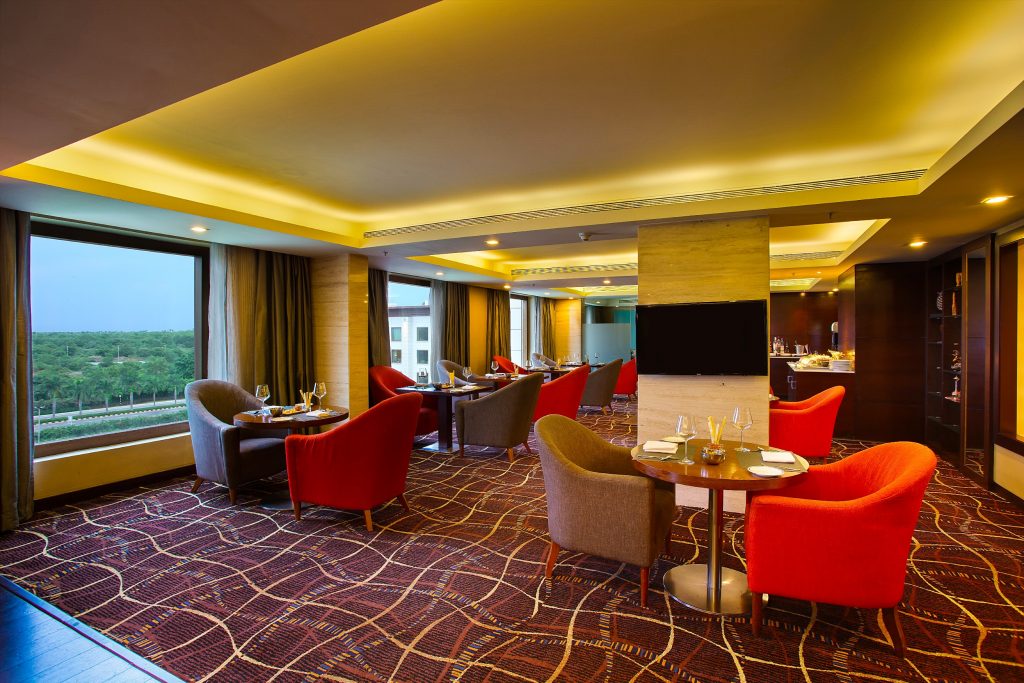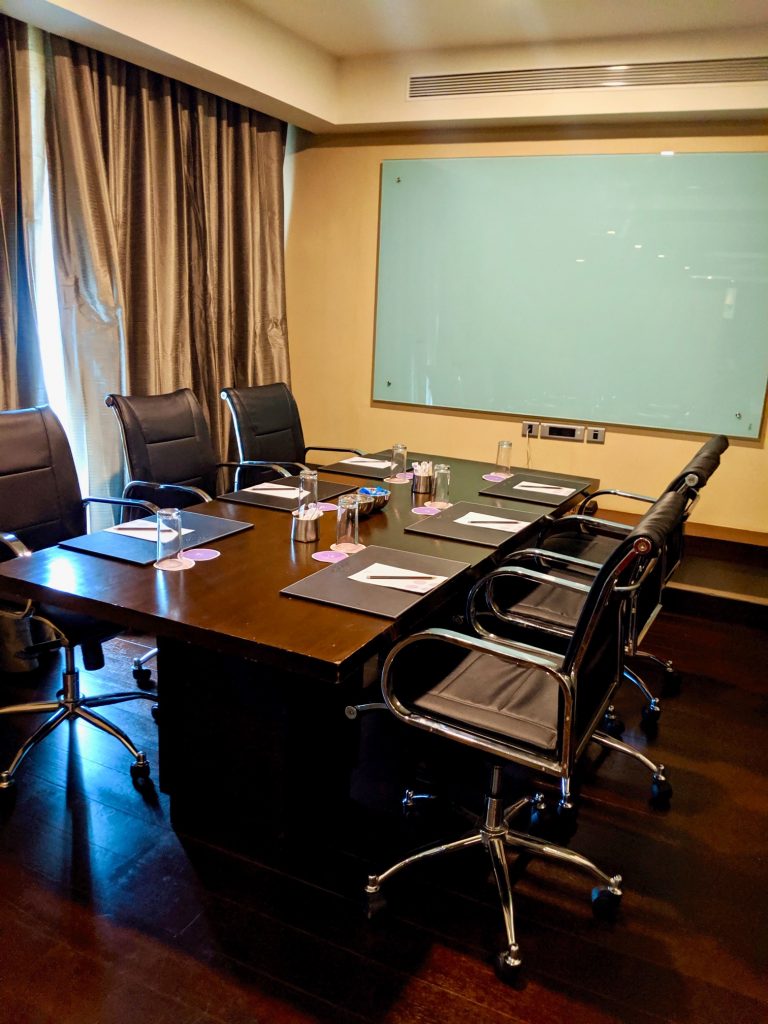 It was now time for the most interesting part of the trip- A gastronomical tour through the bustling lanes of Charminar! The special Ramadan Walk organized by Novotel Hyderabad Airport was an experience I was most looking forward to. The curator of the event Mr. Zubair gave an overview about the heritage of Hyderabad & Ramadan to the guests. The event was planned and executed by Konnections, The Integrated Marketing action group headquartered out of Hyderabad. A customized booklet was also given to us which had information about the culture and wisdom of Hyderabad and its special festival, Ramadan.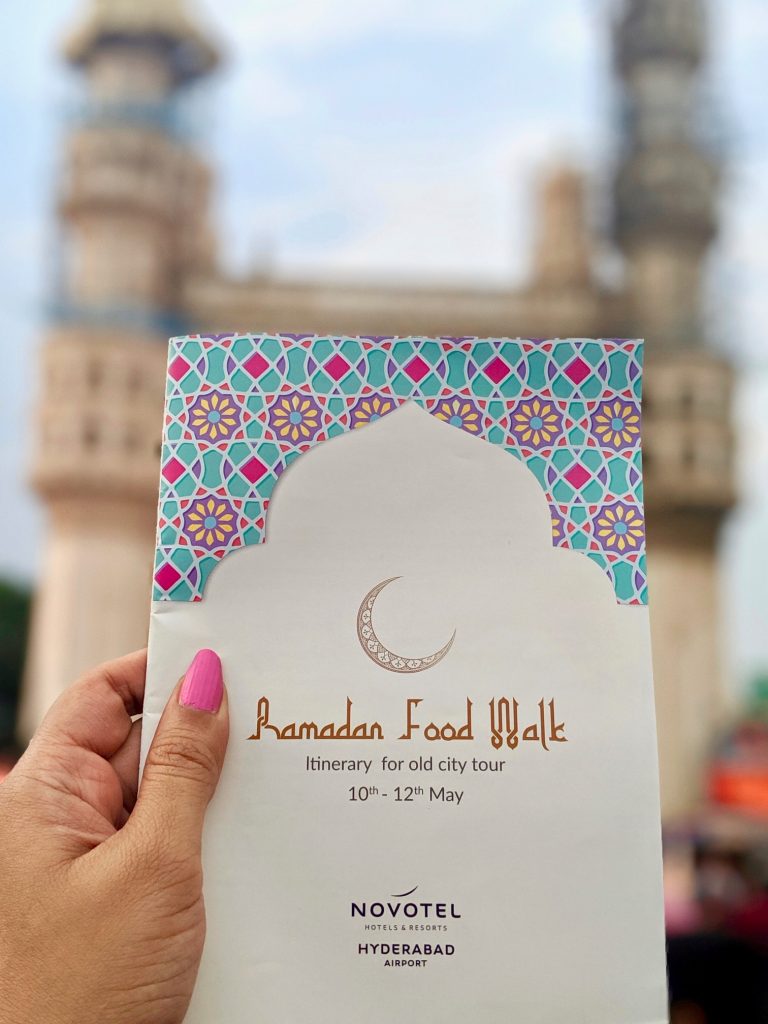 Our first stop was a visit to the Pista House Factory to know the process of the making of Haleem. It was a sight to marvel with workers preparing Haleem from 4 AM and we gathered knowledge not only about the preparation but the popularity of Haleem in the city and abroad.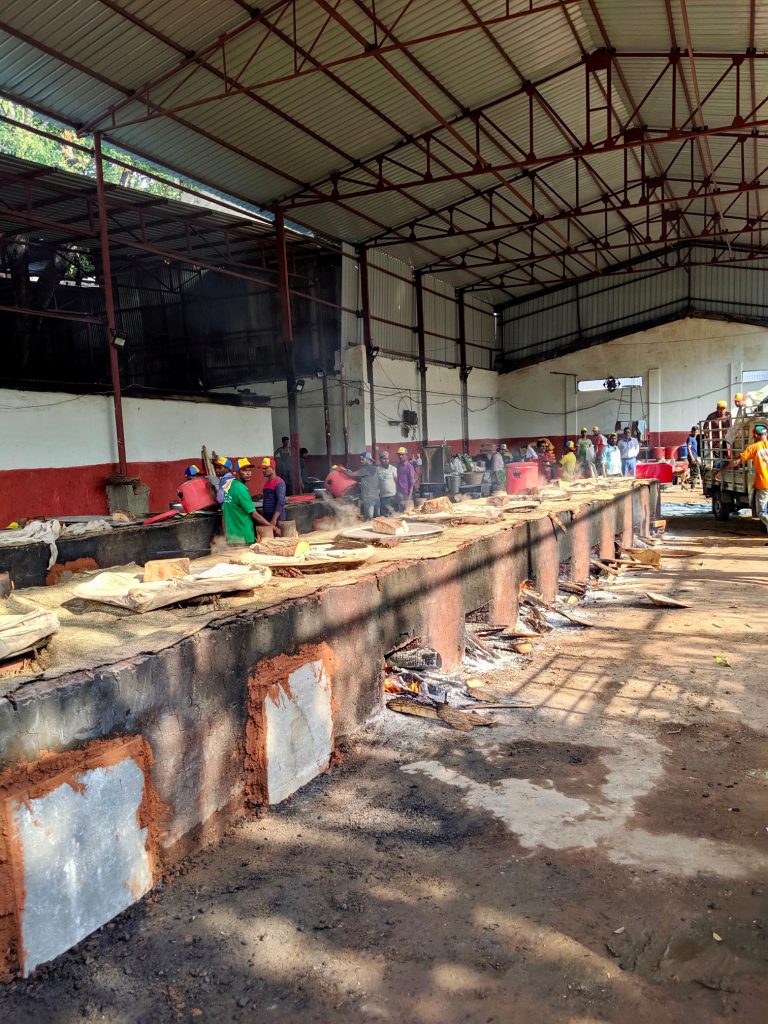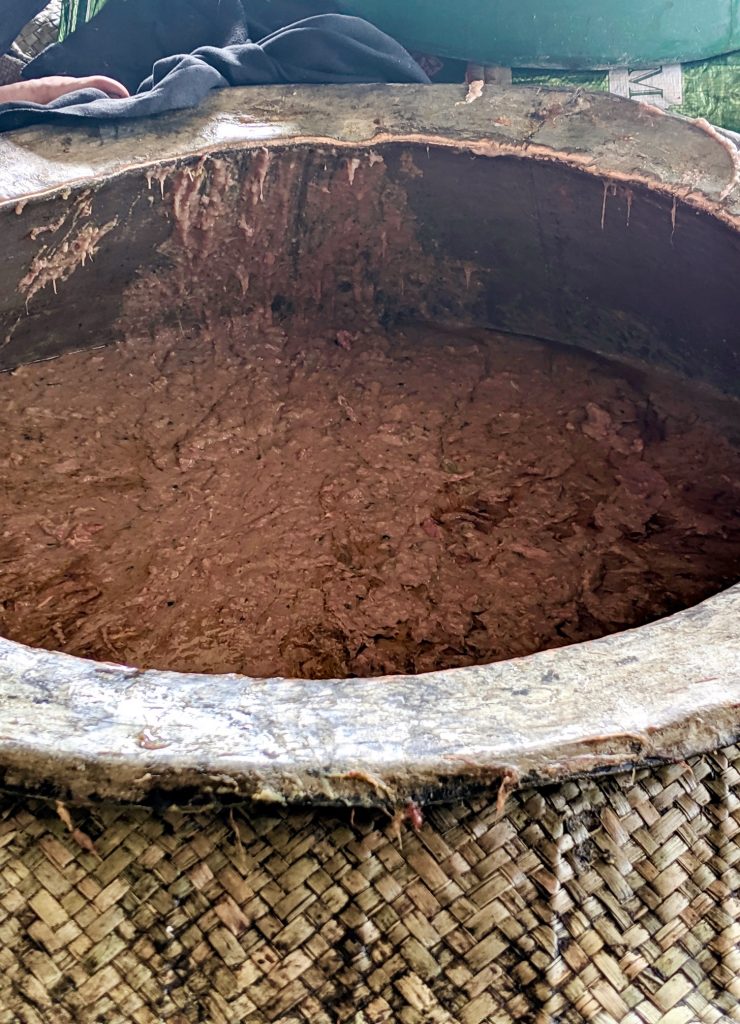 It was now time to cover the wide range of places across the old city, savouring every variety of Ramadan specialties. Since it was evening, we started with Shaam ki Chai at the famous Nimrah Hotel located between Charminar and Mecca Masjid. The Irani Café is a popular joint amongst tourists, people in Old City and modern suburbs of Hyderabad. We had their wonderful special chai with the variety of biscuits and puffs.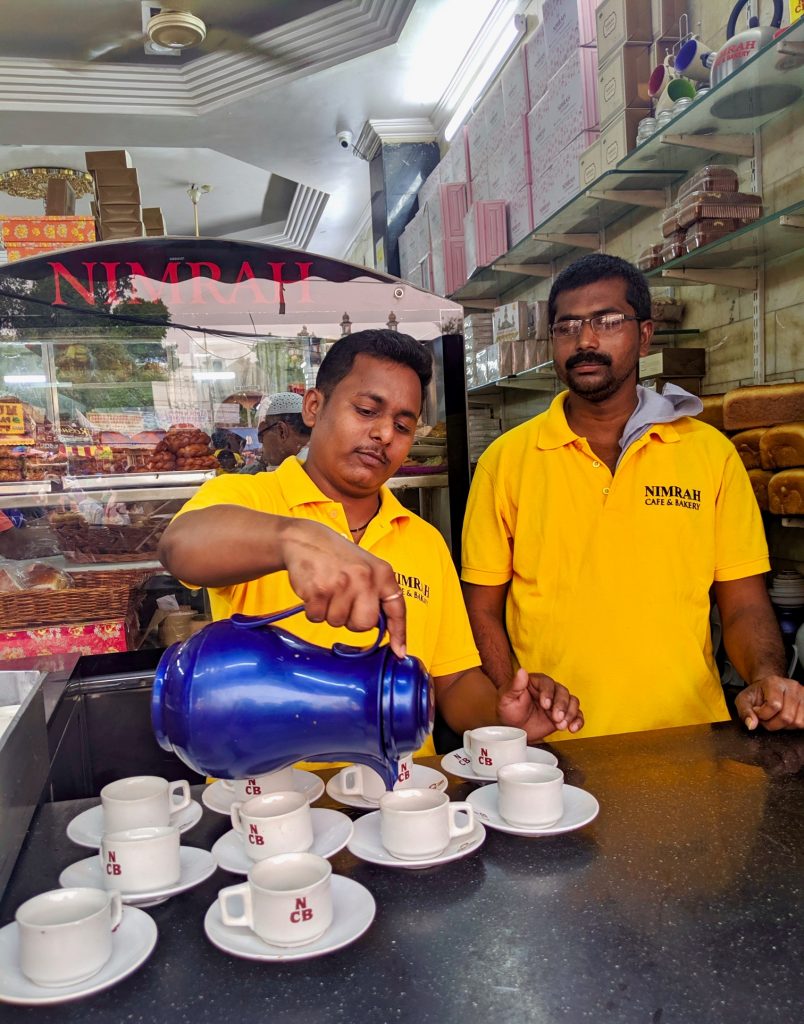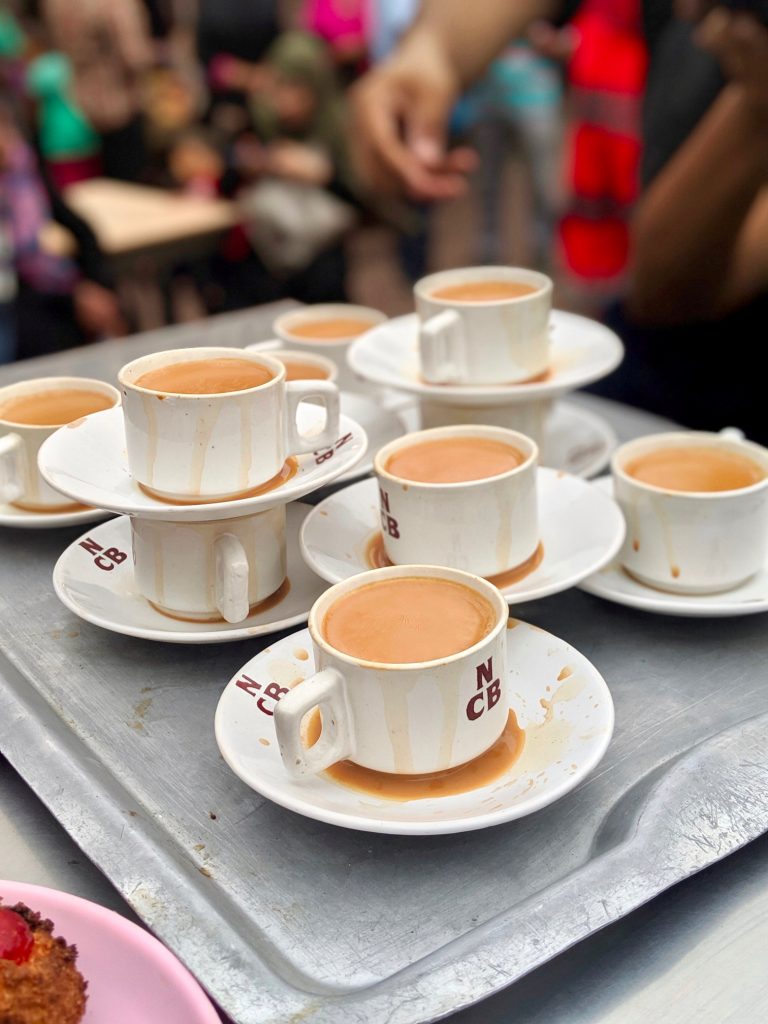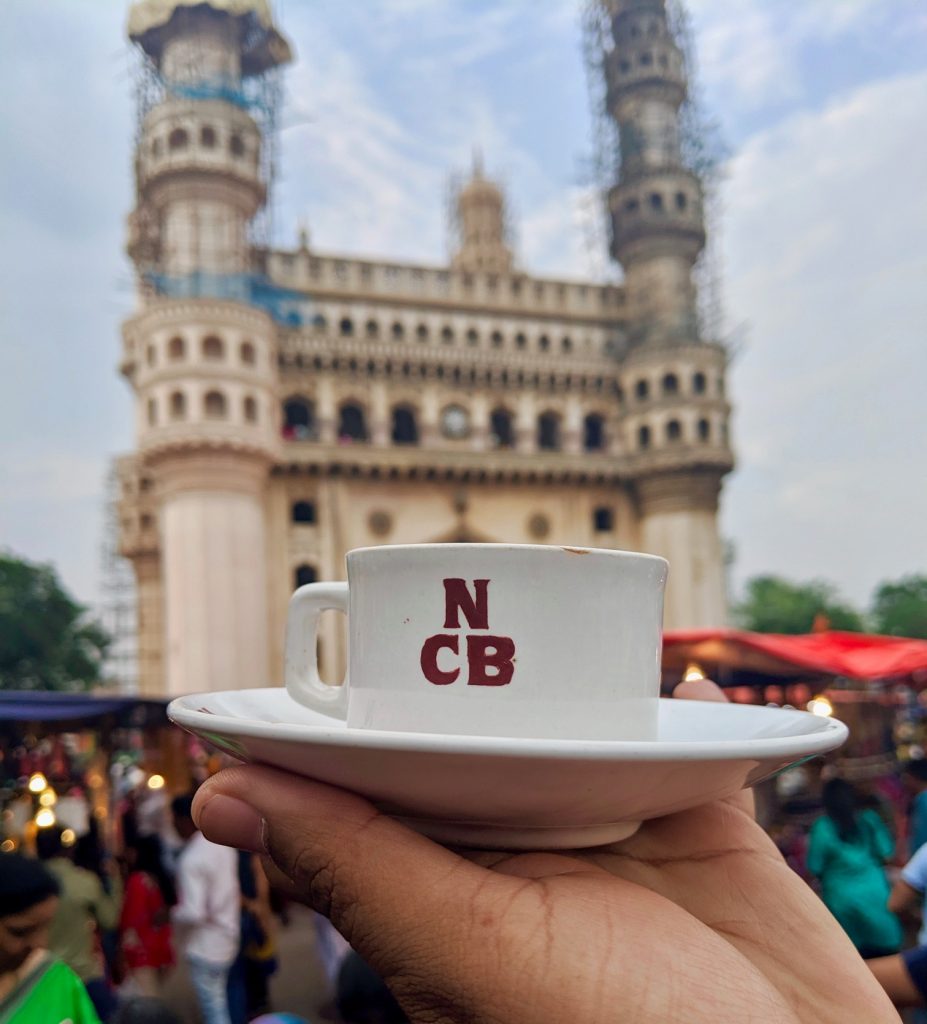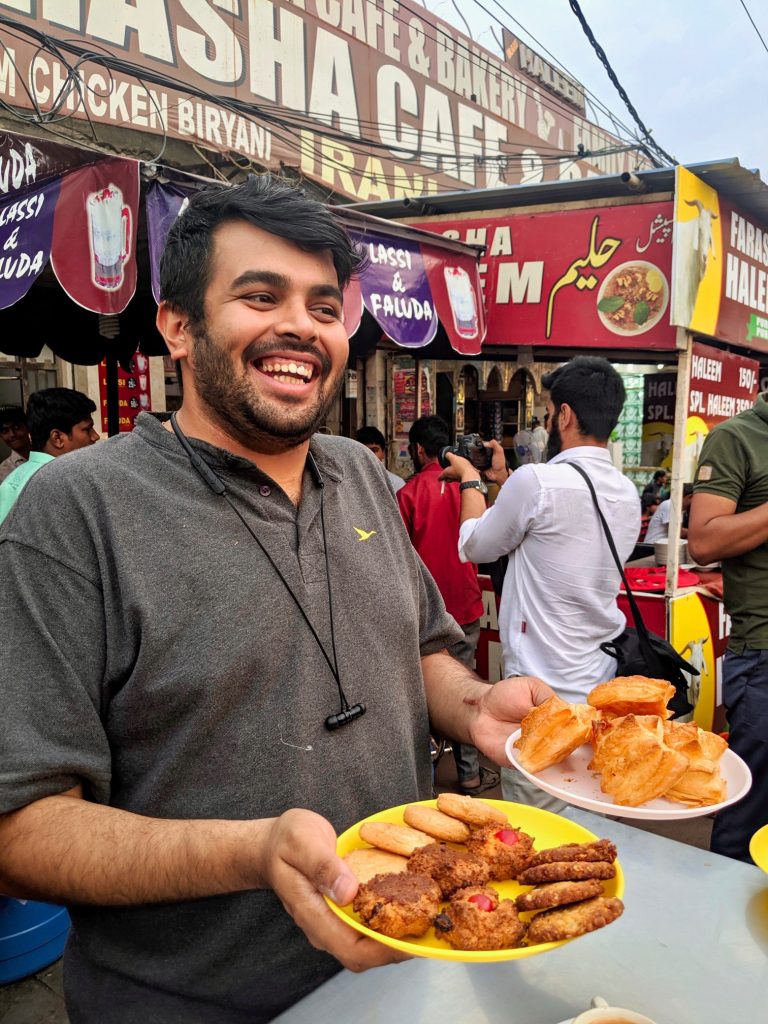 Next, we headed to Milan Juice center, located perfectly near Charminar which is famous for a wide variety of beverages and desserts like Litchi Salad, Avocado Juice, Yamani Dry Fruits, Milan Junction, Blood Punch, Kiwi Juice and has been a top choice for the last 22 years. This place is a must visit for all fruit juice lovers. We tried the shahtoot dessert and loved every bite of the innovative dessert. The dry fruit dessert was again an unforgettable experience.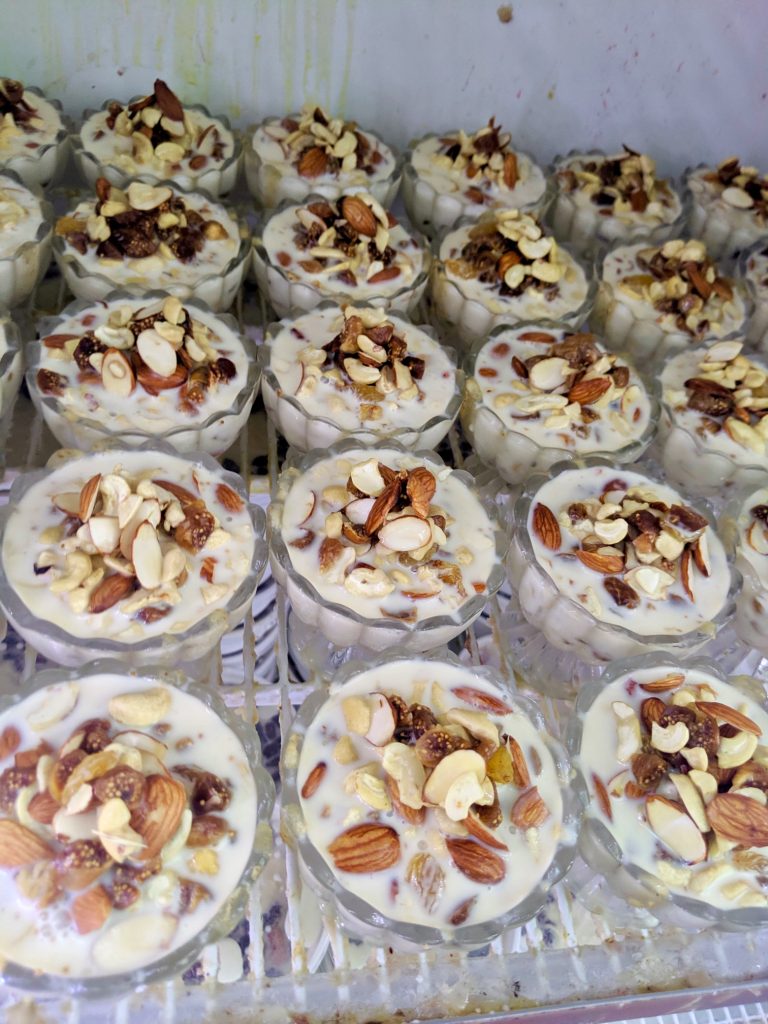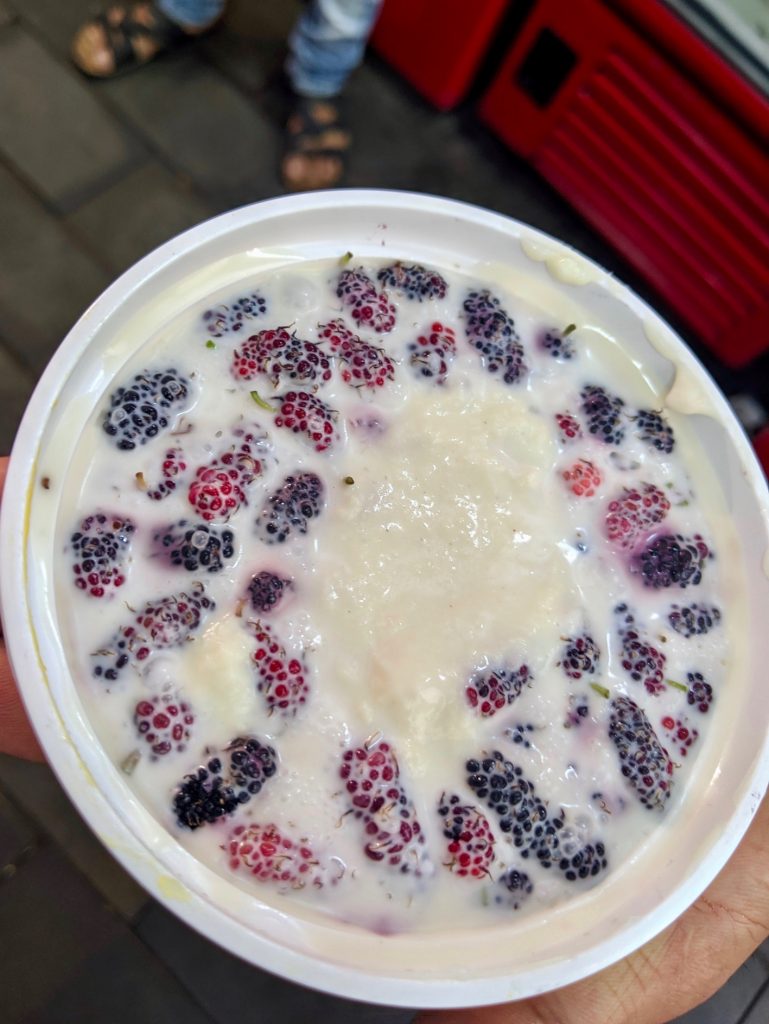 Time for Akbar Fast Food Center which offers a wide array of quick bites. It is a great spot to put hunger pangs to rest. Chicken 65 is one of the most savoured dishes from the joint and without much ado we ordered Chicken 65 as well as Fried Chicken which we relished with Rumali Roti. Loved it! The top-rated restaurants attracts students as well as tourists.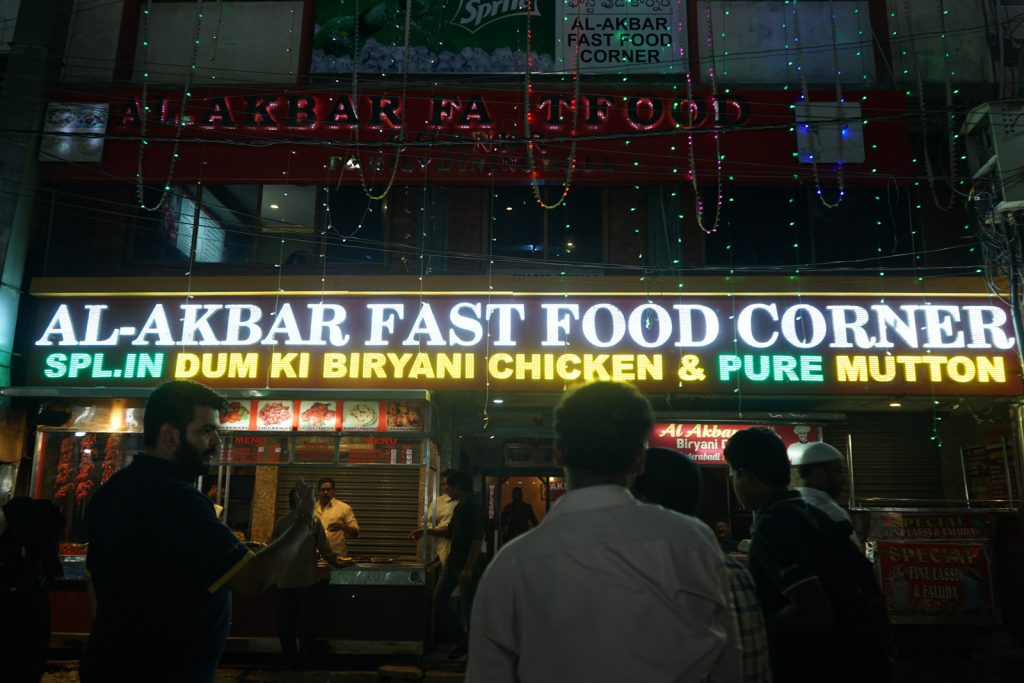 We also got a glimpse of the mesmerizing Mecca Masjid which looked spellbound with lights changing colors and people praying. We walked in the narrow lanes of Hyderabad appreciating the colourful bangles, zari, pearl jewellery, outfits which people were buying in full enthusiasm owing to the festivity. While walking by, we also tried the Hyderabadi Dahi Wada which was so refreshing and unique. Various vendors selling pickles, sevaiya, breads caught our fancy. We also saw how varak, the silver layer found in sweets like barfi & rasgulla is made. Such a fascinating experience!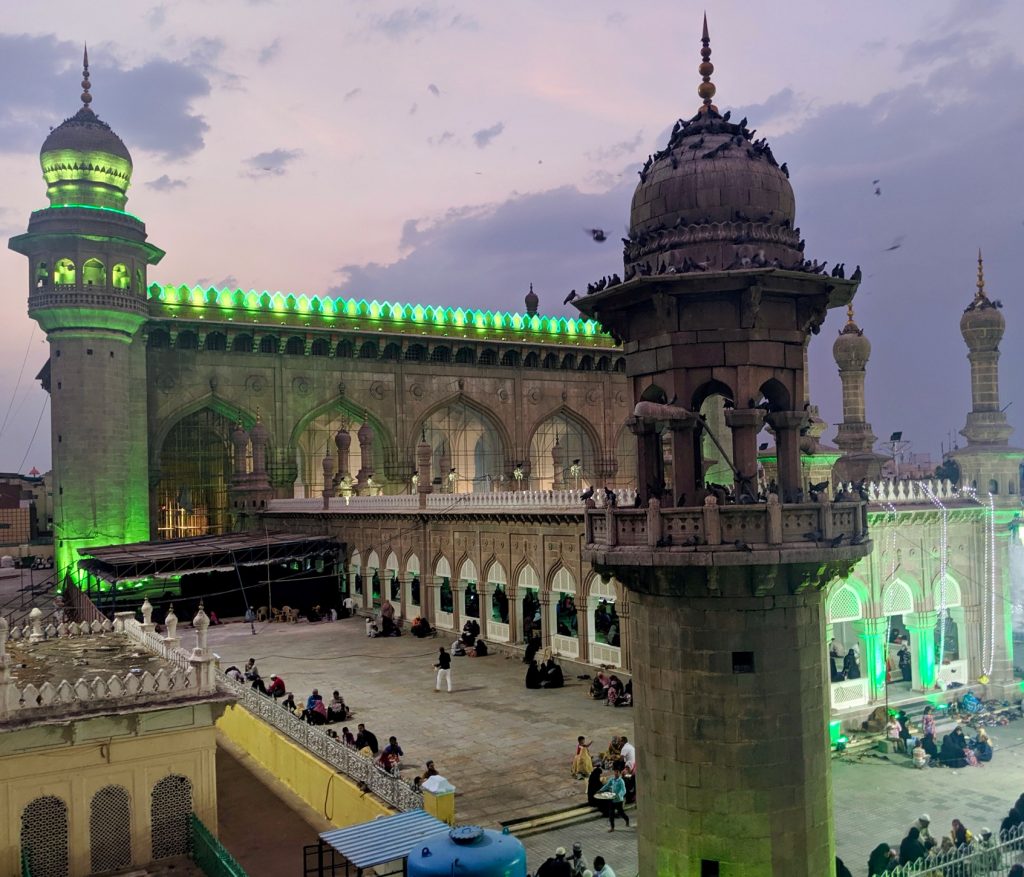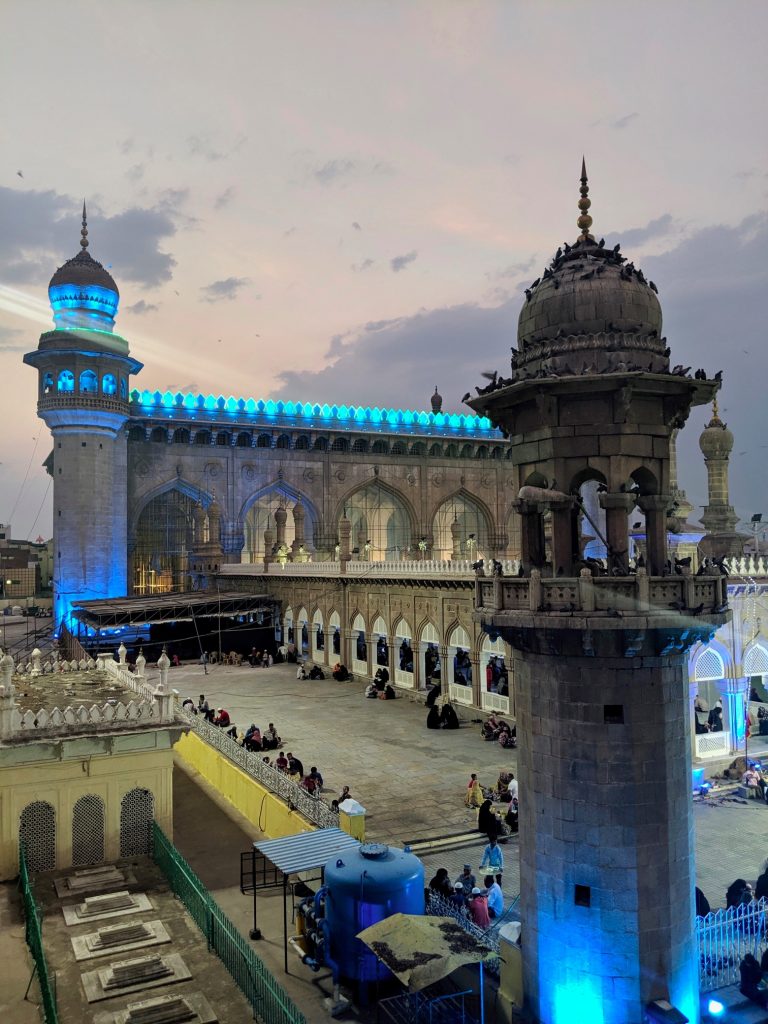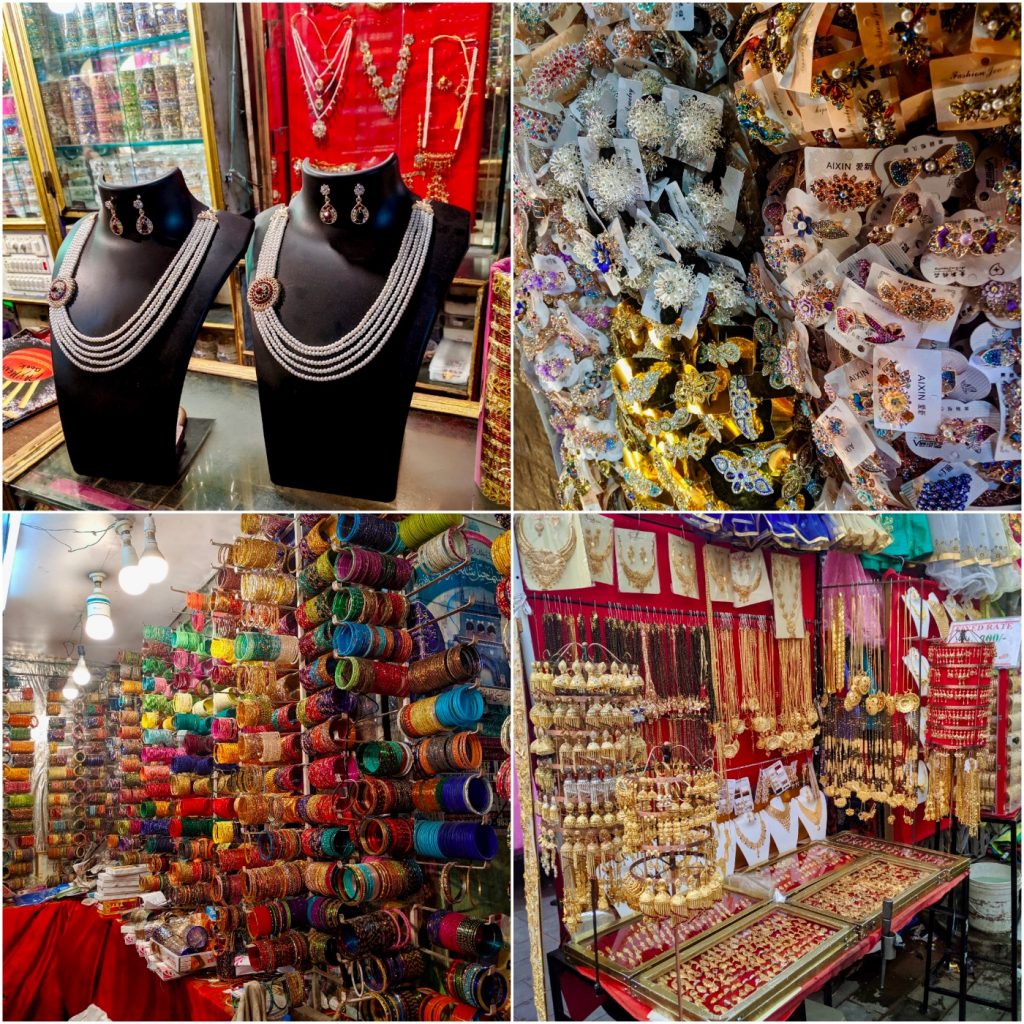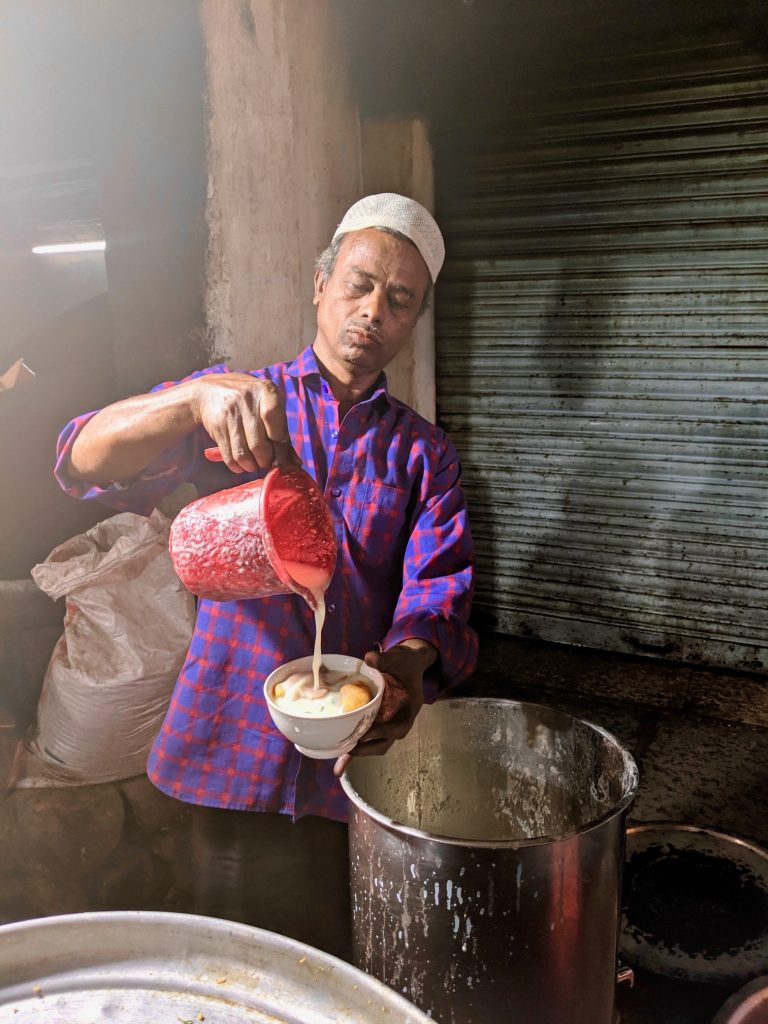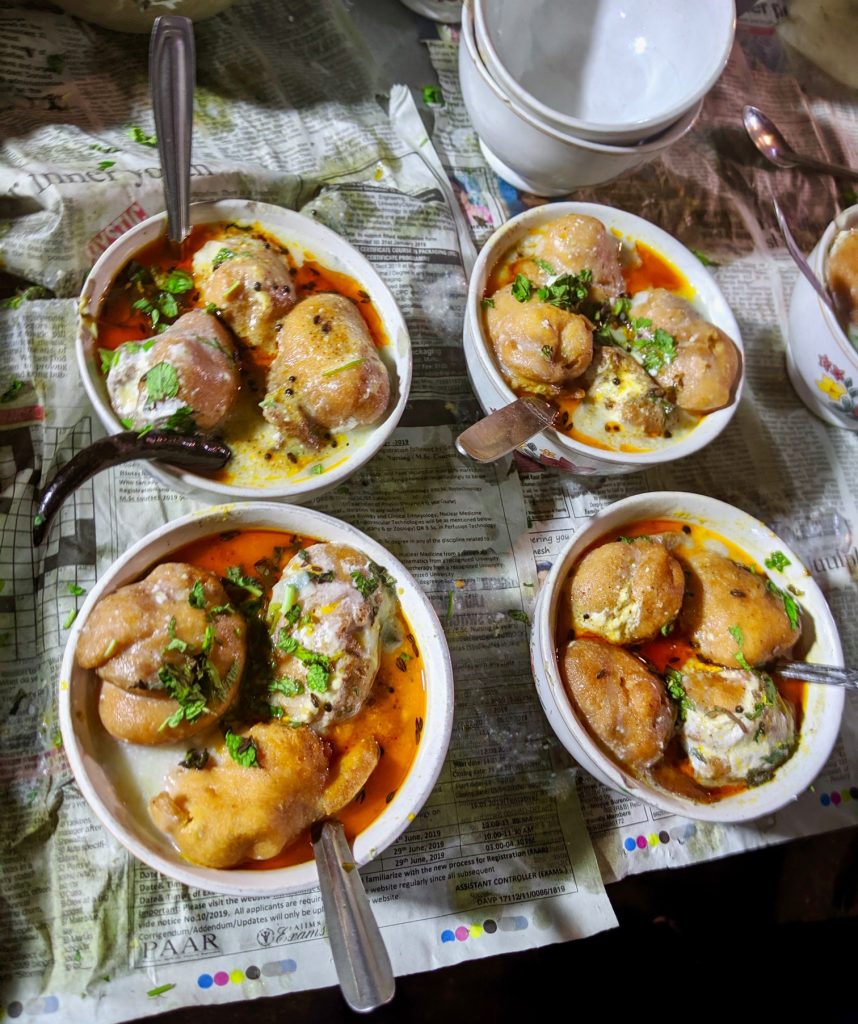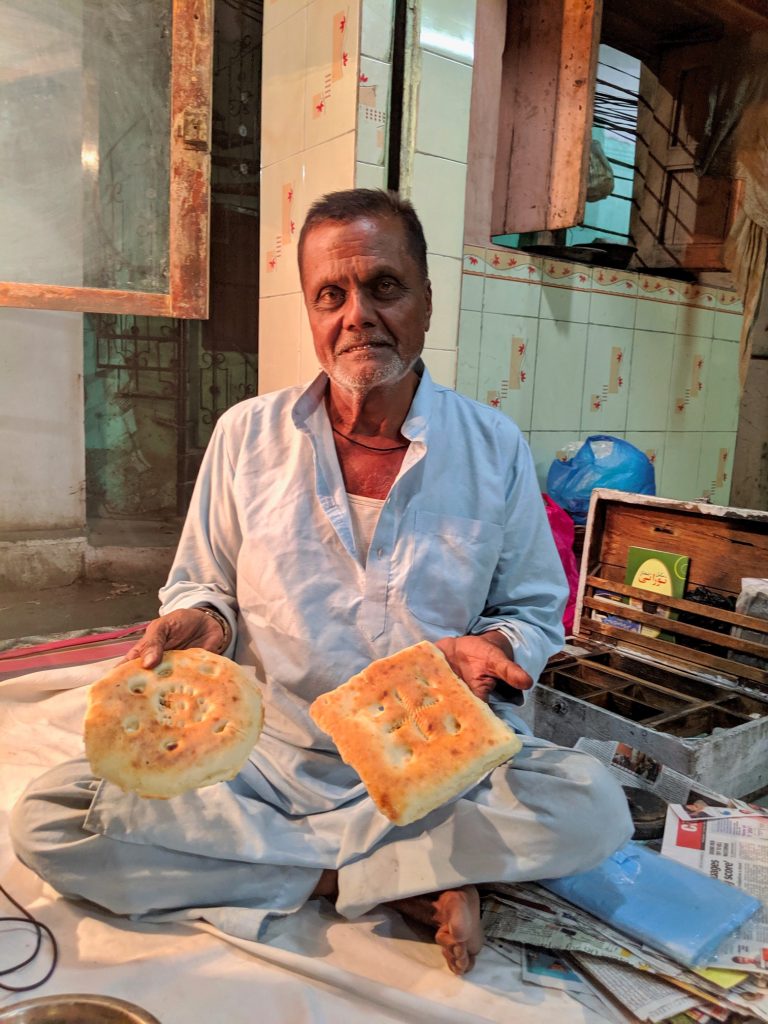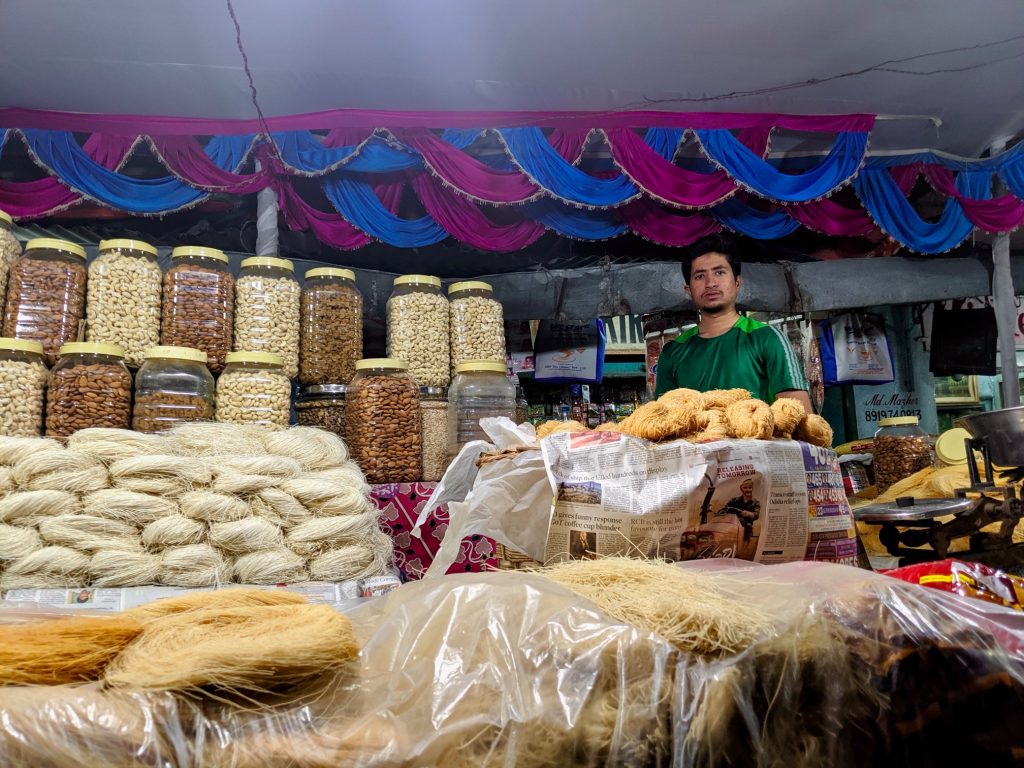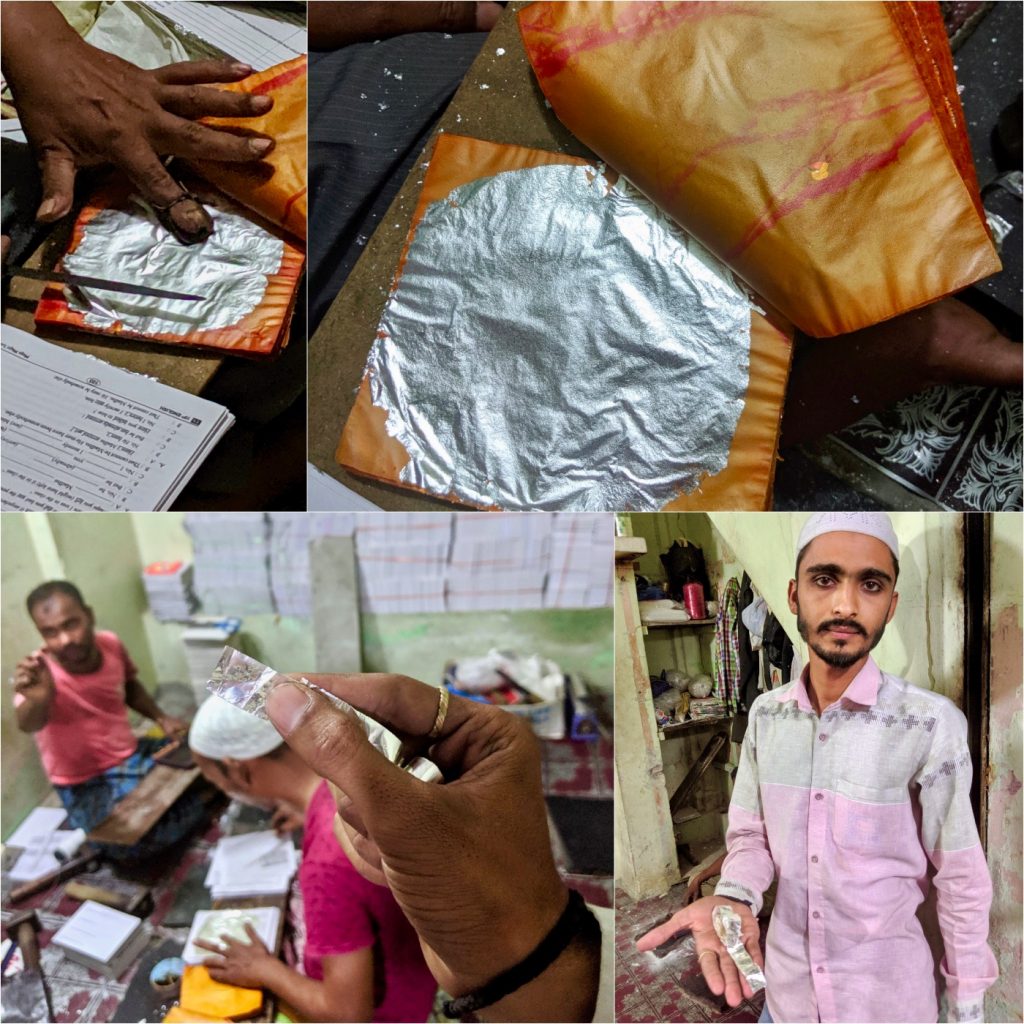 To our surprise, it started raining and we sat in a shelter waiting for it to stop. When the rain turned into drizzle, me and another media friend decided to head back to the hotel as we had an early morning flight back to our respective hometowns. There were more places to be covered like Shah Ghouse, Matwale Doodh Ghar, Nayab, Hotel Shadab, Mehboob/Murgi Chowk and Govind kibandi. Here's a glimpse of what we missed. I hope I will make a visit to Hyderabad soon to try the wonderful gastronomic delights could not try.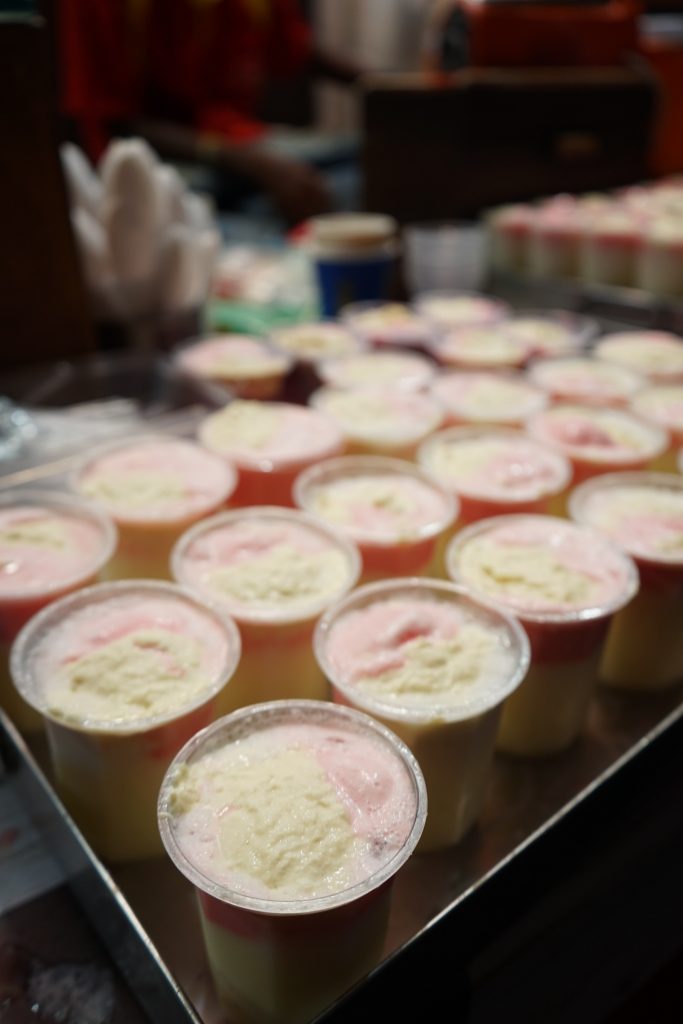 It was already midnight and with content and cherishing experience, we were delighted that Novotel Hyderabad Airport arranged for such a lovely experience.
Both Nidhi and me got up early morning and unwillingly had to say goodbye to the lovely hospitality of Novotel Hyderabad Airport. After a shower and dressing up we headed to The Square to grab a quick bite from the lavish breakfast. I preferred a mix of South Indian and North Indian and had Dosa, Idli, Vada with the most amazing sambhar the chefs of the hotel made. Also tried the Fried Rice, Podi Idli, Poori Bhaji and croissants along with filter coffee. What I loved was also Pesarattu made of whole green gram and stuffed with finely chopped tomato and onion.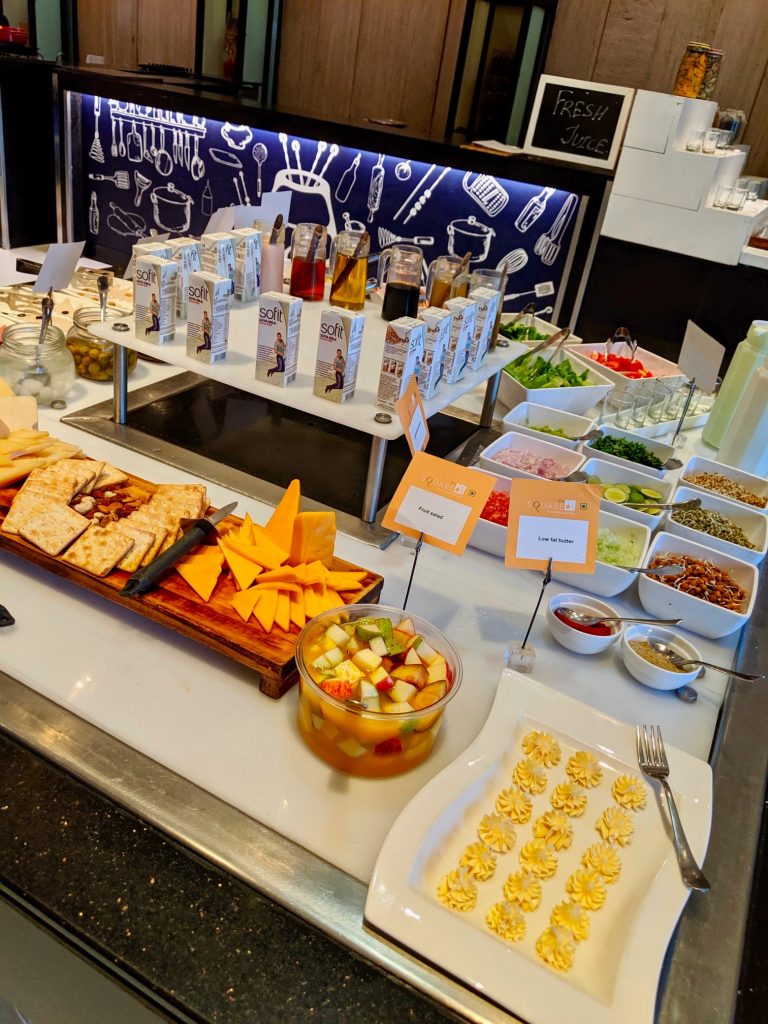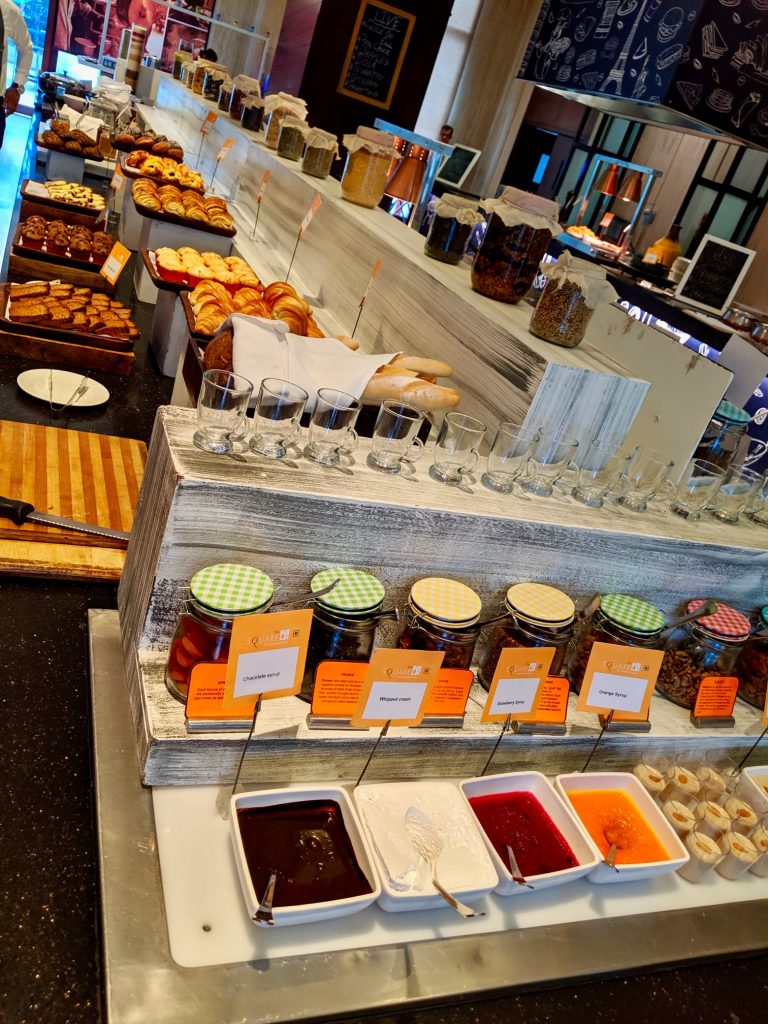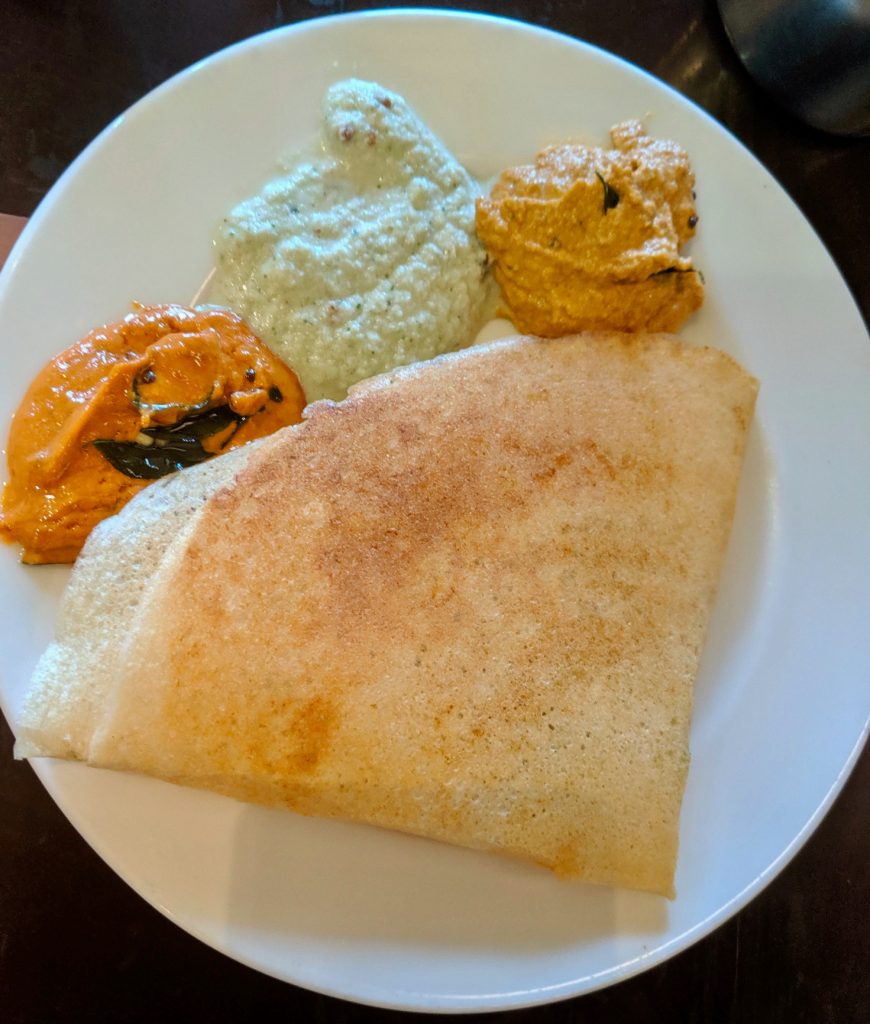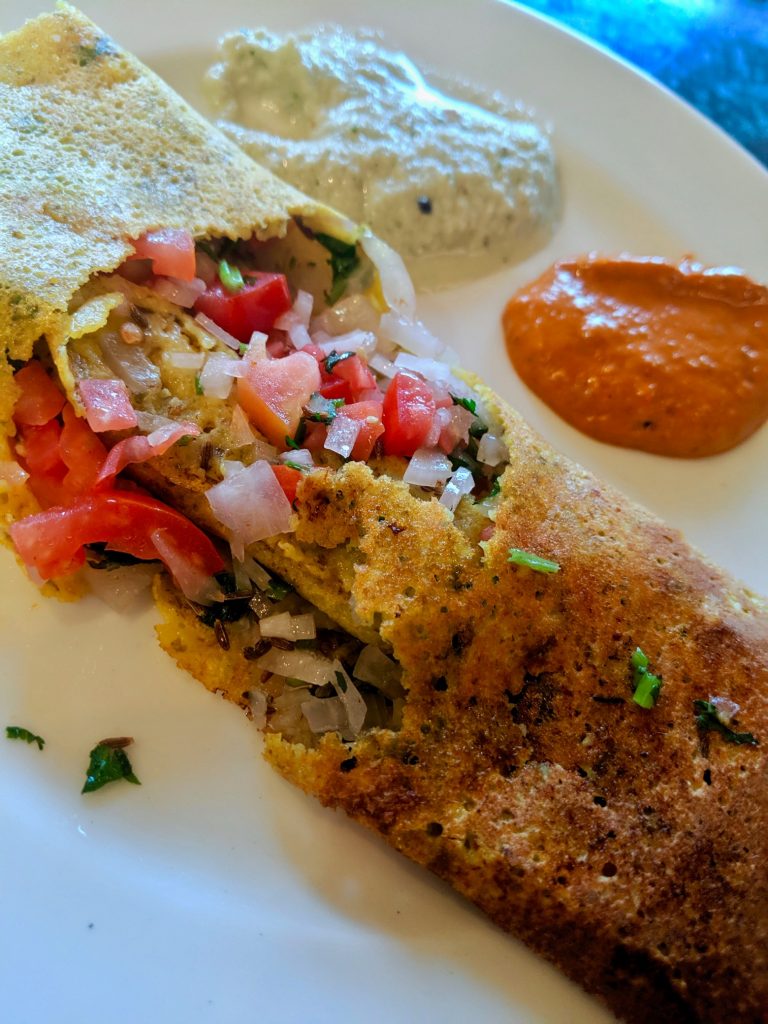 The three days were an unforgettable experience with Novotel Hyderabad Airport!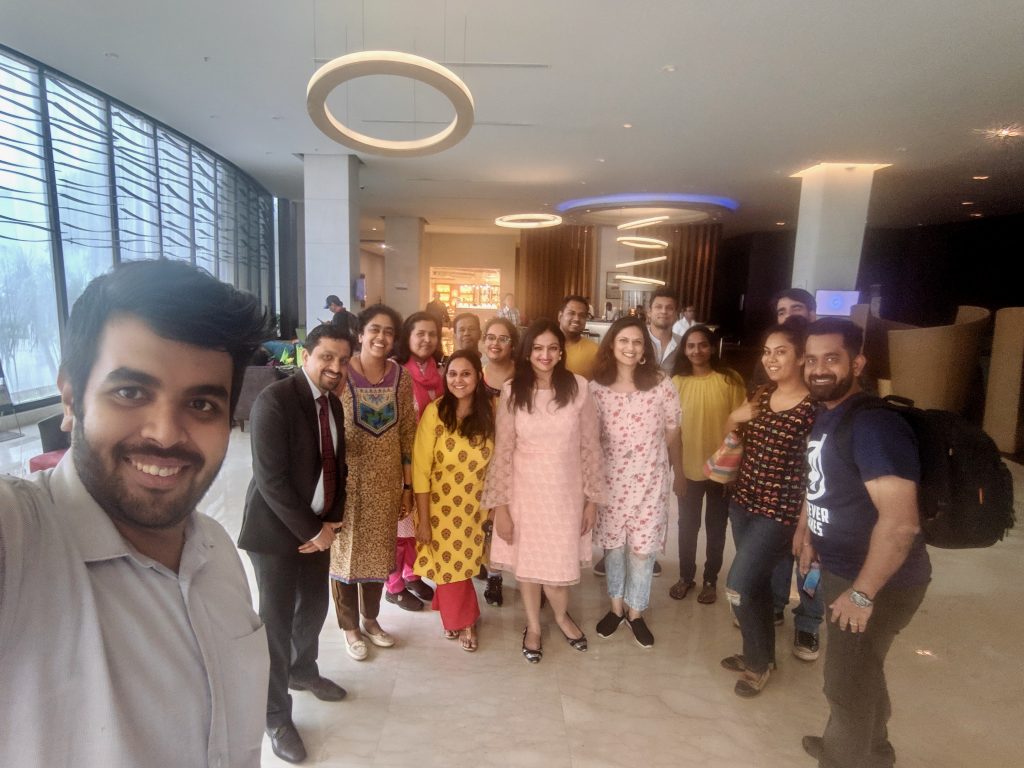 We also took back Ramadan treats for our family, courtesy Novotel Hyderabad Airport who curated a box with sweets, cookies, sevaiya and mithai which was cherished by everyone back home!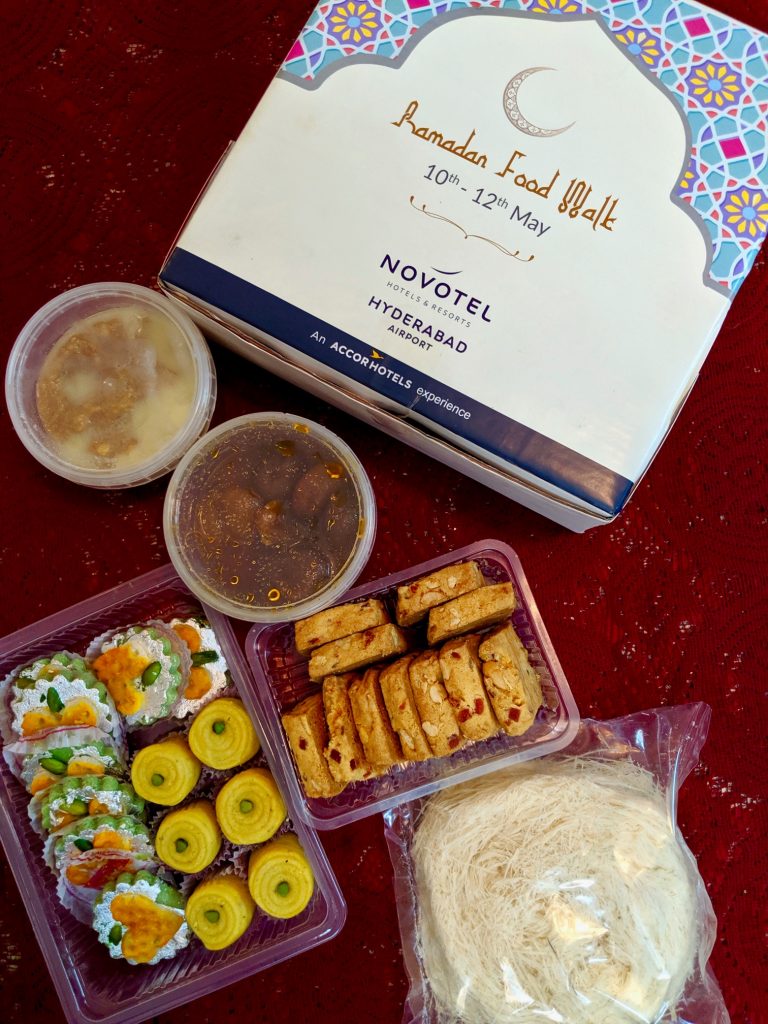 Special thanks to Ravi Khubchandani, the GM of the hotel and Harshardhan Dengwekar, the Marketing Manager of the hotel as well as Konnections, the Integrated Marketing action group headquartered out of Hyderabad who ensured a smooth experience no matter what.