Fashion Week is a great time! You see Fashion everywhere-whether it's on the ramp or off the ramp.
It's time to give you a download of our favourite designers from recently concluded #LMIFWAW19. Fashion Design Council of India presented Lotus Make-up India Fashion Week AW'19 in association with Liva at Jawaharlal Nehru Stadium in New Delhi from March 13 to 17, 2019.  In the article, I am going to talk about the leading designers and their creative outbursts.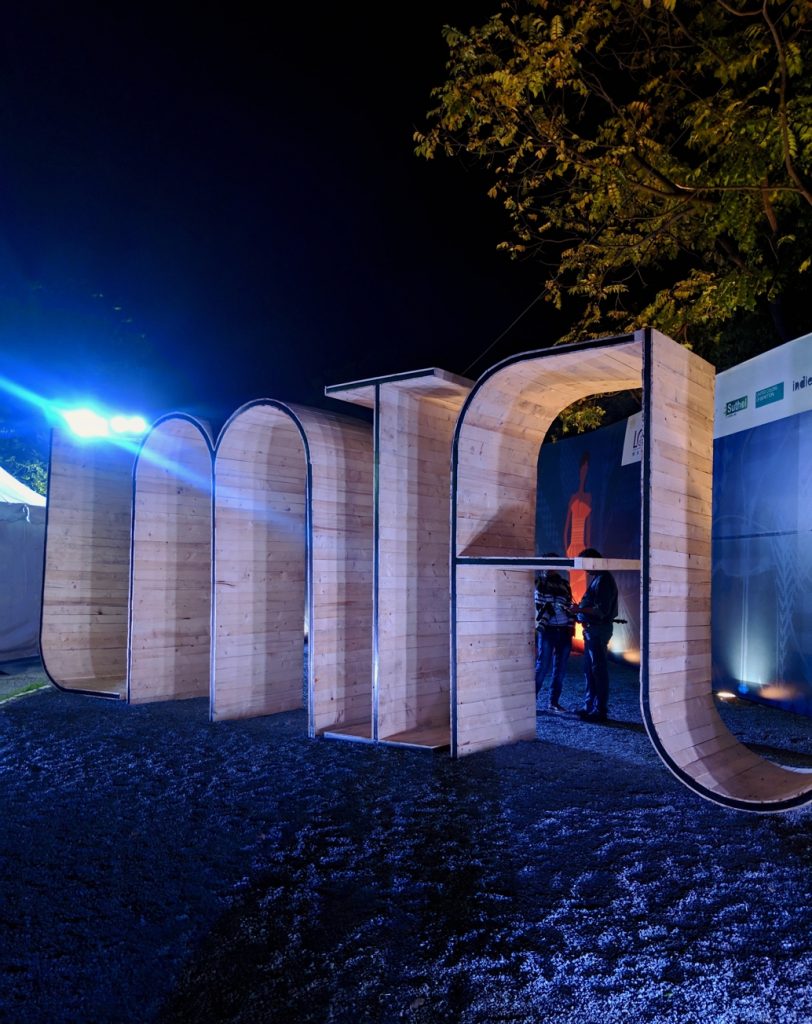 Interestingly, the last day of the event was dedicated to Pearl Portfolio, where the students of Pearl Academy showcased their talent. The FDCI Designer Stockroom was held on March 17 & 18, where India's top designers directly retailed their creations to consumers at competitive prices. While the runway shows are by invitation only, the FDCI Designer Stockroom sale was open to all.
---
ARCVSH BY PALLAVI SINGH 
Arcvsh AW'19 collection is an inspiration from the thought – "The beautiful Lifestyles which have been created and enjoyed by imprinting a rather devastating and catastrophic impact on our Environment and its Natural resources leading to cease its own Existence".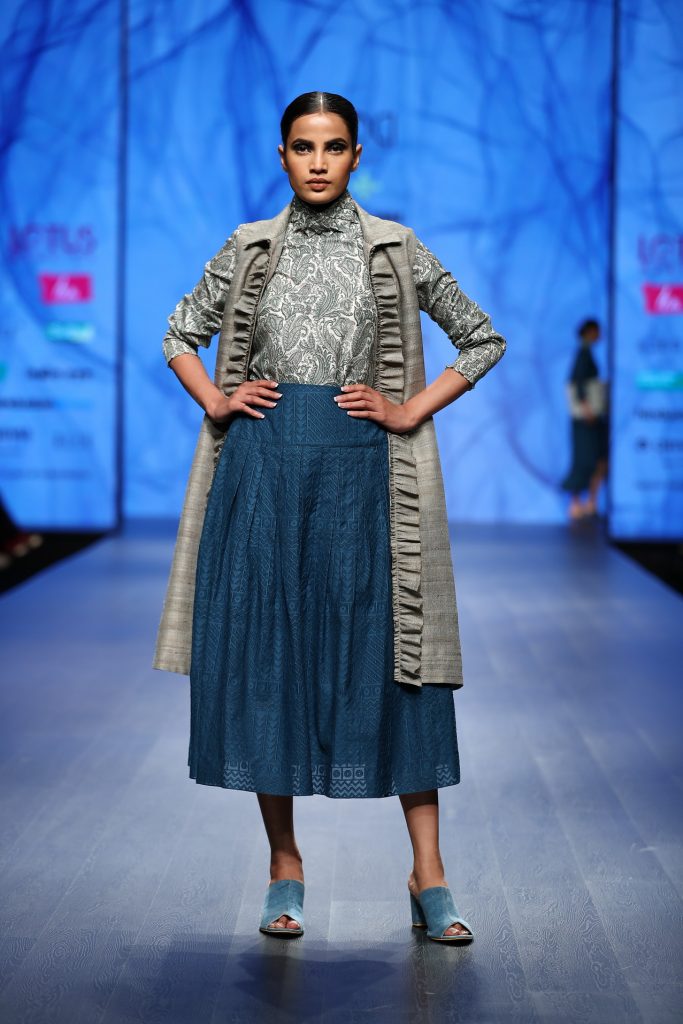 The collection expresses how they would like to remind themselves at least on their stand against the Earth's Questionable future as they are experiencing it today and calls for a conscious effort in using the materials that has the least impact on earth if discarded. It's time now to take Re-usability/Sustainability up as primary focus and implement as part of design creation.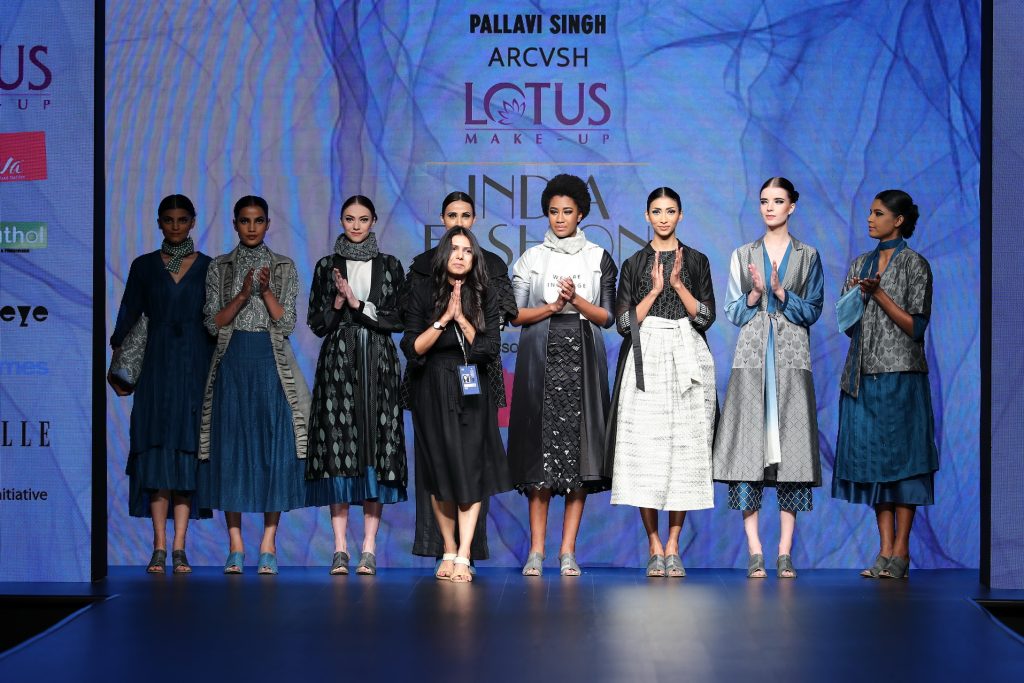 As an ode to take efforts to use the elements of the Nature's Beauty from its original existence to its current diminishing stages of Grey to the Black Future. Colors of the sky were used, patterns of Oceans Shore, Life forms be it land, or aquatic animals were incorporated to design the gorgeous AW'19 collection aesthetically using Pet-Bottle yarn fabrics, hand-woven Fabrics, natural and pure yarns and tried to present it by adopting these features through Printing, the forte, block printing, hand embroidery, Silhouettes, Colors and Textures as Fun and energetic. The colors used in this collection reminiscent and zealously sustain the far-fetched Nature's Original existence and its questionable Future. Fashion is sustainable ready when it retains the beauty by keeping its art alive and has the least impact on earth.
---
PRAMAA BY PRATIMA PANDEY – Ektara
Inspired from Dadaism, collection "Ektara" AW19 uses Maheshwari Handloom lines juxtaposing the various shades of life with bursts of floral embroideries. Various silhouettes including Kurta set, Sweater, Dress, Jacket, Sari, Shawl were seen on the ramp.  Soft neutrals and floaty silhouettes made for a stunning impression. Loved the touch of gold on tissues and silk which made an impact.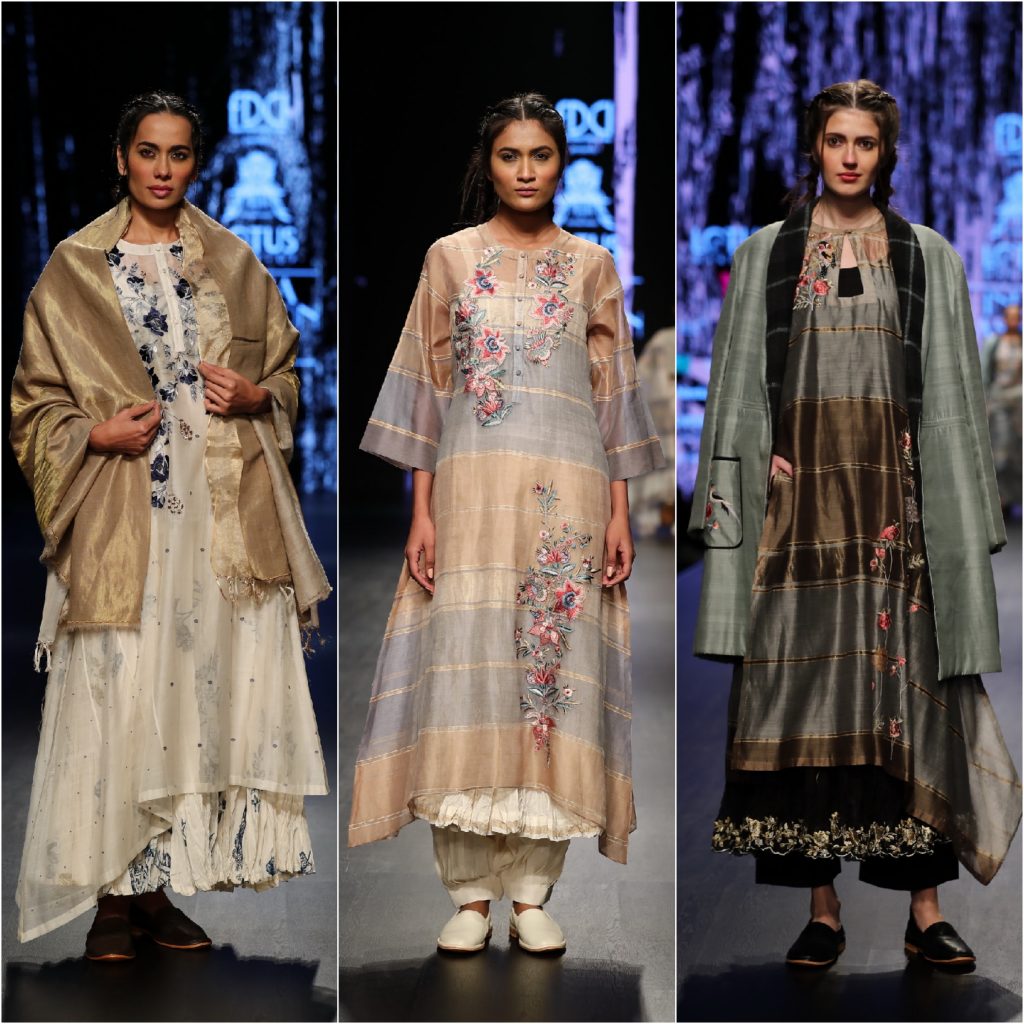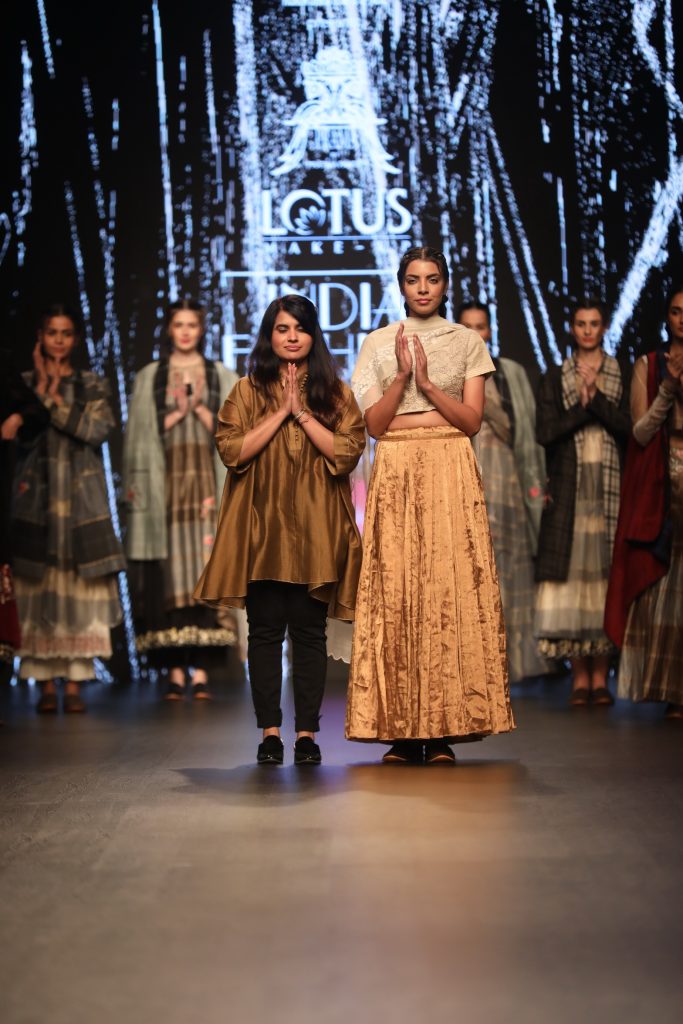 Pratima describes "EKTARA" in a beautiful poem-
One thread gives us hope
From past to the present
With a scope to rise
Into the heaven.
---
SUKET DHIR– Play
Almost surreal, a beautiful blend of quirk and structure- Suket Dhir's latest collection spells playfulness in all forms. The highlight of the collection is 'He for She', menswear silhouettes for women. It was fun to see blazers, bombers, shirts and trousers all in slimmer fits and softer cuts. The Brocade fabric being interpreted into a chic fabric with a faded sheen and digi-prints, satin-silks are translated into comfortable lounge suits and cottons and khadi render into mesmerizing falls.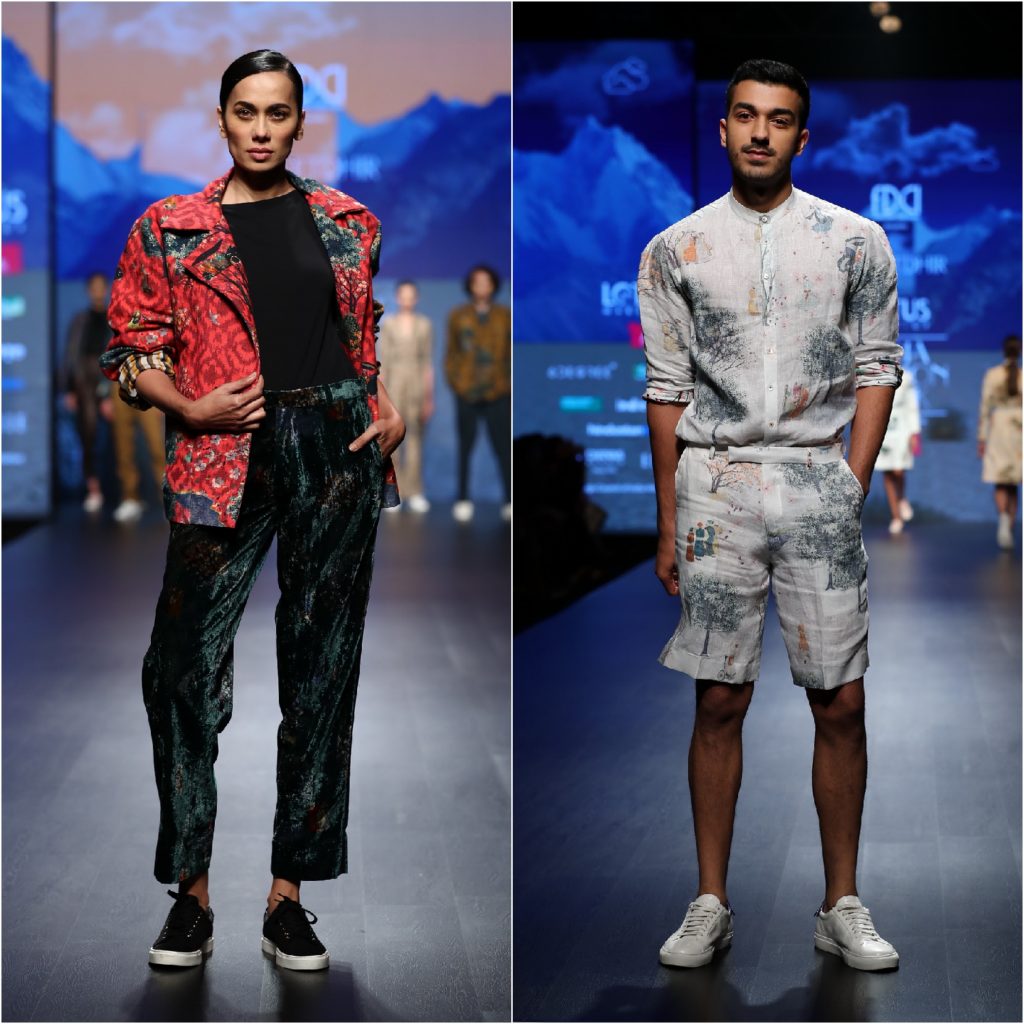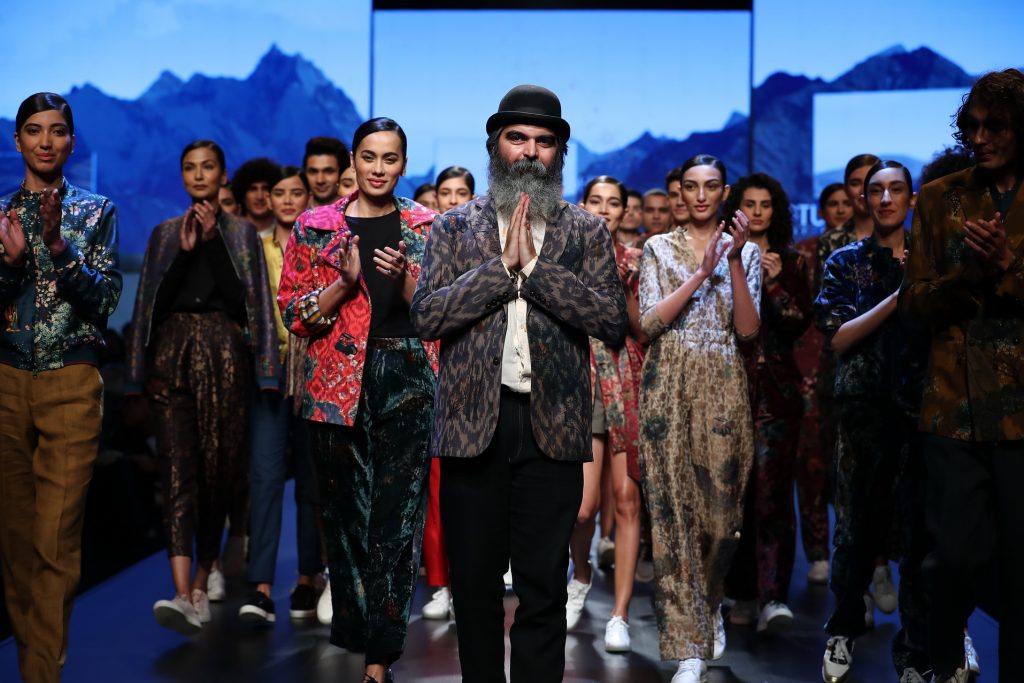 The menswear collection takes the brand's aesthetics a notch higher with less is more philosophy further transforming into ethereal timeless pieces. The delicate jamdani weave plays with iconic brand motifs of clouds, umbrellas, mango and mango trees. An ode to the memoirs of childhood and those days of merrymaking.
---
RABANI & RAKHA 
I was in awe of this stunning collection which aspires to be regal yet understated.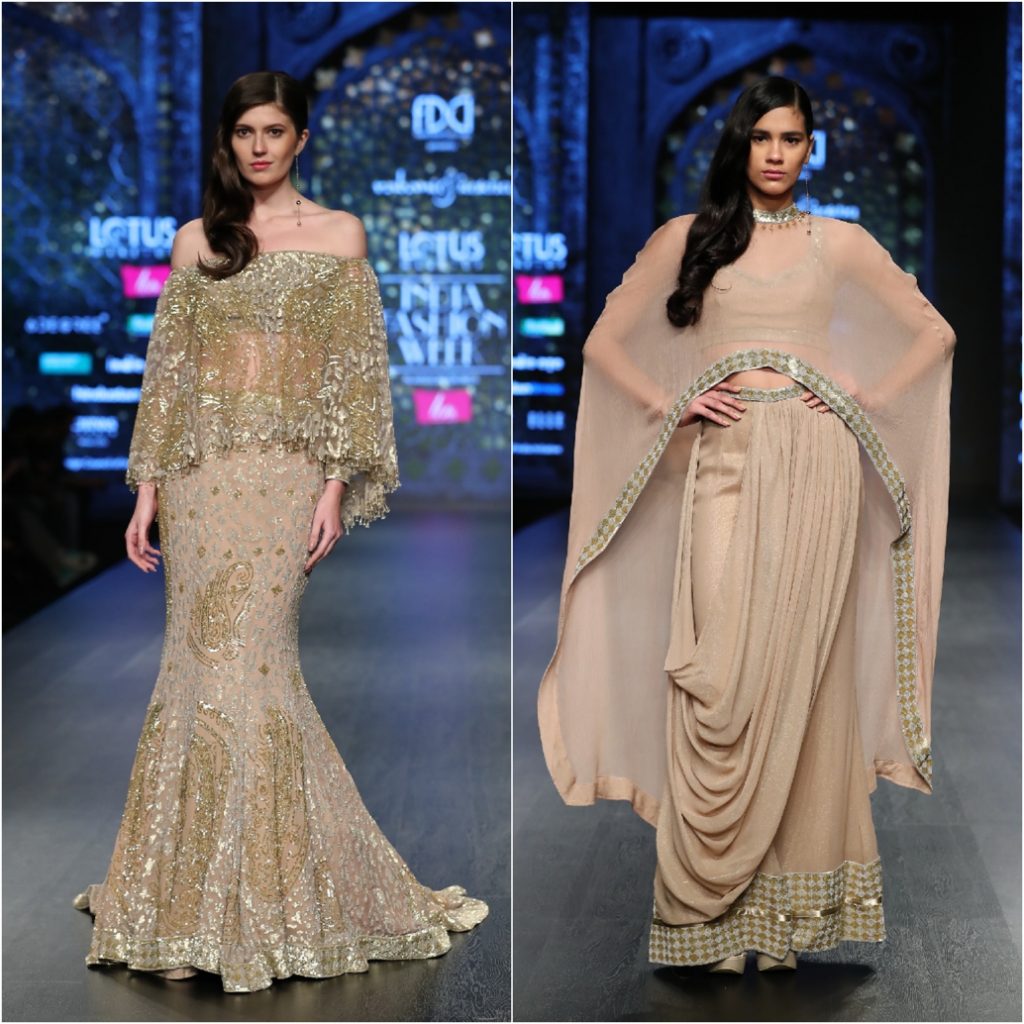 The collection opens with an Ivory story with tonal embroideries moving to emerald and ruby highlights. The second part of the collection was more contemporary in tones and hues of gold where paisley motifs intermingle with leopard Moros last with ease. Loved the distinct silhouettes!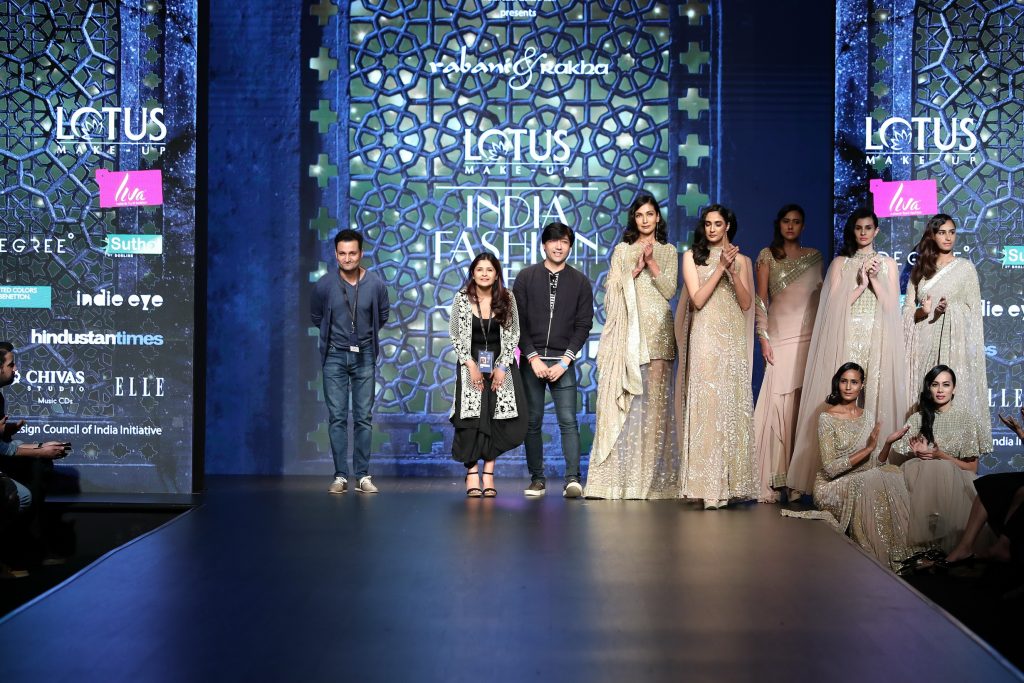 The big influence being Pearls in the new line, along with tonal sequins work.  The link fuses traditional embroideries with contemporary cuts and styles.
---
PANKAJ & NIDHI 
The inspiration of this collection interestingly came from a small painting which made its way recently into Pankaj and Nidhi's home on a magnified customized wallpaper. It's the first thing they look at every morning with their first cup of coffee, the best part of the day. It's no coincidence then that it became the starting point of the design process for Autumn-Winter.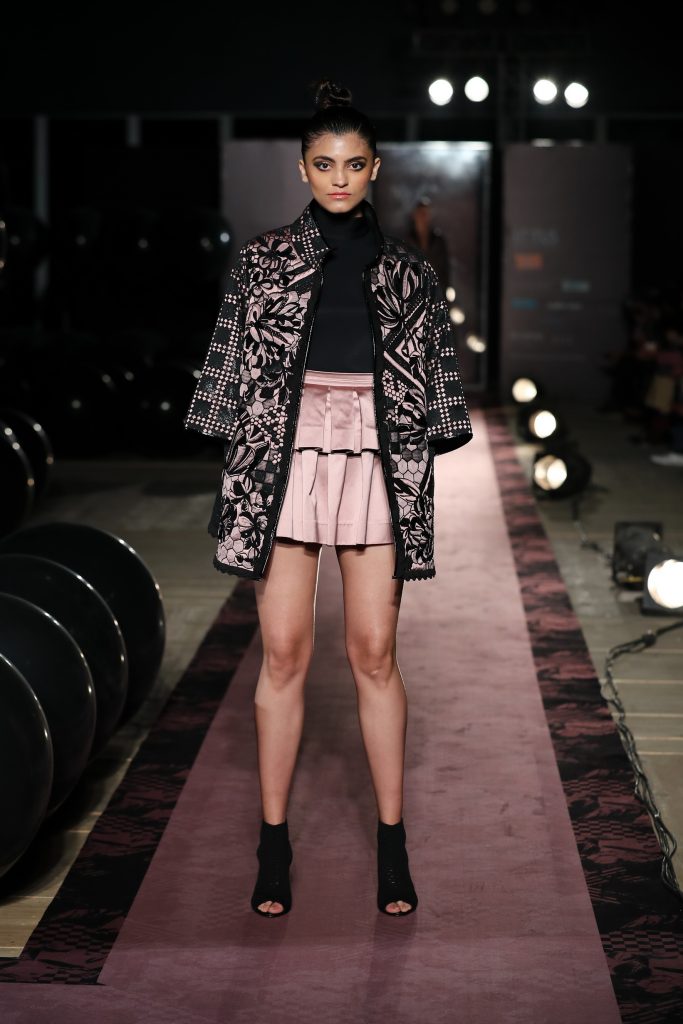 The duo worked their graphic sensibilities to make a collection cascading from florals to origami like geometric patterns on rich taffeta, silk velvets and organza. At the heart of every collection lies the texturization they like to give to textiles. They revived the intricate trapunto quilting and an army of scissor wielding hands have cut petals and discs, squares and trellises in fabric and metallic faux leather to create the surfaces that embellish the pieces.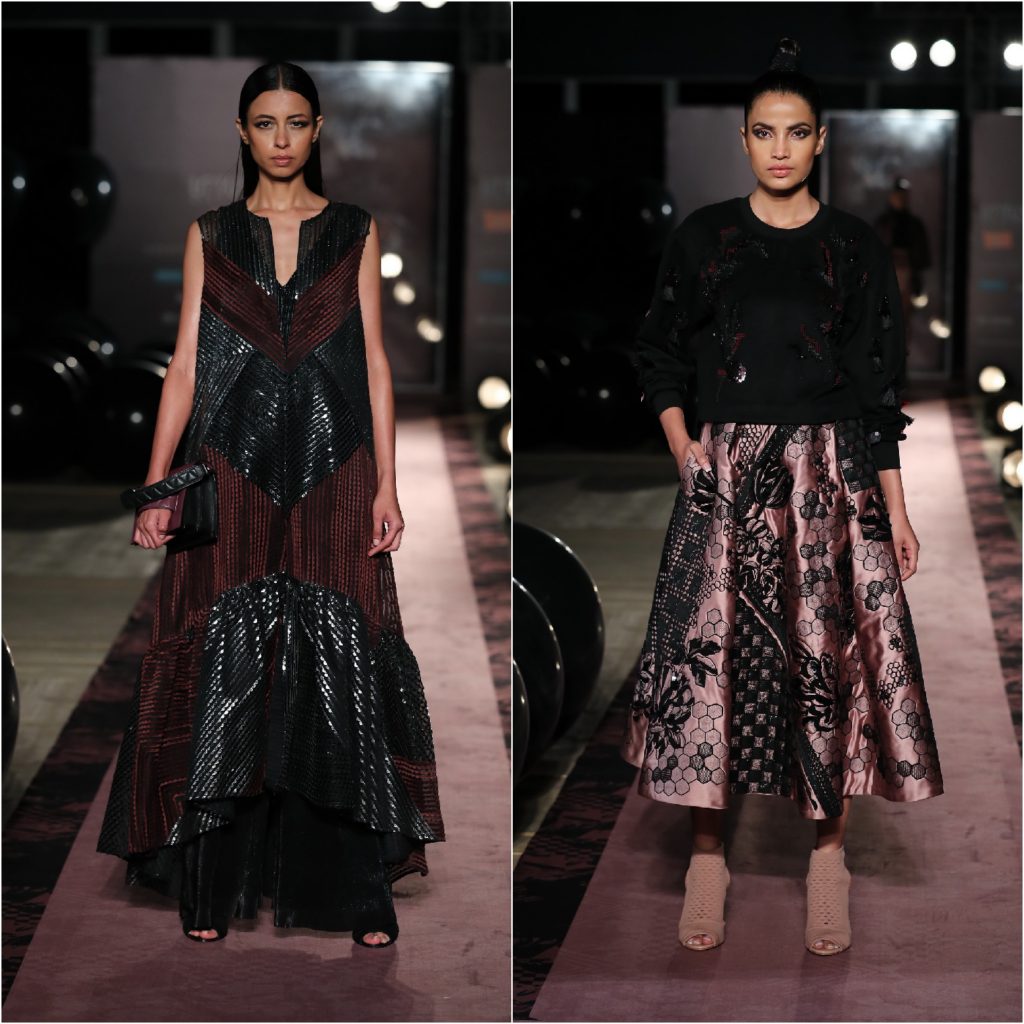 The shapes are luxe-modern – off shoulder jumpsuits, voluminous winter coats, sportswear inspired sweatshirt dresses and tops, layered with transparent trenches and ruffled evening blouses – dark muted glam separates that can be styled uniquely.
Pankaj and Nidhi's clothes tell a story and their collections are universally wearable!
---
NITIN BAL CHAUHAN- White Chapel
The collection is inspired by the graphic novel 'From Hell' by Eddie Campbell and Alan Moore. The novel brings out the meditation in the mind of a madman whose savagery and violence gave birth to the 20th century.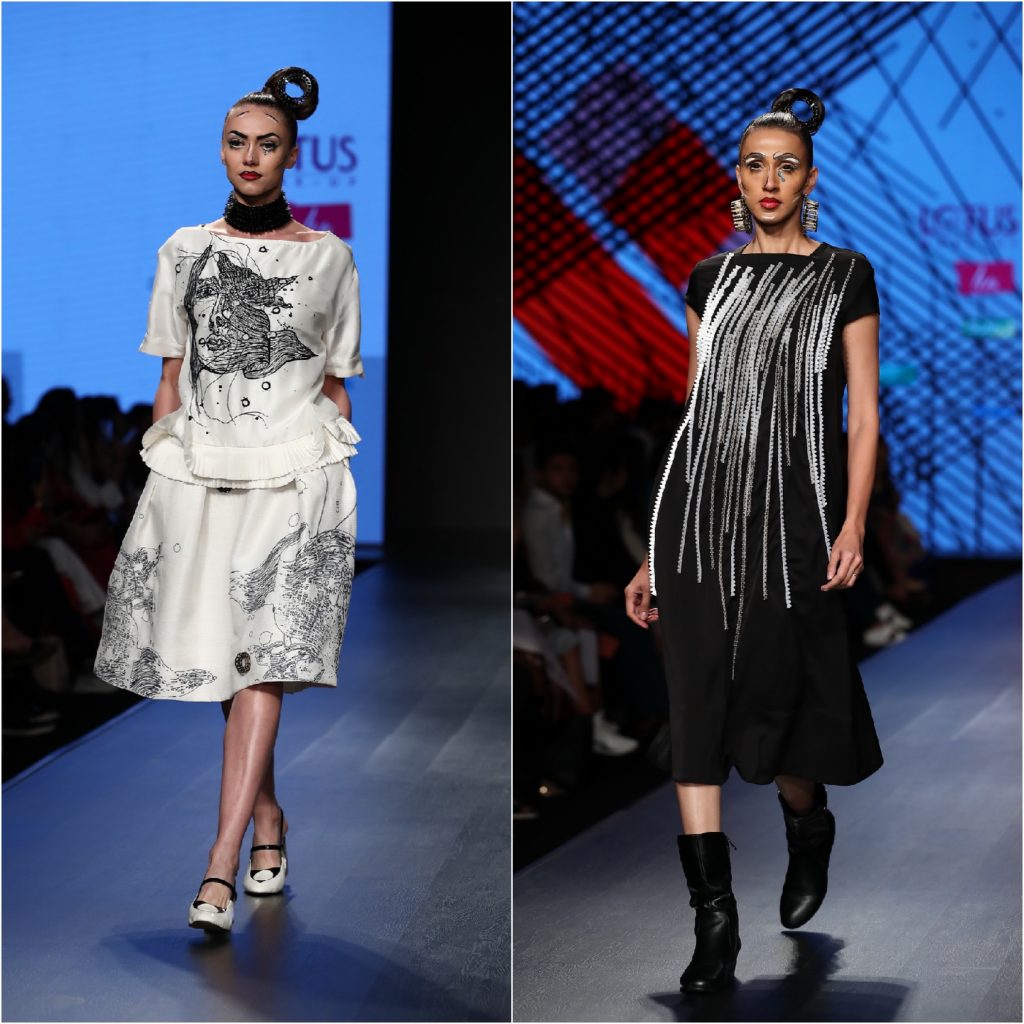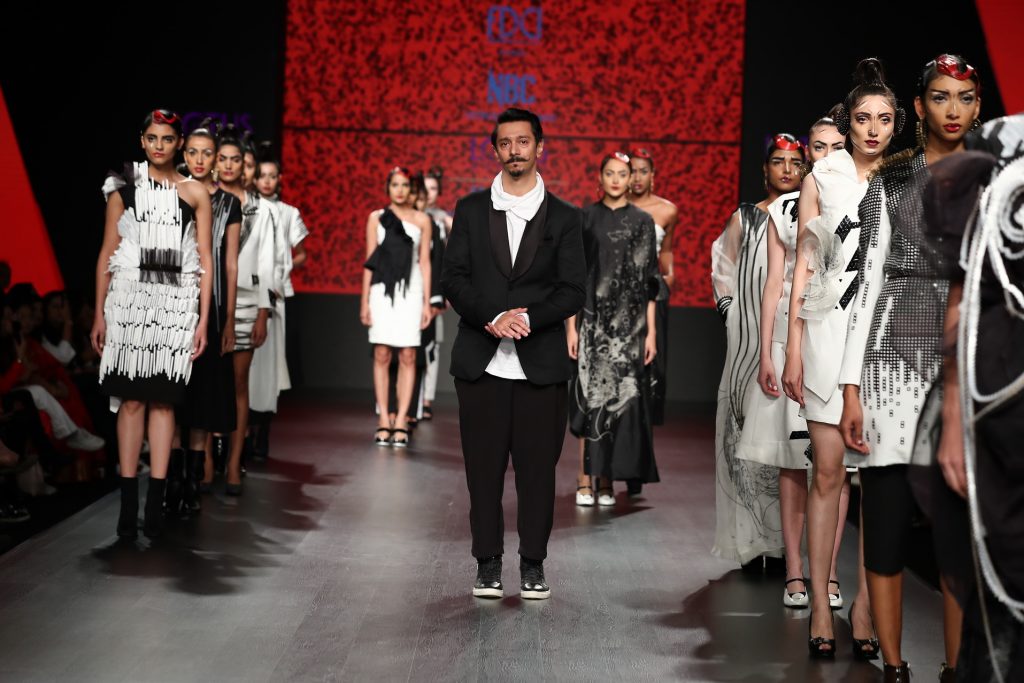 Keeping the inspiration in line, Nitin's collection has a grim mood, sharp angular style line paired with Victorian details! Loved the variation of ruffles and pleats which gave a fresh visual juxtapose. Graphic comic illustration inspired hand drawings by the designer translated to hand embroideries and 3D hand embroideries are a strong signature this season for NBC.
---
SAMANT CHAUHAN
Samant gracefully manifests the reality of woman making her choices and daring to live her dream.  Samant garbs her in layers, capturing the myriad hues of her existence, the conflicts and harmony, the distortions and the truth weaved in detailed embroidery in jewel tones and shades of pink, orange, rust and burgundy on structured silhouettes in whites and ivories.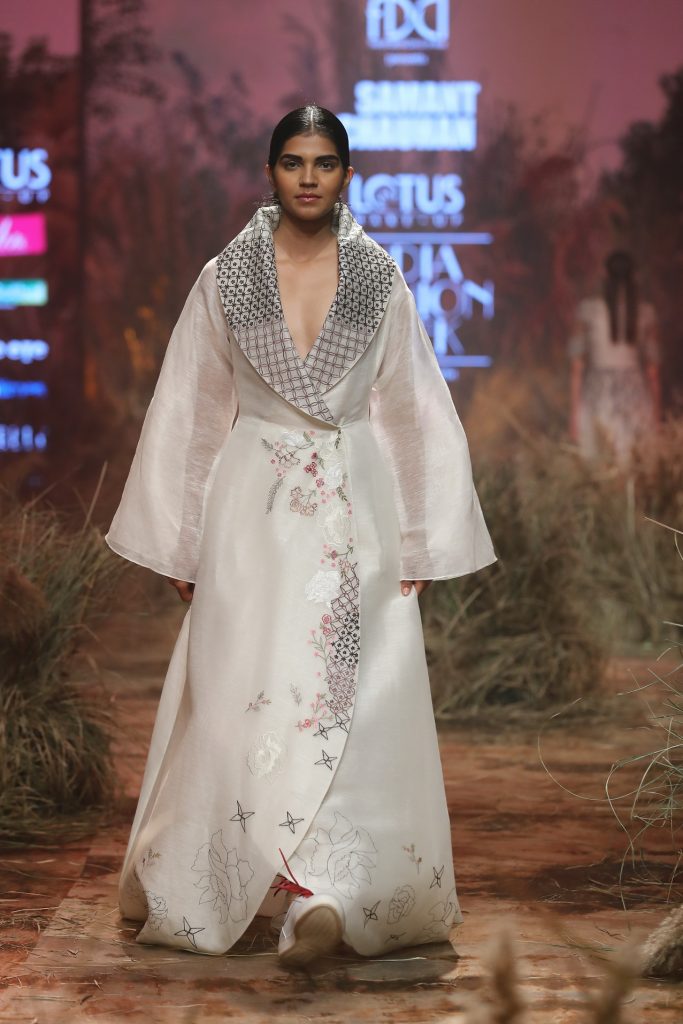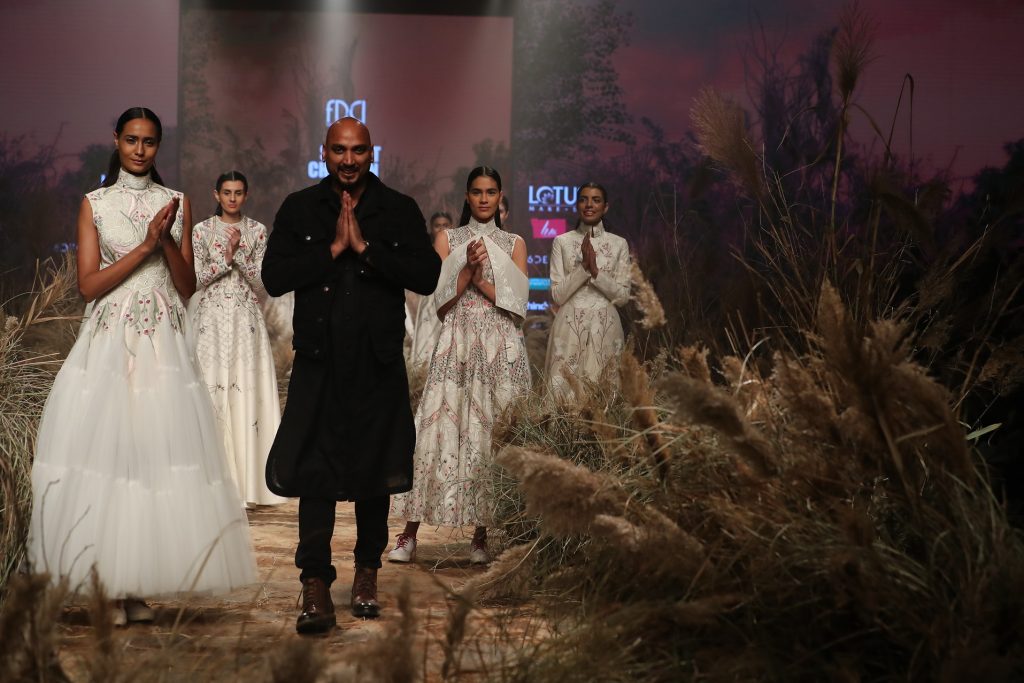 He details the triumph of her spirit as she emerges from the chimera and walks her path holding aloft her essence …the flowery being that she is casting her spell and enigmatic fragrance… the signature of her soul.
---
PAWAN SACHDEVA- Decode
When it comes to power dressing, why would men stay behind and that's what Pawan Sachdeva's collection "DECODE" was all about. The men's collection included an infusion of asymmetrical cuts, belted garments and structured fits amalgamating with different prints diffusing into an array of color palette.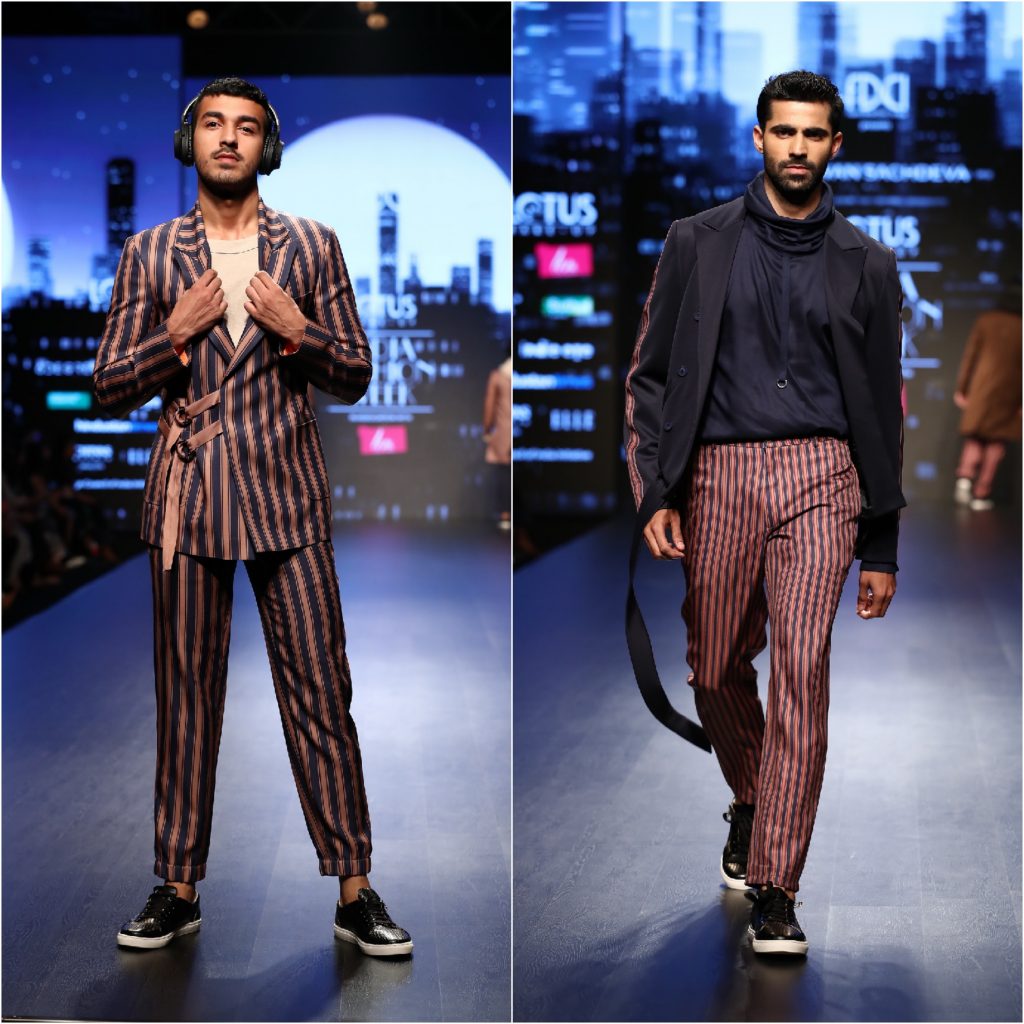 What was also a highlight was also the showstopper Radhika Apte who sashayed the ramp in the menswear collection. Looking absolutely dapper, she came dressed in black and completely stole the show. The collection began as athleisure and ended towards formal structured garments keeping in mind the current demand of comfort and style.
The color story included a palette ranging from rust, brown to neon's and blacks. It's more of the colors that we see in and around.
---
ROHIT KAMRA- Rajasthan Roots
Giving a royal touch to #LMIFW was designer Rohit Kamra with his collection Rajasthan Roots. Originating from Jaipur, Rohit Kamra continues the story of "The Modern Maharaja", a tale of the revival of the classic silhouettes of Rajasthan seen with a fresh perspective, cohesive with the Royal opulence of the Brand.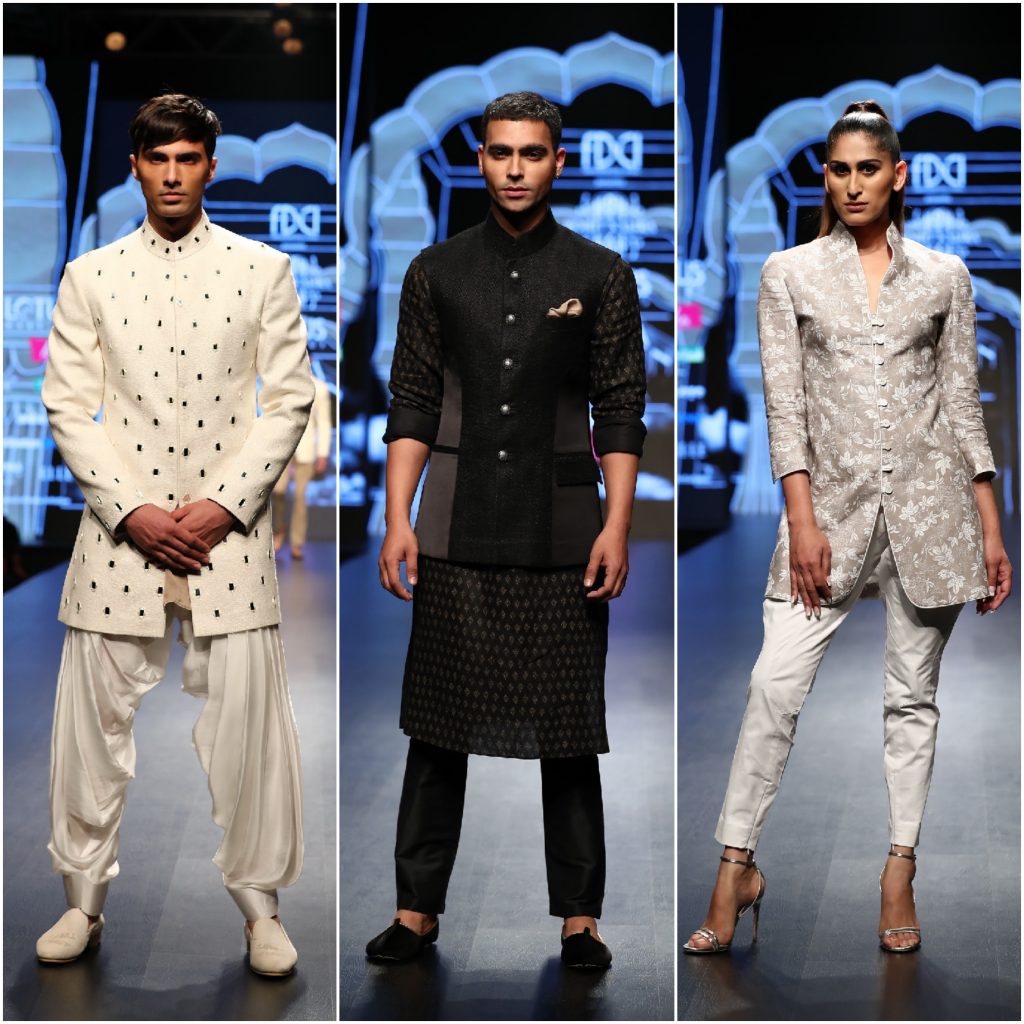 Bollywood actor Aparshakti Khurana opened the show wearing a white bandhgala outfit in Coral beads and Coral pocket square in a modern Maharaja look. The models took over wearing classics including Achkans, Angrakhas, Jodhpurs, Hunting Jackets, Bhandhgalas, Breeches which ruled the runway and commanded the attention of the viewers. The colour palette included elemental, beginning with the unpigmented white continuing with hues of creams, beiges, grey and ending with the timeless black. The show ended with the Oscar winning filmmaker Guneet Monga making her debut on the ramp.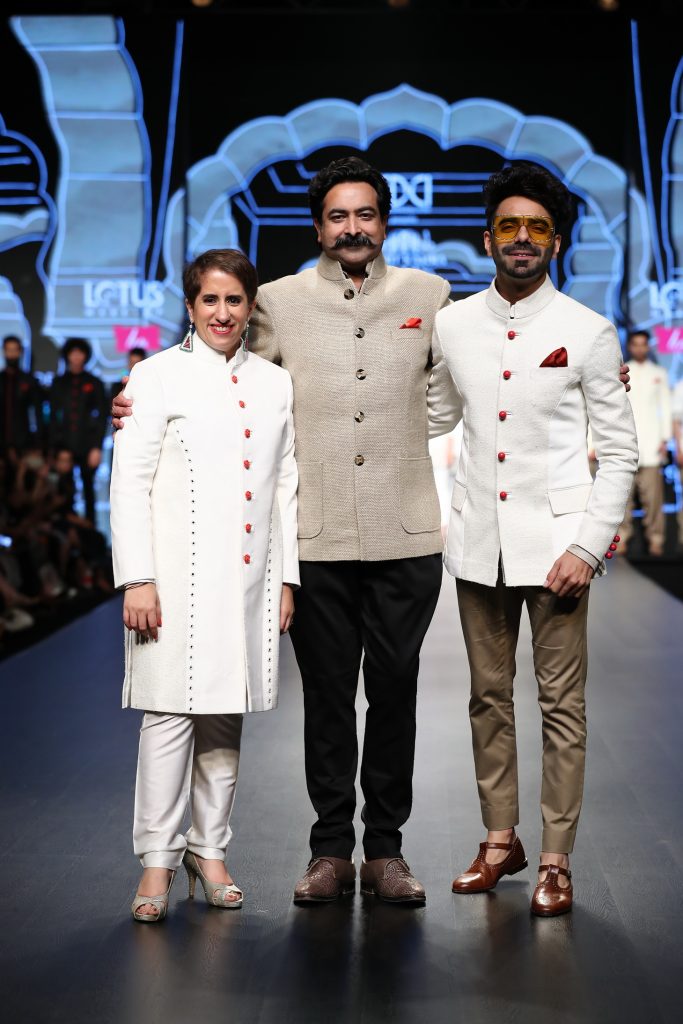 An innovative concept introduced in the collection is the mirror work embroidery for Men. A craft originating from 17th century India wherein the use of mirrors comes from traditional beliefs that mirrors help to trap and blind the evil eye, reflecting bad Luck & evil away from the wearer.
---
LOTUS MAKE-UP GRAND FINALE
Now about the most awaited show of the season – the LOTUS MAKE-UP GRAND FINALE for which FDCI went the whole six yards. A symbol of 'forever', the sari and its multiplicity, its candour and its personality were celebrated by top designers from all corners of the country.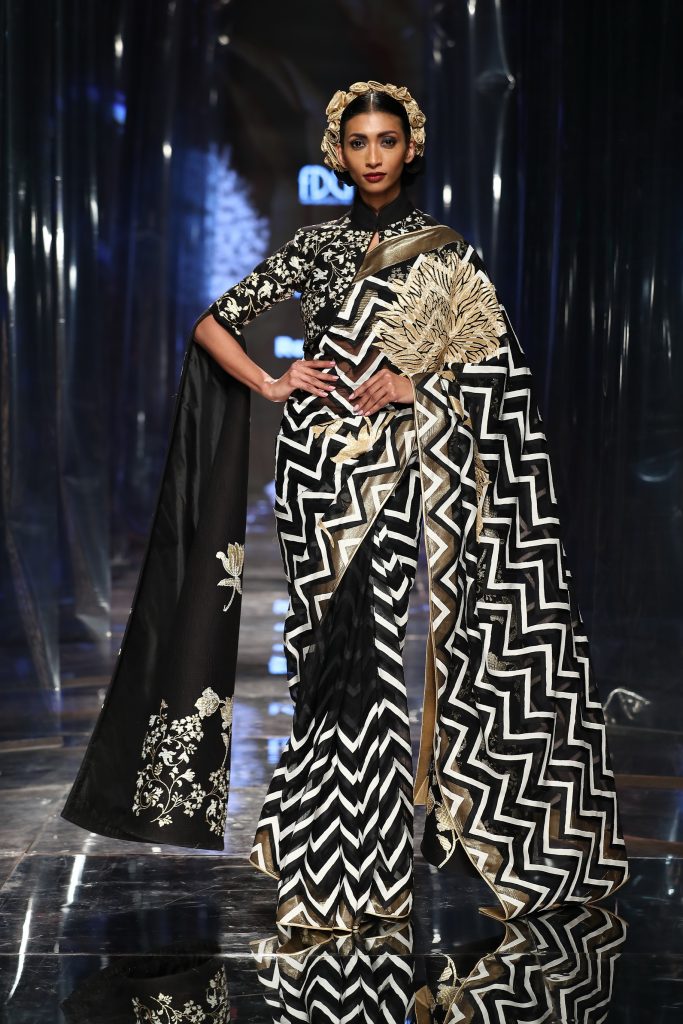 The sari is a metaphor of history; its seamless and unstitched character makes it moldable for every body type. It is one of the few ensembles that has withstood the test of time, tide, trends and has held women's undaunted interest for decades. It is this multi-identity that LMIFW paid a tribute to at the grand finale.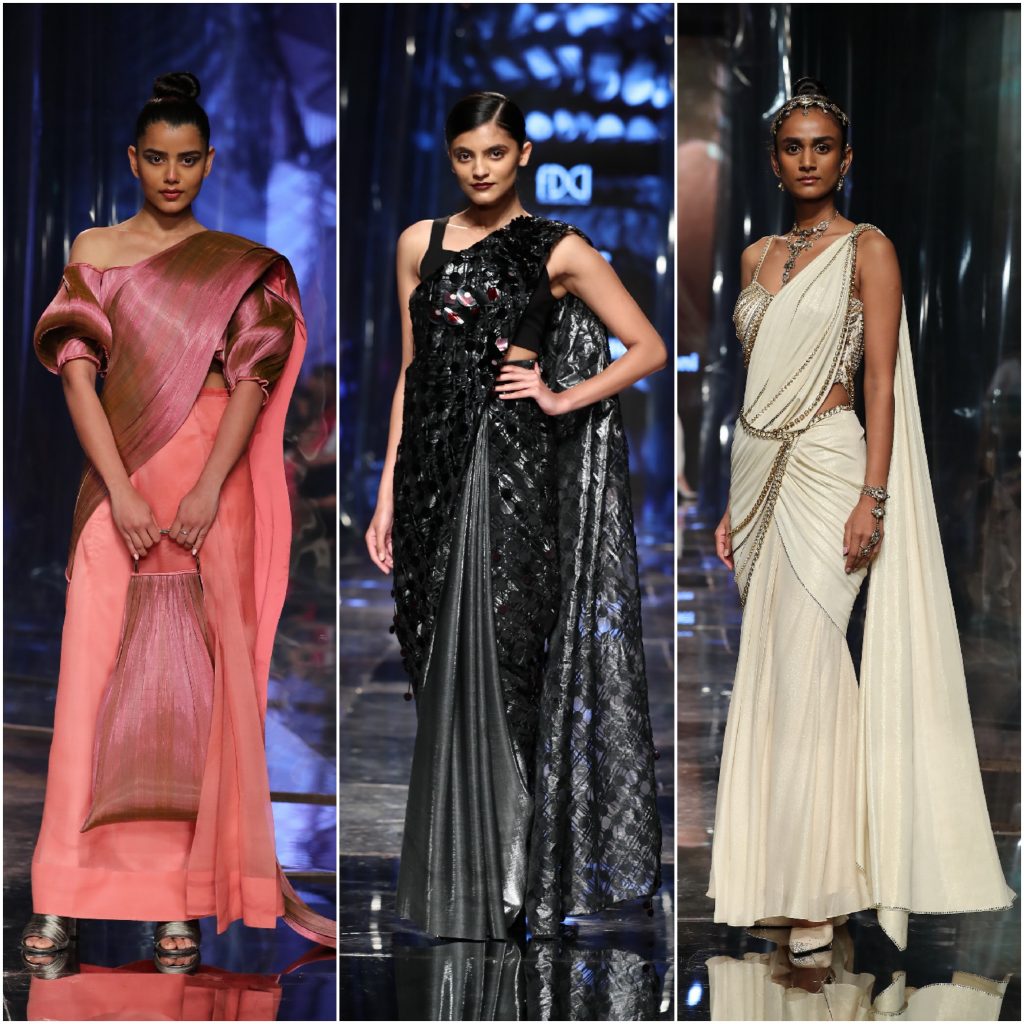 The graceful garment Sari was uniquely designed by 21 designers with their creative aesthetics. The ramp brought alive the artistic interpretations from the country's most ingenious designers including Akaaro, Alpana & Neeraj, Amit Aggarwal, Anamika Khanna, Anavila, Anita Dongre, Bodice, Gaurav Gupta, Little Shilpa, Neeru Kumar, Pankaj & Nidhi, Payal Khandwala, Prashant Verma, Raw Mango, Rimzim Dadu, Rohit Bal, Rohit Gandhi + Rahul Khanna, TAANI by Tanira Sethi, Tarun Tahiliani, Urvashi Kaur and Wendell Rodricks.
Bollywood stars Diana Penty and Aditi Rao Hydari opened and closed the show. Both looked extremely graceful and beautiful.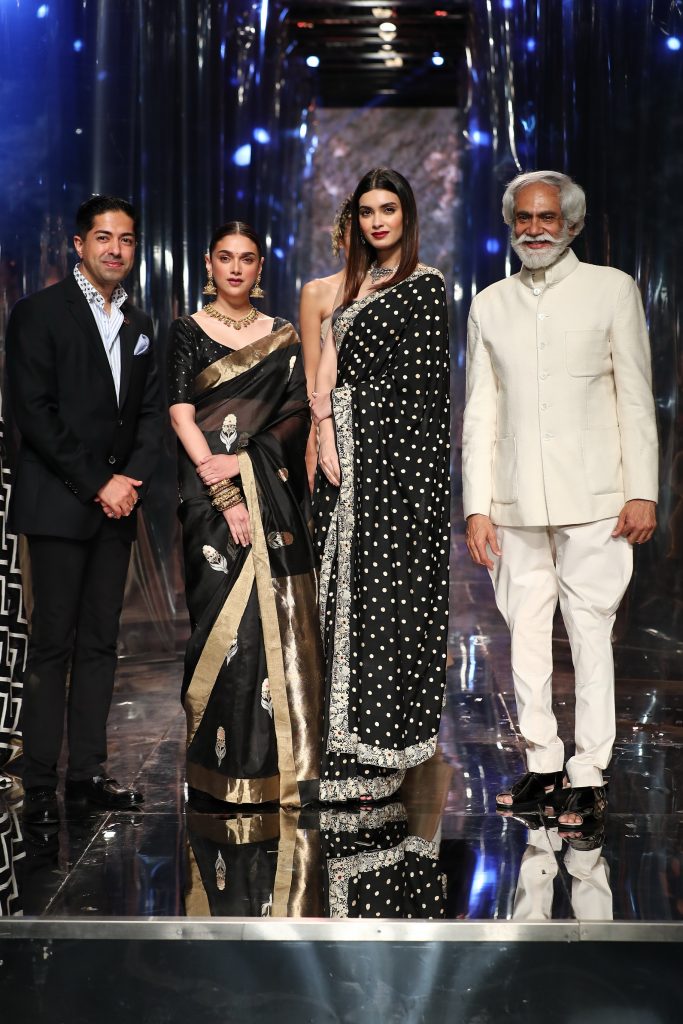 The event was preceded by a nationwide social media campaign celebrating six yards of magic. For some, the sari is #sixyardsoflife; for others, its #sixyardsofhistory, #sixyardsofinheritance, #sixyardsofdrama, #sixyardsofselfexpression, #sixyardsofmagic or even #sixyardsofmischief.
---
And it's a wrap! Do stay tuned for more updates from the world of fashion, lifestyle, travel and food!