The Westin Gurgaon is one landmark that cannot be missed. I have always been attracted to this luxury hotel for its beautiful ambience and the world cuisines it offers across its diverse dining venues. This time was even more special because I was there to try apna desi Indian khana. Nah Nah I am not talking about Dal Roti or Butter Chicken but the desi Indian khana from South! Yes, The Westin Gurgaon was offering rich delectable cuisines from South India which were a part of the multi-cuisine buffet at Seasonal Tastes though for a limited time period only.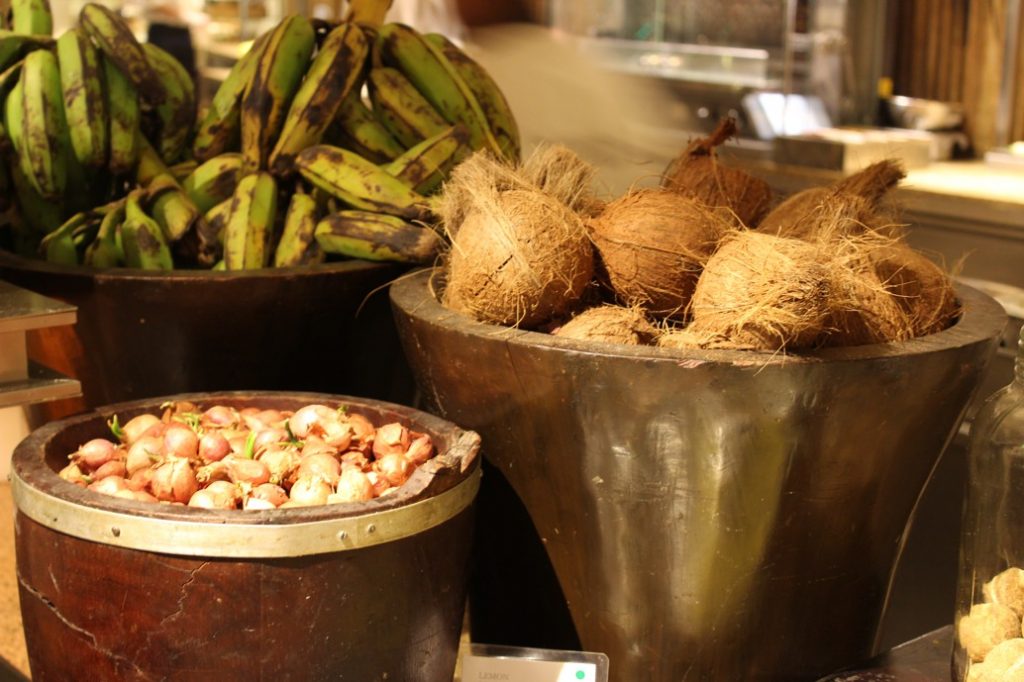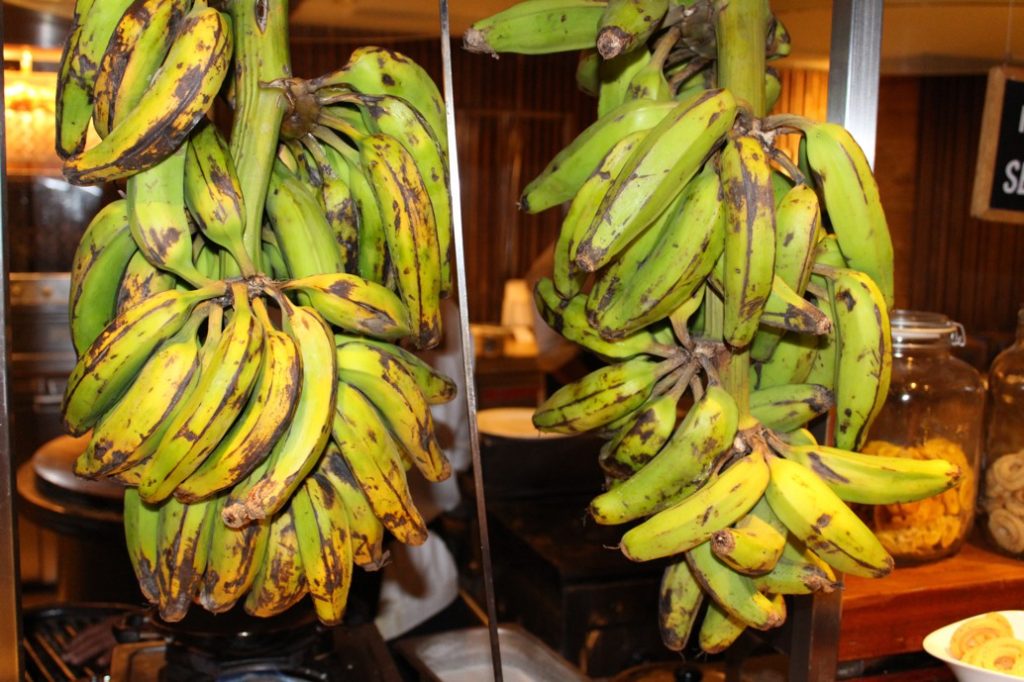 Team ChicLifeByte entered the gorgeous lobby from where we entered the restaurant offering a multi-cuisine buffet. On offer were Soups & Salads, Indian, Roasts and Bakes, East, Chaat and not to be missed Dessert Counter. I knew my target so without much ado I went to the Indian section. What was interesting and what we generally don't realize is that when we think South Indian Cuisine, our thought process gets restricted to only Dosa, Idly, Utthpam or Lemon Rice but standing at the buffet of The Westin Gurgaon, I was pleasantly surprised and excited with the array of options.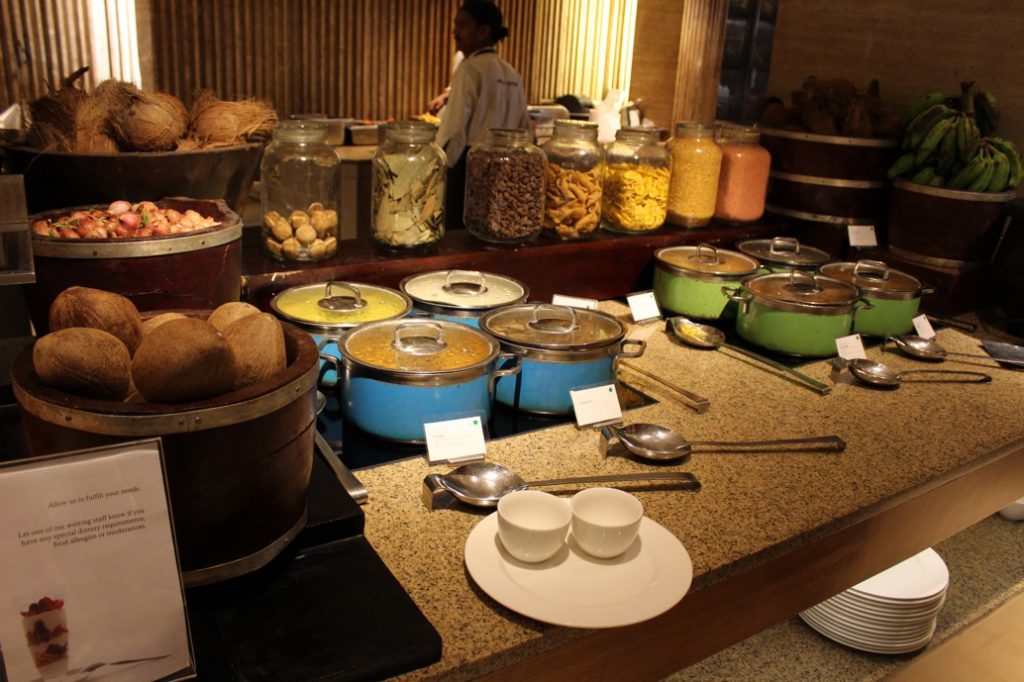 We started with some starters (yes, there is something called starters when it comes to South Indian cuisine as well! Palkati (South Indian style Chilly Paneer) was quite interesting! Along with paneer, there was sliced onion, tomato, ginger, chopped garlic, and salt. I had never had this twisted chilly paneer but it did steal my heart! Fish Fry Kerala was served with onion rings and garnished with curry leaves and lemon. They were drool worthy, fried and succulent but lacked a little flavour. I certainly expected something better! Chicken 65 had a garnishing of one of my favourite thing- Papad! The dish was crispy and juicy and the papad made it unique. The small size of the chicken made it convenient to eat and it turned out to be quite addictive. Aloo Bhajiya, a monsoon delicacy or a winter staple was crispy and nicely fried which tasted well!
Time for Masala Dosa which came in a triangle form rather than the usual circular form! The dosa was accompanied with sambhar and chutneys. It was crispy yet soft and had a light masala stuffing! Absolutely perfect! Lemon Rice, another favourite of mine was cooked with grains of dal and curry patta along with the flavourful masalas.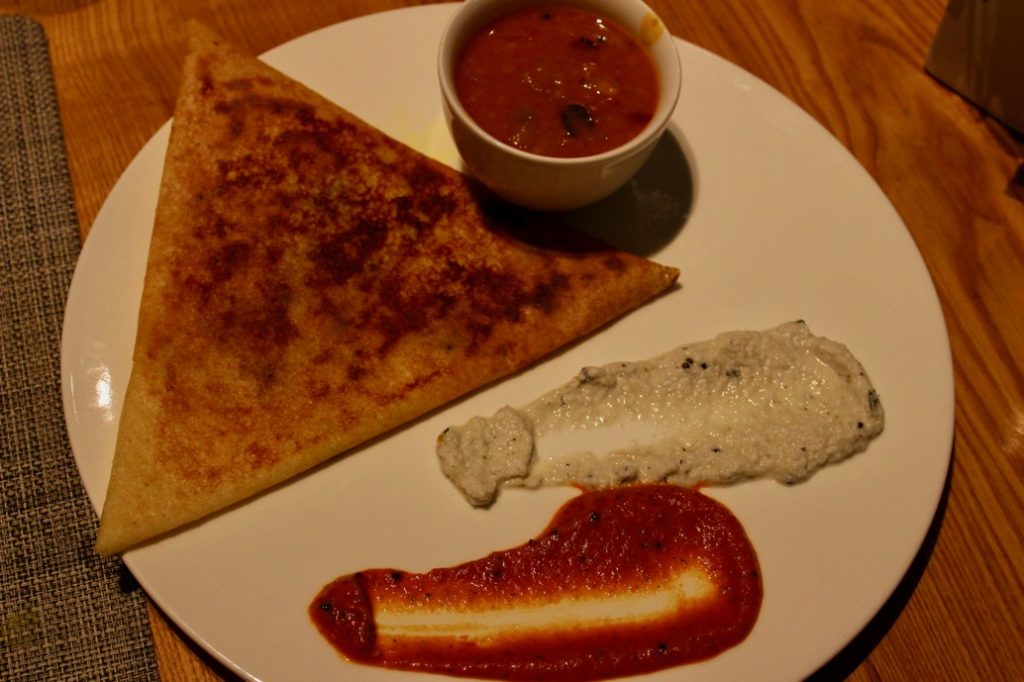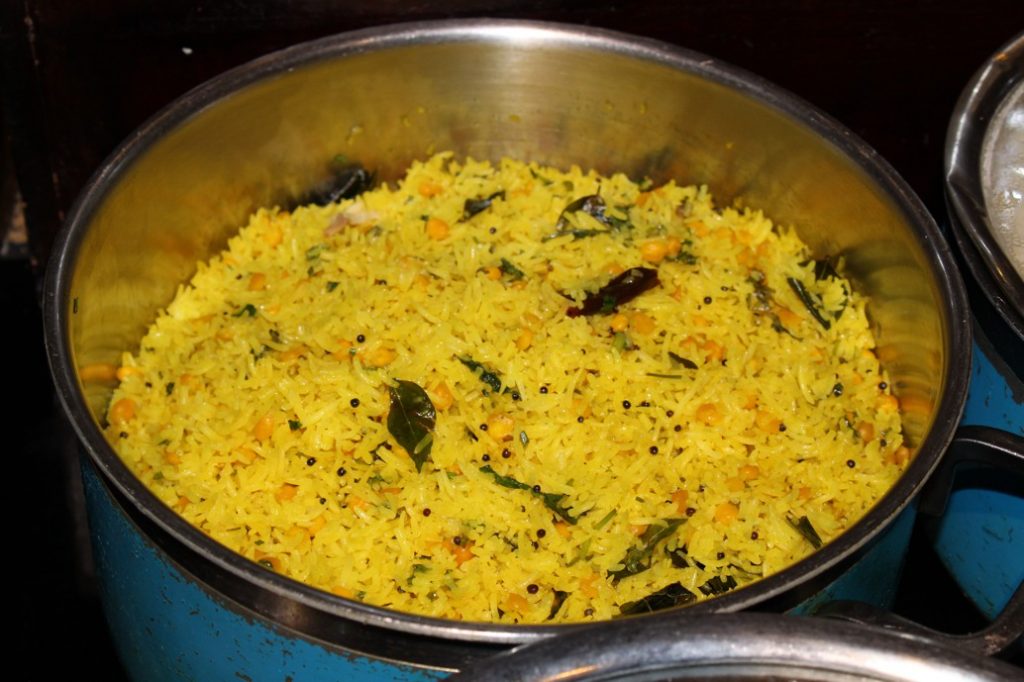 The Chicken Roast was flavourful, nice and light! Allepy Meen Curry (Fish cooked in South Indian Style) was absolutely soft and had rich flavours. It gave an amazing taste and just melted in the mouth! Mamsam Iguru (Lamb in South Indian Style) was soft, warm and had different flavours while Andhra Cheeman Curry (Prawns cooked in South Indian Style) had distinctive flavours and was absolutely different from what I have tried till date!
While browsing the buffet, I saw Rasam in the soup section and got really excited! I have always cherished the combo called Rasam Papad and without any delay along with Rasam I picked a crispy papad. Light and refreshing! Rasam was not too thick and made for a warm and yummy delicacy.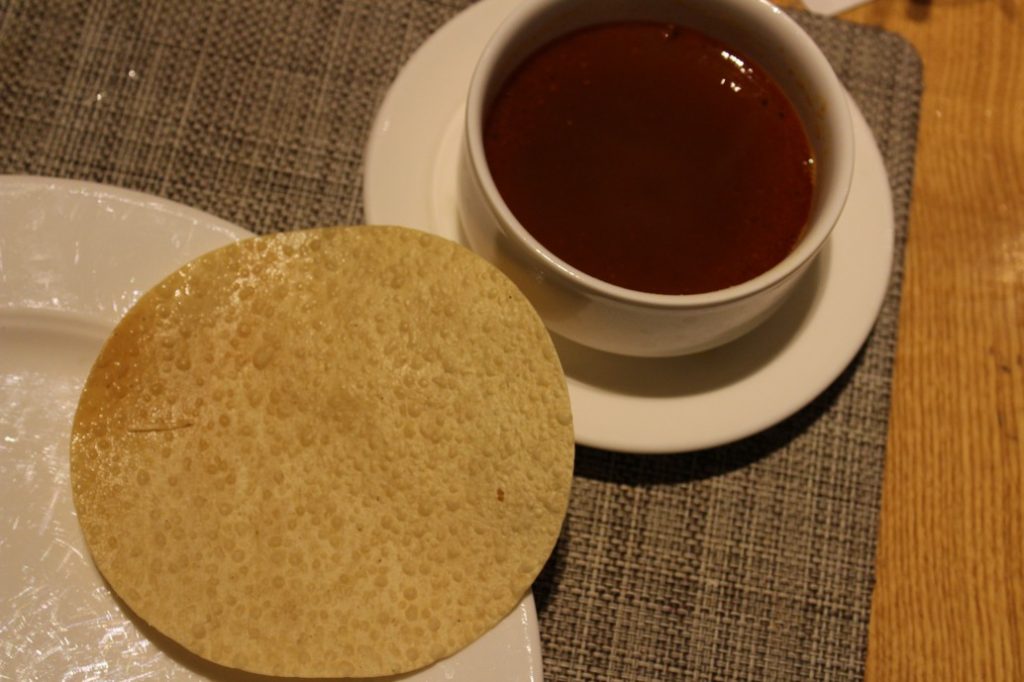 Next was Appam served with veg and chicken stew. The appam was lovely to not only eat but to look at as well! It was so tasty that I didn't even need stew with it though the stew was nicely cooked in coconut milk.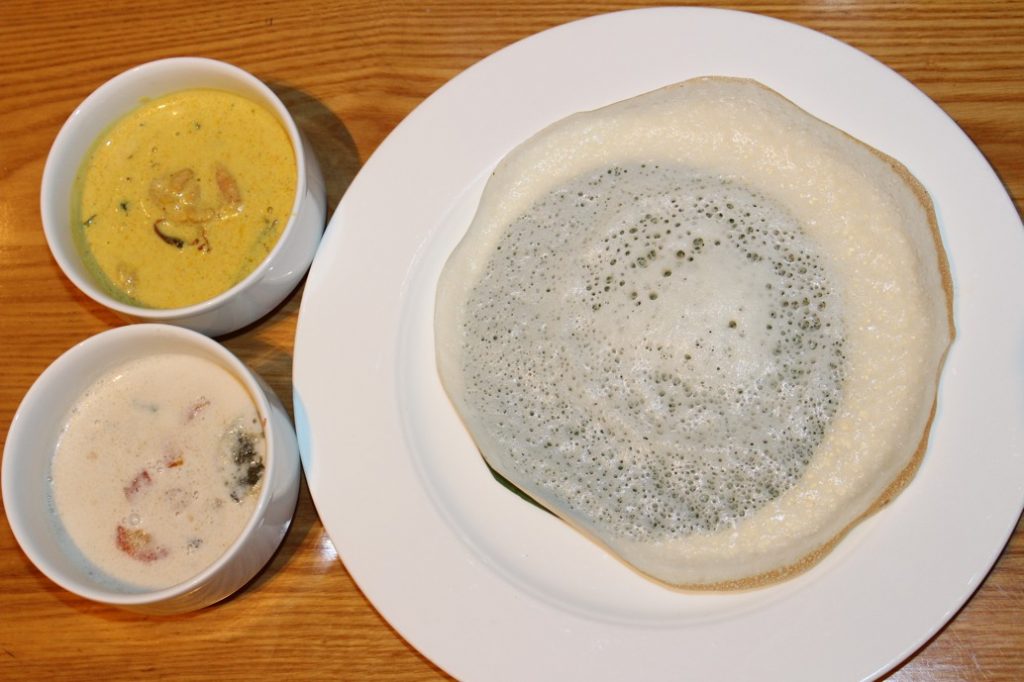 Time for desserts! Payasam was perfectly sweet, heavenly, warm and nice! The Mysore Pak was made of cashewnuts and tasted great!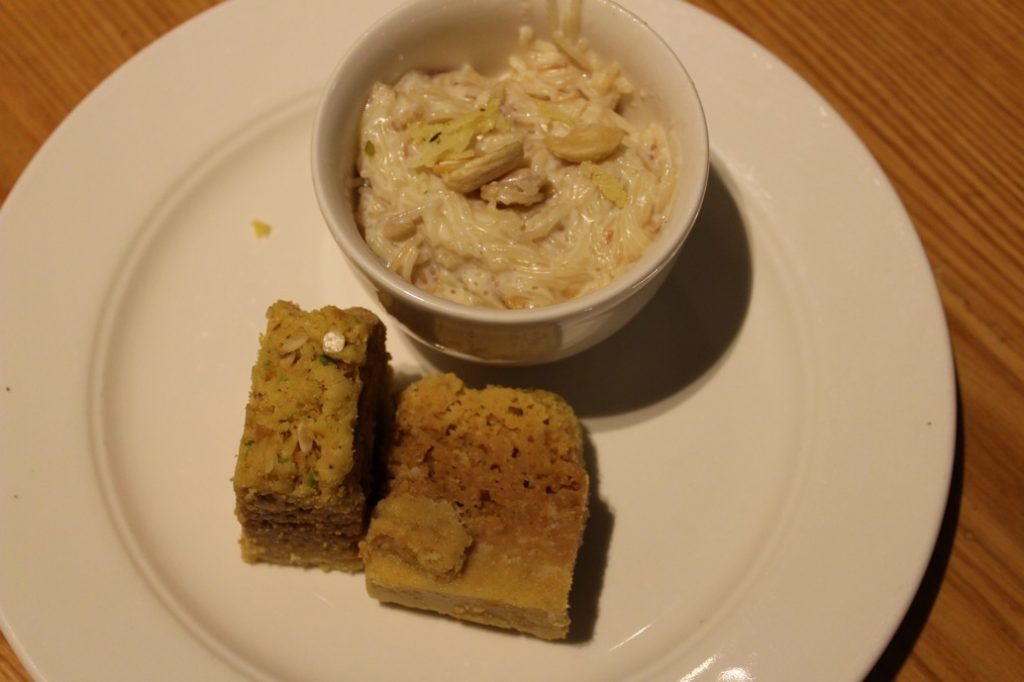 Thank you The Westin Gurgaon for organizing this South Indian culinary experience which I absolutely loved! I am definitely gonna keep a close tab on the special food festivals organized by Westin.