Located above HDFC Bank in the quaint little B6 market and spread over 3 floors, Depot 29, a restaurant with a unique Tex-Mex menu, derives its name from the PIN code of the area it is situated in, Safdarjung Enclave. We exited the lift on level 3 and I was instantly taken in by the wonderfully done interiors. This floor has a kitchen that is right in the middle of the seating area but care has been taken to separate the two using toughened glass. During the entire time that we were seated there, we were not disturbed by any unnecessary noise or smell from the kitchen – a testimony to the smart planning of the owners.
The lighting is such that all the important places (like tabletops, walking area, etc.) were brightly lit up and the unimportant ones (corners, etc.) weren't. After deciding that we were going to be seated on this level, we nonetheless proceeded to level 2, which is also done up quite in the same manner, the only differences being a change in the style of furniture, a bar instead of the kitchen, and a place in the far corner where we saw musical instruments.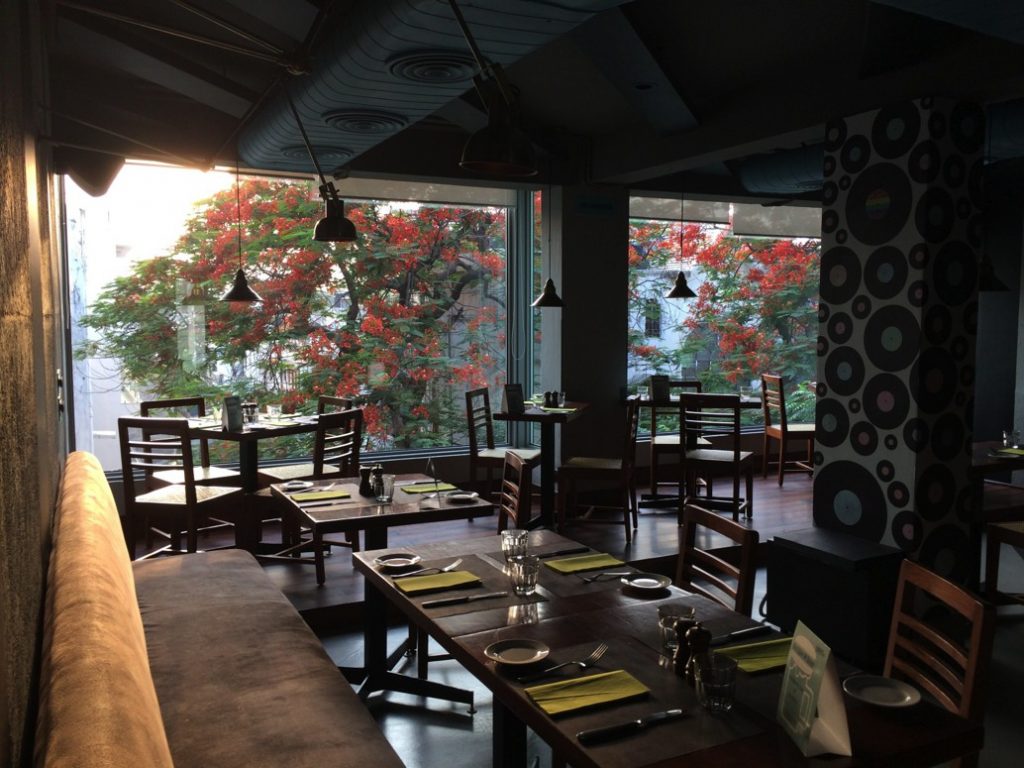 We were informed by our host, Mr. Bhaskar (more about him and his impressive service later) that Depot 29 has live music on Fridays and Sundays. He even showed us the calendar which contained the names of the bands scheduled to perform here. All 8 days in the June calendar had a different band. On level 2 we also found an interesting shelf that contained old cassettes from the 1980s and 1990s. We then proceeded to the terrace level which, as we had been informed in advance, was currently under renovation and being used only as a smoking area.
Returning to level 3, we took our seats and were greeted again by Bhaskar, who informed us that we could take the option of a pre-decided menu which would ensure that we could sample a complete variety of what the menu had to offer. We took this choice and soon were presented with the first drinks for the night – Gingranade: a cocktail that, as the name suggests, comprised of Gin and pomegranate as the major ingredients and these two were accompanied by mint leaves and lemon wedges, making it a delicious way to start off; and Tangerine Delight a tasty and refreshing mocktail comprising of the tangy flavour of lemon and oranges.
The first food items to reach our table were: Root Vegetables & Jalapeno Empanadas served with hung Yogurt Dip, and Chipotle Marinated Chicken, Cheese, and Jalapeno Empanadas served with Herb Salsa. Both were stuffed dumplings that were deep fried and tasted quite good. I personally enjoyed the non-vegetarian option more. Both the sauces were unique and excellent, with the herb salsa being an absolute must-have. I wish that I had requested for a bottle to take back home.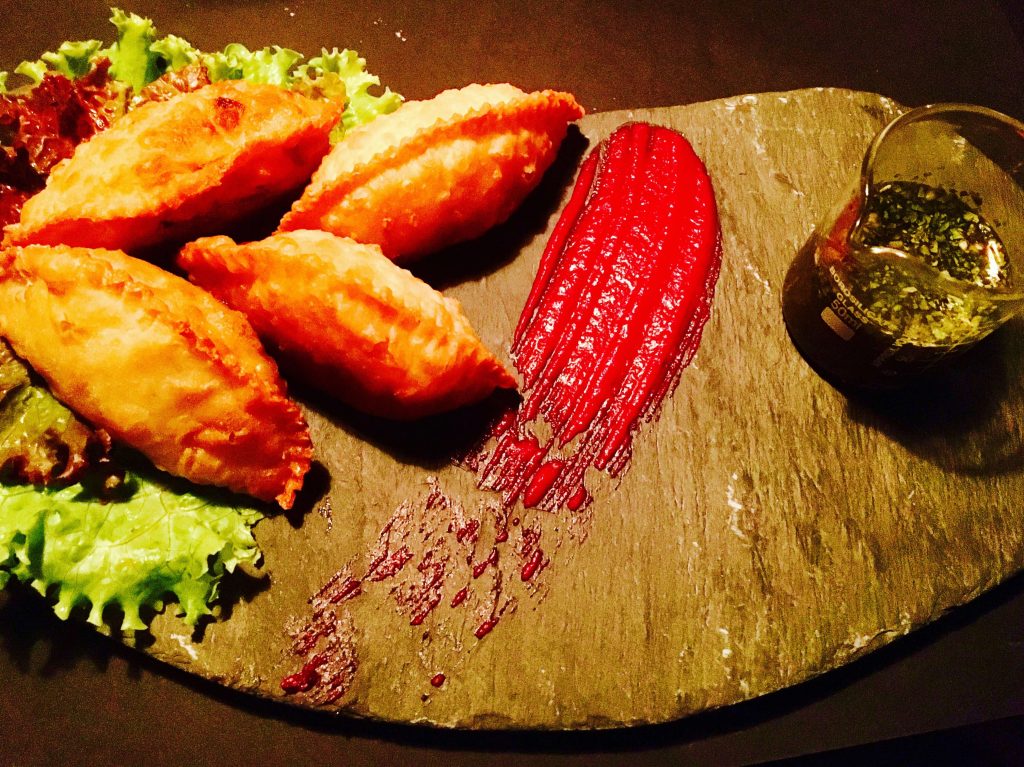 A bit of a break here to inform you that the menu is descriptive in nature and does not name the dishes individually. I will not use the menu description from here on onward but will give you enough details so that you aan make out the exact item from the menu.
Next we were served the Quinoa Salad, which mixed the quinoa with pomegranate, mint, and pine nuts and was garnished with greens and soya sauce. The ingredients tasted fresh and formed a nice mixture of flavours.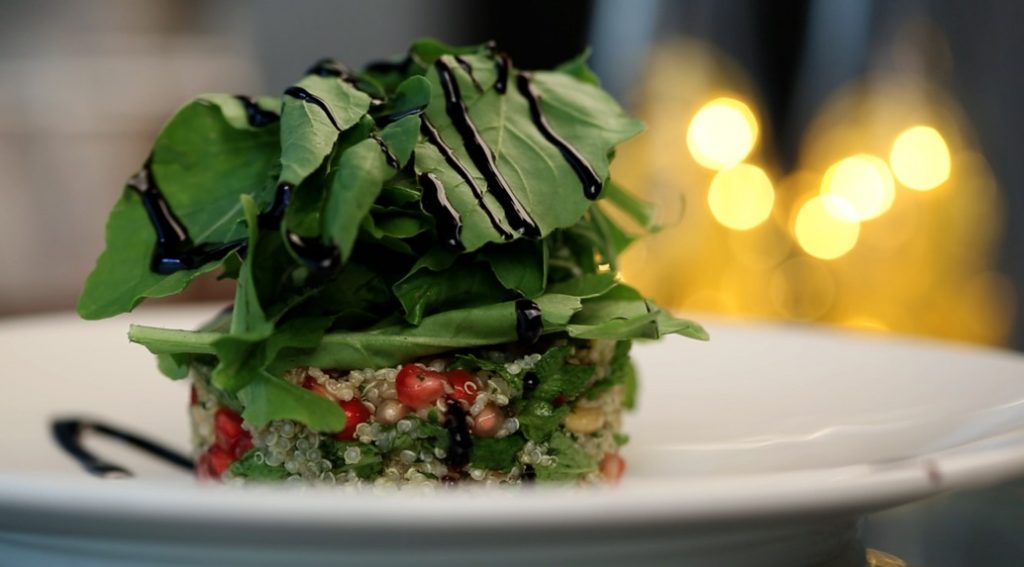 The second salad consisted of roasted cherry tomatoes, mixed leaves, and roasted pine nuts that were tossed in a honey-lemon dressing and garnished with strips of parmesan cheese – a nice mix of light ingredients that is perfect for the ones counting their calories.
And the last one was made out of beetroot cubes, selected greens, slices of avocado, and bits of goat cheese – another light preparation that had a unique mixture of flavours to offer to our palates.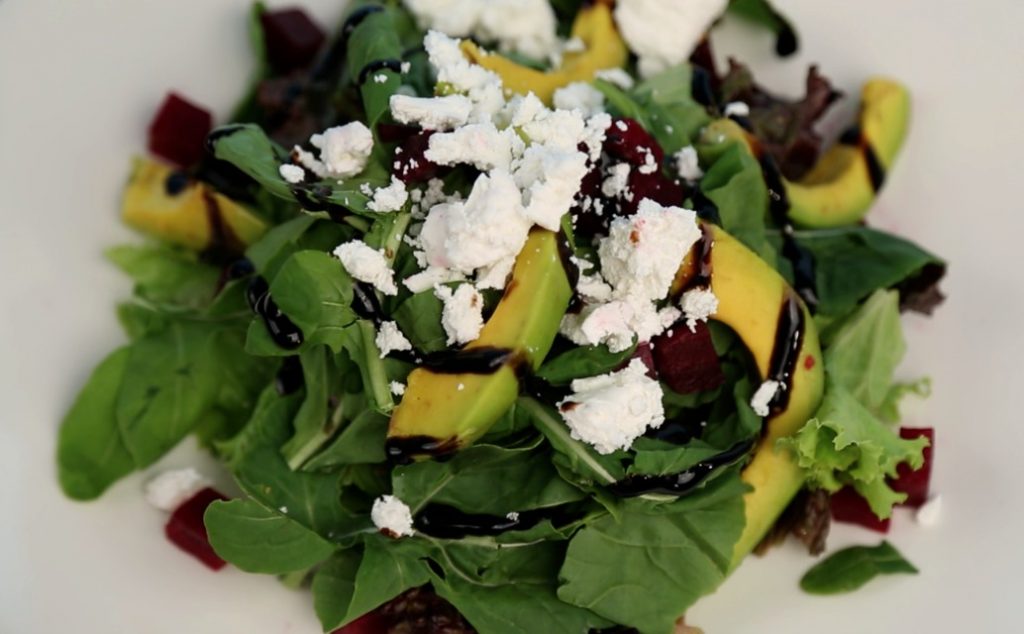 Next up were the Banh Mi-style Chicken Tacos that were stuffed with chicken cooked with pickled vegetable juliennes and parsley. This was served with Sriracha Mayonnaise, another excellent spicy sauce from the Depot 29 kitchen.
After the tacos came the Pulled Pork and Refried Beans Quesadilla – with a filling of pork cooked with kidney beans, onion, garlic, and green chillies. This was accompanied by Chipotle sauce and two dollops of sour cream. Though I am not a big fan of pork, I found the Quesadillas to be delicious, and also quite satisfying.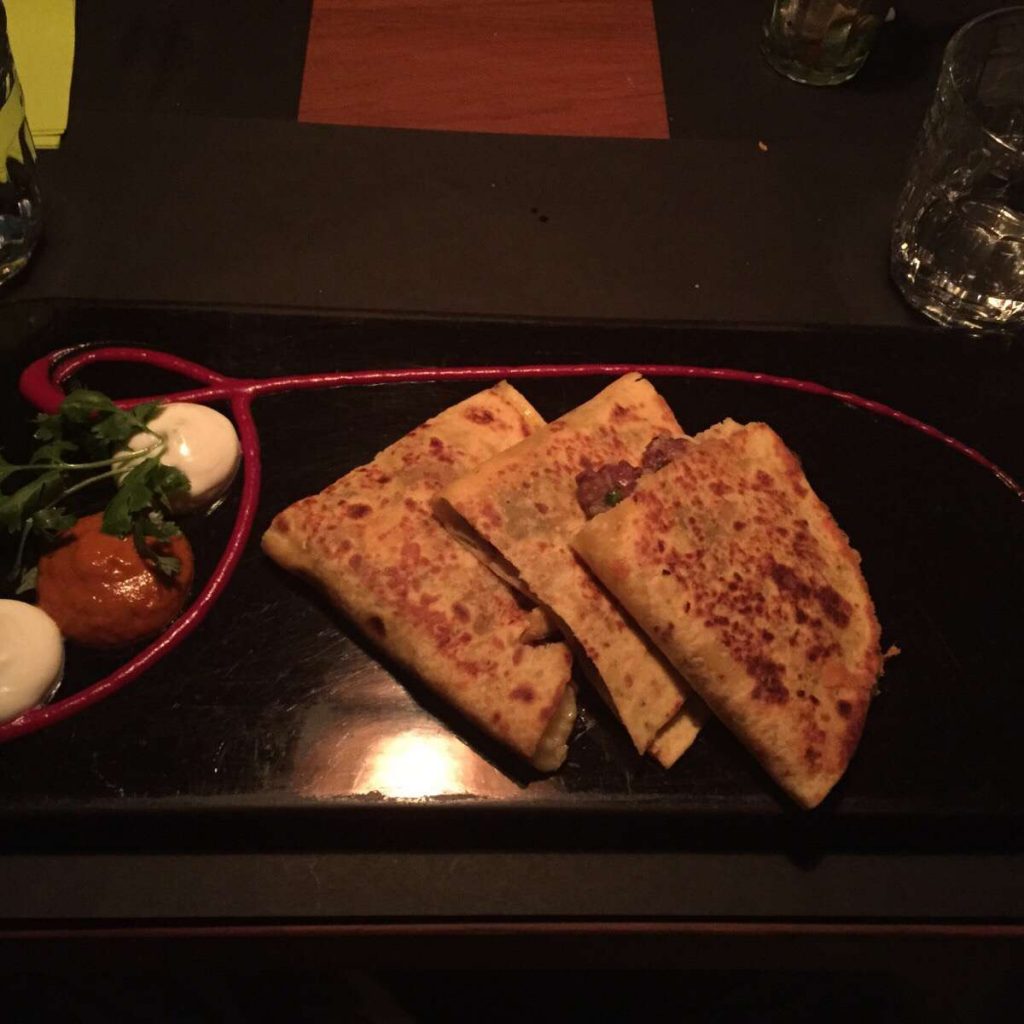 Next up was the Shredded Barbeque Pork Burger. The chef once again did a great job with the pork, making the burger taste great. There was a surprise waiting for us as we took our first bite and discovered that the burger also contained a slice of grilled pineapple that lent a beautiful sweet and tangy taste to the burger. The burger was served with a side of French fries that were cooked to light golden brown colour and salted conservatively (always a good sign for me) and with a collection of three sauces – mustard, tomato ketchup and chipotle and all three went well with the burger
We ordered another round of drinks at this time and were presented with Maicuba – another Depot special cocktail, and a mocktail named Minty Lemon. Maicuba had a strong flavour of ginger and tequila with hints of cucumber, mint, lemon juice, and sugar syrup that were all topped with soda. Minty lemon was a refreshing and tangy combination of the two promised flavours.
The chef had saved the best for the last – the Grilled Fish. Hiding somewhere towards the end of the menu, this Halibut fillet was cooked to perfection – there being no other words to describe it better. The lemon butter emulsion that was poured on top of the grilled fillets added more taste. The fish tasted fresh and was served on a bed of spinach leaves cooked in butter and mashed potatoes, which were both quite good on their own.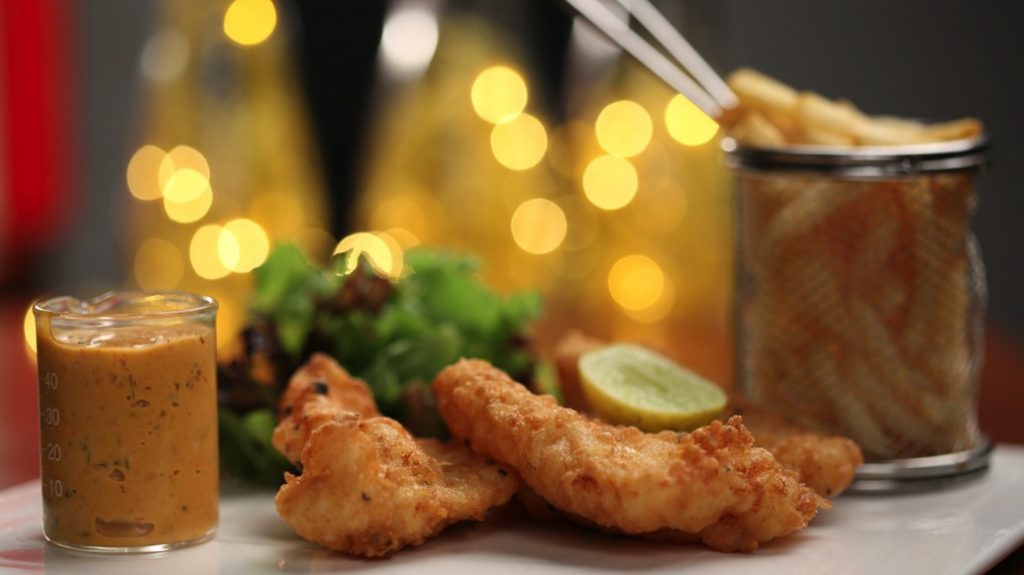 Finally it was time for the desserts. We were offered the dessert of the day, Red Velvet Cake along with two waffle choices – the Banana & Toffee (a favourite at Depot 29), and the Chocolate Gianduja With Caramelised Nuts. The waffles were accompanied by vanilla ice cream and respective sauces.
Even though we were quite full from all the hogging that we had done till this point, we could not keep our hands off any of the above three and polished off the plates.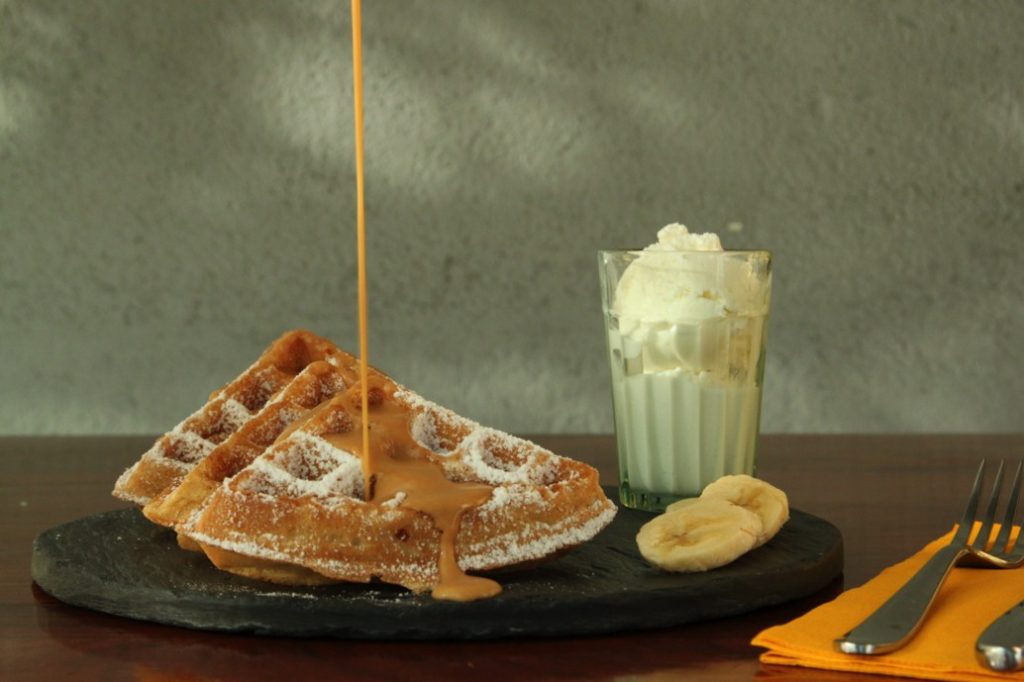 10 Second Summary: Depot 29 is great choice if you are in the mood for some Tex-Mex cuisine or are a fan of Grilled Fish. Their food has fresh ingredients and they combine different types of flavours. The bar menu is quite extensive and the Depot 29 special cocktails deserve a special mention.
P.S. – You are likely to enjoy yourselves more if you are being served by Mr. Bhaskar.
Review Credit: Arjun Budhraja