In a small market of Sector 22, Gurgaon, climbing up a flight of stairs we enter this small and cozy eatery of the most preferred American comfort food, Pizza, CRUSTY GOURMET PIZZA & MORE. Standing by their name, they do have a lot to offer. Around 30 people seating capacity, the outlet has indigo and wood combination interiors with a visible kitchen and a small cornered counter area. One entire wall of the restaurant has a beautifully hand-done art piece of the Roman Colosseum.
The funky and handsome looking owner and promoter of the place, Rohit Narang, prefer attending his customers personally and suggesting them what to order, understanding their taste buds in a quick 5 minute conversation. Quite a well travelled man, he has tried putting his experiences and knowledge of taste palates across his journeys in his menu, and the chef supports him in his endeavors. Rohit very proudly says "we didn't invent pizza, we just set out to perfect it" and stands by his words on that. I haven't seen such a variety in a single menu elsewhere.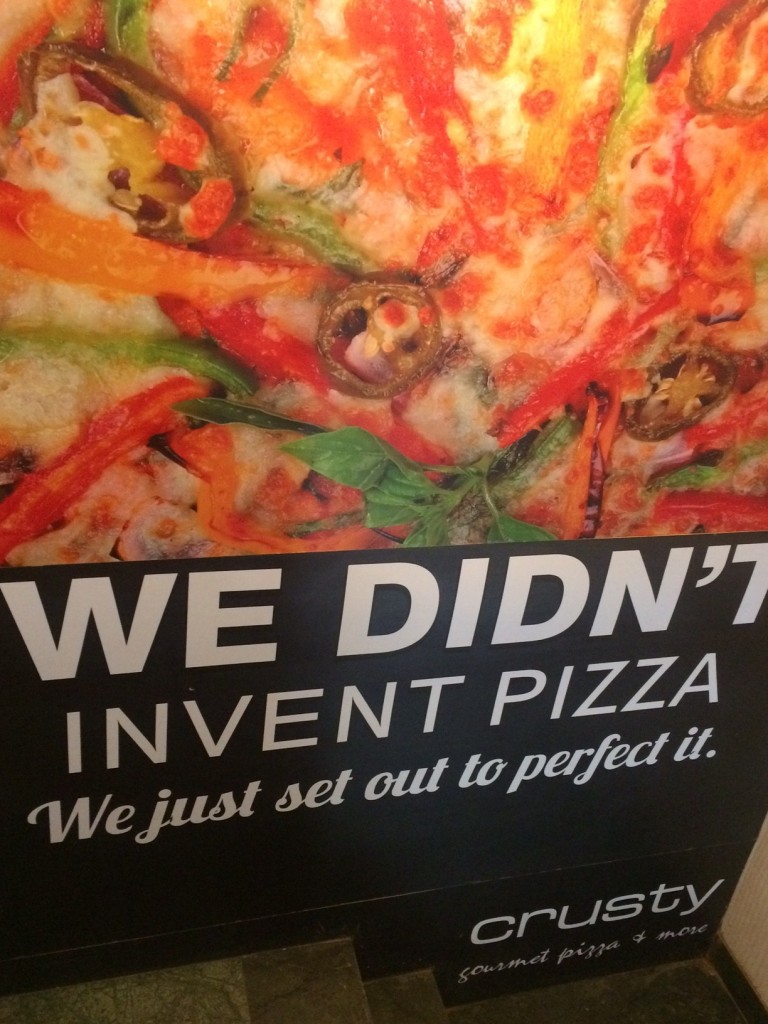 The menu has vegetarian, non-vegetarian & seafood for pizzas, starter pizzas (thin crust pizza- a little smaller than the regular ones), salads, pasta and calzones (for desserts).
Starting to satiate our hungry soul, our lunch started with a half and half pizza. Oh! So I forgot to mention the most lovely part of CGPM, they do half and half pizzas too. 😀
If you wish to taste two different pizzas at the same time but cannot accommodate them in that little stomach of yours, you can go for two flavours at a single time.
So yes, coming back to our lunch, we were served a combination of peri-peri and traditional vegetarian pizza to start with (by this time, our readers must have known us for going by the chef's recommendations, same rule applies). Beautifully served half and half with different toppings and different sauces, the peri peri had spicy mayonnaise and the traditional vegetarian had pesto sauce on it, making the thin crust beauty look even more gorgeous (we love food, so we do personify them). 😉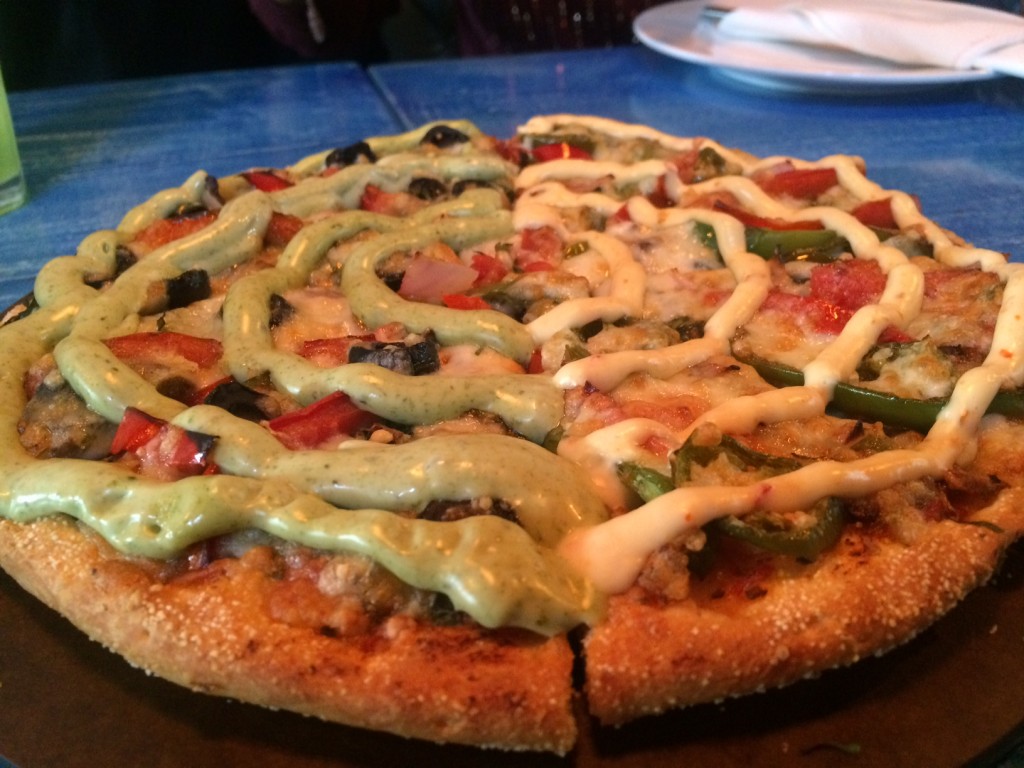 Personally, being a garlic bread lover, I was missing my breadsticks with pizza here, but they did not leave this card unturned too, hence, I say- Well Travelled! We were served a starter pizza of Garlic & Herbs served with 4 different dips- Peri-Peri, Chilli Oil, Pesto and Tzatziki. And these dips made me fall in love with them, Tzatziki being the winner though.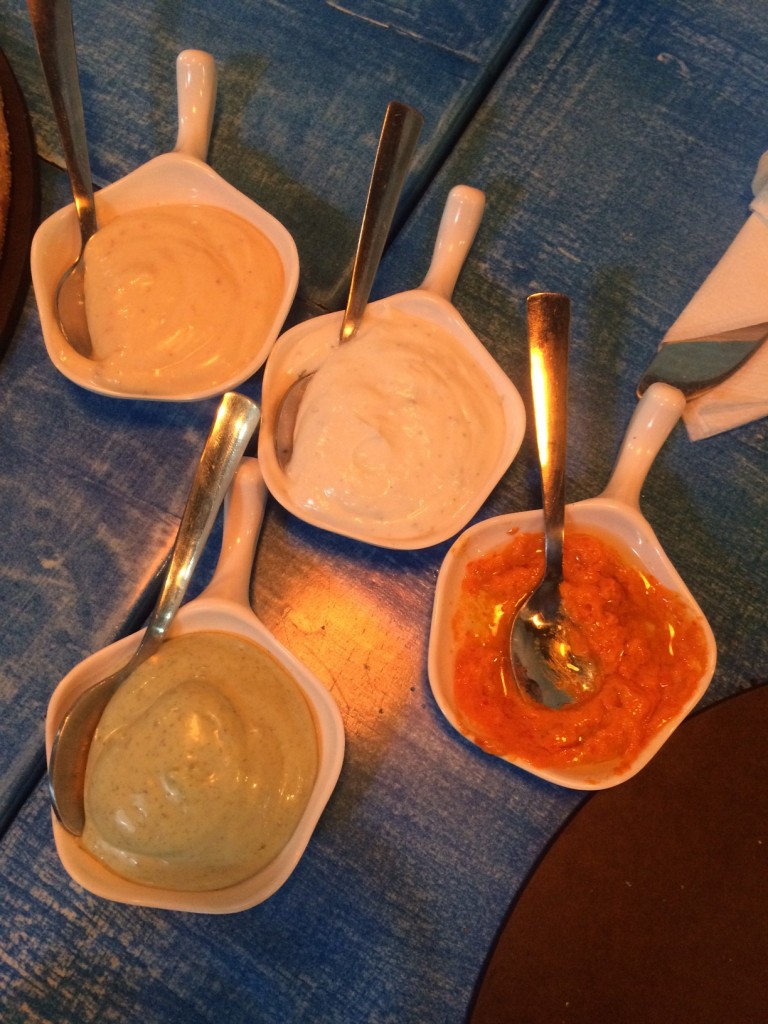 The chef wanted us to taste everything possible, so we chose to go for small portions. Honesty, even we didn't want to miss out on his recommendations at all, first hand experience. Now we were served the veg marinara pasta. The consistency was just perfect. Every bite had equal taste in it. It had spinach, capsicum, mushroom, tomato sauce and white sauce topped with extra virgin olive oil. After this came the pesto sauce ravioli. Perfectly cooked and one of the best ravioli had.
They had their variety from Rajasthan too in the menu, the Laal Maas pizza. Not as spicy as the original laal maas though, but served with chilli oil to adjust it according to yourself. Not forgetting Punjab, we had our favourite Paneer Tikka pizza too. It was very cheesy and the apt tandoori paneer tikka taste. Both these regional delicacies were served with a wedge of lemon on it.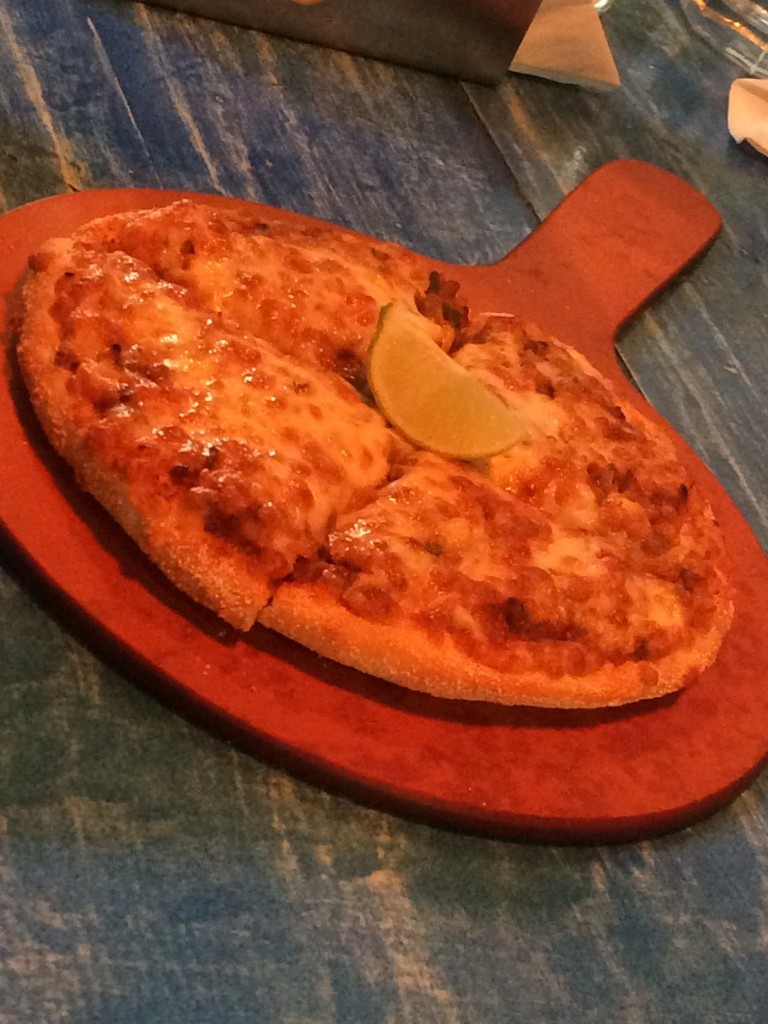 Before we could decide to order the calzones for dessert, we were served the Exotic Naples Veg pizza (chef recommendation again). It had spinach, mushroom, roasted capsicum, zucchini, broccoli, eggplant, mozzarella and bocconcini cheese topped with fresh basil. Trust me, being a nagging kid all my life, I have hardly had eggplants all this while, but this pizza certainly changed my mind. The fresh basil topped on it gave it a very refreshing taste.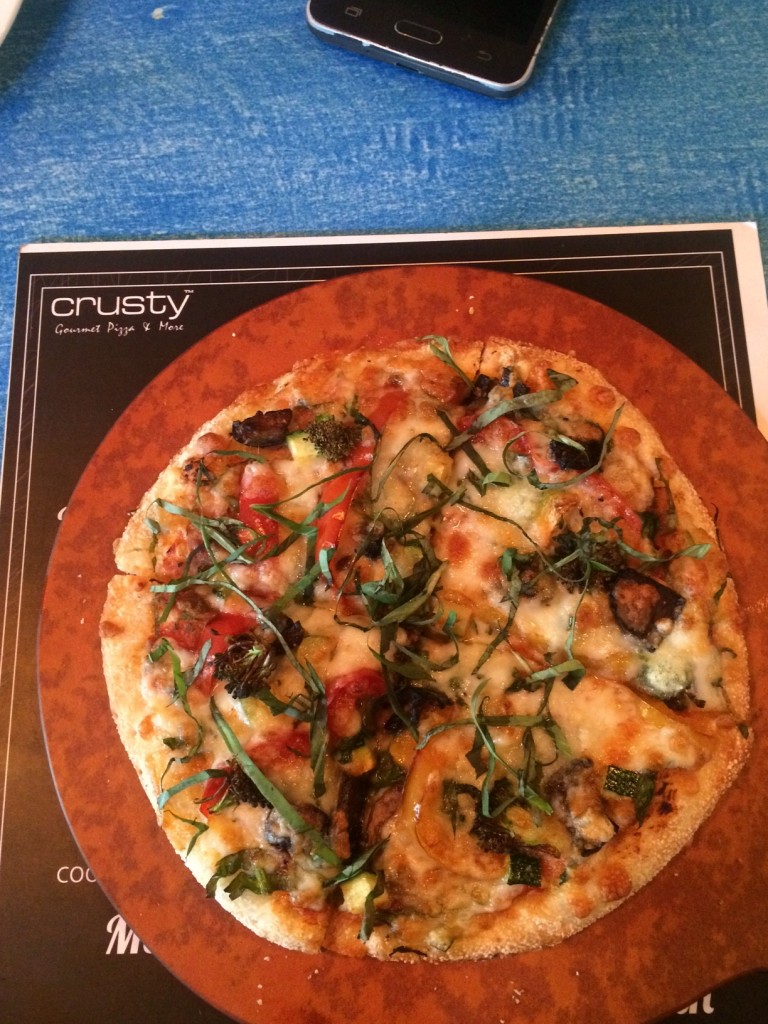 JUST FYI… All these pizzas were had without any additional seasoning. No one wanted to play with the authenticity of the recipe and the original experimental taste.
Having a sweet tooth, I always manage to keep some space for my dessert. We now were served all three calzones- caramel chocolate, fruit & nut chocolate and nutella hazelnut. Very interesting small croissants sprinkled with a bit of icing sugar and oozing fillings when cut into halves.
After this lavishly spread lunch, I couldn't eat till dinner, by the way. But every bite was worth going to Gurgaon from the crazy traffic of South Delhi.
Just to let you know Crusty Gourmet Pizza & More has 5 outlets in total, 4 in Gurgaon and 1 in South Delhi (Safdarjung).
Review Credit: Pushpmeet Nanda