Getting Farzified was what had been on my mind for a long time now!! Actually, ever since the restaurant opened up at Connaught Place. Though I have been to the Gurgaon outlet but when the place has opened up at sadda Dilli, it's a different experience. As I made my way to the critically acclaimed award-winning restaurant by Zorawar Kalra, I totally loved the concept. Wooden interiors, well Lit, English Style set up. Even the waiters were dressed in black and white with a red tie.
Re-contextualised for the modern day diner, Farzi Café is attributed to having made Indian dining cool, while bringing Indian cuisine back "in-Vogue". Amalgamating the European bistro with innovative, futuristic Indian food, Farzi Café offers a unique, genre defining, Indian bistronomie dining experience. Upping the cool quotient and breaking perceptions, it showcases innovation in Indian food and dining using modernist elements such as molecular gastronomy across its food and drinks, turning them on their head while offering a playful, high-energy ambiance.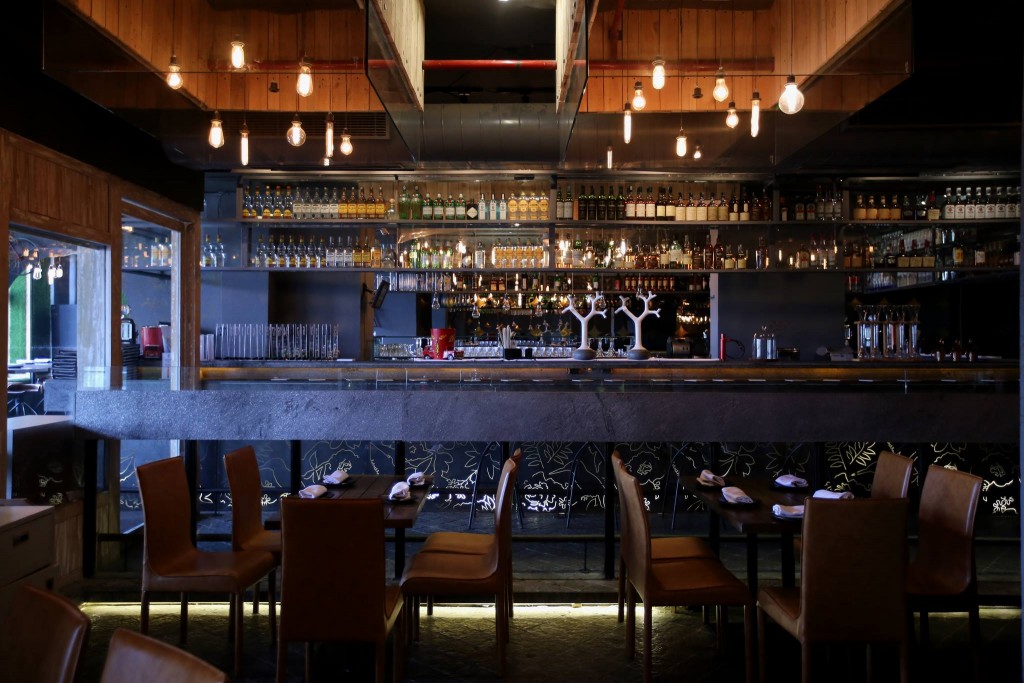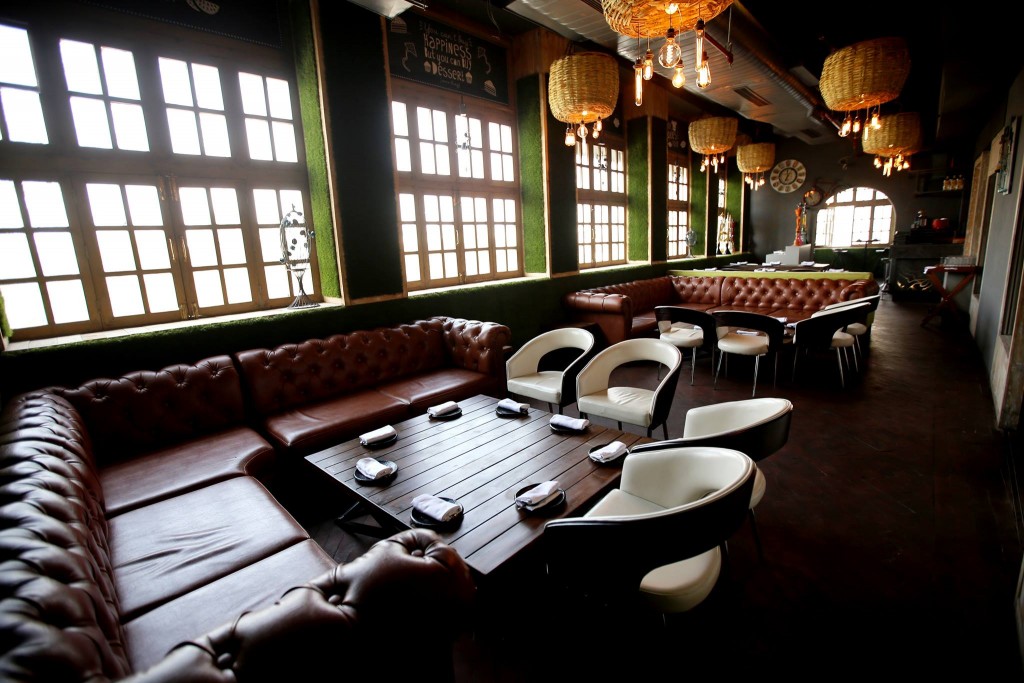 It was now time for checking out the menu which totally showcased the numerous innovations that are unique to New Delhi. One thing that stood out was the elaborate Hoppers section. Chef Sainyam Kapoor made our work easy and suggested us to try the new launches. So what next, we excitedly closed the menu and looked forward to the modern day dining dishes.
The bar executive Manish Chauhan got us Chai Pani. A drink made with vodka, orange liquor, home made tea with a compaction of cinnamon and masala. Certainly, an interesting start of the meal.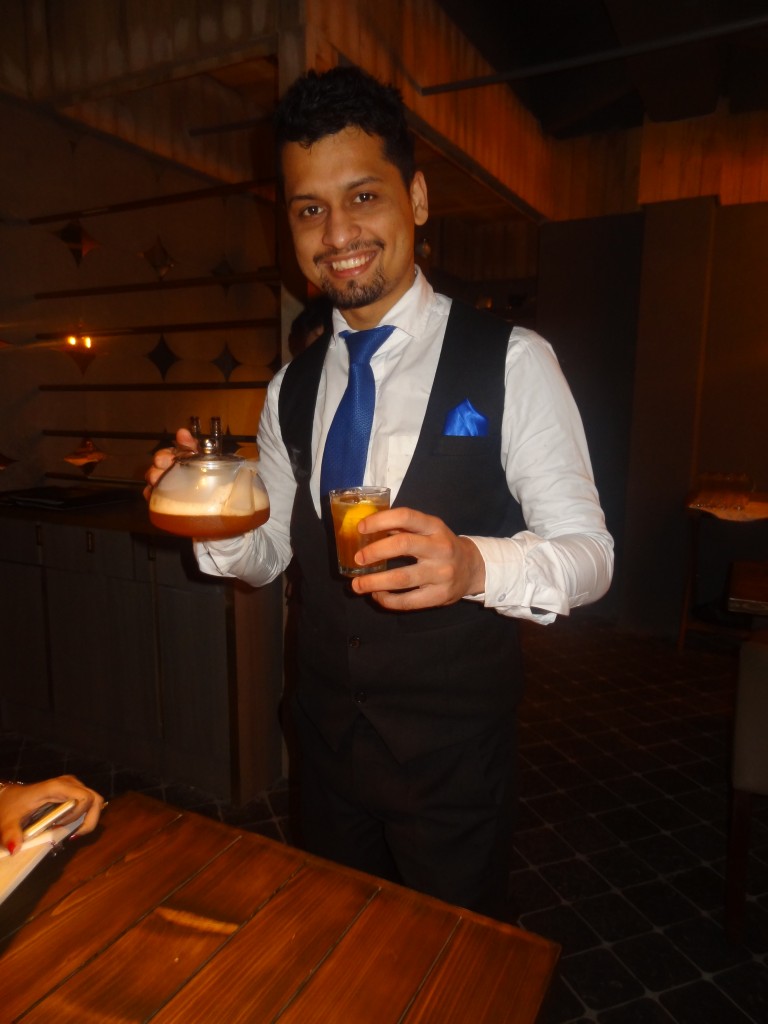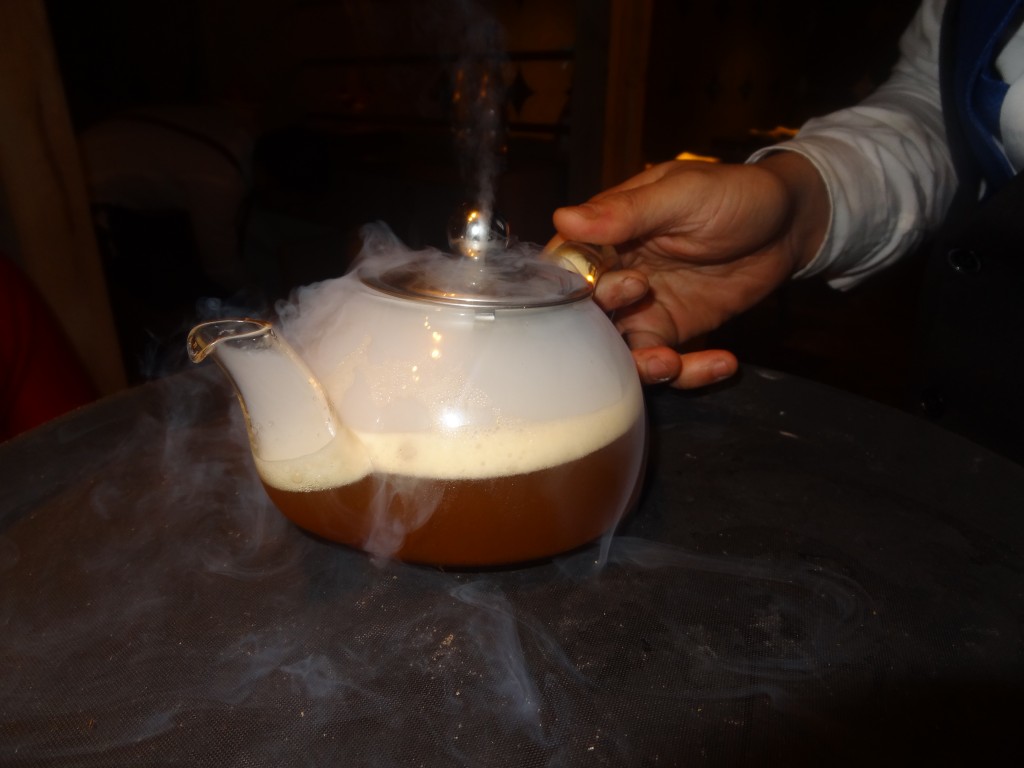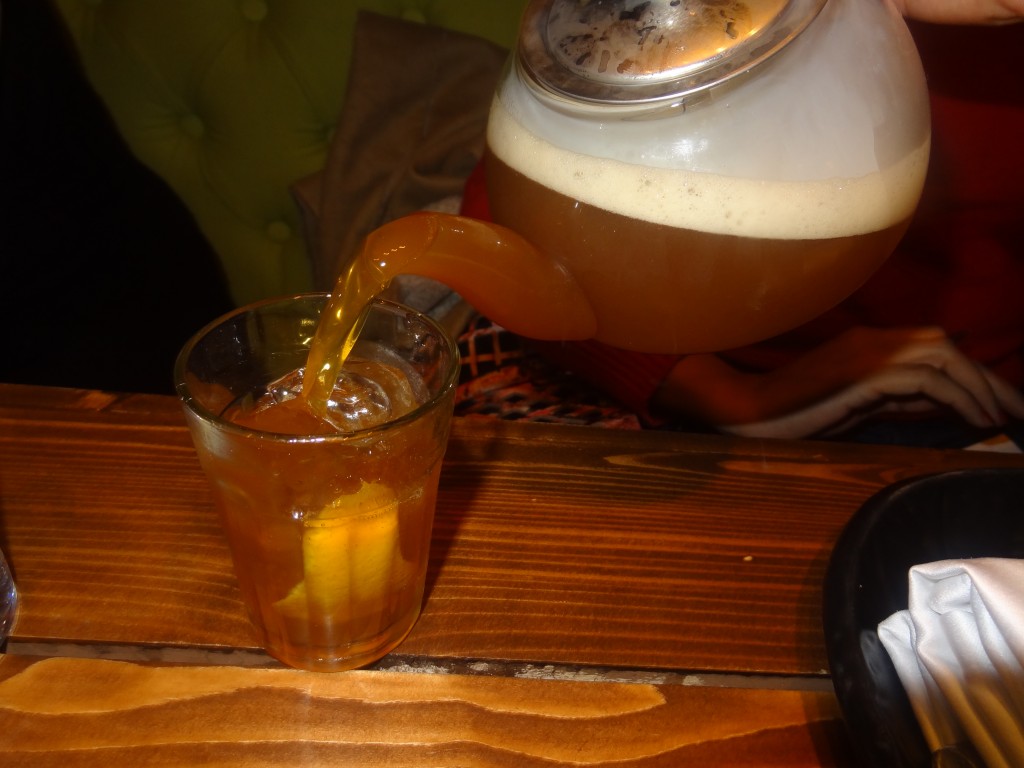 Next were Mishti Doi shots which were actually mouth cleansers but of a different kind. Rather than chewing it, we were supposed to have it like a shot. With its pungent taste, it was a nice and different way to start our farzi treat.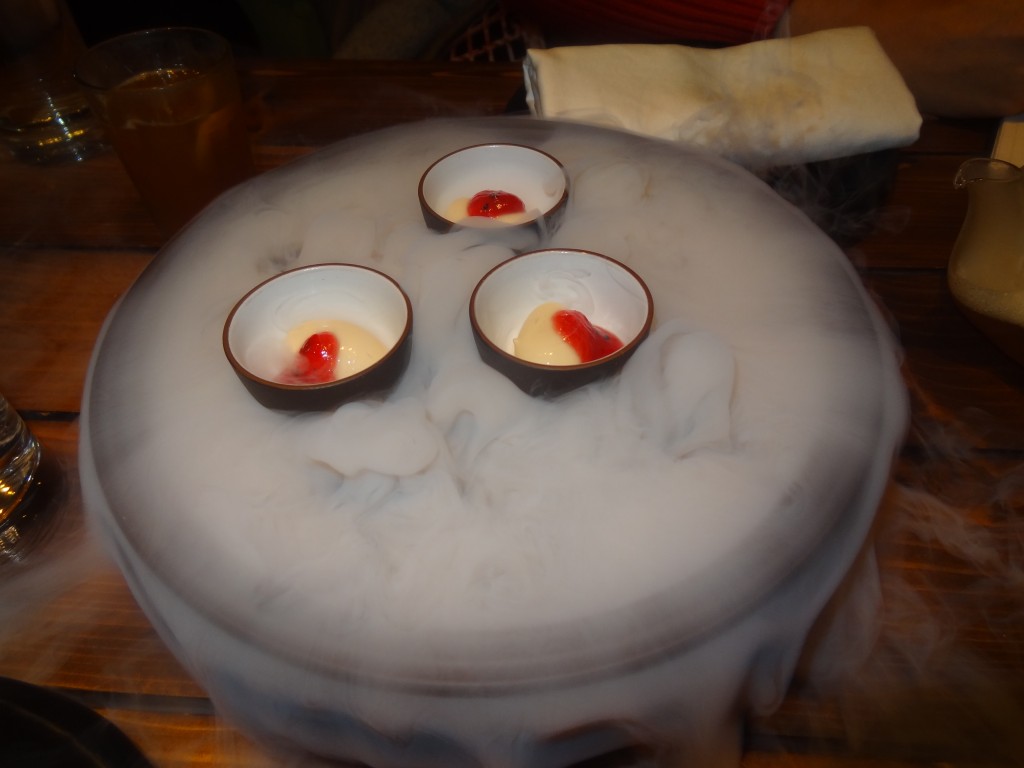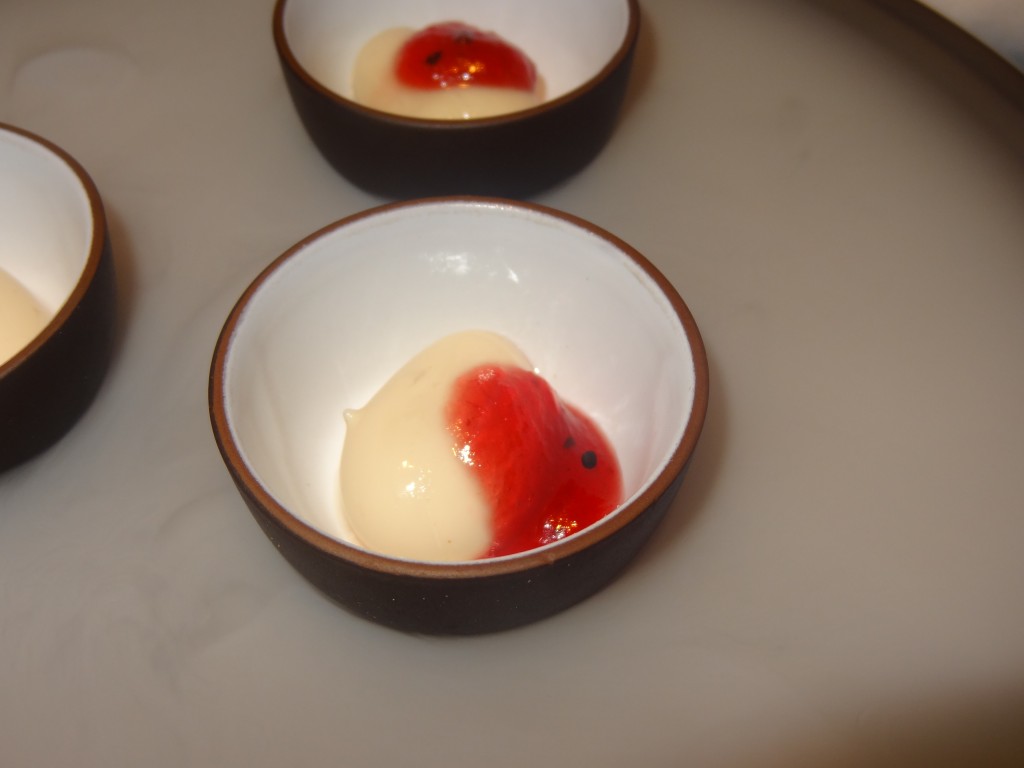 It was time for mocktails and what made its way was Farzi Ok. Ok didn't mean okay. O stood for orange juice while k stood for Thai Kafir Lime leaves. With fresh Californian orange, Thai Kafir Lime leaves, vanilla soup and orange juice, the mocktail was refreshing and nice.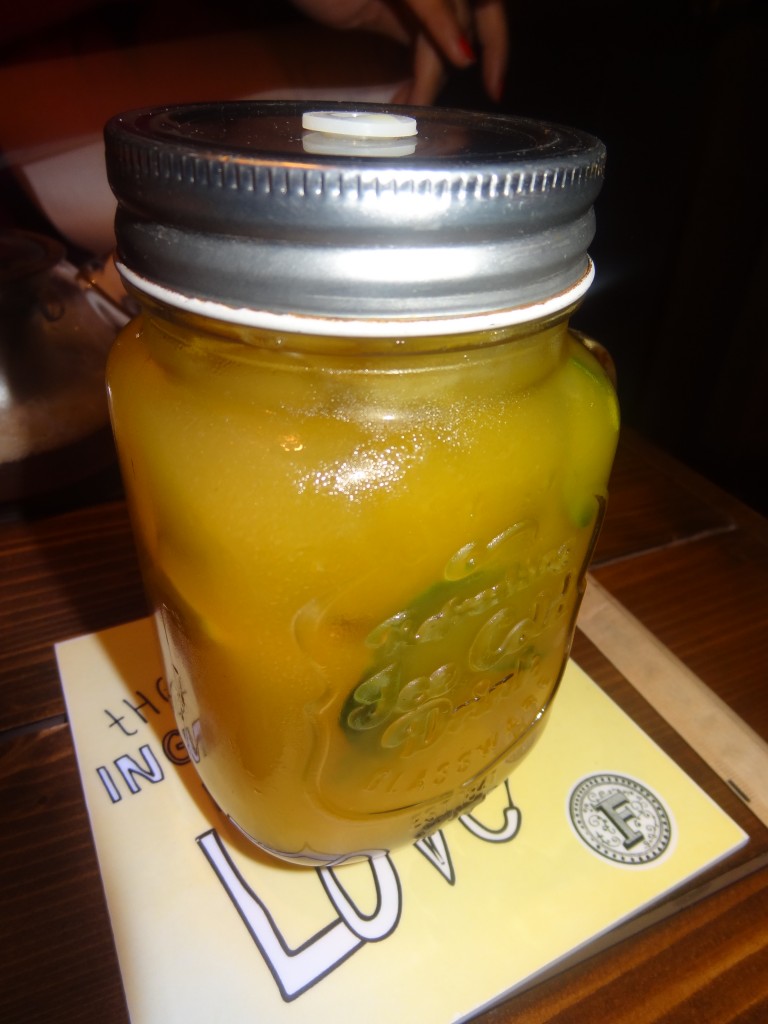 The Strawberry Lemonade had strawberry puree as well as fresh strawberries topped with Sprite. With the strawberries on the top, the drink was a visual delight and tasted like sweet nectar.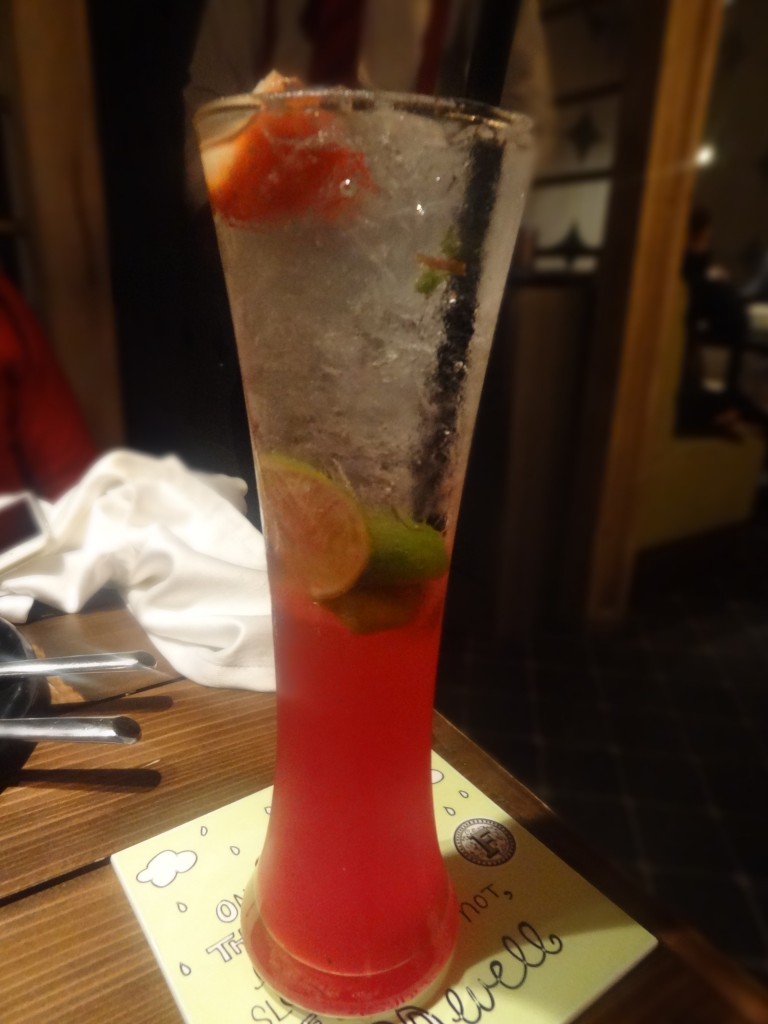 Italian Smooch on the other hand had fresh ginger, lemon & mint, muddled together, topped with coke & ginger. Though it had a lot of ice but the fresh flavours felt really nice on the throat.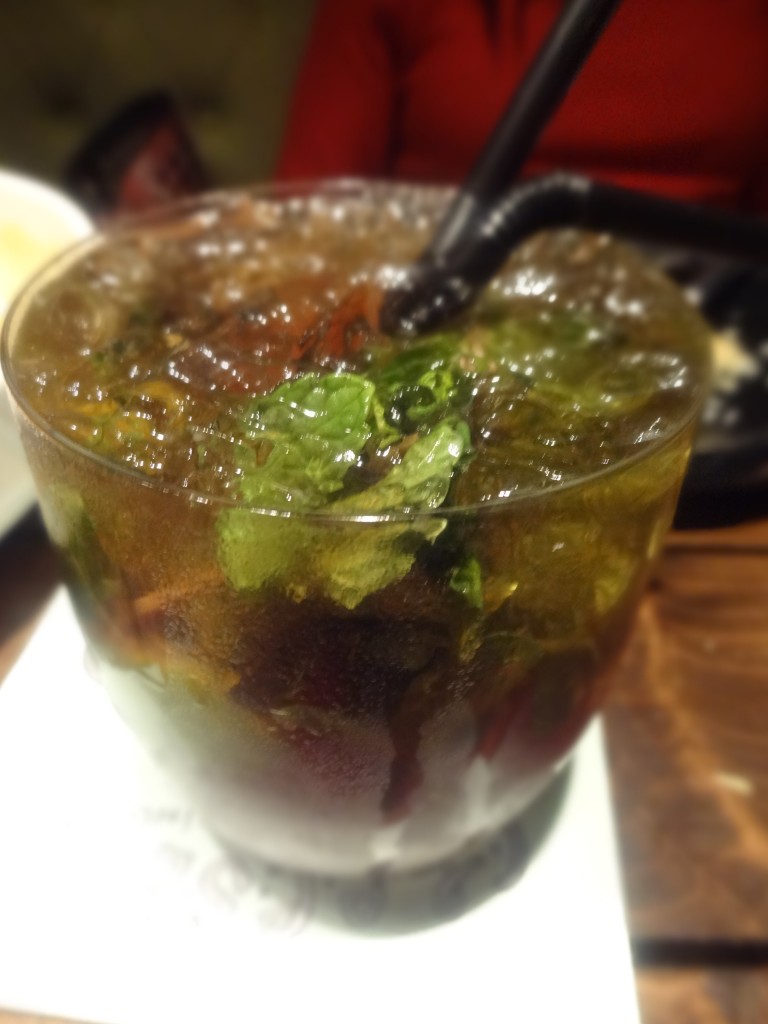 The Baby Cashewnut Idlis served on a gardening instrument kind of a pan was quite a jazzy version of idlis. The South Indian delicacy which we have been having at various restaurants over the years has certainly got a makeover with this one. The dish made with cashew and kaffir lime, sprinkled with gunpowder was not only impressive but tasty as well. It does make for one of the most recommended dish.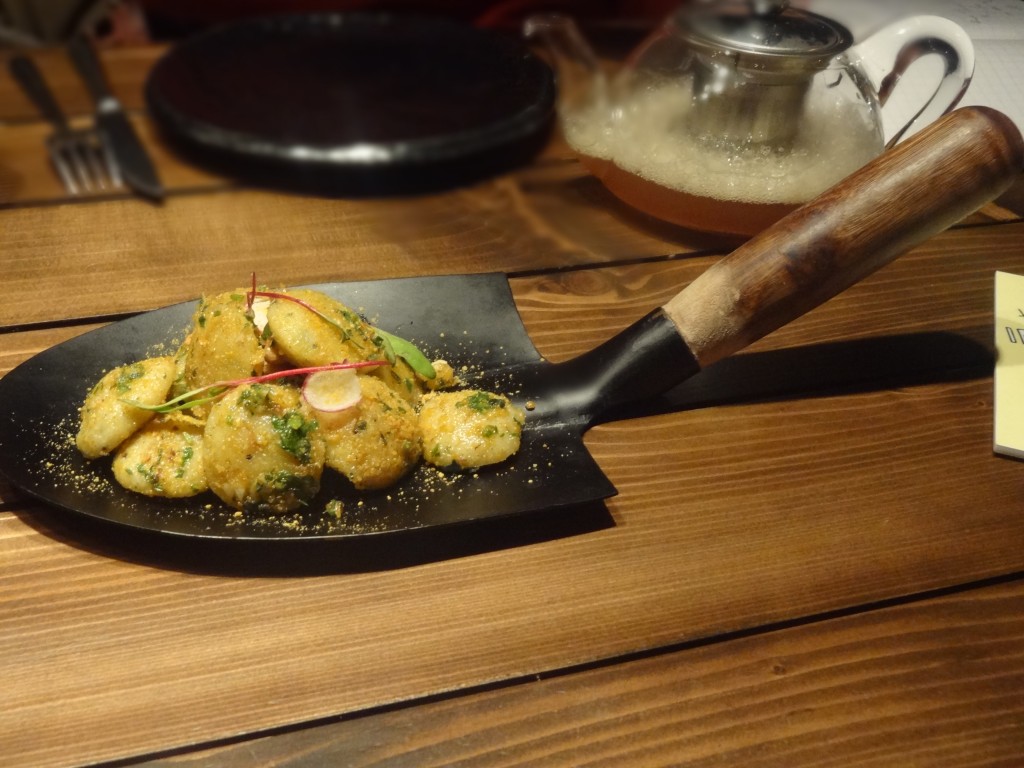 The Mac n Cheese Pakoda Bites made its way on a cycle. The cycle had macaroni and cheese pakodas in the tokri of the vehicle along with laccha namkeen at the bottom. Now, who dosen't love macaroni and cheese. As kids, we used to gorge on it but the twist was what we had never thought of it before. The pakodas fried with besan and pankha crumbs were served with chilli sauce and were a delight.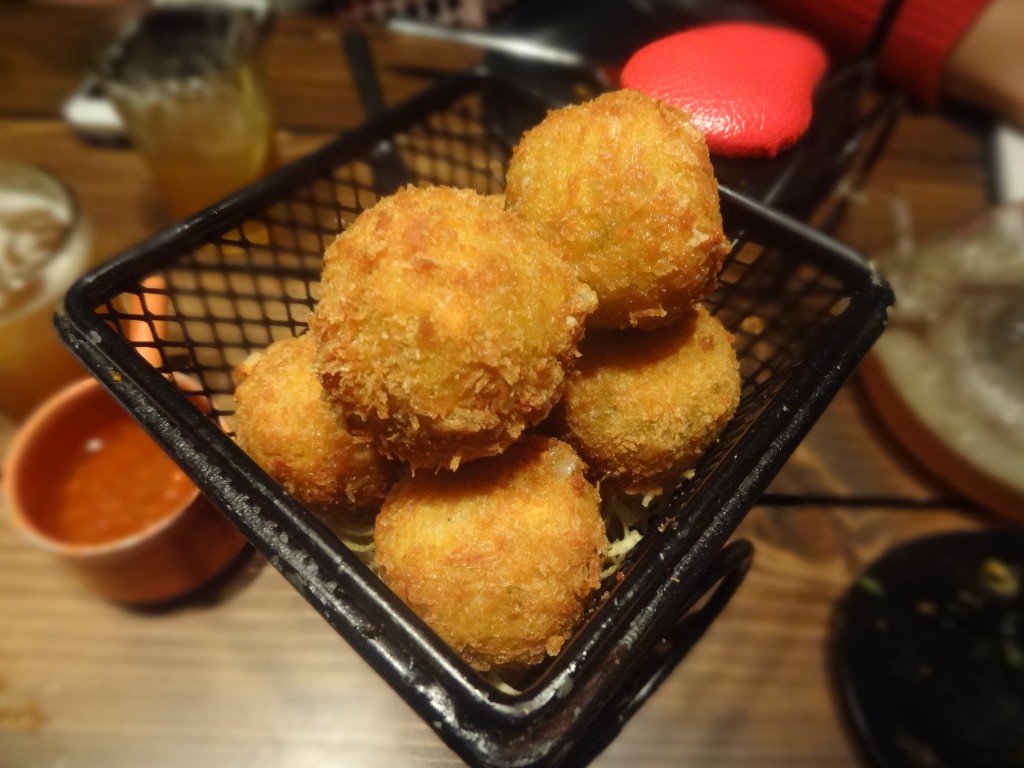 The Garlic and Black Pepper Prawn had a pre dominant flavor of garlic as well as black pepper garnished with edible greens and cherry tomato. Quite interesting and innovative! Crispy, yum and different from the prawns I have had till date.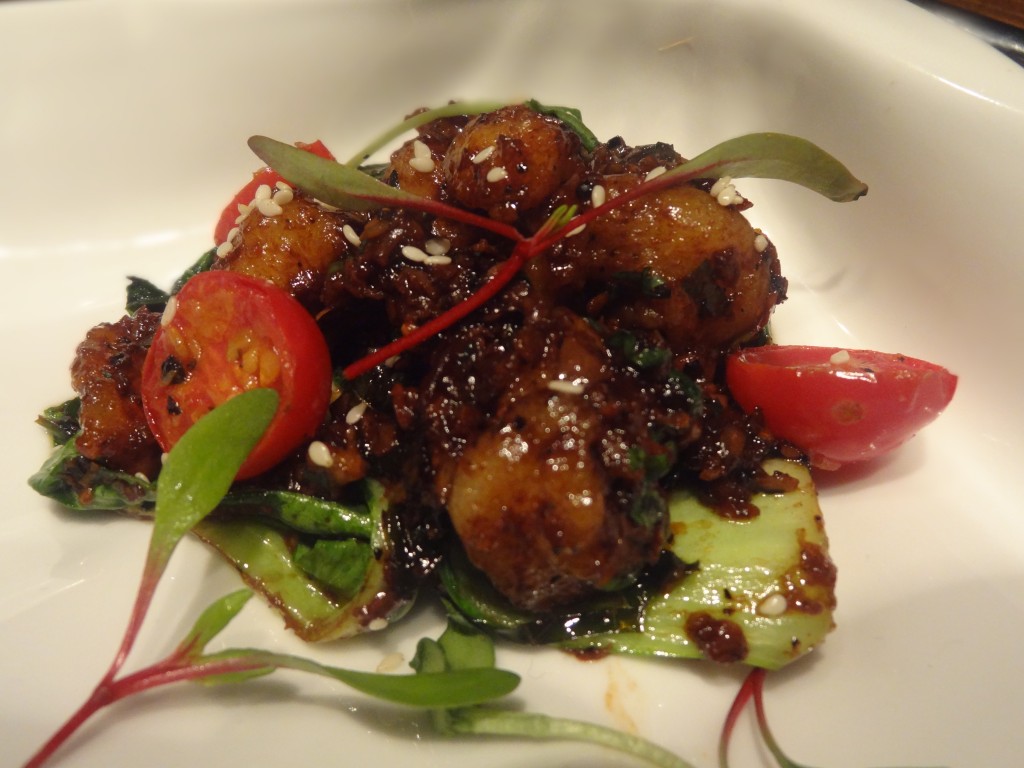 The Pine Nuts and Scallion Paddu-Yaki served in a pan looked like golgappas but tasted like vada we have with dahi. We got to know Paddu means rice. With raw tomato chutney, parmesan crisps, fried curries, pine nuts, and gun powder, the dish was nice and moist.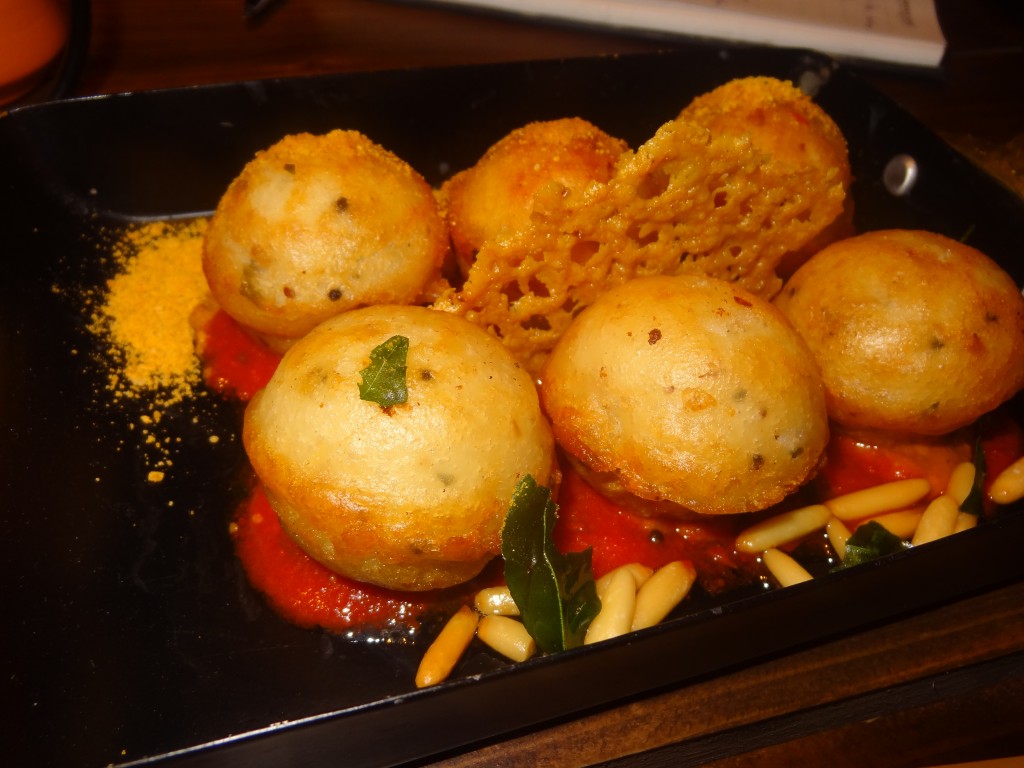 The Tapas veg starter made a great impression on us. The Dal Chawal Aranchini impressed us when we visited the Gurgaon outlet so how could we miss ordering it at this time. The dal-chawal balls were served with small folded papad on a bed of tomato salsa. Nice and convenient to eat, the way it was presented.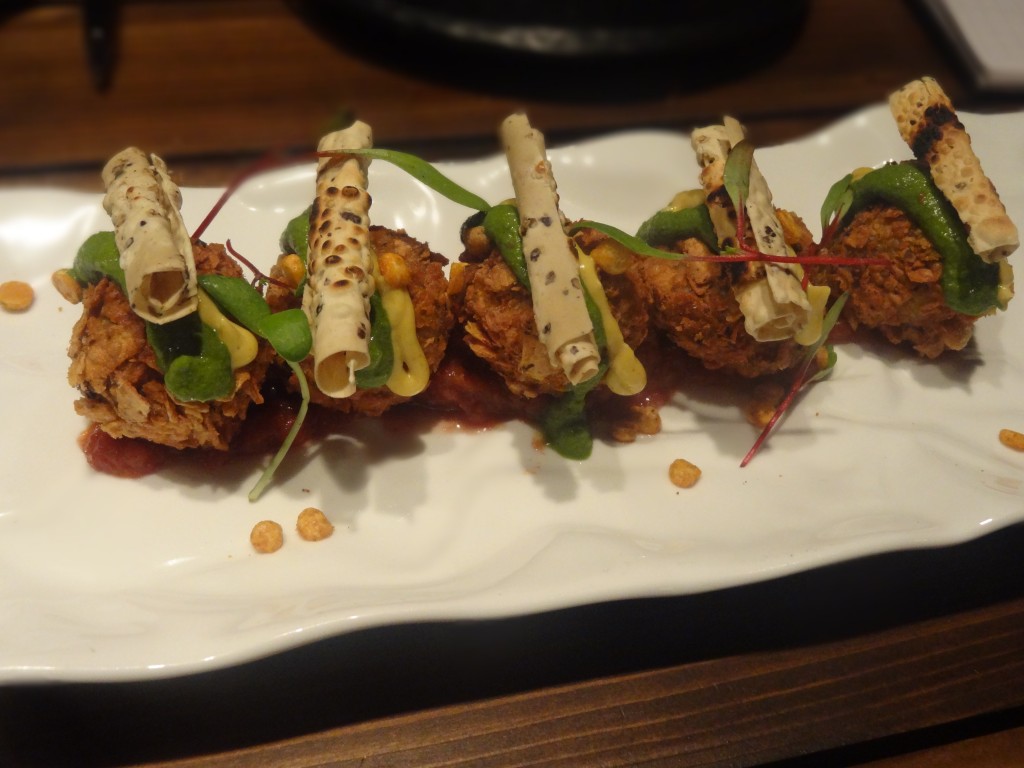 The Goat Cheese stuffed Tangri Kabab was not just a normal tangri but coated with goat cheese. The cheese did enhance the flavour but I would honestly prefer the normal tangri. Served on a stone plate with Bell Pepper, Coulis on the side, it was nice, fleshy, nutritious and cheesy.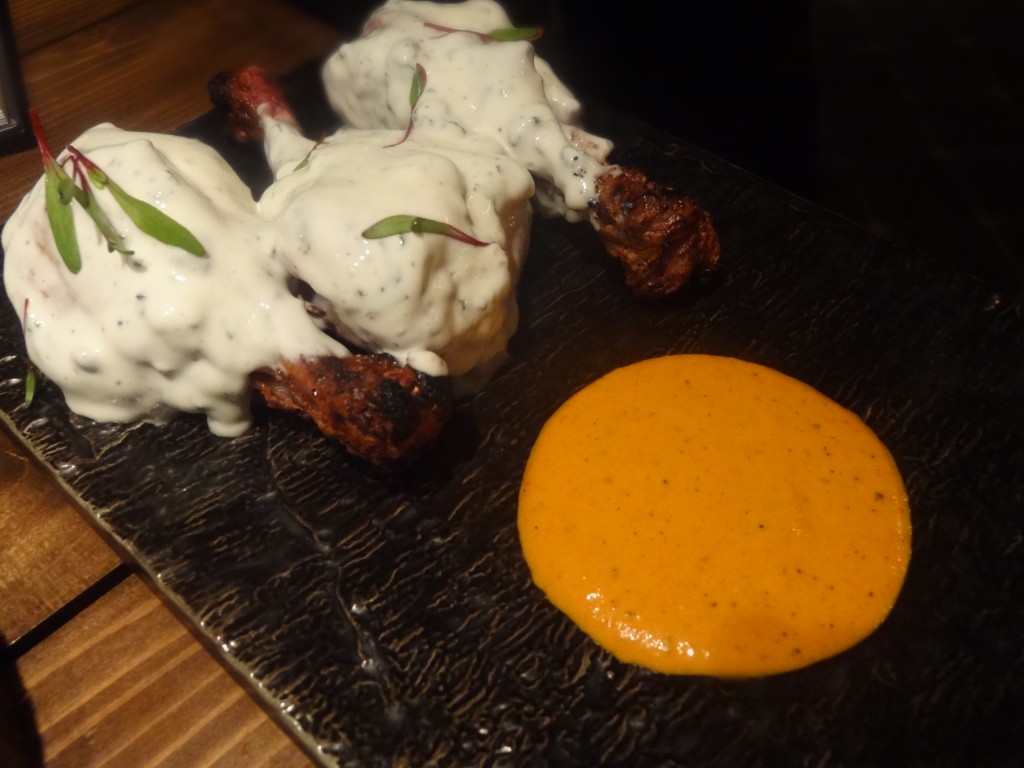 The Farzi Fried Chicken served with smoked BBQ cream came on a truck. The carrier of the truck had laccha namkeen with fried chicken. What an innovative way of serving!! It was crisp on the outside and soft inside. Cheesy and nice!!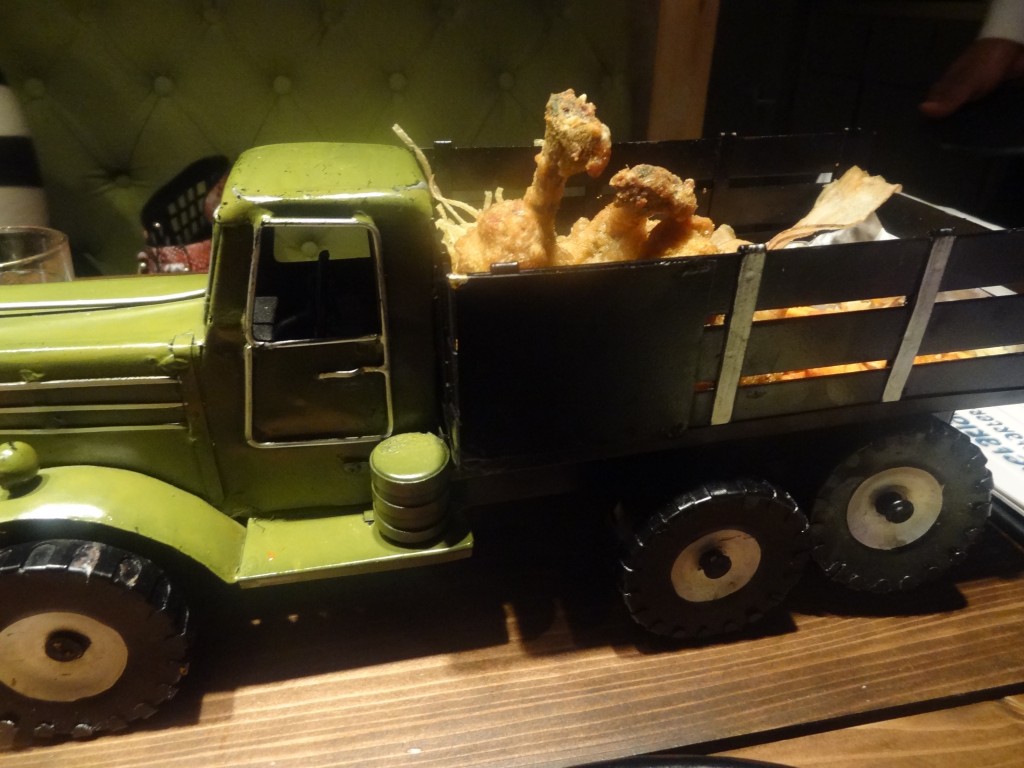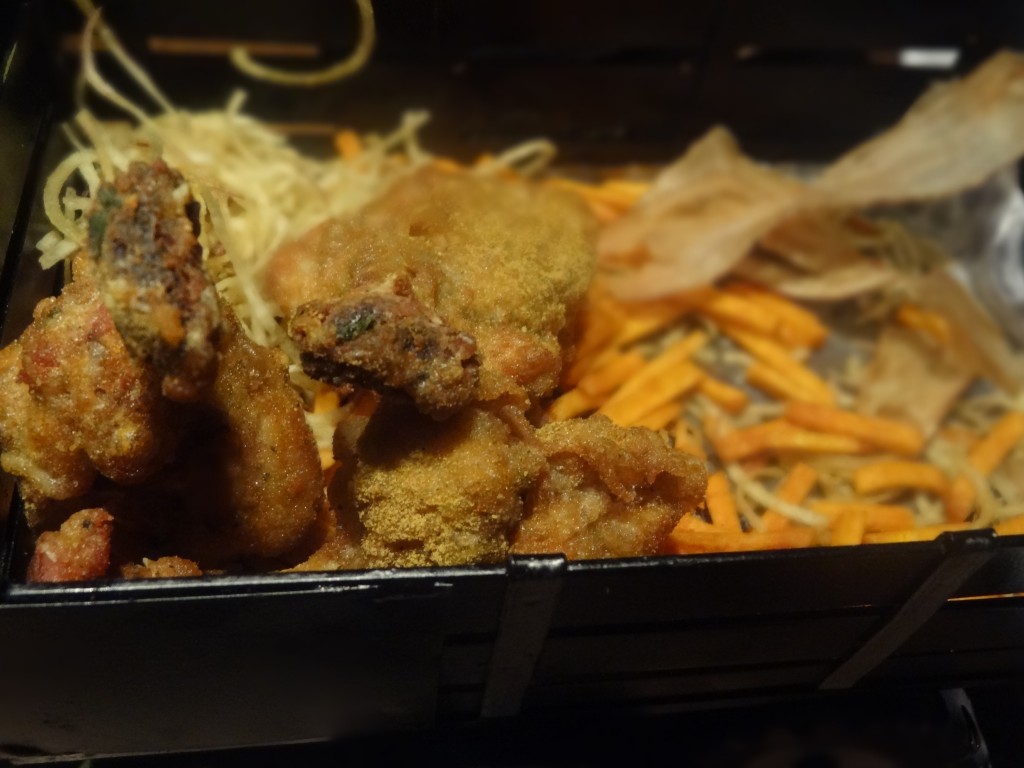 The Delhi Belly Tikka served with roasted russet apples, murabba glaze was pork belly blazed with apple sauce was absolutely delicious. Though I don't eat pork but this was interesting & tasted like murabba.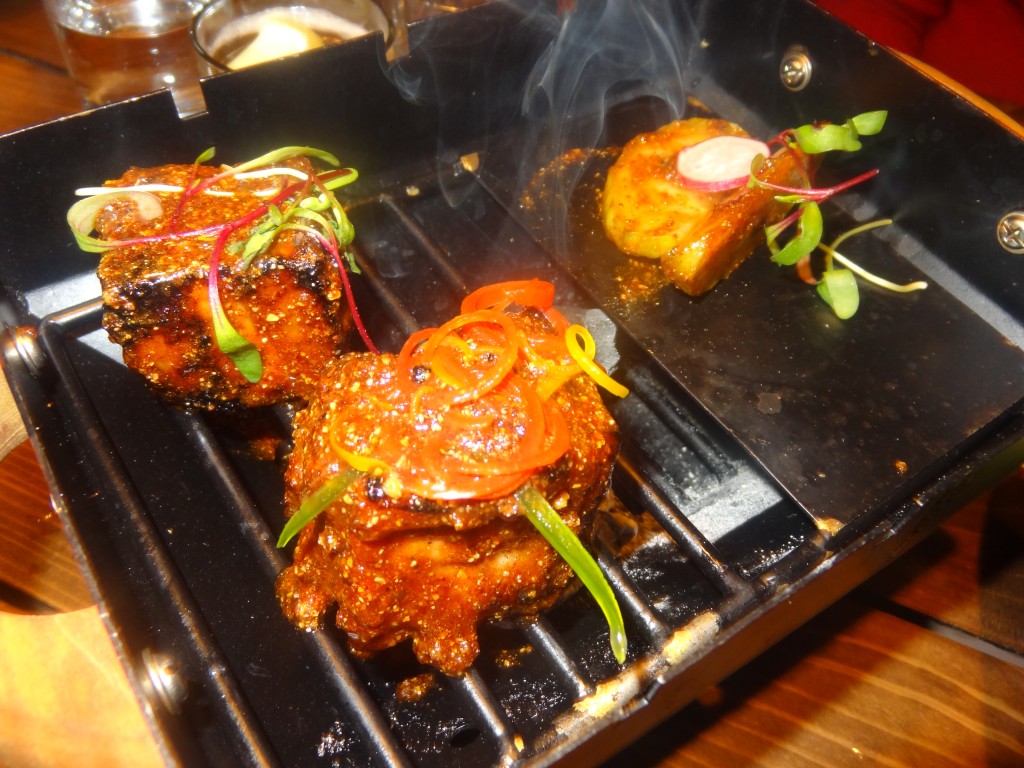 The Green Peas and Cottage Cheese Sukka served in butter roast appam was from there new section called Hop Hoppers. The dish came in a stone plate with mint and coconut chutney with sprinkled gunpowder. I have had Appam earlier but not with cottage cheese and peas. The different fusion did stand out and we relished it till the last bite. The sprinkled gunpowder did add a fun factor to the dish.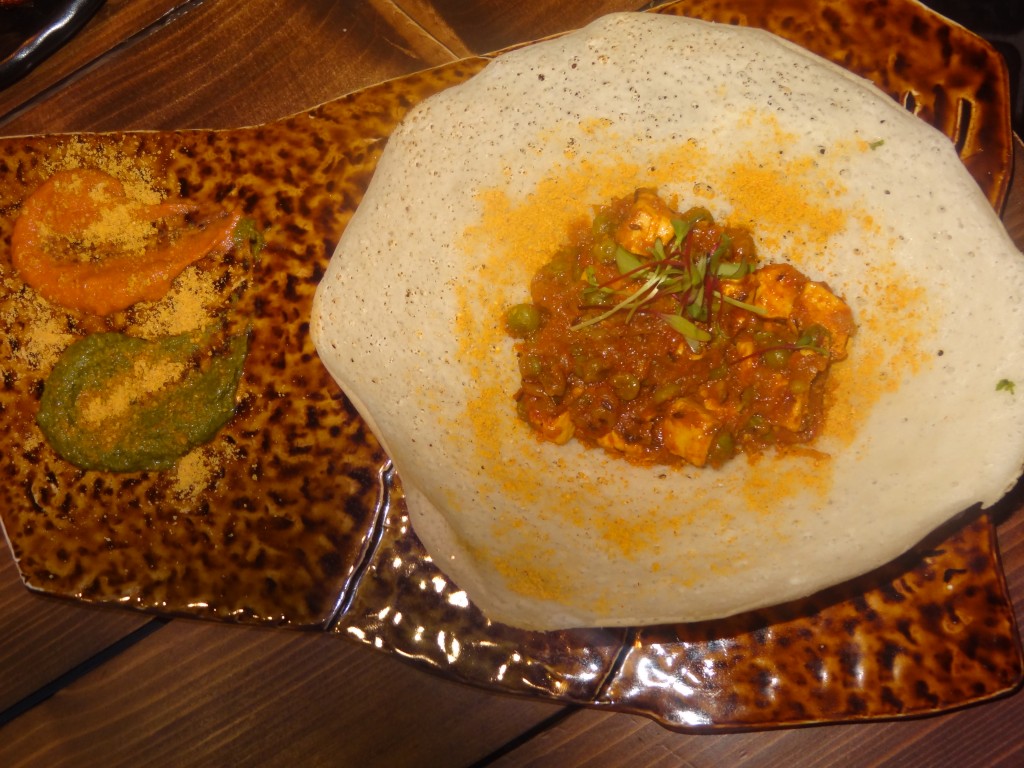 Then came our palette cleanser Khandvi Sorbet which we are supposed to have between the starters and main course. I absolutely loved the idea. The cold kulfi like thing had a tamarind flavor. Farzi Café does stand out for its offering.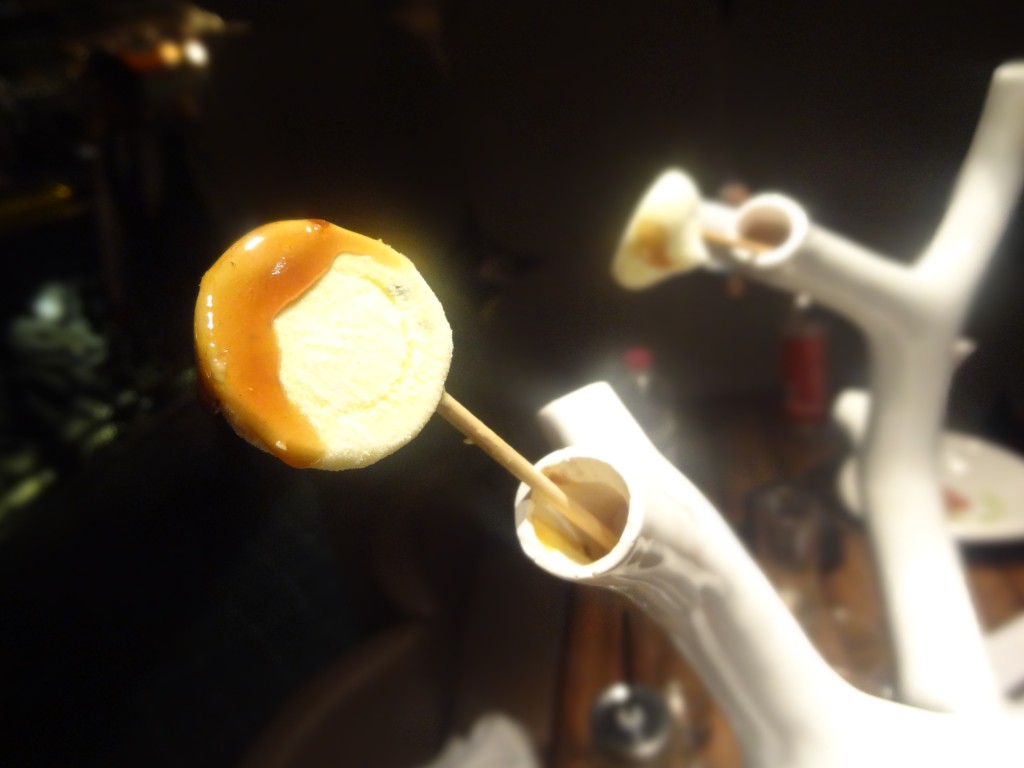 Our first main course to arrive on our table was Chicken Ghee Roast with Golden Crisp Dosai Cone which was chicken cooked in ghee along with curry leaves. The dish was delicious with the crisp dosai and was something which we have not even thought of in our wildest dreams.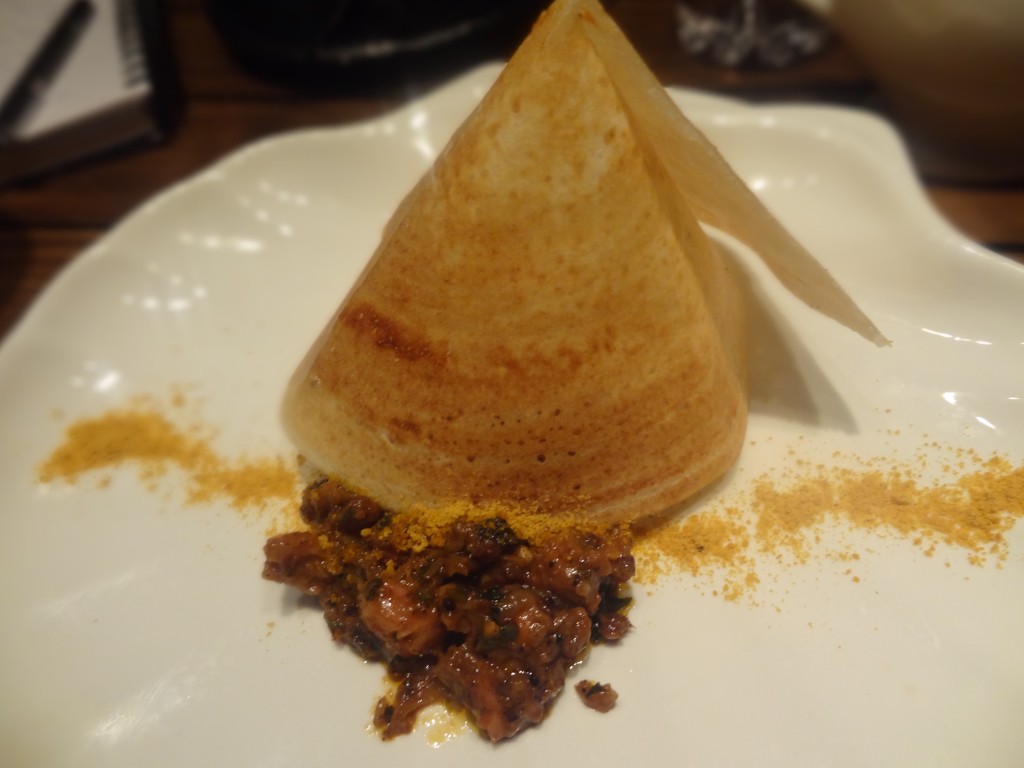 The Rajasthani Kadi with Onion Rings and Ghee Pulao was well cooked and flavourful. Now who could think of innovation with our favourite kadi chawal but Farzi did have an answer to that as well. The ghee pulao had onion rings with chilly in the middle. I loved the concept and the yummy dish.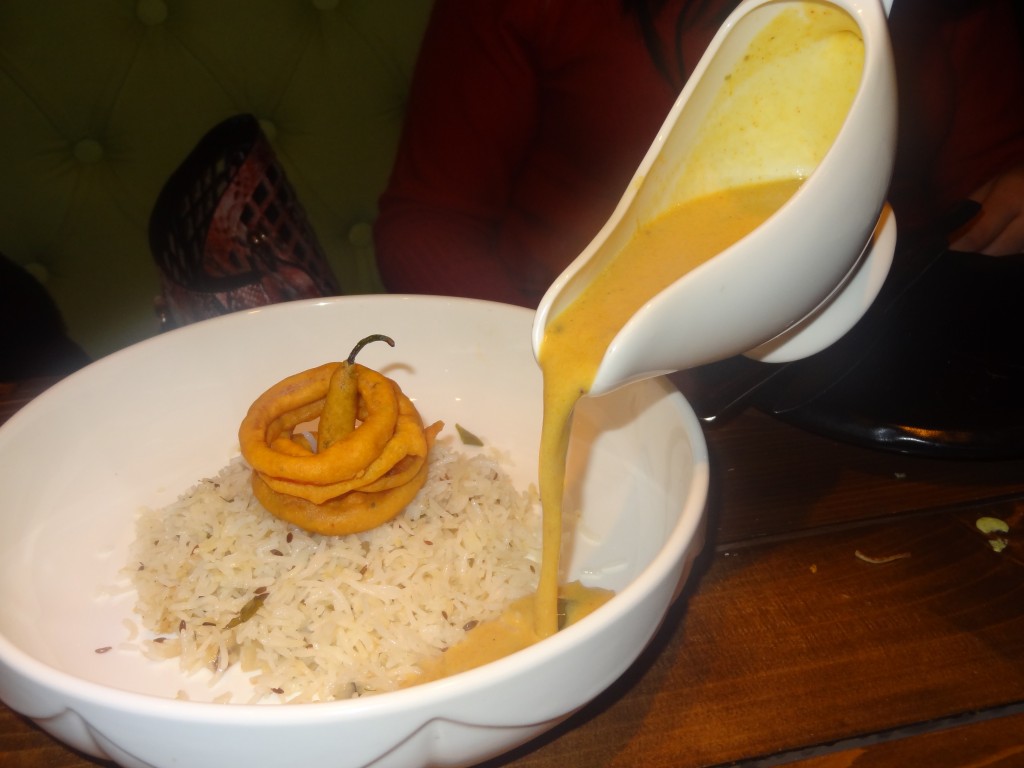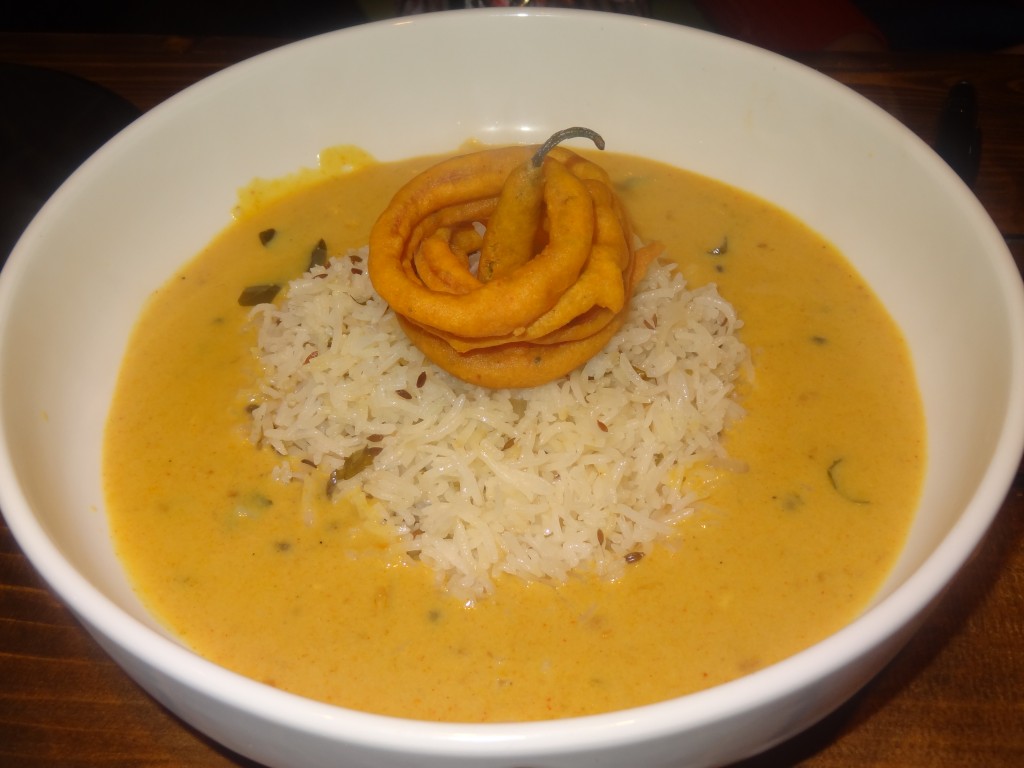 Now, it was time for desserts and we started with Milky Way Big Bang. The Asteroid Belt, Milky Galaxy, Orange flavor plate and Liquid Nitrogen literally took us to space sitting on Earth. We witnessed the dessert-in-the-making in-front of our eyes. It had different flavours, gems and chocolates which enhanced the taste and I am sure kids have a gala time with the dessert.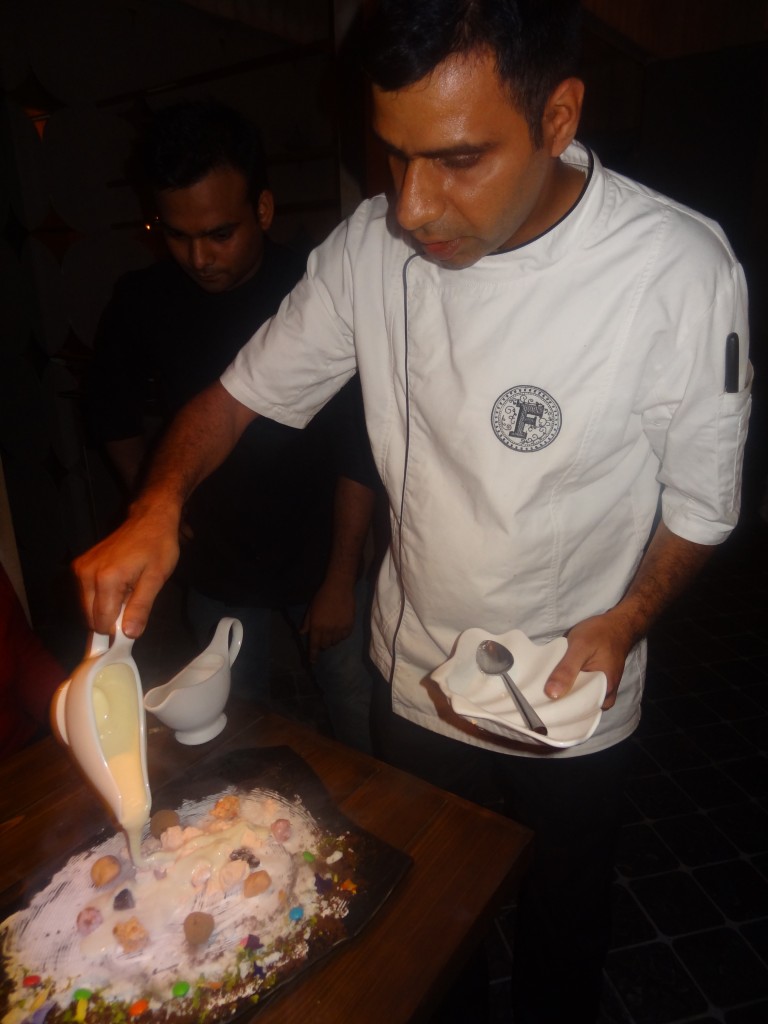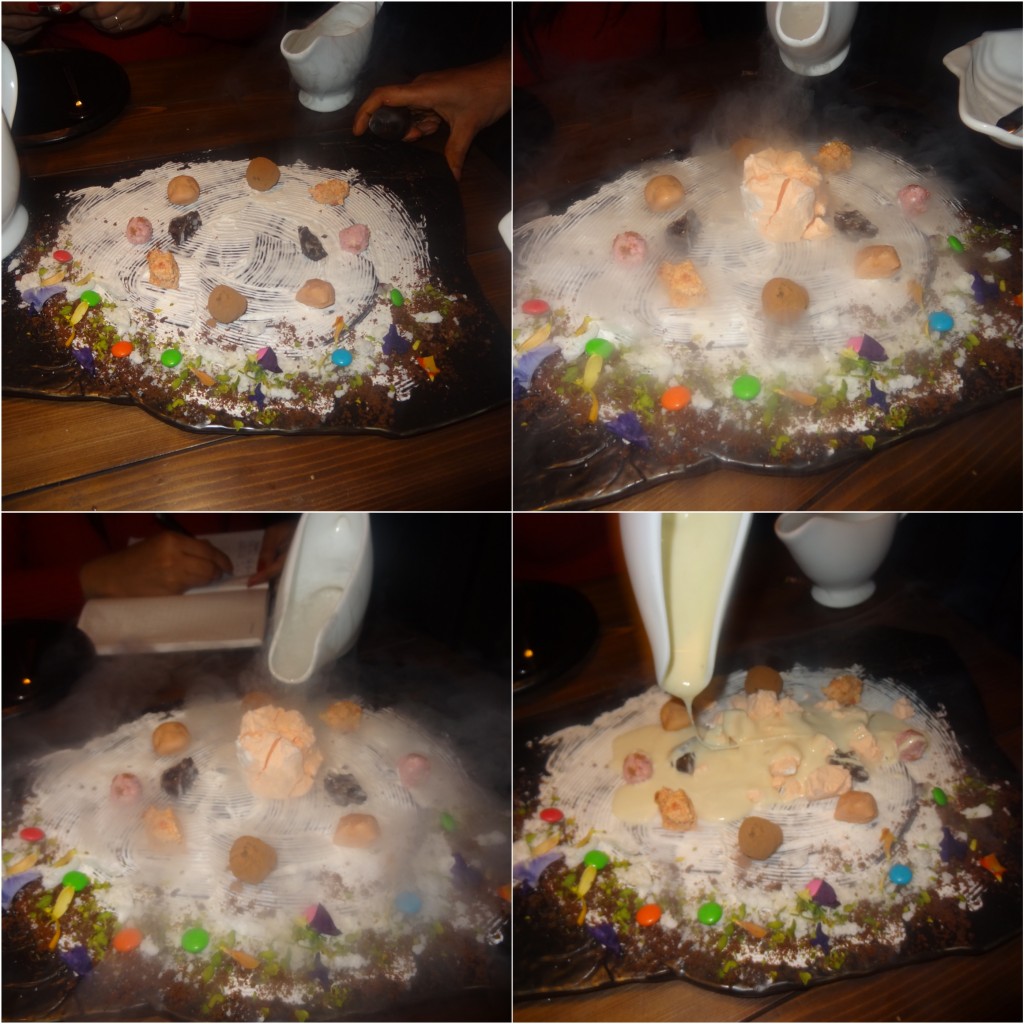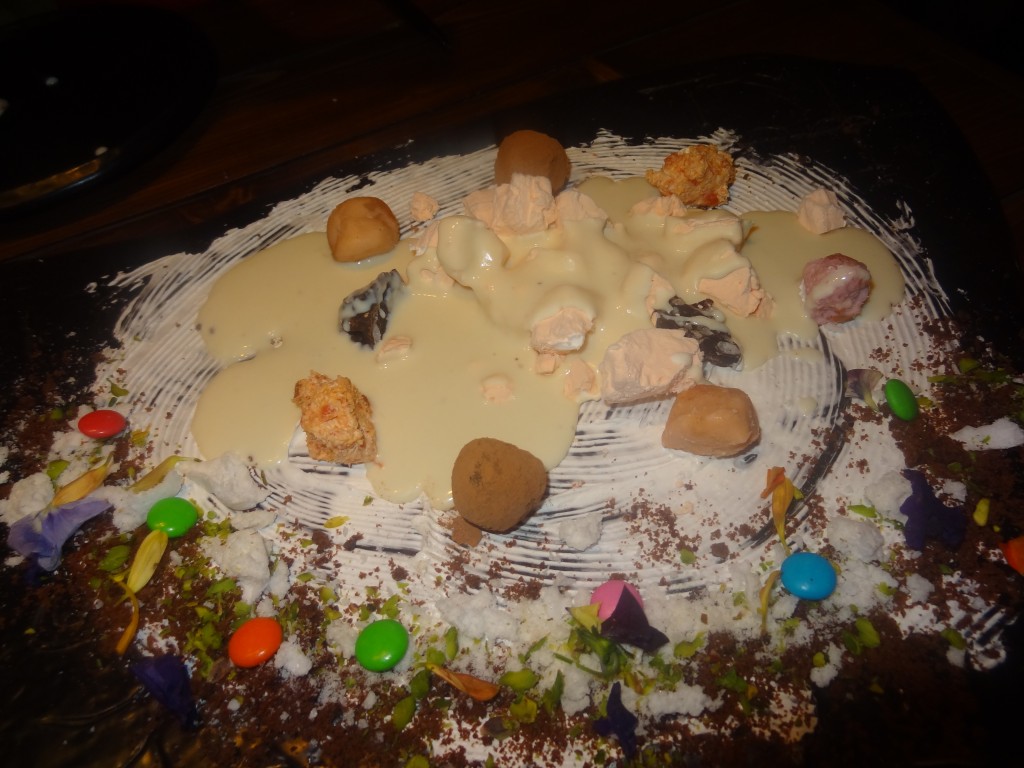 Now, it was time for the second desert, the Dirt Pile. With strawberries, gooseberries, chocolate truffle, salted caramel sauce, rice crispies, micros green and edible flowers, it was amazing and out of the world. What added more delight was that Chef Sainyam Kapoor made the dessert himself in front of us and also explained it to us. You could experience it in the video. The dessert was nice, chocolaty, yum and addictive at the same time.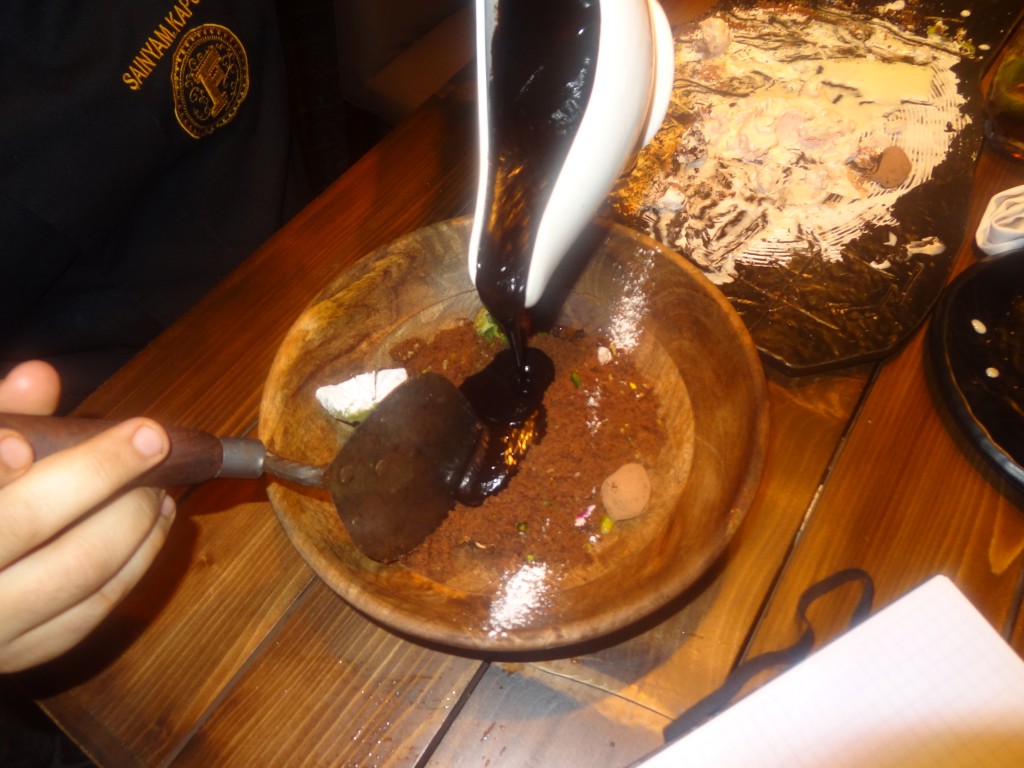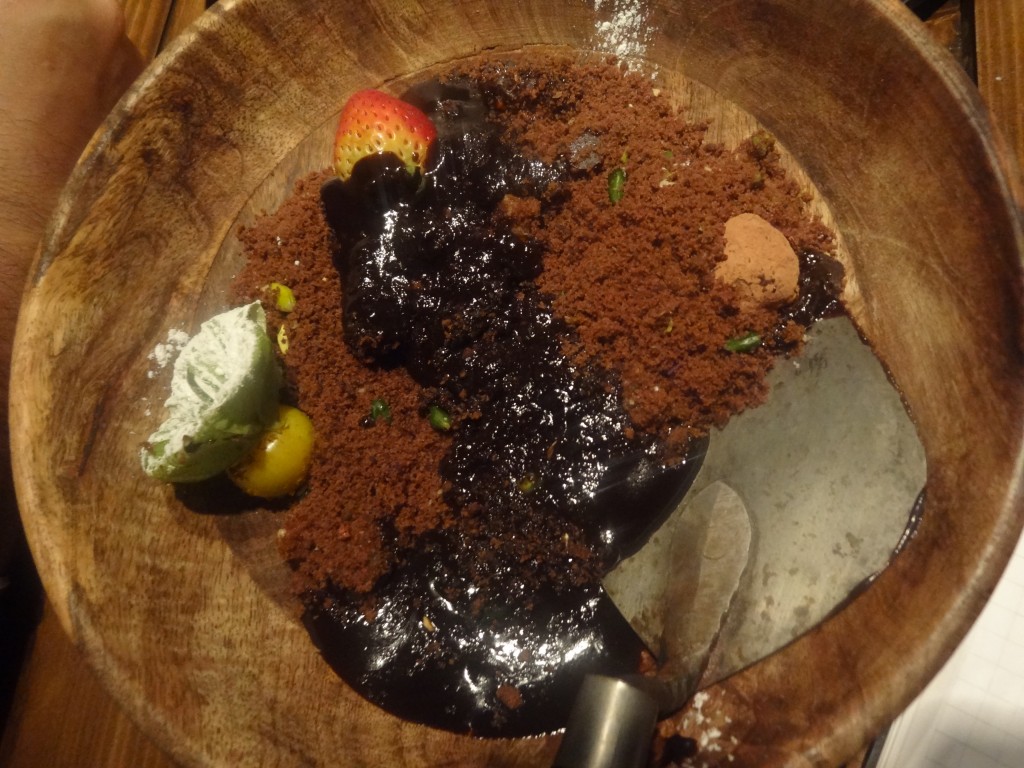 After the dessert or rather while having it, we also caught up with Chef himself for a chit-chat to know more about the innovative café. Sainyam, a product of IHM Pusa has been a part of the industry for the last 8 yrs. He joined Farzi 6 months back. The idea was to have different dishes in CP as the Delhi people are very different. They also wanted to differentiate the outlet from Gurgaon. With a different edge across the dishes, the restaurant does stand out. The young chef reads about food trends across the Internet and loves to listen to music and loves biking.