The California Boulevard is situated in Sector-29, Gurgaon, a high-end restaurant with oozing sexiness & class plus a lot of hot Hollywood romance. The restaurant offers a potpourri of food, fashion, music, glamour & lifestyle and 300 delicacies to eat of world cuisines across 30 countries. The decor is all taken & adapted from the American Hollywood & vintage fashion world with the wall of celebrities like Marilyn Monroe, Johnny Depp all in black like a picturesque bay, the surfers gallery with the California surfer boards, the golden lit Beverly Hills wall and waterfall along with a Harley Davidson motorcycle outside plus the unique San Francisco tram and the music from the yesteryear's motion pictures.

They also have regal cinema set-up playing the vintage old classic movies famous from the black & white era like Sabrina, Camille, The Bishop's Wife, It's a Wonderful life etc. They even have names of Hollywood celebrities written in stars on the floor. The interiors are done in black, gold & red with a classy glass & wood staircase that we see in Hollywood movies. There are velvet sofas & soft Rexene sofas in camel colour. The restaurant has a total of 110 seating area.
The interiors are amazing and the area where we sat was Alfresco. It had nice lighting with a blue sporty Beverly Californian theme. I loved the ambience, the Hollywood movie mania, the classy Hollywood & cinematic touch. Could not wait to try the food there- the world cuisine delicacies!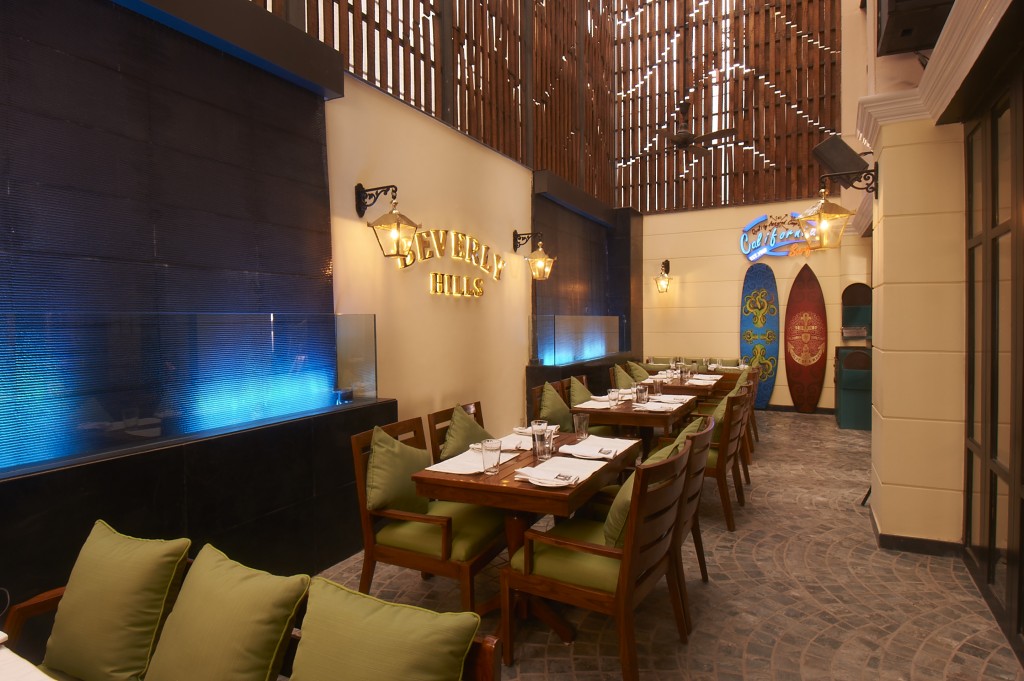 We started off with Butter croissants with Garlic Butter. It was an assortment of different rolls with soup sticks in a basket. A great start to the meal with such tasty and yummy rolls.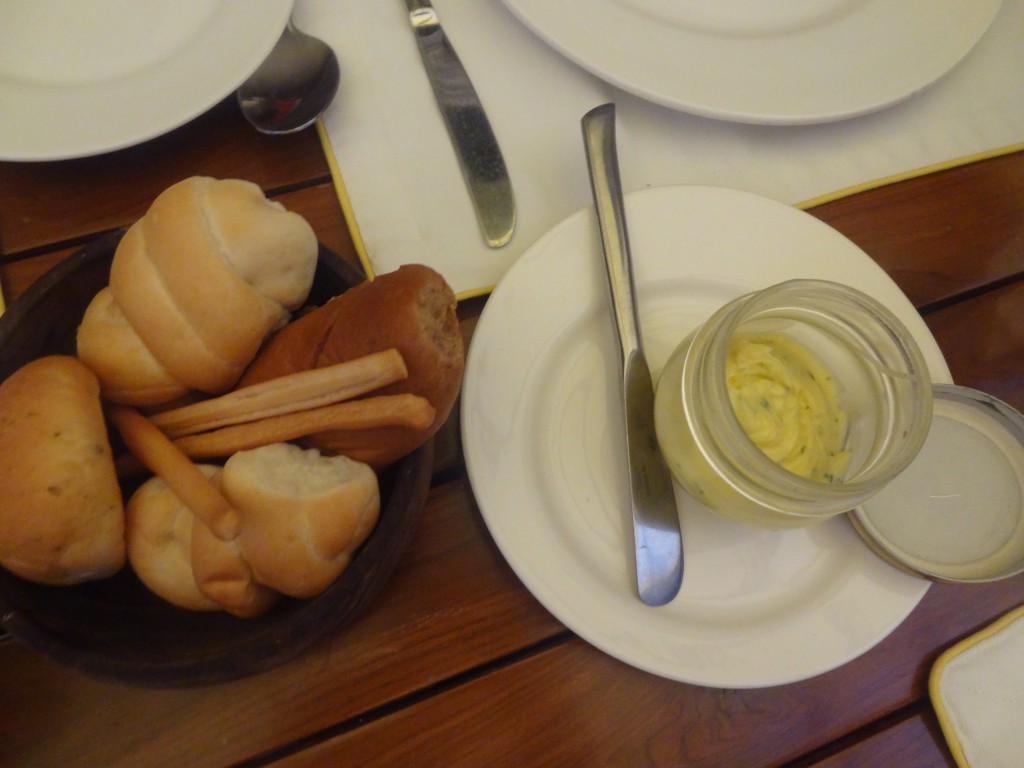 Next was one of our favourite street food-Dilli ki Chaat. To our pleasant surprise we saw crispy thin spinach papdi topped with sweet curd, mint sauce, sweet chutney and aloo bhujia. Loved the spinach papdi. Great fusion with great taste is how I would like define it.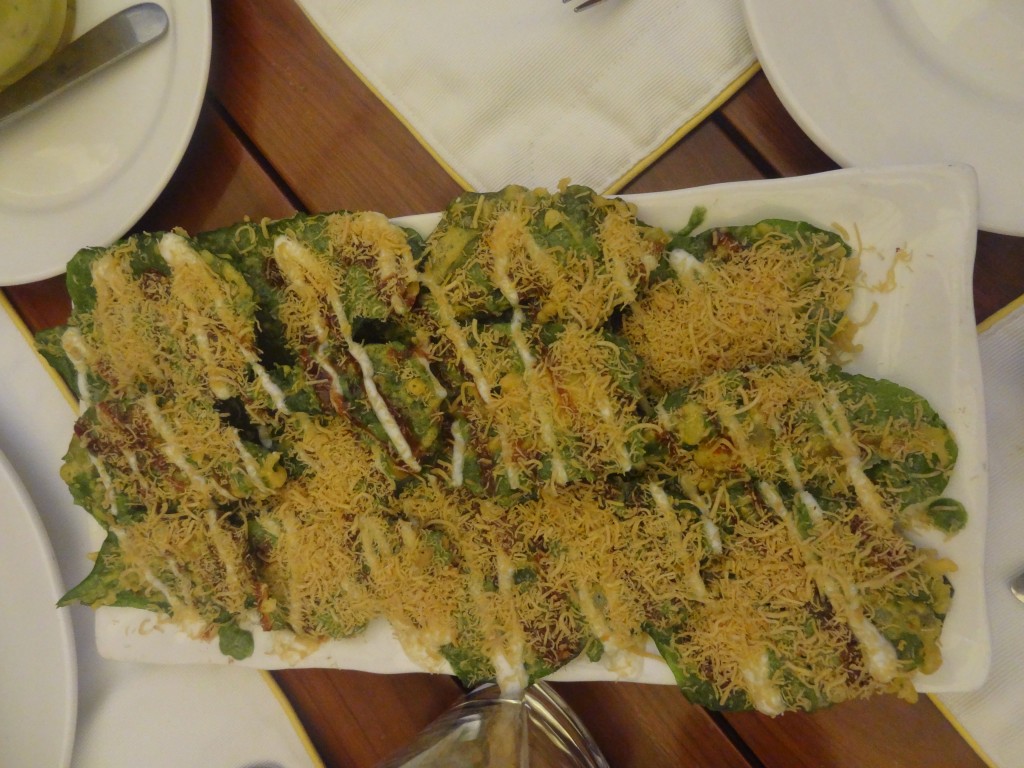 Now it was time for beverages and we started off with Green Apple and Clove Lemonade (with Green Apple) . Though I quite liked the subtle Green Apple taste but didn't like the strong clove taste. The Camomile and Passion Fruit Ice Tea (lemon slice) was soothing, nice and refreshing  while Mango Sin was great. With basil leaves, it gave a nice and unique flavour. Summer Beach (Pudina leaves on the top) was infused with cranberry and pudina leaves which made a great combination.
Now it was time for some more starters. Duo of Paneer Tikka was quite different from the usual Paneer Tikka's we have had before. It had two different versions of Paneer Tikka on the same palette. They were well marinated, masaledaar soft paneer cubes and had sweet chilli mint sauce as well. The paneer was so soft that it just melted in the mouth.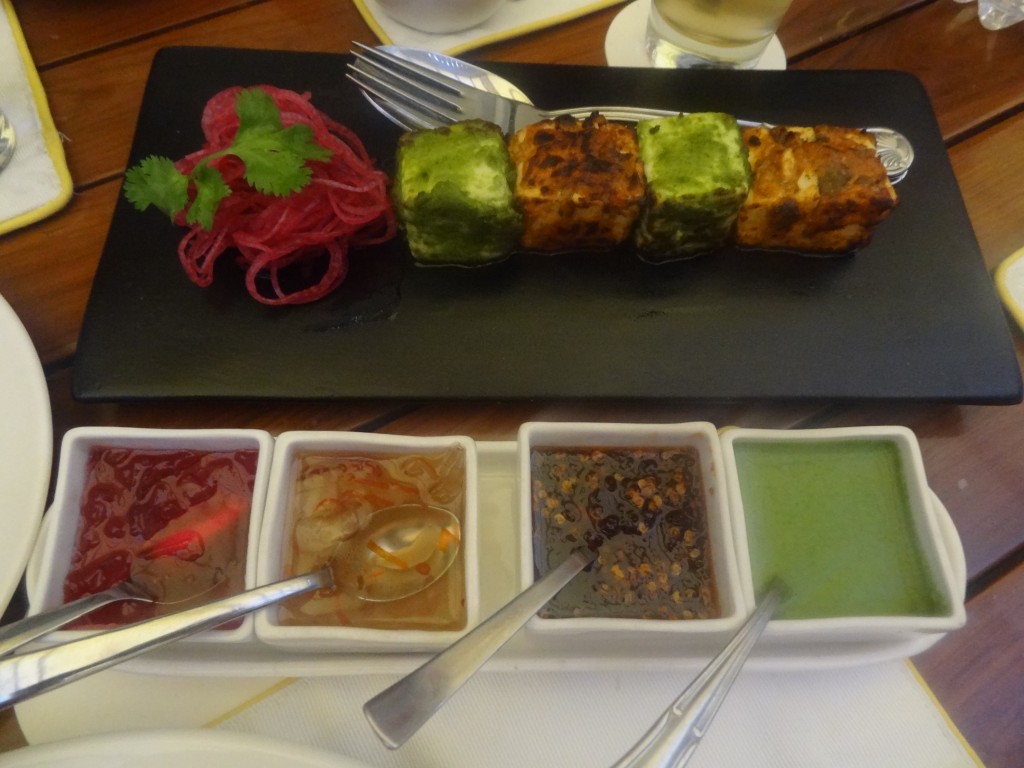 The Peri Peri Chicken served with Chipotle Mayo Dip was mildly spiced, soft, juicy and fresh. The Veg Bruschetta was Garlic Bread topped with onions, tomatoes, artichoke, rocket tomatoes and Greek feta cheese. The finely chopped fresh veggies gave a great taste. The dish tasted like salad on garlic bread and was one of the most nutritious version of Bruschetta I have ever had. It was so yum, I could honestly have it at any point of time.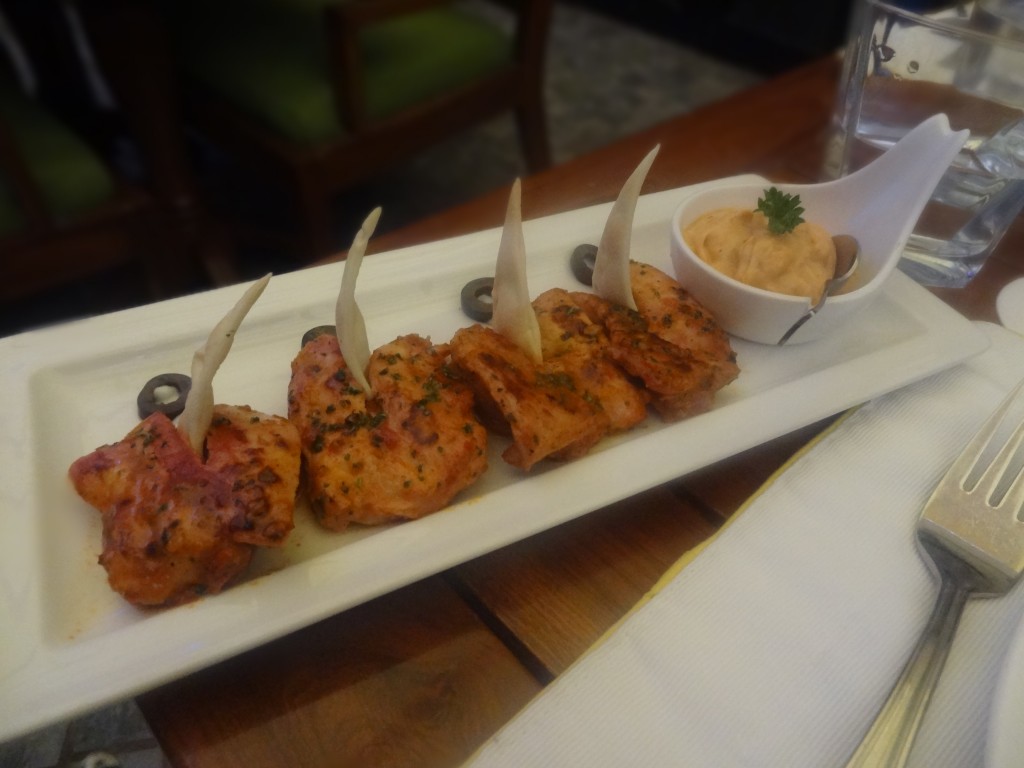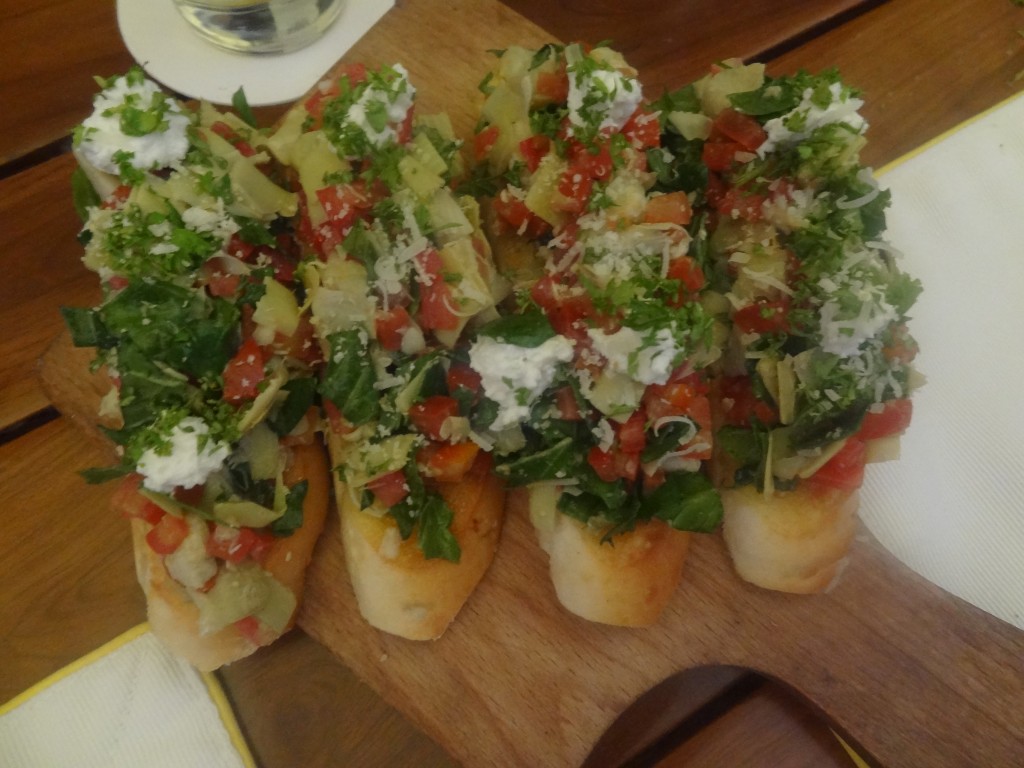 The next dish was Peri Peri Chicken Pizza which had a topping of trio bell pepper, jalapeños & cheese along with our favourite Peri Peri Chicken. What added to my delight was that the thin crust pizza had nice generous topping of chicken. It tasted great and looked quite colourful coz of the trio bell pepper.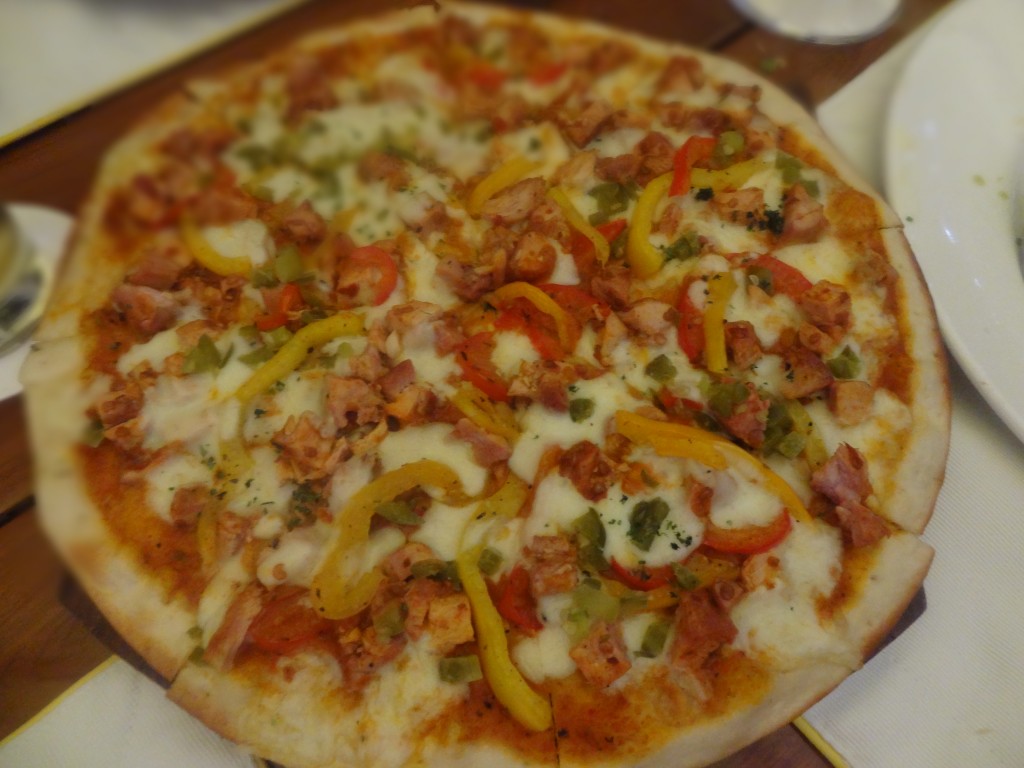 The Grilled Lamb Skewers which were Italian style spiedini of Lamb cubes served on bamboo sticks, flavoured with mint and served with Napolitaine sauce. They were so nice and soft that they just melted in my mouth. The best part is that they were grilled which obviously meant less calories and bamboo sticks made it convenient to eat.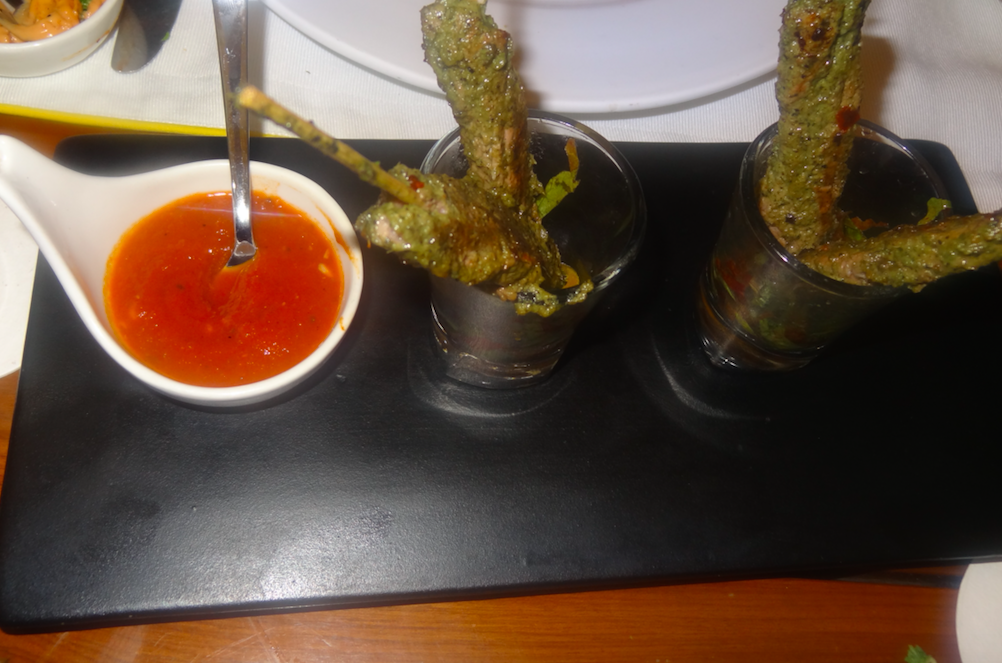 The Mezze Platter was full of Falafel, Pita Bread, Hummus & Baba Gannoush. Crisp, nice and mildly spiced is how I would like to describe the platter.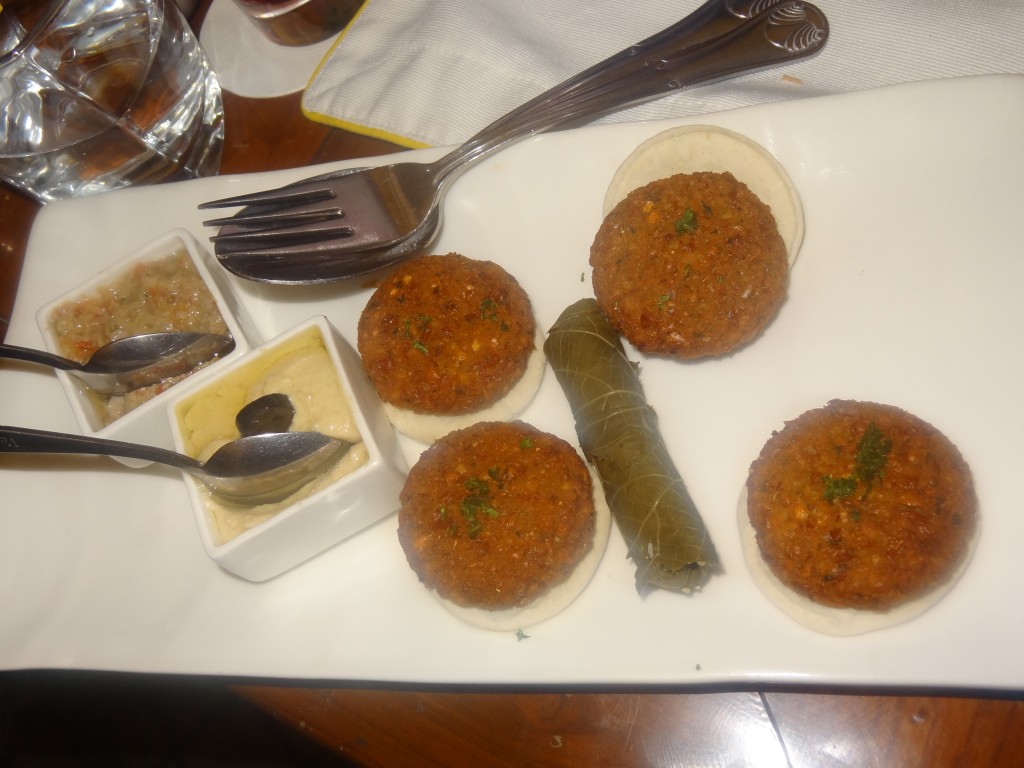 Being a paneer fan, I could not resist trying out the Paneer Sushi which had an outer layer of cottage cheese with a stuffing of mushroom and cheese. Nice, soft, tender sushis melted in the mouth and finely chopped filling enhanced the flavour. Loved the innovative vegetarian version of the sushi.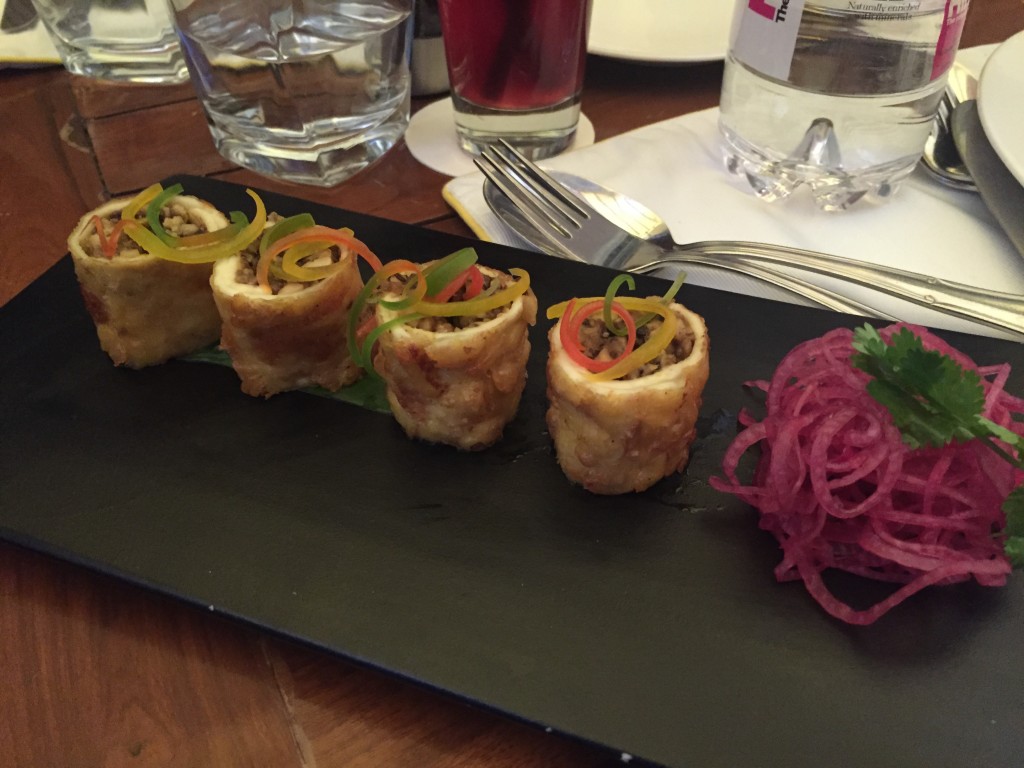 We also tried some amazing dimsums at Califonia Boulevard. The Crystal Chicken Dimsums had a nice crystal shape with a filling of minced chicken and Chinese masalas served with 4 dips – Thai Green Capsicum Sauce, soya, vinegar and Chilly. I was impressed with the nice generous chicken filling and the crystal look.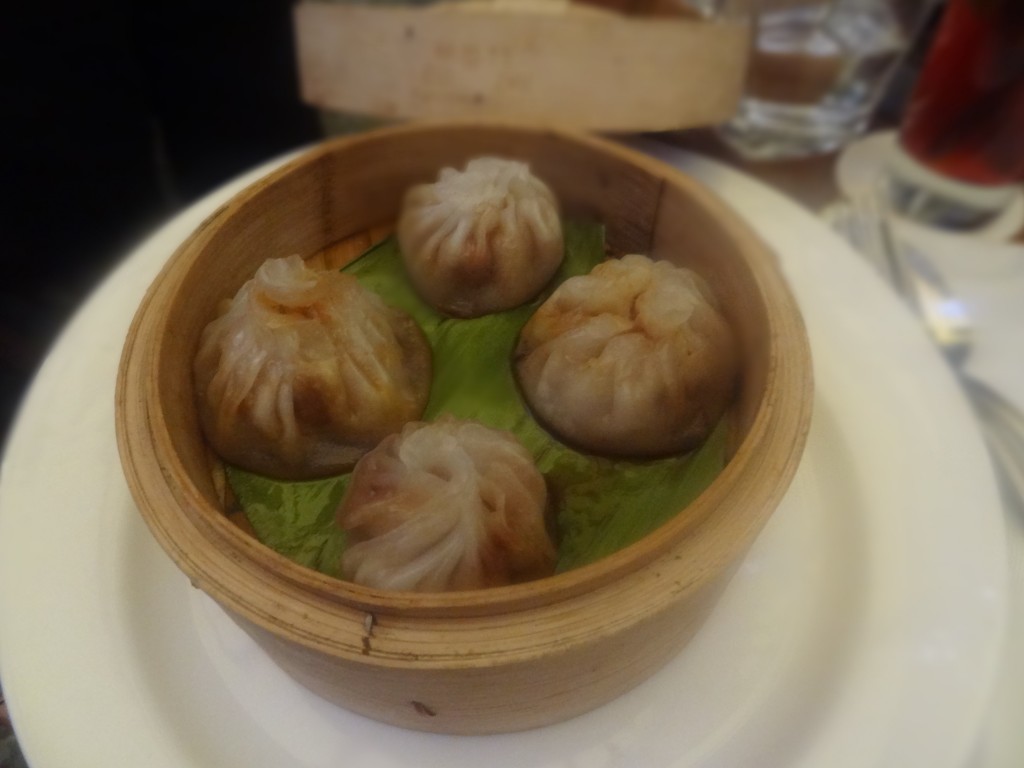 Next was Mixed Veg and Chive Dimsum. I am sure you are as curious as us. Even we wanted to know what 'Chive' was. Chive is actually the green portion of the onion family. The dimsums had all green veggies which were finely chopped for the stuffing. Great taste came in a potli of health tied in English onion ribbon.
The last starter of the day was Kaffir Lime Chicken Tikka which was served with mint sauce, garlic jam, onion jam and sweet chilly jam. Soft, nice, yum, delicious….I can go on and on about this delicacy and is one of the most recommended dish. Team ChicLifeByte had this dish when we were almost full but even then we could finish it off.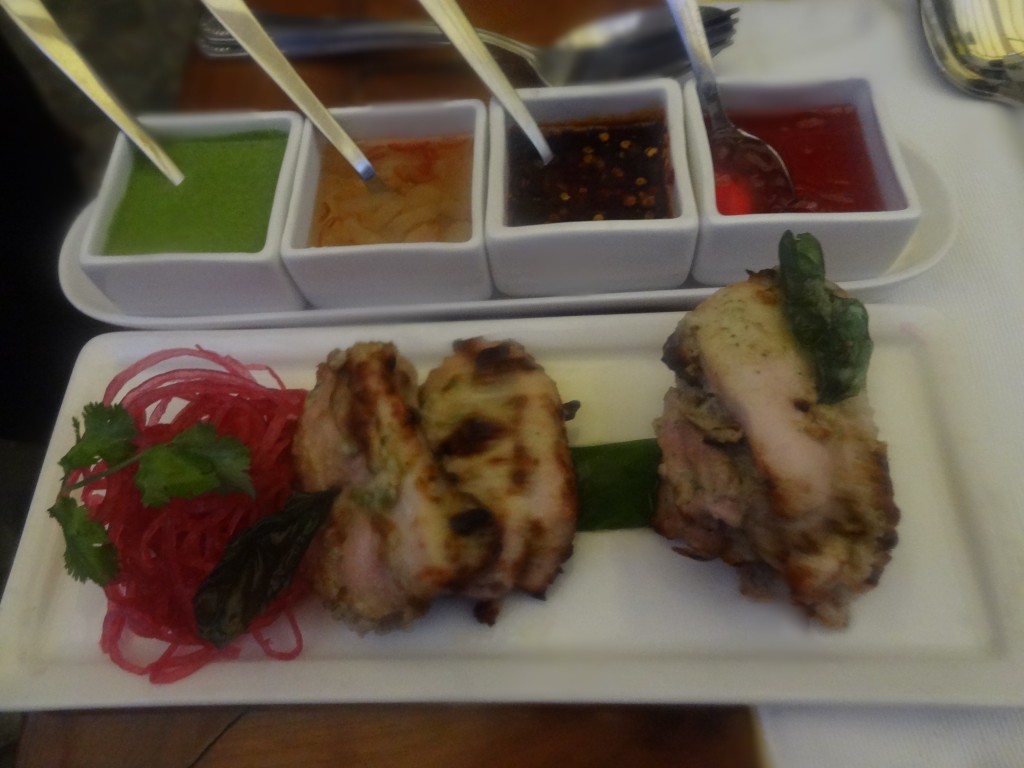 Finally, time for main course!! We started with Ratatouille which was 'french style assorted veggies cooked in vine tomato sauce served on a bed of rice'. Looked and tasted absolutely amazing. The assorted veggies (zucchini, trio bell pepper, tomato, aubergines) gave a great flavour which enhanced the taste of the rice as well.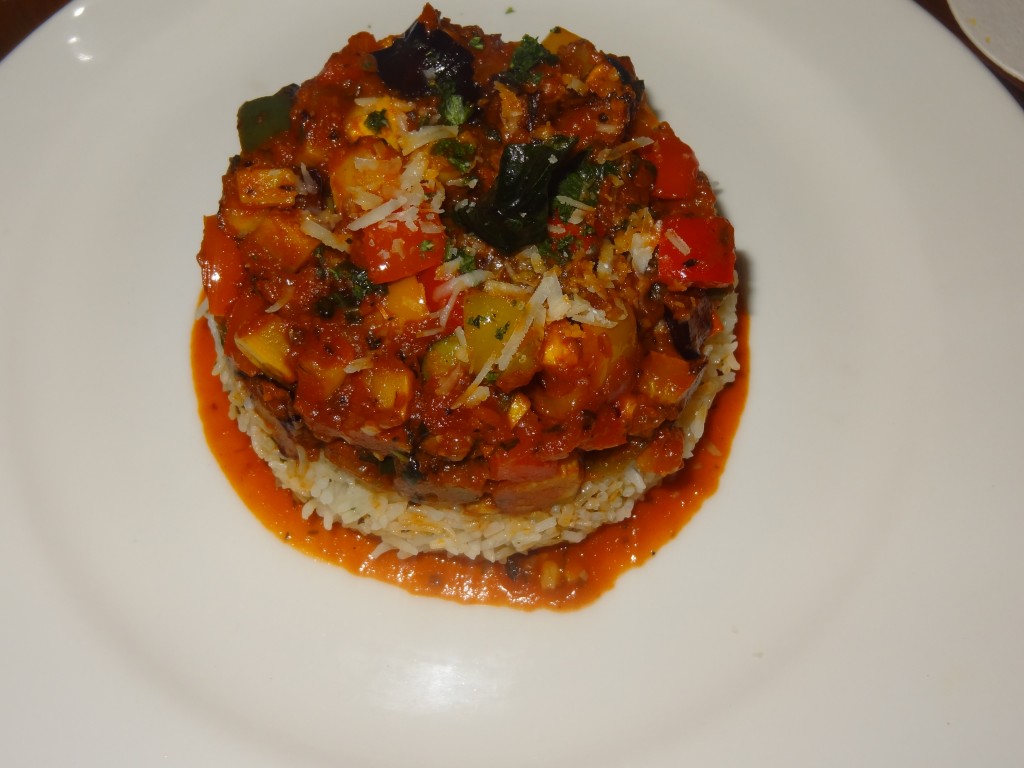 Next was Veg Lasagna which was thin flat pasta with roasted veggies. It had zucchini, trio bell pepper served with buttery garlic bread. It was amazing.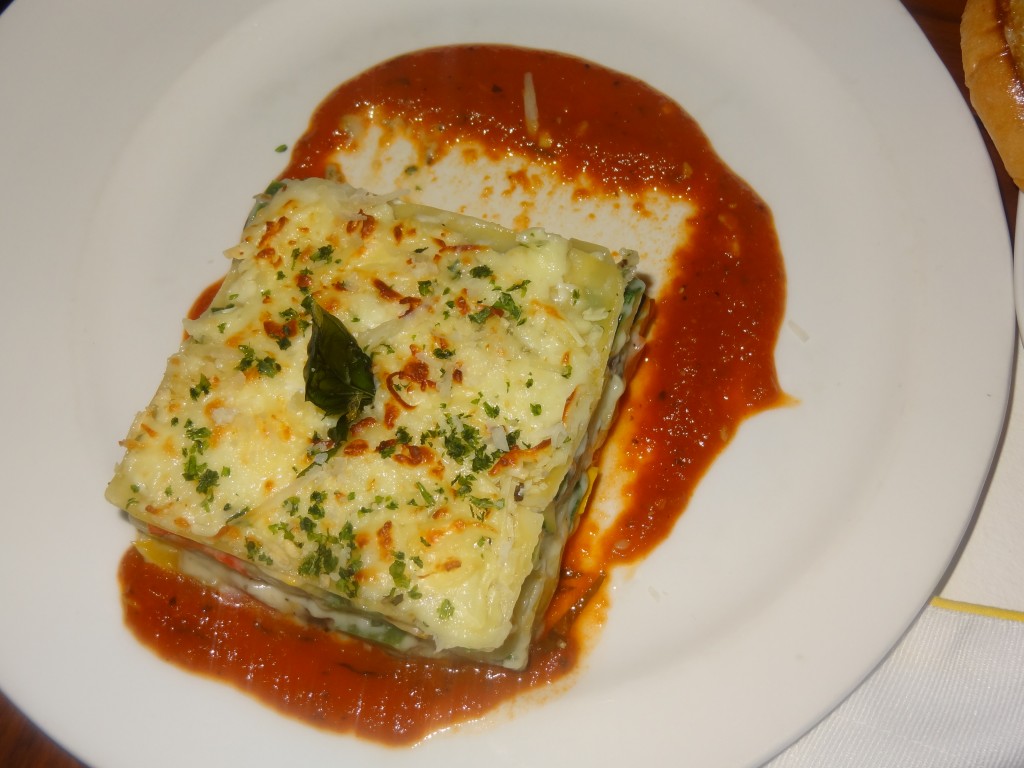 Coming to the desserts starting with the Chocolate bomb. It was an experience literally- Big round ball of chocolate & molten hot caramel sauce being poured on it and when the ball broke and opened, there was chocolate brownie with vanilla ice-cream & lots of nuts. It was velvety, warm, hot & delicious and all the flavours of goodness and heaven in front of our sinful eyes and a sinful bite of it fills the mouth craving for more. I relished and ate it till the last spoon of the chocolate dipping as it was a melting indulgence and I could not resist it so I felt guilty of eating more.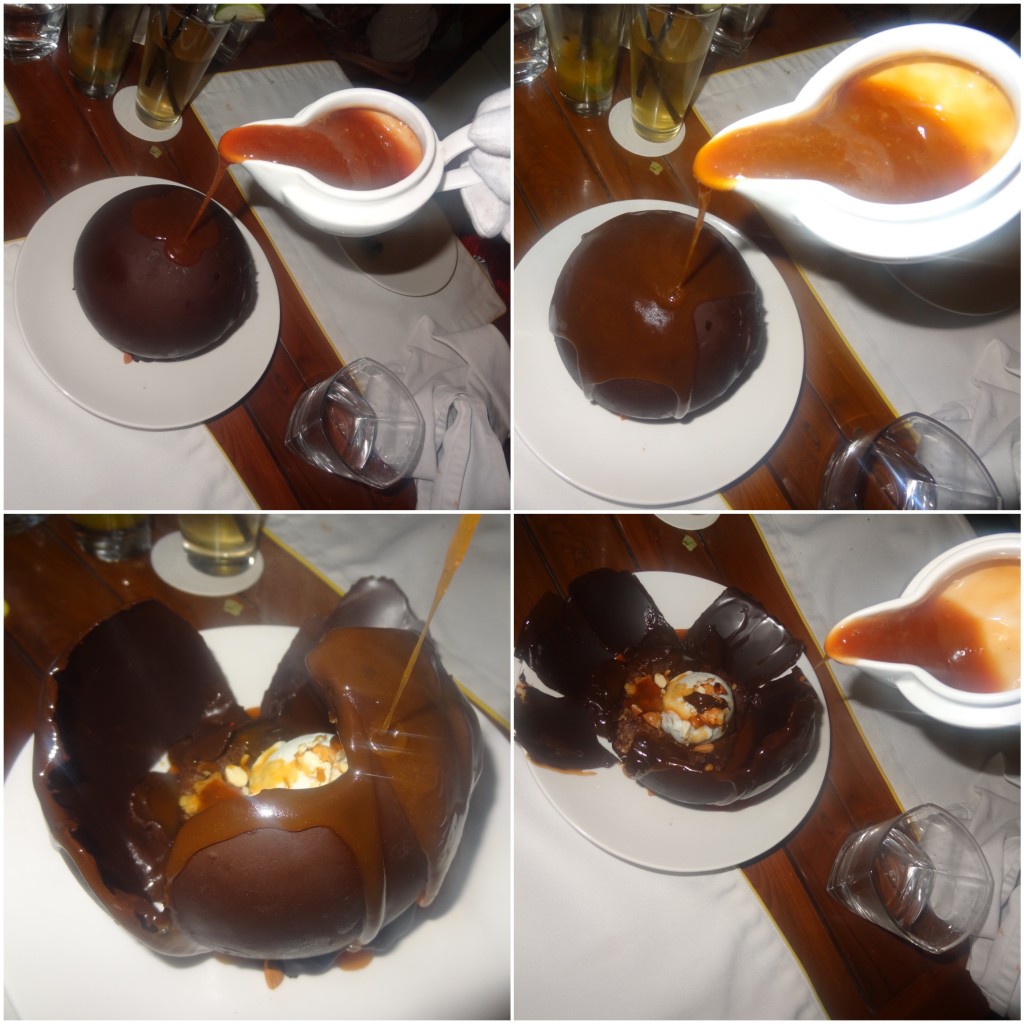 The Tiramisu (Coffee & mascarpone cheese mousse with cat tongue biscuit) was cheesy, soft & creamy with a strong coffee flavour. It was sprinkled with lots of chocolate & cocoa powder on top.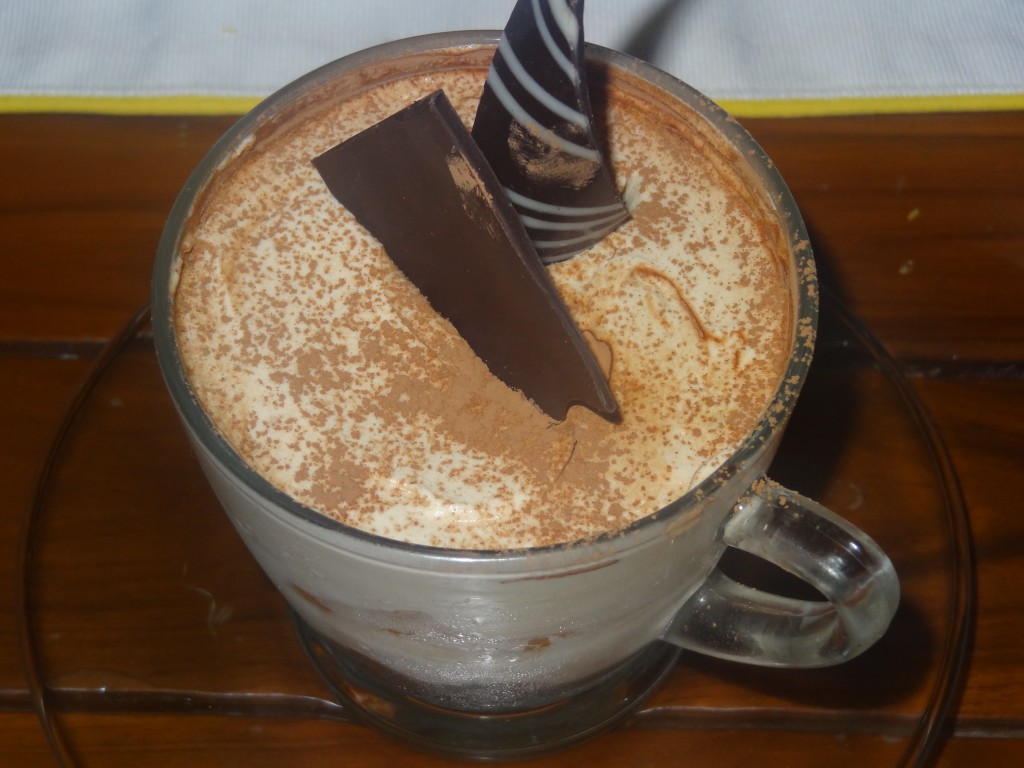 The Kulfi Bonbons had an outer covering of frozen chocolate. Inside it was filled with cold kulfi. There are different flavours like fig, nutella & mango. A very different & unique dessert with a nice twist to the Indian kulfi!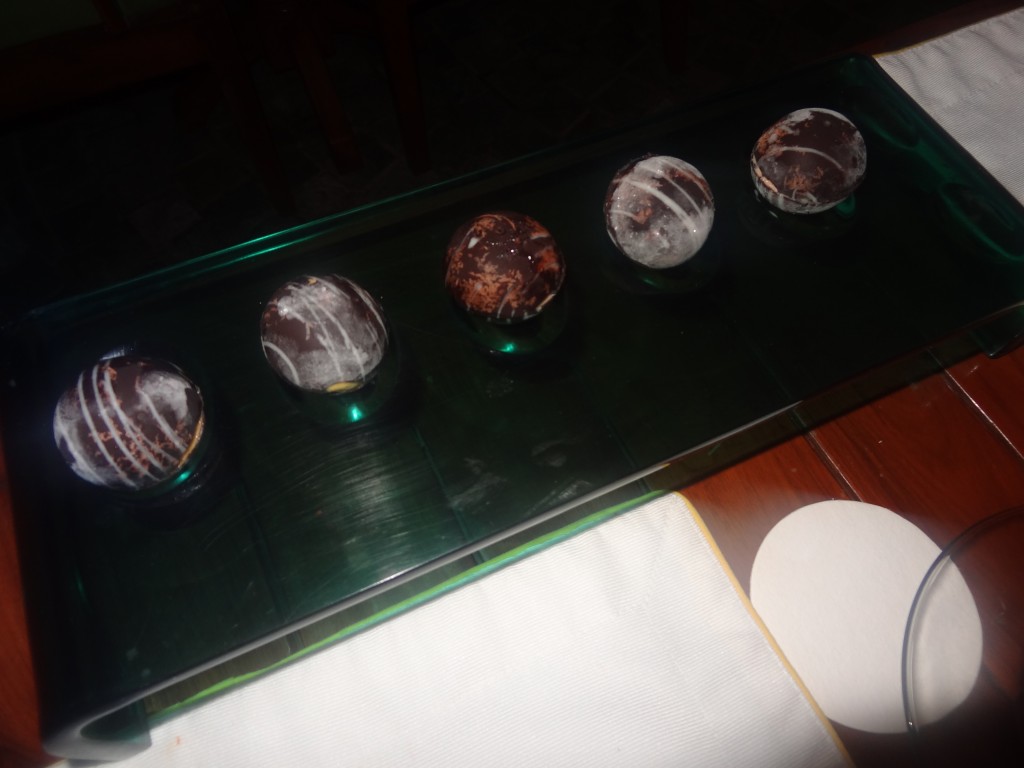 So with all the heavenly sins & all the chocolate in my heart, I highly recommend this place. You will surely thank me for telling you about this wonderful place.