Live your life in a healthy way as JustPressed now gives you immense & plenty of reasons to smile since now we have body cleansers i.e. body detoxifiers which actually work on the body, mind & soul as they relax, soothe, energize, recharge & make you doze off calmly in the night without making you feel bloated.
JustPressed™ Cold Pressed Craft Juices are 100% pure and natural with no additives at all. Especially hand crafted for a healthy balance of the mind, body and spirit, their range of juices have delicate and exceptional flavour notes. Packed inside each thoughtfully produced bottle, are top-notch fruits and vegetables, in a bouquet of subtle yet distinct flavours and aromas.
To start with this is the 1 day cleanse where you have to survive on the following 6 juices power packed with health & nutrition:
Soak
Active
Charge
Bounce
Jolt
Pump
A Cleanse is primarily an act of abstinence from or reduction of solid food for a defined period resulting into weight loss, mental clarity, improved condition of skin & hair as well as good well being.
You have to drink the juices starting the day with a warm glass of lemon juice & honey. All these juices would provide the energy, minerals & vitamins which you need during the day. They are in good quantity to fill your stomach well with reserve to work when you are exhausted or tired as they have healthy ingredients like spirulina, beetroot, celery, kale, collard, aloevera etc. to give strength without sugar & preservative factors. So it's best for weight watchers & a healthy diet supplement for people who want to feel nourished & healthy from within.
I started my morning with Soak. It contains pineapple, celery, cucumber, spinach, collard, kale, lemon, ginger & wheatgrass. It is nicely made in the goodness of right nutrients so that the inner soul is saturated with lots of inner energy & sweetness of the lovely juice which make it more nutrified & a start up to ignite your day with its superb natural aroma of fresh taste plus the mix of healthy herbs.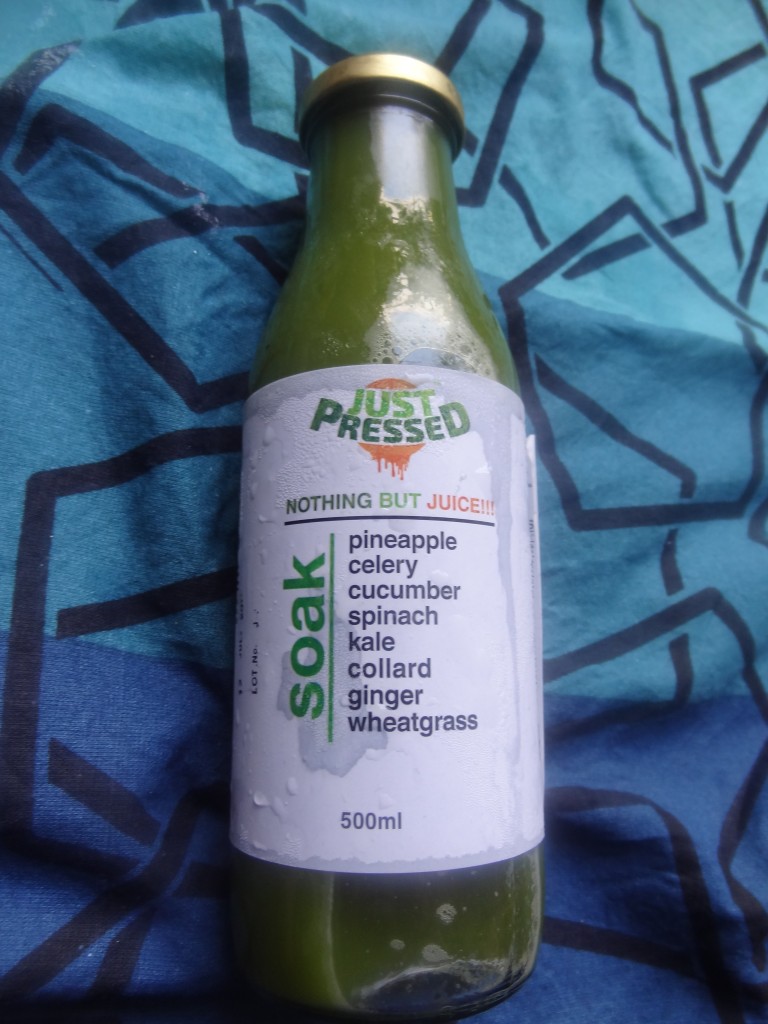 Each sip I drank added to the healthy & pink glow on my face adding a sparkle to my eyes, mind & body. The antioxidants & essential vitamins excellently hydrate your system & prepare you for your office, school or work. So get your hands on for the spinach will give you the iron content & it's nothing but a bottle of green juice that will make your morning greenful & delightful.
Active is also a morning juice with no sugar added which makes it completely natural & toxin free to detoxify & make your soul free. It contains celery, cucumber, lettuce, lemon, spinach, collard, kale, parsley, ginger & cilantro. These ingredients are one of the most healthiest & nutritious foods available. It was a bit tangy & awkward to taste at first. But after some time you might like it. It's a delectable blend good for the complexion, eyesight, general vitality & boost of energy for the daily morning rush.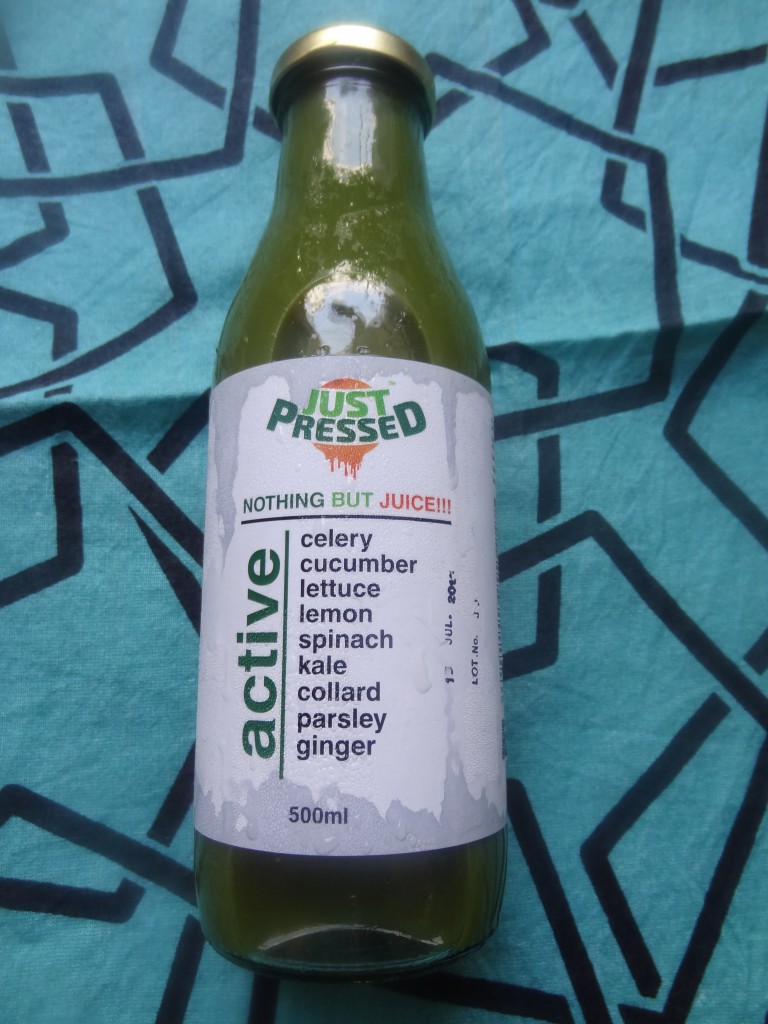 Charge is a day juice and contained pineapple, apple, ginger, turmeric, lemon, tulsi & chia seeds. It is lemony, citrusy tangy like a big squeezed lemon in it & full of fun filled nutrition. It had a refreshing mausami tangy taste & tasted slightly bitter but lovely to sip with all the health factors taken into account. The chia seeds also tasted wonderful. This was the best juice amongst all.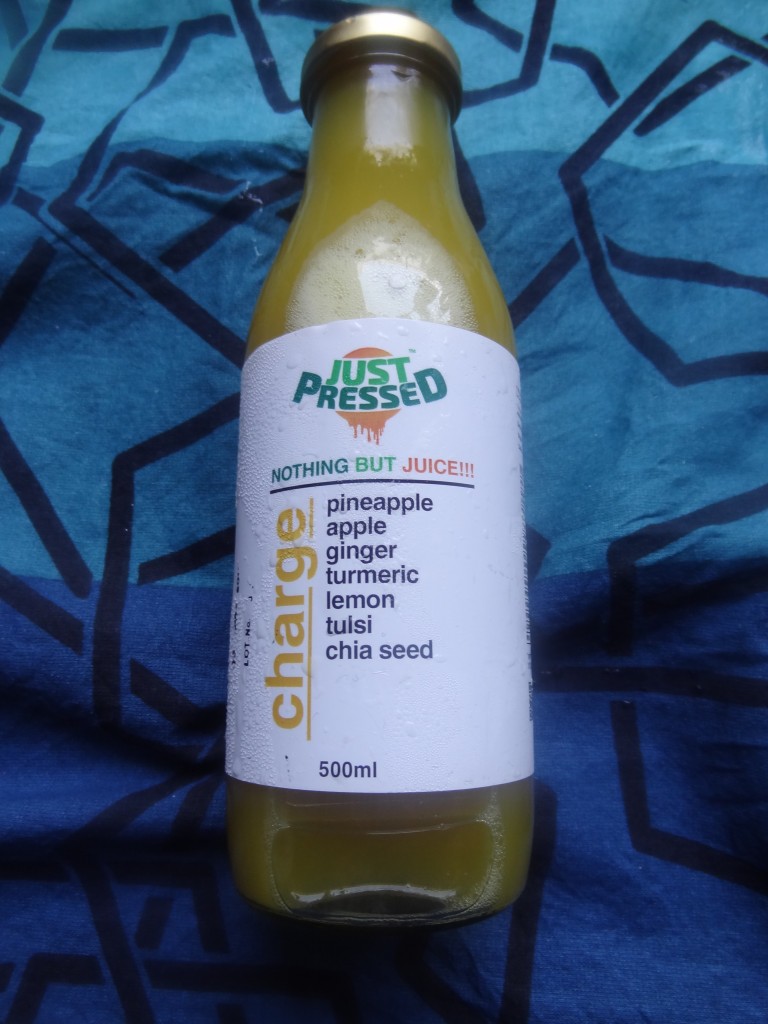 Bounce contains orange, lemon, carrot, pineapple, turmeric & chia seeds. Loaded with carotene, it also speeds up your metabolism. The after taste was bitter to tongue since the taste of carrot was a bit strong in this juice. It also works as great workout energy drink.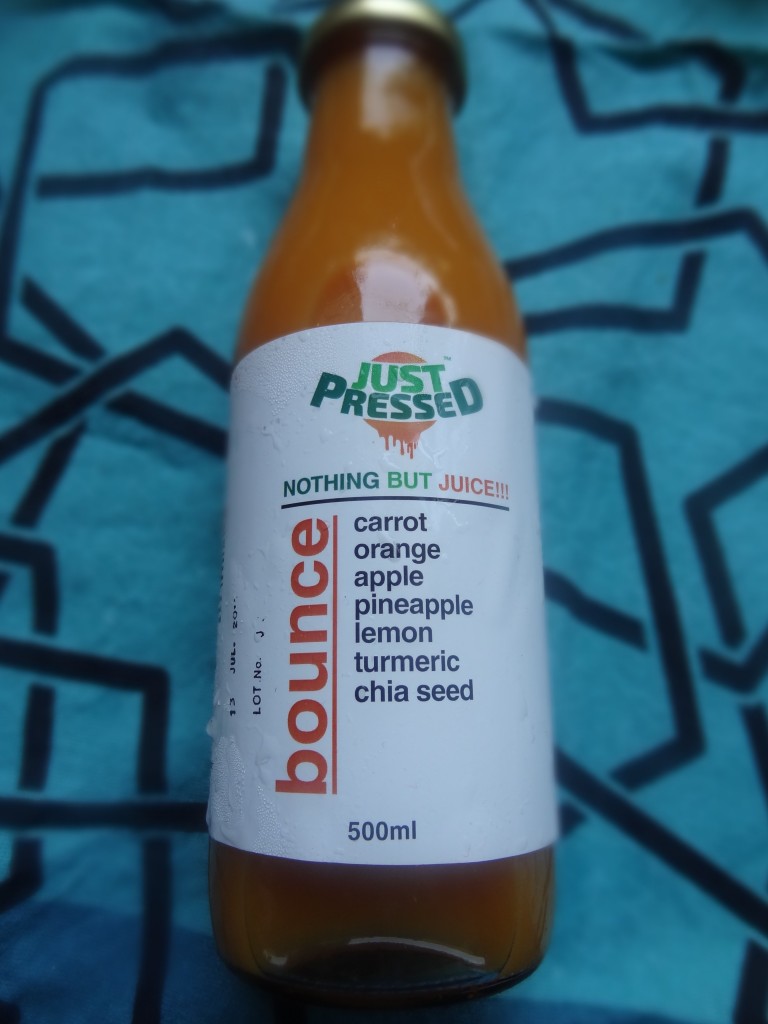 Jolt contains carrot, apple, celery, cucumber, beetroot, lemon & spirulina. It's an ideal snack with the goodness of healthy ingredients. It's said an apple dose gives the iron power so this superjuice invigorates your senses & floods you with essential vitamins & nutrients. It's totally lip smacking & jolty cheery good for a lazy afternoon to move & perform the daily duties with the beetroot & spirulina giving the nutrients & anti-oxidants. Carrots & lemons add life & adrenaline rush to the juice. It is also ideally good for healthy blood pressure maintenance. You are jolted into action after drinking this herbal tonic or remedy. The taste gets better when you become & feel accustomed to adapt a healthy lifestyle.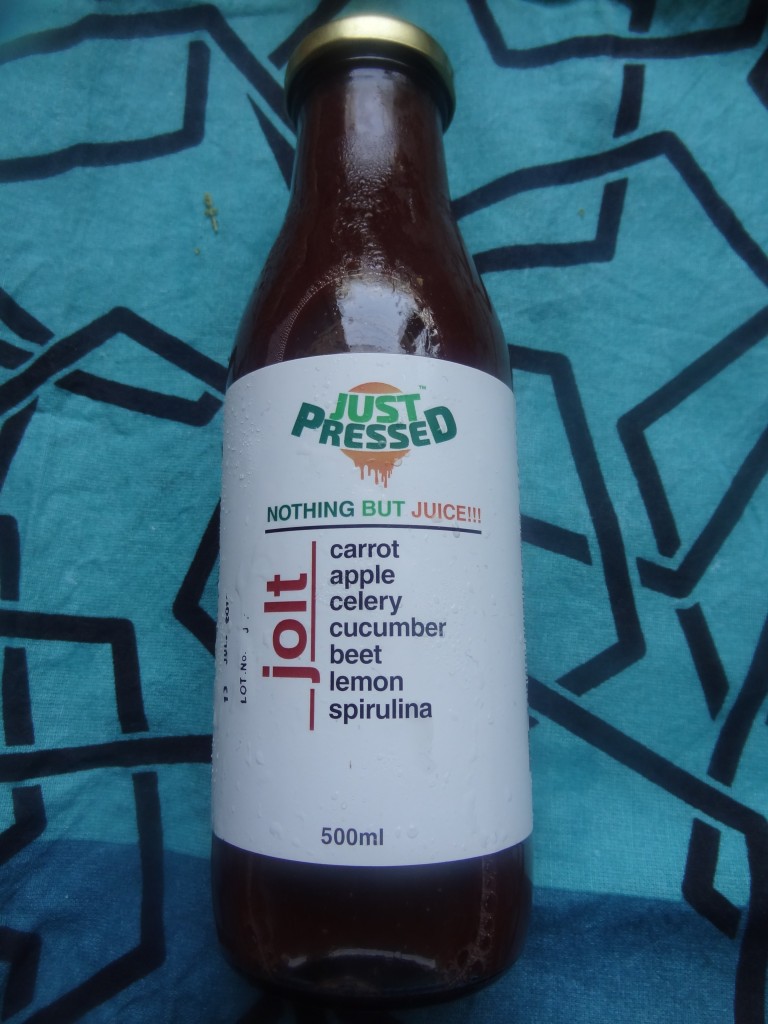 Pump is a night juice. It was the sweetest, smoothest & lightest on the stomach. It did not at all pinch me or made me feel bloated. The constituency was mainly of coconut water, pineapple, apple, aloe vera, orange, mint & lemongrass. The juice is full of sweet nectors & is excellent for cooling the body. I felt chilled & relaxed after having it. It pumped energy in me coz it is pure 100% original in form. It is a nutritious & healthy substitute for dinner.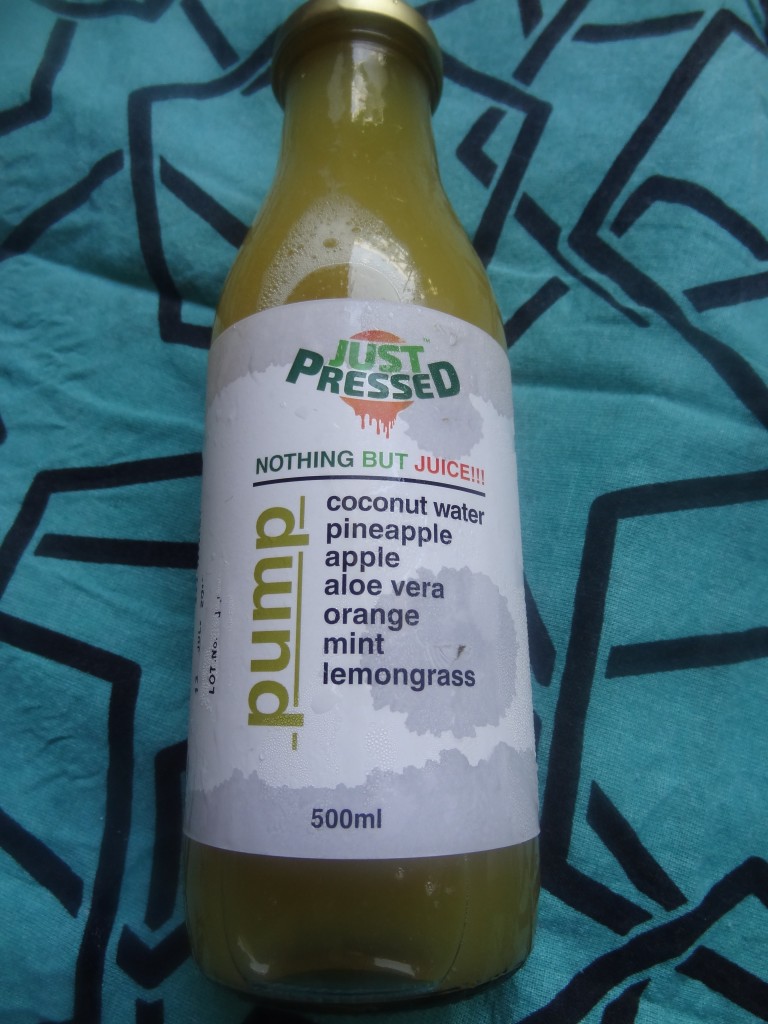 Along with the cleanse, I also tried their Nuts & Seeds and Amarnath Blend.
The Amarnath Blend is basically a gluten free muesli and is a tasty blend of amaranth, rolled oats, five essential seeds (chia, flax, sesame, pumpkin & sunflower), raisins, apricots, figs, cranberries, walnuts, blackcurrant & cinnamon. It has very light crunchy texture & a natural taste similar to quinoa.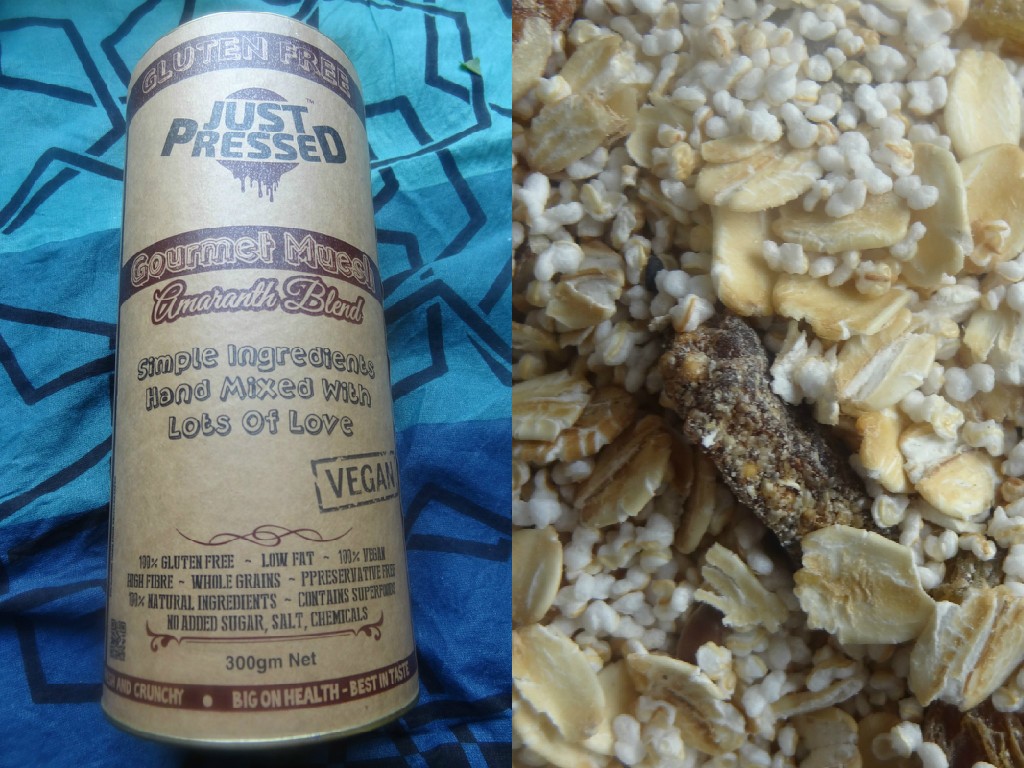 Coming to the Nuts & Seeds, it is a gluten free & vegan crunchy snack full of energy made from the goodness of walnuts, peanuts, cashews, pistachios & seeds (chia, flax, sesame, pumpkin & sunflower). It is lightweight, easy to carry, nutritious, and provides a sustained energy boost from goodness of wholesome nuts, and sustained energy from fats in seeds.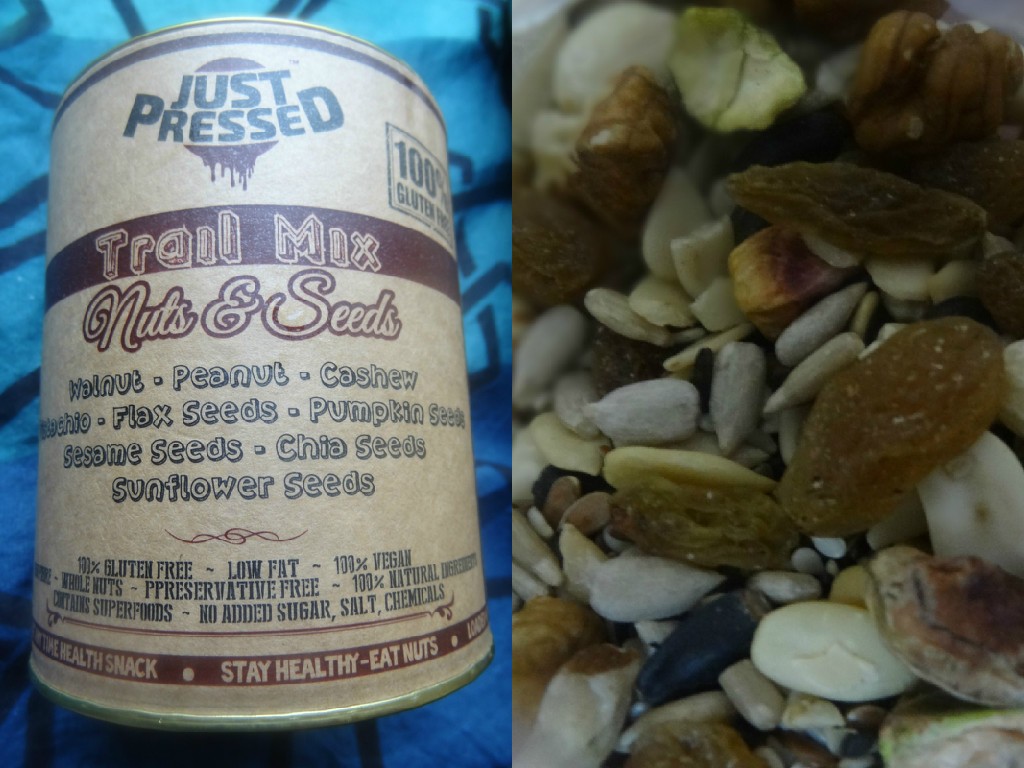 So people health is in your hands. Live, eat & drink healthy. What you eat is what you become after all. Don't think twice & just enter into the JustPressed paradise. Log on to www.justpressed.in to order now.