While at a hotel, it's not only the room I look forward to but it is the view from the room which gives me greater happiness. That's what I was looking forward to at Novotel Mumbai. Beaches have always fascinated me. Maybe because there is not even one beach in my home city. So when I was planning to visit Mumbai I chose to stay at Novotel Mumbai Juhu Beach, a breathtaking beachfront property located in the financial capital of India. It was a special trip. I was in Mumbai for 4 days and had a jam packed itinerary which included receiving an eminent award plus attending Lakme Fashion week.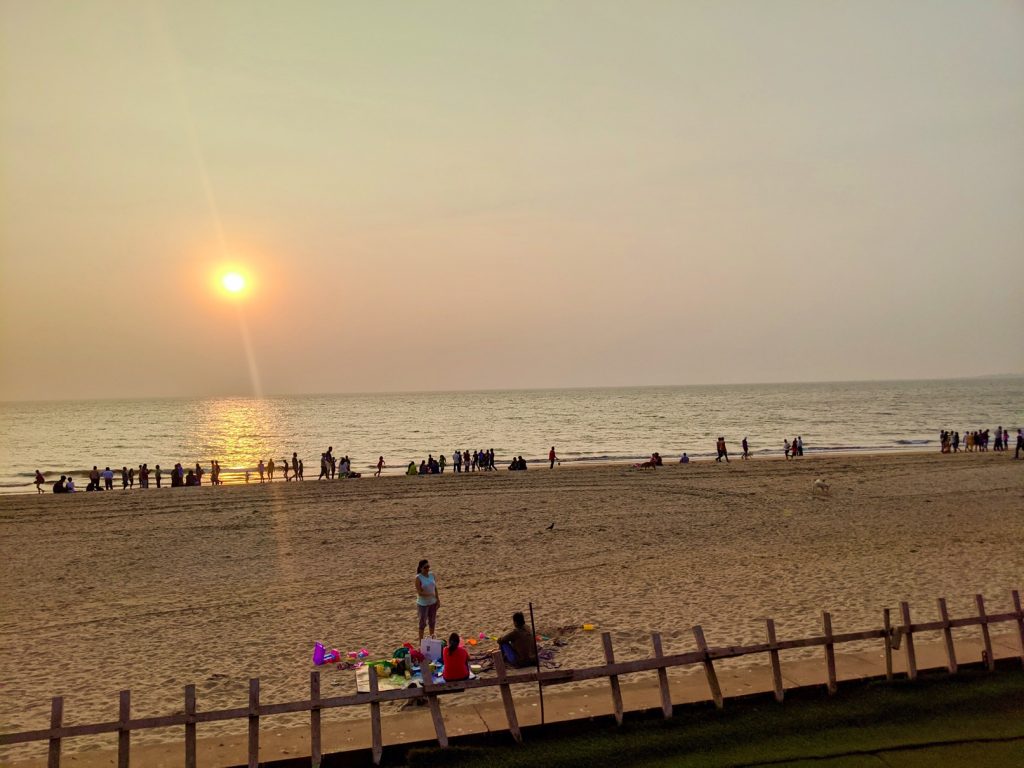 Novotel Mumbai Juhu Beach is a luxury hotel situated at the beachfront with a spectacular view of the Arabian Sea. The beach looked even more beautiful from the glass window of my room 739, I could keep sitting on the sea green and blue couch and check out the view day and night. Let me tell you more about my Premier King Bed Ocean View room. A cozy, comfortable twin sharing bed, a Gateway of India wall paper (Loved the blend of the iconic landmark), a spacious wardrobe and the perfect balance of nature and style with modern comfort, a unique feeling of spaciousness and contemporary décor. The rooms have been recently refurbished and offer a warm and friendly cosy vibe. Apart from that, the room and washroom were equipped with all the requirements- Mini Bar, Tea and Coffee maker with sachets, toiletries and ample space.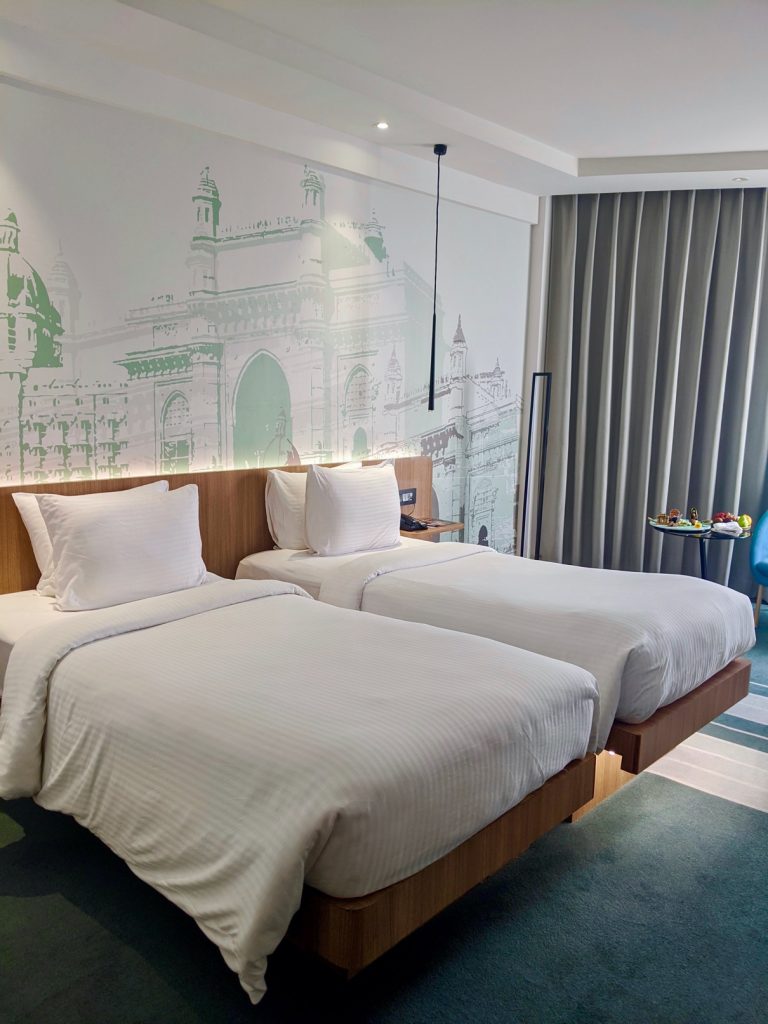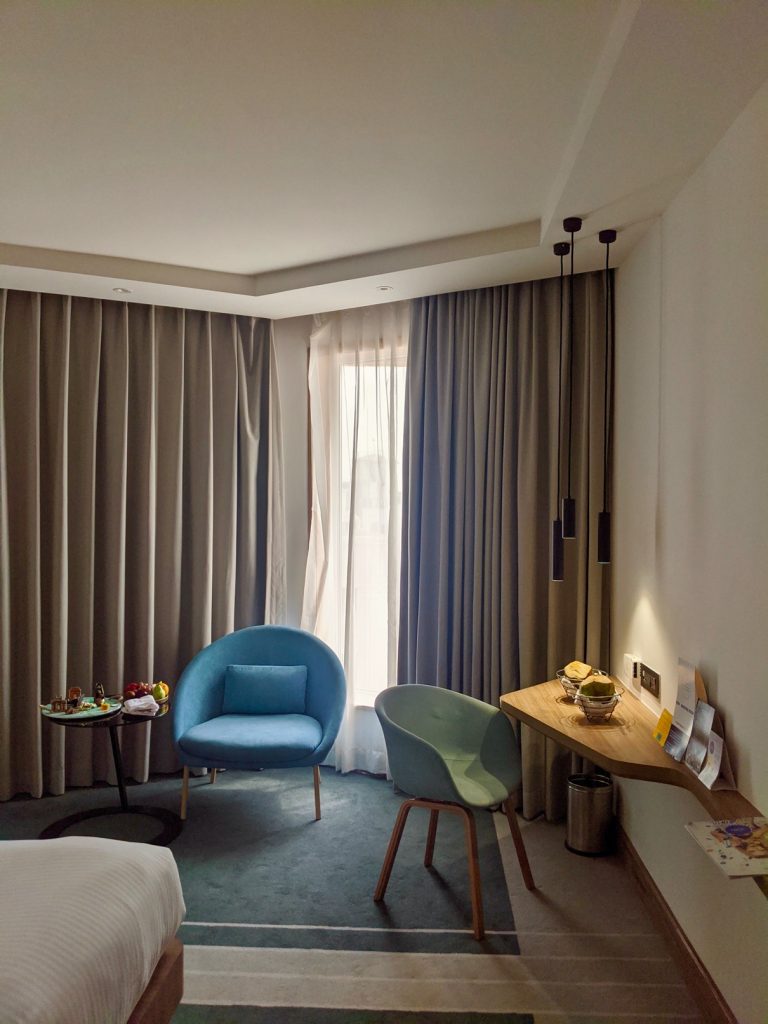 The rooms have been recently refurbished so if you have stayed at the property before Nov 2018 then you should visit again. If you haven't ever stayed here then you don't know what you are missing!
There was a personal touch too- In the room, there were chocolates but not usual chocolates; the chocolates had iconic landmarks of our home city and Mumbai (our base city) with an airplane in between….all made of chocolates. Such a sweet gesture! Another thoughtful gesture was 2 coconut waters that were placed in the room for us to refresh us instantly in the most healthy way in the humid weather of Mumbai. This was accompanied with a personalized note from Gorav Arora, the GM of the hotel welcoming us to the hotel. There were fruits too giving us more healthy doses for our stint during our stay at Mumbai.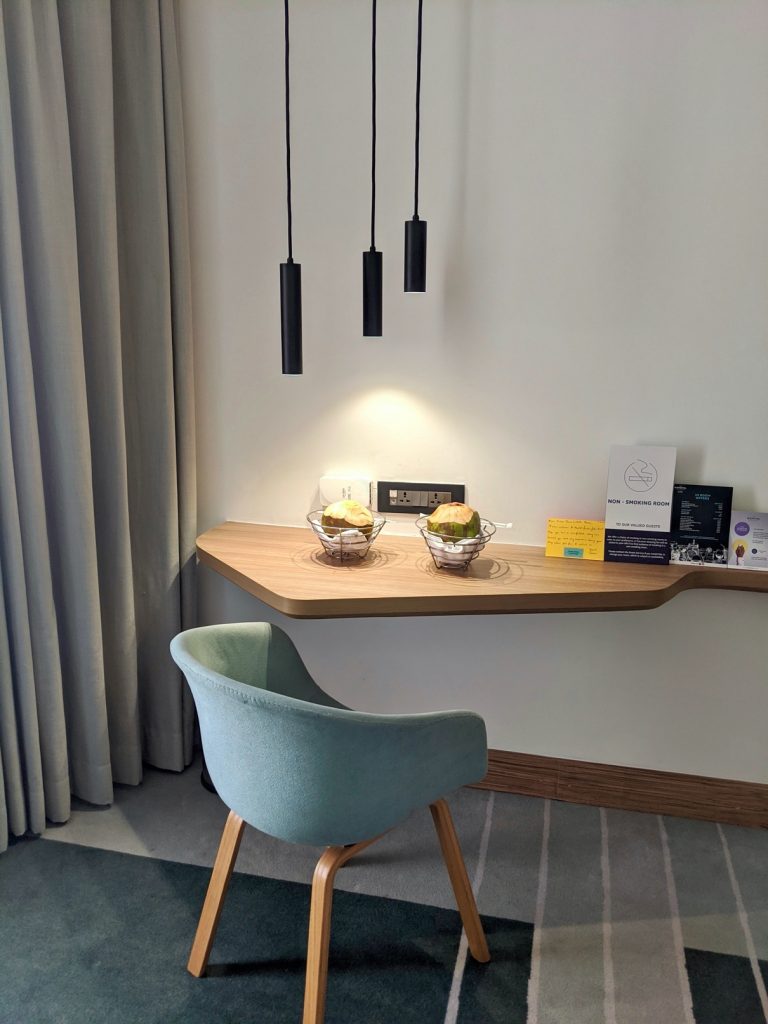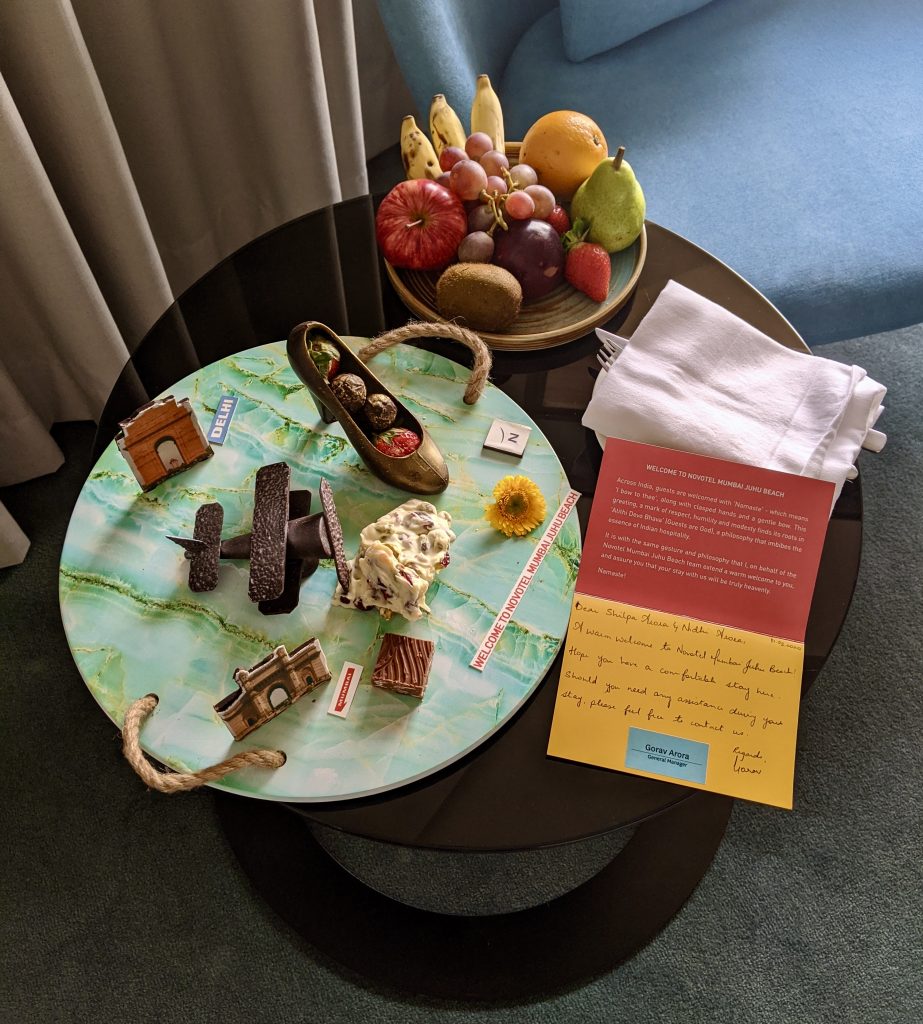 We checked in around noon and it was time to head for lunch and we headed to The Square, the specialty restaurant of Novotel which you would find at every Novotel property. The multi-cuisine restaurant which is open 24×7 has beautiful blue and brown chairs with a modern fusion decor. Colorful bottles of earthen pots kept on the shelf, colourful wheels and plates on the wall add the creative aesthetics and make the whole ambience so funky.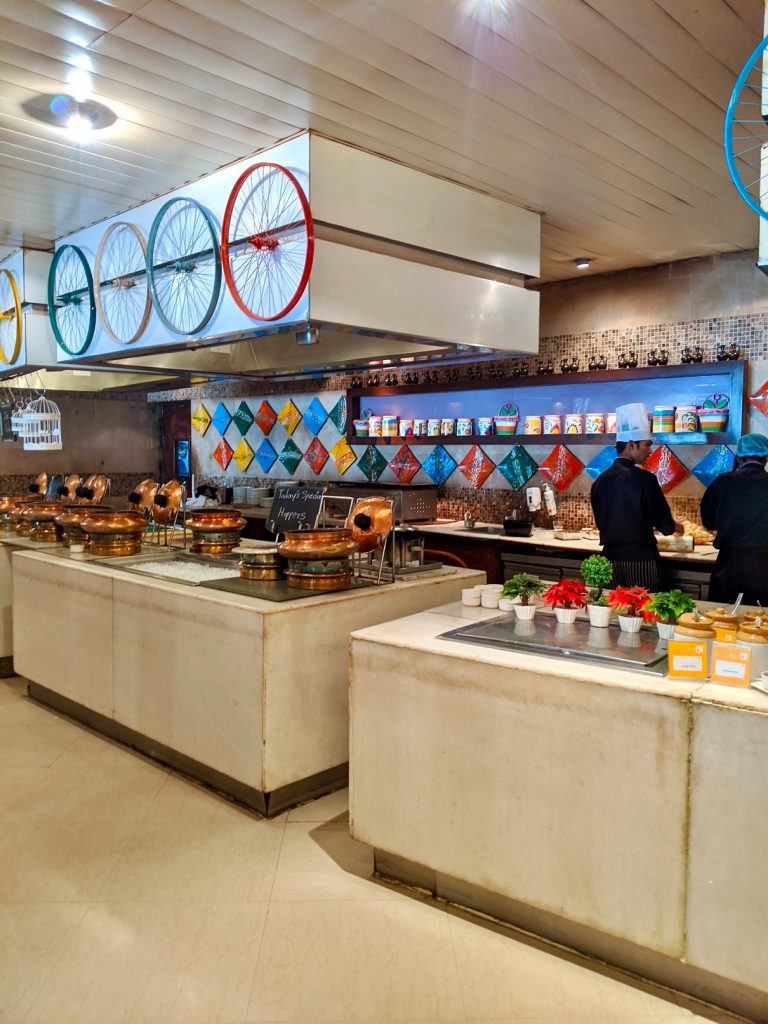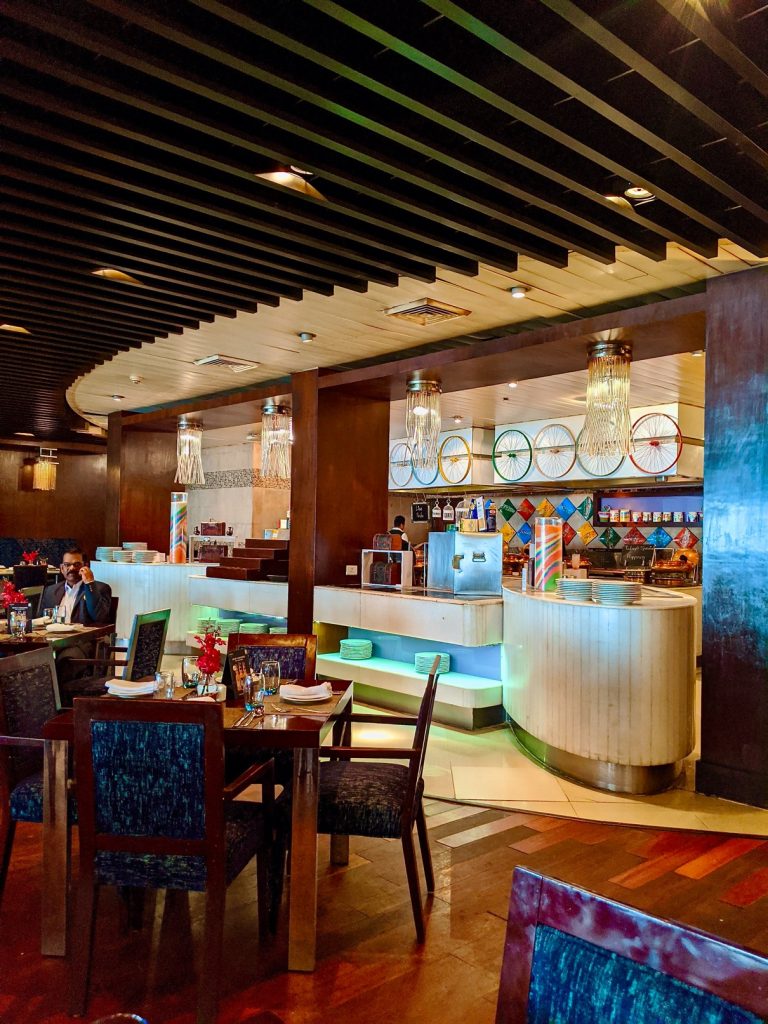 We checked in on a Tuesday and Chef Gopal hosted us with a yummy holistic Vegetarian Thali at the specialty restaurant. The thali had Dal Tadka (arhar daal), Dal Makhani with butter, nutritious Mix Vegetable, Chhole with crispy onions on top, big chunks of Paneer Tikka accompanied with 2 Tawa Rotis. Everything was yummy especially the Chhole which were very nice & tasted homely made. I loved the Arhar Dal too which was ghee & jeera laden and extended a home feel, tossed with lots of love. Definitely one of the best dal I had till date! The thali also had papad, salad and rice. Gulab Jamun was served with edible flowers and was very soft and delicious.
We also tried small versions of Laccha Parantha which was crispy, flaky and well made and Nachni (Jowar multigrain roti) which was very appetizing.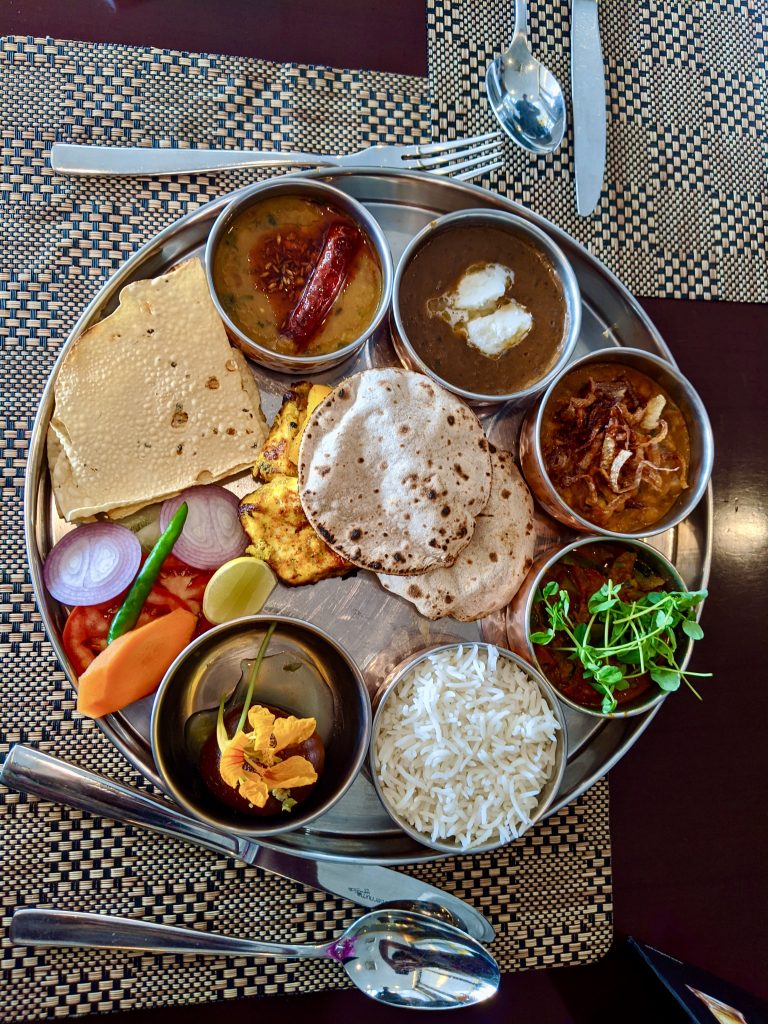 The Square is a multi-cuisine restaurant in a coffee shop concept which is open 24×7. It is a vibrant, colorful place for people whole love Mumbai life. If you are at The Square in the evening, you would also see a Mumbai Chaat Thela which is there every evening to add a touch of the local desi street food. In fact, the plates you see on the wall are hand-painted by the chefs here.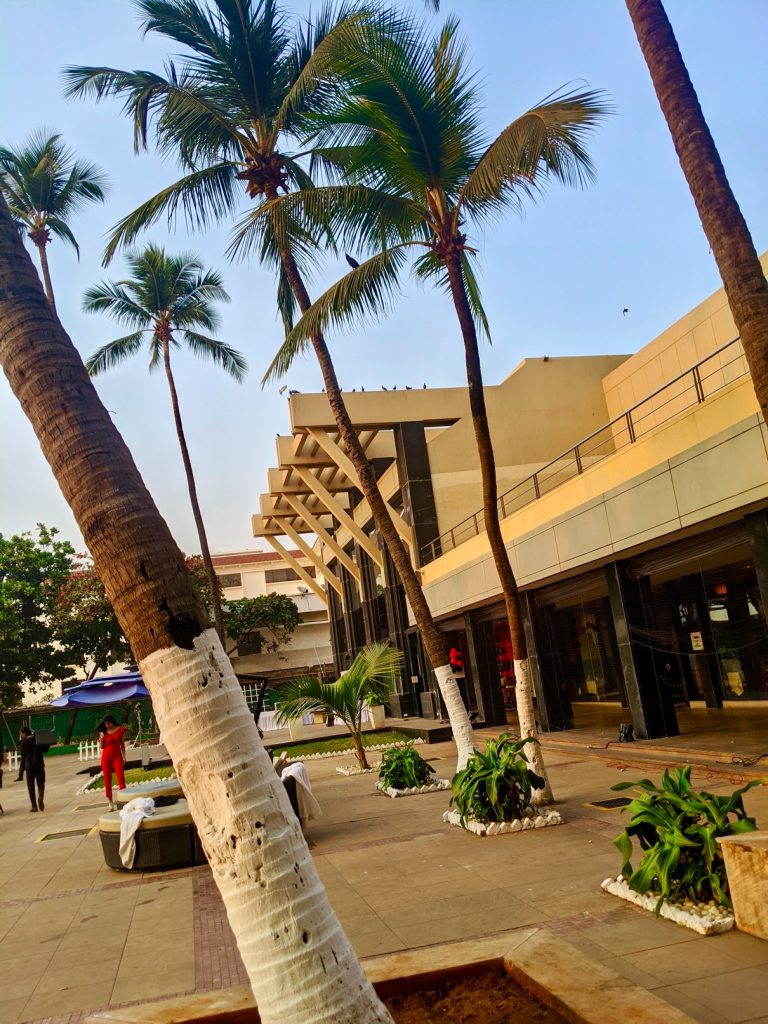 Accor Group is known for its lovely hospitality. Novotel Mumbai Juhu Beach is equipped with 203 guest rooms and suites along with 6 dining options where the guests are truly pampered. The strategic location makes the hotel a preferred choice for people travelling for business or leisure be it celebrities or local guests alike.

Novotel Mumbai Juhu Beach is centrally located in Mumbai city, on Juhu Beach, close to shopping centres and corporate hub, neighbours the Bollywood Boulevard and is well connected to the landmarks, airports and tourist attractions of the city. After lunch we headed to Linking Road for shopping. Afterall if 2 girls are on the roll how can we resist shopping!
Before heading to the market, we ordered our evening tea in the room which came accompanied with cookies and munchies. Loved the presentation.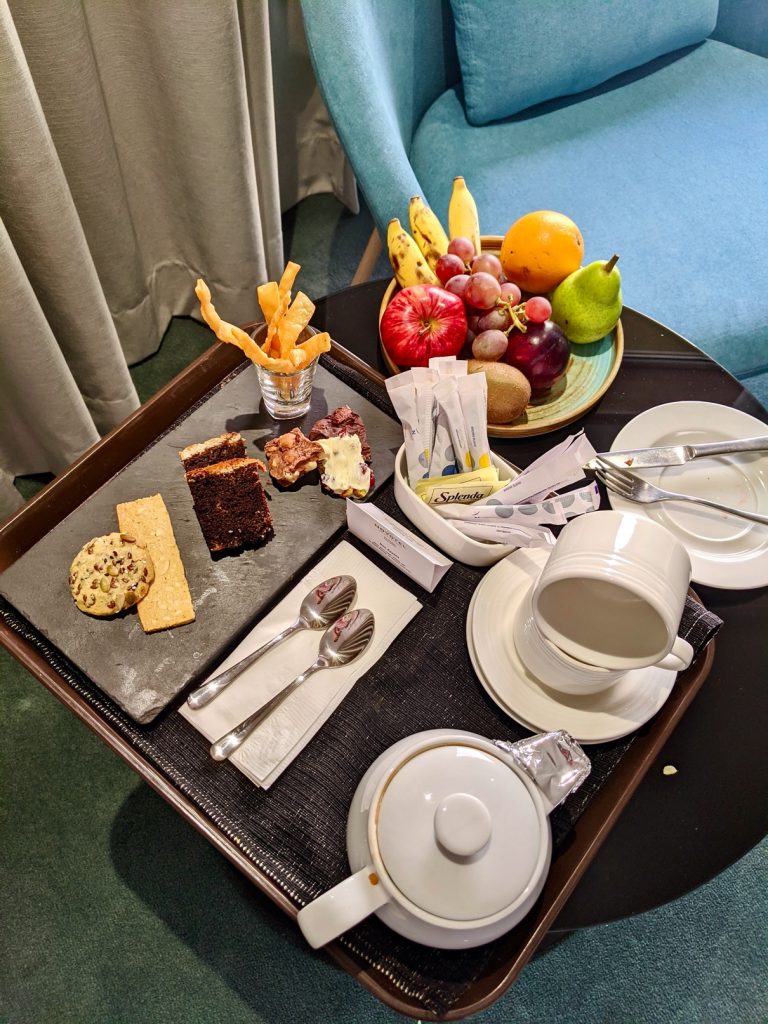 After our evening trip, we came back to the hotel. The hotel gives a mesmerizing view the moment you enter. The lobby has a beautiful flower arrangement as you enter which gives a calm and relaxed feel. There are couches with lamps towards the left for guests to relax or sit while the check-in formalities are done. We made the best use of the sitting space of the lobby while waiting for cabs while heading to the Fashion Week. An Eiffel Tower shines bright near the elevator and next to The Square restaurant.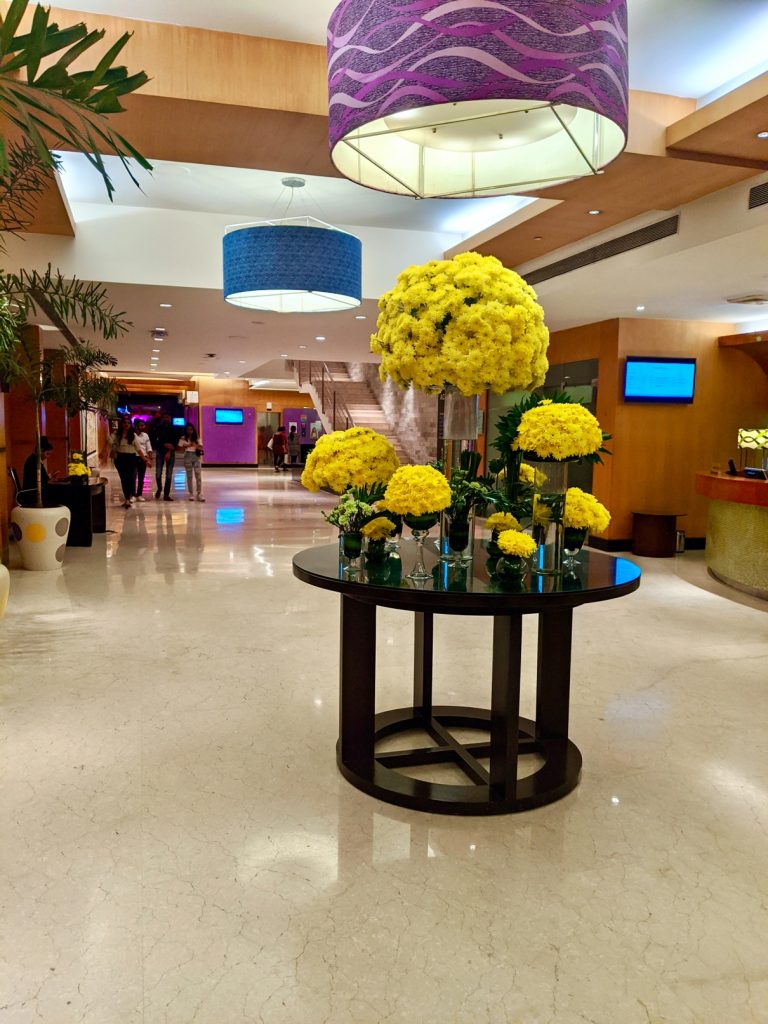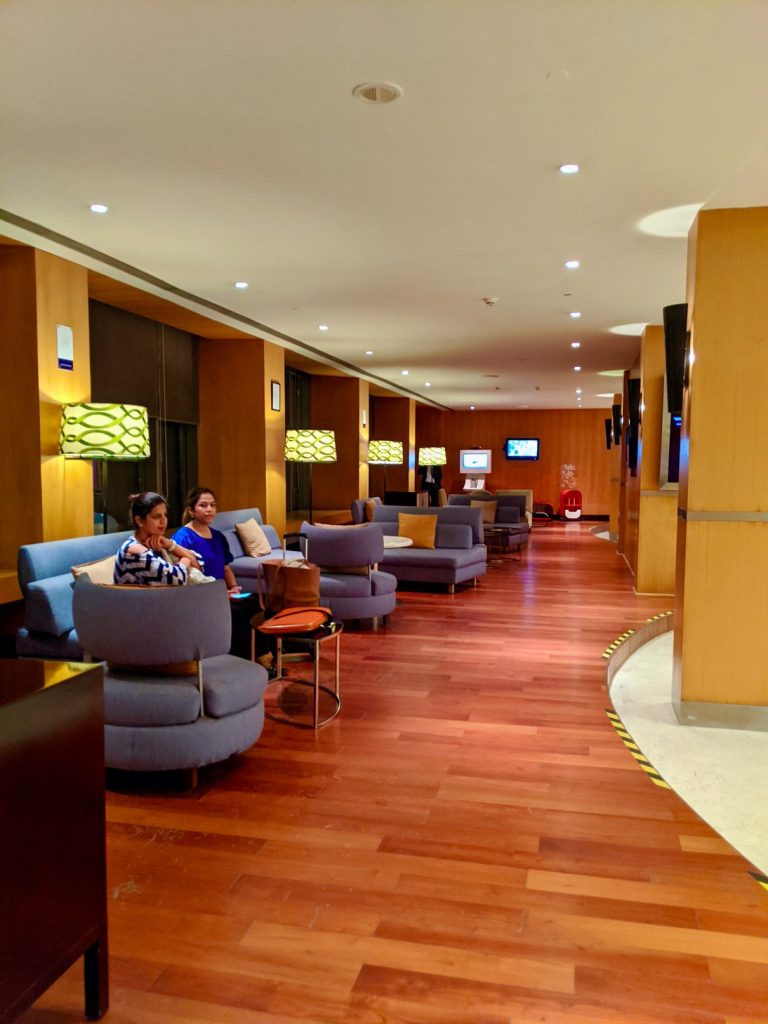 It was time for dinner and we headed to Olio, a luxury Italian restaurant on the ground floor of the hotel. At the entry were earthen pots with bottles soaked in juices with a colourful presentation of bell peppers in red, green, and yellow colour. It looked so lovely and colourful with thyme and other herbs presented and preserved in big jars along with grains and Italian oils in big glass bottles which looked tempting, beautiful and healthy.
Olio means 'Oil' in Italian. The 39 seater restaurant is done in orange, brown and white extending a classy and elegant appeal. We could spot very minimal decoration around which looked really sophisticated. It has an open kitchen concept with a wine cellar on the sidewall with exotic wines. There was upbeat English music playing in the background. The menu made its way to our table in the form of a wooden plank. We asked Chef Sameer for his recommendations.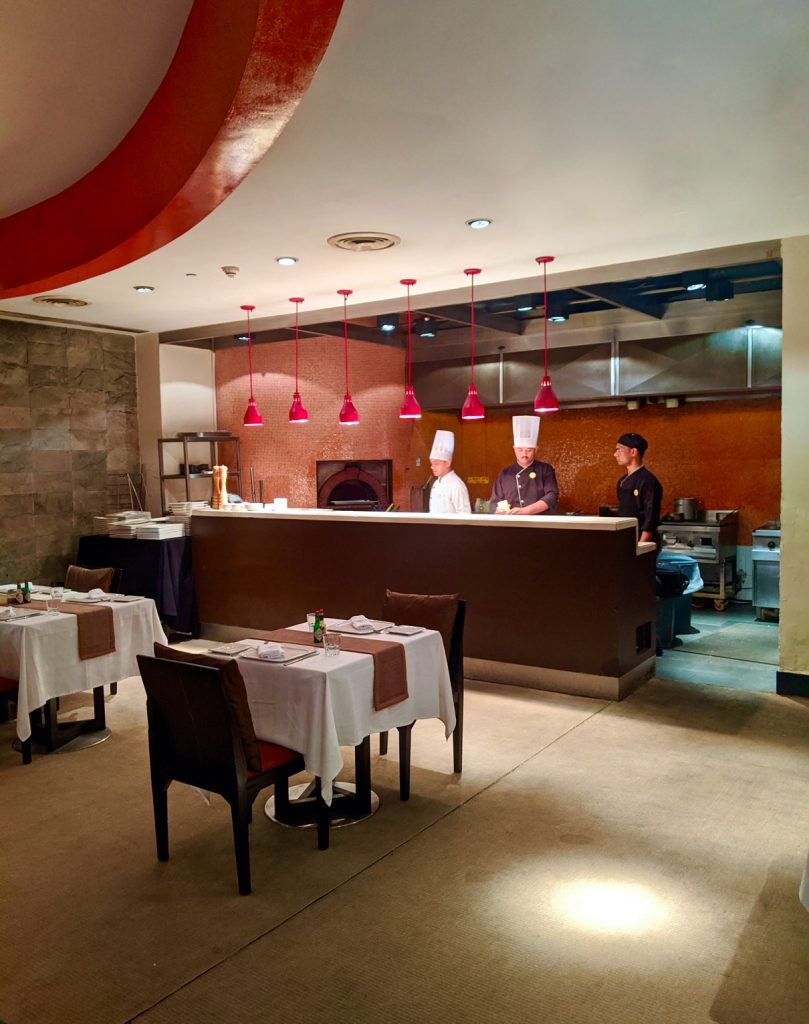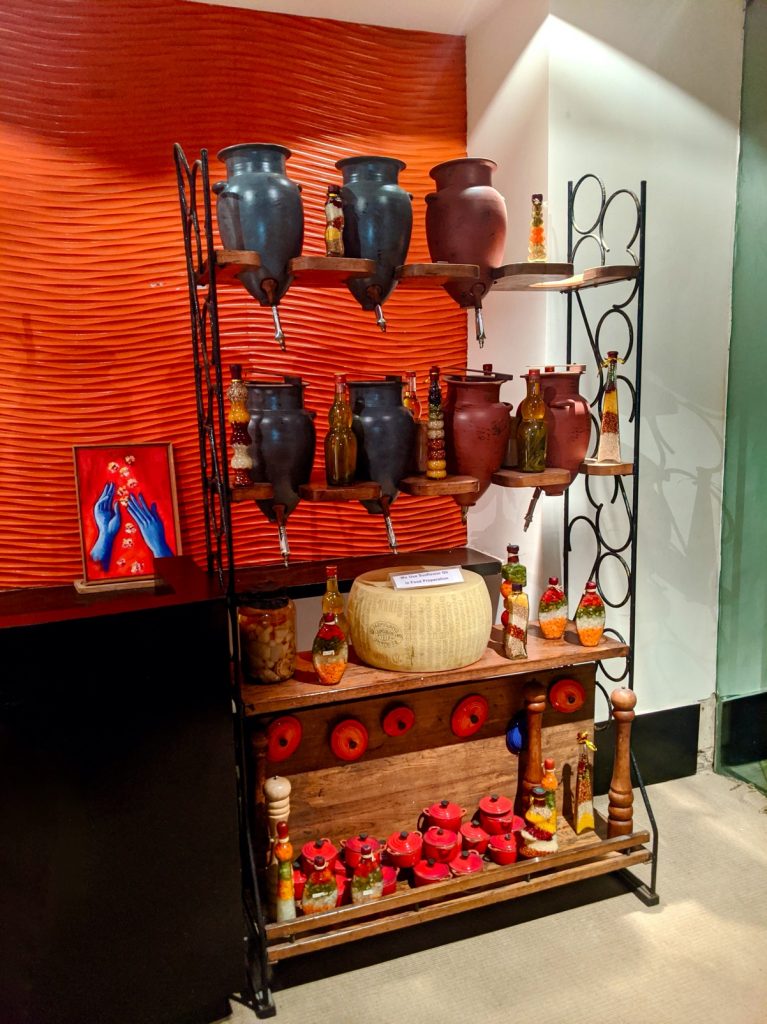 Anybody would love to taste the breads, pasta and salads coming from the open kitchen. We started with the house breads which came with two kinds of dips- olive dip and coriander dip. They were presented so well and were really appetizing. Next came amuse bouche, our palette cleanser extending our expectations for dishes to come. The rustic Minestrone Soup was a nutritious blend of tomato and root vegetables broth with pasta and parmesan cheese. I would like to call it a healthy tomato gravy soup with delicious veggies and a slice of toasted cheese bread(garlic bread). Burrata was specially prepared by the Chef for us. The Buratta cheese with beetroot coulis and tomato confit was refreshing and fresh. Just loved it! It is must try here! The fruits added the zest and the cheese freshness. Arancini, our favourite deep-fried rice balls which had asparagus sauce around it were crispy on the outside and, soft and velvety on the inside. The taste was very delicious with the mushy rice filling and yes cheesy too. Spaghetti Aglio Olio E-Peperoncino was made with extra virgin oil, garlic, chilli and parsley. It was nice, spicy and very classy, with fresh stir-fried veggies. Olio pizza came with feta cheese spread, pesto, kalamata olives, sun-dried tomatoes, artichoke and fresh mozzarella. It was colourful, crispy, cheesy and done well with exotic toppings which tasted different and nice. Afterall, Olio specializes in Italian delights and is famous for its thin crust pizzas.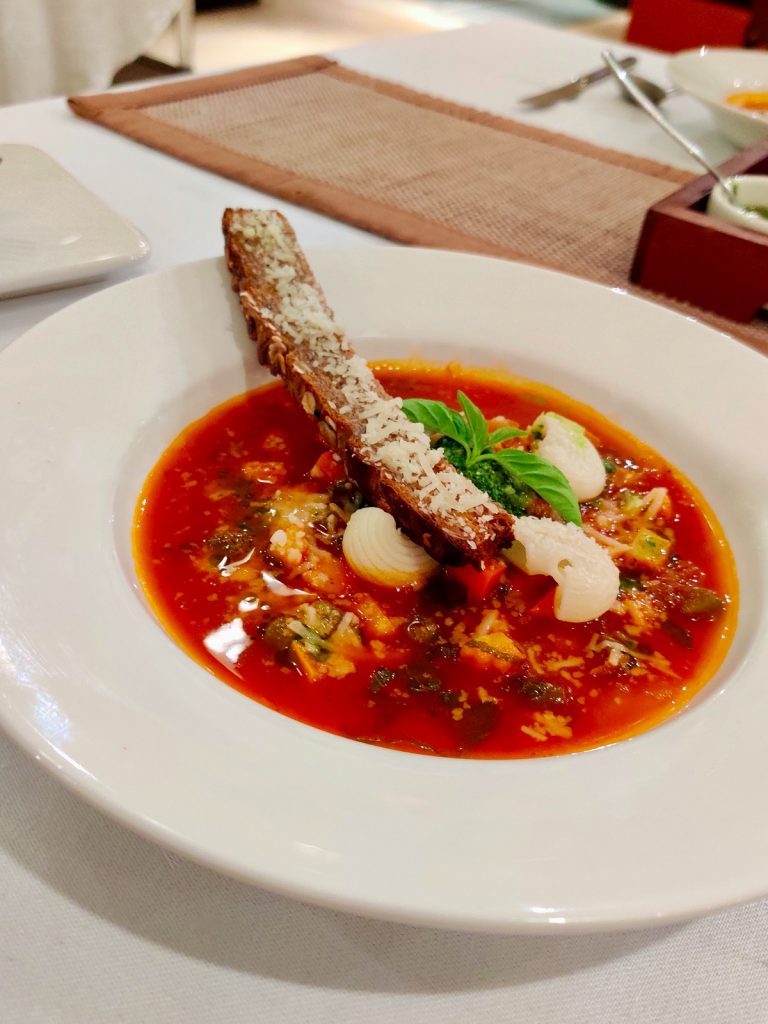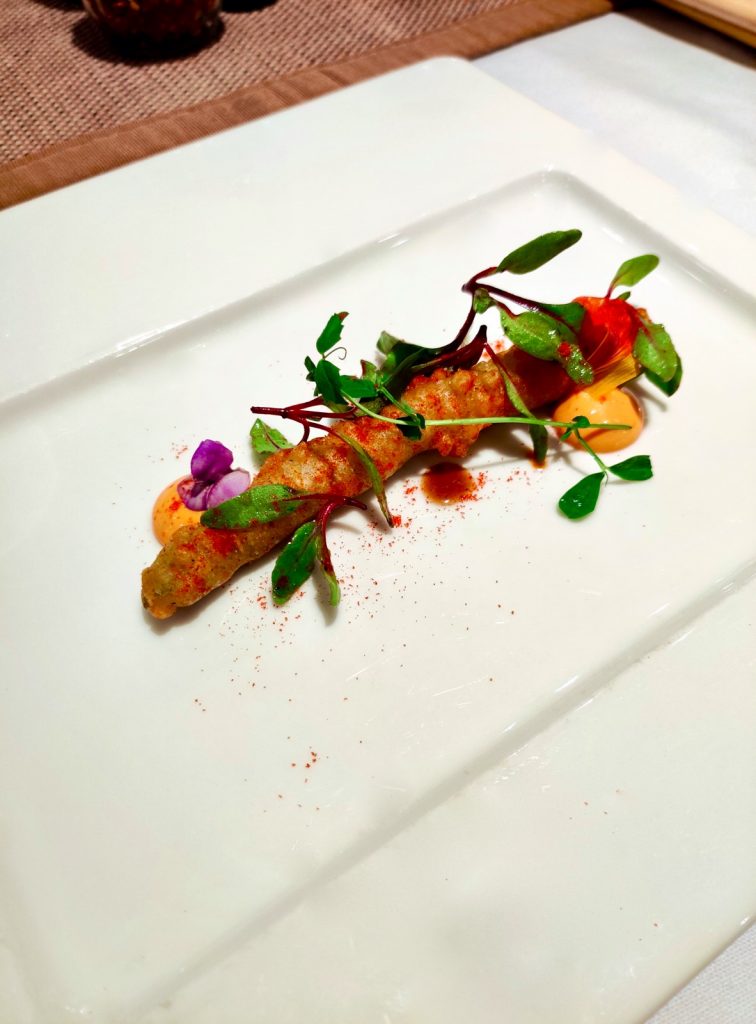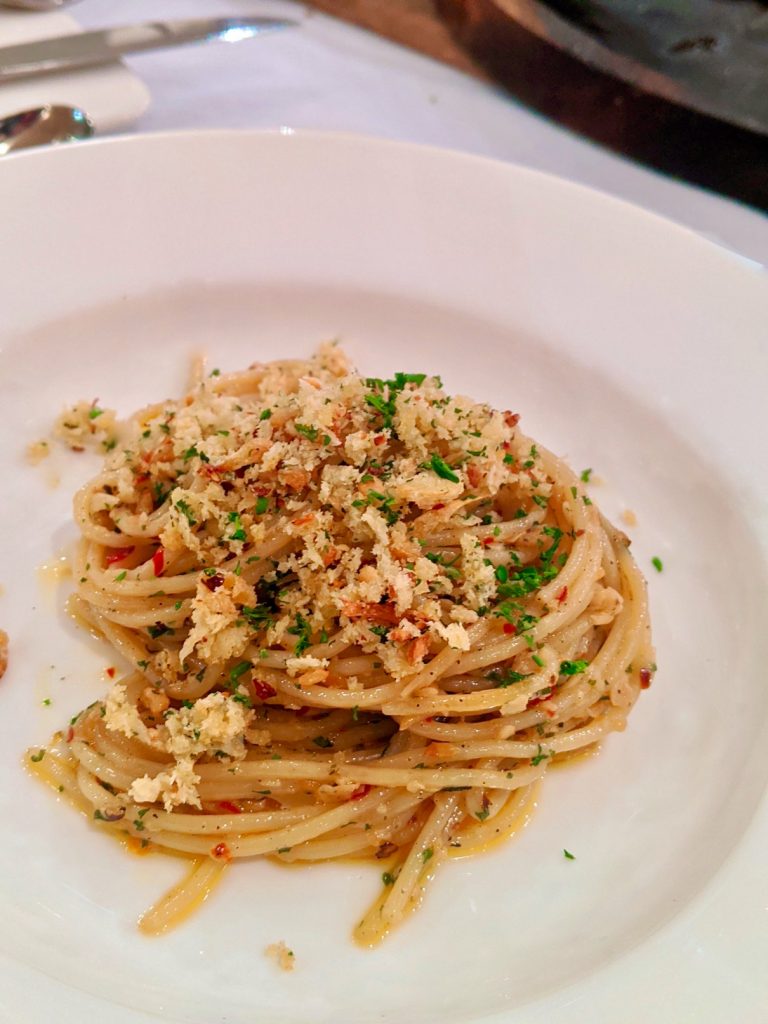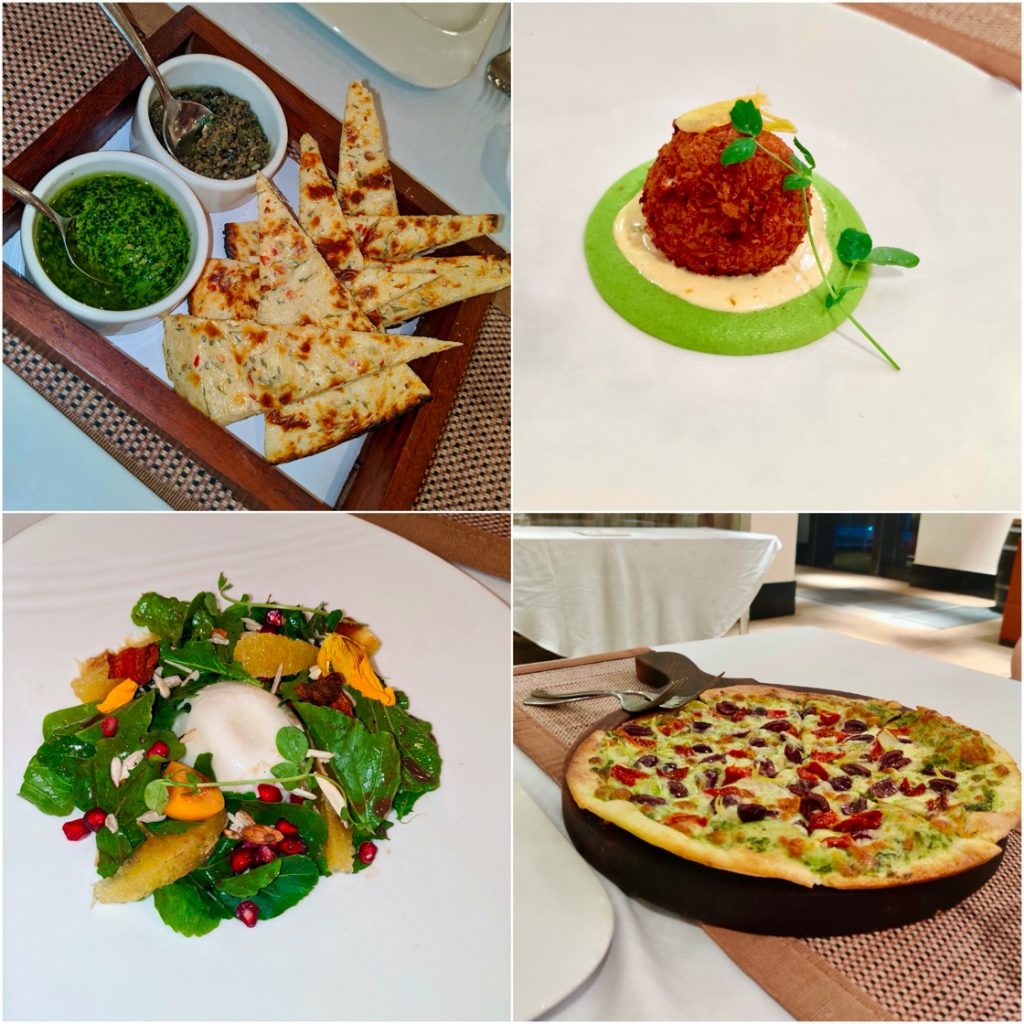 The open kitchen was full of action – we could see pizza dough preparation happening in front of our eyes which looked very interesting, Chefs were carrying out their food duties and churning great Italian recipes, Pizzas were being made live in the woodfire oven. 3 chefs were preparing main course and starters while 2 chefs were in the pizza section. Both the sections were well lit with orange lamps. I loved my Olio experience- the pizza, Italian oil flavouring or tasting the authentic unique flavours of Olio kitchen.
The Dessert of the day was Pina Colada. It was interesting to have one of my favourite mocktail in a pastry form – sweet and topped with edible flower and chandi ka vark. It was very different and nice.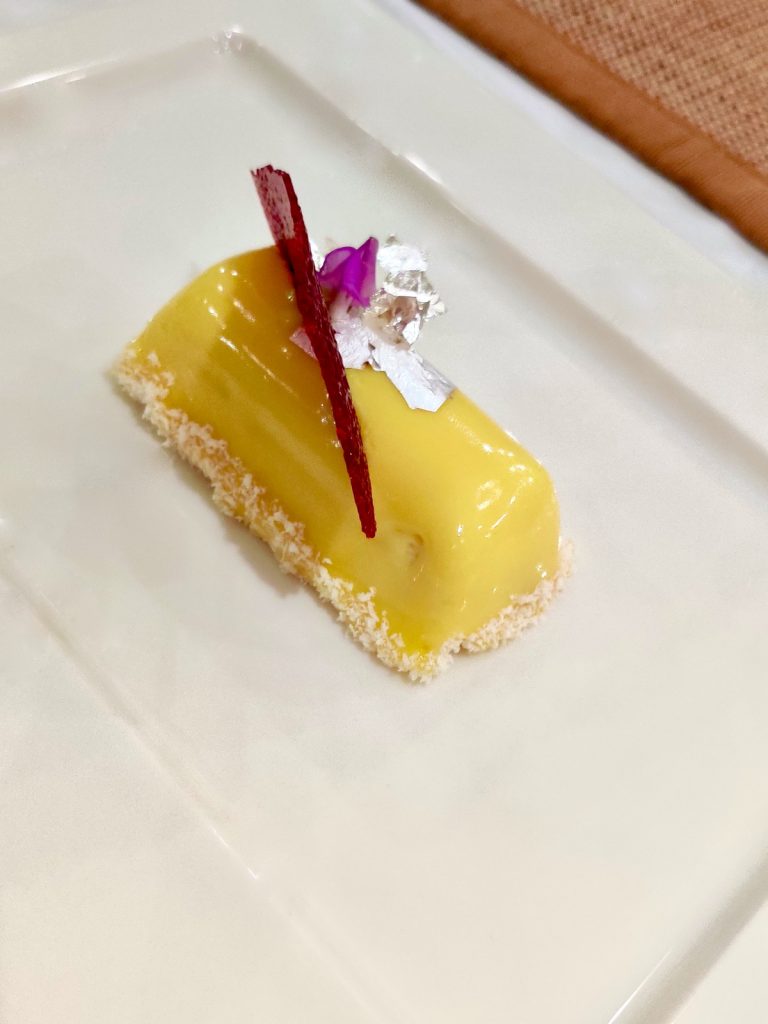 We went back to our beautiful well lit room to adore the night view of the beach.
Next morning we freshened up and headed for breakfast to the Square. The lovely interiors refreshed us more as we were gearing up to try out the tempting dishes being whipped out by the chefs. The wide buffet also had different décor elements – potted plants kept on the shelf and also pickles in burnies and treasure boxes. There was this ship corner where there were ships of every size. Very differently and creatively done set up! There was a wide variety with live counters of dosa, parantha and eggs with a wide buffet which had amazing dishes like Puri Bhaji, idli, Hakka Noodles, Poha, Sandwiches, Patra, Dhokla, Pav Bhaji, Vada Pav, Milk & Cornflakes, Fruits, Fresh Juices, Toasts, Pork, Bacon, Baked Beans, Paneer Pakodas, Peri Peri Aloo and more. Not to miss was the vast dessert corner from where I picked up donuts and cakes. Chef JP made sure we try almost every item on the buffet and the live counter.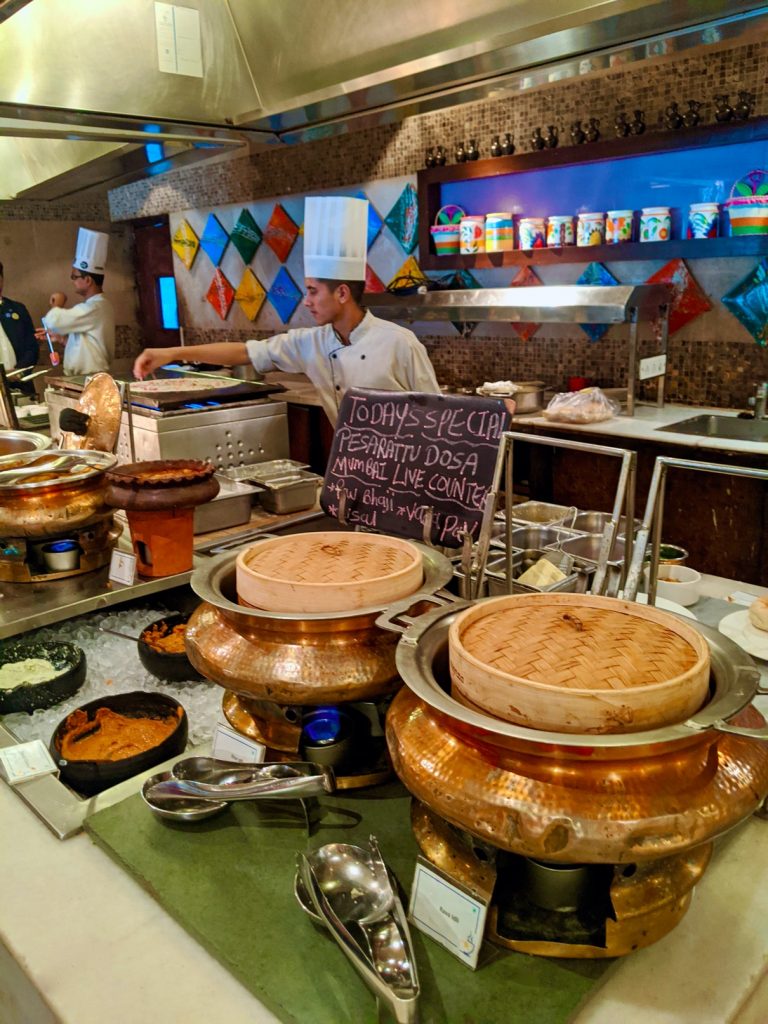 We relished it all enjoying the poolside view from the restaurant which extended a very light, calm and peaceful feel. Harmonious music added the charm.
It was a big day for us. Both Shilpa and me were getting an award for the Most Influential Food Industry Professional so we headed out for the same and then went to Jio World Gardens for Lakme Fashion Week.
The long day ended late and we came back to our gorgeous room and then headed to Bageecha restaurant. The specialty Indian restaurant of Novotel Mumbai was what both of us were excited for. Crossing the garden area and the pool, we reached the beautiful restaurant and were excited to dine in besides the pool under the starlit sky and around the palm trees.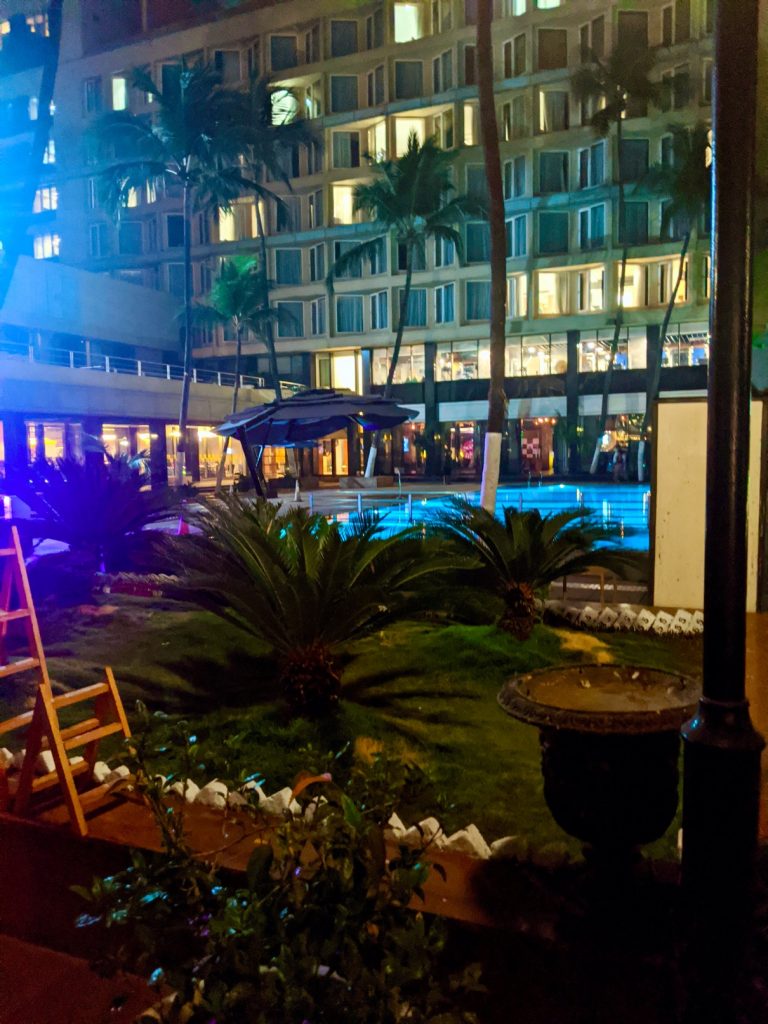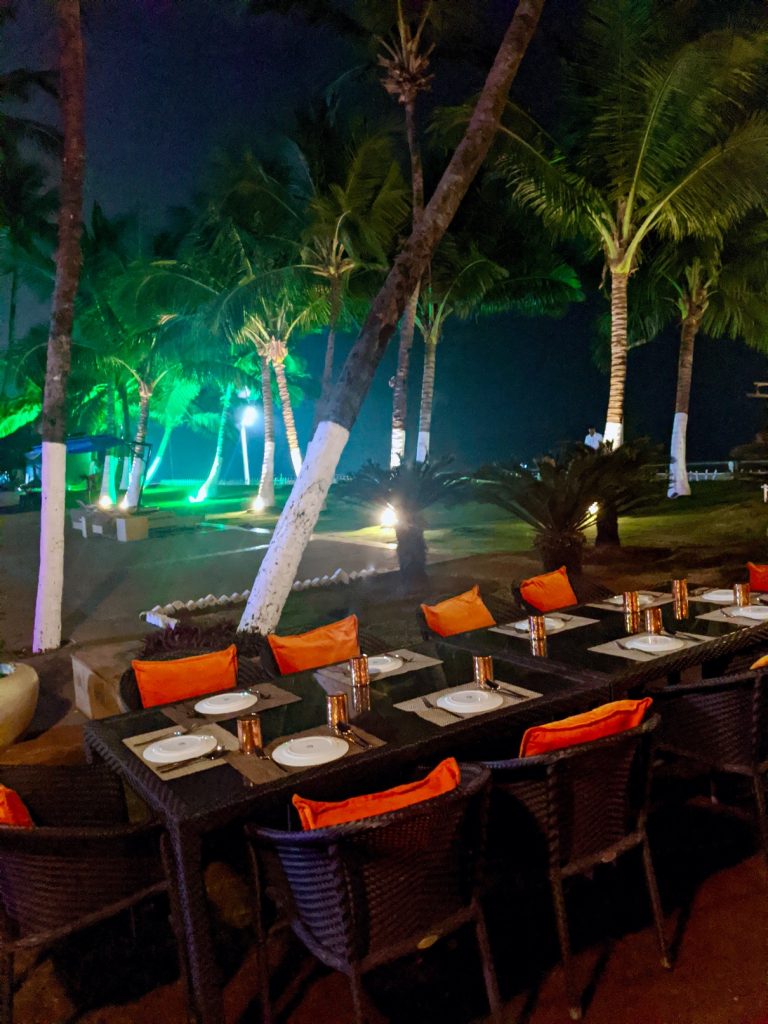 The 45 seater restaurant features heritage and ancient recipes of India that might be forgotten by us. A proper Indian ancient dining set up was waiting for us. Chef Kuldeep greeted us with a beautiful smile and acquainted us with the menu for the night. Small buckets with various dips- garlic, apple and mint chutneys accompanied with papad made its way to our table. An Indian meal is incomplete without mint chutney and papad….isn't it?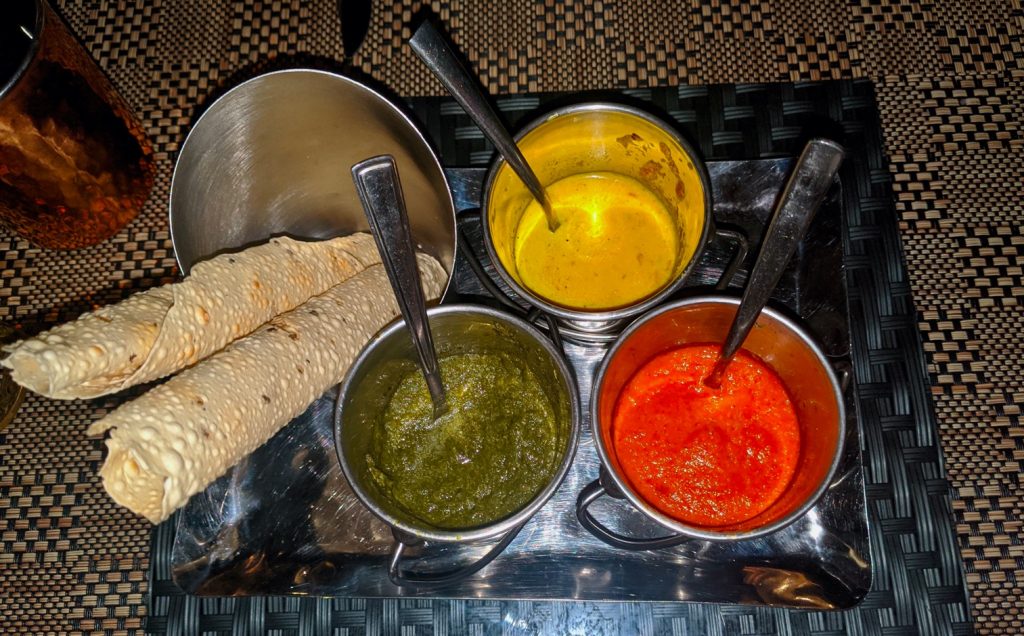 For starters, we had Kabuli Chicken Tikka- soft, juicy succulent chicken tikka pieces served with sliced onions, lemon and green chilli. They tasted great with the chutneys. Rawa Fish Fry was crispy, very tasty and authentic. I have never had such tasty fish. A must try! Soft and mushy inside and juicy too served with onions, tomatoes, carrots and lemon. Just perfect! Punjabi Murgh Tikka was a little spicy but juicy with big pieces of chicken marinated and done well in Punjabi style. Appetizing and great to eat! Time for Tangri Chicken. Aah! The best part of the chicken. Well marinated, mildly spiced and well presented with cucumber slices, tomatoes and chillies. Juicy and succulent! Paneer Tikka had soft, big chunks of paneer which were great and perfectly spiced. Galauti Kebab were melt in mouth! The bite-sized kabab made it so convenient to eat. Achari Fish Tikka and Kalaunji Fish Tikka had great margination with unique flavours which we loved.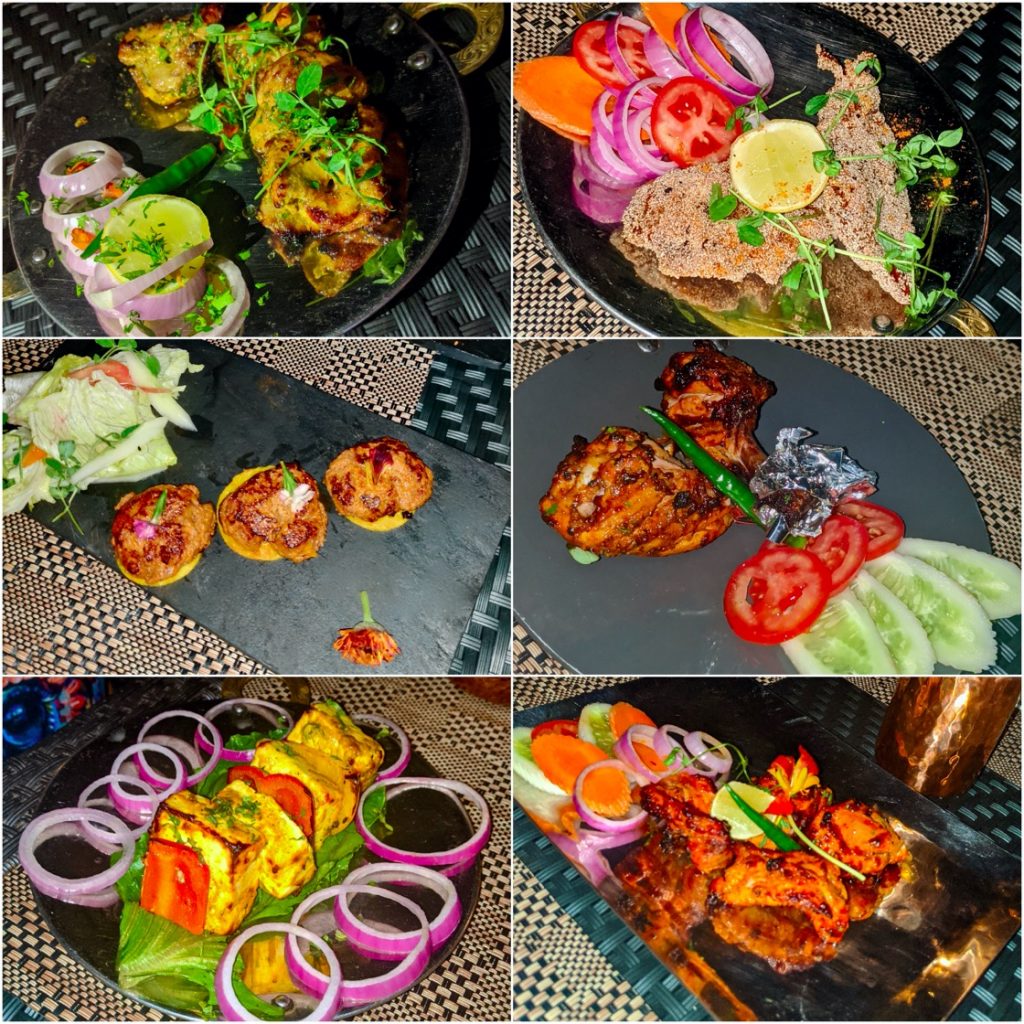 Since we were almost full, we didn't order a lot in Main course. Dal Makhani was tasty, creamy with a rich consistency and was flavourful. Butter Chicken was made with small boneless pieces which were soft, juicy, perfect with a yummy gravy and spices. Homestyle Palak had homely style patta, laccha palak- very desi and Indian. We relished all this with raita and assorted breads- Tandoori and Roomali Rotis which were fresh, soft and yummy.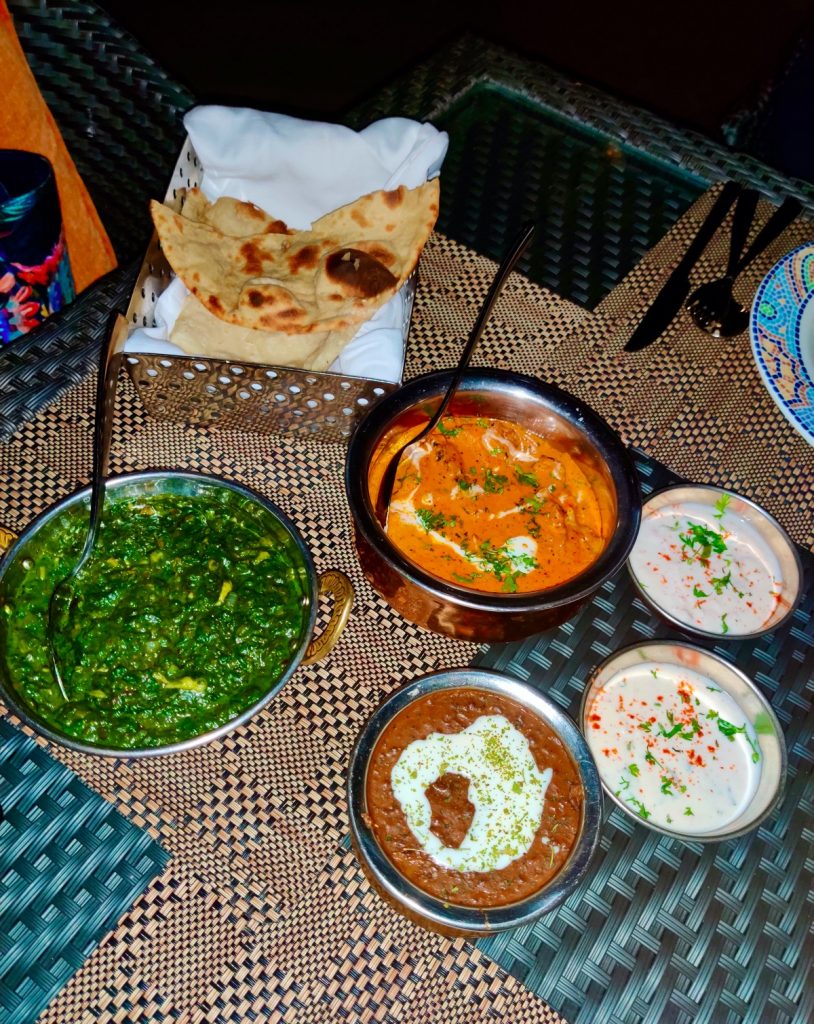 For Desserts, our picks were Basoondi, with dry fruits and strawberries, a milk-based dessert which was amazing. Gulab Jamun was good, deliciously laden with pistas. Not to forget Rajbhog Ice-cream and the Paan ice-cream– with a lovely after taste. The perfect heavenly end!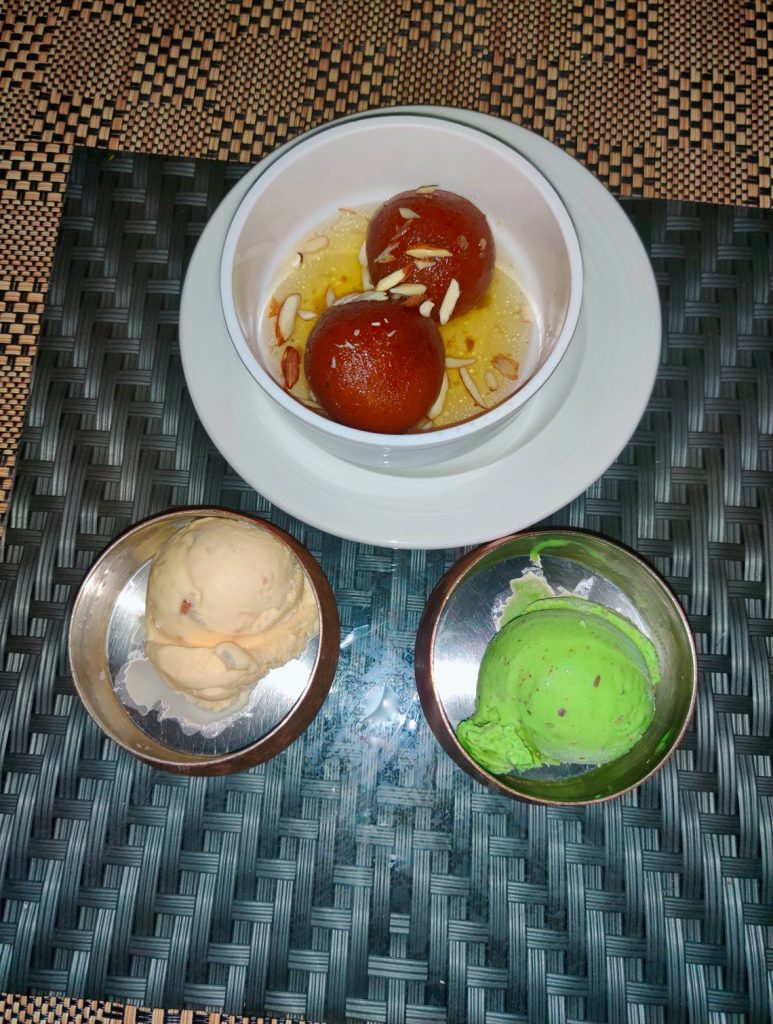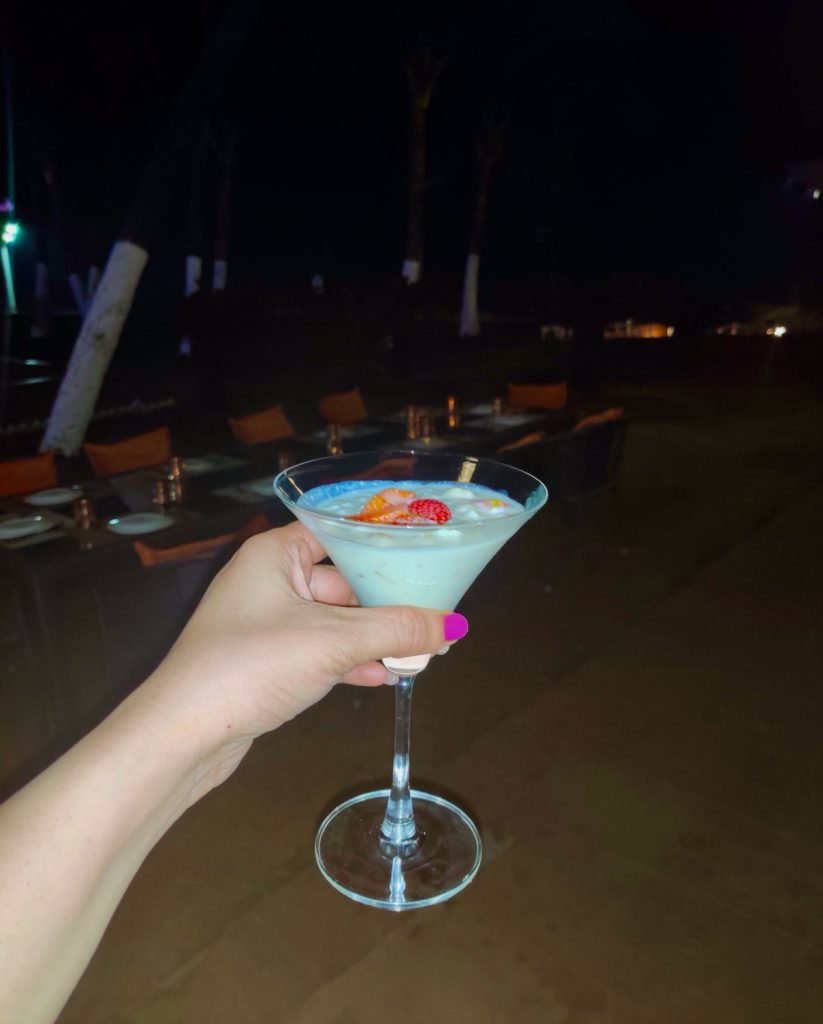 We walked back to the room passing the lawn and pool to our gorgeous room and retired for the day.
A fresh morning awaited us with a lovely breakfast at The Square. We enjoyed the dishes – Pudina Rice, Pav Bhaji, Poori Bhaji, Omelette, Vada Pao, white Lobia, Idli, Dosa, Upma, Smilies and more at Chef JP's hospitality.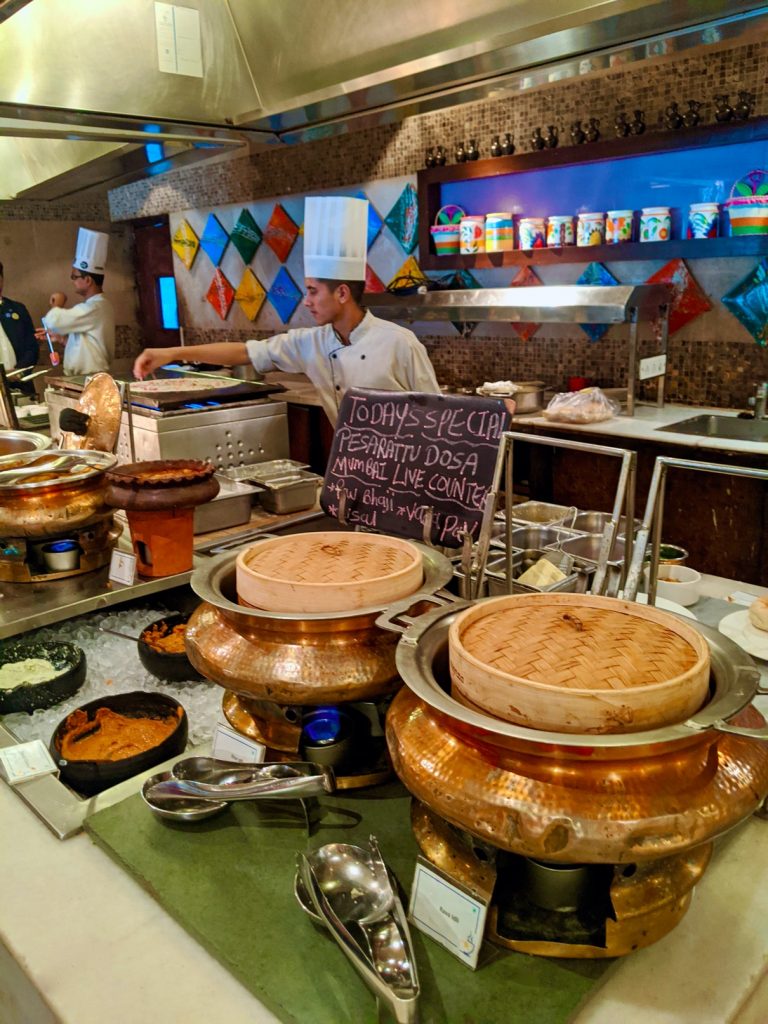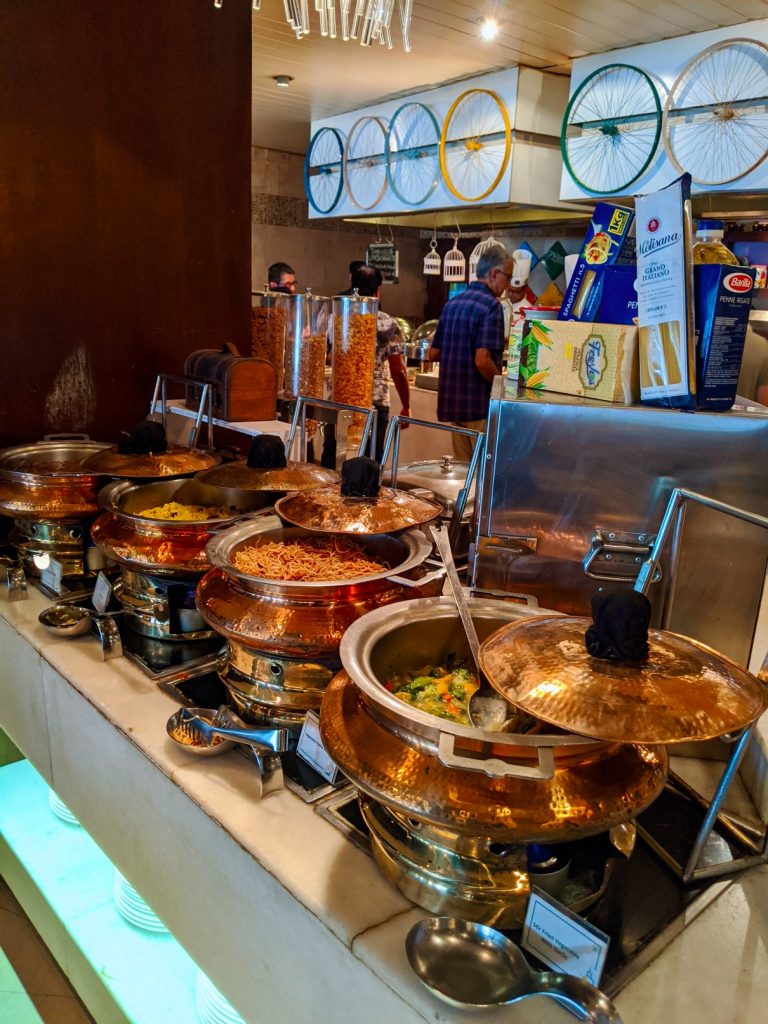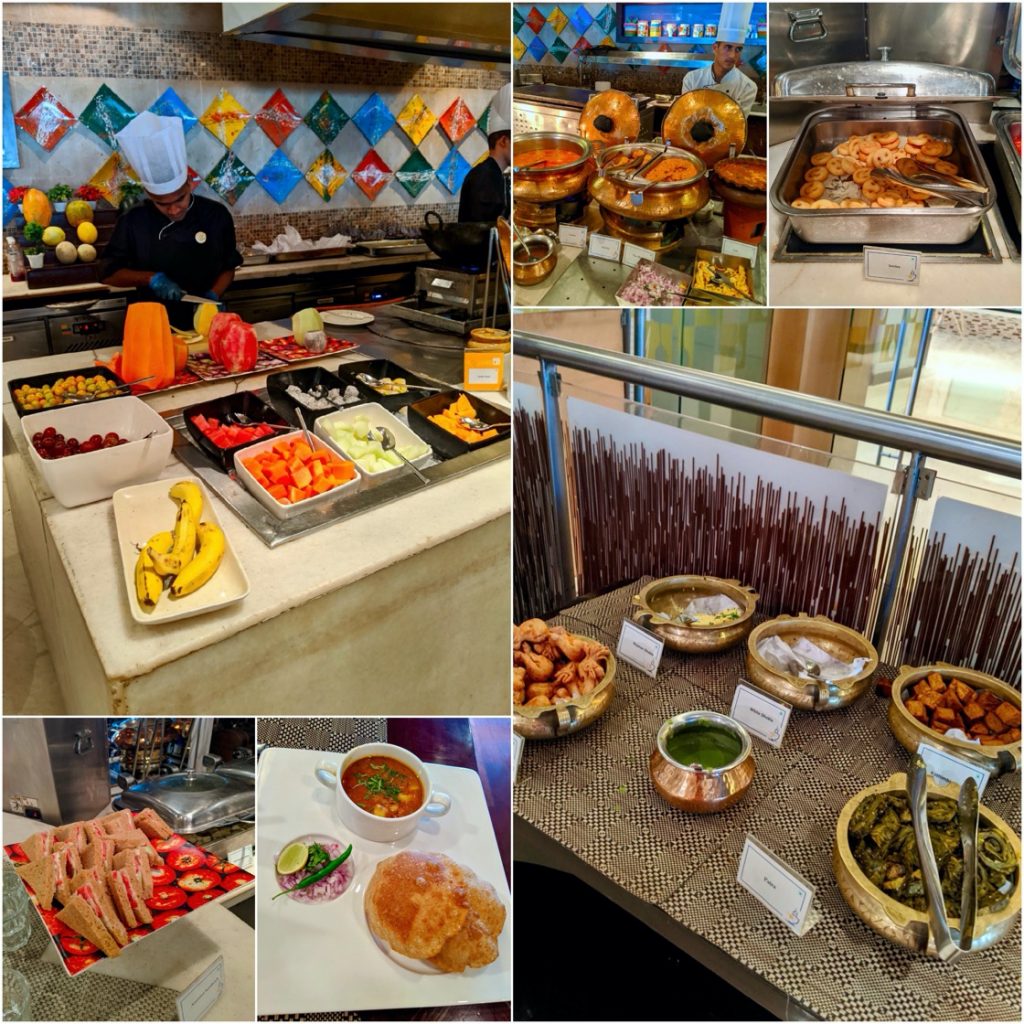 Some of the dishes are available everyday while some are on rotation basis. Like Aloo Paratha is made everyday but Paneer Paratha is made in rotation. There are special dosas available too each day. When we were dining in. there was Pesarattu Dosa which is a specialty from Andhra Pradesh though regular Masala Dosa was also available. Everything looked so tempting with chefs making it with love infront of our eyes.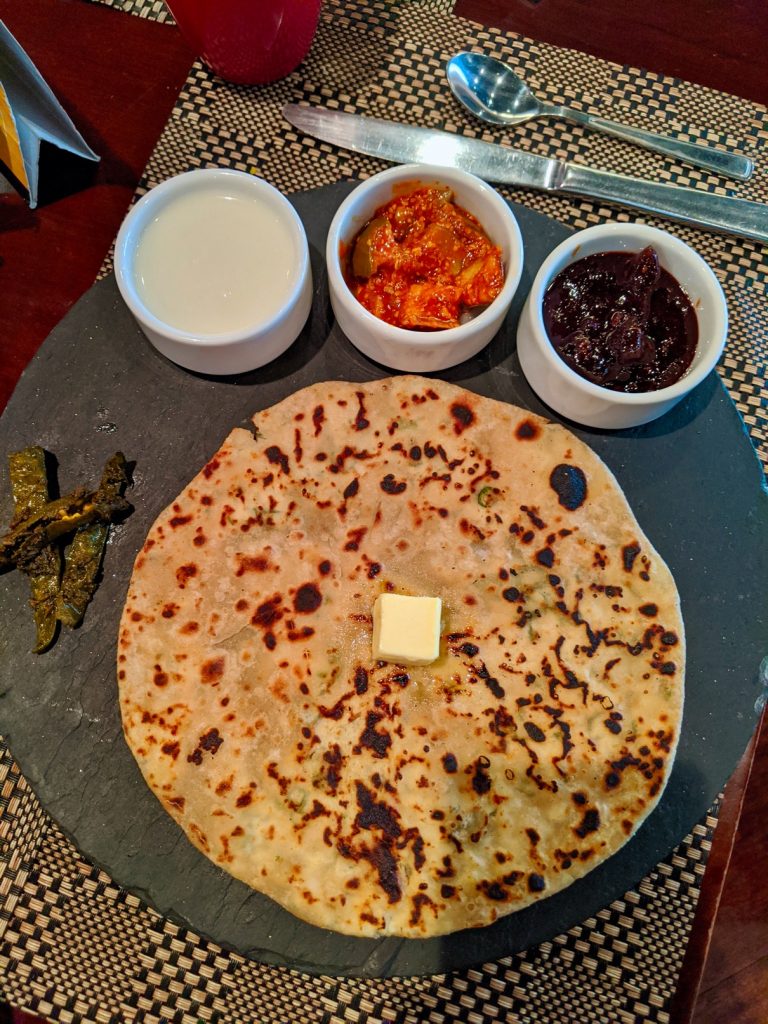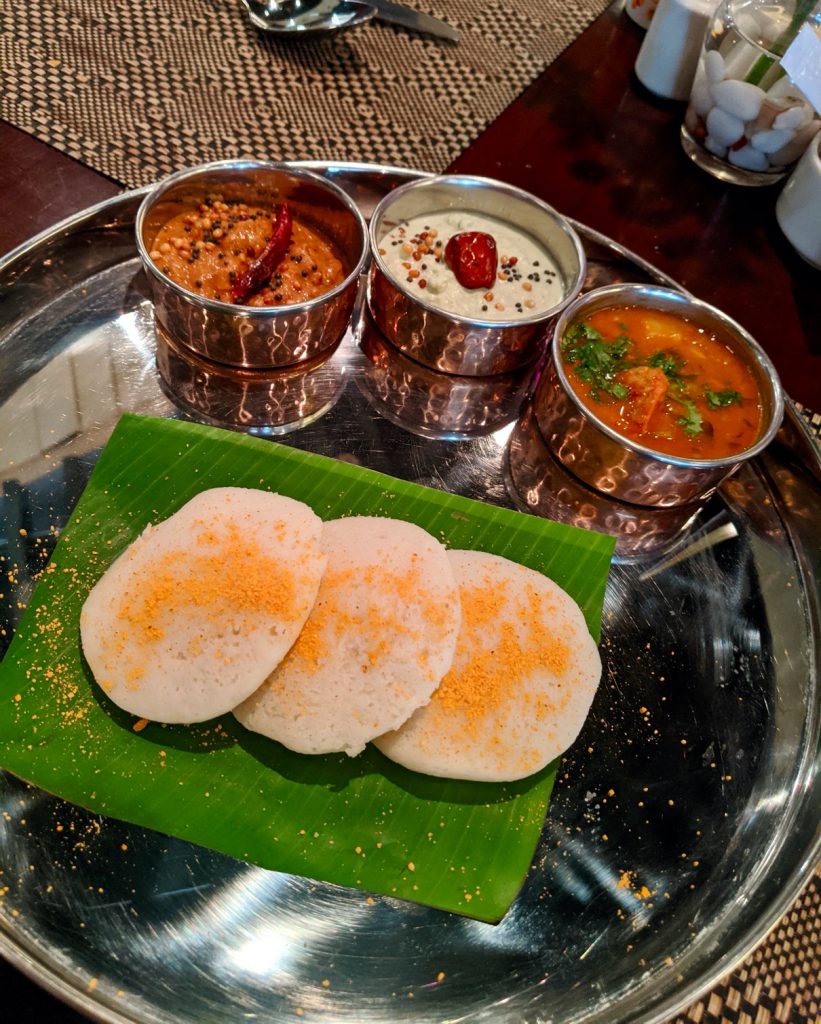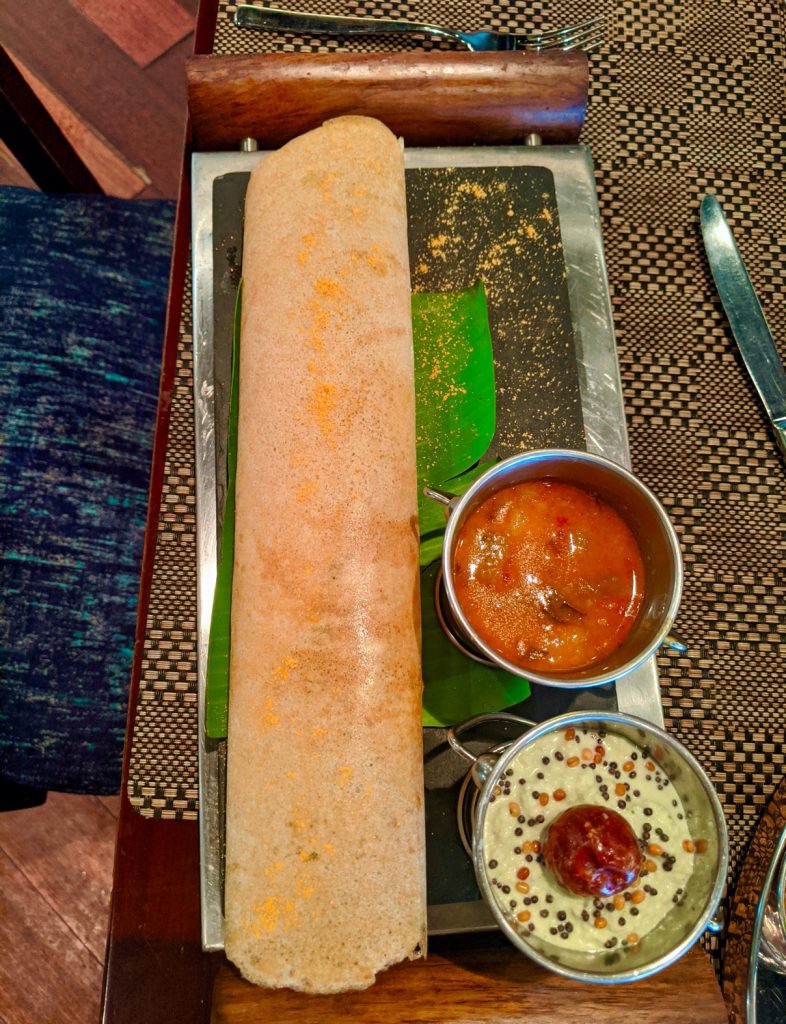 The lavish Dessert corner was waiting for us and we picked up chocolate donuts, mixed fruit jam donuts, cinnamon based cakes and donuts, cranberry sugar temptations, muffins and cakes which were again very delicious.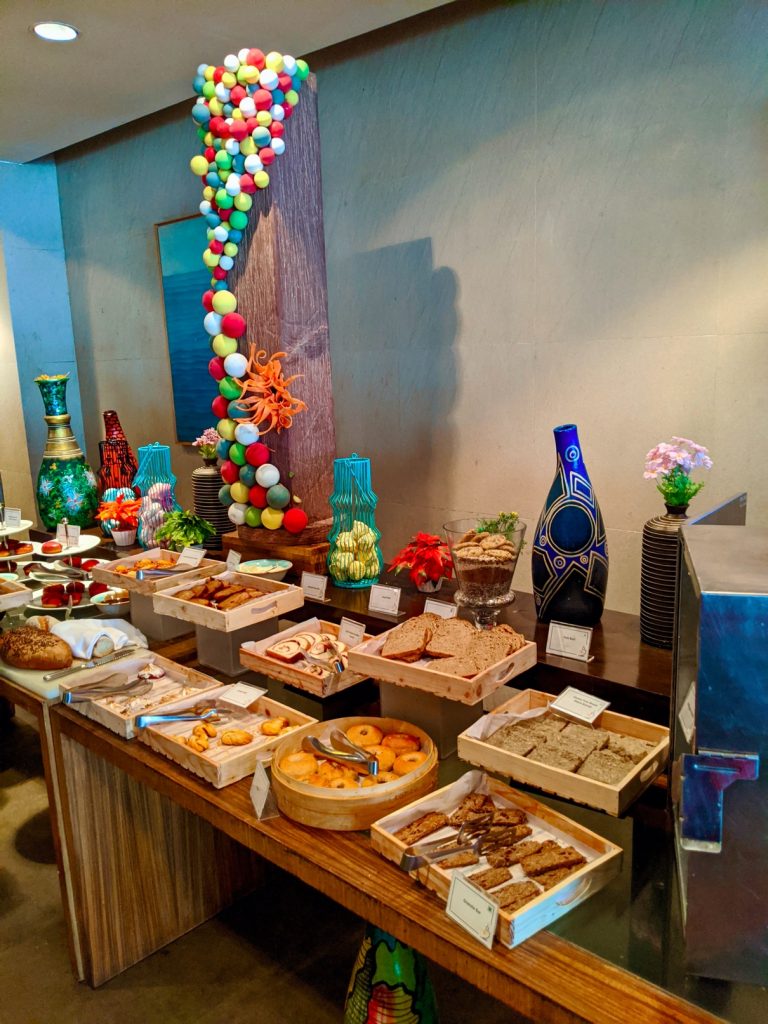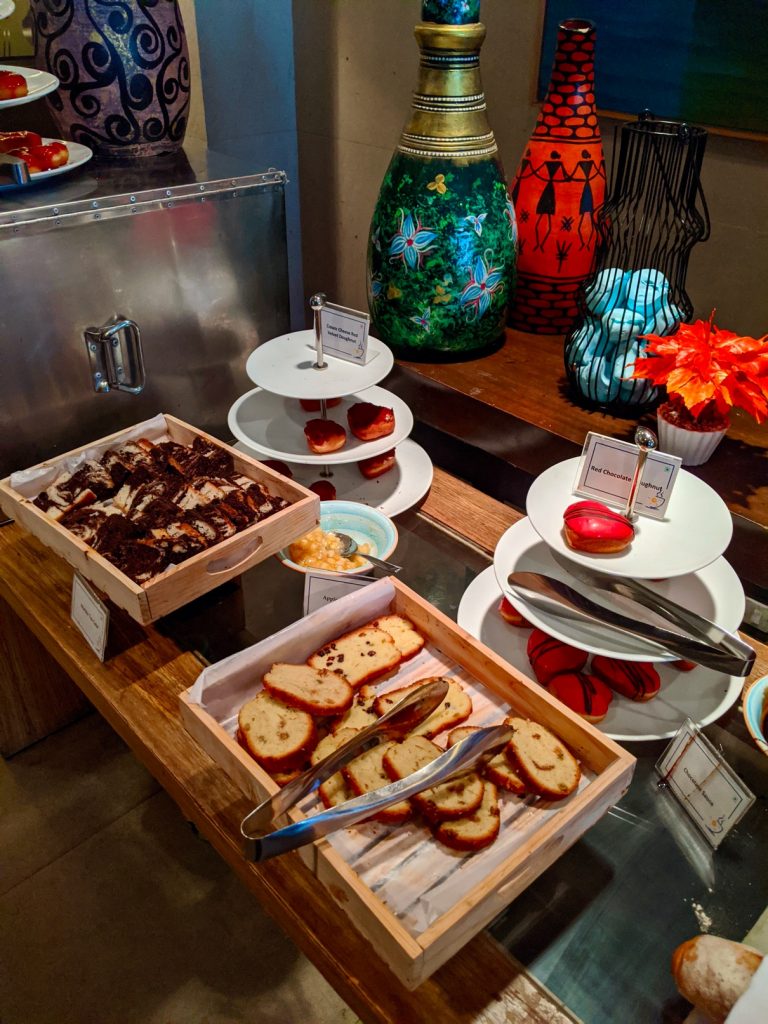 Milk lovers also have option of skimmed milk and homogeneous milk which one could enjoy with corn flakes, chocos and muesli . For the health freaks, there are cut fruits which looked so vibrant and colourful. There was also a wide Epigamia Greek Yogurt available in different flavours. We tried Alphonso Mango and loved it. The Square is a pan-Indian all-day dining interactive cuisine restaurant where you have the world's best delicacies.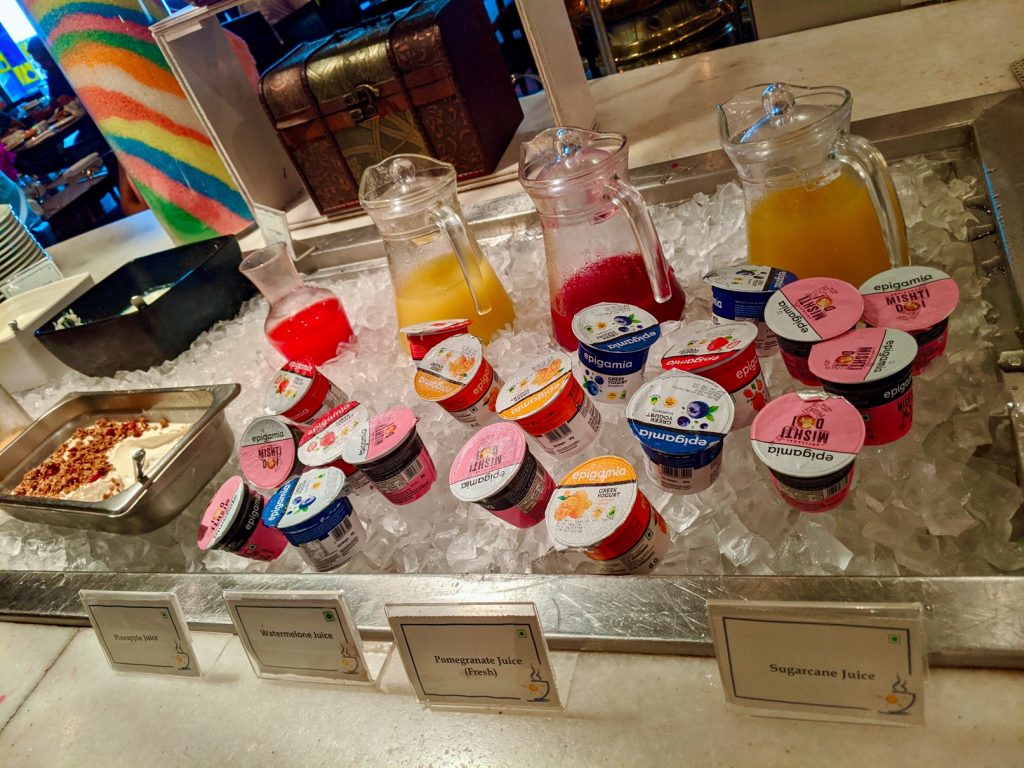 It was time to dress up for Lakme Fashion Week and we got ready at our gorgeous well lit room with a lot of natural light coming from the big window facing the beach. Lights were definitely what I loved in the room. My experience says that most of the 5-star rooms are dim-lit which makes it so difficult to do make-up. Every girl will understand this!
While we were getting ready, Chef Gopal was ensuring we have an amazing lunch for the long day ahead of us so we headed to The Square once we were ready. Little did we know the lunch would be one of the most lavish and elaborate meals with dishes from across the globe.
We started with Salads. Watermelon Caprese Salad came with Roma tomato, buffalo mozzarella and pesto green and was simply incredible. Watermelon Feta had watermelon, feta, edible flower, rucola cucumber carpaccio and red radish carpaccio balsamic reduction mint leaves. It was a delight to look at and was so refreshing and nice. Vietnam Spring Roll had fresh rice sheet stuffed with veggies. Such a yummy and amazing roll! Felt as if we are eating salad straight away in a much more convenient way. All the salads were fresh, lovely and tantalizingly refreshing on the taste buds. We also tried the Veg Sushi which had chilli, mayo, asparagus, cucumber, carrot, Romaine lettuce and was amazing.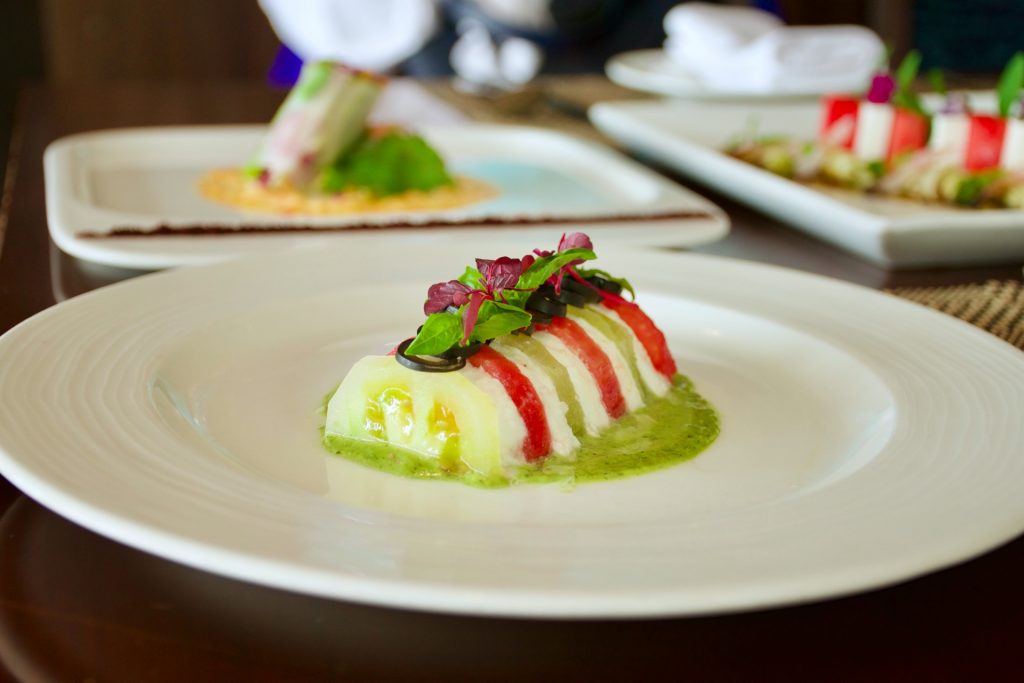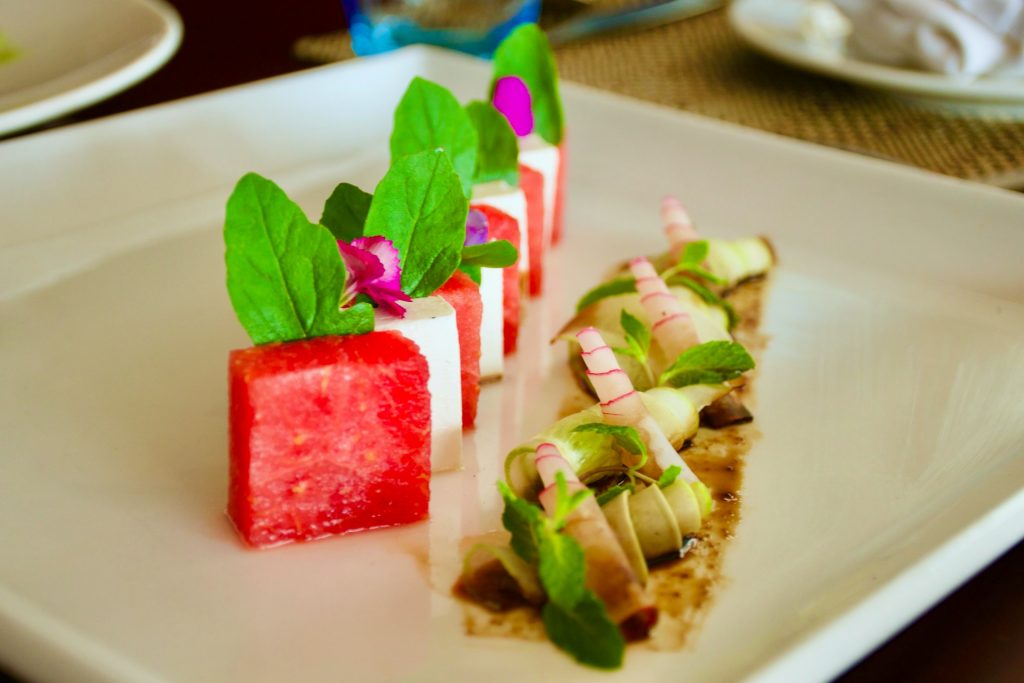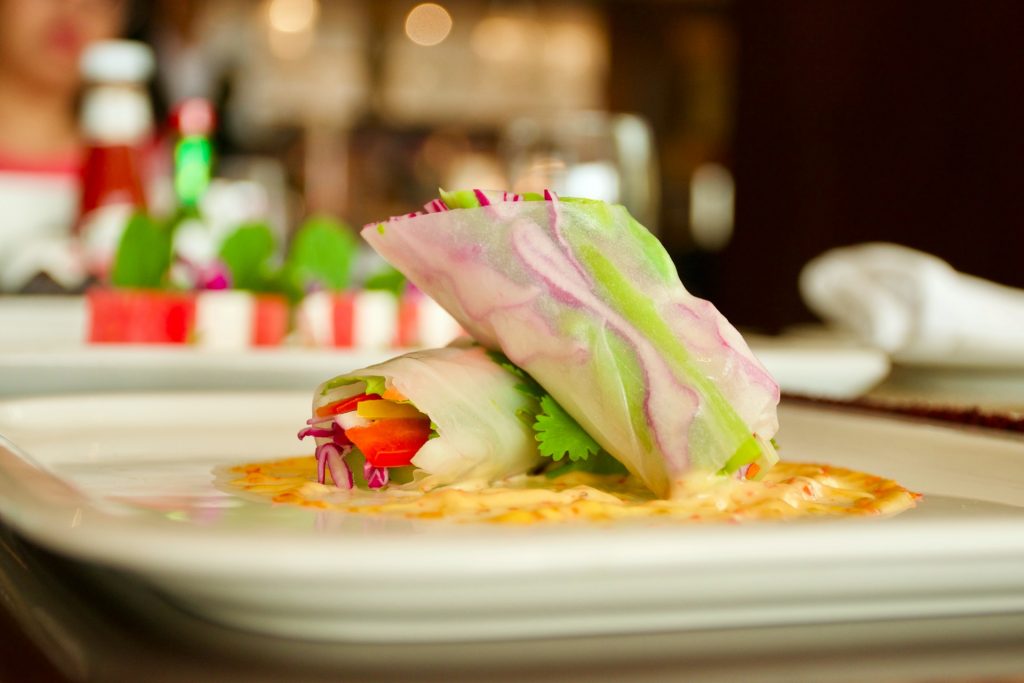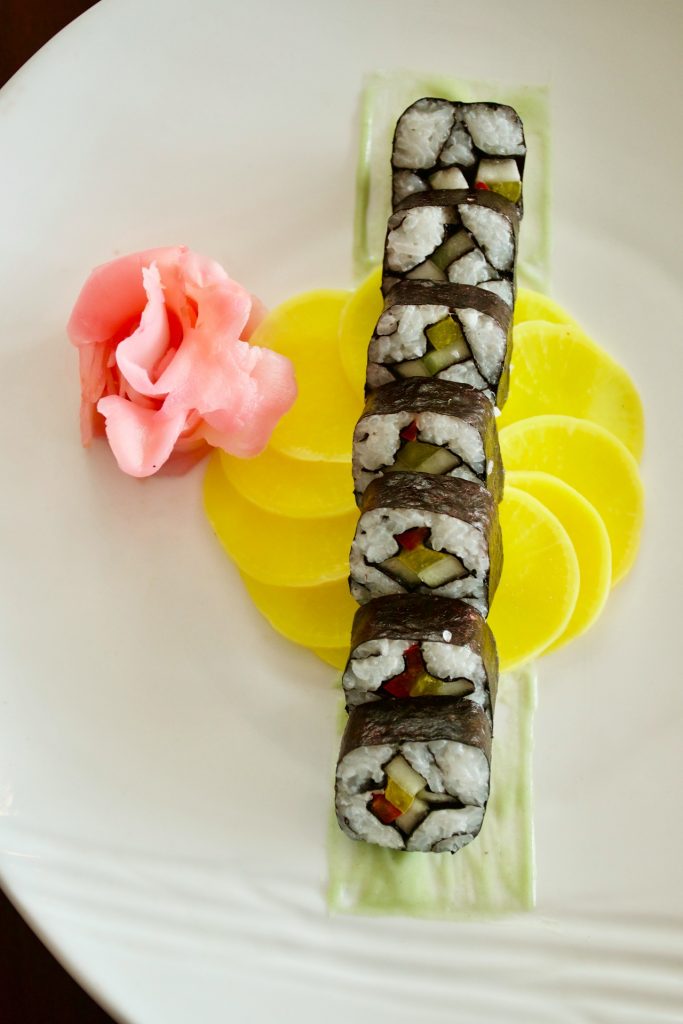 In Main course, we first had Veg Pizza which was topped with tomato sauce, rocket leaves, feta, olives, onion and bell pepper. It was Chef Gopal's favourite and now my favourite pizza too. Ratatouille Flan served with crostini had pesto, garlic, zucchini, bell peppers, aubergine, onions & tomatoes giving an amazing flavour. Spinach and Ricotta Ravioli with rose sauce was delectable. Dal Baati Churma, a Rajasthani delight was nice and crispy with the lovely Churma. Veg Biryani looked colourful with carrots, zucchini, bell peppers, broccoli and potato. It tasted excellent with all the veggies and flavours in it. Dal Makhani was delicious with a rich creamy texture. In breads we had roti and naan which were soft and fresh.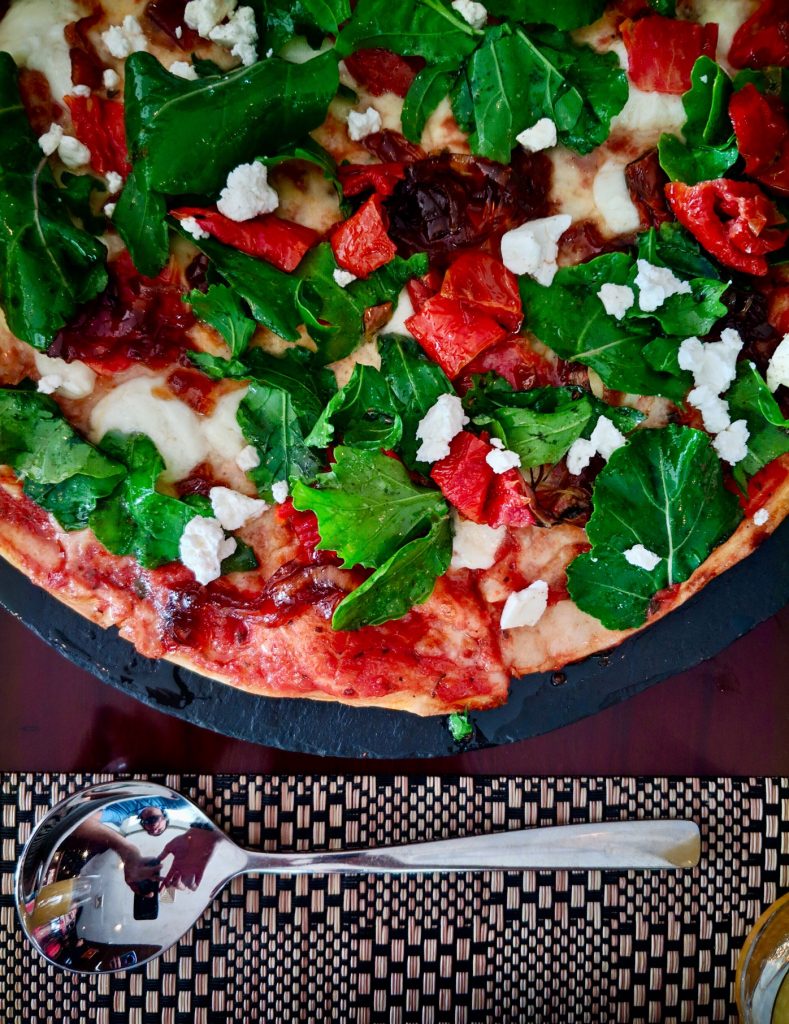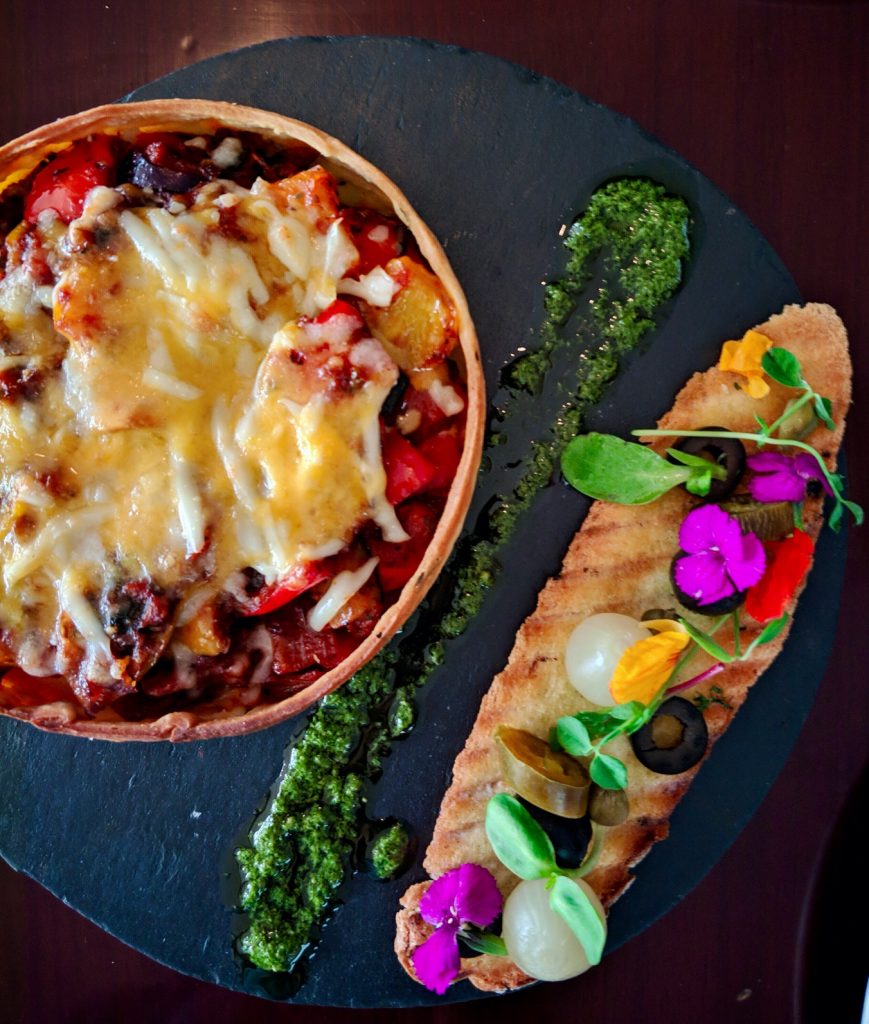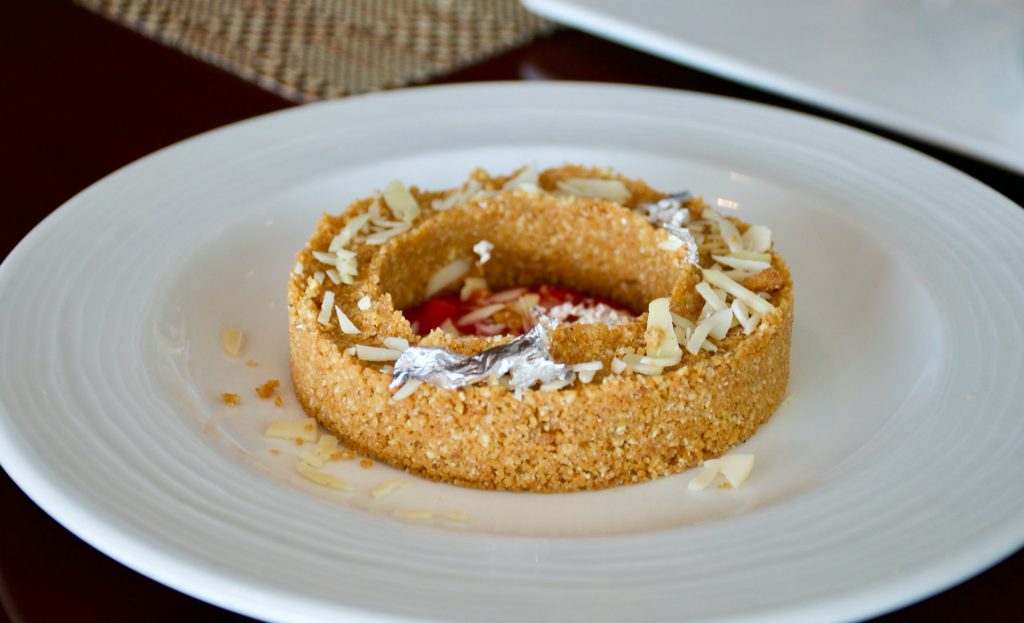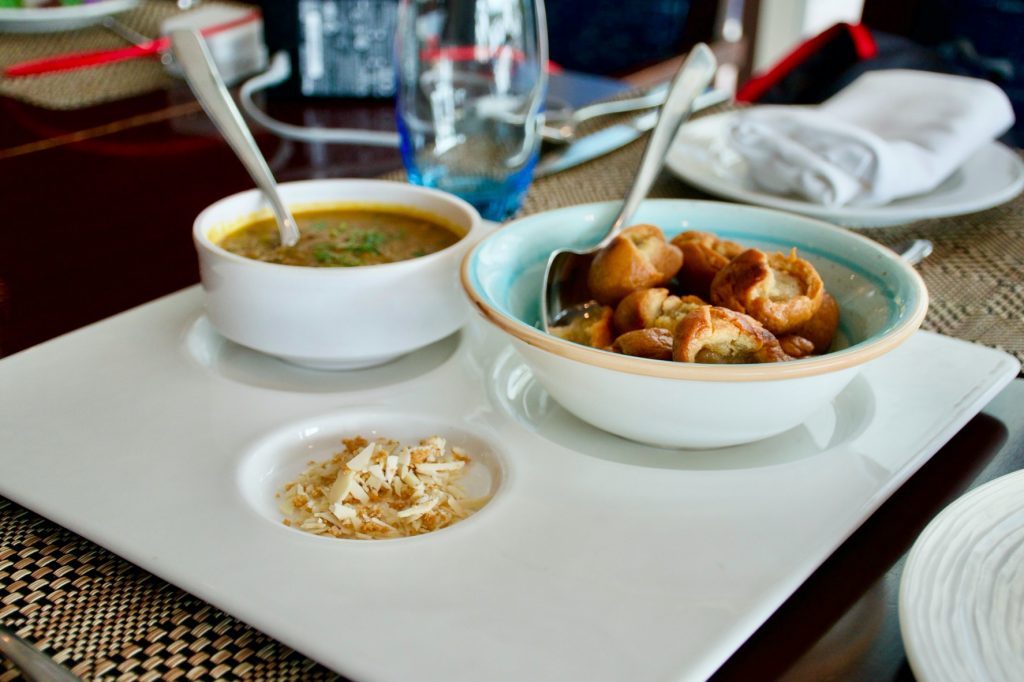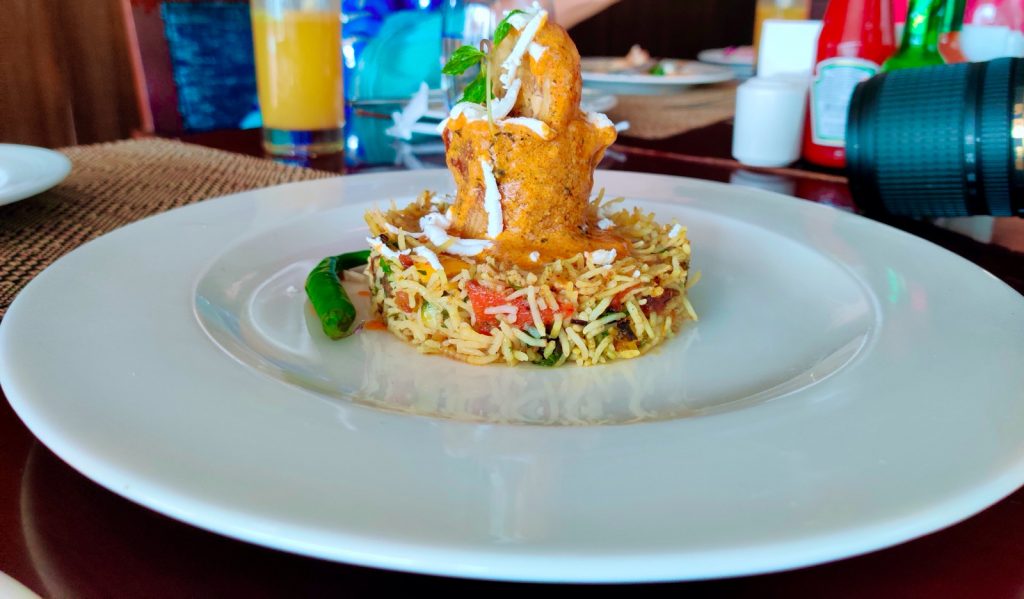 To beat the humid weather of Mumbai, Chef Gopal presented us with Aam Panna Masala Mocktail made with pineapple and mango based masala which was very soothing and refreshing.
Overall the Main Course was delicious, fulfilling, tasty, appetizing and we enjoyed having all the dishes with their tempting, delicious and delicate flavours.
No meal is complete without desserts and we had a beautiful platter which was so fascinating to look at. It was so beautiful that we just wanted to adore it and not eat it. It had Cheese Cake, Opera, Macarons as well as Fruit Tart. Such yummy delicacies!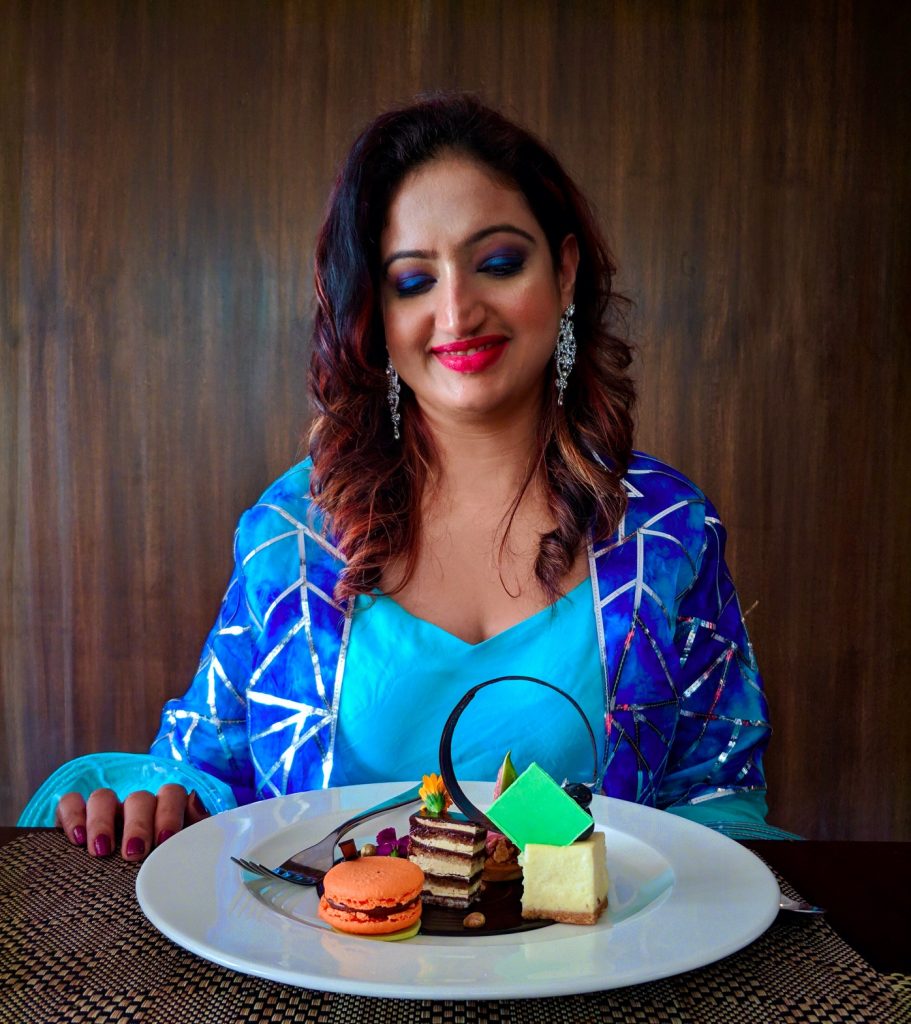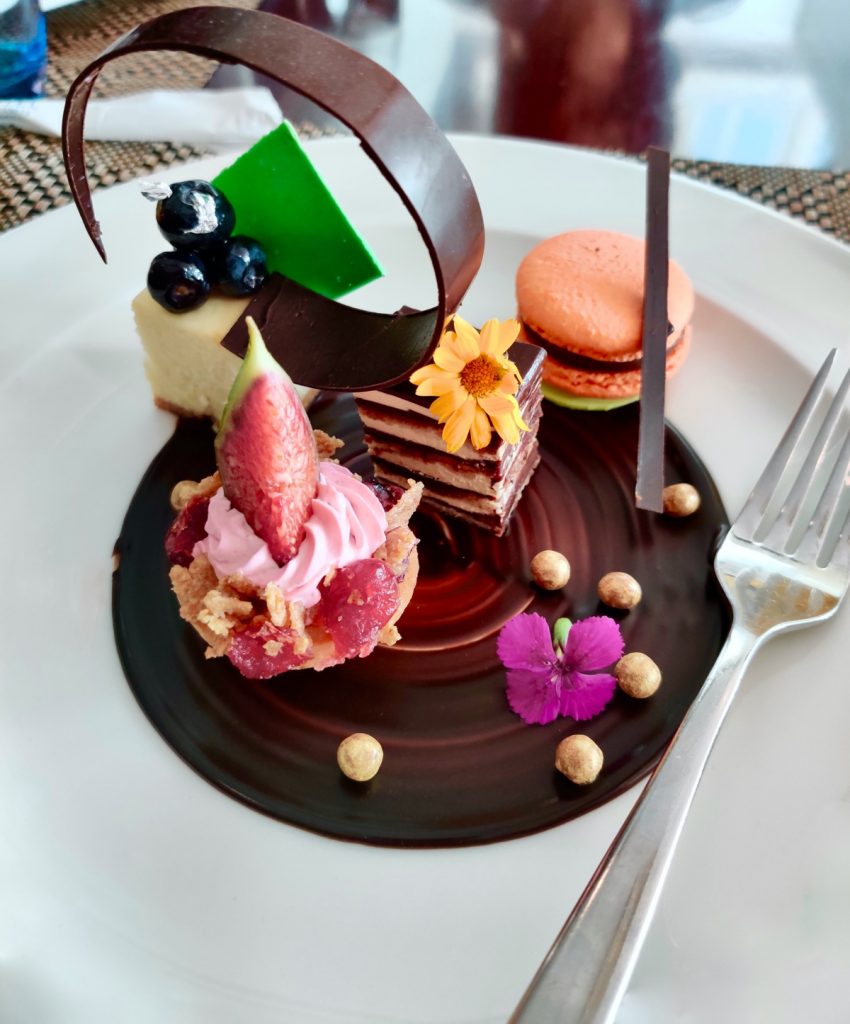 We had the most amazing food experience at Novotel Mumbai along with the tempting heavenly desserts. Fondly saying it was truly a heaven's delight to taste the food at Novotel Mumbai.
We looked at our watch and realized we have to head back to reality. So we left the hotel and headed to Jio World Garden for Lakme Fashion Week thanking Chef Gopal for the great food experience.
The long day ended late. The star studded fashion shows generally start late and end late so by the time we reached back it was almost 11. We were scheduled to have dinner at Sampan restaurant but unfortunately that was about to close so we opted for in-room dining. We went for a light comfort meal.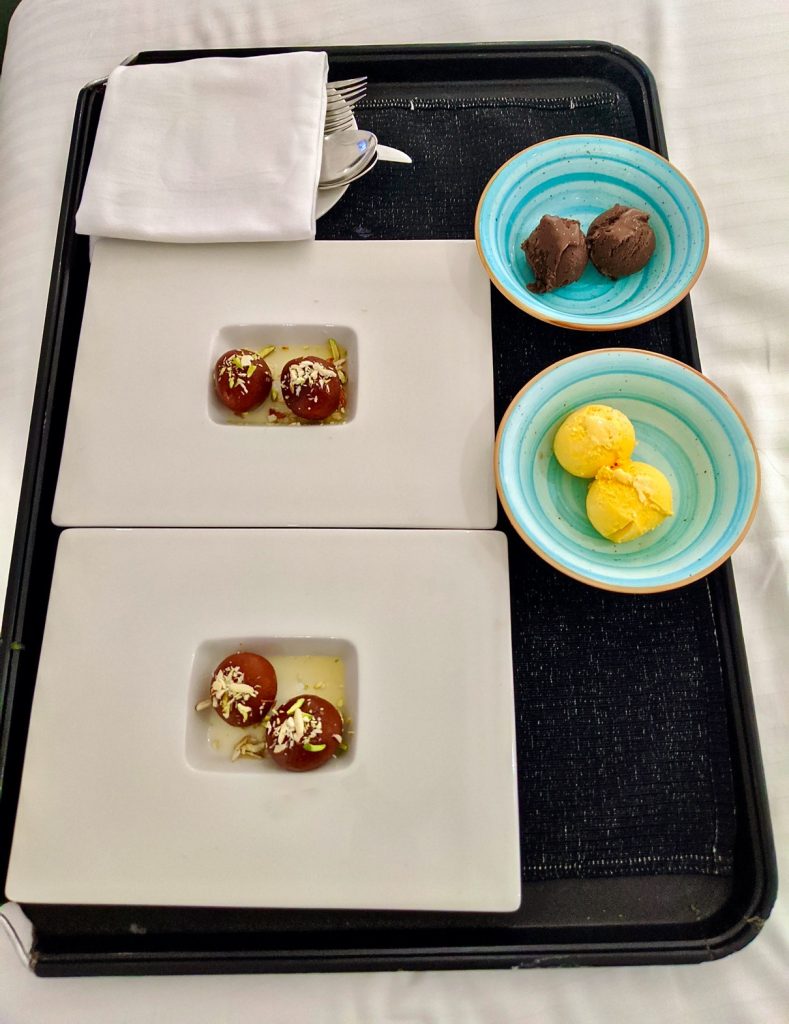 Next morning started with a lavish breakfast spread at the vibrant multi-cuisine restaurant The Square followed by Lakme Fashion Week. It was the day we were going back to Delhi so we came back early from Lakme Fashion Week. We were booked on a night flight and opted for a late lunch.
We headed to The Square and we got a wonderful surprise. Remember I told you that we were supposed to dine in at Sampan restaurant which was closed by the time we reached back from the fashion week? Chef Gopal and Chef Glen arranged delicacies from Sampan for us to sample the dishes and spread the flavours to all of you. Sampan is a Chinese dining concept and serves delicious Chinese cuisine handcrafted by their chefs.
What we ate, or I would rather say relished included Veg Dimsums which looked simply amazing with the crystal clear coating from which we could see the stuffing of pokchoy, Chinese cabbage, corn and broccoli too. Chicken Dimsums were great with the generous chicken stuffing. Vegetable Pot Rice were tasty and nutritious with the addition of colourful and tasty veggies. Singapore Spiced Shredded Chicken was juicy. Vegetable Hakka noodles were truly good that I couldn't just stop eating them. Stir fried exotic vegetables were exceptional.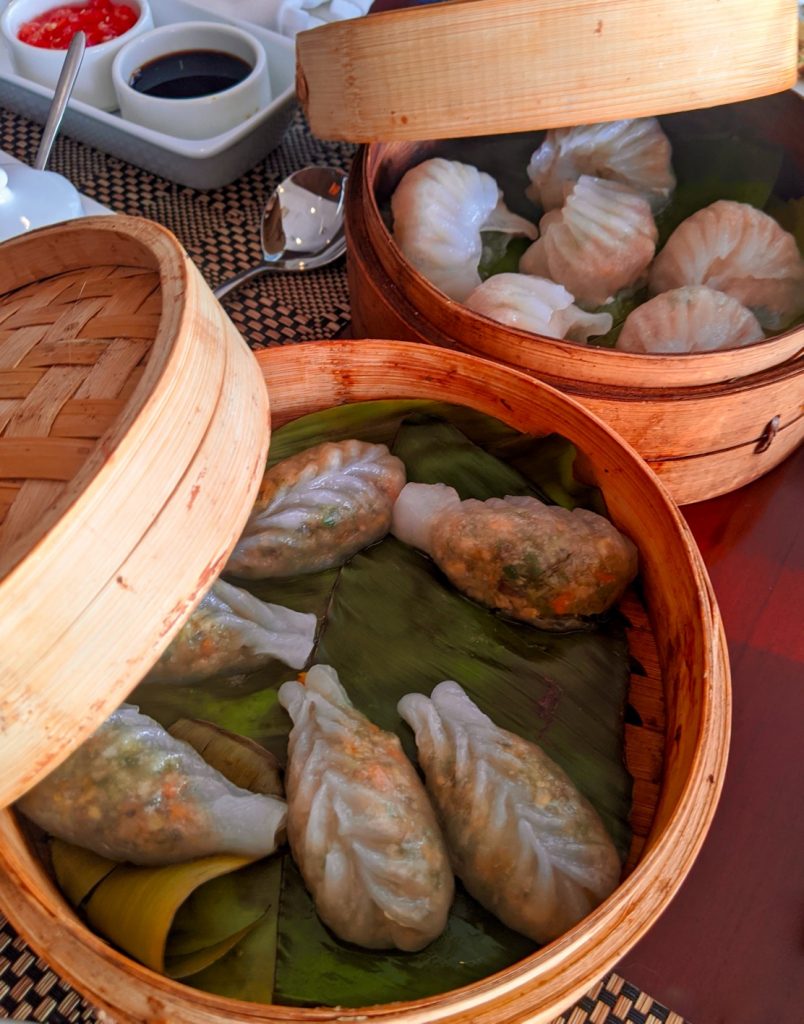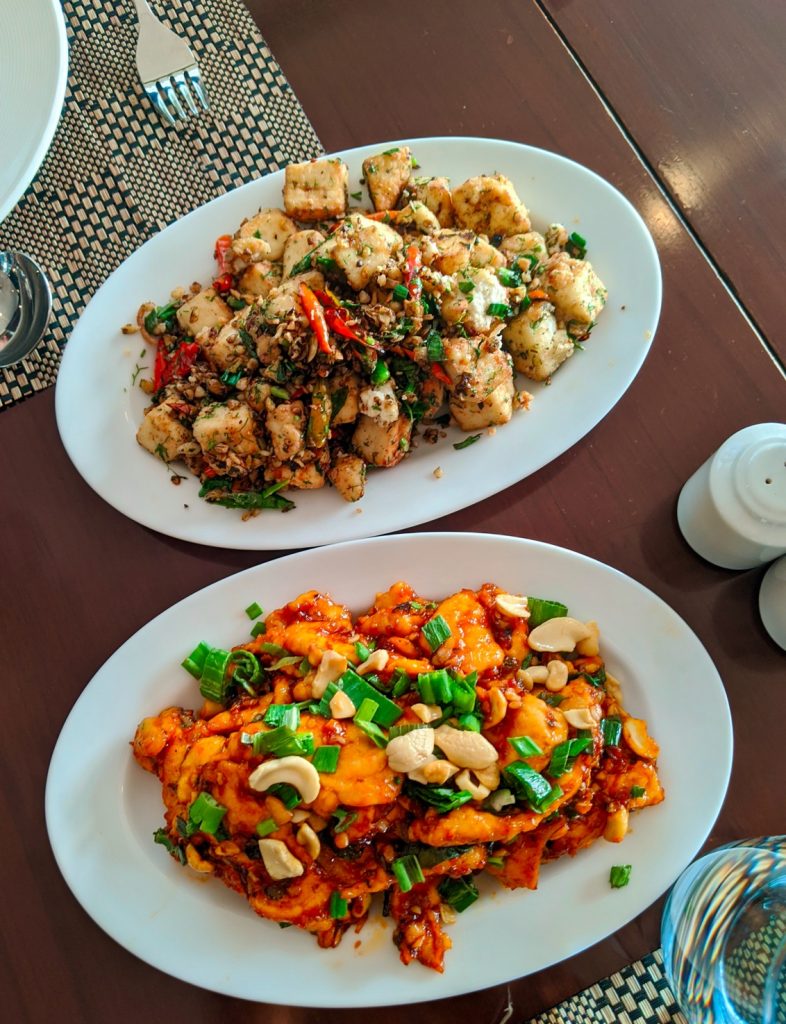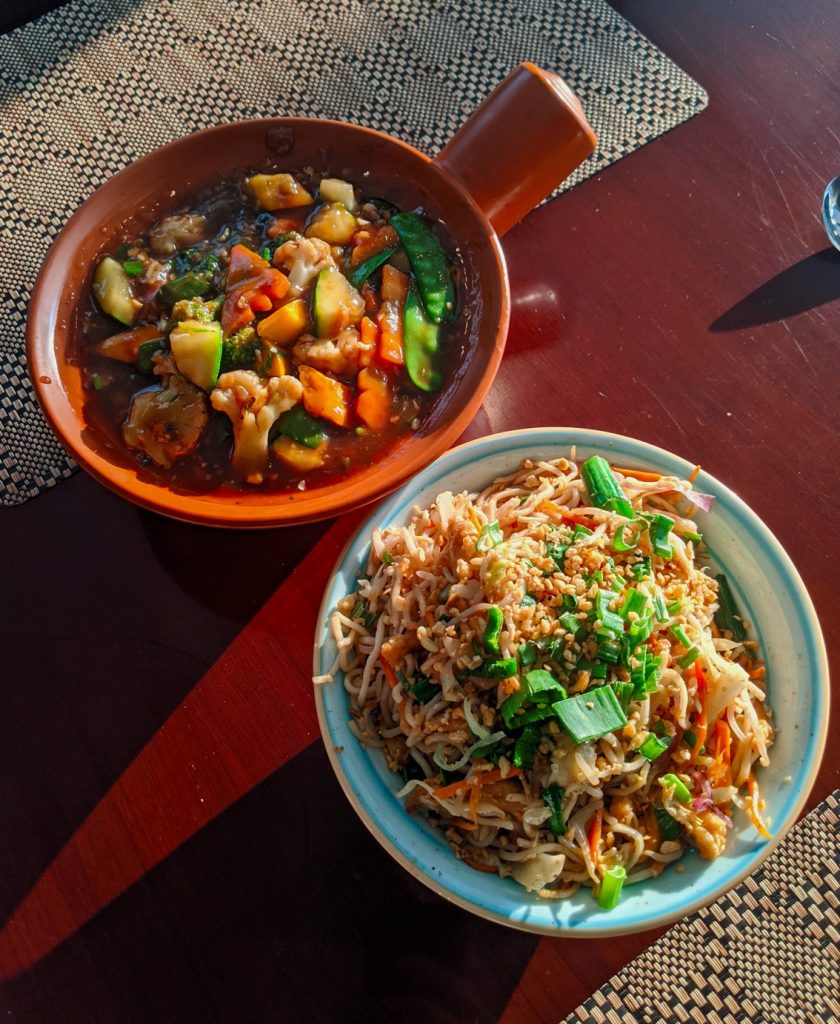 Let's come to the sweet treats and we had Dates Pancakes, served with ice-cream which was icing on the cake and the Fortune Cookie was the cherry on the top.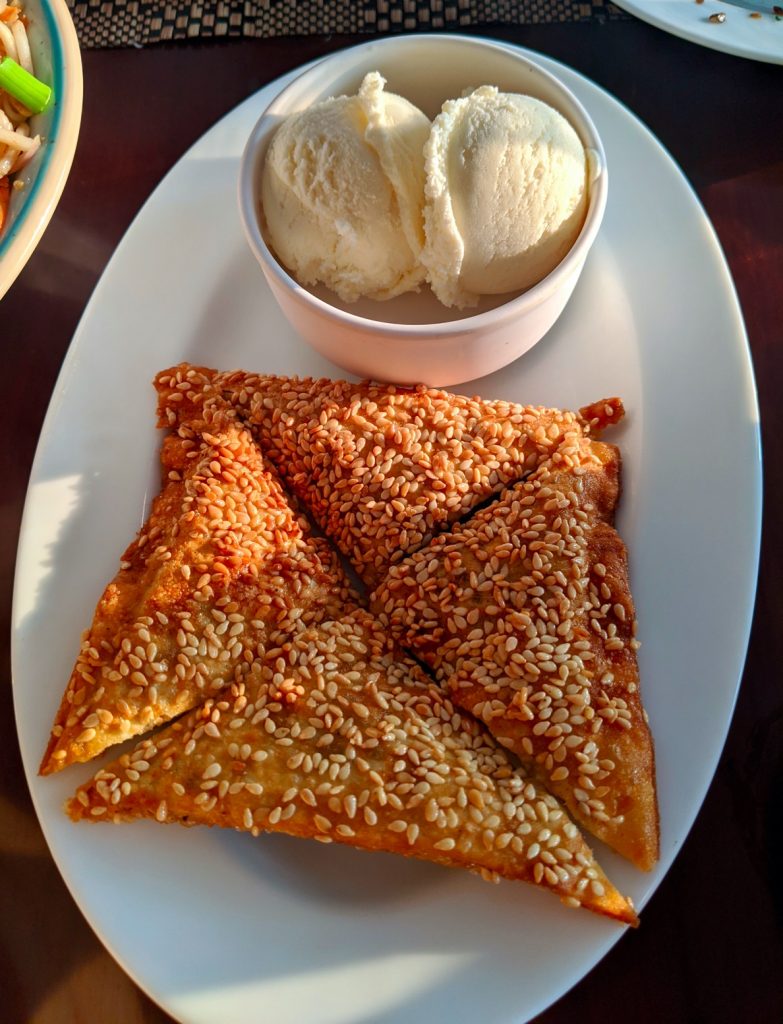 We checked out the restaurant which is a favourite amongst many celebrities including Ajay Devgan. Loved the relaxed and calming interiors of the restaurant which is serving guests for decades. Infact Chef Penpa has been delighting guests at Sampan for over years since the opening of the property.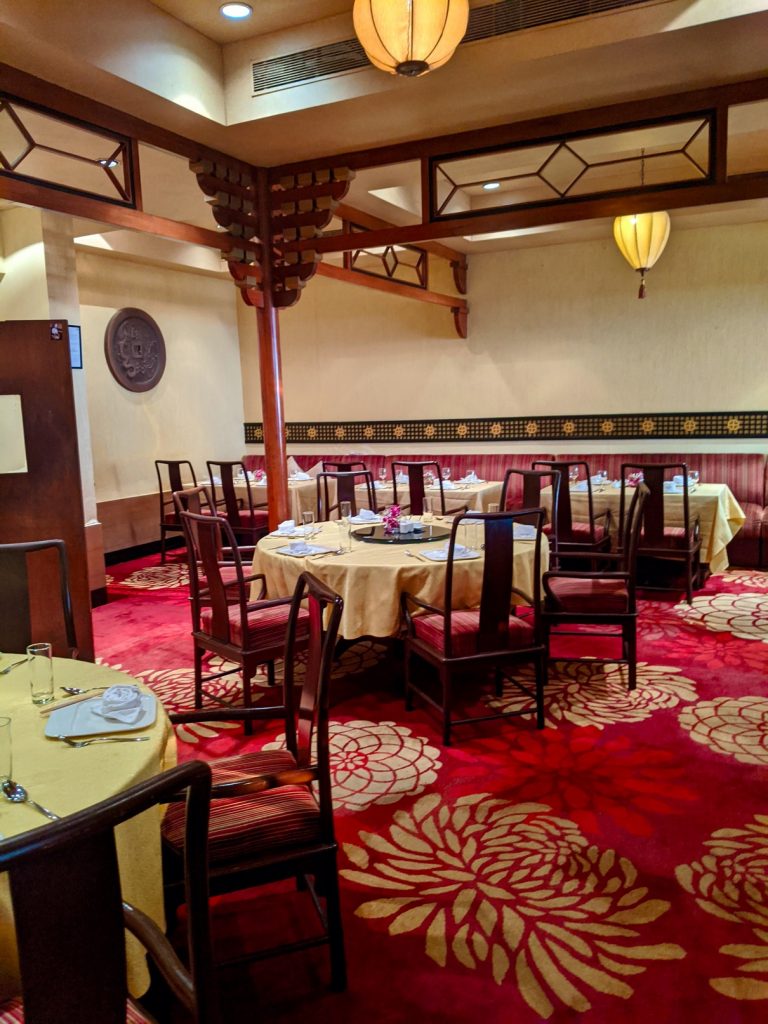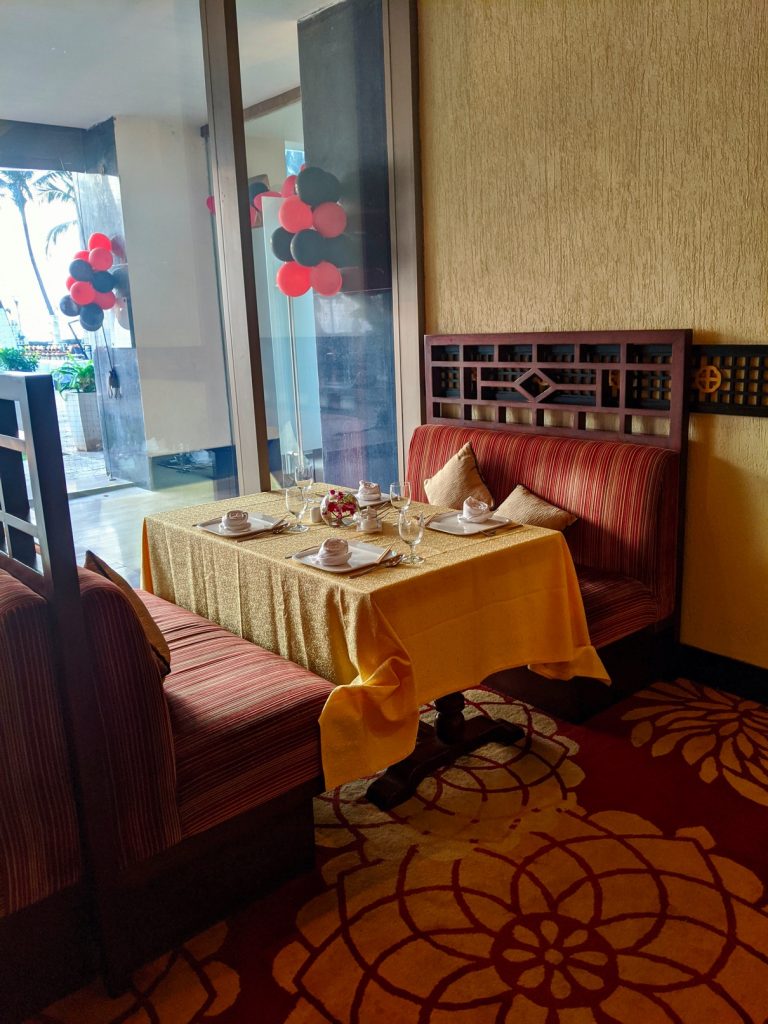 Novotel Mumbai Juhu Beach is the perfect getaway and the food here is delicious. Coincidentally it was Valentine's Day while we were at the beautiful location and we checked out the special arrangements being done at the hotel for the evening. At Gadda Da Vida, the chic sea lounge we could see lots of people already who were geared up to make the evening even more special and memorable. Gadda Da Vida faces the Juhu Beach and has lively music which is perfect for a relaxed gathering with friends, spouses or bae. For Valentines Day, there were tables around the pool as well where guests were making the most of their time enjoying the evening breeze, music, food and the company of that special someone. I can't forget the pool, the sunset, music, lovely people, the staff….it was a lovely time to be at Novotel. We also checked out the banquets where festivities were on for Valentines Day with special set ups, décor and food which were done beautifully.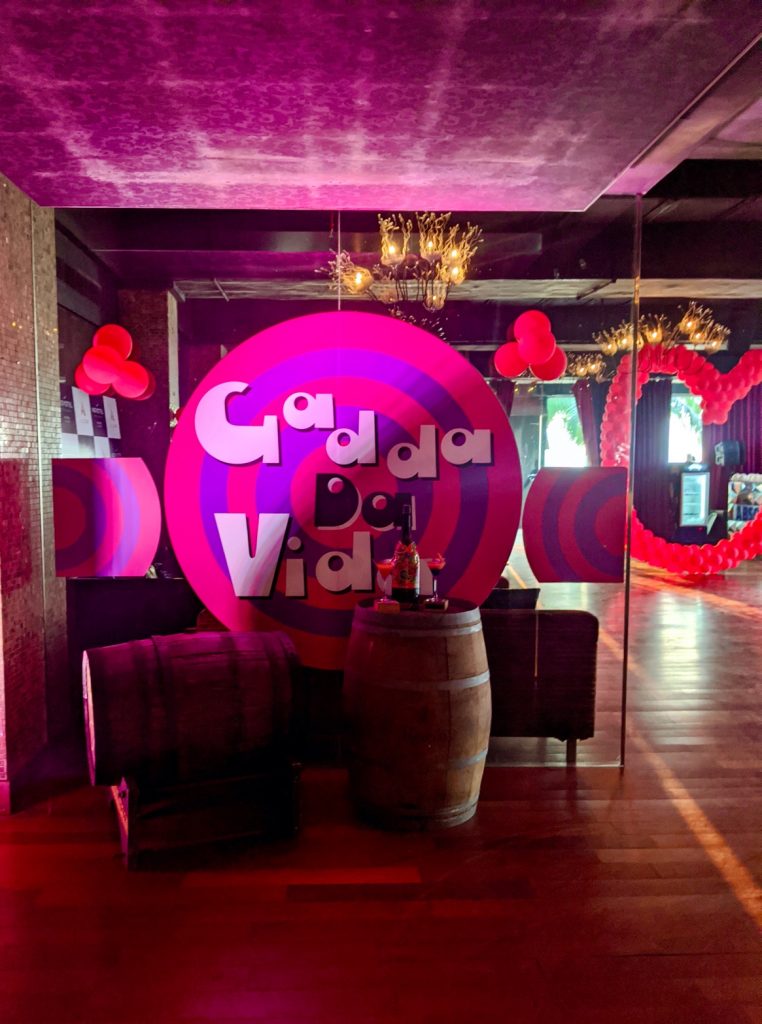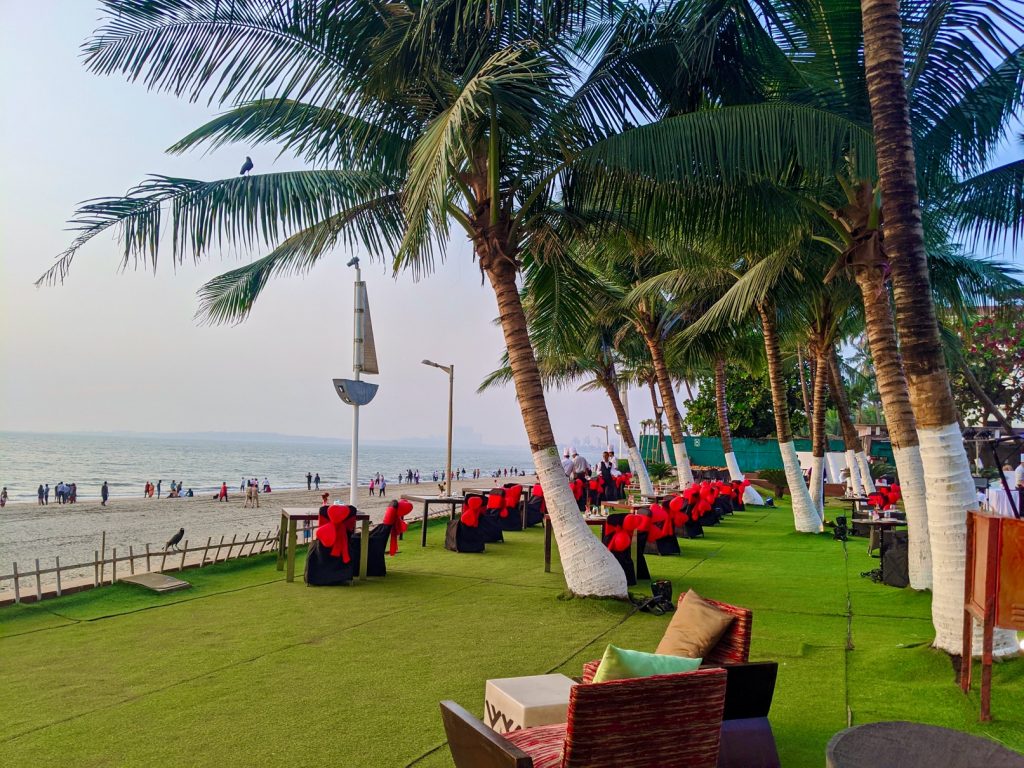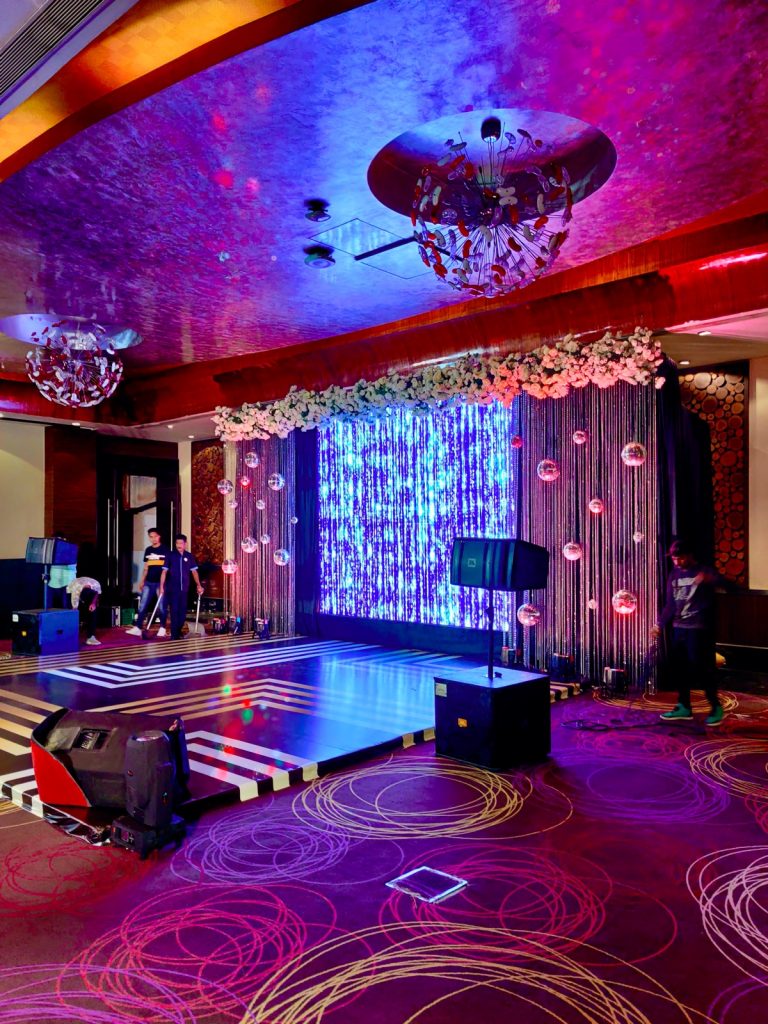 We also checked out Péché Mignon, the hotel's French Patisserie.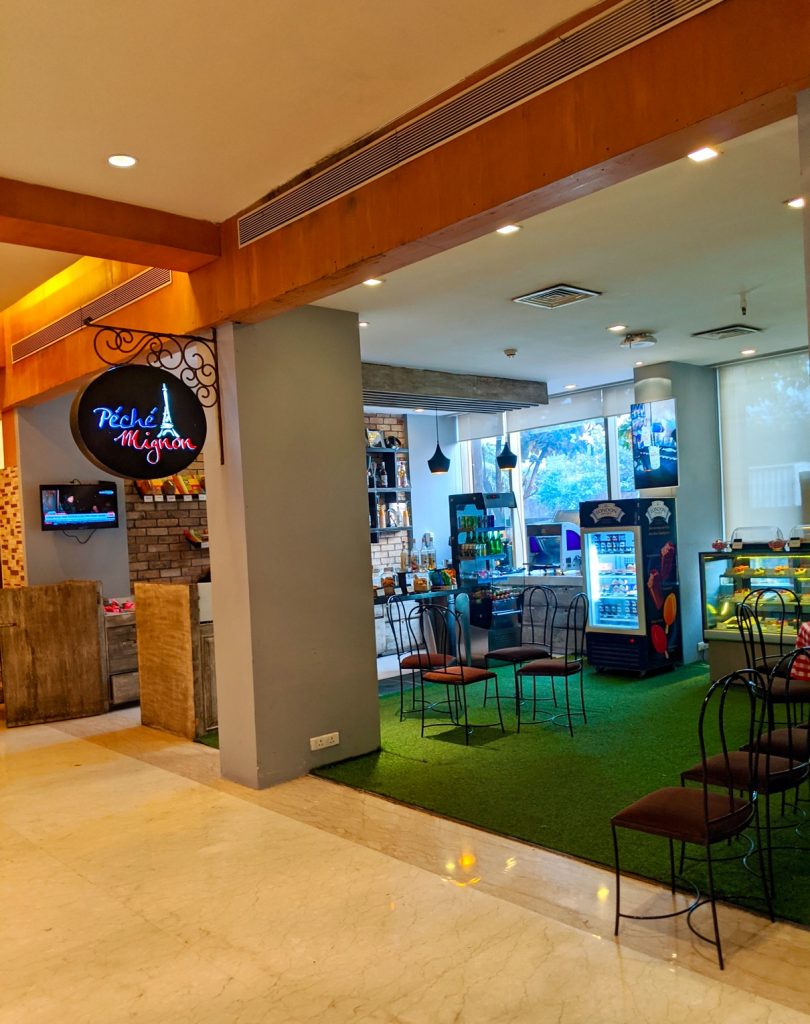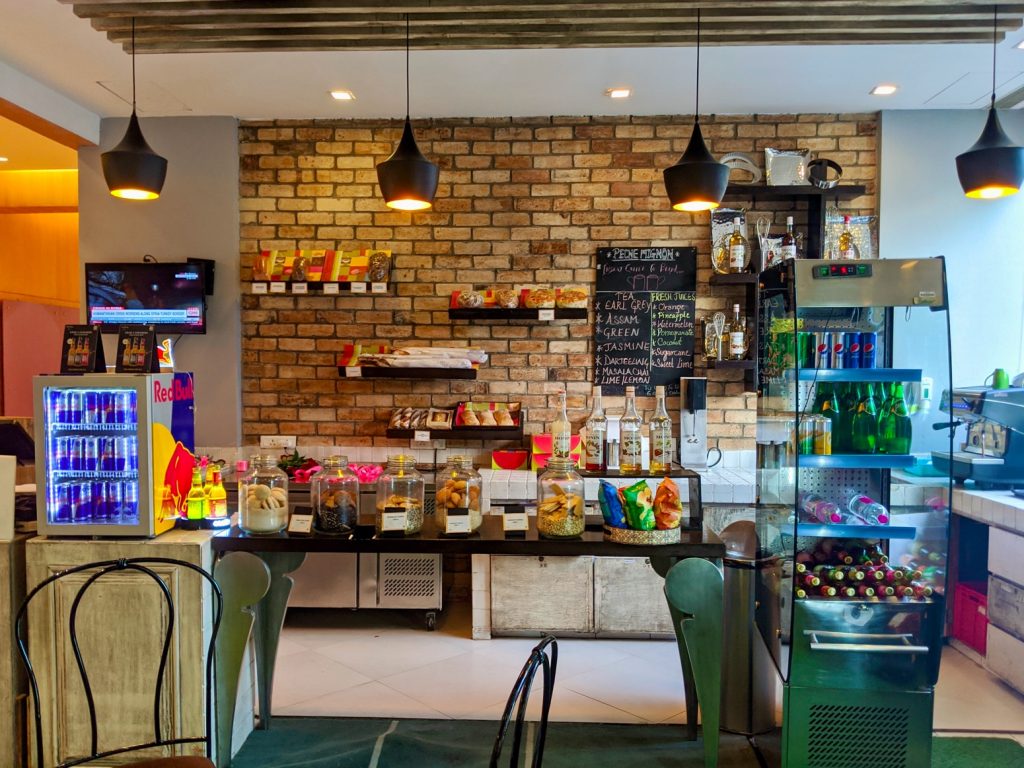 The hotel caters to different segments including weekend getaways for families, large corporate events/MICE, social gatherings, weddings and family functions. The newly refurbished rooms draw inspiration from iconic aspects of the city of Mumbai and offer a warm, local vibe. The idea behind this concept is for guests to enjoy a refreshing gateway in the City of Dreams (i.e. Mumbai) and experience a sense of belonging. The property makes the guests comfortable and enjoy staying at the premierest of rooms at Novotel.
The hotel is also equipped with all facilities a traveller of today would require- the pool (remember I mentioned it while we were heading to Bageecha restaurant) and the gym which is well equipped and well maintained.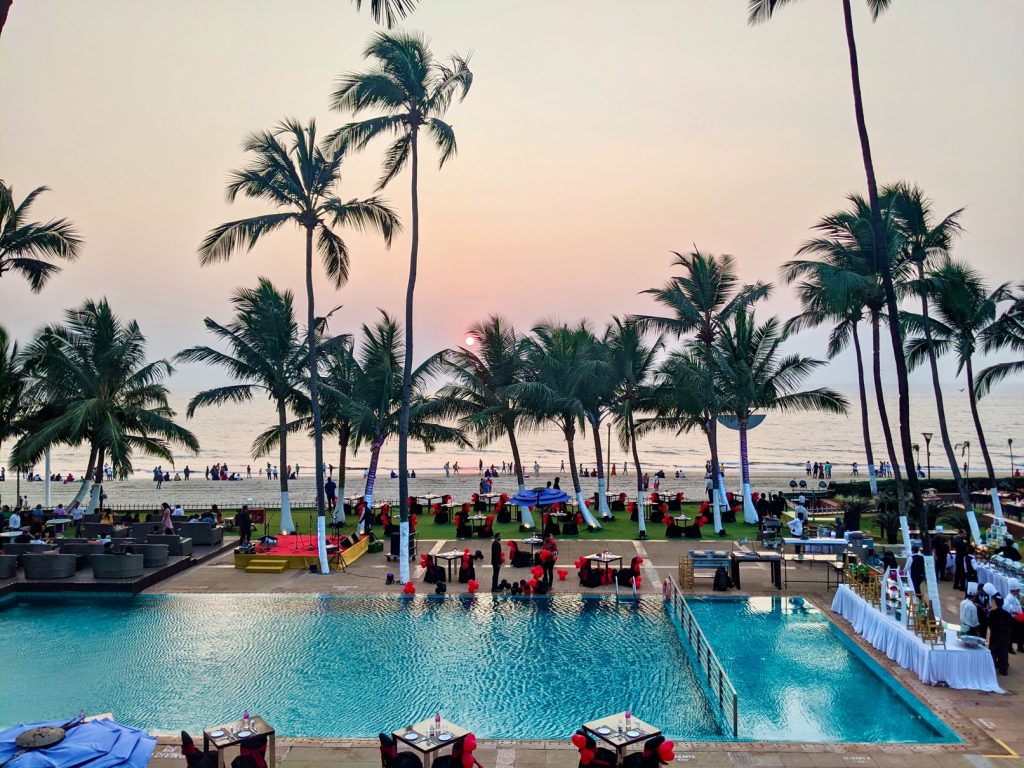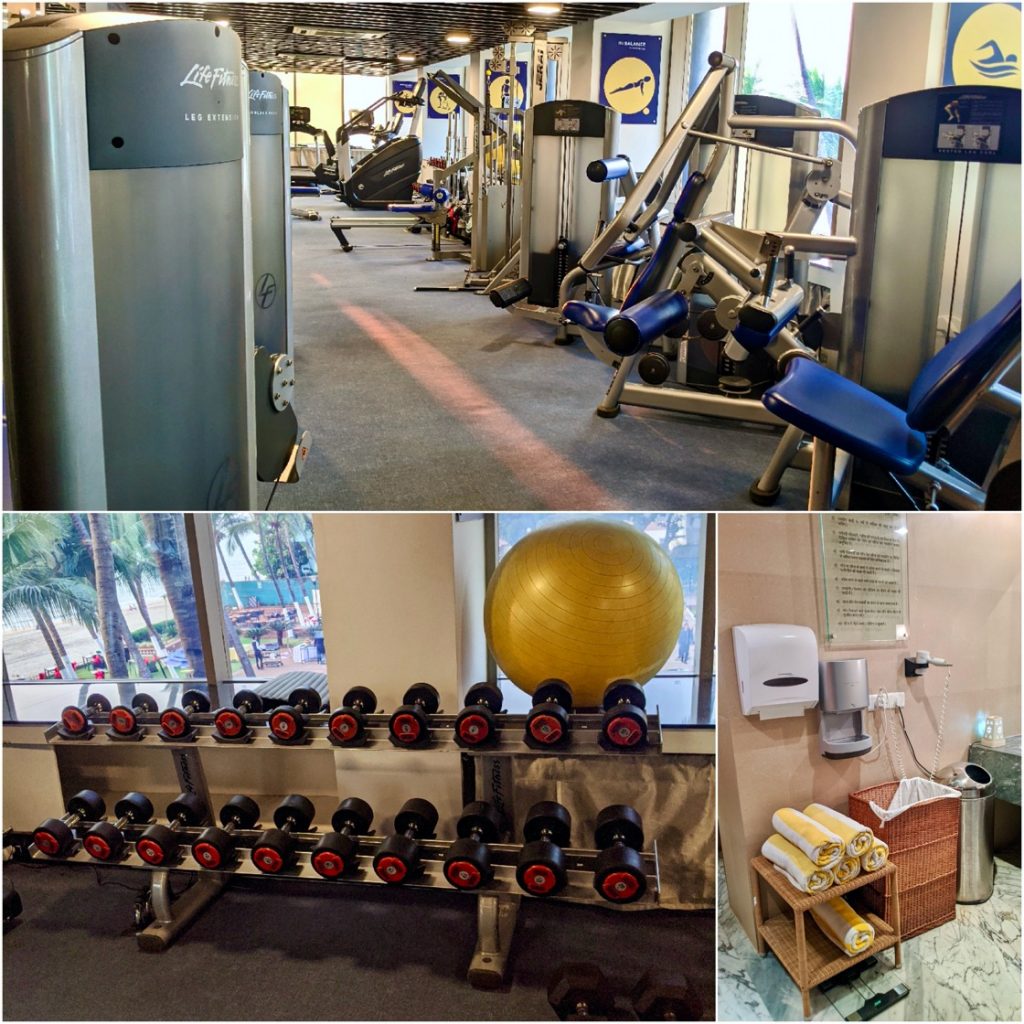 It was time to say Goodbye to the Gorgeous hotel and wonderful people at Novotel where we enjoyed the stay, food, hospitality and services. Loved the various options be it Olio, Sampan, The Square, Bageecha or Peche Mignon…so much to choose from!
BTW, you would have spotted this lovely property in many movies too.
So what's the wait when in Mumbai don't forget to visit Novotel Mumbai Juhu Beach as it might surprise you as it surprised us.
Don't be surprised to see your favourite Bollywood stars at one of the restaurants. Dharmendra, Hema Malini, Anu Malik, Kapil Sharma visit the restaurants quite often.
Thank You to the Team of Hotel Novotel Mumbai Juhu Beach, Gorav Arora, the GM of the hotel, Tahrcila, the Marketing Manager, Mario Benedict, Rooms Division Manager and Chef Gopal who made sure we have the best time during our stay in Mumbai. Accor Hotels never fails to delight whether in India or abroad. A special thanks to Amisha Gutgutia from Accor as well for arranging all this.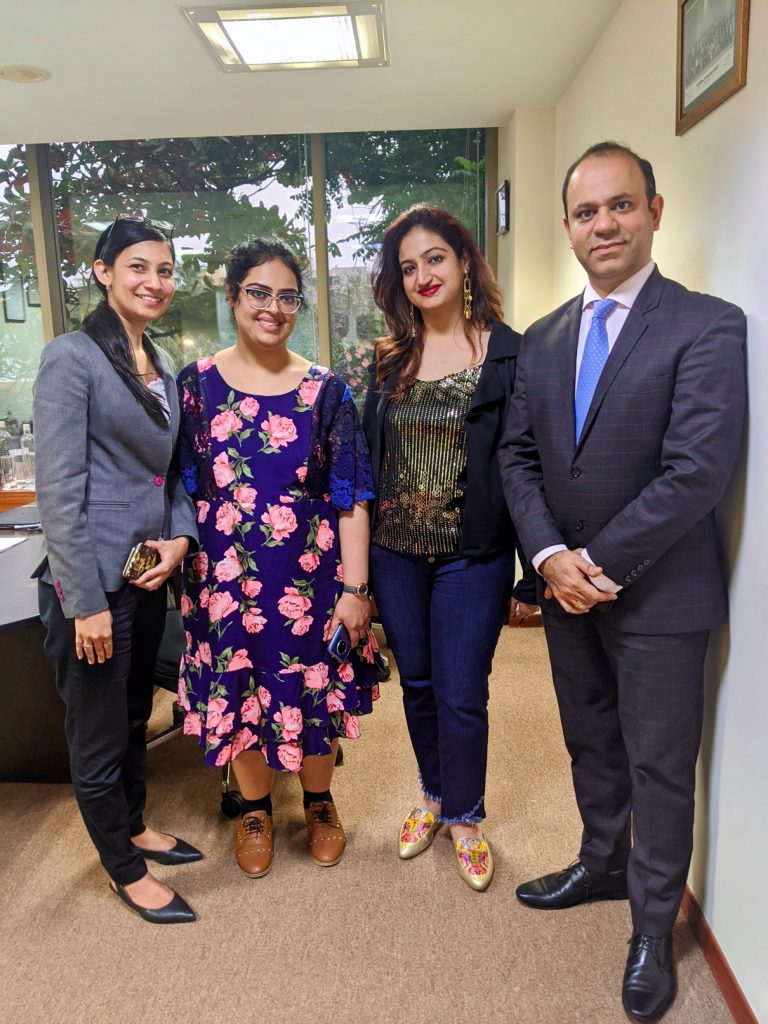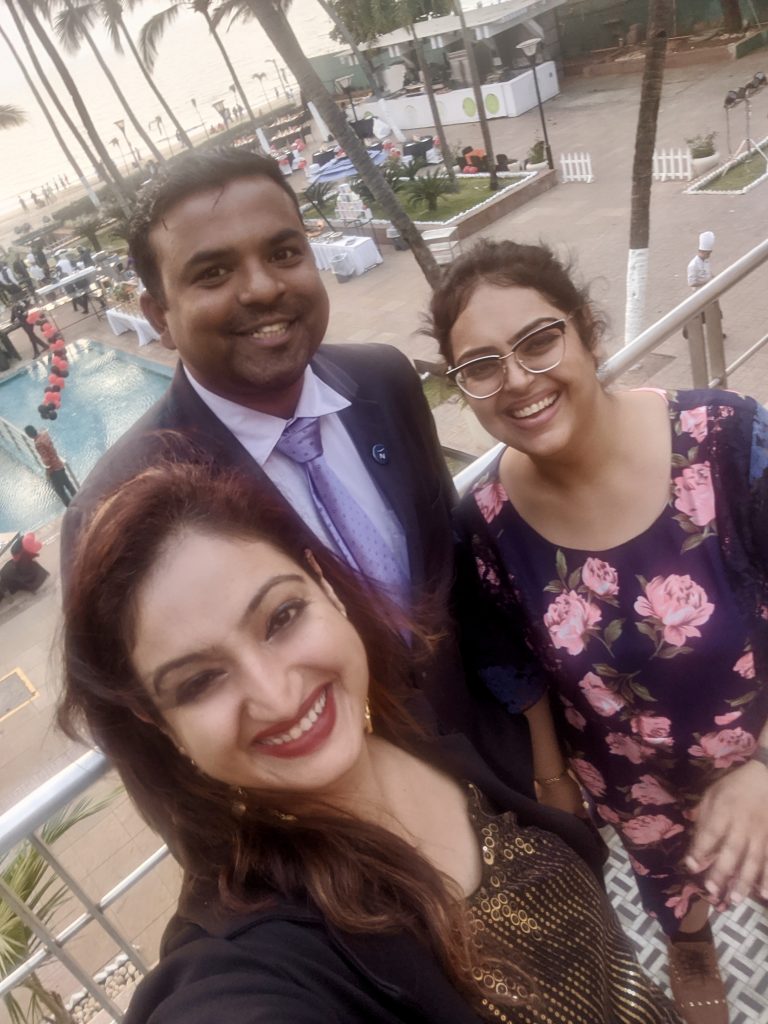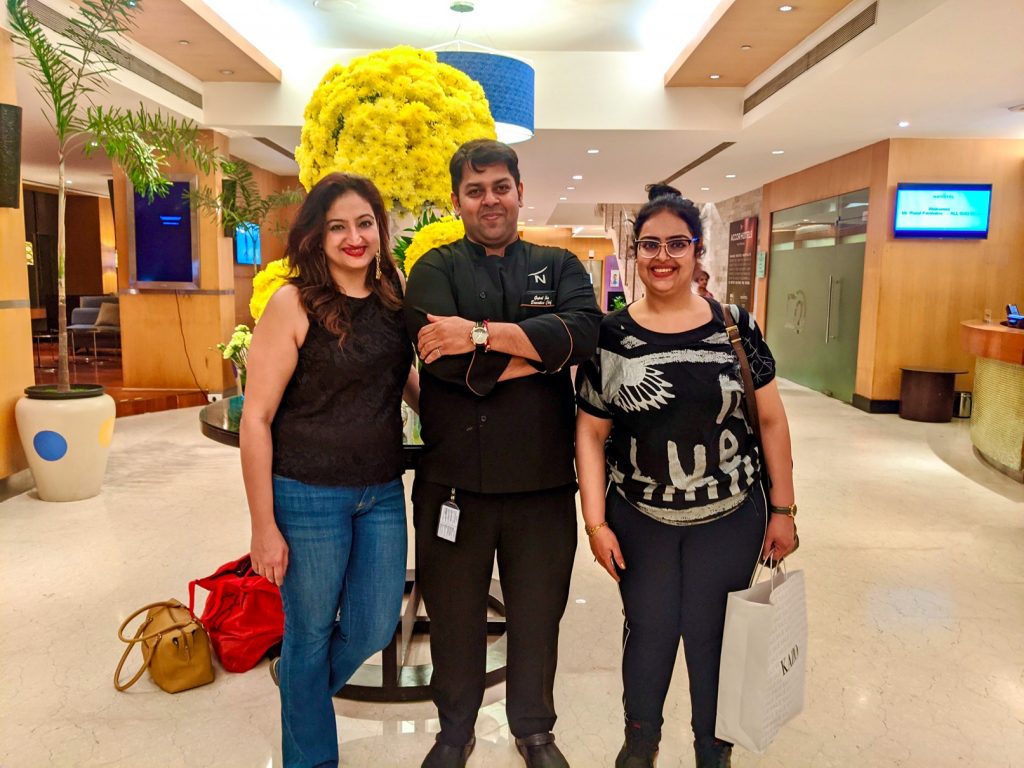 ---
With inputs from Shilpa Arora