One of my best memories while growing up is having bhutta from the street vendor. Our bhutta in the dining concept changed to corn chaat as well as corn on the cob. Little did I know that the crop 'corn' has 300 variations and types which are coded with numbers. '9126' is grown on heavy soil and has disease resistance power, 9198 is grown on heavy/ medium soil while 9141 is grown on medium soil. What we eat as bhutta or corn on the cob is 2212…Isn't this so interesting!
Yes, that's what I discovered at the recently concluded Corn Festival 2019 held at Chhindwara, Madhya Pradesh. Honestly, when I got an invitation from Chhindwara District Administration, CM Kamal Nath Ji & MP Government, I wasn't sure if I should go. Chhindwara is known to be a Tier 3 city and being in a metro we have a perception of how a Tier 3 city looks like. I did my research and said yes to the invitation which I am till date glad about.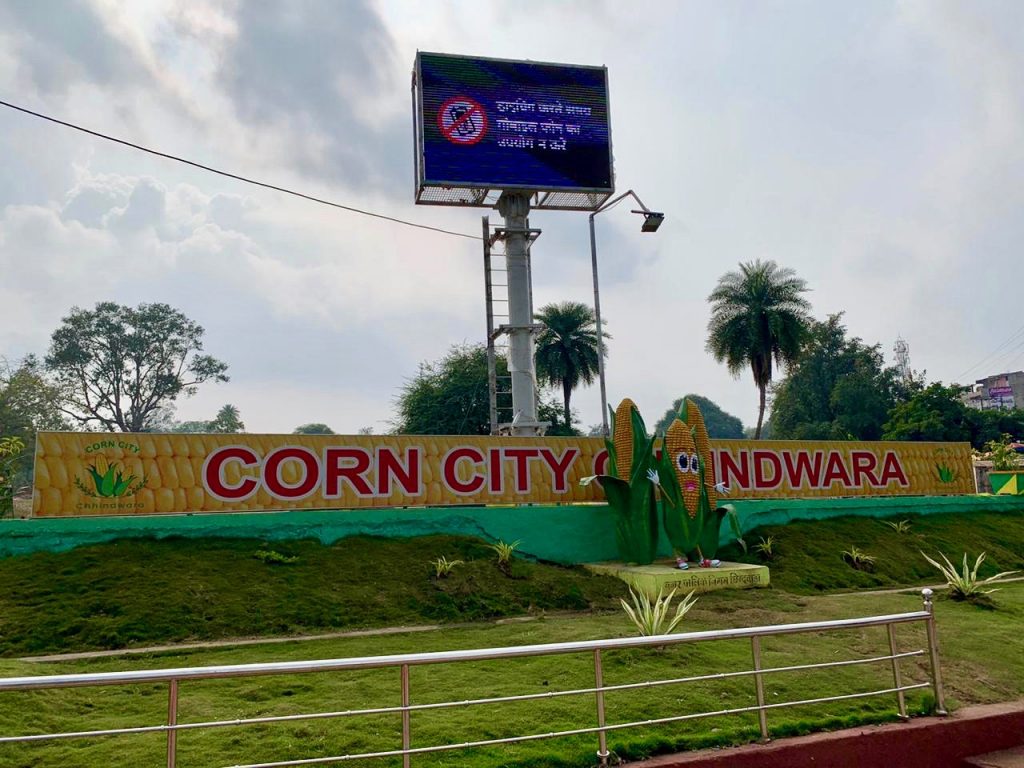 We took an 8:05 PM flight from Delhi and reached Nagpur in 1 hour 40 minutes. Post dinner at Hotel Pride, we headed to a 2.5 hour drive to Chhindwara. I must admit, it was a beautiful drive and to my surprise, the roads were fabulous. We reached Hotel Karan appreciating the views during our drive. Hotel Karan is one of the best hotels in Chhindwara and we found it to be cozy and great for our stay. Hospitable staff, clean rooms, great amenities, it was comfortable and nice. The hotel is also equipped with a spacious lobby with comfortable couches for guests to relax post the long drive or be comfortable while planning the day. We made use of the couches infinite times during our stay.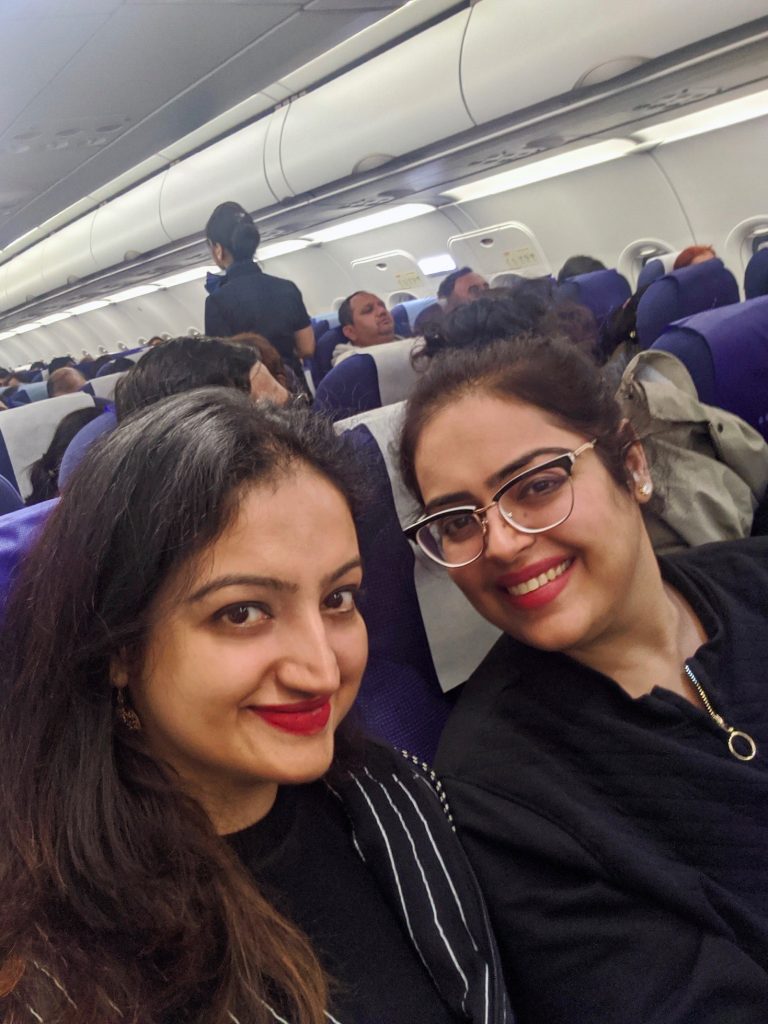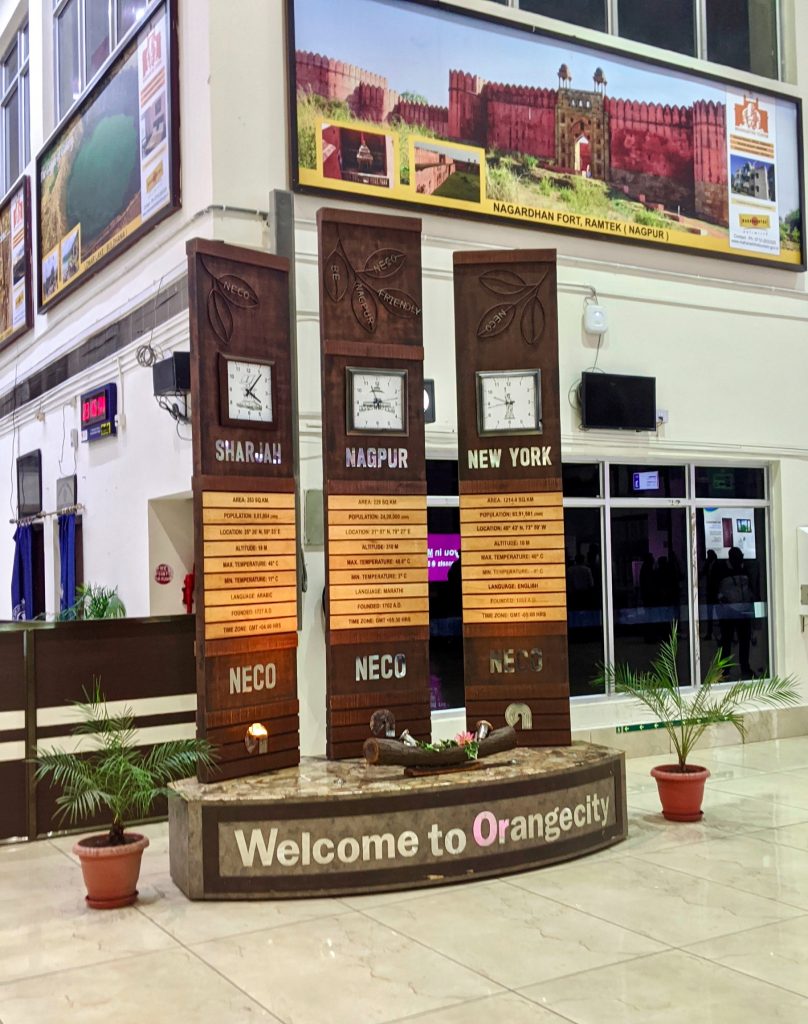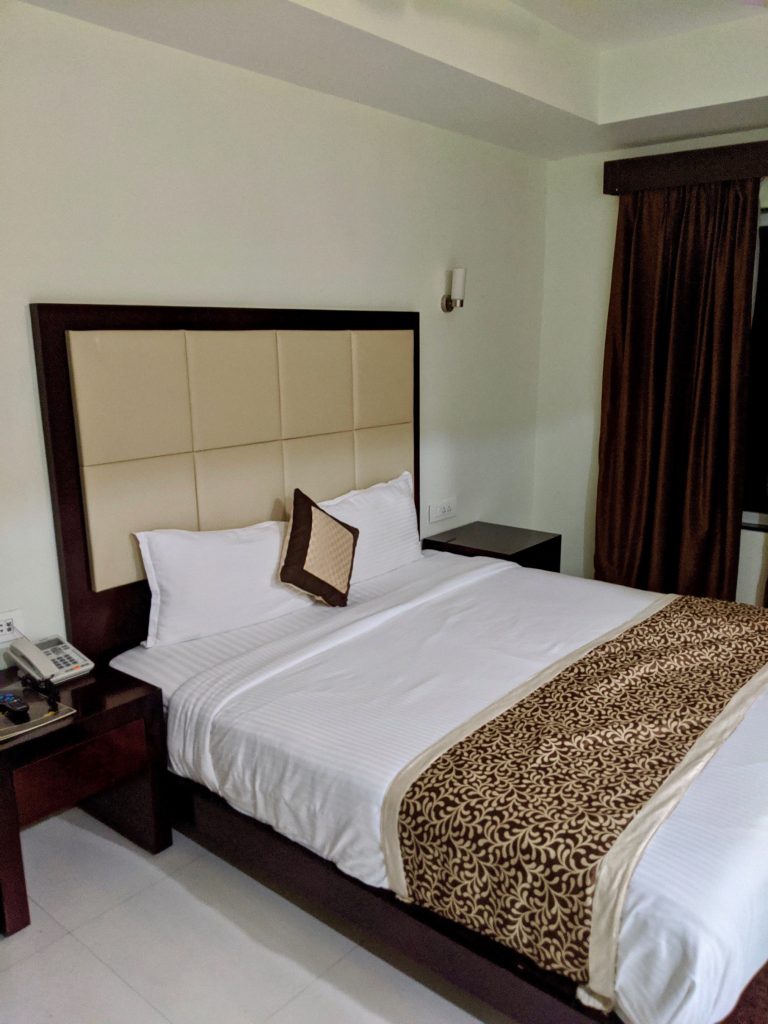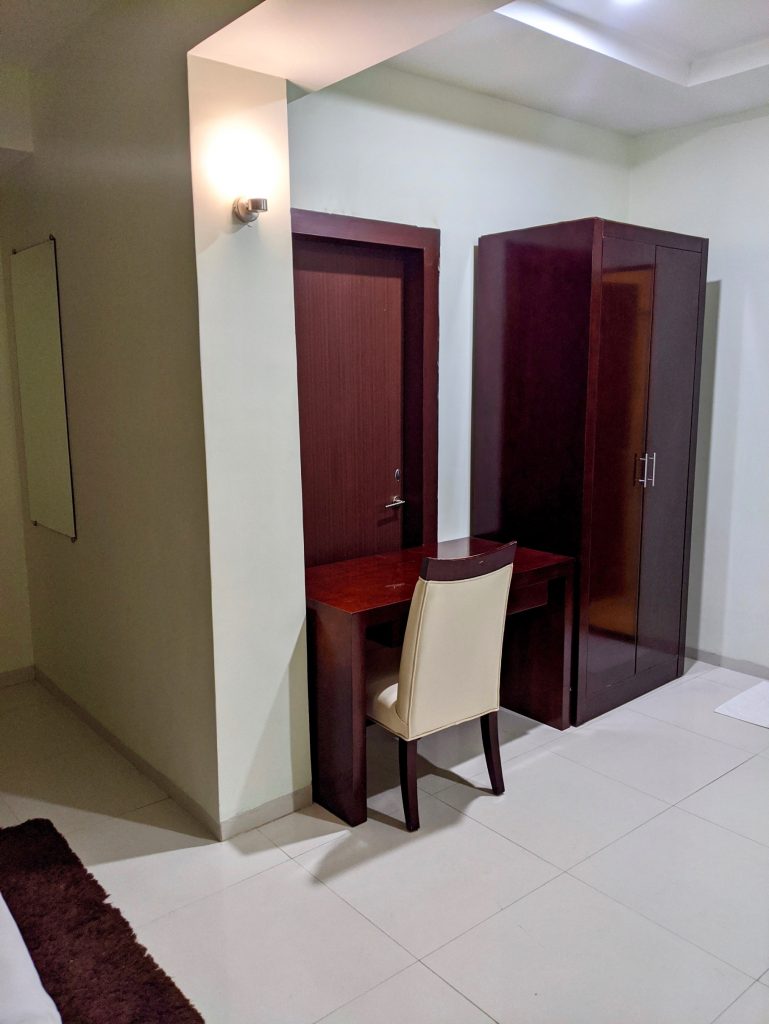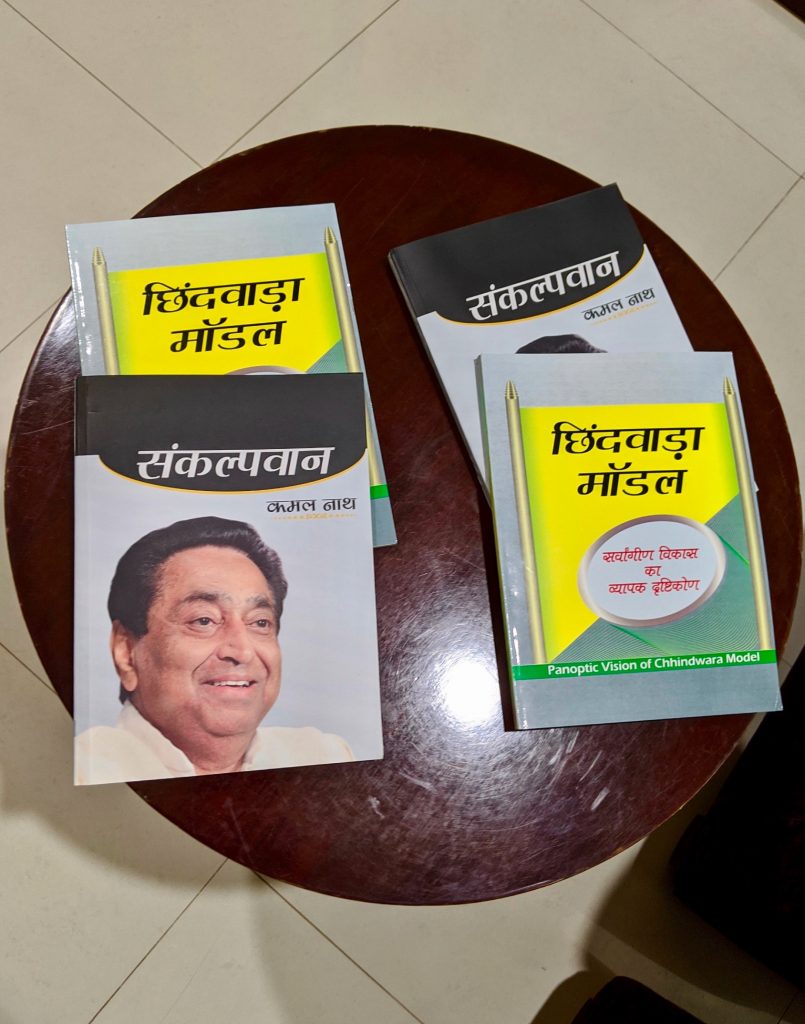 Our morning started early and was pleasant appreciating the view of the green pastures from our room. After a wholesome breakfast comprising of poori-bhaji, sandwiches, paratha, halwa, eggs, omelettes, toast, poha, milk-cornflakes, sprouts, fruits in the dining hall of Hotel Karan, we assembled for an interaction with Mr. Gajendra Singh Nagesh, Chief Executive Officer, Chhindwara Zilla Panchayat, Madhya Pradesh at the lobby. A 2001 batch IAS officer Mr. Nagesh acquainted us to Chhindwara, its speciality Saucer silk and its forest produce – amla, chirongi, mahua, orange and desi aam.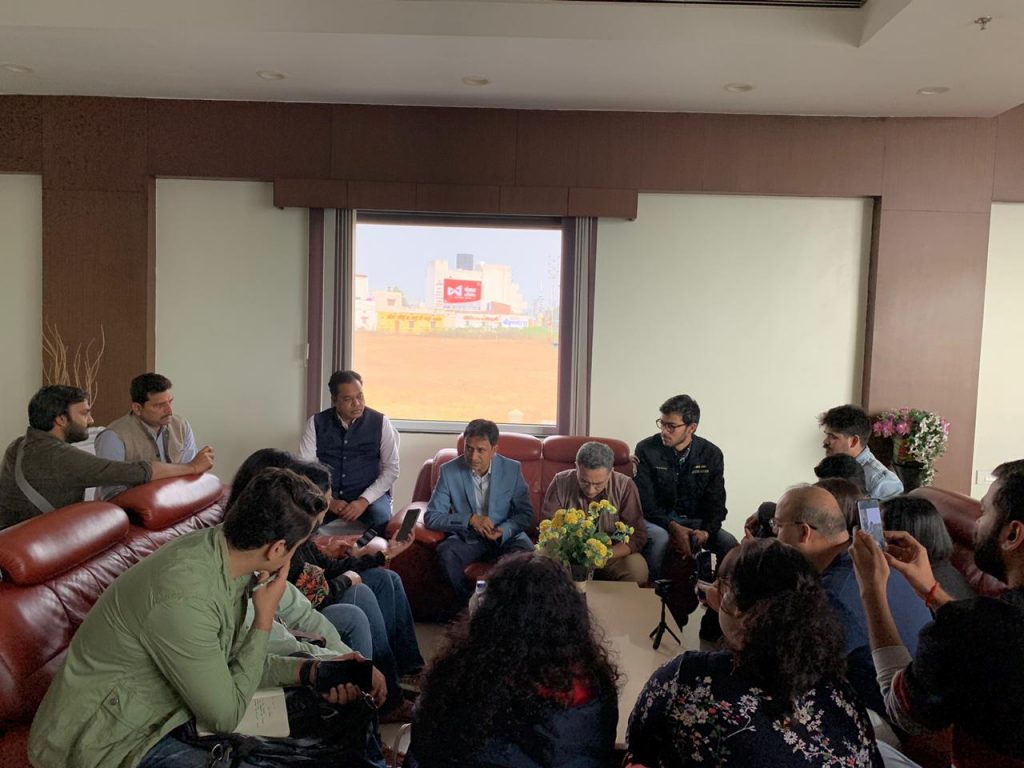 We began our Chhindwara tour and went to a no. of places:
Selfie point which boasted of the slogan 'Hello Chhindwara'. It was a really cool spot and next to it was a kiosk where cut outs with Corn Festival branding were there. It was a must visit for social media freaks like us.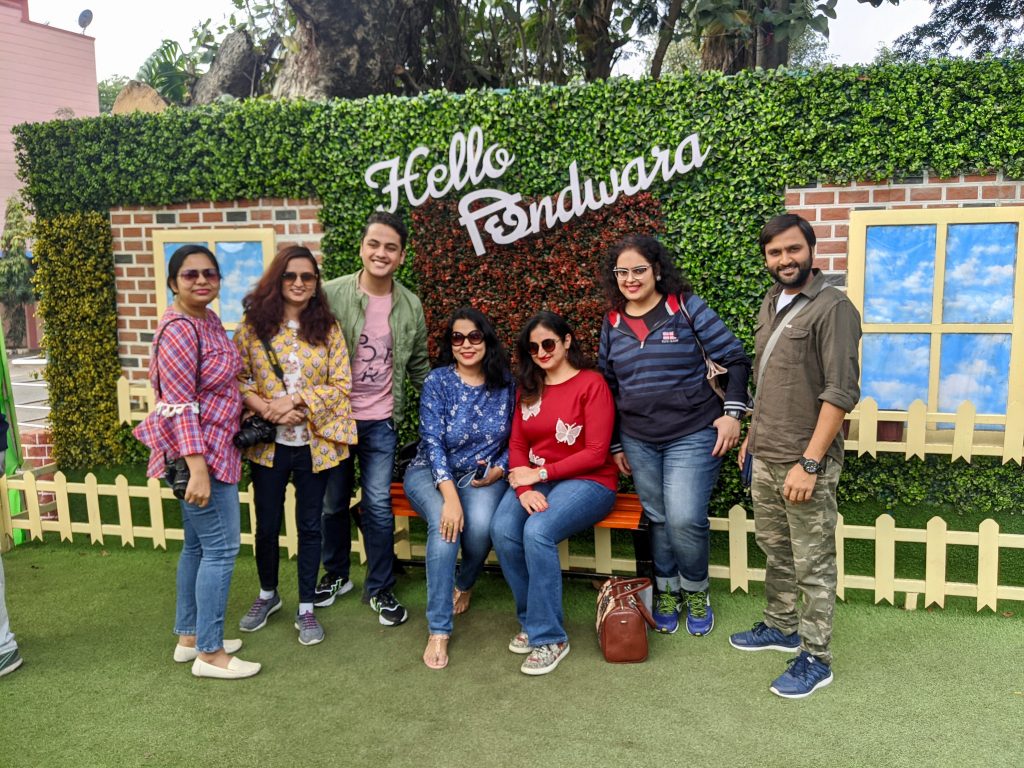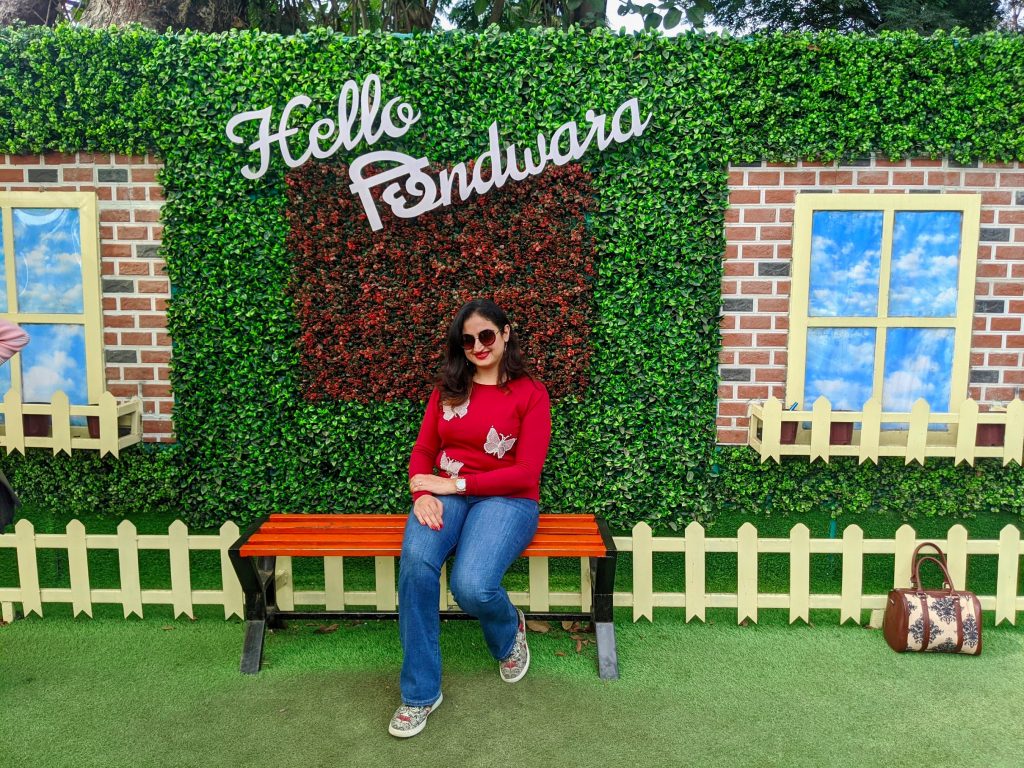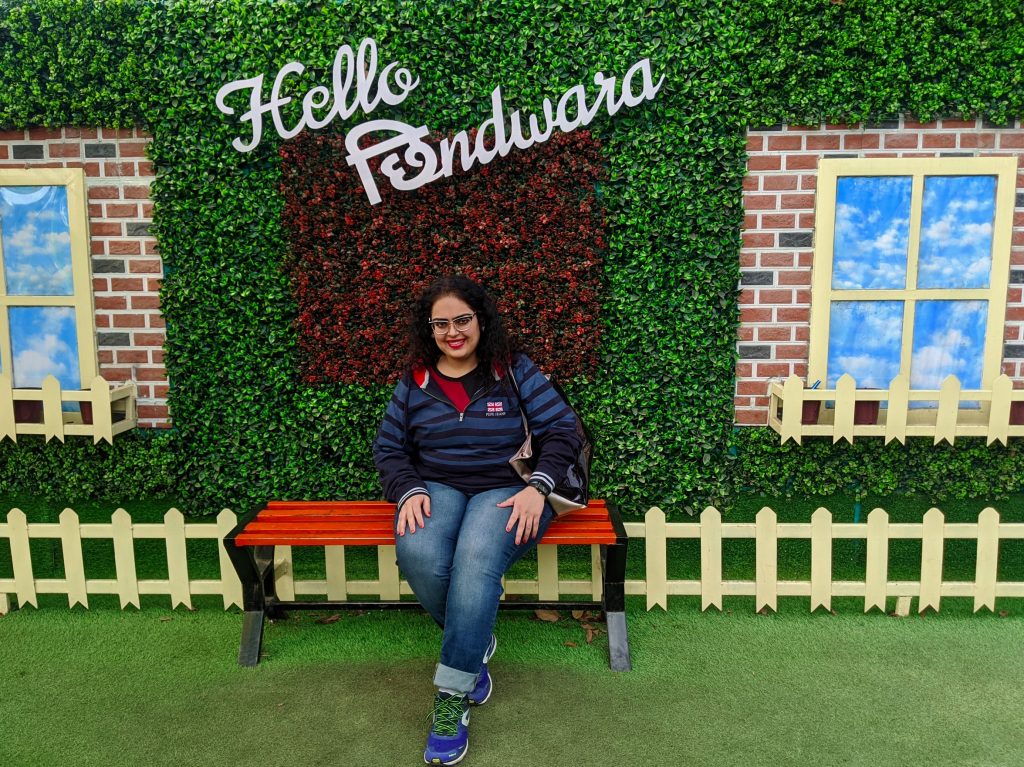 IL&FS Institute of Skills: I must say I was impressed with the kind of training the youth of Chhindwara is imparted with. Whether the person is a 5th drop out or a 12th pass, he or she has access to the right training as well as employment opportunity to be placed in the best companies through a recruitment drive. An infrastructure which has everything from reception to a Counselling area, Faculty room, Placement cell, Hospitality lab (FnB), Hospitality lab (Housekeeping) to Library. With placement opportunities at Trident Group, Yamaha, Wellspun, Havells, Schneidar, Minda, InterContinentalHotels Group (IHG), Vivanta by Taj, KFC, they are trained by experts at this place that too free of cost. So if one wants to be a bartender or a fitter or automobile expert or a Nursing Assistant, one can chase his dreams and earn a starting salary of Rs. 7800/- to Rs. 23000/-. Every year, 1500 to 1900 students get employment with a rate of 78 percent placement. The institute is imparting training for last 18 yrs and have a 20 people staff who gives training to 30 students in each batch. There is also a special focus on Customer relationship and there are programmes for Idea, Vodafone, PayTM, Amazon call centre in addition to Email etiquettes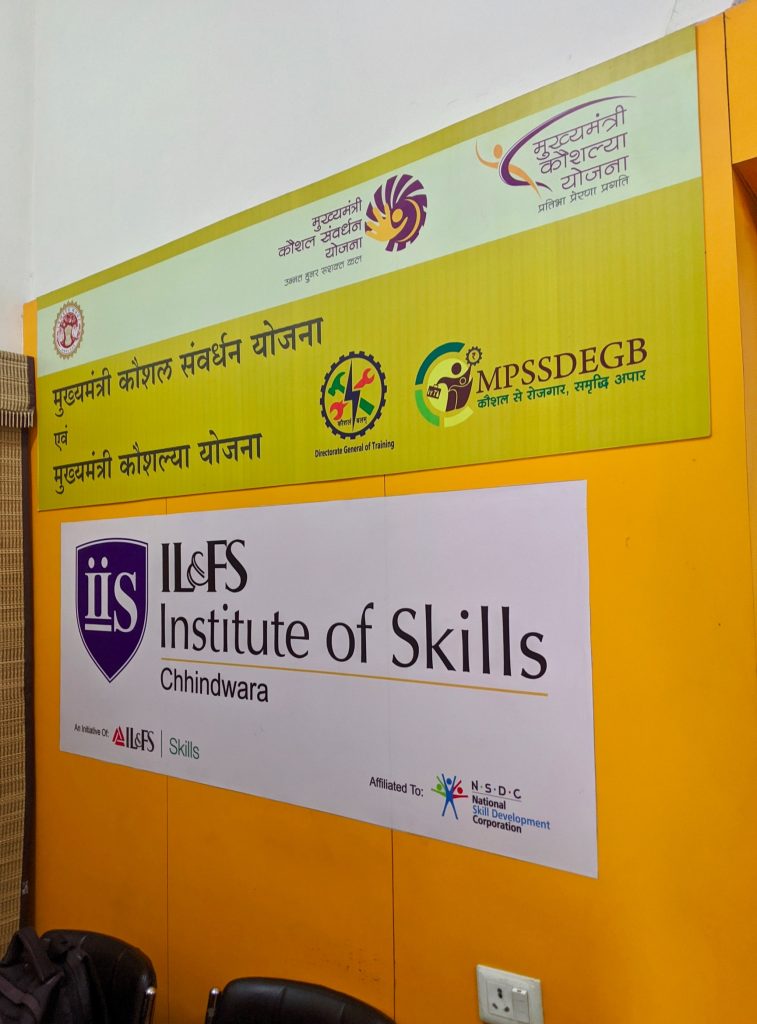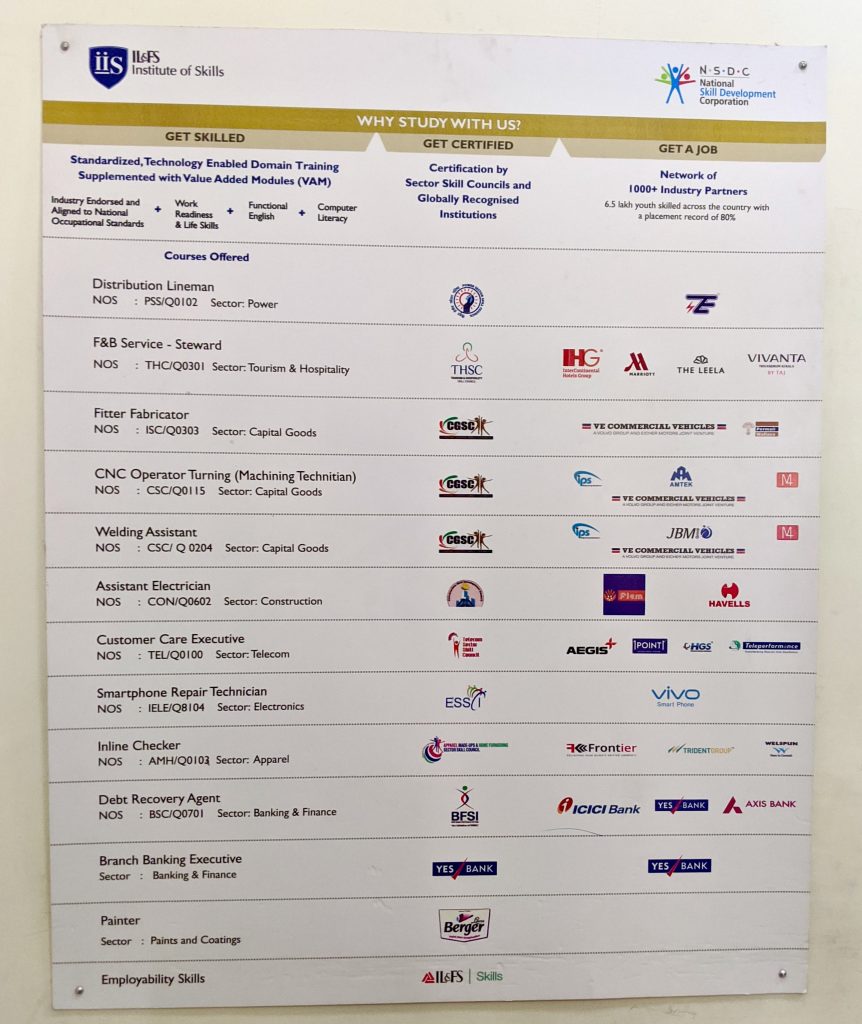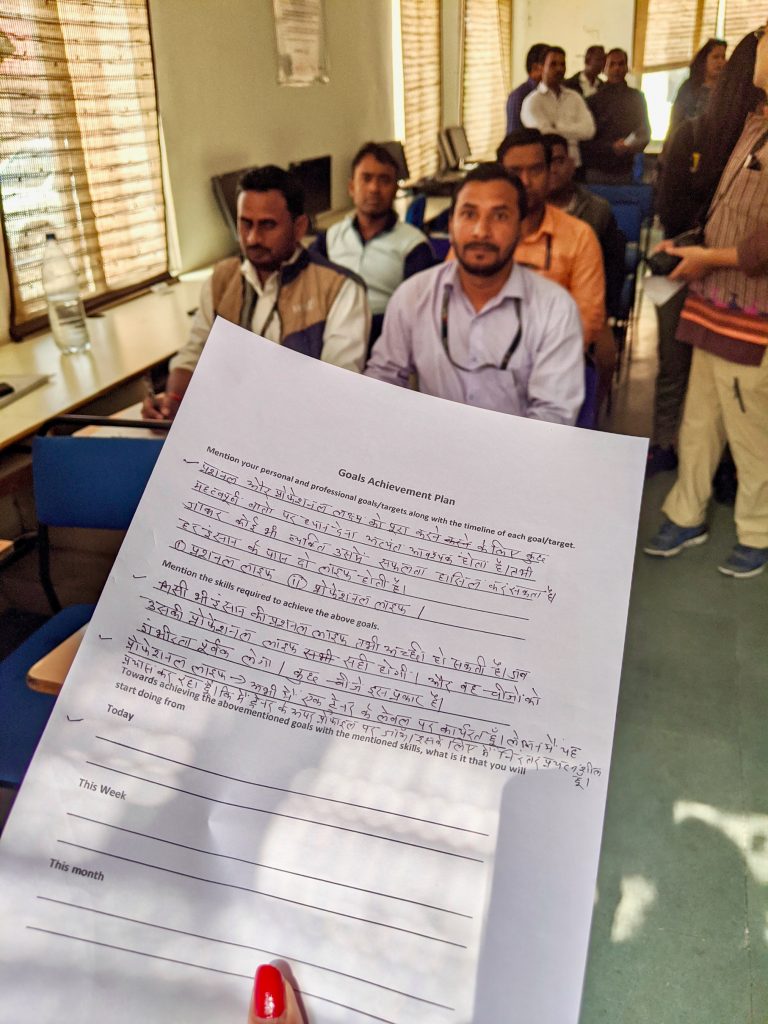 Chhindwara Institute of Medical Science: This is the latest initiative by the Government to promote and enhance Medical education as well as to minimize the shortage of doctors. Chhindwara Institute of Medical Sciences is being constructed par excellence with objectives of modern medical education along with research facilities. I was totally impressed seeing the landscape of this institute which is built on 31 acres of land. The College in future will affiliate all the Medical, Dental, Nursing, Pharmacy and Paramedical Institutes in one campus. This project is very close to Chief Minister Kamal Nath who stated that he had dreamt about Medical College in Chhindwara about 5 years ago.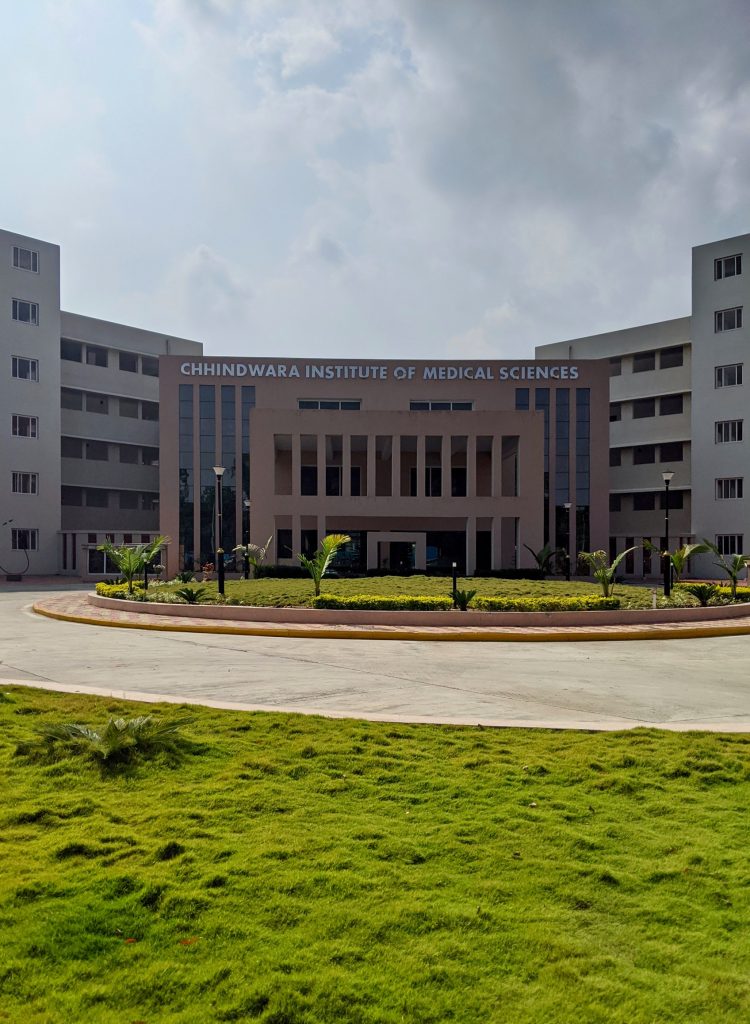 CII Skill Training Centre: This is a unique centre where renowned companies from the industries have taken the initiative to train people from Chhindwara. Whether its Hero, Maruti Suzuki, JCB, GMR, Larsen & Toubro, the youth of Chhindwara gets the opportunity to get trained for a better tomorrow.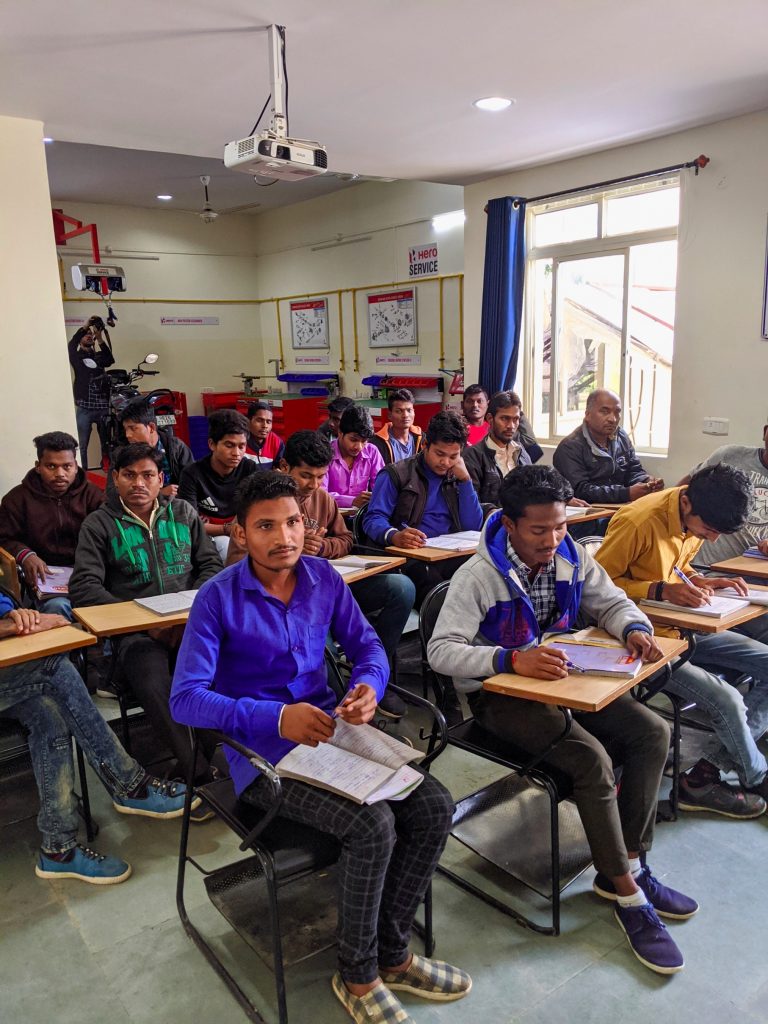 Apparel Training & Design Centre: Youth as well as women learn every aspect of apparels- from sketching to draping to dress construction, jacket followed by embellishments. Infact, one of the students also represented India at World Skills 2015 at Brazil. At ATDC, skill excellence and learning is given weightage and one can make rewarding careers in textiles, fashion, retail etc.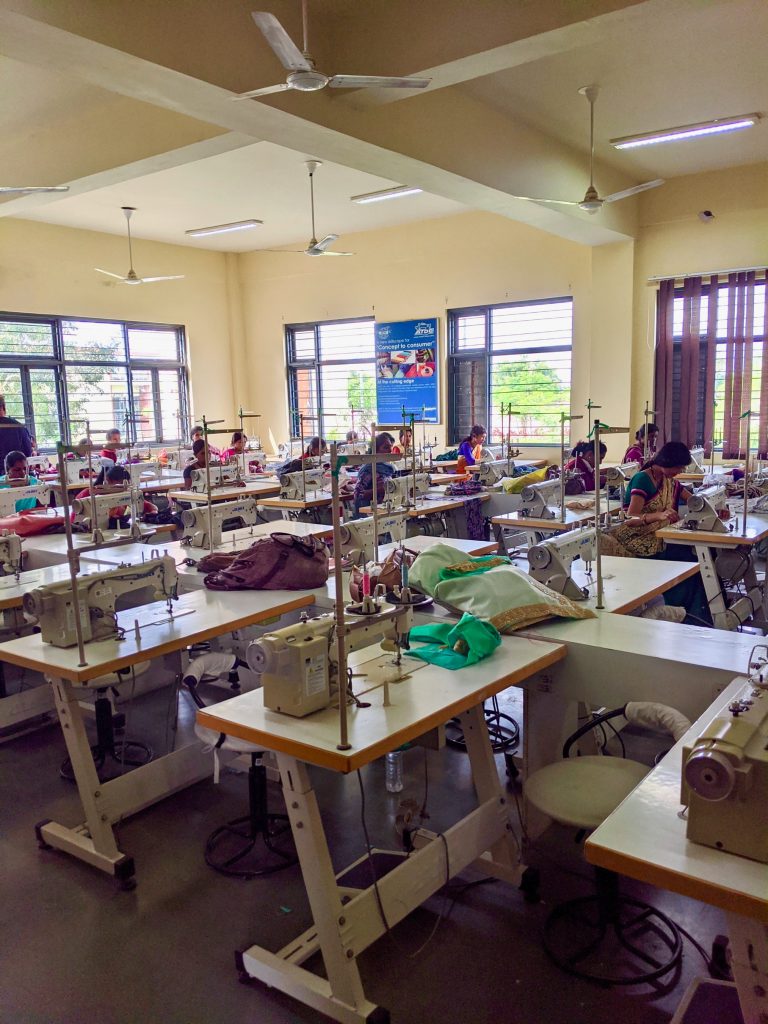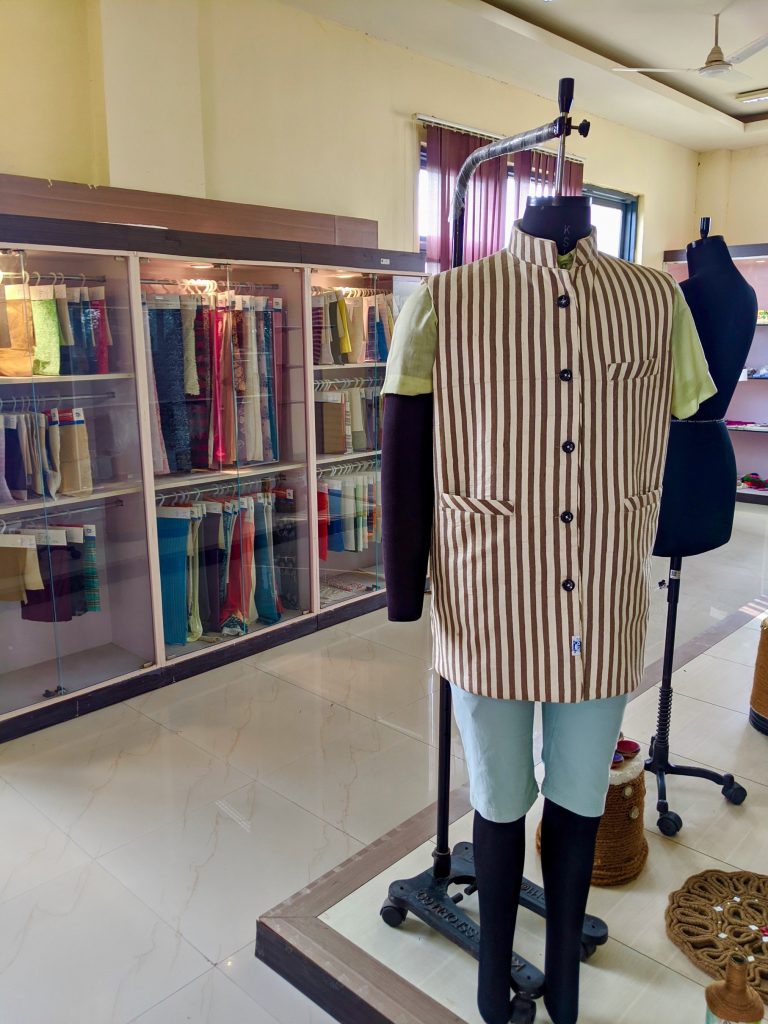 Aegis: A popular BPO having offices across the globe also has an office in Chhindwara. Isn't that so cool! So next time when you call on an Airtel call centre, you might be speaking to a youth from Chhindwara.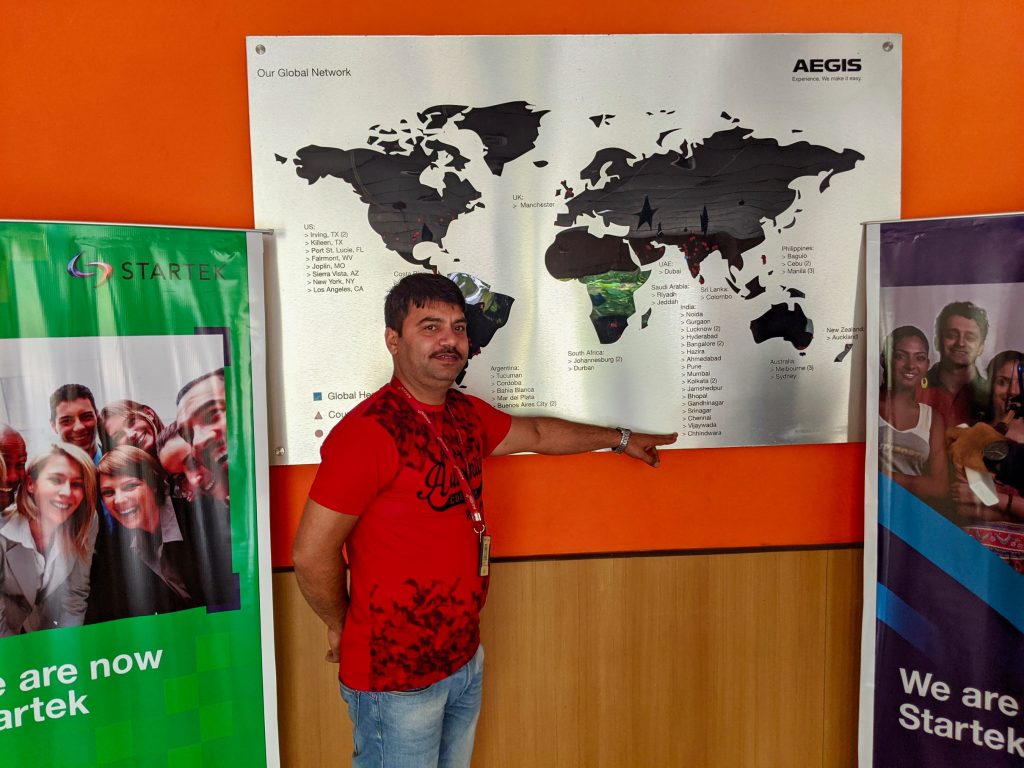 Ashok Leyland Institute Of Driving Training Center: Drivers are well trained for road signs as well as driving techniques on a virtual stimulator as well here. In January 2013, Kamal Nath who was then the Hon'ble Union Minister of Urban Development, Government of India, laid the foundation stone of the property. Spread over 15 acres, the facility is equipped with all the necessary facilities for heavy commercial vehicle driver training including tracks like 8-curve, S-curve, 6 lane roads, village roads and a state-of-the-art simulator. Ashok Leyland provides trained manpower, develop and conduct appropriate courses. The comprehensive driver engagement programme enables drivers to handle the overall on-road safety measures efficiently and help them avoid mishaps.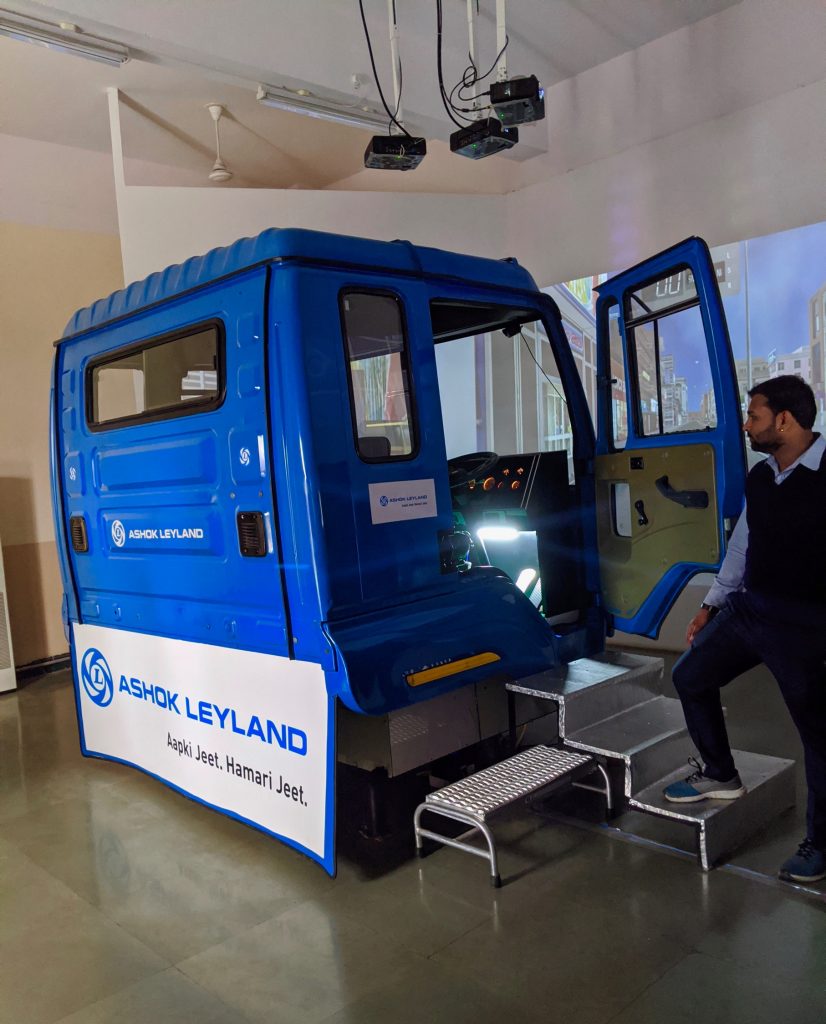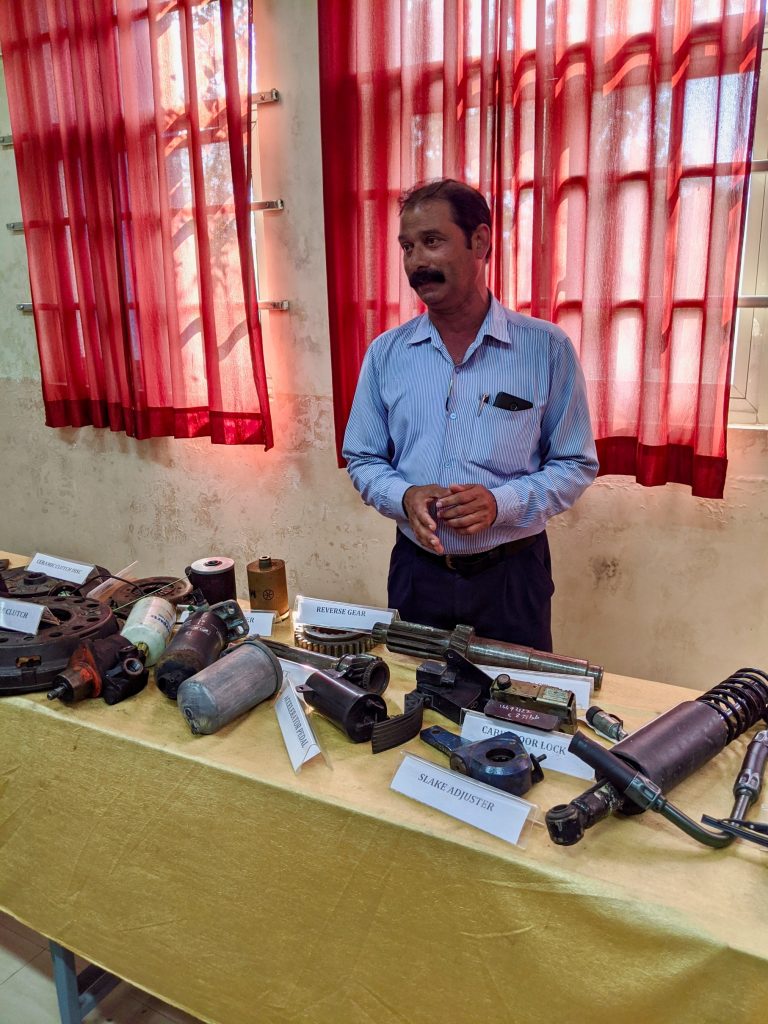 Siddheshwar Hanuman Mandir, Simariya: A whooping 101 Feet Hanuman idol, it's a magnificent sight nestled amongst greenery. Located on the highway, the spot is well visited by locals as well as tourists. There are also shops in the vicinity selling parshad, toys and eatables. A must visit in Chhindwara definitely!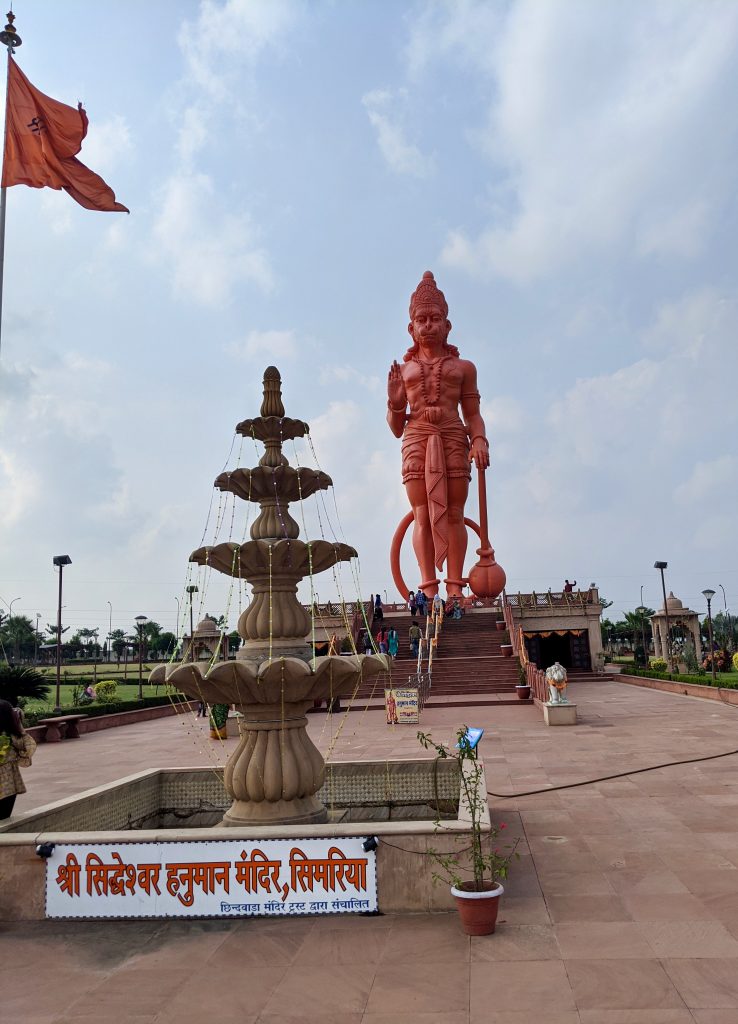 Orange Orchard: We all know Nagpur as the Orange city but ironical to our belief Oranges are grown in Chhindwara at Sausar. We visited one such sight and were simply awestruck with the sight. We were happy to get our Vitamin C freshly plucked and relished.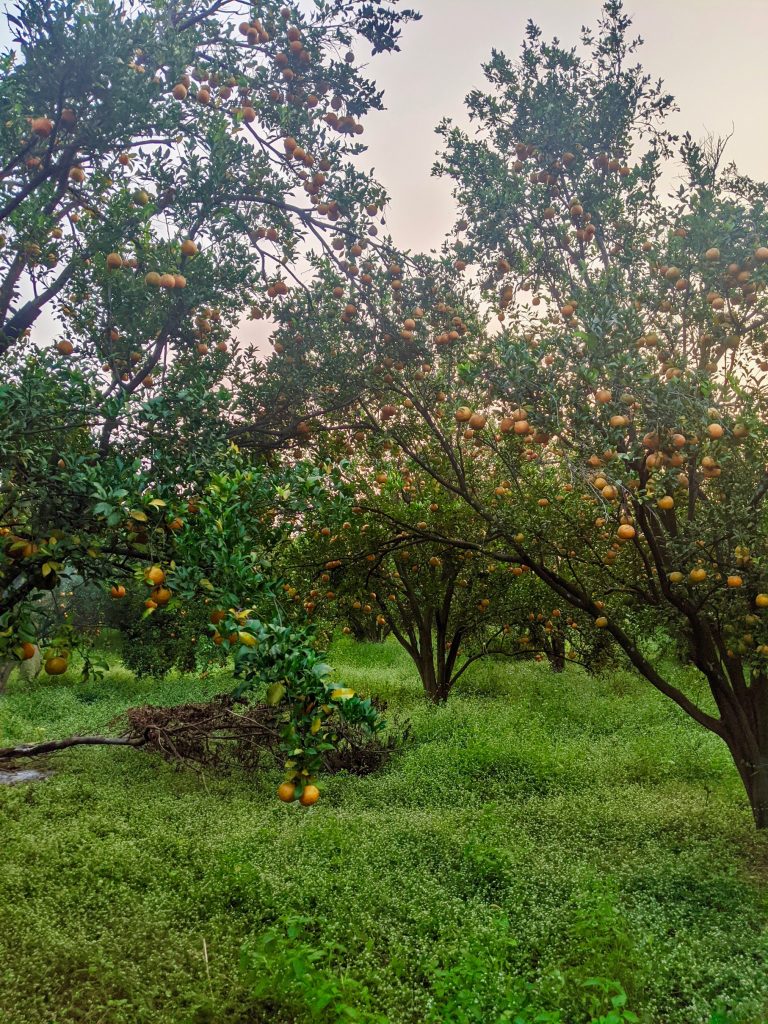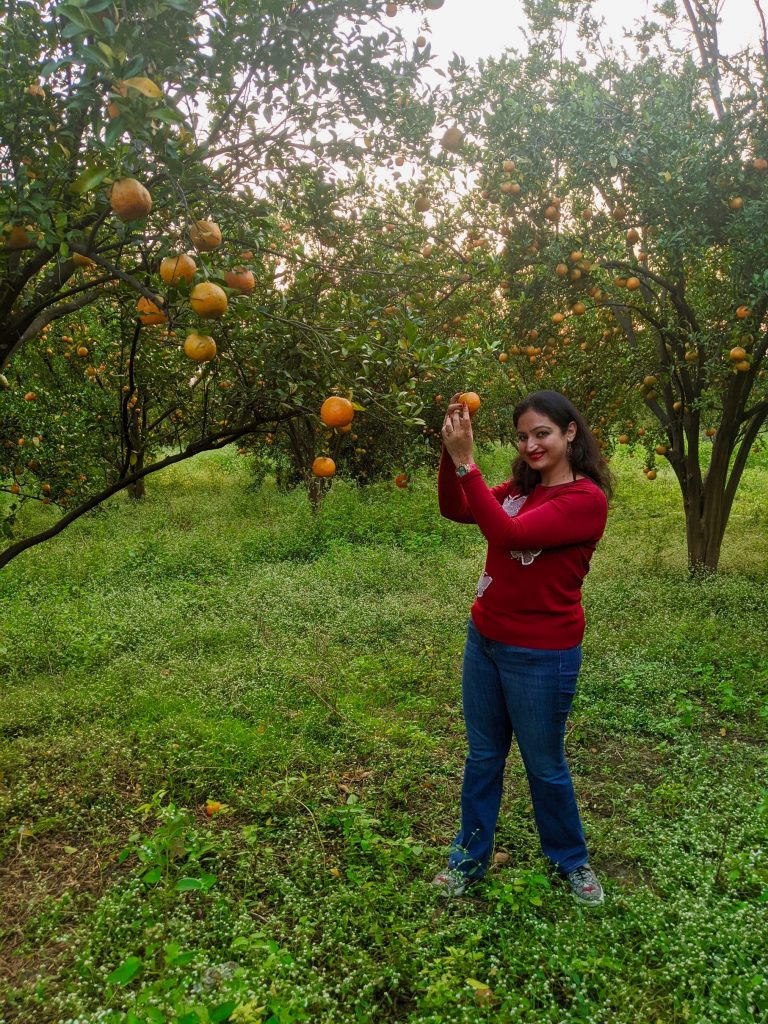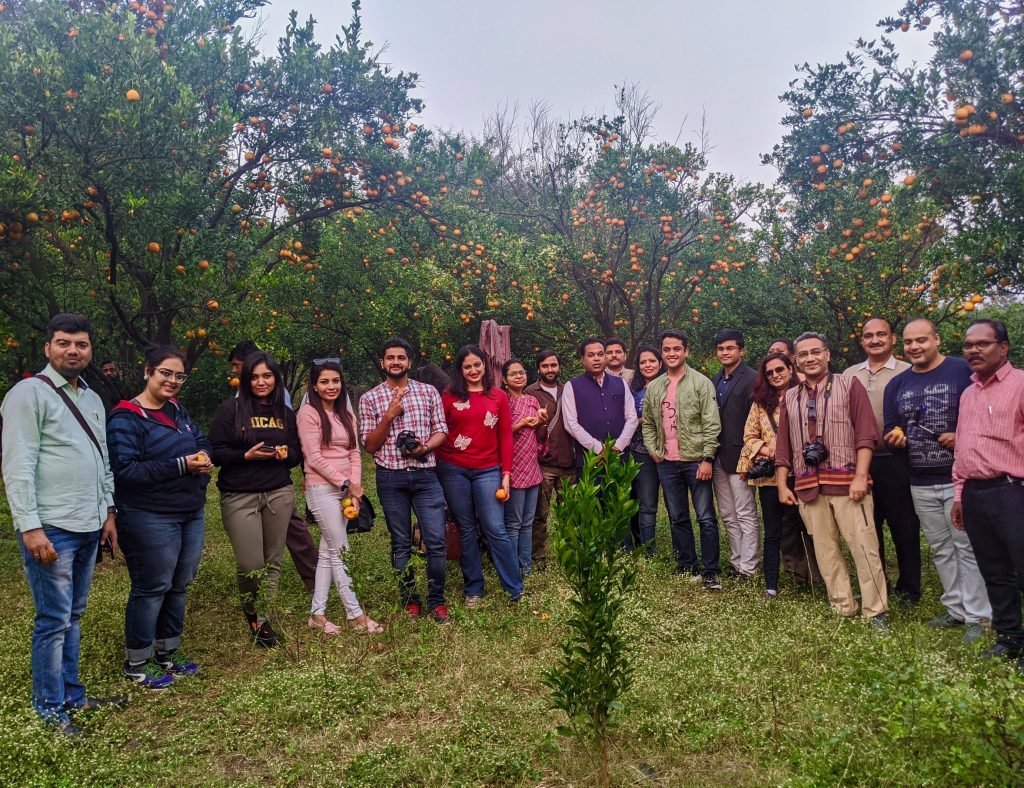 It was time to go back to Hotel Karan at Chhindwara but we were not staying there for the night. We were heading to Tamia Hills where we had a unique experience. An unexplored destination known for steep hills, dense forests, and big winding ghats, we enjoyed for the unique experience it offered. The hill station offers a beautiful view which we witnessed in the morning. It was simply breath-taking with greenery and peace alongside. We spent the night at the PWD guest house located in the arena.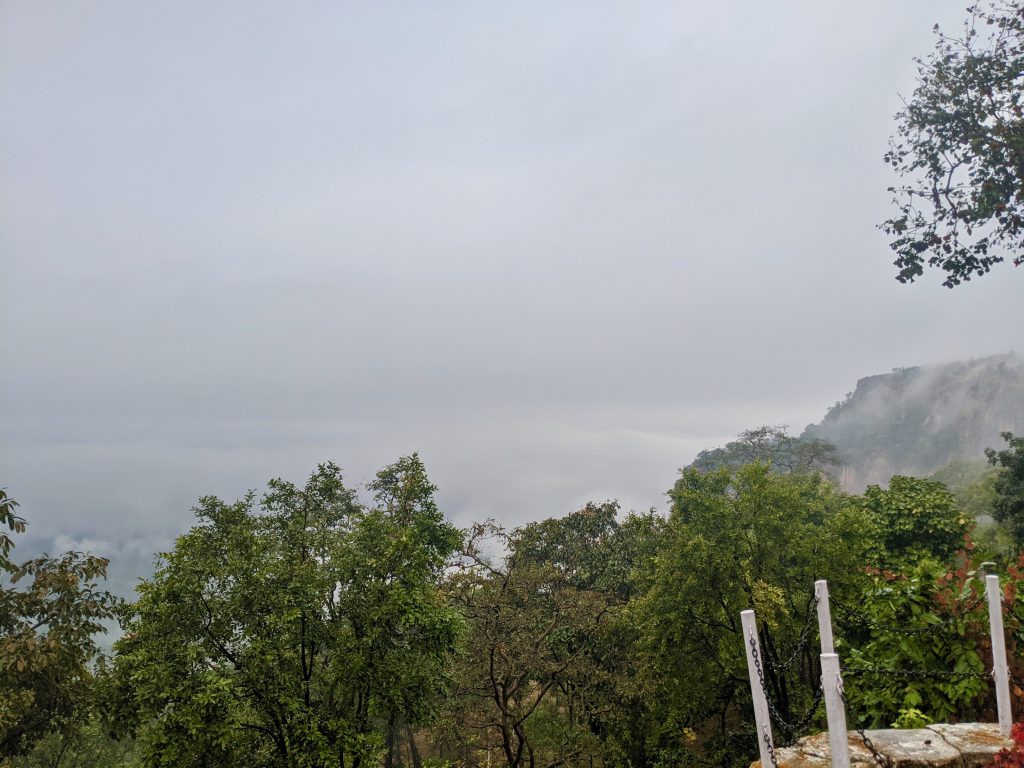 After the picturesque sight, we headed back to the hotel to get ready for the Corn Fest 2019. Chhindwara is known as the "Corn City" of India and it was the MP Government's initiative to do their bit for 'Corn' as well as the farmers. Sh Kamal Nath ji, the Chief Minister of Madhya Pradesh and Mr. Nakul Nath, Member of Parliament, Chhindwara were present on the occasion who not only inaugurated the event but also interacted with farmers, Industrialists and scientists at the event. The festival aimed at promoting corn/maize based industries in the country.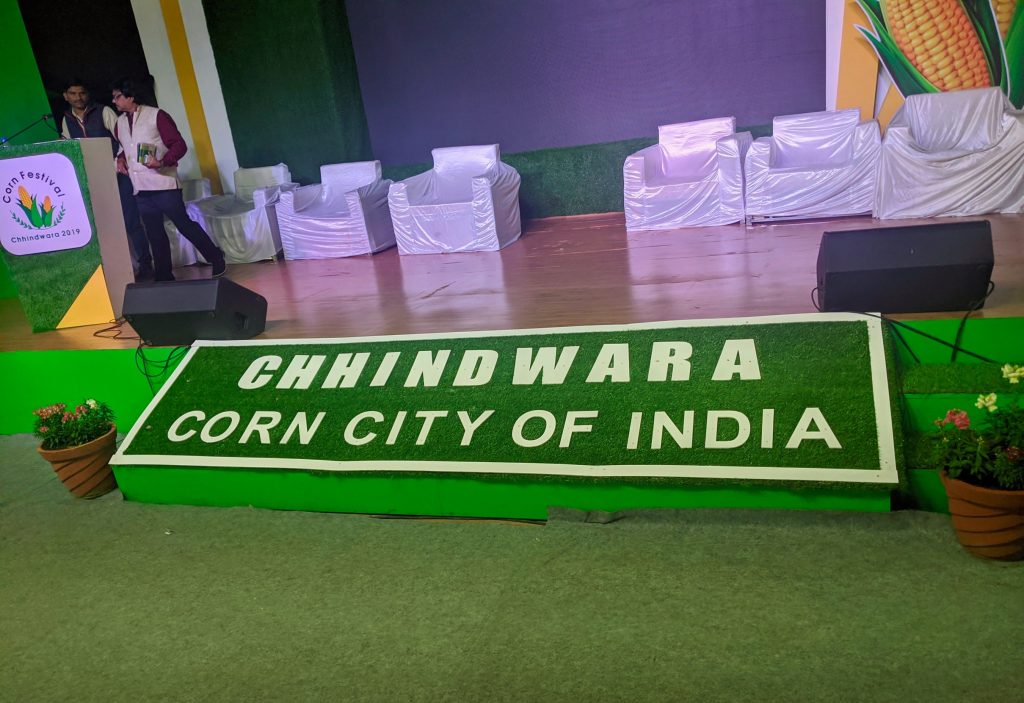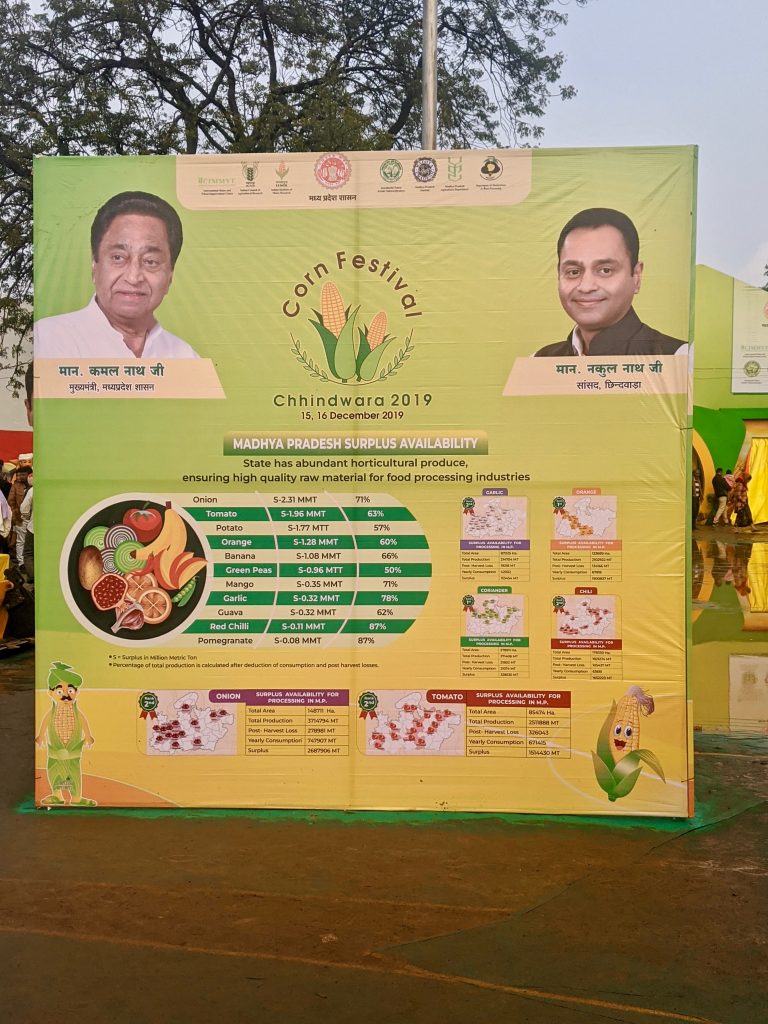 There were different zones at the 2 day festival:
At the main stage of the event, there were Govt dignitaries who addressed media as well as farmers. Mr. Kamal Nath who has personally been involved with the development of Chhindwara spoke about his experience of how he has seen a change in the farming techniques and styles over the years. Alongside the seating area were displays of art work by school students who made paintings and art forms on the subject of corn. A whooping 2.75 lakh entries has made a world record and the best entries would also be published in a calendar. The same stage also had cultural programmes in which folk dances were enjoyed by everyone who came to attend the event.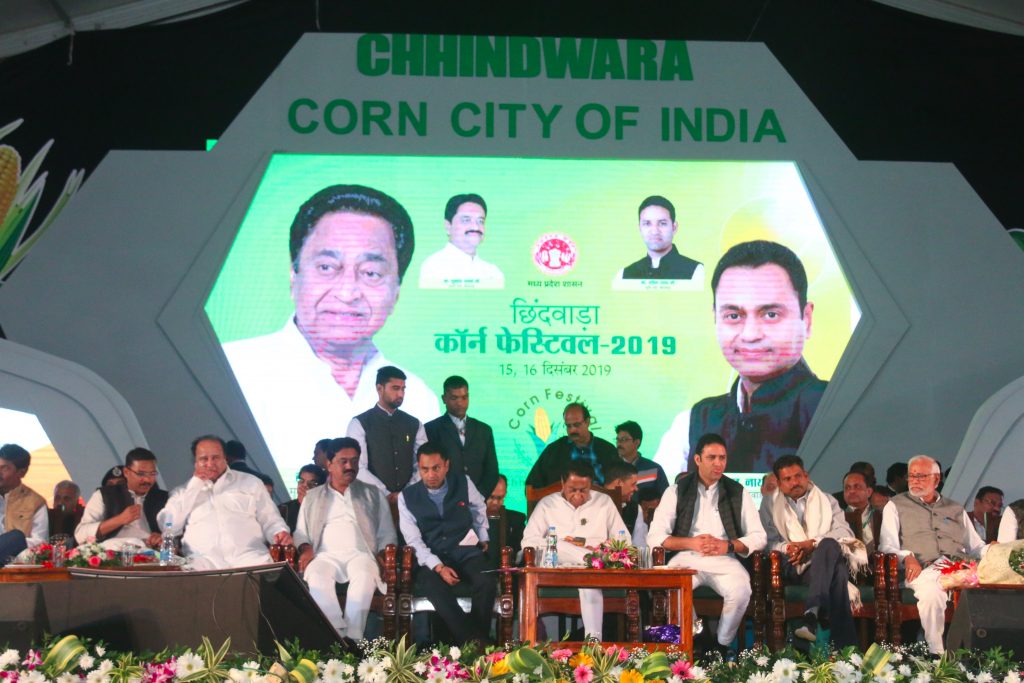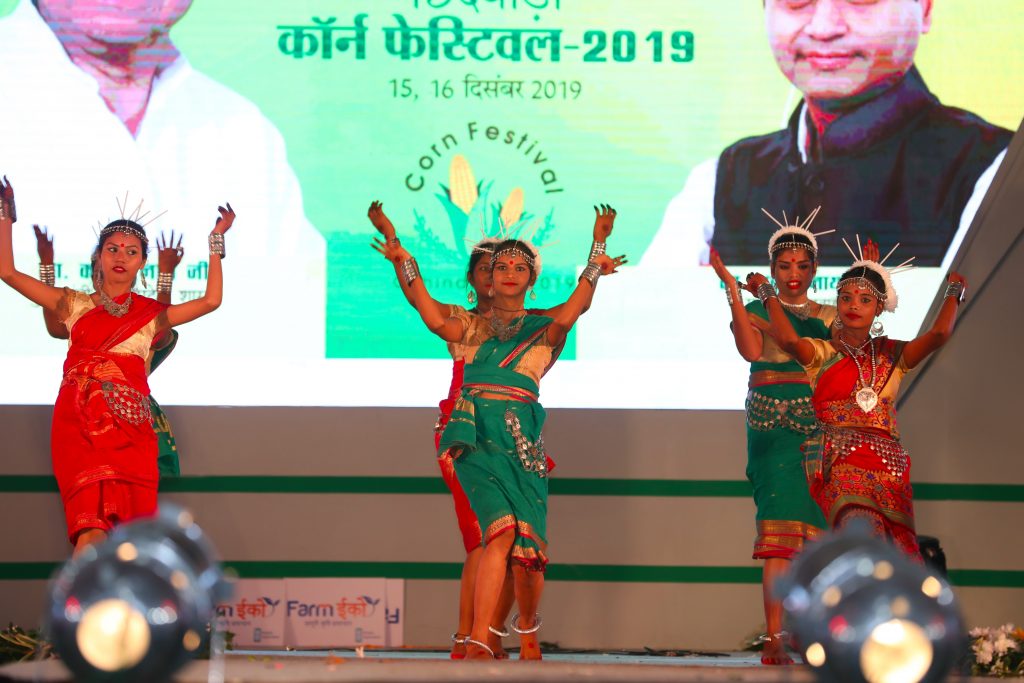 The Exhibition area witnessed participation from companies excelling in corn based products from Food Industry, Textile, Pharmaceuticals, Starch, Glucose, Sweeteners, Bio-plastics, Animal feed, Seeds, Fertilizers & Pesticides, Agricultural implements etc who showcased their products and interacted with other stakeholders. I loved the excitement of the locals who came despite rains. Corn installations in the form of tree, helicopter & house became a photo opp. Another cool one was the corn mask. A no. of companies from ITC Chaupal to ATDC were exhibiting in that arena.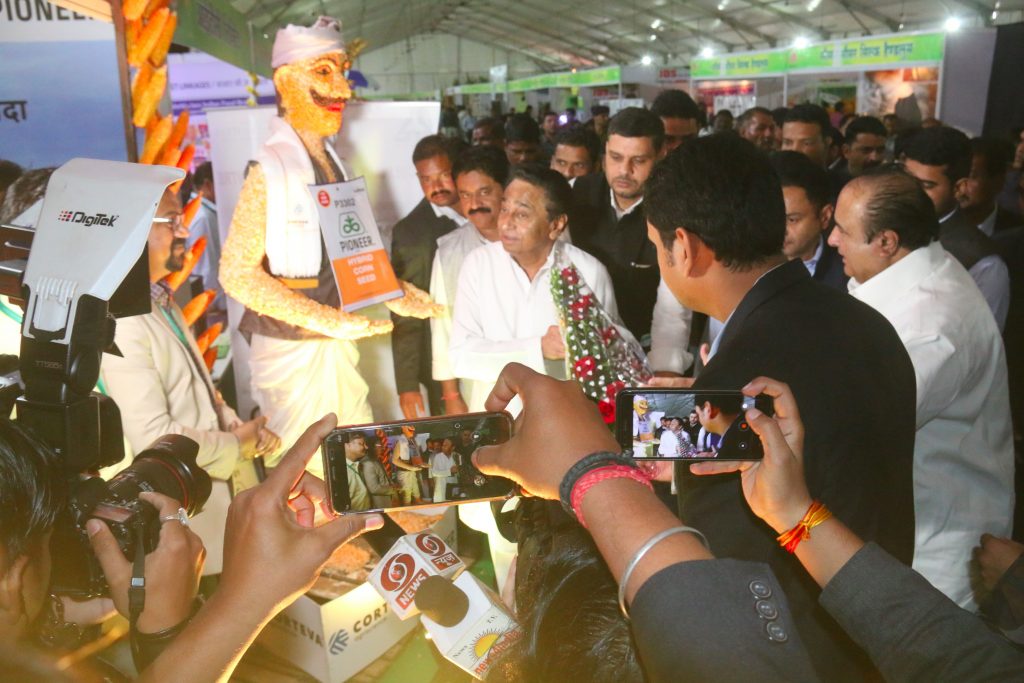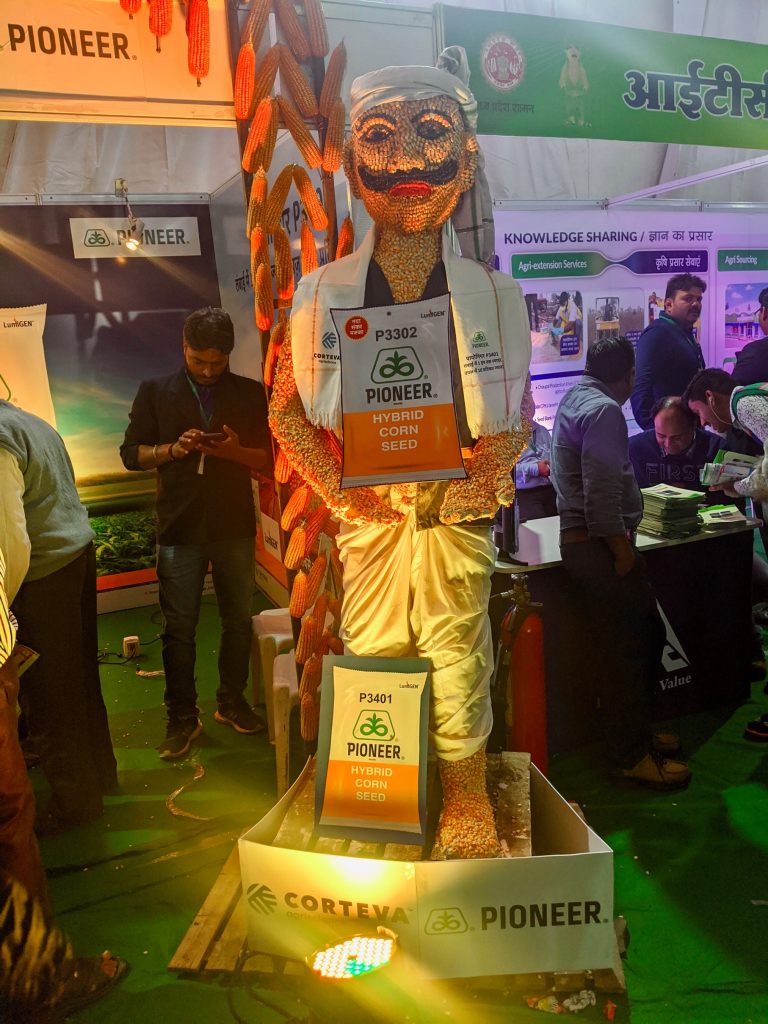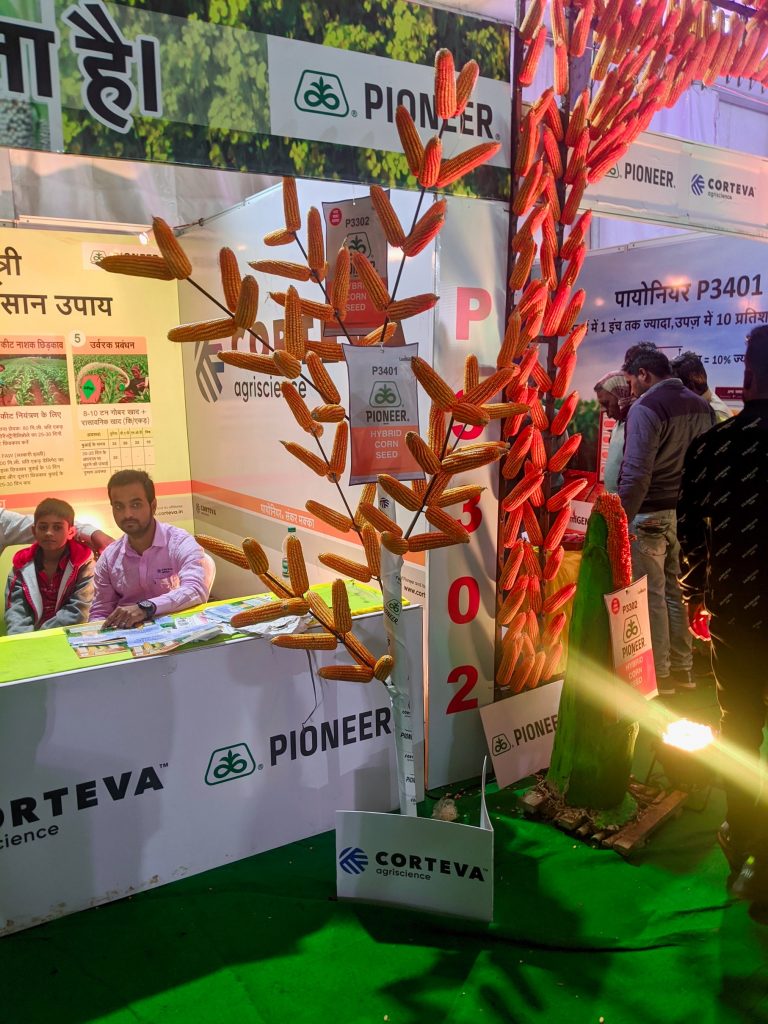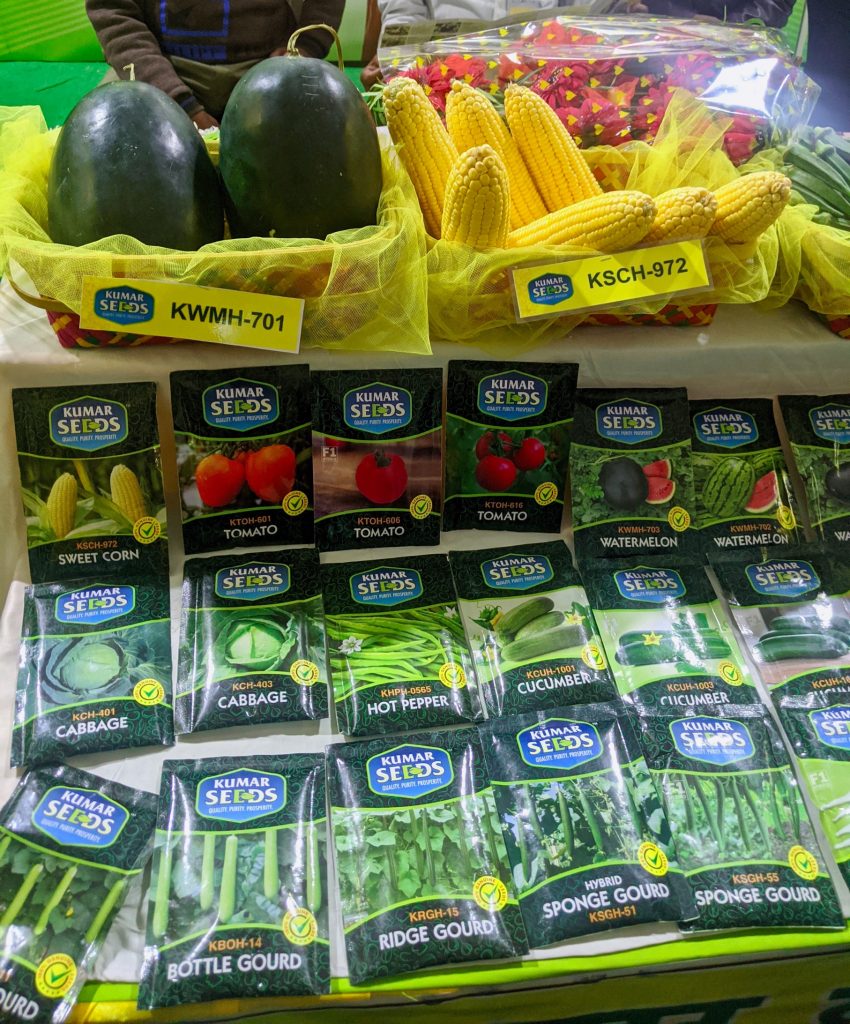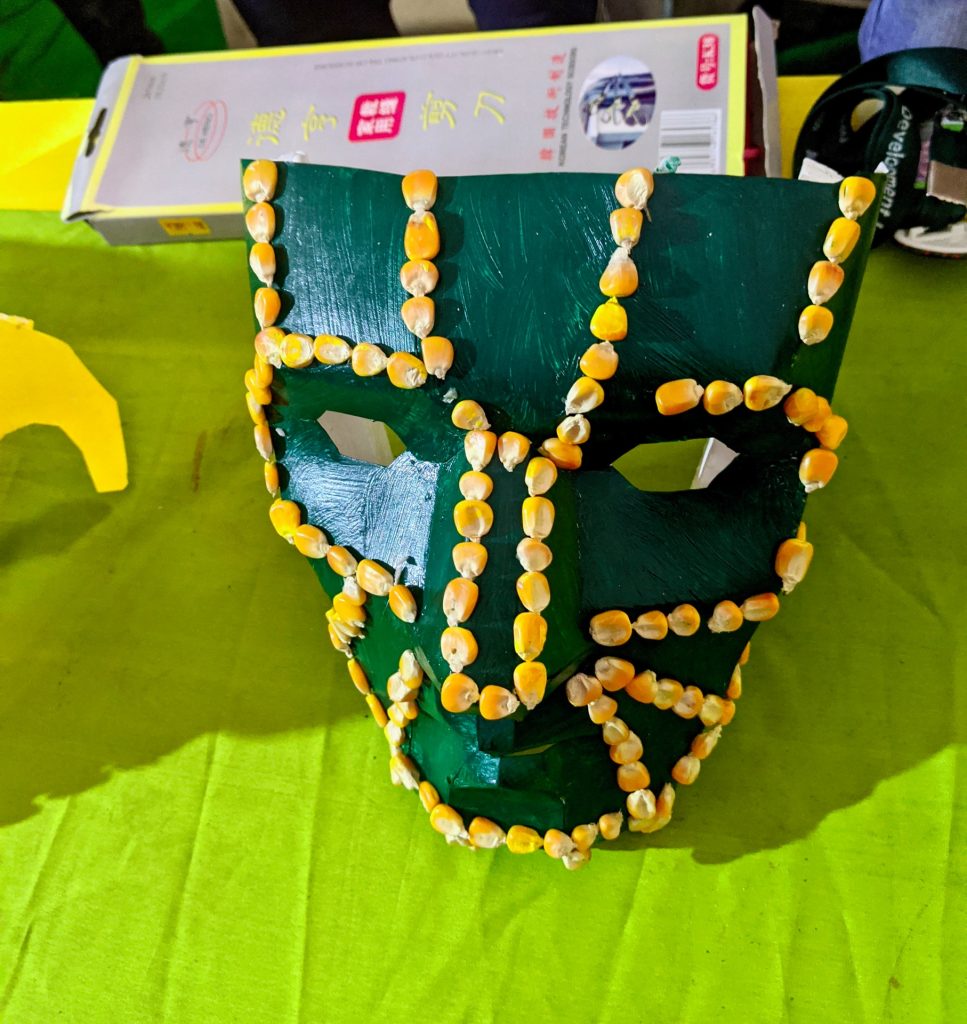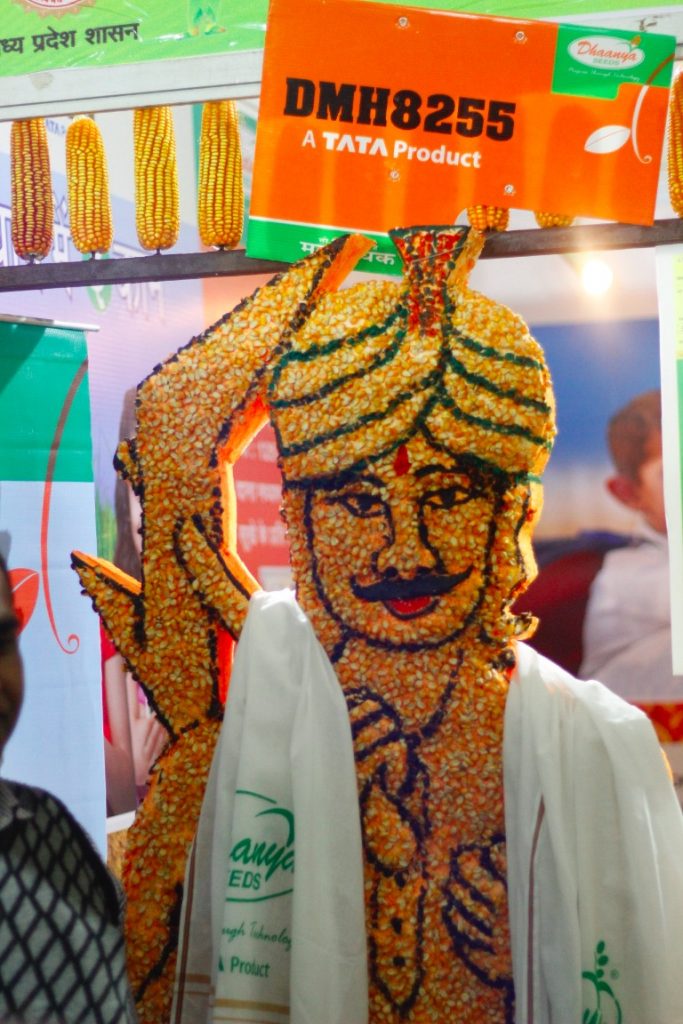 There were also 60 Food stalls where 150 variety of corn based dishes were sold which were relished by everyone. From makka cutlet to makka chocolate, makka chaat, corn sandwiches, corn maggi, corn soup, corn barfi, corn chips, corn mousse, corn cake, corn pizza, corn vada pav, corn ladoo, corn peda, corn mathri and so much corn dishes were available. The hero here was the Corn Mousse which won the first prize for its innovation and creativity. All the unique corn recipes were relished by our taste buds.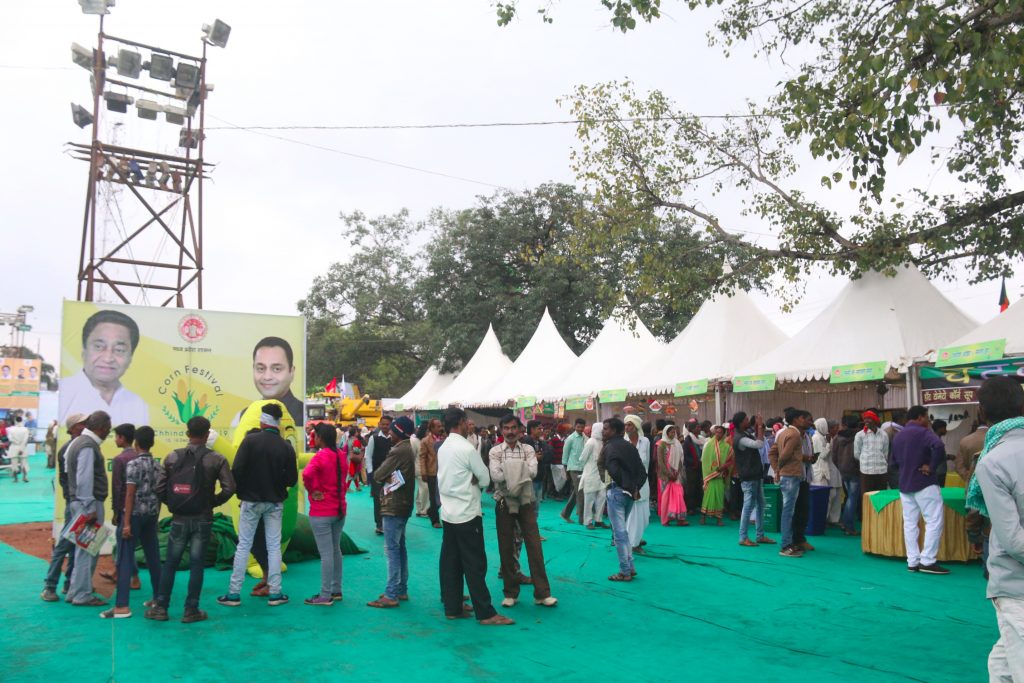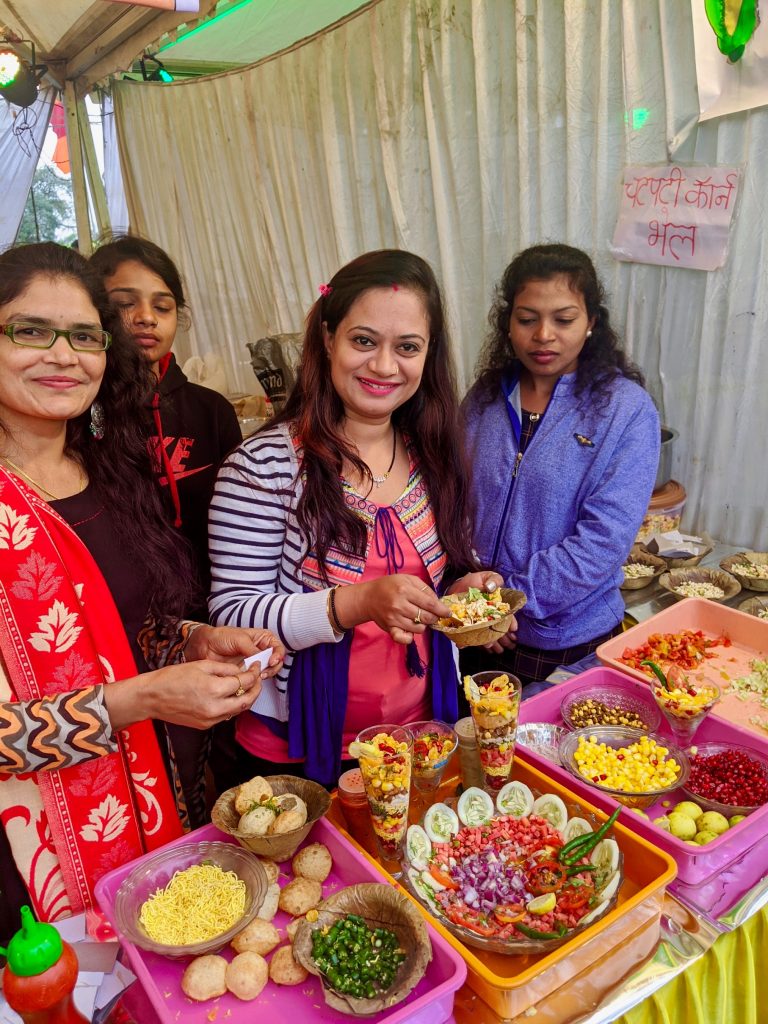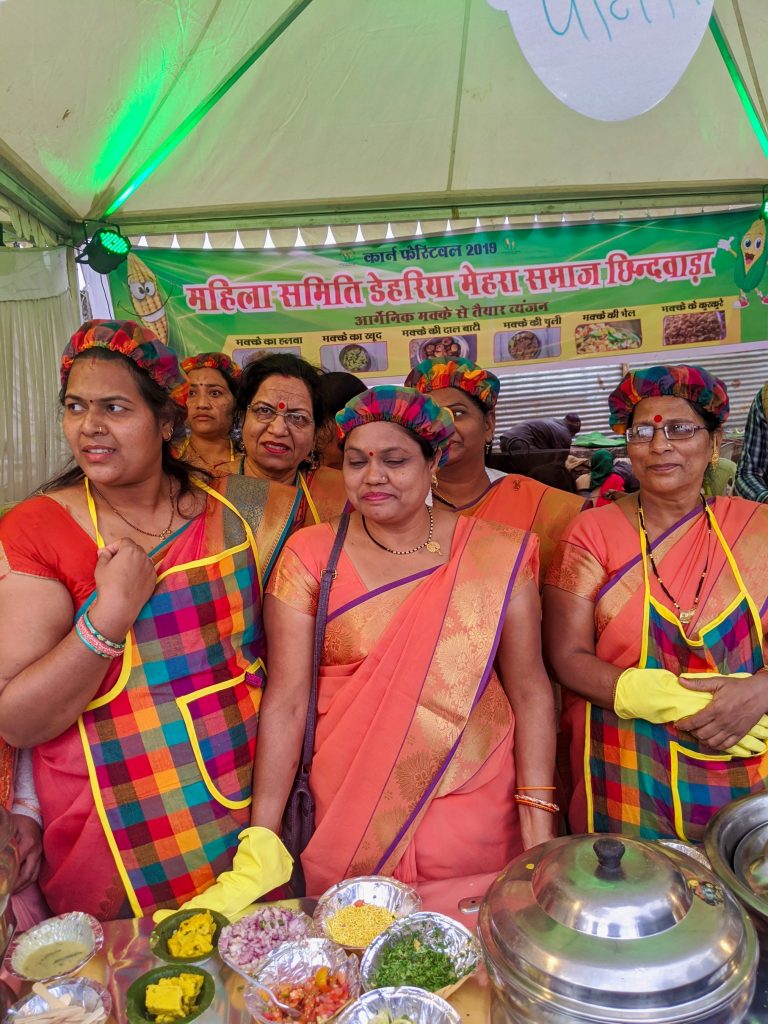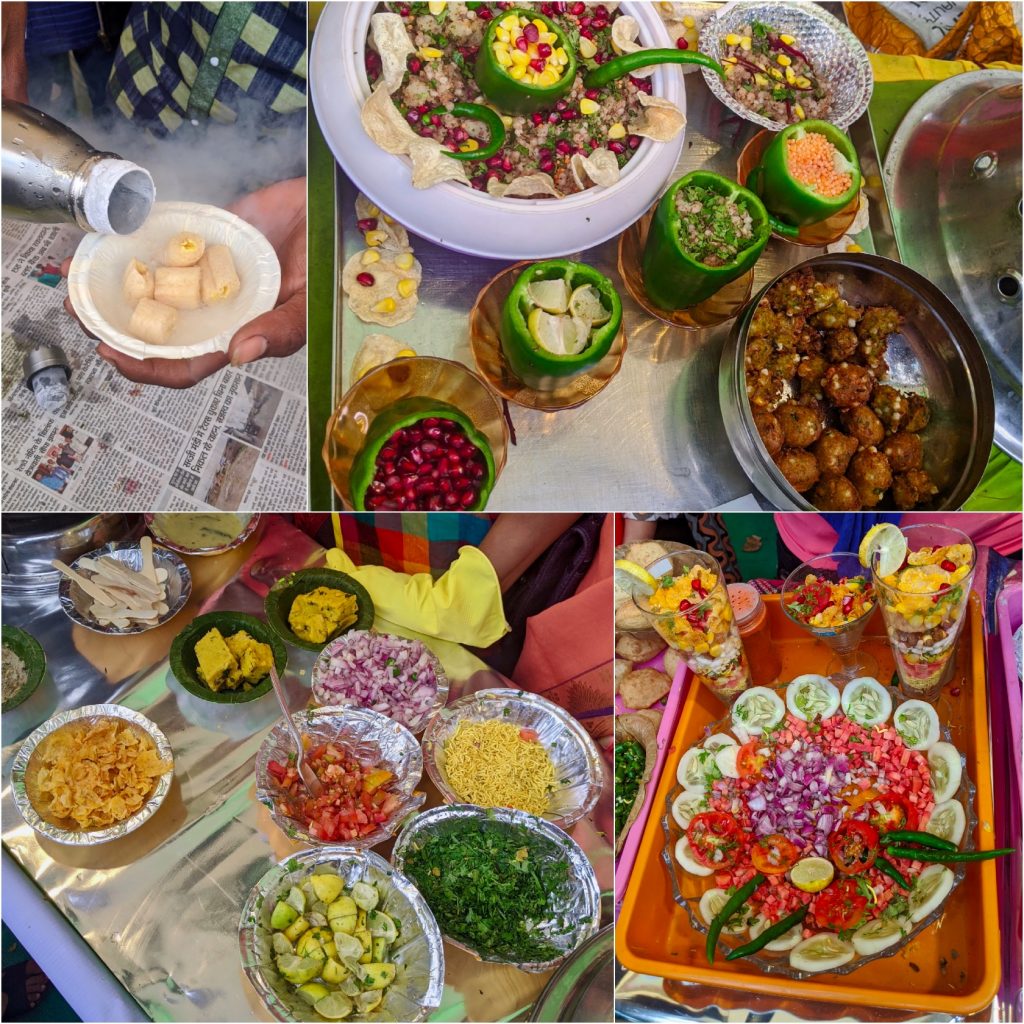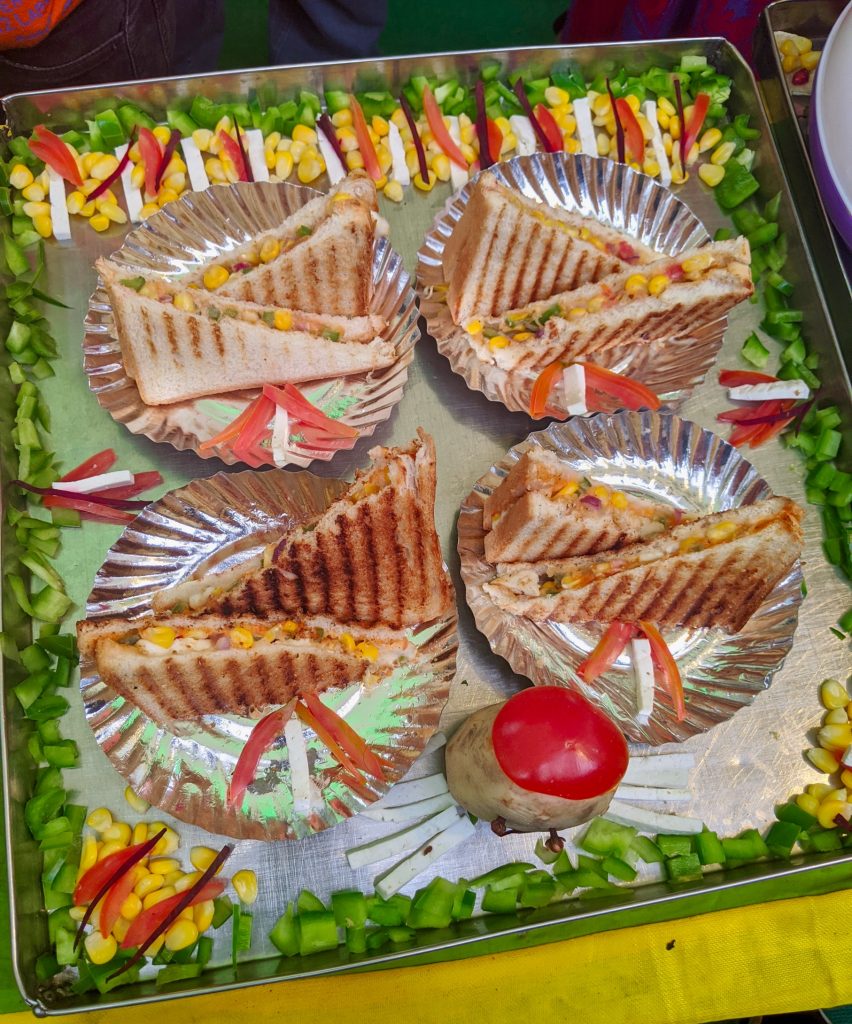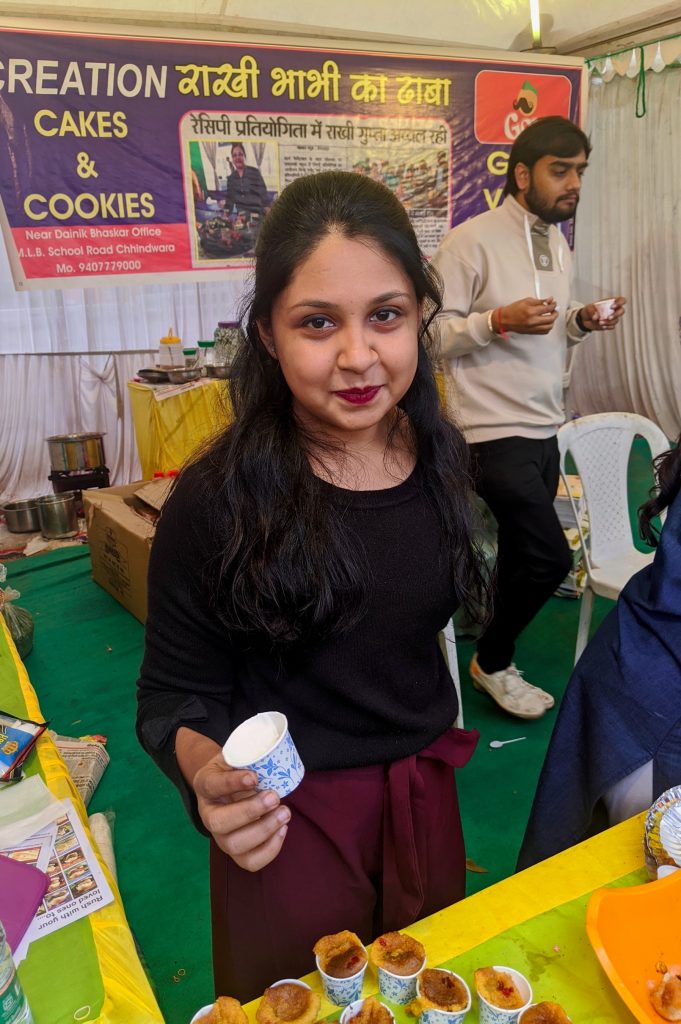 Patalkot ki Rasoi was where we had our lunch. The locals of Patalko  made a yummy meal comprising of Ballar Saag, Bhejda Tomato Chutney and Kutki Rice. The star of the meal was Makke ka Halwa. The flavours and taste of everything in the thali was simply amazing. At the same premises was also Patalkot ki jadi booti which had a remedy for any disease you could name.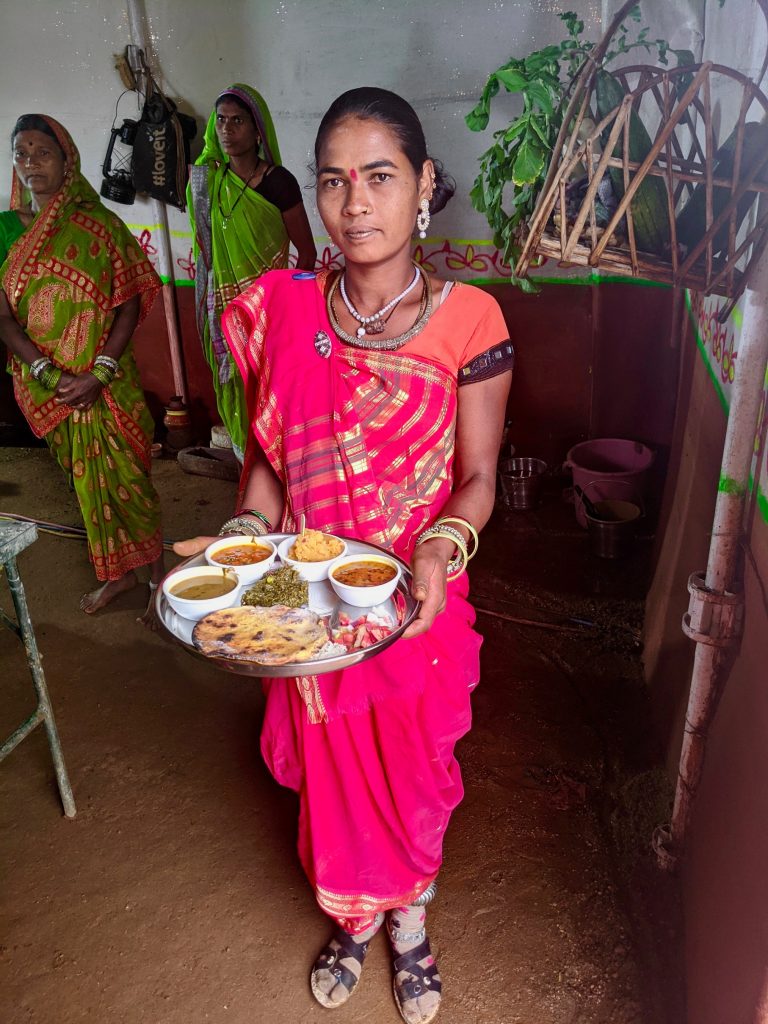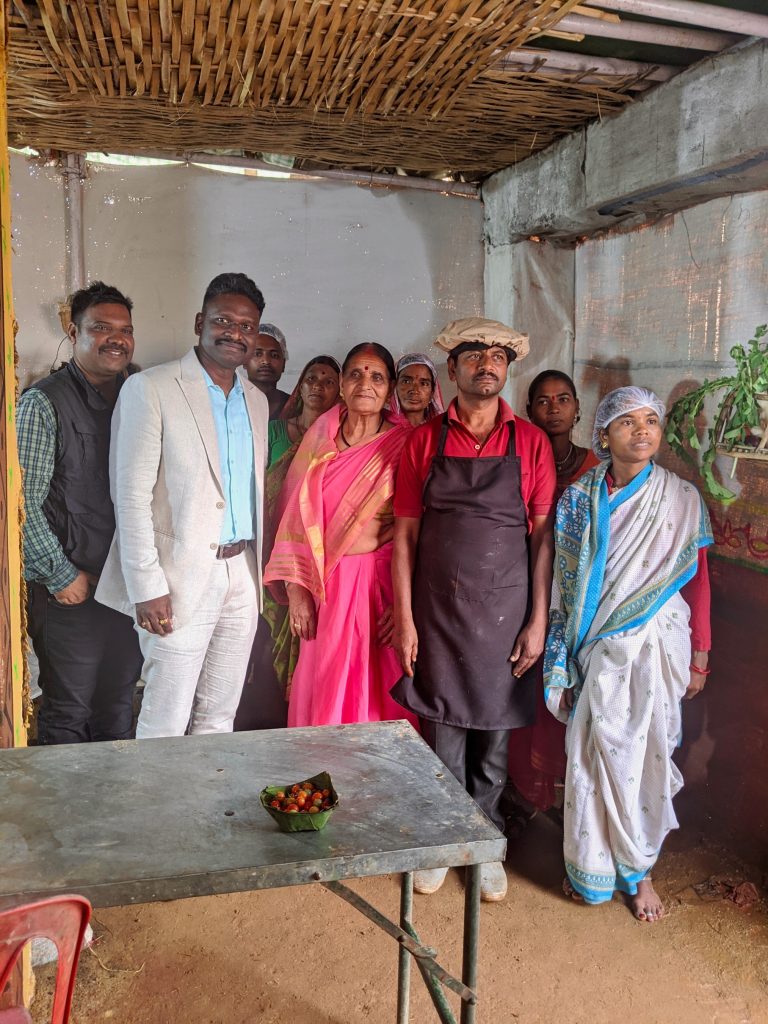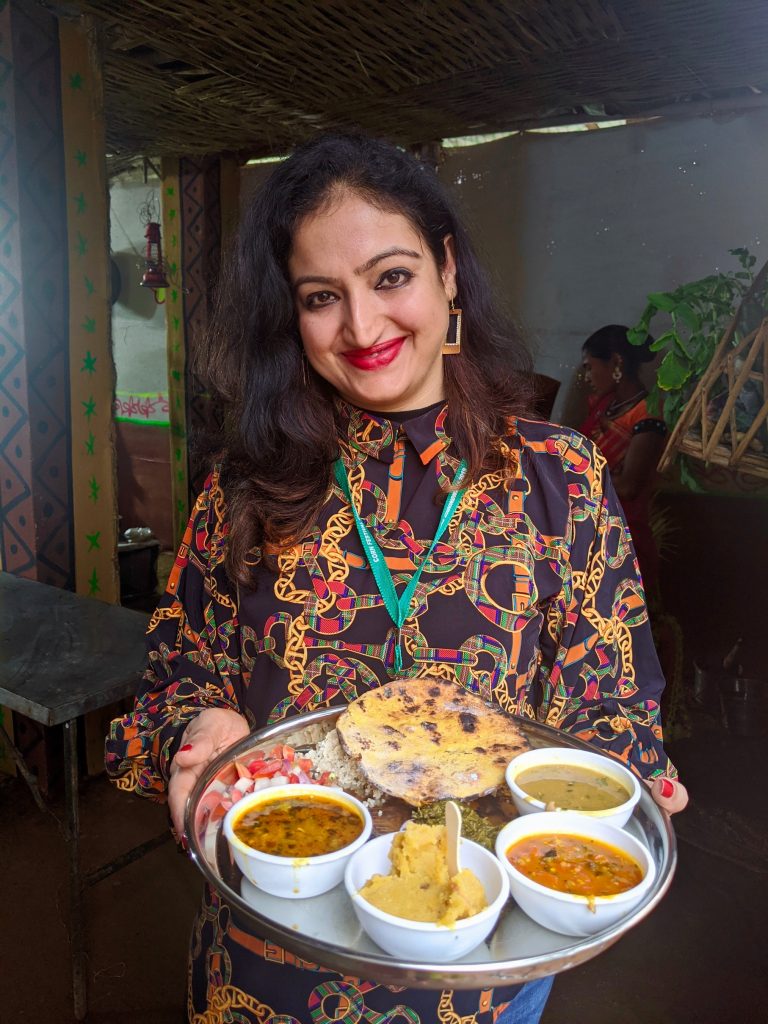 A painting exhibition area saw presence of eminent painters who presented their beautiful designs.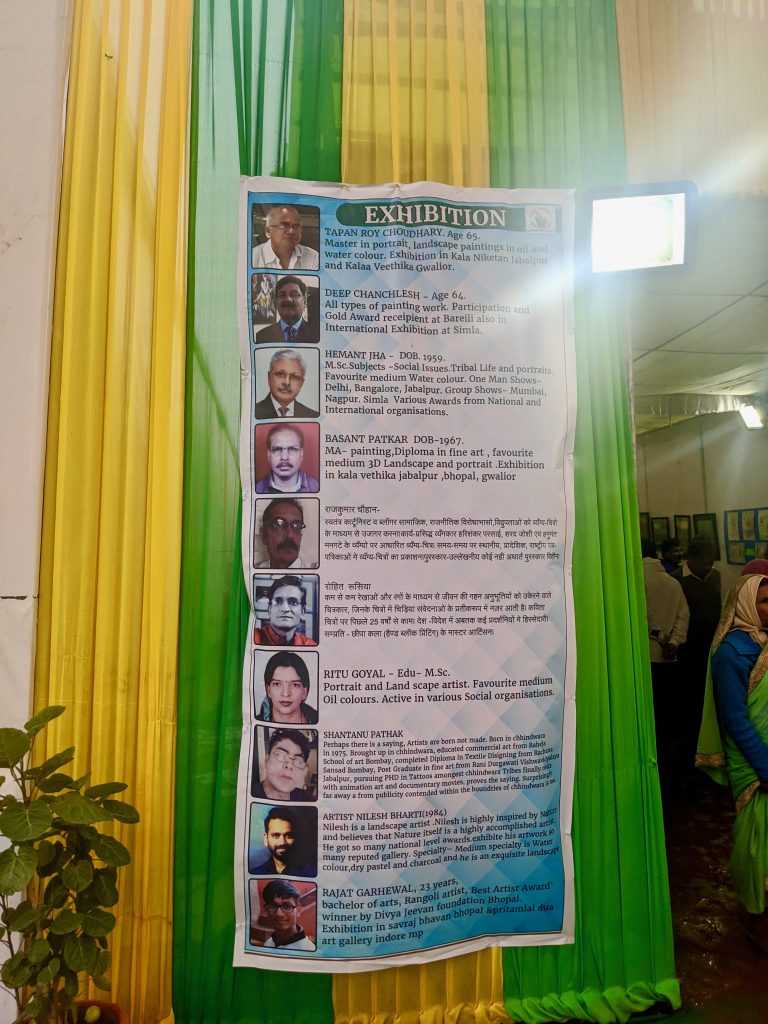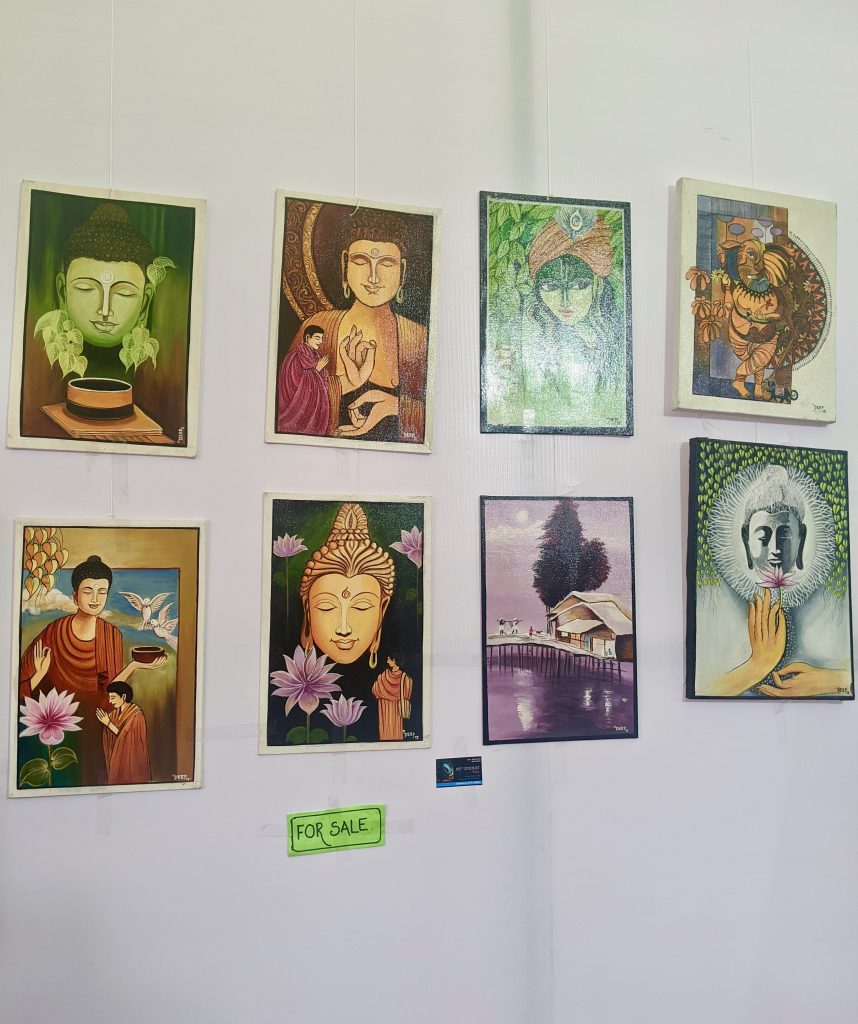 Special Initiatives:
At the Corn Fest, we also got the opportunity to inaugurate the water bottle recycle machine. A unique machine in which you put a plastic water bottle which can be used to make a variety of products. Anyone who does that also gets the opportunity to get Rs. 5/- PayTM cash. For the help of farmers there was a stall selling Vermiwash, organic Fertilizer & Pest Repellent enriched with Gaumootra and Neem. An immunity booster for plants, it also prevents plants from infections. It's affordably priced at Rs. 10/- for a small bottle and Rs. 30/- for a big bottle. To avoid plastic bags, the Govt has introduced stylish cloth bags priced at Rs. 2/- and 5/-. Another unique initiative is the thalis which one can source at Rs 100 for 100 thalis accompanied with spoons and glasses for any event/special occasion. I was impressed seeing the tyre stools which were made with old tyres and next to it was a car for kids with cotton balls…..one of the cutest cars. Special thanks to Mr. Ichchhit Garhpale, Commissioner Nagar Nigam, Chhindwara for familiarizing us with everything around.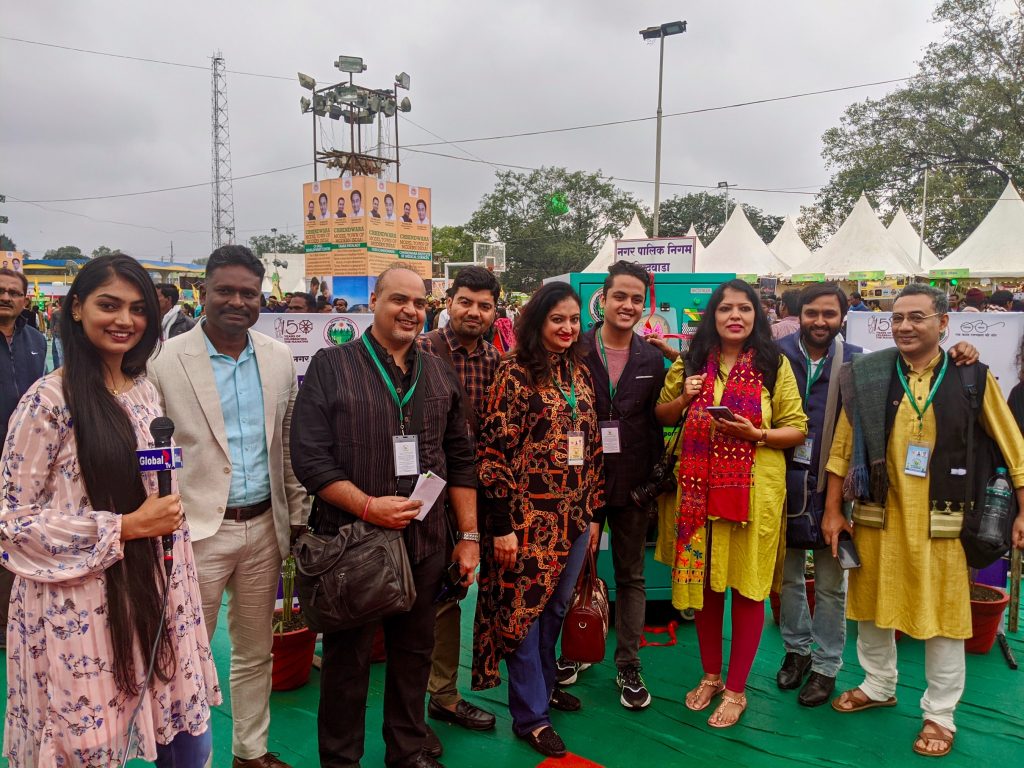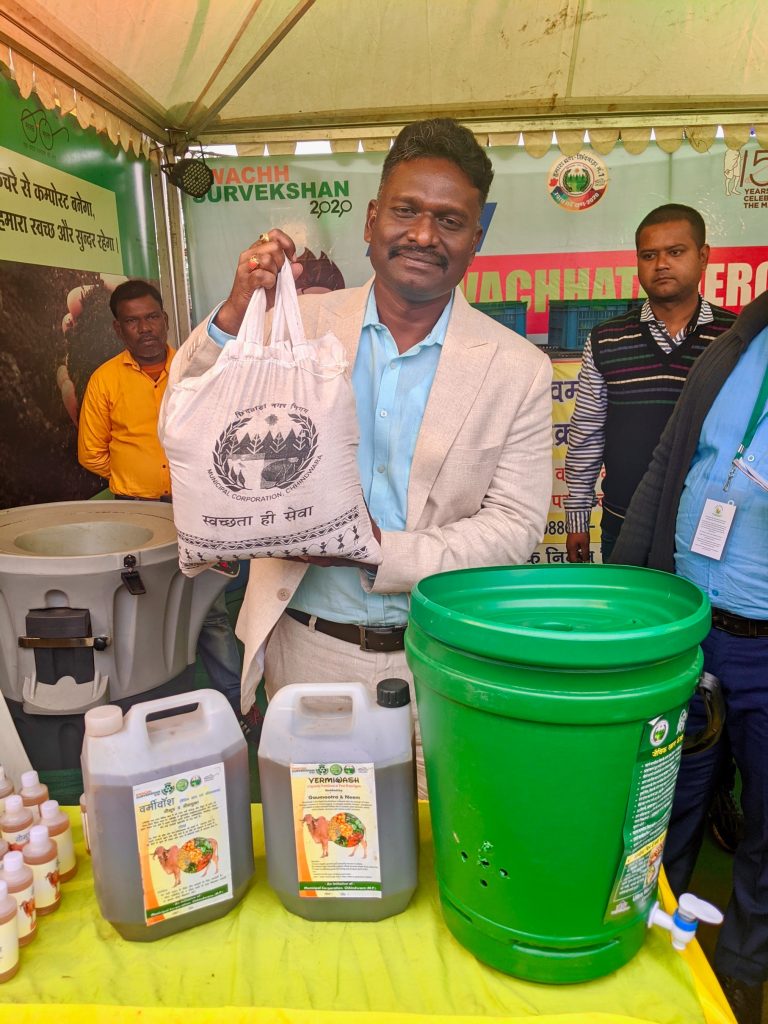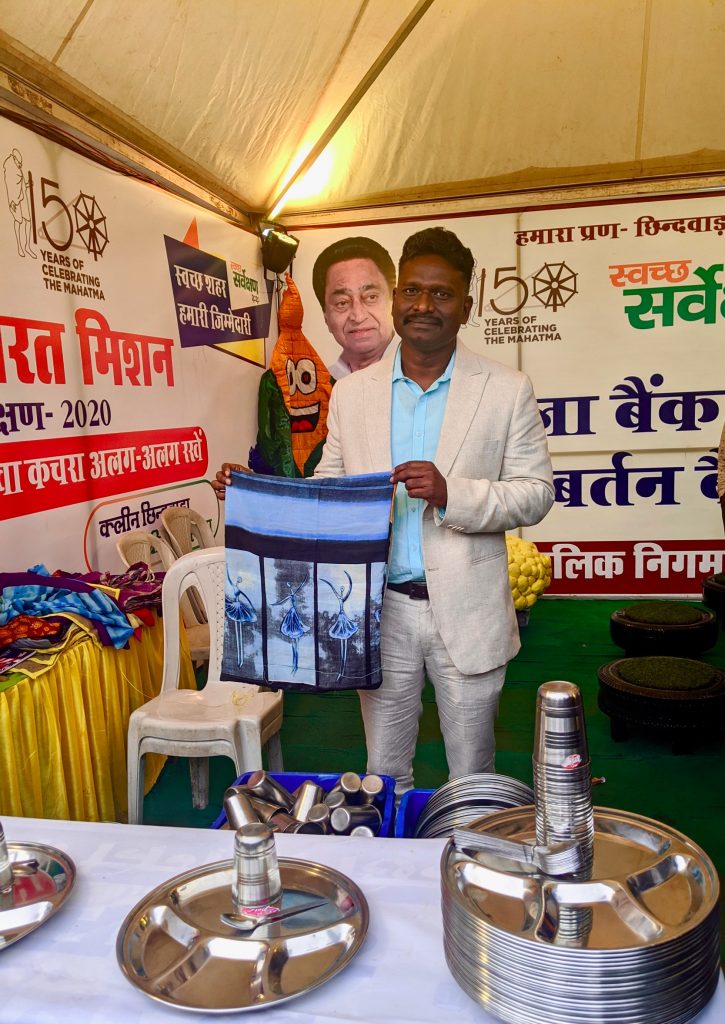 The festival ended with a musical night with renowned singer Armaan Malik who enthralled the audience with his mesmerising voice. However, for us it was a time to know more about Chhindwara, the corn festival and the development from Mr. Nakul Nath, Member of Parliament, Chhindwara who did a press briefing with us. When Mr. Nakul Nath was elected here, he made sure there is a focus on education by opening a university. Chhindwara Institute of Medical Science is also a project really close to him who compares it to the top universities across the globe. Soon, one would witness an agriculture + Horticulture college, a one of its kind college similar to the one in Bangalore with a dream that we would soon see farmers going to fields in jeans and a T-shirt.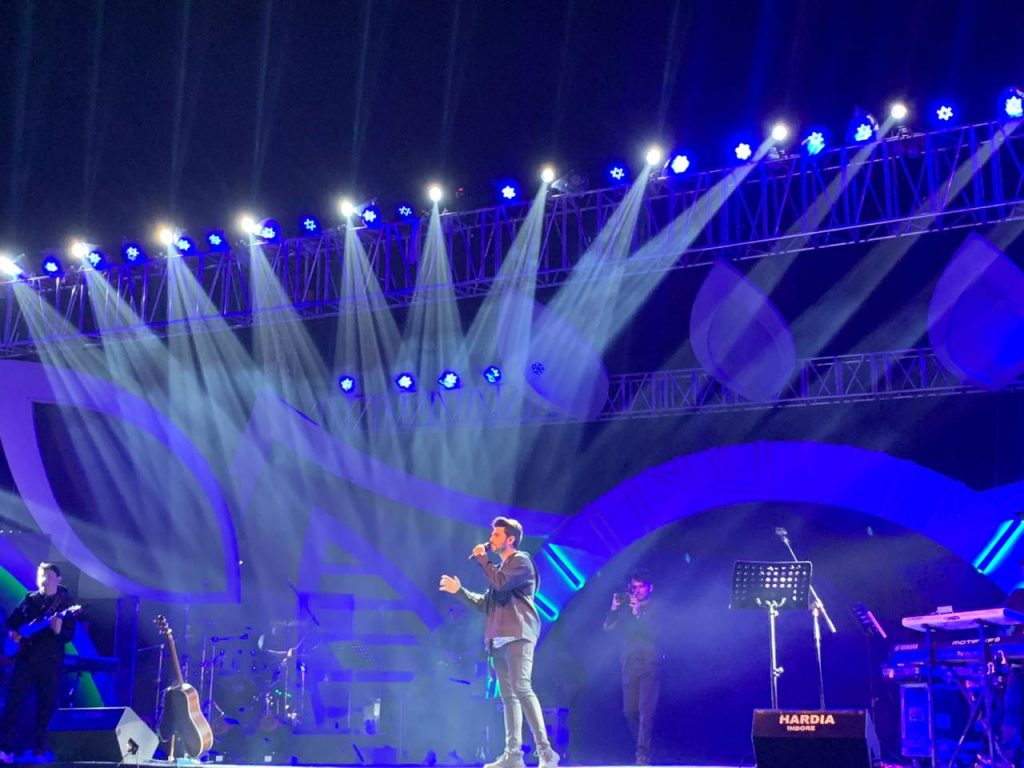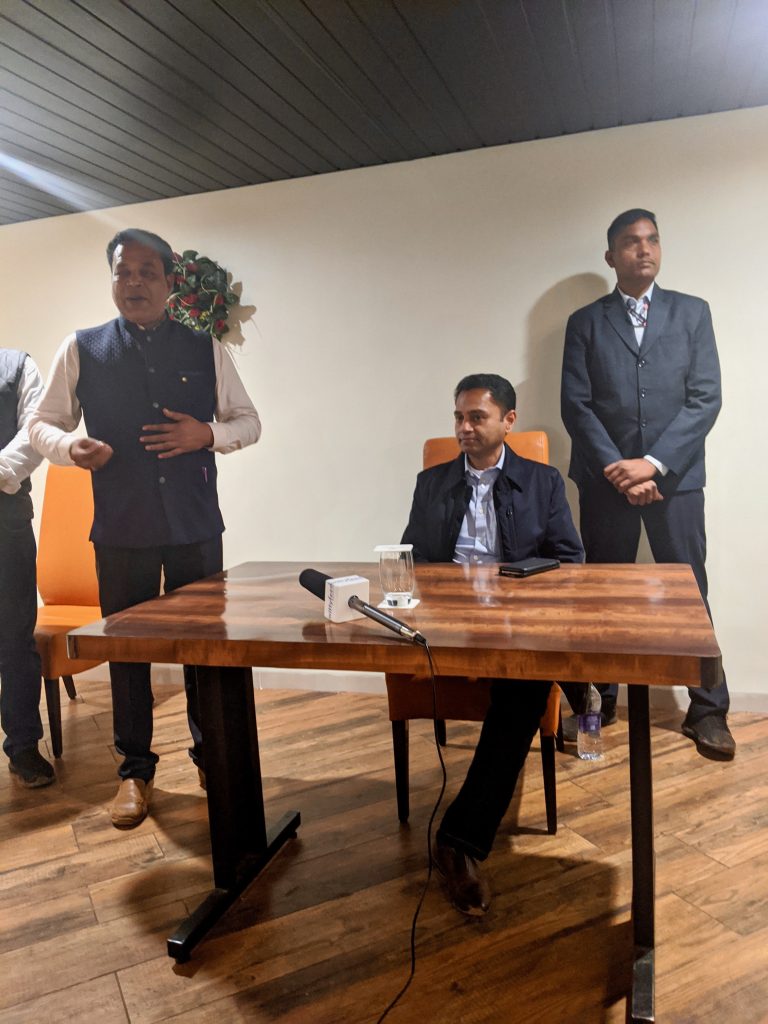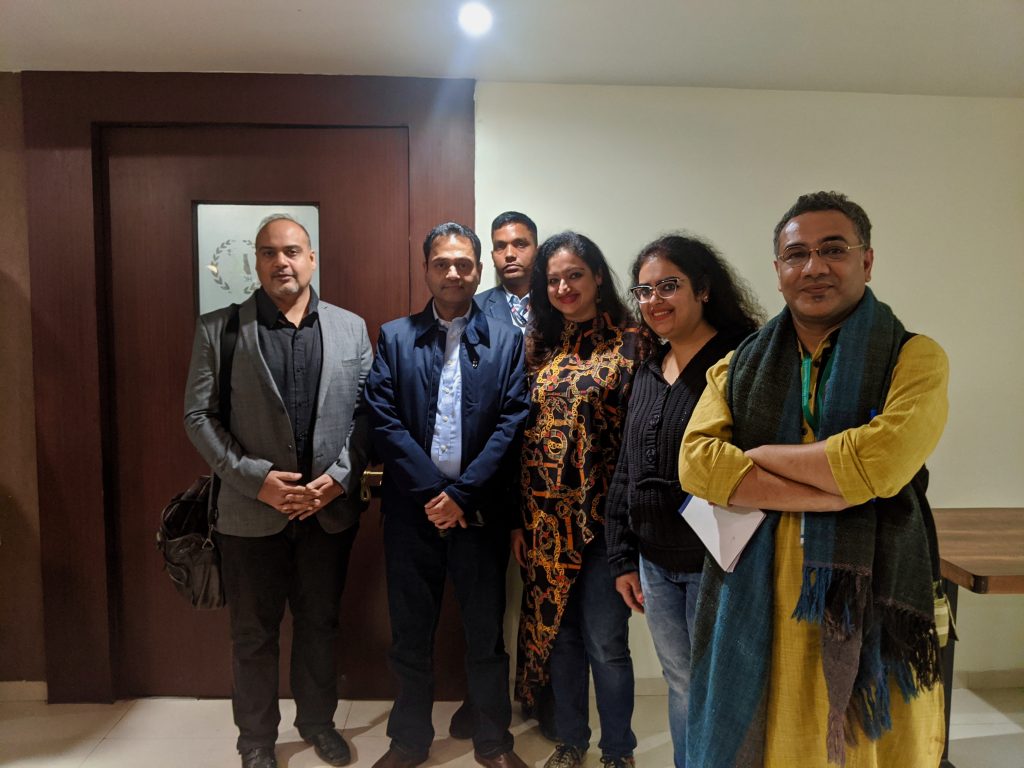 The event also saw participation from Scientists working on maize from across the country who shared their knowledge of the new developments and opportunities for corn based products. Lectures, workshops, seminars were an integral part of the event. It was a unique opportunity for all – Industries, Scientists, Farming Community, Export houses and Government Bodies to interact and envision the future of corn in the country and support each other in achieving the vision.
Chhindwara being the largest corn producing district in Madhya Pradesh and one of the largest producer in the country hosted all the stakeholders of corn producing and processing industry under one roof to shape the future course of corn as commercial crop. We could also spot lots of peasants in makka festival who came to increase their knowledge and awareness about the crop corn and its productivity.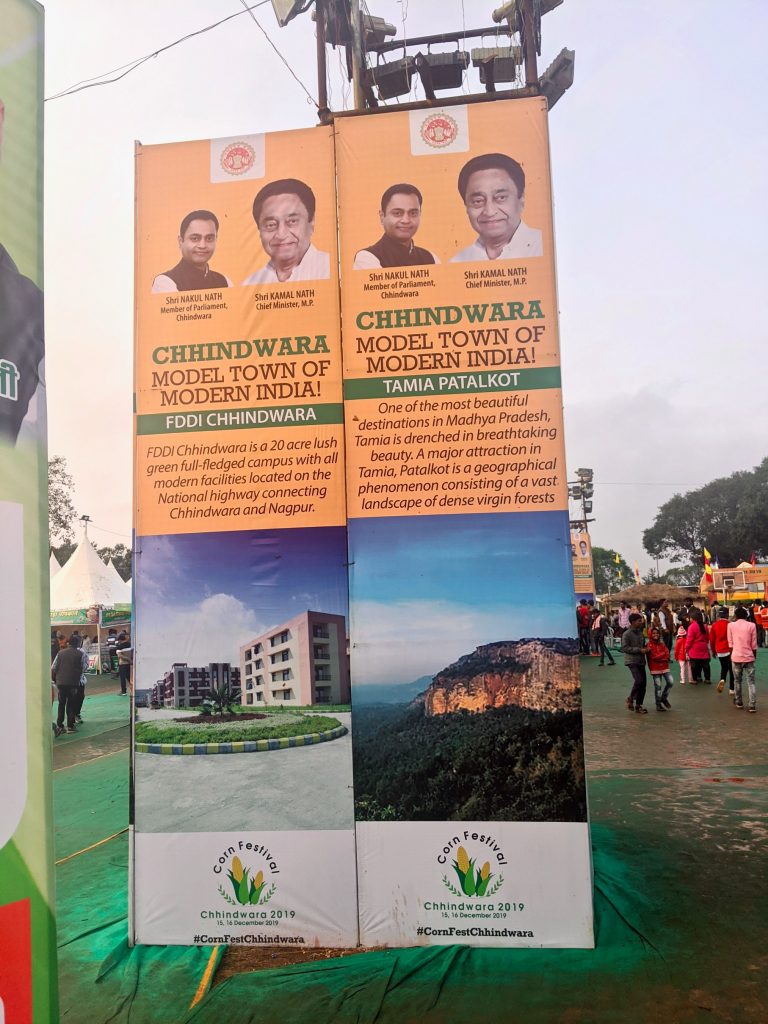 Corn is known to have multiple benefits- from preventing Haemorrhoids to preventing cancer & anaemia, it also helps in eye and skin care, promotes growth, provides essential minerals, protects heart, controls diabetes and also provides cosmetic benefits. Corn has low cholesterol and this wonderful produce is also exported. Infact, corn is used in cotton industry for fabrication too – starch is actually made from corn.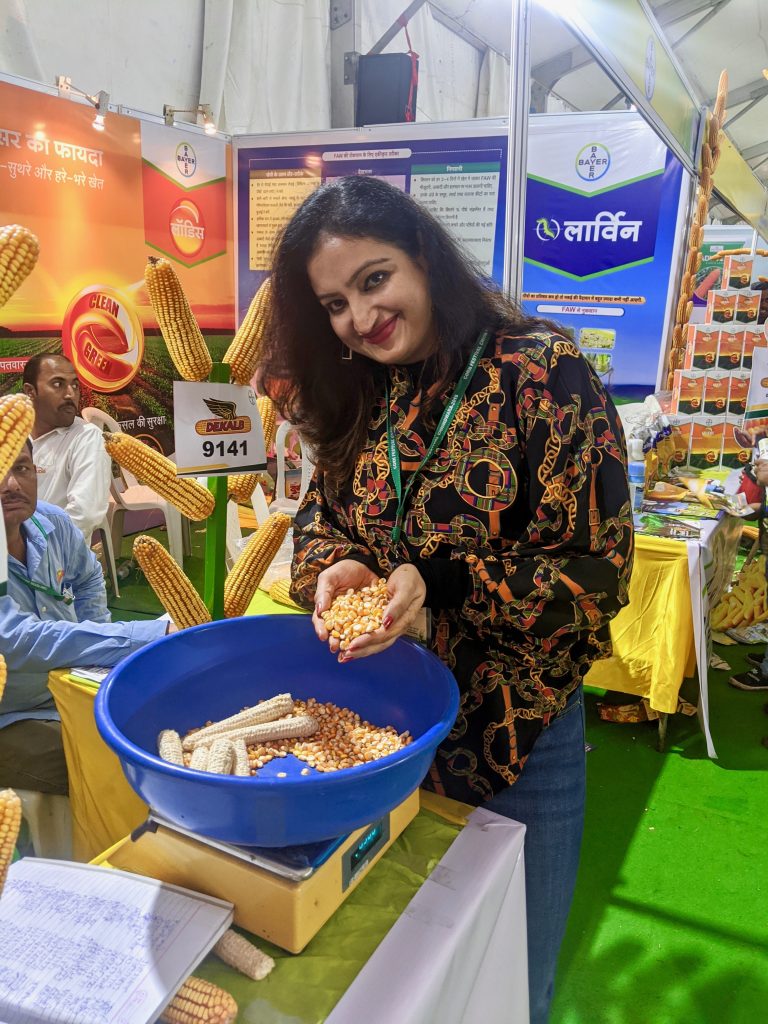 With the rapid development I have seen in the beautiful city 'Chhindwara' I am waiting for a time when it will get it's Airport. The land has already been allotted and this will also be a reality soon!
On this note, I said Bye to Chhindwara and started my journey to Nagpur and then Delhi the next morning. If you wanna see more, you could see my Instagram highlight names 'Chhindwara'.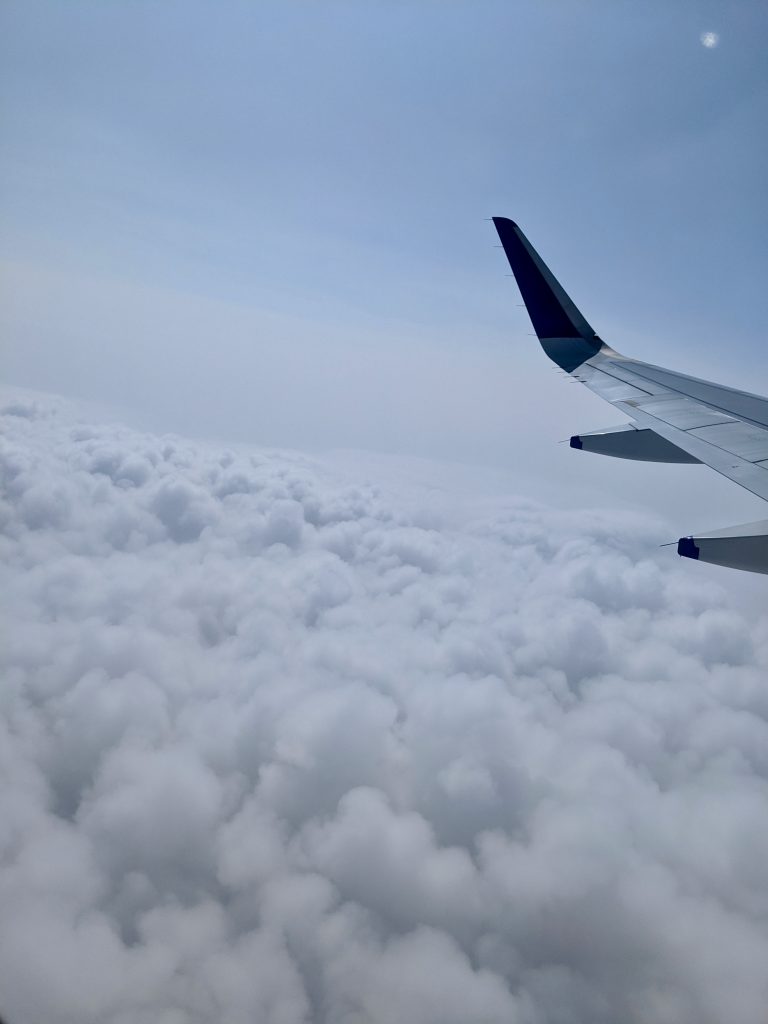 ---
With inputs from Nidhi Arora