Well, if I think of Rajasthan, the first few things which come to my mind are Jaipur, havelis, forts, history…and this time my Rajasthan trip was about all these things except Jaipur. Yes, it was a trip to Bikaner. It was time to visit Gaj Kesri, Bikaner. I did a little research on the property and its website said "Gaj Kesri is a small elegant hotel in the outskirts of Bikaner with easy access to the city and its chief attraction". The gallery showcased the best of pictures combined with modernity and tradition and I instantly said yes to visit the place.
Always ready to explore the unexplored, we caught an early morning flight (ATR) to Bikaner. It's the only flight operated between Delhi and Bikaner. I was quite amazed to see the cozy Bikaner airport operated by Indian Air Force where the luggage does not come on a conveyer belt but it's transported manually. Due to security reasons, photography is not permitted and I controlled my urge to take pictures.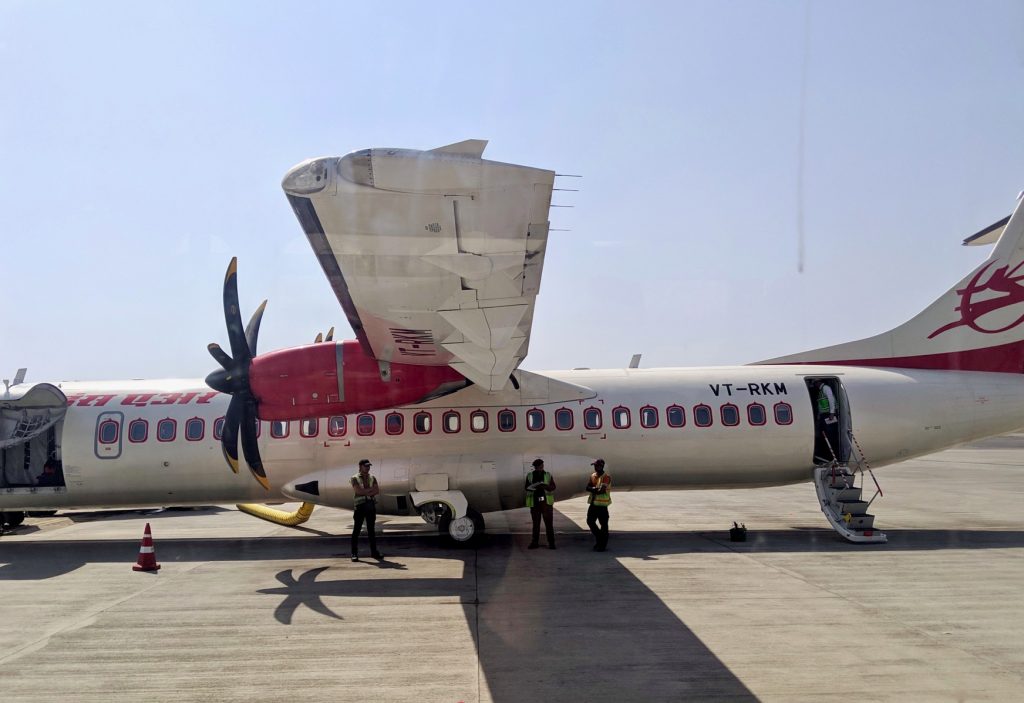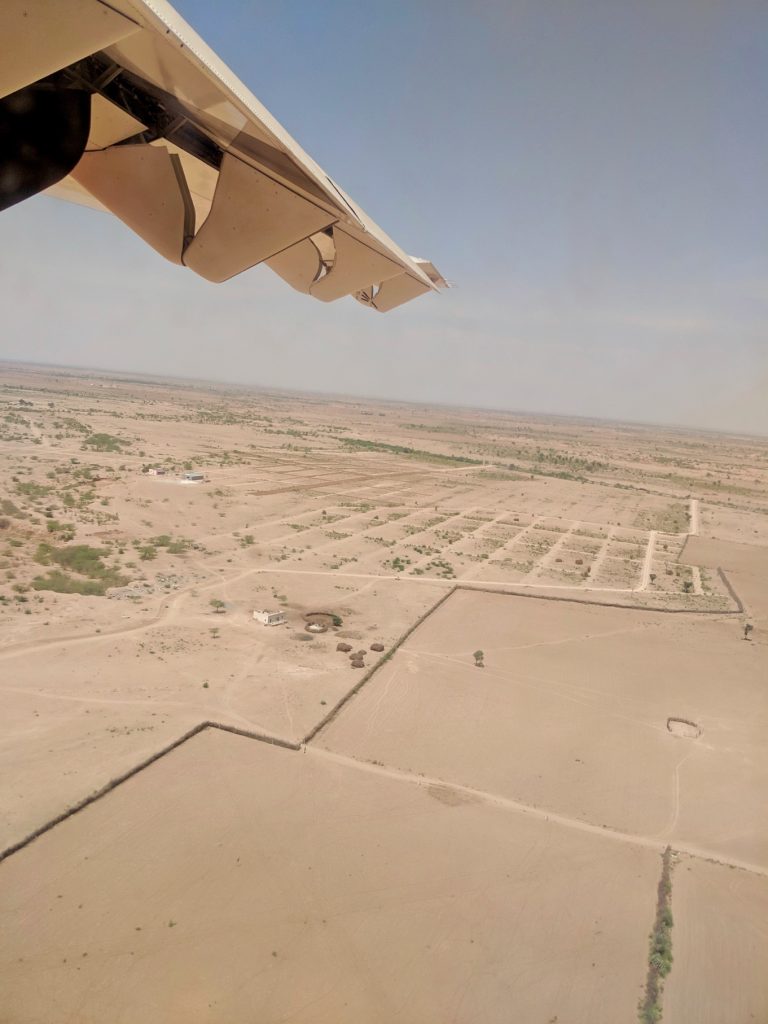 It was time to head to our beautiful hotel known for luxury rooms, verdant lawns and lovely swimming pool and meet our host. So with no further delay, we got into the cars waiting for us and headed to Gaj Kesri, built in the palace style of Rajputana in the Bikaneri vernacular. When we entered the grand property we were stumbled with greenery around the magnificent red building.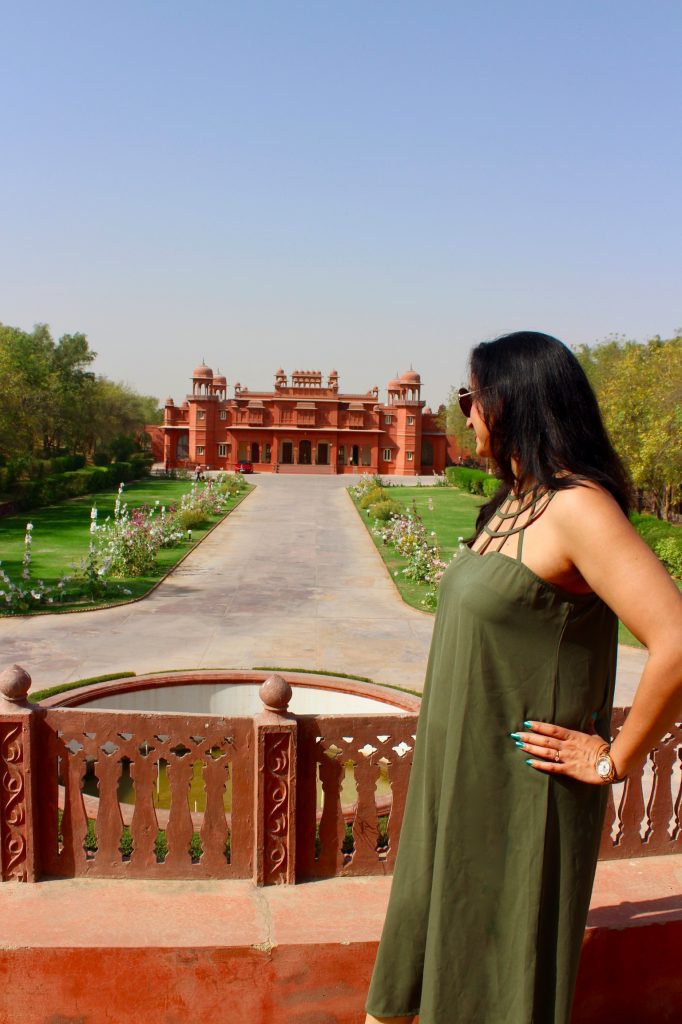 Mr. Sunil Rampuria, our kind and humble host personally received us and our welcome drink (sharbat) of jasmine flowers refreshed us.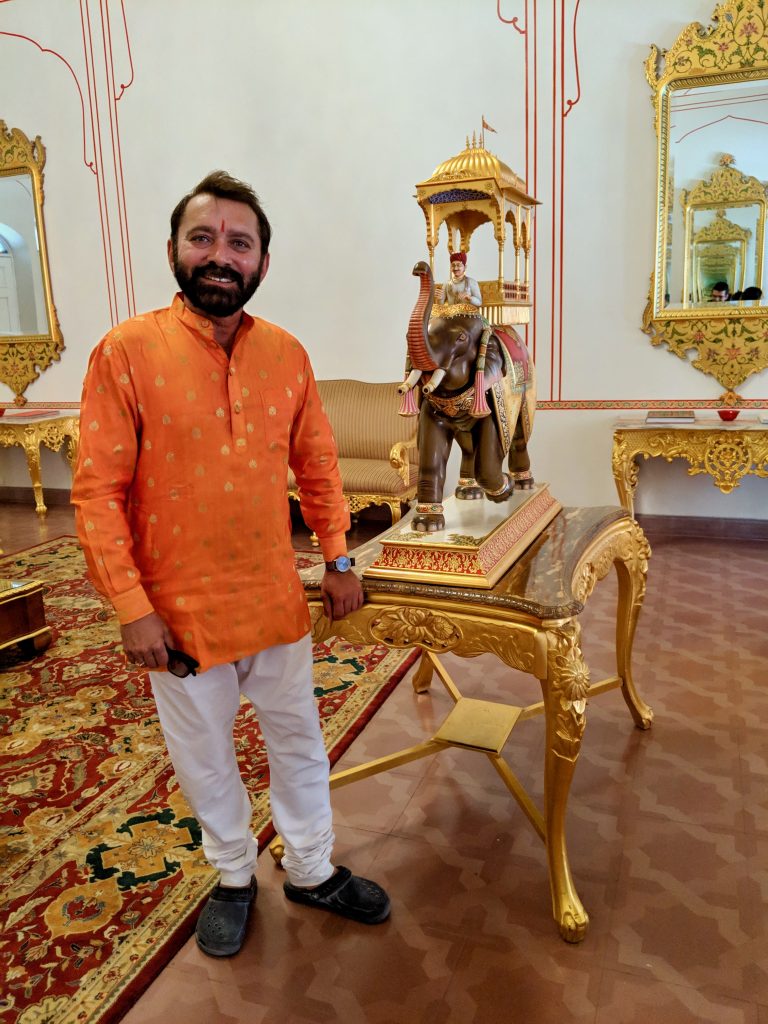 We made our way to the courtyard through the most gorgeous reception carved in blue to the art guest rooms. Truly a piece of art, the guest rooms are aptly called 'Art guest rooms'. The hotel is well equipped with 41 rooms – 31 Art Guest Rooms and 10 Standard Rooms. The rooms have a royal yet modern touch. Colourful cushions grace the white sheets of the cozy bed besides green handpainted wall. The room divided in the dressing area and living area and had all amenities from a work desk to small cupboards to big wardrobe with a stunning nature inspired view. Bedside lamps, a beautiful mirror and couches add the aesthetic touch along with hand painted walls, furniture and decorations. The open, spacy hotel follows 4 colour schemes and is aesthetically called as Art Hotels.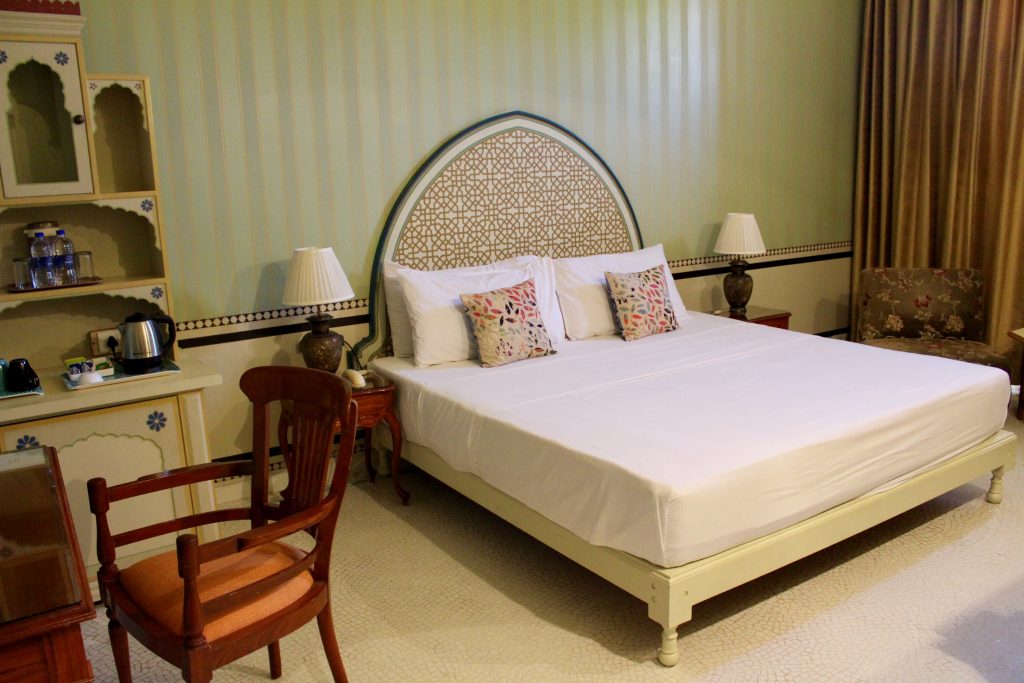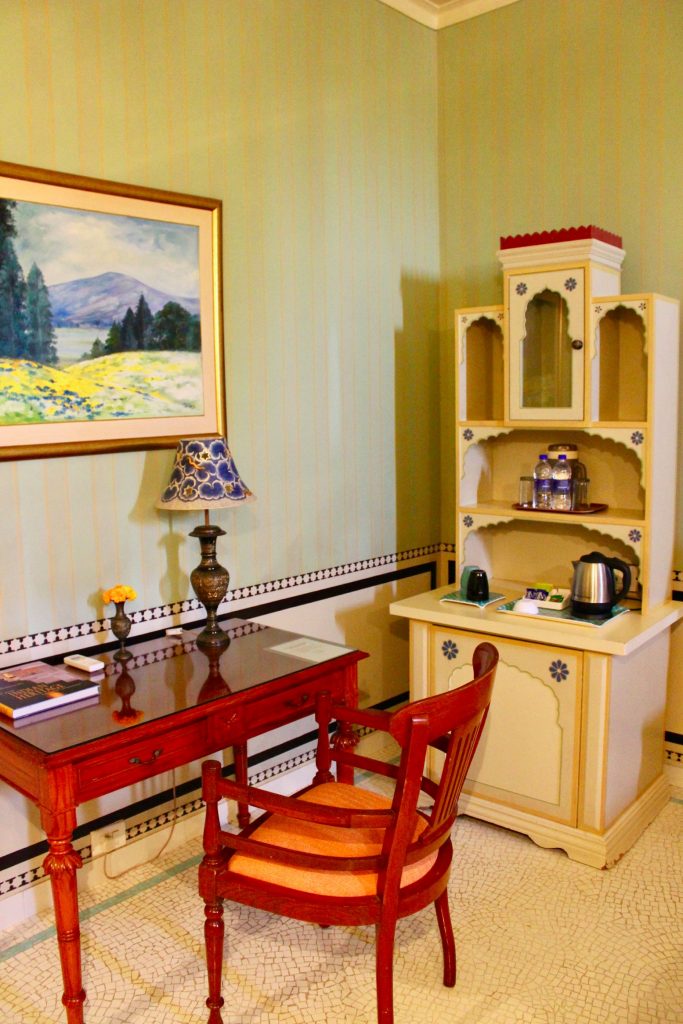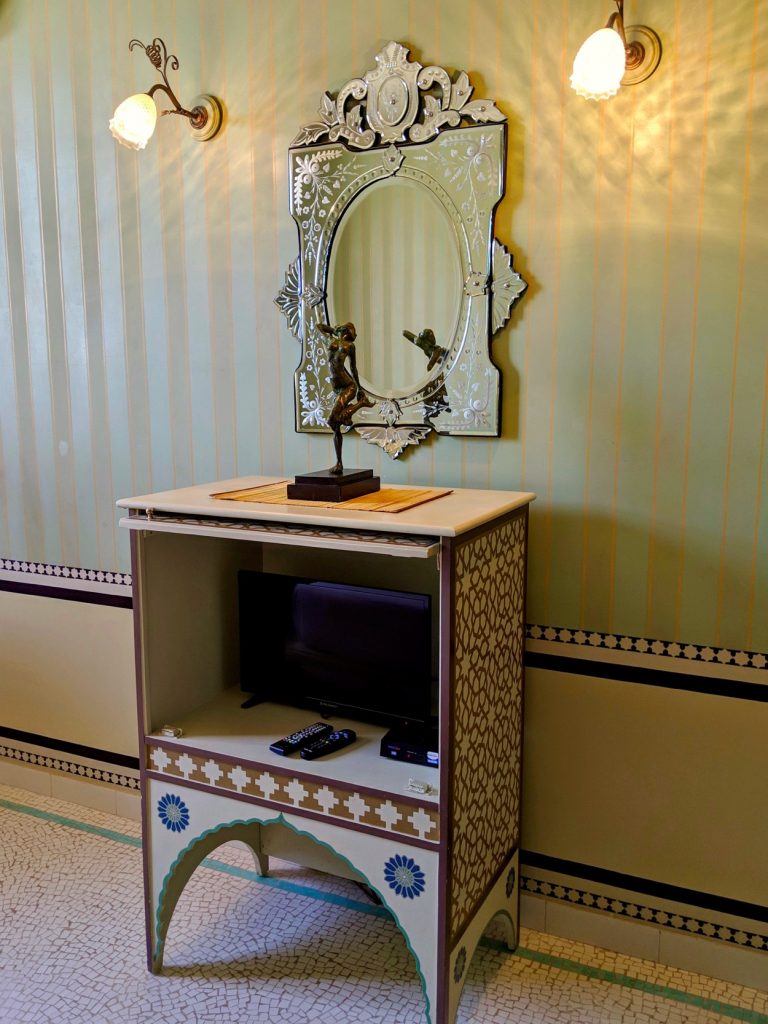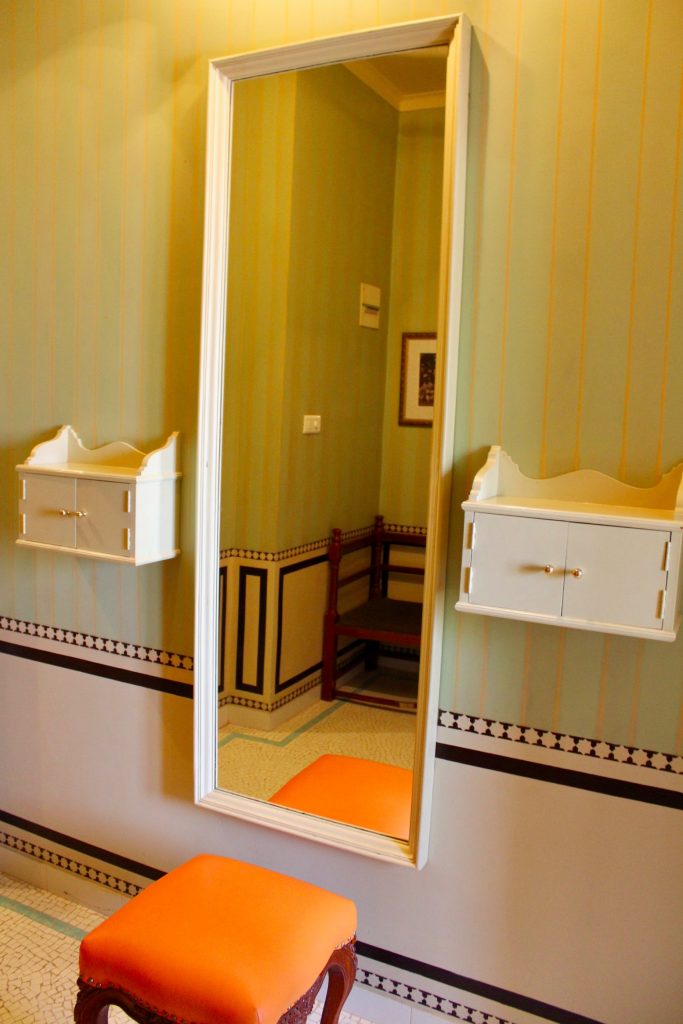 The gorgeous 25-acre property located in the barren and sandy countryside just outside Bikaner has artistic interiors. From couches to artifacts, everything is made in-house by local artisans at Bhanwar Niwas and is so beautiful and royal. The hotel also has two drawing rooms which are artistically aligned. Guests can relax there, it's a perfect place for photography and is absolutely gorgeous. An old world charm is retained yet the place looks so modern and defined.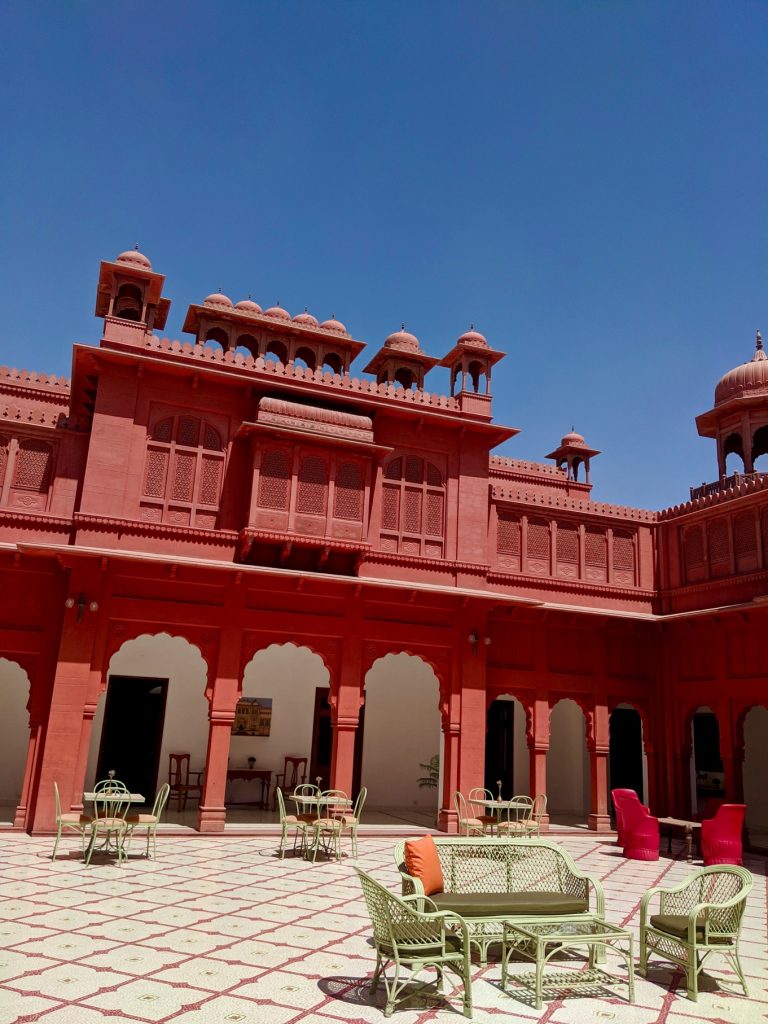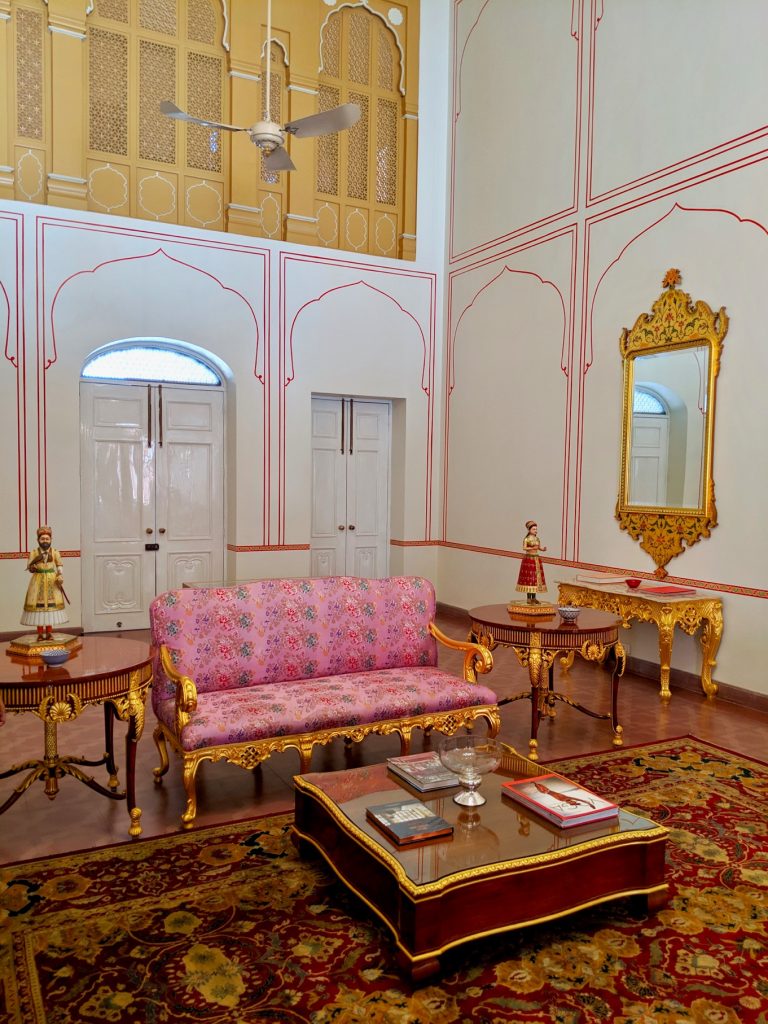 It was time for lunch and we headed to the beautiful restaurant through the arched courtyard. Interestingly different spots of the courtyard had beautiful, colourful artifacts which made a visual delight. The restaurant had a lovely charm with a choice of couches and chairs.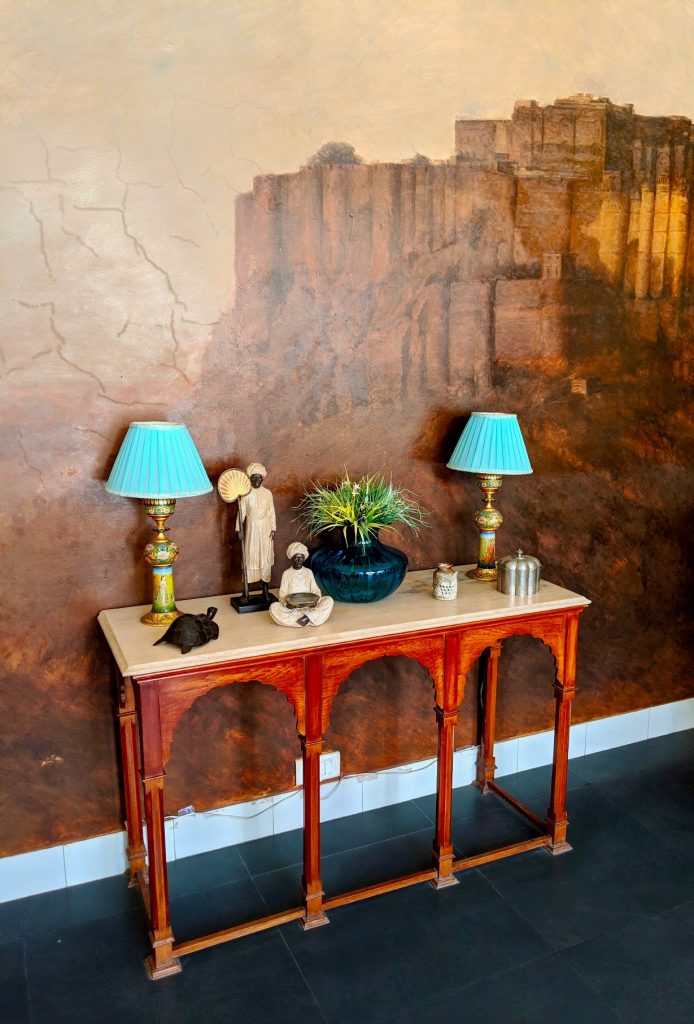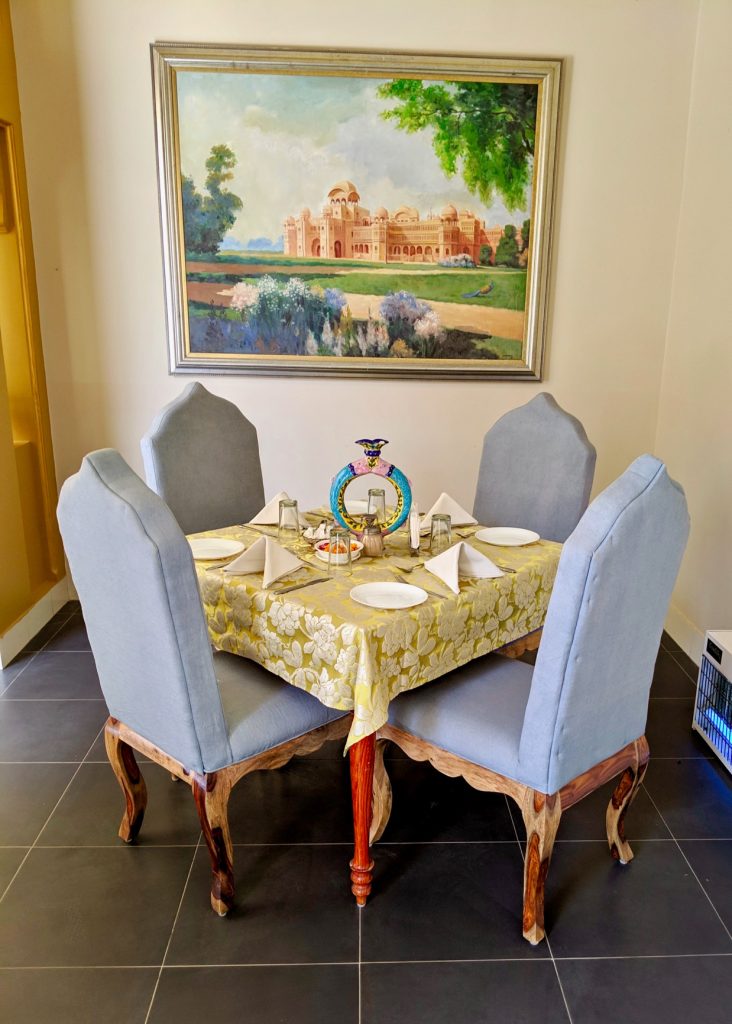 The Multi-Cuisine restaurant serves lip smacking vegetarian food using different ingredients ditching the usual 'paneer' which vegetarians are usually restricted with. We started with Dahi Puchka, Baked Kheere ki Kachori, Missa in starters while the main course included Parwal Dahi ka Saag, Aloo Dum, Gatte ki Khichidi accompanied with Mirchi ki Launji, Kairi ki Launji, Kheere ki Raadi, Poori and Khatte ki Pakodi. Dessert was Chilled Kharbuja in Gulab Jal which was absolutely delicious. I am generally very choosy about my food but I loved the refreshing taste which was retained in the cooking. Mr. Rampuria personally acquainted us with every dish on the table. Loved how he goes into every detail of the hotel. My favorite was Kheere ki Kachori in starters which had a nice stuffing and Parwal Dahi ka Saag in main course which was a unique combination never tried before.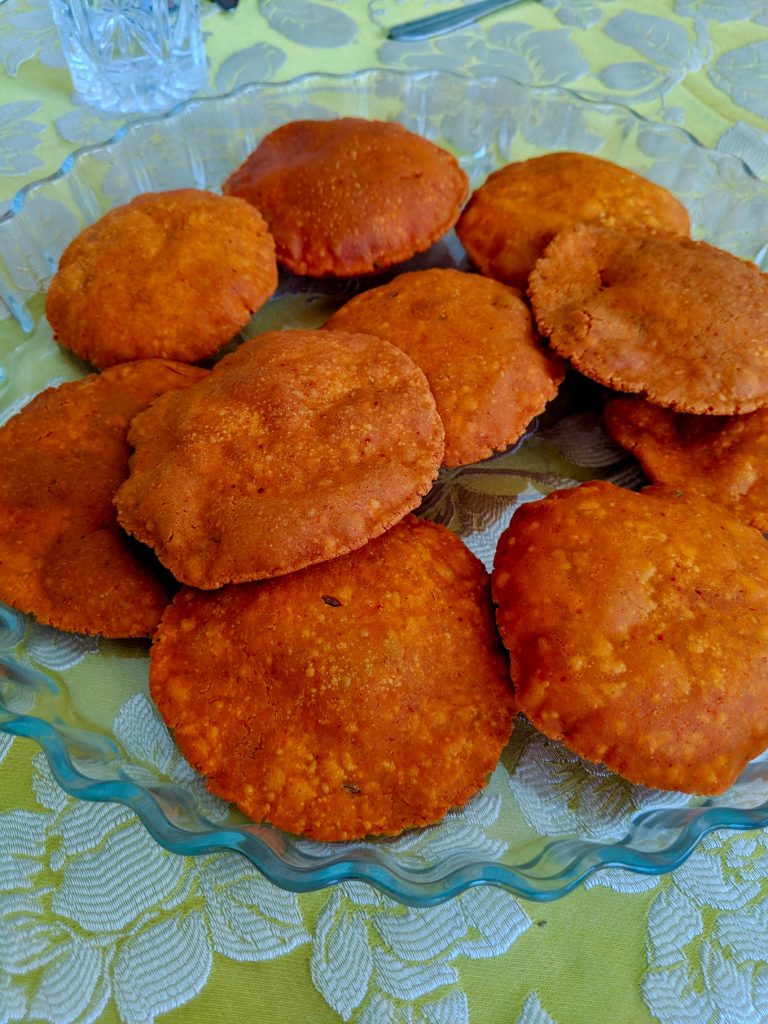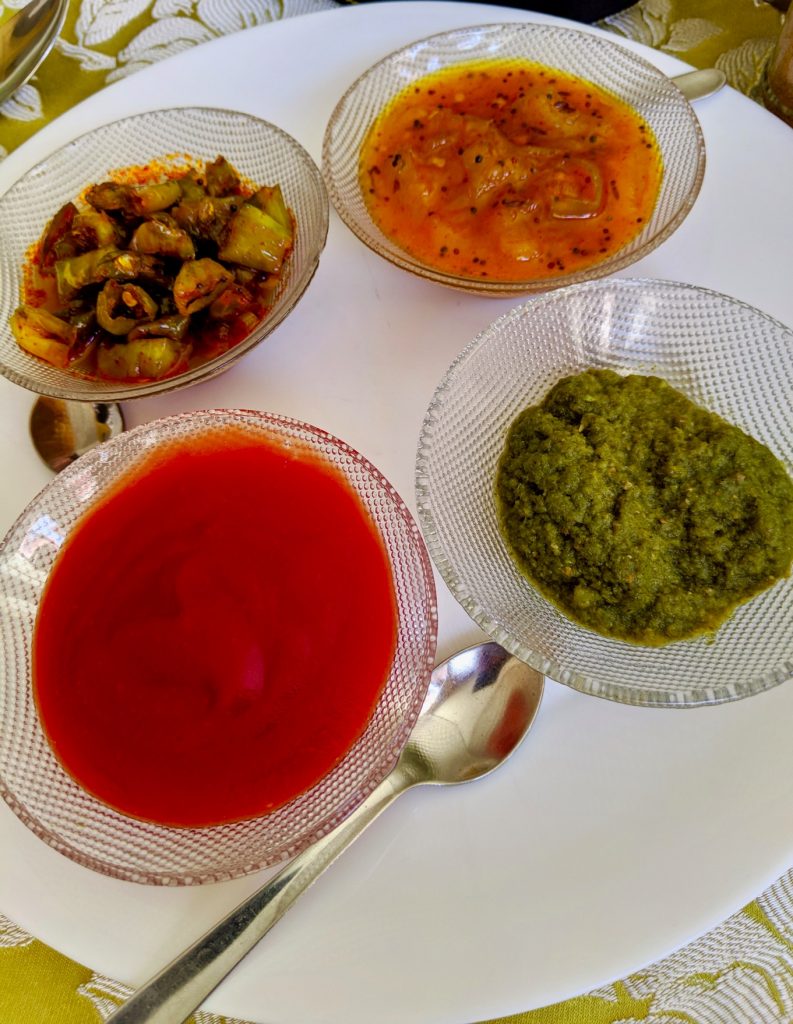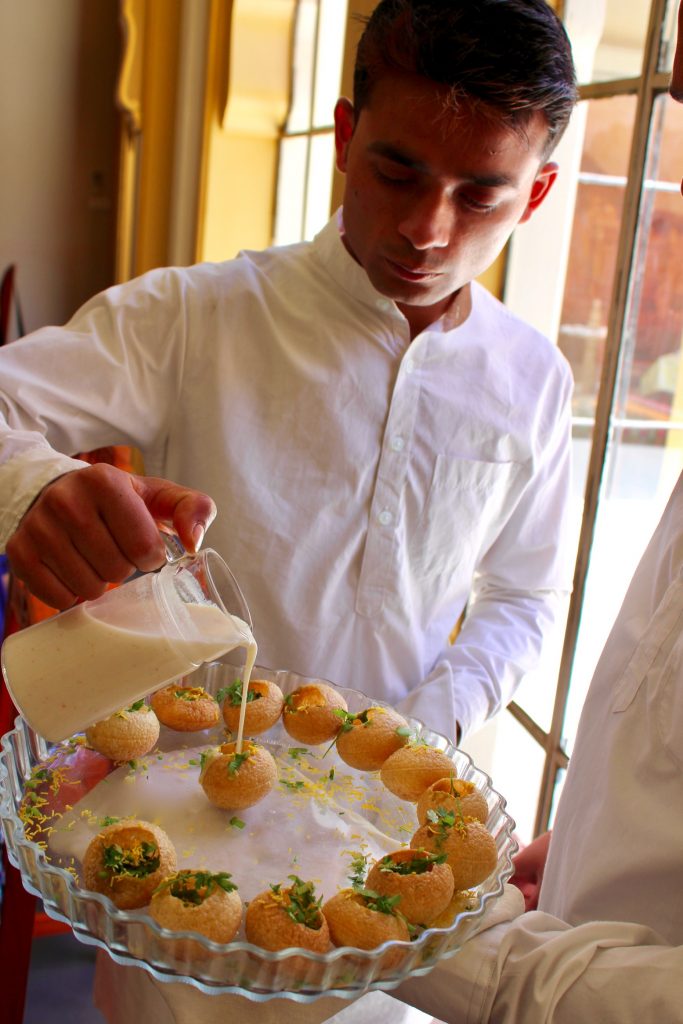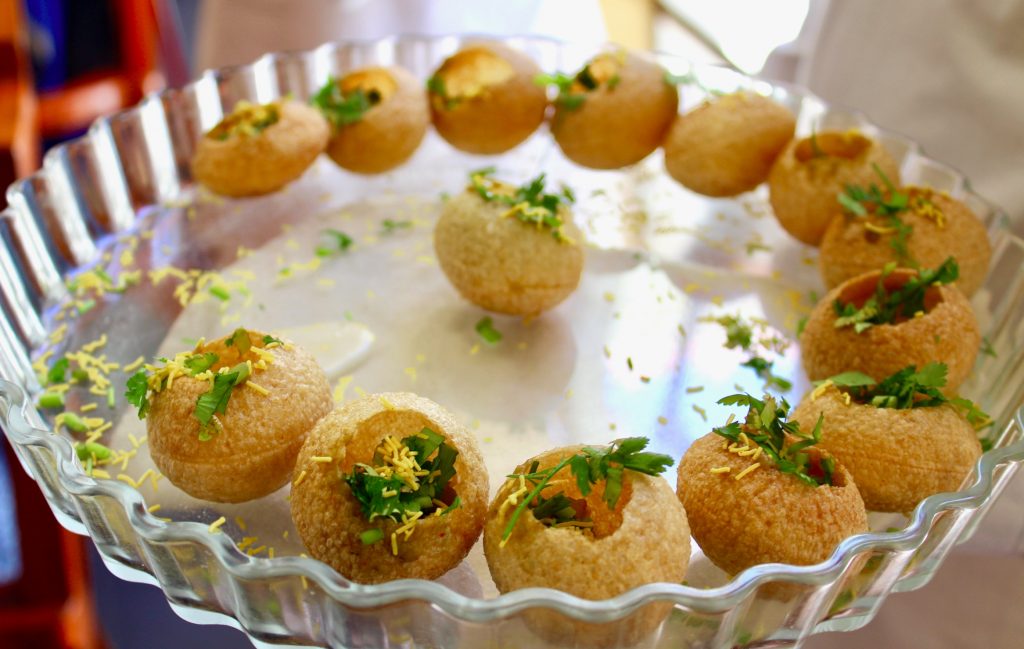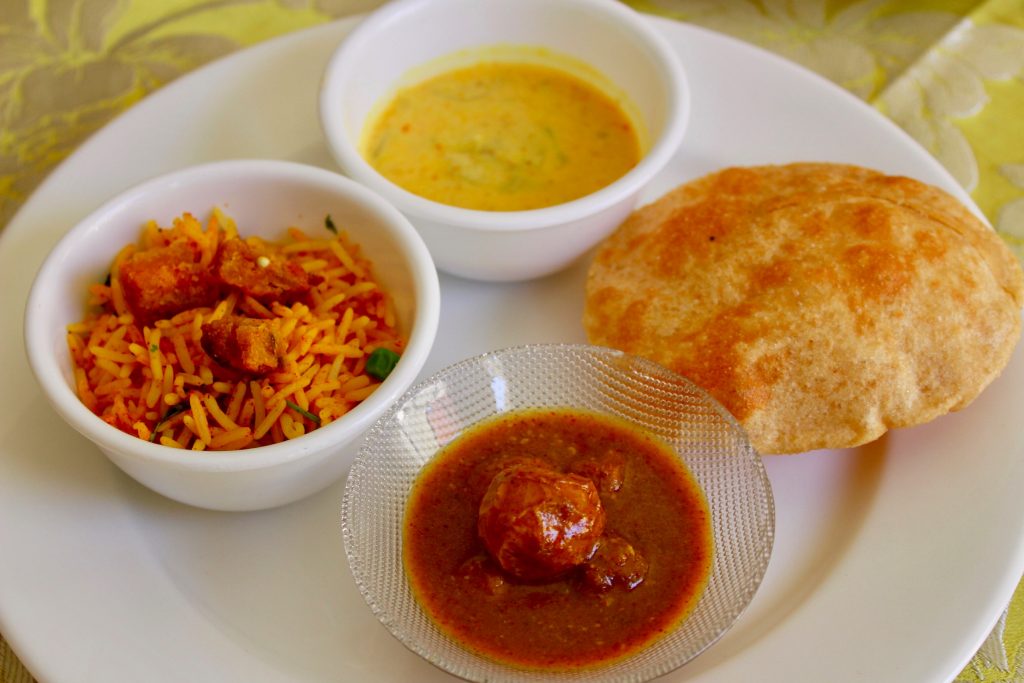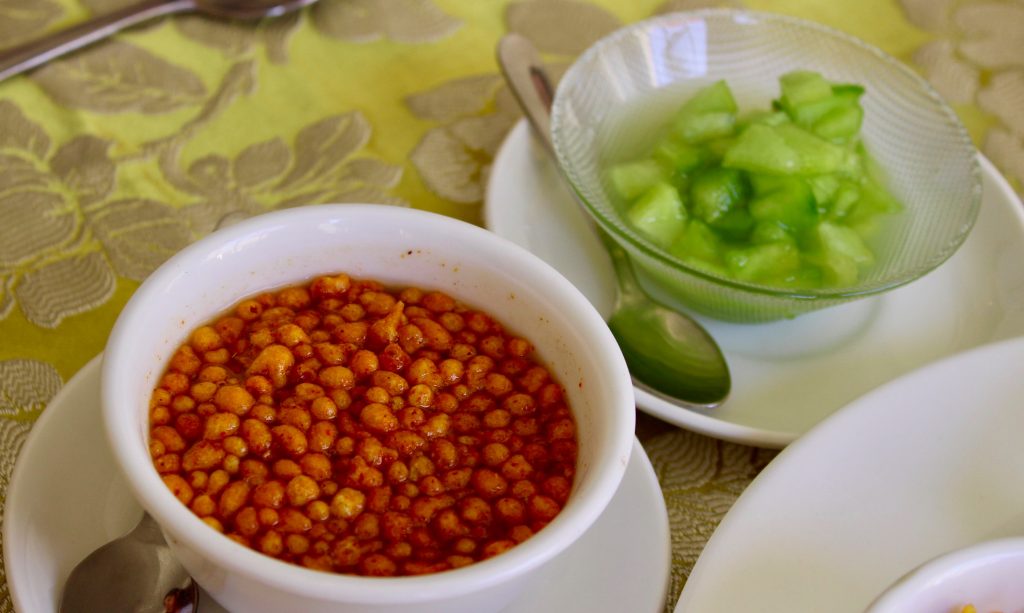 Bikaner is historically rich and boats of a variety of sightseeing options for its tourists. So we headed to:
Ganga Singh Gallery: the museum gives a glimpse to the life of General Maharaja Sir Ganga Singh, the ruling Maharaja of the princely state of Bikaner from 1888 to 1943. He is widely remembered as a modern reformist visionary.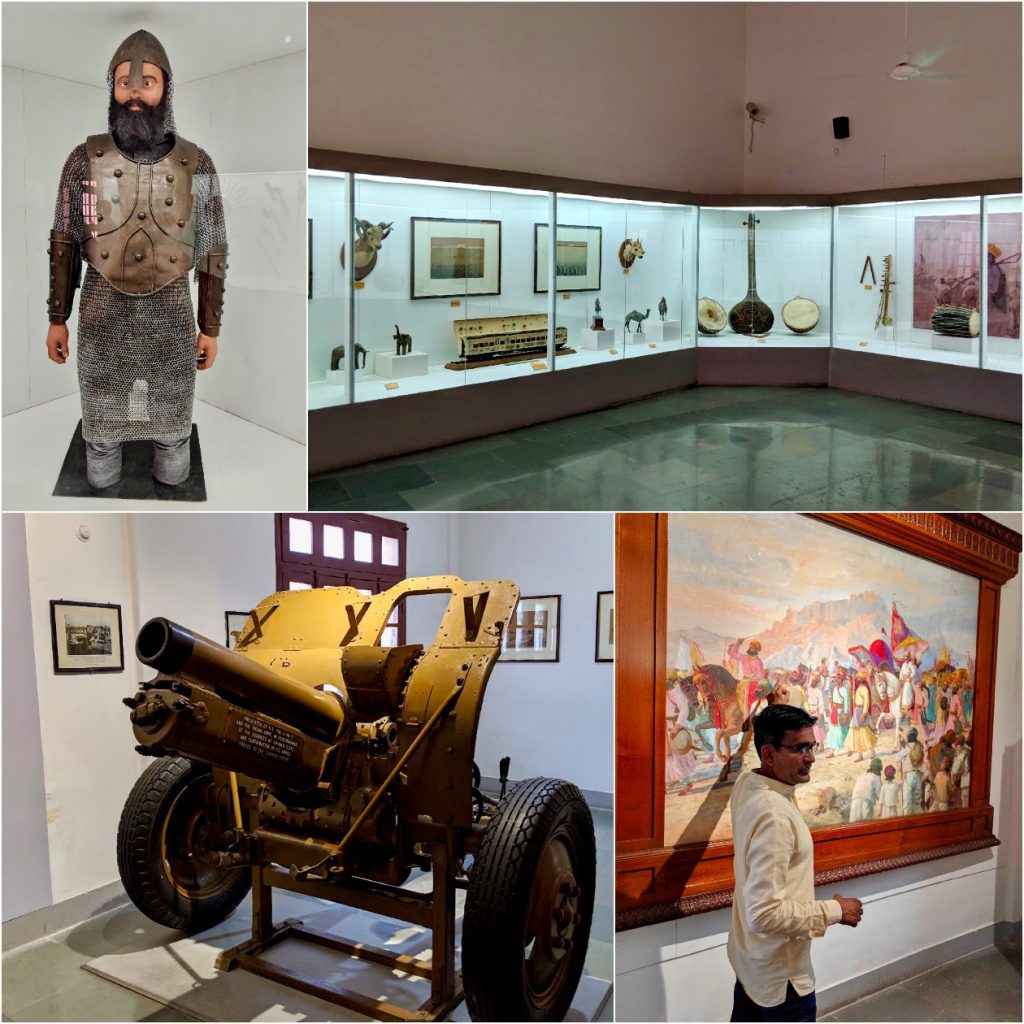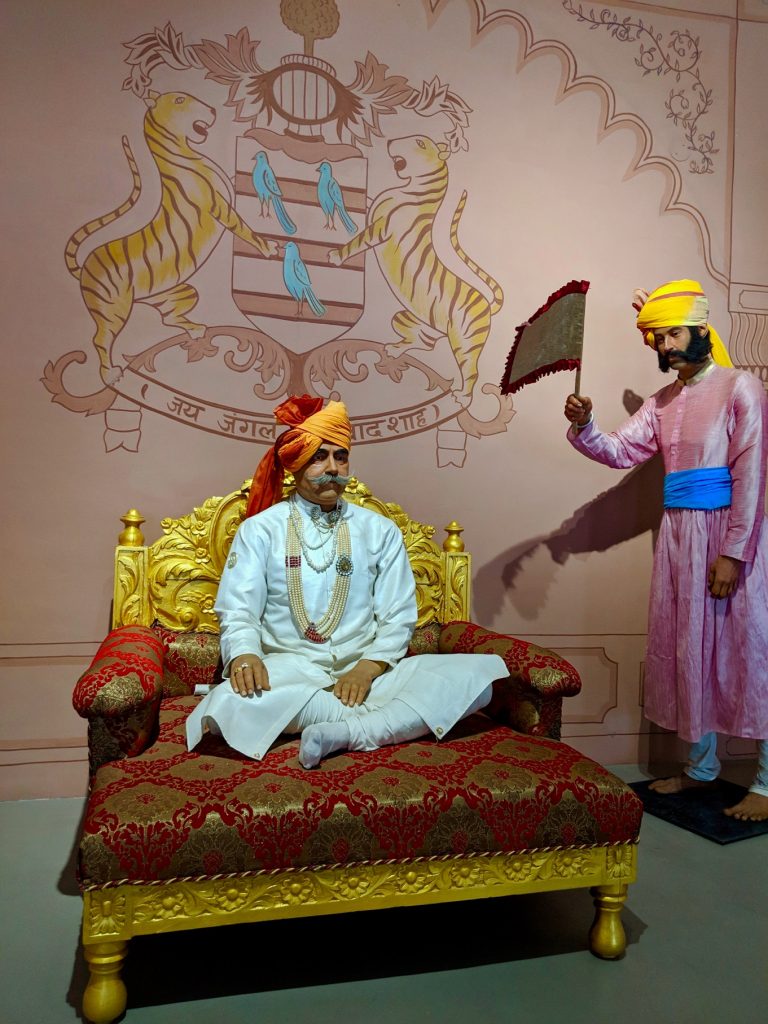 Karni Mata Temple: Approximately 25,000 holy rats called kabbas are seen at this World famous temple. It's an experience in itself. The gate made of white marble also has rats carved on the sides. Karni Mata, the official deity of the royal families of Jodhpur and Bikaner is worshiped as the incarnation of the warrior goddess Durga by her followers.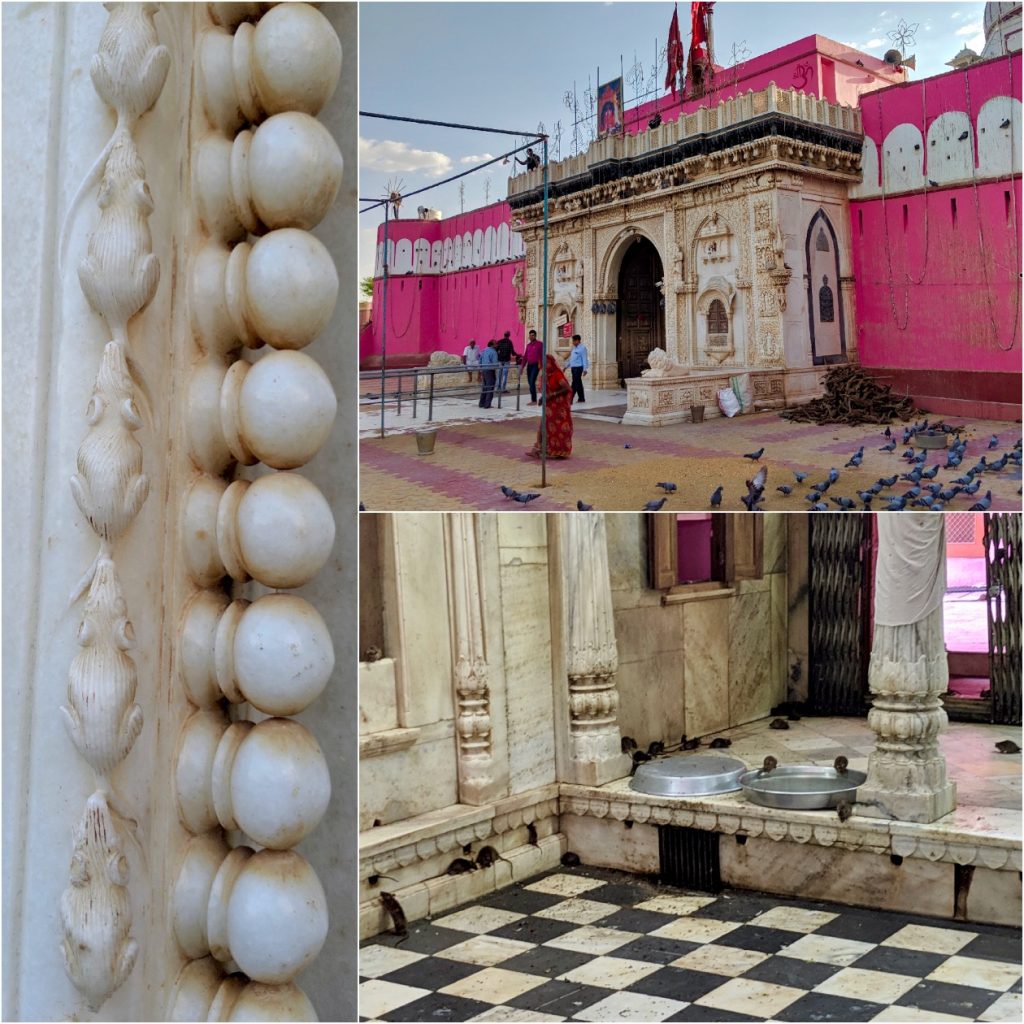 We came back to the hotel post the sightseeing and made use of the in-room dining. We asked the kitchen on phone extension what we can get fast and we were served soft and yummy Paneer Pakodas and amazing Spring Rolls.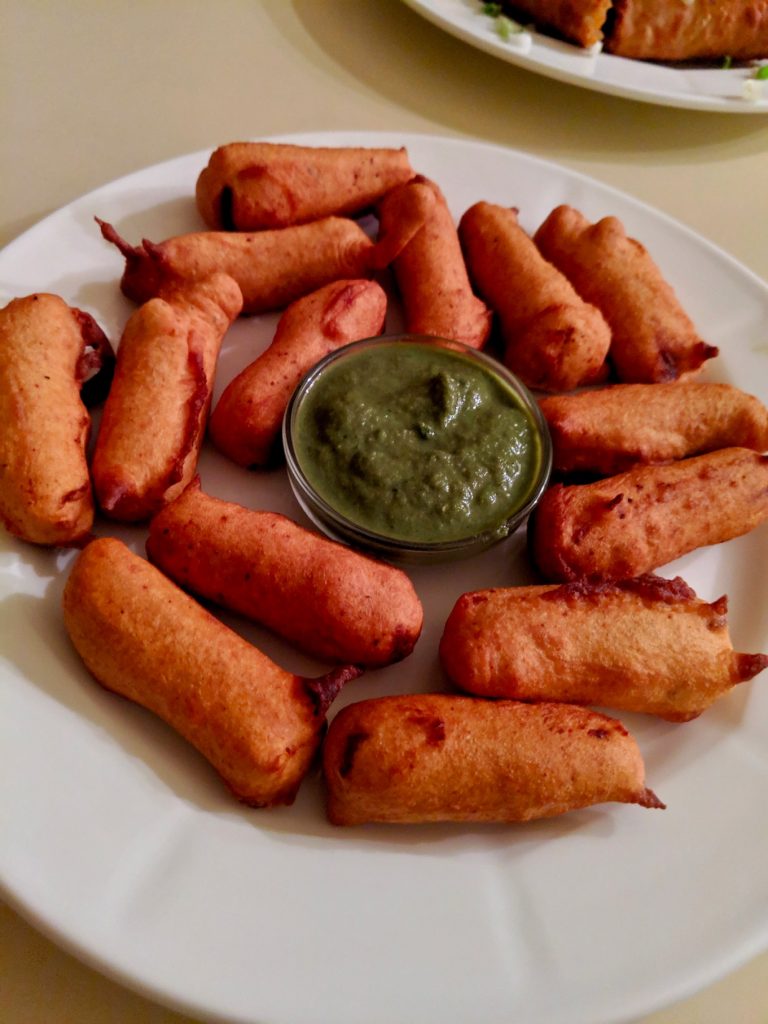 We later headed to the poolside for one of the most amazing evenings. There was an open bar set next to the pool and we drank in the company of the starlit sky and amazing snacks and ofcourse our hospitable host Mr. Sunil Rampuria and his lovely wife Anju Rampuria. Mr. Rampuria acquainted us to the property giving interesting facts.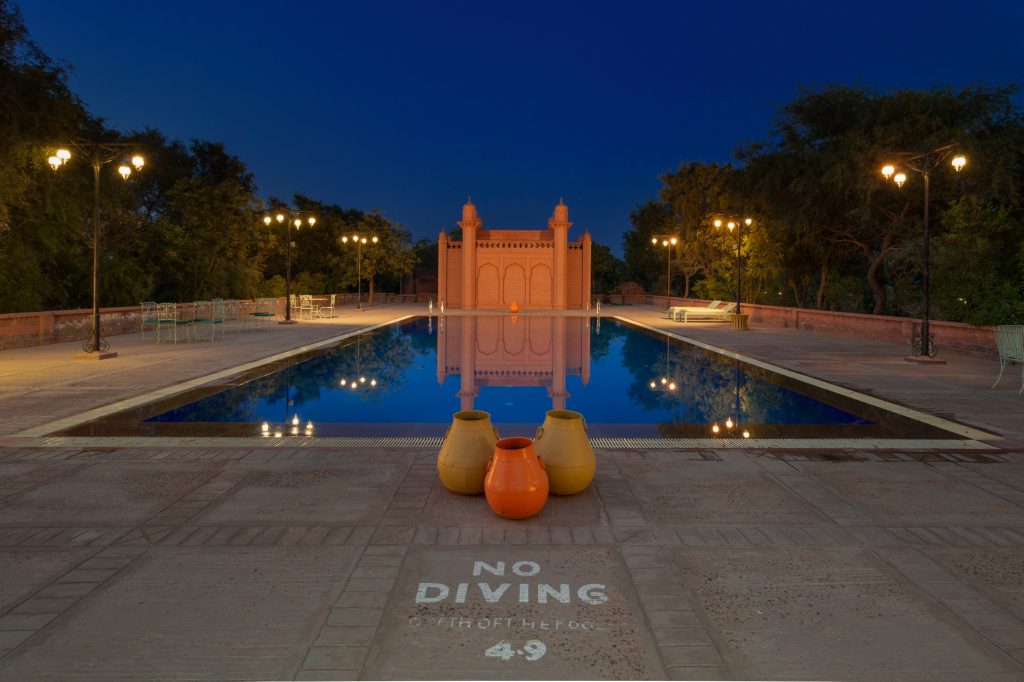 Interestingly the planning for Gaj Kesri started in 2003 which opened in 2006. Mr. Rampuria had all in mind of how it would be. He wanted something Rajasthani for tourist and travelers and not something like a 5 star. He always knew the art and architecture he wanted. He started drawing his plans on a graph paper with pencil and not on AutoCad in an old fashioned manner which he prefers and converted the virgin land from structural engineer to design.
Would you want to know how Gaj Kesri got its name? Mr. Rampuria met an astrologer in Bhanwar Niwas their ancestral property while this property was in construction. While seeing the horoscope of Mr. Rampuria and his family members- he saw Gaj Kesari Raj yog which is a great planetary combination. Gaja-Kesari Yoga is one of the very auspicious yoga in vedic astrology and also one of the famous yoga. The Gaja Kesari is the combination of two words: Gaja and Kesari. The terms 'Gaja' means an elephant and the word 'Kesari' means lion. So as the name suggests, the yoga gives the native the toughness and vigour like a lion, also majesty and dignity of an elephant. And that's where he found the name. Kesri – more authentic and sweeter- Gaj Kesri!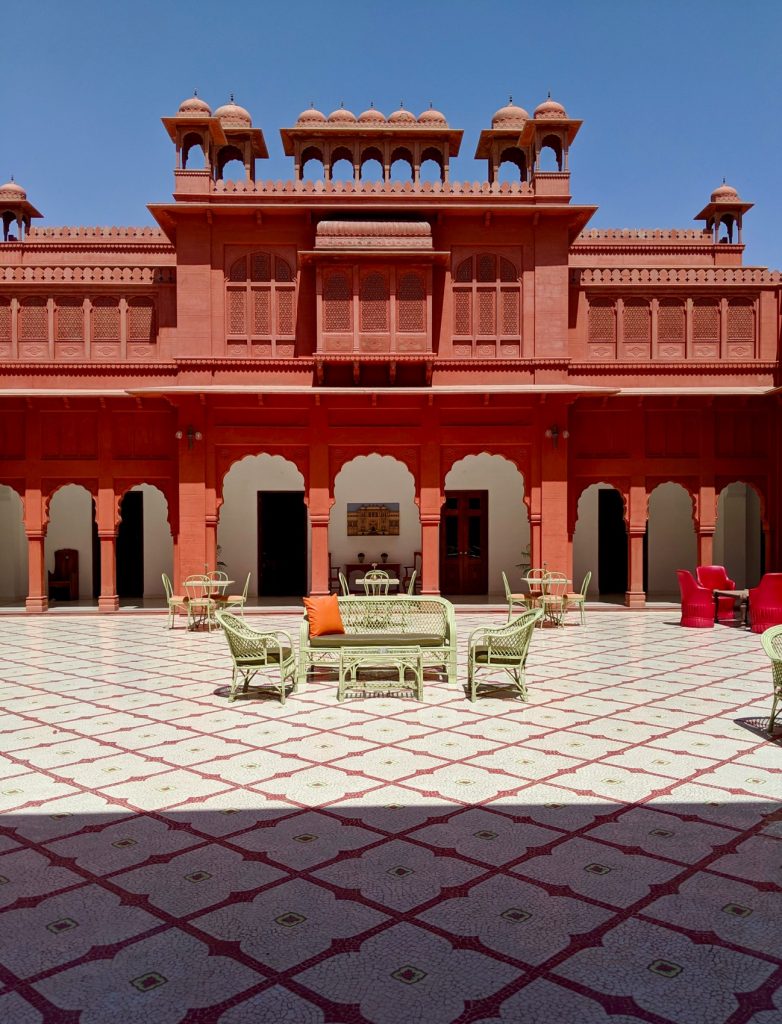 The hotel majorly sees a lot of foreign German & French travellers. We wanted to know how receptive are they to veg food. Mr. Rampuria said that interestingly the foreigners are open to experimenting with food and love Continental and Indian vegetarian option. They feel safe as they think non-veg in India is not safe. In winters they miss eggs in breakfast and the perfect substitute for that is Cheela made of dal or besan.
The evening was followed by Dinner at the beautiful restaurant. The dinner started with Vegetable Soup followed by Dahi Bada, Stuffed Tomato, Jodhpuri Chakki ka Saag, Cabbage in South Indian style, Naan, Dal chawal, Papad and my favourite Chenna Toast. Such unique dishes prepared with perfection and love.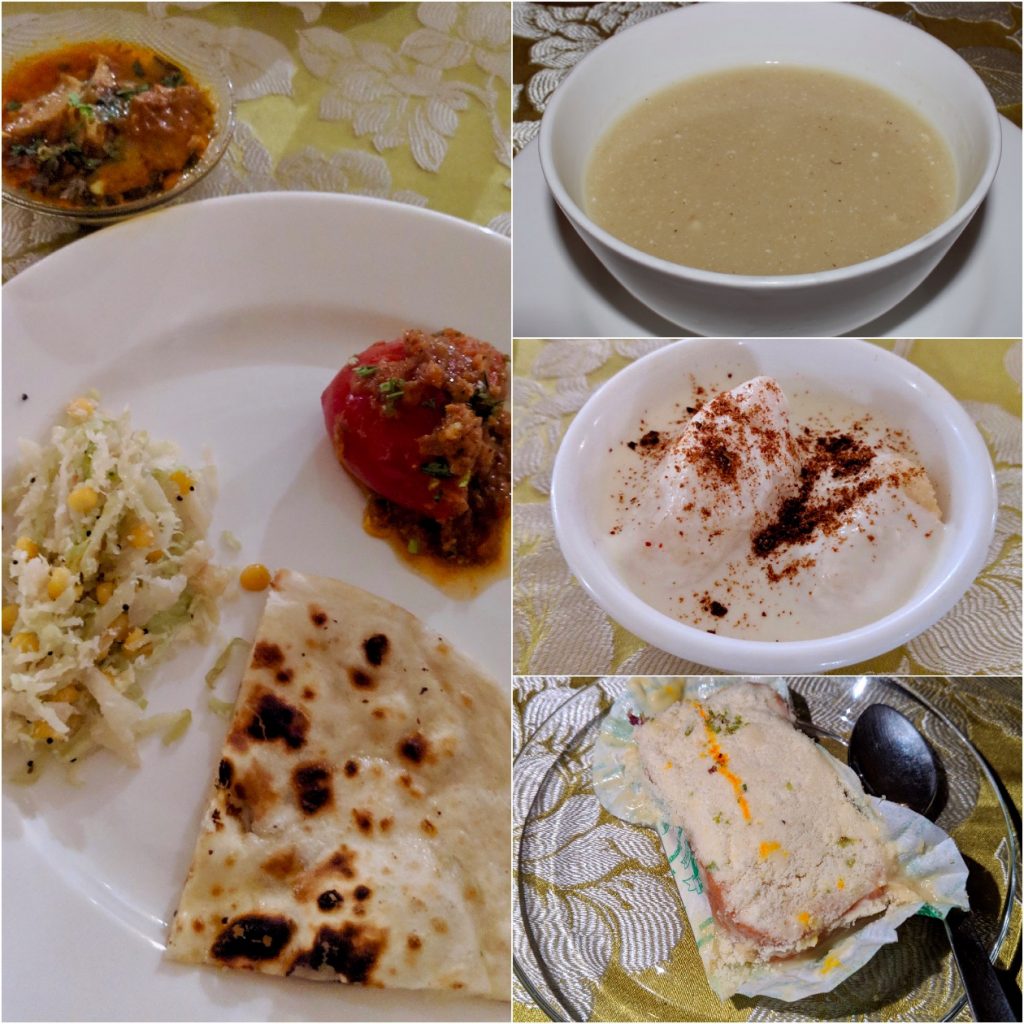 The next morning started with the voice of chirping birds and the nature inspired view from the room. Such a lovely morning to be cherished! We began the day freshening up and moving for breakfast but before breakfast we headed to the beautiful drawing room for some photo opps. Guests can sit and relax in the magnificent drawing rooms, which are three in number. The Big Drawing Room, the T Drawing Room (so called because of its T shape and the lovely portrait of Tara Rampuria, that dominates the room) and the Little Drawing Room. I loved the little Qutub Minar created at one of the Drawing rooms which looked so stunning. The tower is ornamented and bands of the Qutub Minar has 'Sare jahan se achha Hindustan hamara' written in urdu. The top level band has been written by Mr. Sunil Rampuria himself.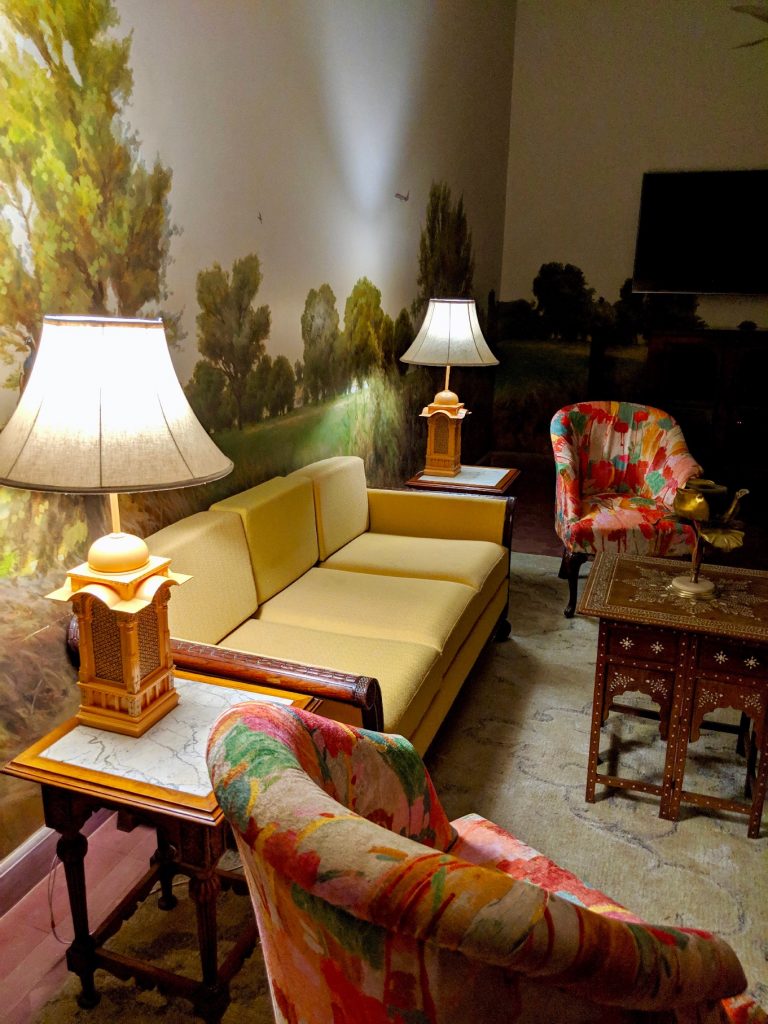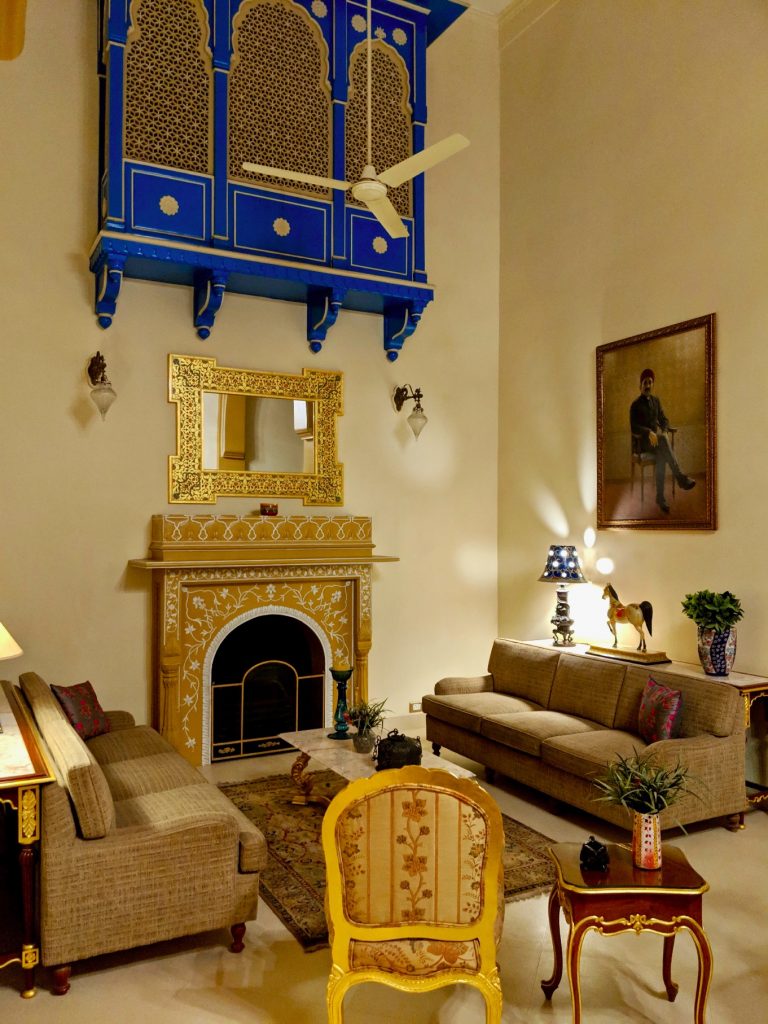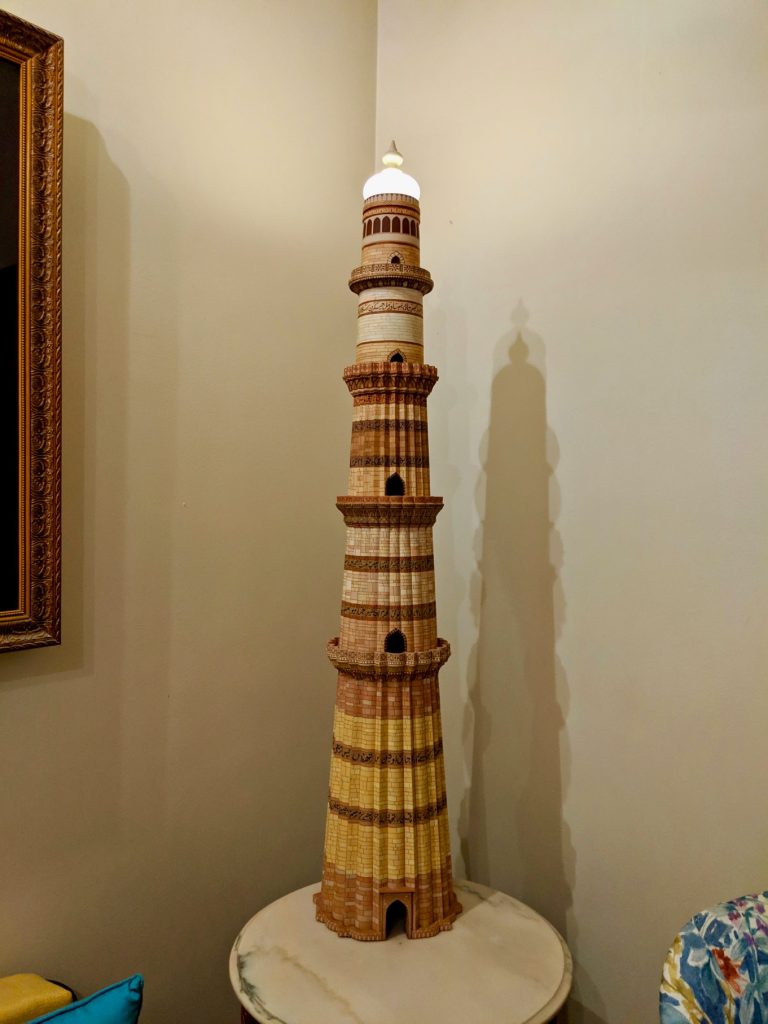 Breakfast was again an amazing experience which was well laid out at the beautiful restaurant in buffet style. The menu included Poha, Cheela, Curd, Aloo Tikki , juice, fruits, toast (with butter/ cheese/ jam). On special request the staff also made yummy Paneer Paratha too. There was also a choice of tea/ coffee to keep us awake.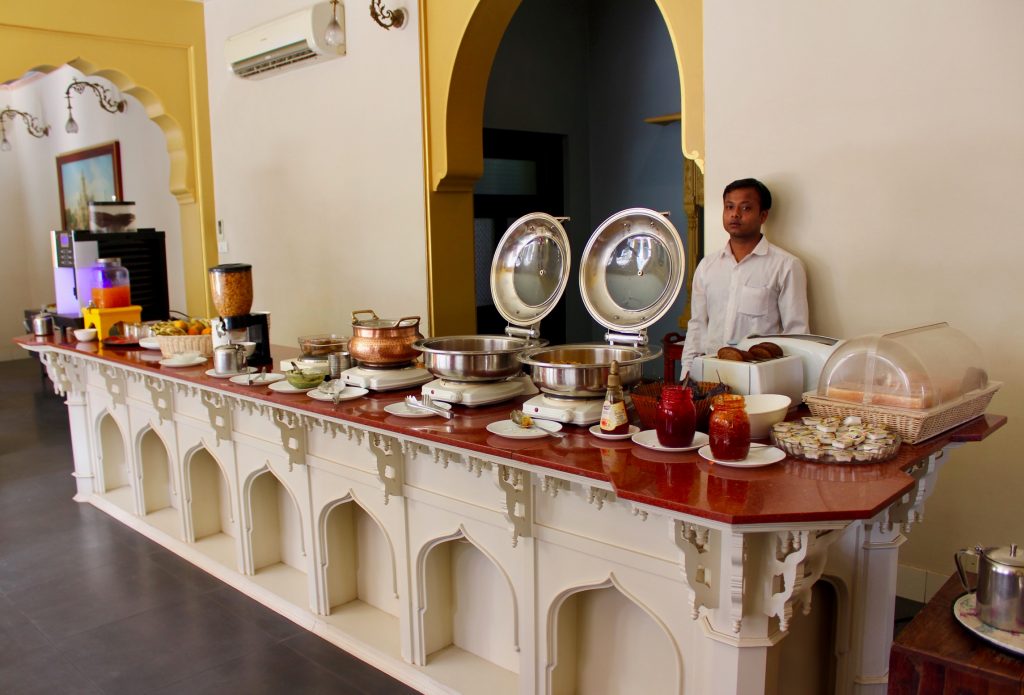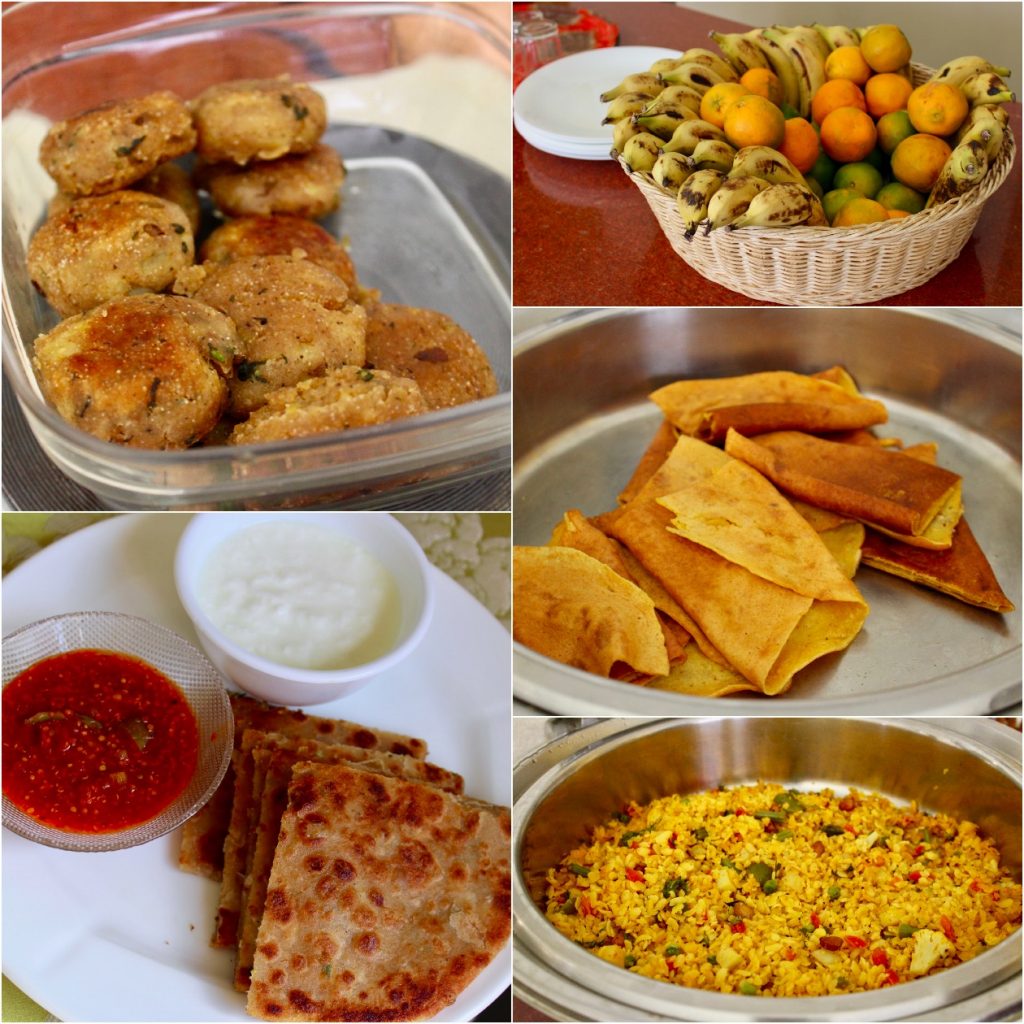 Post breakfast we also made a visited the beautiful Karni Mata Mandir made in the hotel premises.
Time for sightseeing and we headed to:
The Royal Cenotaphs: The cremation ground of the royal family of Bikaner where one can witness various cenotaphs in the memory of kings and queens. Each cenotaph made of white marble has a glimpse of Rajasthani art and architecture. The place has magnificent architecture, very well preserved and is serene. The earliest cenotaph is of Rao Kalyanmal, the ruler of Bikaner from 1542-71 A.D. and the last cenotaph is of Maharaja Karni Singh (1950-88A.D.)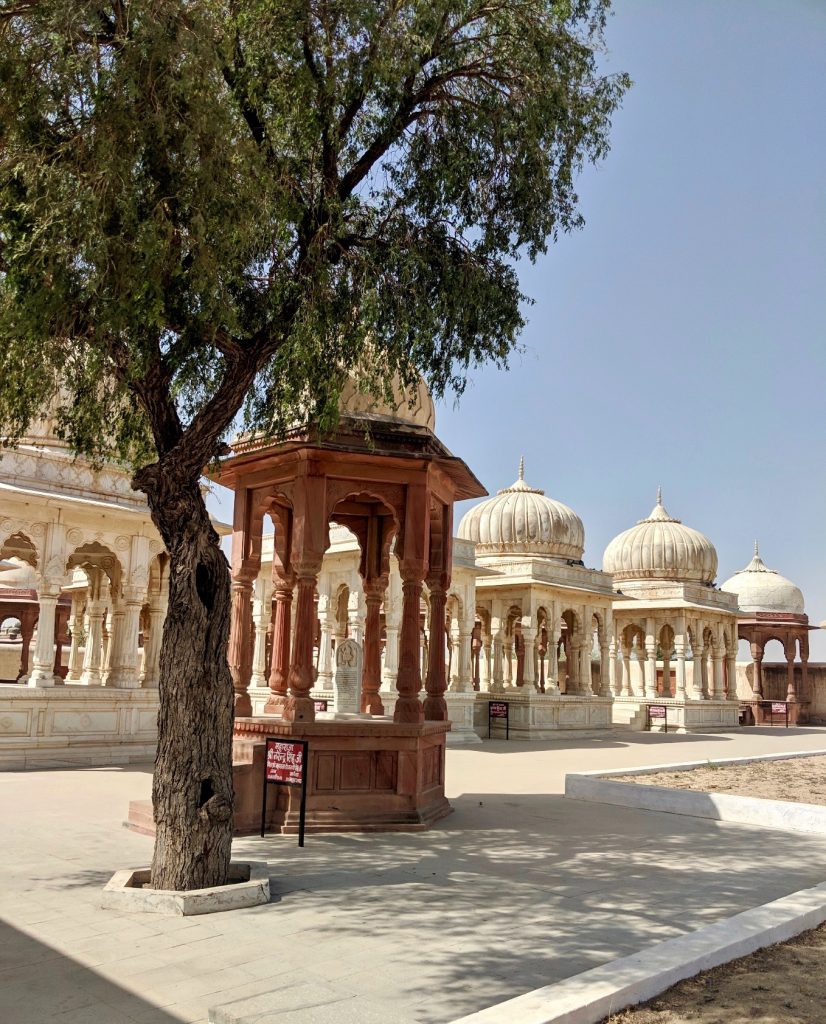 Junagarh Fort: One of the most famous tourist destination of Bikaner, the fort made of Red sandstone was constructed by Raja Rai Singh, between 1588 -1593 AD who was the sixth ruler of Bikaner who ruled here from 1571 to 1611 AD.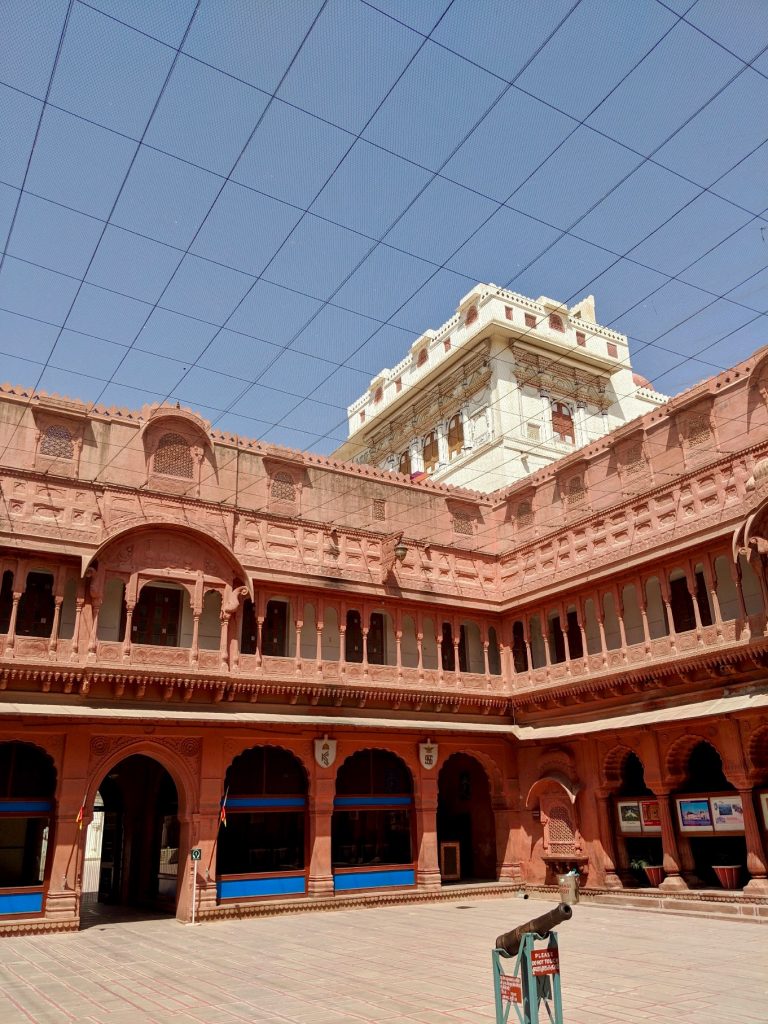 Once inside, you would see beautiful courtyards for different purpose and occasions –one for marriage ceremony, one called Holi chowk for Holi festival etc. One would also see beautiful mirror work, paintings, and lacquer work across different Mahals created inside the fort. From Badal Mahal, Anup Mahal, Phool Mahal, Sheesh Mahal, Chandra Mahal, every Mahal is different with its own highlights. I was really fascinated to see the beautiful sword weighing 300 kg at Karan Mahal and the Dance Courtyard at Anup Mahal. There was also a silver gate weighing 60 kg. There is 80 kgs of gold used inside Anup Mahal. The arched balconies are a great place for photo opps. There is also a Haviland War Plane kept inside the fort and it's a fascinating one.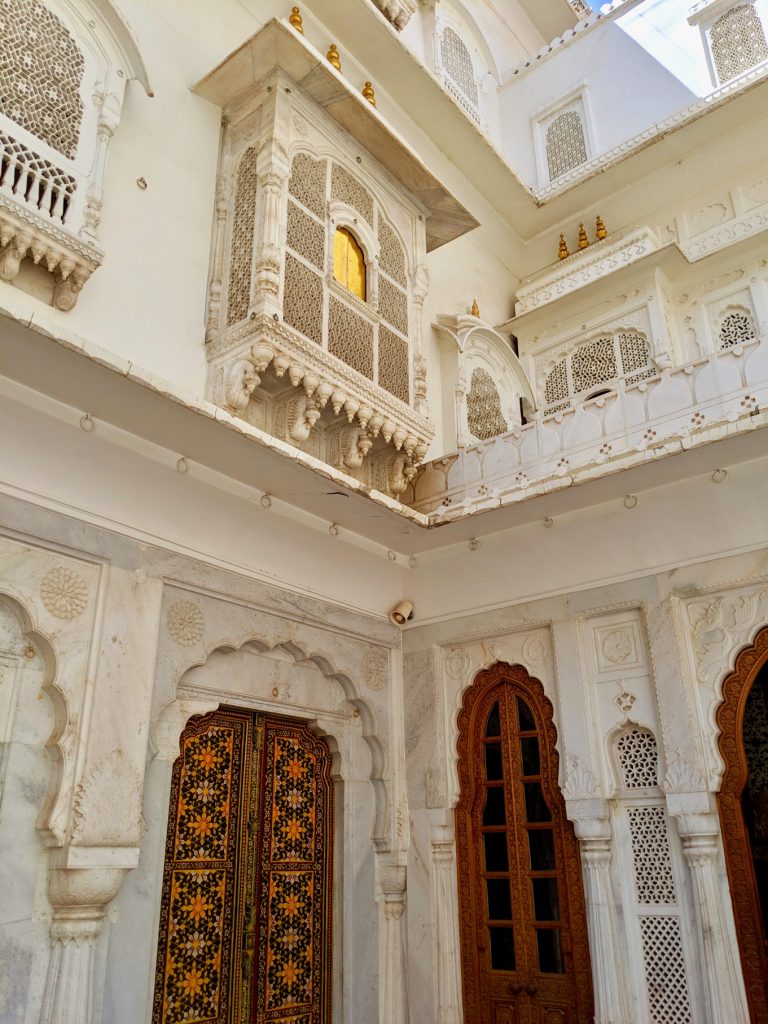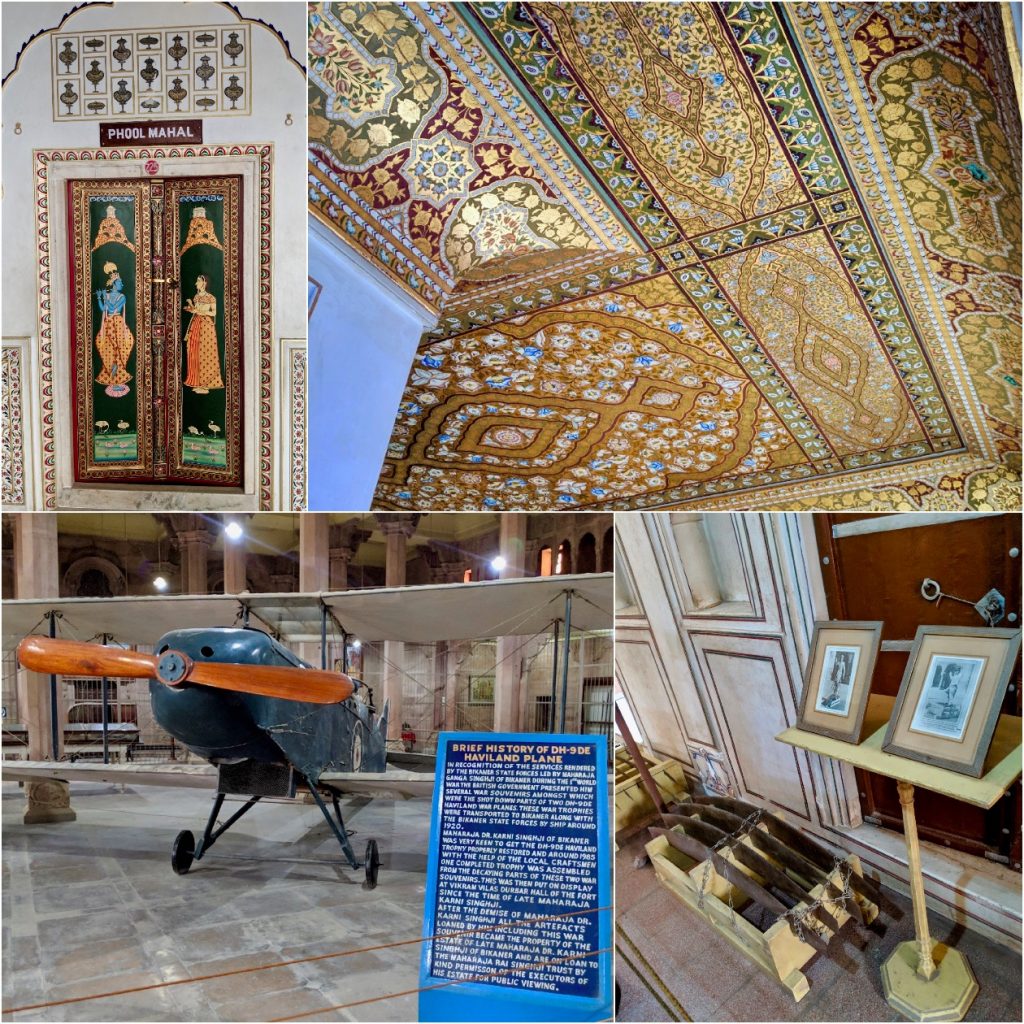 It was now time to visit Bhanwar Niwas, the Historical house of Rampuria family. The large Haveli offers an intimate experience with European architecture with an Indian twist. Intricate work done by hand, Bhanwar Niwas is a tribute and testimony to the skill and craftsmanship of the artisans of Bikaner. Mr. Sunil Rampuria who owns Bhanwar Niwas too took us through the whole Haveli where no two rooms are same. Before the hotel opened, Sunil made changes like carving attached bathrooms out of the large rooms. He did the stencil-painted wallpapers himself for the hotel which started in 1993. The historical house is large but intimate and is managed by Sunil's son Prashant Rampuria.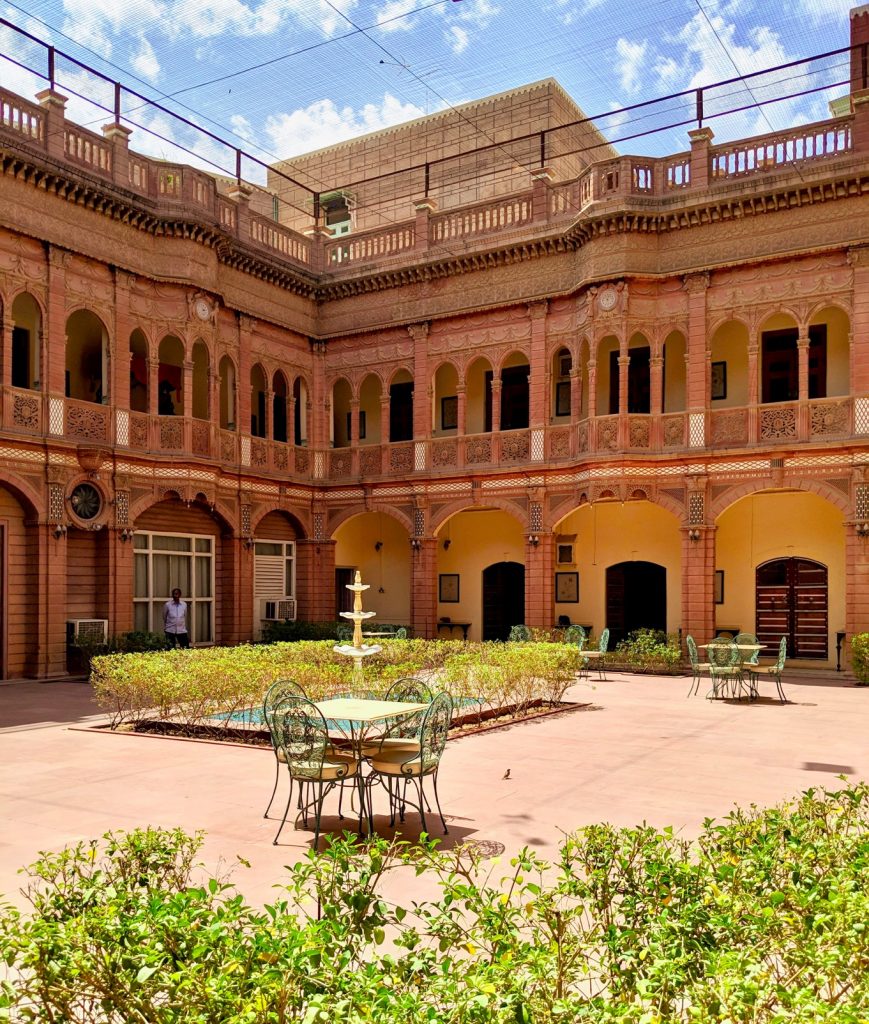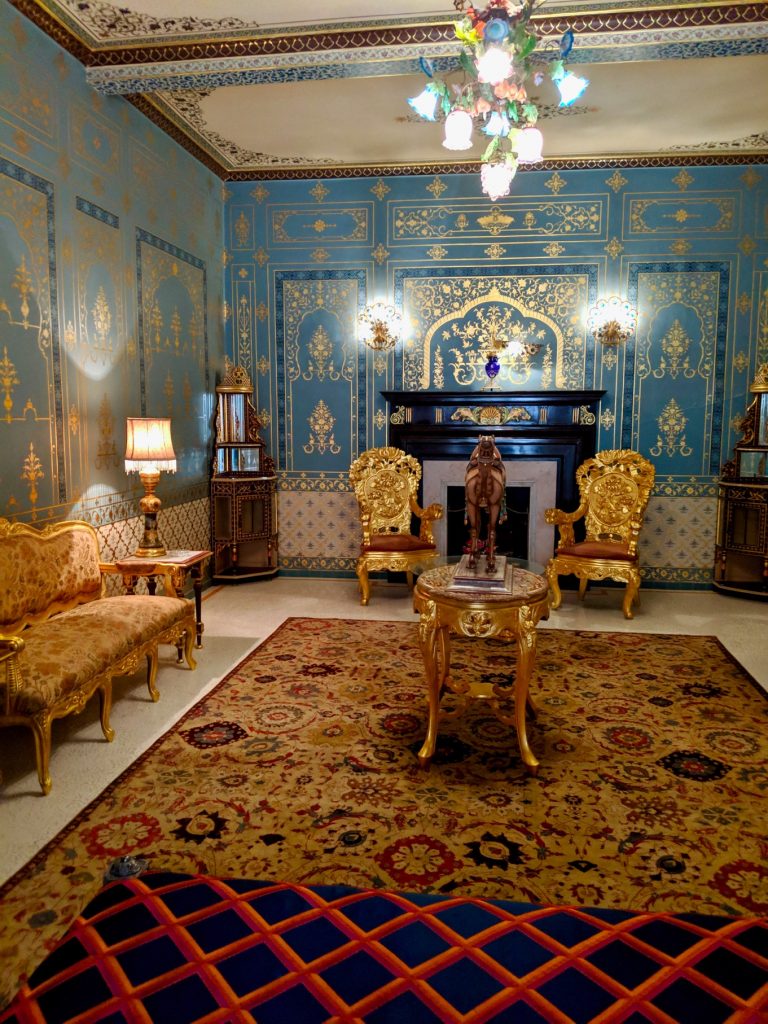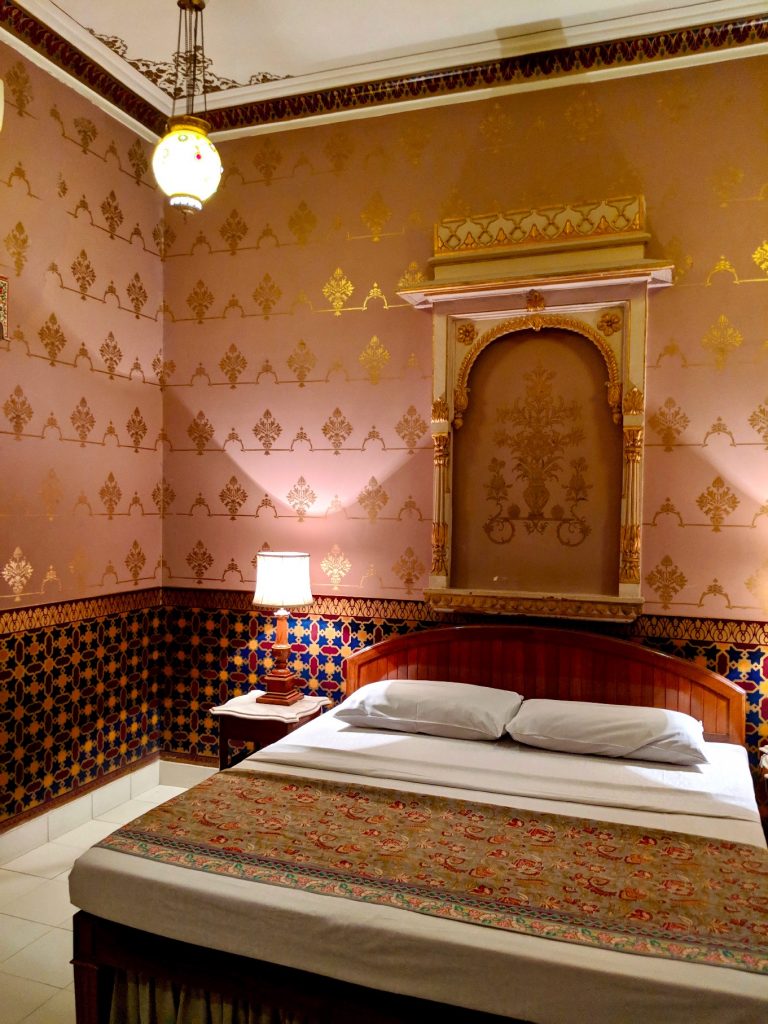 Our lunch was organized at Bhanwar Niwas and we were first greeted with Cold Raab which instantly refreshed us. Our meal was set in the gorgeous European style restaurant retaining the Indian traditions. A look at the table, we saw a combo of Tikdi, Papad, Chana Achaar, Lasan Chutney and onion. I would say the combos were delectable and addictive.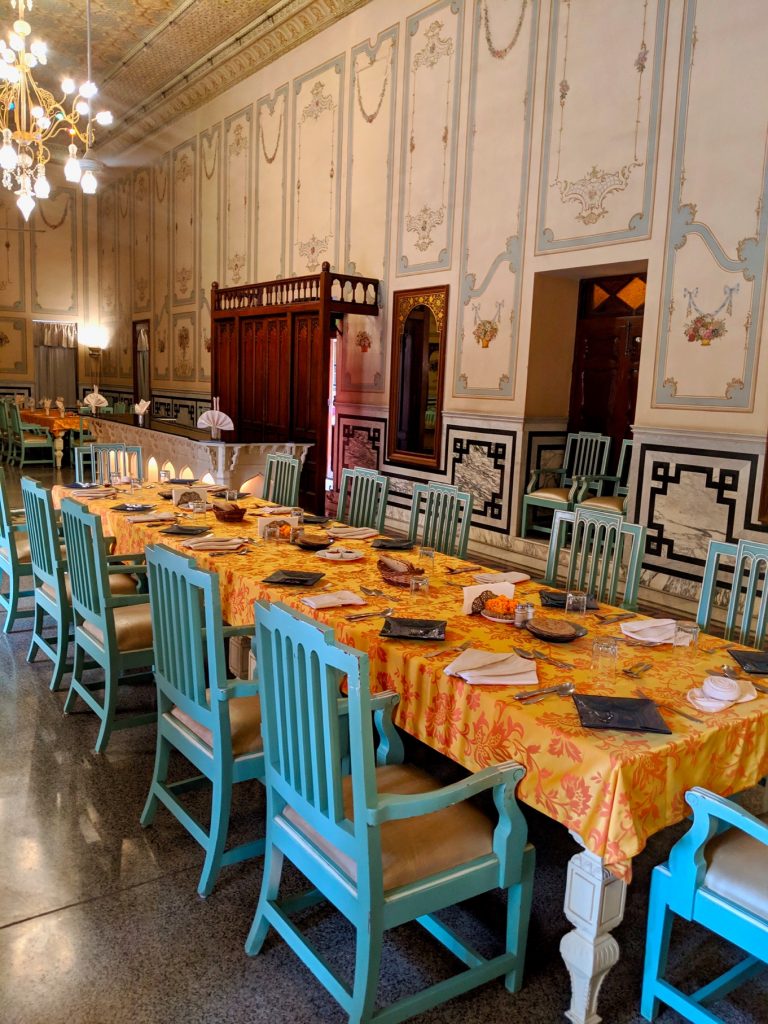 The grand Marwari Thali comprised of Kanji Bada, Kachori, Khichda, Imli Pani, Badi, Kakdi Angoor, Aloo, Chachita, Corn Pulao all neatly arranged in small katoris along with Poori. Dessert comprised of Rajbhog which was also part of the thali. Everything was so amazing and it was difficult to resist the delicacies. Really cherish the experience and hospitality!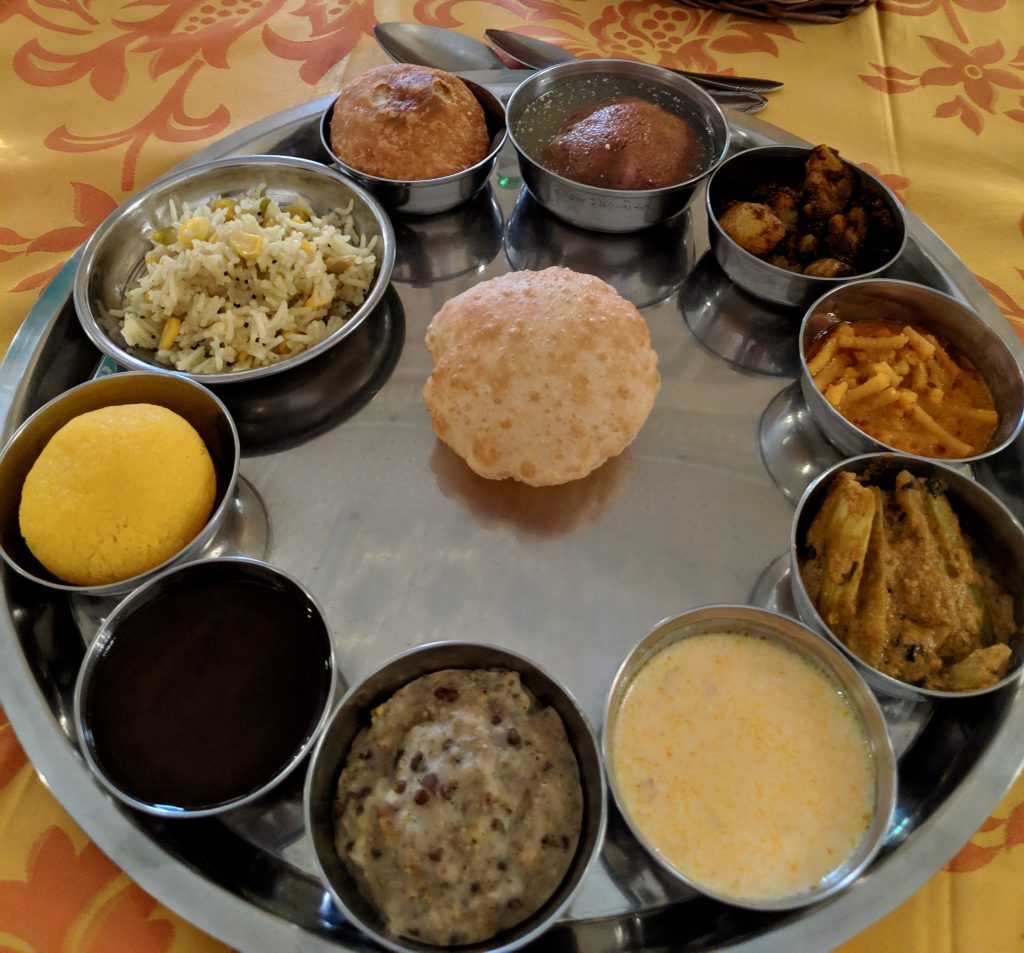 Post Bhanwar Niwas, we got into our car and headed to another refreshing point which was Chunni Lal Tanwar Sharbat Wale. Started in 1939, the famous joint is currently run by the third generation. One has a wide choice to choose from various flavours like Jasmine, Rose, Khus, Sandal, White Rose, Paan, Saffron and many more. All made fresh with a variety of flowers and spices. Not only did we try a variety of the refreshing sharbats at the stall served in kulhad but also got White Rose and Khus packed from home.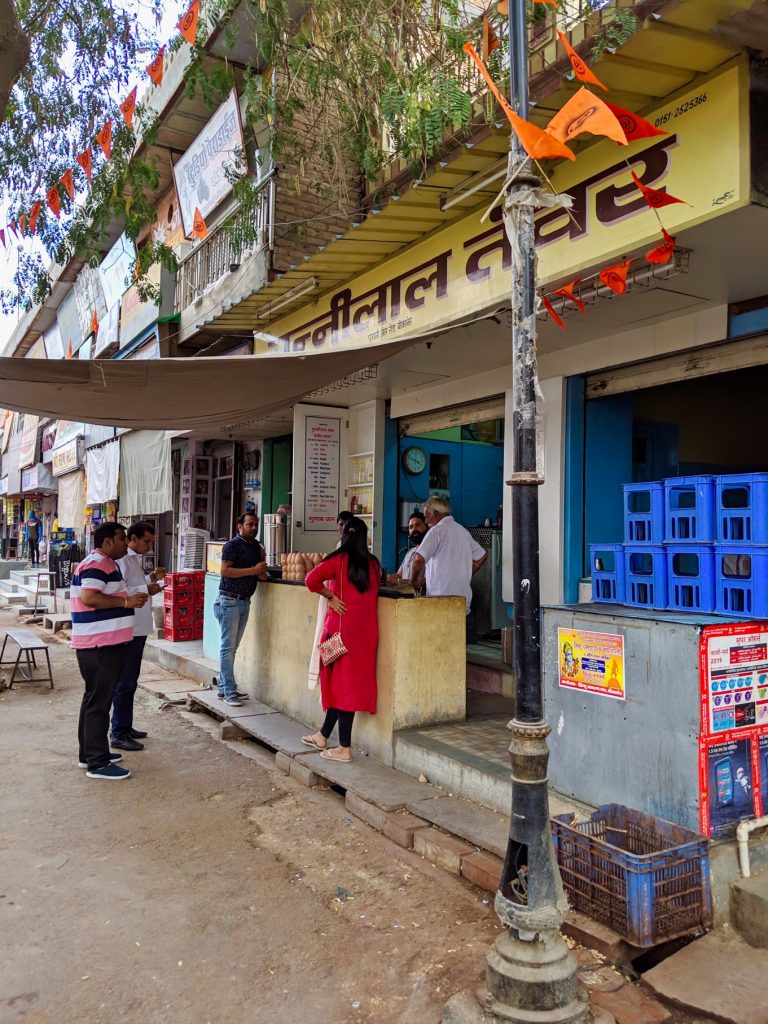 Being at Rajasthan, how could we miss on meeting camels so post the refreshment we headed to National Research Centre on Camel. It was interesting to see camels from different regions at one place. We could see a total of 349 camels from Bikaneri to Kachchhi to Jaisalmeri to Mewari. We also saw how the caretakers passionately took care of the camels and even fed the newborns with milk.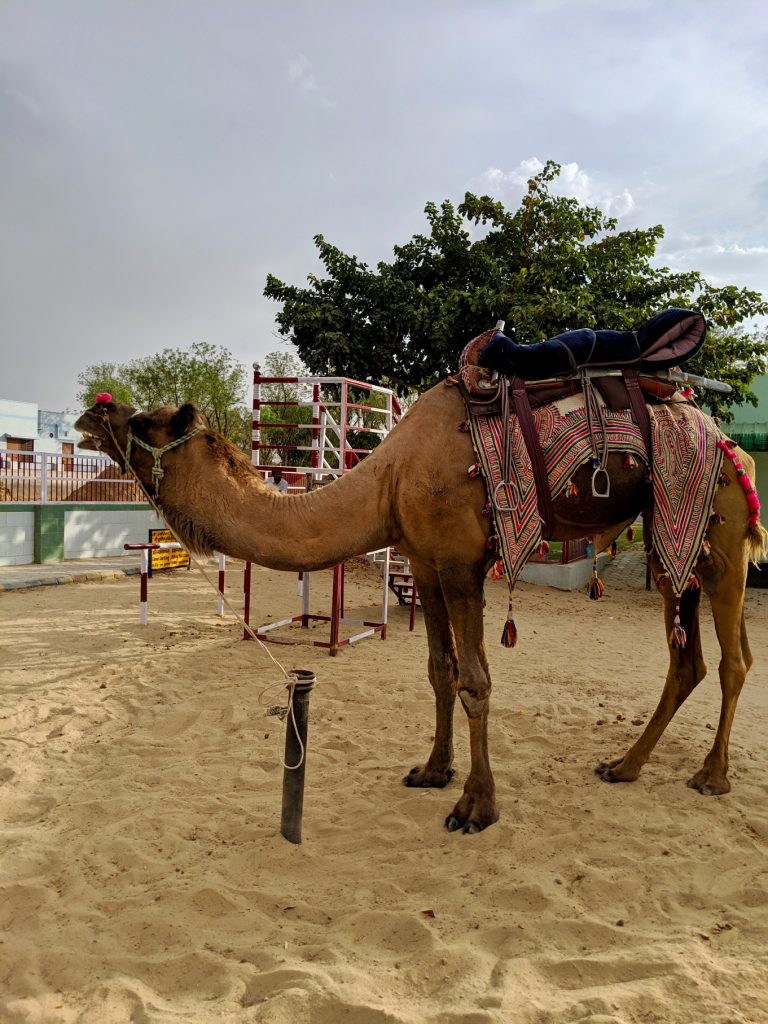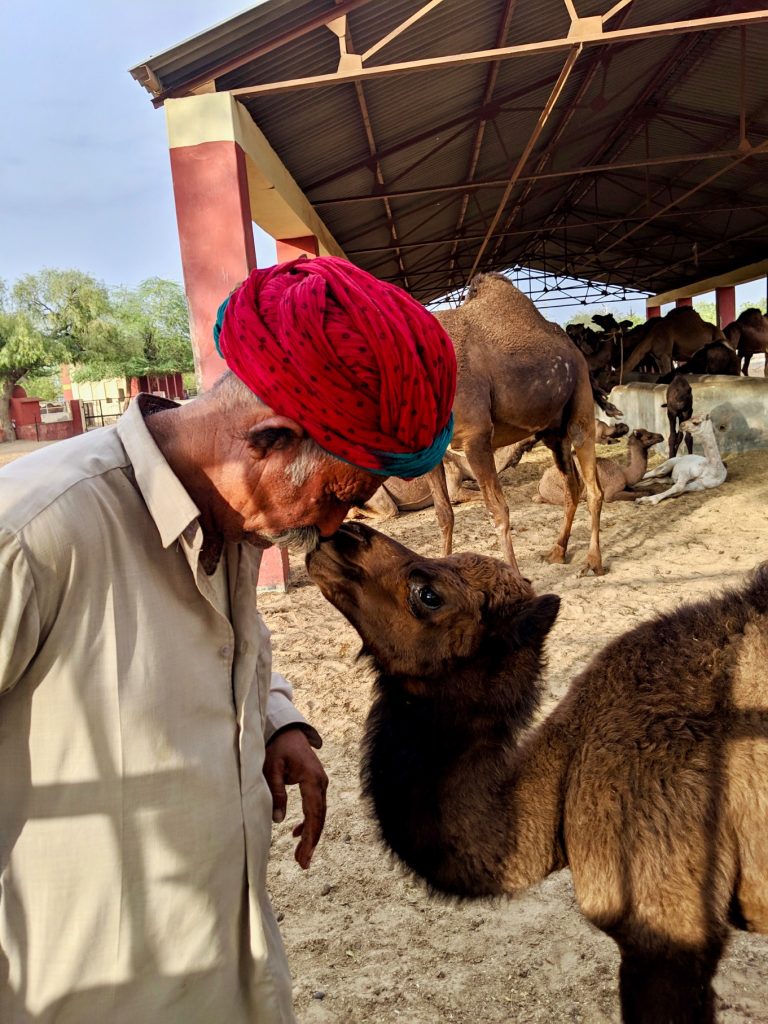 We headed to Gaj Kesri to freshen up. Interestingly this was a night before Navratras so that day we thought of having the authentic Laal Maas of Rajasthan so we headed to Lallgarh Palace where we had yummy Chicken Tikka, Laal Maas and Roti. Though it was good, but I have had better Laal Maas at Rajasthan.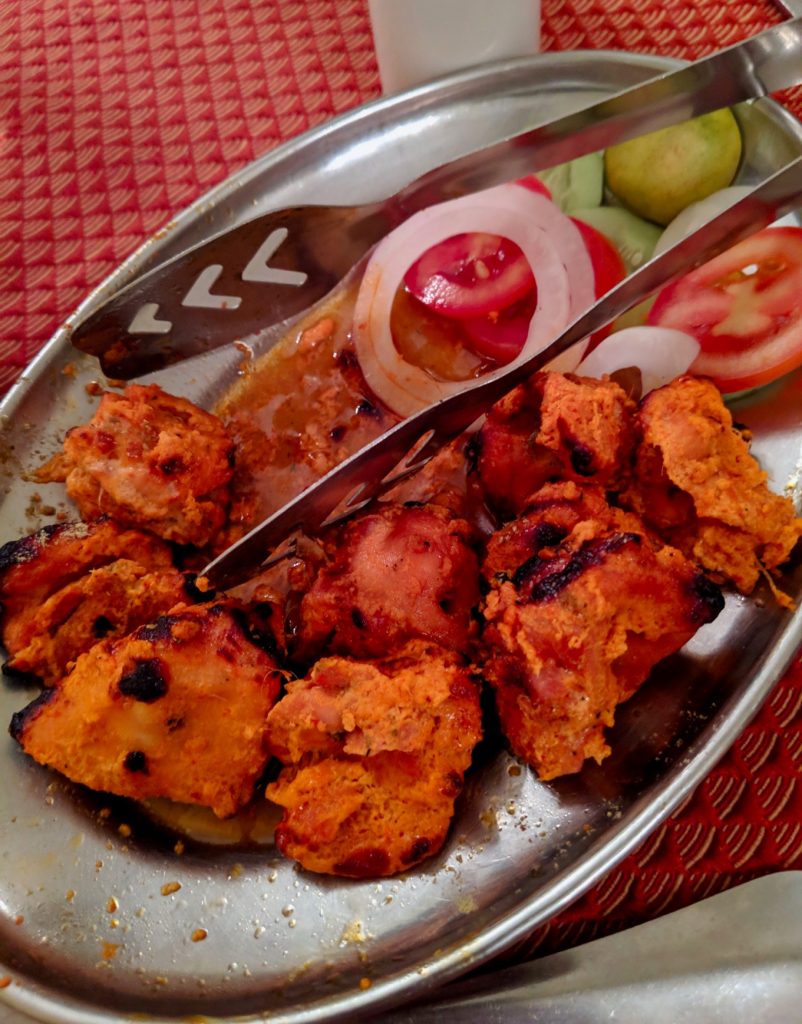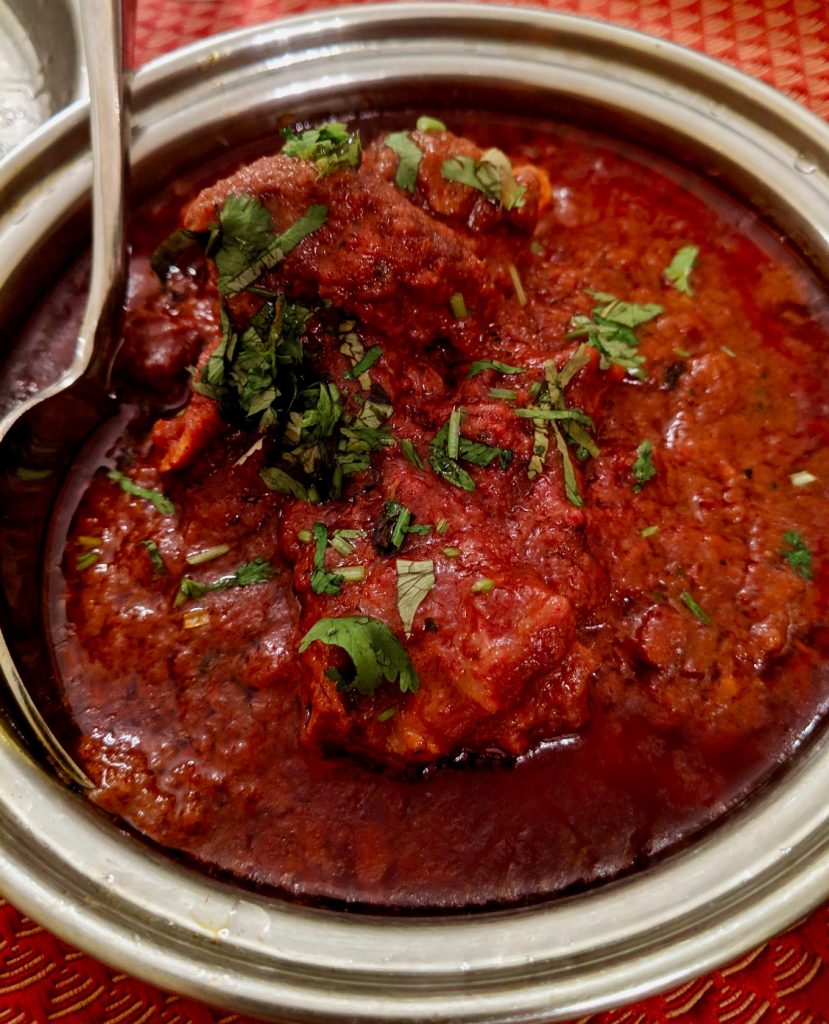 We returned back to Gaj Kesri and were pleasantly surprised to see some singing and dancing by our fellow bloggers & journalists. The lead singer Raja performs at the hotel every evening and entertains the guests with his band. On our personal request Mr. Rampuria took the mike and sang Ajeeb Daastan Hai Yeh again in his melodious voice. Time just flew by singing and dancing and infact many foreign guests who were present at the courtyard joined us. It was time to retire for the day.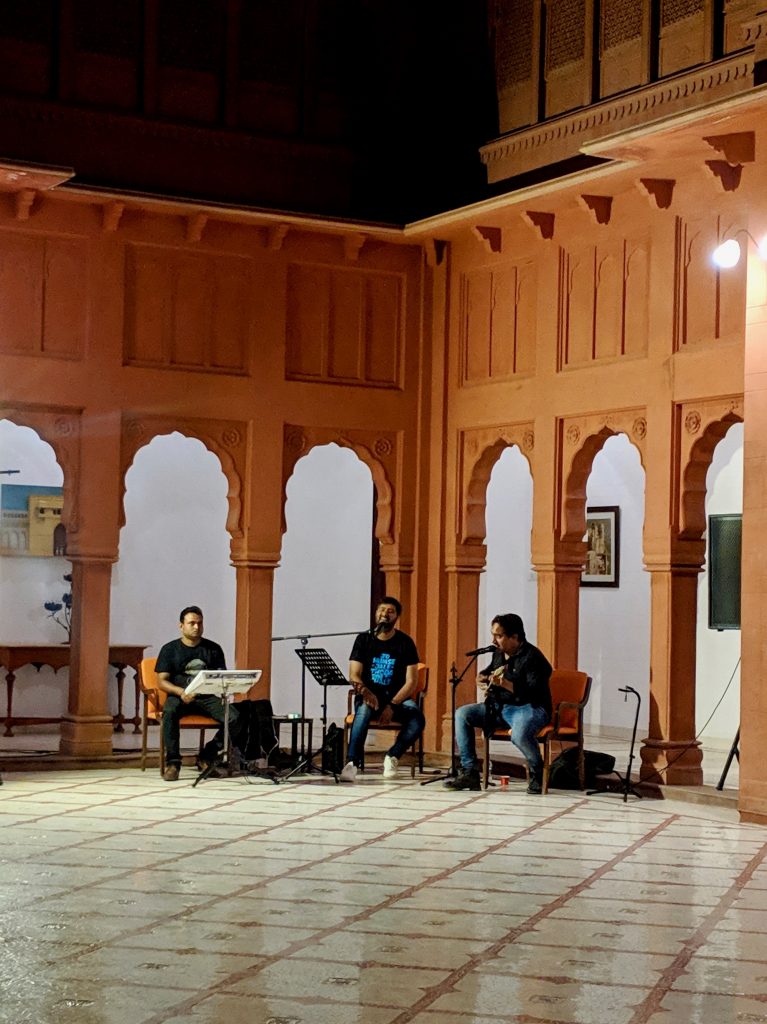 It was a refreshing morning the next day and we headed to the beautiful restaurant for our breakfast. The menu that day included Aloo Bonda, Baked Beans, Poori Bhaji, Fresh Fruits, Lassi, Juice, Tea, Coffee and Corn Flakes with Milk.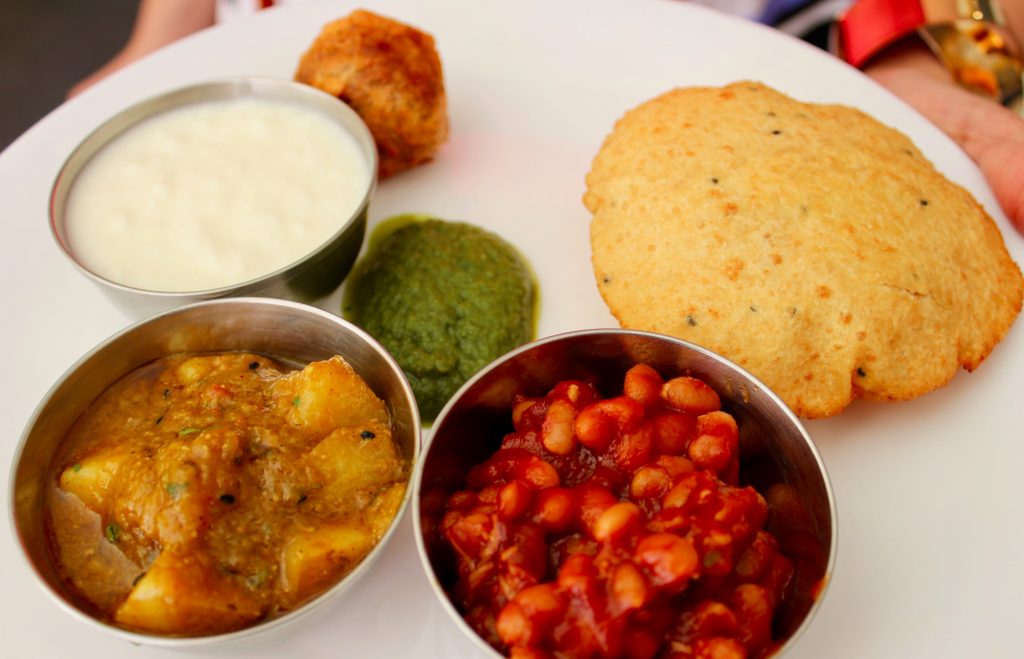 It was time to bid goodbye to a great time spent at Gaj Kesri which would be cherished for long but on our way to the airport we headed to Bikaji factory and saw how tasty Bhujia is made. We even bought a lot of bhujias, namkeens etc. for home.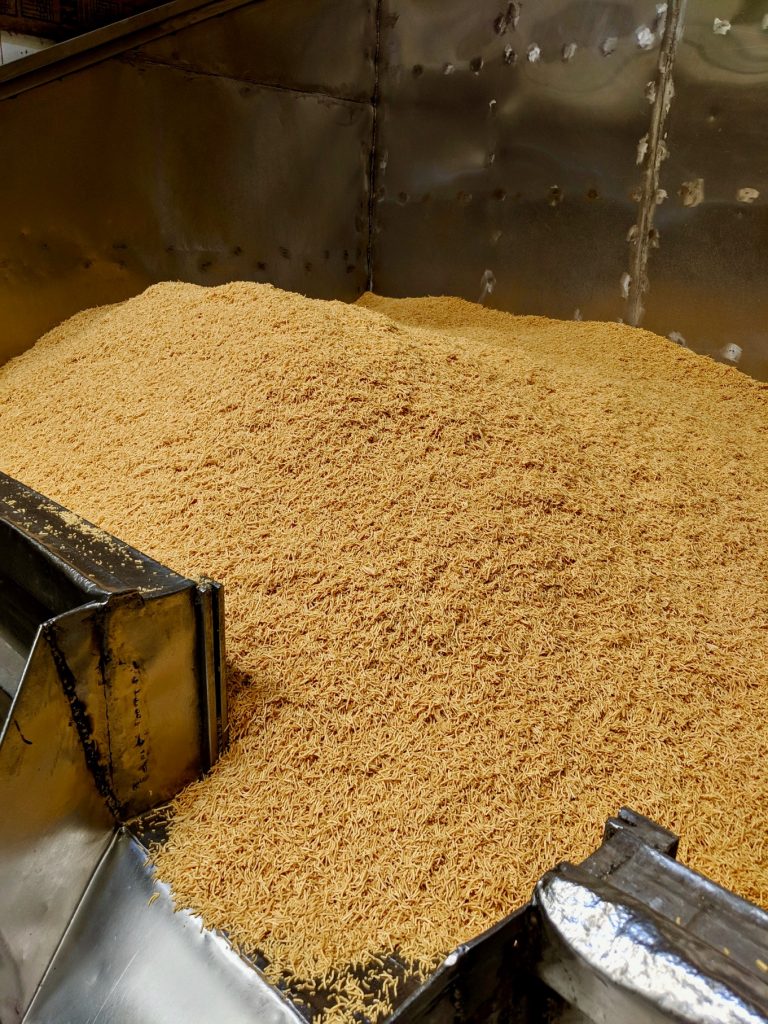 If you want to know how to reach the beautiful property, then you can reach by air, road or rail. The airport is in the city itself where you can fly from Delhi or Jaipur. Bikaner can also be reached by train from Delhi, Jaipur, Mumbai, Agra and other major Indian towns. The hotel also offers the most wonderful venues and catering for weddings and other events so if a Destination Wedding is how you are planning your wedding, then you know where to head.
---
Photos shot & edited by Shubham Arora