Shoe Love is True Love– Anonymus
And that's what our lady has in mind. We are talking about none other than Radhika Jain who is all set to take the shoe industry by storm. When I met her, the first question I asked her was why shoe designing? Why not fashion designing? The lady spoke about her affection with footwear and we can't agree more! The young entrepreneur said 'Ever since I came out of school, I had entrepreneurship in mind and wanted to venture into a creative field'. That's when she went to London College of Fashion (Cordwainers), UK to learn footwear design from an international perspective. Even after coming to India, she continued to hone her knowledge on the peculiarities of footwear designing, and completed her post graduation in Footwear Technology from Footwear Design and Development Institute (FDDI), Noida and Mewar University respectively. She additionally learnt Online Retail for Fashion Business from LCF, UK. All of this education coupled with a rich practical work experience in India and Italy lent her the spirit to start on her own.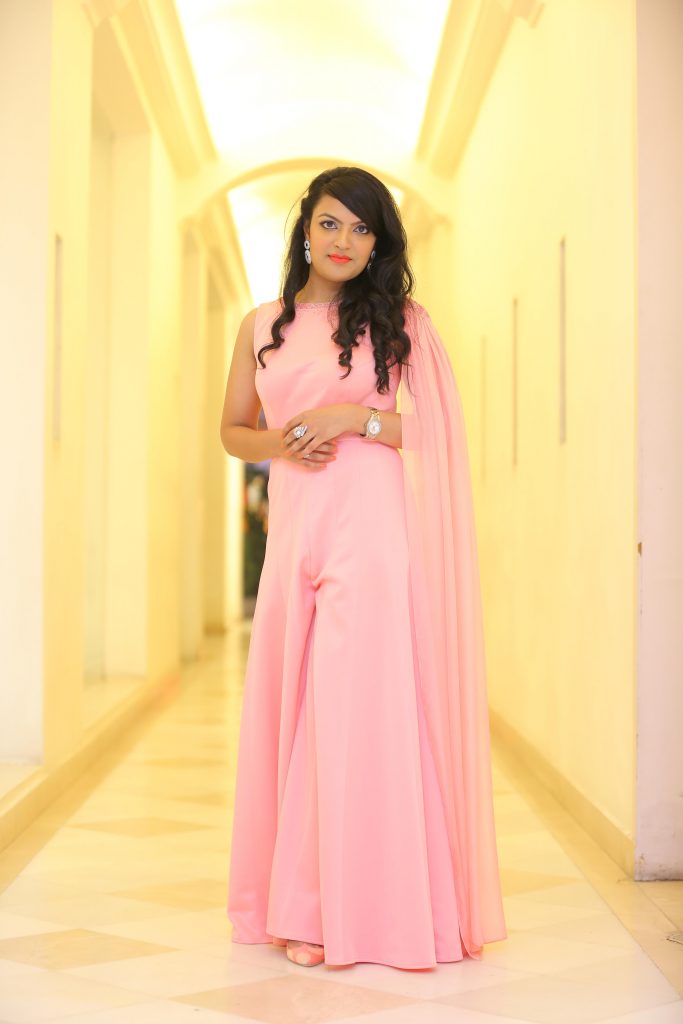 Radika J is all about colours that the ladies struggle to find, cuts they wish they could experiment with and shapes that suit their form just right. What I personally love is if you choose the footwear, it will be customized only for you! Yes, a click on www.radikaj.com. will open doors to any girl's fantasy. From Ballerinas to Platforms to Heels to Slippers to Sandals, there is something for every requirement. Don't we need a different pair if we are going to work vs we are going to a party vs a wedding.
While browsing the site, my heart stooped onto Brogue Sabot, being a pink fan and with winters approaching, this was just the perfect pair for my fashion wardrobe! For a recent shoot I sported the brogue's with a maxi dress and a knee length dress. The shoes were comfortable, glamourous, edgy, colourful and were made exclusively for me. I generally have a problem with my foot size, I wear a shoe size 41 and most of the brands stop at 40 but with Radika J, I can get a shoe customized for every outfit that I own! Wow…isn't this a dream come true?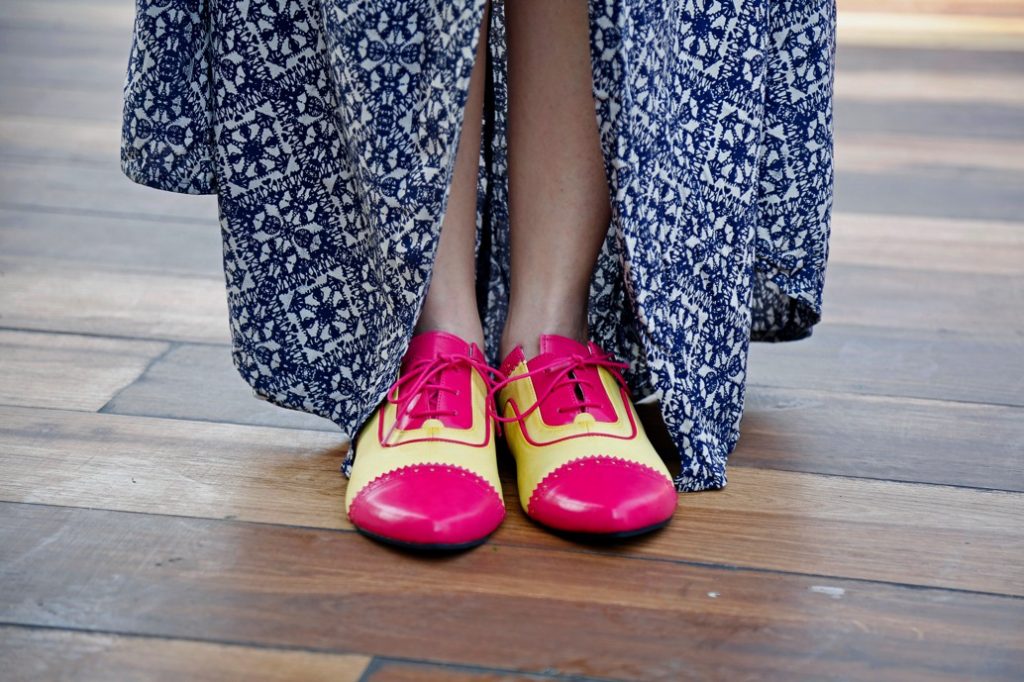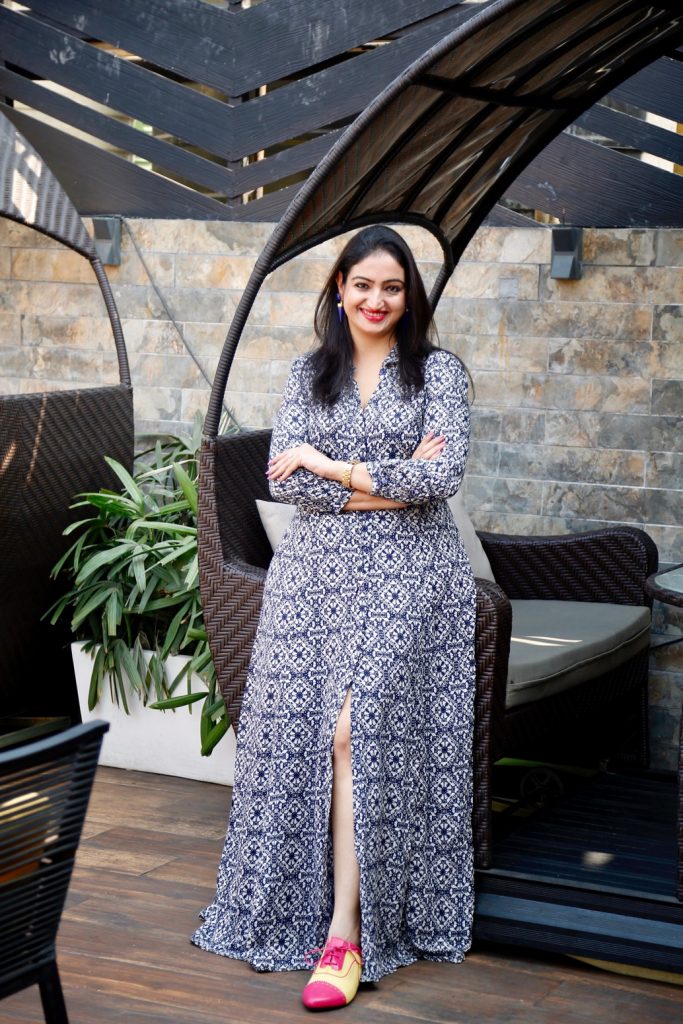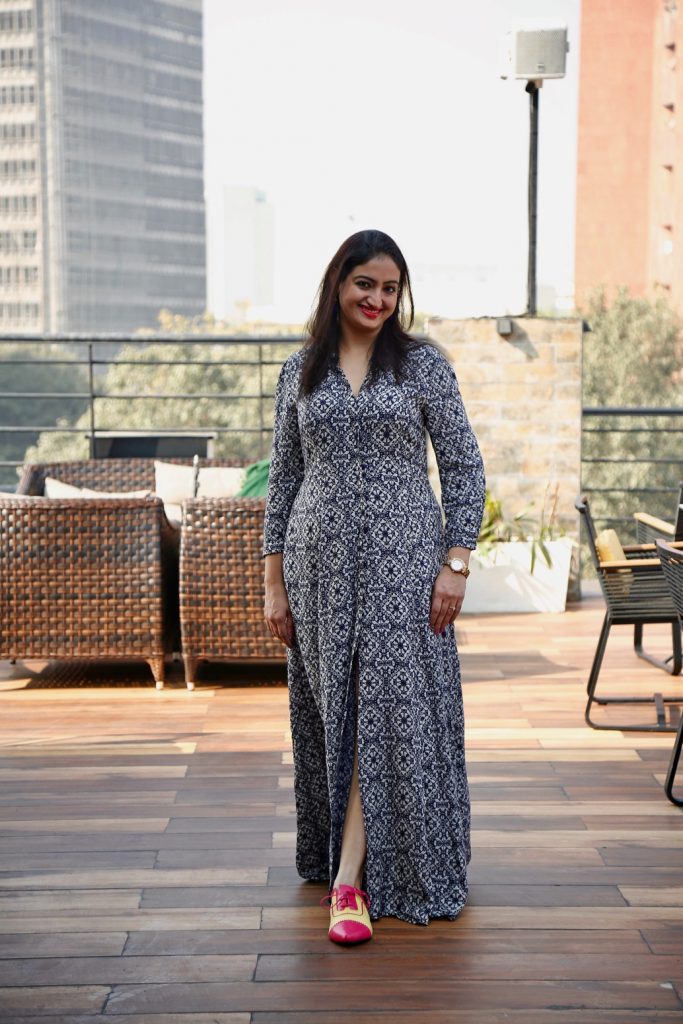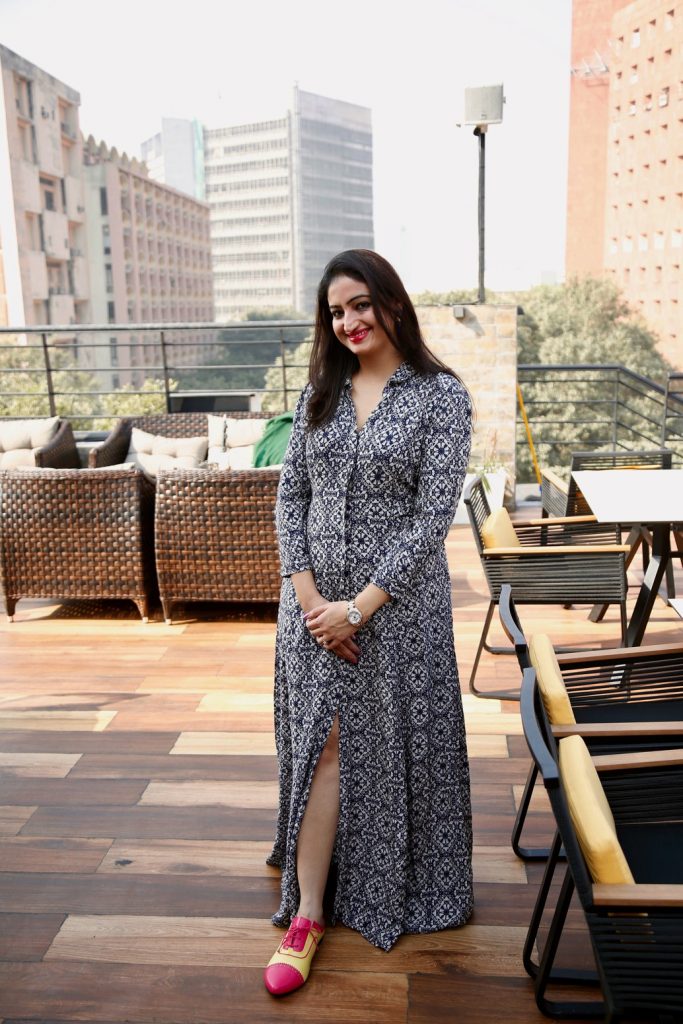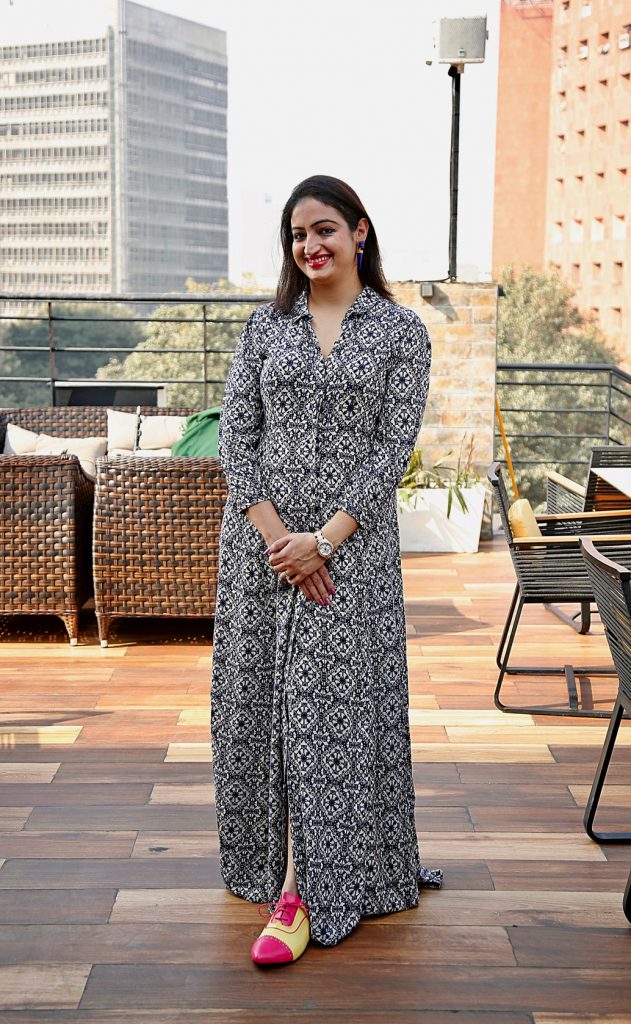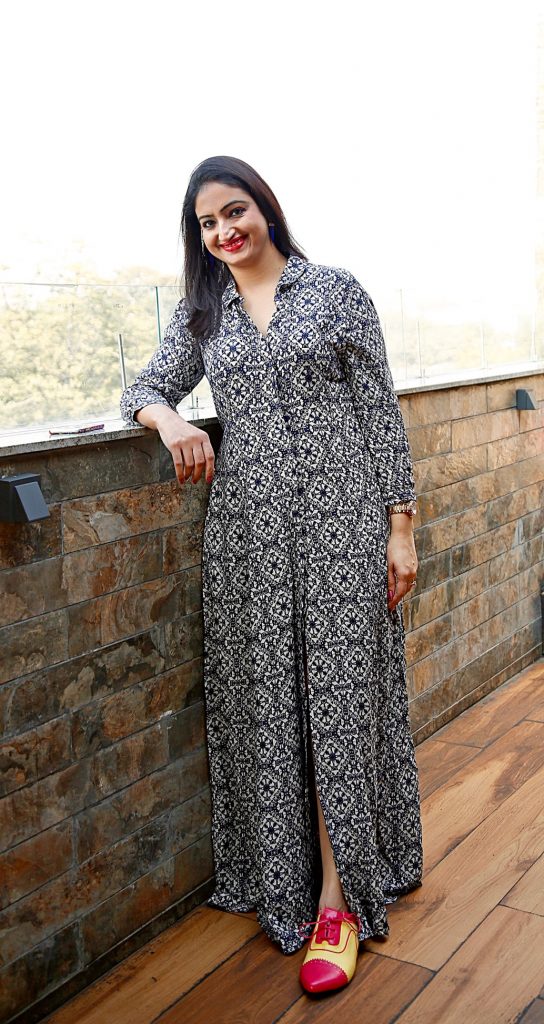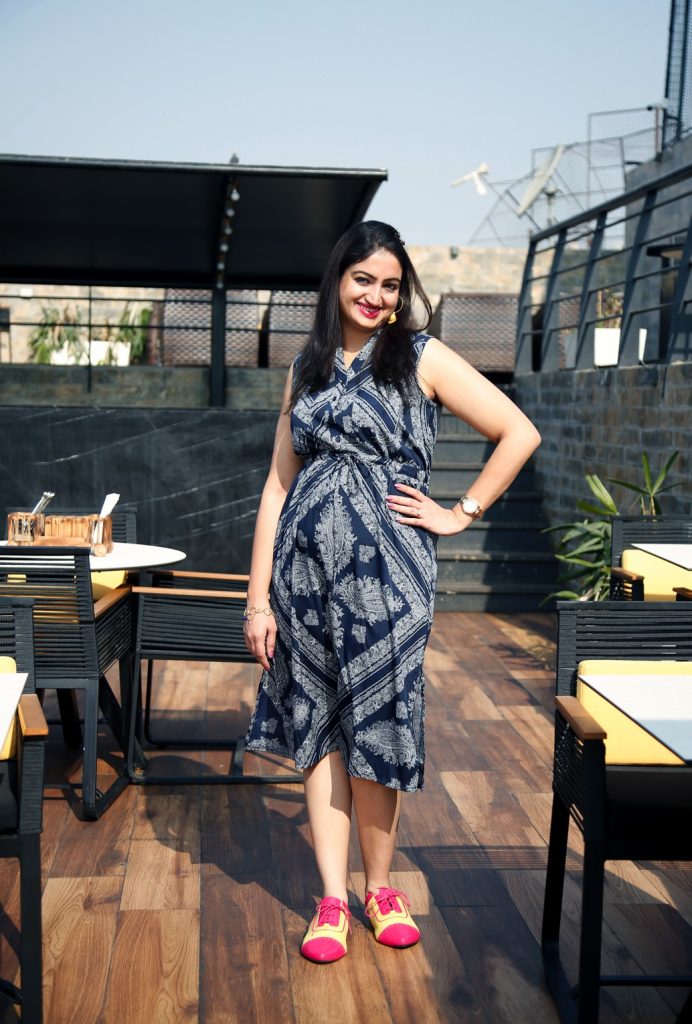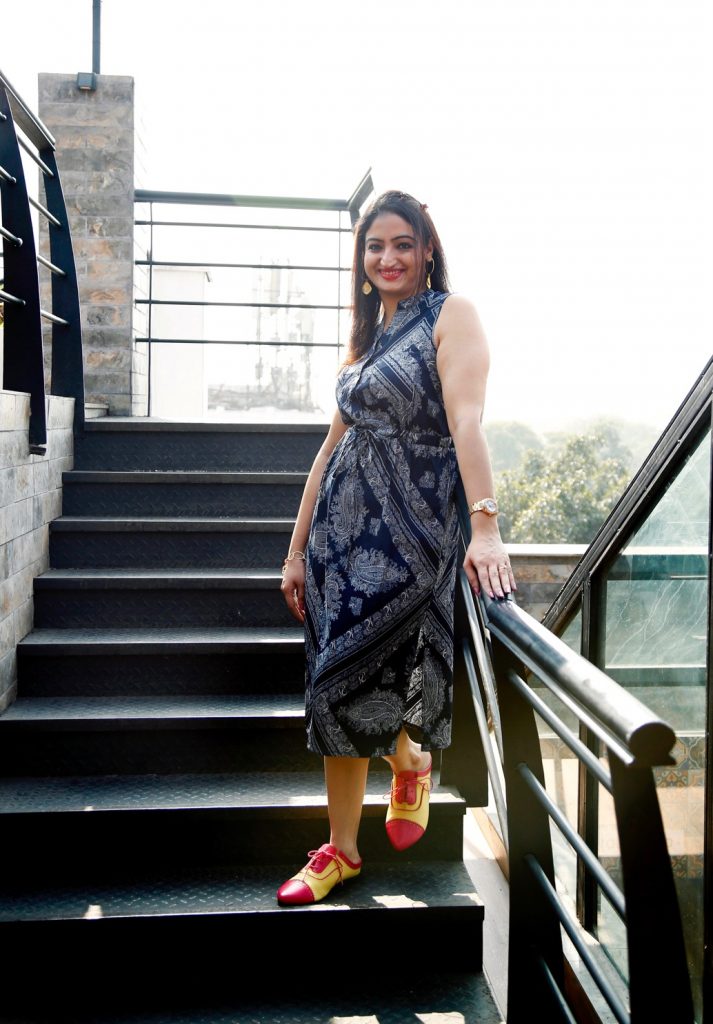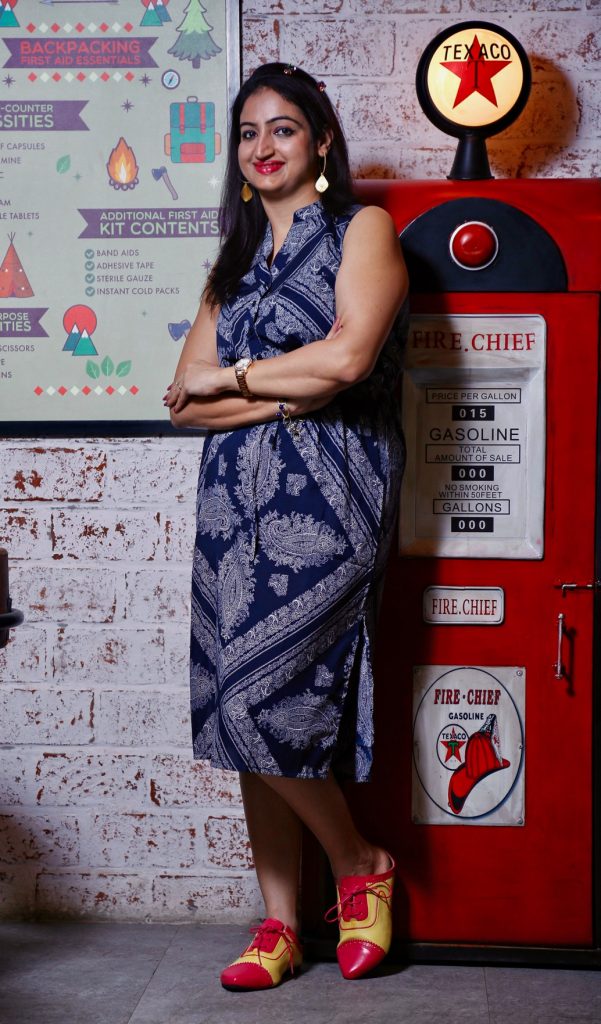 Nidhi on the other hand chose a Patchy Loafer Wedge Platforms with quirky colour punches which made a statement with her all black outfit! No brownie points for guessing- Yes, even this one was customized only for her! Even she wears a size 41 but her feet are a little broad and mine not so broad but she could conquer the world wearing these!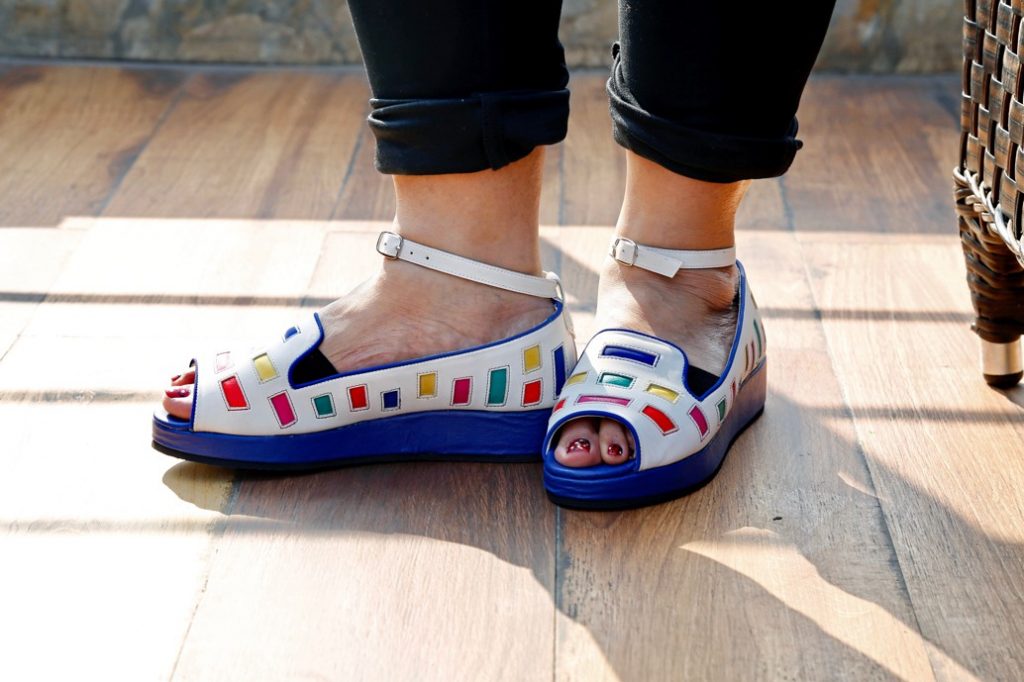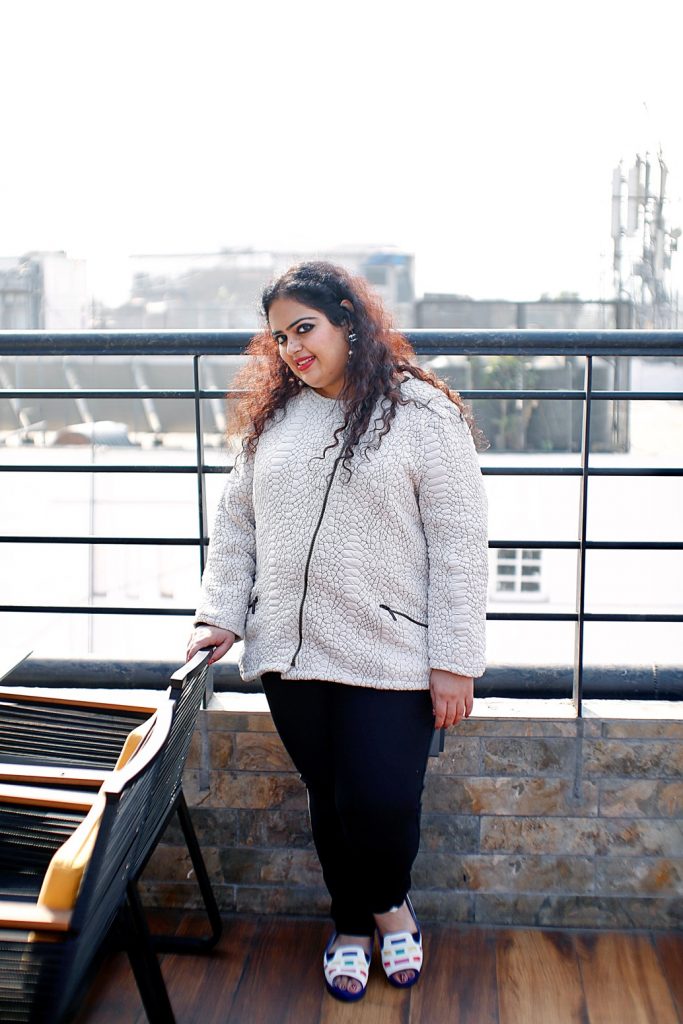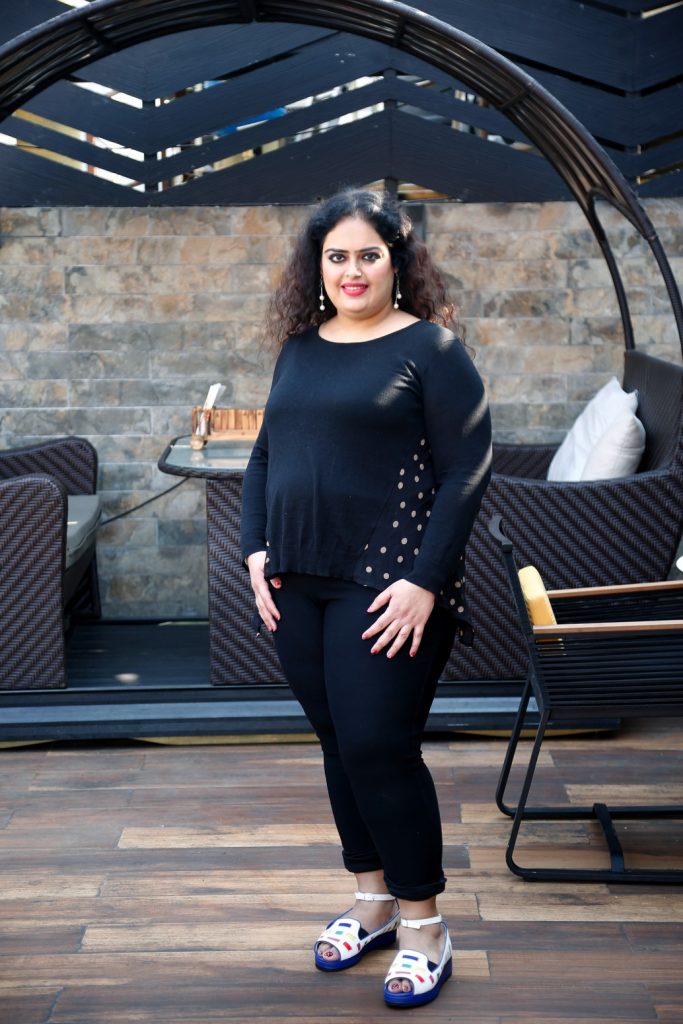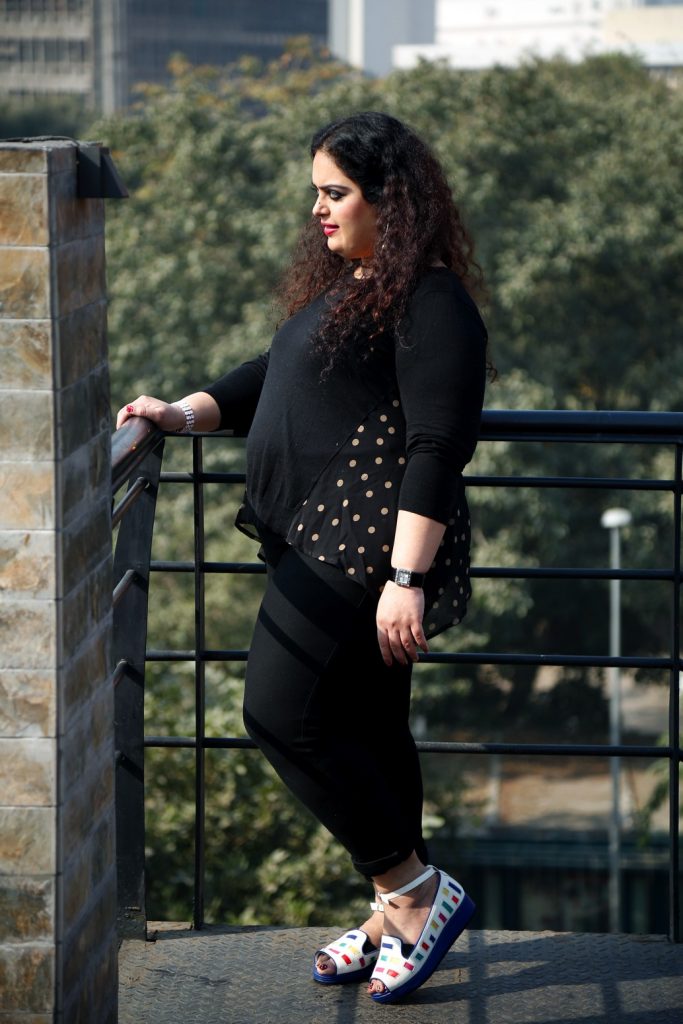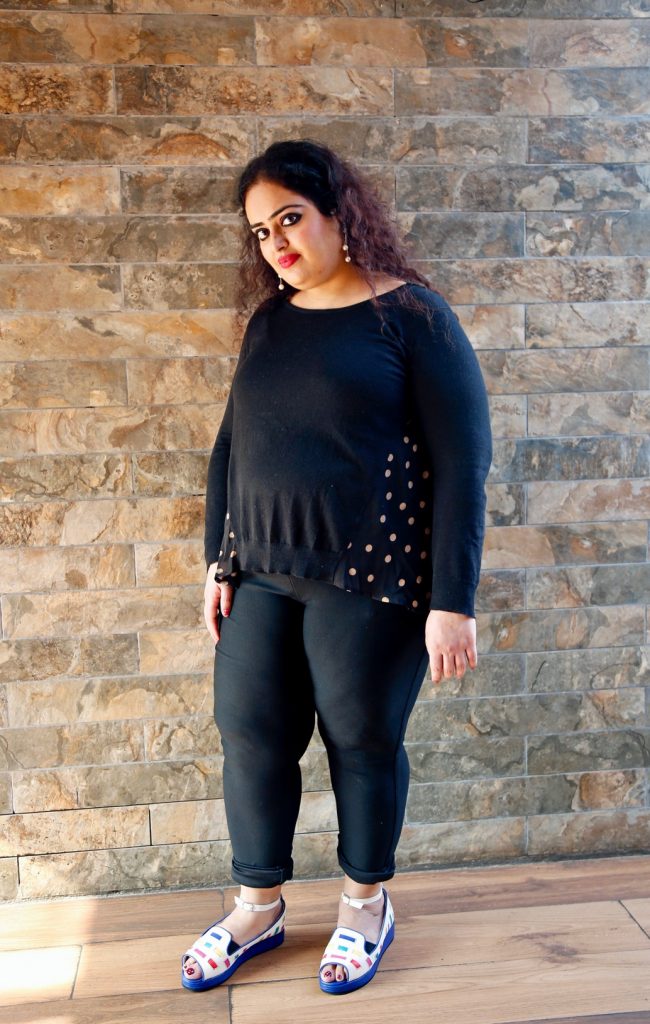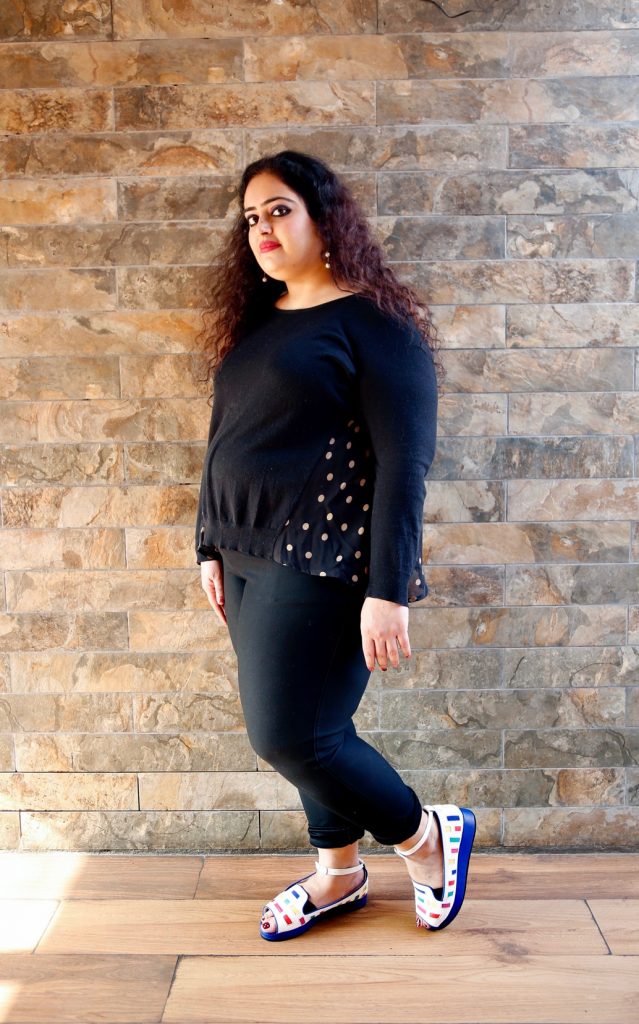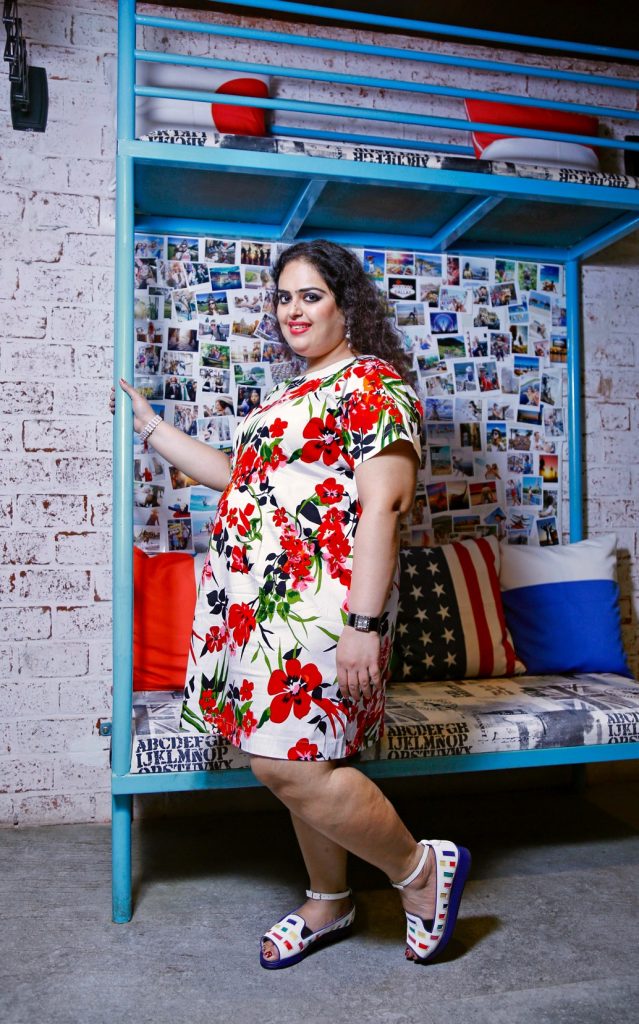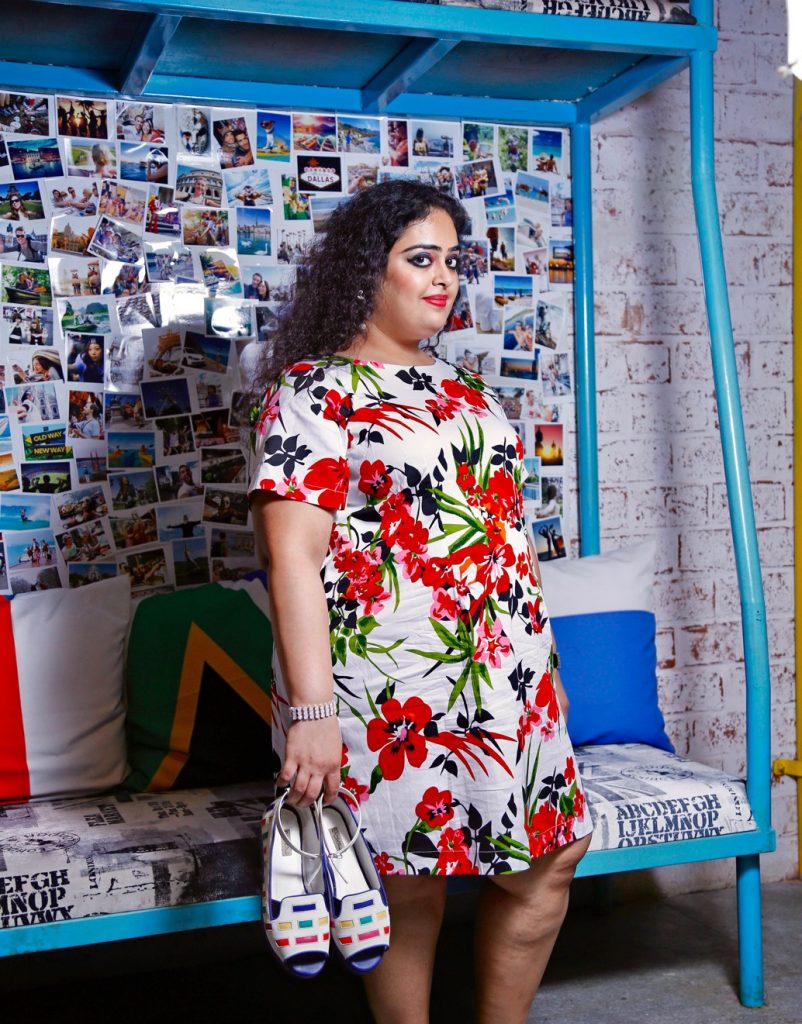 I wanted to know the difference in the education system between UK and India (since she was exposed to both). She informs that the teaching method in UK changed her outlook! While London was about learning the creative aspect but India was about learning the production aspect! While we saw ample of metallic and colour-blocking themes, embellishments, weave and cut-out details in the styles on the website,  the artist behind these masterpieces – Designer Radhika Jain finds inspiration wherever she goes – from street styles, fashion shows, to different cultures, places, books, objects, fabrics, floors, walls etc. One would be able to notice her brainwaves in a particular detail or cut, heel shape or unconventional colour combinations.
With an objective to become an internationally renowned luxury designer, she is all set to create innovations in the segment. She also has a special line for the dancing community. She is all set to create a signature line where one could work around 'Changeability' which means you can change straps of your footwear and match it with the colour of the outfit you are wearing. Isn't that amazing?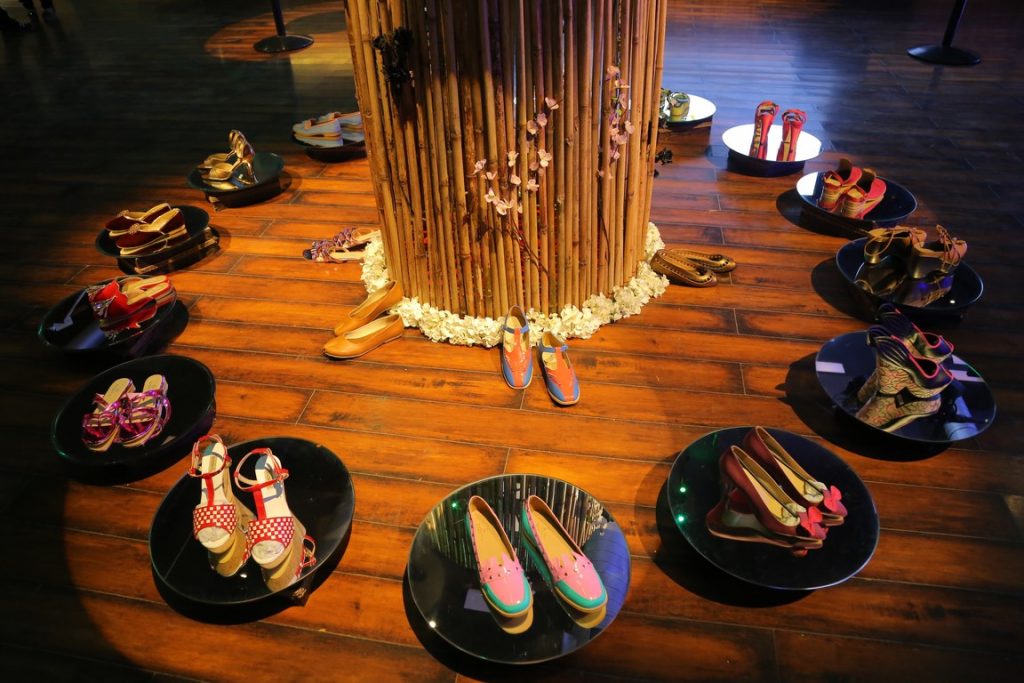 On her expansion plans, she is not looking at tieing up with other e-commerce companies but is creating a niche for herself! With the right team of pattern cutters, stitchers, lasters, she currently has the production facility of making 10 shoes a day but is looking at expanding it rapidly post checking out the market response. Even the machines have been sourced from different parts of the world.
So what's the wait for? It's the party season and your next footwear can literally be an abracadabra of your feet and style requirements. Even if your requirement is different from what's available on the website, you can send your own design choices in form of images and sketches. You can even get any detail eliminated or added. Consider designer Radhika Jain a friend in need, as the customer can feel free to send a picture of her outfit and get designs and recommended shoes to match the same!
I have enough shoes said no women ever!
You all know what I mean 🙂
PS: ChicLifeByte subscribers get 20% off on their dream shoe. Just add the promocode RJ20OFF during checkout!
---
Photography by: Lakshay Sachdeva

Location: Tourist Janpath