Are you tired of leaking walls or cracks that leave your beautiful walls ugly or the damping of walls which causes illness & mental strains? Do they interfere with the vaastu of your house, causing unhealthy water seepages & a sense of discomfort? Not forgetting to mention the blotchy damp patches meddling with your well being & making the foundation of your lovely home weak?
Waterproofing is not new to India, since hundreds of years Indians have been incorporating construction designs that ensure minimum water ingress. But due to factors like low awareness, unskilled labour, traditional methods & changing trends, it is now a major concern. So here are some tips & ways by Dr. Fixit to solve your confusion & have a positive, healthy home full of wealth & prosperity.
For the new roof , you have to waterproof it and one should not be dependent on outdated techniques like Brickbat coba, lime terracing & mud fuska but the solution is Dr. Fixit Roofseal which creates a tough flexible waterproofing membrane for new roofs making them last longer. There is a dearth of skilled labour; experienced & trained labour should deal with this problem.
Dr. Fixit Newcoat Coool is an acrylic elastomeric roof repair product that protects the roof not only from rains but also solar radiations and reduces surface temperature upto 8°C. It gives superior sheen plus waterproofs and insulates with 1mm thickness of coating and is anti algae and anti fungal adding beauty to your stricture and making it more durable.
For the ugly cracks in the external wall from which rainwater can enter or the leaking pipes which can seep water & soil your beautiful walls within making walls prone to water seepage, we have Dr. Fixit Raincoat Coool for both heat & insulation and waterproofing forming protection film of 160 microns against the strong lashing rains or the scorching melting heat of the summers. It is available in delightful shades and is a high performance waterproof coating which is essential to increase the life of your house and avoid constant repairs. It is resistant to algae & fungi and is more than twice as thick as normal paint. The Dr. Fixit Raincoat has the excellent ability to bridge cracks without any water dilution with high sheen and the acrylic elastomeric exterior waterproof coating for exterior walls. It is available in 700 shades for exterior walls, especially for rain lashed walls.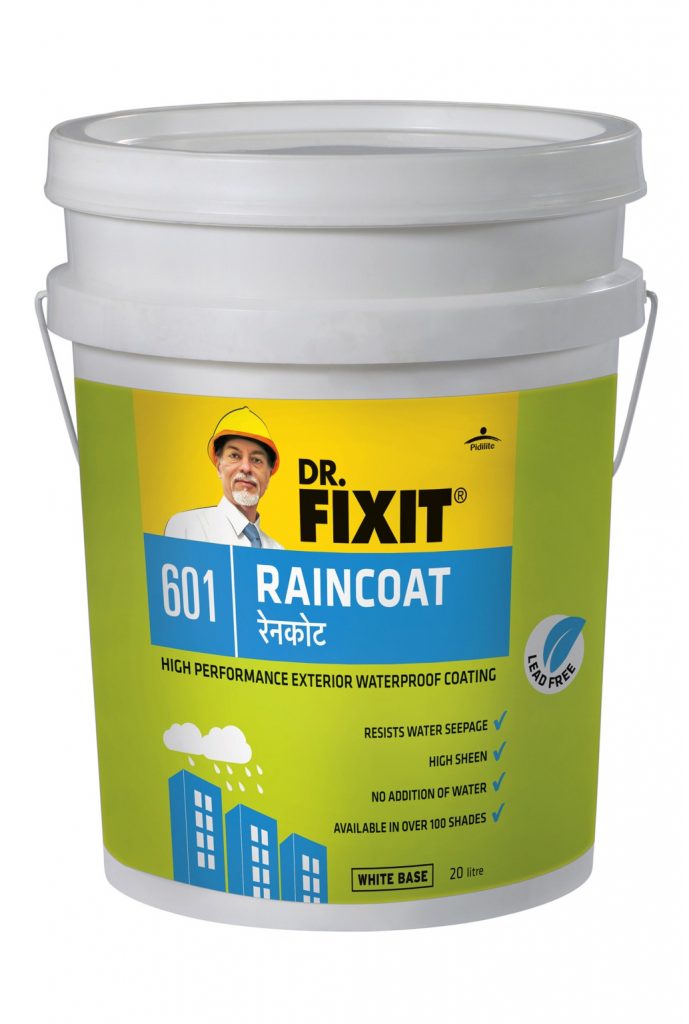 The Crack-X Paste is a ready to use crack filler for internal & external surface cracks in plaster. It is a high quality weather durable acrylic emulsion polymer with selected graded fillers, light fast pigment & additives, a ready to use flexible putty for filling the cracks in plastered surfaces because it has excellent bonding, easy application, water resistance, aesthetic appearance & durability.
Dr. Fixit Waterproofing Expert Pidicrete URP is a universal repair product. It is a SBR latex for repairs & waterproofing of toilets & bathrooms, chhajas, balconies & staircases. It is also used as repair mortar for concrete & masonry repairs like spalled concrete of floors, columns, beams, slabs, parapets etc. which is the problem of every household. I am sure this product is great since it is easy to use & economical as well and bonds old concrete to new concrete strongly.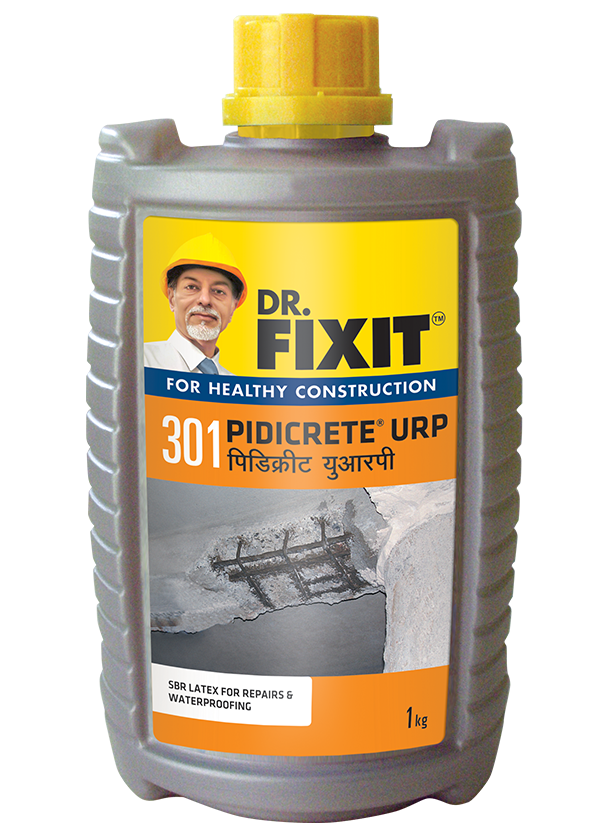 For dampness on internal walls, ceiling or RCC water tanks, use Dr. Fixit Dampguard. It is a water based epoxy coating for internal dampness & to fill cracks by mixing with white cement or OPC as putty in high damp areas. It has excellent resistance to salt water, mild acid, alkalis & soap water providing solid adhesion to all cementitious substances providing coating with good coverage at economical cost. It reduces water absorption & permeability to a great extent.
Dr. Fixit New Coat is a 3- coat acrylic waterproof coating for terraces comprised of specially developed highly elastic & resilient acrylic polymers, properly selected & graded fillers, lightfast & weather durable pigments, micro-fibres, additives & best quality fungicidal in water medium. It is used for waterproofing roofs & terraces- flat & slope without breaking the existing brickbat coba, concrete screed, acrylic coatings etc. It bridges cracks upto 2 mm width with higher tensile strength, bond strength and cementitious substrates. It is also abrasion resistant, lightweight, non-toxic & easy to apply.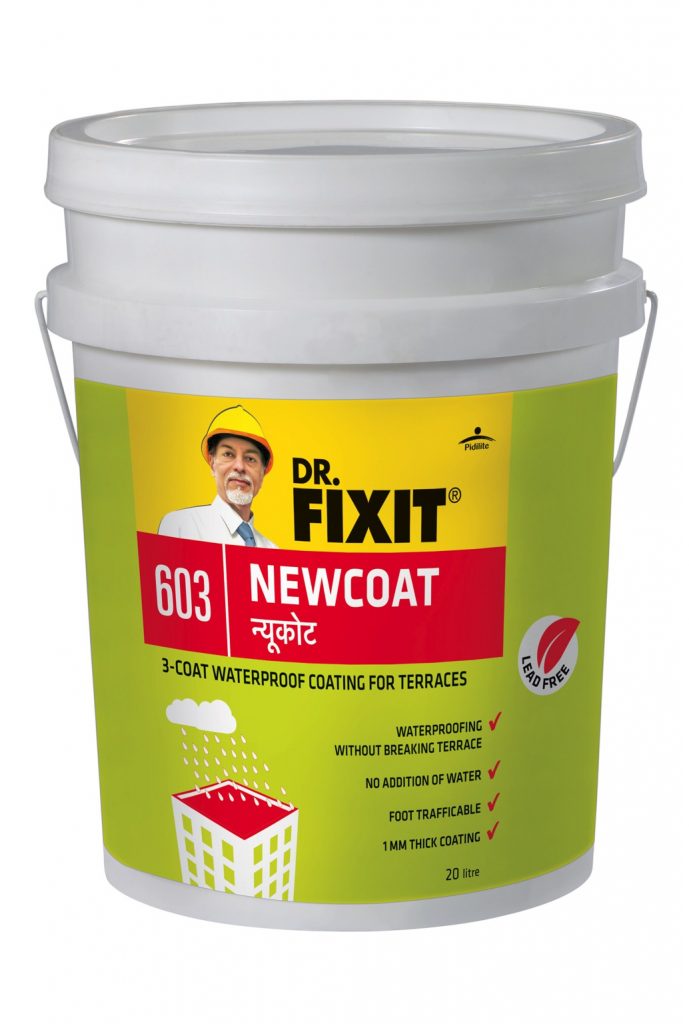 At the recently held #HappyHomesInMonsoon Bloggers Meet organized by Roff India & Dr. Fixit, we were given valuable tips to protect & safeguard our homes, tiles, walls, exteriors and interiors & basically build a strong, durable & happy home with no leakages, stains, dust, cracks, dampness or illness related to dampness. The homes being properly insulated & repaired in time, you can enjoy being a proud homeowner whatever be the onslaught of nature.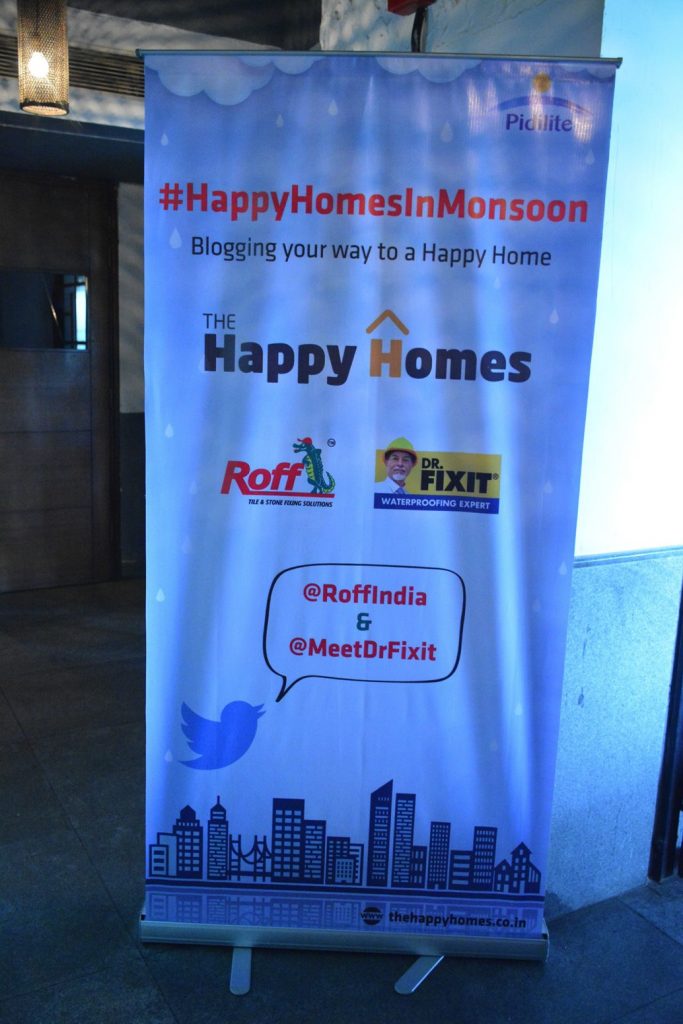 So now we can give our homes a complete makeover with Dr. Fixit solutions be it rainstorms, leakages, cracks, wind, sun or internal damping- all external forces will fail if you trust Dr. Fixit, a doctor in need for your every home problem with their helpline number (1800 209 5504) and the problem is fixed in no time saving time, energy & efforts and constant repairing. Also keeping in the mind the money aspect which is very economical.
We also have a solution for yellowing of tiles and cracks in white cements. Experiments were done at the bloggers meet to show oil & turmeric stains on degraded & cracked white cement which could not be cleaned. We have a solution to opt for durable epoxy grout like Roff Rainbow Tile Mate Epoxy which is actually durable epoxy grout and comes in myriad colours to make your decor with no leakages leaving it glossy with no cracks, easily cleanable surface, no fungus, stain free and no blackness.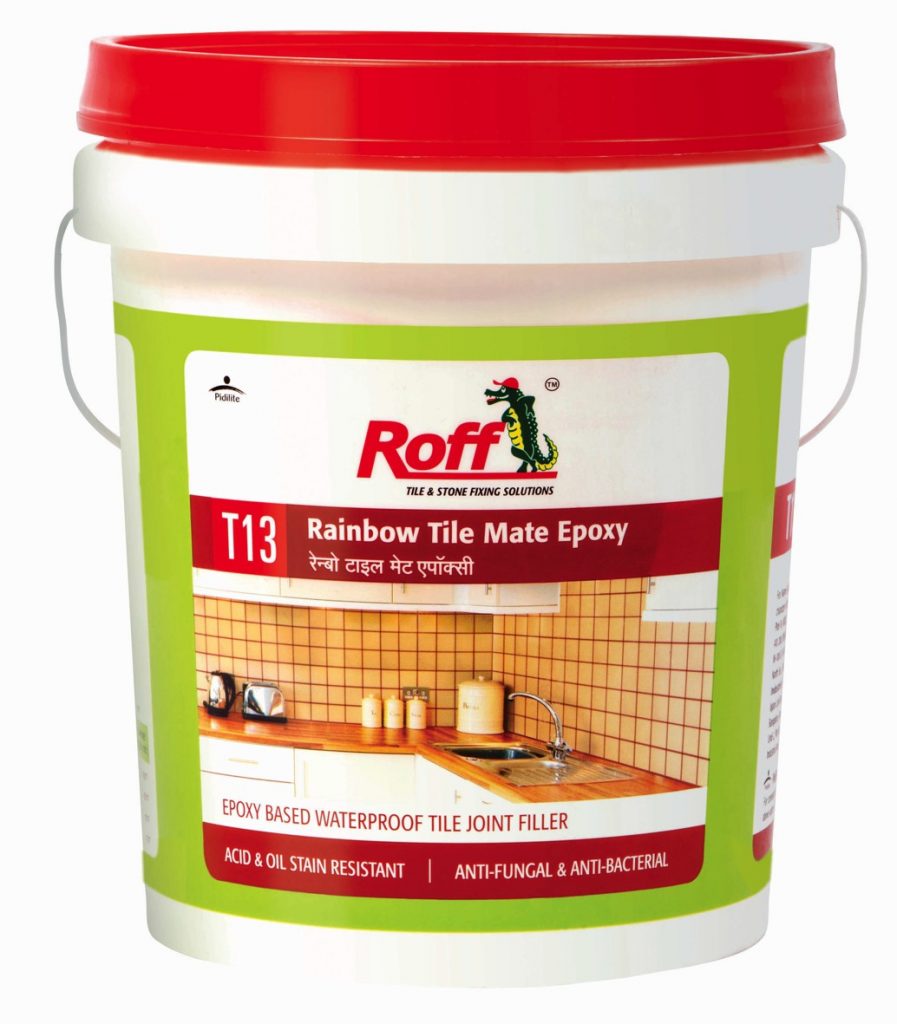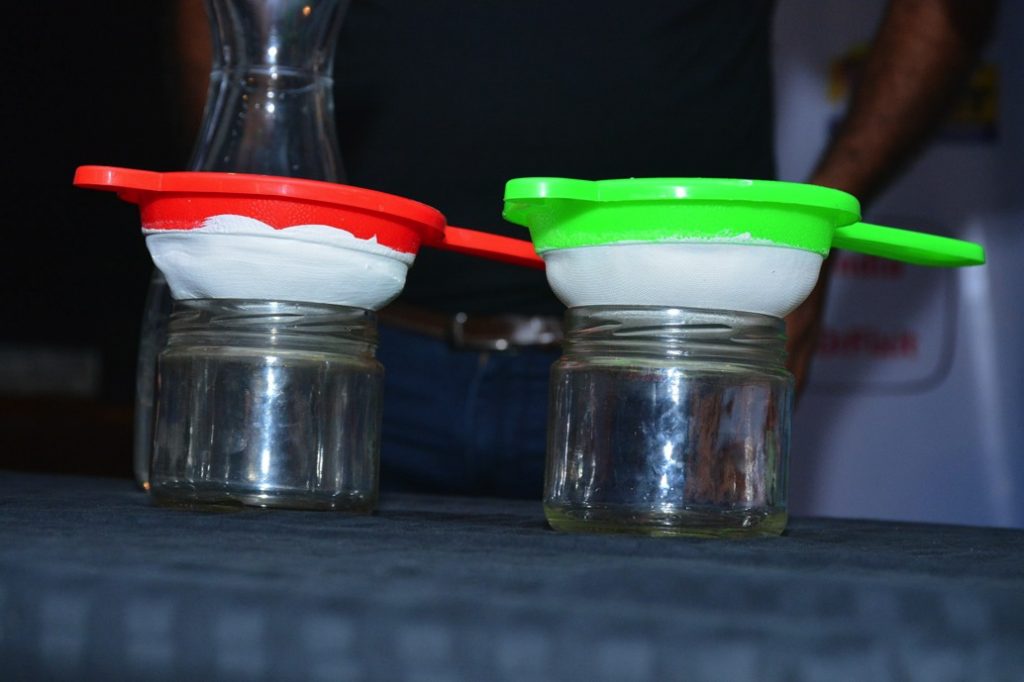 Also shown to us at the Bloggers Meet was the Roff Cera Clean where the experts cleaned the stains of turmeric, sauce & oil on tiles with Cera Clean and it completely vanished in front of our eyes. So to protect your decor and safeguard your home, you should take these steps to avoid any stress and concentrate more on your happiness and in making your home a strong, beautiful & healthy space you share with your loved ones. Don't be bothered but leave it on the experts i.e. Dr. Fixit & Roff.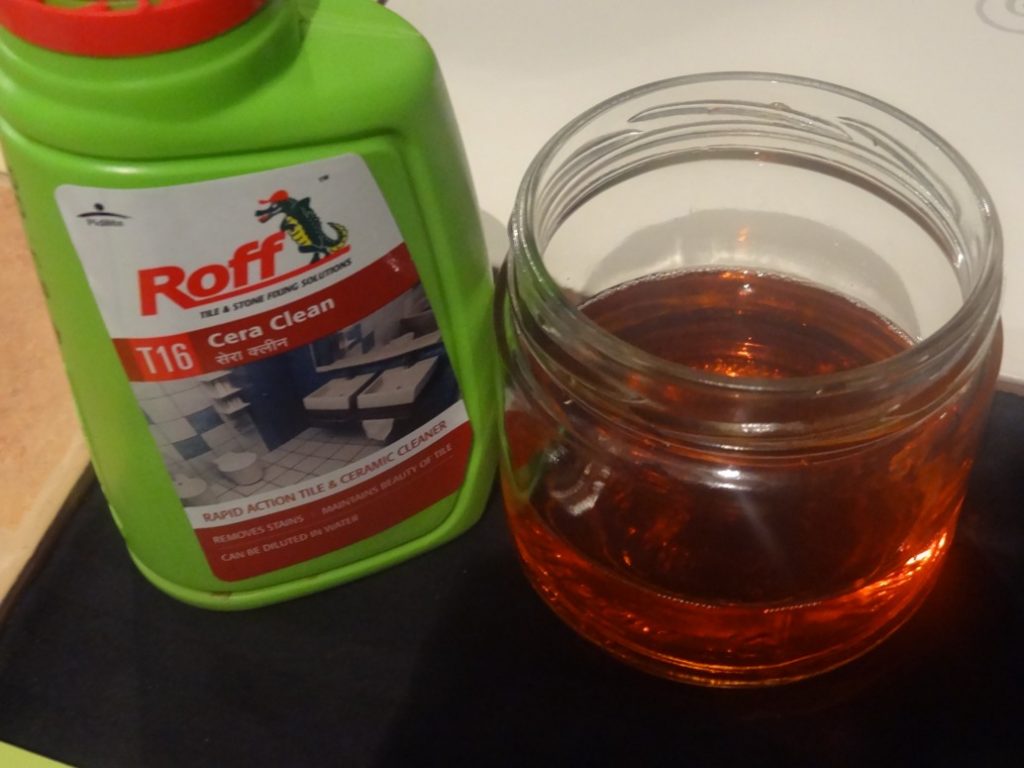 PS: For further assistance, you can call Dr. Fixit Advice Centre's toll free number for expert advice: 1800 209 5504. And do not forget to check out The Happy Homes Blog (thehappyhomes.co.in)- a collaboration between Dr. Fixit & Roff India with an initiative to help homeowners renovate, build and maintain their home as they truly understand how precious homes are.