Guppy by ai, the contemporary Japanese bar and kitchen is located at the Lodhi Market, New Delhi. The ambiance of the restaurant is quirky, vibrant and eye catching. Every element has been carefully designed with original custom fabrication by artists and vendors from around India. It has a live sushi counter and a bar overlooking a delightful courtyard. The area also boasts of two specially sculpted metal lion fish lights and Japanese Kokeshi dolls, metal stacked tiffin boxes, vintage cameras and more such Japanese stuff picked from antique shops.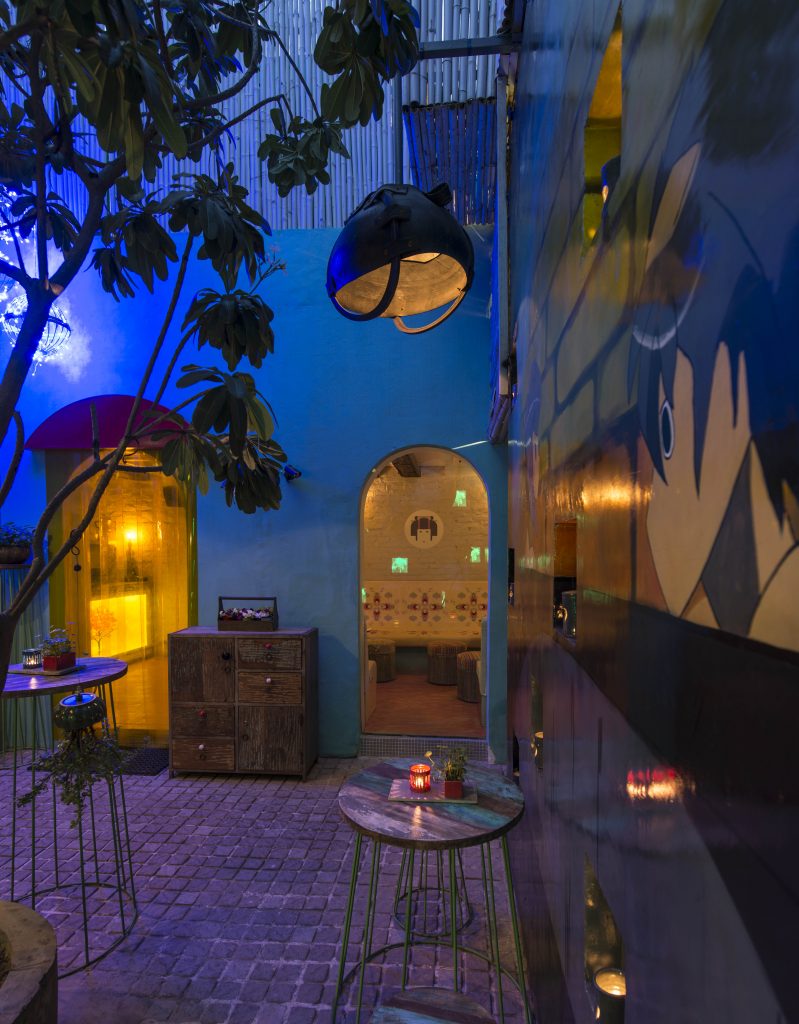 Guppy by ai has an array of delicious Asian/Japanese food with an emphasis on freshness and quality of ingredients. At the helm of Guppy is award winning Chef Vikram Khatri, who always believes in freshness, hygiene and technique. His offerings at Guppy are inspired by Japan with bold prominent flavours. You could taste the spicy, the tangy, and the exotic all in one bite. Most of the dishes, from mains to the condiments are made from scratch in the Guppy kitchen.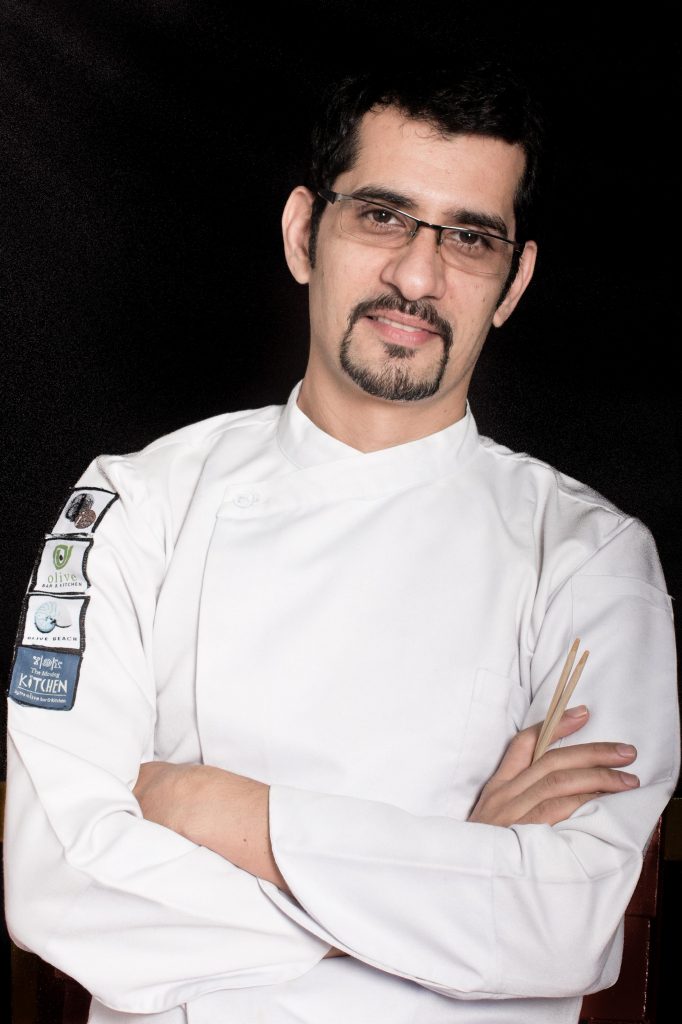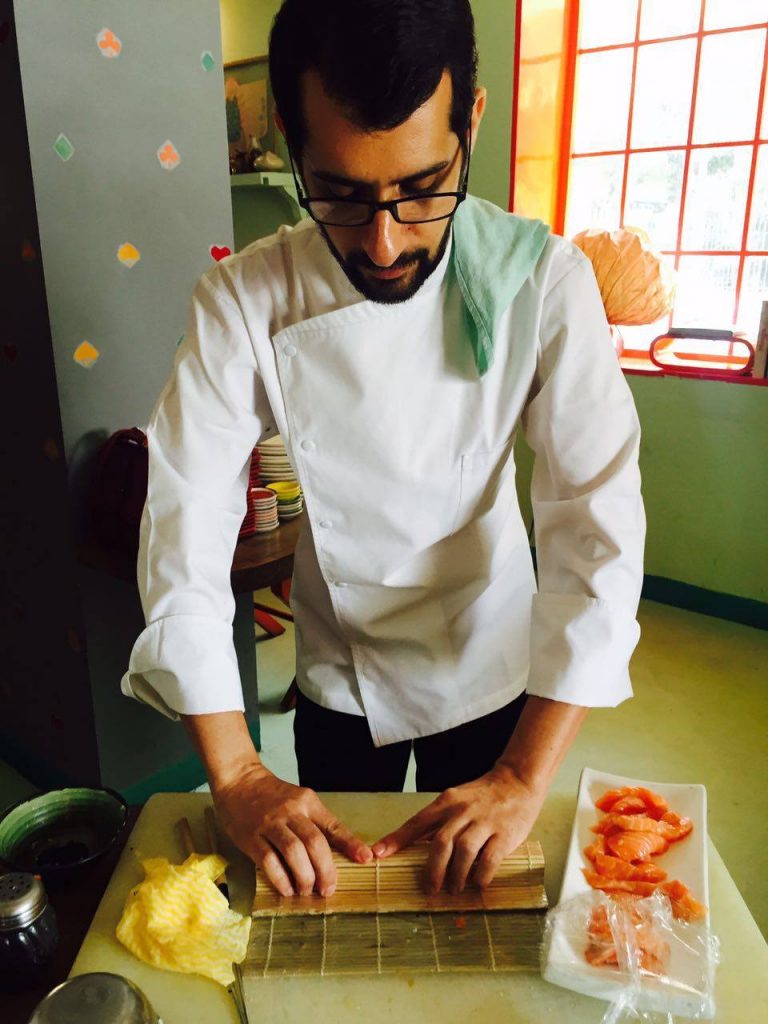 Away from the sweltering heat of Delhi, the food journey started with cold Sweet Corn and Avocado soup, enriched with soy milk. The soup is served with salt and a slice of lemon, which adde a distinct texture to the soup. It is truly refreshing.
The menu has been thoughtfully curated with soups and salads as special vegan dishes. The 3 melon salad with Yubari, musk and watermelon looks simple yet the umeboshi plum dressing makes it truly delicious. Umeboshi are fermented pickles made from young, barely ripe ume, a sour Japanese fruit that's a cross between an apricot and a plum.
For me, the highlight of the menu is the Mango and Avocado Cream Cheese Roll. Made with Alphonso mango, cream cheese, tanuki tempura fritters and kimchi, the roll is unique and flavoursome. The roll also has a similar variant with tuna. Another king size roll was the Hanami thick sushi roll combined with black and white rice with sakura dembu, tuna, salmon, crab, yellowtail and cucumber.
In the cold noodles – the 3 different variants are cold hiyashi tantanmen (home-made ramen noodles, served chilled with sesame flavoured pork broth, spicy ground pork meat and fresh vegetables), Hiyashi tanuki cha saba (chilled green tea flavoured buckwheat noodles, topped with tanuki tempura fritters, wasabi, grated radish served with a soy flavoured dashi broth). The Hiyash tanuki cha saba is the only vegetarian option in the noodles menu. The third option is Hiyashi somen (Japanese, thin angel hair wheat noodles topped with crab sticks, prawns, seaweed, cucumber and melon, served chilled with a ginger flavoured dashi broth).
Summer, is incomplete without fresh cocktails and mangoes! This new summer menu spoils us with options of cocktails like Sendai (vodka, fresh kiwi, fresh melon and lime), Plum Blossom (sochu, umeshu fresh plum and lime) and Umetini (sake, umeshu and gold leaf) amongst others. End this perfect summer meal with mango, liquorice and coconut ice-cream!
The festival presents a melting pot of all things Japanese. It is also the perfect time to visit Guppy by ai to enjoy various workshops, activation and classes including Sushi Master Classes & Sunday Family Table Brunch with a special kids menu and activities for kids!
Review Credit: Mansi Chawla