Maria O Maria, No…we are not starting a karaoke but are praising the multi-talented Maria Goretti. You wanna know why? Hold your breath! We would love to reveal the reason. We recently got an invitation for a book launch. Any guesses on who wrote the book? Yes, you guessed it right, our very own bubbly VJ (that's the first thing that comes to my mind about her).  An Economics graduate who studied fashion design, a dancer, model, VJ, she has done it all and now adorns another feather in her cap as she turns author with her debut book 'From My Kitchen To Yours'.  You know what, she claims to have started cooking out of desperation as she didn't want her cute kids to say "mujhe mere baap ke khane se pyaar hain" (Honestly, that's something that even I dread – my husband is a great cook and I don't even know the a, b, c of cooking).
As we made our entry at the living room of The Mansion at Hyatt Regency, we saw an endless list of socialites who graced the occasion. From Sandhya Mridul, Tisca Chopra (accompanied by her husband Sanjay Chopra), Ajay Mago, Promila Bahri, Rina Dhaka, the list goes on and on. Maria made a grand entry with her cute little kids –Zeke and Zene. Dressed in a cream coloured long gown with red floral pattern, she looked her ravishing best. Joined by her husband actor Arshad Warsi, both of them played the perfect muse for the paparazzi and greeted the guests.
The event started with Maria, Arshad, Tisca Chopra and Ajay Mago (Publisher, Om Books) on stage. The main highlight was the book reading by Maria and Arshad's kids – Zeke and Zene. Both of them were invited on stage who read one para each from the book. Zene, dressed in a long yellow coloured maxi dress read in her Harry Potter accent while Zeke dressed in white kurta, a cut sleeves white jacket and denims kept it simple. Maria kissed both of them at the end for performing their duties well.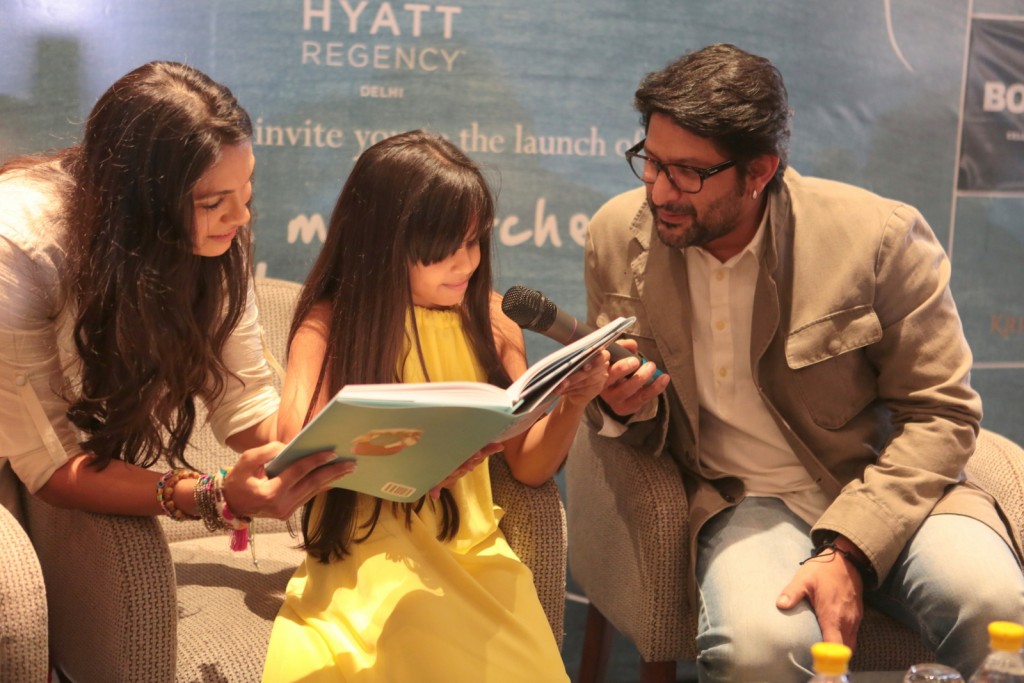 Tisca moderated the conversation giving the audience insights to Maria's cooking journey with interesting anecdotes of their personal experience. Tisca told the audience about the incident when Maria had put Tisca and her husband, then fiancé on a diet of 1 carrot and 2 peas to get in shape for the D Day which Maria used to easily escape and without telling the couple she would go down the road and have chicken shawarmas.
From My Kitchen To Yours: Food, Love and Other ingredients celebrates how Maria Goretti lives her life, with memorable recipes from her mother's East-Indian spreads, aromas from her grandmother's kitchen, and the food she has seen, touched and tasted over her many travels across India, and the World as a VJ with MTV. Add to that, all those delicious dishes she has eaten at her friends' homes, especially those sinful deserts that she loved, which she tried and tried till she got them right.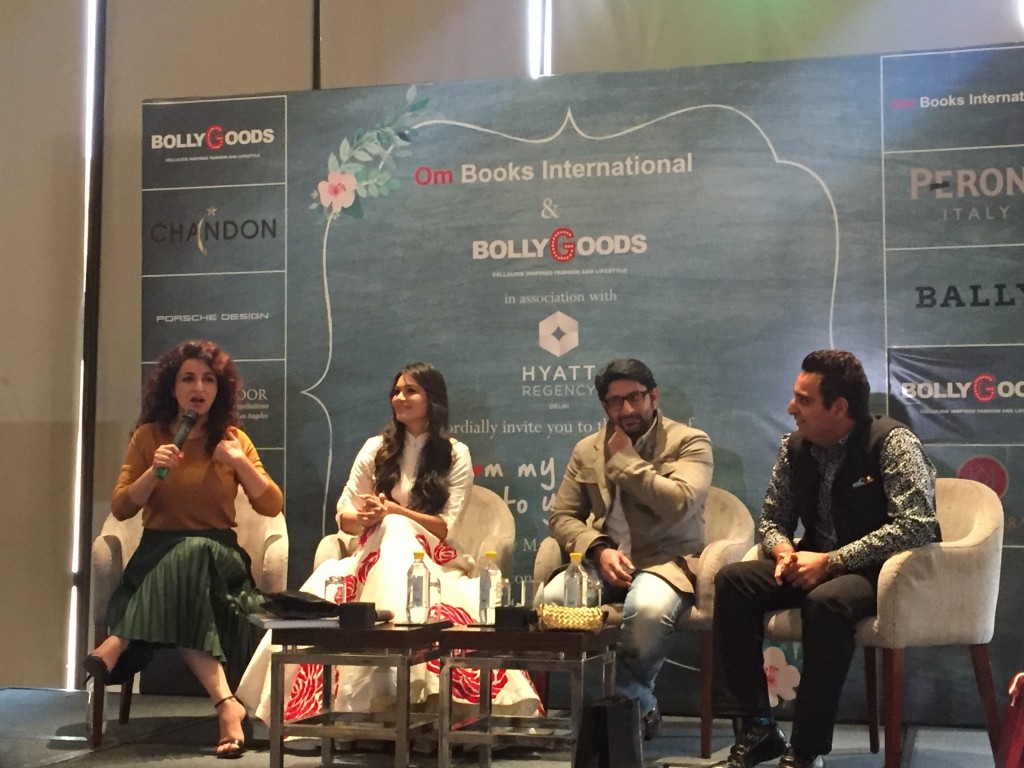 Ajay Mago, Publisher, Om Books International said on the occasion, 'A couple of years ago, I happened to go through Maria's blog and was certain that she could put together a unique book redolent not only with the flavours of her rich cultural moorings, but also with those picked up along her journeys across India and beyond. And each page of this book reflects that vibrant repository and crossroad of cuisines that foodies like myself live for, cooked, as she avers, with Love as the key ingredient.'
Arshad Warsi, Maria's husband who is a great chef himself stood by her and stayed back home for three months to take care of the kids while Maria went to Tante Marie School of Cookery, UK for her Cordon Bleu Certificate Course in Food and Baking. Isn't that such a sweet gesture!! The cook book is divided into monthly menus with soups, salads, starters, non-vegetarian, and vegetarian main course dishes and Arshad claims to have tasted every dish in the book.
Well, a lot of us thought the next natural step for her would be to open a restaurant which she clearly denies. She only cooks for people she loves and can't cook for everyone.  Infact her loving husband even bought a land for her restaurant which he presented as a birthday gift to her which she clearly declined. Do you wanna know her secret plan? Yes, she has a plan for the book – she wants the book to sell so much that she can travel for an year. (Bingo! Even I wanna travel but would have to work really hard to fund my travel).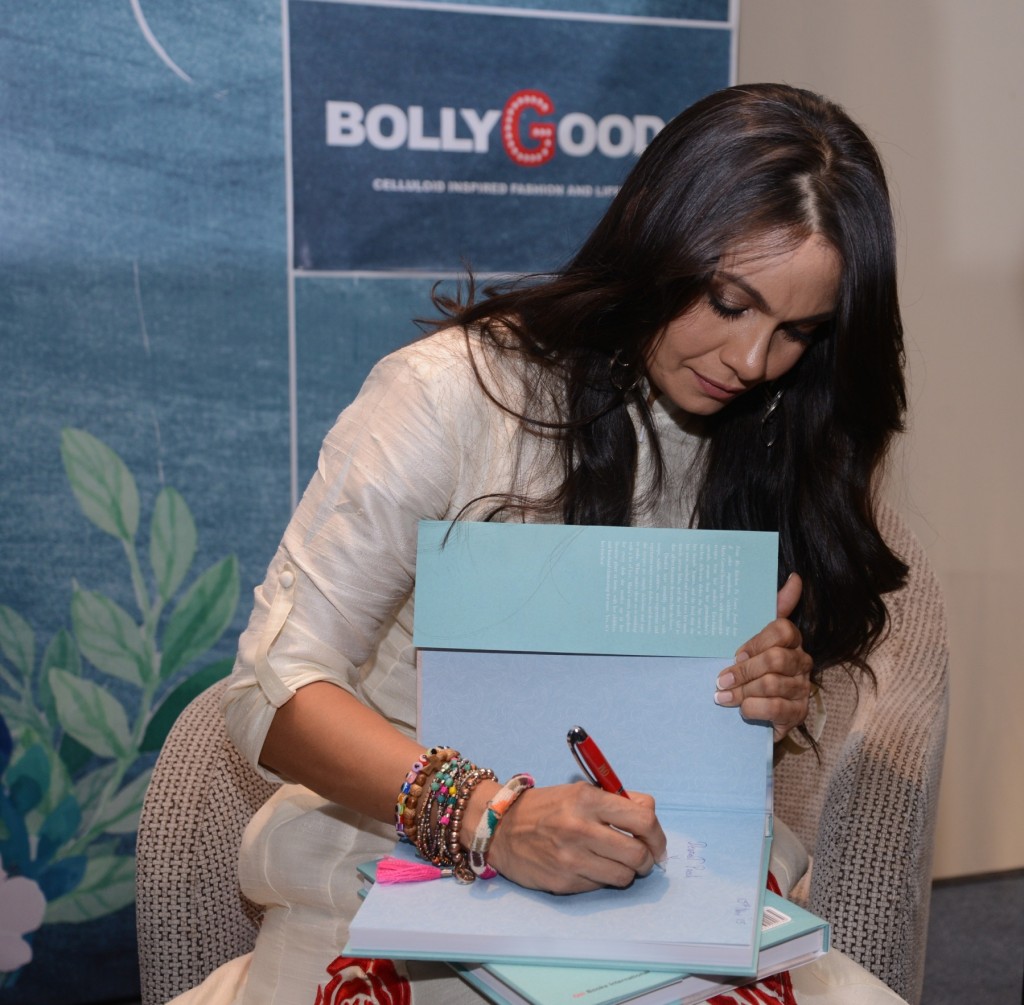 Published by Om Books International, one of the largest English language trade publishers, the book is going places for sure. This was the first book launch and the next one will be in Vietnam followed by London. It has even got its Vietnamese language rights.
The event filled with memories, nostalgia, life which gradually came to an end with the formal launch and a champagne toast.
Overall, I really enjoyed every bit of the event and wish Maria "All the Best" for the new endeavour. I am sure she will rise and shine in this avatar as well.