Pero's show at the Amazon India Fashion Week SS16 was a surprise as when I sat on the seat I picked up a packet of marshmallows kept inside a cute bag with a special note in it saying PYJAMA PARTY. So fasten your seatbelts & bite the marshmallows and melt & sway with the magic of Pero by our very own Aneeth Arora.
Aneeth Arora, a textile graduate from National Institute of Design (NID), Ahmadabad and a fashion graduate from National Institute of Fashion Technology (NIFT) calls herself a 'textile and dress maker' and what fascinates and inspires her most is the clothing and dressing styles of the local people, which makes them so effortlessly stylish and trendy, therefore making them real trendsetters of the time.
I saw soft white beds on the stage and models walking and chirpily dancing around in bathroom slippers. Their Spring Summer 2016 collection has a lot of stripes, whites, laces, frocks & scarves mostly. Péro continues the use of fine handloom fabric with hand stitched detailing. Handwoven khadi pajama stripes from West Bengal, brocade from Banaras, crochet for which they have worked closely with a group of 15 to 20 refugee women from Afghanistan and hand embroidery.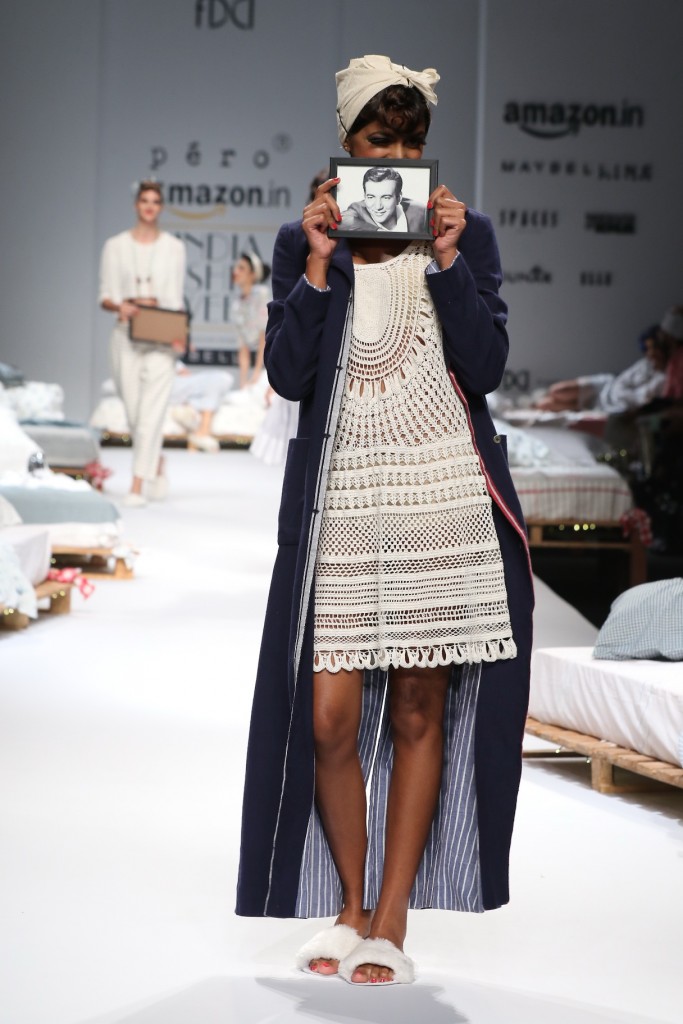 The collection was very cozy, romantic & flirty with table linen tied funkily used as head bands & bandanas. There were floral transy white patterns to see. The loose pyjamas, night suits, the playful lovely art of dream came true with the whole escapade of light & the models swirling in delight. The drama unfolded & enchanted in front of our eyes, cast a spell & left our adrenaline and senses mesmerized.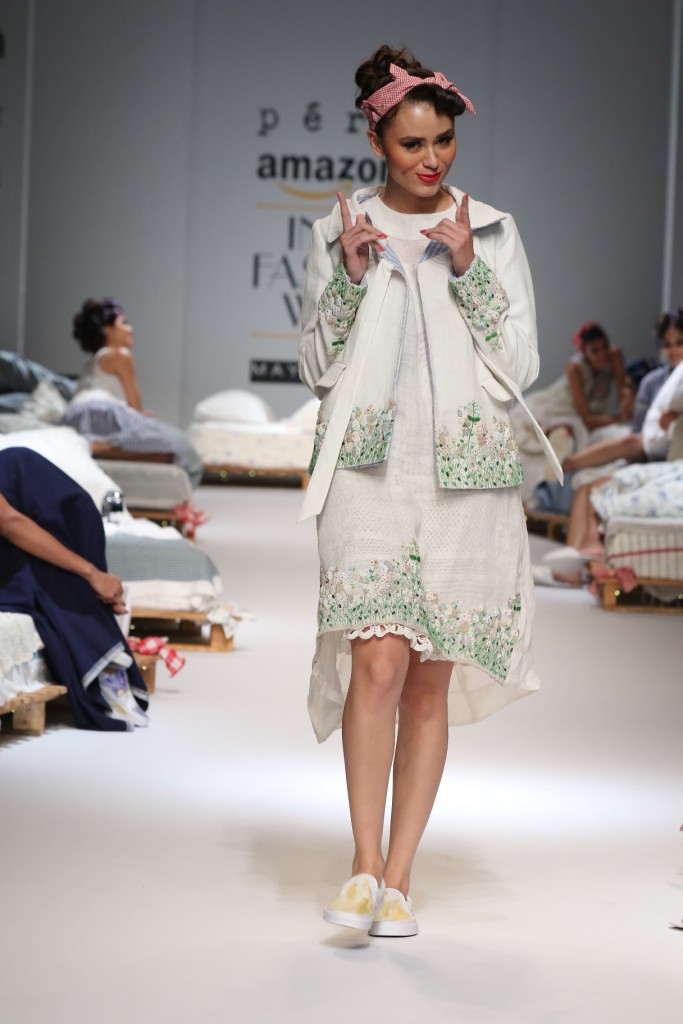 There was lots of pumping, skipping & hopping by the models. The models were playfully swaying to the tango tunes hugging, kissing, playing game of Chinese whispers to each other, enjoying everything in a light mood, feeling dreamy, doing twists & turns, and bends and the dance of love, romance & poetry.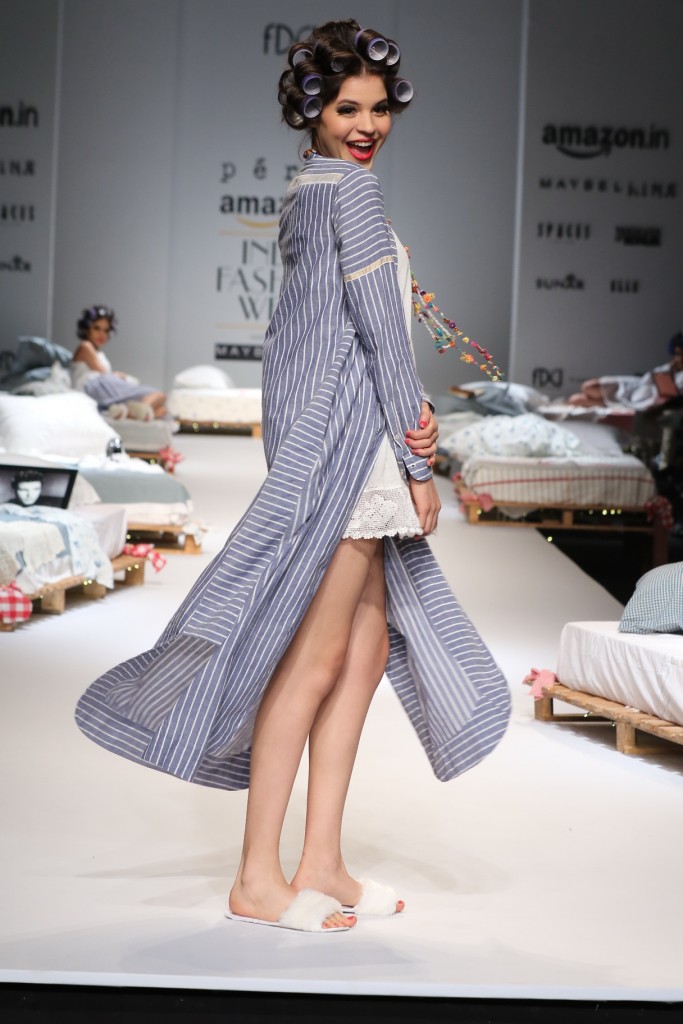 White was the shining armour. The fabrics used were hand-woven, stamped and hand embroidered mulmuls and linens from West Bengal; and sheer cottons from Chanderi, Madhya Pradesh, not missing out on their signature kanni selvedge, which subtly appears on the hems and edges of the garments. The fabrics chosen are soft and have a fluidity, for their trademark lived-in charm.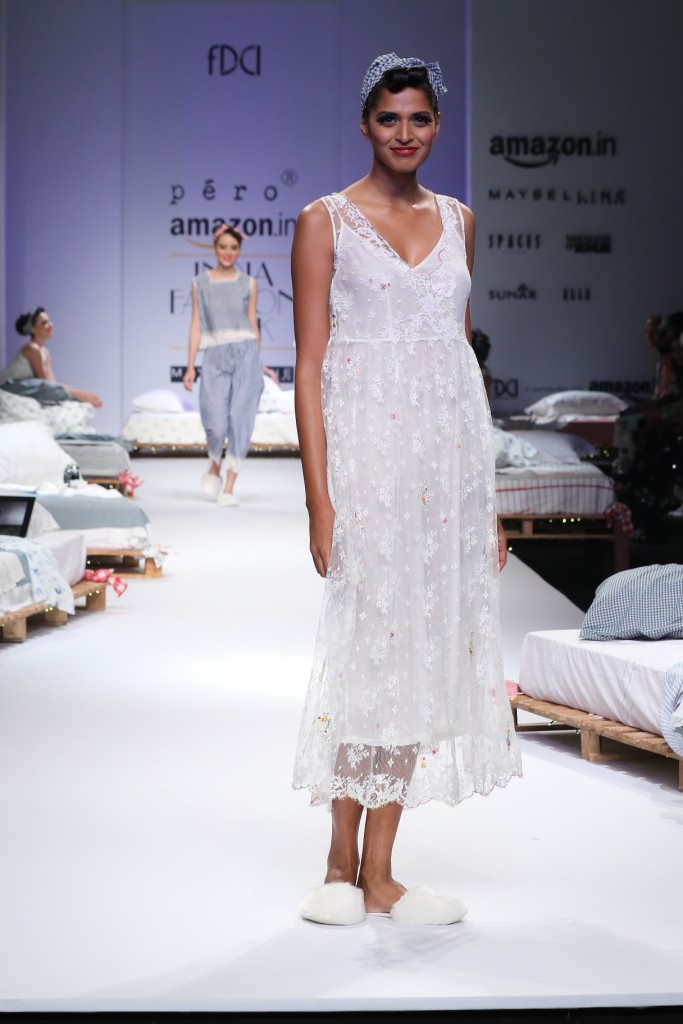 Aneeth entered in a casual braid in white between the pillow fight & left the models to fall asleep & get tired and preach.